Last updated on April 8th, 2019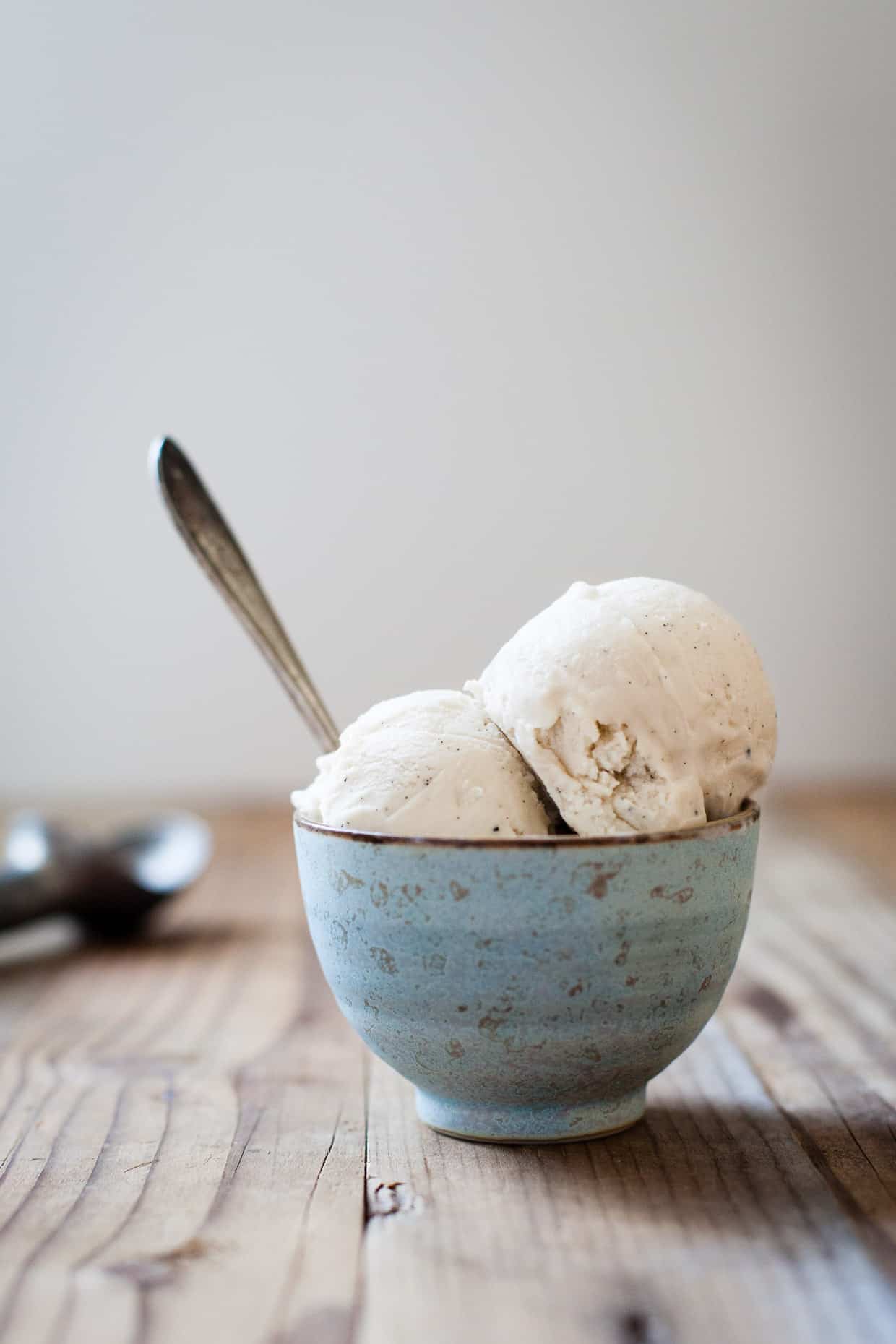 Before you roll your eyes,  there's a good reason why I'm sharing two ice cream recipes in a row. And it's not because I've got a scoop-a-night ice cream problem (which I do). It's also not an act of rebellion against that little gem salad that's going to result in 54 more desserts before you see another salad. Though in this case, I really did eat this vegan vanilla bean ice cream for dinner last night.
I had an entirely different recipe lined up for today, but instead we're having ice cream to celebrate. I filed my dissertation this afternoon so it's dessert-ation time! Ergo: Ice cream, duh.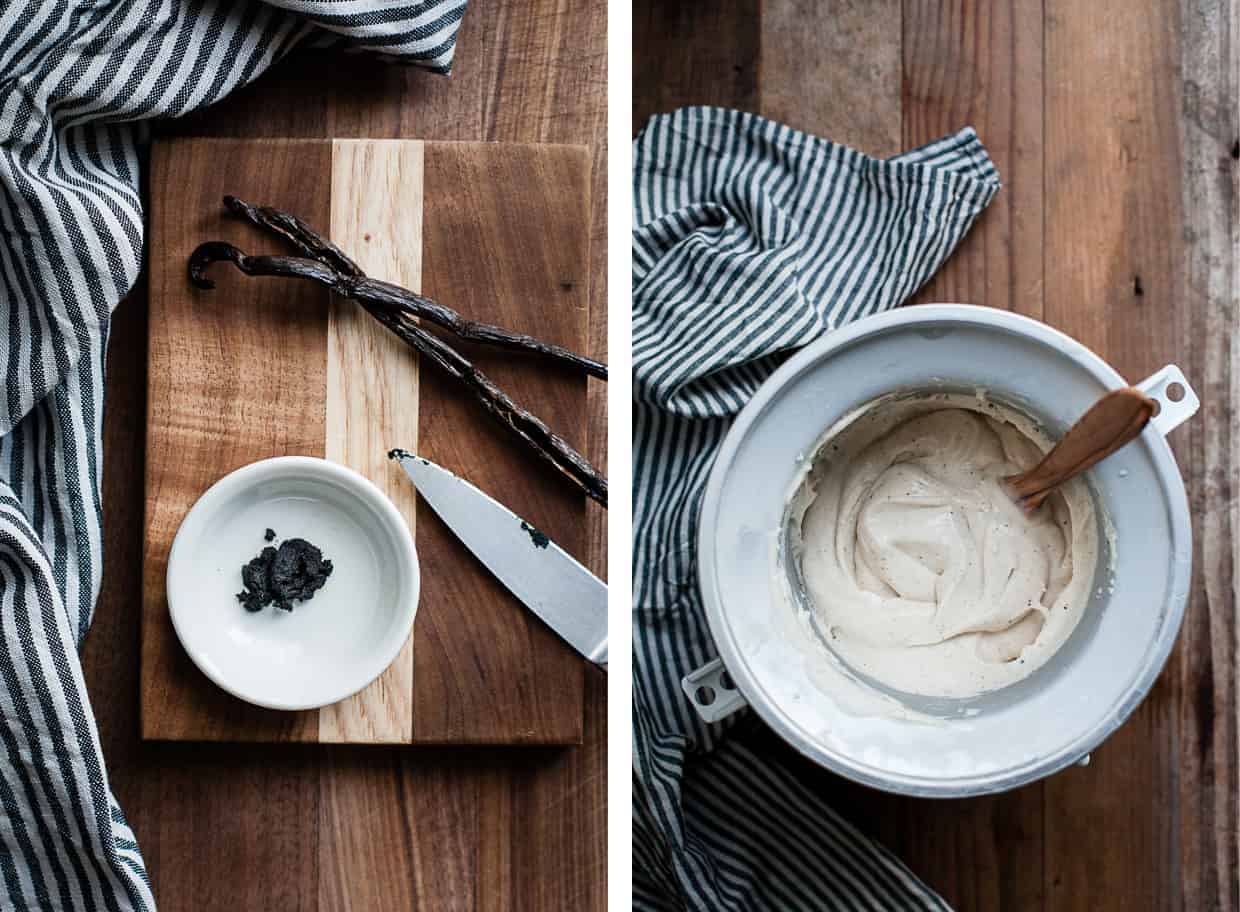 The whole thing was much less exciting than I anticipated. There's a tradition at Cal that when you file your dissertation, they give you a See's lollipop that says PHinisheD on it. As in: printed out on an inkjet and taped across the front. It's cheesey, but it's tradition and I want it.
So I braved the busy side of campus I've spent six years avoiding, expecting to get my lollipop. When I handed over the paperwork, the receptionist just said, "Ok, thanks. You'll get a confirmation e-mail when it's processed." Like NO BIG DEAL. This happens EVERY DAY.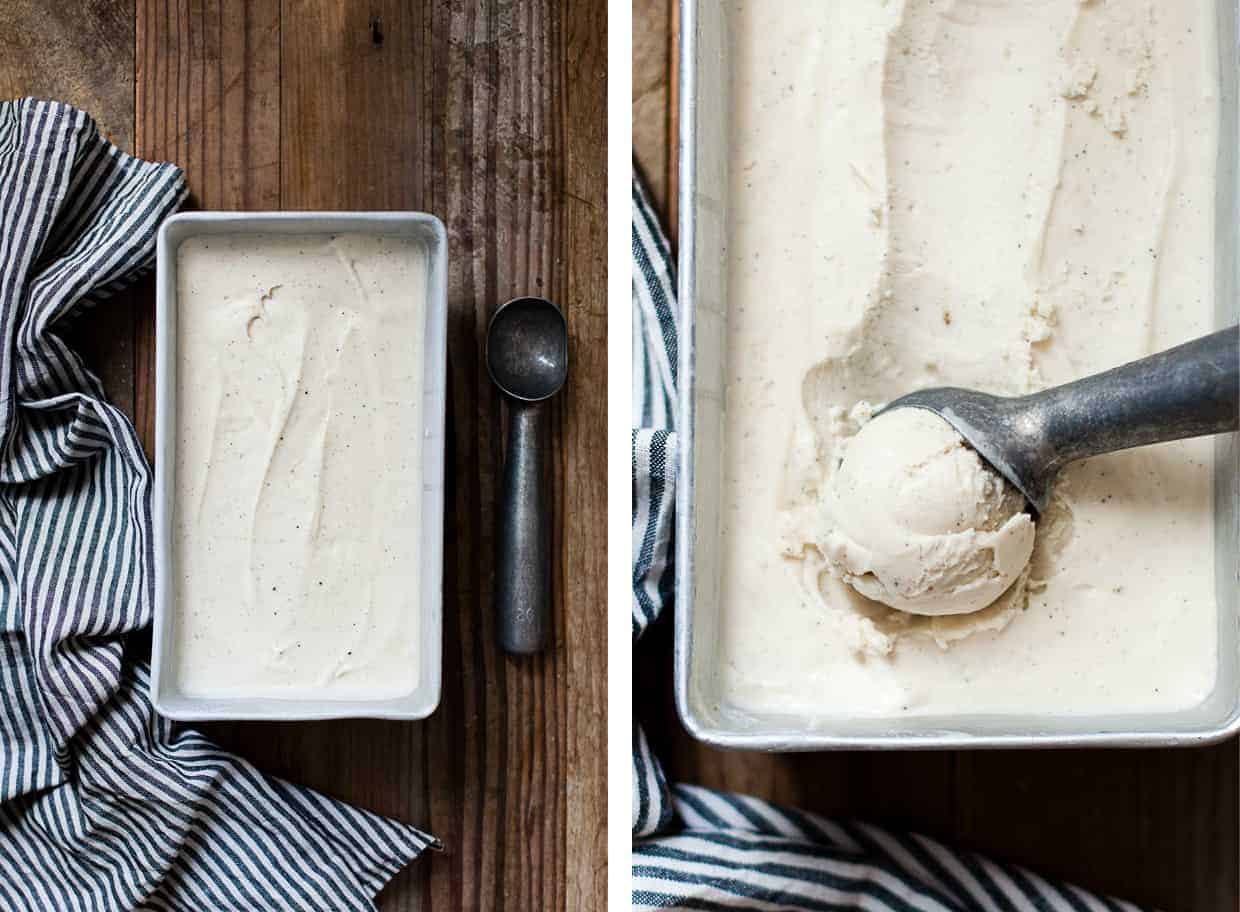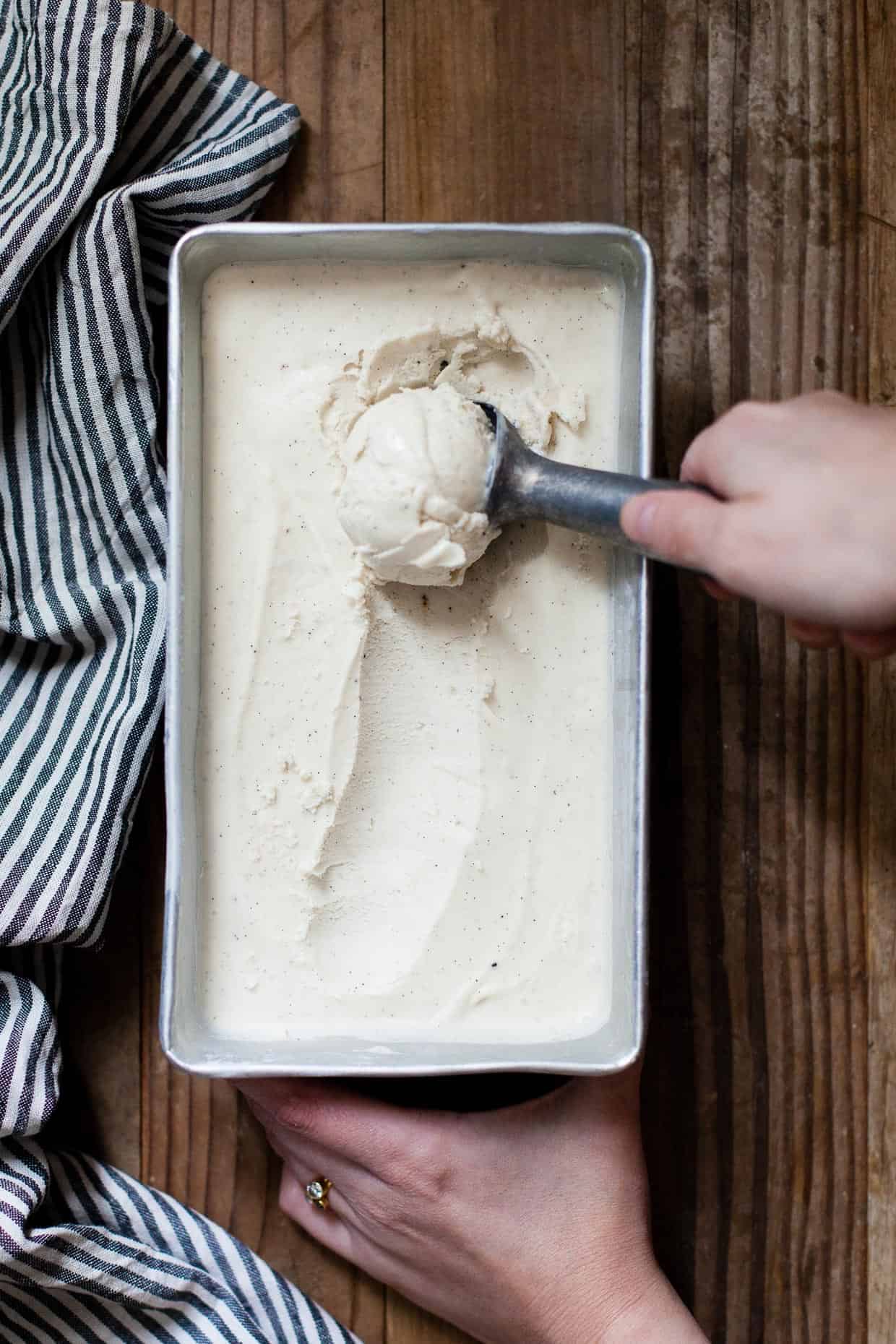 Then like the saddest little kid you ever saw, I asked, "b-b-b-but what about my lollipop?" Seriously, I asked. As if I was the one person he forgot to give a lollipop to. His less-than-amused response: "Oh, you don't get that until the paperwork is approved in about 3 business days."
Which means I have to go back (you better believe I will, too)! This also means filing your dissertation is a hugely uneventful activity.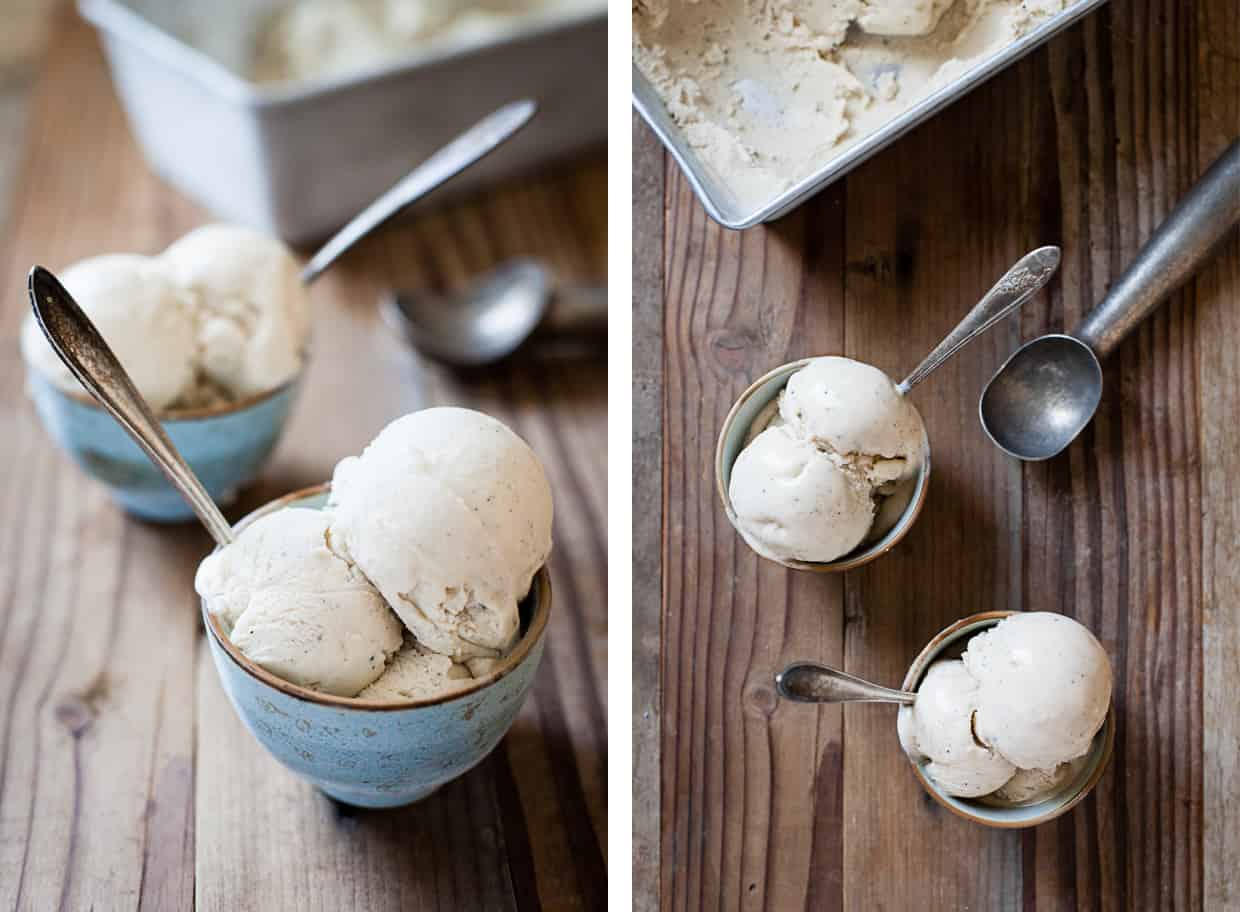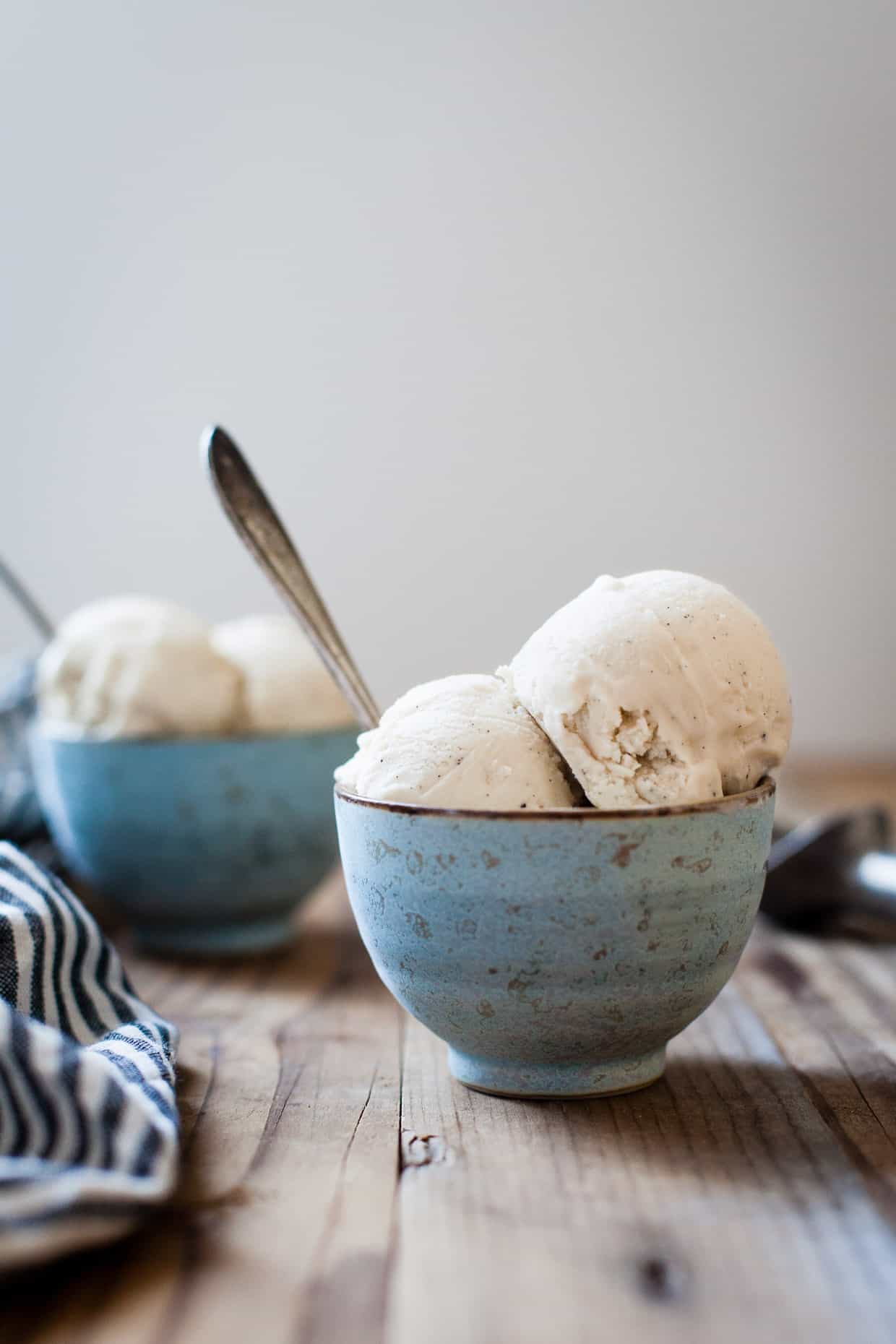 So instead I came home and ate this vegan vanilla ice cream straight out of the freezer. No shame.
Like the strawberry vegan chocolate chip ice cream I shared last month, this vanilla version is intensely creamy. With a deep vanilla bean aroma, this ice cream has just a hint of coconut you'd only pick out if you knew you were looking for it. I'm so addicted to this vegan coconut ice cream base that I'm keeping my ice cream maker bowl in the freezer permanently. Don't expect the ice cream recipes to stop until next winter. Sorry not sorry.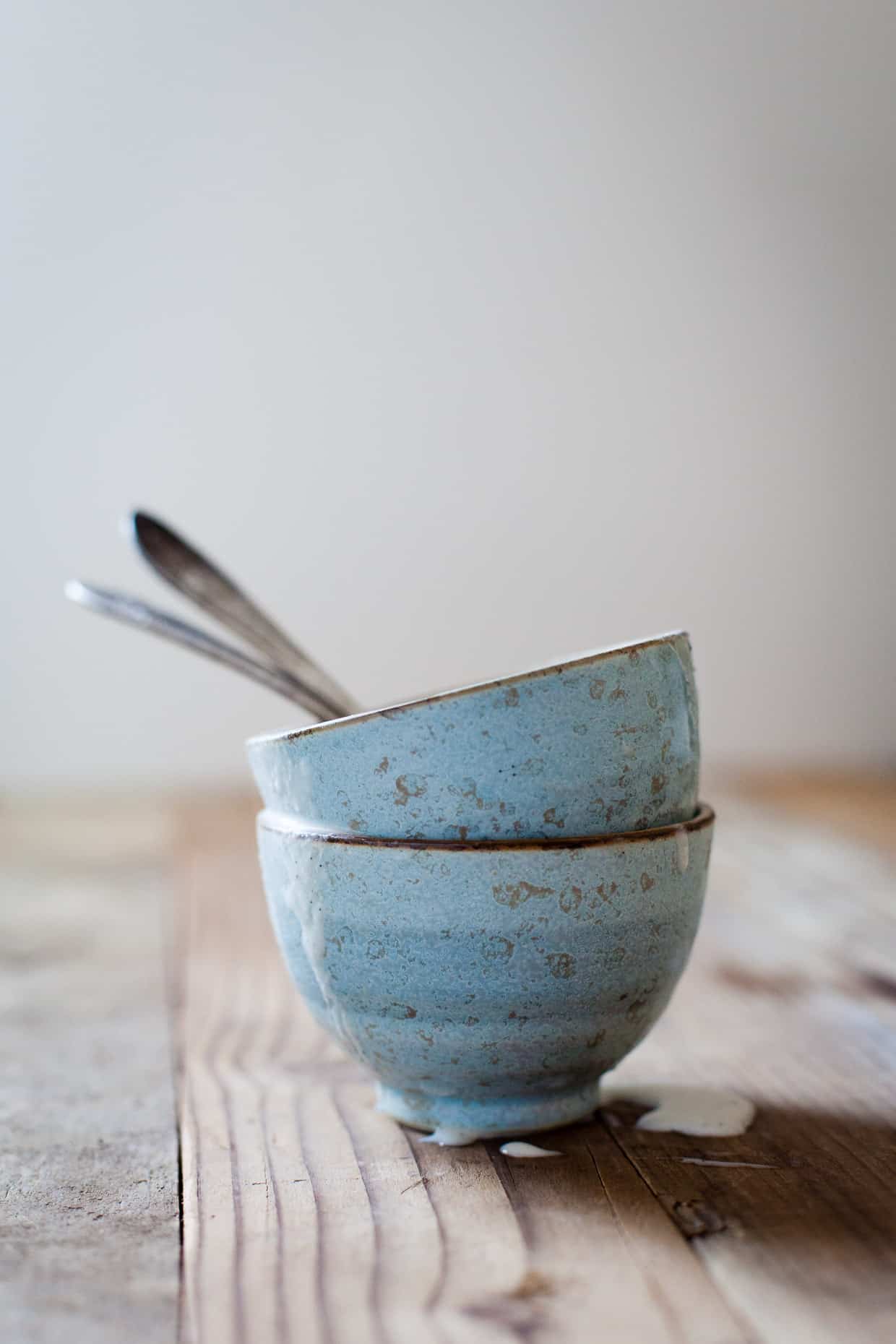 I joined forces with Alanna & Todd to turn this vegan vanilla ice cream into a trio of ice cream floats – head over to check out my Hibiscus Ginger Ice Cream Floats with links to their floats too!
(A special shout out to Alanna for sharing her robin's egg bowls with me).
Thanks for reading Snixy Kitchen! To stay up on what's coming out of my kitchen,  follow me on Facebook, Instagram, Twitter, Bloglovin', or Pinterest, or subscribe via e-mail to get new recipes right to your inbox.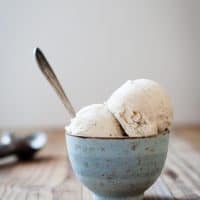 Vegan Vanilla Bean Ice Cream
Instructions
Warm coconut cream, coconut milk, sugar, corn syrup, coconut oil, vodka, vanilla bean seeds and pod, and salt in a medium pot over medium heat, stirring occasionally. When the cream begins to simmer, remove the pot from heat. Cover and let the mixture steep for 20 minutes. Remove the bean pod, scraping out the insides of the pods for all that vanilla goodness. Reserve the pods to make vanilla extract.
Meanwhile, prepare an ice bath by filling a large bowl with ice cubes and water.
Pour the base into a large 1-gallon Ziploc bag. Seal it and submerge the mixture in the ice bath until cold, about 30 minutes. (You can also skip this step by refrigerating until the mixture is cold, about 4 hours).
Pour the ice cream base into the bowl of your pre-frozen ice cream maker. Follow the directions on your ice cream maker to churn the base into ice cream, until it is the consistency of soft-serve, about 15-18 minutes.
Pack the ice cream into an air-tight storage container or a metal loaf pan, pressing a sheet of parchment paper directly against the ice cream.
Freeze until firm, at least 4 hours, but preferably overnight.
Notes
*Update 8/23/16: I now make this ice cream with maple syrup and it doesn't taste any different than the corn syrup version!

**Update 8/23/16: I added vodka per a recommendation from Heartbeet Kitchen and it makes it EVEN CREAMIER.