Gluten-free churros are surprisingly easy to make at home. Using gluten-free flours, these churros are super crisp on the outside with soft and slightly chewy centers and are just as good as their classic counterparts! You'll feel like you're at a street carnival.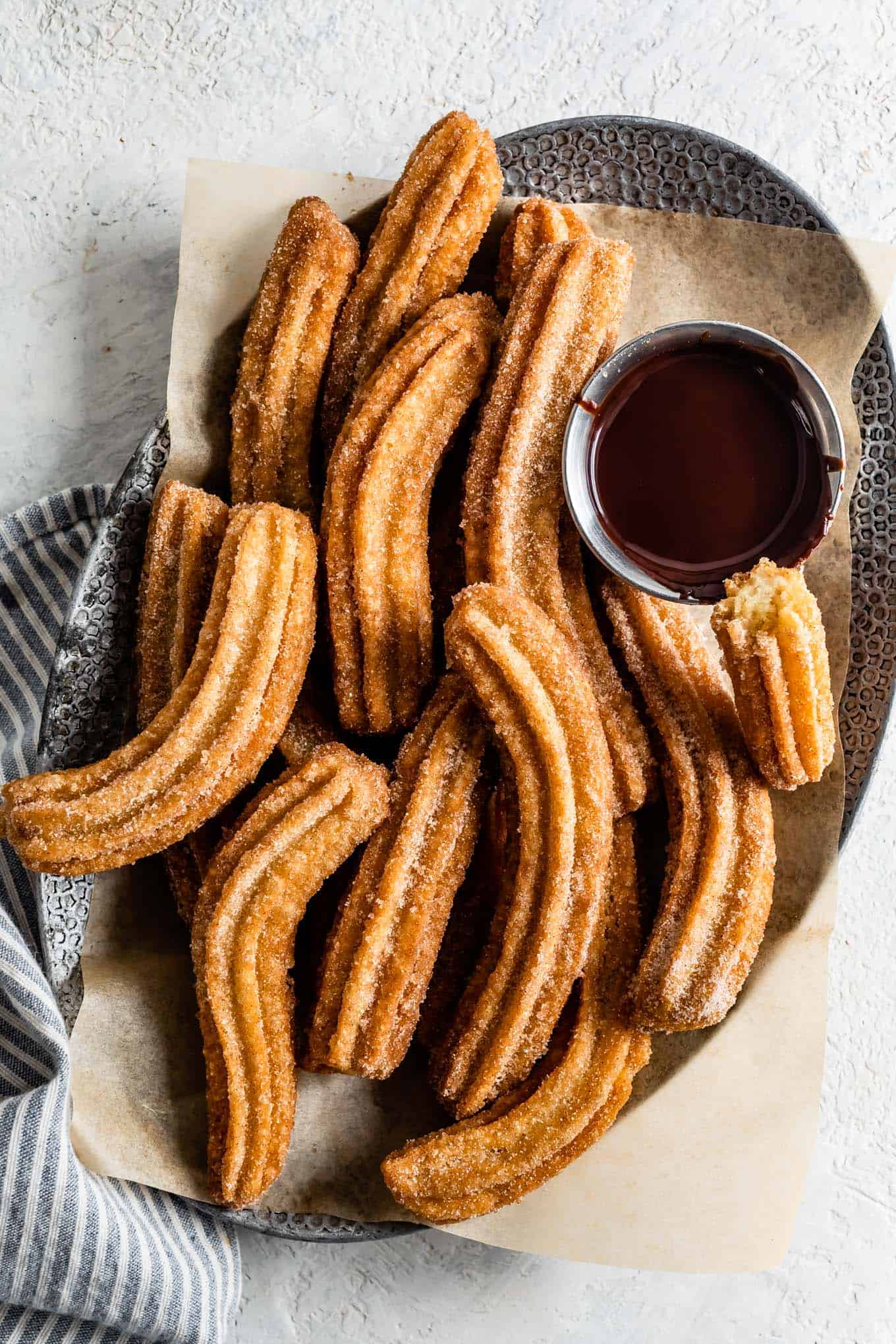 When you fry homemade gluten-free churros, your house instantly smells just like either a carnival or Disneyland.
After 8 months of playing with only her two-year-old little brother, Zoella (4) has gotten more and more creative with ways to torment him. The latest of which is, "I'm old enough to go to Disneyland, but you're not!"
Which of course riles him up until they get into a full shouting match over a hypothetical Disneyland trip.
Nevermind the fact that they've not even been to a grocery store since February, so Disneyland is pretty far off. Even if it is high up on Zoella's "Things to do After the Virus" list she's got taped up above her desk.
Gluten-Free Disneyland Churros
Since we can't go to Disneyland, we'll do our best to bring Disneyland's magic into our house. Here's what that entails:
Disney tunes on repeat.
Building a Gadget Go Coaster slide with couch cushions and a twin mattress.
Make Matterhorn bobsleds out of cardboard boxes. Lucas slides them up and down the hallway while I jump out from behind corners, pretending to be Harold the Yeti. This might not be age-appropriate.
Lay on my back with my feet in the air as Dumbo the Flying Elephant while my kids take turns soaring like an airplane on my feet.
Turn off the lights and have a late-night glow stick "electrical" parade.
Most importantly, make churros.
Heck, you can skip steps 1-6 and with a gluten-free churro in hand, you'll get your Disneyland fix.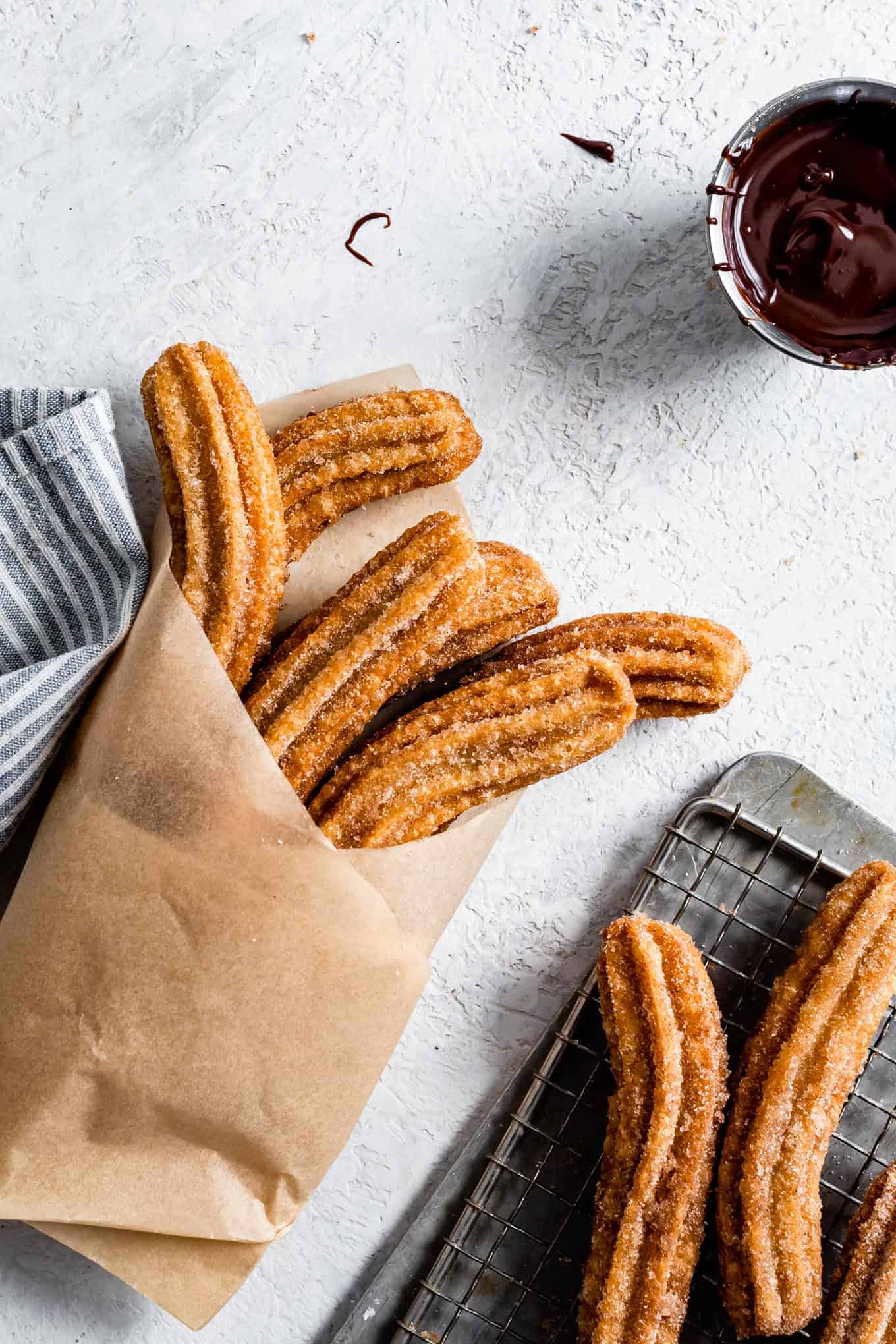 What do churros taste like?
Made popular in both Spain and Mexico, churros are made by frying a dough, similar to a choux pastry, then rolling it in cinnamon and sugar. The result is a fried pastry that tastes almost like a cross between a cream puff and a fried donut. The outside is super crisp while the inside is soft, tender, and chewy.
At my friend's request, I served these fritters con chocolate, much like you'd find in Spain, but you could also serve them up with dulce de leche or without any dip at all. Honestly, I prefer them plain.
In Mexico, you'll find churros that are much longer. These at-home churros are made shorter for no other reason than to easily fit in your pot.
Are Churros Gluten-Free?
Most churros are not gluten-free. Churros are typically made from a dough that contains gluten.
That being said, you can easily make churros that are gluten-free at home.
Easy Gluten-Free Churros Recipe
While churros seem downright daunting and complicated, they're actually one of the fastest and easiest desserts to make. Making a churro recipe gluten-free just means using a gluten-free flour blend for the dough. The rest is easy peasy!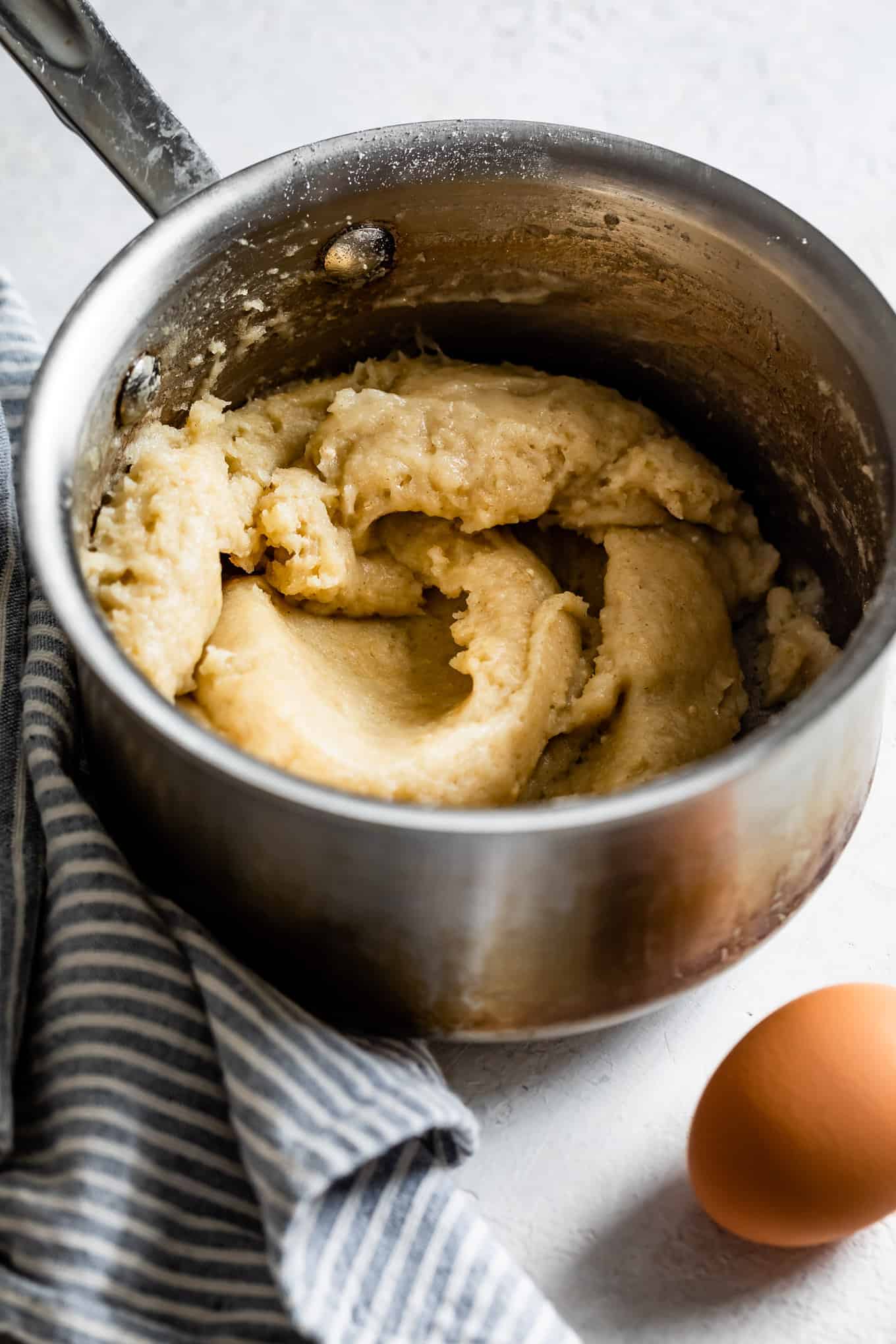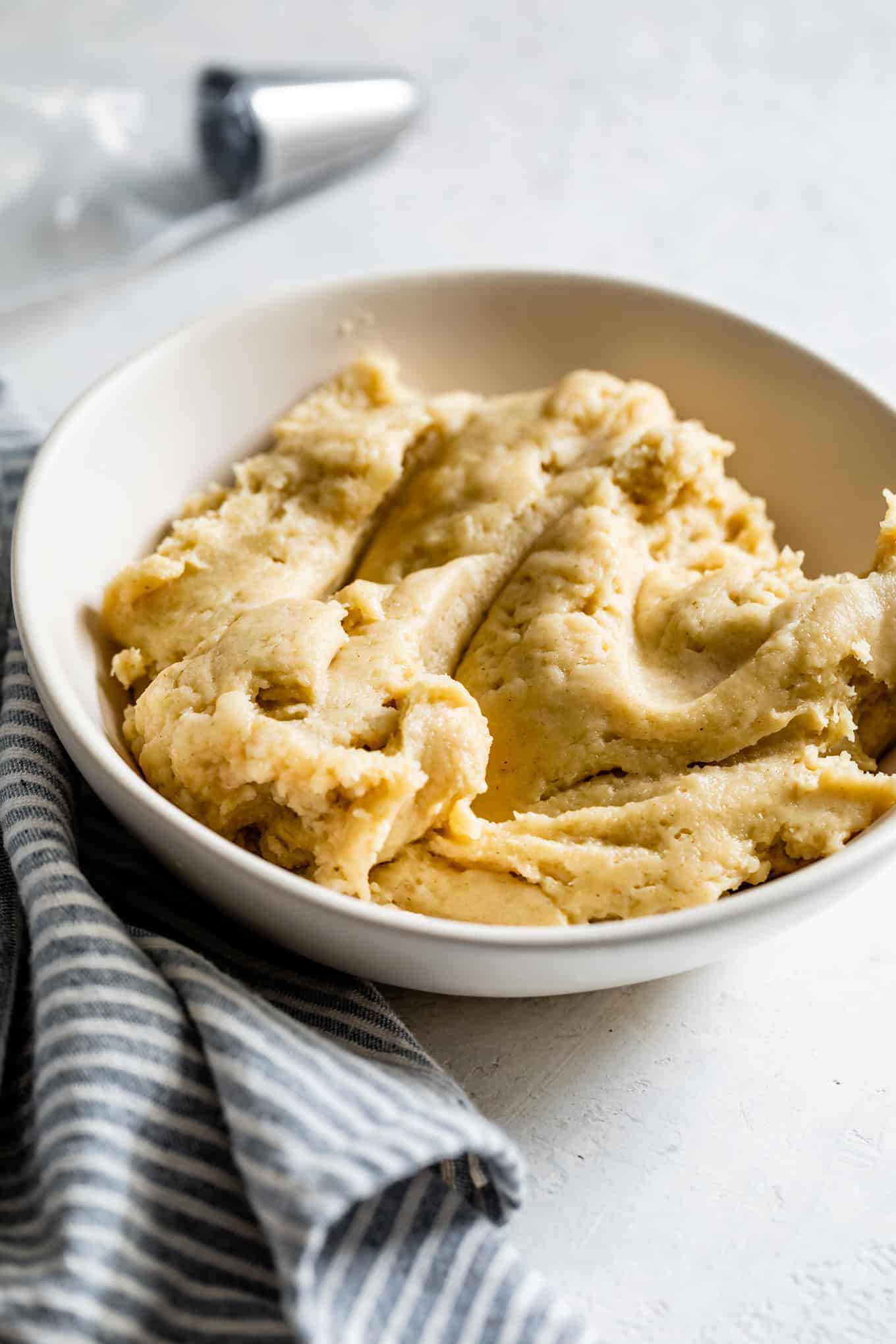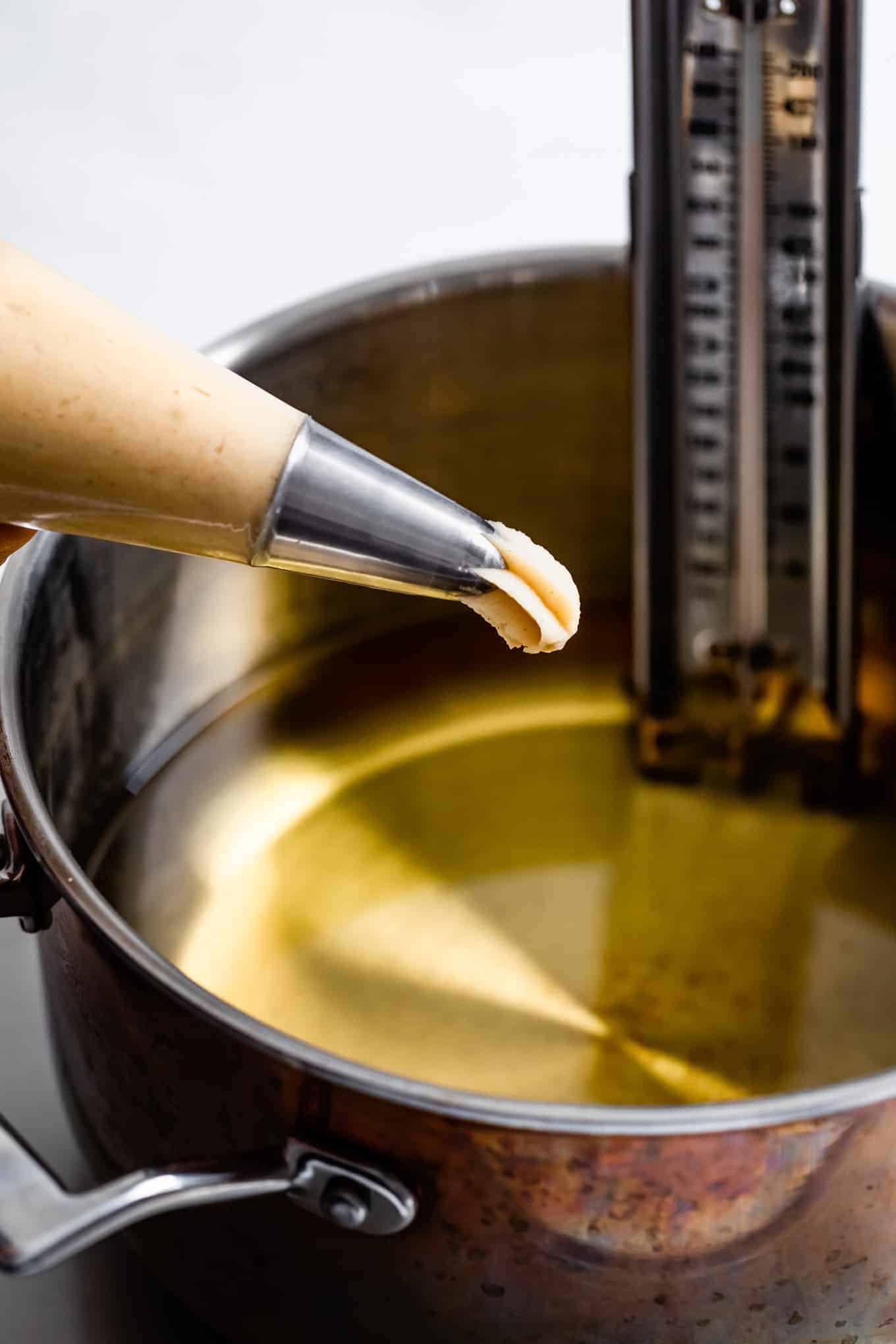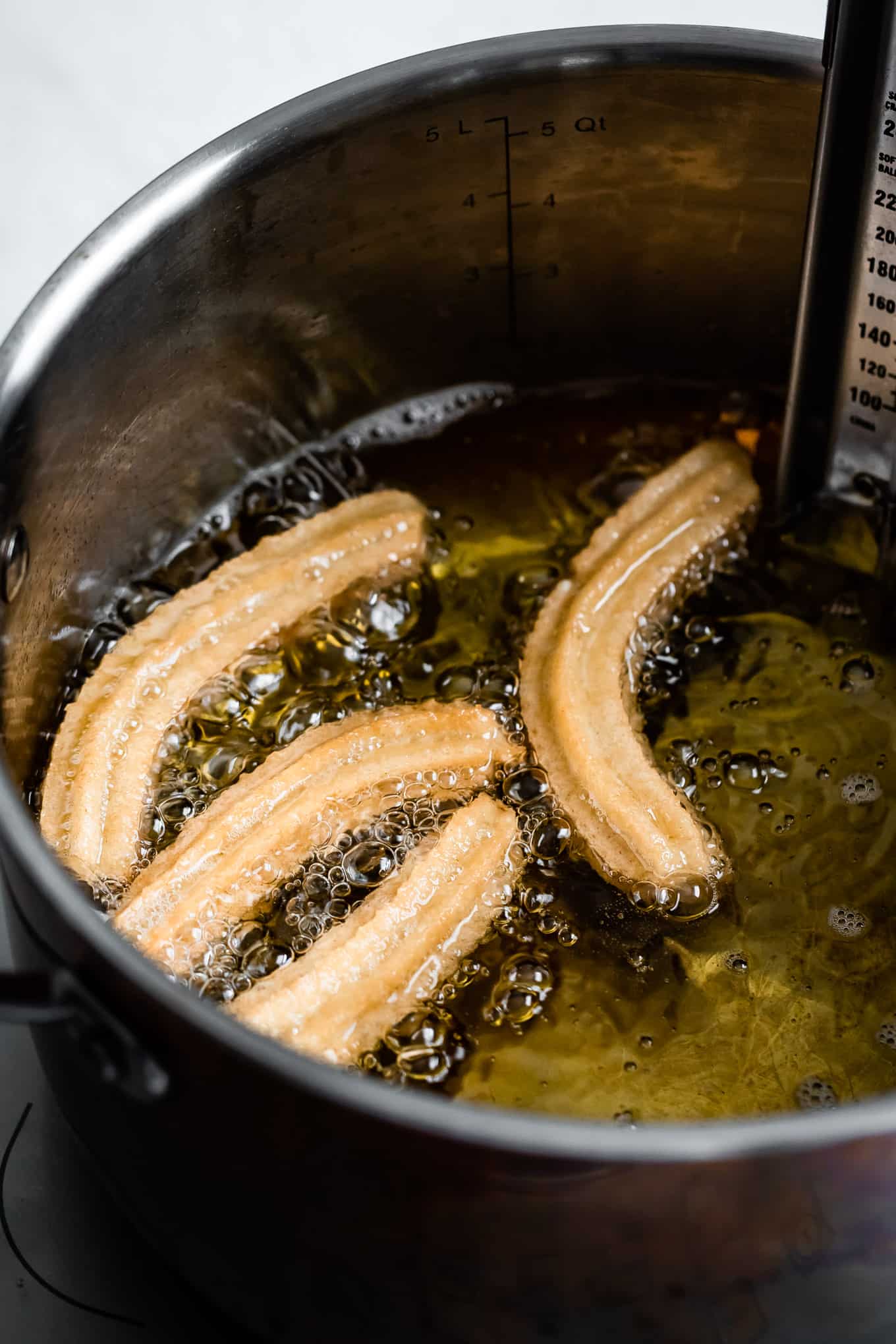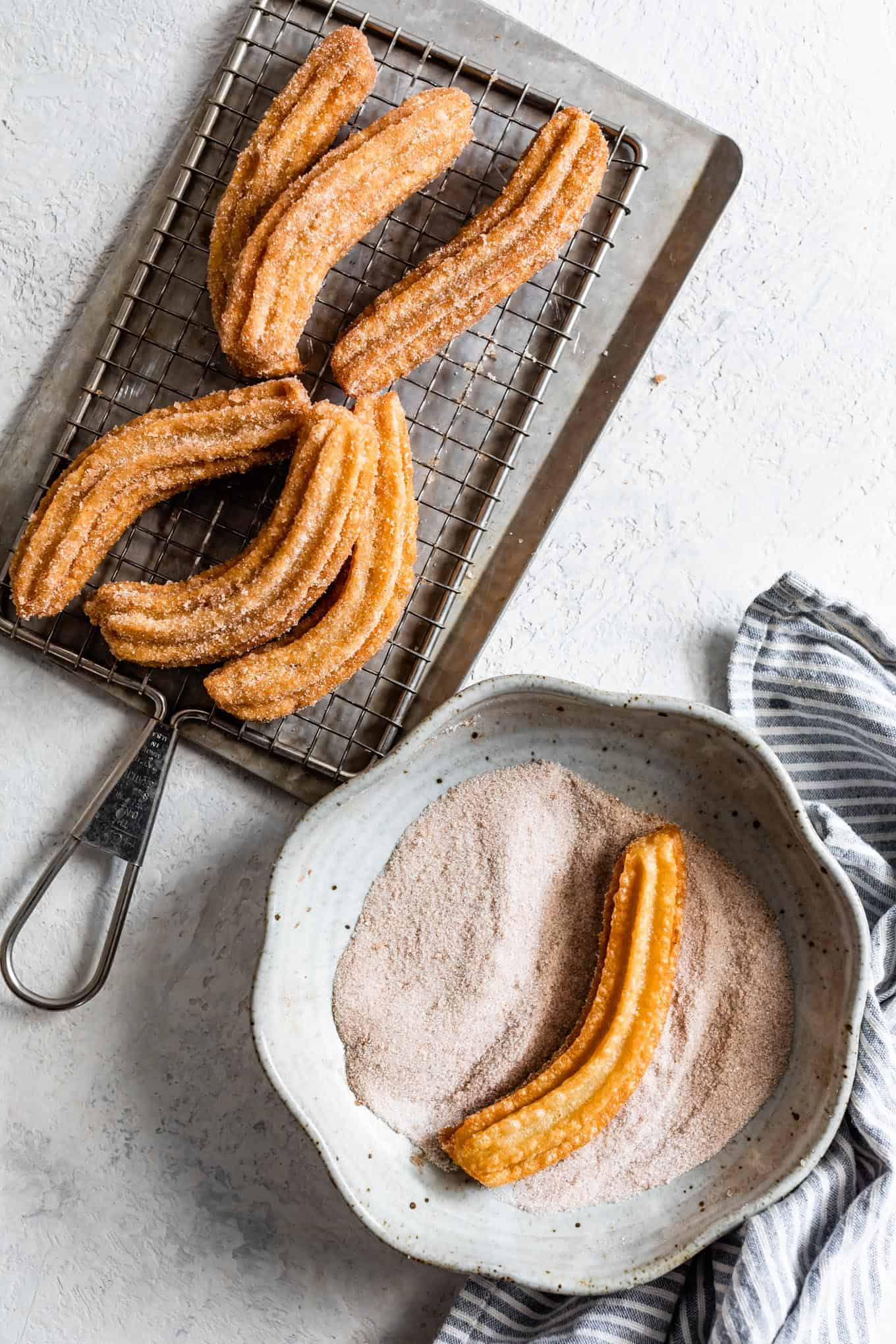 Gluten-Free Churro Dough
These churros use a blend of gluten-free flours to make a dough that fries up flavorful, fluffy, and chewy just like traditional churros. I've tested the churros with different flours and have substitution recommendations below, but the version shared in the recipe below won all the churro taste and texture tests among my neighbors. Making substitutions may change the outcome of your churros slightly.
Gluten-Free Oat Flour: Oat flour helps the churros puff up and give the center a softness that isn't doughy.
Option: grind up gluten-free rolled oats in a food processor or blender, then sift out any big pieces. Make sure to measure this by weight as homemade gluten-free oat flour is less finely ground so the volume per weight will be different.
Sub in by weight: sorghum flour, or all-purpose gluten-free flour. With sorghum flour, your churros will be slightly less puffy.
Millet Flour: Millet flour is a neutral flour in texture and flavor that's used almost as the mediator between the oat and sweet rice flour.
Sweet Rice Flour: Sweet rice flour is the most difficult flour to substitute in gluten-free baking and I don't recommend it. It's the magic weapon for gluten-free baking as its stickiness helps to bind your baked goods together. For these churros, it adds chewiness to the center. Note: this is different than white rice flour or brown rice flour.
Corn Starch: Corn starch helps the outside of the churro crisp up without becoming too light and airy, creating the classic churro crispy bite.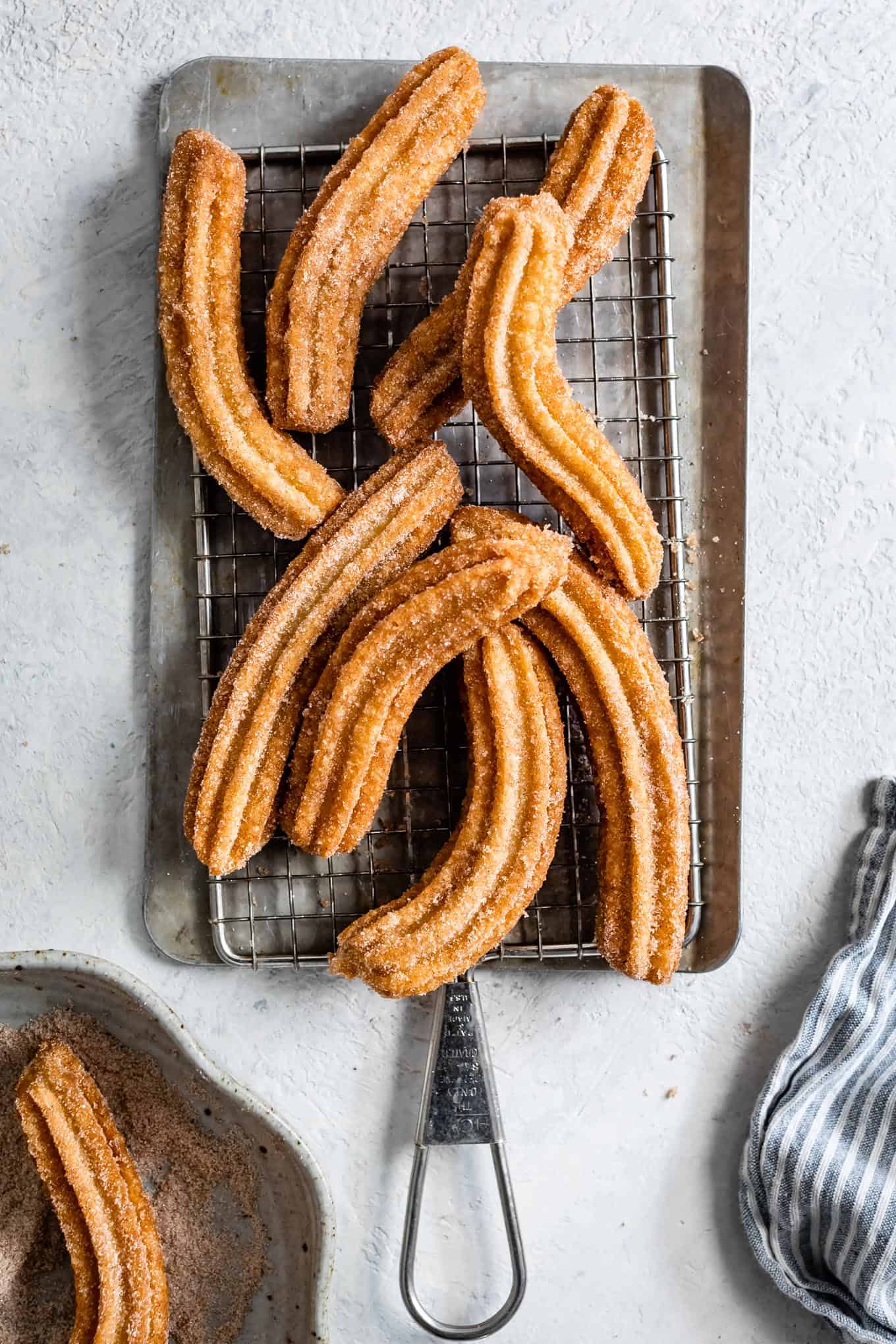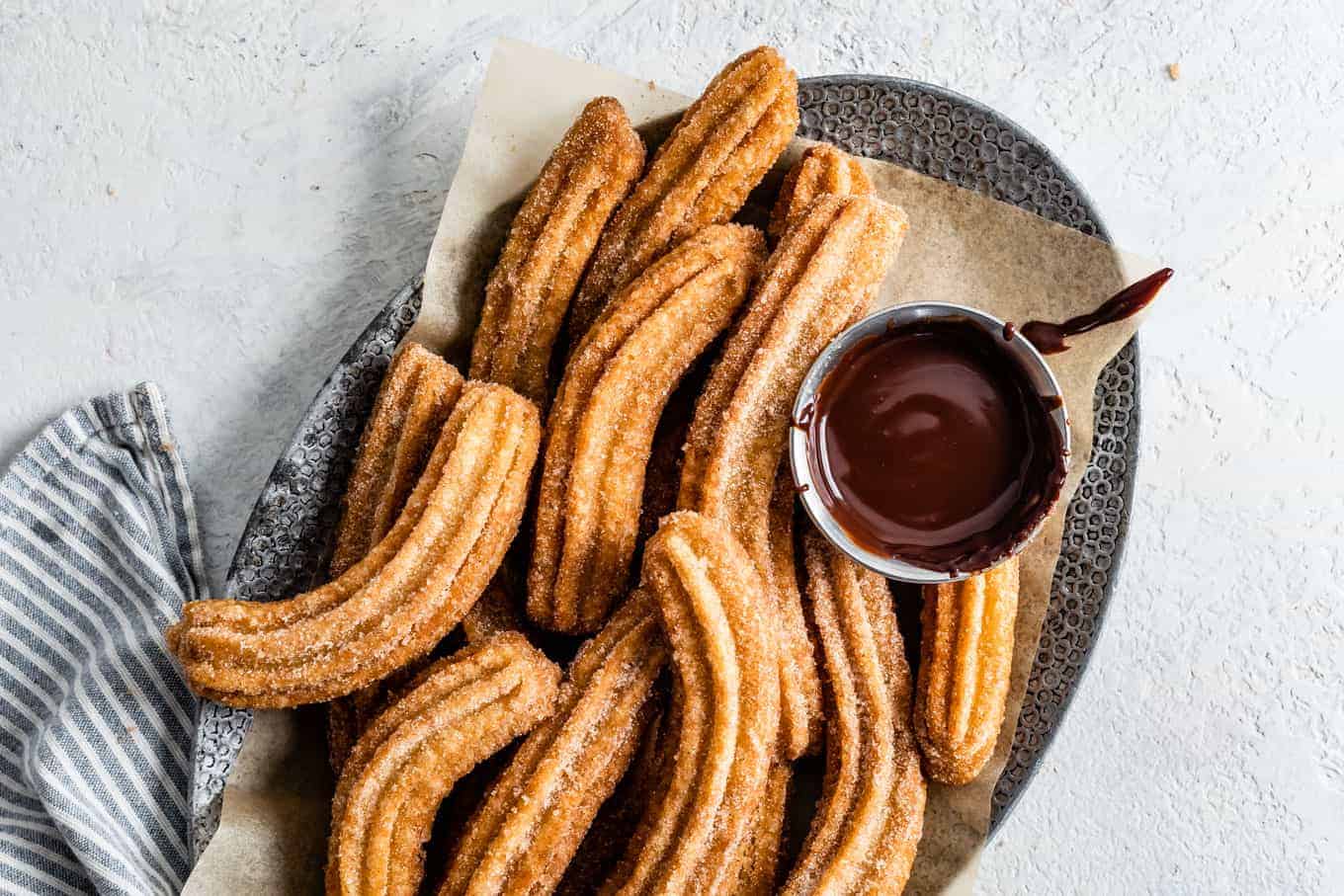 Tools for Making Gluten-Free Churros
To make gluten-free churros easily at home, you need just a few kitchen tools:
A ½-inch closed star piping tip. I prefer Ateco 846 or 847 (I used 847 for the churros pictured here).
A piping bag or a plastic bag with the tip cut off for the piping tip.
A large wide pot for frying. I like using a stockpot or large saucepan because the high sides keep the oil from splattering.
A candy/deep-fry thermometer. Frying perfectly golden brown and crispy churros with a soft slightly chewy center that isn't undercooked requires having your oil at the right temperature between 360°-365°F.
Why are my churros doughy?
If your churros are doughy on the inside, but still properly golden brown, this usually means the temperature of your oil is off. As I mentioned above, using a thermometer to monitor the temperature of the oil is key.
If the oil is too hot, your churros will brown and crisp up while the center remains doughy and undercooked.
On the contrary, if the oil is not hot enough, the crisp layer on the outside will get too thick and crisp before they can properly brown. Once you add the churros, the temperature will drop, so increase the heat to account for that, keeping an eye that it doesn't get too hot.
If your churros are neither golden brown nor cooked in the center, then they're just undercooked and need to fry longer. Make sure you only pull them out once both sides have turned golden brown.
Working in batches of just 3-4 churros at a time helps because you can better regulate the oil temperature while keeping an eye on the churros.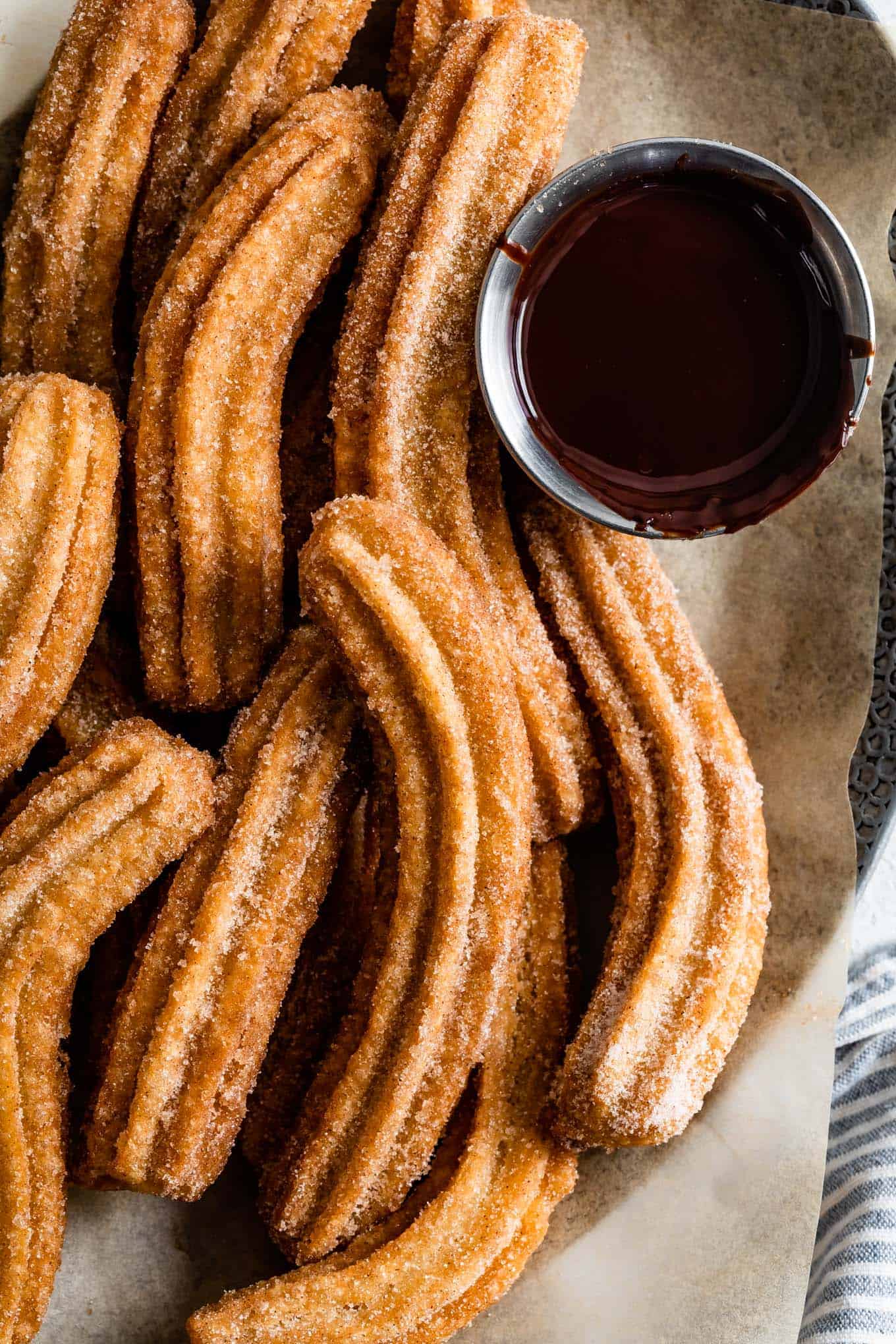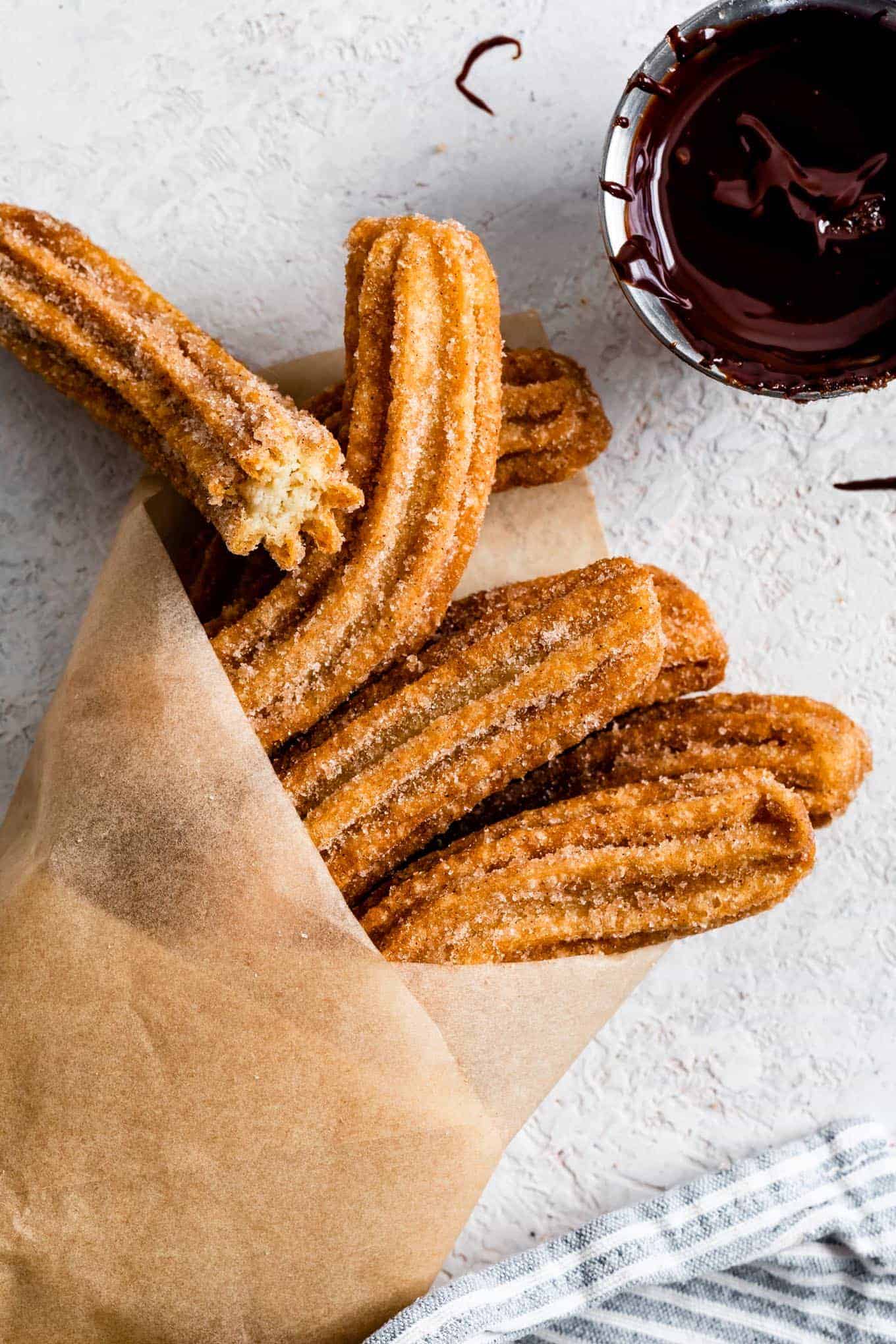 How long Can you Keep Gluten-Free Churro Dough?
If you want to make these in advance, you can store the dough in the fridge for up to 4 days. When ready to fry, let the dough sit on the counter for an hour to become room temperature and easier to pipe.
While I've never done it (because when I make churros, I make all of them), I think the dough would also be fine to freeze for longer storage. Just be sure to bring it to room temperature before trying to pipe and dry them.
How to Reheat Gluten-Free Churros
While churros are still delicious served room temperature, there's nothing like a crisp warm churro. If you have leftovers, store them covered at room temperature for 2-3 days. To reheat your churros, place them on a wire rack set over a baking sheet and bake at 350°F for 5-7 minutes until warmed throughout.
Now get to work transforming your house into Disneyland! Or at least a street carnival.
More Gluten-Free Classic Recipes
Some of your favorite classic recipes made gluten-free.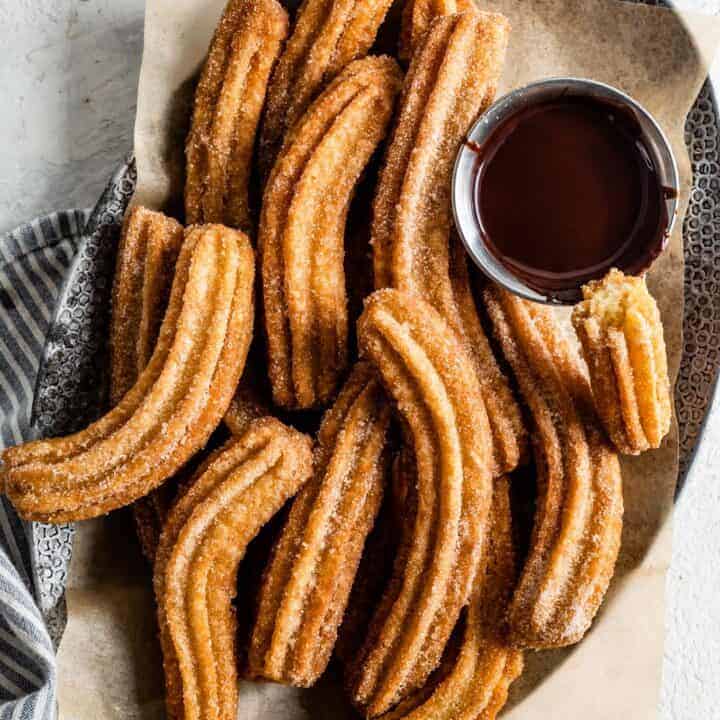 Gluten-Free Churros
Yield:
16 4-6 inch churros
Gluten-free churros are surprisingly easy to make at home. Using gluten-free flours, these churros are super crisp on the outside with soft and slightly chewy centers and are just as good as their classic counterparts! You'll feel like you're at a street carnival.
Ingredients
For coating:
½ cup (106g) granulated sugar
¾ teaspoons ground cinnamon
Instructions
Heat 1½ inches of oil over medium heat in a large saucepan. Use a candy thermometer to bring the oil between 360°-365°F (without knowing the temperature of your oil, you'll have trouble frying the churros so they turn golden brown while the inside cooks). Adjust the heat on the stove to maintain this temperature.
Whisk the oat flour, millet flour, sweet rice flour, corn starch together in a small bowl. Set near the stove.
In a medium saucepan, bring the water, butter, sugar, and salt to boil over medium heat. Add flours all at once and cook, mixing with a rubber spatula until completely incorporated.
Transfer the dough to the bowl of a stand mixer or a large bowl with a hand mixer and let cool for 10 minutes.
Add the egg and vanilla and mix until completely combined.
Transfer the dough to a piping bag fitted with a ½-inch closed star tip (I used the Ateco 847 star tip, but the 846 works just as well)
When your oil is at temperature, work in batches frying 3-4 churros at a time, so as not to crowd the pan. Pipe the dough directly into the oil in 4-6 inch long strips, using clean kitchen scissors to cut the dough from the tip. Adjust the heat on the stove to keep the oil at 360°-365°F. Fry the churros 1½-2 minutes, then use tongs to flip them and fry another 1½-2 minutes, until both sides are golden brown. Transfer to a wire rack to cool a few minutes and repeat with remaining churros.
Mix the coating sugar and cinnamon together in a shallow bowl. Toss each churro in the cinnamon sugar to coat. Serve warm with chocolate sauce, if desired.
Store churros uncovered at room temperature for up to 12 hours or in an airtight container at room temperature for 2-3 days. To reheat churros, preheat the oven to 350°F. Place the churros on a wire rack over a baking sheet and bake for 5-7 minutes until warm.
Nutrition Information:
Yield:

16
Serving Size:

1
Amount Per Serving:
Calories:

77
Total Fat:

4g
Saturated Fat:

2g
Trans Fat:

0g
Unsaturated Fat:

1g
Cholesterol:

19mg
Sodium:

39mg
Carbohydrates:

10g
Fiber:

0g
Sugar:

4g
Protein:

1g