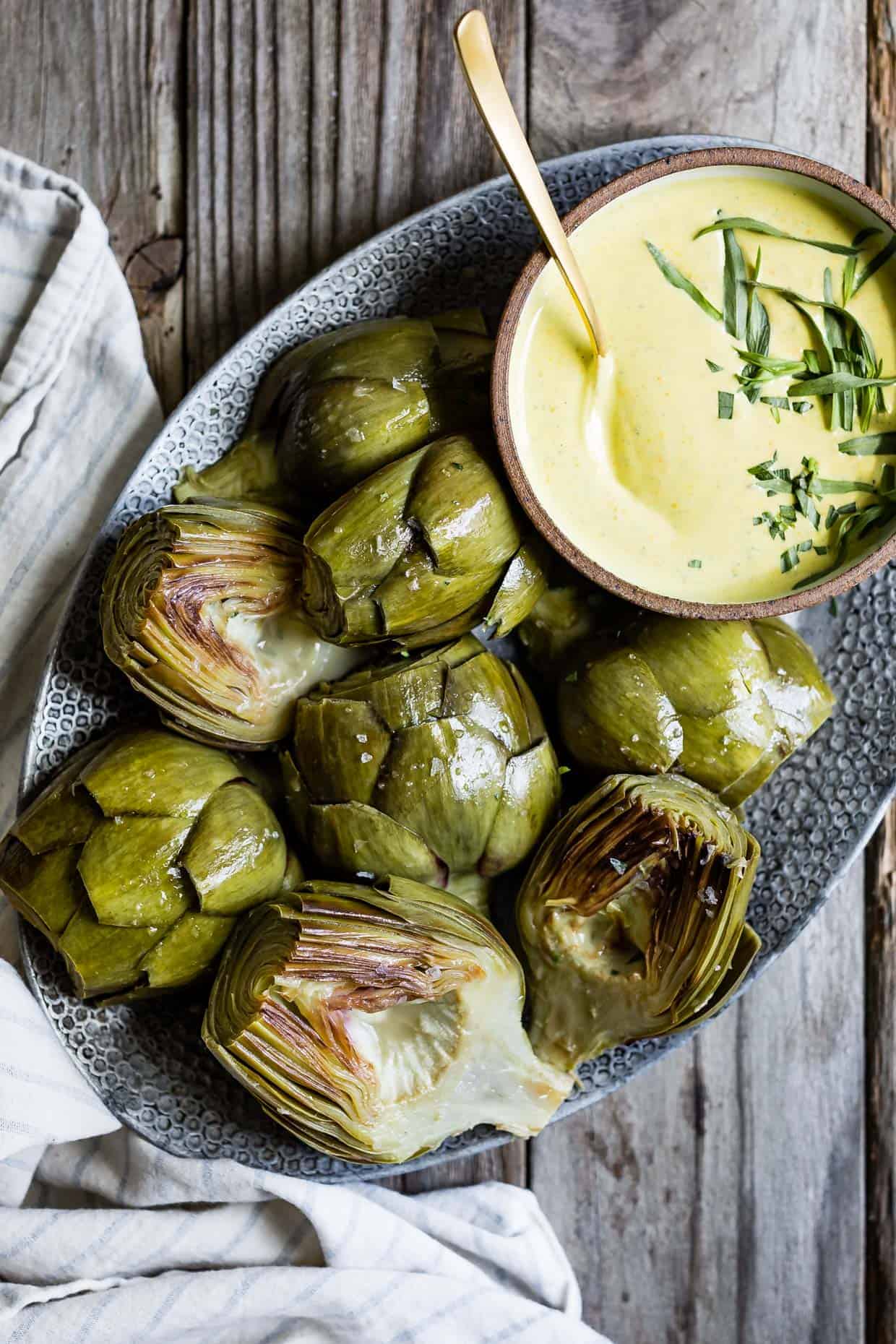 If I had to eat one vegetable for the rest of my life, it would be artichokes. No hesitation. Over the next year, I'm partnering with Safeway for a Farm to Fork blogger tour to learn about their specialty Northern California based vendors, and when they told me our first stop was an artichoke farm, I may have squealed.
There are few things that evoke such a reaction. If you're not new here, you may already know how much I love artichokes - so much so that we named our cats Artichoke & Aioli (which has proven to be mildly confusing for our 2 year old now that artichoke season is in full swing). We've eaten these white wine braised artichokes dipped in cashew mandarin tarragon aioli for the past three nights and no one is sick of them.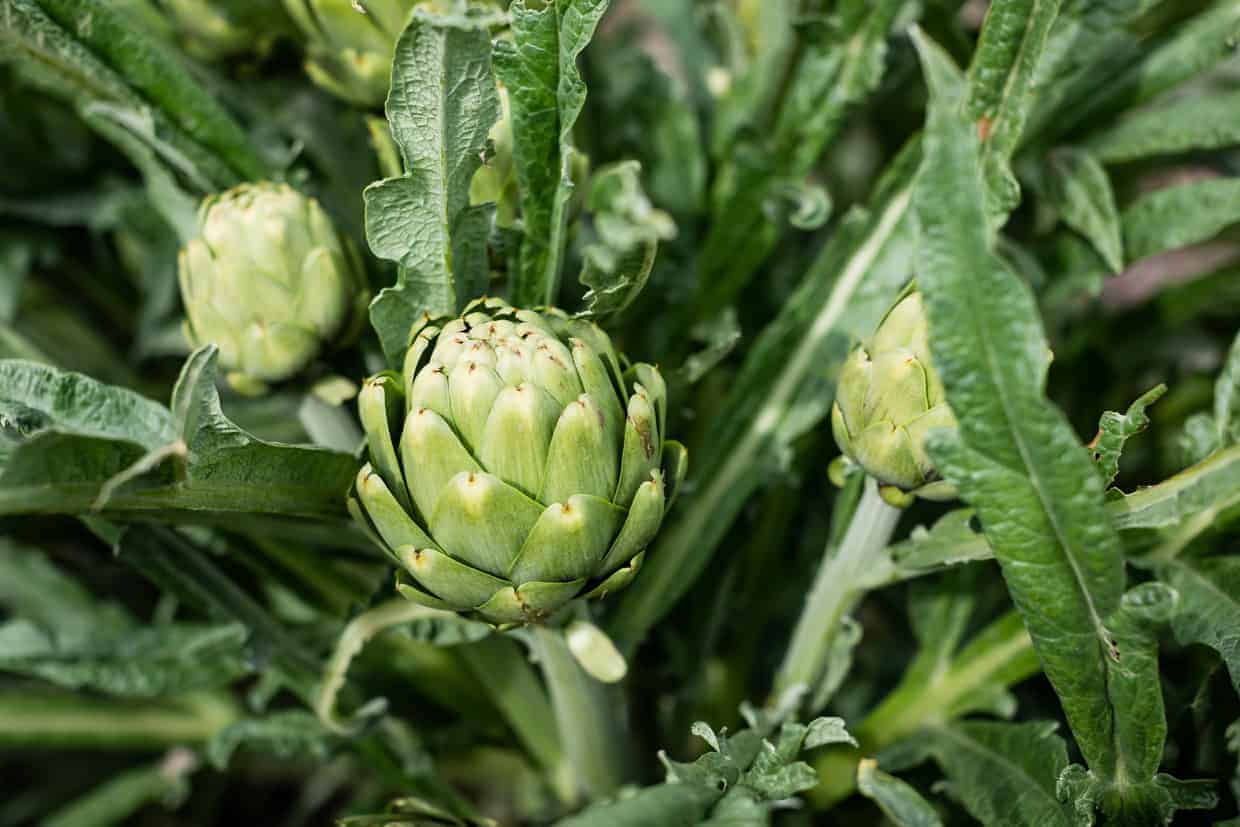 Growing up in NorCal, not far from Artichoke country, I was lucky enough to eat artichokes quite often as a kid. Back then, we threw whole untrimmed artichokes in a pot and boiled the heck out of them, then dipped the leaves in straight-up mayonnaise. That's how I learned to eat artichokes and fell in love - and it's also a perfectly acceptable method of preparing/eating artichokes. Artichokes are so delicious on their own that any special preparation or sauce only serves to takes things up a notch. That's just what I'm doing here with these white wine braised artichokes - that I cut right from the plant myself.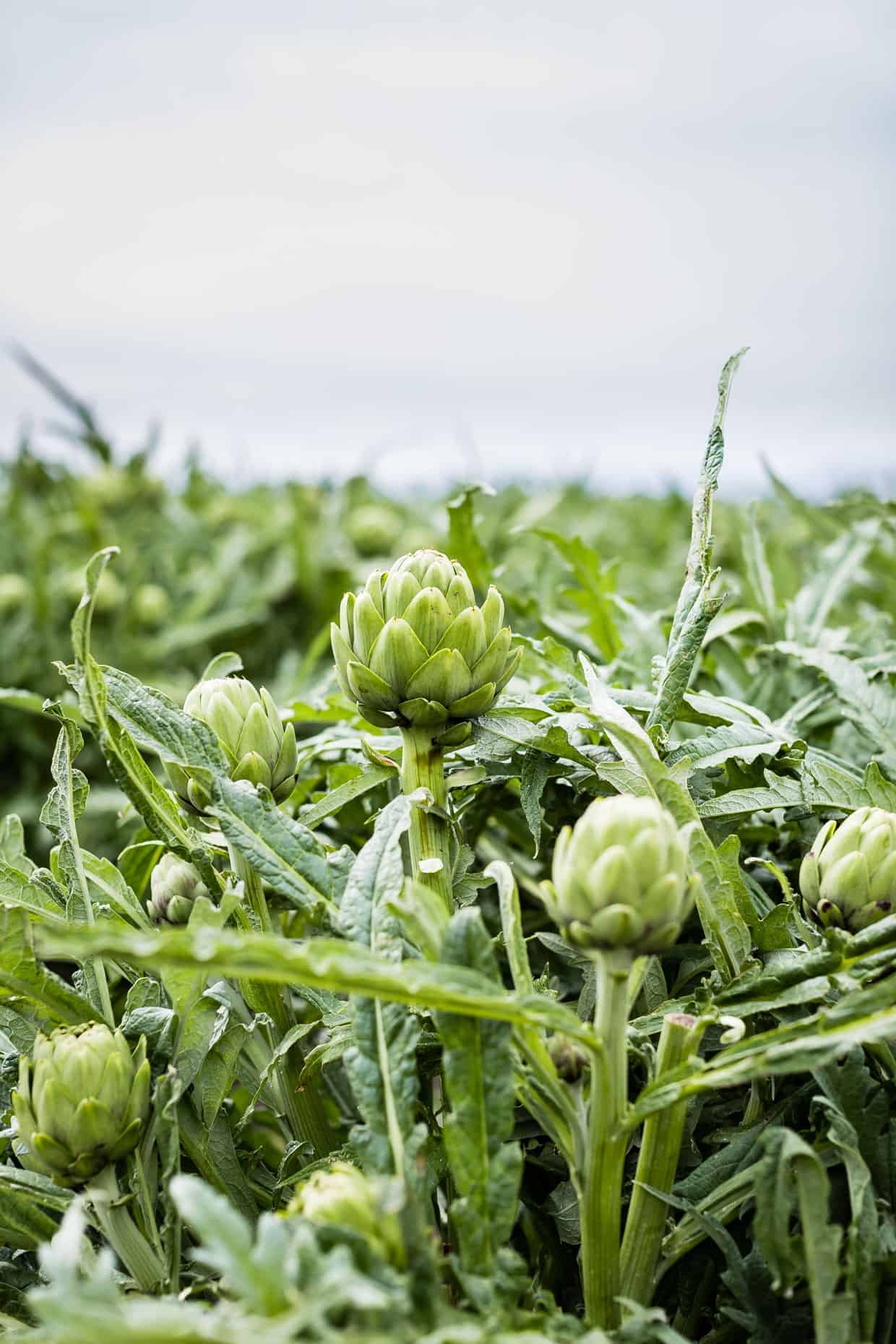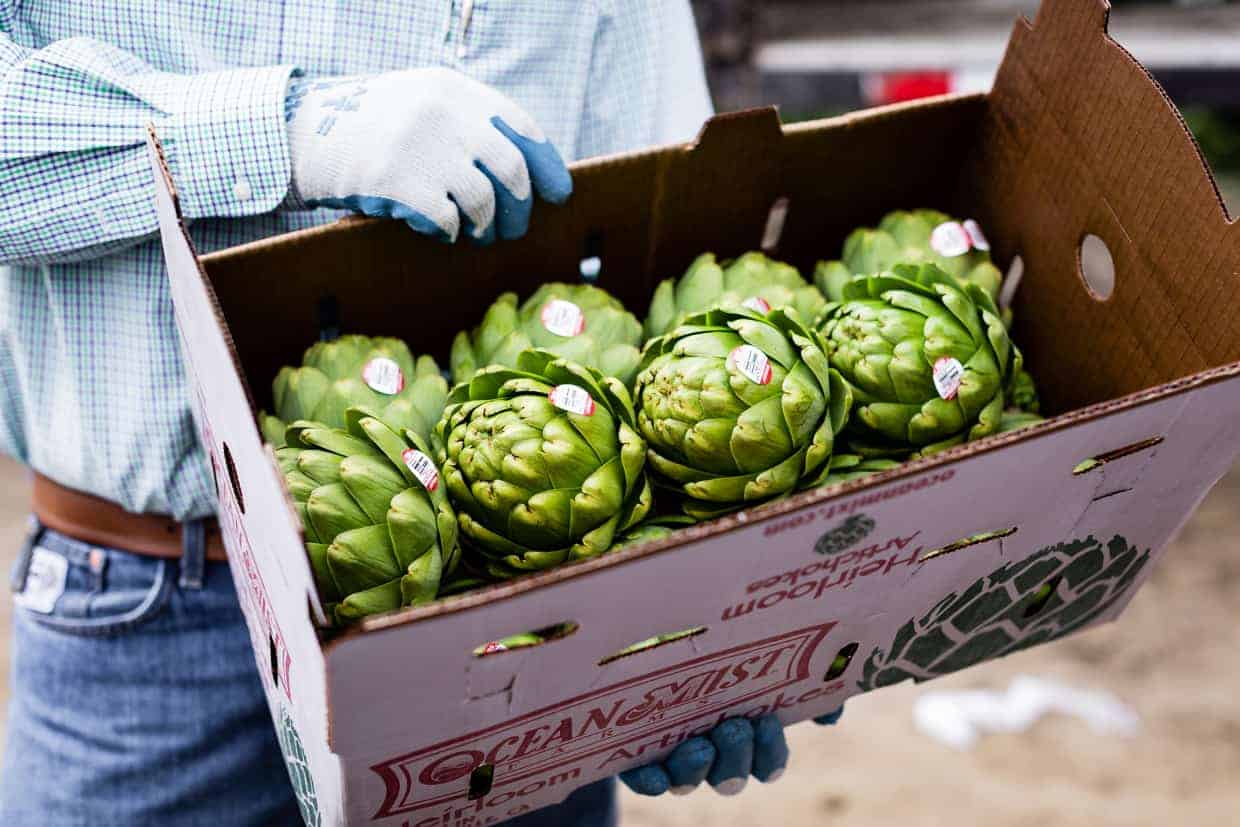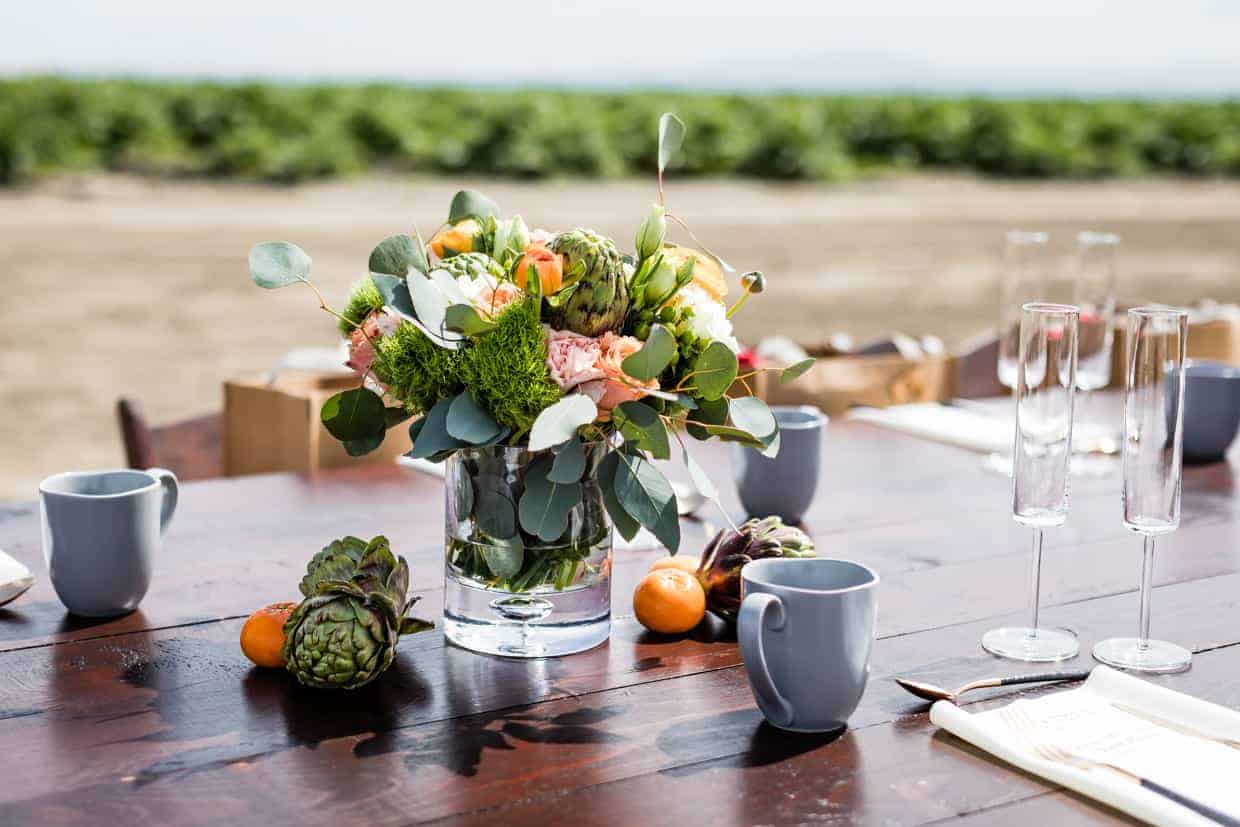 I showed up to Ocean Mist's artichoke farm wearing artichoke socks (yes, I own artichoke socks). For as much of a super fan as I am though, I was surprised by just how little I knew about growing artichokes. For example, I assumed that baby artichokes - the kind you peel down to their core or that you get canned as hearts - were just that: babies. I love artichoke hearts something fierce, but also, doesn't that seem like such a sad waste to pick an artichoke before it's done reaching its full growing potential?
Well, it turns out that's just incorrect. Artichokes come in three size ranges - baby, medium, and large - that are based solely on where on the plant they grow. The large ones grow on the big primary stalk, medium ones grow on secondary stalks shooting off of the primary, and babies grow on tertiary stalks. You could let the babies keep growing, but they won't get much bigger! This somehow makes me feel much better about eating a whole can of artichoke hearts in one salad.
You know what else makes me feel better about doing that? Knowing that these leafy vegetables contain significant amounts of fiber, protein, prebiotics, and antioxidants - in fact, they're ranked first among all vegetables in the number of antioxidants!
After harvesting our own artichokes, Safeway treated us to a farm fresh lunch right amidst the artichoke plants that featured Ocean Mist artichokes, Sun Pacific Cuties, Chandon sparkling wine, and other O Organics ingredients. Then they sent us home with a goodie bag filled with all of the above and a recipe challenge.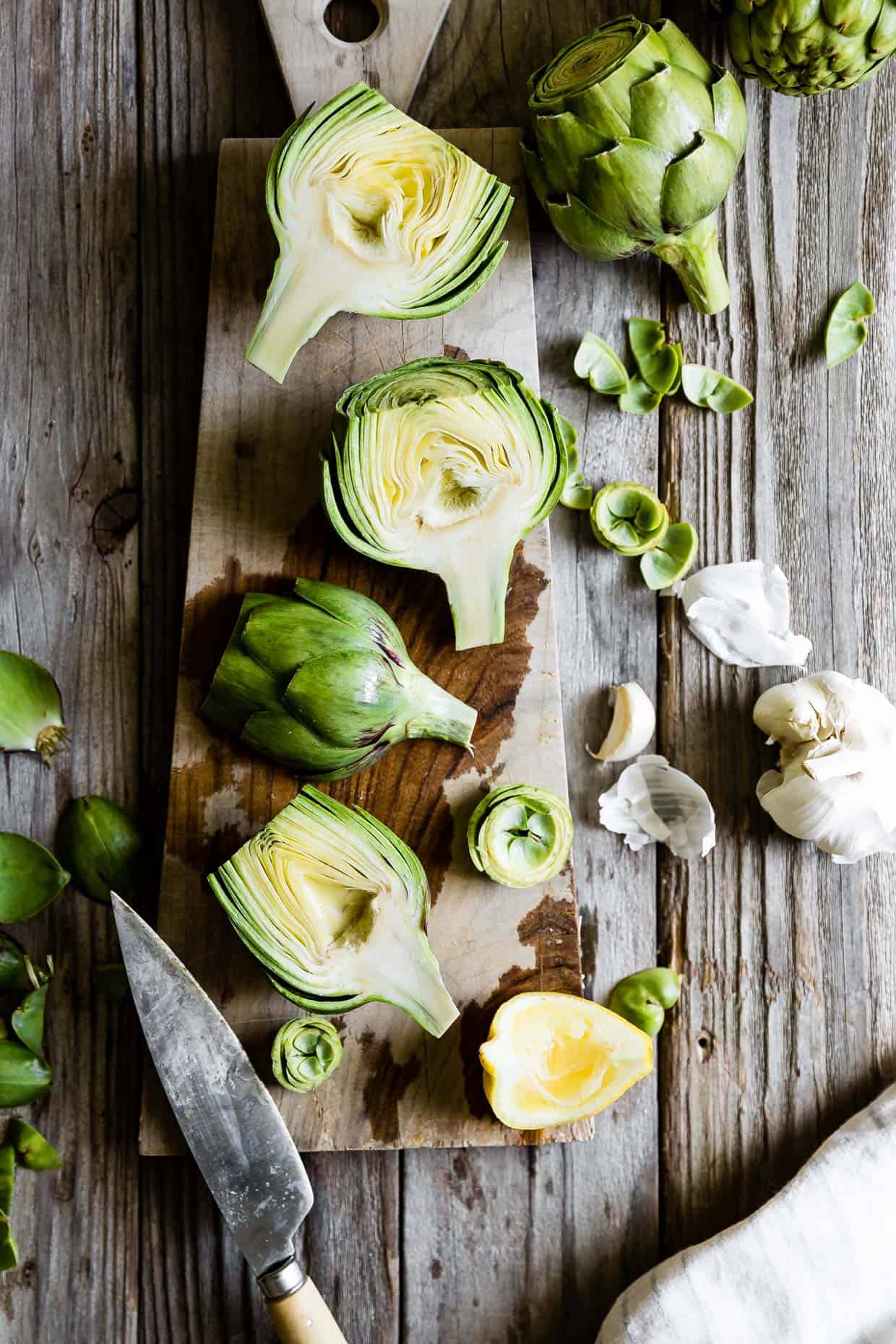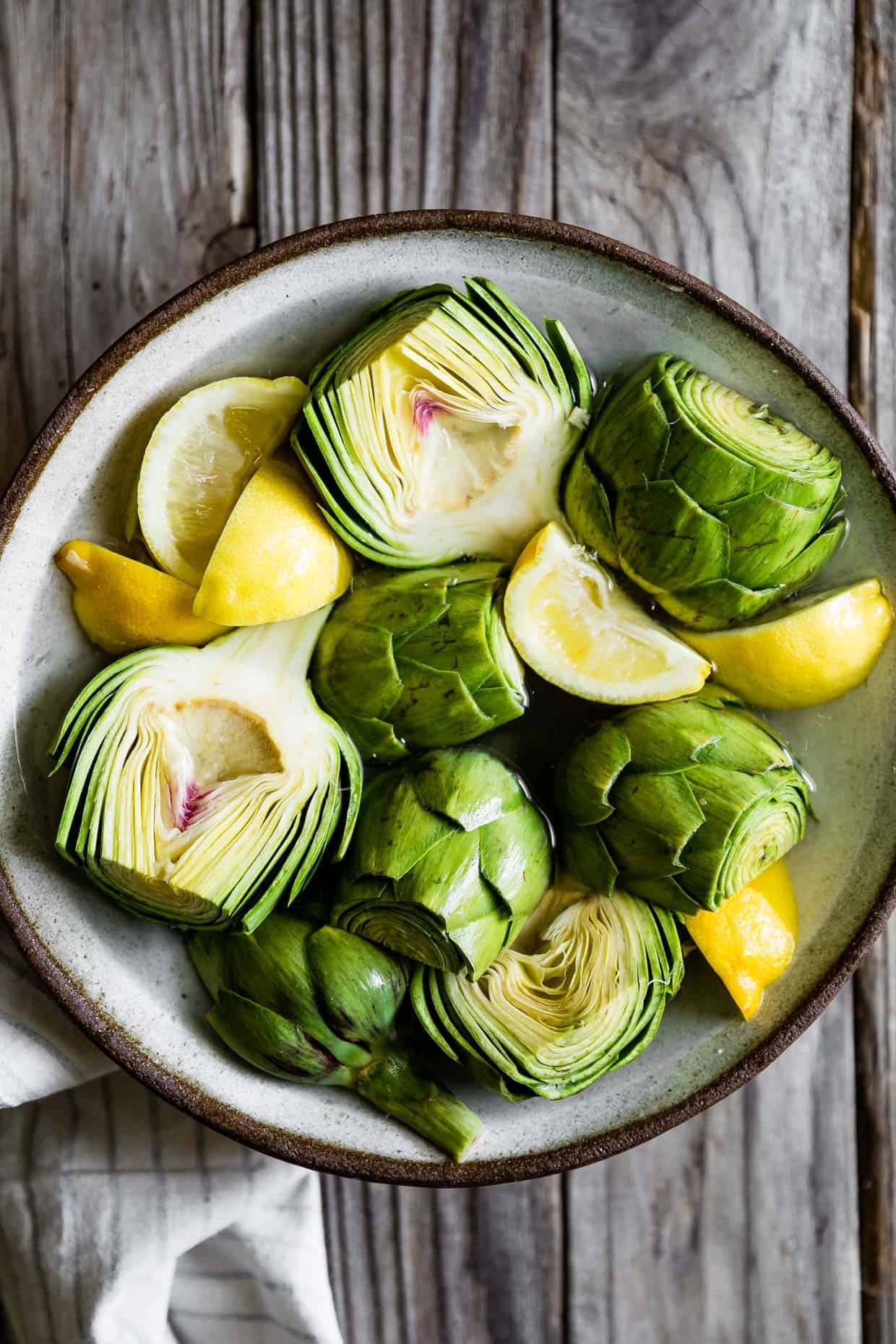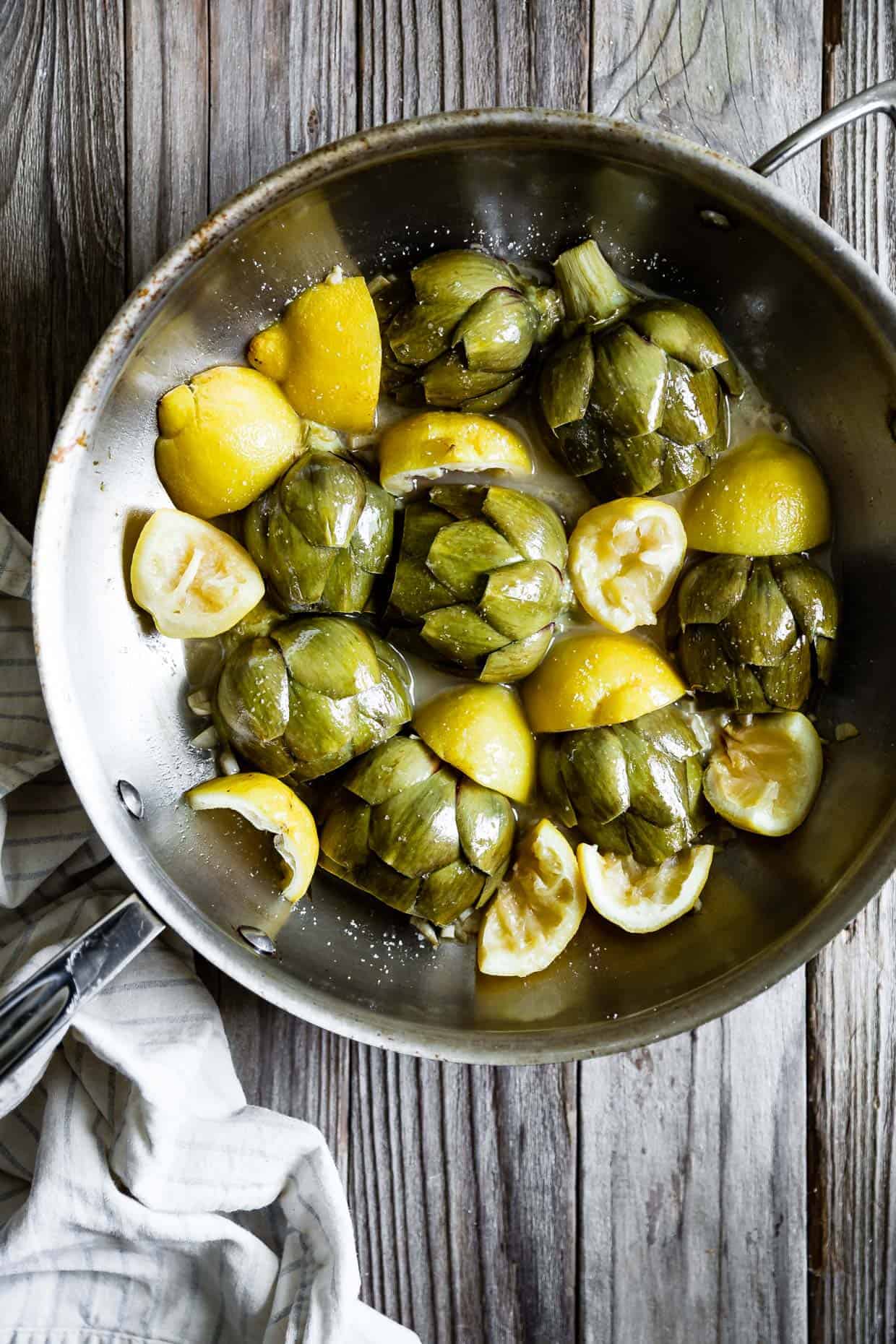 That's what sparked the idea for this cashew mandarin tarragon aioli. Mandarins were possibly the most commonly found fruit in my house as a kid from NorCal. And now Cuties - which come from two varieties of mandarins depending on the season - are one of Zoella's staple snacks too. But why reserve them just for snacking or salads? Their juice and zest offer a tangy flavor that's slightly sweeter than other citrus. For this aioli, I've replaced lemon juice with mandarin juice and zest and complemented the sweetness with fresh tarragon that simultaneously tastes bright and savory.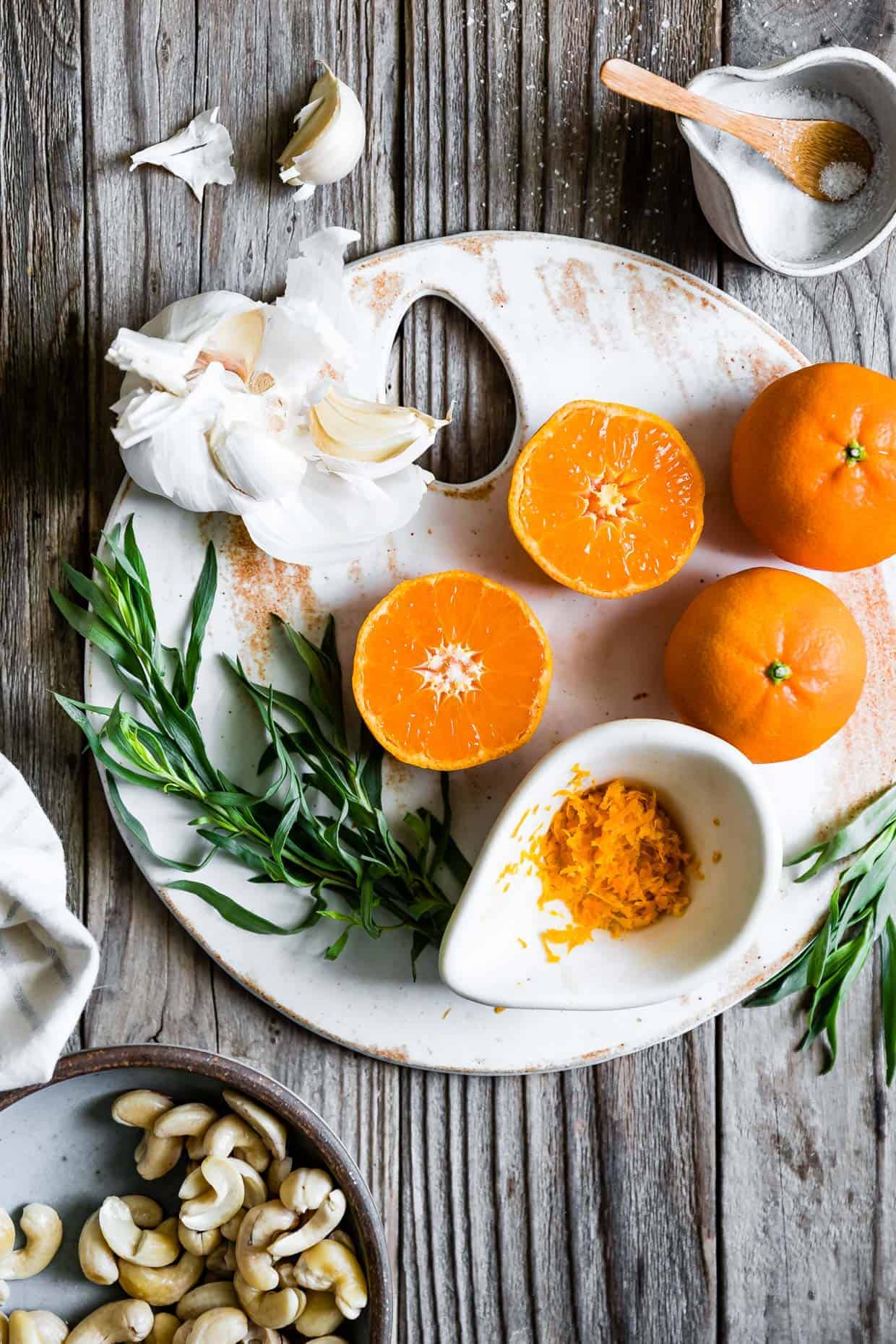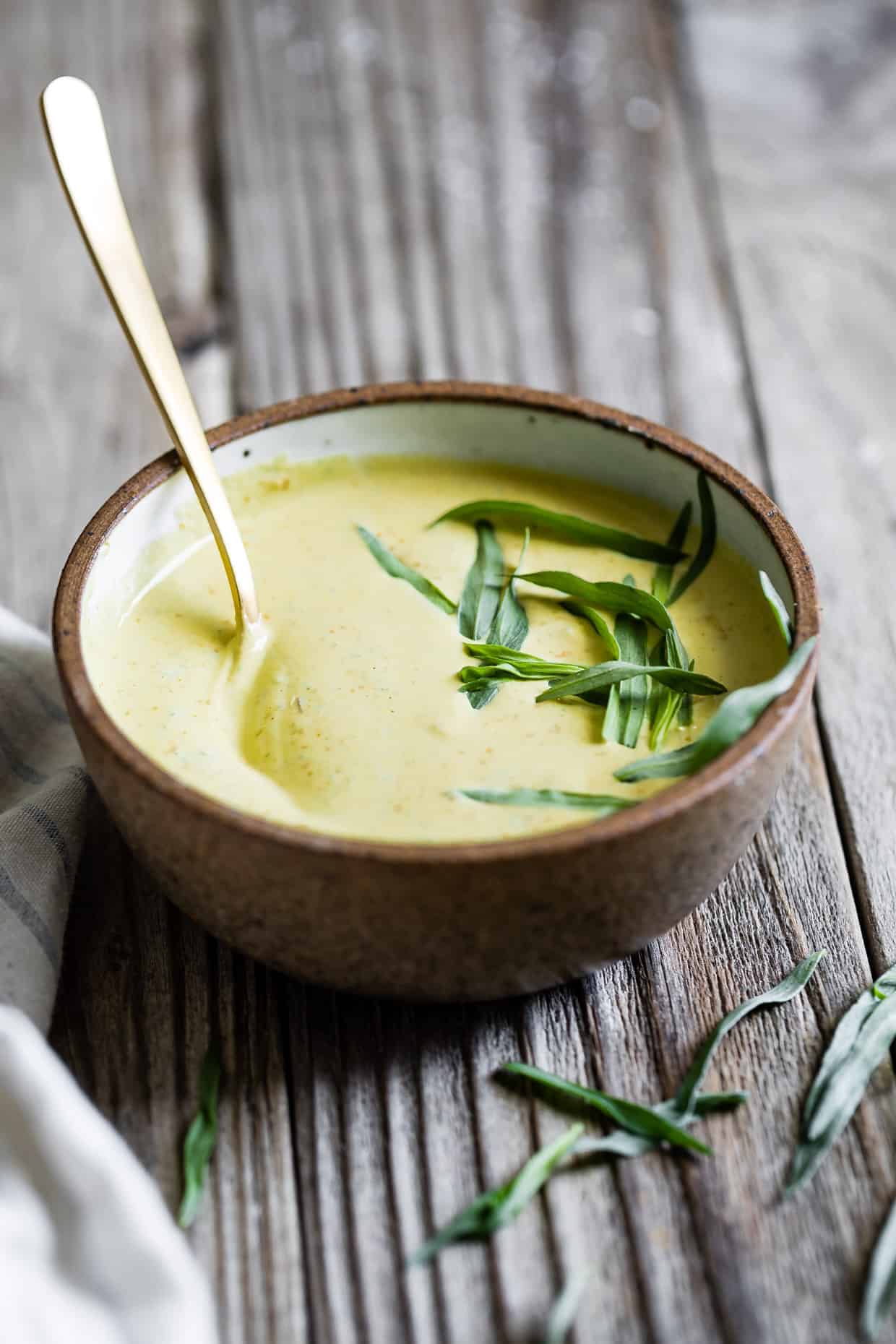 This mandarin tarragon aioli is vegan with a cashew cream base, but not because I'm vegan. I'm actually known to dip my artichokes in melted butter more often than not! The thing is, I love aioli (who doesn't?), but I hate the taste of store-bought mayonnaise, especially at 6.5 months pregnant. And since I'm pregnant, I can't eat homemade aioli with raw egg yolks, so I've swapped in soaked cashews for the creaminess. It's perfection.
I first tested a version with a good-quality olive oil mayo, which Lucas liked, but I couldn't stomach the mayo flavor. I then picked up some cashews and vegan mayo so I could try different versions and I didn't tell Lucas which I ended up using.
When he dug into his artichokes for round 2, he let out a satisfied sigh, "why is vegan mayo so much better??" He was right about one thing: tonight's aioli was so much better than the last version. But I didn't use the vegan mayo because cashews won me over! He was shocked.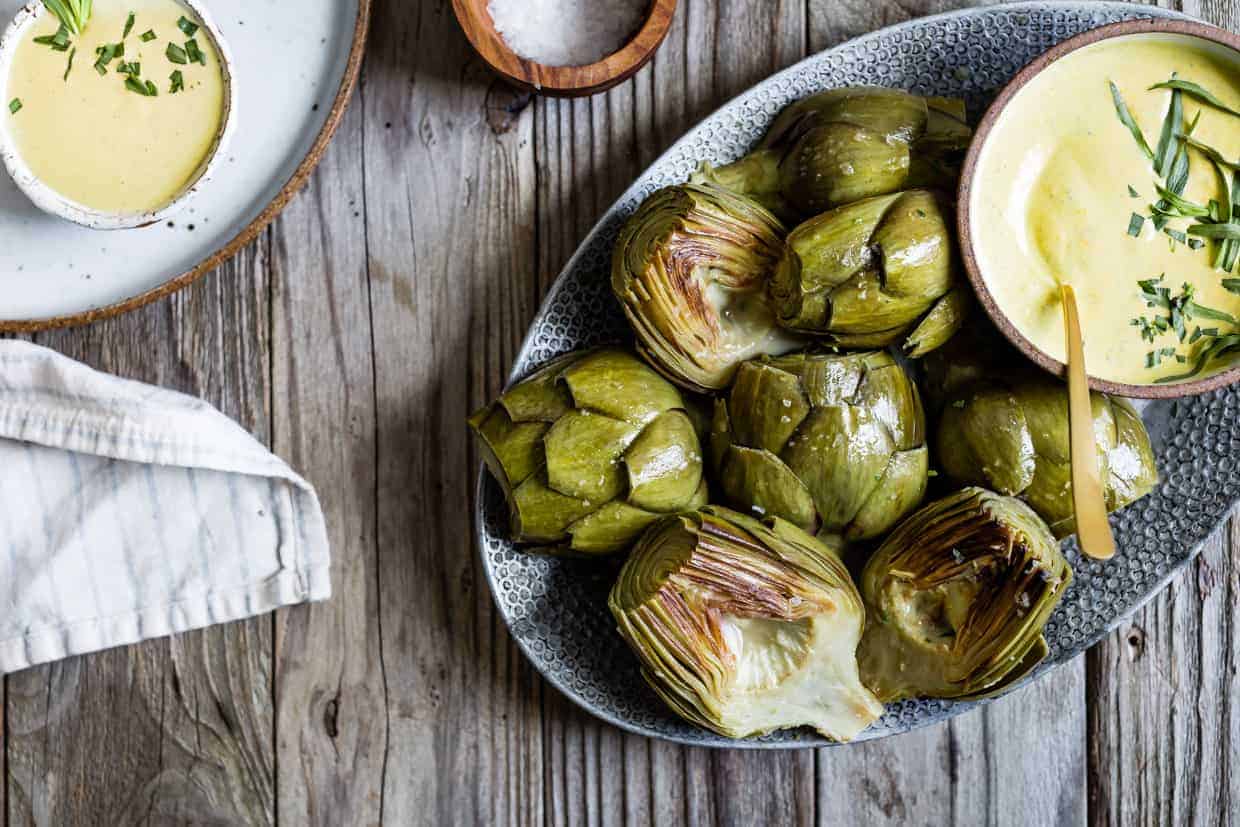 If you're not pregnant like me, serve these braised artichokes with a glass of Chandon sparkling wine. You can grab all the ingredients to make these white wine braised artichokes with mandarin tarragon aioli at Safeway. Plus, if you use the Safeway Home Delivery information at the bottom of this post, you don't even have to get off your couch!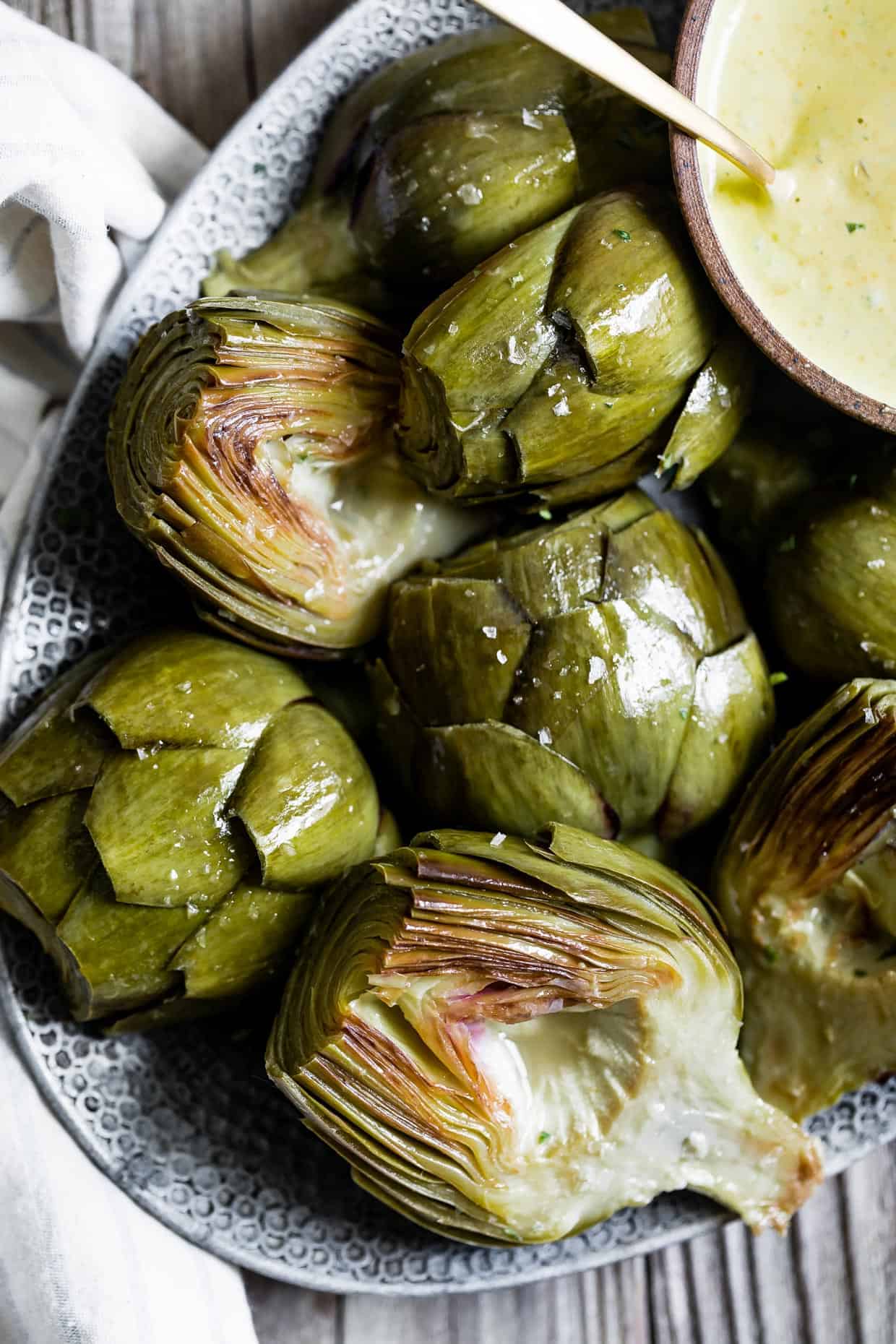 Disclosure: Special thanks to Safeway for providing the ingredients for this recipe and sponsoring this post! And thanks to you for supporting the companies that keep Snixy Kitchen cooking!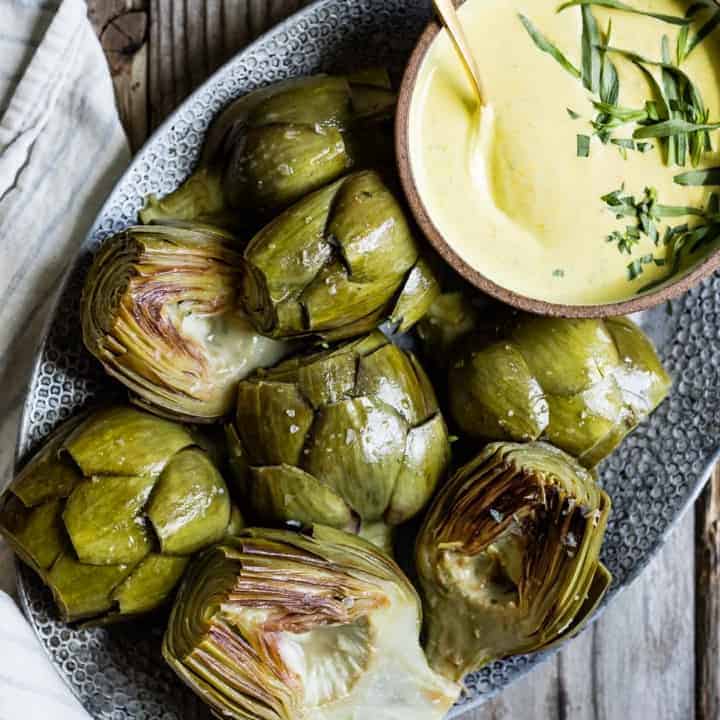 White Wine Braised Artichokes with Cashew Mandarin Tarragon Aioli
Yield:
4 appetizer servings
Ingredients
Cashew Mandarin Tarragon Aioli
½ cup raw cashews
1½ teaspoons mandarin zest (from 2-3 mandarins)
3 tablespoons mandarin juice (from 2-3 mandarins)
2 tablespoons cold water
2 tablespoons olive oil
1 teaspoon apple cider vinegar
1 clove garlic
¼ teaspoon kosher salt
1 tablespoon chopped tarragon
White Wine Braised Artichokes
4 medium artichokes
7 lemons, divided
3 tablespoons extra virgin olive oil
2 cloves garlic, chopped
½ cup white wine
Water, as needed
Flakey salt, for garnish.
Instructions
First, cover the cashews boiling water and set aside. Zest and juice 3 mandarins and set arise while you prepare the artichokes.
Into a small cup, juice and quarter 3 lemons and set aside for cooking in the pan. Fill a large mixing bowl halfway with cold water and juice 3 lemons into the mixing bowl, tossing the lemon rind in too. Quarter the remaining lemon and set aside.
Prepare and trim each artichoke. First, trim the very bottom off the stem, leaving 1-1.5 inches (if you've got a stem!). Remove any small tough outer leaves from the bottom of the artichoke and discard. Use a pairing knife or t-peeler to carefully peel a thin layer off the outside of the stem. Rub the quartered unjuiced lemon on the cut edge. Trim the top ½ inch off the top of the artichokes, then use kitchen sheers to cut off the tips of any spiky leaves. Halve the artichoke and rub the top and cut face with lemon. Use a small sharp pairing knife to cut the fuzzy choke out of the very center of the heart of the artichoke and discard. Place the artichoke in water bath while you prepare the rest.
Heat olive oil over medium-high heat in a large skillet with a lid. Add the artichokes, cut side down, nestling them together to make room. Cook for 3-4 minutes, until the artichokes begin to brown.
Sprinkle the garlic around the artichokes, then pour wine and reserved lemon juice over the top. Nestle in the lemon rings. Add water to bring the liquid ¾ of the way up the artichoke (I added about ¾ cup). Bring to a boil, then reduce heat to medium low, cover, and let cook for 20 minutes, or until a knife inserted into the heart of the artichoke goes in smoothly.
Meanwhile, prepare the aioli. Drain the cashews well. Add them to a high-powered blender or food processor with mandarin zest, mandarin juice, 2 tablespoons cold water, olive oil, apple cider vinegar, garlic, and salt. Blend until completely smooth then add the chopped tarragon and pulse to combine. Transfer the aioli to a bowl and chill while the artichokes cook.
When the artichokes are finished, transfer to a serving platter and sprinkle with flakey salt. Serve warm or at room temperature with chilled aioli.
Thanks for reading Snixy Kitchen! To stay up on what's coming out of my kitchen, follow me on Facebook, Instagram, Twitter, Bloglovin', or Pinterest, or subscribe via e-mail to get new recipes right to your inbox.
Safeway Home Delivery Instacart:
Use promo code TENFREE to get $10 Off + free delivery on your first online order when you spend $35 or more* at delivery.safeway.com
Disclaimer: *Service through and subject to the terms and conditions of ] Safeway's third-party delivery provider, Instacart. Requires Instacart account. Special pricing & fees may apply. Subject to Instacart's minimum purchase requirements. Service available in select areas. Enter your zip code online to find if service is available in your location. Offer limited to first-time Instacart users. Minimum order of $35 before taxes, fees, discounts, deposits required. Find additional terms on Safeway and Instacart. Expires 6/30/2018. Other delivery options available. For pricing, fees and terms, visit Safeway.