These maple roasted carrots are tossed in smoked paprika and maple syrup before roasting then sprinkled with walnuts and feta for serving. Use small rainbow carrots or even medium to large orange carrots to whip up this easy fall side dish!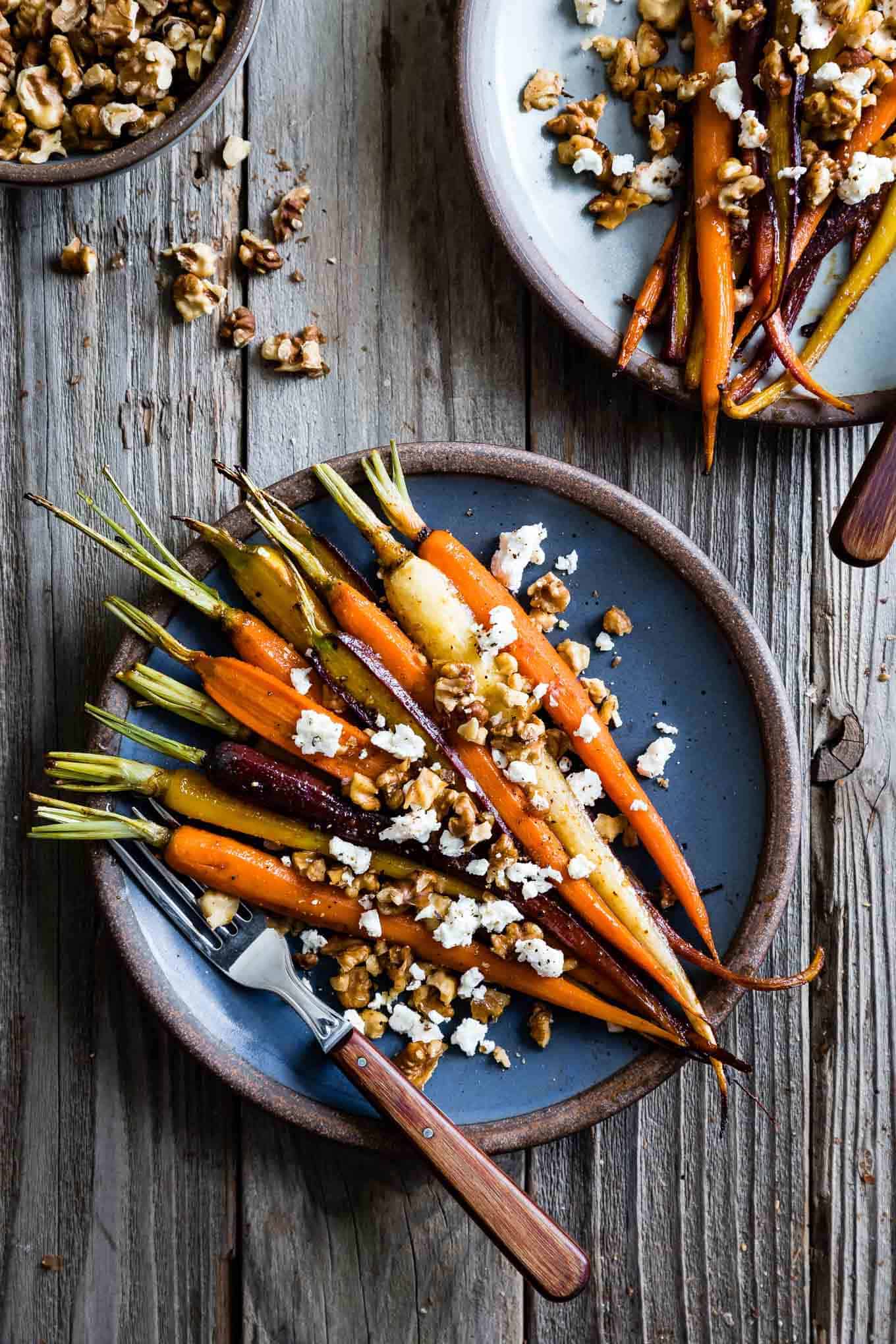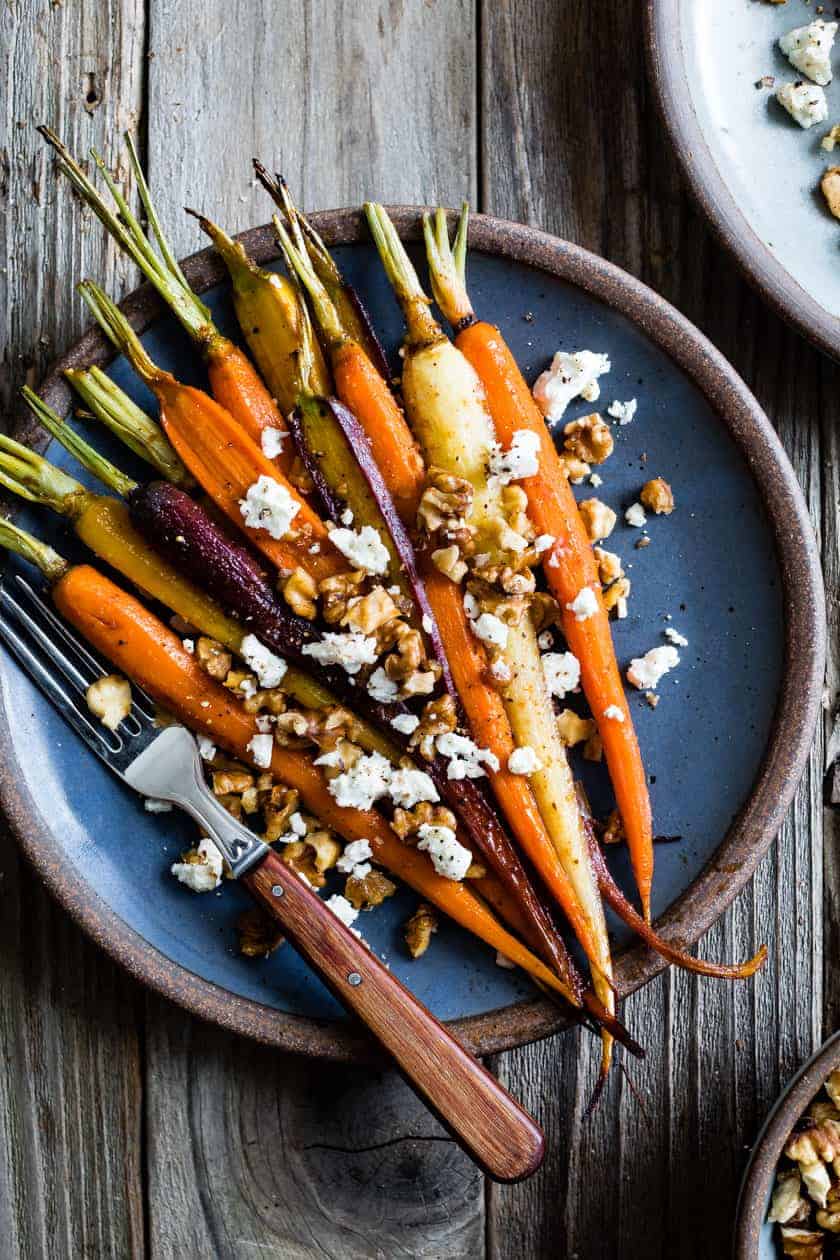 Until recently, carrots have been a highly underrated vegetable in our house. We use them for mirepoix and the occasional roasting, but they're hardly ever the star of the dinner table. These maple roasted carrots changed that habit. This is the kind of simple side dish you can throw together at a moment's notice for a weeknight dinner. And yet, it's still impressive enough for your holiday table. Carrots are tossed with smoked paprika, maple syrup, and olive oil before roasting. Then the fork tender roasted carrots topped with toasted walnuts and feta to serve. The result is equal parts rich smokiness, maple sweetness, toasted nuttiness, and tangy creamy cheese.
These maple roasted carrots are the second in a year-long partnership with Diamond Nuts. First I made poppy seed almond flour muffins with peaches and now I'm getting ready for fall by topping smoky maple roasted rainbow carrots with feta and cracked roasted in-shell walnuts.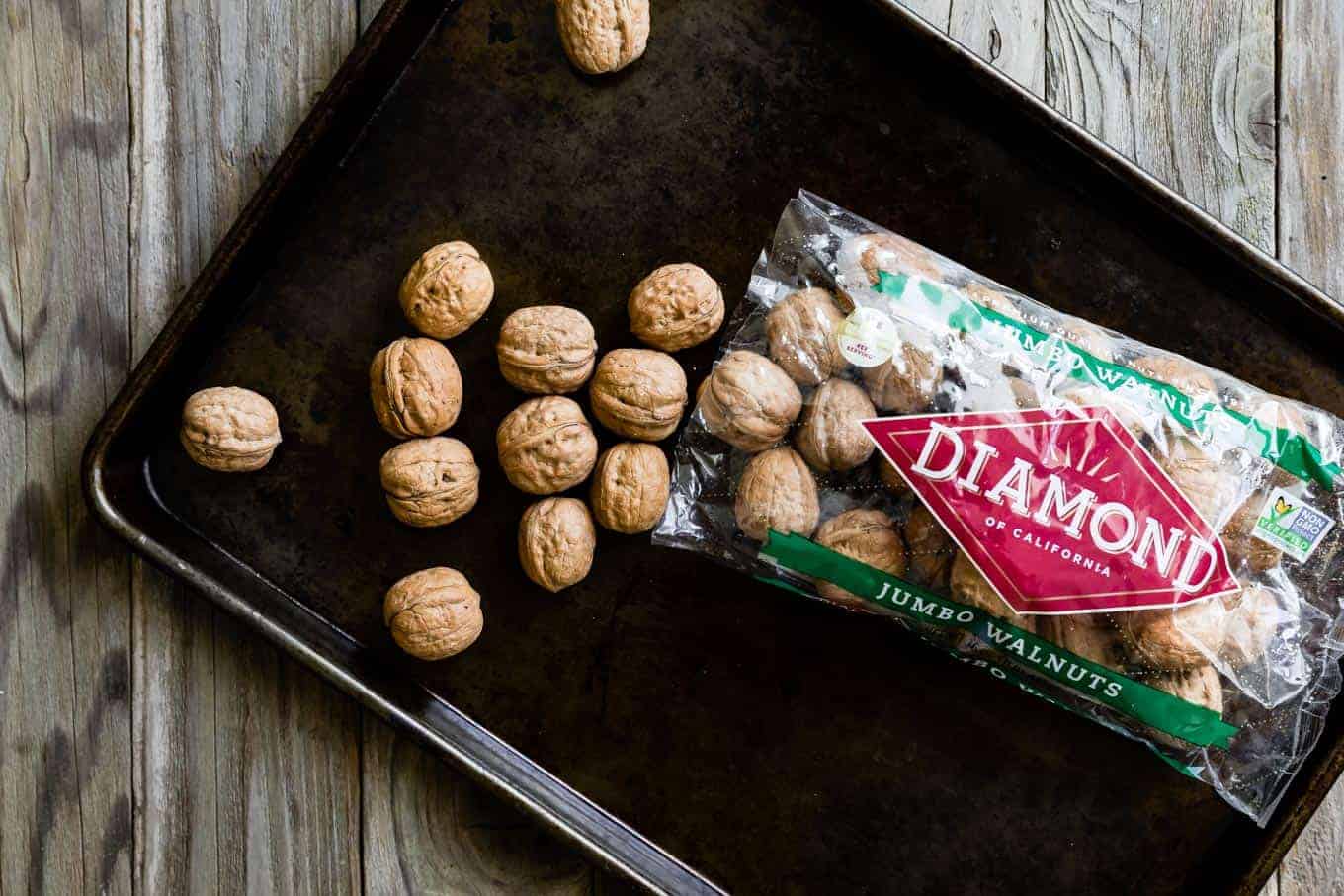 I'm not going to lie. I borrowed a nutcracker from my next door neighbor last month and followed it up with a skeptical, "also, why do you own a nutcracker?"
To be fair, my mom has approximately five nutcrackers. Four that she pulls out specifically for the holidays and three of which are women's legs. I'm not sure what about women's legs says "happy holidays!" but in her house, they do. They're used just for decoration with a bowl full of in-shell nuts I'm pretty sure are 5+ years old. That being said, my parents also have a walnut tree hanging over their fence, and my great grandparents owned an almond orchard through my childhood, so, she's got plenty of excuses to own nutcrackers.
When I asked my neighbor why he owned a nutcracker, though, he said, "one of my dad's favorite things to do around the holidays is sit around cracking nuts." What a weird pastime, I thought.
I'm eating my words now.
Why use in-shell walnuts?
There's something very therapeutic about cracking in-shell walnuts. My mom and I stood around chatting and cracking walnuts, and it was incredibly soothing. Much like popping fava beans out of their pods or blanching and slipping almonds out of their skins. When the walnuts are toasted, you hardly even need a nutcracker anyway because you can crack most of the shells open with your bare hand. To shell a whole 16oz bag of walnuts, it took me and my mom only 5-7 minutes to yield more than a cup of walnuts.
That calming pleasure from cracking open shells isn't the only reason to use in-shell walnuts though. The shell protects the walnut so it stays fresh longer.
California-grown Diamond walnuts are creamy and buttery right out of the shell. Toasting them only enhances those flavors. That's where the shells come in handy. You can actually throw an entire pan of in-shell walnuts into the oven to roast IN THEIR SHELLS. The walnuts roast up evenly with a super toasty crunch and no dark burnt spots. When using shelled walnuts, you have to be careful - even a minute too long and you'll end up with burnt walnuts. Roasting them in their shells on the other hand, yields a better roast and a whole lot more wiggle room to focus on other parts of your meal.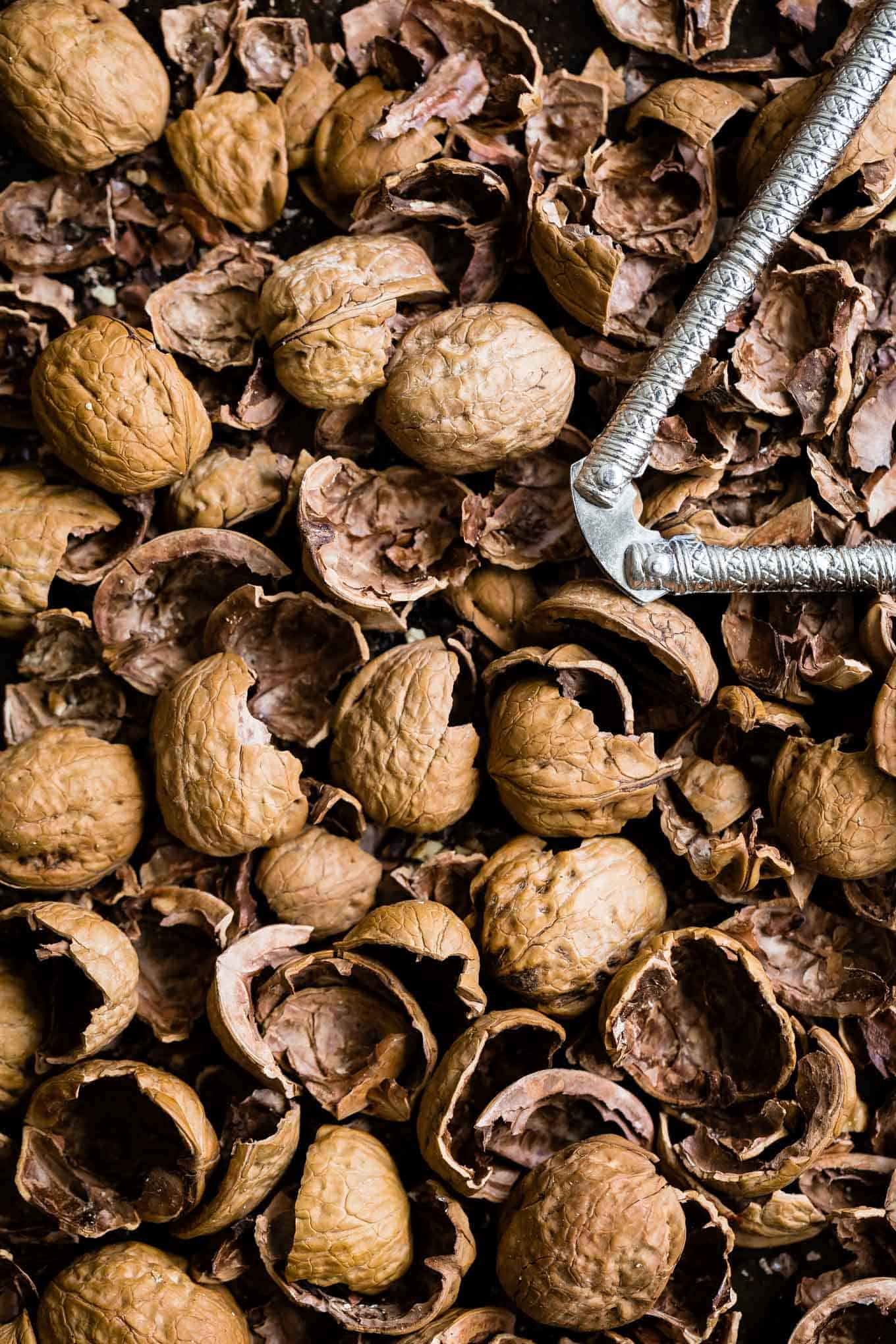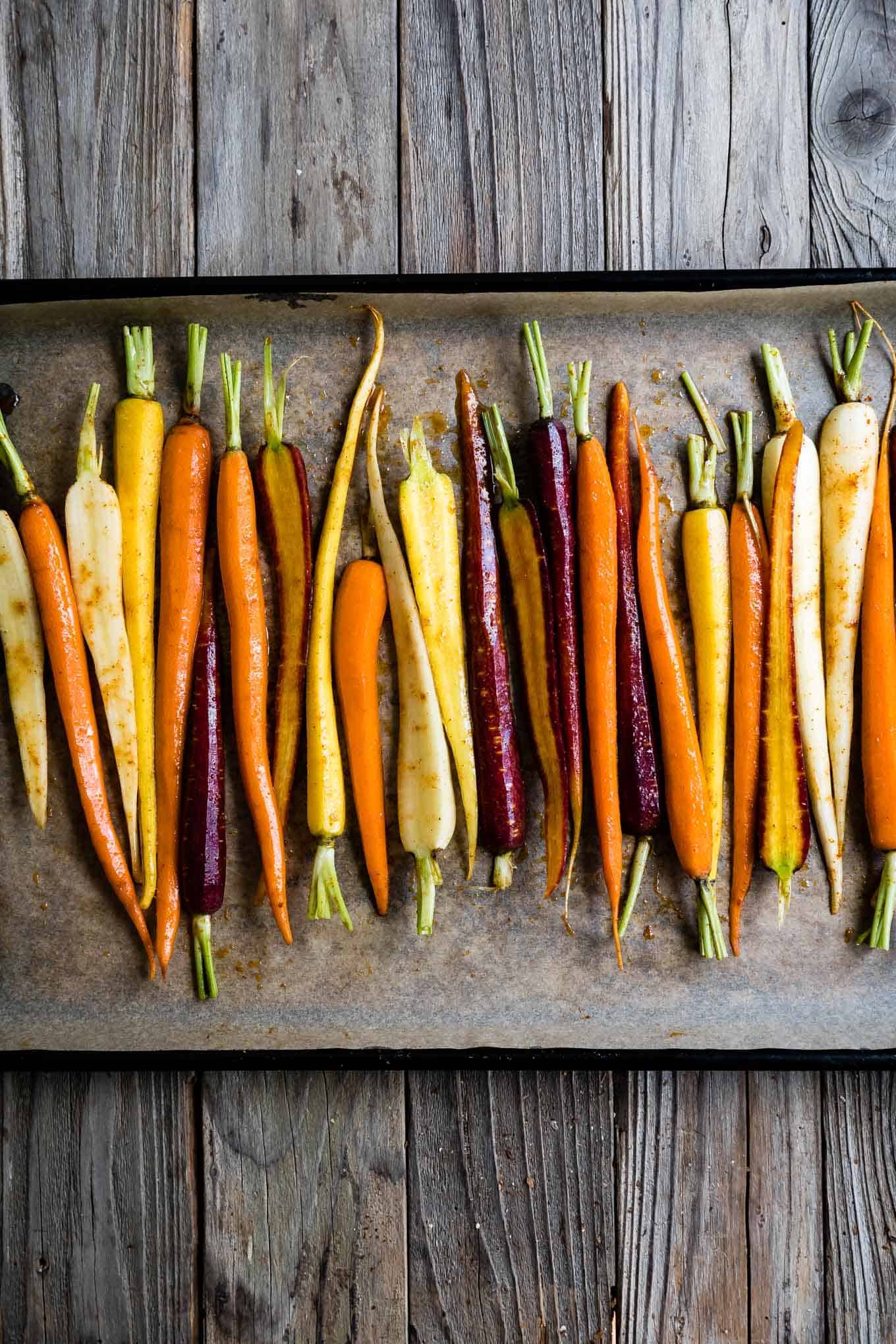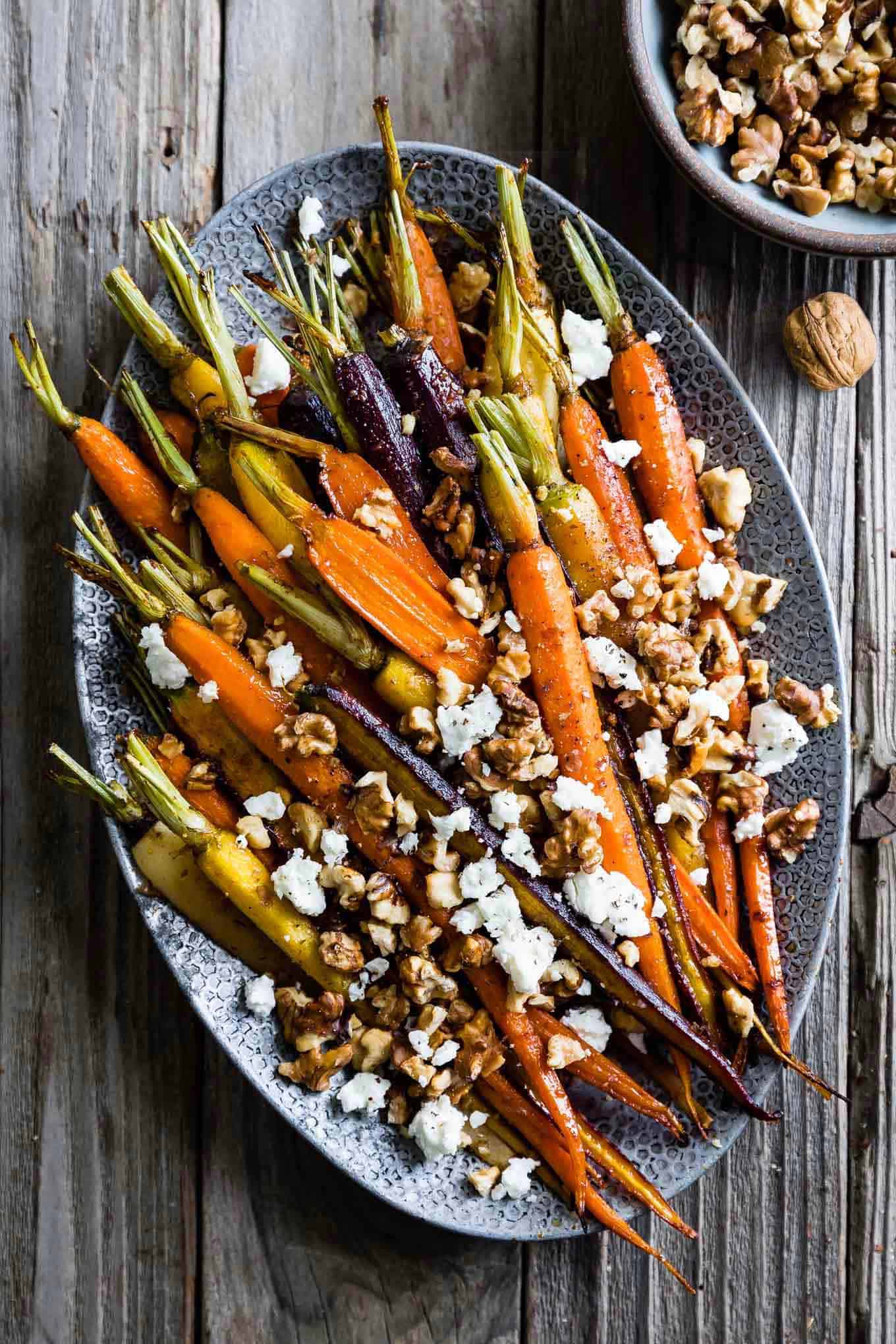 Do I have to use rainbow carrots?
This rainbow carrots recipe is very flexible. Don't feel like you can't make these carrots for your holiday table just because you can't find the right carrots. You definitely don't have to use rainbow carrots for this dish. I've used regular orange carrots of all sizes, and it's equally delicious with whatever carrots you can find or have on hand!
I like the heirloom rainbow carrots because I find them more flavorful. Their vibrant colors more striking on the dinner table. Plus, purple carrots are a surefire way to get a toddler to eat her vegetables.
As it turns out there are actually some health benefits to roasted rainbow carrots. All carrots, orange or rainbow, are incredibly nutrient-dense, but each color of rainbow carrot provides different nutrients for your body.
For example, the antioxidants in purple carrots are anti-inflammatory, while yellow carrots provide nutrients that promote eye health.
What if I can't find small carrots?
I use small carrots for these roasted whole carrots because that sweet maple extra-roasted tip that tastes like candy is my favorite part. They're also more difficult to find unless you've got access to some good farmer's markets. If you can only find medium or large carrots, those will work too! You'll just want to slice your carrots thinner so they'll roast up faster. When I use medium or large carrots, I slice them into ¼-inch thick slices on a diagonal and prepare them the same way.
Just make sure to check the baking time as they make require a little less or a little more baking time. Test for doneness by poking the carrots with a sharp knife around the 15 minute mark.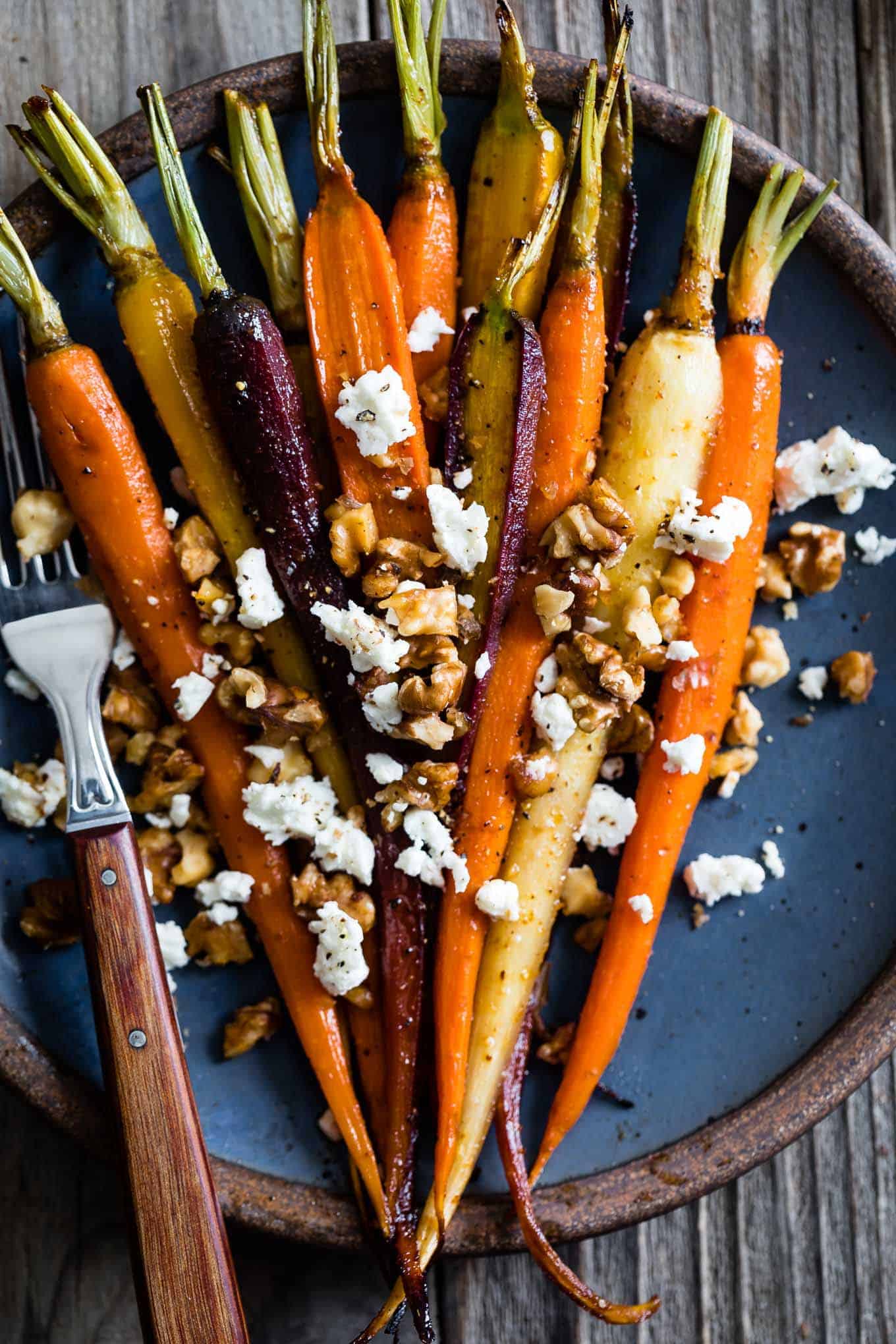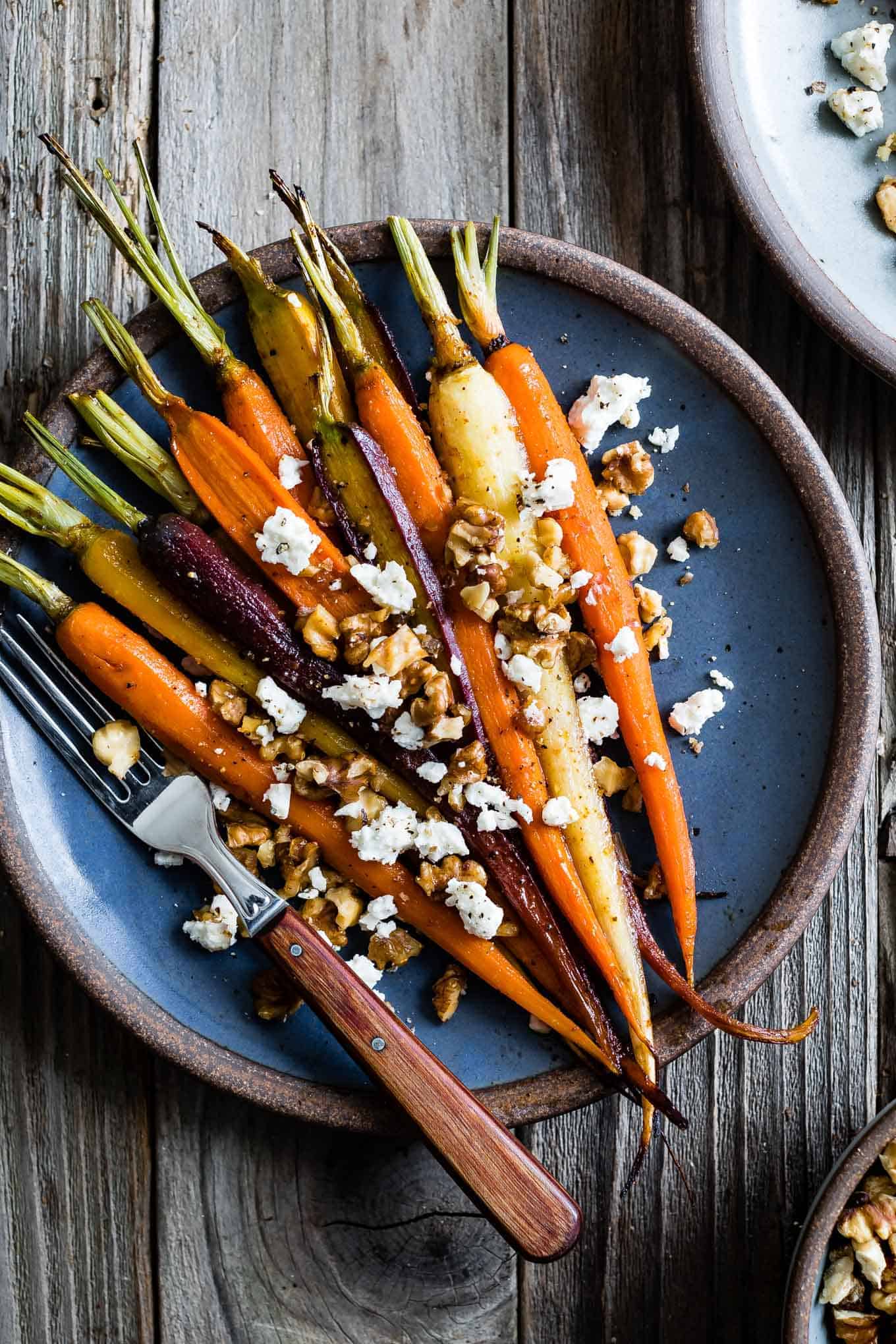 Whether you're entertaining guests, menu planning for the holidays, or looking for a quick toddler-approved vegetable for a weeknight dinner, these smoky maple roasted carrots with walnuts and feta make the perfect simple side dish.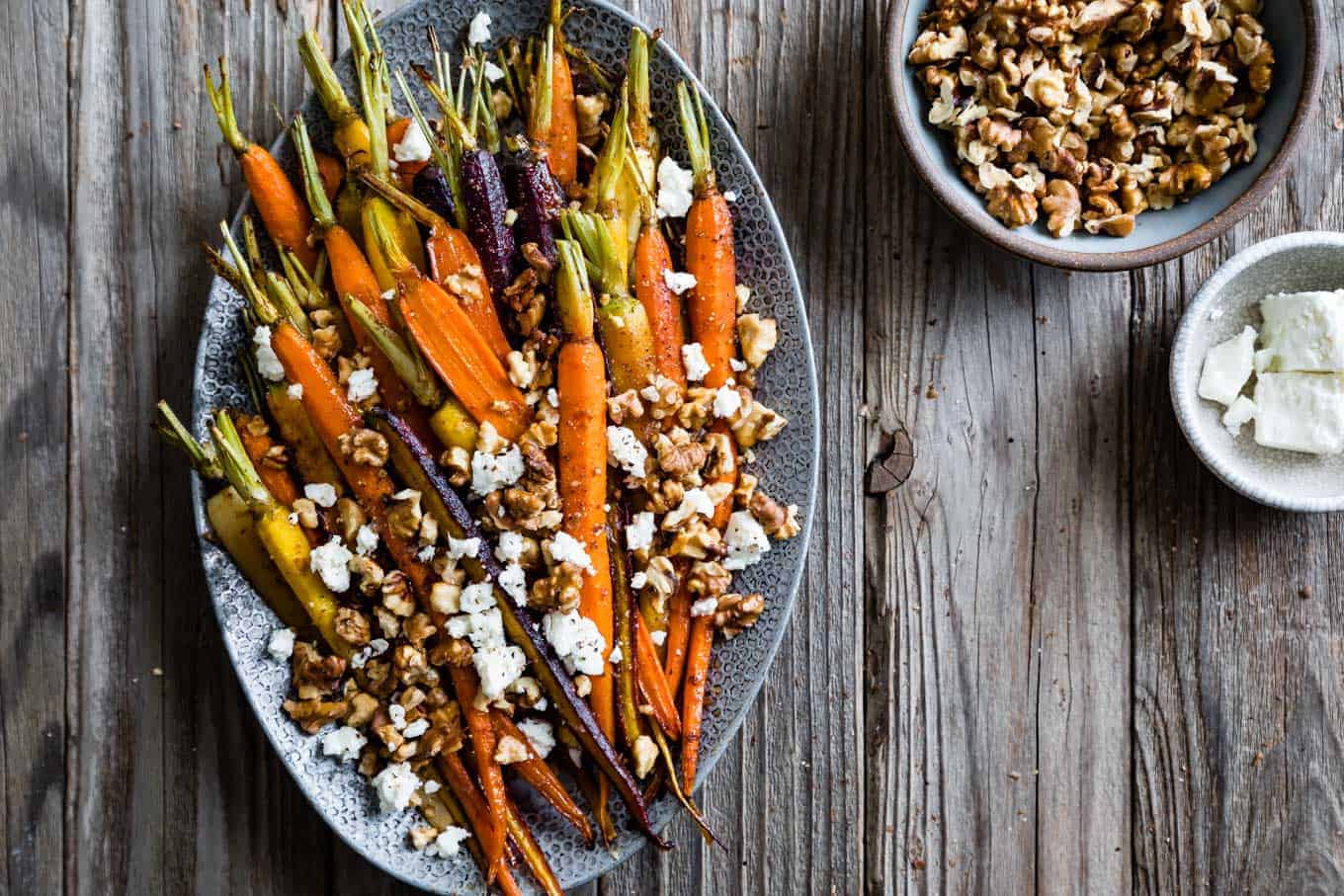 Disclosure: Special thanks to Diamond Nuts for providing the ingredients for this recipe and sponsoring this post! And thanks to you for supporting the companies that keep Snixy Kitchen cooking!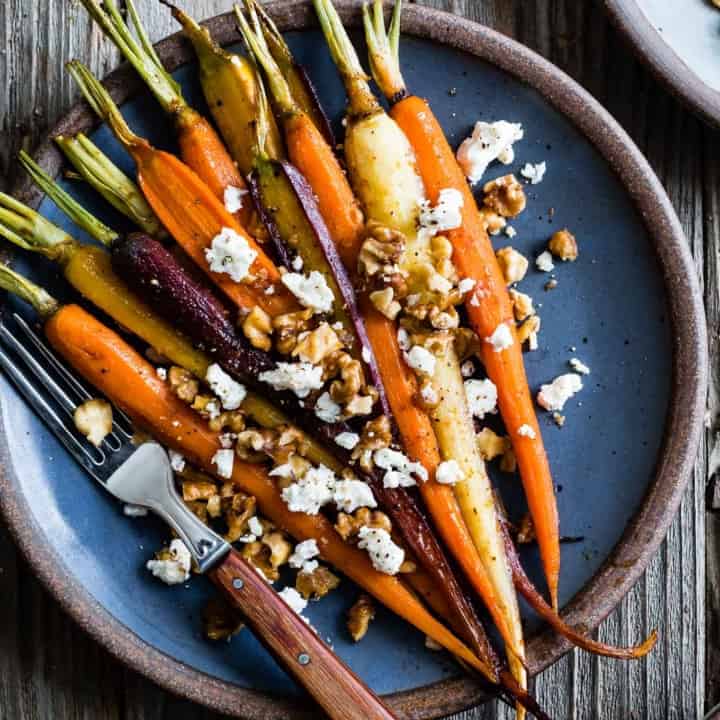 Maple Roasted Carrots with Walnuts & Feta
These maple roasted carrots are tossed in smoked paprika and maple syrup before roasting then sprinkled with walnuts and feta for serving. Use small rainbow carrots or even medium to large orange carrots to whip up this easy fall side dish! 
Ingredients
2½ lbs small rainbow carrots, peeled and larger ones halved (Alternatively, use medium carrots, peeled and sliced on an angle into ¼-1/2 in thick slices)
3 tablespoons maple syrup
2 tablespoons extra virgin olive oil
1 tablespoon smoked paprika
½ teaspoon kosher salt
A few cracks of freshly ground pepper
⅓ cup feta (I prefer French feta)
Instructions
If using in-shell walnuts, preheat the oven to 350°F. Spread the walnuts out on a large baking sheet and roast for 20-25 minutes until they easily crack open and the nut inside is a toasted golden brown. Let cool, then crack and coarsely chop the walnuts. Set aside. Alternatively, use Diamond Shelled chopped walnuts. Spread them out on a large baking sheet and roast for 10-12 minutes, until golden brown and toasty.
Increase the oven to 425°F. Line two large baking sheets with parchment paper.
In a large bowl, toss the carrots with maple syrup, olive oil, smoked paprika, salt, and pepper. Spread the carrots out in a single layer on the two prepared baking sheets. Roast for 22-28 minutes on the top and middle racks, tossing halfway through and rotating the pants front to back and top to bottom halfway through, until the carrots are tender when pierced with a fork.
Transfer the carrots to a serving platter, top with ⅓ cup roasted walnuts and ⅓ cup crumbled feta. Serve warm.