The simplest five-minute arugula salad recipe with figs and toasted almonds. Easy enough for weeknights and festive enough for the holiday table, this back-pocket arugula salad recipe hardly needs a recipe!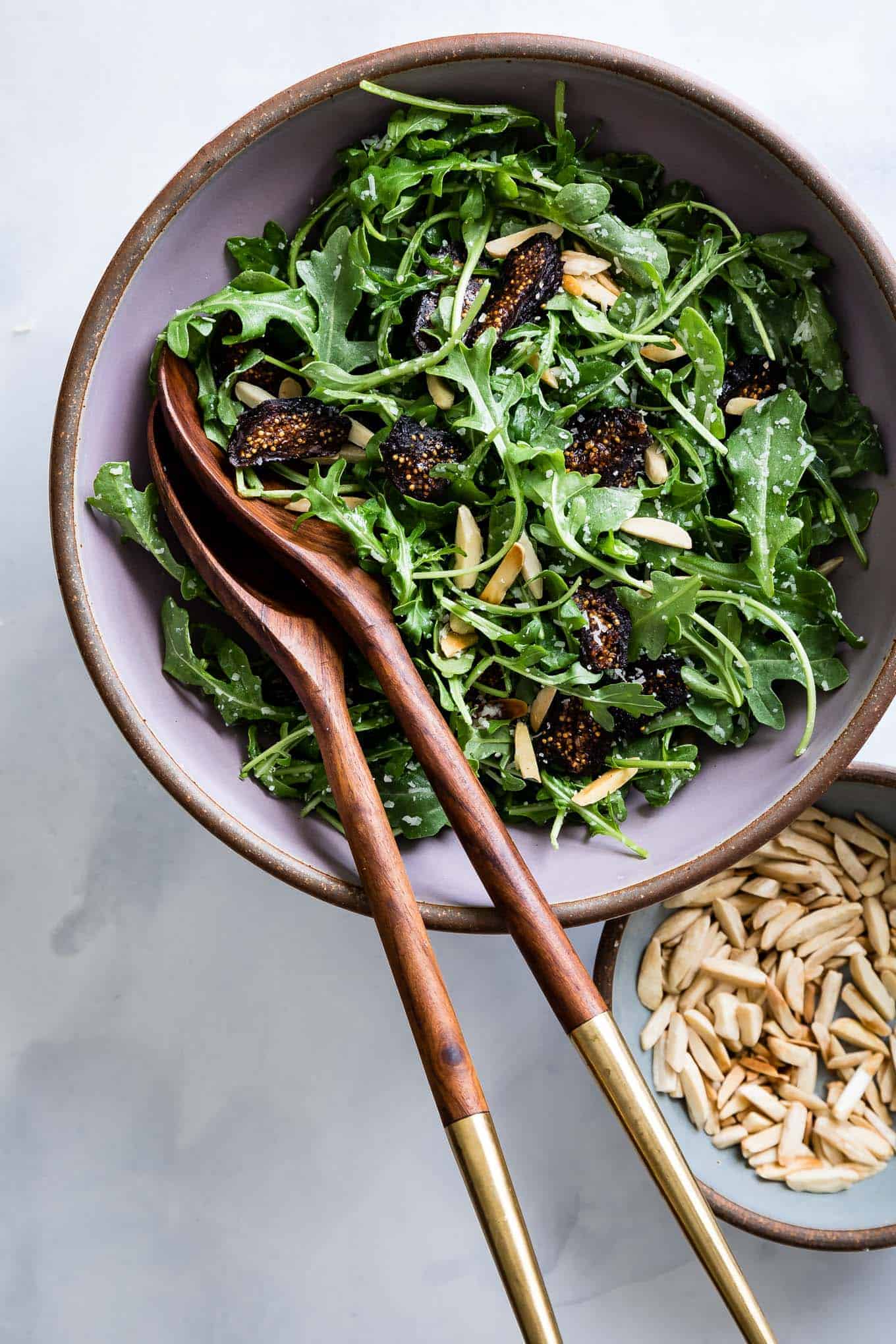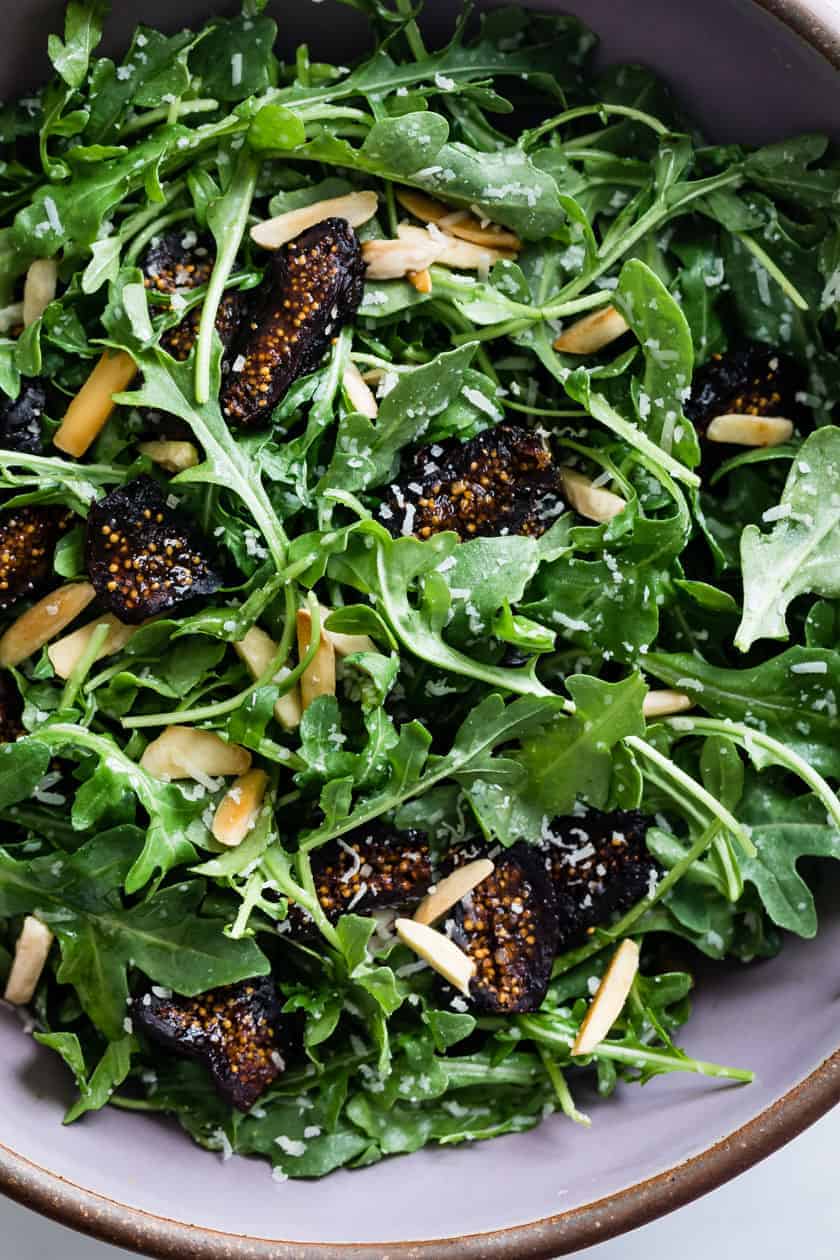 If you ask my toddler what goes in a salad, she'll no doubt say figs. That's because this five-minute salad makes up approximately 95% of her experiences with salad. And 100% of those experiences begin with carefully picking out the figs, then the nuts, leaving the "salad" behind (to eat only when bribed with more figs).
While I have a few epic salad recipes that are definitely worth the effort for special occasions (like this double kale salad with creamy pistachio dressing or this cauliflower kale salad with lemon brown butter dressing), most of the time what I'm whipping up in my kitchen are easy salad recipes. This five-minute arugula fig salad is so easy, you don't even need a recipe. Though I've included one below, I don't ever actually measure anything. I make it by taste (and a little whim), as you should with all good back-pocket recipes.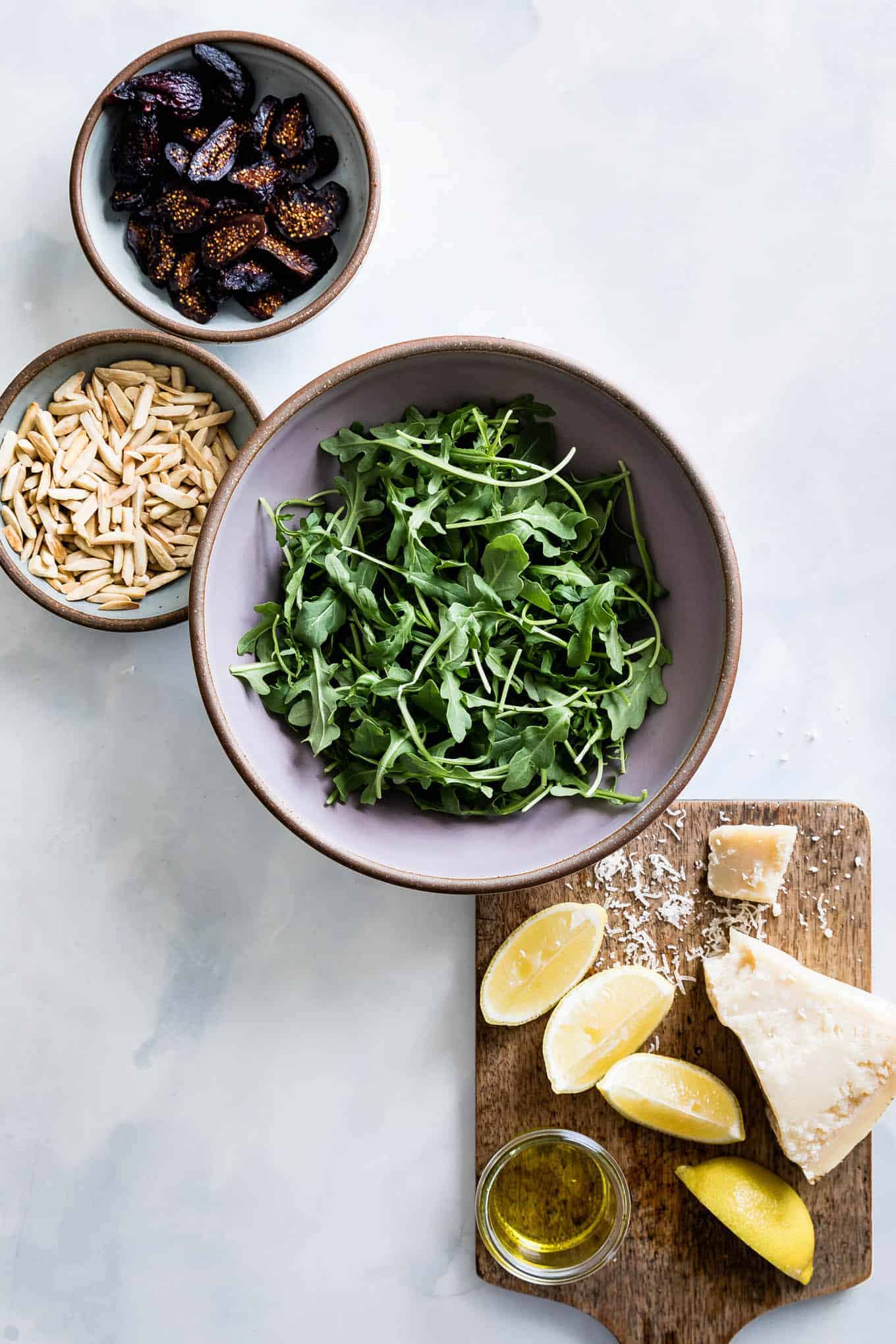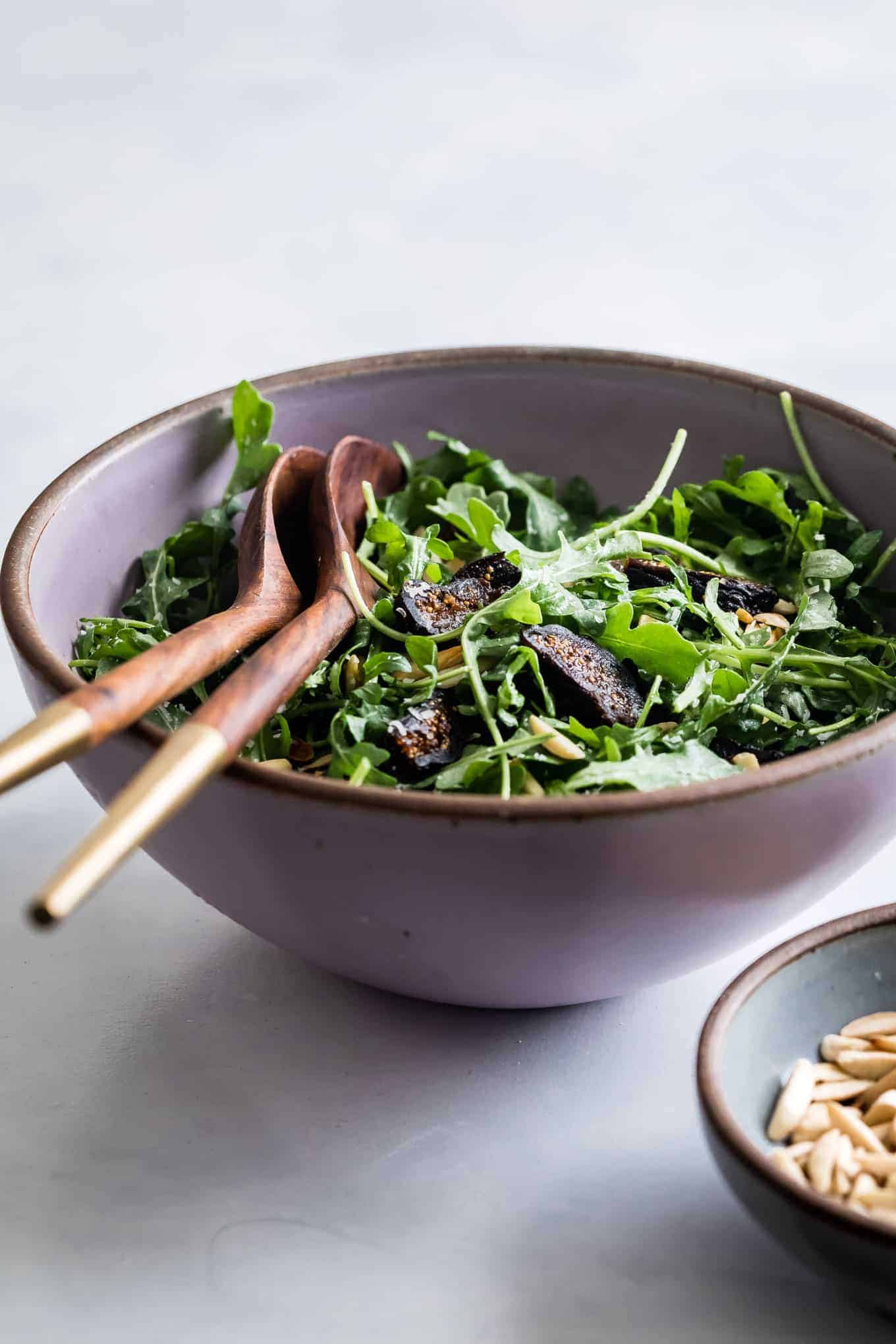 What are the components of this arugula fig salad?
This lemon arugula salad is my go-to quick salad. It's made up of things I keep stocked in my kitchen - my pantry staples. It's got a peppery sharp bite, citrus tang, sweet fruit, toasty nuts, and salty parmesan cheese to finish it off. There are so many ways to adapt it using the staples in your kitchen. Start here, but if you don't have something, substitute!
Arugula: Don't have or don't like it? Use kale, butter lettuce, or mixed greens
Dried figs: Substitute any dried fruit or, heck, fresh fruit for that matter
Toasted slivered almonds: Substitute any toasted nut or even toasted buckwheat or sunflower seeds
Fresh parmesan: Substitute crumbled goat cheese, feta, or even grated gruyere
Lemon juice
Olive oil
Salt: Feel free to add pepper too. I don't usually add pepper because the arugula itself has a little peppery taste.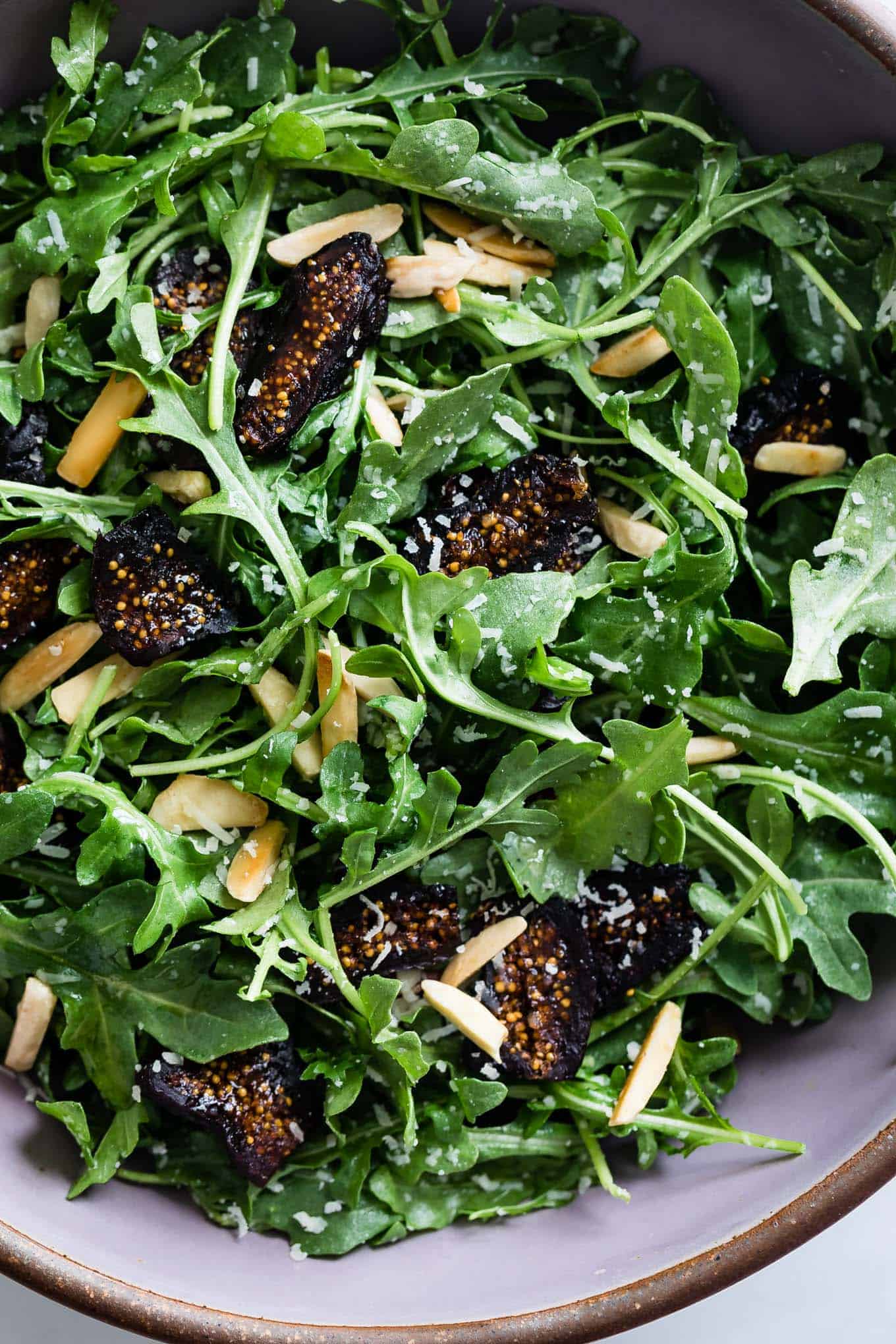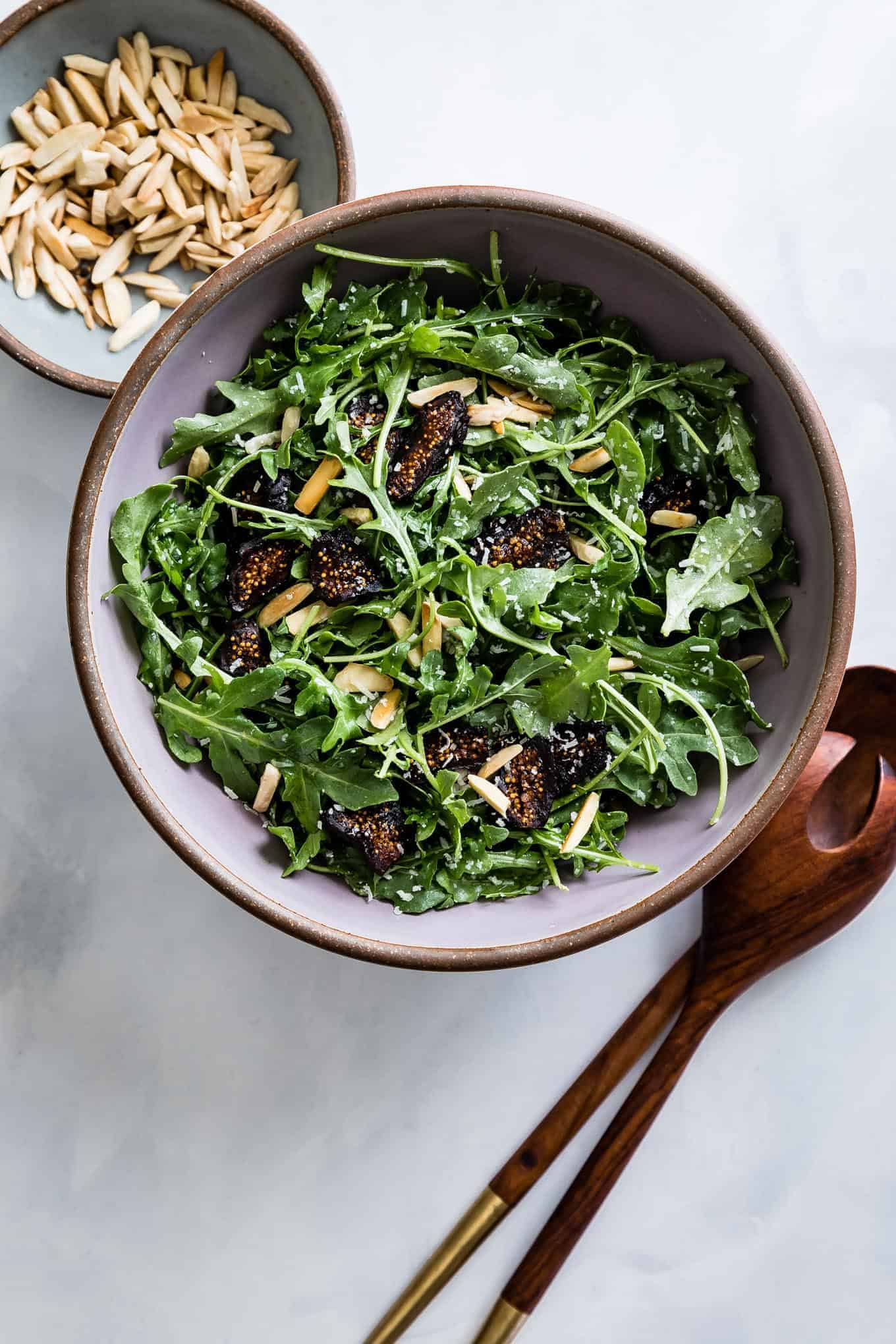 When to make this easy arugula salad?
This salad is your best friend when:
It's a weeknight and you know your toddler will barely eat any salad, so you spent all your time making another vegetable side dish first, but you crave greens.
You've got friends coming over in an hour and you've cooked a delicious main dish and baked the perfect dessert, with no vegetables to show for it.
You've made turkey, stuffing, mashed potatoes, and pie for the holiday table and have hardly any time left to make salad.
You're in charge of salad for the holidays, but you don't really cook.
The list goes on - I mean, when don't you need a five-minute arugula salad recipe?
The perfect salad bowl
If you want to take your five-minute "I almost forgot vegetables" salad and dress it up for a dinner party or holiday table, it's all about the bowl you put it in. For this fig salad, I serve it up in my purple colored "popcorn" bowl from East Fork Pottery to add fancy festivity to the table because that purple matches the figs in just the right way. The purple "taro" glaze is a fleeting summer color, but I also love the bright soapstone glaze of the little bowl of almonds above.
I'm stoked to share that this year I joined on as an East Fork Pottery affiliate partner. This just means I earn a small commission for every sale made using my link. Before teaming up with them, though, I already had a growing East Fork Pottery collection of much-loved pieces (see some plates in action here). First and foremost, I'm a major fan girl.
That being said, if you're looking for the perfect salad bowl or, say, a hostess gift, this popcorn bowl is just the right size. (Fun fact: it is not the right size to hold a newborn for a picture, but it will fit a small cat. I will not disclose how I know that). They've also just put together swatch boxes where you can surprise someone with a set of ceramic pots, while still letting them pick out the glaze they love. Now excuse me while I window shop for the next several hours...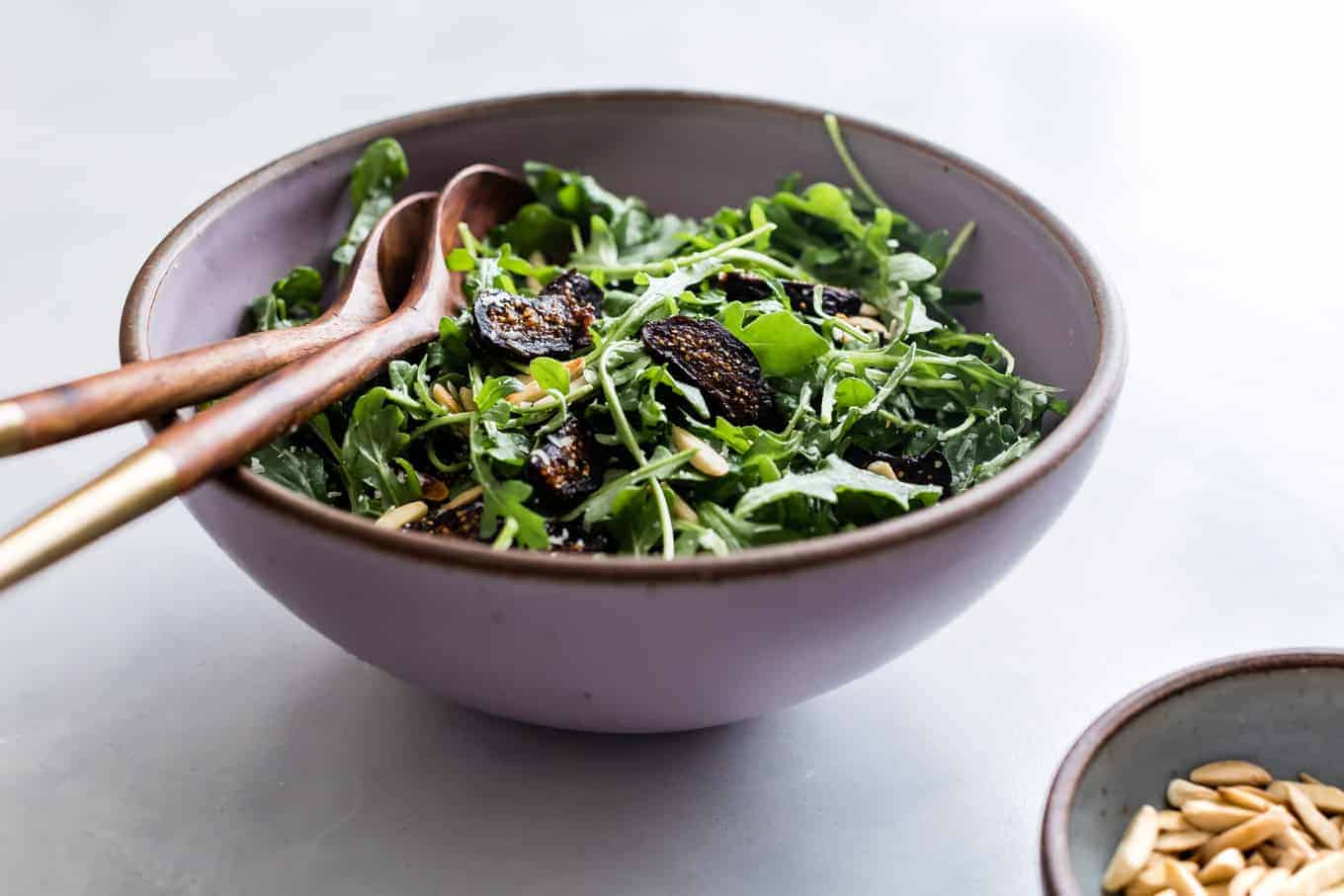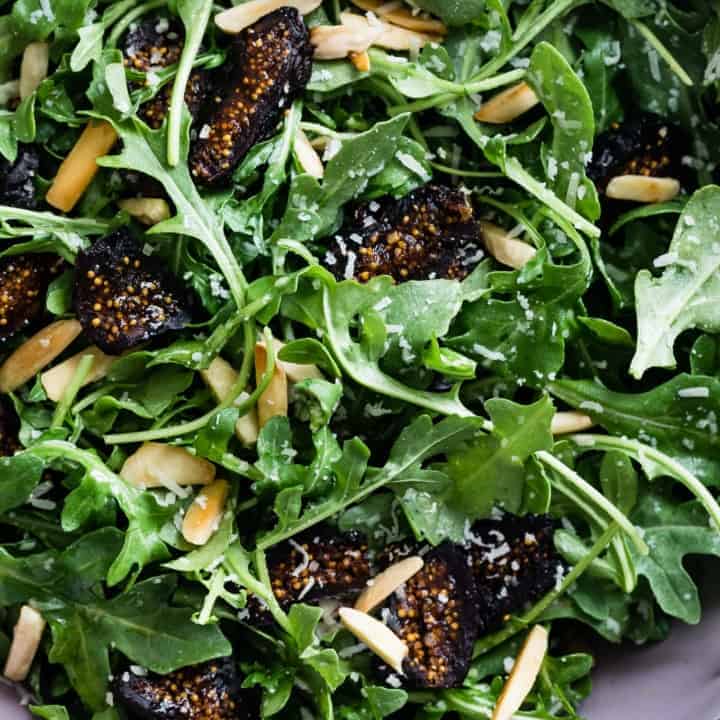 Five-Minute Arugula Fig Salad
The simplest five-minute arugula salad recipe with figs and toasted almonds. Easy enough for weeknights and festive enough for the holiday table, this back-pocket arugula salad recipe hardly needs a recipe!
Ingredients
5oz baby arugula
1-2 tablespoons olive oil
1-2 tablespoon freshly squeezed lemon juice
Pinch kosher salt
½ cup dried mission figs, stemmed and sliced
⅓ cup slivered almonds, toasted
¼ cup freshly grated parmesan
Instructions
Toss the arugula in 1 tablespoon each olive oil and lemon juice and a pinch of salt to coat. Taste and add more olive oil and lemon juice as desired.
Add figs, almonds, and parmesan. Toss to coat. Serve!