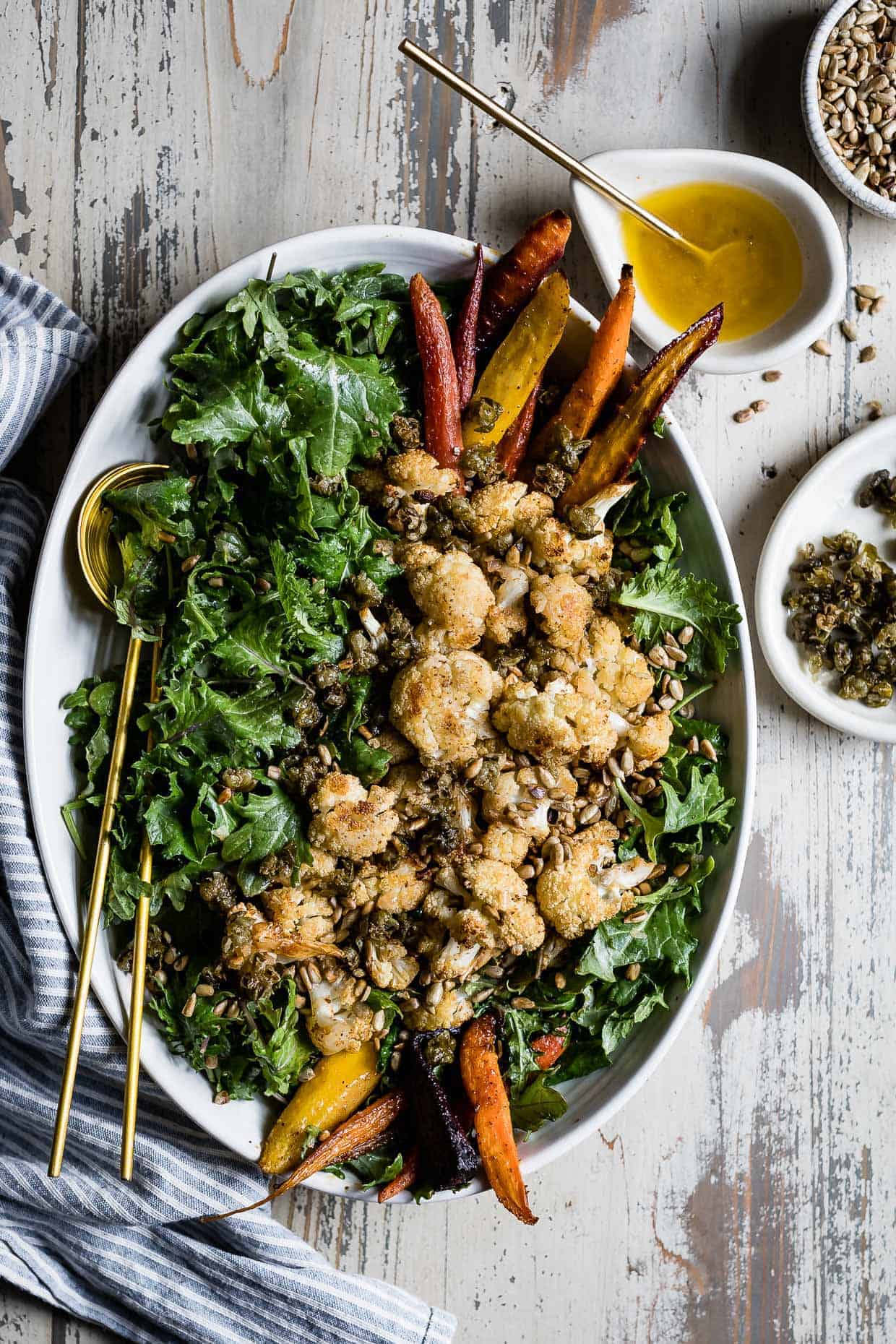 When I moved into my first real apartment without roommates, my mom got me two housewarming gifts: a small enamelware dutch oven and a compact OXO salad spinner. These were the essentials in my mom's eyes. And now that I was living by myself, I was trusted with nice kitchen equipment. I still have that salad spinner and use it regularly for our side salads for two, but when Lucas and I got married several years later, we received the mother of all OXO salad spinners as a wedding gift. Now we can have dinner parties and make big salads like this roasted cauliflower kale salad with lemon brown butter dressing and crispy capers.
I'm telling you, whether you need a present for a new grad or a newlywed, this salad spinner's got all your bases covered.
This recipe is the third post in a partnership series with OXO– last fall, we made roasted potato pizza and beet cashew hummus with garlic tahini yogurt swirl. Now, with the help of all the favorite OXO tools I stocked my kitchen with when we got married, we're making salad together. Plus one newest prized member of my gadgets family, the Y-Peeler - why did it take me so long to switch from an upright vegetable peeler to a Y-Peeler? It feels so much more natural and I cut my fingers much less frequently. I'm officially a convert and I've tossed my other peelers.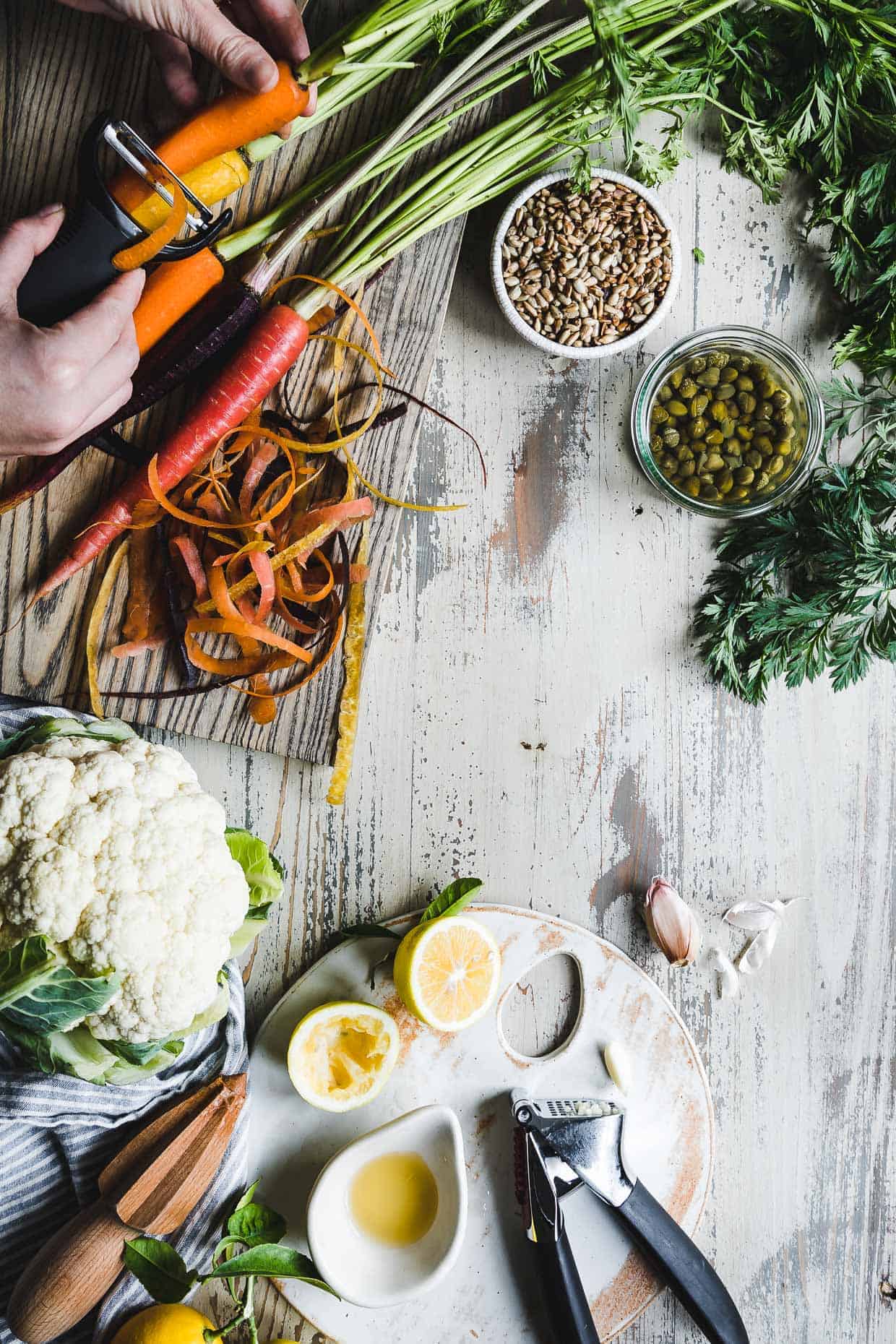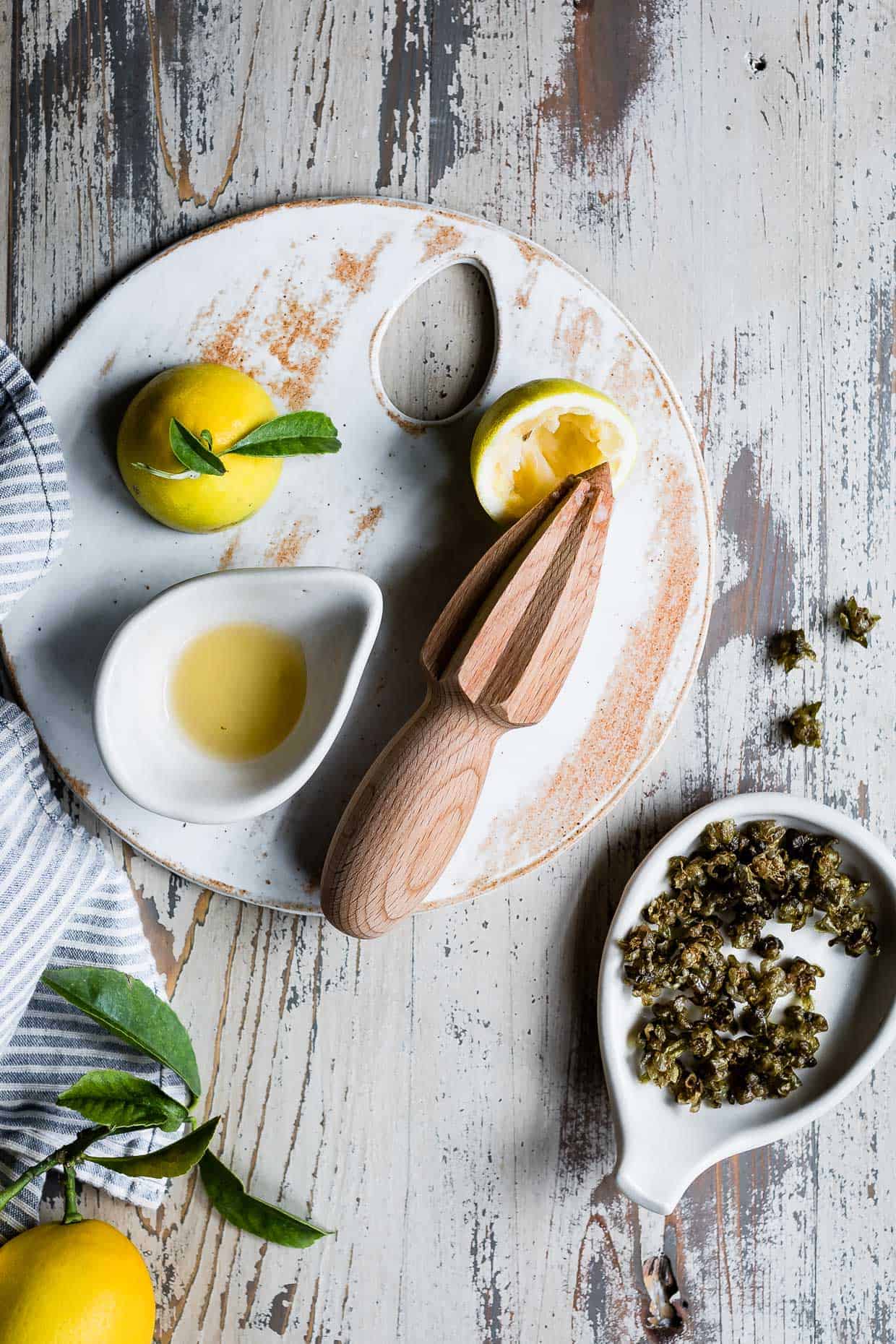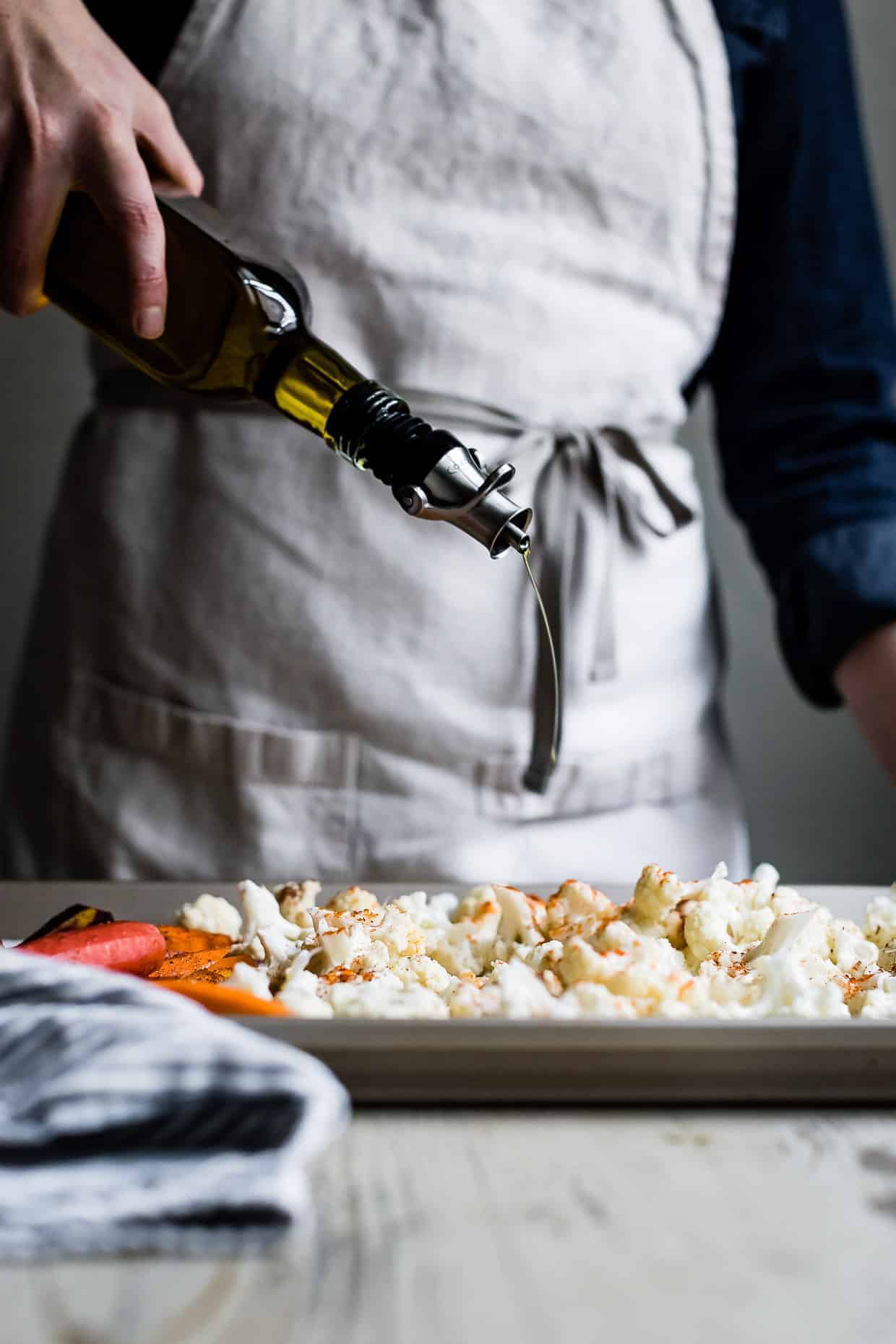 While my mom made sure I had a well-stocked kitchen, she had (ahem, still has) a 70s-era salad spinner with a hand crank and no break. You spin your greens and then wait until the salad gravitron ends naturally. This OXO salad spinner she gave me has a non-slip pump knob and a quick break button. Sometimes I stop spinning the greens just to use the break button (a fav amusement I've also passed on to my toddler - that, along with peeling all the little strands of pith off the outside of mandarins).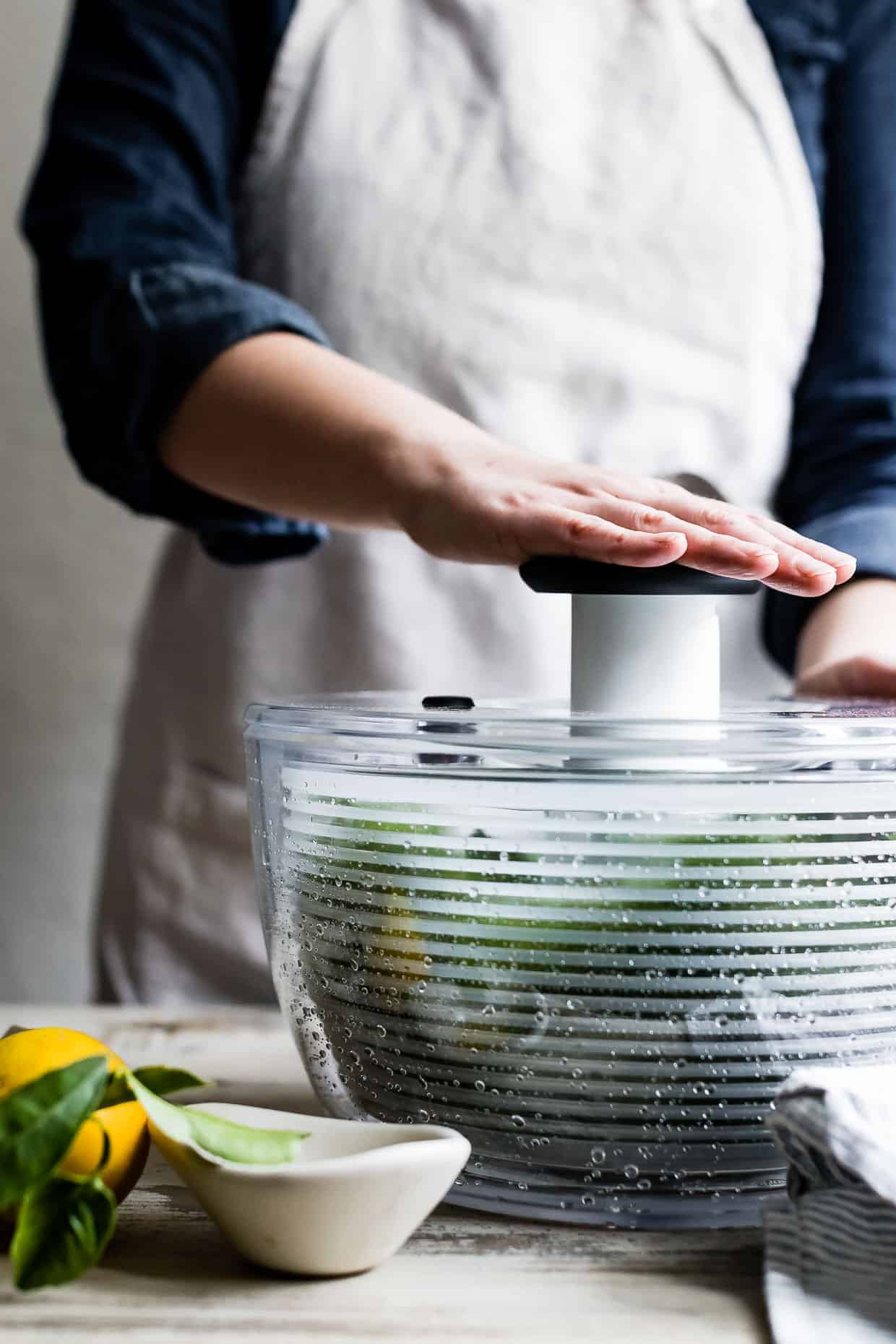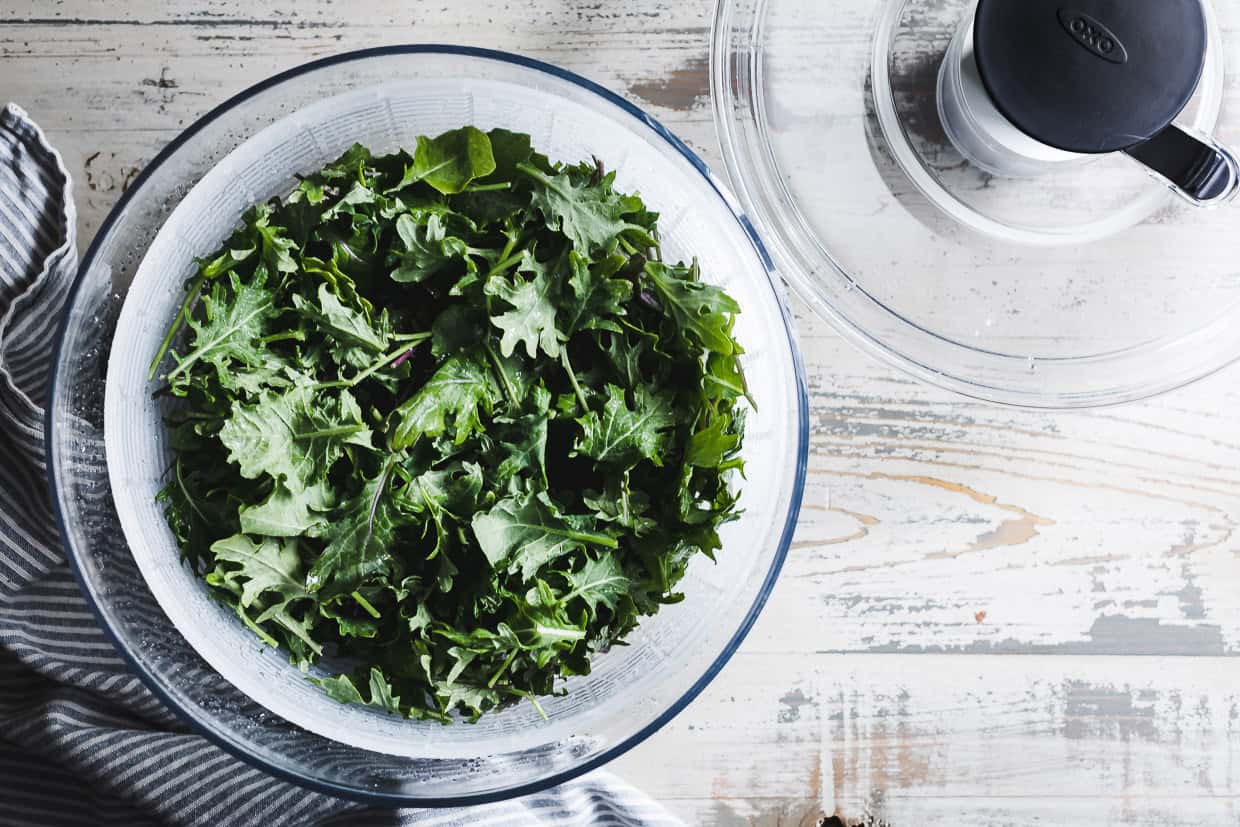 As its greens base, this salad uses baby kale, which we've somehow convinced Zoella is called "yummy tummy kale." She'll eat kale approximately 25% of the time, which fares better than any other vegetable, aside from still-frozen peas. Last night, though, she refused the cauliflower kale salad and licked the lemon brown butter dressing off the leaves instead, then ate toasted sunflower seeds by the spoonful like cereal. Toddlers are weird.
She missed out because this salad is insane. I mean, anything slathered in lemon and brown butter can't really go wrong, but it's these capers that really make it a home run. When briefly fried, they burst open, blooming into tiny crispy flowers with an acidic saltiness that adds an umami tang to each bite. Paired with roasted cauliflower and carrots that both taste like their own kind of nutty roasted candy, this salad is the star of the table.
Using the salad spinner, I'm able to get my greens extra dry, which is important if you want the brown butter dressing to stick to the baby kale - otherwise any residual water will just repel the butter and oil. And if you've never put brown butter dressing on a salad before, do it. It will change salads forever.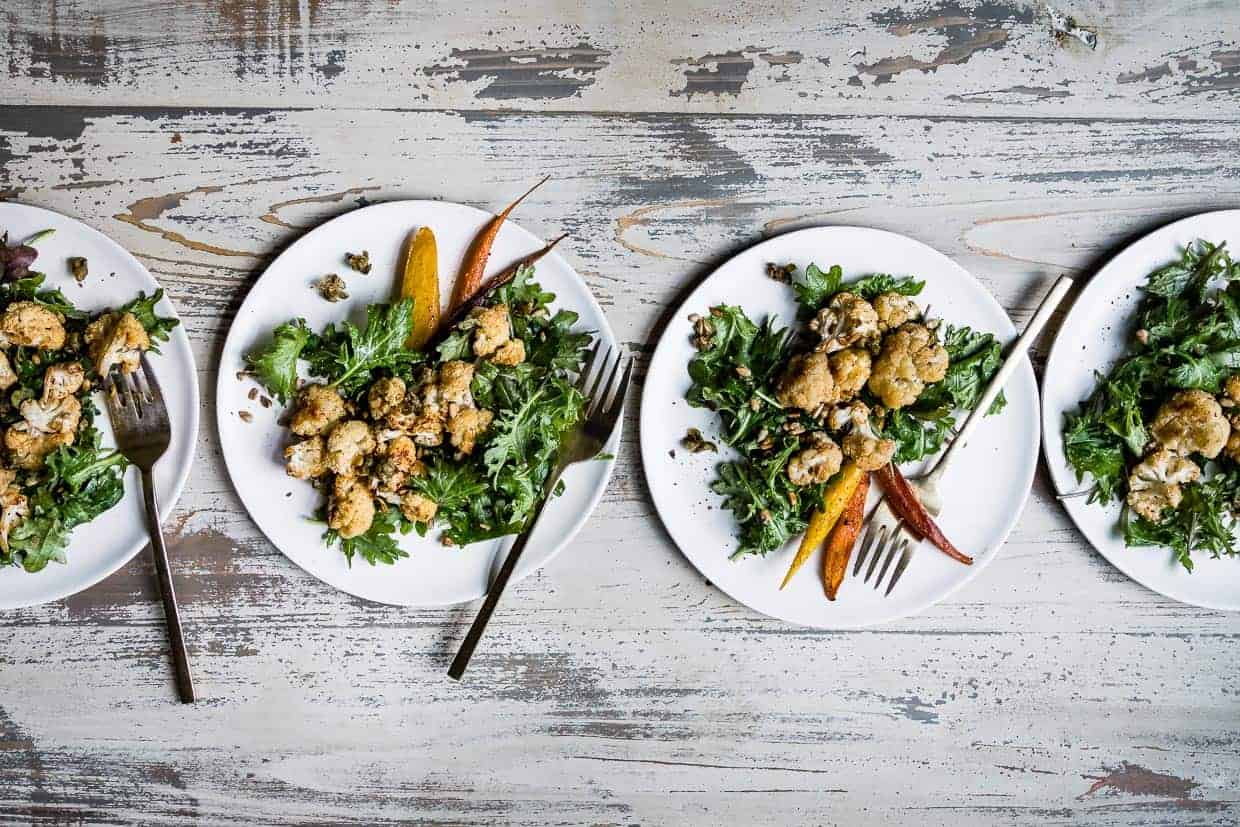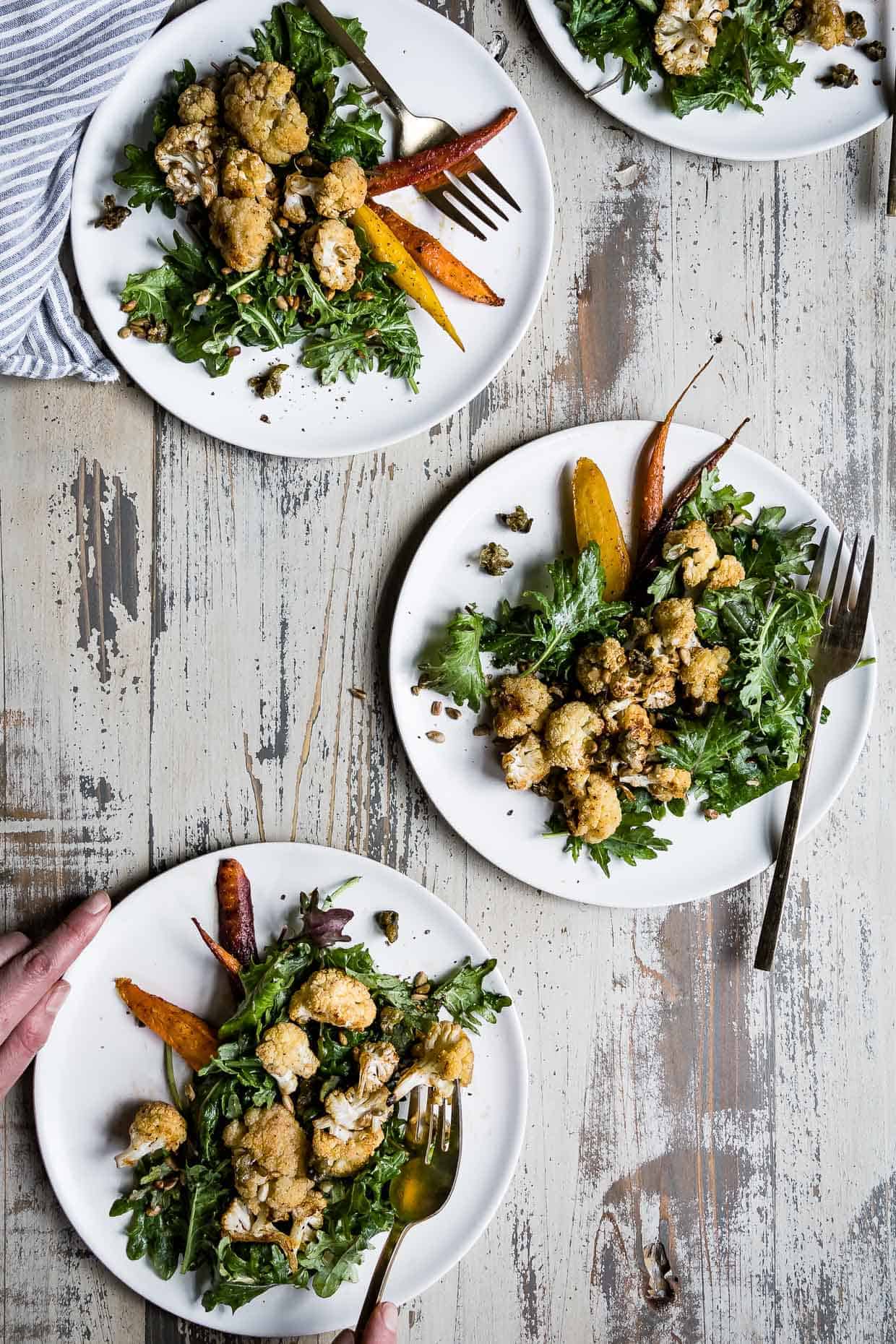 Disclosure: Special thanks to OXO for providing the tools shown above and sponsoring this post! And thanks to you for supporting the companies that keep Snixy Kitchen cooking!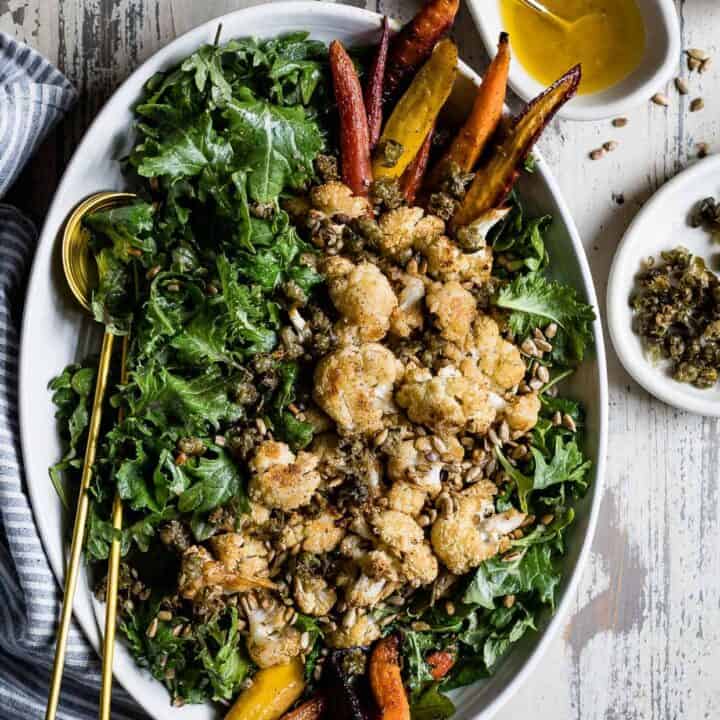 Roasted Cauliflower Kale Salad with Lemon Brown Butter Dressing
Ingredients
Salad
1½-2lb head of cauliflower, trimmed and cut into 1 to 2 inch florets
1-1½lbs rainbow carrots, trimmed and cut at an angle into ¼-1/2 inch thick strips
2 tablespoons extra virgin olive oil
1 teaspoon dried sumac
1 teaspoon smoked paprika
¼ teaspoon salt
2 tablespoons capers (I used the larger capote capers), rinsed and patted dry
½ -1 cup high-heat vegetable oil, such as safflower
5 ounces baby kale
¼ cup unsalted toasted sunflower seeds
Lemon brown butter dressing
¼ cup unsalted butter
1 tablespoon minced shallot
1 clove garlic, pressed
2½ tablespoons fresh lemon juice
1 tablespoon olive oil
½ tablespoon honey
¼ teaspoon each, salt & pepper
Instructions
Preheat the oven to 400°F and line a large baking sheet with parchment paper.
Toss the cauliflower and carrots with olive oil, sumac, paprika, and salt. Roast for 35-40 minutes, tossing halfway through, until well-browned and tender. Remove from heat and set aside.
Meanwhile, fry the crispy capers. Heat ¼ inch safflower oil in a small skillet over medium heat. Once it spits back from a drop of water, use a slotted spoon to add half of the capers. Be careful as it will splatter a bit at first. Cook for 45-90 seconds until the capers burst open and begin to brown. Smaller capers will take 45 seconds while larger capers 90 seconds. Using the slotted spoon, transfer to a paper-towel lined plate and repeat with remaining capers. Set aside.
Meanwhile prepare the lemon brown butter dressing. In a small saucepan or skillet, melt the butter over medium heat. When it just begins to turn light brown, add the shallot and garlic. Continue cooking, stirring, until the butter foams and browns, but does not burn. Quickly transfer the butter to a heat-proof bowl and add the lemon juice to stop the cooking.
Add the olive oil, honey, salt, and pepper, whisking to completely combine. Set aside to cool slightly. If it cools too much, the butter will begin to congeal, so just zap it for a few seconds in the microwave or on the stove.
Once cool, toss 2 tablespoons of the dressing with the baby kale, massaging it into the leaves.
Top the baby kale with the roasted cauliflower and carrots, crispy capers, sunflower seeds, and drizzle with a little more of the dressing, to taste.