These easy vegetarian shawarma tacos are loaded with roasted chickpeas and cauliflower, quick pickled onions, and yogurt tahini sauce! Serve leftover chickpea & cauliflower shawarma over rice with all the toppings for an epic shawarma platter.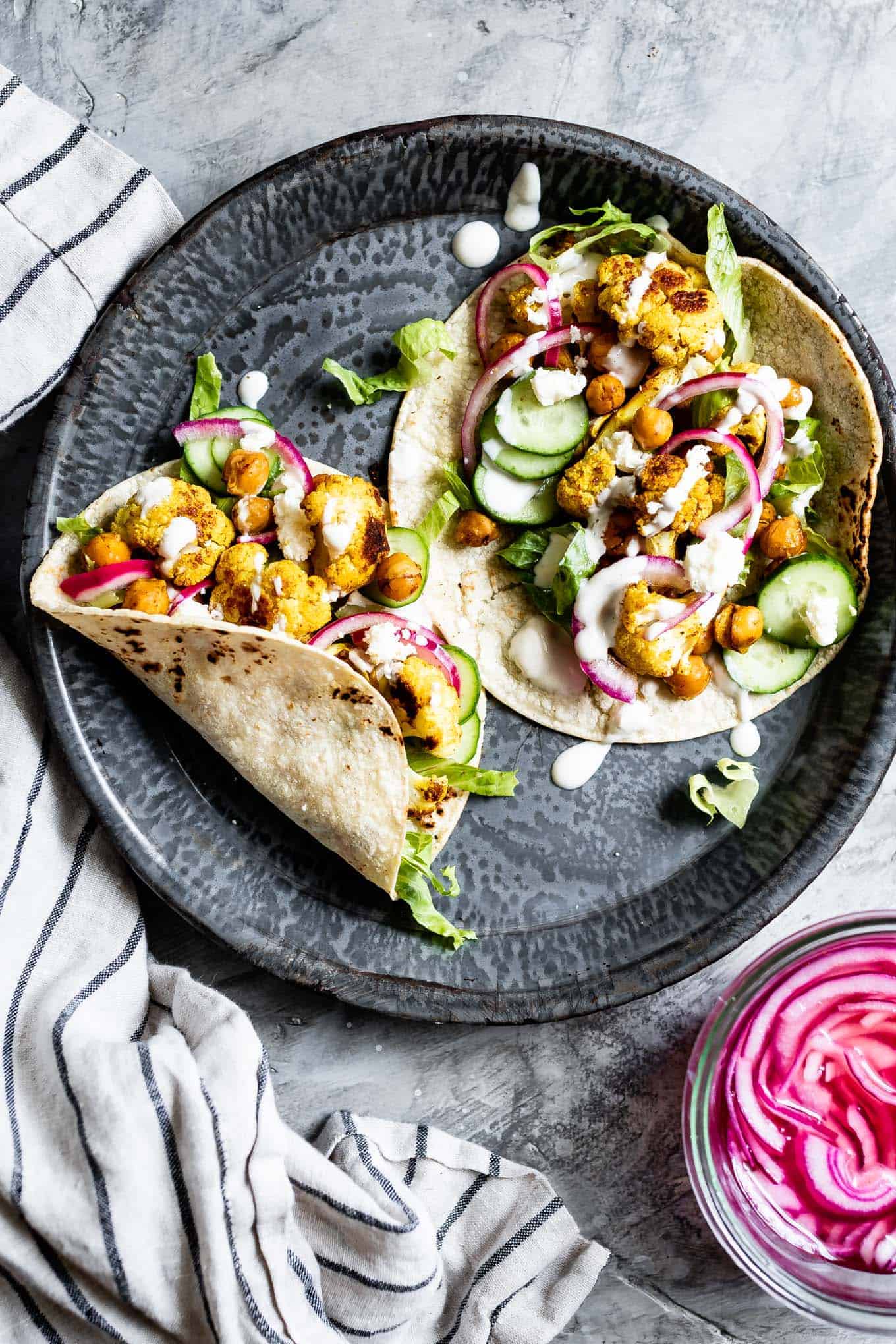 This post is sponsored by Safeway, a year-long partner of Snixy Kitchen
My neighbor and I organically started a new routine last week: divide and conquer dinners. We each make a double batch of half of a meal and drop off half of what we made in a no-contact porch delivery. Half the effort with the benefit of a full comforting meal. A social distancing potluck of sorts.
Earlier this week, I dressed up all the components of these vegetarian shawarma tacos on a platter and dropped it off on my neighbor's porch. She left out a bowl of dill rice and feta. We ate it as tacos for lunch and threw the chickpea and cauliflower shawarma over a rice bowl with all the fixings for dinner.
As much as I usually love cooking and baking, under the current circumstances, the dinner routine has been a struggle. With two parents trying to work with two kids under 4 at home (all. day. long.), by the time dinner rolls around, there's nothing left to give. Given the overwhelming request easy dinner recipes on my Instagram poll a few weeks ago, I have a feeling many of you are in the same boat.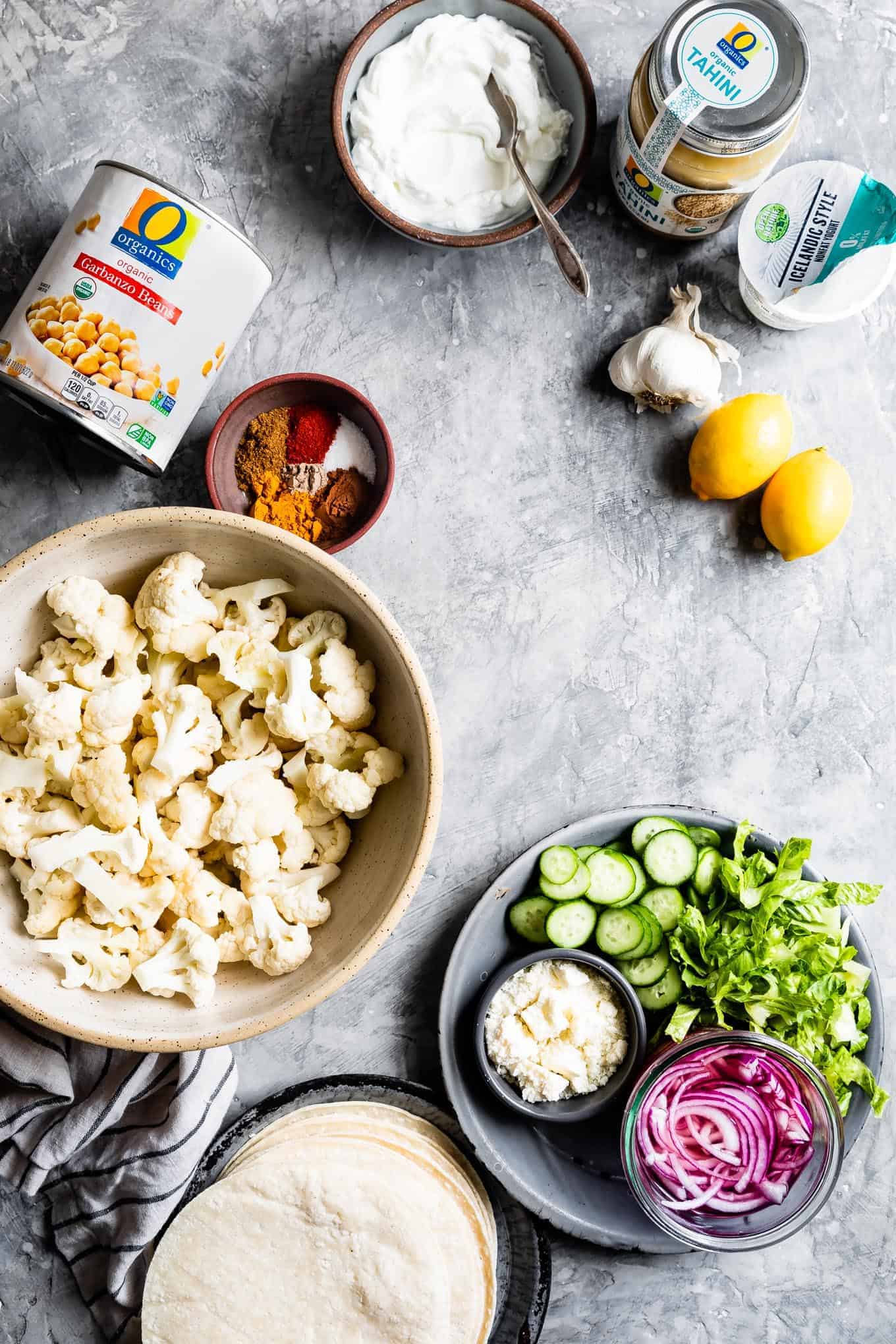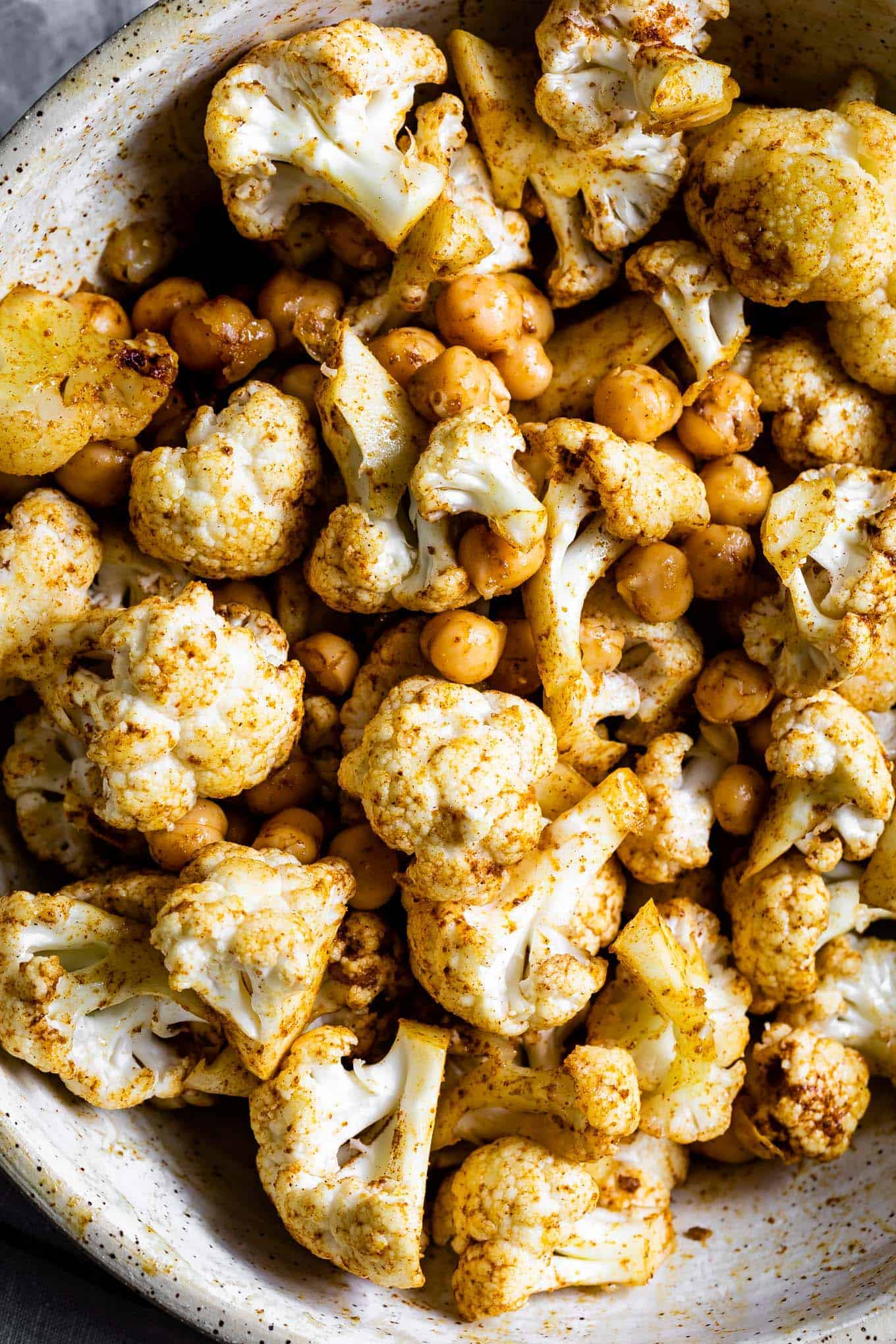 Shawarma Tacos or Shawarma Bowl
The beauty of this cauliflower and chickpea shawarma recipe is that it's packed with exciting flavors and comes together in 30 minutes. Eat it as tacos or a rice bowl depending on your mood! Quick, easy, and versatile is exactly what I'm looking for right now.
Top with fresh cilantro or even dill if that's your style!
Chickpea & Cauliflower Shawarma
The recipe is flexible depending on what you have on hand or can get your hands on. With the base recipe, my hope is you'll be able to get creative in your kitchen without much extra energy! For example, you can use 3 cans of chickpeas instead of cauliflower (reducing the roasting time), use arugula instead of romaine, or shallots or radishes in place of red onion.
For this chickpea & cauliflower shawarma, I'm partnering with Safeway to share an easy vegetarian dinner recipe that shows off some of their O Organics and Open Nature products that I regularly keep on hand. Both of these store-brand product lines feature high-quality products I trust. For these vegetarian shawarma tacos, I used O Organics garbanzo beans, tahini, and romaine, and Open Nature Icelandic-style yogurt.
The O Organics tahini is so smooth and creamy that it's perfect for mixing into a yogurt sauce. You can use any of the Open Nature or O Organics plain yogurt for this sauce - my family loves their Icelandic-style yogurt, so that's what I've been ordering for our grocery pick-up, but any kind of plain unsweetened yogurt will work.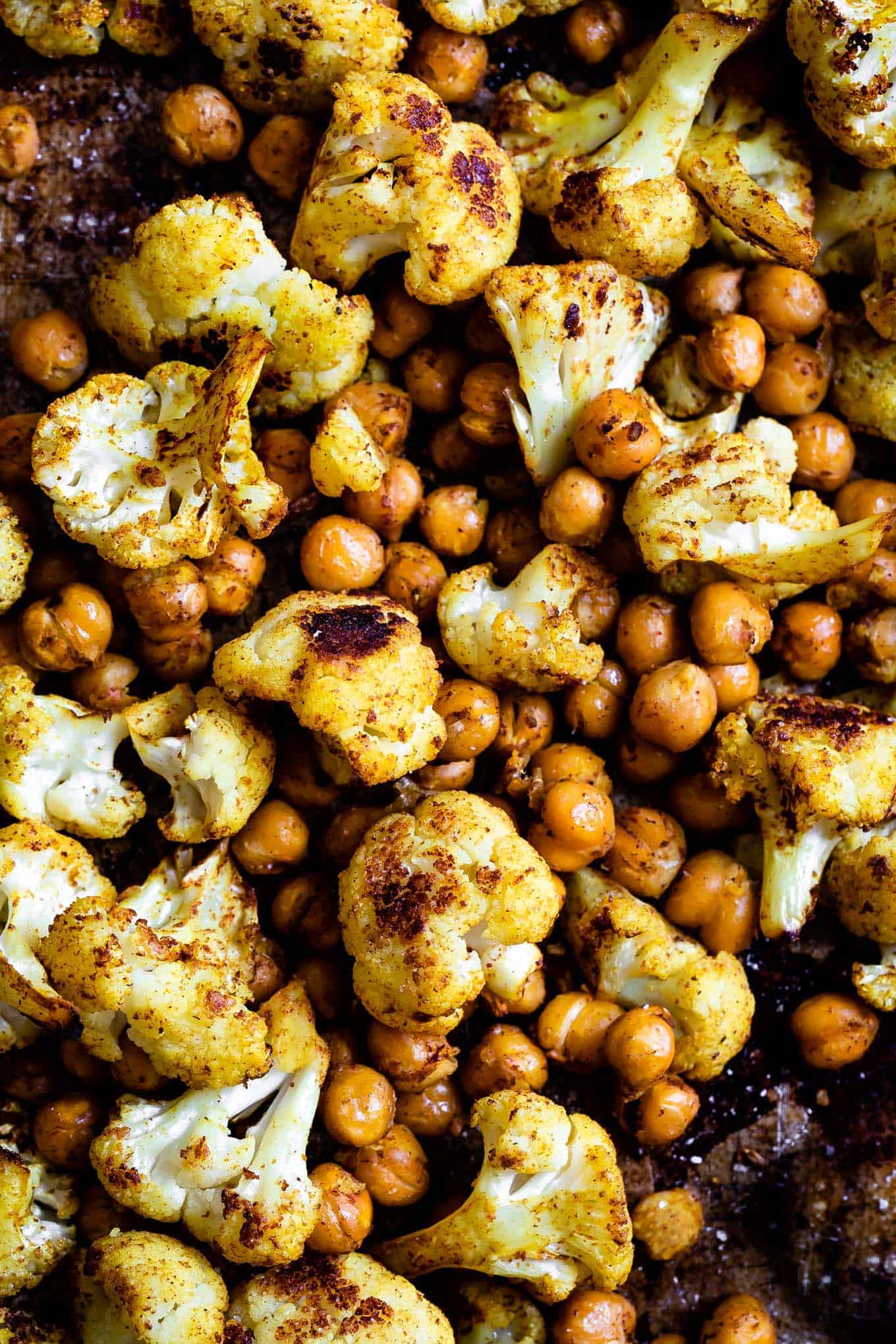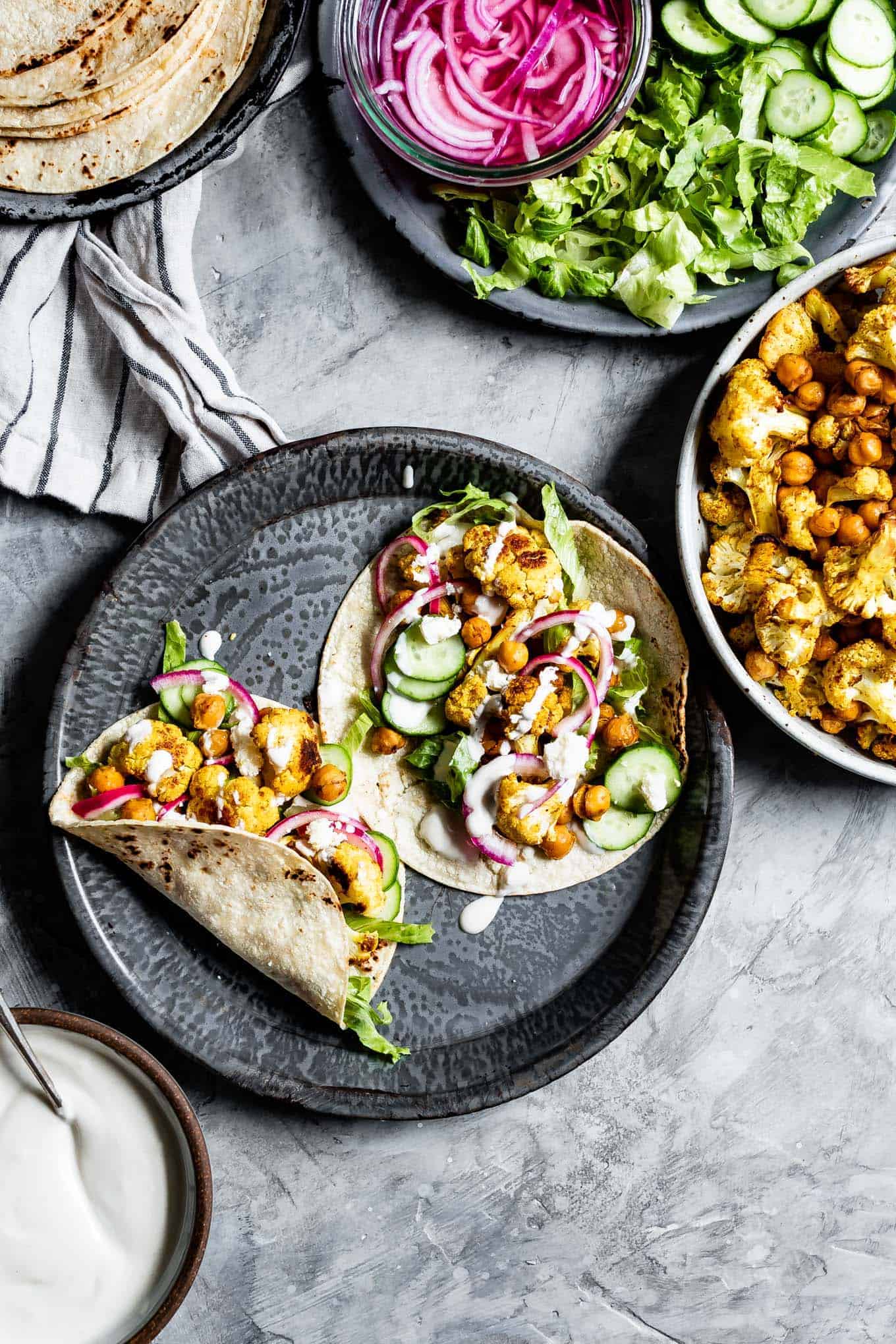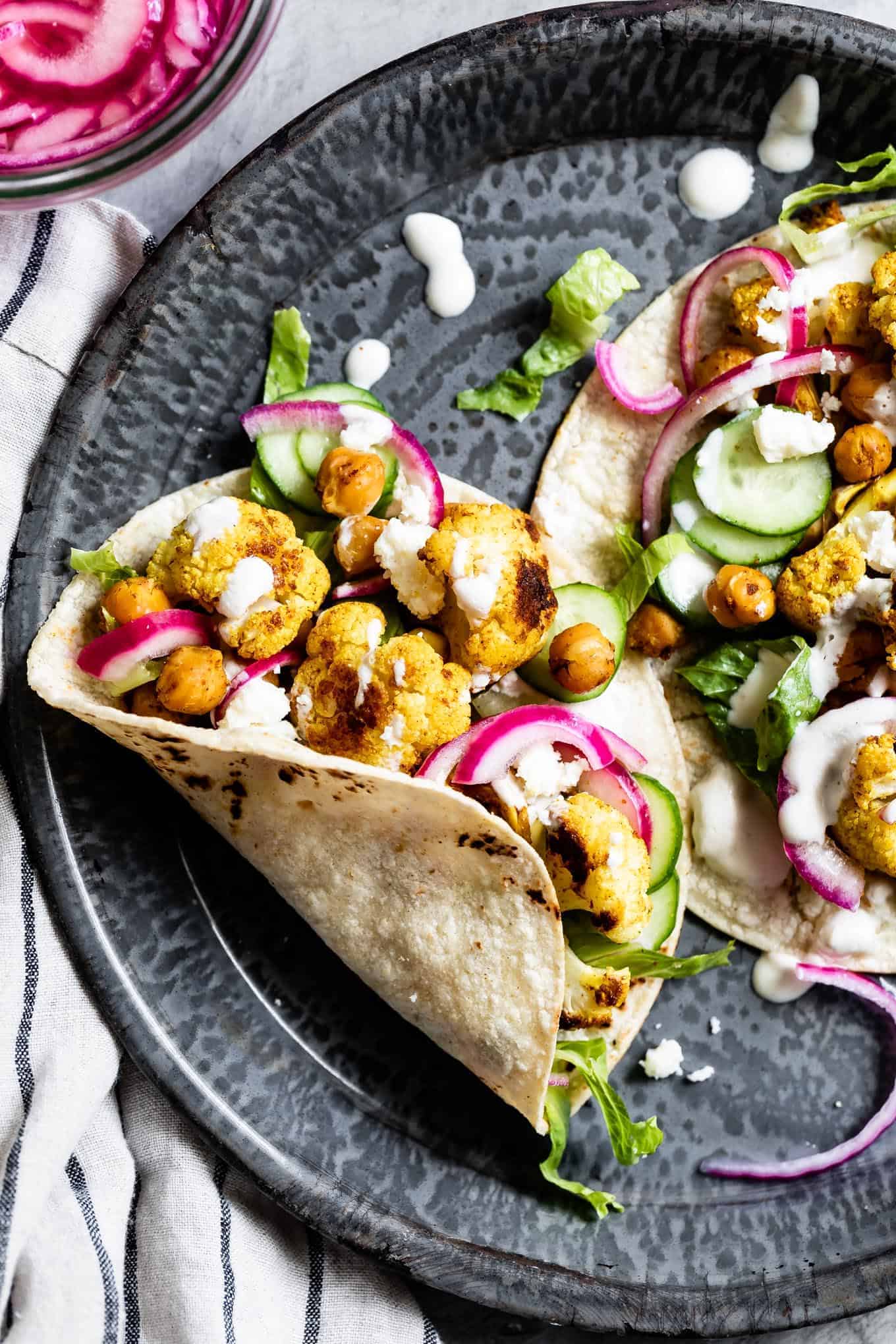 Shawarma Spices
Since shawarma - a popular Middle Eastern street food - inherently implies roasting meat on a stick and thinly slicing it, making it vegetarian necessarily relies on the seasoning to give it shawarma-like characteristics. That's where smoked paprika comes in to give it a smoky flavor. From there, I pulled additional spice inspo from the grilled chicken shawarma kebabs made by my good friends at The Modern Proper - cumin, turmeric, cinnamon. (Their kebabs are spot on, so if you're not vegetarian, make them stat! Also their site is a hub of easy dinner recipes if you need more inspiration...). I added just a hint of cardamom to avoid overpowering the cauliflower.
To get more flavor and kick out of the cauliflower and chickpeas, I added a pinch of cayenne and fresh garlic. When the veggies are done roasting, splash them with a hit of acid from fresh lemon juice to boost the flavor. The browned bits of cauliflower and slightly crispy chickpeas add to the shawarma-esque flavors!
How to Make Vegetarian Shawarma
While the veggies roast, get the toppings ready: superfast tahini yogurt, quick pickled red onions, greens, cucumbers, feta, and tortillas. By the time the veggies are out of the oven, your shawarma tacos are ready to assemble and eat!
All the components can be stored in the fridge so if you're into make-ahead meals, meal prepping, or leftovers, you've got multi-night dinner ready at your fingertips!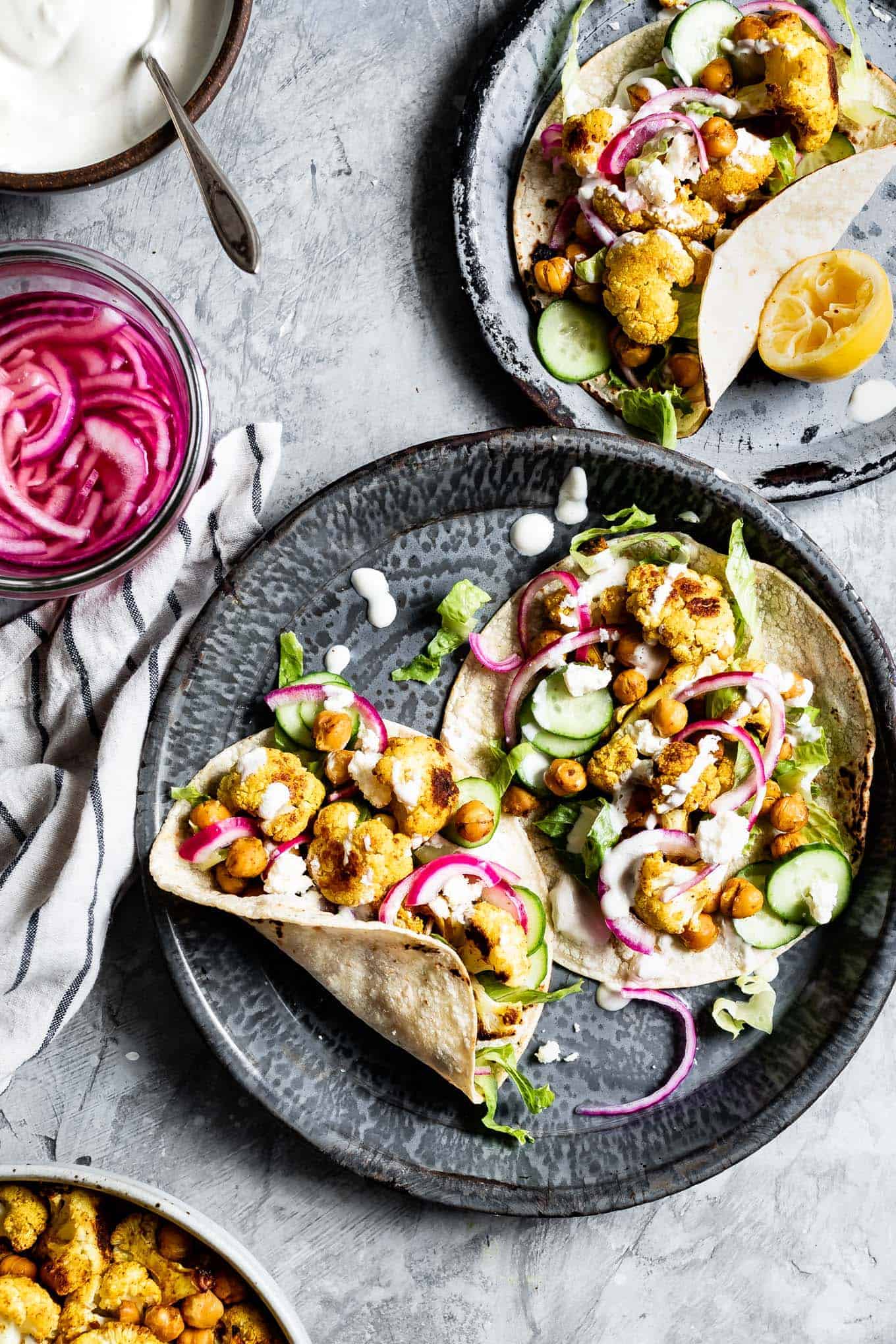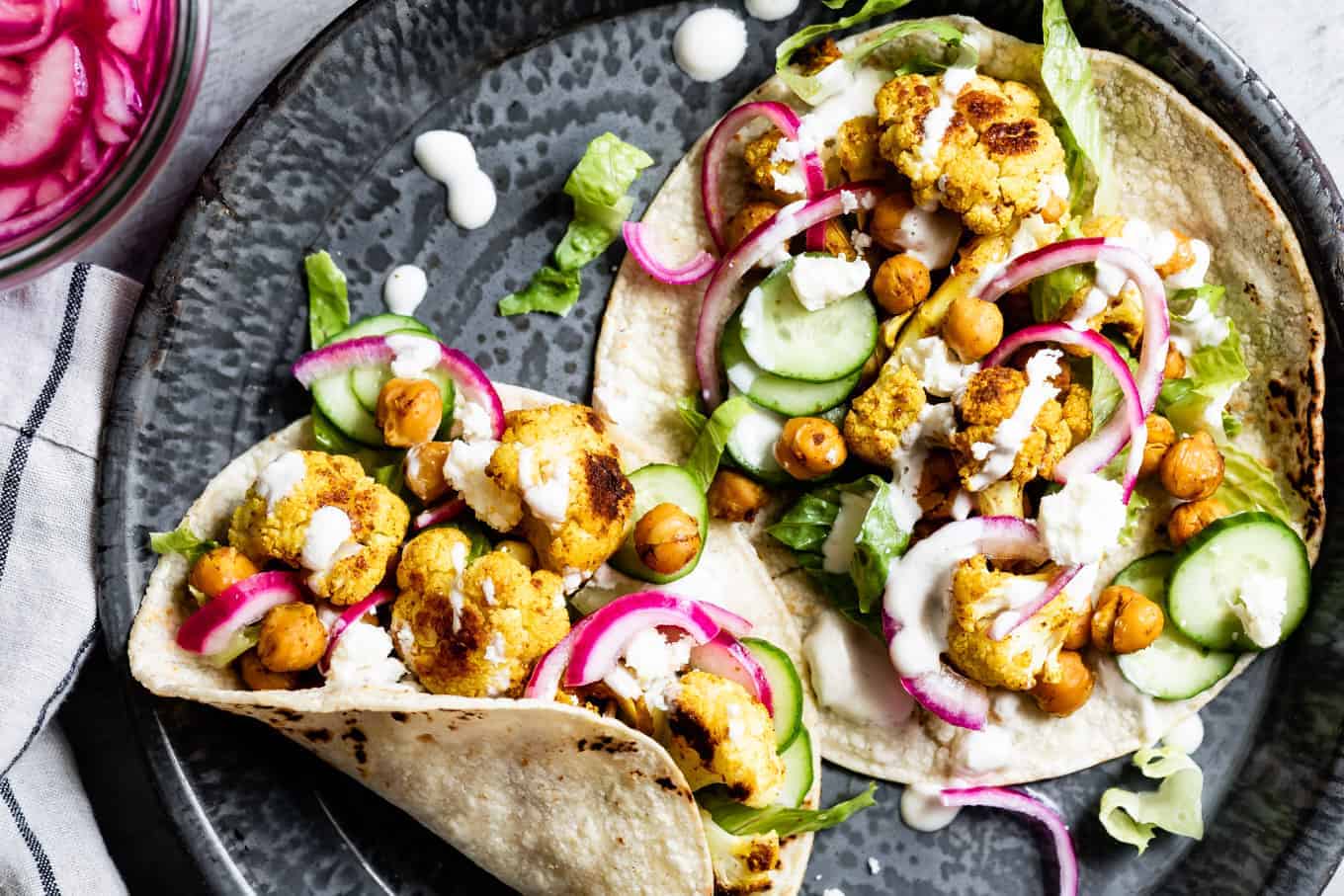 More Easy Vegetarian Dinner Recipes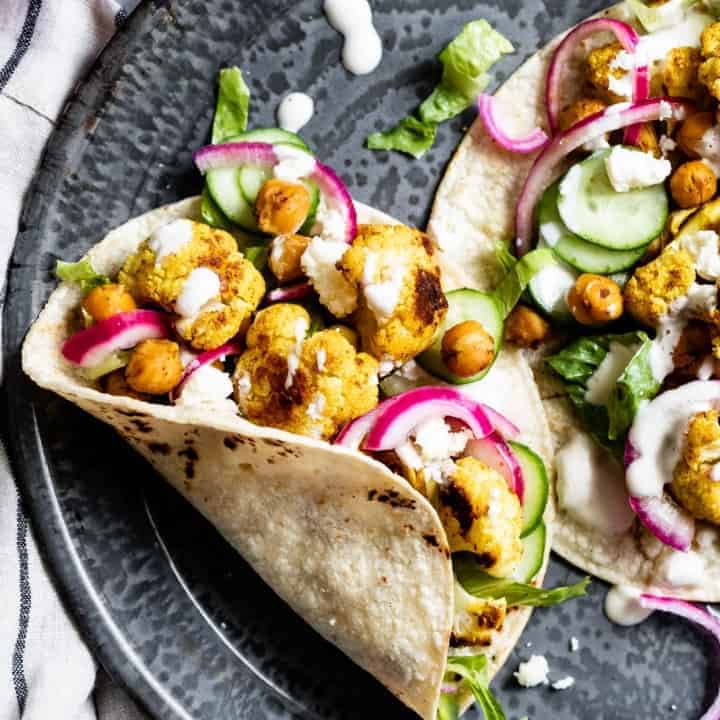 Vegetarian Shawarma Tacos
Additional Time:
2 minutes
These easy vegetarian shawarma tacos are loaded with roasted chickpeas and cauliflower, quick pickled red onions, and yogurt tahini sauce! Serve leftover chickpea & cauliflower shawarma over rice with all the toppings for an epic shawarma bowl.
Ingredients
Vegetarian Shawarma Tacos
1 large head cauliflower, cut into 1-inch florets
1 15.5oz can chickpeas, drained and rinsed
3 tablespoons extra virgin olive oil
2 cloves garlic, pressed or minced
¾ teaspoon kosher salt
¾ teaspoon smoked paprika
¾ teaspoon ground cumin
¾ teaspoon ground turmeric
¾ teaspoon ground cinnamon
¼ teaspoon ground cardamom
¼ teaspoon cayenne pepper
Juice of 1 lemon
Quick Pickled Red Onion
⅓ cup hot water
1 teaspoon kosher salt
1 teaspoon sugar
⅓ cup white vinegar (see notes)
1 small red onion halved and thinly sliced
Tahini Yogurt
½ cup plain yogurt (I used Icelandic)
2 tablespoons tahini
2 tablespoons lemon juice
1 clove garlic, pressed or minced
Pinch kosher salt
2-4 tablespoons water
Toppings
12 corn tortillas, warmed
2 small cucumbers, thinly sliced
1 small head romaine lettuce, thinly sliced
¼ cup feta, crumbled
Instructions
Preheat oven to 450°F. Toss the cauliflower, chickpeas and garlic with olive oil in a large mixing bowl. Mix together the spices then toss them into the mixing bowl with the cauliflower and chickpeas to coat evenly.
Spread the vegetables out on a large baking sheet (or two if your baking sheet is too crowded!) and bake on the bottom rack for 20-25 minutes, tossing with a wooden spoon halfway through until cauliflower is golden brown and soft (see notes for tips).
Meanwhile, prepare the toppings, starting with the quick pickled red onion. Pour the hot water over the sugar and salt in a medium jar. Stir to dissolve. Add the vinegar then nestle in the red onion slices. Let sit until ready to serve. The pickles will get even stronger as they sit and will last a couple of months in the fridge.
In a medium bowl, whisk together the yogurt, tahini, lemon juice, garlic, and salt until smooth. Add water as needed until it's thin enough to drizzle/splatter on your tacos. This will vary depending on the thickness of your yogurt (traditional v greek v Icelandic) and your tahini.
When the vegetables are done baking, squeeze lemon juice over the top.
Assemble tacos: tortilla, cauliflower & chickpeas, romaine, cucumber, quick pickled onions, tahini yogurt, feta.
Notes
Time management: Wait to prepare all your toppings while the cauliflower roasts to save time.
Tips for roasted cauliflower:
Make sure your florets are very dry before tossing in olive oil. Excess water from washing will cause your cauliflower to stem before browning
Similarly, if your baking sheet is too crowded, your cauliflower will steam before browning. Fix this by using two baking sheets on separate racks and rotate them halfway through when you toss the cauliflower.
I find that my vegetables brown best on a dark baking sheet without parchment paper.
Substitution tips:
Spices: replace cayenne with red pepper flakes or black pepper, cardamom with allspice, or smoked paprika with regular paprika.
Cauliflower: Sub in 2 additional cans of chickpeas, squash, or sweet potatoes!
Tahini: Sub in hummus and use a bit more
Garlic: Sub in ⅛ teaspoon garlic powder per clove
White vinegar: Sub in apple cider vinegar, white wine vinegar, red wine vinegar, or rice vinegar
Red onion: Sub in quick-pickled shallots of thinly sliced radishes
Tortillas: Use rice instead as a shawarma bowl
Cucumbers: Sub in cherry tomatoes, sliced radishes, or avocado
Romaine: Sub in any greens - I love these with arugula too!
Feta: Sub in cotija or goat cheese
You can get all the ingredients for this recipe at your local Safeway, which also offers curbside pick up and Safeway Home Delivery!