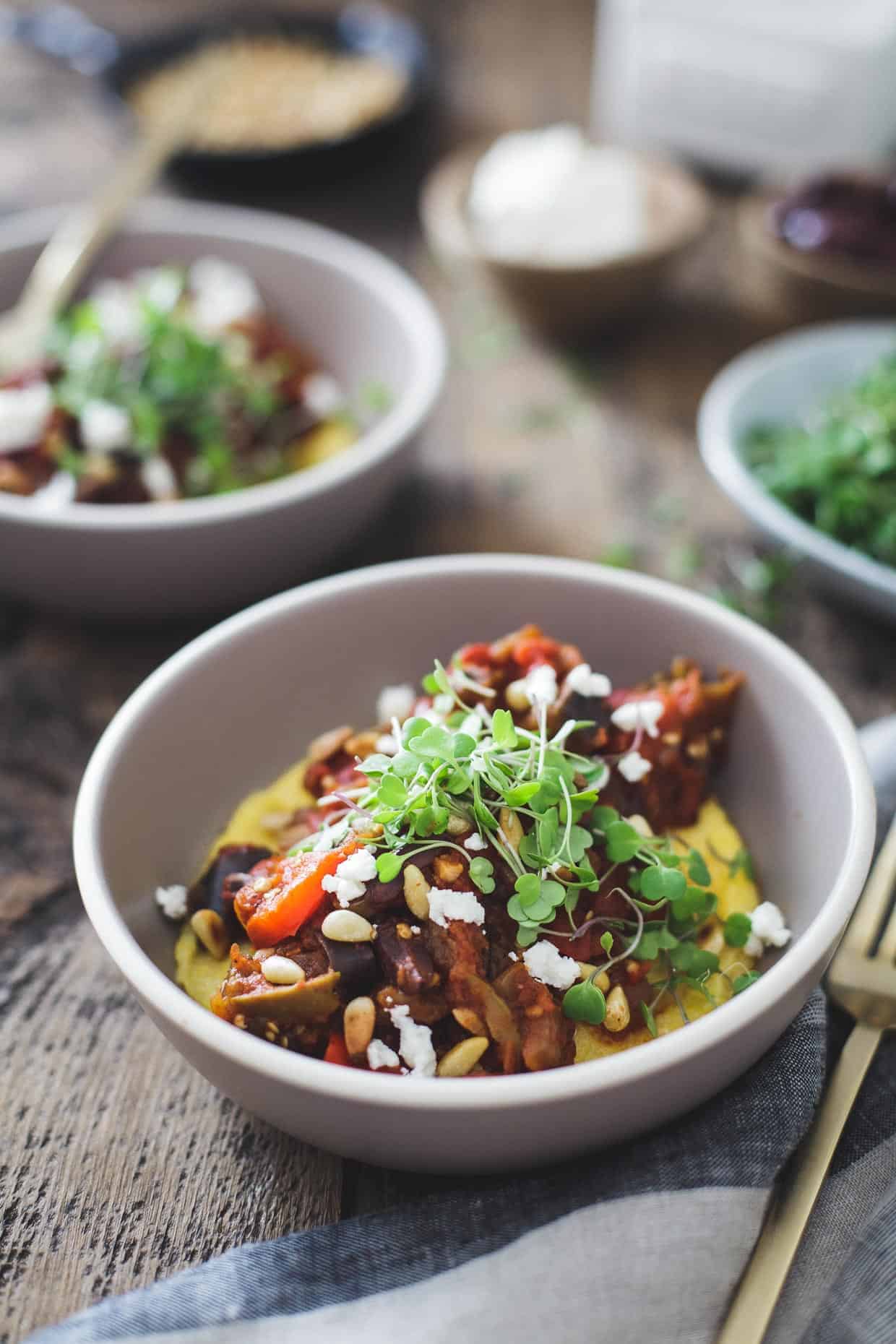 My mom is an expert at making efficient dinners with lots of leftovers. I'm terrible at leftovers - both at making enough food to have leftovers and, on the off chance I'm successful at that, at then coming up with something we won't tire of after the second or third spaghetti lunch. This tomato eggplant stew passes both tests. A large batch comes together without a fuss and we're still singing its praises on day 6 of leftovers.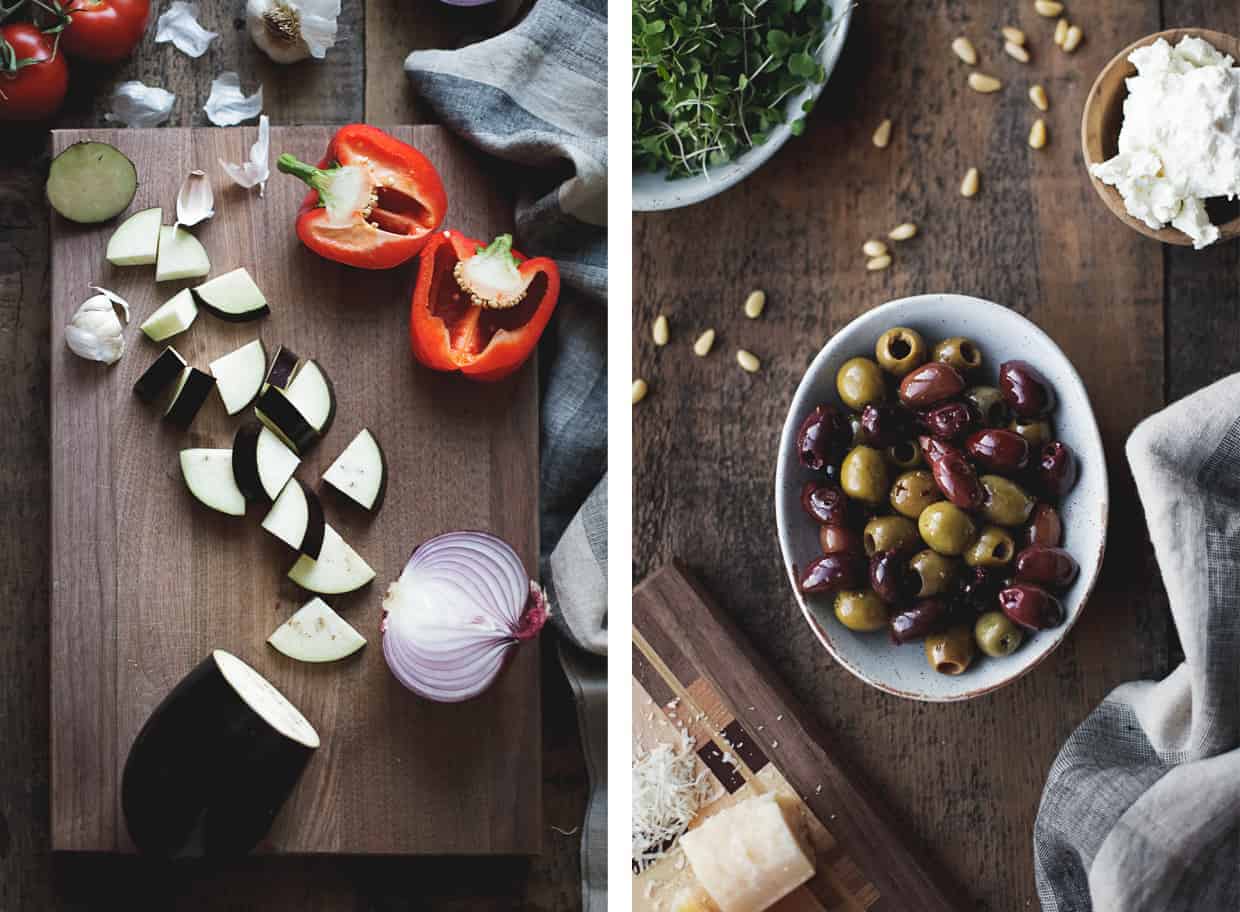 Thanks to the folks at OXO, we've finally upgraded our cookware with a shiny new 5-quart stainless steel casserole pot. I've been hanging onto the decades-old cheap non-stick pot that's dented and wobbles on the stove with half-melted handles as a last remnant of my college kitchen. It's worse than your camping pot.
Our new younger more attractive OXO pot, on the other hand, is sturdy with 3-ply walls that ensure even cooking. With the exception of that one old pot, we switched to stainless steel pots and pans nearly two years ago without regrets; by giving a nice brown sear on veggies and meat, a stainless steel pot imparts roasted flavors on a veggie-heavy stew like this one.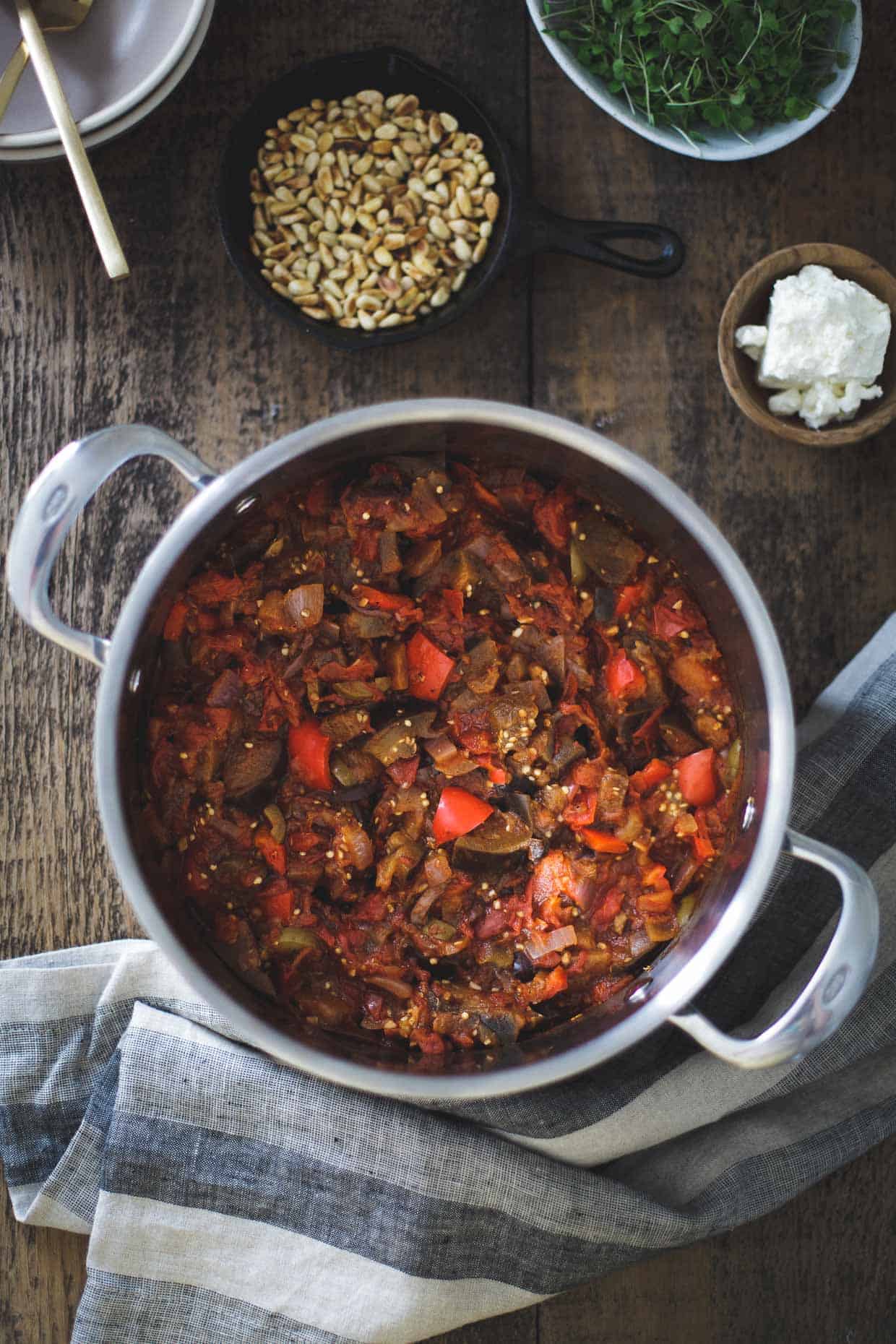 Let's talk about garnish for a second. I have an extreme hatred of cilantro - not in a "eh, I don't prefer this, but I'll tolerate it" way, but in a "it tastes like a bar of soap" kind of way. I'm apparently less genetically evolved, but hey, so is Julia Childs, which somehow makes me feel okay about being a food lover who loathes such a common ingredient. (At least I don't pick it off and "throw it on the floor" like Julia.) When ordering a dish in which I fear cilantro might be lurking, I always ask.
So when I ordered a creamy artichoke risotto from a new hip restaurant and the waiter assured me there was no cilantro, I felt confident that the generous sprinkling of greens all over the plate was just minced parsley. I'm sure you can see where this is going. The heaping forkful I shoveled in overwhelmingly filled my mouth with soap.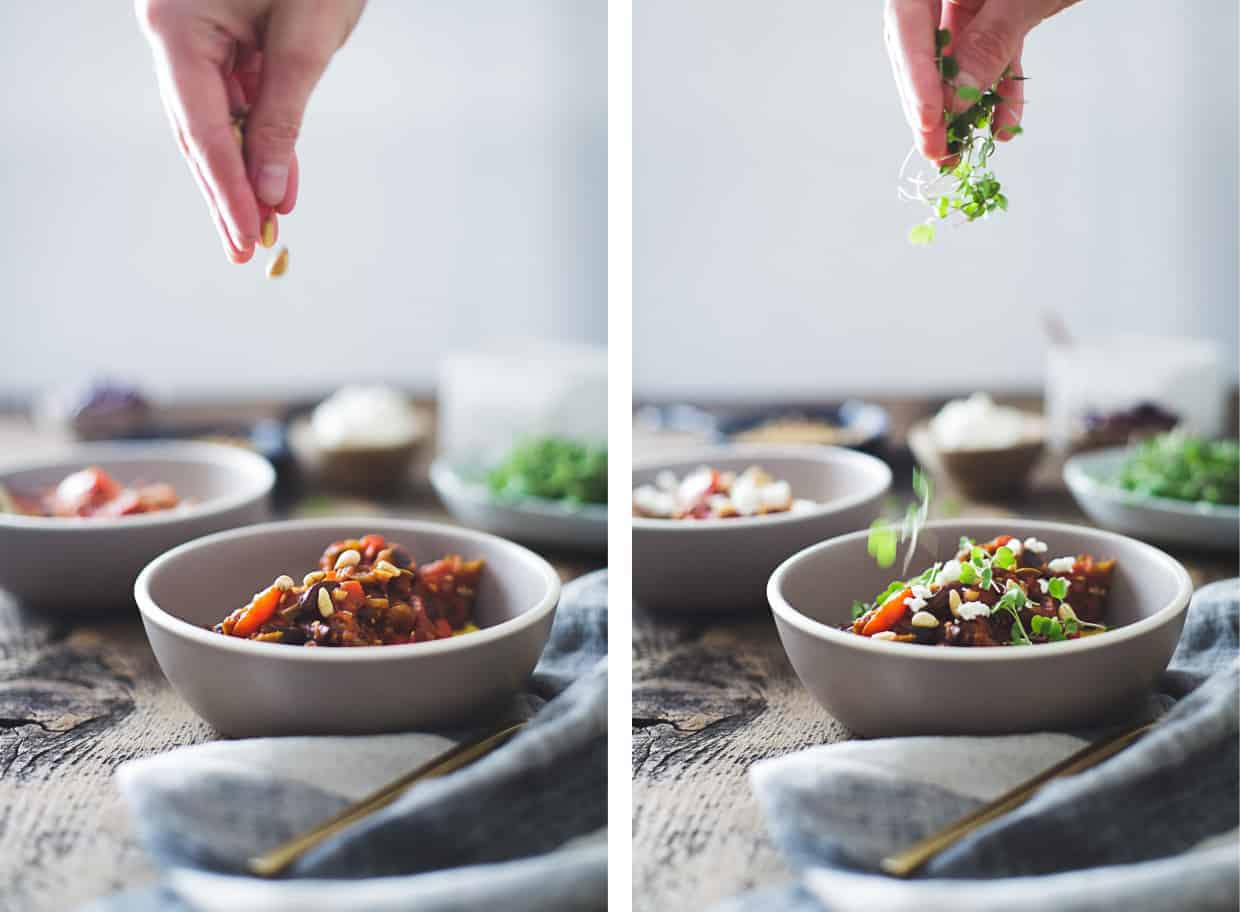 Afraid of causing a scene, but also not wanting to leave hungry, I timidly asked our waiter if maybe this was cilantro on top - because it tastes a lot exactly like cilantro.
His response? "Ohhh, well it might be micro-cilantro." With a totally straight face.
For the record, folks, micro cilantro = CILANTRO...just harvested a bit earlier. Let me give you an example that might make it more clear, sir.
You: "Do you have cats? I'm allergic to cats."
Me: "No. Definitely don't own a cat. Might own a kitten. Totally different thing - won't bother you at all."
The cute factor does not somehow magically make it a different species.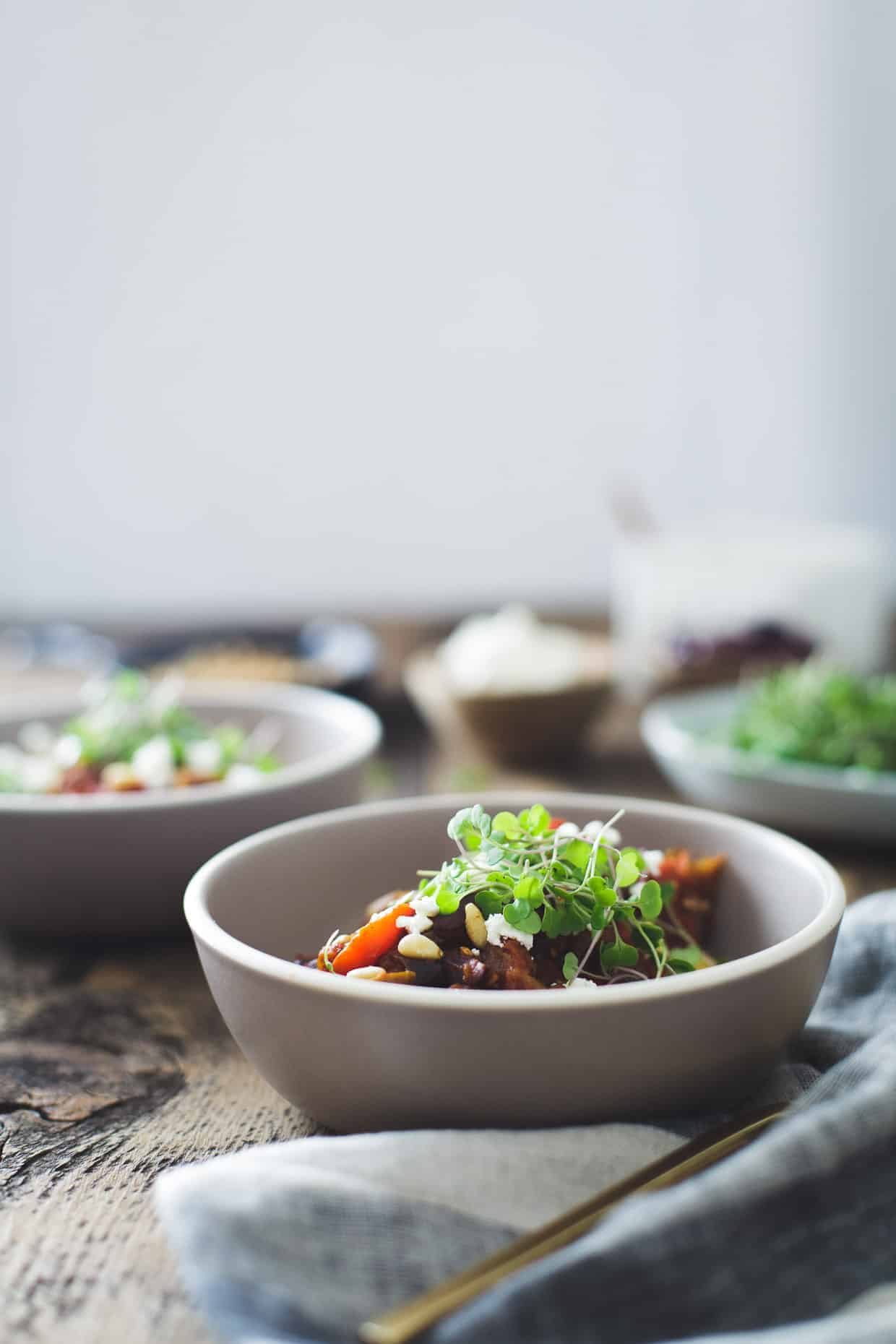 We garnished this tomato eggplant stew with micro arugula. AKA adorable arugula. You know what's cuter than a cat eating arugula (or kale)? A cat thieving a bite of micro arugula off the table. So cute that instead of stopping him, I took pictures. Have you see the video of the tiny kitten in a tiny hat eating a tiny ice cream cone? This is a real thing and the cuteness is paralyzing.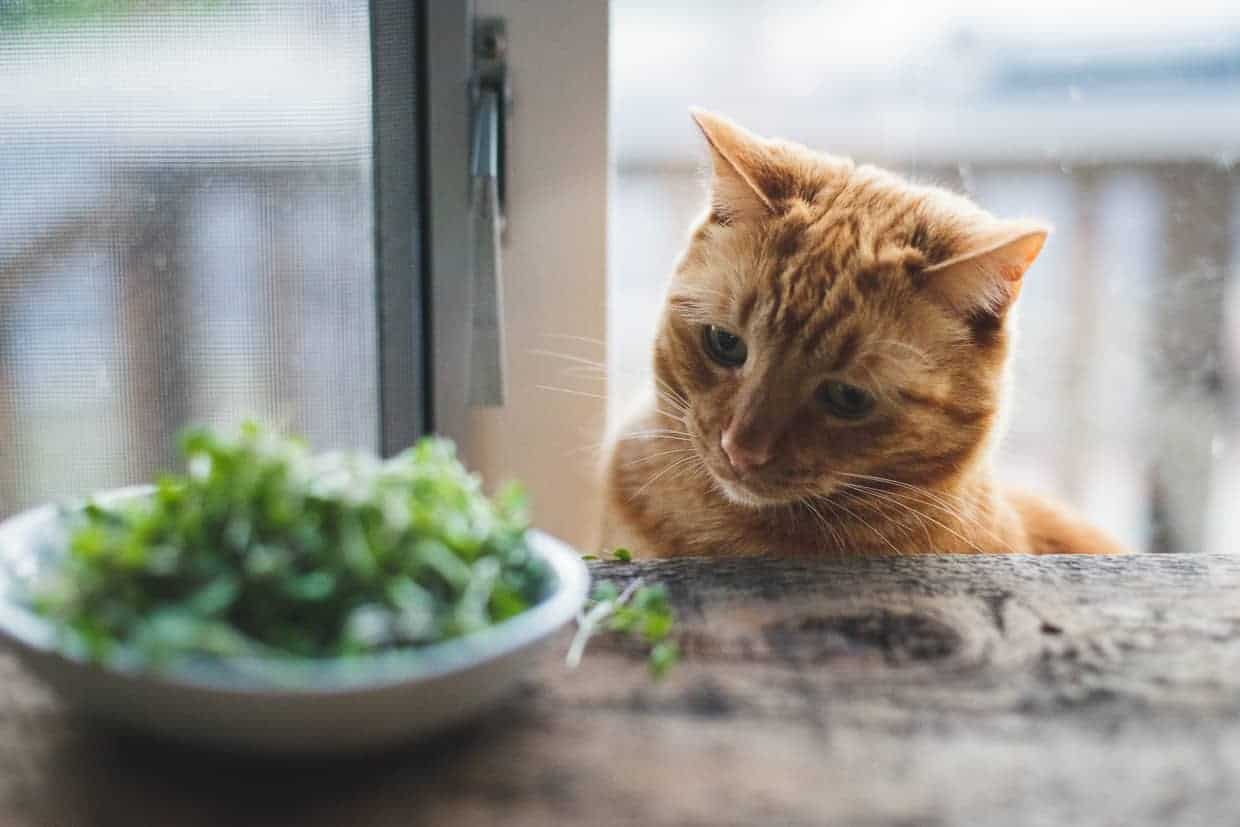 Aside from its obvious cute factor, we chose micro arugula because the basil looked sad and the micro greens sprinkle just so. The fresh peppery bite from the arugula actually pairs perfectly with the warm stewy vegetables. You could also throw some chopped up arugula on top or any other micro green you can find (Trader Joe's has a nice pack).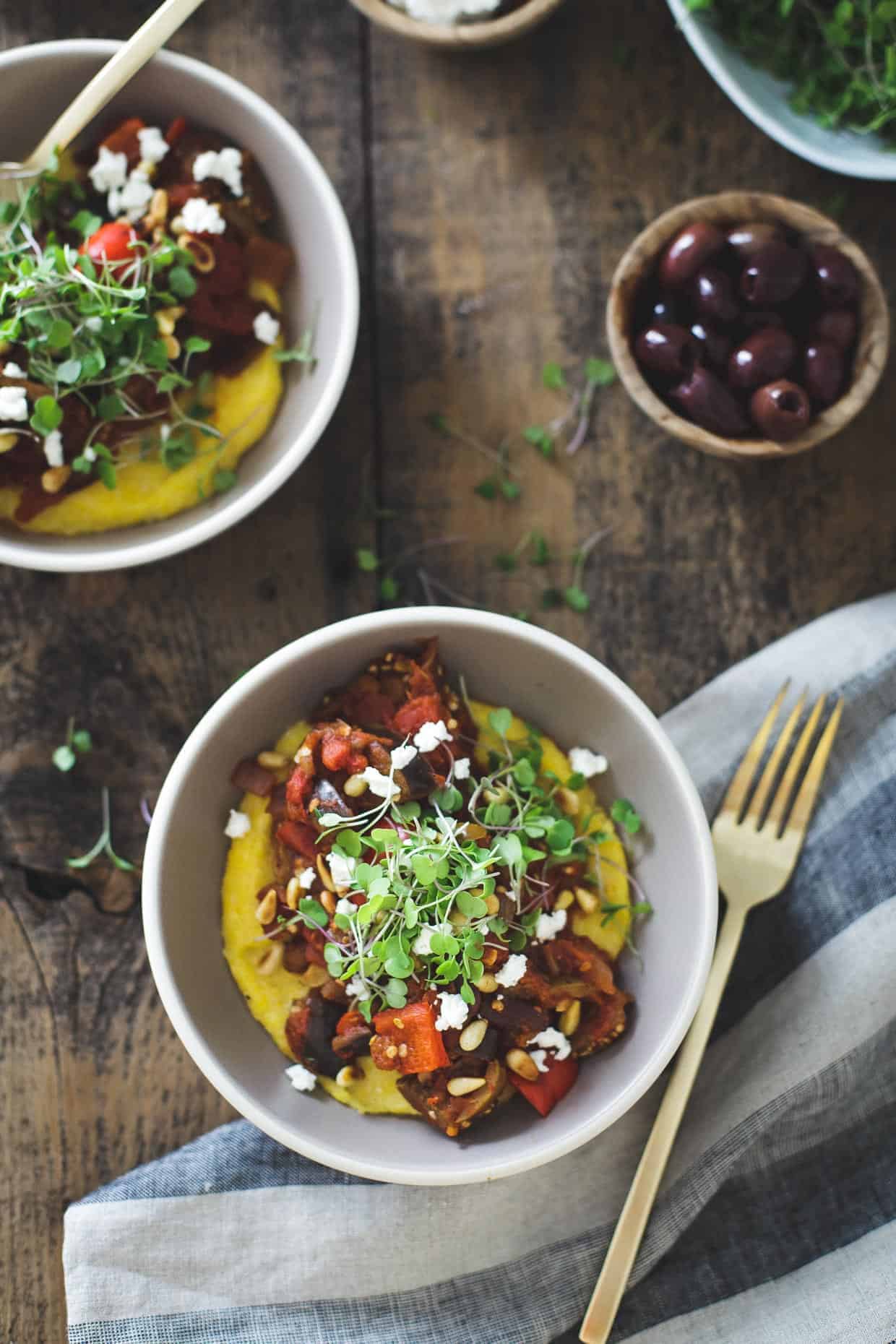 Even though this stew has very little in the way of seasoning, it's got multiple dimensions and loads of flavor. The eggplant holds a sturdy texture - when stewed up with tomatoes and bell pepper, it isn't slimy at all and soaks up all of the flavors of the dish. Parmesan polenta gives the stew a sweet creamy counterpart. Mixed with briny greek olives and dotted with a tangy feta, buttery pine nuts, and a handful of spicy arugula, stew doesn't get much better than this.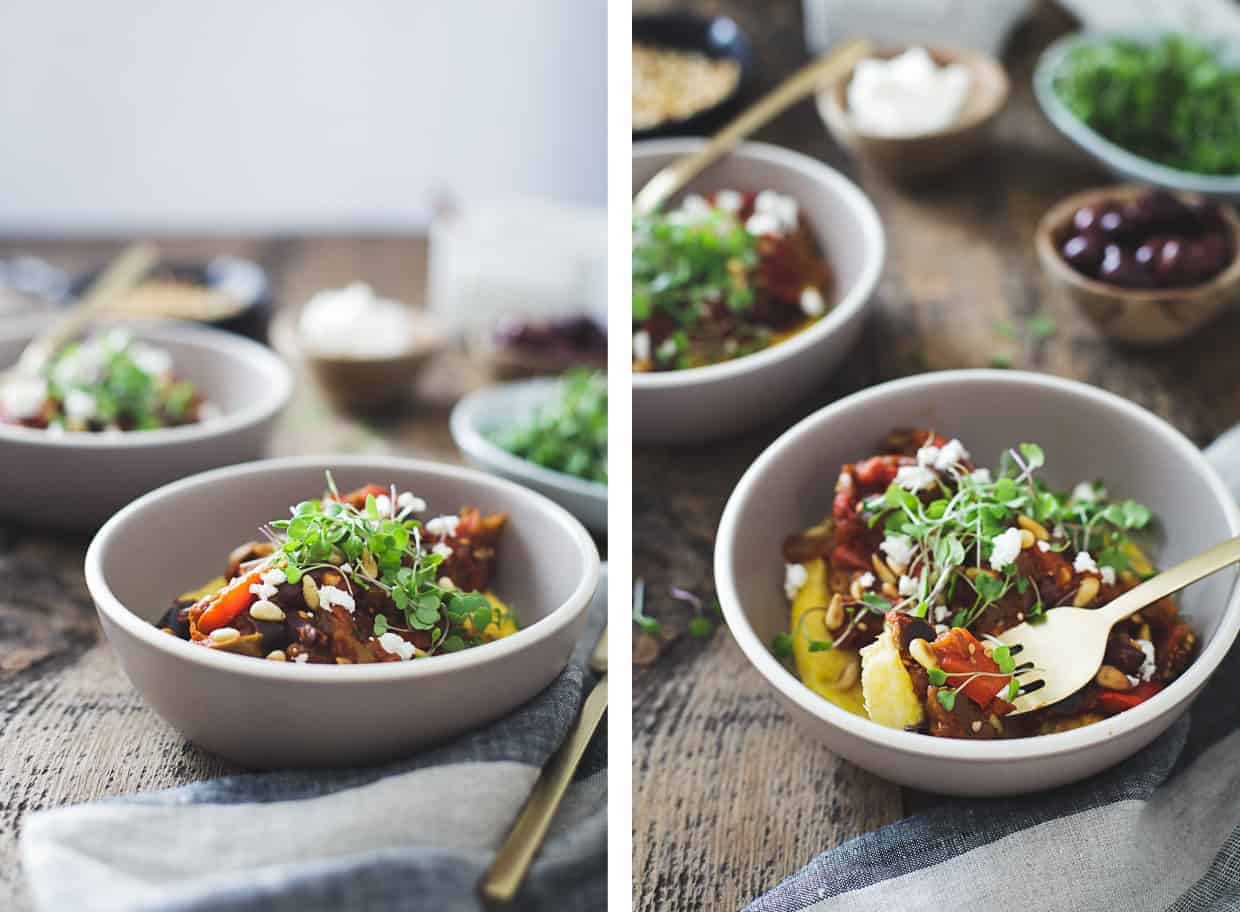 Thanks for reading Snixy Kitchen! To stay up on what's coming out of my kitchen, follow me on Facebook, Instagram, Twitter, Bloglovin', Pinterest, or subscribe via e-mail to get new recipes right to your inbox.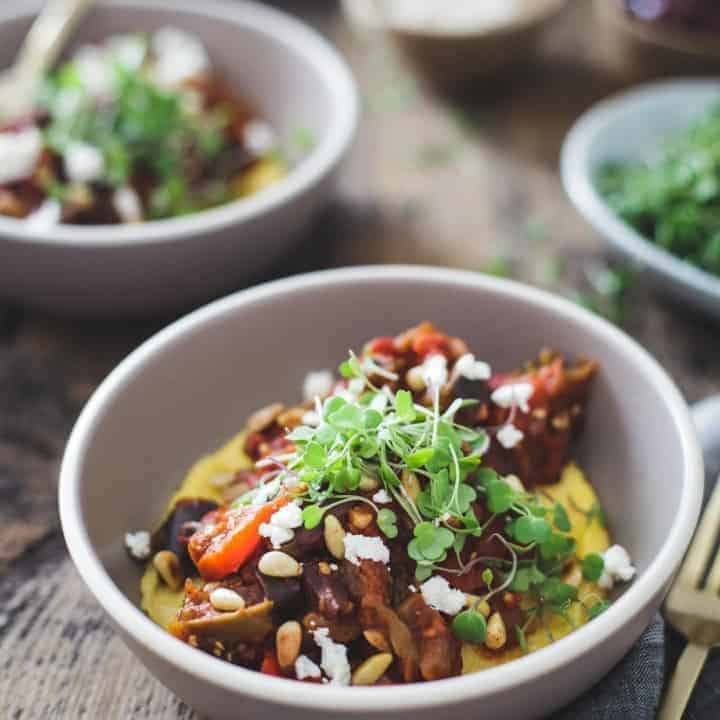 Tomato Eggplant Stew over Parmesan Polenta
Ingredients
Tomato Eggplant Stew
1 tablespoon olive oil
¾ large red onion, chopped
2 large Italian eggplants, sliced into ¼-inch rounds and cut into 6ths
1 red bell pepper, chopped
4 cloves garlic, minced
2 tomatoes, chopped
2 14.5-ounce cans stewed tomatoes, coarsely chopped
½ cup greek or kalamata olives, slivered
¼ cup pine nuts, toasted
¼ - ½ cup feta cheese, crumbled
1 cup micro arugula, chopped arugula, or other micro greens
¼ teaspoon salt and pepper, plus more to taste
Parmesan Polenta
1½ cups polenta-style enriched cornmeal
6 cups water
½ teaspoon salt
1½ tablespoons unsalted butter
½ cup freshly grated parmesan cheese
Instructions
Tomato Eggplant Stew
Heat the olive oil over medium-high heat in a large pot. Add the chopped onion and sauté until tender and browned, 3-4 minutes.
Add the eggplant, red bell pepper, and garlic. Cook, stirring often, until the vegetables begin to brown and soften, about 5-8 minutes.
Add the chopped tomatoes and stewed tomatoes. Cook, stirring, until the vegetables begin to stew, about 5 minutes.
Reduce heat to medium-low and cover for another 10 minutes, stirring occasionally. Meanwhile prepare the polenta.
Remove the lid and continue stewing until most of the moisture is absorbed and vegetables are soft, about 10-15 minutes (the great thing about stew is that you can cook it longer and it's still good. If you're not done with the polenta, keep the stew on low heat until it's nearly ready).
Add the olives, salt, and pepper and cook until heated through, about 2-3 minutes.
Serve a ladleful over a bowl of fresh polenta. Sprinkle with toasted pine nuts, feta cheese, and micro arugula.
Parmesan Polenta
Bring the salt and water to boil in a large pan over medium heat.
Slowly pour in the polenta cornmeal, whisking constantly to combine.
Continue cooking over medium-low heat, stirring constantly, until it thickens, about 15 minutes.
Fold in the butter and parmesan cheese, mixing to combine.
Divide the polenta between serving bowls while it's warm.
Disclosure: I was not compensated to write this post. OXO generously provided me with products for their #OXOCookware campaign. As always, the recipe and opinions expressed here are solely my own