A nourishing bowl of cheesy savory oatmeal folded with shredded gouda and roasted garlic, then topped with crispy oven potatoes, soft-boiled eggs, and bright summer pesto. The perfect make-ahead meal for breakfast, lunch, or dinner.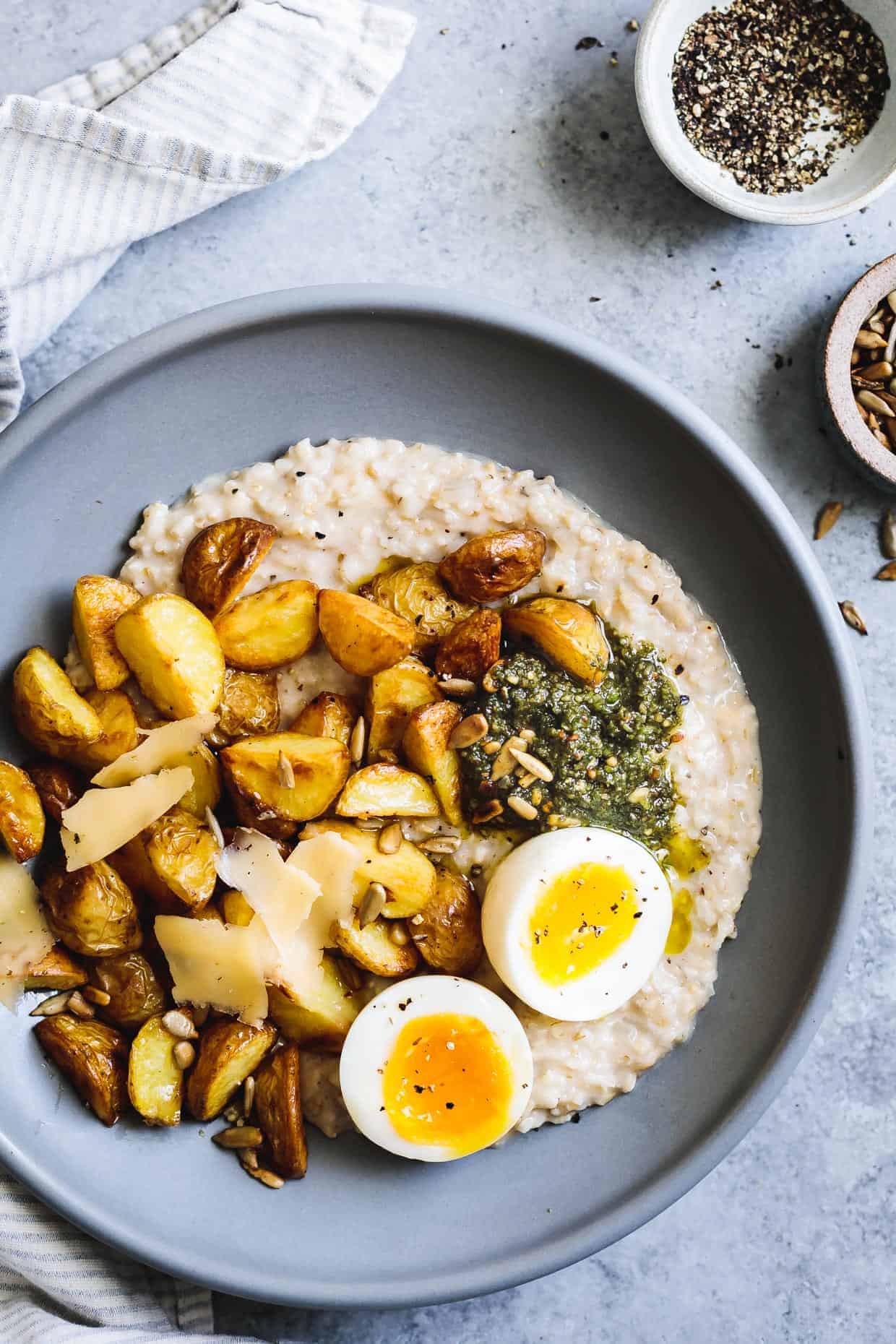 I once saw a tweet that read, "99% of parenthood is spent covering things in cheese to get my kid to eat it." This is my life. The other 1% is convincing her that what I'm serving her is, in fact, cheese and therefore she'll love it if she just gives it a shot.
She's a toddler, so reasoning is generally out the window, but if there's cheese involved, the chances are much higher. When it comes to this cheesy savory oatmeal topped with gouda pesto, Zoella is all in.
This is the second dish in my summer menu video series in partnership with Roth Cheese: breakfast. Last month, I shared an easy condiment - sunflower seed gouda pesto - that'll transform anything from pasta to eggs to salmon. And now I've dolloped it over this cheesy savory oatmeal breakfast bowl with crispy potatoes, a soft-boiled egg, toasted sunflower seeds, and more shaved gouda. Cheese on cheese on cheese. Sign me up. Zoella too.

I really don't think I can fully capture Zoella's enthusiasm for cheese, but I'll try. Tonight she asked for cheese (the clearest and most enunciated word in her vocabulary) and, as we sliced the gouda, she verbally grinned ear to ear, fists clenched tight, her whole body vibrating in anticipation. They talk about "a kid in a candy shop" - I can't even imagine what would happen if I took her into the cheese market.
Even at the small natural grocery down our street, she goes bonkers. As soon as she's got their toddler-sized shopping cart in hand, she bee-lines to the cheese (watch out feet!). There you'll find her, discerningly plopping her favorites into the cart, as if she's reading the labels.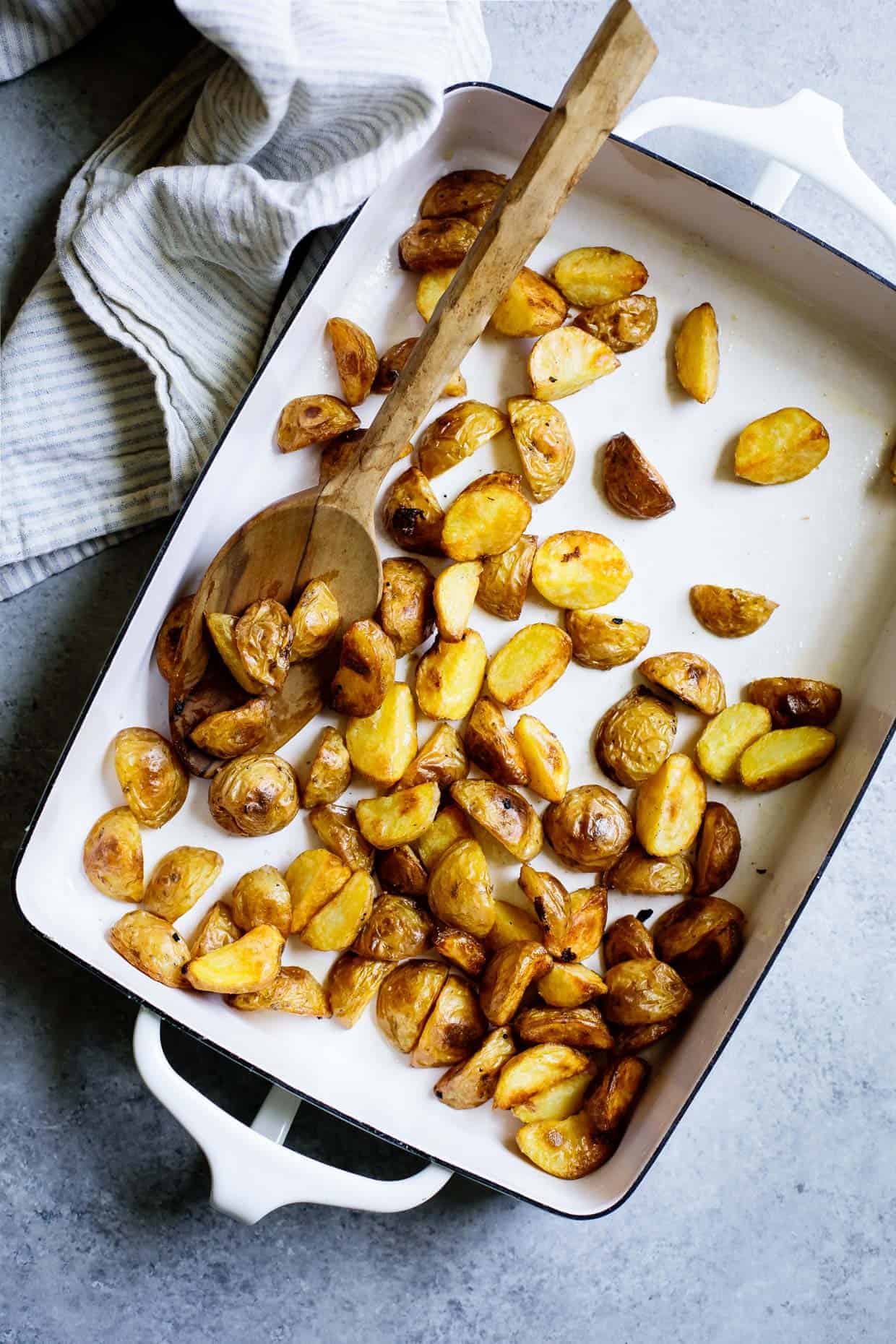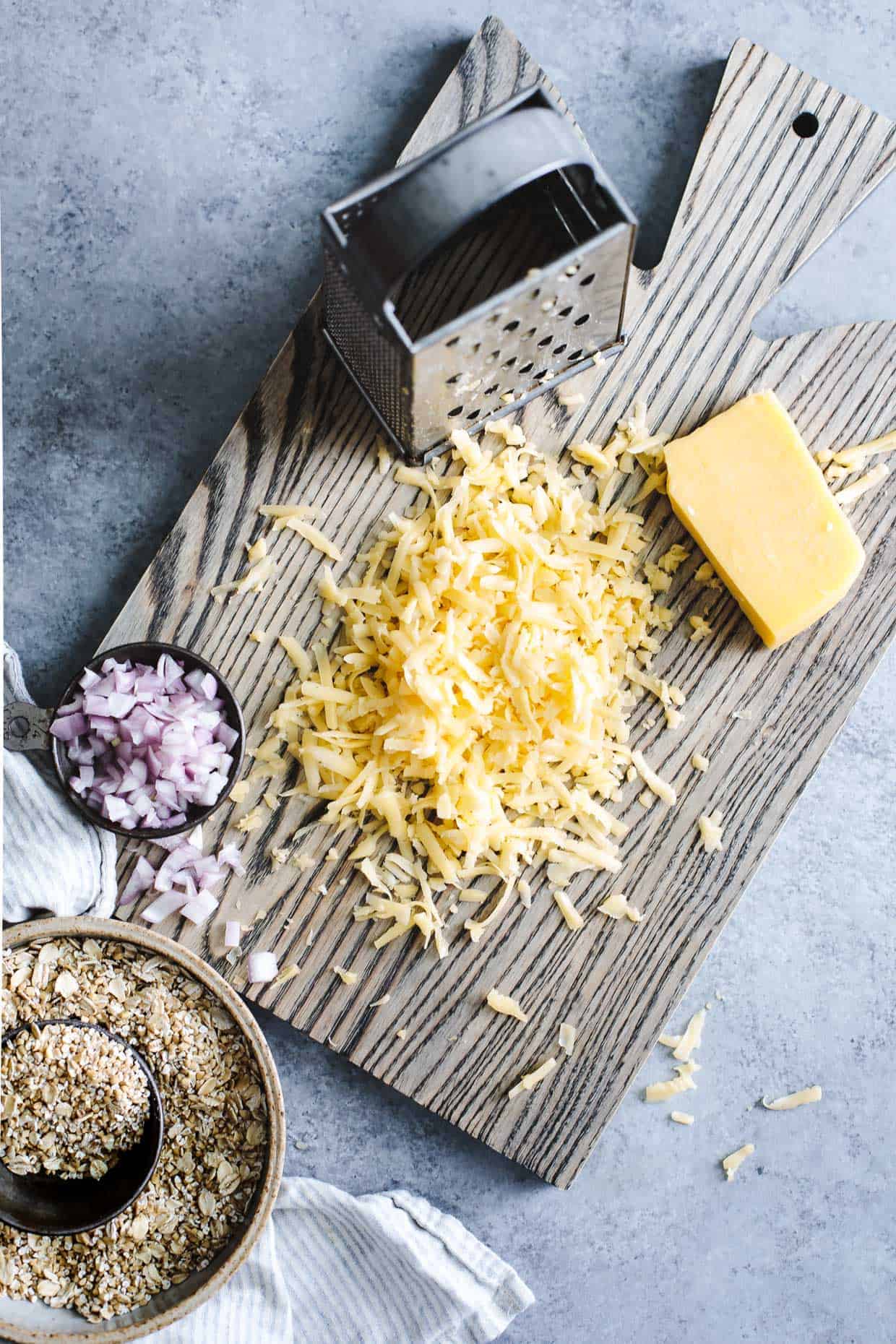 As far as toddler obsessions go, I can't really complain. Cheese has calcium, protein, and plenty of calories to fill her up. Even still, I'm working on inventing new ways to get her to eat cheese with grains, veggies, herbs, etc. That's where this savory oatmeal comes in.
This gouda savory oatmeal is like cheese grits meets risotto, but with a heartier grain. A tip I learned from Betty is to use a combination of old-fashioned rolled oats and steel cut oats to add texture and make the porridge extra creamy. Melting in Roth's Van Gogh Gouda amplifies that creaminess with a mild sweetness that pairs well with the roasted garlic. A big batch of this cheesy savory oatmeal will keep for a week in the fridge and, with just a little bit of water folded in, reheats just as velvety.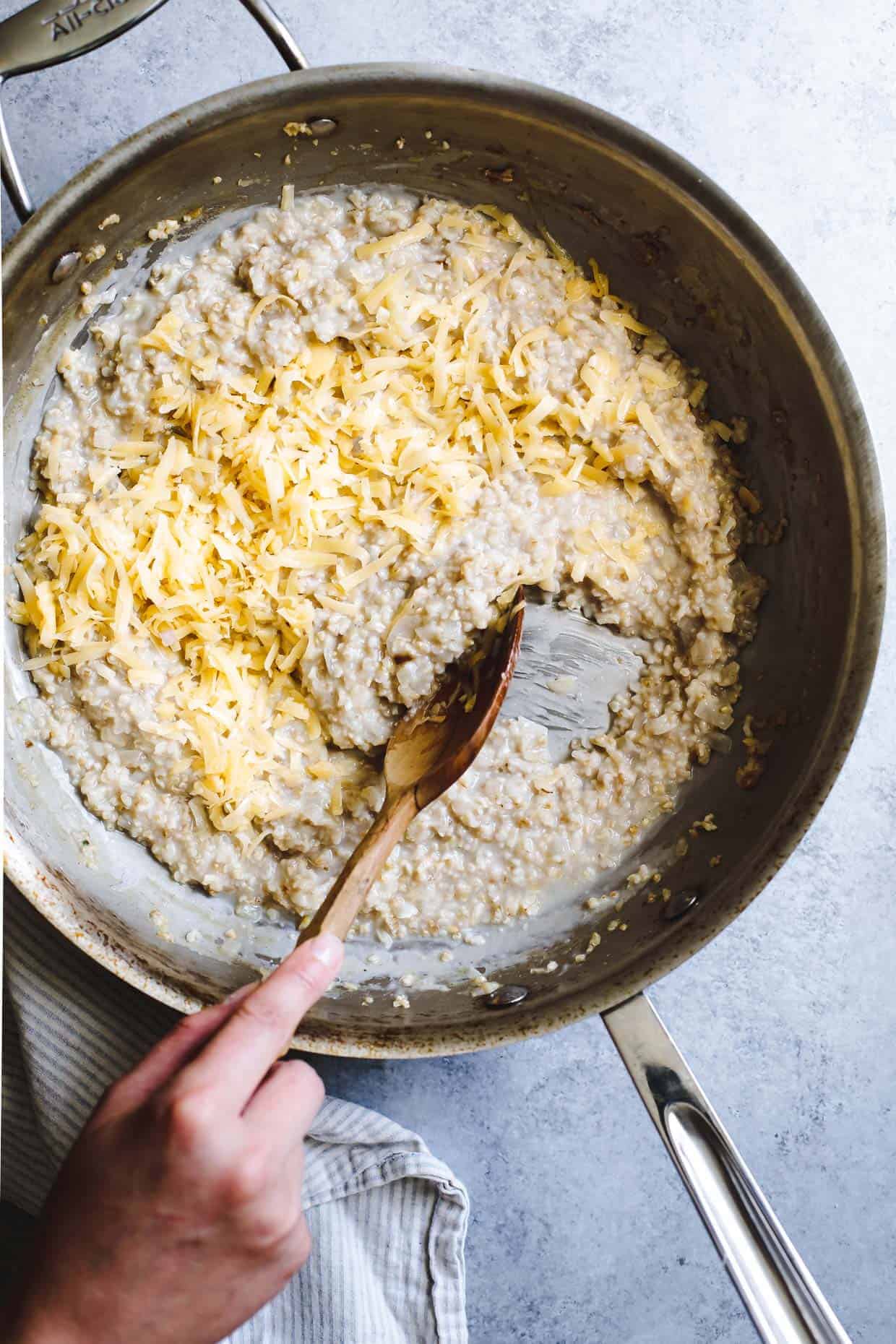 Here I've topped it with two of my favorite breakfast items: golden crispy potatoes and soft-boiled eggs. A dollop of pesto adds punchy bright herbal notes with toasted sunflower seeds sprinkled on top for crunch. I'm calling this a breakfast savory oatmeal, though I definitely regularly eat it for lunch and dinner as well. What should be the headliner of this this savory oatmeal is that each component - from the oatmeal to the potatoes to the soft-boiled eggs - can be made and stored ahead of time, then reheated for a week's worth of super quick meals.
Shortcuts and clean-out-the-fridge-leftovers variations are encouraged. While I've used homemade gouda pesto in my bowl here, a spoonful of your favorite store-bought pesto will absolutely do. Roasted veggies or more nuts and seeds all work well too.
Whatever you do, just don't skimp on the cheese.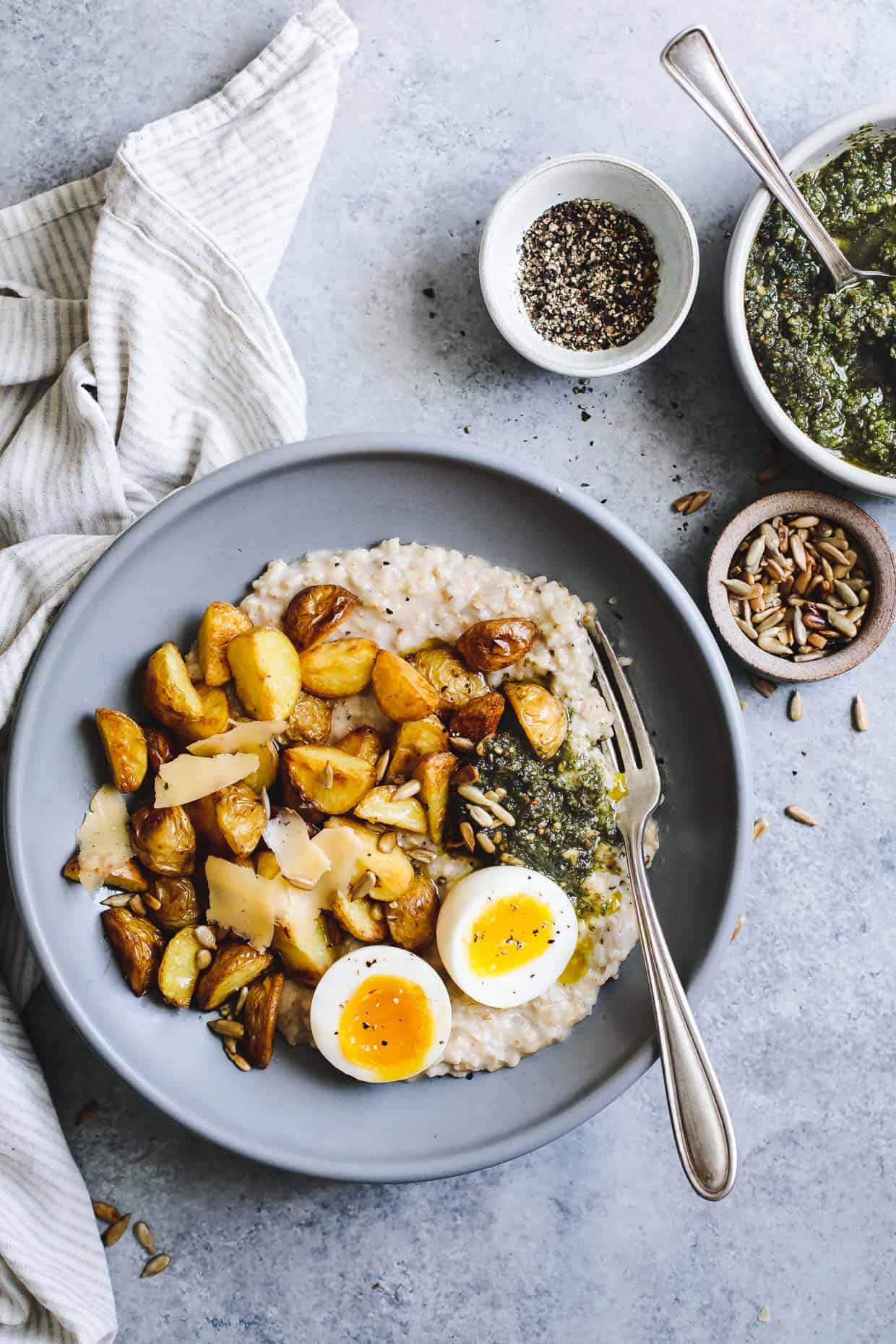 Disclosure: Special thanks to Roth Cheese for sponsoring this post! And thanks to you for supporting the companies that keep Snixy Kitchen cooking!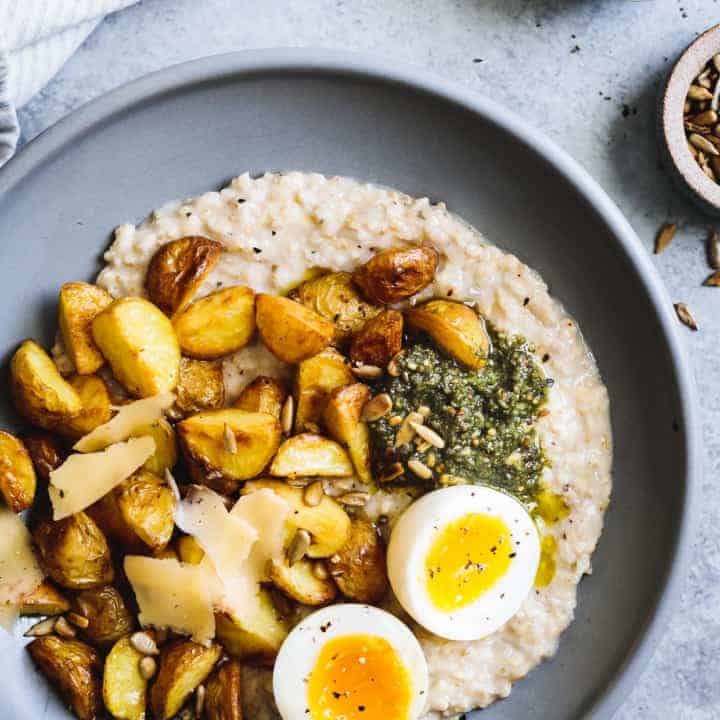 Cheesy Savory Oatmeal with Crispy Potatoes & Pesto
Ingredients
Crispy potatoes
1½lbs small new potatoes, cut into ½ inch wedges
2 tablespoons olive oil
1½ teaspoons salt, divided
4 medium cloves garlic, still in the skins
Cheesy Savory Oatmeal
2 teaspoons olive oil
2 medium shallots, minced
1-⅓ cup steel cut oats (not quick cooking)
⅔ cup old fashioned rolled oats
5-⅓ cups water, plus more as needed
⅔ cup shredded Roth Van Gogh Original Gouda Cheese
¼ teaspoon each, salt and pepper, plus more to taste
Toppings:
4 eggs
2 tablespoons toasted sunflower seeds
Instructions
Preheat the oven to 450°F.
Place the potatoes in a large pot covered by an inch of cold water. Add ½ teaspoon salt and bring to a boil over medium heat. Boil for four minutes then drain the potatoes.
Toss the potatoes and garlic cloves in 2 tablespoons olive oil and remaining teaspoon of salt. Spread potatoes and garlic out on a medium parchment-lined baking sheet in an even layer, and roast for 10 minutes. Remove garlic cloves with tongs and toss potatoes. Roast potatoes for another 10 minutes, or until tender and golden brown.
Heat olive oil in a large skillet over medium heat. Add shallot and cook, stirring, until it is fragrant and begins to soften, 3-4 minutes.
Add oats and water and stir to combine. Bring to a boil, then reduce heat to a simmer. Continue cooking, stirring occasionally, until the oats have thickened to your liking, 15-20 minutes, adding more water, as needed if the oats thicken too much.
Fold in the cheese until melted and creamy. Smash and mince the roasted garlic and fold it into the oatmeal as well. Season to taste with salt and pepper.
Meanwhile, make the soft-boiled eggs. In the same pot as the potatoes, bring 3-4 inches of water to boil. Prepare an ice bath to have on hand. When the water boils, reduce heat to a simmer and add the eggs and simmer for 6 minutes and 10 seconds. Transfer eggs to the ice bath to cool before peeling and slicing.
Divide oatmeal among four bowls. Top with crispy potatoes, a spoonful of pesto, a sprinkle of toasted sunflower seeds, soft-boiled eggs, and a few shavings of gouda.