Summer carrots and zucchini stewed up with a spice blend for an ultra-savory dish with sweet pops of dried figs and filled with umami meaty olives. This Moroccan summer vegetable tagine is comforting and full of flavor without feeling heavy or overly rich - served over a bed of quinoa, it's a perfect vegetarian summer dish!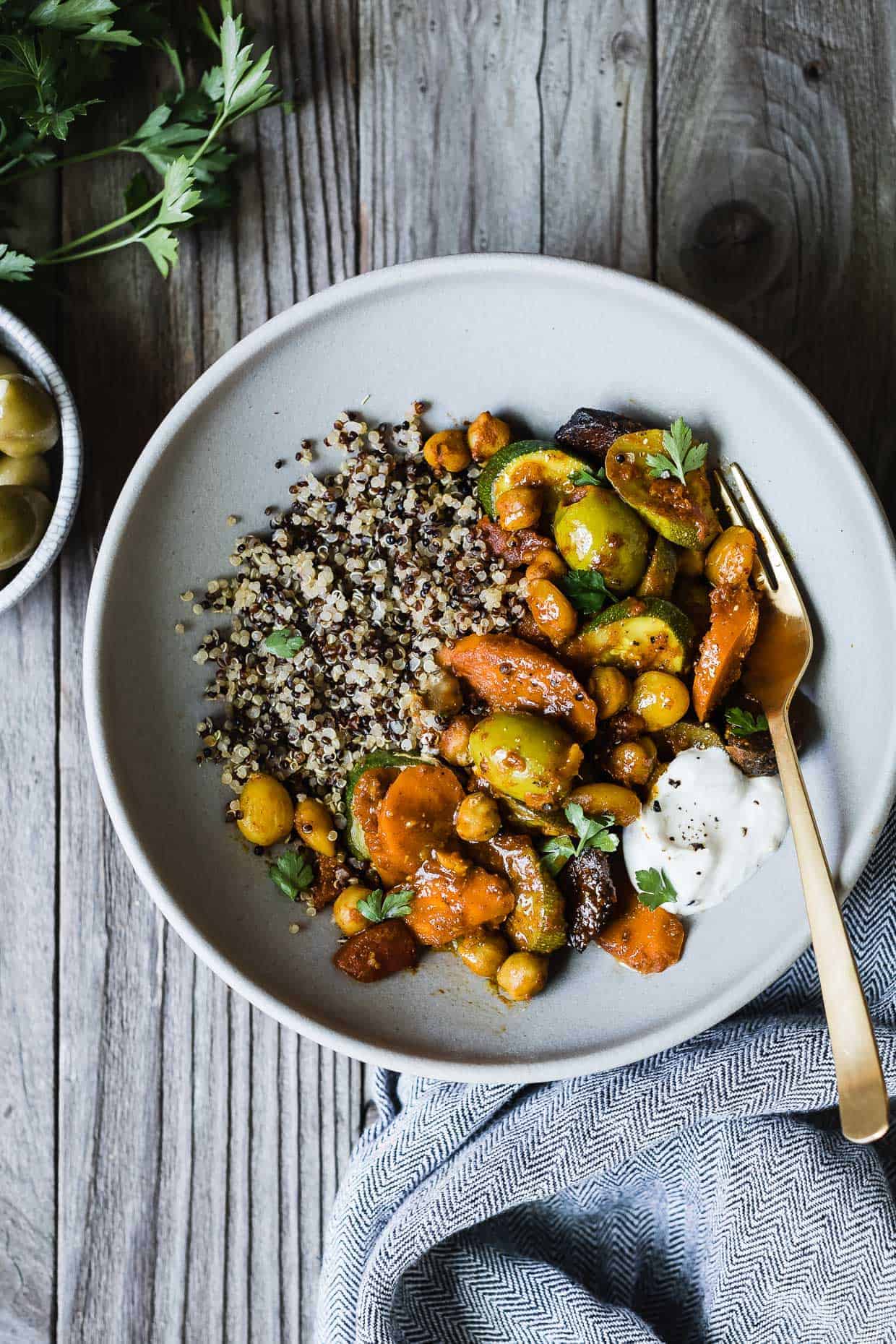 Do spices multiply at the same rate as you scale up recipes? This question boggles my mind. For the first meal at our food styling and photography workshop last June, we quadrupled my well-tested recipe for this Moroccan summer vegetable tagine to serve 16. When we mixed up all the spices, the cardamom suddenly overpowered the blend. I fussed with it a bit, but not too dramatically. Somehow, by the time it all stewed together, the flavors balanced out.
I wonder if maybe a spice only seems overpowering in the blend, but when spread among vegetables and cooked, it calms down? Or, if it really doesn't multiply and, in this case the tweaks I made are what saved the dish, what would happen if I made four separate batches and mixed them together?
Science, please explain.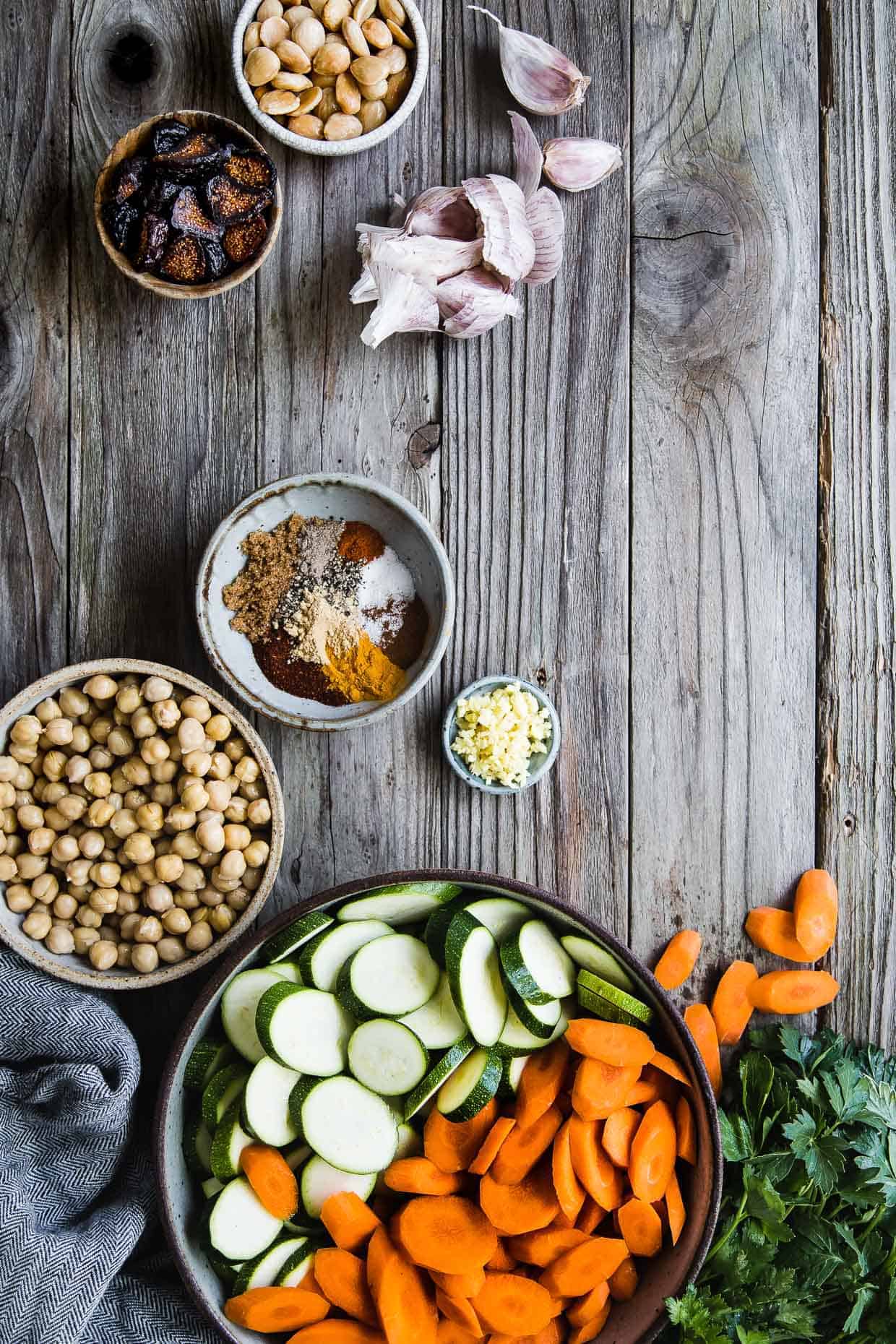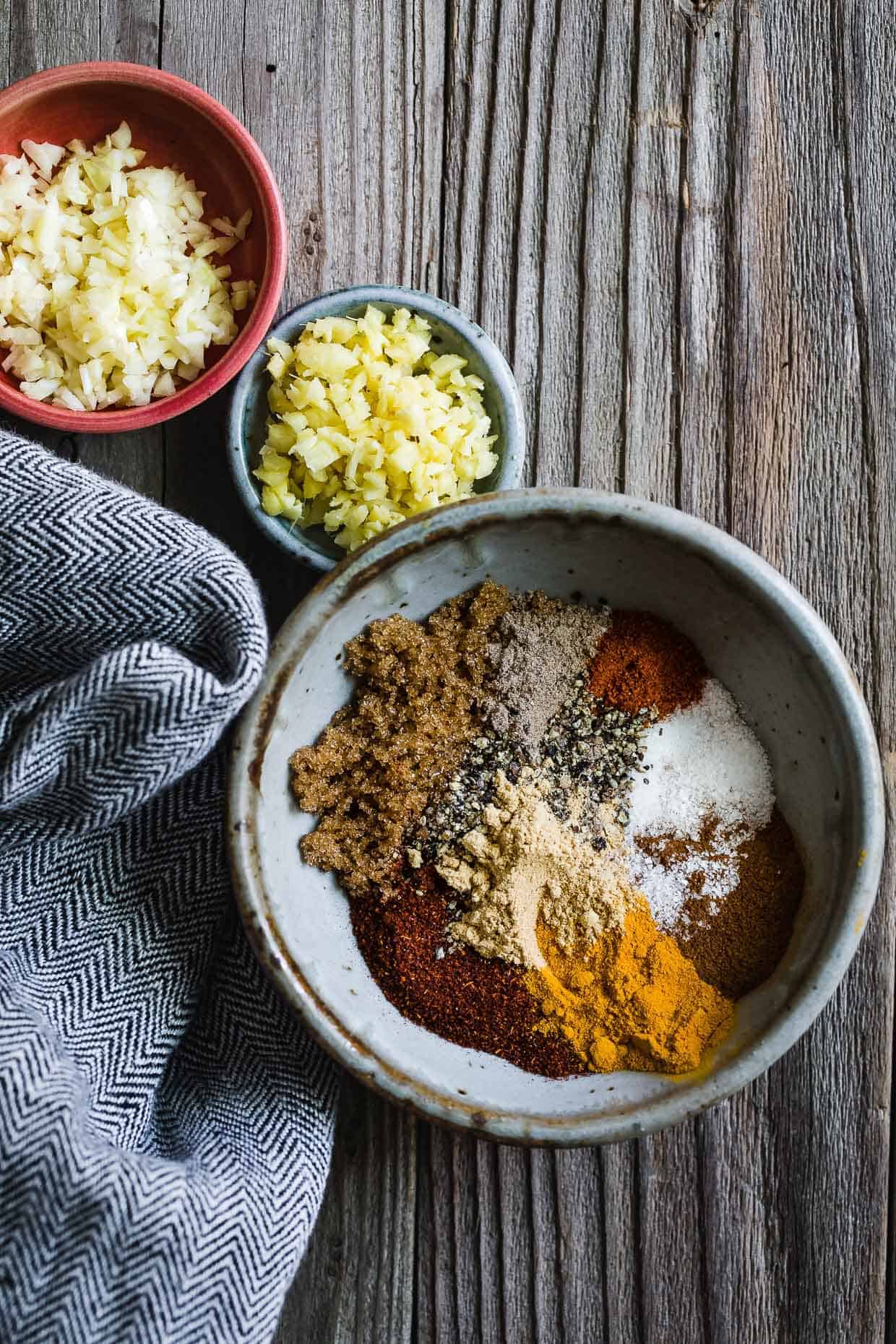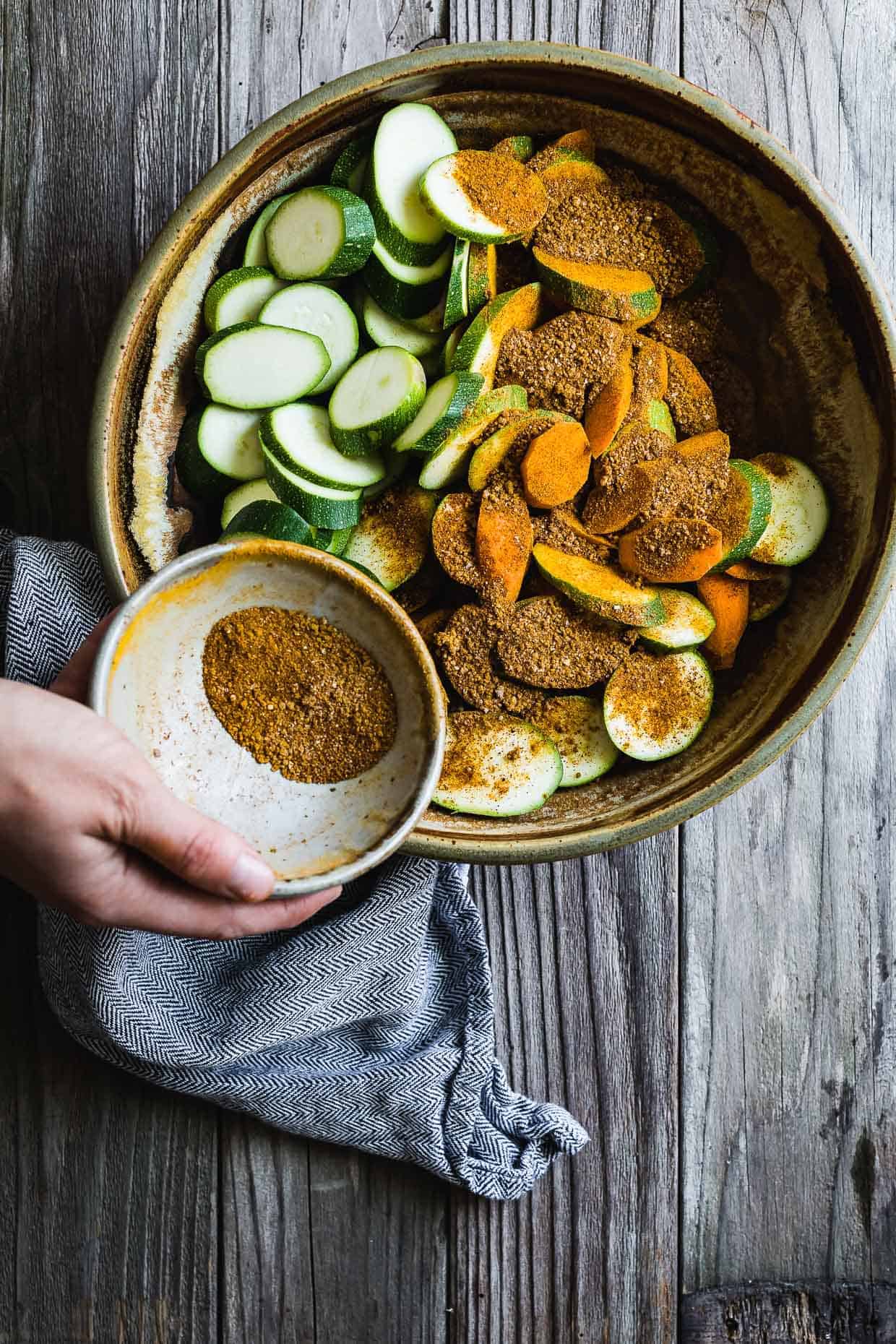 Even since before it had its big debut at our workshop, I've been holding this recipe in my pocket to share with you.
In the week following our workshop, I threw myself into catching up on the work I'd been ignoring. The day I came up for breath, I got a text from my mom while I was out to dinner with a girlfriend for her birthday: "I almost forgot to wish you a happy anniversary!"
Crap.
I called Lucas, guilty and embarrassed, "Honey, I have to tell you something. It's our anniversary..."
"oh my god." I'm not sure if it's better or worse that we both forgot. At least we're terrible people together.
We bought a self-help book shortly after Zo was born about preserving marital intimacy and rekindling romance after having a baby, but we each only had time to read one chapter. I guess we should have read that book.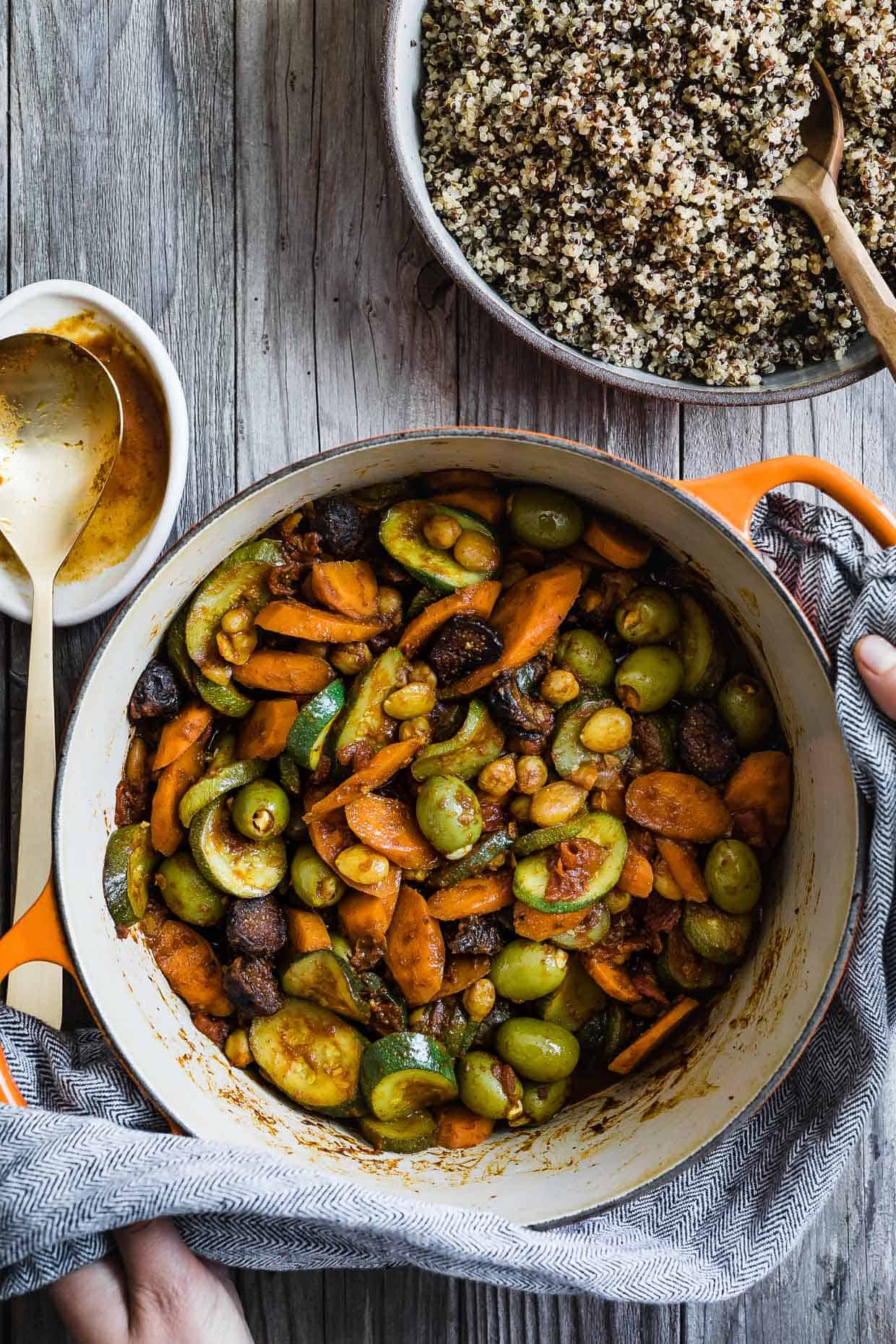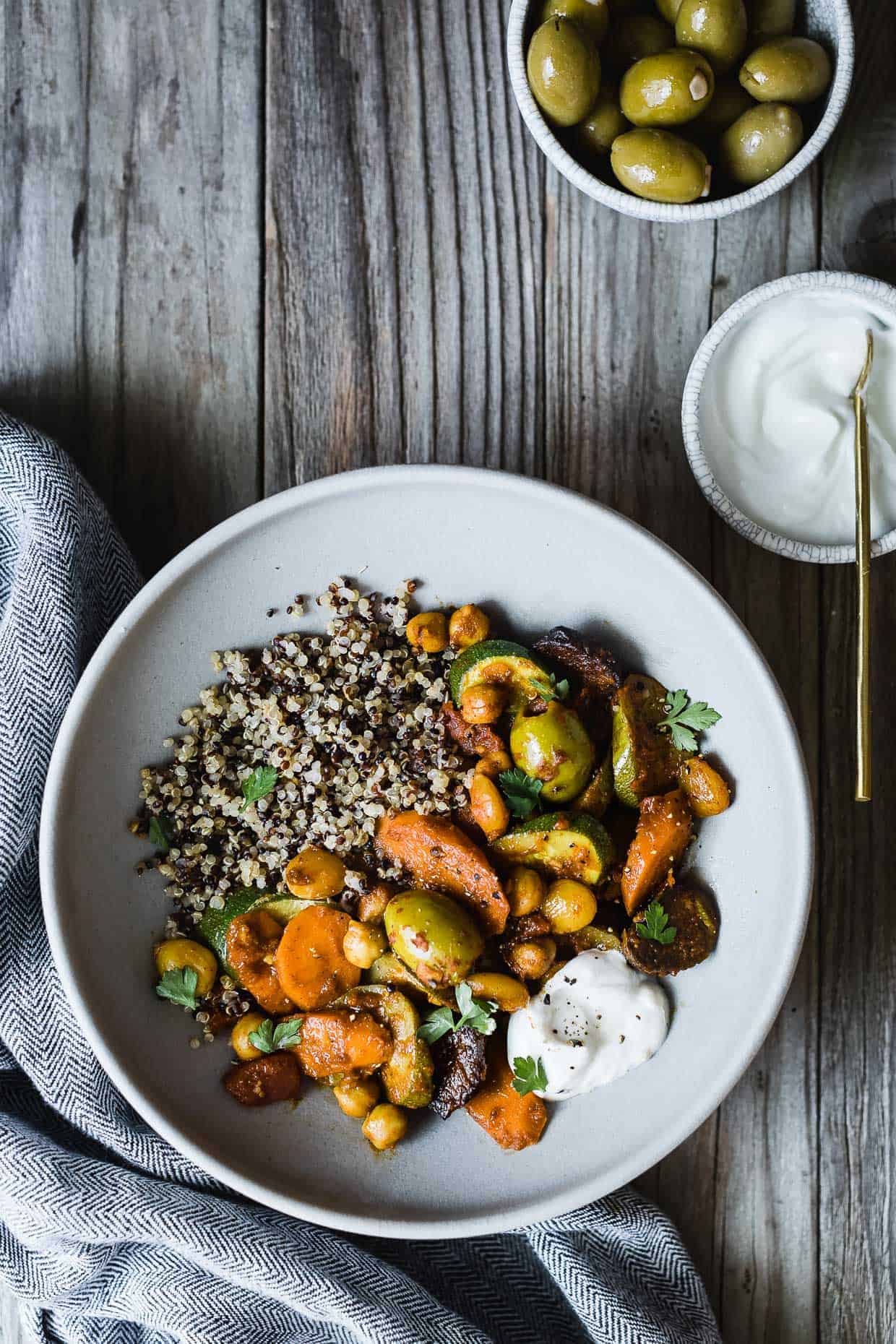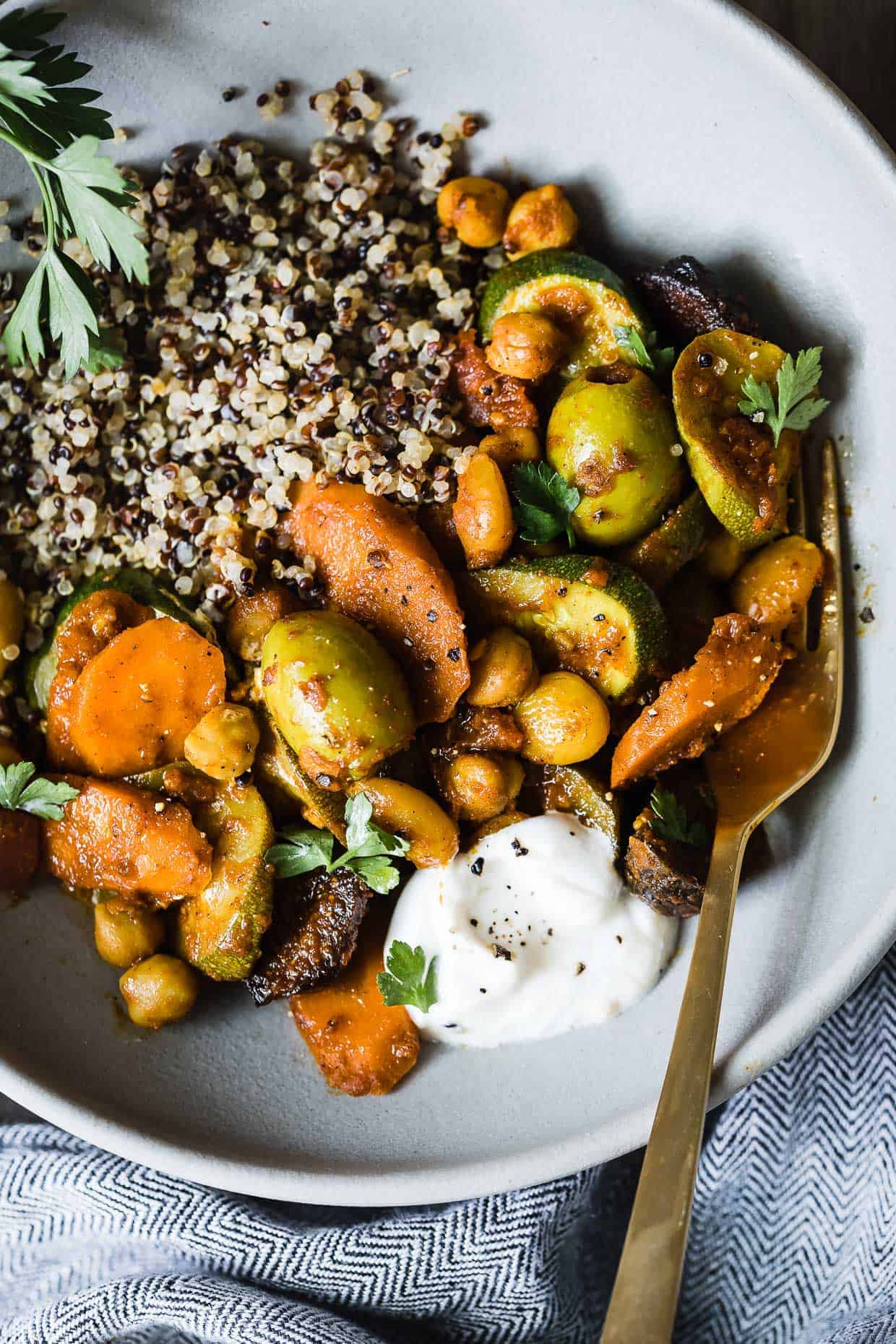 Jokes aside, I've been a bit emotional about it. With some other personal stuff, this week has brought it all to the surface. I'm sad that we forgot our anniversary - I can't help but question if it means we don't care enough. Still, the answer is no - no, it doesn't mean that.
It's not easy to manage a toddler, full time careers, homeownership, and all other life stuff like laundry and dishes and blackberry bush weeds that threaten your backyard, while still remembering each other. Even though we have a kid and are both working hard to keep things afloat, we are reminded that we still need to carve out time to celebrate just us.
So we're working on that part of feeling whole again.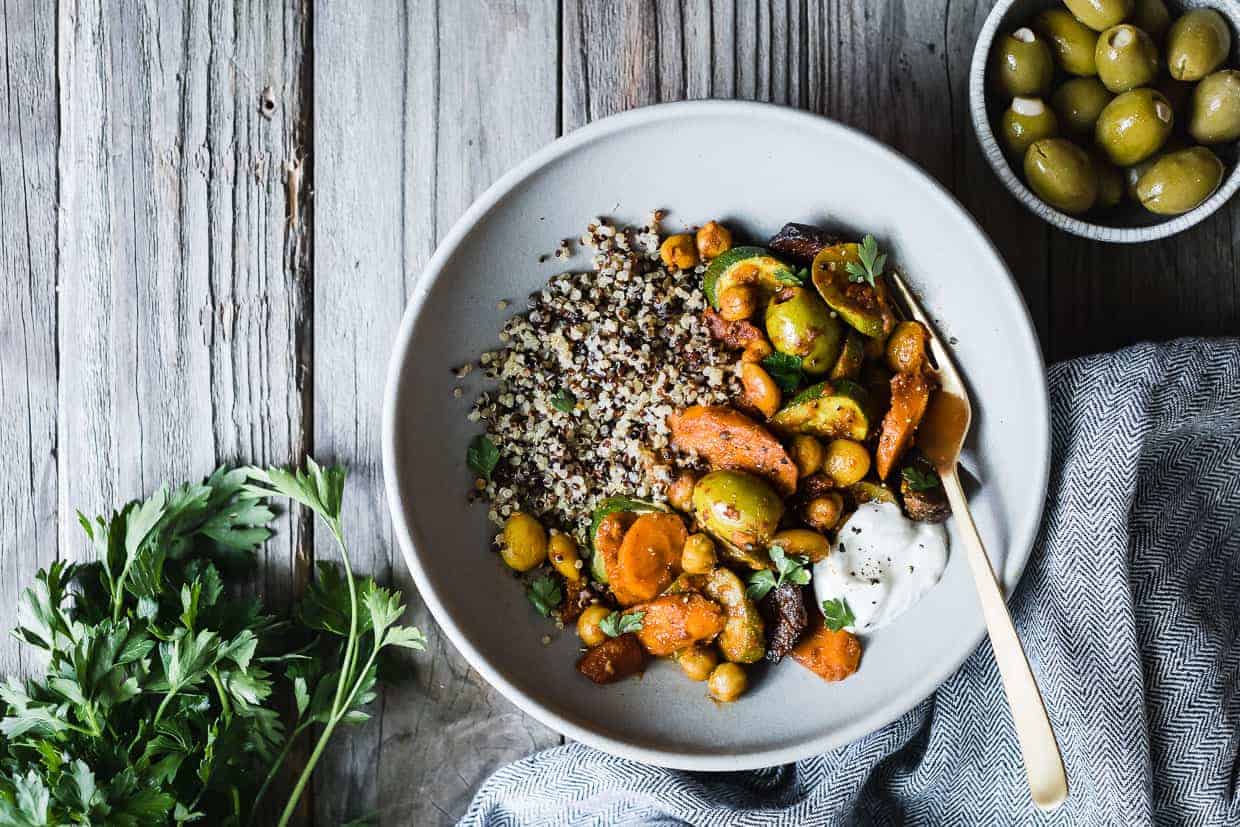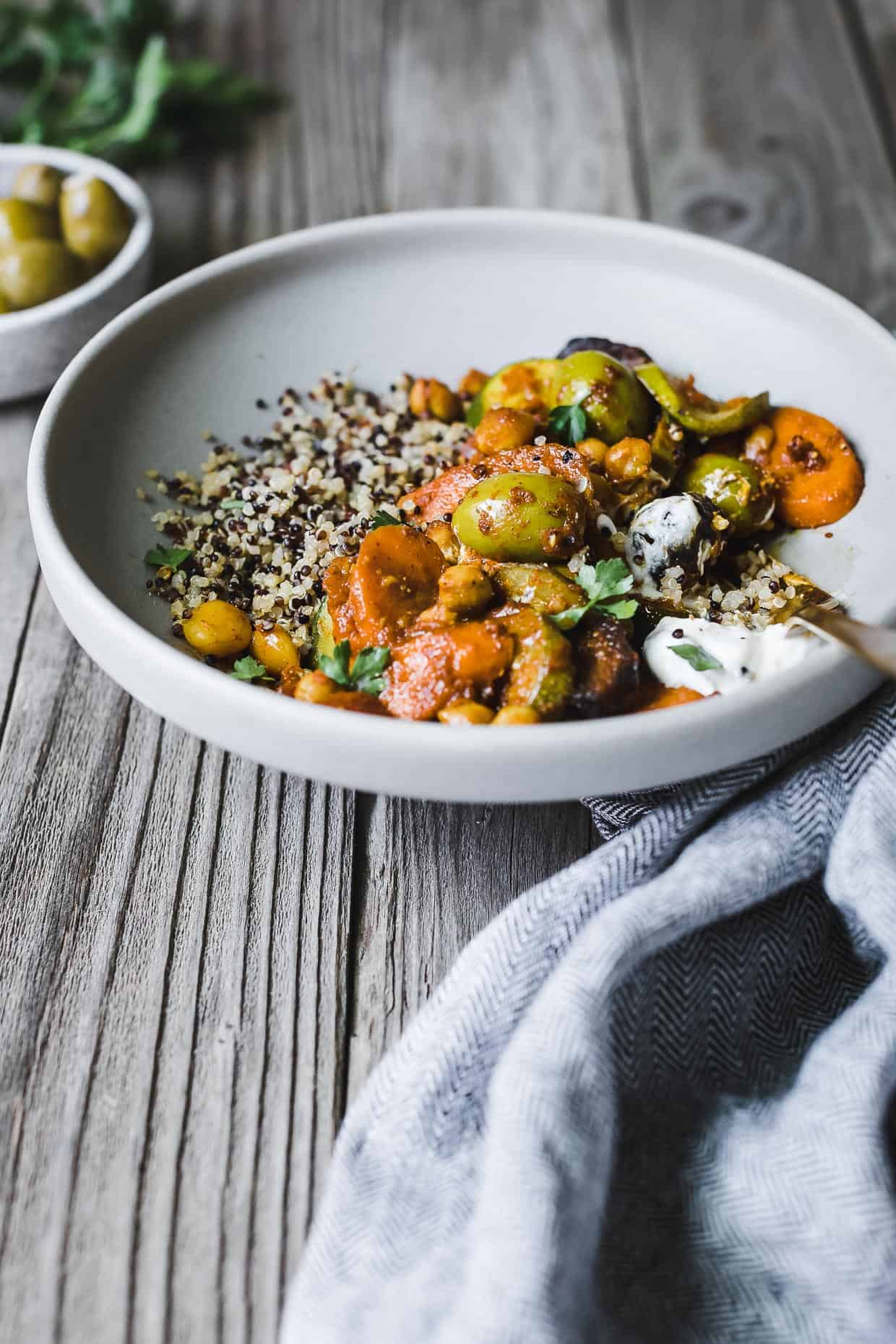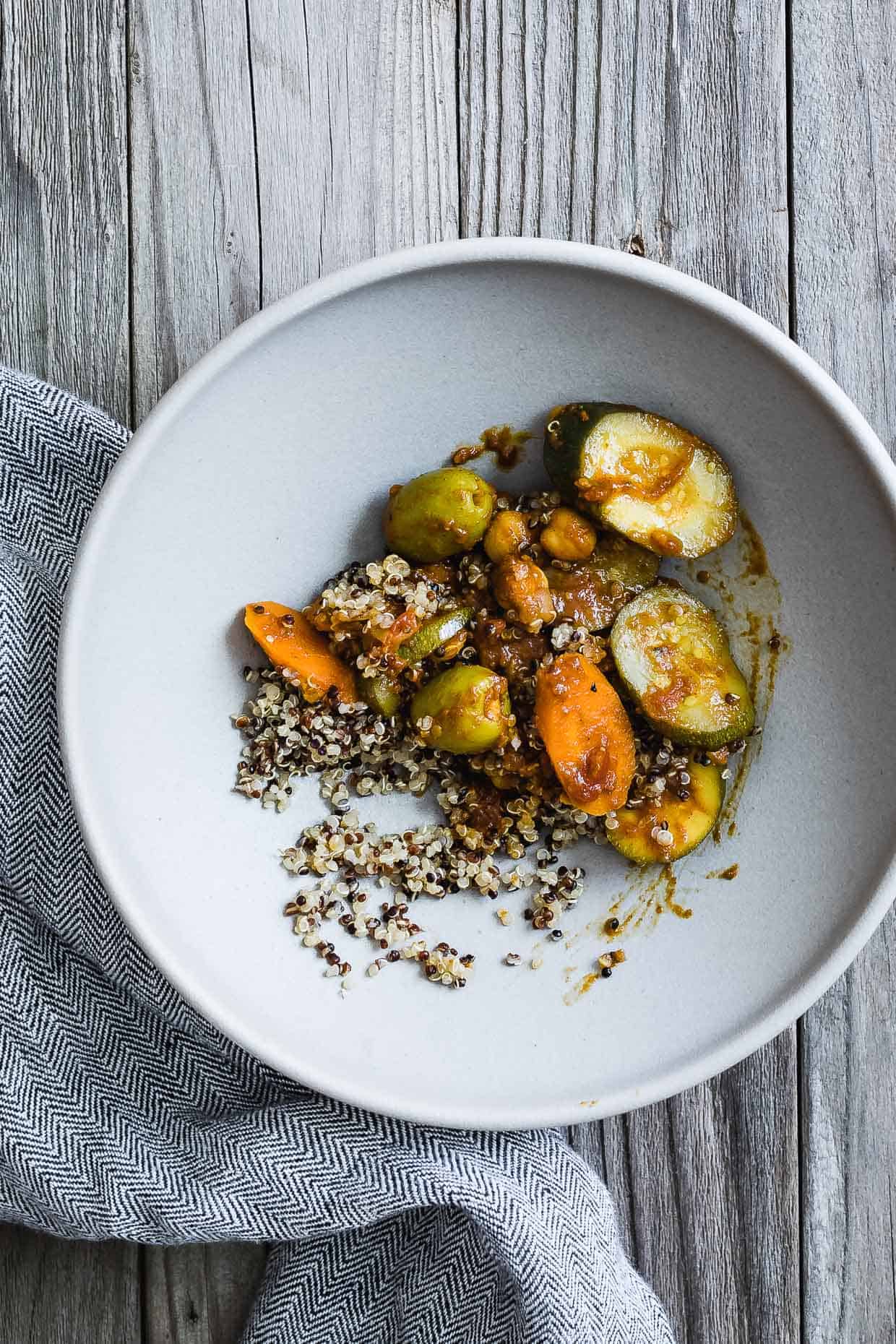 Another goal we're working on is planning ahead to get hearty dinners on the table that celebrate the season's produce in flavorful ways (even if the kid still won't even try them...). With lots of spices, this summer vegetable tagine is flavorful comfort food that doesn't feel heavy or overly rich.
For summer, I like to keep the veggies with a little life, stopping just as the carrots soften, but if you cook a few minutes longer, it'll get even more stew-like, which is seductively comforting. Marcona almonds add crunch against the soft vegetables, the briny meatiness of the olives enhances the umami notes, and creamy yogurt gives a bright reprieve that breaks up the savory spice. Rather than couscous, I serve the tagine over a bed of mixed grain quinoa to keep it gluten-free - the dual grain mix combines softer white quinoa with more hearty dark quinoa for a pleasing texture.
Even as summer comes to an end and the hustle and bustle of fall picks up, we're going to try to remember to pause to celebrate our connection, our family, and our meals.
Thanks for reading Snixy Kitchen! To stay up on what's coming out of my kitchen, follow me on Facebook, Instagram, Twitter, Bloglovin', Pinterest, or subscribe via e-mail to get new recipes right to your inbox.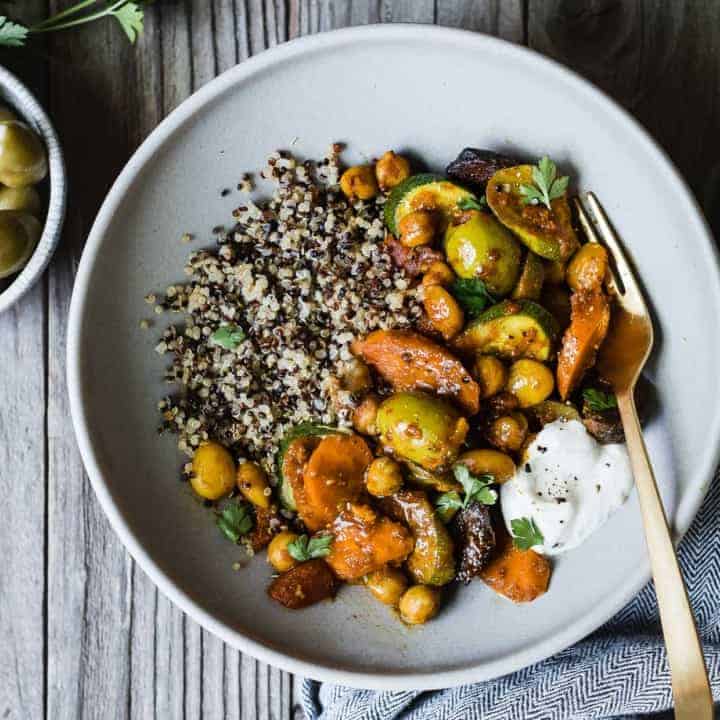 Moroccan Summer Vegetable Tagine
Ingredients
Summer Vegetable Tagine
1 tablespoon light brown sugar
1 tablespoon paprika
1½ teaspoons turmeric
1 teaspoon ground ginger
¾ teaspoon ground cinnamon
½ teaspoon ground cardamom
½ teaspoon salt
¼ teaspoon cayenne
¼ teaspoon pepper
1lb zucchini, halved cut into ¼ to ½ inch semi-circles
1lb carrots, cut at an angle into ¼-inch slices
2 tablespoon olive oil, divided
2 teaspoons minced fresh ginger
2 teaspoons minced garlic (About 3 medium cloves)
1½ cups vegetable broth
1 14.5-ounce can diced tomatoes, with their juices
1 15-ounce can canned garbanzo beans (chickpeas), drained and rinsed
½ cup dried figs, halved or quartered
1 tablespoon tomato paste
½ cup pitted green olives, such as garlic-stuffed queens or castelvetrano
About 2 tablespoons of fresh parsley leaves, for serving
¼ cup yogurt, for serving
Quinoa
1½ cups plain or tri-colored quinoa, rinsed well
2-⅔ cups vegetable broth
¼ teaspoon salt
Instructions
Summer Vegetable Tagine
Combine spices (first 9 ingredients) in a small bowl. Toss the zucchini and carrots in the spices. Set aside
Heat 1 tablespoon of oil in a large heavy-bottomed pot over medium heat until hot but not smoking. Add the fresh ginger and garlic and sauté for 1 minute. Add the remaining oil and zucchini and carrots with all spices and cook, stirring, until the veggies just start to soften 5-6 minutes.
Stir in vegetable broth, tomatoes with their juices, chickpeas, figs, almonds, and tomato paste and bring liquid to a boil.
Reduce heat to medium low and cook, stirring occasionally, until the carrots are soft when pierced with a knife, about 25-30 minutes.
Spoon tagine over cooked quinoa. Top with garlic stuffed olives and fresh parsley and serve warm with a spoonful of yogurt.
Quinoa
Meanwhile, bring the quinoa and vegetable broth to boil in a small heavy-bottomed saucepan over medium heat. Reduce heat to low and simmer, covered, until the broth has been absorbed, 15-20 minutes.
Remove from heat and let rest for 5 minutes. Fluff with a fork