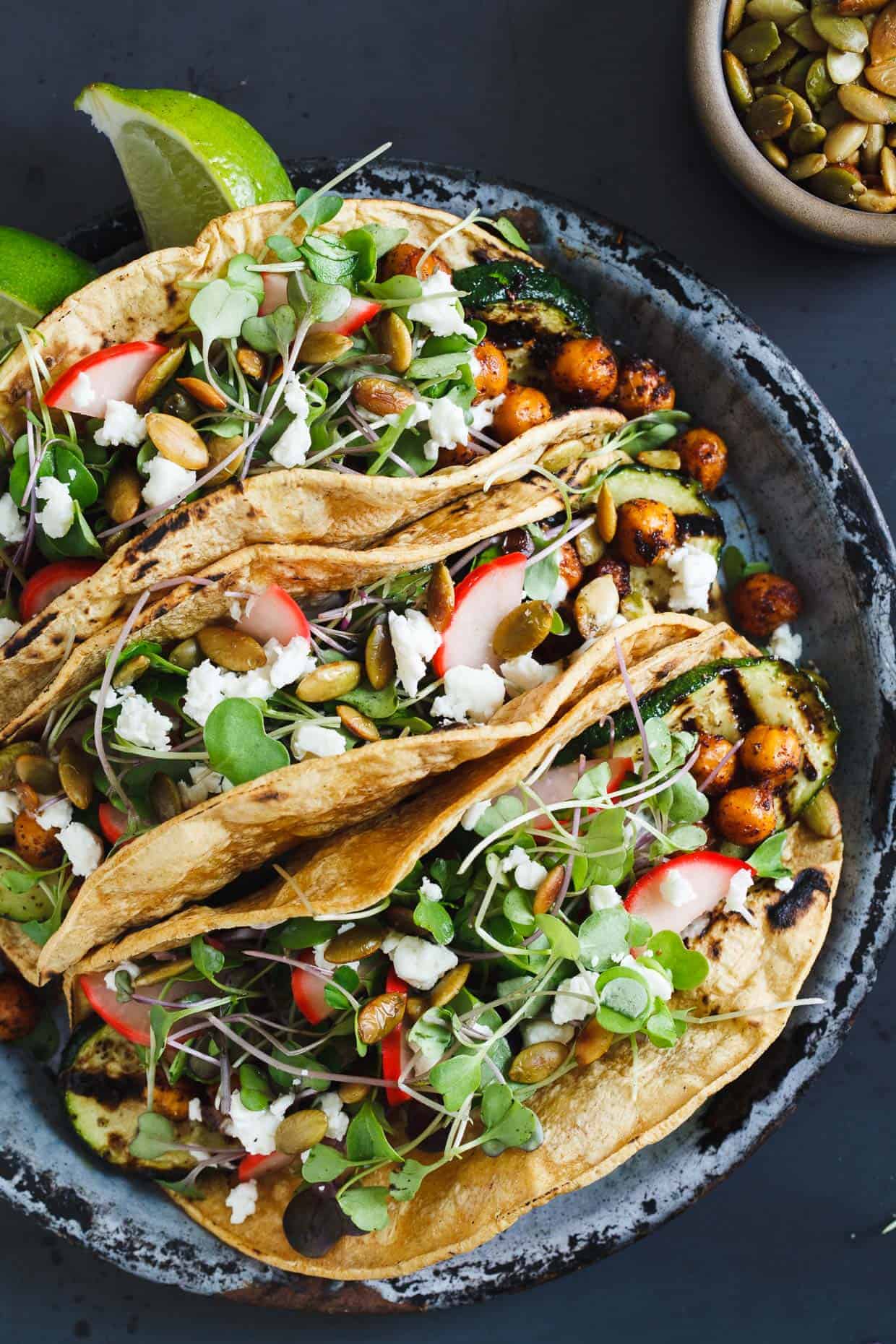 We're 7 months into this whole parenting gig and we've learned a lot. Not least of which is that as long as you have tortillas, you can generally always make tacos out of the contents of your fridge. These mole-spiced chickpea and grilled zucchini tacos are just that. Though, I have been day dreaming about them all summer so maybe subconsciously I've kept all the ingredients on hand just in case we need tacos.
Seven months into parenting and I'm still learning. Learning what kind of mom I am. What kind of mom I'm going to be. And reconciling that with what kind of mom I want to be or think I should be.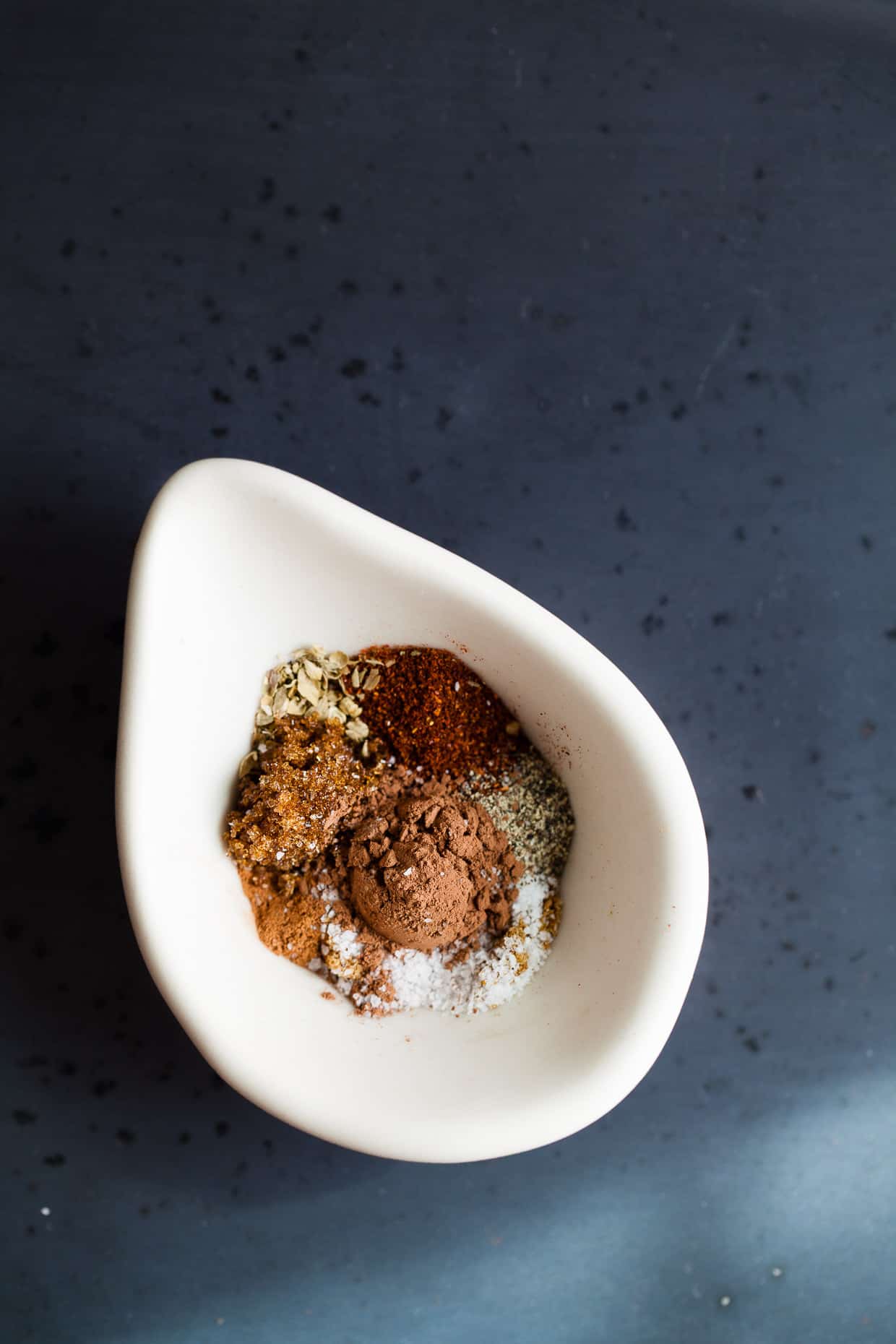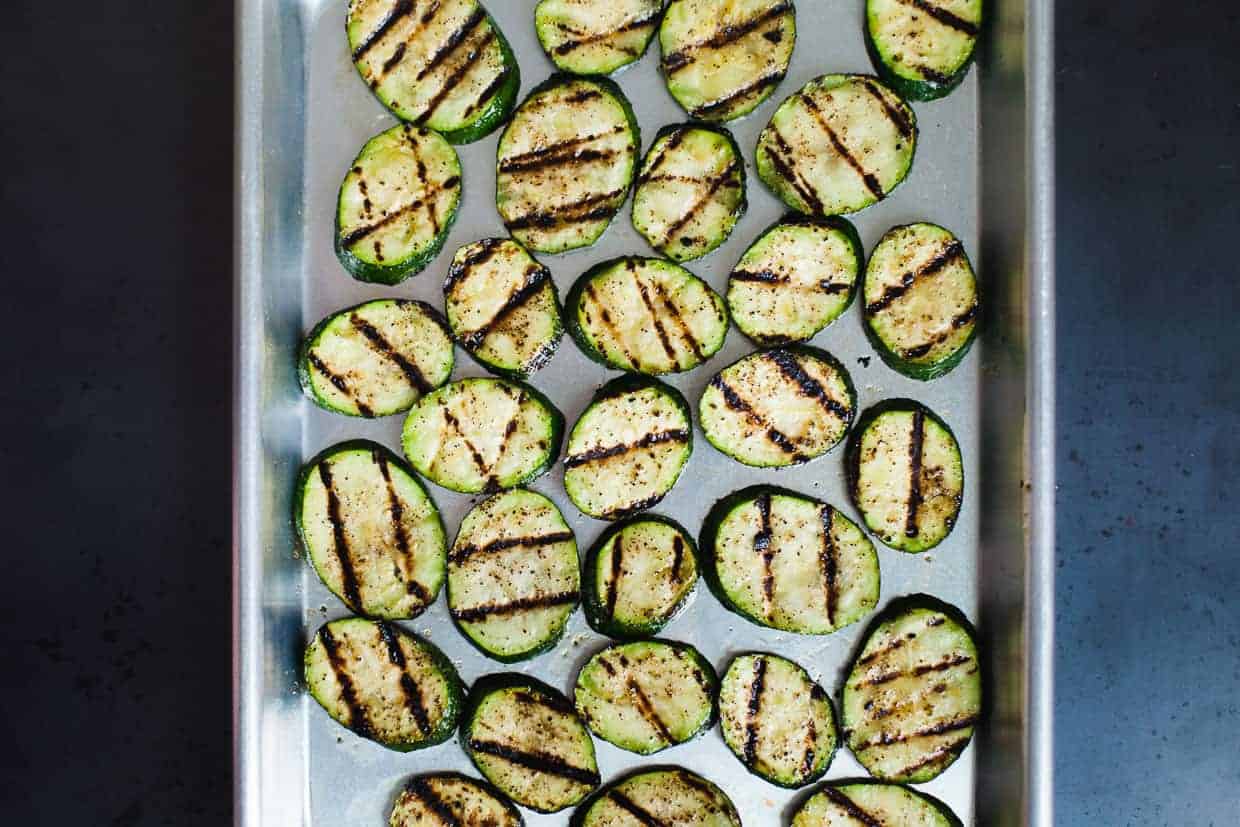 My love for this little human grows exponentially as I watch her discover something new every single day. Now at 7 months old, she sits up on her own, eats zucchini, smiles and jabbers at anyone who will listen (especially the cat - a word I swear I've heard her practicing), and has very clear desires and knows exactly how to express them. Things like, "I want to put that cat's tail in my mouth" and "WHY CAN'T I GRAB THE CAT'S FURR?!"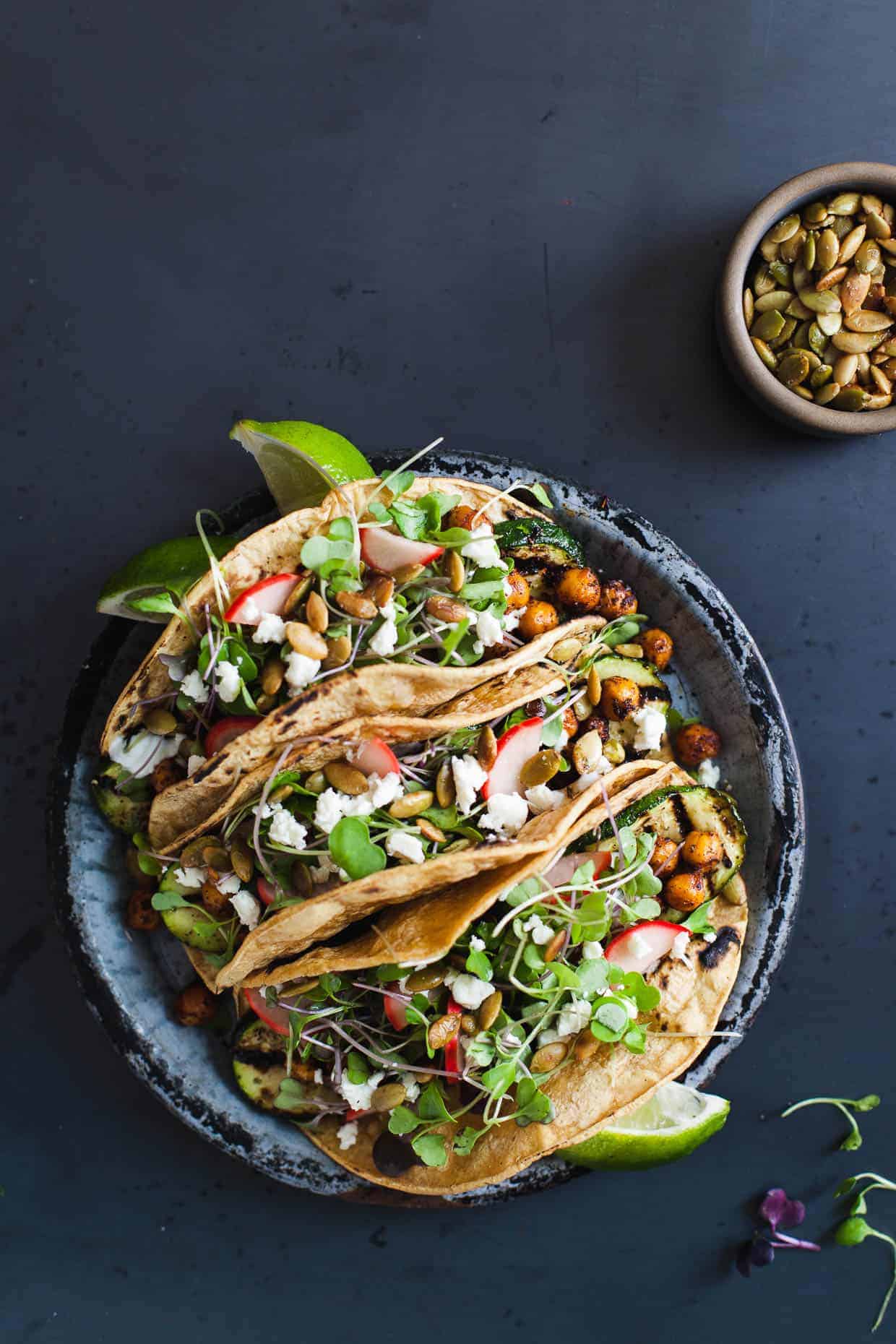 And, you guys, if there was ever any doubt, she is for sure my kid. A few days ago I heard hysterical baby belly laughs erupting from the bathroom while my mom gave Zoella a bath.
She'd farted in the tub. And cracked herself up.
Twice - both times with as much amusement. I'm thankful I'm home to hear all the fart laughs while she's itty bitty.
Then at the same time, I still covertly question whether I'm enough. PAUSE. I should preface this by saying: I'm not looking for folks to tell me I'm a good mom; Instinctively, I know that I'm enough. Yet, I haven't folded laundry or put dishes away in decades, and there are days when I react to Lucas leaving work late by sending pictures of the baby's melt-down face, then my melt-down face, followed by audio clips of her tears. (Subtlety is not my specialty - I'm fortunate he loves me).
I'm a mom that's at home with her babe, but I'm splitting my time - using naps and the hours after she falls asleep to keep up with the mound of work I keep adding to my plate. The work that I also love and makes me feel like more than just a boob. Every time my mom or a nanny comes to babysit while I work though, I feel a tinge of guilt. Why did I have a baby when I love my work...to just have someone else care for her during the day? Rationally, I know that's normal guilt and that moms go back to work every single day and that it's healthy for me and Zoella - but it's powerful guilt that makes me question what kind of mom I am. So that's where I am these days.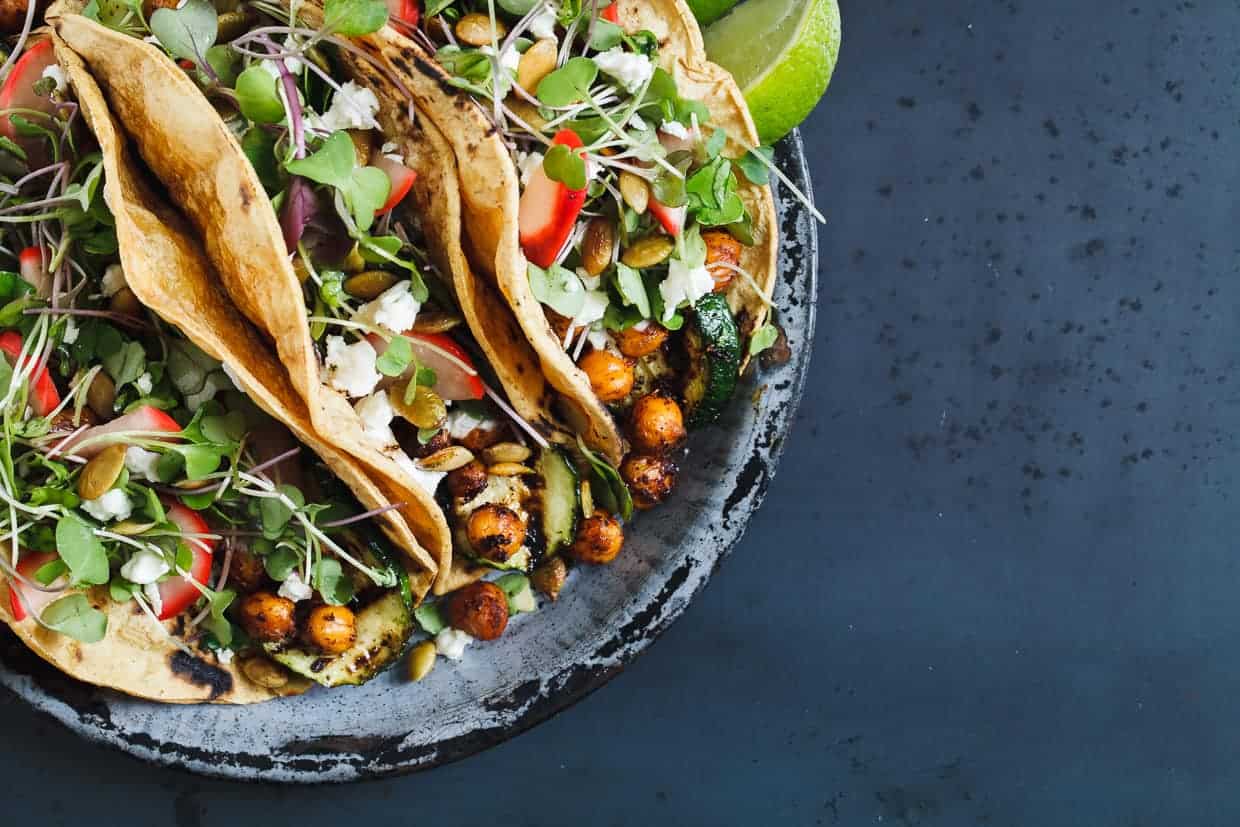 Today I'm the kind of mom who reads books. Books like: Dragons Love Tacos. Have you heard of this book? It's all about how dragons loooOOoove tacos and taco parties, and if you want to make friends with dragons, tacos are key.
So I'm throwing a taco party! These mole-spiced chickpea and grilled zucchini tacos would bring all the dragons to your party, trust me. The grilled zucchini adds moisture and quintessential summer flavors that, combined with mole-spiced chickpeas, makes the tacos hearty and filling. The mole spices were the brainchild of Carla, who listened to me describe the flavors from my taco daydreams and gave them a name. She's magic because this profile was exactly what I was dream-tasting.
Then I turned the tacos into a flavor bomb of all my favorite toppings: lime greek yogurt crema, quick-pickled radishes, salty toasted pepitas, microgreens, and crumbles of French feta. Summer isn't over yet. Not even a little bit. C'mon over, Dragons!
Read my new mama reflections from 4 months ago if you're curious how things have changed.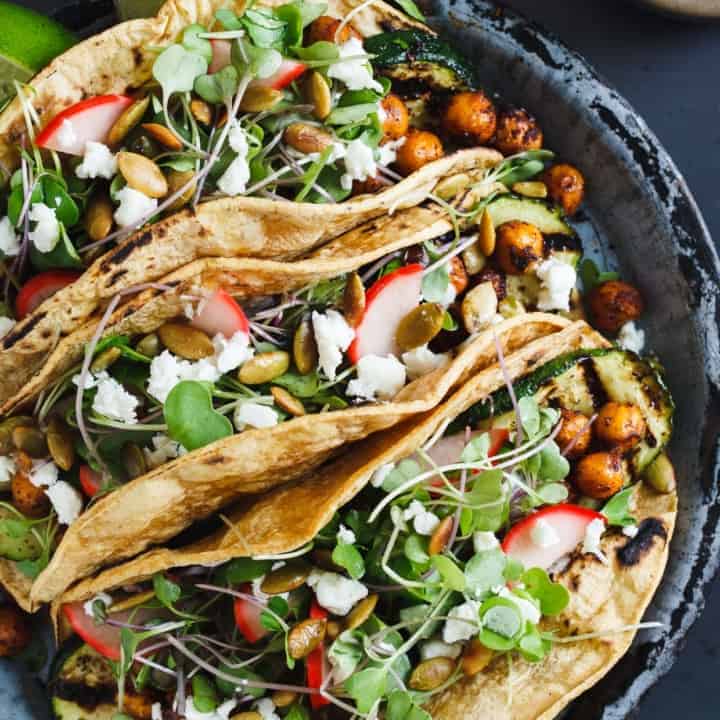 Mole-Spiced Chickpea & Grilled Zucchini Tacos
Ingredients
Mole-Spiced Chickpeas
1 16-ounce can chickpeas, drained and rinsed
2 teaspoons olive oil
½ teaspoon ancho chili powder
¼ teaspoon paprika
¼ teaspoon brown sugar
¼ teaspoon cocoa powder
¼ teaspoon dried oregano
¼ teaspoon cinnamon
⅛ teaspoon cumin
¼ teaspoon each salt & pepper
Grilled Zucchini
2 medium zucchini, cut into ¼-inch coins on the slight diagonal
1 tablespoon olive oil
1 teaspoon each salt & pepper
Quick-pickled Radishes
5 small radishes, sliced thin and halved
5 tablespoons rice wine vinegar
1 tablespoon maple syrup
½ teaspoon salt
The Rest
¼ cup greek yogurt
2 tablespoons lime juice
¼ teaspoon salt, divided
2 tablespoons pepitas
½ teaspoon olive oil
8 corn tortillas
2 cups microgreens
3 tablespoons French feta or cotija cheese, crumbled
Instructions
Prepare the chickpeas. Preheat the oven to 400°F. Toss the chickpeas in olive oil and seasonings and stir well to coat. Spread chickpeas out on a parchment-lined baking sheet and bake for 20 minutes, stirring halfway through.
Meanwhile, prepare the quick-pickled radishes. Stir the radishes, vinegar, maple syrup, and salt together in a bowl and let sit while you prepare the rest.
Prepare the greek yogurt crema. Mix the greek yogurt, lime juice, and ⅛ teaspoon salt until smooth. Set aside.
Toast the pepitas. In a medium or large pan over medium heat, warm ½ teaspoon olive oil oil until hot but not smoking. Add the pepitas and toast, stirring occasionally, until lightly toasted, 2 to 3 minutes. Carefully transfer the pepitas to a paper-towel lined plate to drain and toss with ⅛ teaspoon salt. Alternatively, you can purchase salted toasted pepitas in a pinch!
Preheat a grill pan over medium-high heat. Brush both sides of the zucchini slices with olive oil and sprinkle both sides generously with salt and pepper. When the grill is hot, grill the zucchini in a single layer until lightly charred on both sides, approximately 3 minutes per side. Remove from heat.
Lightly char the tortillas directly over a medium-low flame, flipping once or warm each tortilla in a dry pan until just pliable, about one minute on each side.
Assemble the tacos! Fill each taco with grilled zucchini, a spoonful of mole-spiced chickpeas, a drizzle of greek yogurt crema, a handful of microgreens, quick-pickled radishes, crumbled feta, and a sprinkle of pepitas. Serve!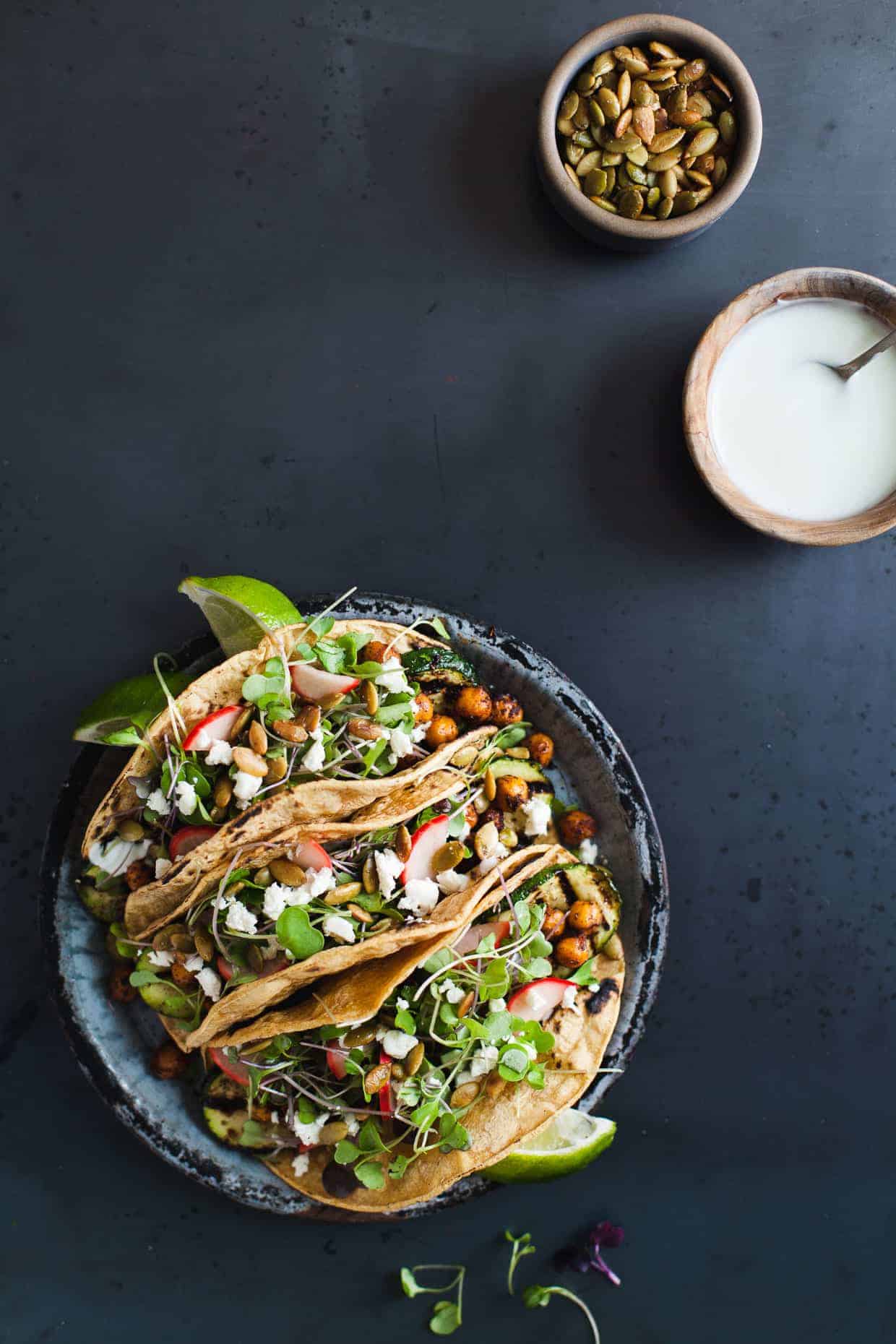 Thanks for reading Snixy Kitchen! To stay up on what's coming out of my kitchen,  follow me on Facebook, Instagram, Twitter, Bloglovin', Pinterest, or subscribe via e-mail to get new recipes right to your inbox.