Easy weeknight meal - bright and creamy romesco sauce layered over wild rice and topped with roasted beets and green garlic. Protein-rich cannellini beans add twist on a classic sauce - from Vegetarian Heartland: Recipes for Life's Adventures by Shelly Westerhausen.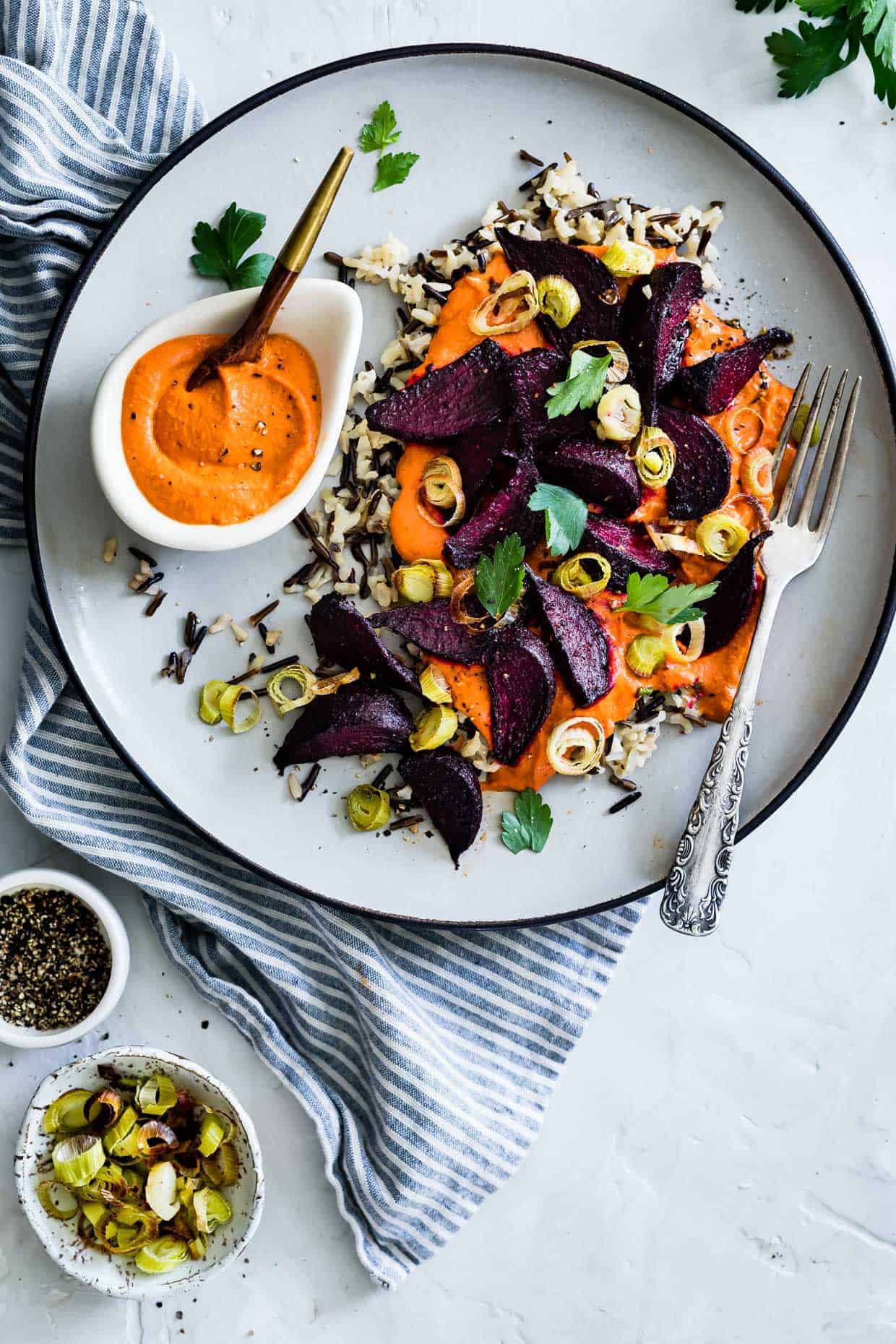 I've heard it's healthy to eat a wide variety of colors - the theory being that you'll consume a range of nutrients. With that in mind, this dish from my friend Shelly's new cookbook - Vegetarian Heartland: Recipes for Life's Adventures - is the healthiest recipe on the planet. She wins! (But also, does this mean that rainbow sherbet ice cream is healthy...?).
Vegetarian Heartland is packed with uncomplicated seasonal recipes that make vegetarian cooking and eating an exciting adventure. Shelly takes on classics, adding a hint of the unknown - a little twist. This creamy romesco does just that with cannellini beans blended in to make the sauce extra velvety and creamy while also adding protein.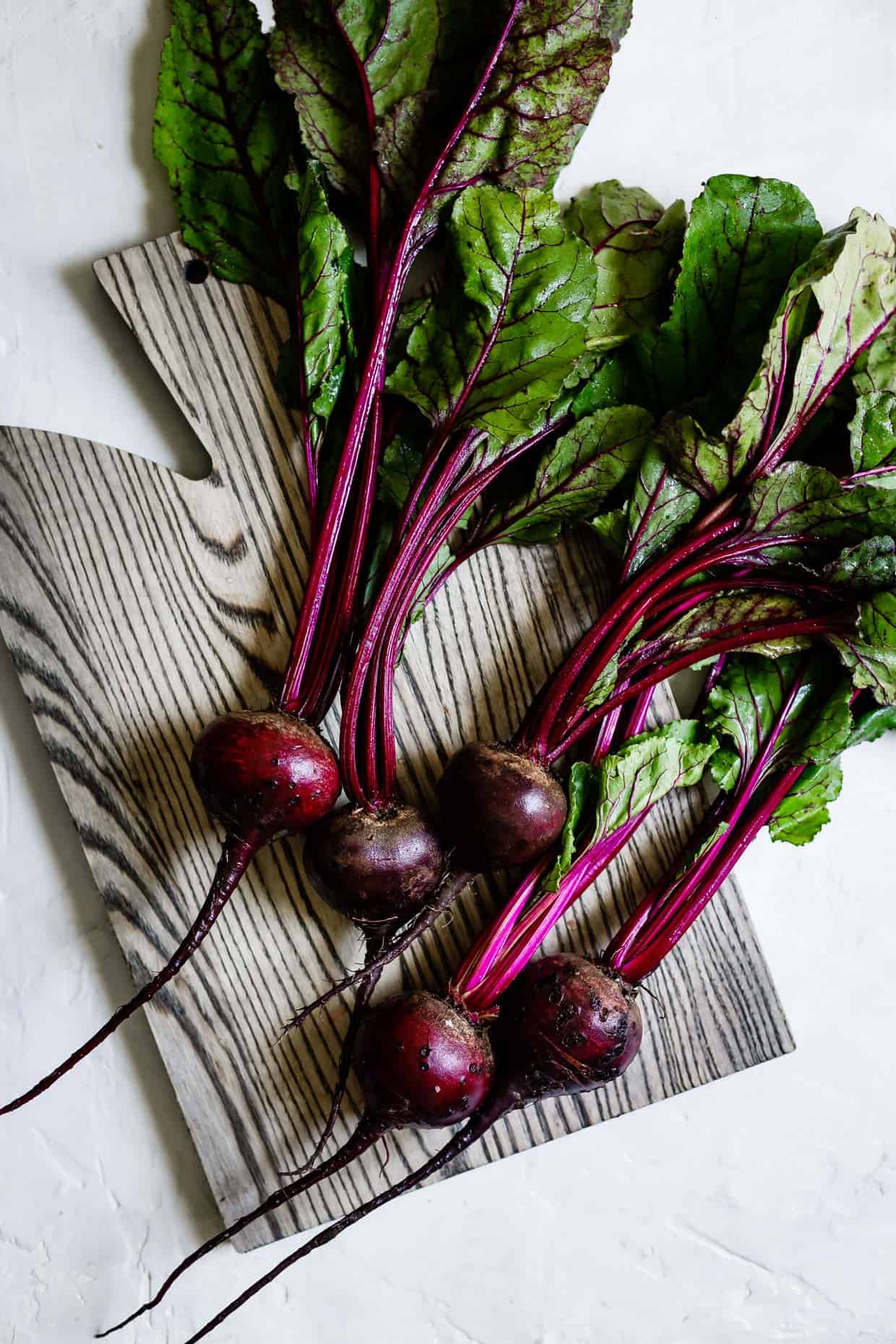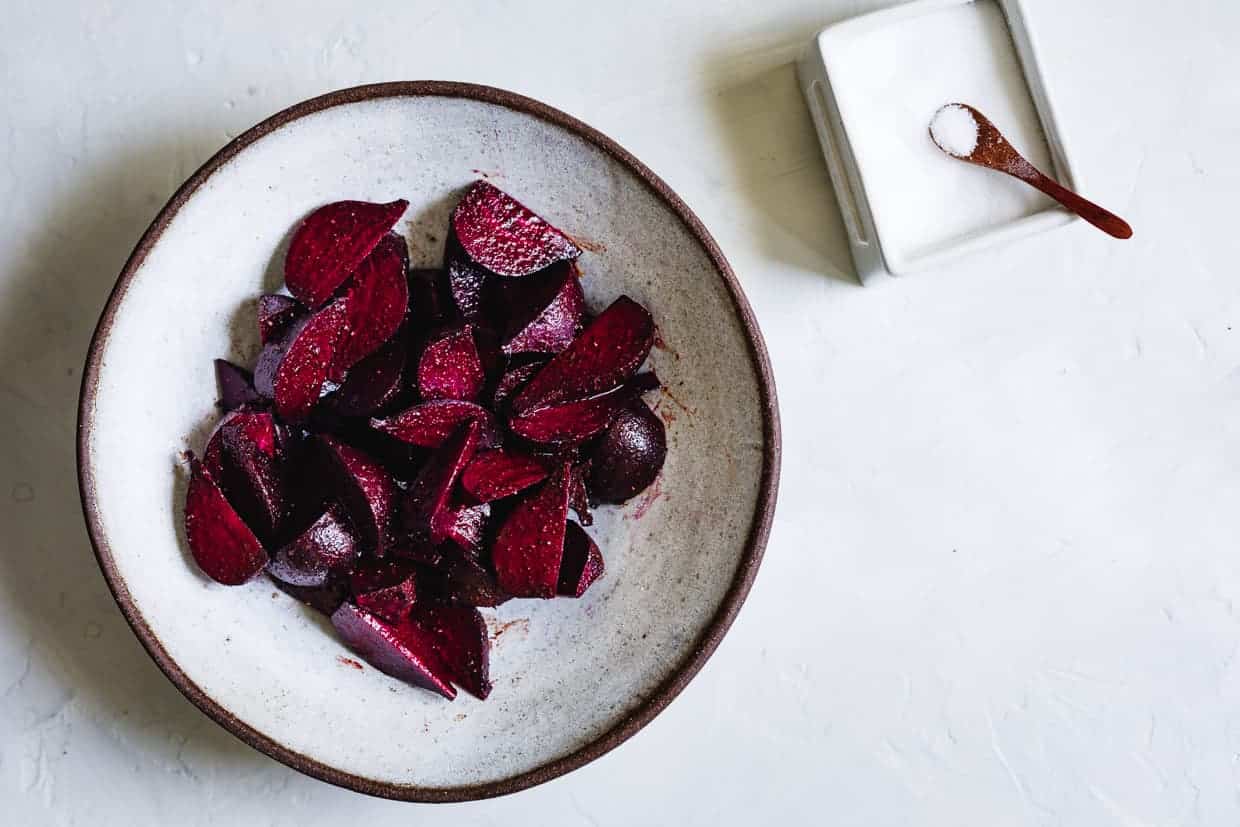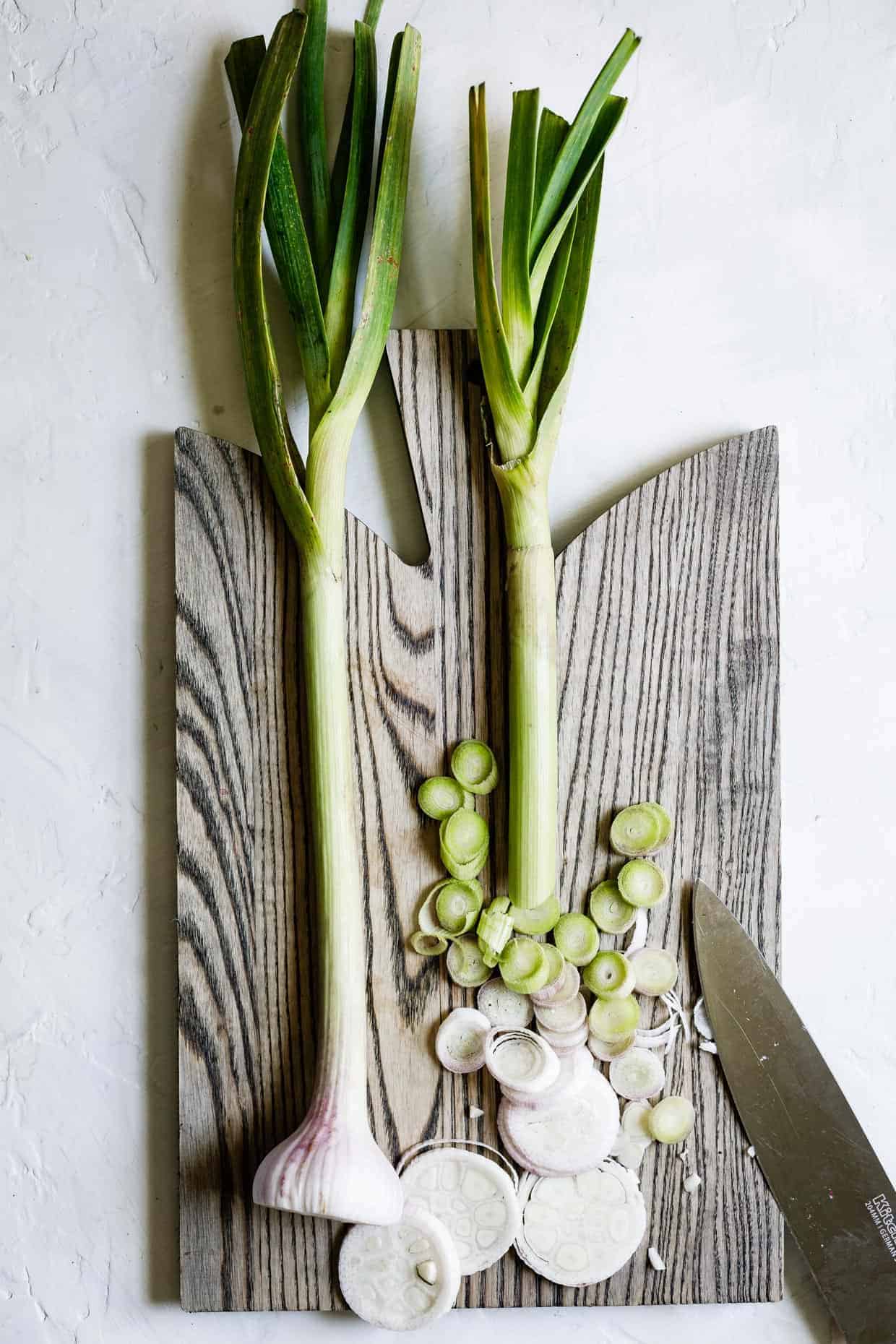 I'd like to kiss Shelly for this romesco sauce. I love it so much I'd also like to write a haiku in its honor.
Dear Romesco Sauce,
You make my tastebuds frolic.
Get in my belly.
The most magical part of this romesco sauce - besides everything about its layered flavor - is the fact that the recipe makes 3 cups, giving you leftovers for a week. I've been so busy this week and having this flavor-bursting sauce to put on roasted veggies as a quick dinner is everything right now.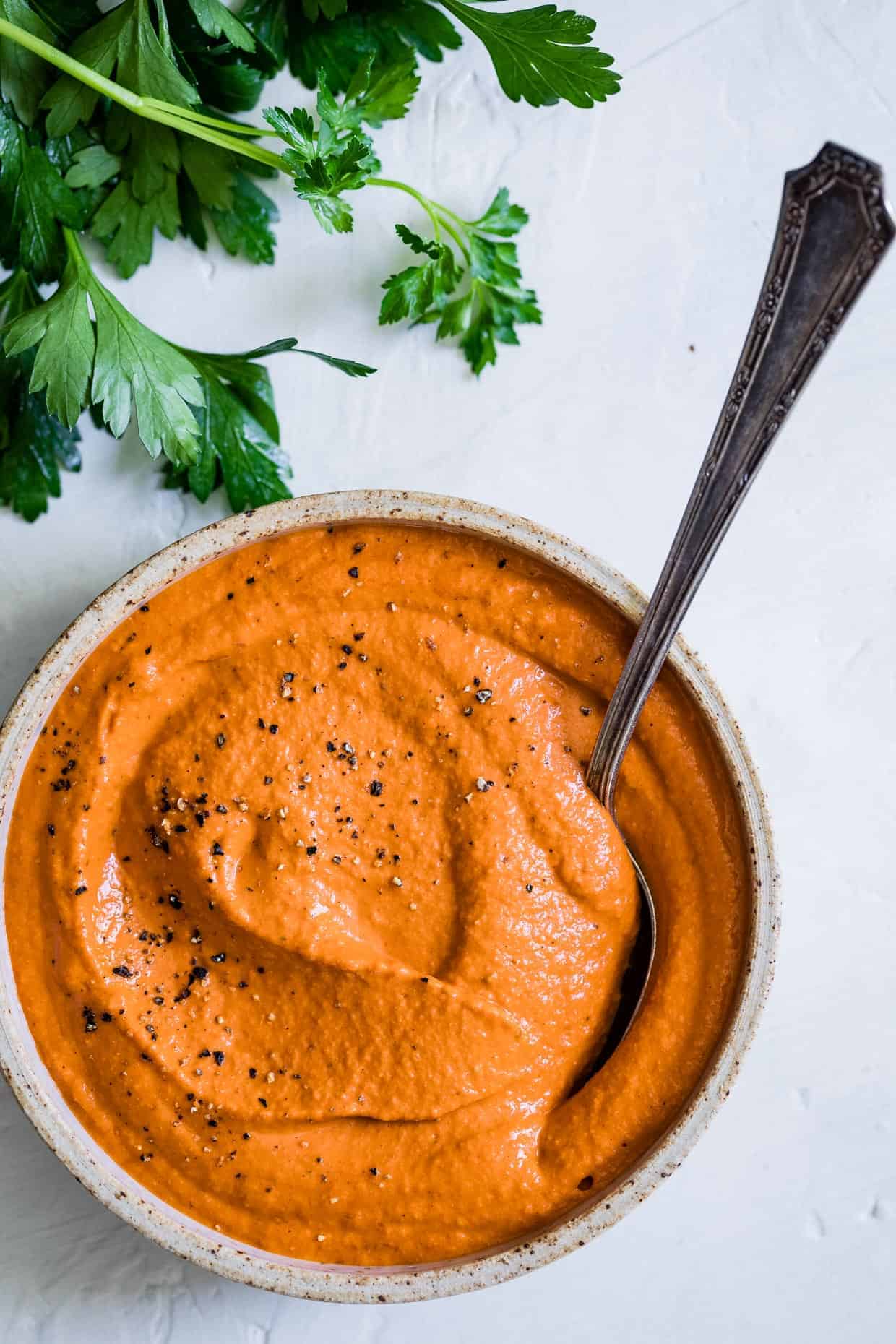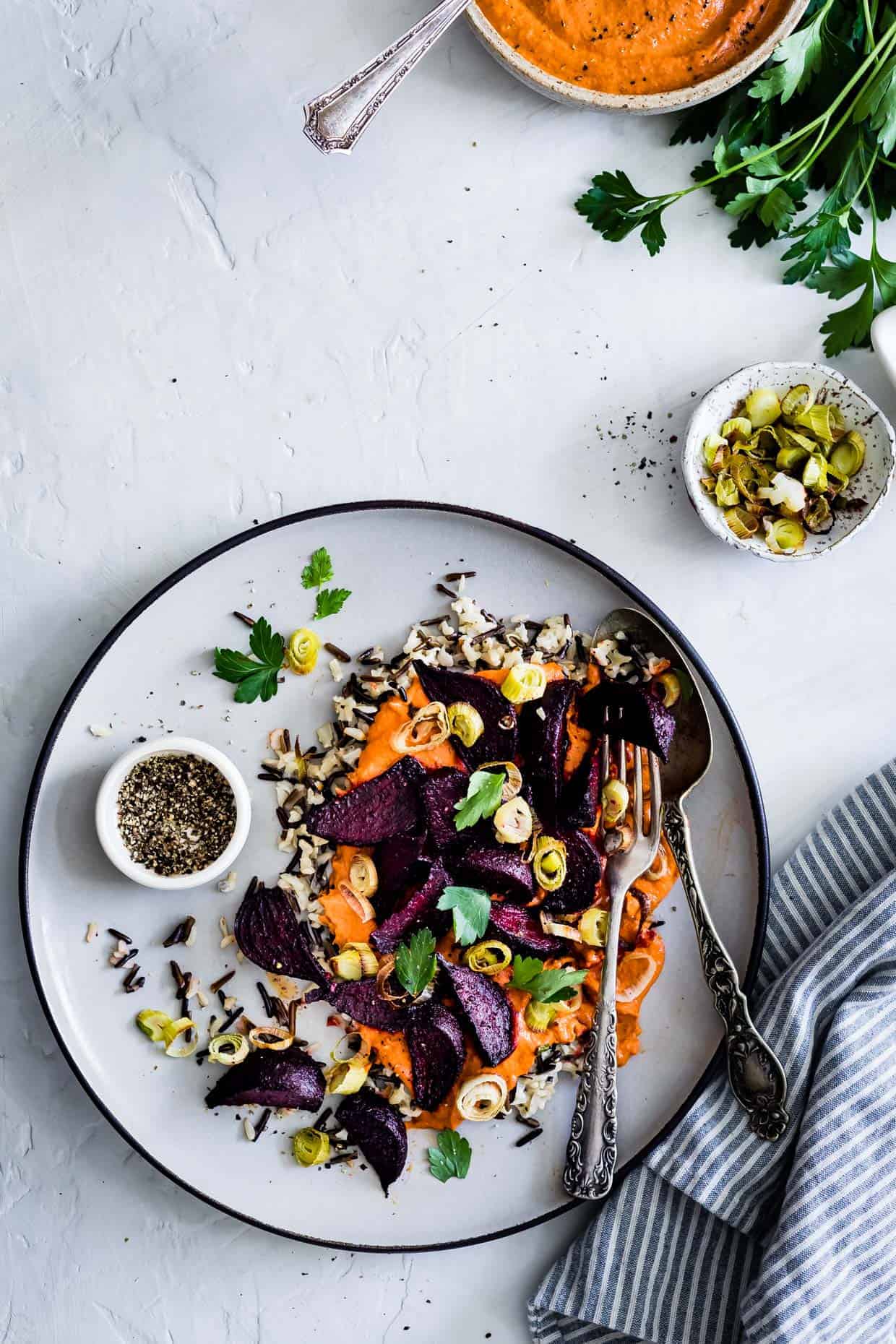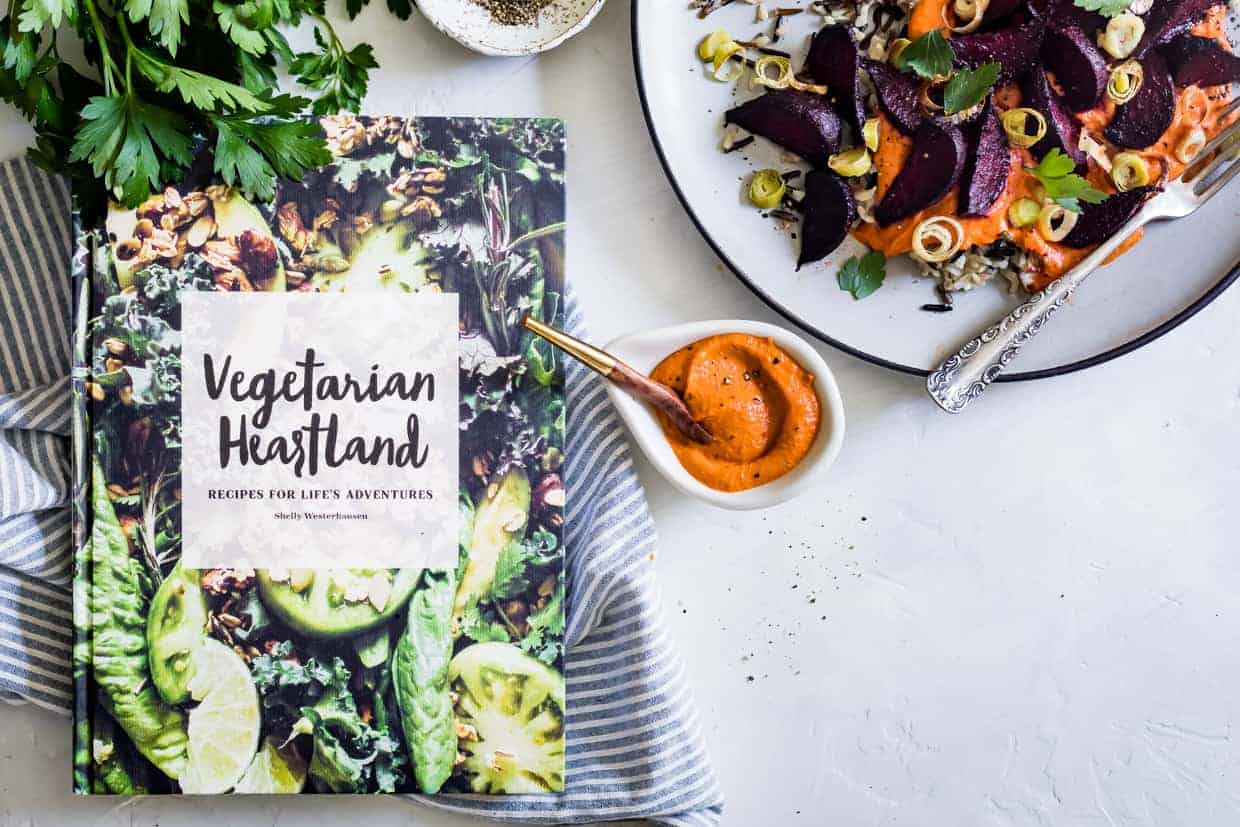 While following Shelly's blog, I've always been enchanted by her ability to effortlessly use spices and seasonings to lend multiple notes to a single dish (remember the mini pimento mac & cheese bites she made for my #cheesebabyshower?). Almost a year ago, I finally met Shelly in real life on a Midwest retreat and was instantly drawn to her warmhearted openness - a trait that reads in her writing and recipes.
With the same spirit, Shelly's cookbook entices you to go on adventures too - in life and through cooking. Whether trying new vegetables and cooking techniques, or treating her recipes as guidelines to swap in what's in season where you live, Shelly sets you out on a delicious exploit, fully equipped.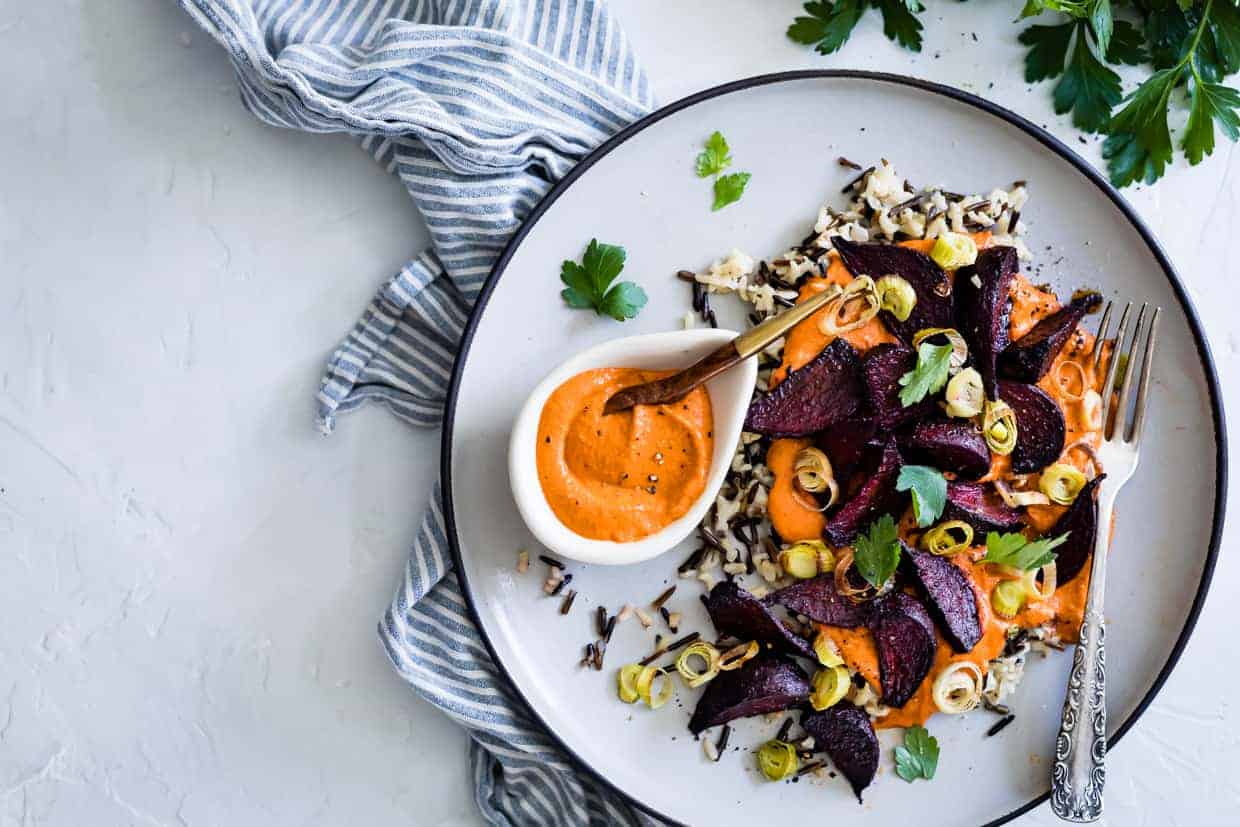 So I heeded her advice and roasted green garlic for the first time (I also subbed in wild rice for the farro to make it gluten-free). With the romesco sauce tying it all together, you really can't go wrong. I've not been reserving it just for dinner either. On lunch repeat this week? Romesco and a spoonful of fresh basket ricotta over toast and I look forward to it all day.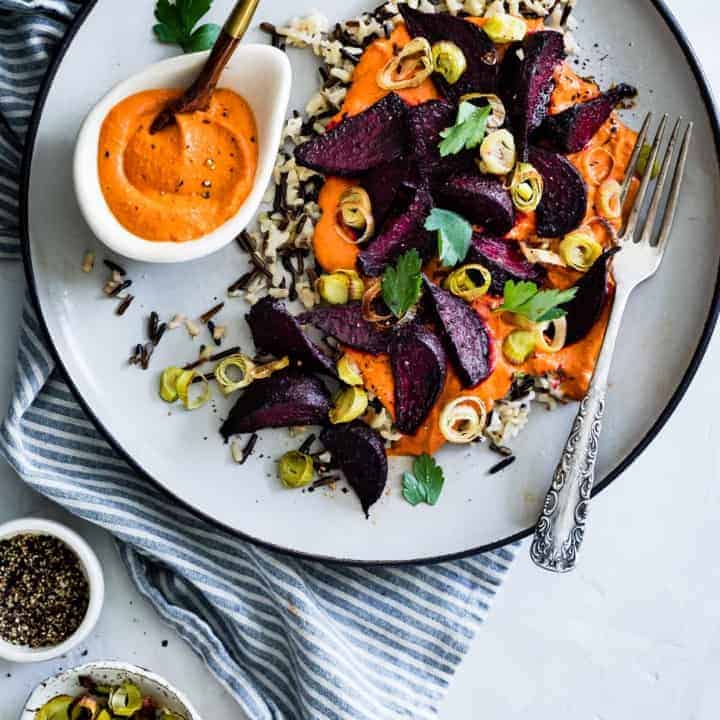 Roasted Beets with Creamy Romesco & Wild Rice + Vegetarian Heartland Cookbook
Yield:
2 main servings or 4 side servings
Ingredients
Wild Rice
½ teaspoon olive oil
2 cloves garlic, minced
1 cup mixed wild rice, rinsed
3 cups water
½ teaspoon kosher salt
Roasted Beets & Green Garlic
5 medium beets, any color, scrubbed, trimmed, and cut into eighths
2 tablespoons olive oil, divided
1 teaspoon salt, divided
¾ teaspoon smoked paprika
¾ teaspoon chili powder
¼ teaspoon freshly ground black pepper
2 stalks green garlic, thinly sliced (white and light green parts only)
½ lemon, juiced
Creamy Romesco Sauce
1 15-oz can cannellini beans, drained
12 oz roasted red peppers from a water-packed jar, drained (I used from an oil-packed jar because that's what I could find!)
2 large garlic cloves, peeled
½ cup slivered raw almonds
⅓ cup tomato paste
¼ cup flat-leaf parsley leaves, chopped
2 tablespoons red wine vinegar
1 teaspoon smoked paprika
½ teaspoon red pepper flakes
½ cup extra-virgin olive oil
Salt and pepper, to taste
Instructions
Wild Rice
Warm the olive oil in a medium saucepan over medium-low heat. Add the garlic and sauté until fragrant, about 30 seconds.
Add the rice and sauté for 30 seconds, then add the water and salt. Turn heat to high and bring to a boil. Cover and reduce heat to low. Cook until rice is chewy with some of the grains bursting open, about 40-50 minutes (depending on the rice - check your variety for instructions). Drain any water that wasn't absorbed and fluff with a fork.
Roasted Beets and Green Garlic
Preheat the oven to 375°F and line one large baking sheet and one small baking sheet with parchment paper.
Toss the beets with 1½ tablespoon olive oil, ¾ teaspoon salt, smoked paprika, chili powder, and pepper. Spread into an even layer on the large baking sheet.
Toss the sliced green garlic with ½ tablespoon olive oil and ¼ teaspoon salt and spread into an even layer on the small baking sheet.
Roast, stirring halfway through, until the vegetables soften and begin to brown, about 20 minutes for the garlic and about 30 minutes for the beets. Remove from the oven and toss with lemon juice.
Romesco
Meanwhile prepare the romesco. In a high-speed blender or food processor, blend together the beans, roasted red peppers, garlic, almonds, tomato paste, parsley, vinegar, paprika, and pepper flakes.
With the motor running, slowly pour in the olive oil and blend until a smooth sauce forms, about 30 seconds. Season with salt and pepper.
Store in an airtight container in the refrigerator for up to 5 days.
To serve, scoop the wild rice into bowls or on plates, top with romesco sauce and roasted beets and green garlic. Garnish with parsley, if desired.