Chewy gluten-free white chocolate matcha brownies with tahini swirl. These brownies have crisp edges and chewy centers with a combination of nutty and earthy flavors with smooth sweetness to balance it out.

This post is sponsored by Bob's Red Mill, a long-term partner of Snixy Kitchen
We're rounding out Matcha March with one last matcha recipe.
One might be tempted to call these matcha white chocolate cookie bars or blondies, but we're digging out heels in and sticking with white chocolate matcha brownies. More like their deep dark cocoa brownie counter-part, these bars use melted white chocolate in the base.
As a result, you get the classic chew of my favorite kind of brownie with crisp brownie edges worth fighting over.
I've baked these matcha brownies as my second recipe in a year-long partnership with Bob's Red Mill. Here's a list of all the recipes I've made in partnership with Bob's Red Mill over the years.

What do Matcha Brownies Taste Like?
These gluten-free matcha brownies are a well-balanced flavor mash-up. Matcha + white chocolate are a popular pairing, one I've fallen in love with. See my matcha crepe cake with white chocolate ganache, white chocolate matcha shortbread cookies, and white chocolate matcha latte.
With melted white chocolate as the brownie base, these matcha brownies have a subtly sweet creaminess from cocoa butter. Yet, they're not cloyingly sweet like one might expect from white chocolate. Instead, matcha balances by bringing slightly bitter umami notes.
With almond flour adding a sweet nutty base, tahini adds another layer of nuttiness that also enhances the earthiness of the matcha.
This green tea brownie recipe walks the line between earthy, bitter, nutty, and sweet, with none of the flavors dominating the others.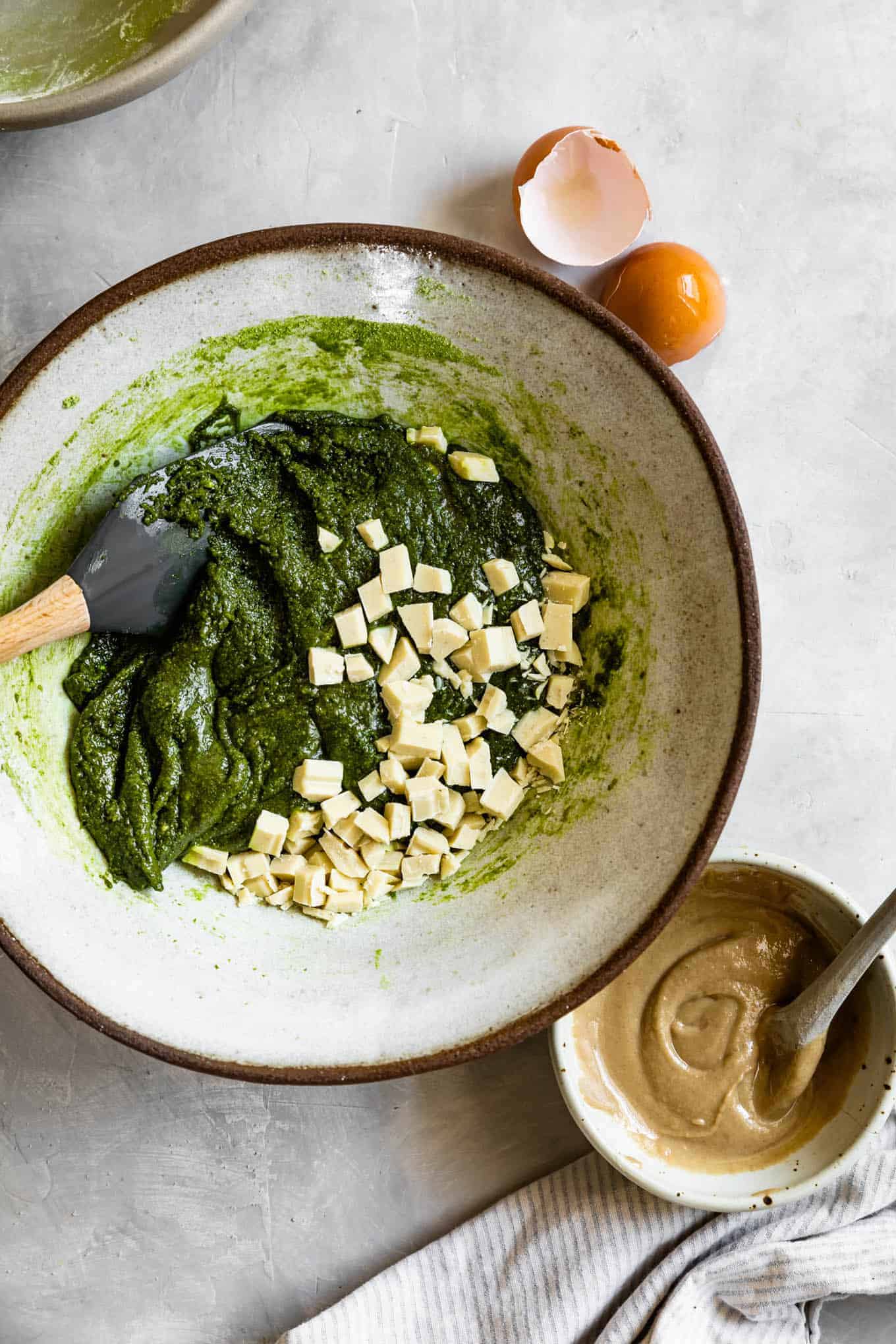 Using Almond Flour for Gluten-Free Brownies
Almond flour makes an excellent neutral base flour for brownies and bars, as used in my favorite gluten-free cocoa brownie and gluten-free blondie recipes. Its flavor also complements the subtle nuttiness of matcha - a pairing I've turned to for matcha almond flour crepes, matcha macarons, almond matcha olive oil cake.
Building off those favorite recipes, these matcha brownies use a blend of super-fine blanched almond flour, sweet rice flour, and tapioca flour.
Here, almond flour is the base - it's the flavor driver of the flour blend, while the other two flours support it with structure. Almond flour adds fat and moisture to the recipe, as well as a neutral nuttiness reminiscent of classic cookie dough, allowing it to be easily flavored with matcha.
How to make this matcha brownie recipe
These matcha white chocolate brownies are easy to make and don't require a mixer.
Brown the butter and pour it over half of the chopped white chocolate to melt. Then mix in the sugars, vanilla, and 1 tablespoon of tahini. Let cool, then whisk in the egg.
Sift the dry ingredients in a large bowl and fold the wet ingredients into the dry.
Fold in the remaining white chocolate chunks.
Press into 8x8 baking pan.
Whisk the remaining tahini with honey and dollop it over the top of the brownies. Use a knife to make swirls.
Bake!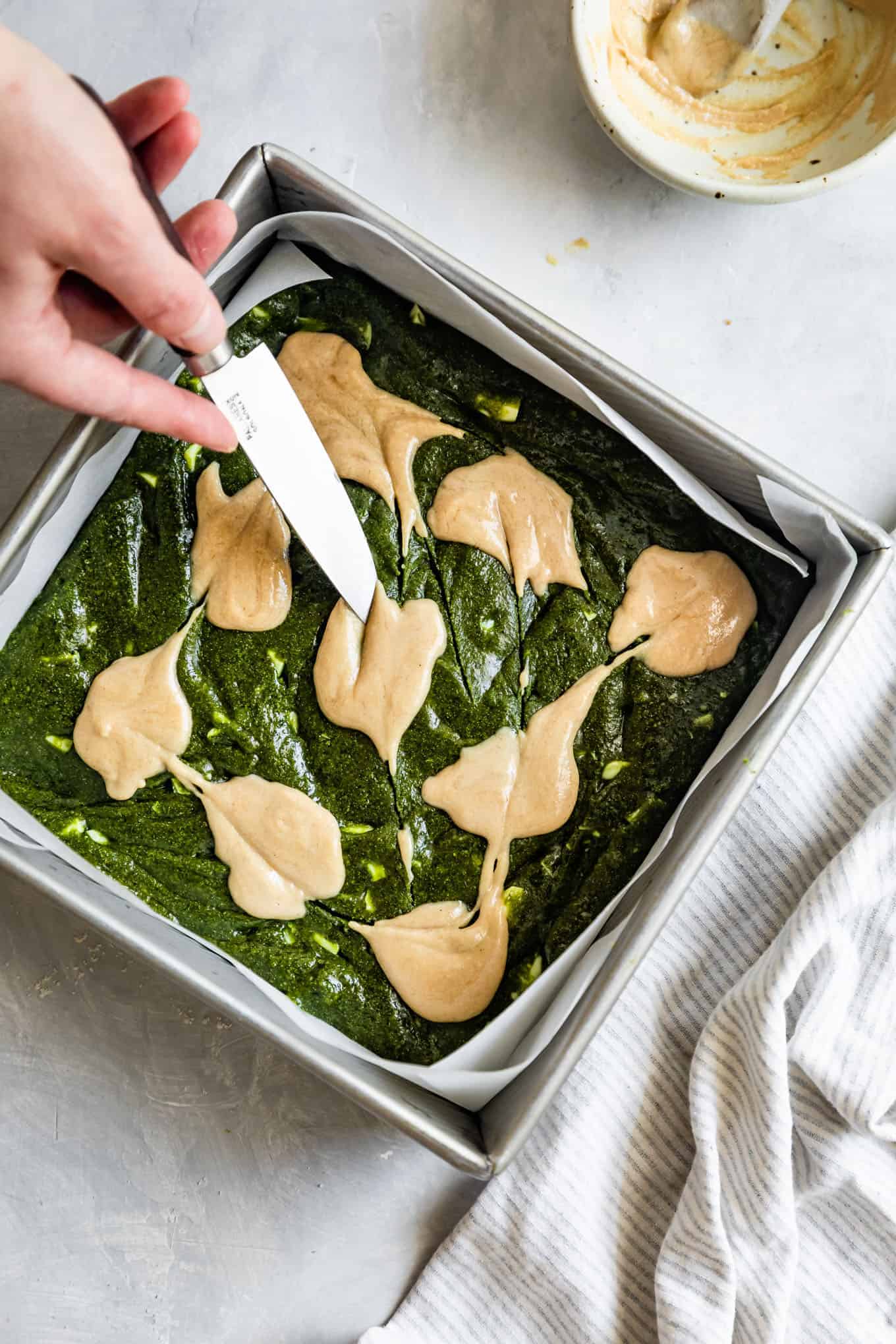 How to make swirled tahini brownies
Tahini is a sesame seed paste or butter, used extensively in Mediterranean and Middle Eastern cuisine. It's creamy and nutty, with a very subtle bitterness that also lends itself well to desserts. To get the best flavor, I recommend looking for high-quality roasted sesame tahini in a jar (One of my favorites is Soom).
To make tahini swirl brownies, mix the tahini and honey just before you're ready to use it and avoid over-mixing it or the tahini may seize up. If your tahini has separated, be sure to mix the oil into the tahini before measuring.
Drop 9 dollops of honeyed tahini over top of the brownies then use a sharp knife to cut through the brownies several times, leaving swirls in the tahini. Don't worry that the brownie base is thick, the tahini will bake right in and any cut-marks you make in the matcha base will disappear when baking.
What kind of White Chocolate to make brownies
The key to flavorful white chocolate brownies is to use quality white chocolate. In order to be true white chocolate and not just white morsels, it needs to include cocoa butter. This gives it a smooth mouthfeel and flavor.
In fact, most of the white morsels or chips you can find at grocery stores don't actually contain cocoa butter and are not recommended for this recipe.
For quality white chocolate, look for one that includes only sugar, cocoa butter, milk (solids or powder), and possibly lecithin and vanilla. I recommend Green & Black's, Lindt, Ghirardelli baking bars, or Baker's Premium baking bars, and have tested this recipe using each of these.




Tips for the best matcha white chocolate brownies
Use high-quality matcha. I recommend starting with high-quality matcha. Matcha should be bright green with a subtle sweetness and earthiness, and it should not be muddy colored or taste astringent. I exclusively use Encha's latte grade - read more matcha, including the history and buying good matcha on my ultimate guide to matcha.
Sift the flours together. Due to the moisture content, almond flour can have a tendency to clump straight out of the bag, but sifting it makes it's soft and light. Sifting helps keep the matcha from clumping as well. I use a hand-crank flour sifter, but if you have a double-layered handle-press sifter, use a fine-mesh sieve to sift instead, as the moisture might clog up the sifter.
Don't overmix after adding flour. Slowly add the dry ingredients and mix just until combined. Overmixing will releases some of the oils from the almond flour, preventing the crackly topping and producing greasy brownies.
Let cool before eating. White chocolate brownies are prone to a little grease on the bottom due to the high fat content, so letting them cool will soak up that moisture as the white chocolate cools.
Substitutions and variations
For all the flours in this recipe, I've tested the brownies only using Bob's Red Mill flours and that is what I recommend. Their grind and quality are consistently great and they're easily accessible. Other brands of flours may be more/less finely ground and soak up moisture and fat differently, leaving you with inconsistent bakes.
Grain-free version
I've tested a version of these gluten-free matcha brownies using only tapioca flour in place of the sweet rice flour. This is a suitable substitute, but the results are just a bit less chewy.
For this grain-free version, substitute the sweet rice flour with additional tapioca flour or arrowroot starch by weight.
Tahini
To make these matcha brownies without tahini, brown 1 tablespoon more butter for the brownie batter and leave off the tahini swirl.
Consider adding dark chocolate chips or chunks to the base if you leave off the tahini.
Dark Chocolate Chunk version
Matcha also pairs beautifully with dark chocolate, which has similar subtly sweet bitter notes. If leaving off the tahini, consider folding in bittersweet dark chocolate chunks at the end instead of white chocolate chunks, or a combination of both.
One version I baked and loved had white chocolate chunks folded in with dark chocolate chunks sprinkled over top. Go wild.


More Recipes with Almond Flour, Tapioca Flour, and Sweet Rice Flour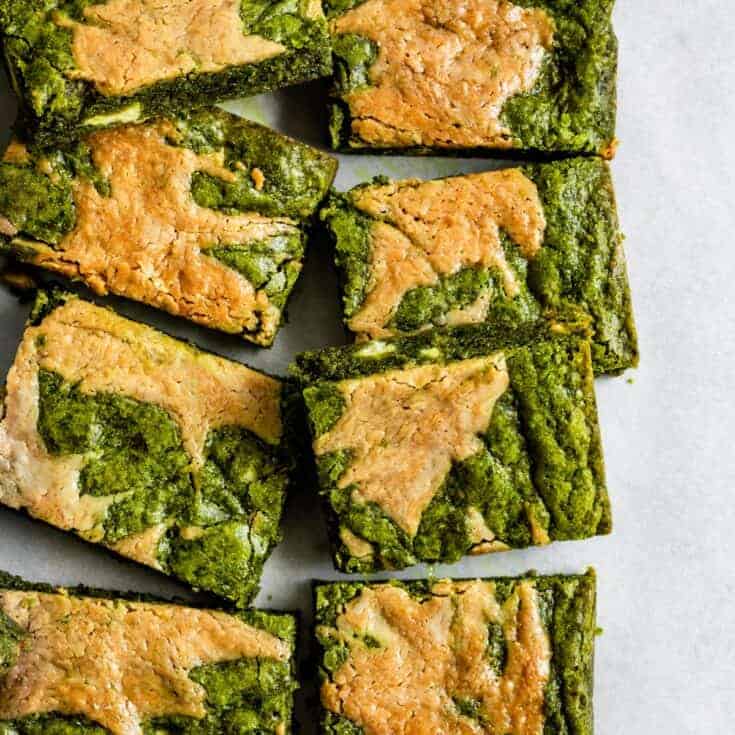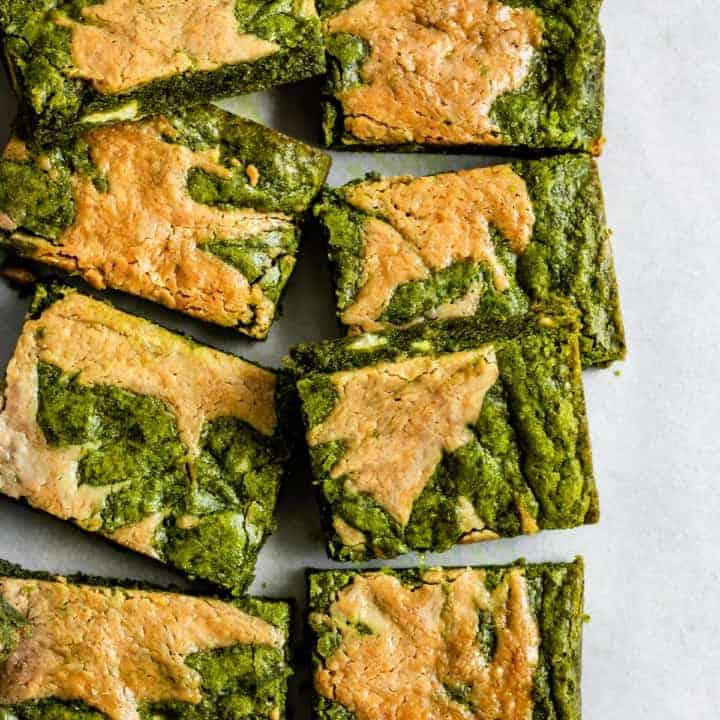 Gluten-Free White Chocolate Matcha Brownies with Tahini Swirl
Chewy gluten-free white chocolate matcha brownies with tahini swirl. These brownies have crisp edges and chewy centers with a combination of nutty and earthy flavors with smooth white chocolate sweetness to balance it out. 
Instructions
Preheat oven to 350°F and line an 8x8 metal baking pan with parchment paper.
Place the 2 ounces of finely chopped white chocolate in a medium bowl or in the bowl of a stand mixer fitted with the paddle attachment.
Brown the butter. In a small saucepan, melt and brown the butter, taking care not to burn it. It should melt, then foam up, and when the foam begins to subside, it will be light brown and nutty. Pour the browned butter over the finely chopped white chocolate and let sit for 3 minutes. Stir to melt the chocolate.
Mix in the sugars, vanilla, and 1 tablespoon of tahini. Let cool for about 5 more minutes.
Meanwhile, sift together the almond flour, tapioca flour, sweet rice flour, matcha, and salt in a medium bowl.
When the butter has cooled for at least 10 minutes, mix in the egg until well combined. Continue beating for another minute to help get some air into the batter.
Pour the wet ingredients into the dry ingredients and mix with a rubber spatula until just evenly combined, taking care not to overmix. Fold in the remaining 2 ounces of coarsely chopped white chocolate and evenly press the dough into the lined baking pan.
In a small bowl, whisk together the remaining 3 tablespoons of tahini with the honey until just combined. Take care not to overmix, as that may cause it to sieze. Spoon 9 dollops of tahini over the top of the blondies. Use a sharp knife to cut through the tahini, swirling it into the top of the brownies.
Bake for 27-28 minutes, until the edges are just turning golden brown and the top is just set, but still soft. Remove from oven and let cool in the pan for at least 10 minutes before carefully using the parchment paper to lift the brownies out of the pan. Let cool completely then cut into 12 squares and serve.
Notes
White Chocolate: The chewiness and flavor of these brownies rely on the cocoa butter in real white chocolate. Be sure to check the ingredients of white chocolate to be sure it includes cocoa butter. Many "white chips," for example, are just milk solids and sugar with no cocoa butter. I recommend Green & Black's, Lindt, Ghirardelli Baking Bars, or Baker's Premium brands of white chocolate bars.
Tahini: Give you tahini a swirl before measuring it to make sure the oil is incorporated and the tahini is smooth.
Dark Brown Sugar: I recommend organic dark brown sugar because it has a higher molasses content, which will make the bars more moist and gooey in the center. Conventional dark brown sugar will also work and you could also add ½ teaspoon of molasses if you have it.
Grain-Free Version: You can substitute the sweet rice flour with additional tapioca flour by weight, but your results will be a bit less chewy. For that version, I would add 1-2 minutes to the baking time.
Nutrition Information:
Yield:

12
Serving Size:

1
Amount Per Serving:
Calories:

218
Total Fat:

12g
Saturated Fat:

6g
Trans Fat:

0g
Unsaturated Fat:

5g
Cholesterol:

33mg
Sodium:

107mg
Carbohydrates:

26g
Fiber:

0g
Sugar:

11g
Protein:

2g