Spring green matcha macarons filled with mango buttercream. These French macarons have a crispy shell with a chewy center and an earthy matcha flavor that complements the almond flour base. The filling balances the flavors with a tart buttercream made with ground freeze-dried mangoes.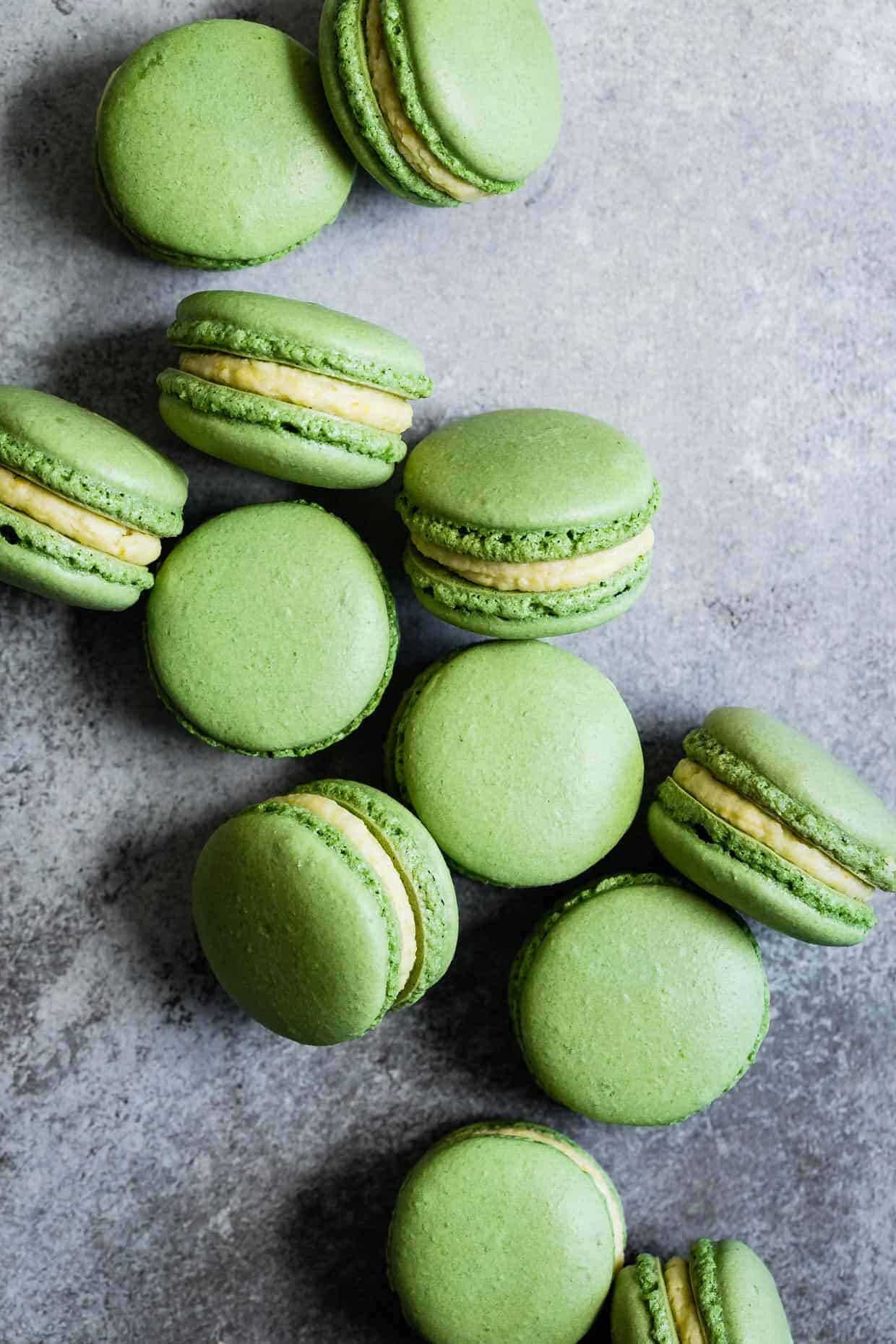 This post Is sponsored by Bob's Red Mill, a long-term partner of Snixy Kitchen.
Our first night in Paris this past November, we had one must-do on our agenda: find macarons. By the time we did, it was about 10 minutes before closing and way past toddler bedtime. Zoella had gone a full day in Paris without eating a single thing save for the apple sauce we packed for emergencies. Picky eaters take it to a whole new level in a foreign country. She wanted nothing to do with any food we offered her, but a random stranger behind the counter offering her a free macaron? No hesitation at all. Up until this moment, this kid had never eaten a cookie or really much of any sugar, yet somehow she knew those colorful little morsels under the glass were special.
Like mother, like daughter.
Made with just almond flour, macarons are naturally gluten-free, making them my go-to Paris treat. This recipe for matcha macarons with mango buttercream is the second in my year-long partnership with Bob's Red Mill. First we ate chamomile oat waffles and now I'm busting into the almond flour to perfect one of my favorite sweets. I also incorporated matcha because it's still Matcha March, lest we forget!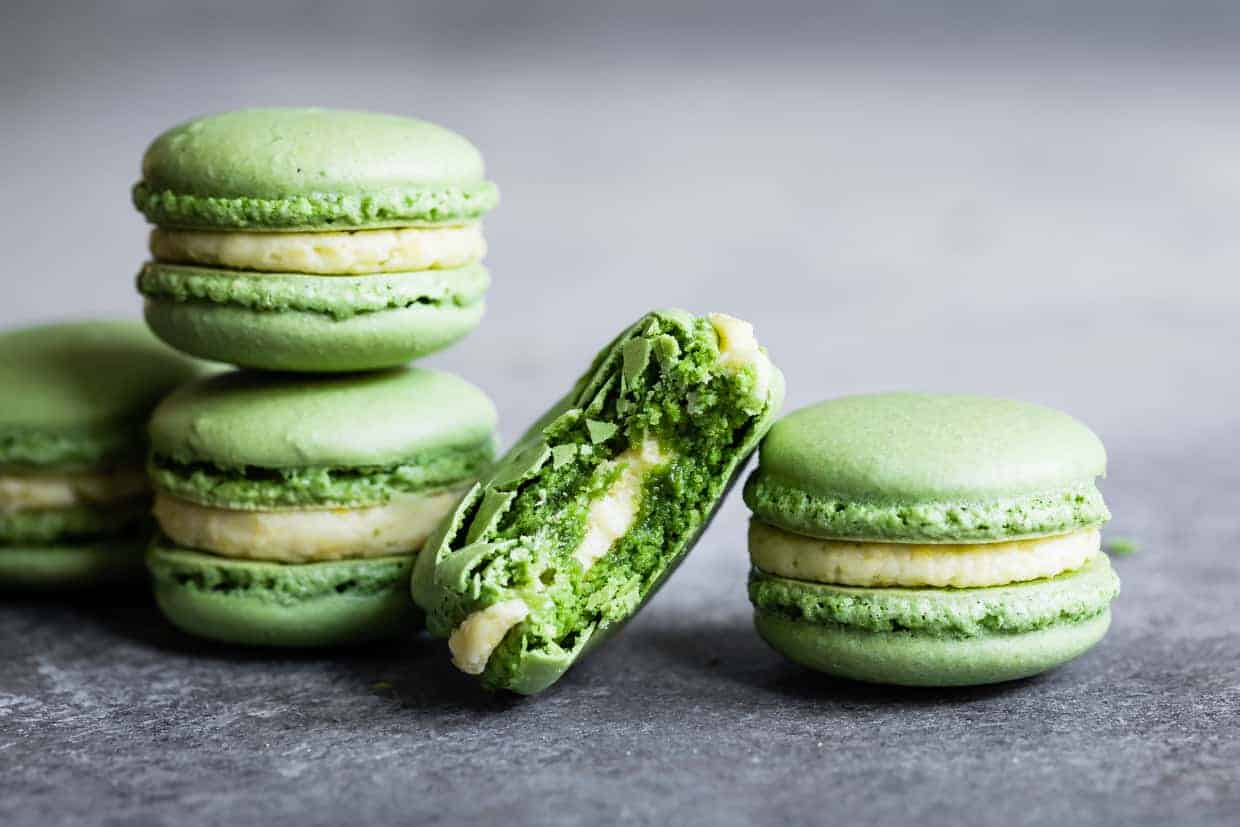 In the past month, I've used over 2 dozen egg whites and 3lbs of almond flour just on macarons. I've been afraid of and avoiding making macarons ever since my friend Lisa and I first tried our hand at macarons several years ago and failed. See how quickly I threw in the towel? Sometimes good things take time and practice though.
Ingredients for macarons
For the macaron shells, you only need a few ingredients, most of which you may already have on hand:
Powdered sugar
Large egg whites
Granulated sugar
You can use any kind of favorite frosting for the filling, but here I've used a mango buttercream. The tart mango pairs well with the earthy matcha flavors. Here's what you need:
Unsalted butter
Powdered sugar
Freeze-dried mangos: Grind up the freeze-dried fruit in a food processor and sift out any remaining chunks! This infuses so much flavor into the frosting without watering it down from fresh fruit.
Vanilla extract
Kosher salt
Heavy cream or milk
Are Macarons Gluten-Free?
Yes! Traditionally macarons are made with just almond flour, egg whites, sugar, and some added flavoring, such as extract or matcha powder. As long as your added flavoring is gluten-free, macarons are naturally gluten-free, making them a great allergy-friendly cookie!
Is it difficult to make macarons?
With a little bit of patience and reading directions carefully, macarons are actually not too hard to make! But so much of perfecting macarons is about practice.
When I first started testing these macarons, I kept failing, but kept trying, researching, and watching baking Youtube videos. In one week, I made eleven batches of macarons. It took 5 batches to get edible macarons I was proud of - evenly round without cracks, tall feet with a crispy shell, and a perfectly chewy center. The next few batches were my attempts at testing and honing the recipe.
Follow these tips on what I've learned along the way, and you will definitely shorten your learning curve.
That being said, I think the biggest takeaway I learned is that, regardless of how much research you do, how many recipes you read, and how many videos you watch, so much of perfecting macarons is experiencing what the final texture for the egg whites and the macaronage should look like. It's subtle. So expect to use a few egg whites (save the yolks for these hibiscus strawberry curd tarts!) and possibly even throw away a batch or two in the learning process.
The great part is, macaron shells really don't require all that much time and the reward is oh-so-worth the effort of practice.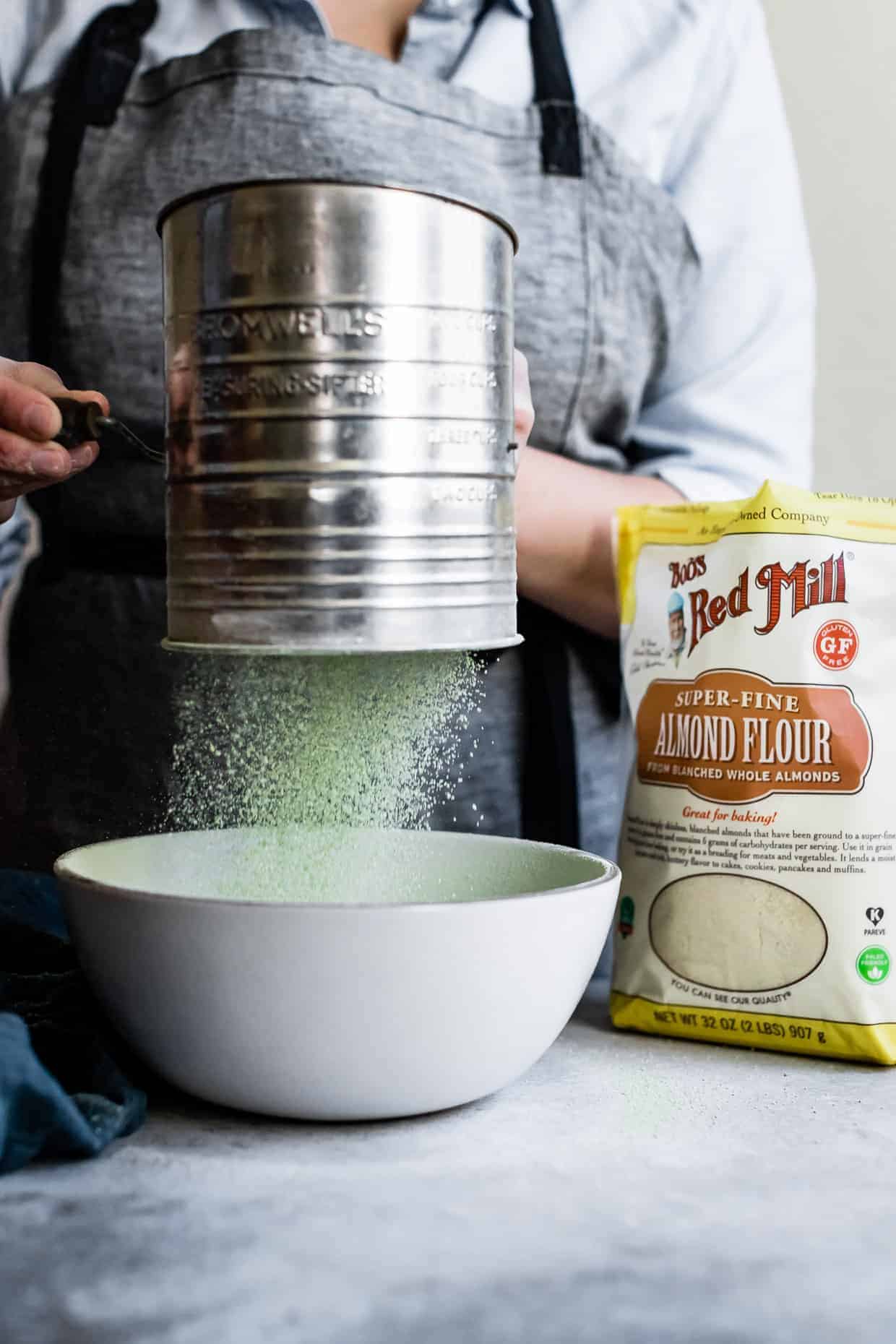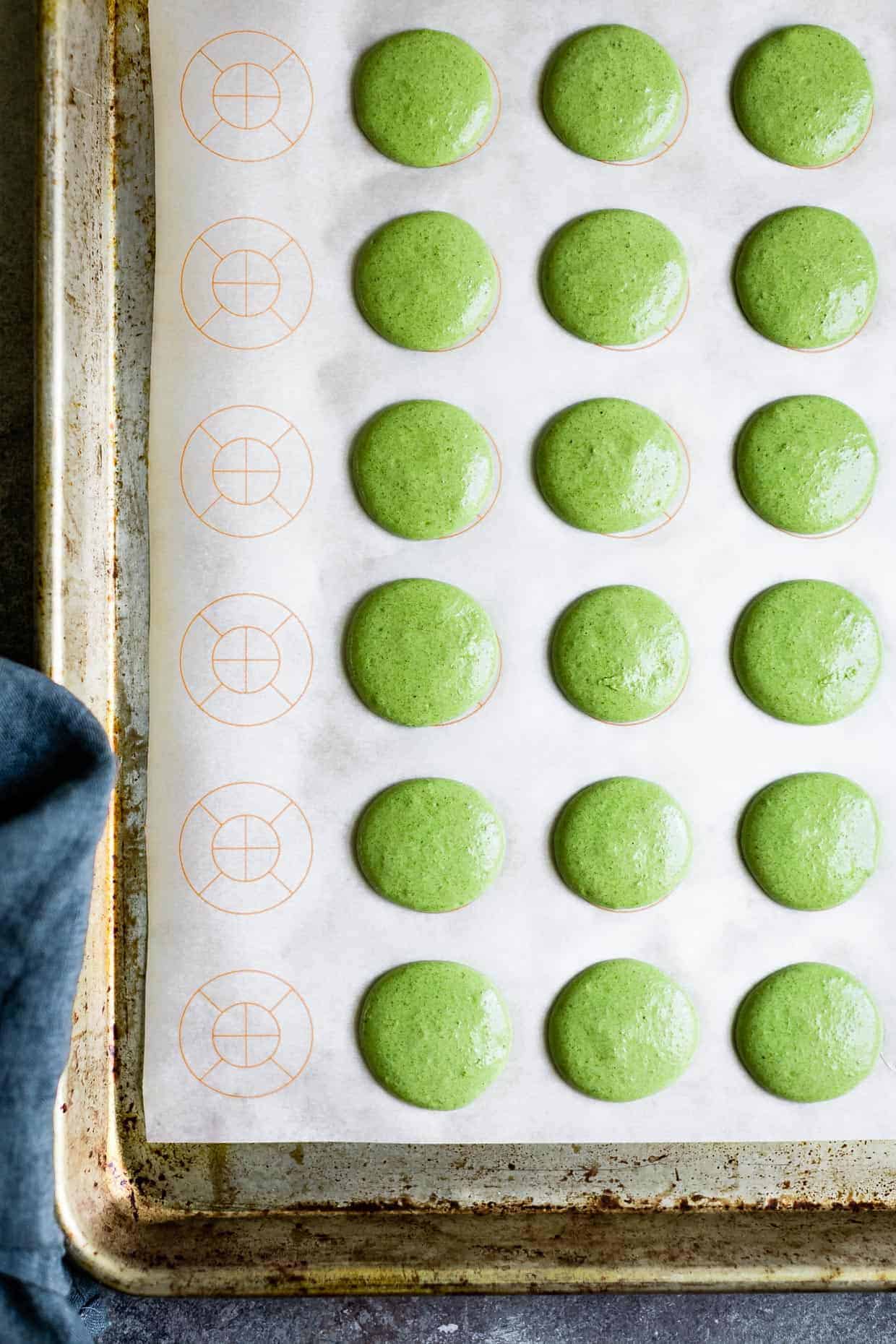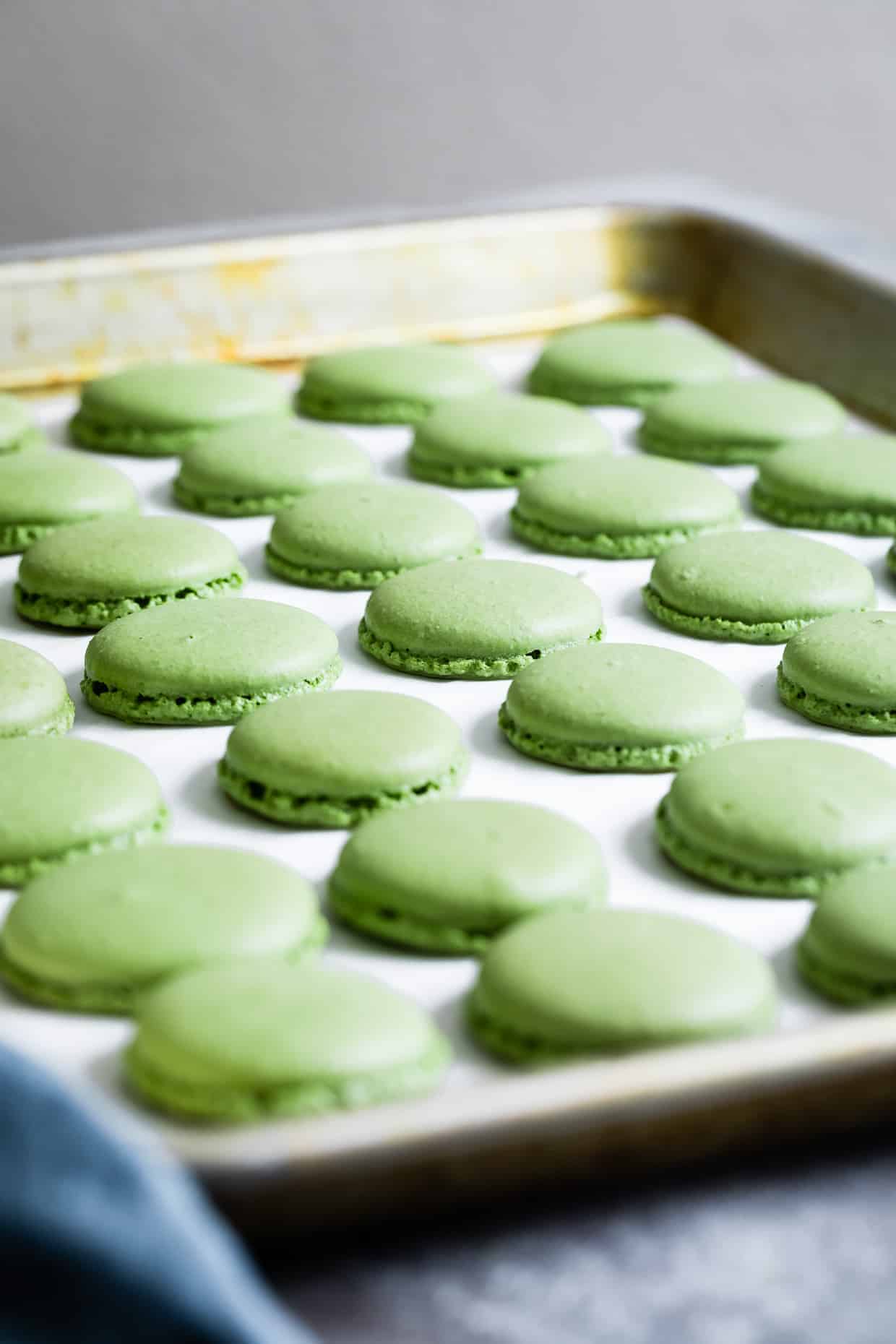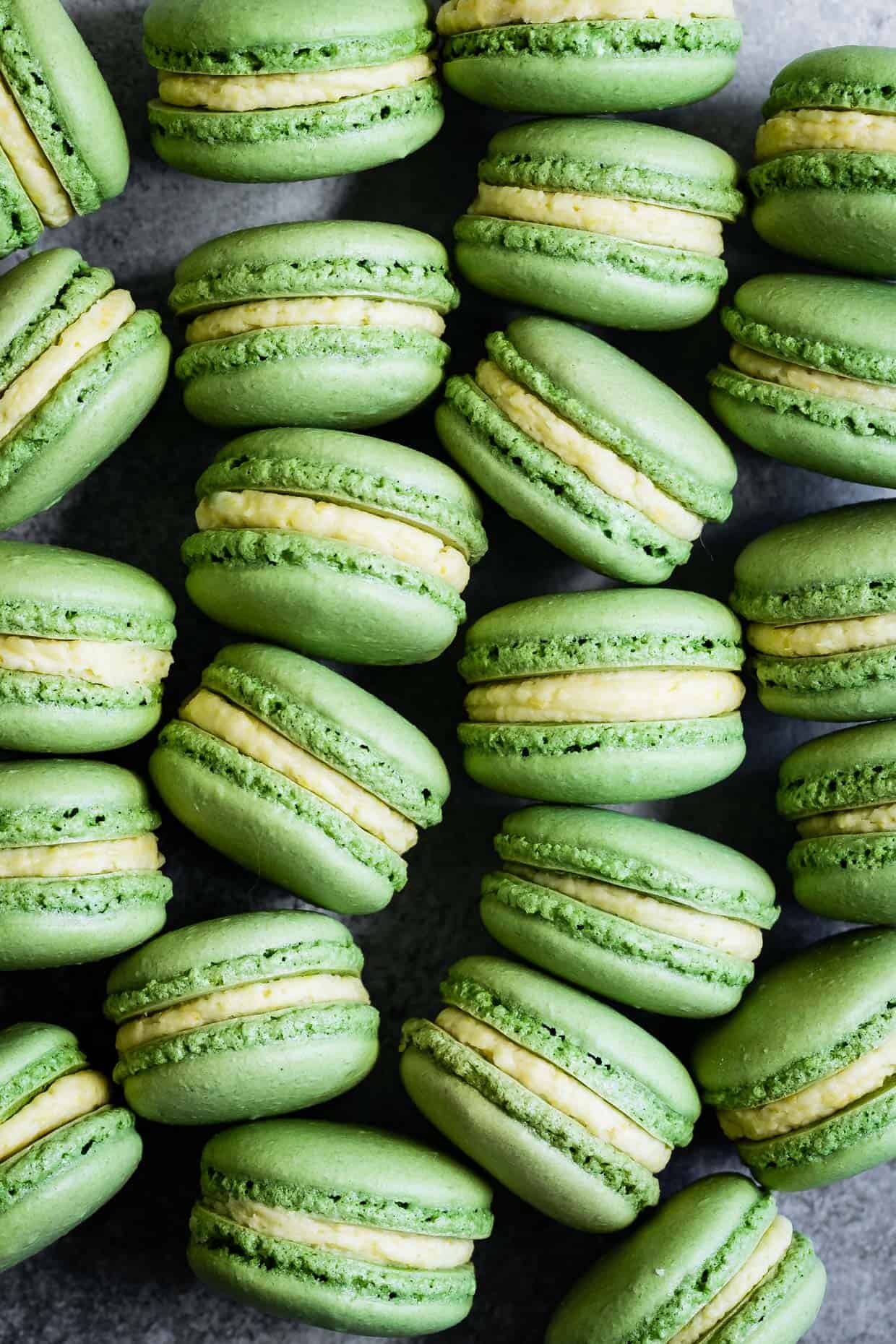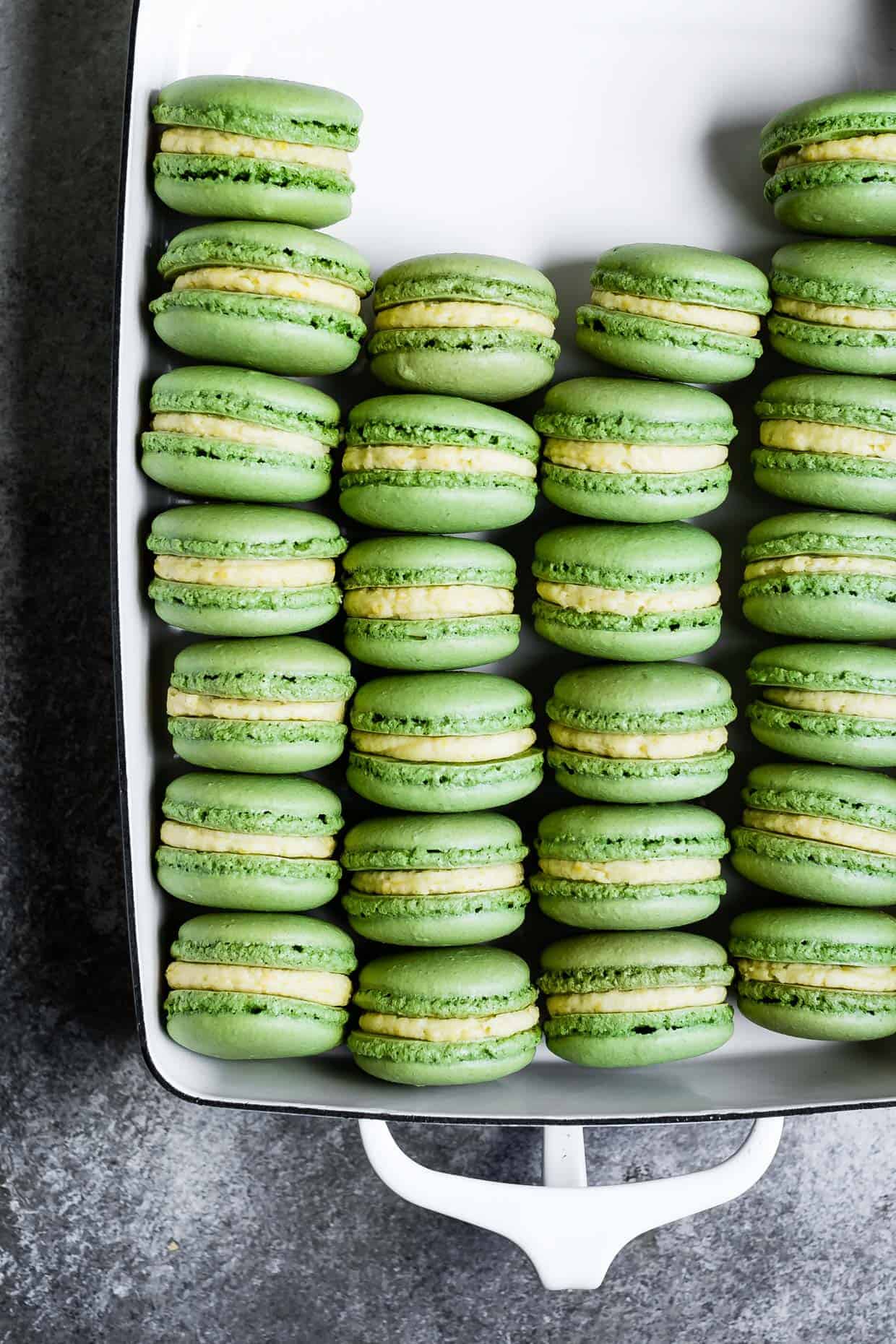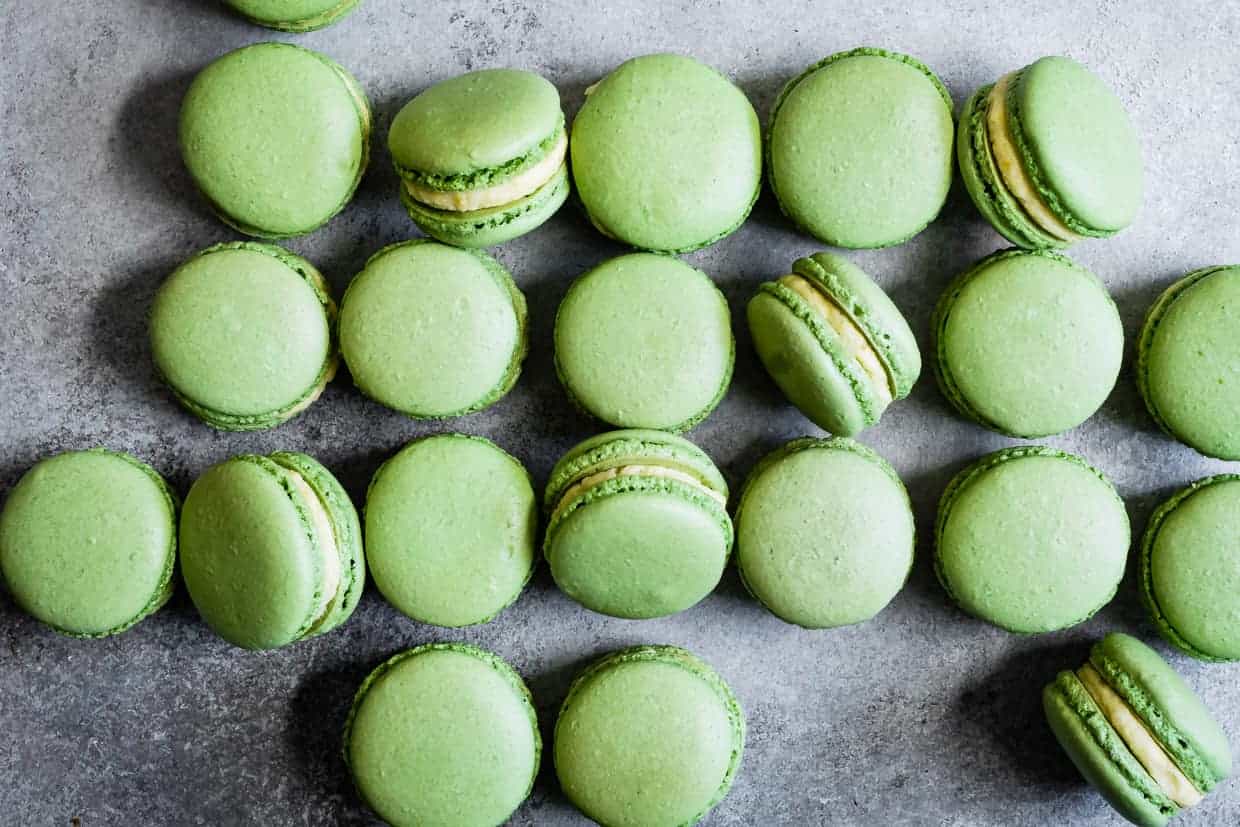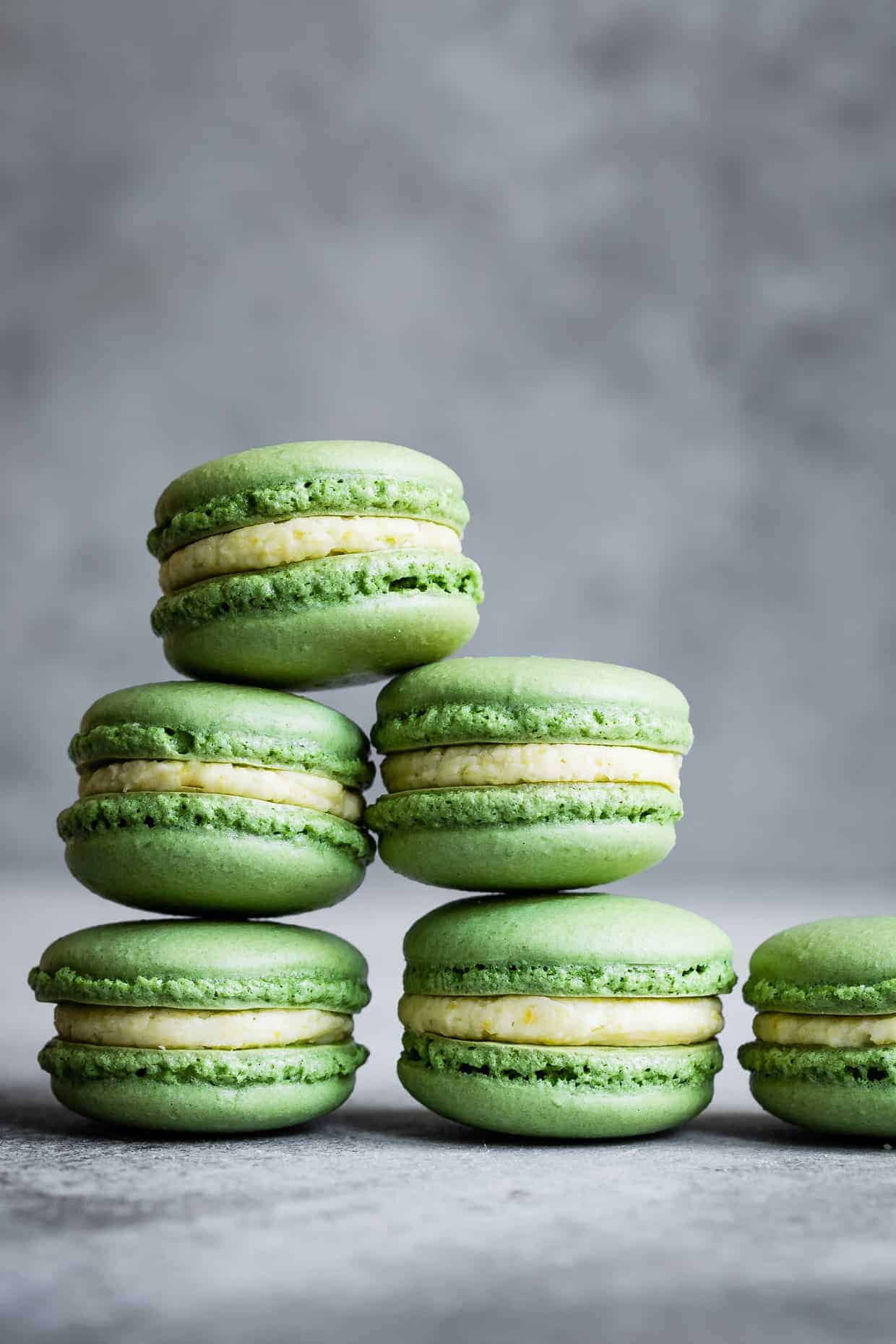 Guide to Perfect Macarons
French versus Swiss versus Italian Meringue
There are three main methods to making macarons that have to do with making the meringue: French, Swiss, and Italian.
French meringue: In this method, sugar gets added to the egg whites while beating - no heat is applied.
Swiss meringue: In this method, the sugar and egg whites get whisked over a double broiler until the sugar dissolves, then transferred to the stand mixer to beat to stiff peaks (to see the Swiss method in action, my friend Sarah has perfected it!).
Italian meringue: In this method, sugar and water get cooked together then slowly added while the egg whites are beating.
Some folks suggest the Swiss and Italian method help to stabilize the egg whites, making them a bit easier for beginners to master. In practice, I did not find this to be true and had much better and faster luck with the French meringue method. Plus, no heat means an easier process and less clean-up! The French meringue method is what this recipe uses
Weigh your ingredients
I've included cup measurements below so you have an idea of how much flour you're looking for, but for a recipe as finicky as macarons, I would recommend weighing your ingredients (including your egg whites).
Beat the egg whites until very stiff, but not overly dry
Use only eggs that are at room temperature (Tip: soak egg whites in warm water for 10 minutes to quickly make room temperature). I also found no difference in the outcomes of old to new eggs.
You want the egg whites to be stiff and glossy to the point where the egg whites clump in the beater, but you don't want to overbeat them until they look dry instead of shiny.
I found I was more likely to fail if I underbeat the egg whites than if I overbeat them. For the under-beaten egg whites, the macarons never set to a hard shell and I had to trash them.
Sift your dry ingredients twice
Start with a super-fine almond flour like Bob's Red Mill to make sure your macarons are smooth after baking. When I sifted them once, my macarons were less likely to turn out perfect. You don't want to over-mix your macaron batter after adding the dry ingredients but you also don't want clumps of flour. So it's important to start with extra sifted flour and powdered sugar so you don't have to over-mix to get the clumps out.
It's all about the texture of the batter - the macaronage
This is where success comes in - once I experienced what the batter should look like, I had beautiful macarons every time. This is the step that I describe as requiring a few tries to get it perfect - if you vary nothing else in your process in the quest for macarons, this is where you should focus. First, combine your dry ingredients and egg whites by hand with a rubber spatula. Use a circular motion around the bowl and then cut the wide side of the spatula through the center, pressing the batter against the edge of the bowl to knock the air out of the batter.
Most recipes describe the texture as molten lava, which I find only partially helpful because I've never actually seen molten lava. Others suggest that you should be able to lift your spatula up and make a figure-8 with the batter running off the spoon without the batter breaking into big clumps. This is also true, if it's too smooth and creates a figure-8 too easily, then it's possible you over-mix the batter, and thus the macarons are more likely to fail.
I recommend taking a spoonful of batter and dropping it onto the baking sheet, it should initially hold its shape for 5-8 seconds, but after 20-30 seconds, it should soften to an almost smooth top (a subtle little "tip" is even good to show you did not over-mix - here's a video to show what it should look like).
When your batter is ready, put the batter into a piping bag. If your batter oozes out of your pastry bag into a smooth plop almost immediately, you've mixed too far. If your batter completely holds its shape when you pipe your macarons, you haven't mixed enough.
I've found that it's better to err on the side of under-mixed - when I over-mixed the macaron batter, I would not get the crisp shell, and instead, the macarons would be almost greasy looking and completely soft. Inedible. When you under-mix, you run the risk of macarons that crack or have large air pockets, but, they'll at least still be edible.
Let your macarons set
Dry your macarons out for 20-30 minutes on the counter until they are dry to the touch (this time will vary depending on the humidity). This will help prevent your macarons from bursting and also will help them develop the classic foot.
Cook slow and low
Some recipes say to cook the macarons at a higher temperature, but when I tried that, they rose too quickly and either burst or were completely hollow. I had better success when I cooked the macarons at 300°F for 13-16 minutes.
When you gently shake your baking pan in the oven, the macaron tops should not slide or jiggle at all when they're finished baking. If you try to lift a macaron off the parchment paper and the top peels off, leaving the centers behind, they're not done baking.
On that note, make sure you have an accurate oven thermometer to make sure that any failures are not simply due to a fluctuating cranky oven!
Ripen your macarons - A little hollow on top is okay
If your shells have a nice chewy center and a crisp shell, but a small hollow space between the center and the top of the shell, don't be too alarmed. Once you add filling and ripen the macarons in the fridge for 1-3 days, that hollow top should almost disappear.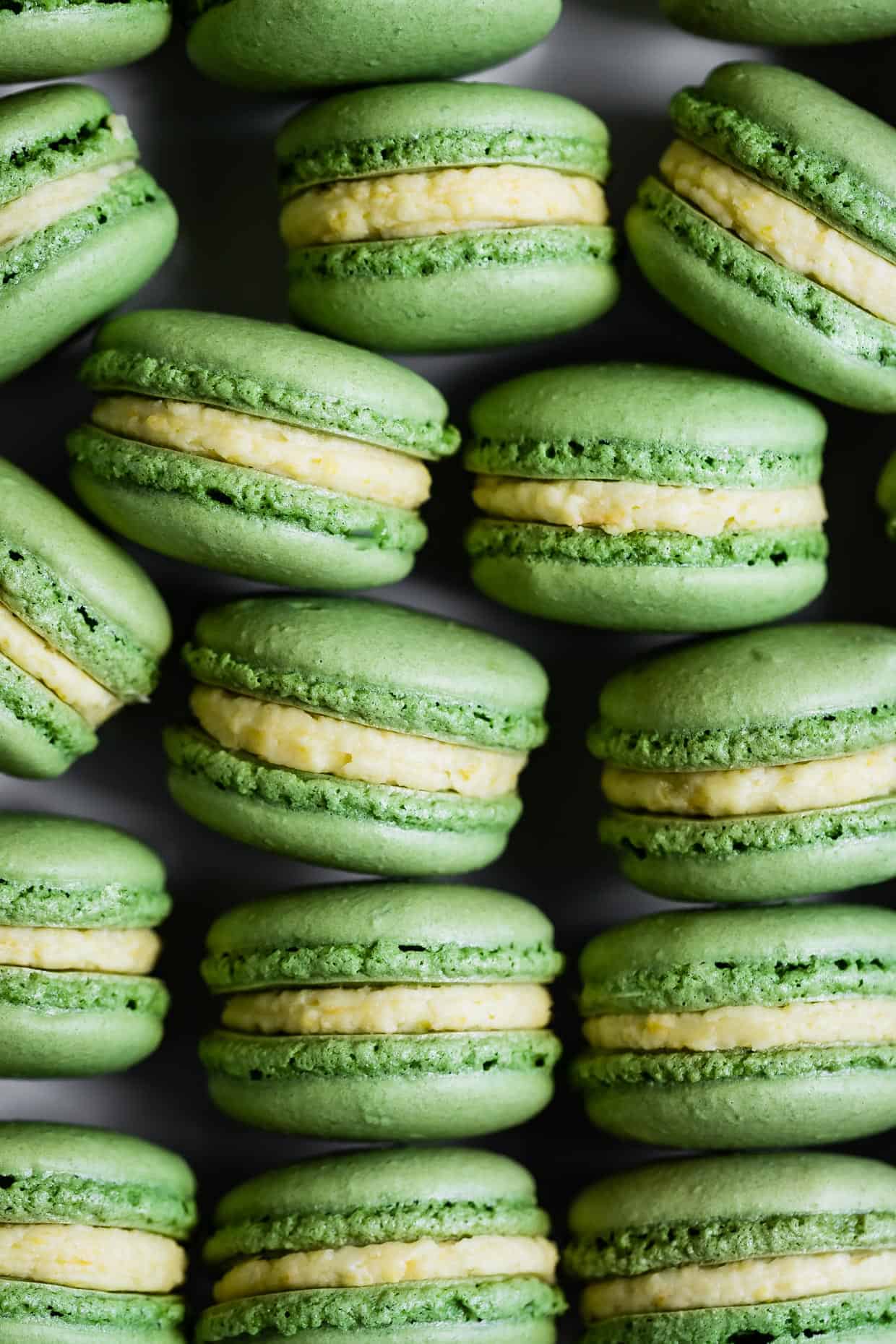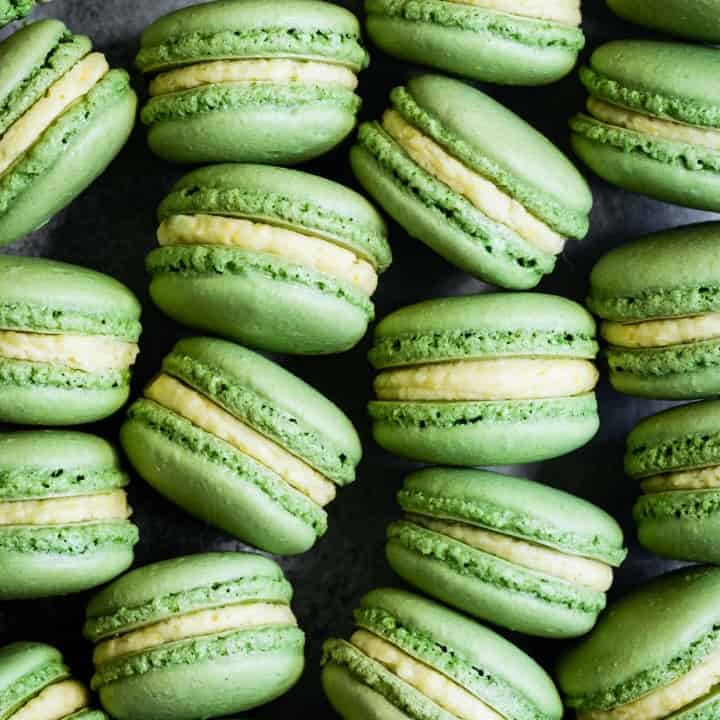 Matcha Macarons with Mango Buttercream
Total Time:
1 hour
5 minutes
These matcha macarons have a crispy shell and a chewy center with an earthy matcha flavor and tart mango buttercream! Plus tips & tricks on perfecting macarons!
Ingredients
Matcha Macarons
171 grams (1½ cups) powdered sugar
3 large egg whites (108g), room temperature
81g (about ¼ cup + 2 tablespoons) granulated sugar
Mango Buttercream
8 tablespoons unsalted butter, room temperature
2 cups (262g) powdered sugar, sifted
¾ cup (63g or 2.2oz) ground freeze dried mangos, sifted (I get two 1.2 ounce bags and grind them to pwoder in my food processor before measuring)
½ teaspoon vanilla extract
¼ teaspoon kosher salt
3-5 tablespoons heavy cream
Instructions
Matcha Macarons
First, read all my tips above to know what the consistency of the macaron batter should be. Preheat oven to 300 degrees with rack in lower third. Sift together almond flour, powdered sugar, and matcha. Sift a second time.
In the bowl of a clean and dry stand mixer fitted with the whisk attachment, whisk the egg whites and granulated sugar gently to combine. Beat the egg whites and sugar on medium speed (4 on a KitchenAid) for 2 minutes. Increase the speed to medium-high (6 on a KitchenAid) and beat for an additional 2 minutes. Increase the speed once more to high (8 on a KitchenAid) and beat for 2 minutes longer. Your meringue should be very stiff and glossy, and clump together in the beater. Tap the meringue out of the whisk.
Add your sifted dry ingredients to the meringue all at once. Use a rubber spatula to fold the meringue in a circle scraping the outside of the bowl, then cutting the flat side of the spatula through the center of the batter, pressing against the side of the bowl. Repeat this process until the batter reaches the consistency of molten lava as described above, 40-43 strokes.
Place a pastry bag (or large disposable plastic storage bag) fitted with a ⅜-inch round tip inside a glass or bowl. Transfer the batter to the bag - if you notice some unmixed dry ingredients in your bowl, do not incorporate or transfer them - and twist the top of your bag closed. Line two half-sheet baking sheets with parchment paper (I use the parchment paper with macaron guides printed on it!), using a bit of the macaron batter to secure the corners down.
Pipe the batter into a ¾-inch round, swirling the tip, spacing the macarons 1-1½ inches apart. Tap the baking sheets firmly on the counter 2-3 times to release any air bubbles. Let rest for 20-30 minutes, until the macarons are dry to the touch and the batter doesn't stick to your finger.
Bake one sheet at a time until they have risen, and the tops no longer jiggle from the feet, 13-16 minutes. Let cool completely before filling. Once cool, make the buttercream below.
Mango Buttercream
In the bowl of a stand mixer fitted with the paddle attachment, cream the butter over medium speed. With the mixer on low, slowly add the powdered sugar, ground freeze-dried mangos, vanilla extract, and salt. Beat until combined. Add the heavy cream, 1 tablespoon at a time to loosen until soft enough to pipe, but still sturdy. Fill a piping bag fitted with a ½-inch round pastry tip with the frosting.
Pair the macaron shells by similar size and shape. Pipe a dollop of frosting onto half the macarons, then gently make a sandwich with the paired macaron shell. Keep macarons in an airtight container in the fridge to ripen for 1-3 days before eating and bring to room temperature for 30 minutes before eating.
Notes
While I normally use organic powdered sugar and organic cane sugar in my baking, I used conventional powdered sugar and granulated sugar in macarons to eliminate a potential troubling factor. Organic powdered sugar is laced with tapioca starch rather than the traditional corn starch and I was worried that would influence the outcome!