Tender and fluffy gluten-free biscuits made with almond flour. Make these easy buttery biscuits with buttermilk or milk! Serve warm with butter and jam, topped with gravy, or add a tablespoon of sugar for strawberry shortcake biscuits.

I've been craving biscuits. The kind you can split open and top with butter and jam or sausage gravy for breakfast, eat as a precursor to dinner, or sprinkle with sugar and layer up with whipped cream and strawberries for dessert. While I've been making cobbler and pot pie with soft tender gluten-free biscuits nestled on top for years (see here, and here, and here, and here), the perfect simple classic gluten-free biscuit on a baking sheet remained elusive. Until now, that is.
These homemade gluten-free biscuits are versatile, making this a back pocket recipe to keep on hand wherever it is you store your most-loved recipes (recipe card box? binder of printed recipes? folder on your desktop?).
I developed these gluten-free biscuits as part of my ongoing collaboration with OXO. This month, in honor of OXO celebrating 30 years, I'm featuring some of my most-used OXO products while making homemade buttermilk biscuits, a classic recipe that also lasts through the decades.
If you've been here before, you know it's no secret that my OXO tools are well-loved in my kitchen. I've been using OXO products ever since I got my first measuring cup in college, which is also about as long as I've been making buttermilk biscuits. Here you'll see just a few of the products I use in my everyday baking and why I recommend them!



How to Make Gluten-Free Biscuits
Everyone needs a go-to biscuit recipe. I baked Joy of Cooking's buttermilk drop biscuits for years before becoming gluten-free. Since then, my forays into gluten-free biscuits churned out biscuits that, while edible, tended to spread too wide with a very moist cakey center. Tasty, but I craved the flakey light fluffy biscuits of my past.
It turns out that, for as simple as biscuits are, gluten-free biscuits require much more precision in measuring and method than gluten-free cakes or cookies. I've outlined everything you need to know to get that quintessential biscuit.
Gluten-Free Biscuit Dough
While it seems counter-intuitive, having a well-moistened dough turns out biscuits that are lighter and fluffier. The dough may at first seem too moist and sticky. Just be sure to dust your surface and hands well with tapioca flour and have a multi-purpose scraper handy to keep the dough and biscuits from sticking.
Flour Blend for Fluffy Gluten-Free Biscuits
I've made over a dozen batches of biscuits a dozen different ways and the fluffiest most flavorful biscuits were made with almond flour. This final recipe started as a riff on the almond flour biscuits from my blueberry cobbler recipe, but the first iterations spread too much and were too moist rather than fluffy.
I also discovered that sheet-pan gluten-free biscuits need a balance between higher and lower-protein flours to help them rise and bake up fluffy. So to balance out the high-protein almond flour, oat flour was swapped out for a combination of lower-protein flours: millet and tapioca flour.
The result is a fluffy gluten-free biscuit that's balanced and buttery in flavor.



Gluten-Free Biscuit Recipe Tips
Many of these tips apply to general baking, but here are my top tips for ensuring you get the best gluten-free biscuits. They're all easy tips, but read them through, lest you end up with dense biscuits.
Use a scale to measure your ingredients
Biscuits are especially susceptible to becoming dense hockey pucks when too much flour is used. The way you scoop and measure a flour can drastically change the weight of a cup of flour. This is exacerbated with gluten-free baking, in which you measure out multiple types of flour. Moreso, different brands have different coarseness of the grind, which also affects how much a cup of flour weighs. Use a scale to make sure you've got accurate measurements.
Whisk your gluten-free flours well
Once you add the butter, you want to do as little mixing/handling of the dough as possible to keep the butter as cold. To ensure your gluten-free flours are well blended then, whisk them well before cutting in the butter.
Grate frozen butter into the flour
The most successful methods to cut the butter into the flour for gluten-free biscuits are to use a food processor or to grate frozen butter right into the flour bowl. I opt for the latter method because I hate washing appliances. Use frozen butter so the butter stays cold without the heat from your hand melting it as you grate. The OXO etched two-fold grater can be used upright like a box grater or detached so you can lay it directly over a mixing bowl. I especially love this grater because it's super sharp and makes thin wide curls.
Feel free to make your own buttercream
Whenever I have buttermilk on hand, I make biscuits, but more often than not, I want biscuits when I don't have buttermilk. Don't let that stop you! Add 1 tablespoon white vinegar or lemon juice to the measuring cup then top it off with milk to equal 1 cup. The OXO angled measuring cup makes it so much easier to precisely measure 1 cup without accidentally pouring too much.
Chill the flour and butter mixture before adding the buttermilk
To keep gluten-free biscuits from spreading flat, keep your ingredients as cold as possible. After tossing the grated butter into the flour, give it another chill before adding the milk.
Cut tall narrow biscuits
Gluten-free biscuits are more prone to spreading out than their gluten counterparts. To encourage tall fluffy biscuits press your dough out to 1¼-inch thick and use a 2-inch biscuit cutter. When cutting the biscuits, be sure to press down then straight up without twisting the cutter, which would pinch off the sides, discouraging rise.
Bake on a sturdy, light baking sheet
Biscuit bottoms can easily get too brown using a flimsy or dark baking sheet. I recommend the OXO non-stick jelly roll pan because it's thick, light-colored, and textured to promote even baking.
Brush the warm biscuits with butter
Do it, you won't regret it.





Best Gluten-Free Biscuits
With this recipe and list of tips, you're so close tender fluffy buttery gluten-free biscuits you can almost smell them. If you're just baking for 1-2 people, you can easily halve this recipe to make 4-5 biscuits. Or split the dough and bake half with the sugar option to make strawberry shortcake for dessert!
More Gluten-Free Dough Recipes
This post is sponsored by OXO, a long-term partner of Snixy Kitchen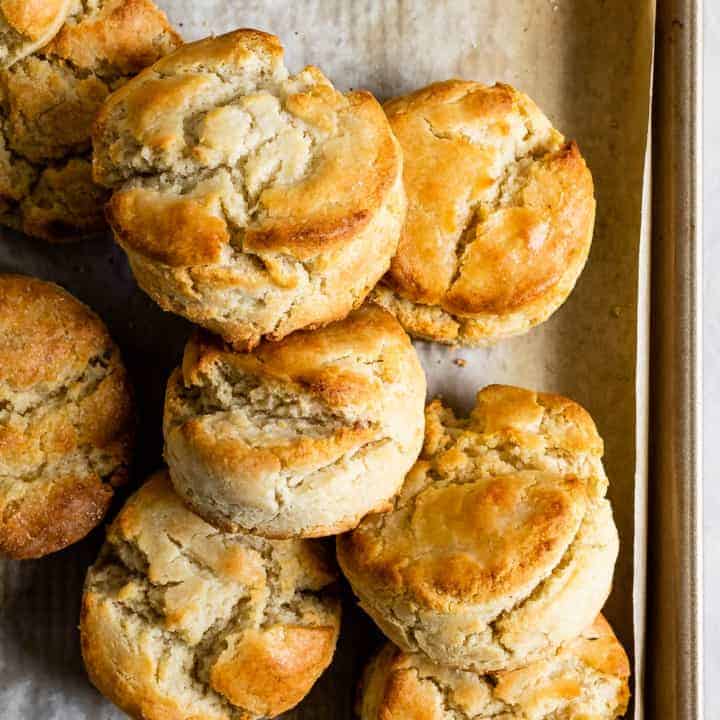 Fluffy Gluten-Free Biscuits
Tender and fluffy gluten-free biscuits made with almond flour. Make these easy buttery biscuits with buttermilk or milk! Serve warm with butter and jam, topped with gravy, or add a tablespoon of sugar for strawberry shortcake biscuits!
Ingredients
Scant 1 cup whole milk (1 cup milk minus 1 tablespoon), plus more for brushing
1 tablespoon white vinegar (alternatively, skip the milk and vinegar and use 1 cup buttermilk)
152g (¾ cup + 3 tablespoons) sweet rice flour (Also called mochiko. Different from "white rice flour" or "brown rice flour")
128g (1 cup + 2 tablespoons) Bob's Red Mill superfine blanched almond flour
70g (¼ cup + 3.5 tablespoons) Bob's Red Mill millet flour
35g (¼ cup + 1 tablespoon) Bob's Red Mill tapioca flour
1 tablespoon + ½ teaspoon baking powder
½ teaspoon baking soda
½ teaspoon kosher salt
Optional, for sweet biscuits: 2 tablespoons sugar
6 tablespoons (84g) unsalted butter, frozen for at least 30 minutes
Optional: 1 tablespoon melted unsalted butter, for brushing
Instructions
If using milk, combine the cold milk with 1 tablespoon white vinegar to make 1 cup. Set aside while you prepare the rest. Alternatively, use 1 cup cold buttermilk.
In a medium mixing bowl, sift together sweet rice flour, almond flour, millet flour, tapioca flour, baking powder, baking soda, and salt. Whisk the flours well to combine. For sweet biscuits, add 1½ tablespoons sugar.
Grate the frozen butter directly into the dry ingredients using a coarse grater. Working quickly, use your hands to toss the butter into the dry ingredients until just evenly distributed. Chill the flour and butter for 10 minutes. Line a large baking
sheet with parchment paper.
Once chilled, create a well in the center of the flour and pour the milk or buttermilk into it. Use a fork to mix gently until evenly distributed, forming a shaggy dough.
Dust a work surface generously with tapioca flour and use a rubber spatula to dump the dough onto the surface. Use tapioca-flour-dusted hands to quickly form it into a ball - it will seem very moist. Dust the top with just a bit more tapioca flour. Working quickly, press into a ½-inch tall rectangle. Use a multipurpose scraper or chopper to create two creases to fold it in thirds like a letter, then again in half. Press out again and repeat the folding three more times, lifting the dough with the scraper and dusting the surface with tapioca flour as you go. Press into 1¼-inch tall round or rectangle. Use a 2-inch round pastry cutter or cookie cutter to cut as many rounds as possible (press down and up, but do not twist!). Using the scraper to lift it from the surface, transfer each biscuit to the lined baking sheet, at least 1½ inches apart. Reroll scraps once, repeating the folding a couple of times until you've cut out 9-10 biscuits. Place the baking sheet in the freezer for 10 minutes or fridge for 30 minutes.
Preheat oven to 475°F. Remove the biscuits from the freezer and brush the tops with milk. If making sweet biscuits, sprinkle with remaining sugar. Bake for 16-20 minutes, until lightly golden brown on top.
When the biscuits are warm, brush with melted butter. Transfer to a wire rack to cool slightly before serving.
Notes
Biscuits are best the day you make them. Store any leftover biscuits in an airtight container for up to two days. Or use them for strawberry shortcake.
Nutrition Information:
Yield:

10
Serving Size:

1
Amount Per Serving:
Calories:

275
Total Fat:

15g
Saturated Fat:

6g
Trans Fat:

0g
Unsaturated Fat:

8g
Cholesterol:

24mg
Sodium:

259mg
Carbohydrates:

30g
Fiber:

2g
Sugar:

5g
Protein:

5g