Last updated on June 12th, 2019
This gluten-free blueberry cobbler the easiest dessert for summer entertaining. Vanilla-stewed blueberries with buttery oat and almond flour biscuits dropped on top. These flavorful cobbler biscuits bake up with brown crispy tops with soft fluffy dumplings underneath. Best served with vanilla ice cream!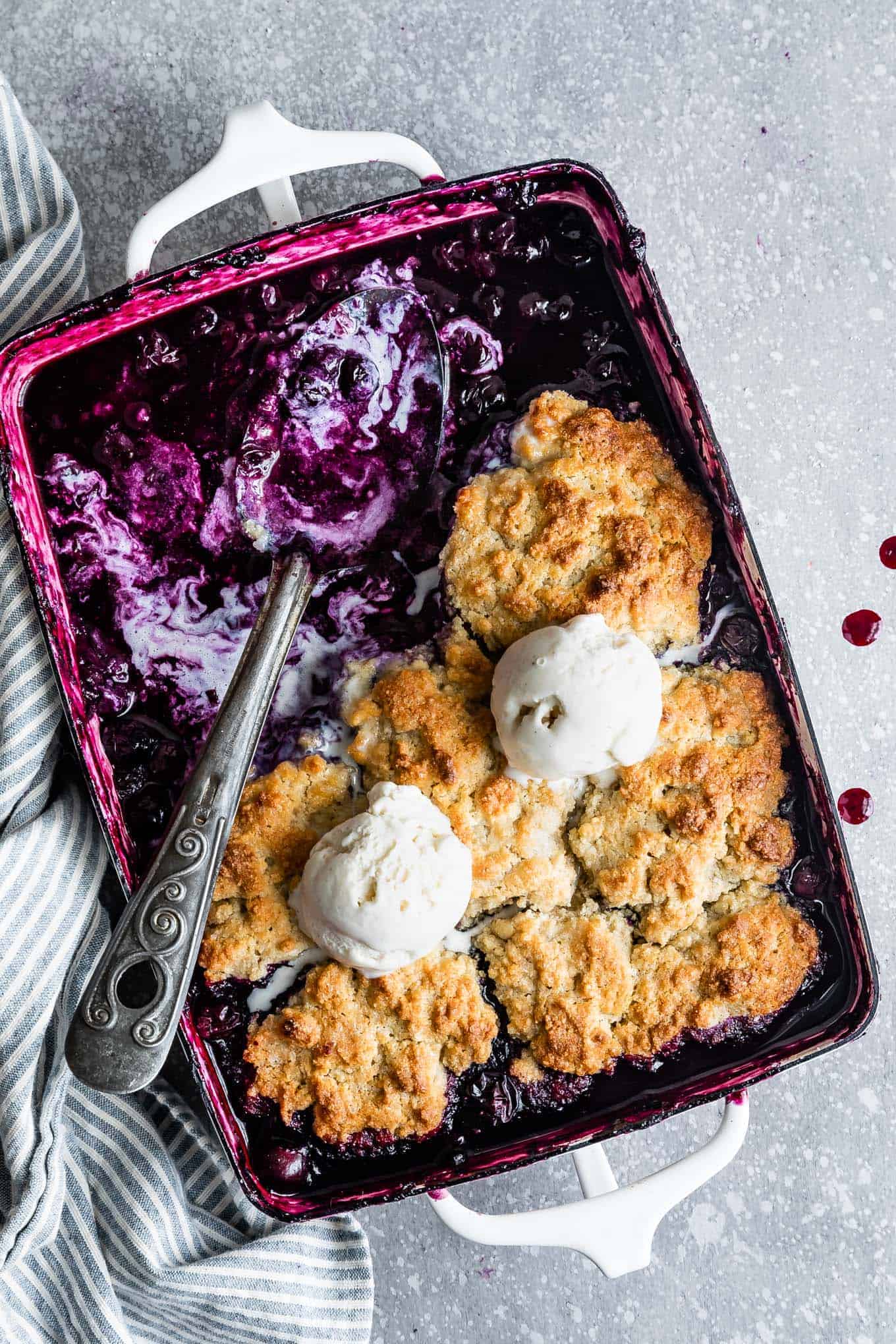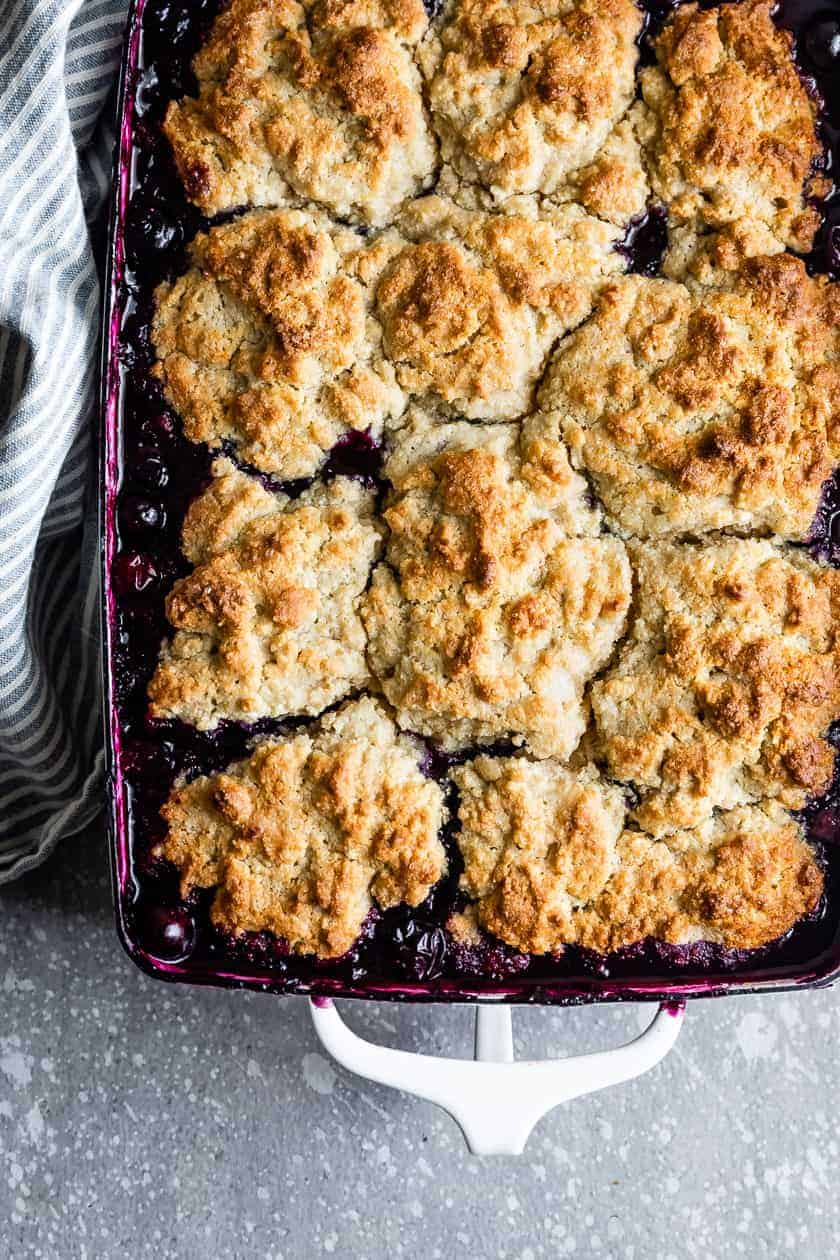 This post is sponsored by Bob's Red Mill, a year-long partner of Snixy Kitchen
A few Sundays ago, Zoella (age 3) woke up asking if she could bake a berry pie. I wanted to test this gluten-free blueberry cobbler again anyway, so I obliged and kept referring to this cobbler as "pie" to satisfy her wish. It's definitely not pie, but we'll get to that later.
When it came time to bake the "pie", Zoella said she was "busy doing a project" (with a toilet paper roll and pipe cleaners) and refused to help me. I think she tricked me into making this blueberry cobbler for her – what she really wanted was to eat a pie, not bake a pie.
We had our neighbors over for dinner that night and Zoella's announced that she made a pie! I feel like I'm living a gluten-free re-enactment of The Little Red Hen. I'm the hen. Except nicer because I still shared the cobbler.
Gluten-Free Blueberry Cobbler
When I admitted to Zoella and the neighbors that I'd actually made a gluten-free cobbler, we wound up in an intense dinner table conversation about what defines a cobbler. We all had strong and varied beliefs.
One neighbor and my Texan husband argued cobbler has a lattice pie pastry crust, making it not all that different from a pie. No cobbler I ever saw growing up in California looked like that! One person thought a cobbler had a crust on the bottom, while someone else vehemently did not. So it seems there are many variations even within the very definition of cobbler. We all agreed though, this cobbler certainly was not pie. (Sorry, Zoella. I tricked you too.)
This homemade gluten-free blueberry cobbler fourth recipe in a year-long partnership with Bob's Red Mill. So far this year, I've made gluten-free pop tarts with strawberry jam, gluten-free matcha crepe cake, and gluten-free almond flour pasta. Now I'm making a gluten-free blueberry cobbler with easy oat and almond flour biscuits – perfect for quick summer entertaining!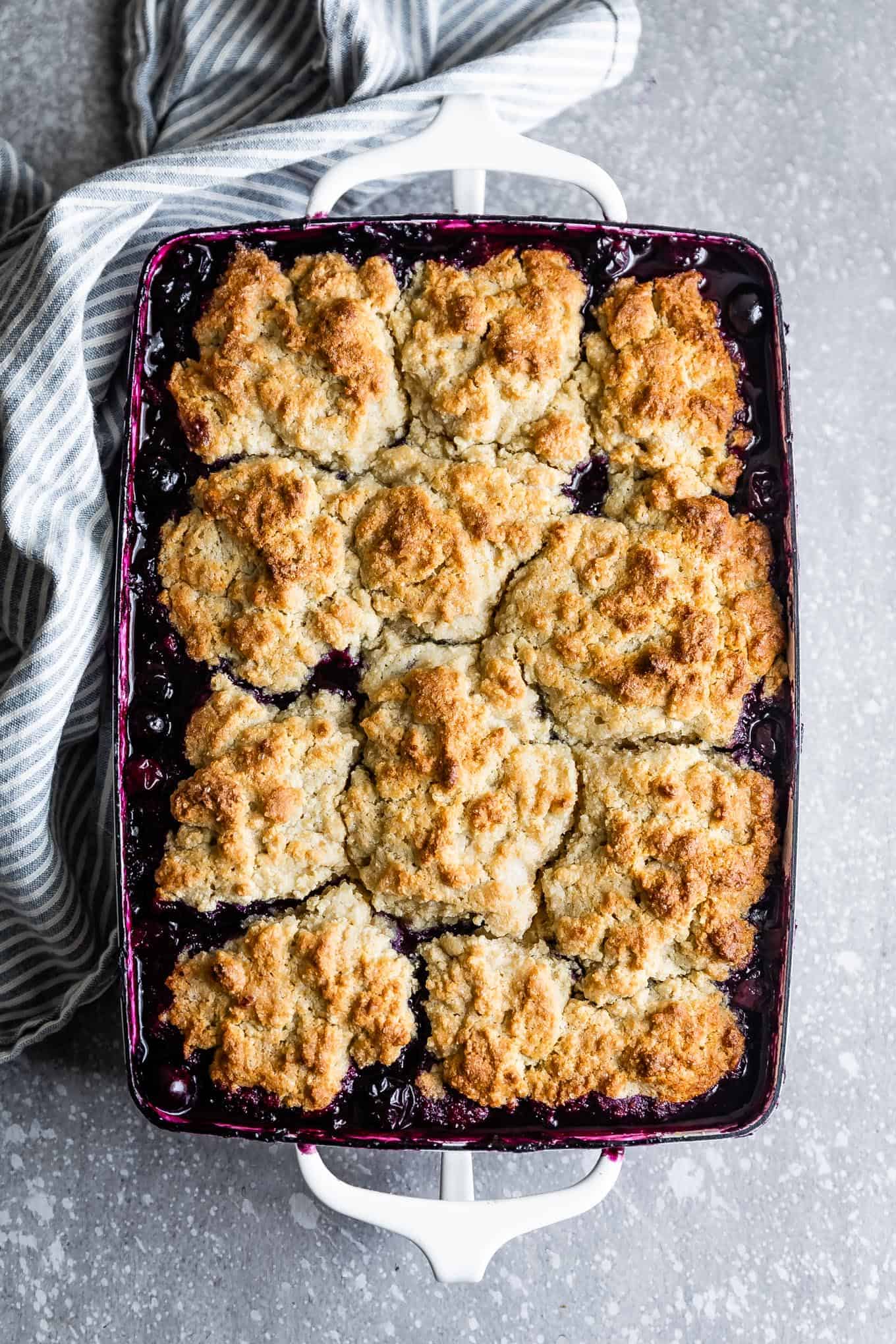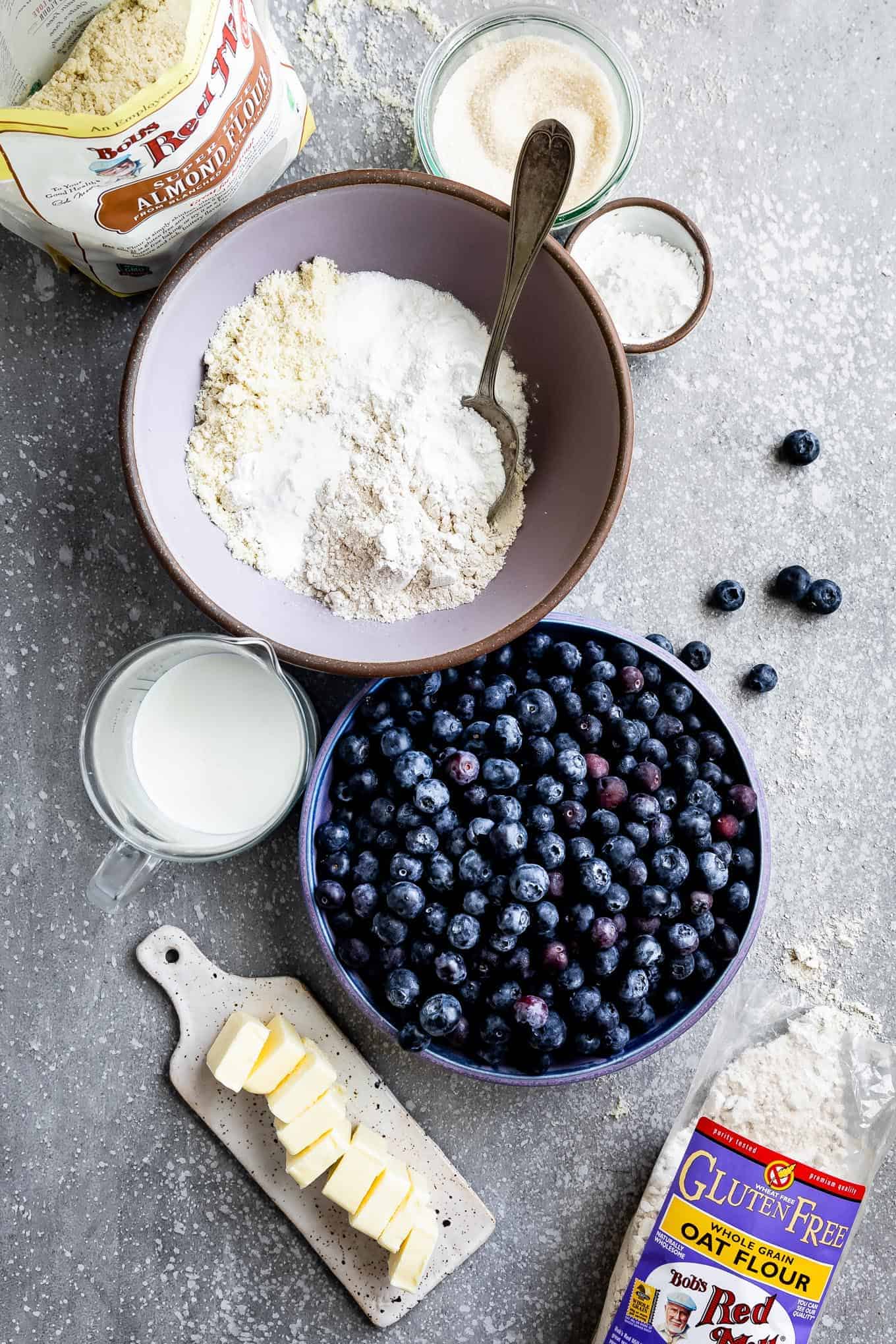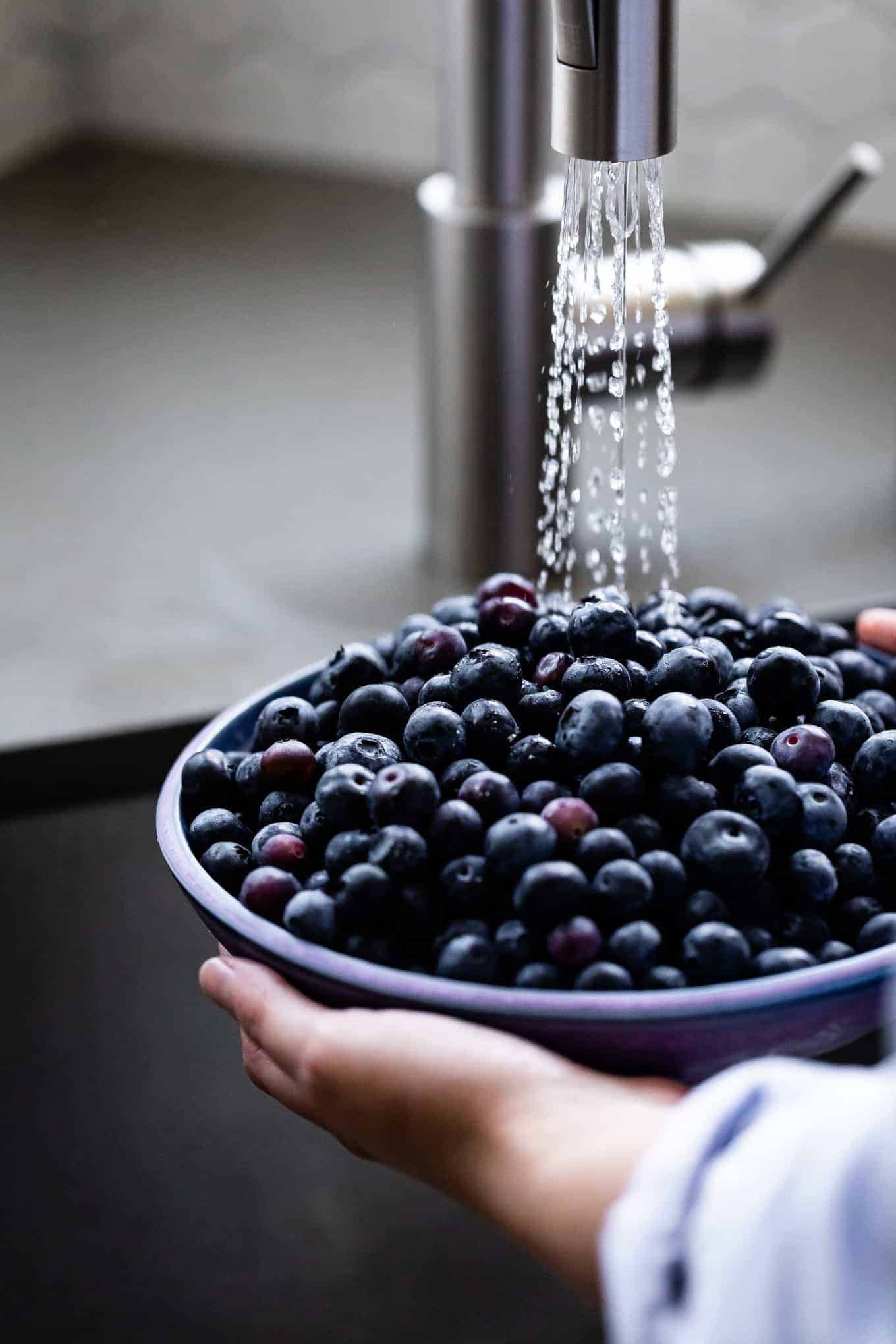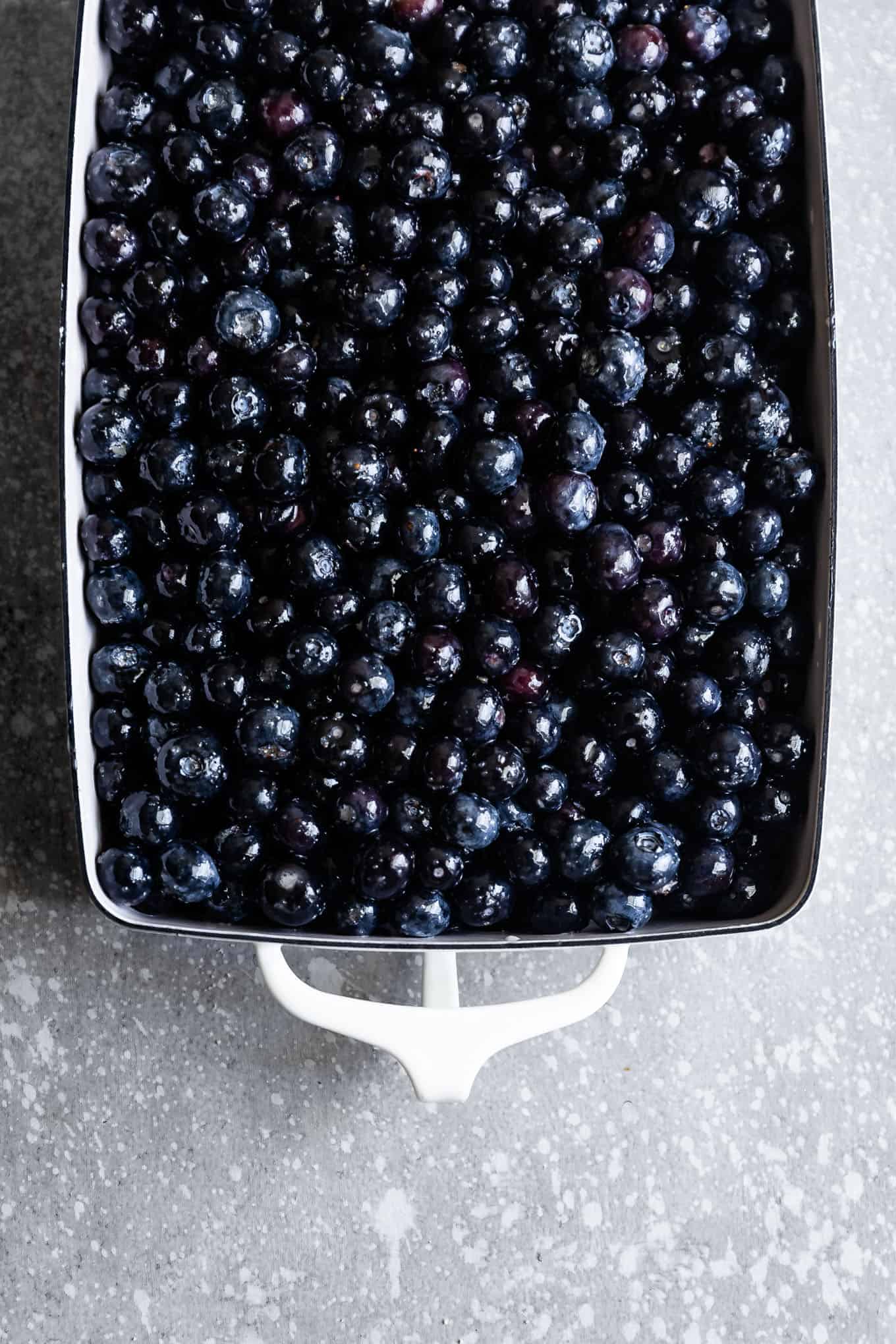 What to put on top of a cobbler?
While everyone agrees that cobbler has loads of baked seasonal fruit at its core, three are many variations for what kind of pastry to put on top of the stewed fruit. You can top it with a pourable batter that bakes up almost like cake, cookie dough, pie pastry crust, or some kind of biscuit.
Those biscuits can be rolled out and cut or shaped into rounds, or made from a moist dough dropped from a spoon on top of the fruit.
I'm using the spoon drop biscuit method here to cobble together this gluten-free cobbler (ha…ha…).
Almond Flour Biscuits
I've topped this gluten-free blueberry cobbler with almond flour biscuits made with a combination of three easily accessible Bob's Red Mill flours: almond flour, oat flour, and sweet rice flour. Together these flours create a flavorful soft biscuit that has whole grain and sweet nutty notes.
These gluten-free almond flour biscuits bake up as a crisp browned buttery biscuit cobbler topping. As the dough bakes, it expands to cover the berry compote, baking into soft fluffy biscuits partially submerged in the bubbling fruit. The top half is brown, crispy, and almost cookie-like, while the bottom half is soft and fluffy like steamed dumplings.
The three flours used for these biscuits are three of my most used gluten-free flours. If you're new to gluten-free baking but plan to do more of it, you'll likely use these three flours regularly. If you stock up on a bag of each, you can find a list of recipes that use all three in my recipe index!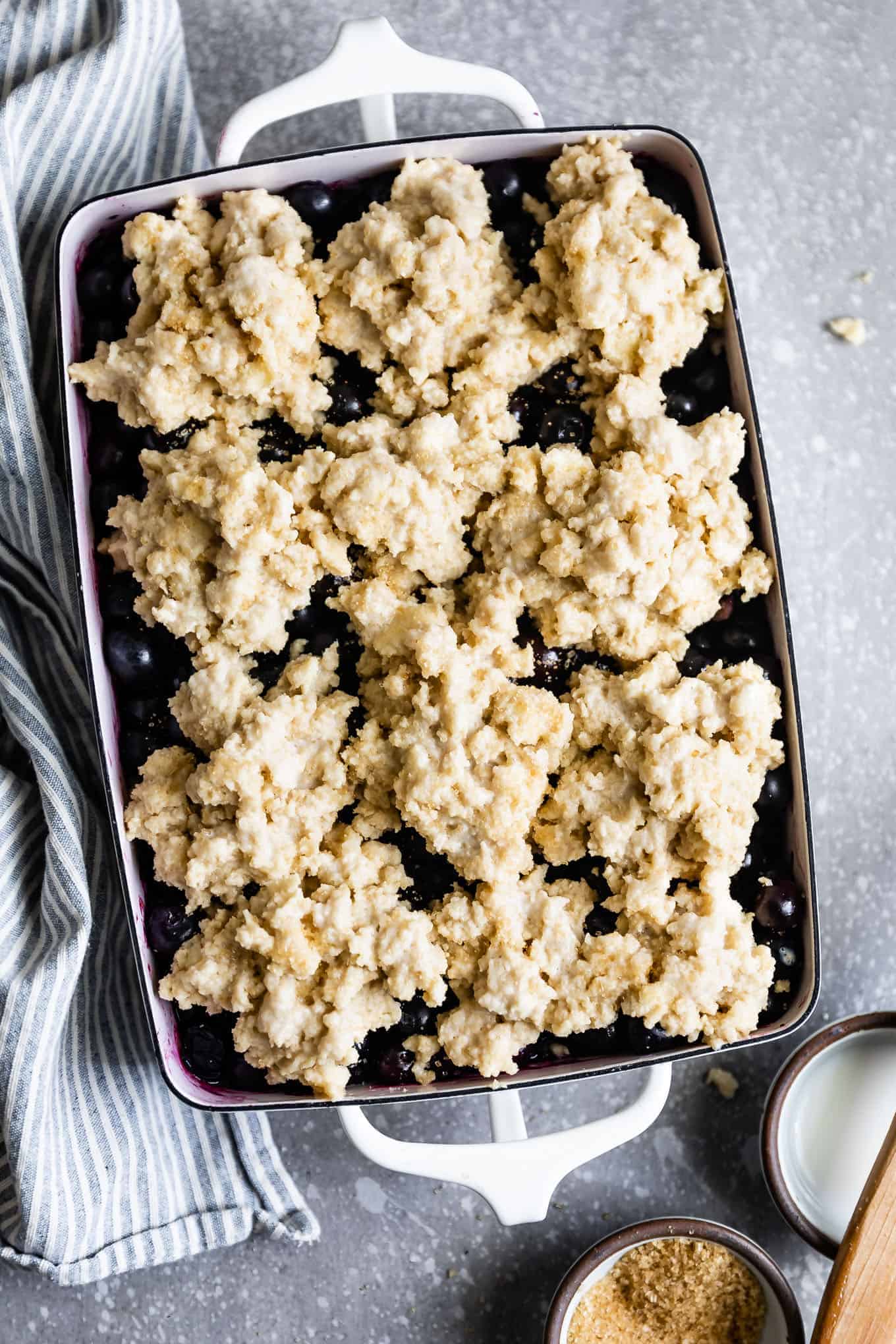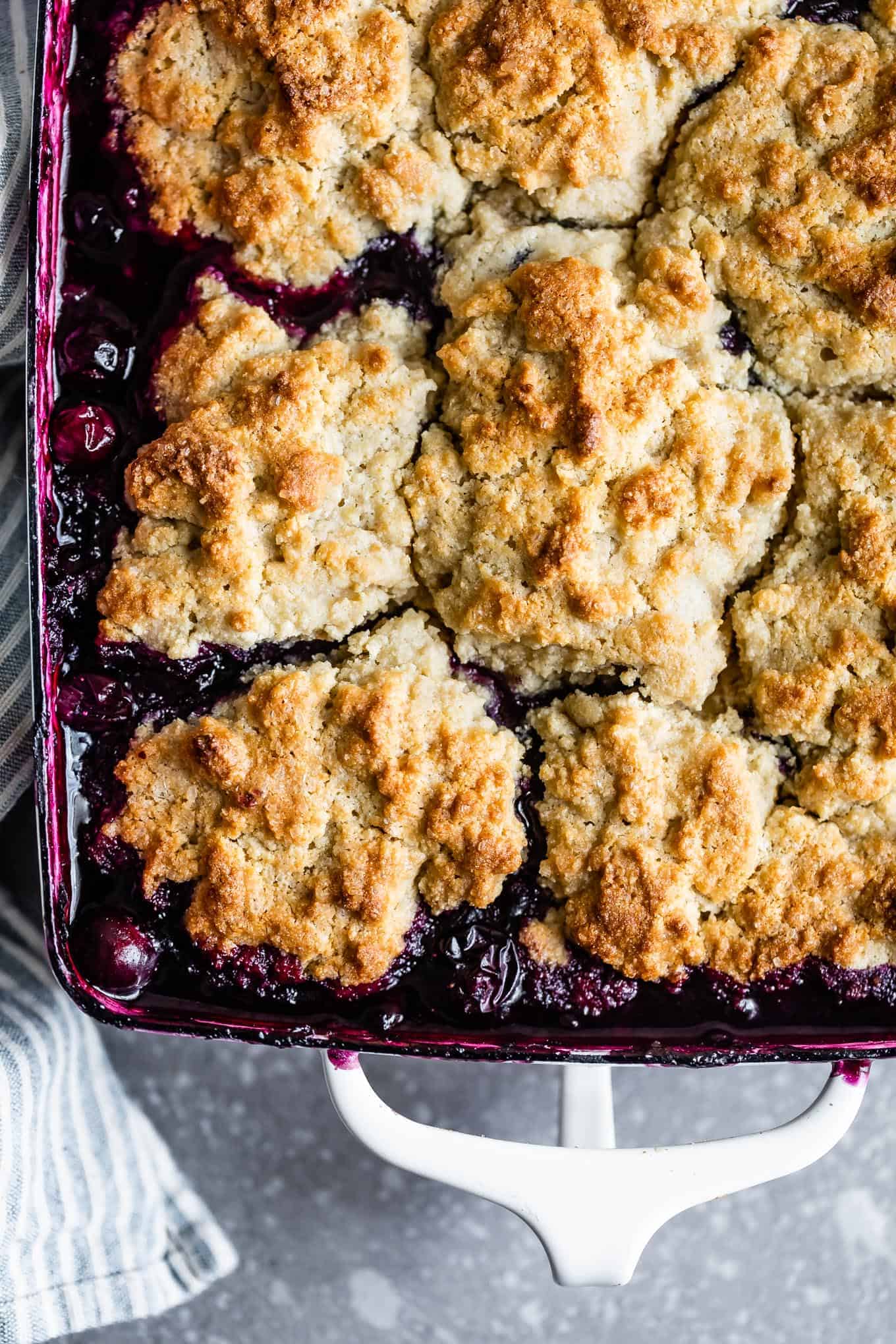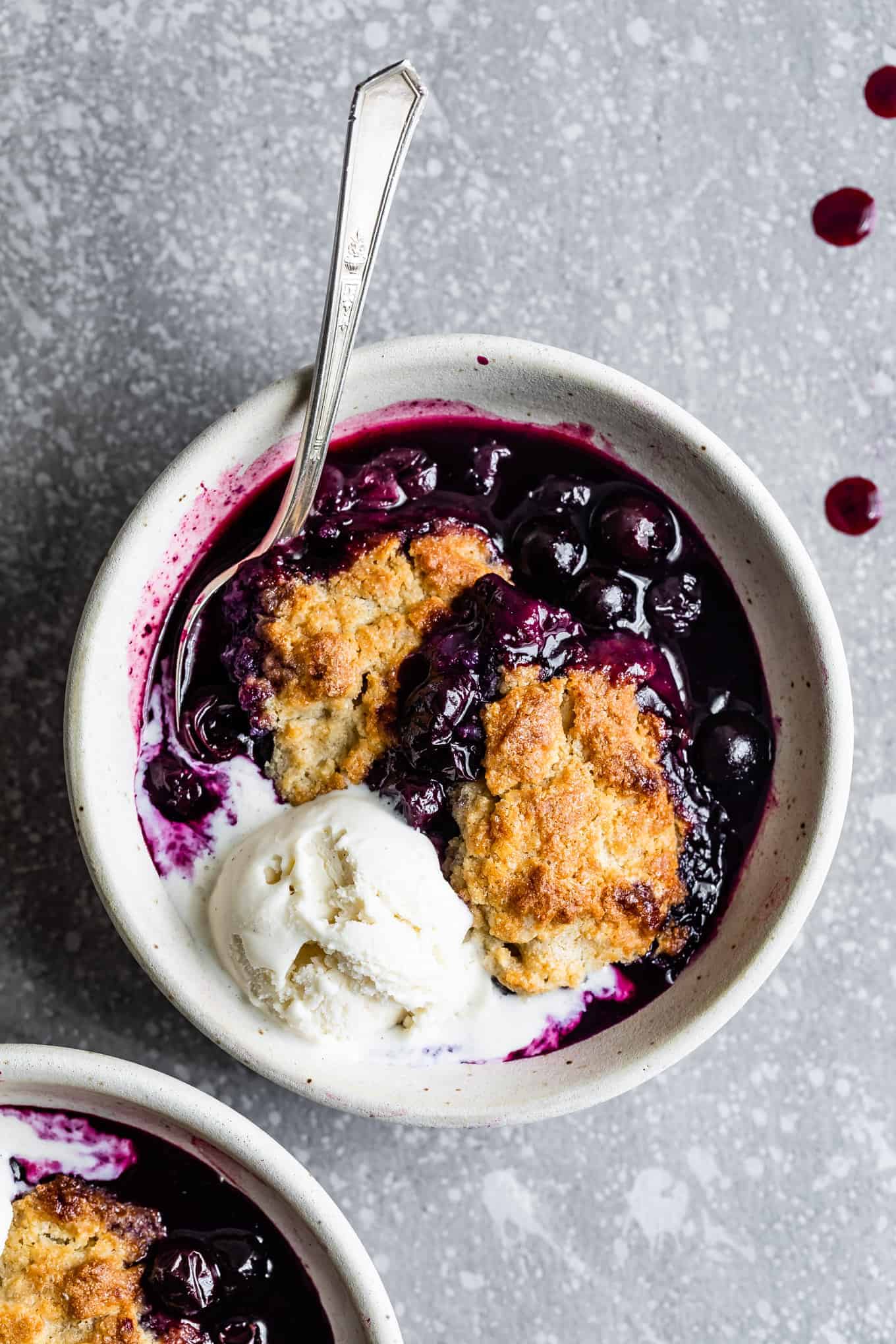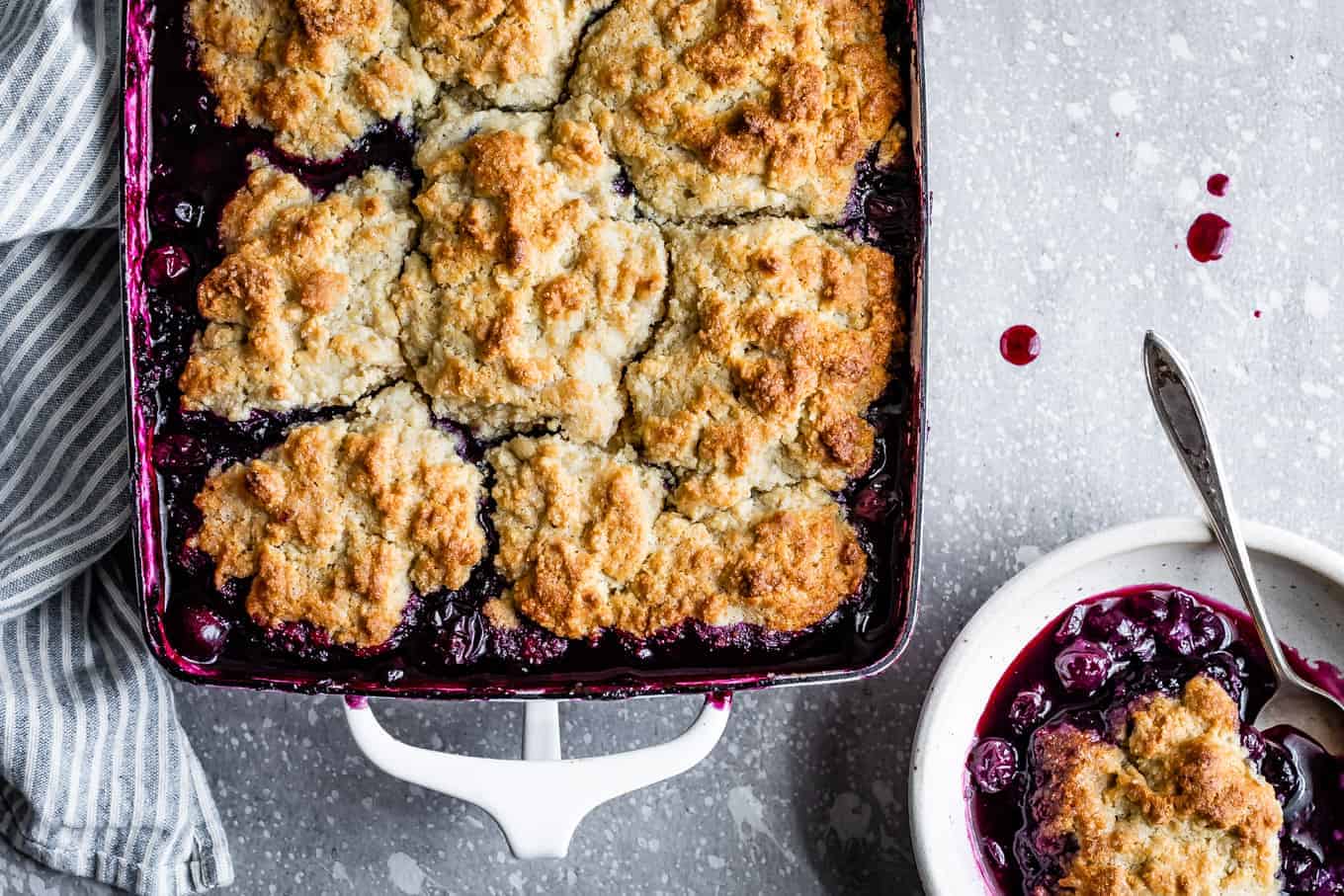 How to make a gluten-free blueberry cobbler
As a rustic dessert, blueberry cobbler is one of the easiest desserts to make. The ingredients are simple and it requires very little hands-on time. Toss berries with sugar and cornstarch, adding a little vanilla bean or extract if you desire. Dump it in a 2-quart baking dish to give the blueberries a short headstart.
Meanwhile, mix cold butter into the dry ingredients with your hands until crumbly and whisk in milk just to combine. Then drop the moist buttery almond flour biscuit dough over the warm fruit with a spoon. Don't worry about making them look pretty or well-shaped, the beauty of a cobbler lies in its cozy rough edges. With a brush of milk and a sprinkle of coarse sugar, they head into a high-heat oven to bake up brown and crispy.
Serve with an obligatory scoop of vanilla ice cream…or two!
If you can't get your hands on fresh blueberries, you can turn it into a gluten-free berry cobbler! I've made this with a mix of strawberries, blackberries, and blueberries as well and I've also included a note in the recipe for using frozen blueberries.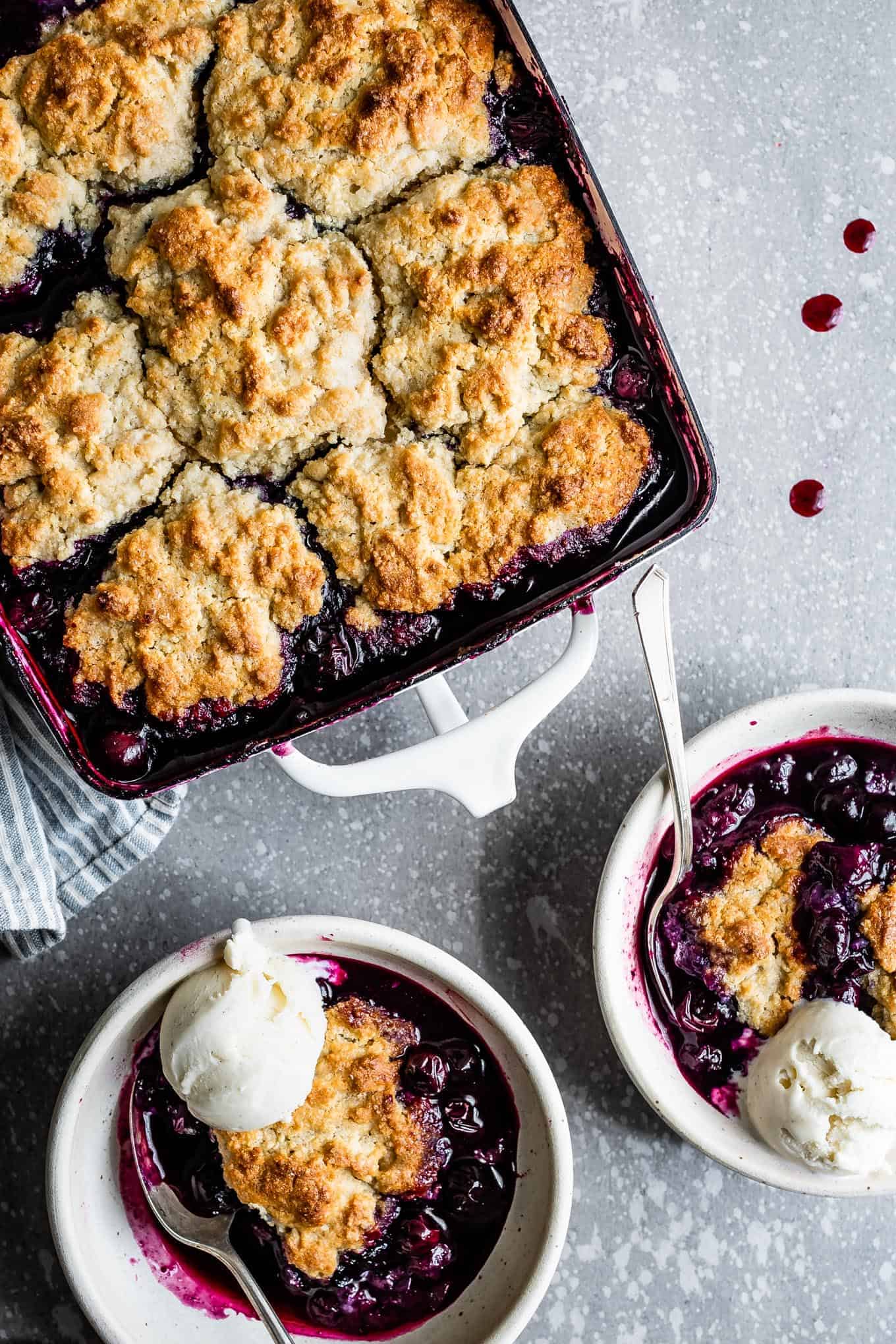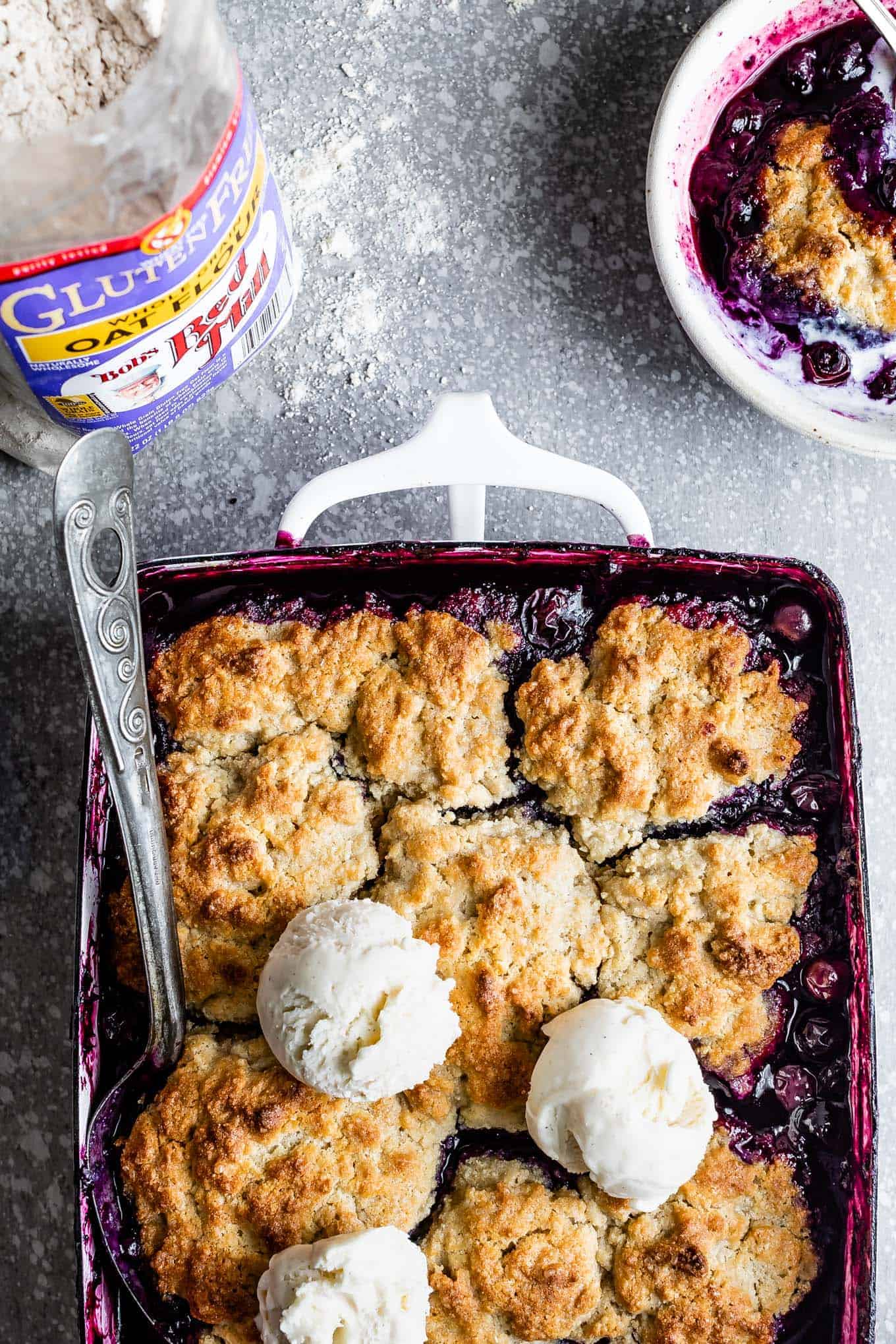 What makes a cobbler different from a pie?
While you make both cobblers and pies with lots of fresh fruit bubbling with dough, what makes something a pie versus a cobbler? The major difference between a pie and a cobbler is that a pie always has a bottom pastry crust, where a cobbler usually does not. A cobbler always has some kind of topping, usually baked pastry, dough, or batter.
Note: While a cobbler typically does not have a crust on the bottom, some variations double up the crust on top and bottom, which muddies the definition between pie and cobbler. For now, let's assume most cobblers stick with a single top layer of pastry or dough.
Is a Crumble, Crisp, Brown Betty, Grunt, Slump, Pandowdy, or Buckle the same as Cobbler?
Bubbling warm fruit mixed with dough can make a whole host of desserts. Here's a quick and dirty breakdown of the various rustic fruit desserts. Plus some inspiration recipes of what to bake next!
Crumbles and crisps: deep-dish baked fruit cooked desserts usually topped with some kind of crumbly streusel-like topping. I've written about the difference between the two on my gluten-free peach crumble recipe. In short, there are conflicting sources about the difference between crisps and crumbles. Some say one has oats while the other doesn't, but experts can't agree on which is which. The Kitchn suggests that distinction is passé and crumble and crisp are used interchangeably now.
Brown Betty: A deep-dish baked fruit dessert similar to a crumble or a crisp, but using finer crumbs that also incorporate breadcrumbs into the topping.
Grunts and Slumps: Most similar to a cobbler, grunts and slumps use a biscuit dough, but are cooked on the stovetop covered or uncovered (respectively) until the biscuits steam into little dumplings in the bubbling fruit. Admittedly, I've never made one of these because I prefer the crisp browned crust of a cobbler.
Pandowdy: Almost like a cross between a pie and cobbler, a pandowdy is another deep-dish baked fruit dessert that's topped with a pastry pie crust. Instead of a neat lattice or whole sheet pie crust, the pandowdy is a little messier. Traditionally, the fruit is topped with a sheet of pastry then partially baked before being broken up with a spoon or fork so the fruit bubbles up and creates a pudding-like consistency. Modern pandowdies tend to use shapes or cut up squares of pie dough layered more neatly on top of the fruit so it's sturdy enough that it won't disappear into the fruit when baked.
Buckle: a fruit dessert that is most similar to a cake. Fruit is dropped over or pressed into cake batter and it sinks as the cake buckles around the fruit in the oven. Sometimes people top the cake with more crumble before baking, but usually, this dessert can be easily sliced.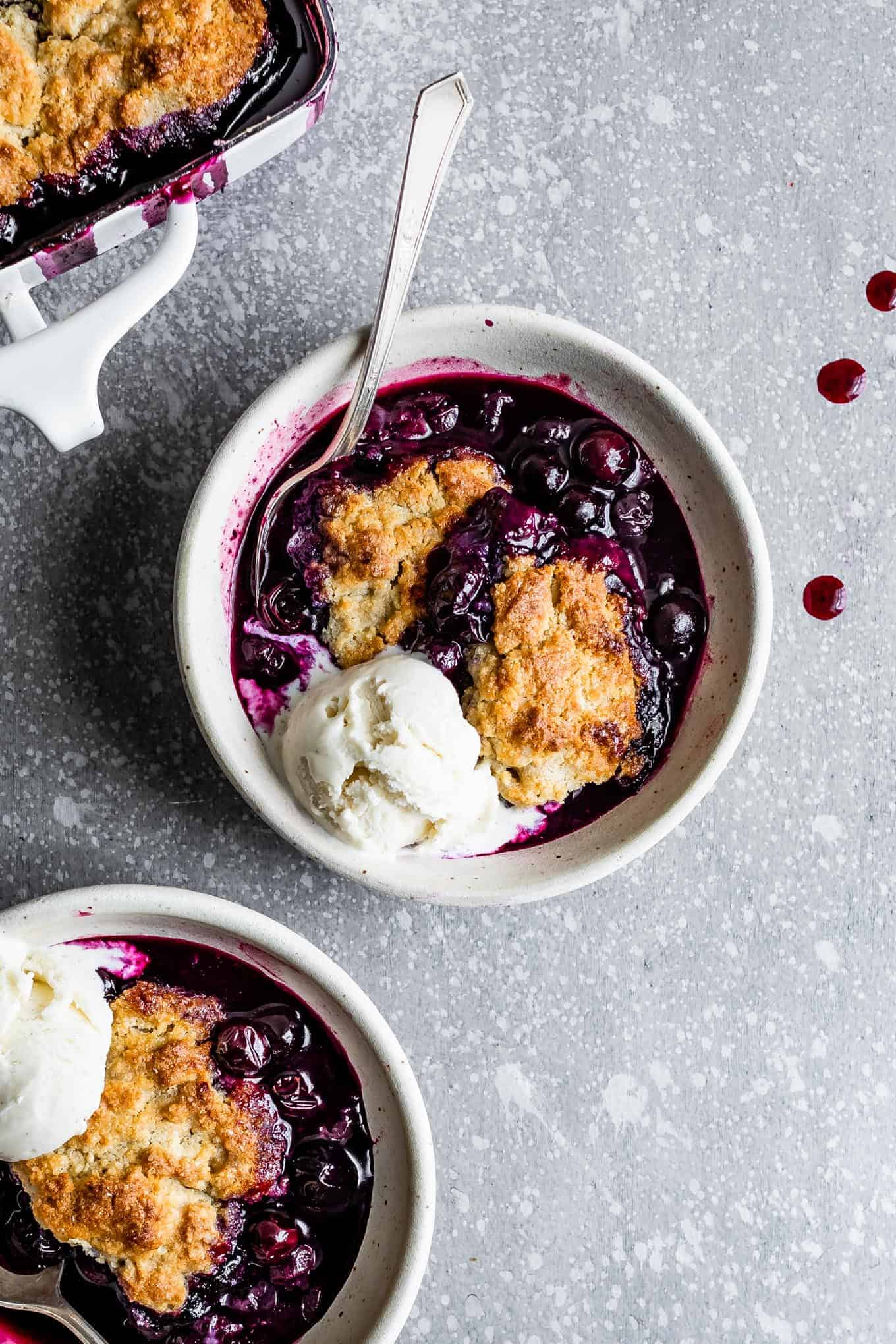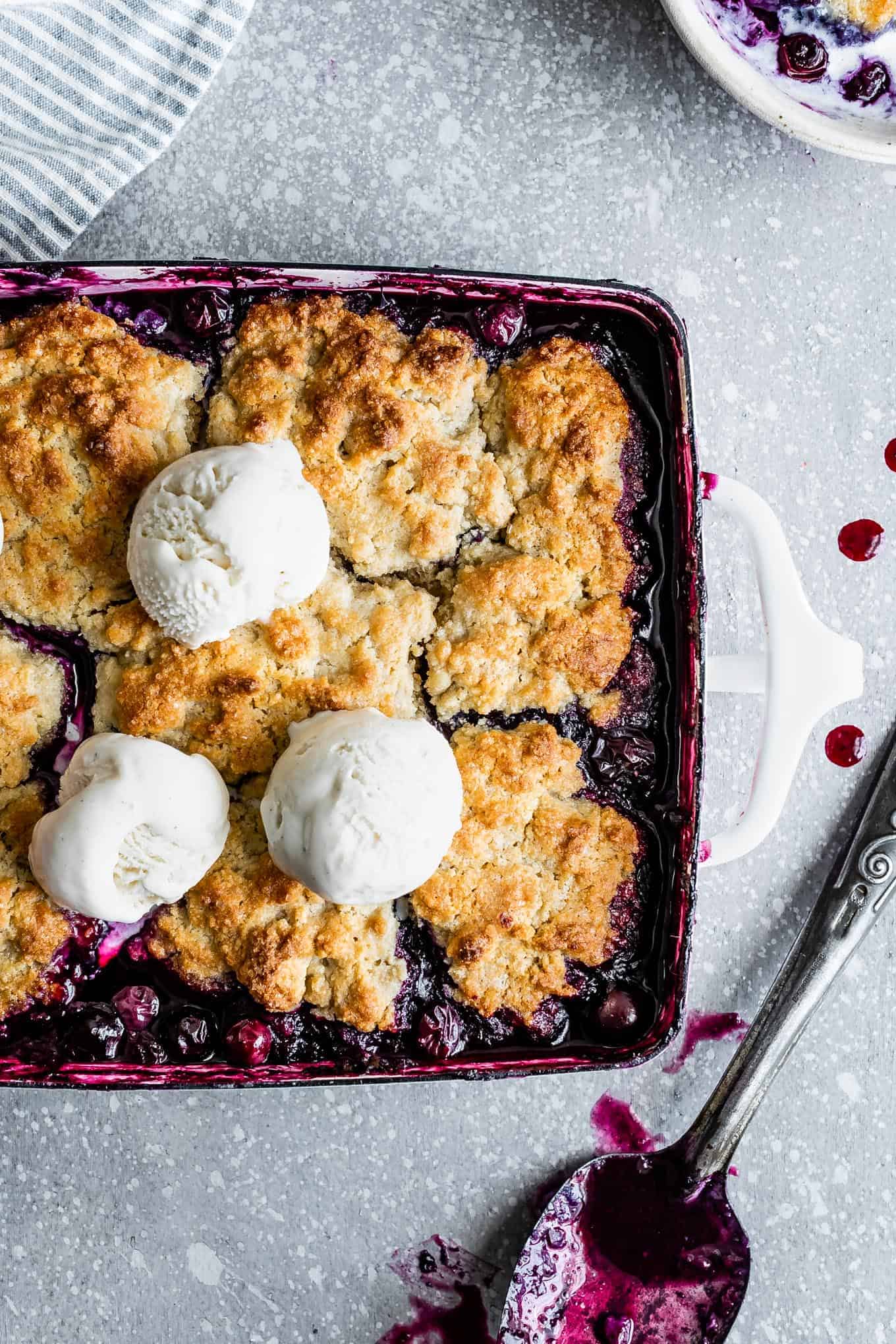 More Gluten-Free Cobbler Recipes
As fate would have it, both Alanna and I were simultaneously working on recipes for gluten-free blueberry cobbler. She's infused her cobbler with a hint of lavender and lemon, then topped the compote with earthy oat biscuits.
If you're looking for a small-batch cobbler, try Dessert for Two's blueberry cobbler and sub in 3 tablespoons each oat flour and sweet rice flour for the all-purpose flour to make it gluten-free!
And more gluten-free blueberry recipes!
Note: Zoella has since spontaneously announced to three different people that she made a blueberry pie. It's neither a pie nor did she make it.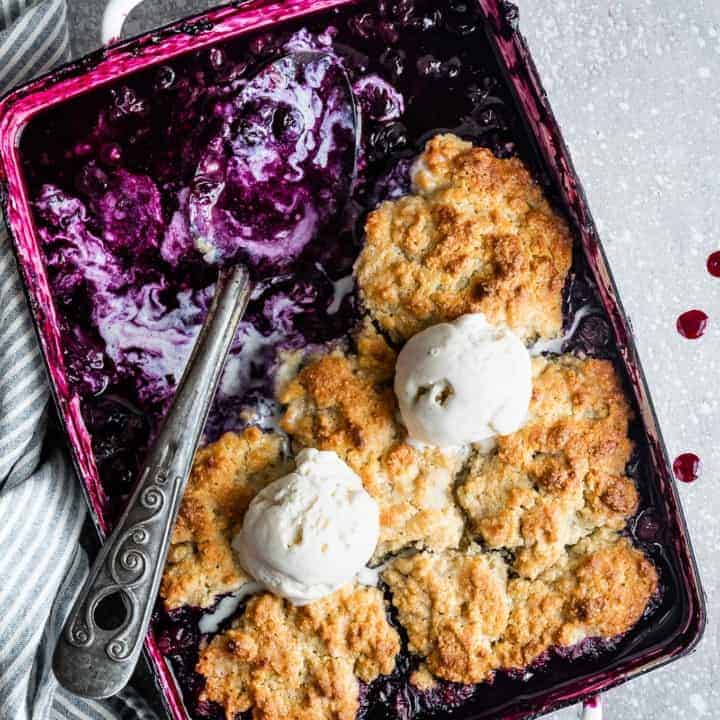 Gluten-Free Blueberry Cobbler
This gluten-free blueberry cobbler the easiest dessert for summer entertaining. Vanilla-stewed blueberries with buttery oat and almond flour biscuits dropped on top. These flavorful cobbler biscuits bake up with brown crispy tops with soft fluffy dumplings underneath. Best served with vanilla ice cream!
Ingredients
For the blueberries
8 cups fresh blueberries (4 pints) (*see note, if you'd like to use frozen)
1/4 cup sugar
Optional: 1 teaspoon vanilla bean paste or extract
For the Almond Flour Biscuits
½ cup + 1.5 tablespoons cane sugar
2¼ teaspoons baking powder
¾ teaspoons kosher salt
¼ teaspoon baking soda
8 tablespoon cold unsalted butter, cut into ½-inch cubes
¾ cup + 1 tablespoon whole milk, plus more for brushing
1 tablespoon coarse sugar such as turbinado, or more cane sugar, for sprinkling
Instructions
Preheat oven to 375°F and prepare a 2 to 3-quart baking dish by placing it on a large baking sheet lined with parchment paper to catch any spills. I've used a 10x8 baking pan with 2-inch sides here, but another 2-quart baking pan, a 10-inch deep dish pie pan will work too.
Place the blueberries in a large mixing bowl. In a small bowl, whisk together the corn starch and sugar until combined then mix it into the blueberries. Mix in the vanilla bean paste or extract, if using. Mixing them together in advance will prevent the corn starch from clumping. Pour the blueberries into the prepared baking dish and bake for 10 minutes.
Meanwhile, in a large bowl, whisk together almond flour, sweet rice flour, oat flour, cane sugar, baking powder, salt, and baking soda.
Add cold butter and either with a pastry cutter or your hands, quickly work the butter into the flour until the largest pieces of butter are no larger than a pea and the dough is crumbly. Add milk and whisk until just combined (do not over whisk).
Pull the blueberries out of the oven and increase the heat to 400°F. Use a large spoon to drop the dough evenly over the top of the blueberries in as many biscuits as you like. Brush the biscuits lightly with milk and sprinkle with coarse sugar.
Return the cobbler to the oven and bake until the biscuits are evenly golden brown, 30-35 minutes. If you find some of the biscuits browning faster than others, cover that part of the cobbler with a piece of foil.
Remove from heat and let cool at least 15 minutes before serving with scoops of vanilla ice cream. The fruit will thicken up as it cools. (**See note about making in advance)
Notes
*If using frozen blueberries, do not defrost them and skip the 10 minute pre-bake.If you can't get your hands on fresh blueberries, you can turn it into a gluten-free berry cobbler. I've made this with a mix of strawberries, blackberries, and blueberries as well.
**Cobbler is best served the day of, but if you're making it a few hours in advance, serve room temperature or warm it in the microwave or in a 350°F oven to serve!