Homemade gluten-free pop tarts made with real ingredients. Strawberry jam baked between two sheets of flaky gluten-free pastry dough. A drizzle of hibiscus hot pink icing on top with sprinkles make these the perfect festive treat!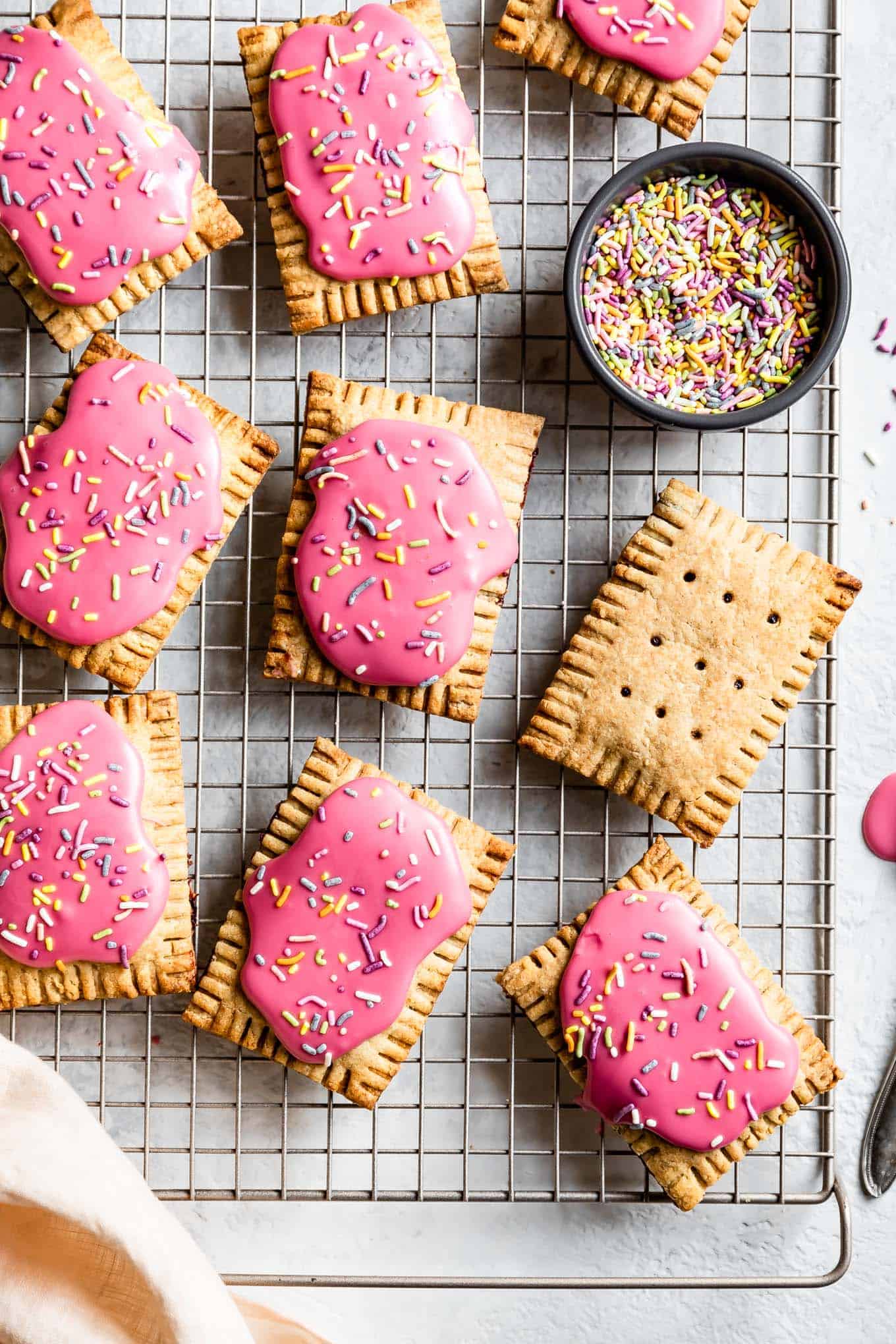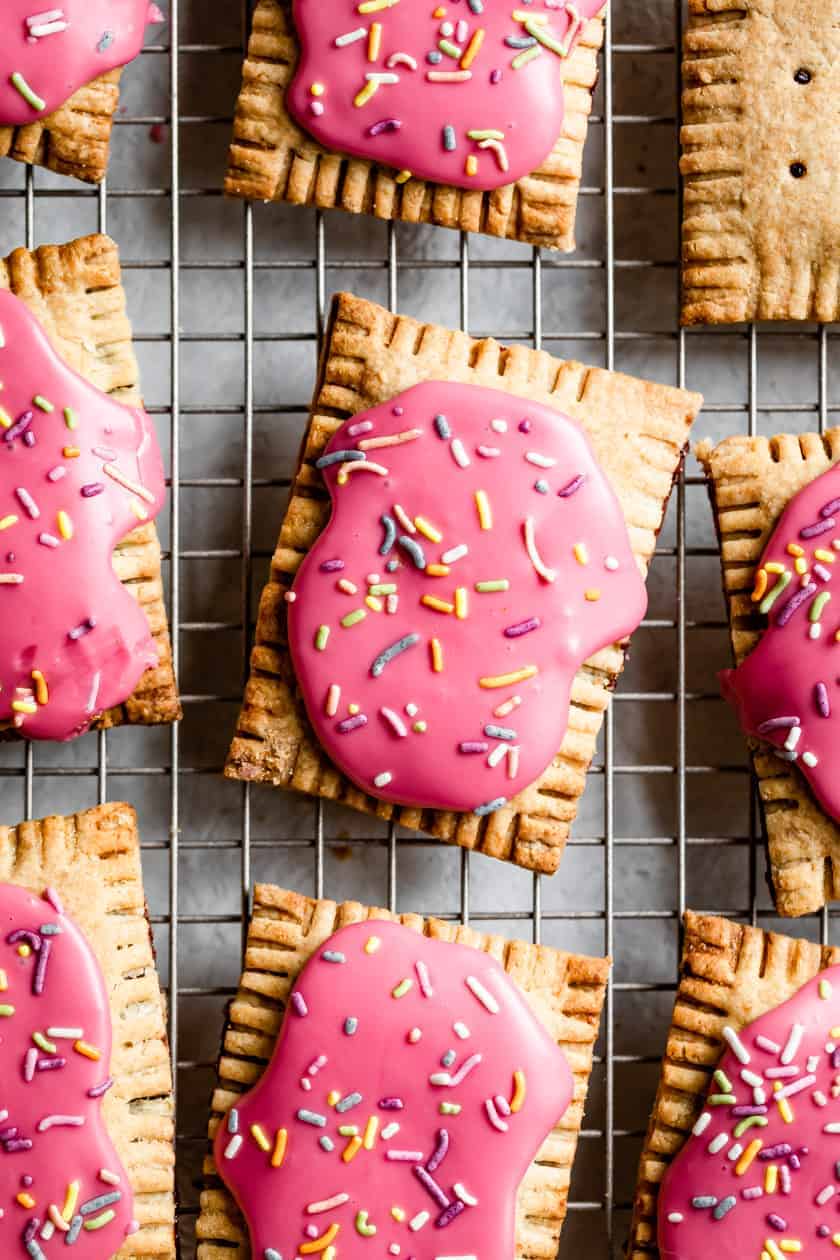 Zoella found my new jar of sprinkles the other day and asked if I would put them on her birthday cake. When I said "sure," she asked if she could bring them to school to show her friends. Zoella, Age 2: Stickers > anything else. Zoella, Age 3: Sprinkles rule the world. So I let my toddler put the sprinkles on the test batch of these hot pink strawberry hibiscus homemade gluten-free pop tarts.
The result was approximately 50% pop tart 50% sprinkles. With all the sprinkles in a pile right in the middle of each homemade pop tart.
These flaky breakfast pastries are the first recipe in a year-long partnership with Bob's Red Mill (see this pumpkin cake post for a list of all the recipes made in partnership with Bob's Red Mill last year). As a gluten-free baker, I use Bob's Red Mill gluten-free flours in all of my baking recipes. I've made this flaky pop tart pastry crust with my most-used flours: oat, millet, sweet rice flour, and tapioca starch.
Until you start baking gluten-free regularly, it can feel overwhelming to buy multiple bags of gluten-free flours. Rest assured, you can use my recipe filter to sort recipes by gluten-free flour type to use up whatever bag of Bob's Red Mill flour you've got in your pantry for a sweet treat!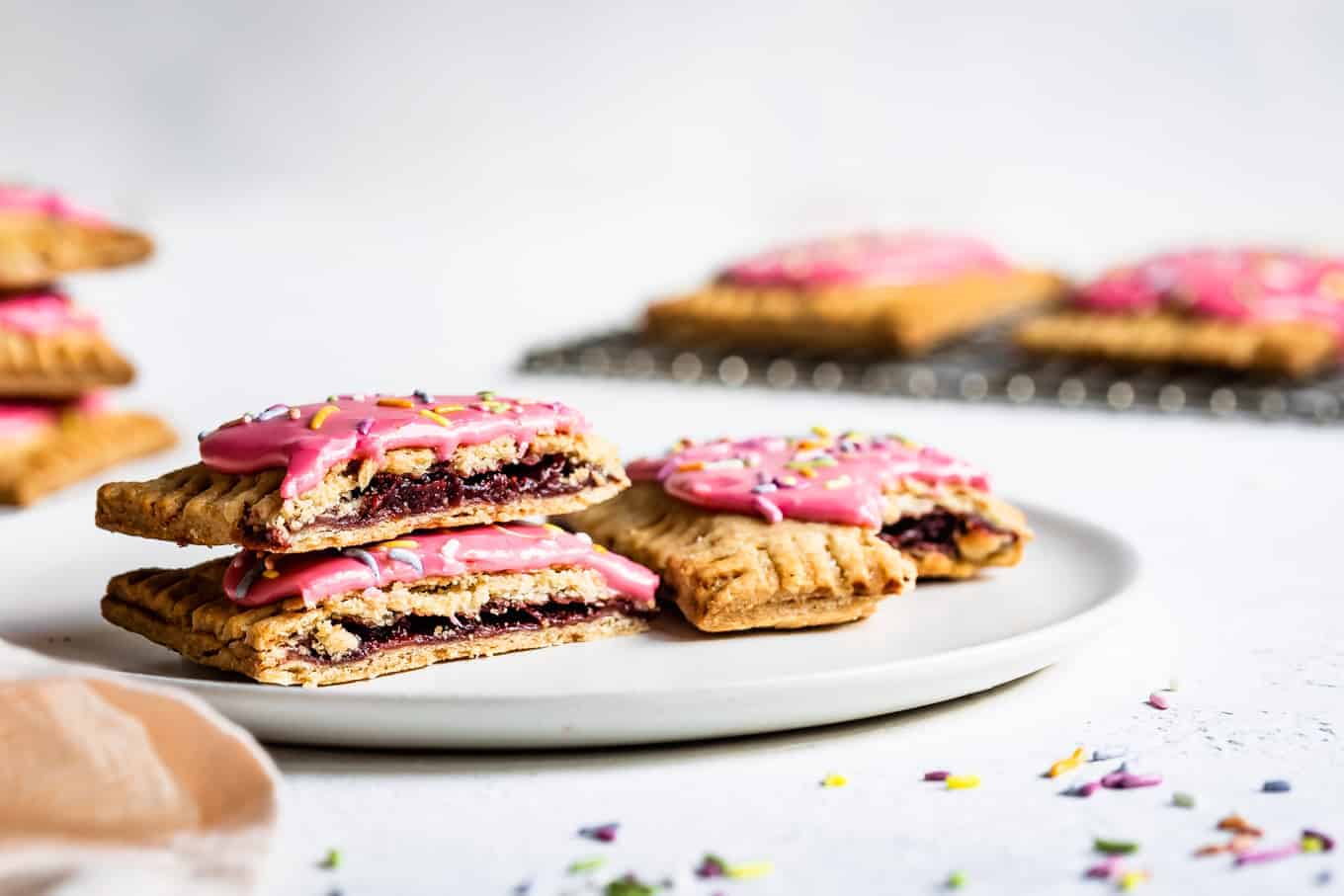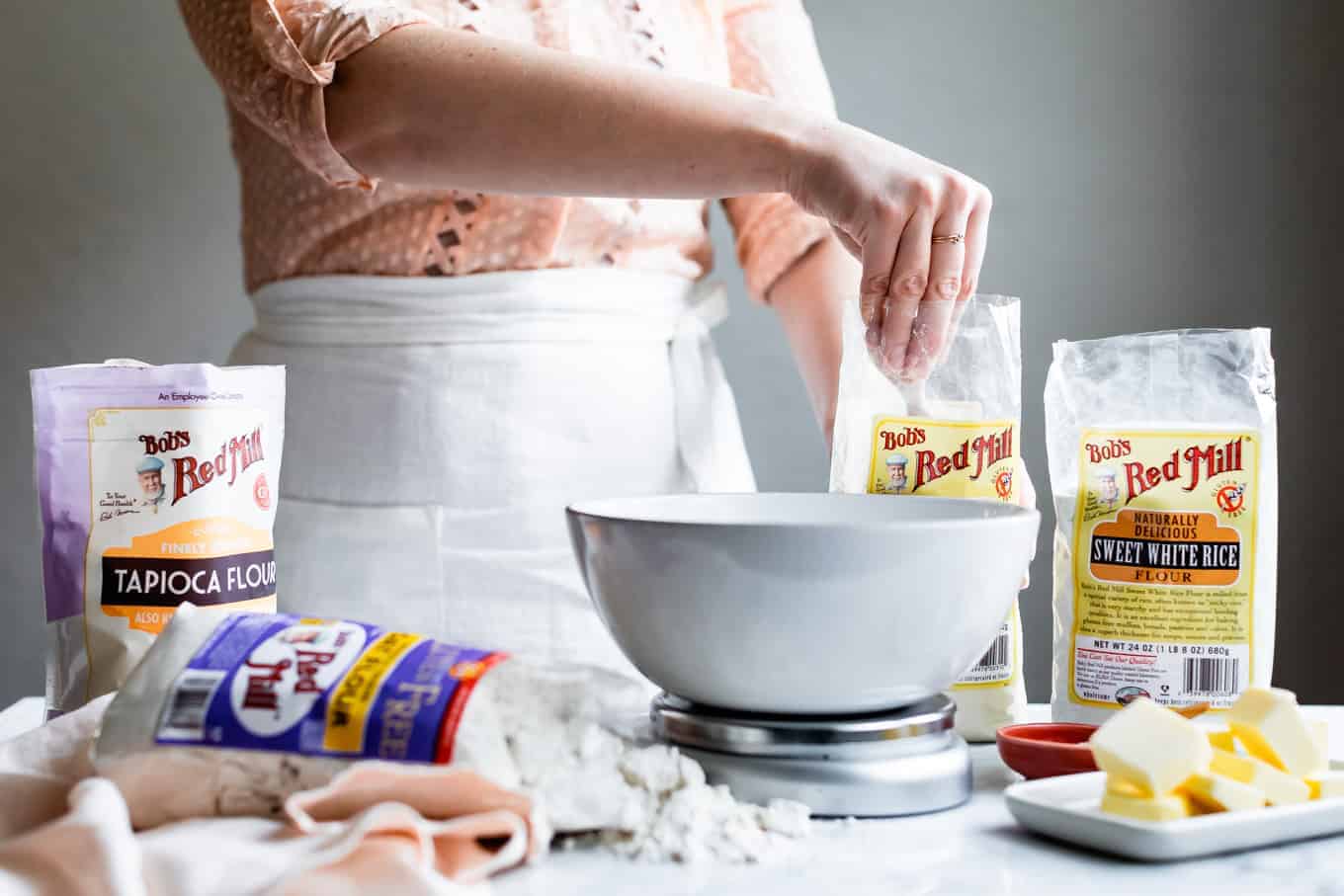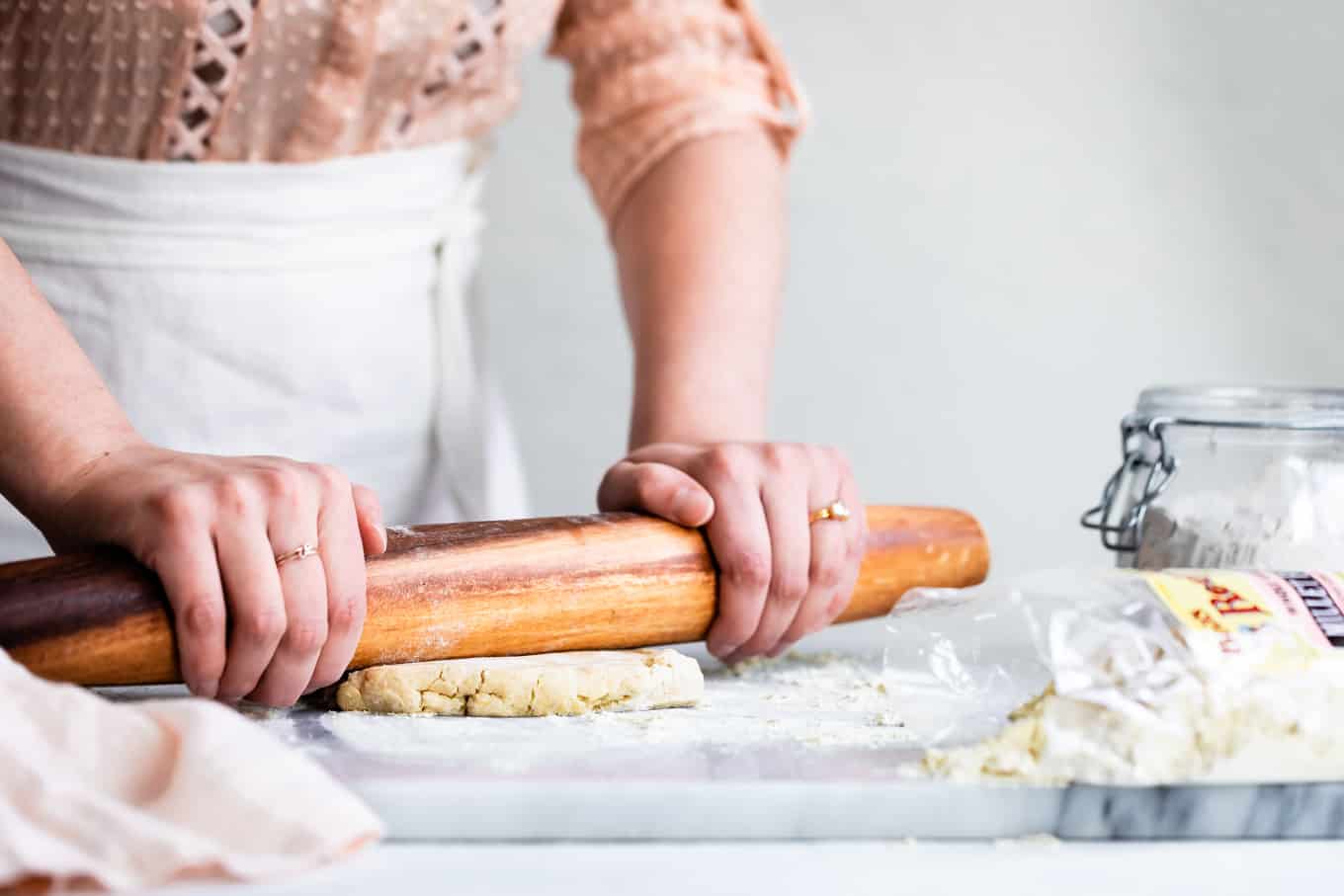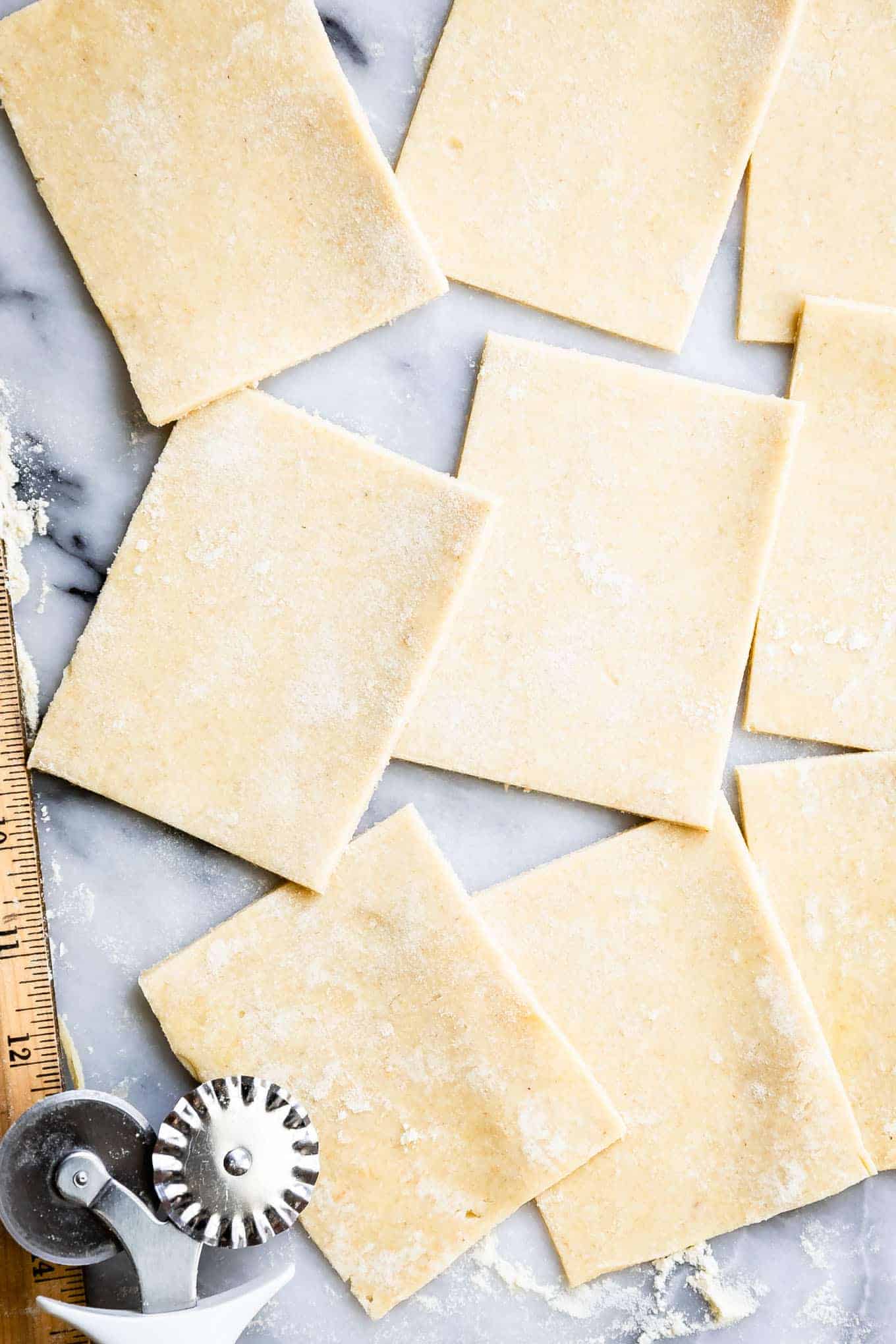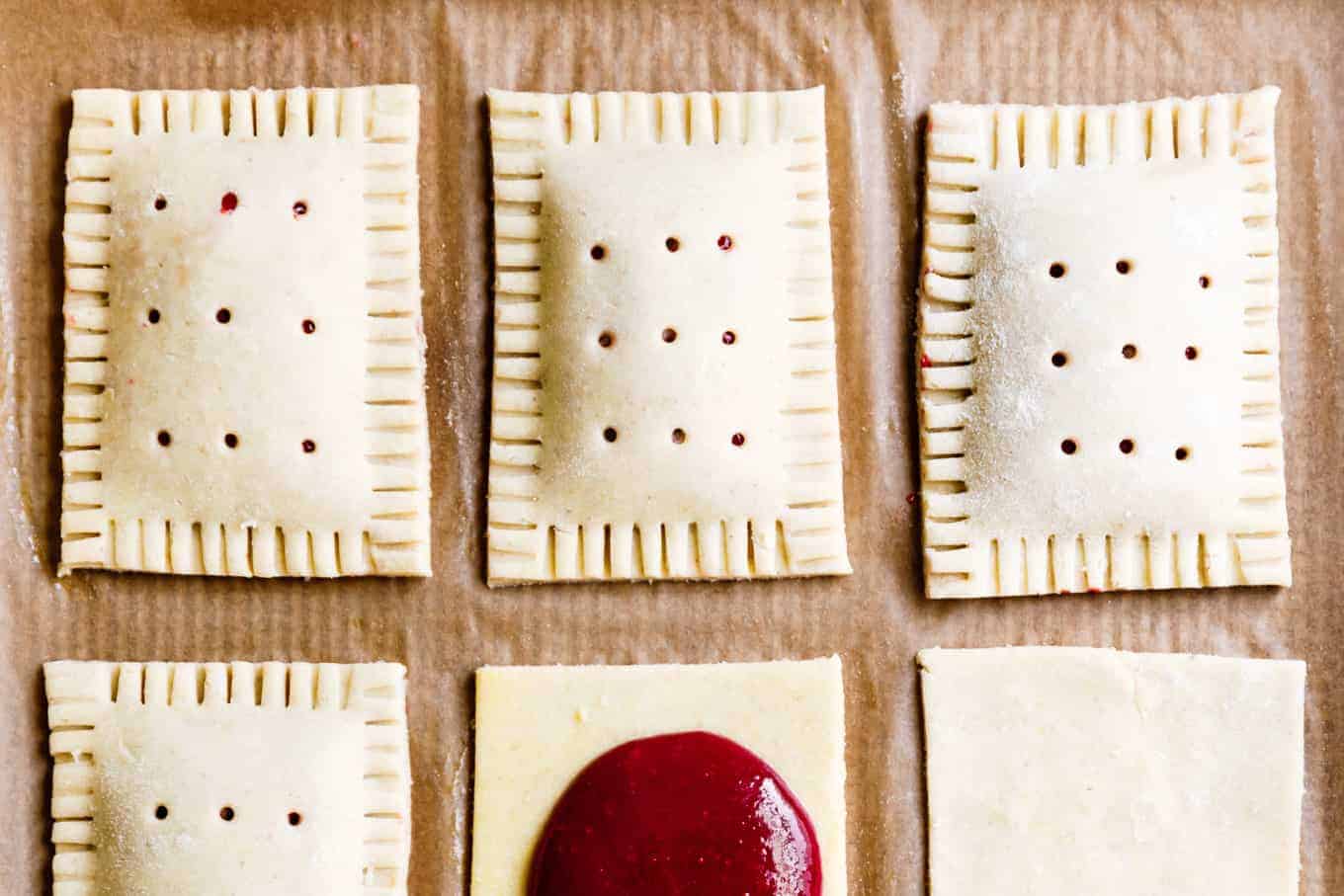 Are Pop Tarts Ravioli?
While researching pop tart search result trends, I noticed a large number of people searching "pop tarts are ravioli." What the heck?! I then laughed for five minutes before I, too, googled it and discovered that it's a popular meme. I've crossed the age threshold when my kids have to explain trends to me like I'm 90. JK, my oldest is three. She called them cookies - she has no idea what defines a pop tart. She'd weigh into the debate with: "pop tarts are frosted cookies."
As if there's any actual debate, my vote is: pop tarts are not ravioli. The argument in favor seems much more convincing when you're talking about regular pop tarts. A plain dough filled with something delicious and topped with some sort of sauce. Who cares if it's savory or sweet, right?
In the world of gluten-free pop tarts though, the flour blend to make a gluten-free pastry dough and that which makes a pasta dough are drastically different. I mean, never mind the obvious part about how you'd never drizzle sugary icing over ravioli.
Though, come to think of it, I once did just that. I set out to make "dessert ravioli" out of pastry dough that instead baked up into mini hand pies. So, I digress, maybe pop tarts are ravioli after all.
How to make homemade gluten-free pop tarts
In truth, these homemade strawberry pop tarts are pie. Less-oozy strawberry hand pies topped with icing and sprinkles. How do you make pie even better? Icing, obviously. And sprinkles. Duh.
There are some people who argue that homemade pop tarts should have a crumbly cookie-like dough, but I'm on team flaky pie dough. The flavorful flaky dough gives them their freshly baked quality and makes them taste like the breakfast pastry they're meant to be.
To make a gluten-free pie dough pastry for these pop tarts, I use the same method as a traditional pie pastry, but with a blend of gluten-free flours. Oat, millet, and sweet rice flour create the structure that mimics the basic qualities of whole wheat flour (these are the same three flours I use in my cakes!). Tapioca flour and xanthan gum make the dough pliable and sturdy enough for rolling without crumbling. The tapioca flour crisps up the crust and, like in Brazilian cheese bread, helps trap air to create an ultra-flaky crust.
For pop tarts that have a higher crust to filling ratio than pie, I use 1.5x my standard crust recipe to make 9-10 pop tarts.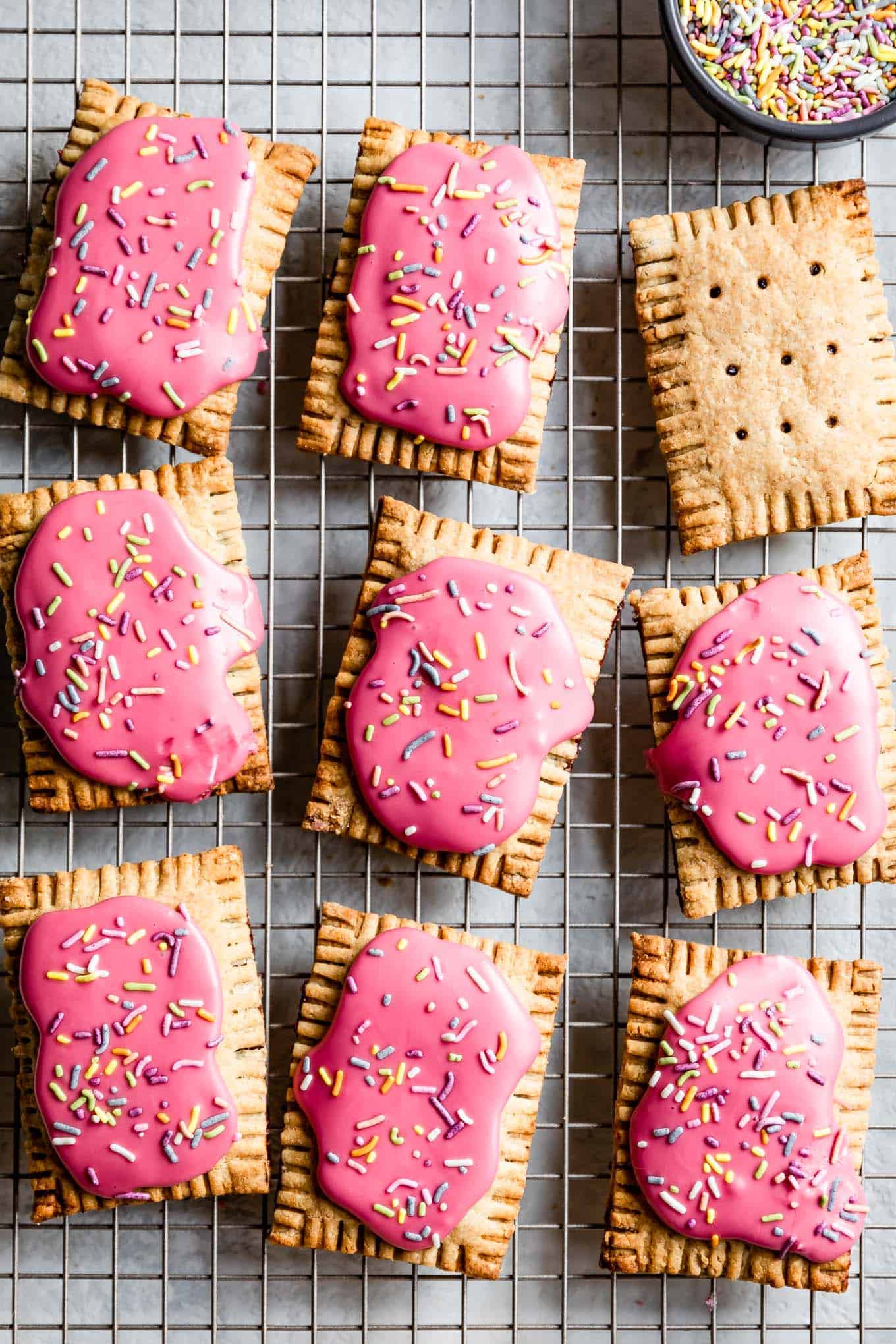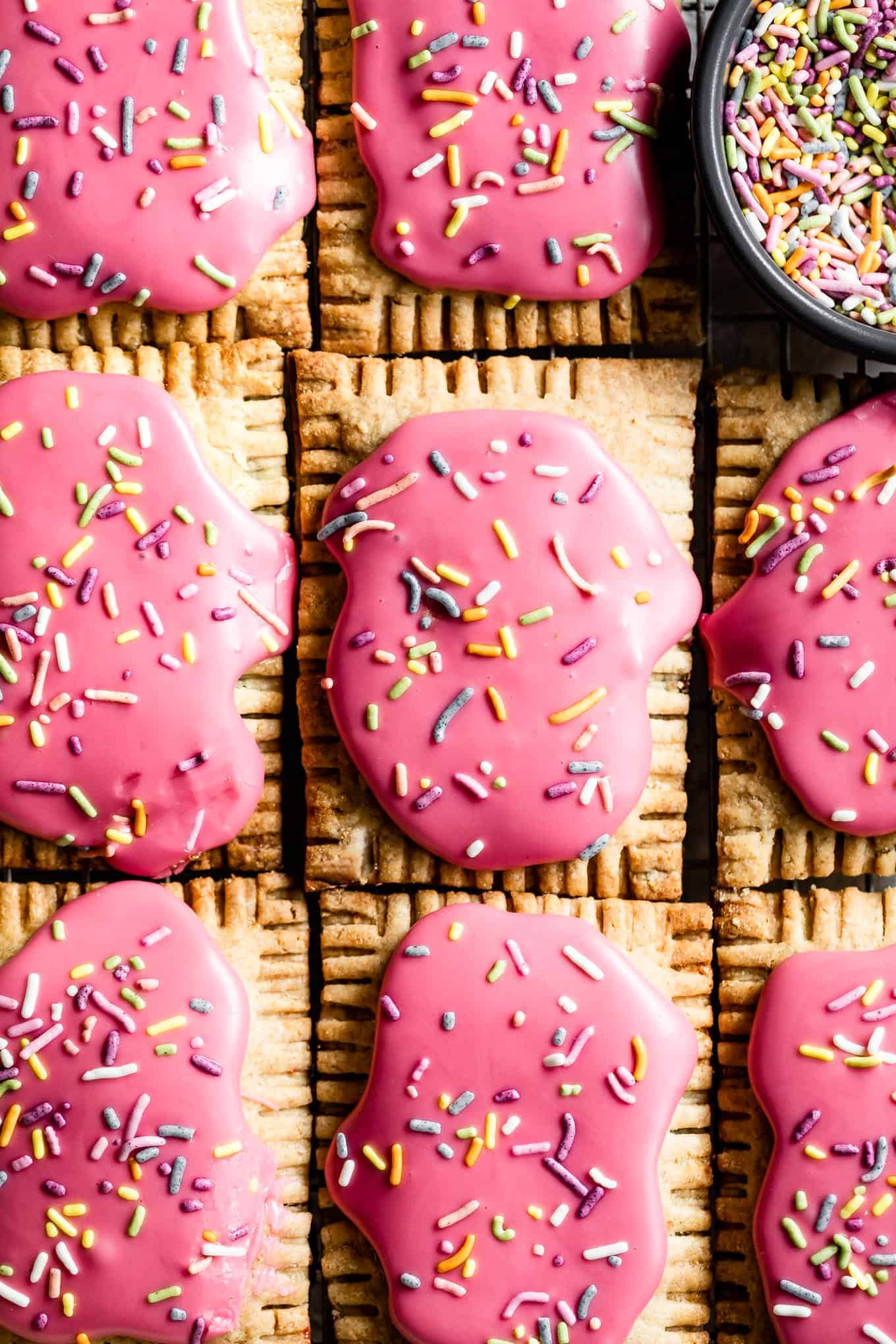 How to make Healthy Pop Tarts...Healthy-ish
The store-bought shelf-stable breakfast pastries of my childhood are anything but healthy. Their homemade gluten-free pop tart counterparts, however, are made with whole grains and real ingredients. There's plenty of butter in this ultra-flaky pastry dough, but by comparison, they're definitely healthier by a landslide.
I've made the pastry with nutrient rich whole grain oat flour and whole grain millet flour with very little added sugar. With minimal sugar in the homemade strawberry jam, they're only lightly sweetened. You can even substitute by using store-bought jam with no added sugar, if you like.
Now, of course, we've doused the whole thing in sugar-y naturally pink hibiscus icing and sprinkles. They are a pastry, after all. With their hot pink icing and festive sprinkles, we eat these gluten-free pop tarts as a Valentine's Day dessert inspired by their breakfast pastry ancestors.
If you prefer your pop tarts for breakfast, the flaky buttery crust is so flavorful, especially when paired with a hint of roasted strawberry, you can leave the icing off or reduce it to a mere drizzle to keep your morning a little less sugary.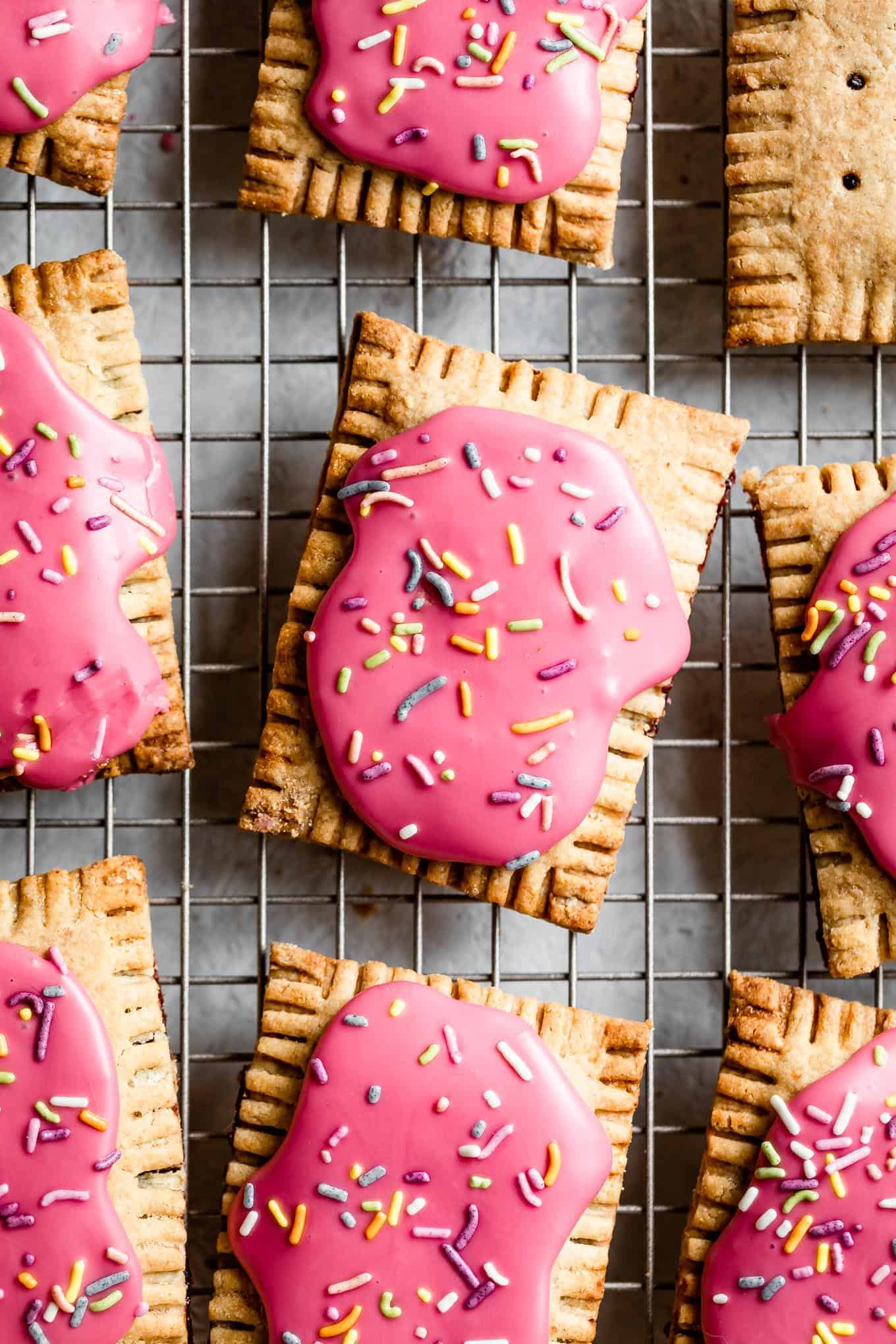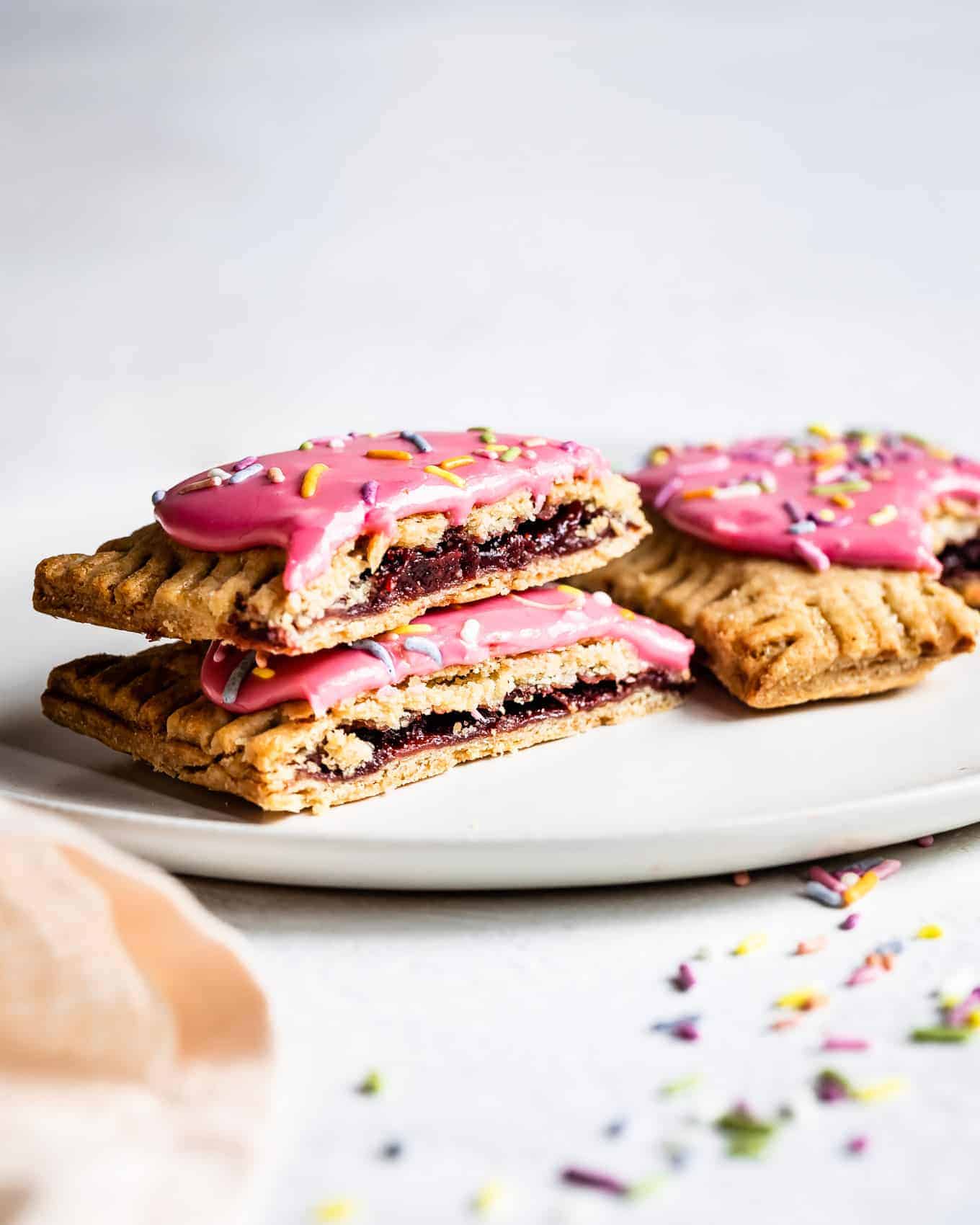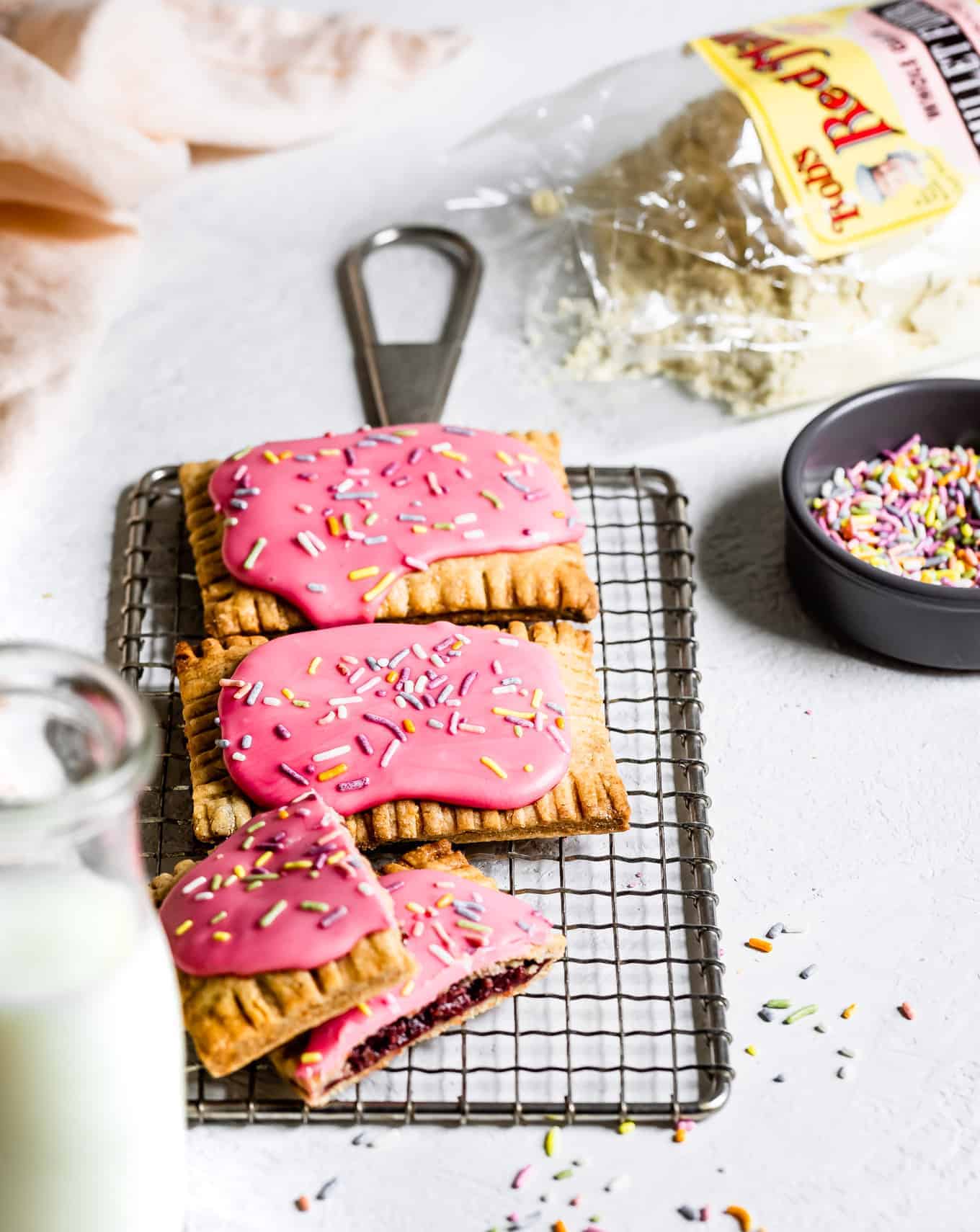 Homemade Strawberry Pop Tarts
I've made a strawberry jam without pectin to put inside these homemade strawberry pop tarts. Since we're looking for a smooth thick strawberry jam compote, it benefits from a longer cooking time. A little cornstarch helps thicken the jam so it doesn't ooze off the pop tart dough when filling
The longer cooking time to reduce the strawberries also concentrates their flavor, allowing you to use less sugar. Concentrated flavor also means that even though you can only fit a heaping tablespoon of filling between the two layers of dough, you can still taste the strawberry layer even after it bakes.
The result is a super flaky pastry hand pie with a thin layer of jammy strawberry filling and a tart blanket of hibiscus icing on top.
Disclosure: Special thanks to Bob's Red Mill for providing the flours shown above and sponsoring this post! And thanks to you for supporting the companies that keep Snixy Kitchen cooking!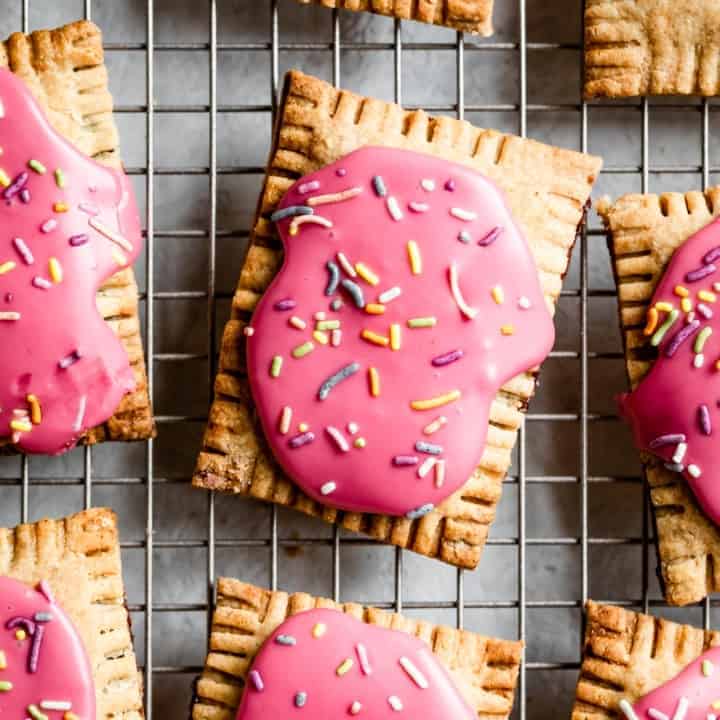 Homemade Gluten-Free Pop Tarts with Strawberry Jam
Additional Time:
1 hour
15 minutes
Total Time:
2 hours
15 minutes
Homemade gluten-free pop tarts made with real ingredients! Strawberry jam baked between two sheets of flakey gluten-free pastry dough. A drizzle of hibiscus icing on top and sprinkles make these the perfect festive treat!
Ingredients
Gluten-Free Pastry
1½ tablespoons sugar
¼ teaspoon + a pinch of kosher salt
¾ cup cold unsalted butter, sliced into 12 tablespoons
4-6 tablespoons ice water
1 egg, whisked
Optional: 2 tablespoons heavy cream or milk
Homemade Strawberry Jam (or use 1 cup store-bought strawberry jam)
1½ lbs fresh or frozen strawberries, thawed
1½ tablespoon fresh lemon juice
3 tablespoons sugar
Pink Hibiscus Icing
3 tablespoons dried hibiscus tea leaves or 3 hibiscus tea bags
½ cup water
1½ cups powdered sugar, sifted
½ teaspoon honey
Optional: Sprinkles
Instructions
Gluten-Free Pop Tarts
Whisk together the oat flour, millet flour, sweet rice flour, tapioca starch, sugar, xanthan gum, and salt in a large bowl.
Add the cold butter and working quickly with your hands, break up the butter into the flour until the largest pieces are about the size of an almond.
One tablespoon at a time, dribble in the ice water, combining with a fork or your hands each time, until the dough holds together when pinched with your fingers (add water until it just holds together, but is not sticky. If you need more water, add a teaspoon at a time). Knead the dough until it just comes together. Divide the dough in two.
Dust your work surface lightly with millet flour and roll each piece out into a ¾-inch thick rectangle. Dust the top of the dough lightly with millet flour and Fold the dough into thirds like a letter and then in thirds once again to form a square. Repeat. Press the dough into a 1-inch thick rectangle. Wrap each piece in plastic and chill for an hour or up to overnight.
Meanwhile, prepare your strawberry jam, as instructed below) if using homemade.
Dust your work surface slightly with millet flour. Remove one portion of dough from the refrigerator and let sit for 5-10 minutes to soften. Carefully roll into a 9x12-inch rectangle, dusting with millet flour and flipping to keep it from sticking. Repair any cracks as you roll.
Cut into 9 rectangles, 3x4 inches each, and stack them on a plate in the refrigerator while you repeat with the second portion of dough. If desired, reroll any scraps of dough to make an additional 4x6 rectangle and cut into two smaller 3x4 rectangles.
Brush egg over the entire surface of a rectangle of dough and place 1 heaping tablespoon chilled strawberry jam in the middle. Carefully place a second rectangle on top and press the edges to seal, being careful not to press the jam out of the sides. Use the tines of a fork to crimp the edges. Repeat with remaining rectangles, laying each on a parchment-lined baking sheet about 1-inch apart, as you go. Try not to worry if some of the tops crack just a little - you'll cover them in icing and hide any imperfections.
Use the end of a chopstick or thick skewer to poke 9 holes in the top of the pastry.to vent out the steam. Chill the pop tarts for 15 minutes while you preheat the oven to 400°F. When the oven is done preheating, brush the top of each pop tart with heavy cream, milk, or the remaining egg wash (the egg wash will make the pop tarts a little more shiny and golden than pictured).
Bake for 39-42 minutes, until the tops are golden brown and crisp. Remove from heat and using a clean cloth, paper towel, or flat spatula, gently press the pop tarts down to remove any steam and flatten them a bit. Let cool completely before icing.
Put 1-2 teaspoons of glaze on a pop tart and use a spoon to gently spread it around. Top with sprinkles and repeat with remaining pop tarts.
Homemade Strawberry Jam
If using frozen strawberries, puree them in a blender until completely smooth. If using fresh strawberries, puree them with ¼ cup water until smooth. Press the puree through a fine mesh sieve into a pot. Whisk the sugar and cornstarch together until combined then add it to the pot along with the lemon juice. Bring it to boil over medium heat, then reduce heat to a low simmer.
Simmer, whisking occasionally to keep the bottom from scorching, until thick and jammy and reduced to less than half, 40 minutes.
Transfer to a bowl and chill in the freezer or fridge until cold, stirring occasionally to help cool it down.
Pink Hibiscus Icing
Bring water to boil and add hibiscus leaves. Steep for 10 minutes until deep dark red then strain out the tea leaves and chill until room temperature (Use the freezer to speed this up!).
Add honey and 1½ tablespoons of the brewed hibiscus tea concentrate to the powdered sugar and whisk until smooth. Slowly add more tea, as needed, until it becomes a smooth thick glaze that holds its shape when drizzled onto itself for a few seconds before incorporating back in.