A triple berry pie wrapped up in an ultra-flaky flavorful gluten-free crust laced with vanilla and cardamom. Perfect for summer's fresh ripe fruit and just as good in the winter with a bag of your favorite frozen berries! Best served with vanilla ice cream on top!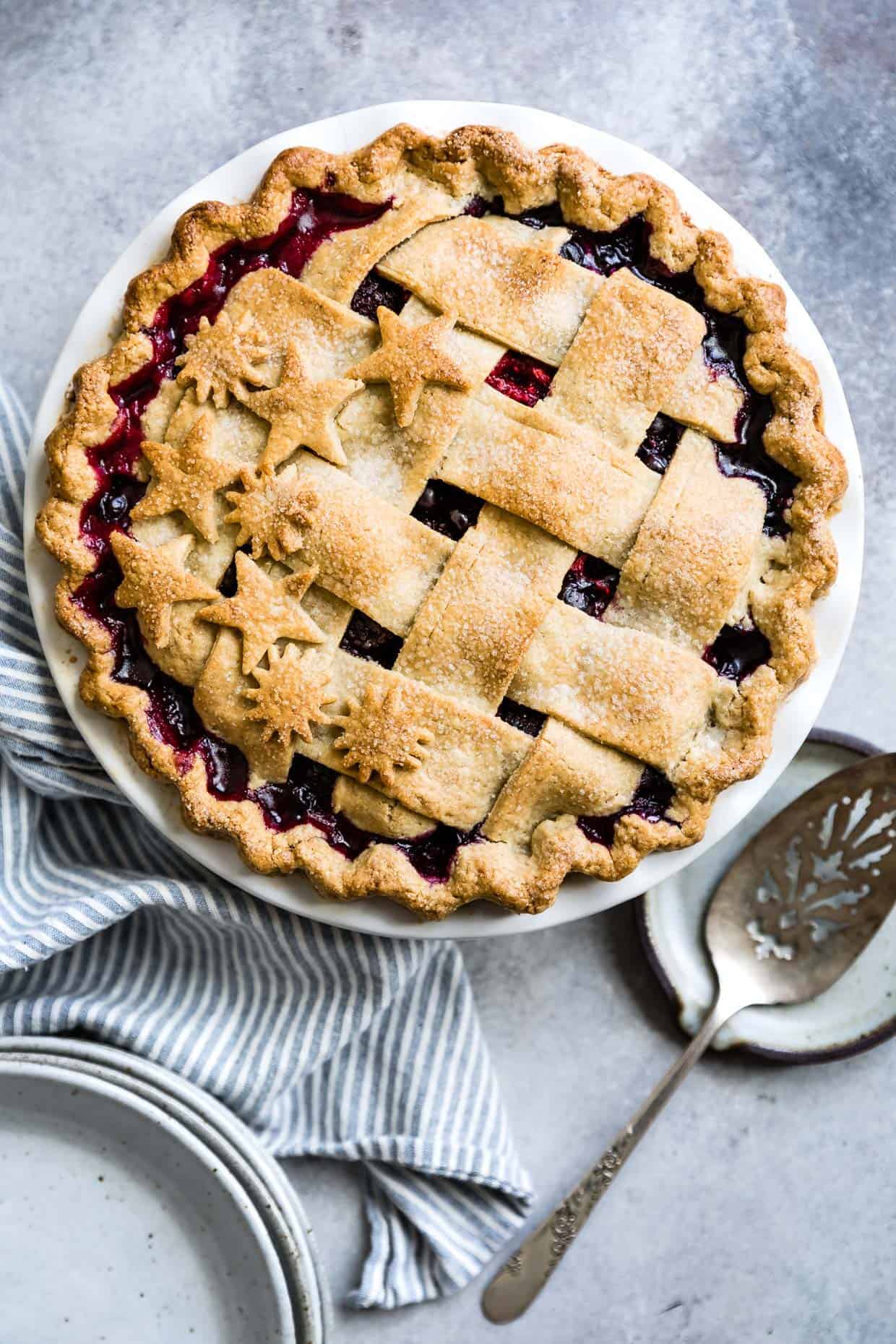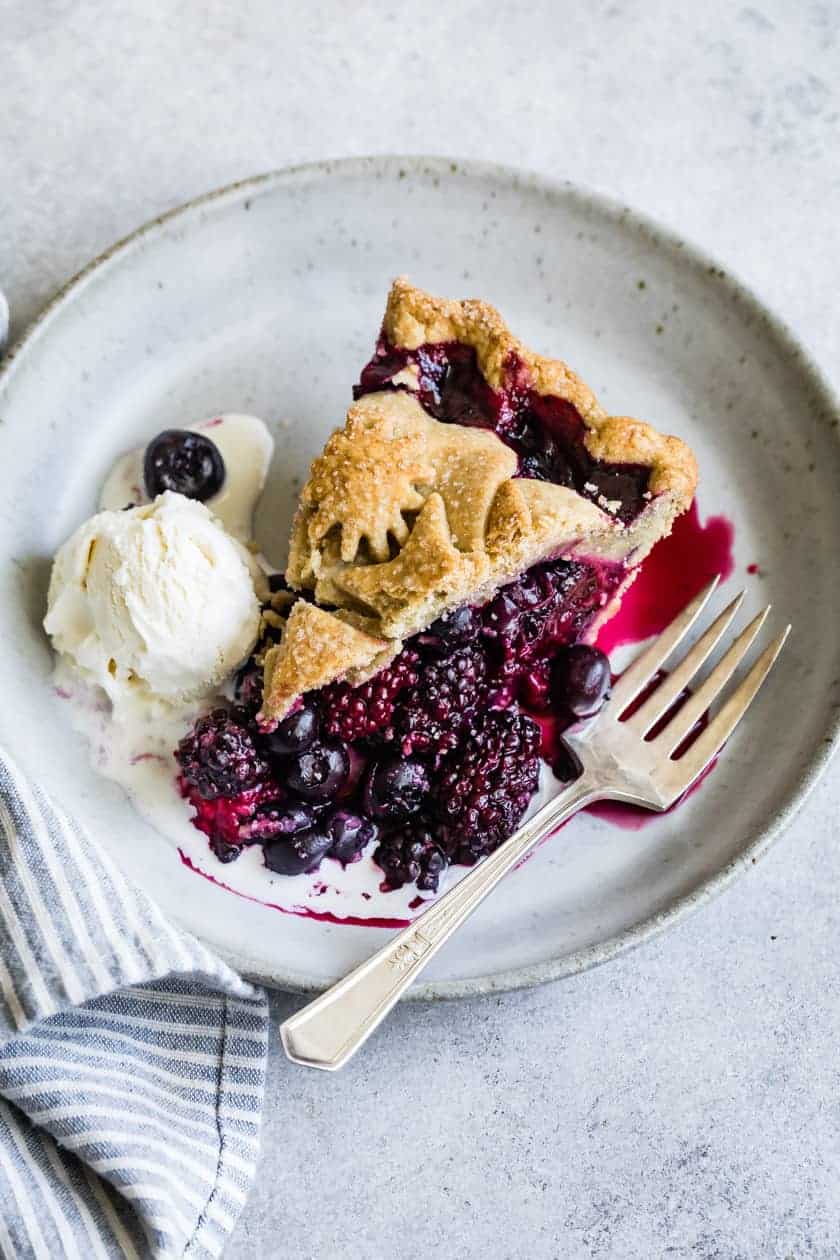 Our 2 year old has never eaten pie before (Before now, that is). Yet somehow, when Zoella came home from daycare last week and saw this lattice crusted triple berry pie sitting on the counter in the far corner of the kitchen, her eyes lit up as she asked "is that dessert, mama?" I'm still baffled by the phenomenon in which early eaters instinctively know what dessert looks like and that everything green is to be approached with caution. Most obvious explanation: humans are hardwired to eat pie.
This triple berry pie with a gluten-free cardamom crust is the fifth recipe in my year-long partnership with Bob's Red Mill. First we ate chamomile oat waffles, followed by matcha macarons with mango buttercream, then buckwheat crepes with roasted cherries & chocolate, and brown sugar peach crumble. Now let's do what we were born to do and eat pie together!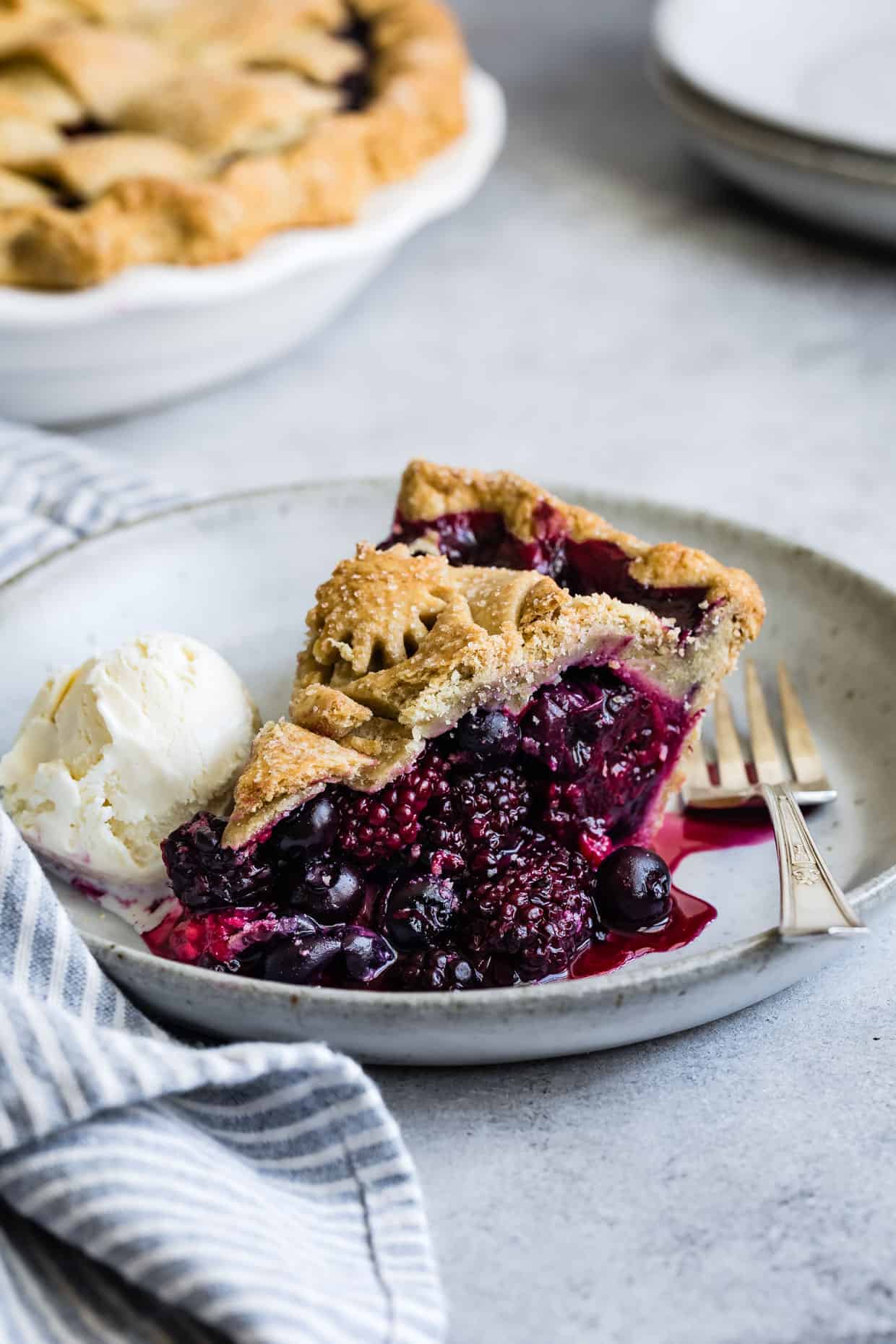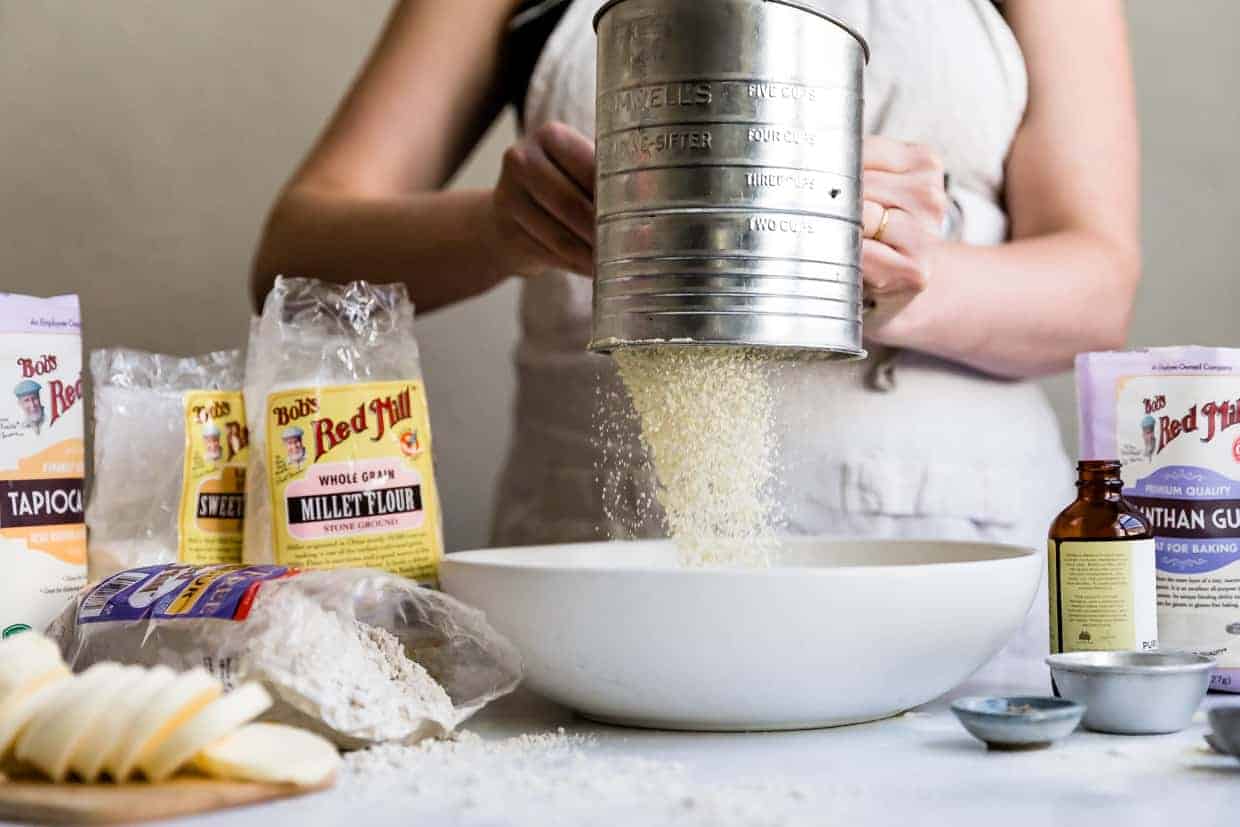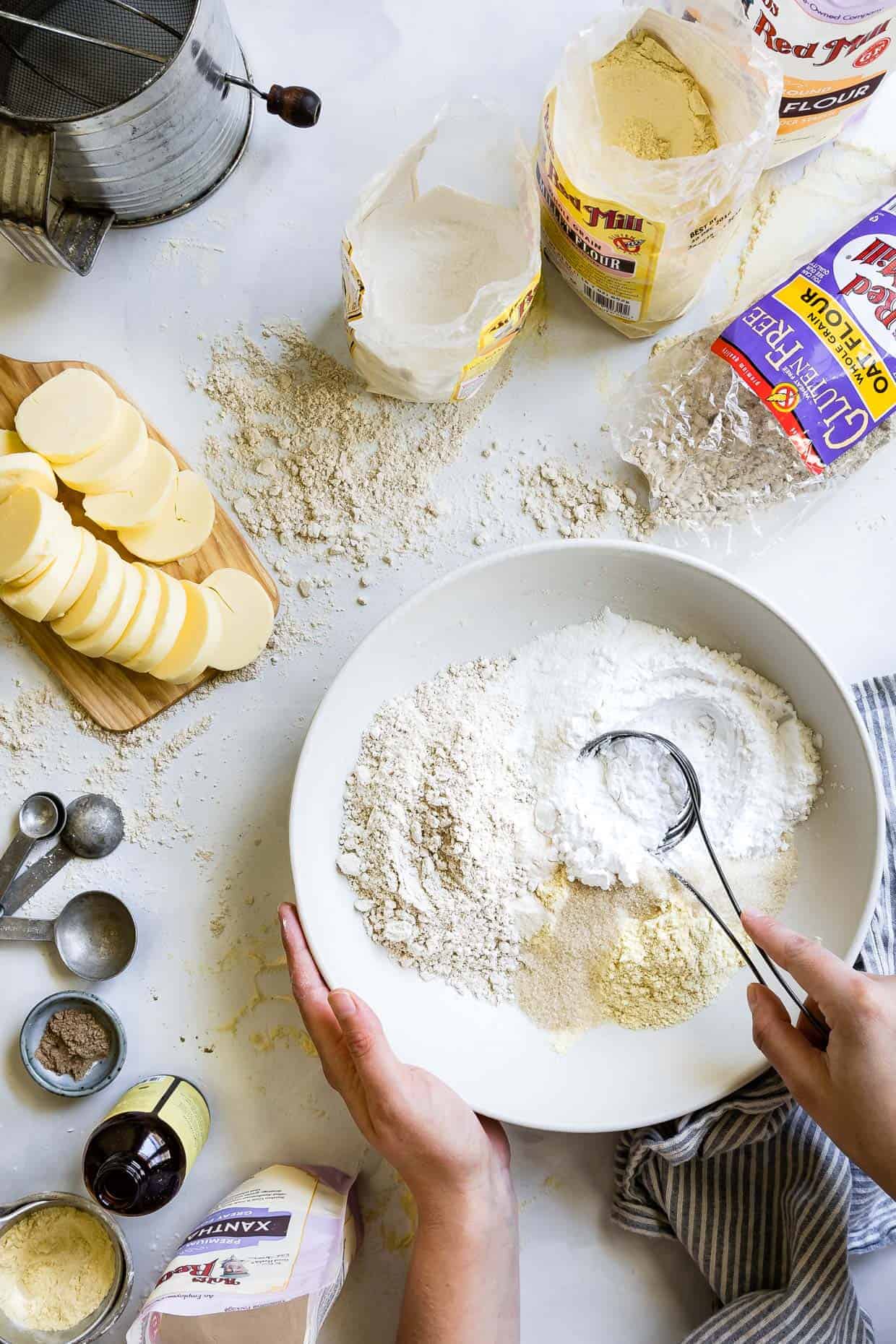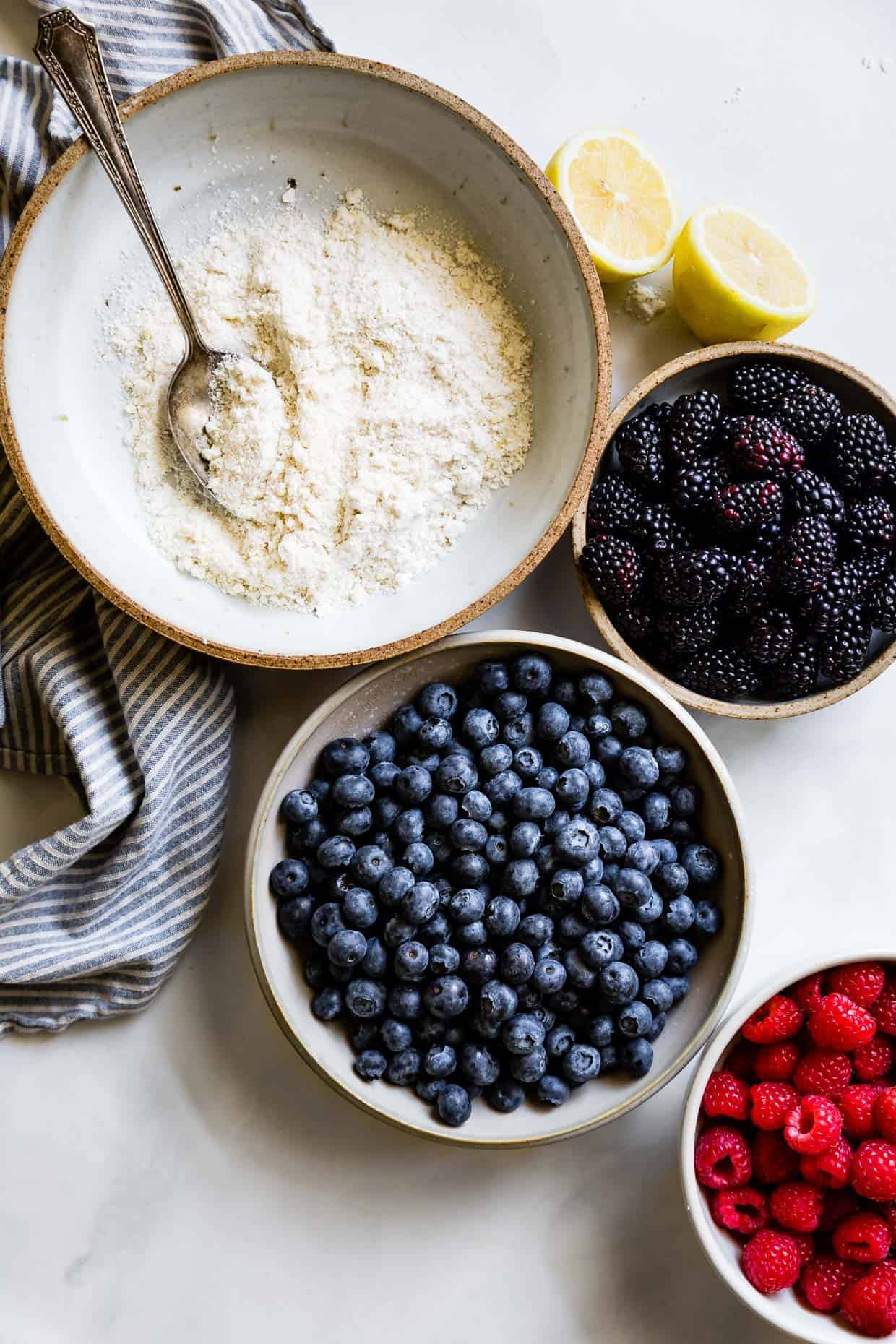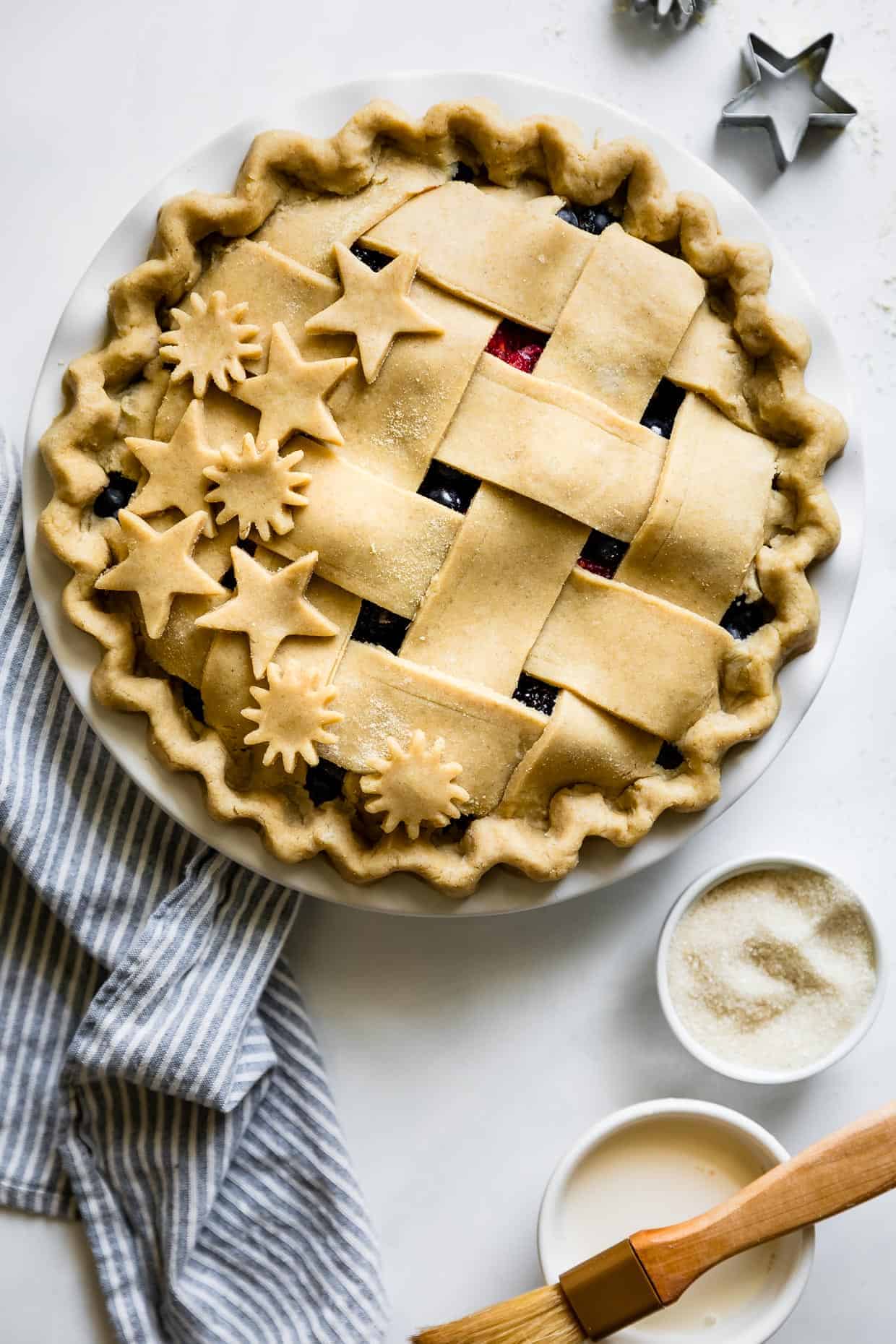 I soon realized that, in Zoella's case, her fascination with pie actually came from a book. This kid will always choose a new book over any toy and has nearly every book on her shelf memorized. When we pause at any word, she fills in the blank with near perfect accuracy, and can identify all her books by their spine. Her latest obsession is Ree Drummond's "Best Friends Forever" about two friends making a berry pie together. I made a berry blast pie just like in her book without even realizing it and even added shapes to the crust. How could she not want a slice?
So, naturally, I bribed her with promise of a slice the next morning to play quietly for 30 minutes while I took pictures of the pie. This mostly meant she stood vigil over the pie saying "I want to eat it" until I was done. Which then, of course, spoiled her lunch, but her 10 seconds of delight while she scarfed it down was definitely worth it.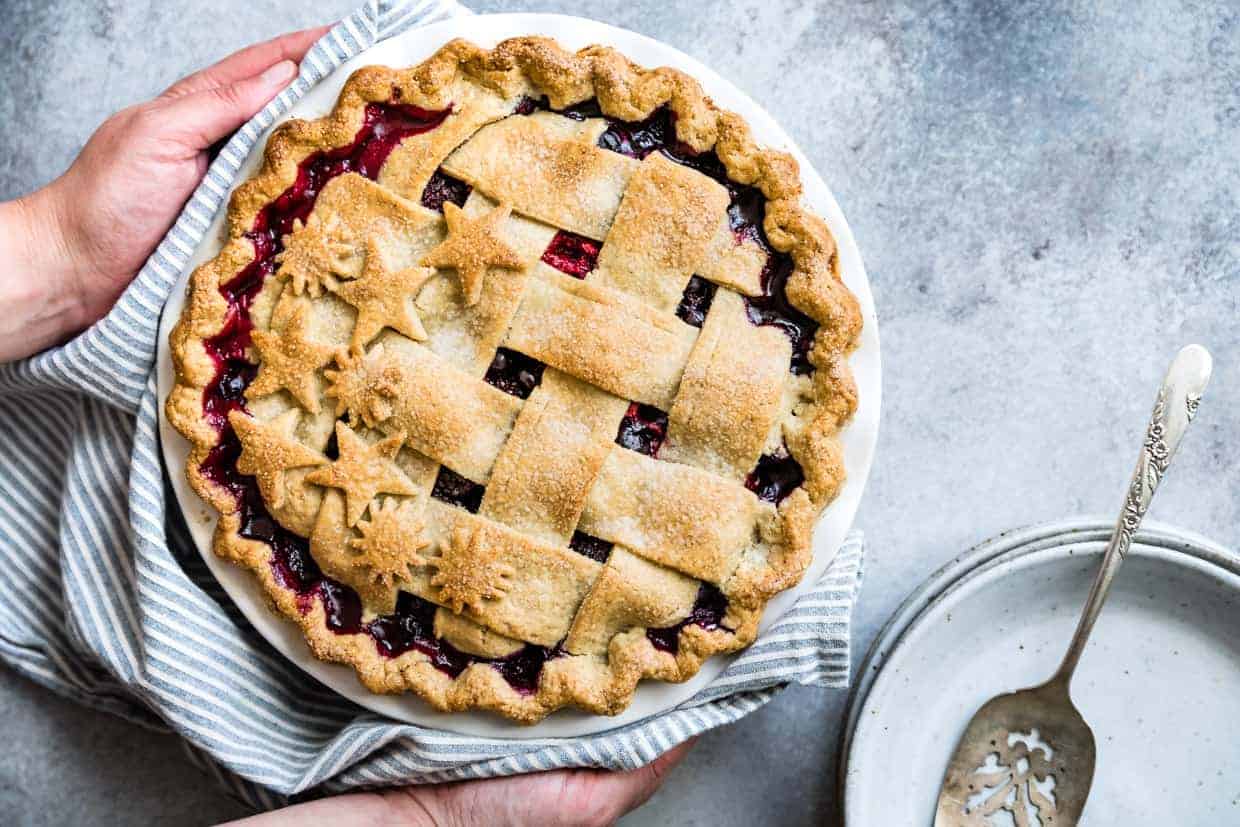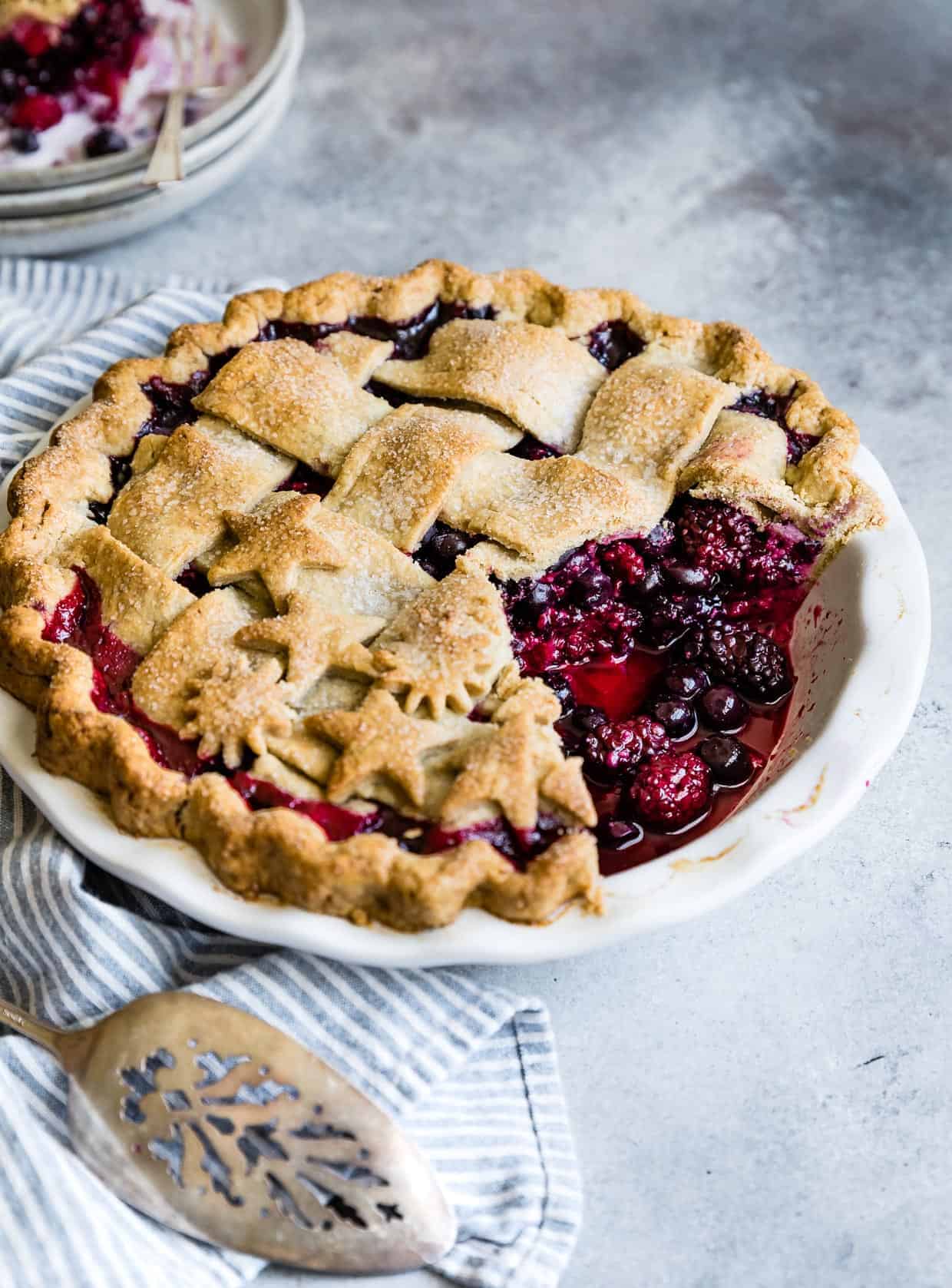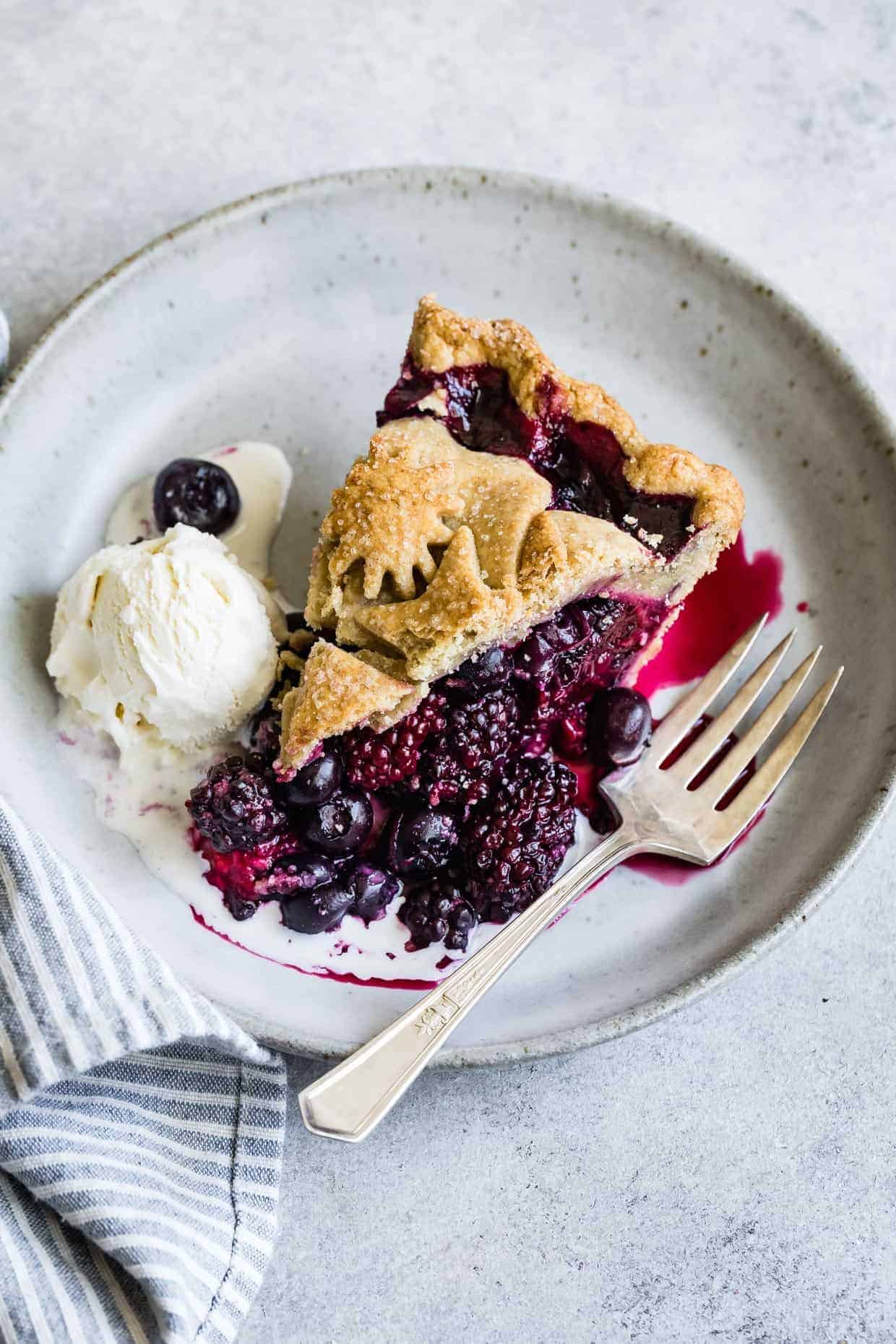 This is the summer berry pie you need in your life, wrapped up in a flaky gluten-free crust laced with a hint of vanilla and cardamom to keep it exciting. You could save it for a special occasion (Labor Day? National Hammock Day?...), but honestly, in our house, we make pie just because PIE. Summer demands pie à la mode.
The filling for this triple berry pie is thick and syrupy, while the berries still hold their shape and texture. Pure berry goodness with nothing gloopy here. The crust is where we take things up a notch. Even if you're not a gluten-free baker/eater, this crust is magic and surpasses any all-purpose flour-based crust, in my opinion. My husband, who is possibly the pickiest dessert eater alive, consistently says "I used to hate pie crust, but this gluten-free pie crust is the best part of any pie." He'll break nibbles off the outside every time he walks into the kitchen, until some sad soul ends up with just pie filling.
I know I've probably said this plenty of times before, but it's entirely true in the case of this gluten-free cardamom pie crust: using gluten-free flours in your baking can add so much flavor to the final product. In this case, Bob's Red Mill's gluten-free oat and millet flours are the flavor hitters, adding rustic whole grain notes that pop in a buttery flaky pie crust.
The recipe wrapping up this triple berry filling is the same base recipe I use for all my pies and galettes with some vanilla and fragrant cardamom added to spice things up. Feel free to use your traditional favorite pie crust recipe, but I encourage you to give this one a shot just once to raise all your future expectations about pie crust.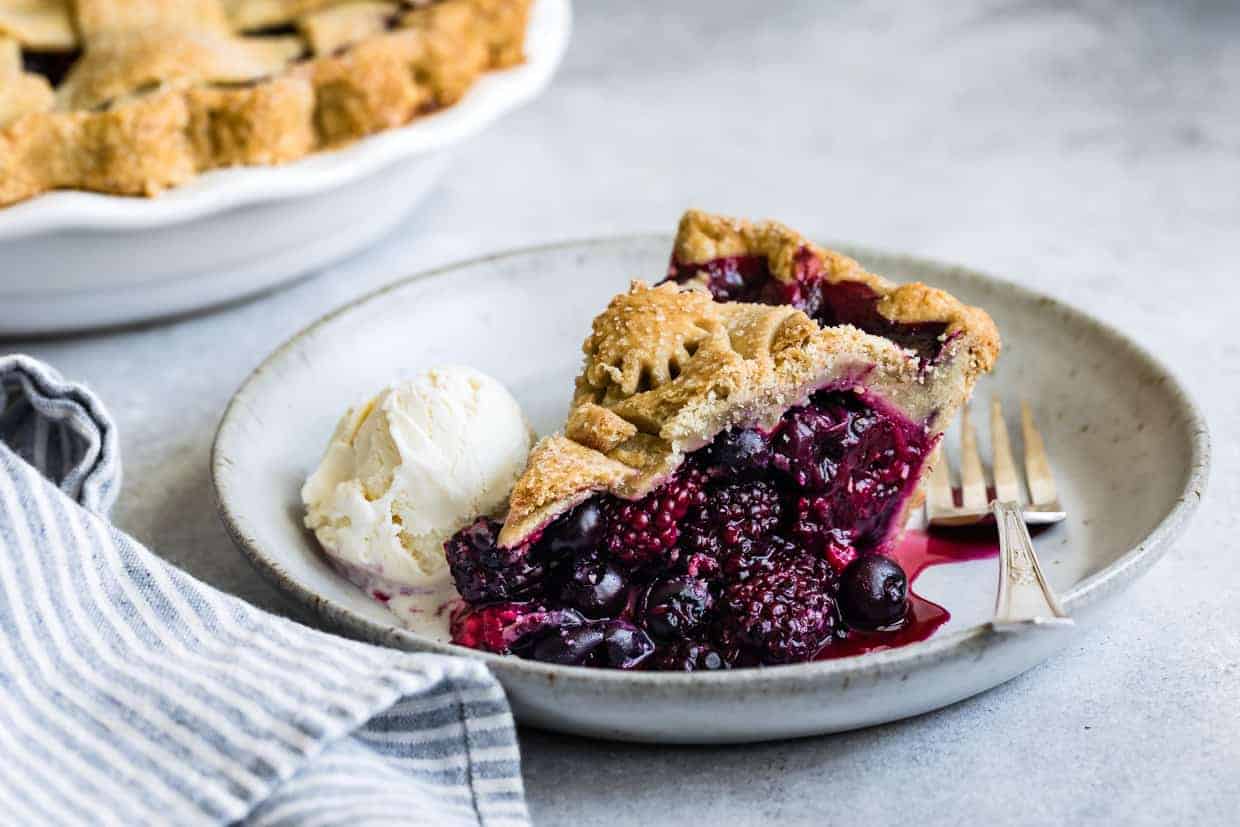 And on that note, I'll be over here stuffing my 39 week pregnant face with triple berry pie à la mode while I wait on baby #2 watch (and do my part to promote his instinctual love of pie). Baby's due July 24th, but just because I said that, he'll probably to make his debut as soon as I finish writing this sentence just to make everything I wrote irrelevant.
In any case, things are slowing down over here and if I suddenly disappear for a few days, you'll know why!
More Summer Berry recipes
Disclosure: Special thanks to Bob's Red Mill for providing the flour shown above and sponsoring this post! And thanks to you for supporting the companies that keep Snixy Kitchen cooking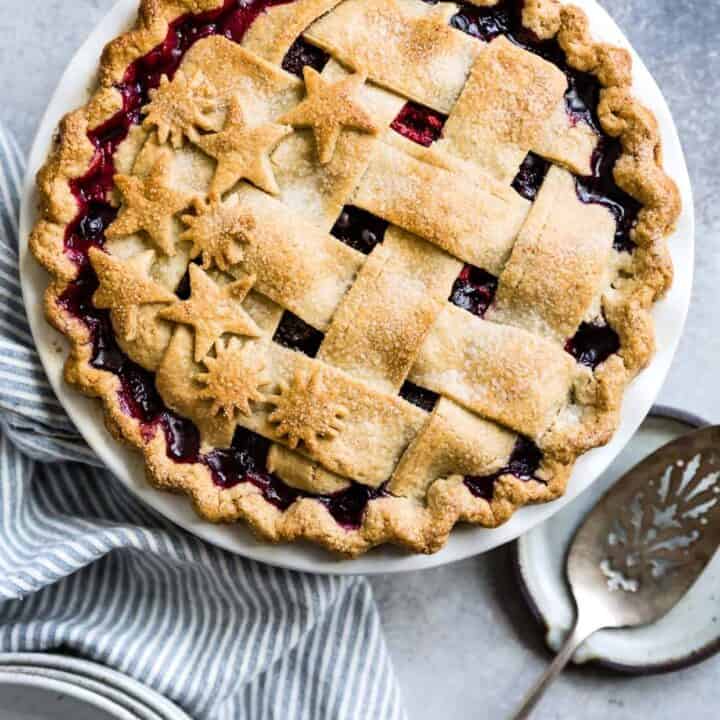 Triple Berry Pie with Gluten-Free Cardamom Crust
Additional Time:
1 hour
20 minutes
Total Time:
1 hour
50 minutes
A triple berry pie wrapped up in an ultra-flaky flavorful gluten-free crust laced with vanilla and cardamom. Perfect for summer's fresh ripe fruit and just as good in the winter with a bag of your favorite frozen berries! Best served with vanilla ice cream on top!
Ingredients
Gluten-Free Cardamom Crust
2 tablespoons cane sugar, plus more for sprinkling
1 teaspoon ground cardamom
½ teaspoon kosher salt
1 cup cold unsalted butter, sliced into 16 tablespoons
1 tablespoon vanilla extract
8-15 tablespoons ice water
1 tablespoon whole milk or heavy cream, for brushing on top
Triple Berry Filling
2 cups blackberries (2 clamshells)
2 cups raspberries (2 clamshells)
3 cups blueberries (3 clamshells)
½ cup cane sugar
1 tablespoon lemon juice
Zest of one lemon
Instructions
Whisk together the oat flour, millet flour, sweet rice flour, tapioca starch, sugar, xanthan gum, cardamom, and salt in a large bowl.
Add the cold butter and mix with your hands, breaking up the butter until the largest pieces are about the size of an almond. Drizzle in the vanilla.
One tablespoon at a time, dribble in the ice water, combining each time, until the dough holds together when pinched with your fingers (add water until it just holds together, but is not sticky. If you need more water, add a teaspoon at a time). Knead the dough until it comes together. Divide into two equal portions.
Dust your work surface lightly with millet flour and roll each piece out into a ¾-inch thick rectangle. Dust the top of the dough lightly with millet flour and fold the dough into thirds like a letter and then in thirds once again to form a square. Press the dough to form a circle about 1-½ inches thick. Wrap each round in plastic and chill for an hour or up to overnight.
Dust a piece of parchment paper lightly with millet flour. Remove one portion from the refrigerator and let sit for 5-10 minutes to soften. Carefully roll into a 12-inch round circle on the floured parchment paper, dusting with millet flour and flipping to keep it from sticking, and repairing any cracks as you roll.
Carefully invert the round of dough off the parchment paper into a 9-inch round pie pan, gently pressing it down into the pan. Peel off the parchment paper and trim the dough to leave only a 1-inch of overhang around. Save the scraps in plastic wrap for decorations, if desired. Prick the bottom all over with a fork and chill while you prepare the filling.
Remove the second round of dough from the fridge onto another lightly-dusted piece of parchment paper to soften slightly while you toss the filling together.
Preheat the oven to 425ºF and place a rack on the bottom third of the oven. Line a baking sheet with parchment paper and set aside.
Toss all the filling ingredients together in a large bowl. Pour the filling into the chilled pie crust.
Roll the second round of dough into a 12x14 inch oval about ¼-inch thick and slice it into 8 long strips (1.5"x14").
Using every other cut strip from your oval, place half the strips evenly spaced lengthwise on top of the pie then weave the remaining strips in one at a time (here's a video on how to do the weaving!). Trim the strips to only a ½-inch overhang, saving the scraps for decoration.
Fold the edge overhang of the crust over itself and the lattice edges, using your fingers to flute the crust (alternatively use a fork to add pattern to the crust edge.
Optional: Roll the remaining dough scraps out until it is ¼ inch thick and use a cookie cutter to cut out shapes to place on top of your pie. Place them on top of your pie as you desire.
Chill the pie for 20 minutes then brush with whole milk or cream and sprinkle with coarse sugar. Bake the pie on the parchment-lined baking sheet on the lower rack at 425°F for 10 minutes then reduce heat to 385 and bake for 55-65 minutes, until the filling is bubbly and the crust is golden brown. If parts of your crust (ex. edges or higher decorations) start to get too brown before the pie is finished, use foil pieces to cover those bits! Let cool completely before slicing and serving.
Serve with a scoop of vanilla ice cream.