This morning I found a pint of vanilla ice cream in the fridge when I reached for the yogurt. That's what kind of day it was. A melted ice cream kind of day. (For the record that was a midnight #dadfail - not a #momfail). You know what that vanilla ice cream would be great on top of right now? Strawberry rhubarb pie.
Lucky you, my friend Lisa from Healthy Nibbles & Bits is popping by today to share her rustic crumb-topped strawberry rhubarb pie with you. I'm hoping to be back in the kitchen soon, but I'm super stoked (and grateful!) to have Lisa filling in for me while I figure out my groove with the little but ferocious boss babe. Lisa and I became fast friends over a to-be-continued attempt at hibiscus macarons (we'll get that right eventually!). She makes clean bright gluten-free recipes and breathes so much life into them with vibrant photos (my current obsessions: Jamaican jerk tofu stir fry & sushi burritos). But guys, her newest side project is proof that this girl is busting with artistic creativity: art on toast, folks (and she takes requests *wink*).
Let's all ogle over this juicy strawberry rhubarb pie now, which is making me want to bake up the strawberries and rhubarb in my fridge...aaaaaand binge-watch Pushing Daisies. Take it away, Piemaker Lisa.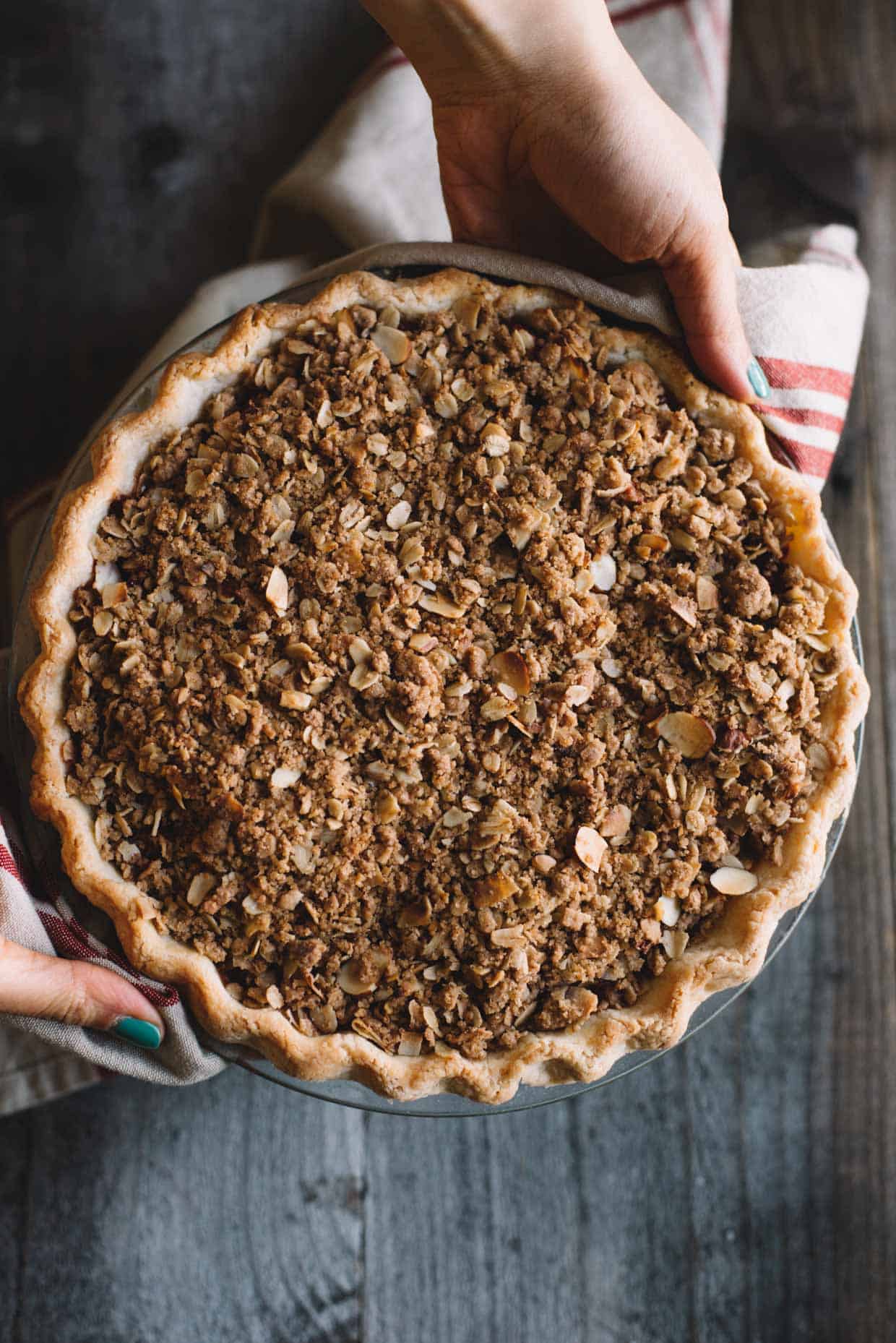 Hai! Lisa here from Healthy Nibbles and Bits. When Sarah asked me to guest post for this beautiful blog, I let out a little squeal of excitement. We've gotten to know each over the past year and a half through visiting each other's blog, cooking together, and having deep late-night discussions like the one about emergency zebra escape drills in Tokyo. You know you've got a friend for life when you can have a good giggle over grown men dressed in zebra costumes. I'm fortunate enough to call this super talented woman my friend, and I was happy to step in to share a recipe while Sarah takes care of her sweet #cheesebabygirl.
I haven't gotten a chance to meet Zoella Mae in person yet (hopefully soon!), but based on the photos that Sarah has sent me, Zoella Mae is cute as a button! It's only fitting that I share a sweet treat for a sweet baby girl. (Okay, I know that she can't actually eat this yet, but I promise to make another one for her when she is old enough!)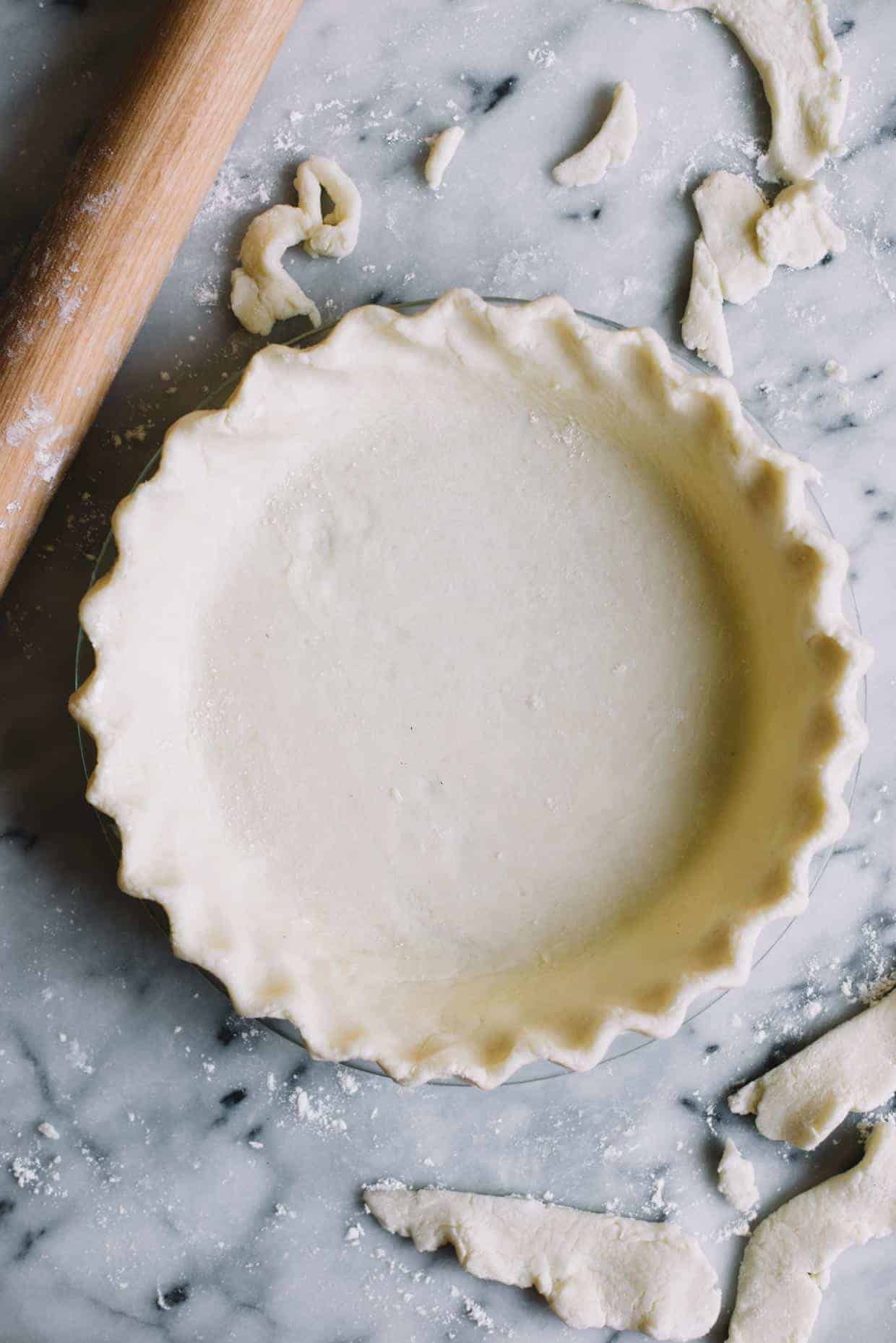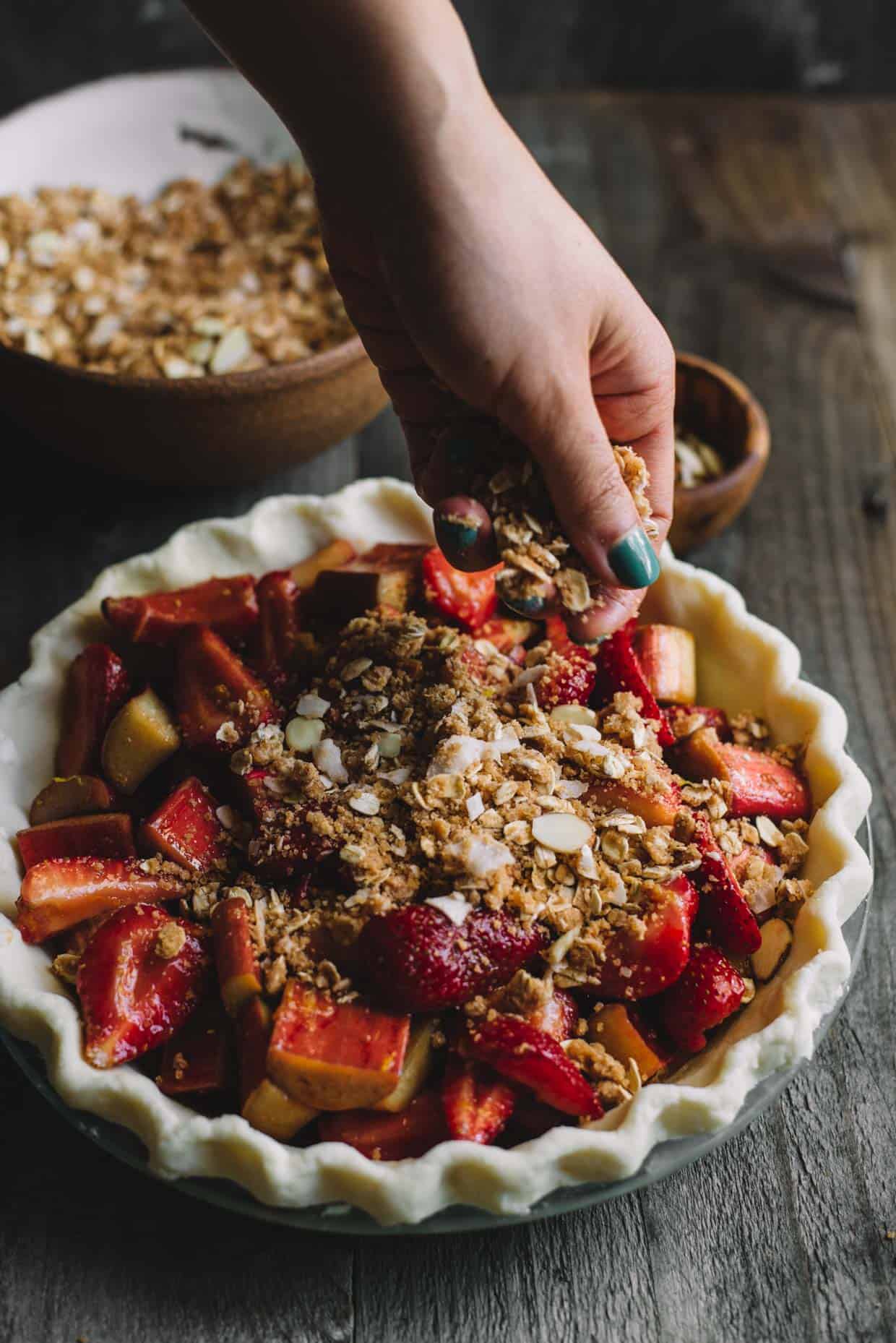 A few weeks ago, I led a pie demonstration at a library in San Francisco, and I had to bake a few pies for everyone to try. Strawberries and rhubarb are popping up everywhere right now, so I thought it would be a good idea to feature a seasonal pie on the menu. Taking a cue from one of Joy the Baker's recipes, I made a crumb topping for this pie instead of going the traditional double-crust route. The "oohs" and "ahhs" and "om nom noms" that I got from the people who tasted this pie made it clear that the crumb topping was the right move.
Lately, I've been into experimenting with different types of sugars in my baked goods. It's just fun to see how different types of sugar affect the flavor of sweets. Here, I used turbinado sugar in the crumb topping and a turbinado/coconut sugar blend for the filling. The turbinado adds a beautiful crunch, and it's definitely something worth trying. If alternative sugars isn't quite your jam, the turbinado can be replaced with plain white sugar, and the coconut sugar can be replaced with light brown sugar.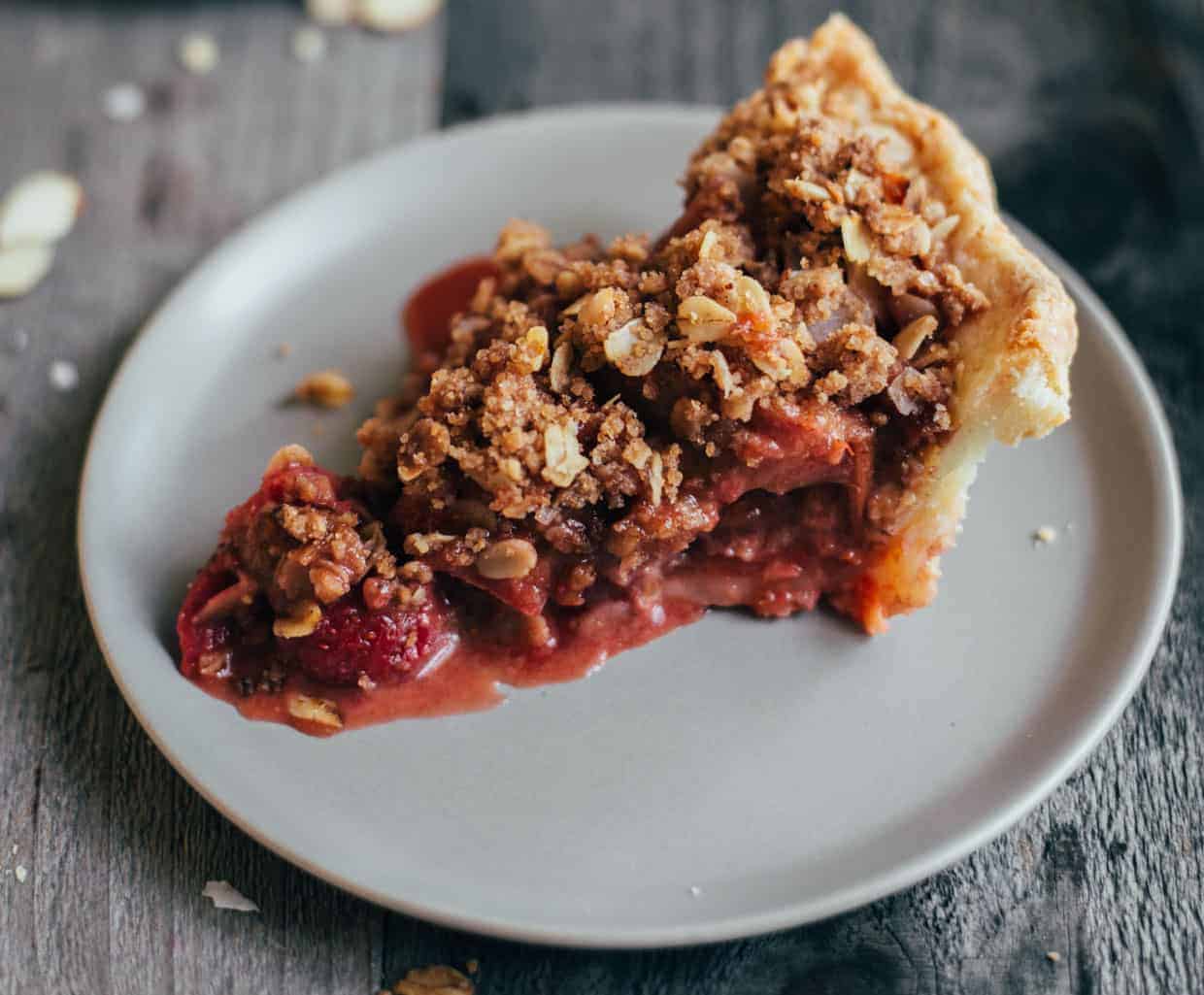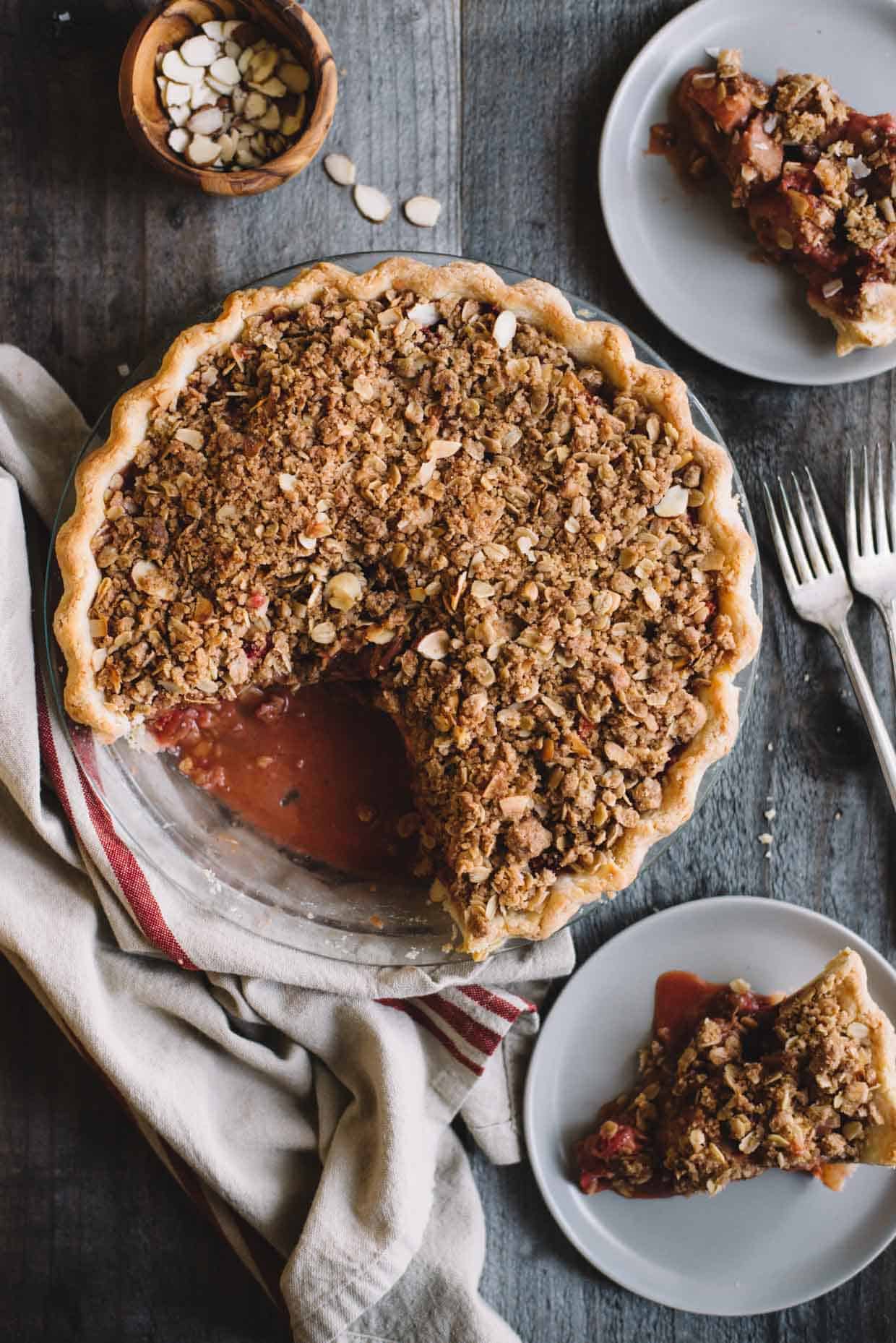 To keep things simple, I'm using a store-bought gluten-free all-purpose flour (Cup4Cup) for the pie crust. If you like experimenting with blending flours at home, you should try Alanna's gluten-free pie crust recipe. I used it to make an apple pie, and it worked like a charm!
This pie is best served slightly warm with a scoop of ice cream on top, like Sarah's Vegan Vanilla Bean Ice Cream. I've tasted it before, and it is ah-mazing!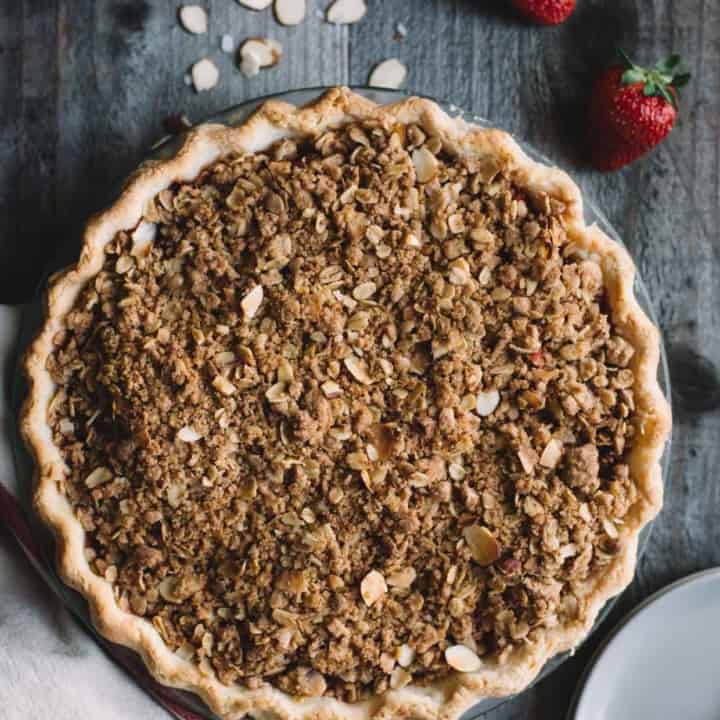 Gluten-Free Strawberry Rhubarb Pie with Crumb Topping
Ingredients
Pie Crust
½ teaspoon salt
1 teaspoon cane sugar
8 tablespoons cold butter
6 to 8 tablespoons ice water
Filling
1 lb strawberries, hulled and sliced
1 lb rhubarb, sliced to ½-inch slices
⅓ cup turbinado sugar
¼ cup coconut sugar (or light brown sugar)
3 tablespoons cornstarch (or tapioca starch)
1 tablespoon lemon juice
¼ teaspoon salt
zest from 1 lemon
Crumb Topping
½ cup rolled oats
½ cup gluten-free all-purpose flour
⅓ cup turbinado sugar
1 teaspoon ground cinnamon
½ teaspoon ground ginger
3 cardamom pods (or ¼ teaspoon ground cardamom)
¼ teaspoon salt
5 tablespoons cold butter
⅓ cup flaked unsweetened coconut
3 tablespoons sliced almonds
Other Tools
10" pie dish
kitchen shears
Instructions
Making the Pie Crust
Cut butter into thin slices or small cubes and freeze for 10 to 15 minutes. Don't freeze it for any longer, as the butter can become too solid.
Mix flour, ½ teaspoon salt, and 1 teaspoon sugar in a large mixing bowl. Break up butter slices or cubes and into the bowl. Using a pastry cutter, cut butter into the flour, until you get pea-sized pieces.
Add 4 tablespoons of ice water to flour and use a fork to stir everything together. If dough is still crumbly, add ice water, one tablespoon at a time. Take a small handful of dough and give it a light squeeze and release. If the dough sticks together well, it's moist enough. Pour the pieces of dough onto a work surface and gather them into a ball. Flatten dough into a disk and wrap in plastic wrap. Refrigerate dough for 30 minutes to an hour.
On a well-flour surface, roll out your dough to a 12-inch round. Transfer rolled out dough to a 10" pie dish. I draped the dough over my rolling pin and transferred to the pie dish. Fit crust to the bottom and sides of pie dish. Use kitchen shears to trim edges of dough to about a ½ overhang. Tuck dough under to form a rim. You can crimp the edges with a fork or your fingertips. Wrap and refrigerate pie shell for 30 minutes to 3 hours before filling it.
Baking the Pie
Preheat oven to 400 degrees F. Position oven rack to the center.
Mix all ingredients for the filling together and let it sit for 10 minutes.
Remove seeds from cardamom pods and grind them with a mortar and pestle or a spice grinder. In a medium bowl, mix rolled oats, flour, sugar, cinnamon, ginger, cardamom and salt. Using your fingers, work the cold butter with the rest of the ingredients. The butter should be about the size of small peas. Stir in flaked coconut and sliced almonds.
Unwrap chilled pie shell, and fill with fruit filling. I like transferring the fruit to the bowl with a slotted spoon so that I don't get too much liquid into the pie. Top fruit filling with the crumble. Place pie on a baking sheet.
Bake pie at 400 degrees F for 15 minutes. Reduce heat to 350 degrees F and bake for an additional 25 to 30 minutes, until the crust is golden brown and the crumble is nicely browned but not burning. I like to check the pie after it's been baking at 350 degrees F for 20 minutes to make sure that the coconut or almonds hasn't burned yet. You can easily pick out any burned pieces.
Let pie rest for 1 to 2 hours before serving.
Notes
1. When working with gluten-free pie crusts, it can be tricky to transfer the crust to the pie dish because the crust rips quite easily. I've found the rolling pin method to work for crusts that I make with Cup4Cup flour. You can also roll the pie crust between two sheets of parchment paper. This is a more fool-proof way to roll pie crust without ripping it. See Sarah's recipe for more detailed instructions on this.
2. I've baked this pie about 5 times already, and the fruit juices have never bubbled out of the pie. However, I still like to bake the pie over a baking sheet as an extra precaution.