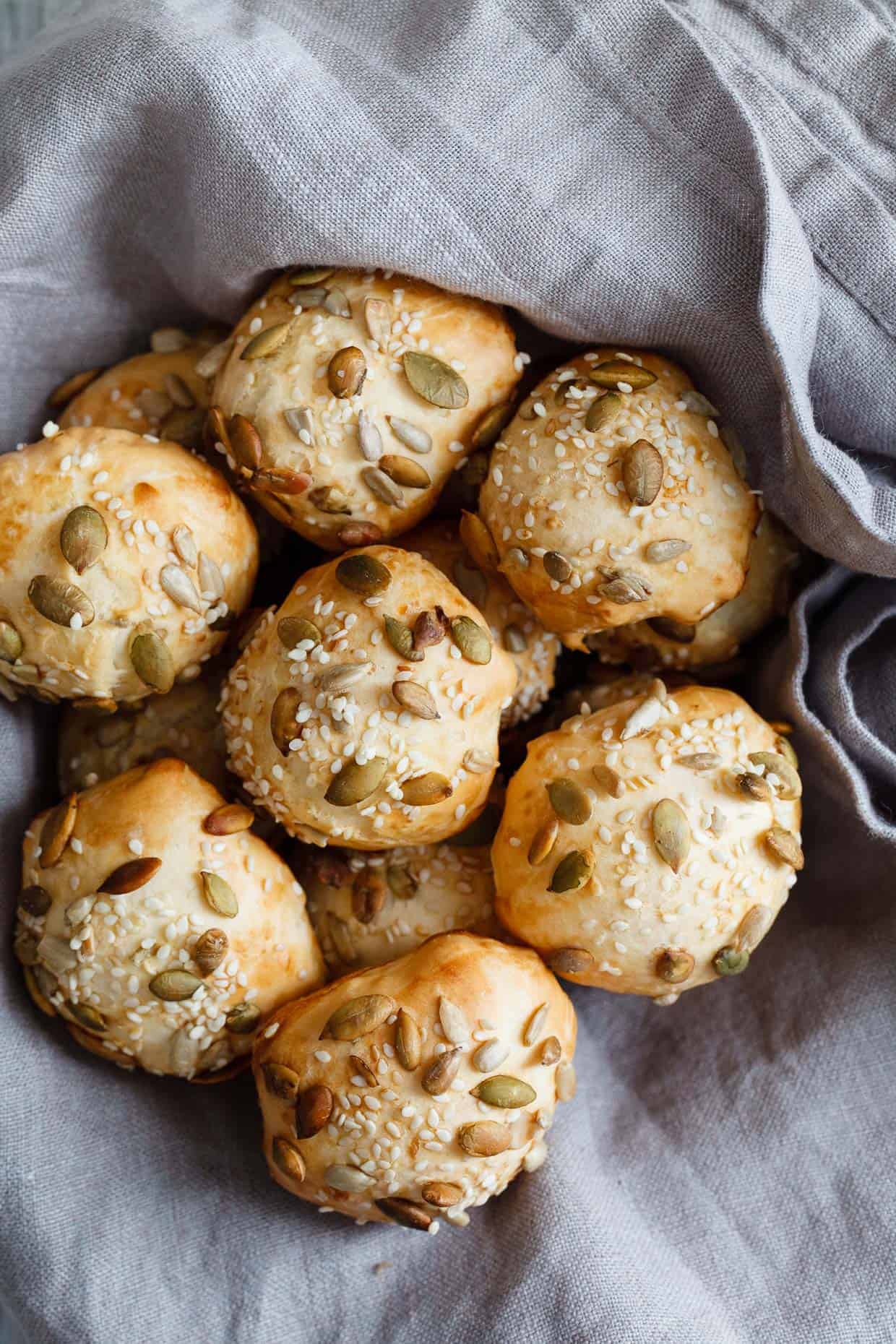 Do you love cheese as much as I do? Did you wake up at 3am to make nachos the other night too? No? Just me then? Hm. Anytime you want to stop by at 3am to wake me up for a nacho-fest, I'm totally in. I know I'm supposed to be all hyped up on summer's stone fruit and berries (which I am), but guys - I'm going through cheese right now like it's going out of season.
The test batch of these cheddar Brazilian cheese bread balls disappeared in one evening. So did the second batch the very next night. I've made them three times now and they never last more than a few hours. Any excuse to eat more cheese.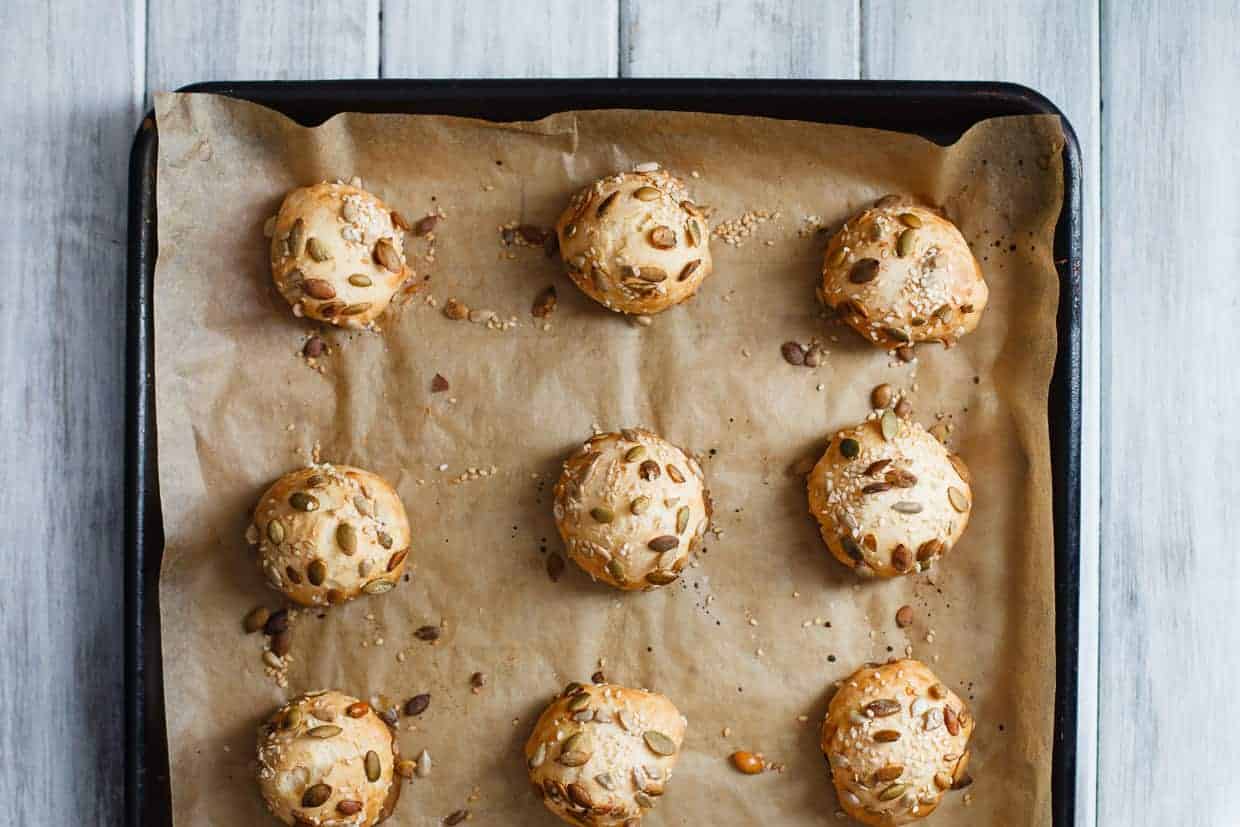 A couple of weeks ago, I found myself on a hotel express elevator in Madison, WI with a stranger who decided the 30 seconds from the 11th floor to the lobby was an opportune time to strike up a conversation. "So, what brings you to Madison?"
"The Cheese." And with that, the doors opened. He looked totally baffled, but we were out of time for further explanation.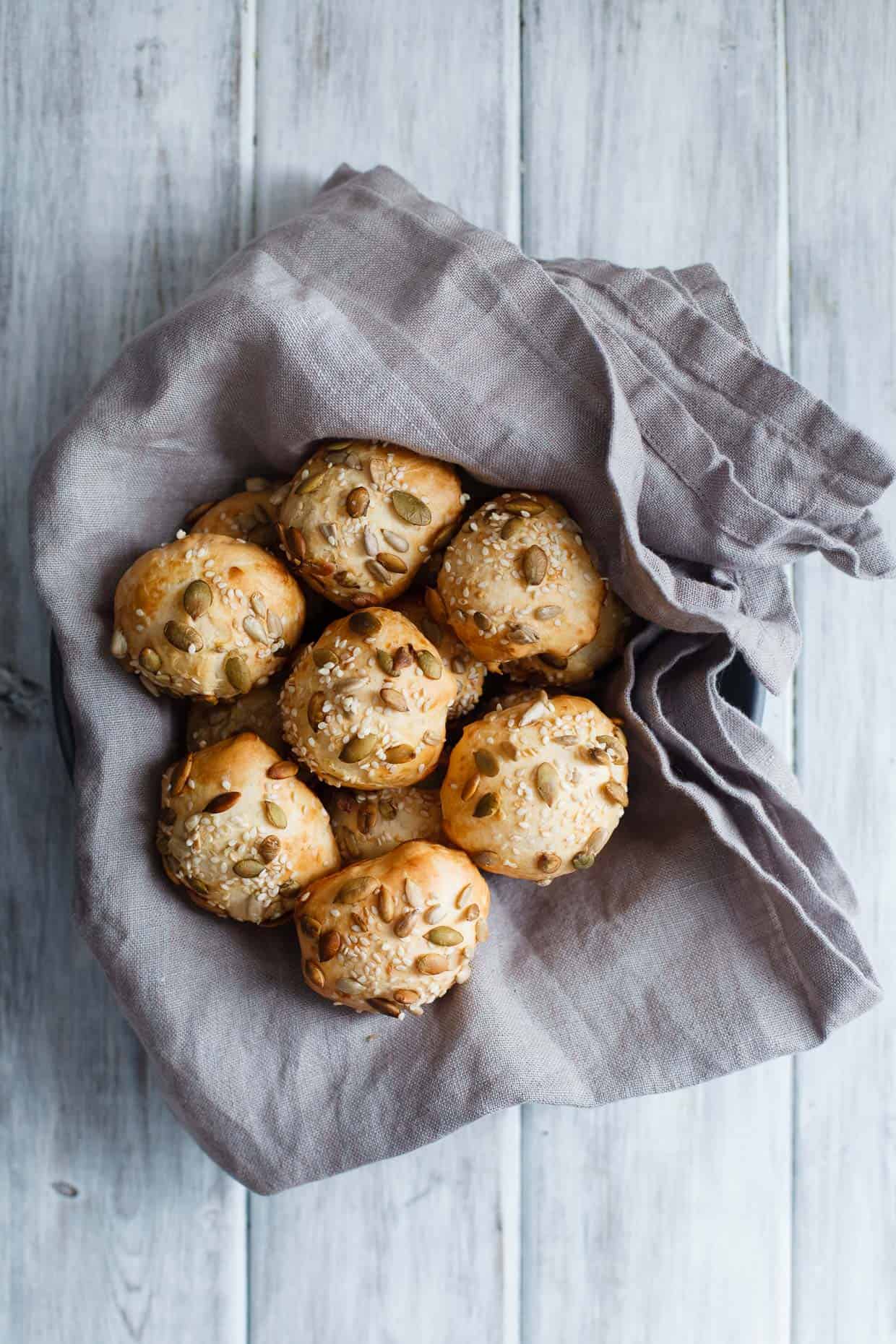 I wasn't joking - I flew out to Madison to visit with the Wisconsin Cheese Board in an attempt to eat my body weight in cheese (and to join in a cheesy harvest feast for their upcoming Grate. Pair. Share.). To start the trip off right, they left an ice chest with fresh cheese curds waiting for me in my hotel room. If only every hotel I stayed at came with fresh cheese curds, I'd forever be a happy traveler (also a cat - all hotel rooms should come with a cat option, I think).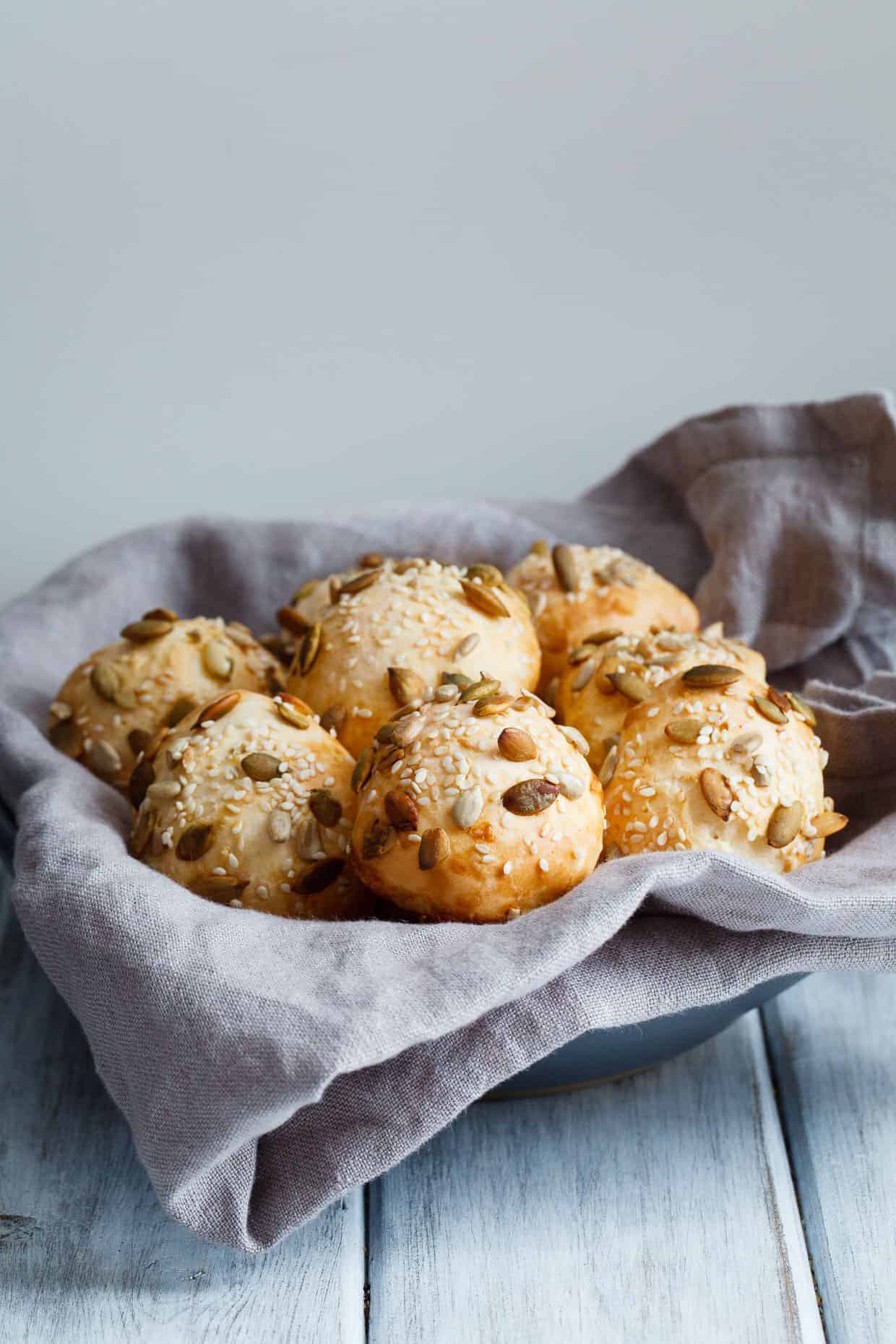 The History of Brazilian Cheese Bread
Since returning home, I've dreamt almost exclusively about cheese and of creating a seeded cheddar version of the naturally gluten-free Brazilian cheese bread I fell in love with at a street fair many years ago. Pão de queijo (also called Brazilian cheese bread) has become a staple in Brazilian cuisine, that through the years, has created a global craze. The creation of pão de queijo's is credited to enslaved people in Minas Gerais, Brazil who started making bread out of leftover tapioca flour from processing the yucca root, mixing in cheese. Today, cassava or yucca root is still essential to the liveliehoods of many indigenous populations in South America.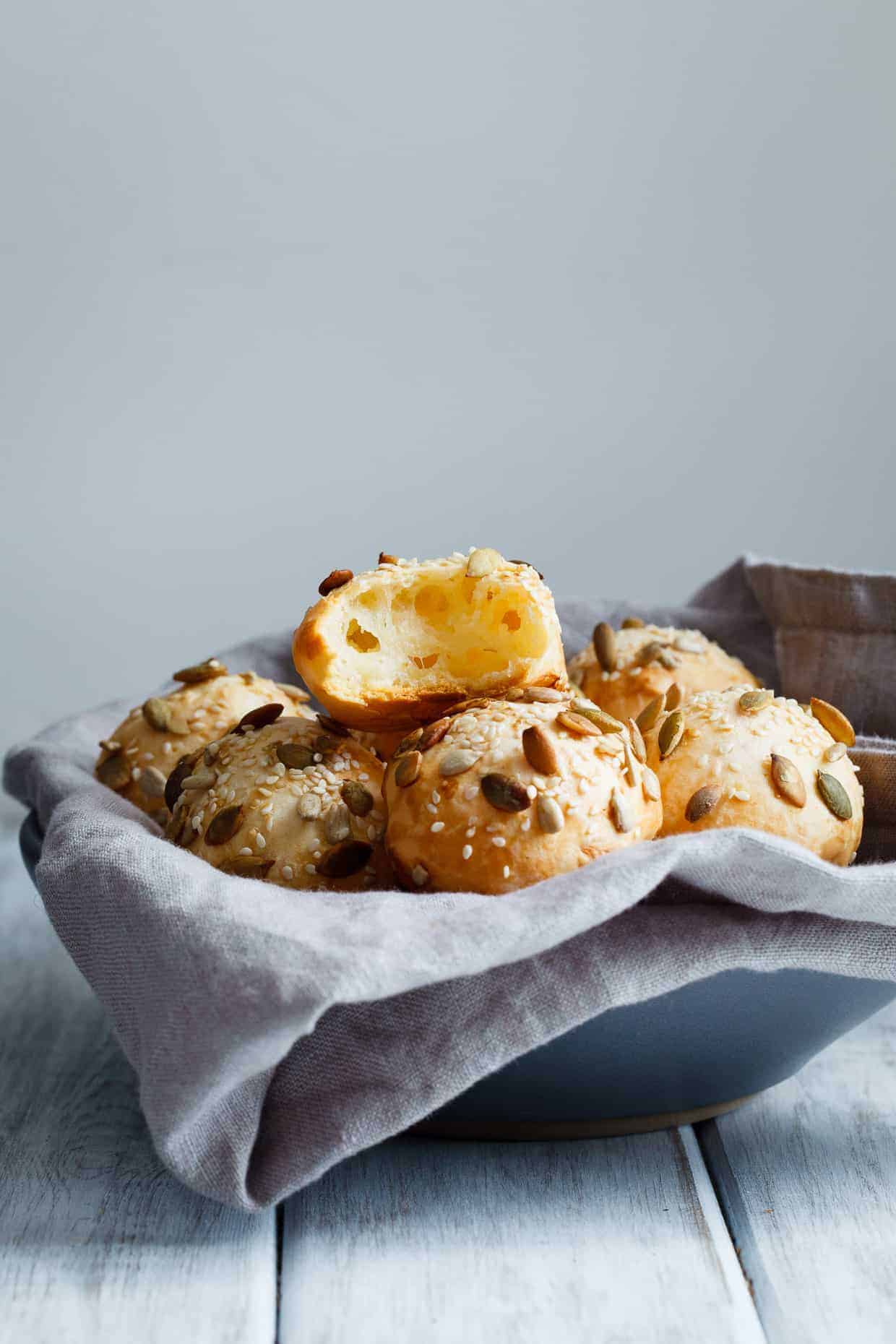 This version I'm sharing here is my attempt to make them at home using ingredients I keep in my kitchen, but one day I hope to travel to Brazil to eat the real thing and Olivia's Cuisine has a recipe for traditional Brazilian cheese bread. I added molasses wash on the outside to help them crisp up and brown on the outside. Inside, they're chewy, bready, and cheesy. The seeds are not at all traditional, but add a bit of crunch, inspired by some cheesy breadsticks my friends brought to a potluck once.
In my cheese-obsessed opinion, this cheese bread is meant for summer BBQs and dinner parties (or for any other reason you're gathering 2+ people together at the same table) - who doesn't love something chewy and cheesy to chase down dinner?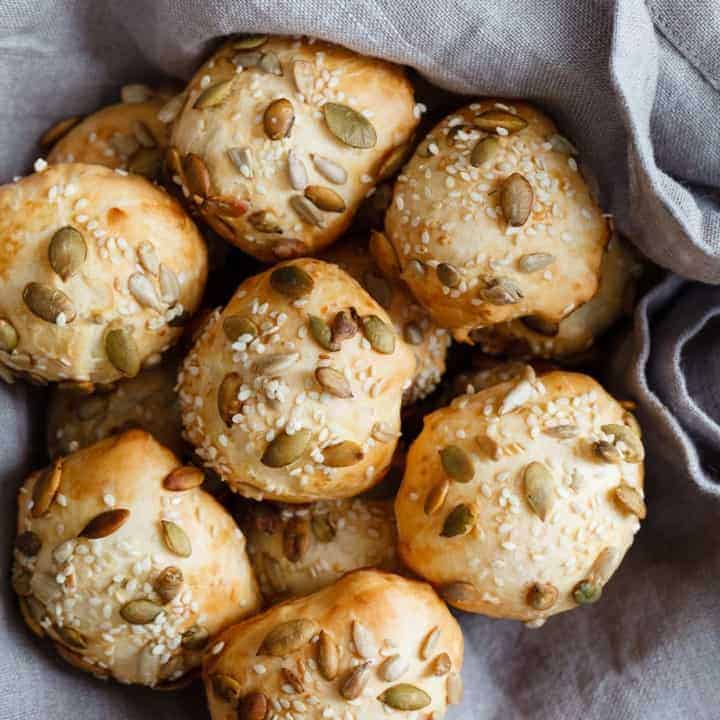 Seeded Cheddar Brazilian Cheese Bread
This spin on naturally gluten-free Cheddar Brazilian Cheese Bread is crispy on the outside with crunchy seeds, and chewy, bready, and cheesy on the inside.
Ingredients
¾ cup whole milk
¼ cup safflower or vegetable oil
1 teaspoon + ¼ teaspoon kosher salt, divided
1½ cups tapioca flour/starch (180 g)
1 large egg, room temperature
1 cup sharp cheddar cheese, finely grated
½ teaspoon molasses
2 teaspoons water
1 tablespoon pepitas (pumpkin seeds)
½ tablespoon sunflower seeds
½ tablespoon sesame seeds
Instructions
Preheat oven to 400°F.
In a small saucepan, bring the milk, oil, and 1 teaspoon of salt to boil over medium heat, stirring occasionally.
Just when the milk begins to bubble, remove pan from heat.
While stirring, slowly add the tapioca flour to the pan. Continue stirring to combine (the mixture will be sticky and might not incorporate completely, but that's okay).
Transfer the sticky dough to stand mixer fitted with the paddle attachment. Beat on medium speed until the dough is smooth and cool enough to touch.
Whisk the egg in a small bowl. With mixer on medium-high speed, add the egg into the dough and beat until combined. This might take several minutes and might at first look like it won't incorporate, but keep at it for several minutes until it's smooth.
Add the grated cheese a small amount at a time and beat over medium until fully incorporated and there are no more large cheese chunks showing through.
Wetting your hands between each roll, grab a ball of dough about 1-2 tablespoons big and drop them 2 inches apart on a parchment-lined baking sheet.
Whisk the water and molasses together in a small bowl and lightly brush the top of each roll with this molasses wash.
Sprinkle each roll with a bit of salt (¼ teaspoon total).
Combine the pepitas, sunflower seeds, and sesame seeds in a small bowl and divide them among the top of the rolls, lightly pressing the seeds down.
Reduce the oven temperature to 350°F and bake the rolls for 30-33 minutes, or until the tops are golden brown. Serve warm. (Reheat rolls for 9 seconds in the microwave or for 5 minutes in the oven).