This matcha crepe cake recipe layers thin gluten-free matcha almond flour crepes with fluffy matcha whipped white chocolate ganache. With sponge-like crepes and pillows of whipped ganache sealing the layers together, this playful cake has it all: texture, earthy sweet flavor, and a rustically ruffled edge.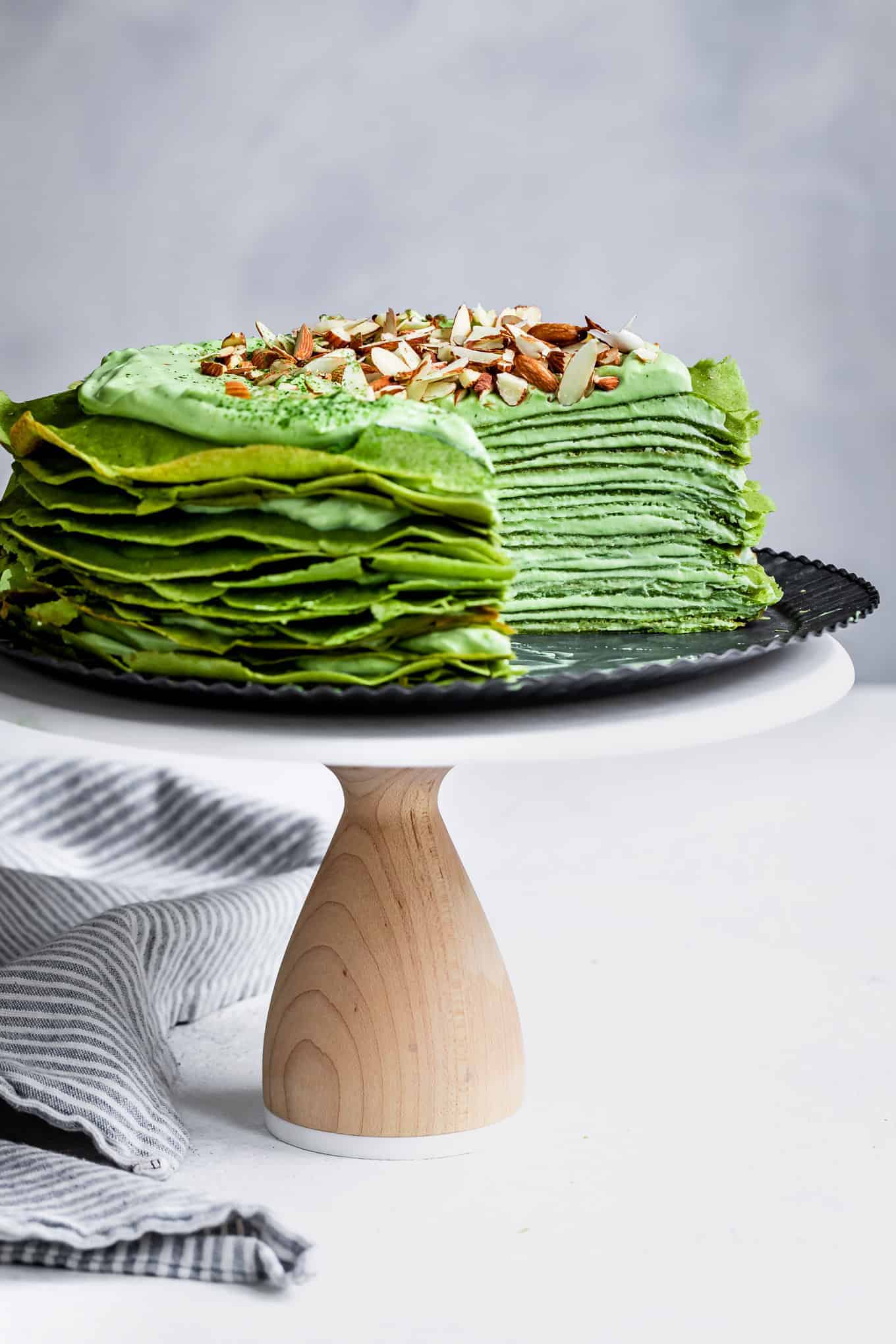 This post is sponsored by Bob's Red Mill, a year-long partner of Snixy Kitchen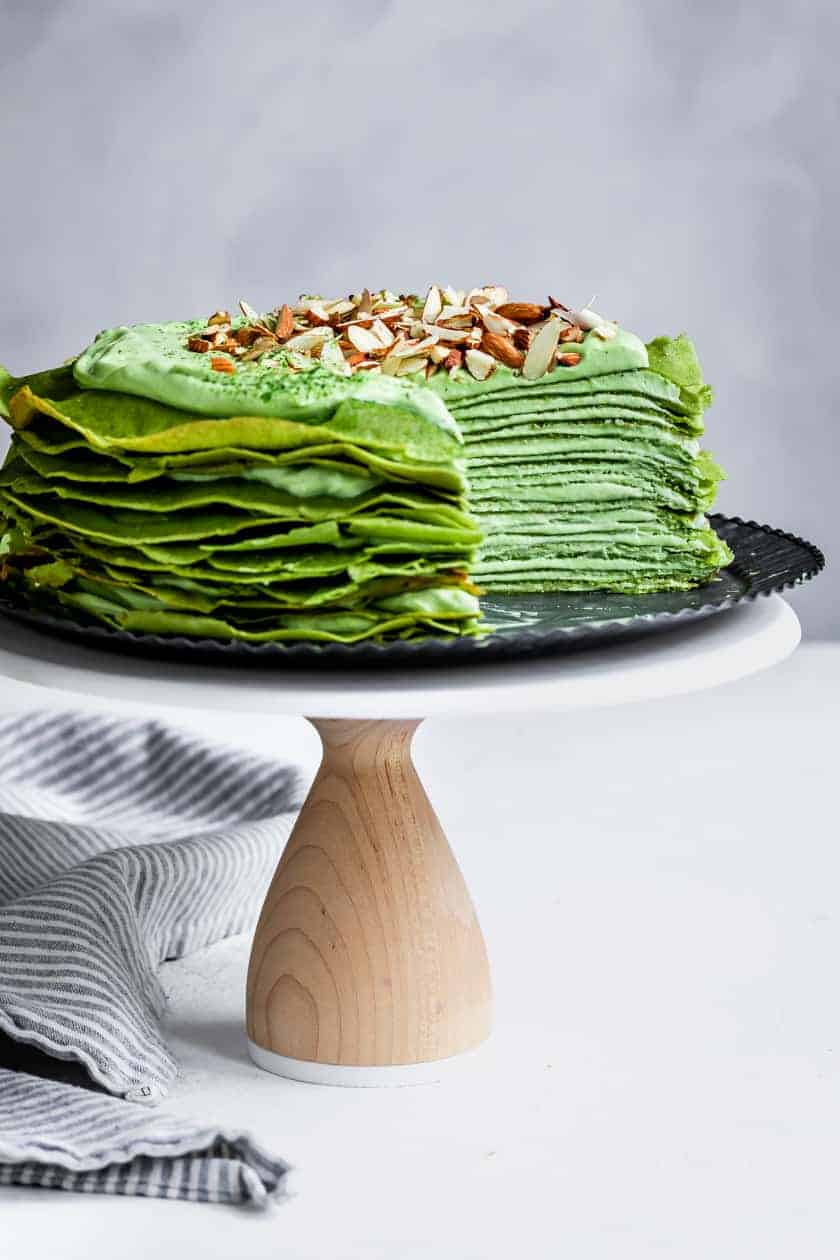 With this layered matcha crepe cake in my back pocket, I'm fully prepared to make my own birthday cake this weekend. When Zoella told me she was going to make me a chocolate and vanilla rainbow cake, Lucas's eyes nearly doubled in size and he asked in panic, "Do I have to make you a cake this year?"
I've decided that he's off the hook. I'll make my own cake - there's too much at stake. If Zoella doesn't get to sing to me while I blow out candles, she might not recover this time.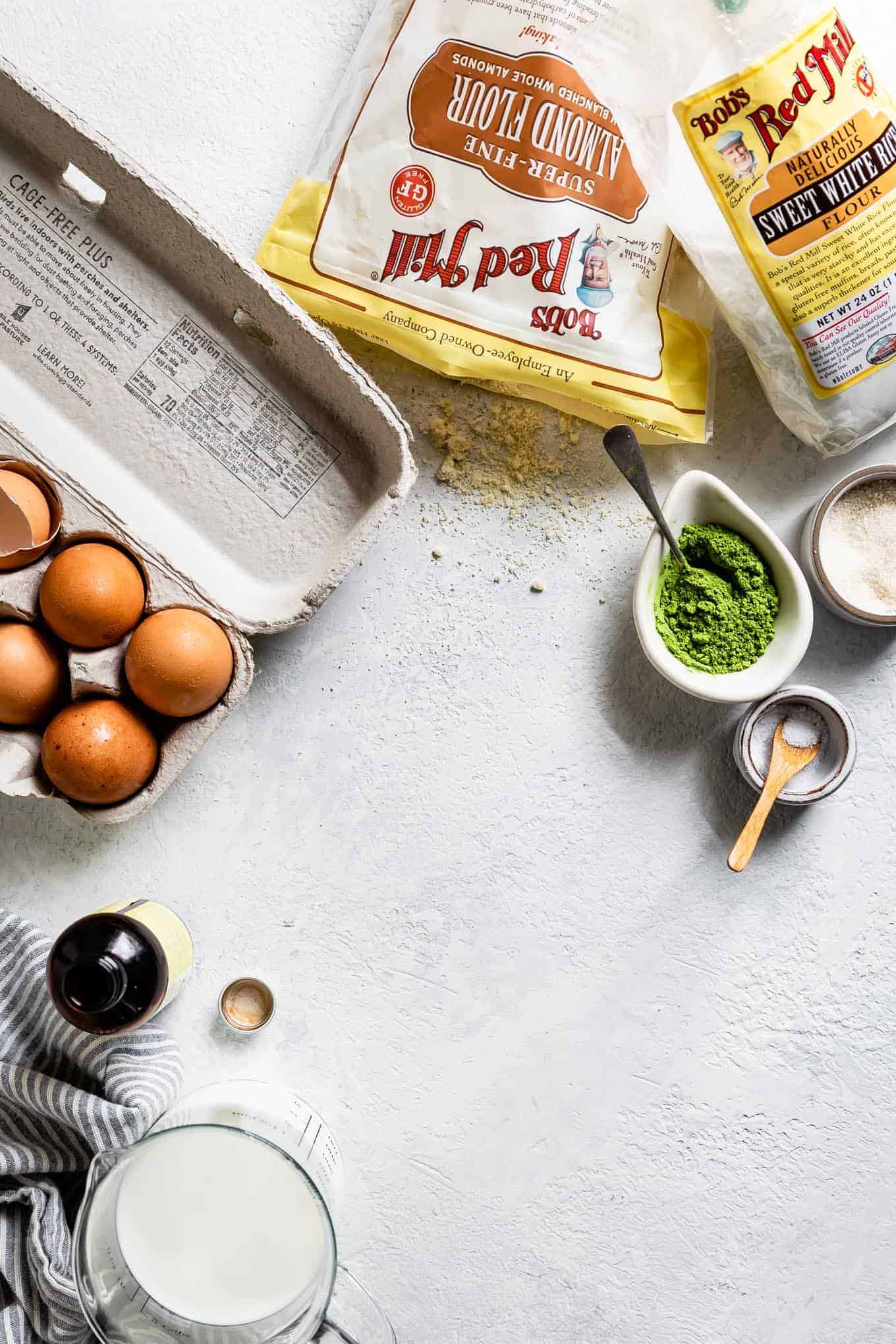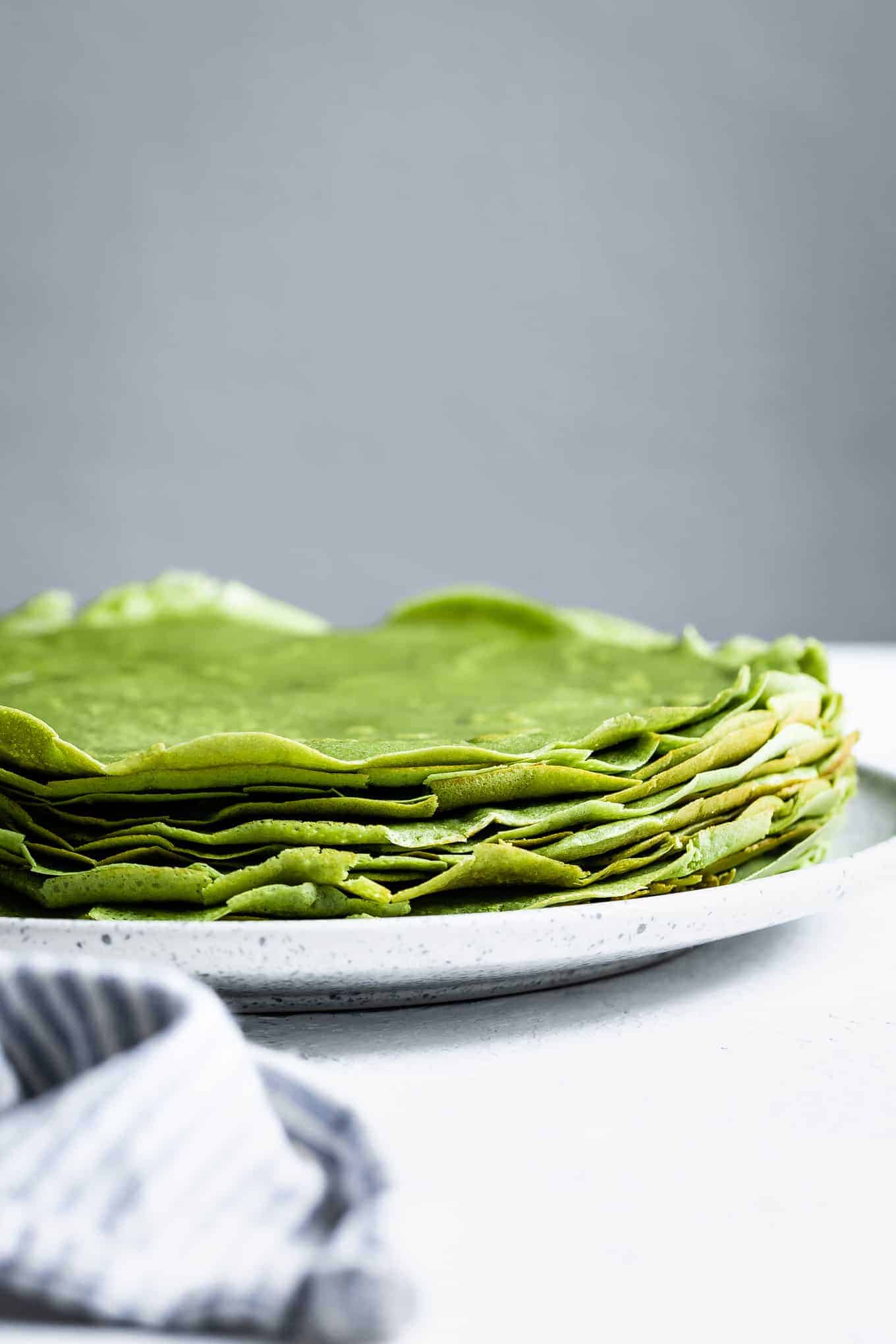 Last time was a near disaster. We tried to celebrate my birthday a week early while out to dinner on our trip to Monterey last Saturday. Instead, I ended up blowing out a candle nestled into a scoop of complimentary vanilla ice cream while sitting by myself. Neither kid had gotten a long enough nap and they were slowly falling apart as dinner arrived. Fortunately, we were at the hotel restaurant, so as soon as we'd finished eating, Lucas swooped both kids upstairs to start bedtime while I waited for the check.
Except instead of the check, the waitress showed up with a candle-topped ice cream, ready to wish me a happy birthday. I sent Lucas a picture and he FaceTimed me to show Zoella. He expected her to want to sing, but instead she melted down because she'd missed the birthday wishes. She didn't even care that she'd missed ice cream - this girl just loves birthday celebrations.
The waitress felt bad I had to eat birthday dessert alone, but you know what? She gave me an extra 5 minutes to eat ice cream in peace, and for that, I am grateful.
For my actual birthday, I'll make the cake. Perhaps this gluten-free matcha crepe cake with matcha whipped white chocolate ganache.
Matcha Crepe Cake
This thinly layered matcha crepe cake is the second recipe in a year-long partnership with Bob's Red Mill. Last month I made homemade gluten-free pop tarts with strawberry jam. As a gluten-free baker, I have an entire pantry shelf dedicated to Bob's Red Mill gluten-free flours. For these gluten-free matcha crepes, I've used a simple combination of almond flour and sweet rice flour.
Until you start baking gluten-free regularly, it can feel overwhelming to buy multiple bags of gluten-free flours. Rest assured, you can use my recipe filter to sort recipes by gluten-free flour type to use up whatever bag of Bob's Red Mill flour you've got in your pantry for a sweet treat!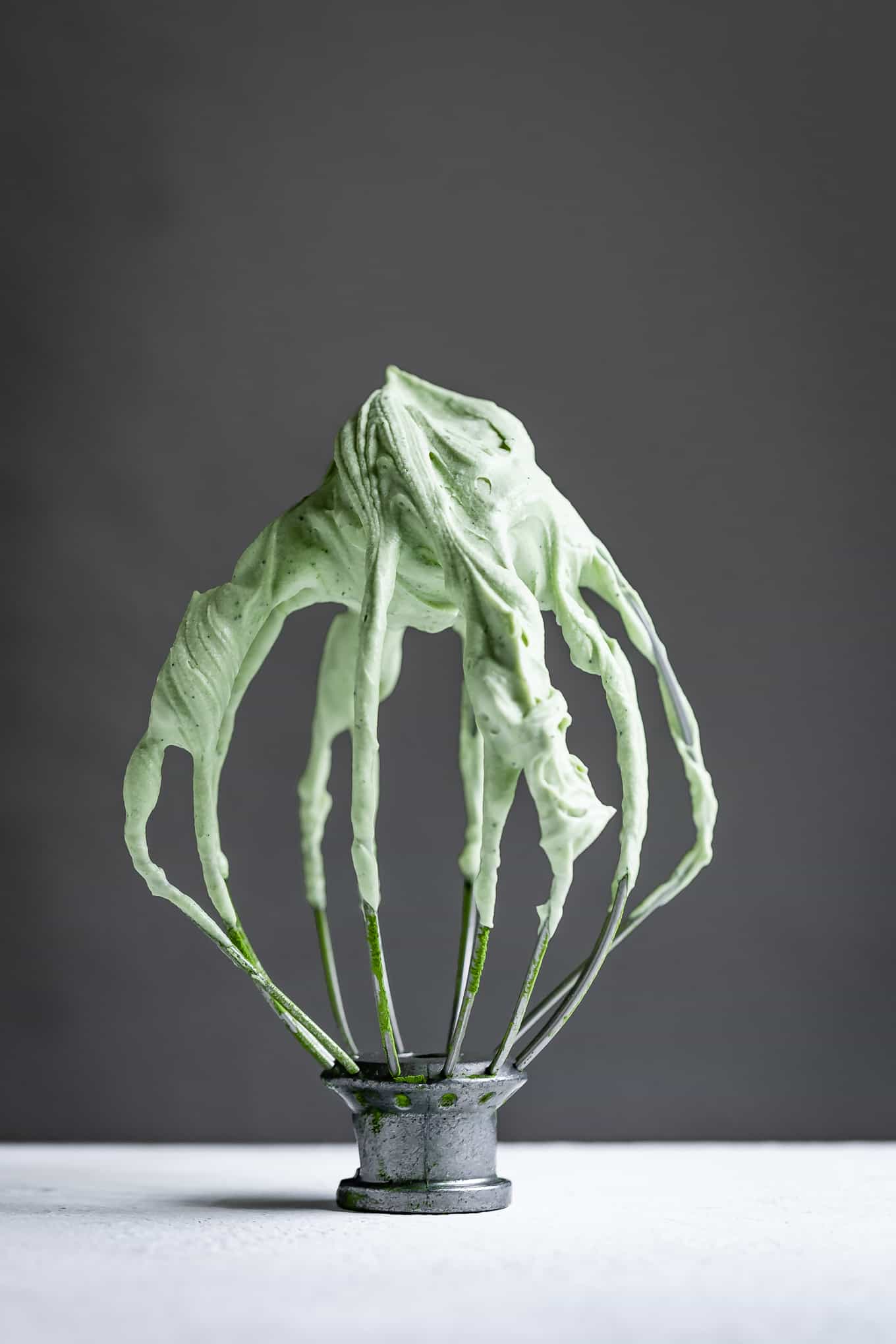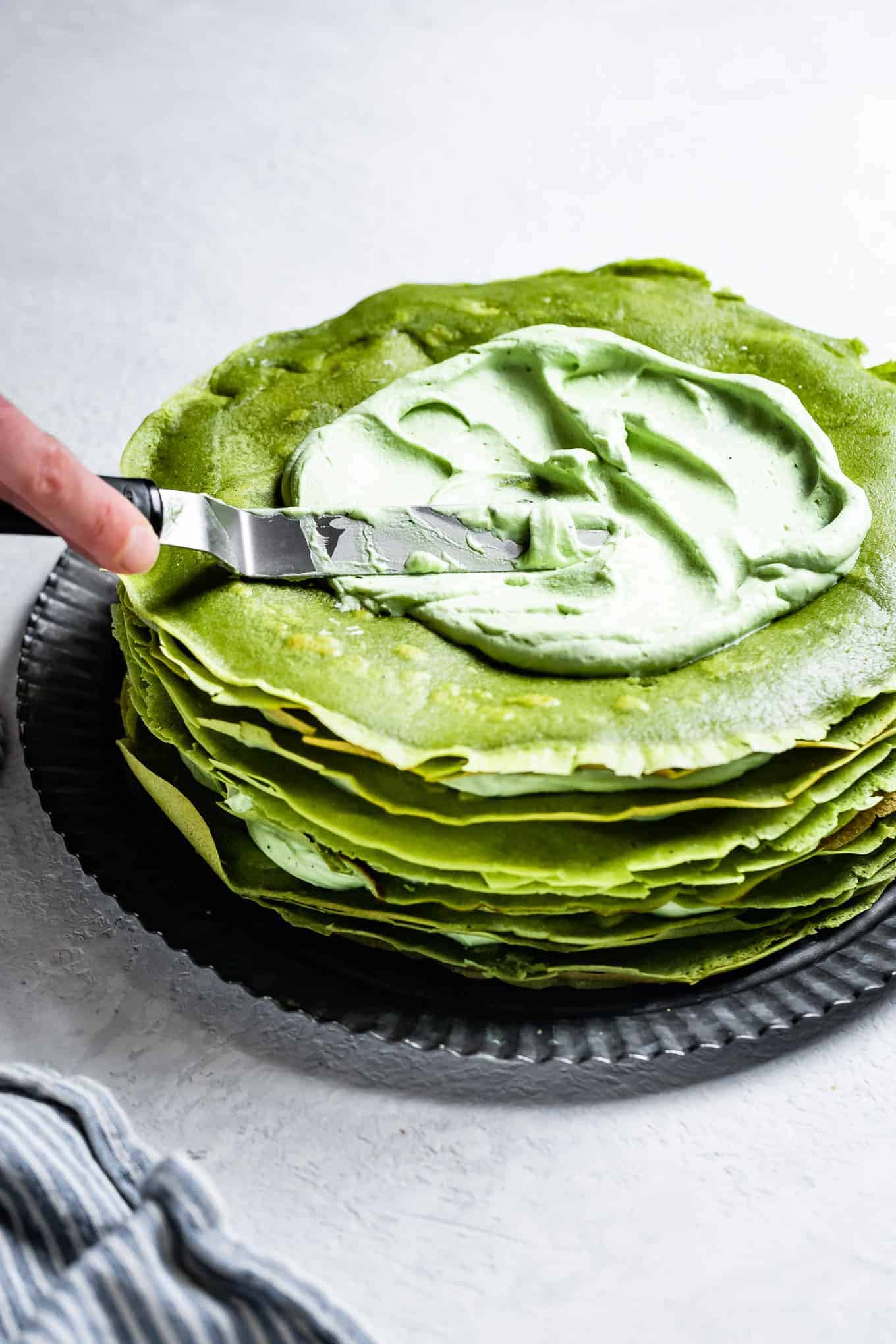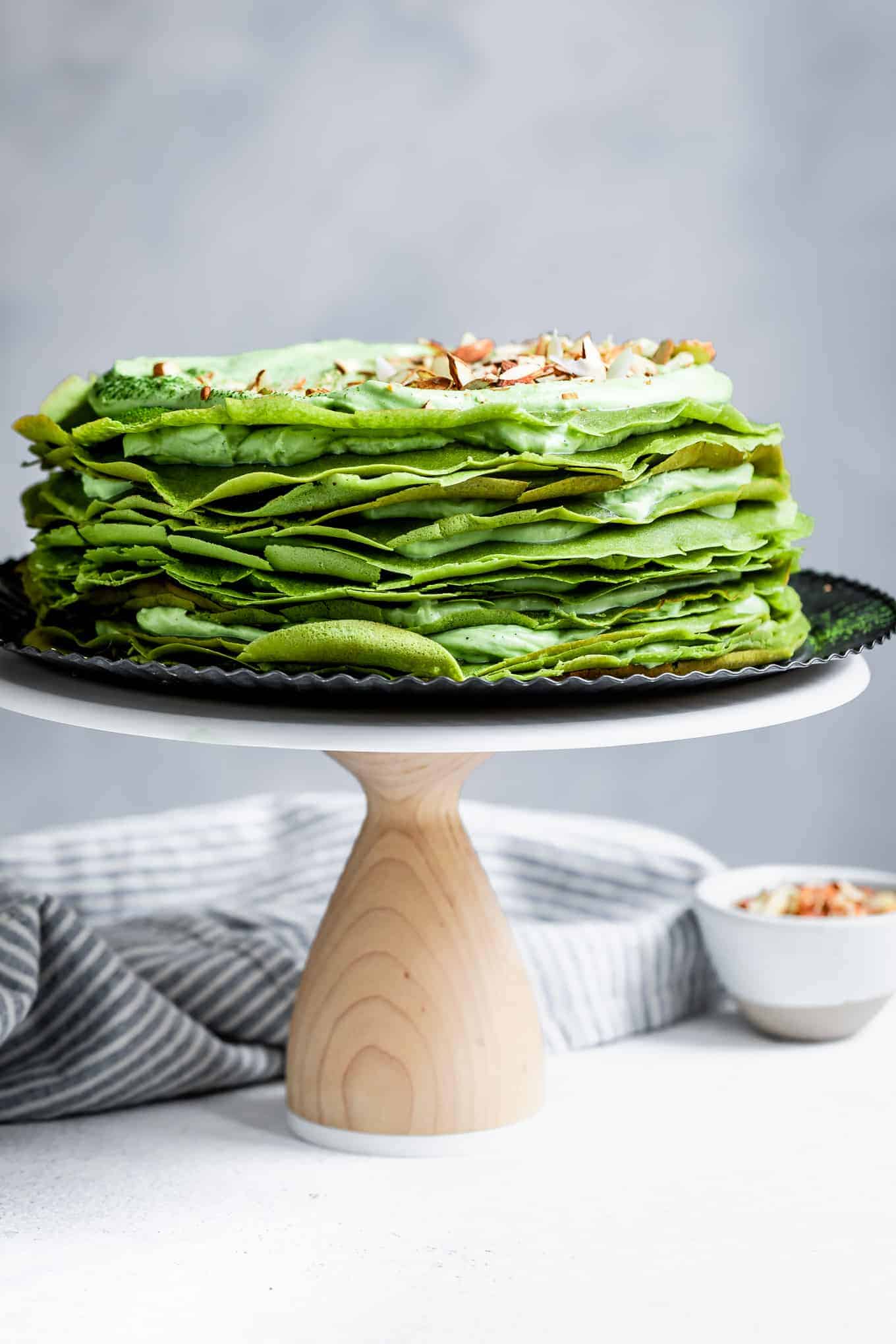 What is a Crepe Cake?
This "Gâteau Mille Crêpes" or "thousand crepe cake" is a classic French cake made by layering a (figurative) thousand crepes with pastry cream between them into a cake. If left natural, the result is a playful cake with a whimsical ruffled edge made entirely on the stove top. Slicing into the cake reveals the effort of the "baker" - sheets of cake with a near 50/50 ratio to cream.
Now, I made my 5½ inch tall crepe cake with just 18 crepes. I've done the math. If I really made this crepe cake with a thousand crepes, it'd be nearly 25½ feet tall or 7¾ meters. And it would take approximately 50 hours to flip all the crepes with a single pan.
I've riffed on that traditional cake by making a gluten-free version with almond flour matcha crepes and swapped out the pastry cream for something a little simpler: matcha whipped white chocolate ganache.
What to use as crepe cake filling?
Classic French crepe cakes get layered up with pastry cream, or "creme patissiere" - a creamy custard thickened with egg yolks. I knew if I was spending my time flipping crepes, I wanted a more approachable simpler filling.
I've seen many quick versions filled with whipped cream or chocolate ganache. My friend Amanda filled her chocolate crepe cake with a cocoa hazelnut cream.
For my version, I wanted something sweet to balance the earthy matcha, but stable that wouldn't weep in the fridge. Enter whipped white chocolate ganache with a bit of matcha folded in. Much of the time I find white chocolate cloyingly sweet. Almost the exact opposite of my choice dark chocolate. Against the vegetal grassy notes of matcha, though, the sweetness of white chocolate is just right.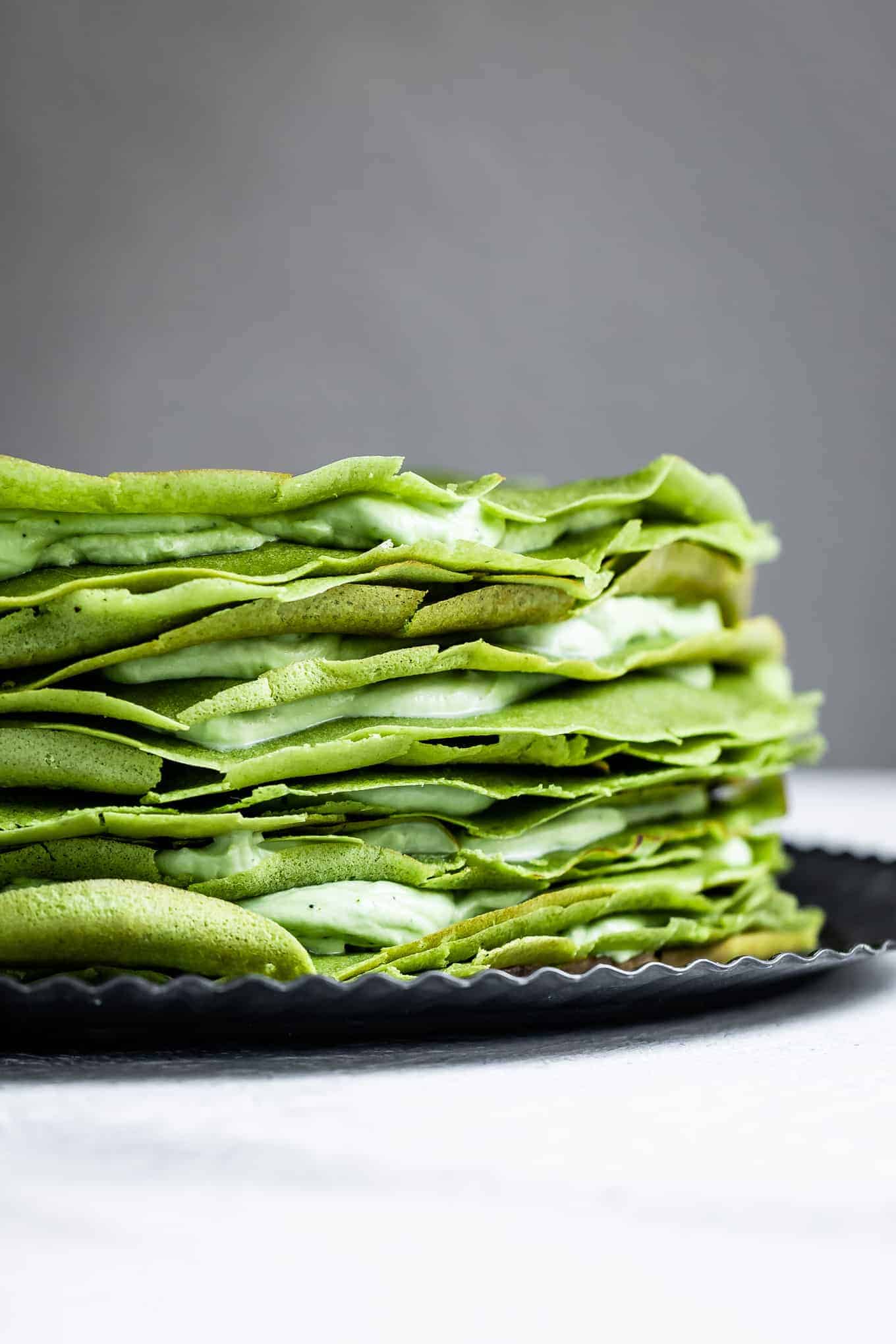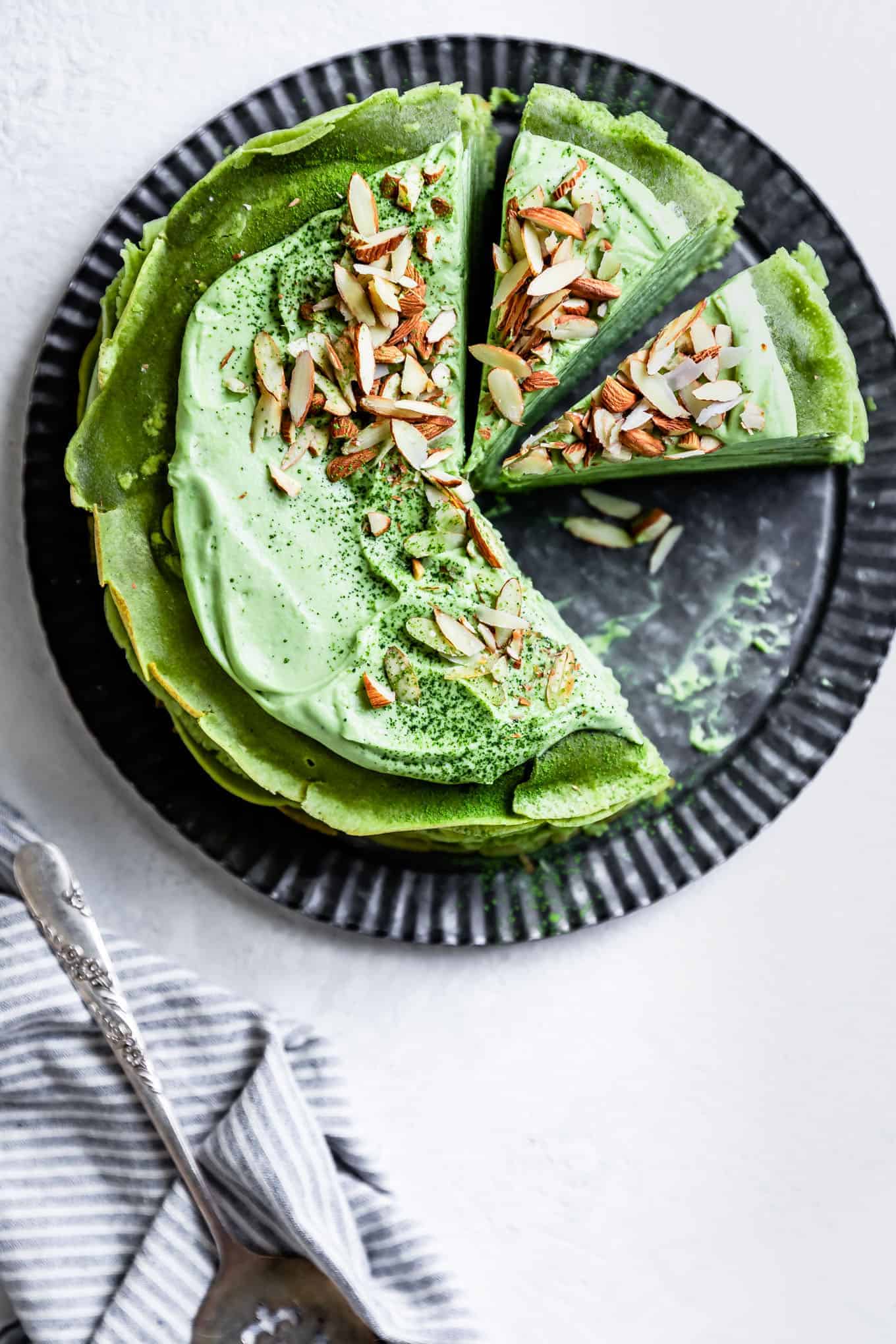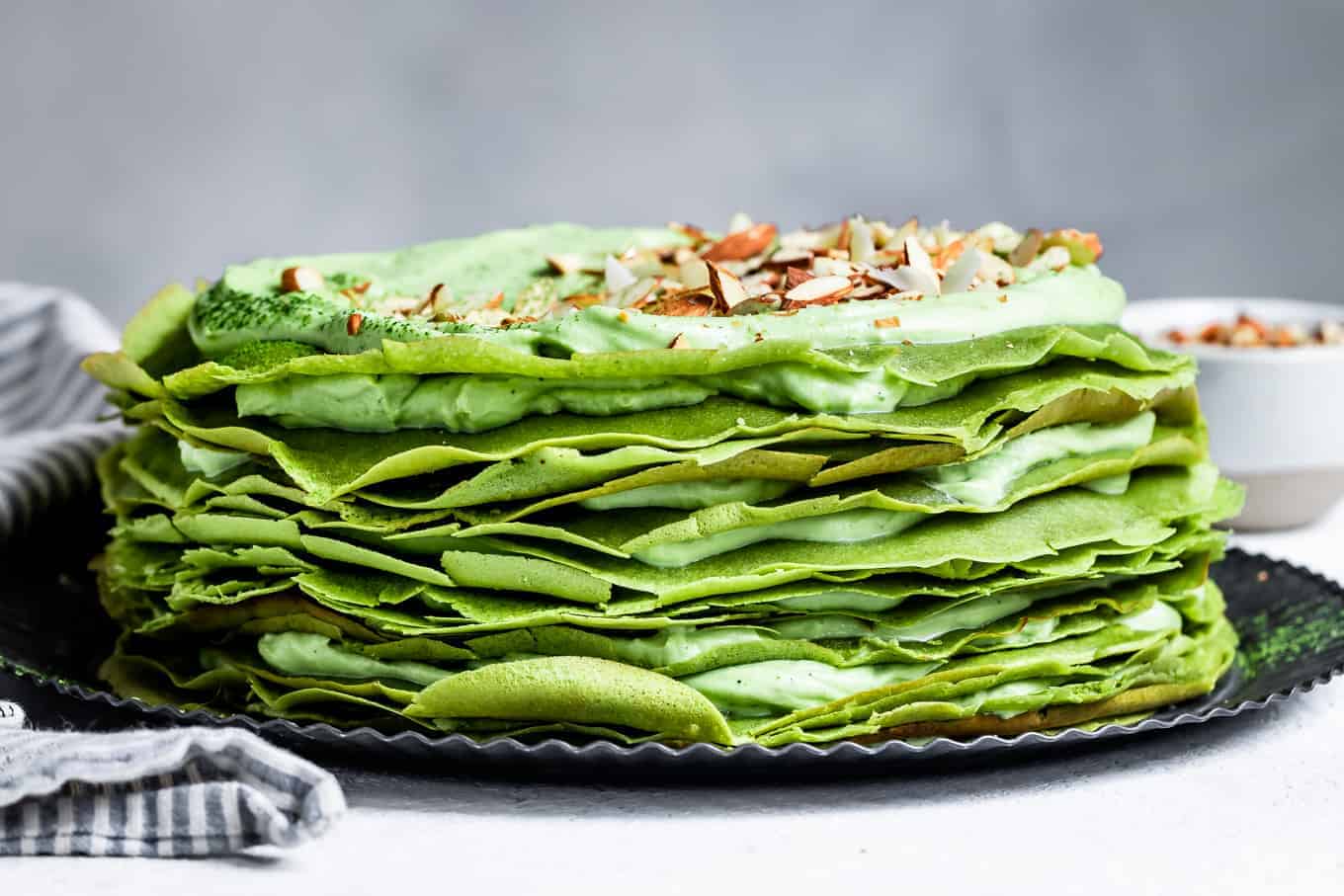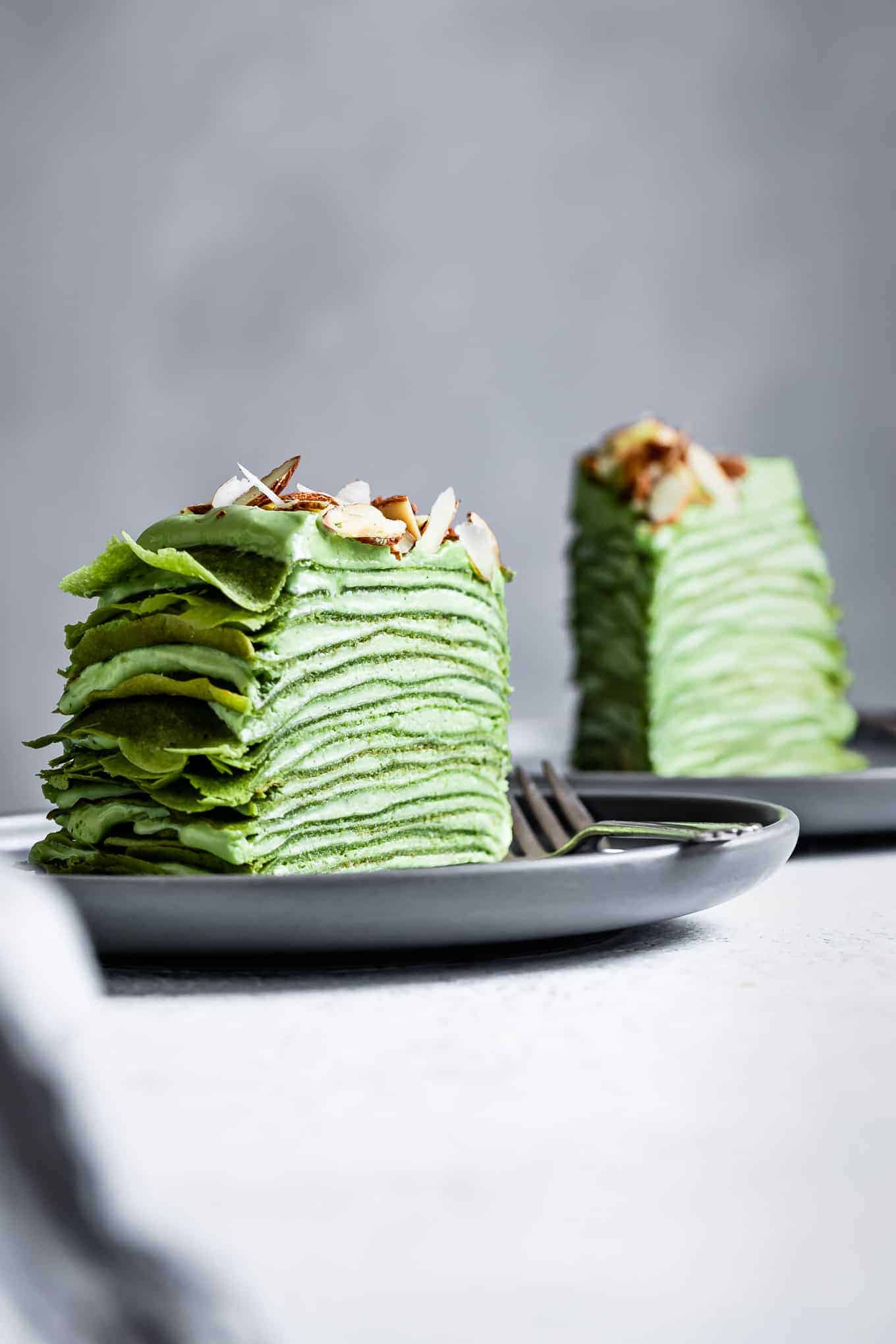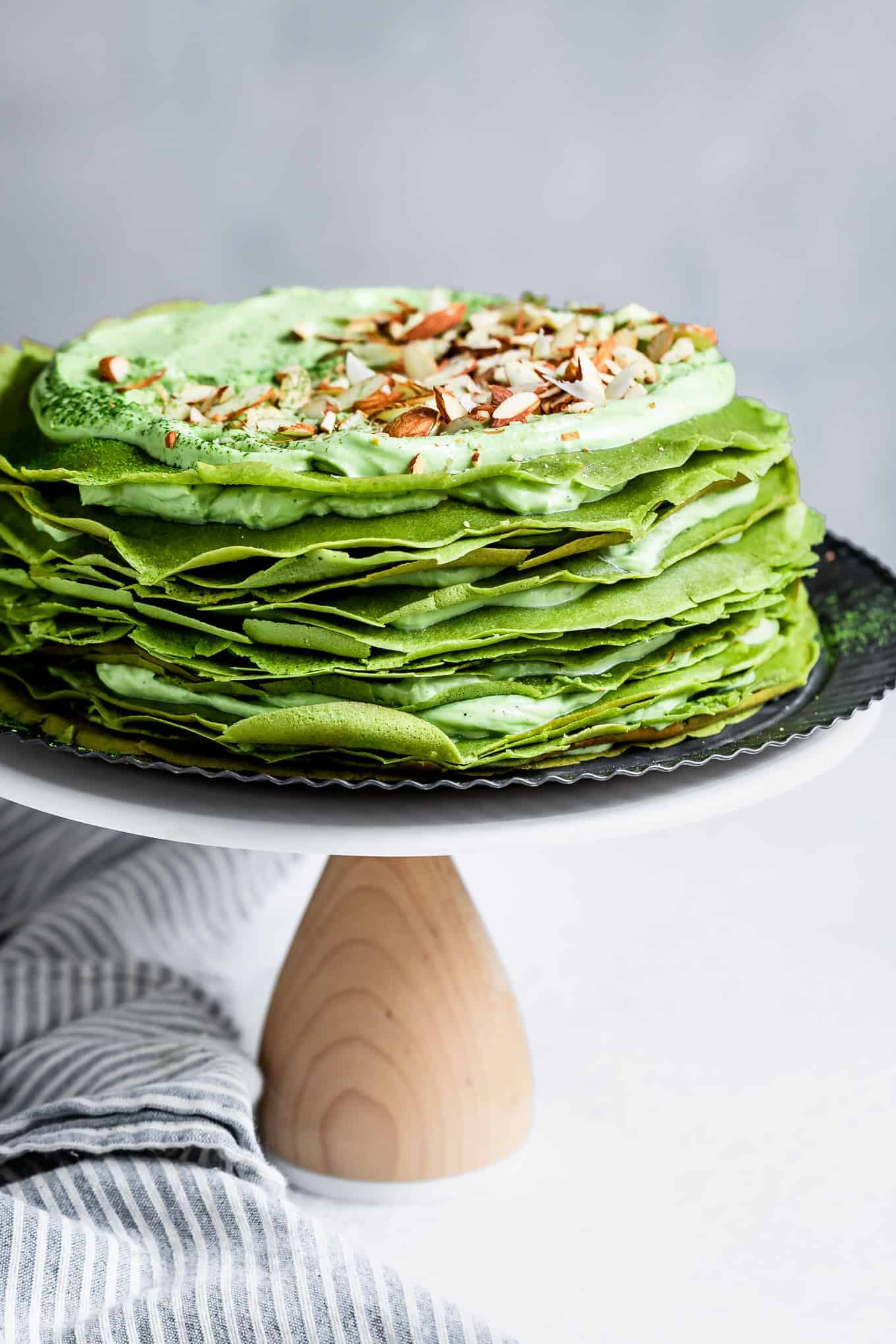 Almond Flour Crepes: How to make gluten-free crepes?
Last year I partnered with Bob's Red Mill to make gluten-free buckwheat crepes. That recipe took the classic French savory crepe and paired it with a sweet cherry and chocolate filling that accentuated the warm and toasty nuttiness of buckwheat flour.
For this matcha crepe cake, I wanted a more subtle flour that would let the matcha flavor and color shine. Matcha's sweet nutty notes become even more distinct with almond flour as the base - a time-tested pairing I've use for matcha macarons and almond matcha olive oil cake.
Used alone, almond flour is a bit more delicate and brittle. The crepes are more likely to tear. To help with that, I've added a bit of sticky sweet rice flour to make the crepes pliable and sturdy. This flexibility helps with flipping the crepes and gives them the little bit of chew and spring you get from traditional wheat flour crepes. With these two flours, the crepes have the texture and flavor of standard crepes. If you'd like, you can even replace the matcha with more sweet rice flour to make a plain crepe and it'll work just the same!
When you make a matcha crepe cake, you want the green color to pop. It's important to start with a high-quality matcha that is bright green (and hasn't oxidized to a muddy brown green color). Use my Ultimate Guide to Matcha to help navigate the various types and brands of matcha with dozens more matcha recipes.
Once you master pouring and flipping crepes, crepes are really pretty simple to make. Throw all the ingredients in a blender and give it a whirl for 30 seconds.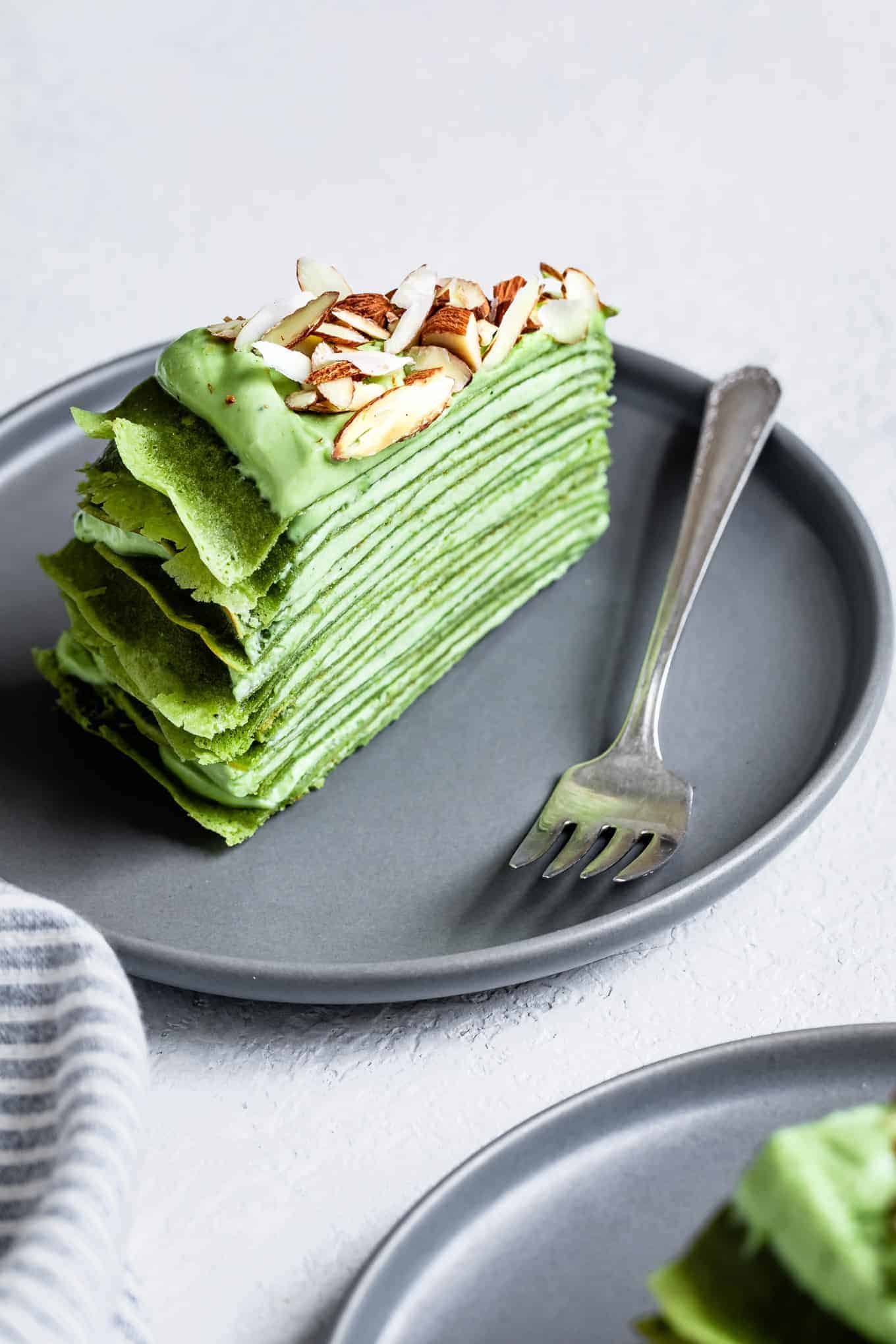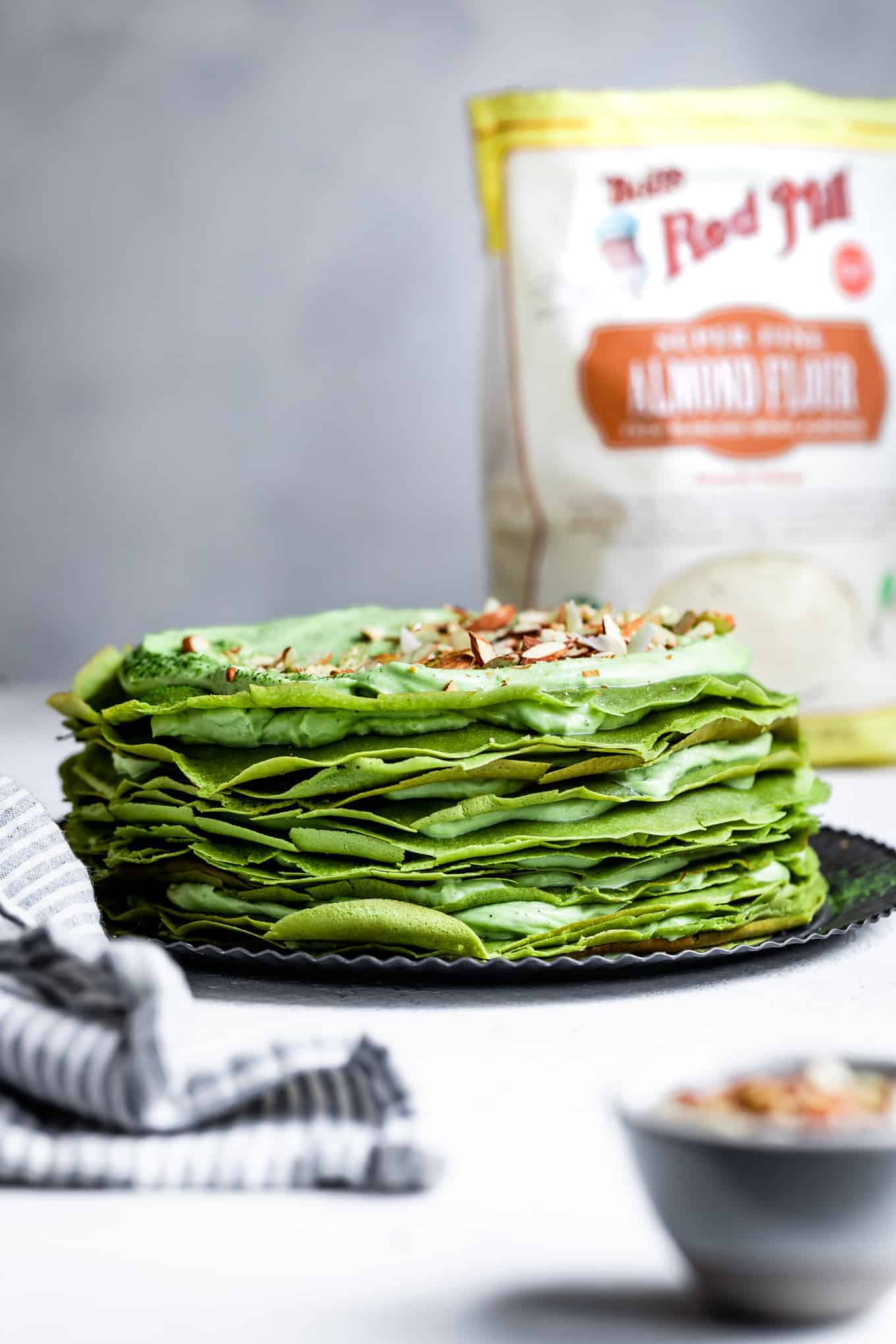 How to pour and flip crepes?
In testing this crepe cake, I've now made close to a thousand crepes (ok that's an exaggeration, but it feels that way). Here's what I've learned.
Cook low and slow
Most crepe recipes ask for medium heat, For these almond flour crepes, you want low heat (or medium low heat if you're using a small burner). The crepes need to cook almost all the way through before you flip them to ensure they're sturdy enough and won't tear. Cooking them for longer on low heat lets them cook through without the bottom getting too dark. A bonus if you're making green matcha crepes!
The exact temperature of your stove depends on your pan and burner strength. Use these signs to adjust accordingly:
If your pan gets too hot while cooking, your crepe batter will cook as soon as it hits the pan and you'll struggle to get a thin even crepe. Lift the pan off the stove and wave it back and forth a few times to cool it off.
If you pan isn't hot enough, your crepe batter will slide around in the pan, settling a little more in the center with a very thin layer around the outside that will brown and crisp up too much before the rest of the crepe is ready.
Not too thin
These almond flour crepes will be just a little thicker than traditional crepes to make them sturdy and thick enough to flip without tears. This also keeps the edges from getting too crisp while the crepe cooks.
Pour and Swirl
The pour and swirl is the art of crepe making. With the crepe pan tilted in one hand and a measuring cup of batter in the other, start pouring from the upward tilted edge of the pan and rotate where you pour in the pan while also rotating and shuffling the pan.
This sounds more complicated than it is, and once you've made one or two crepes, you'll figure out your groove.
Lift the edges before flipping
Use a thin rubber spatula to gently run around the very edge of the crepe before flipping. This will make sure that a crisp edge won't stick to the pan when you go to flip.
I prefer to use my hands to flip the crepe because I feel like I've got more control. But, crepes are hot. Take the spatula to lift one edge of the crepe about an inch high so you have enough to grab. This edge will begin to cool while it's not touching the pan so you'll be able to flip with your fingers.
More Matcha White Chocolate Pairings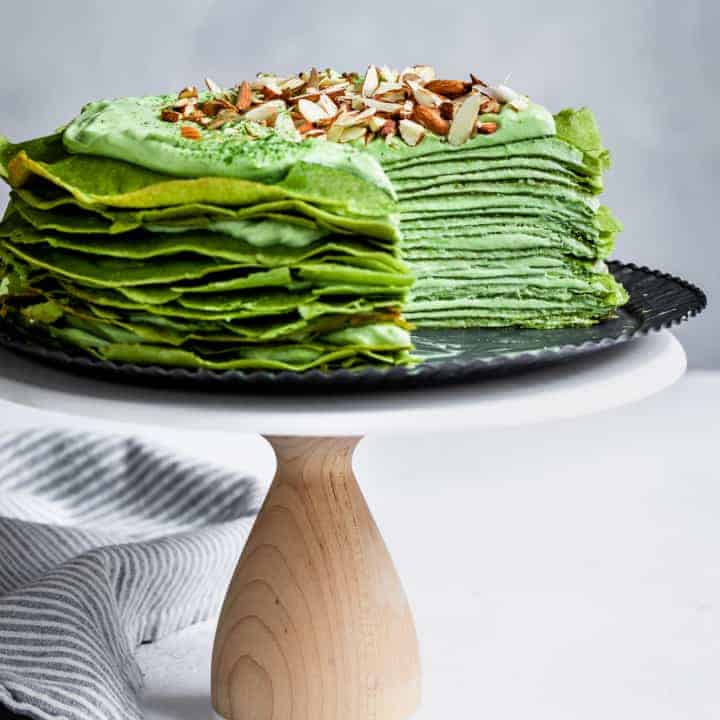 Gluten-Free Matcha Crepe Cake with Whipped White Chocolate Ganache
Yield:
1 8-inch crepe cake, 8-12 servings
Total Time:
4 hours
15 minutes
This matcha crepe cake recipe layers thin gluten-free matcha almond flour crepes with fluffy matcha whipped white chocolate ganache. With a sponge like crepes and pillows of whipped ganache sealing the layers together, this playful cake has it all: texture, earthy sweet flavor, and a rustically impressive appearance. 
Ingredients
Matcha Whipped White Chocolate Ganache*
14oz white chocolate chips or bar, finely chopped (**See note)
21oz (2½ cups + 2 tablespoons) heavy whipping cream
¼ cup toasted almonds, sliced or chopped, for garnish
Gluten-Free Matcha Almond Flour Crepes
2¼ cups whole milk
6 large eggs
2½ tablespoons sugar
2 tablespoons unsalted butter, melted and cooled, plus more for the pan
1½ teaspoons pure vanilla extract
¾ teaspoon kosher salt
Instructions
Prep the ganache before making your crepes. Place the white chocolate in a medium metal bowl (any heatproof bowl will work but a metal bowl will cool the chocolate faster). Optional, but it will speed up your chilling by an hour or so: Prepare an ice bath in a large metal bowl (that fits in your fridge) with just enough water to go up the sides of the medium bowl about an inch or two.
In a small saucepan, bring the cream to simmer over low heat. Pour the cream over the chopped white chocolate and let sit for a few minutes then stir until completely melted with no chunks remaining. Press a layer of plastic wrap up against the top of the ganache. Chill until cold (I use a thermometer and chill until it's at least 42°F. To speed this up, set the bottom of the covered ganache bowl in the prepared ice bath and chill the whole thing in the fridge for 2-3 hours, lifting the plastic and giving it a quick stir every 30 minutes or so.
Meanwhile prepare your crepes. Prepare a baking sheet or large cooling rack next to the stove. Combine all the crepe ingredients in a blender and blend for 30 seconds until completely smooth. Let sit for 5 minutes while you preheat your crepe pan or an 10-inch non-stick pan over medium-low heat (I use low heat on my two largest burners). You're going to be making about 21 crepes, so if you have two pans that will work, I recommend doing them both at the same time to save time. You want your pans to be hot, but not smoking. If the pan is too hot, your batter will cook too quickly, making it hard to swirl it into a thin crepe, but if it's not hot enough, your batter won't stick to the pan in a thick enough layer, leaving the outside edge very thin and brittle. Expect to mess up a crepe or two while you get the heat just right for your stove - in the end, I used 18 crepes for my cake and ate a few along the way.
Melt a tiny dab of butter in the skillet and rub it with a scrunched up paper towel. You want just enough to keep it from sticking, but not enough that it disrupts your batter. With the skillet in one hand, pour ¼ to ⅓ cup of batter into the hot skillet, while simultaneously tilting your wrist to rotate the pan so the batter spreads around the pan. Gently shake the pan to spread the batter into a thin even layer on the bottom of the pan. Set the pan back on the stove and let it cook until the edges slightly curl up and turn golden, while the top is no longer glossy, about 2-3 minutes.
Use a rubber spatula to lift all of the edges of the crepe to make sure it hasn't stuck to your pan. Gently grasp and edge of a crepe with your finger tips and quickly flip the crepe (you can also use a large rubber spatula to help you flip the crepe if it's too hot for you!). Let cook for 1-2 more minutes until it turns golden brown. Transfer to a single layer on a baking sheet or wire rack to cool for a few minutes while you cook the next crepe(s), then stack on a plate once cool. Repeat until you've made at least 18 crepes.
By now your white chocolate ganache should be cool enough to whip. In the bowl of a stand mixer with the whisk attachment or the same bowl with a hand mixer, beat your chilled ganache for several minutes until soft peaks form. Sift in the remaining matcha and mix a few seconds just to combine.
Assemble your cake at least 30 minutes before you want to serve it. Place one crepe on a cake stand/plate and spread a thin layer of whipped ganache on top. I use a ¼ cup ice cream school to portion out the creme evenly among the layers. Top with another crepe and repeat. Spread all of the remaining whipped ganache on top and sprinkle with toasted almonds. Chill for at least 30 minutes or up to a day before slicing.