Toasty and nutty buckwheat crepes topped with roasted cherries, whipped cream, and bittersweet chocolate. A naturally gluten-free decadent dessert that makes the perfect sweet for Mother's Day brunch!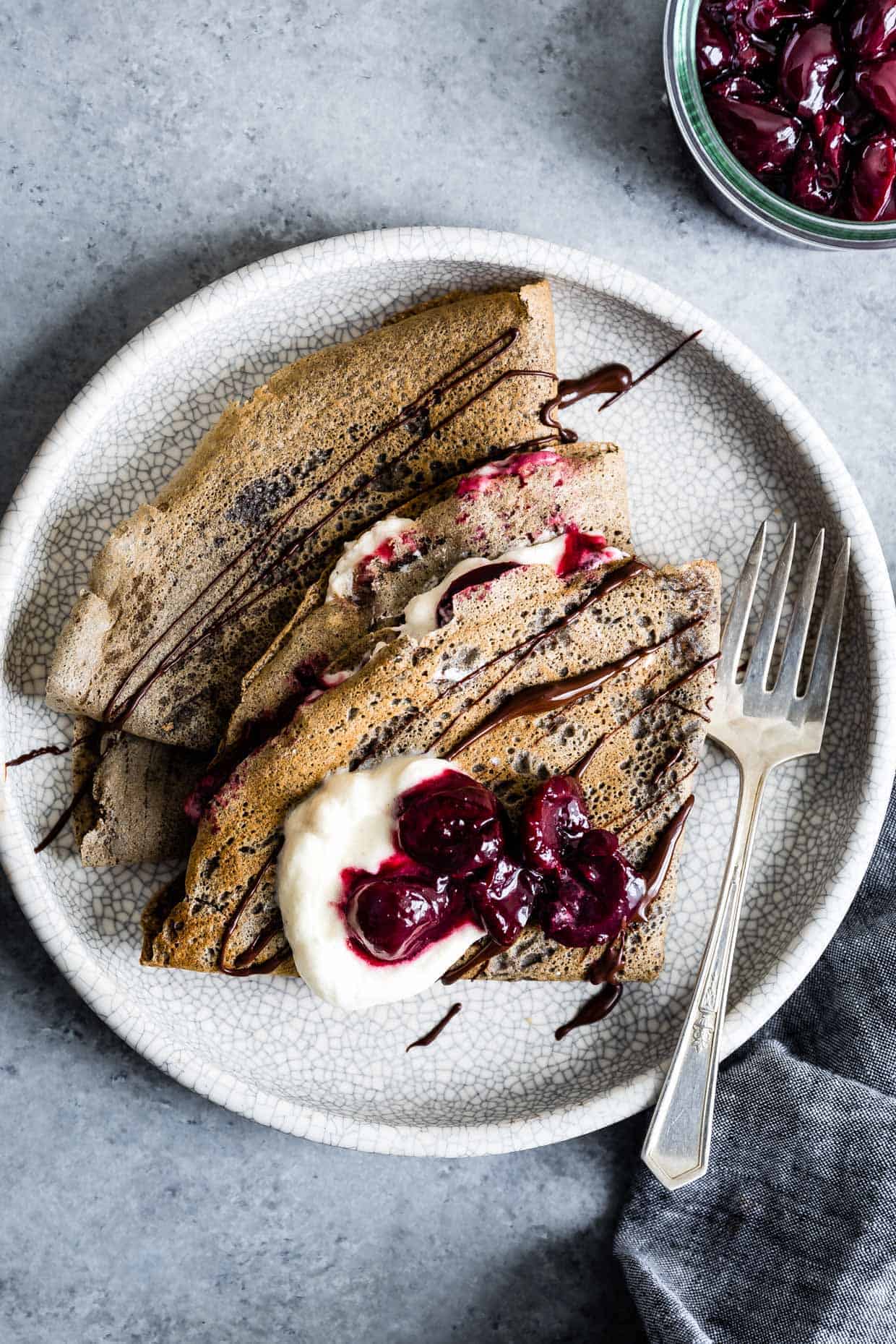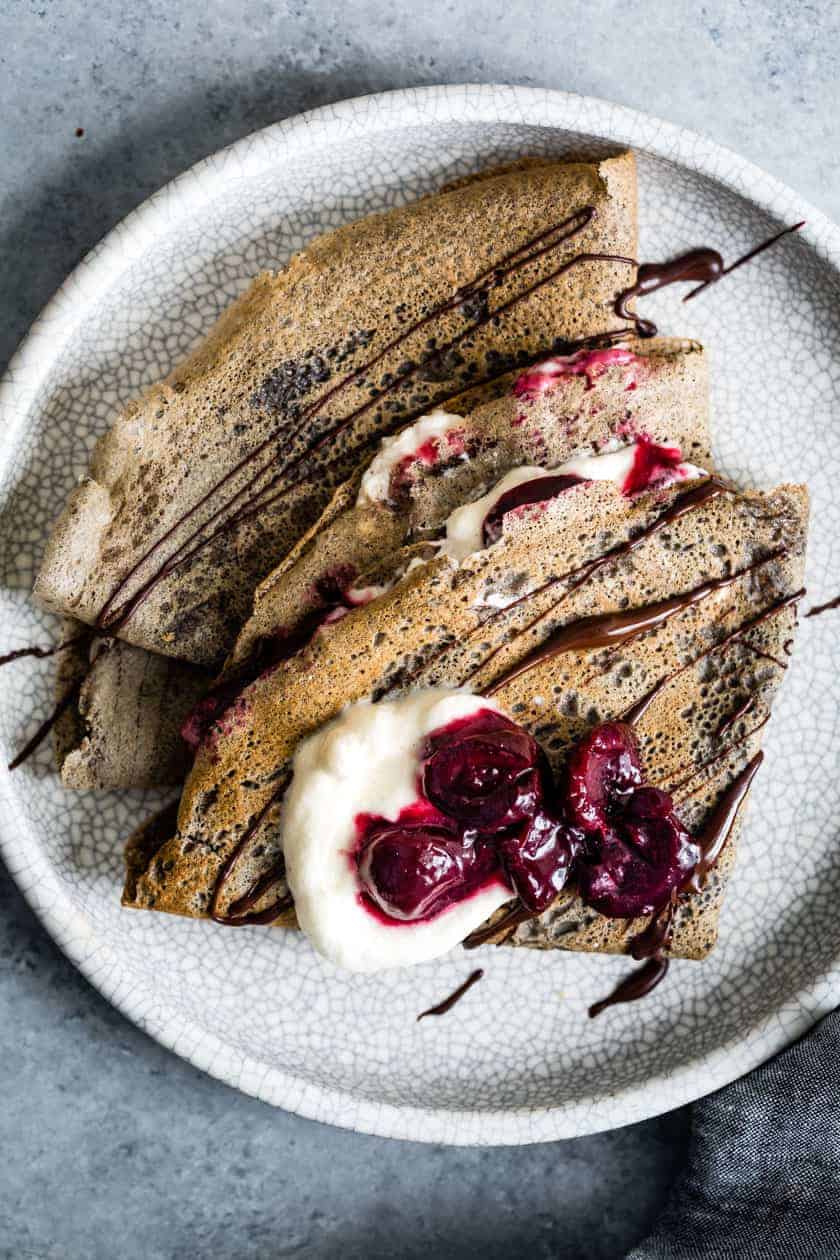 Whether you're serving your mom breakfast in bed, hosting a brunch for the family and friends, or treating yourself to a quiet morning with coffee, these buckwheat crepes with roasted cherries, whipped cream, and chocolate deserve a spot on the menu. This recipe for buckwheat crepes is the third in my year-long partnership with Bob's Red Mill. First we ate chamomile oat waffles, then matcha macarons with mango buttercream, and now we're having buckwheat crepes just in time for Mother's Day and all your late spring/early summer brunch spreads!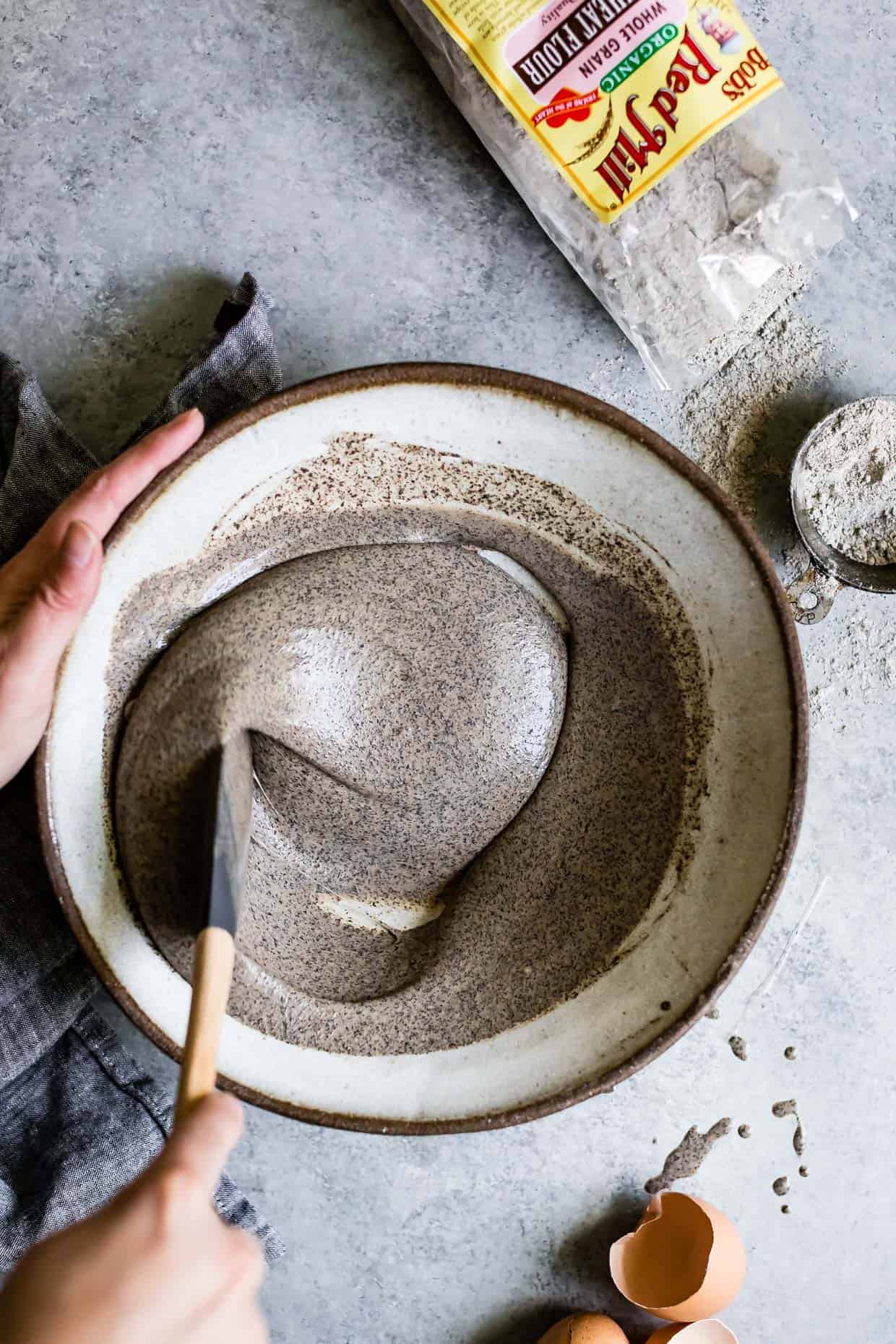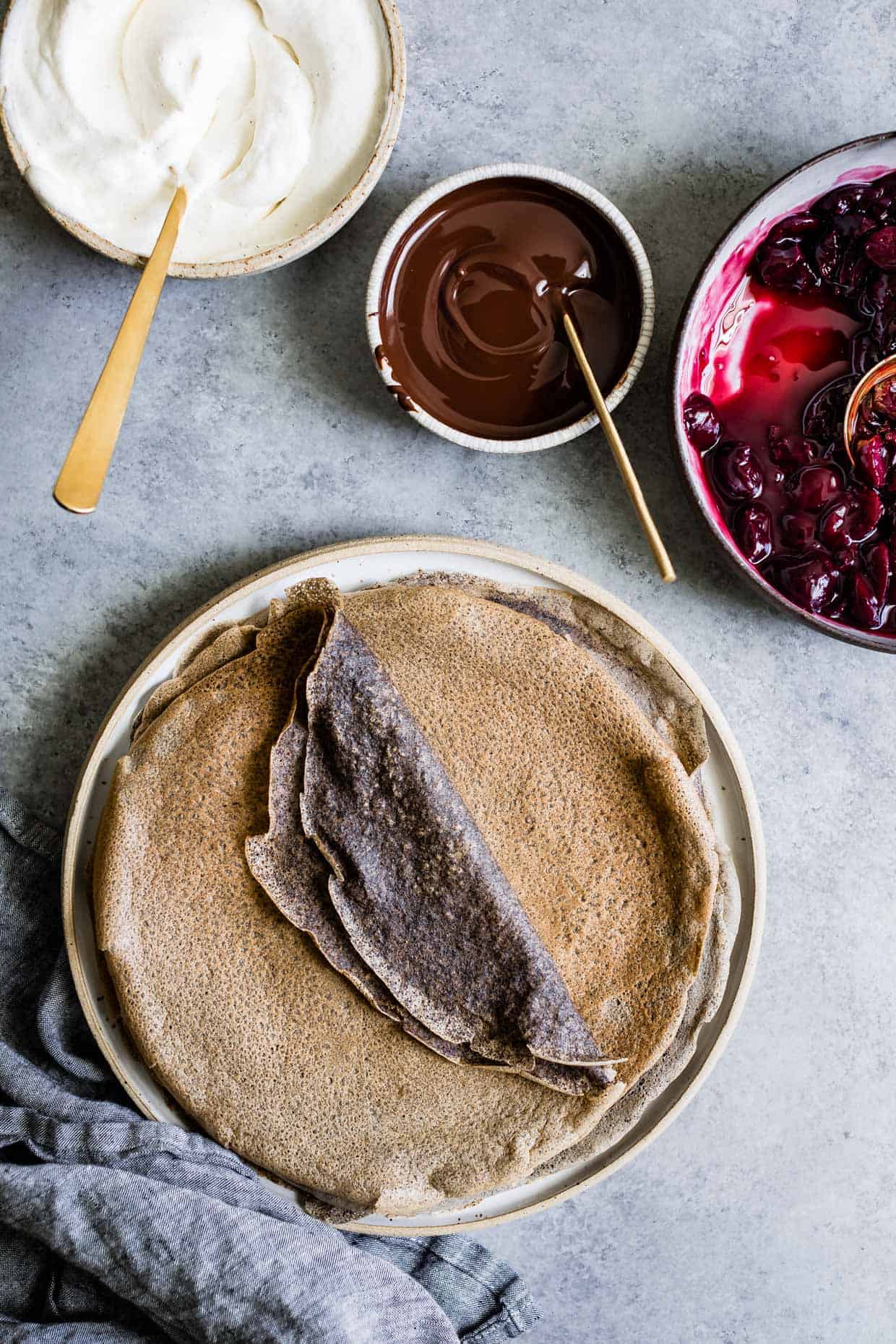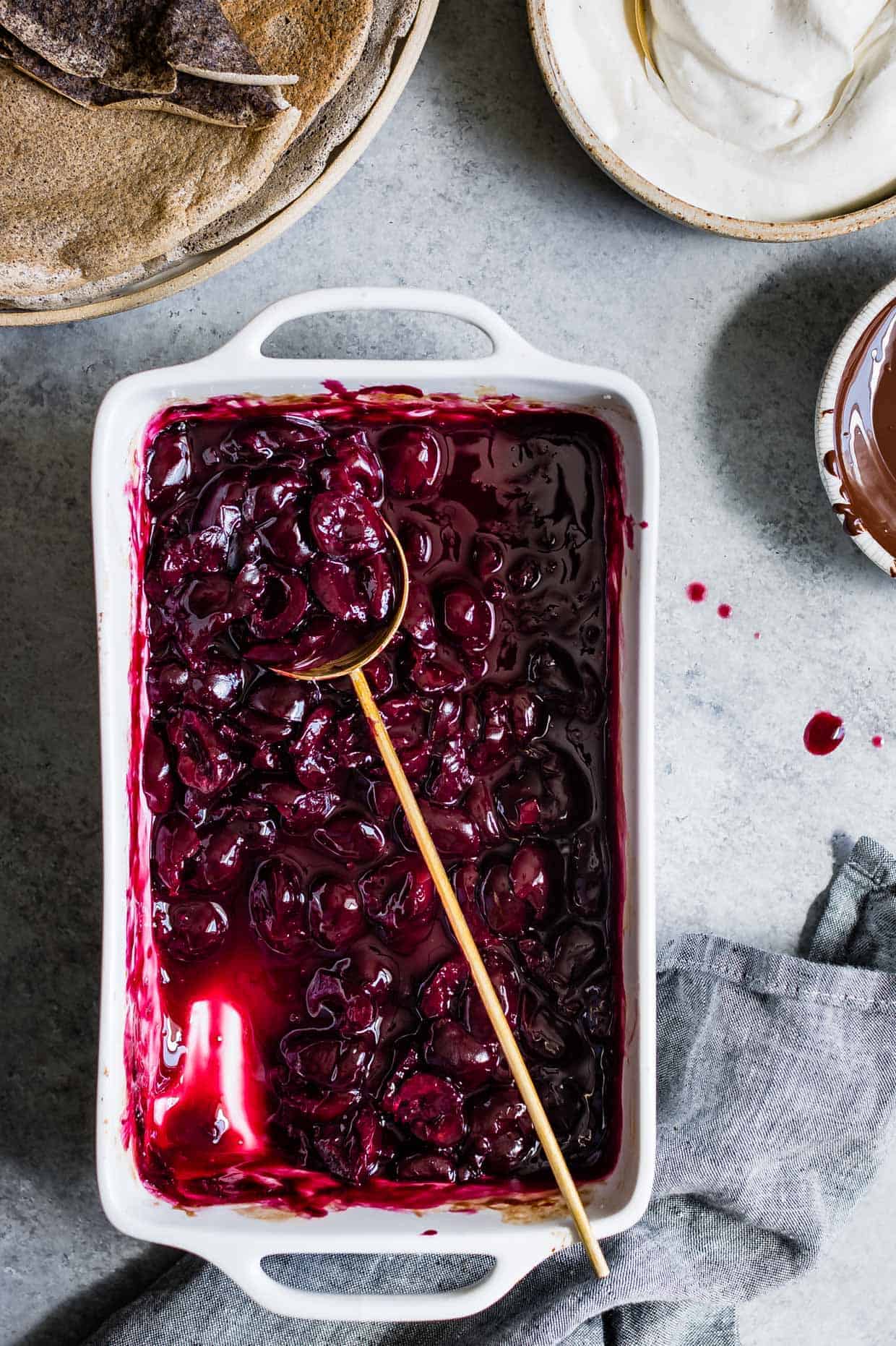 When we started planning our trip to Paris last fall, my friend teased that I'd probably have a hard time eating gluten-free over there. Between the macarons and plethora of gluten-free dedicated bakeries and restaurants, I actually found it even easier than in the Bay Area.
Every crêperie had buckwheat crepes on the menu - made from buckwheat flour, they were naturally gluten-free. So you can only guess how many crepes I ate in our four days in Paris. This buckwheat crepe recipe is a riff on the soft tender crepes I ate every day in France. (Note for those with severe gluten sensitivities: Bob's Red Mill's buckwheat flour has not yet been tested to don their gluten-free label and is not made in a dedicated facility, so use accordingly).
In France, buckwheat crepes are often referred to as "galettes" (not to be confused with what we call galettes) and they're almost strictly on the menu with savory fillings and toppings. At my very persuasive sweet tooth's urging, I would also special order my dessert crepes with the buckwheat crepe base and never had to miss out on a delicious Parisian treat. Lucas even preferred the flavor profiles that buckwheat flour brought to the sweet renditions.
Perhaps France reserves buckwheat flour for savory crepes because of its deep earthy notes that give crepes a warm and toasty nuttiness. When you branch beyond the savory pairings though, these notes of buckwheat flour create the perfect contrast for something sugary. Here I've topped them with sweet roasted cherries and whipped cream, then a drizzle of bitter dark chocolate to marry the savory crepe notes to the sweet toppings. These sweet buckwheat crepes are rich in flavor with every bite, never lacking intrigue. The fine texture of buckwheat flour produces a thin crepe that's soft and delicate.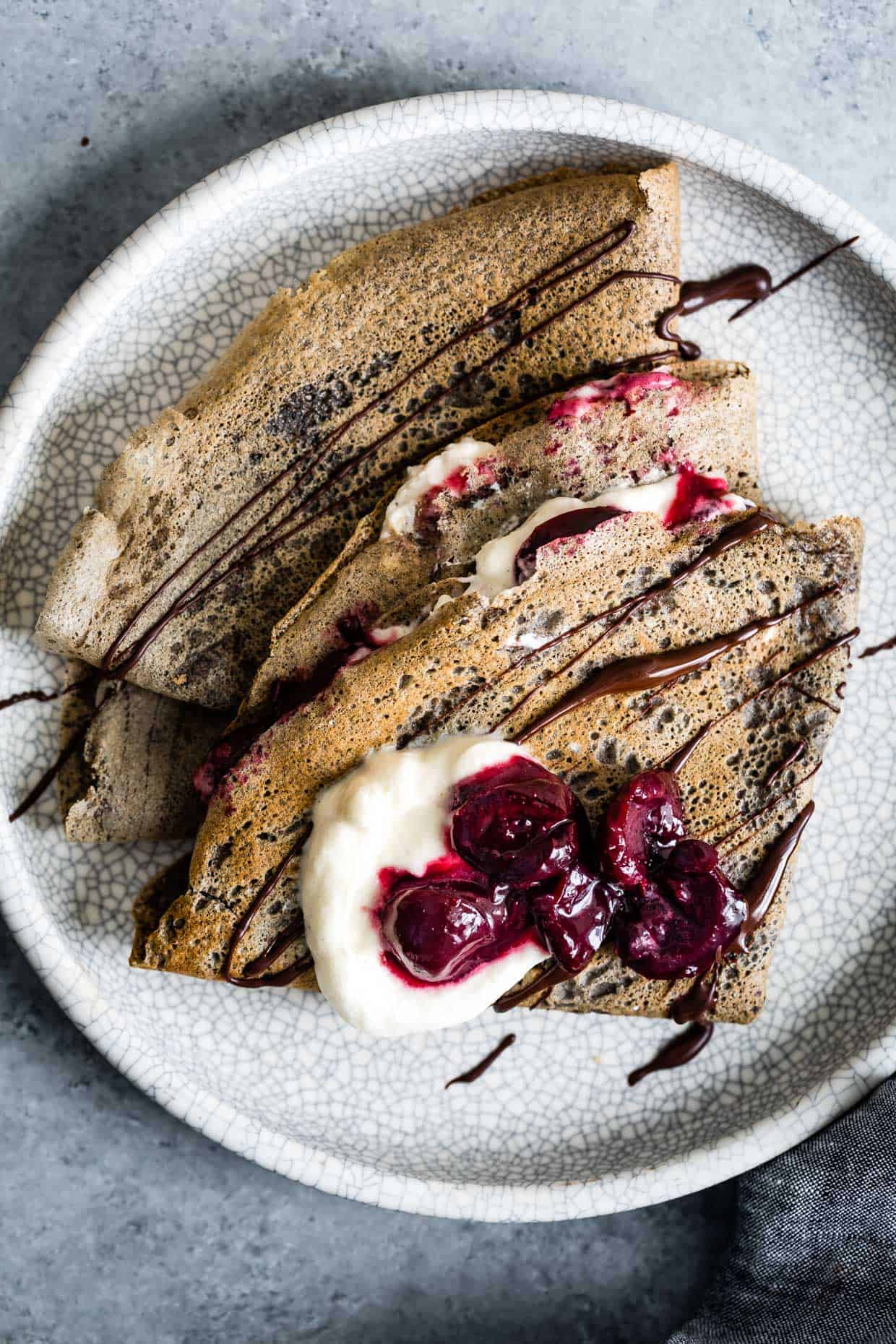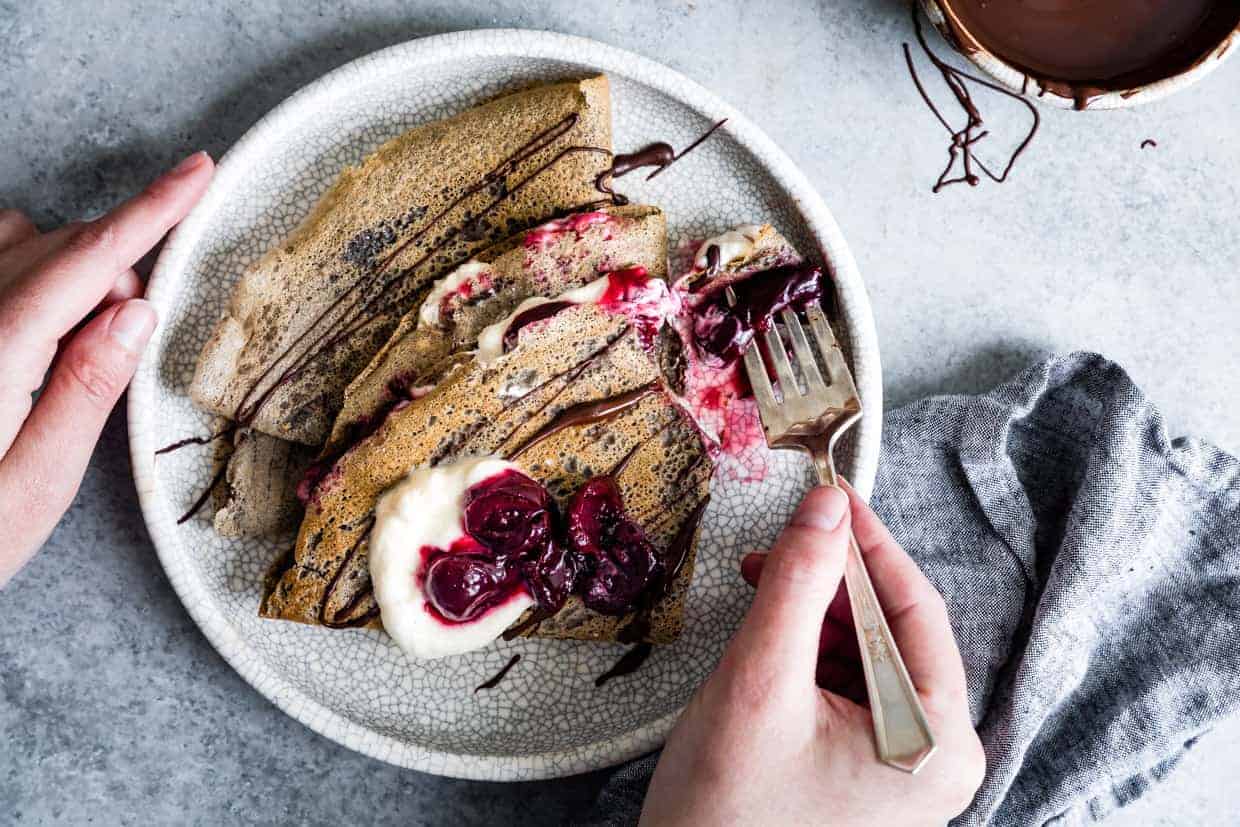 When you pair the earthy buckwheat crepes with sweet notes, buckwheat crepes are endlessly versatile. Try subbing in strawberries for cherries, or pairing with peaches and caramel sauce in the summer and spiced roasted apples and hazelnuts in the fall. Our go-to is to make a whole batch and eat half with savory toppings like ham and gruyere and save half for dessert. Mom tip: for picky toddlers, spread peanut butter over the crepe, roll it up with a banana, and slice it like sushi.
Since Mother's Day is just around the corner, this chocolate cherry combination is dedicated to my mom's dessert cravings - she'd swoon over these crepes. Here's how amazing my mom is as both a mom and a grandma (ahem "Nonny"): she came to babysit for four days while Lucas ran the Boston Marathon (and I watched) a couple weeks ago. She entertained our two-year-old with a magic suitcase full of toys and books packed from her house and even brought Zoella a little present for each day. She hardly missed us. But that's not all. As the best birthday present to me ever, after dropping Zo off at daycare on Day 3, she tackled my enormous house to-do list that included some serious yard work.
Needless to say, the least I can do is offer her crepes slathered in roasted cherries, melted chocolate, and pillows of whipped cream. And some good coffee.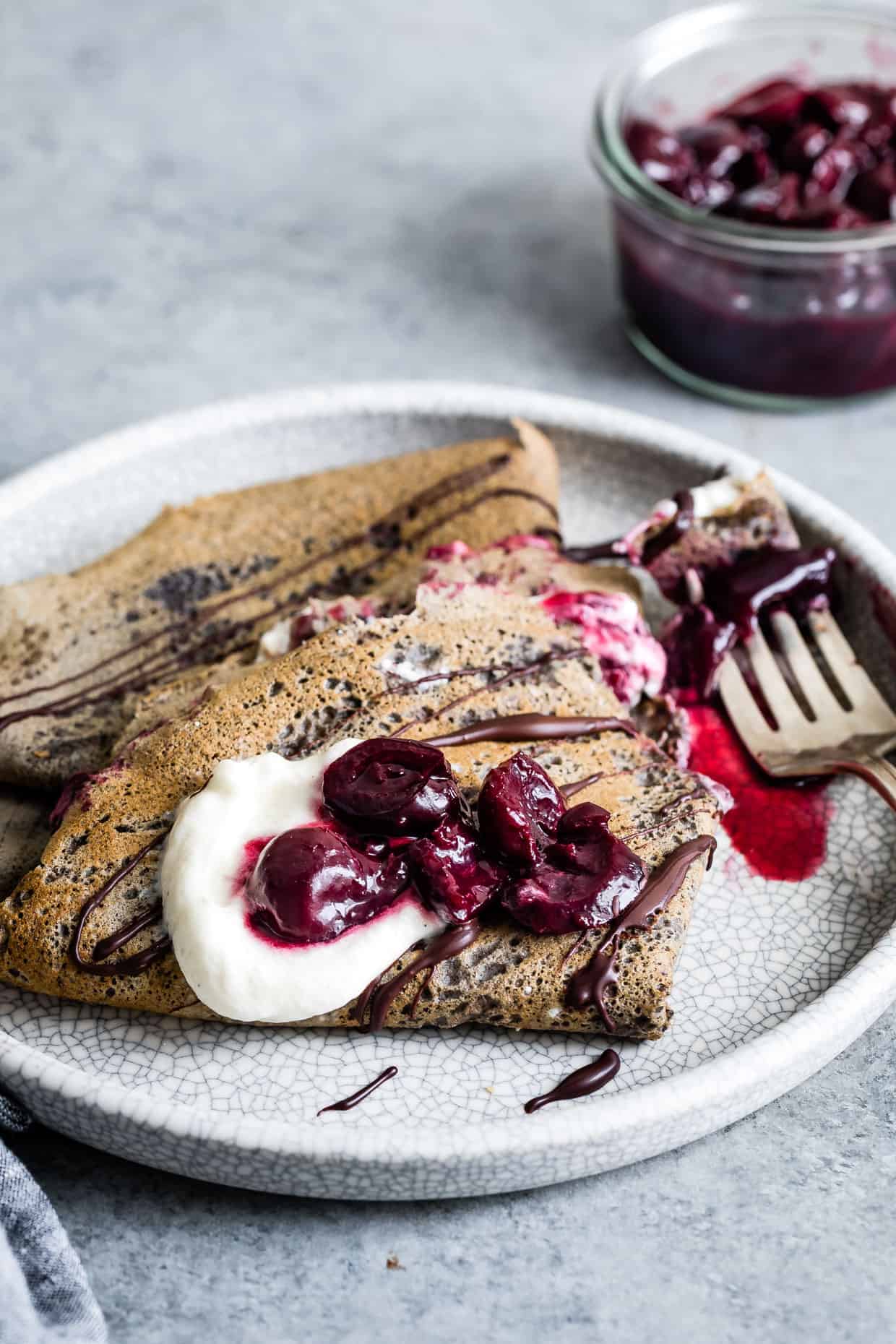 Disclosure: Special thanks to Bob's Red Mill for providing the flour shown above and sponsoring this post! And thanks to you for supporting the companies that keep Snixy Kitchen cooking.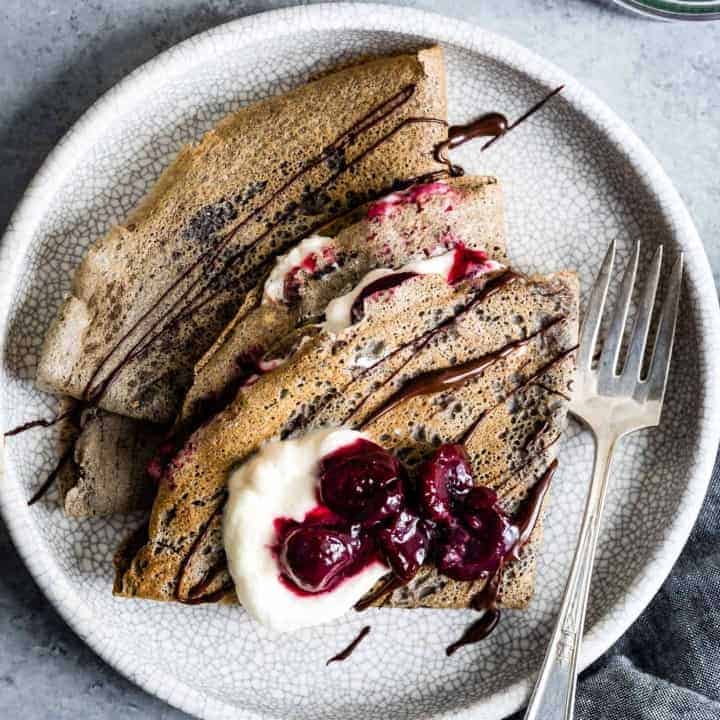 Buckwheat Crepes with Roasted Cherries & Chocolate
Toasty and nutty buckwheat crepes topped with roasted cherries, whipped cream, and bittersweet chocolate. A naturally gluten-free decadent dessert that makes the perfect sweet for Mother's Day brunch! 
Ingredients
Buckwheat Crepes
1 cup whole milk
1 tablespoon unsalted butter, melted, plus more for the pan
1 tablespoon sugar
2 large eggs
¾ teaspoon kosher salt
½ cup water
Roasted Cherries, Whipped Cream, Chocolate
1lb pitted sweet cherries, fresh or frozen
¼ cup + 2 tablespoons sugar, divided
1½ tablespoons corn starch
1 cup heavy cream
1 teaspoon vanilla paste or extract
4oz bittersweet chocolate, chopped
Instructions
Buckwheat Crepes
Add the buckwheat flour, milk, butter, sugar, eggs, and salt to a blender and blend until completely combined and smooth. Transfer to a bowl and let rest for 30 minutes (or up to 8 hours in the fridge).
Meanwhile, prepare your roasted cherries and whipped cream, as described below.
When the batter is done resting, add ½ cup water and whisk to combine.
Preheat an 8-inch non-stick skillet or crepe pan over medium heat. Drop a tiny bit of butter into the skillet to melt and rub it with a scrunched up paper towel. You want just enough to keep it from sticking, but not enough that it disrupts your batter.
With the skillet in one hand, pour ¼ to ⅓ cup of batter into the hot skillet. Working quickly, tilt your wrist to rotate the pan so the batter spreads around the pan. Gently shake the pan to spread the batter into a thin even layer on the bottom of the pan.
Set the pan back on the stove and let it cook until the edges slightly curl up and turn golden, while the top is no longer glossy, about 1-2 minutes.
Use a rubber spatula to lift all of the edges of the crepe to make sure it hasn't stuck to your pan.
Gently grasp and edge of a crepe with your finger tips and quickly flip the crepe (you can also use a large rubber spatula to help you flip the crepe if it's too hot for you!)
Let cook for 1-2 more minutes until it turns golden brown. Transfer to a stack on a plate and repeat with remaining batter.
Roasted Cherries, Whipped Cream, Chocolate
Preheat the oven to 425°F.
In a small roasting pan, toss the cherries, ¼ cup of the sugar, and corn starch until completely combined. Roast for 10 minutes until the cherries have broken down and the sauce has begun to thicken. Remove from heat and let cool slightly while you prepare the whipped cream and chocolate.
In the bowl of a stand mixer with the whisk attachment or a mixing bowl with a hand mixer, whisk the cream until it begins to thicken, but peaks have not formed yet. Add the sugar and vanilla paste and continue whisking until pillowy soft peaks form. Chill while you melt the chocolate and make the crepes.
Cook your crepes as described above.
Just before serving, melt the chocolate in a double broiler or for 30 seconds at a time in a heatproof bowl in the microwave, until completely smooth.
To serve, spread a spoonful of whipped cream on half of a crepe and top with a spoonful of roasted cherries. Fold the crepe in half and then quarters. Drizzle with melted chocolate and serve with more roasted cherries and whipped cream, as desired.
Notes
When serving a crowd, I like to have two pans going at the same time to speed things up. I use my crepe pan on one burner and a non-stick skillet on another.