Buttery melt-in-your-mouth matcha shortbread cookies drizzled in a white chocolate garland. Just in time for the holidays, these festive cookies have a light snappy crumb and a deliciously nutty matcha flavor.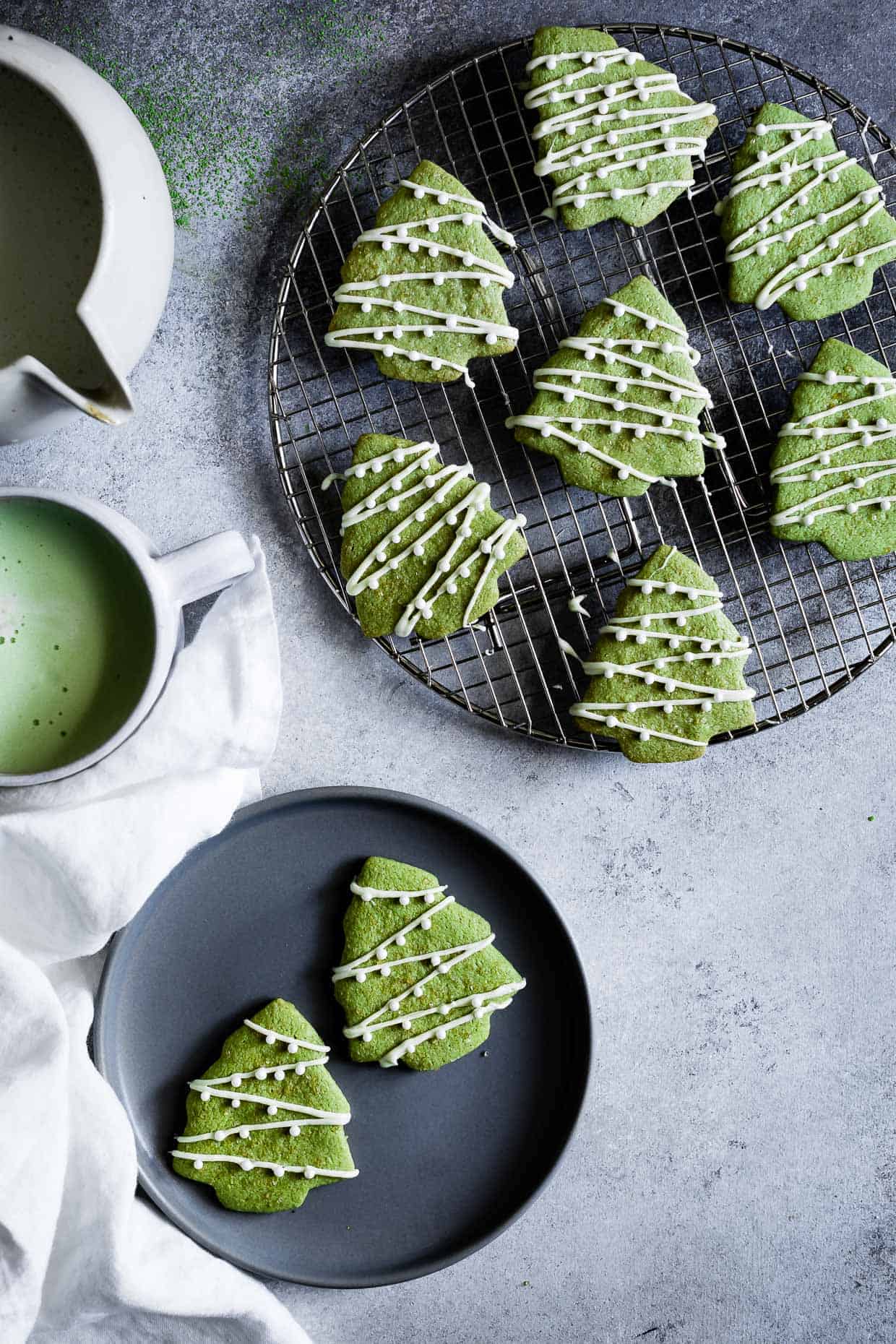 Oh hi, how many cookies have you eaten so far this month? Whatever your number, I've surely got a few dozen on you, which means you definitely need to make these gluten-free matcha shortbread cookies this week to catch up. The dough is super simple to mix and they bake up snappy and crumbly, with a light crumb that melts in your mouth like butter.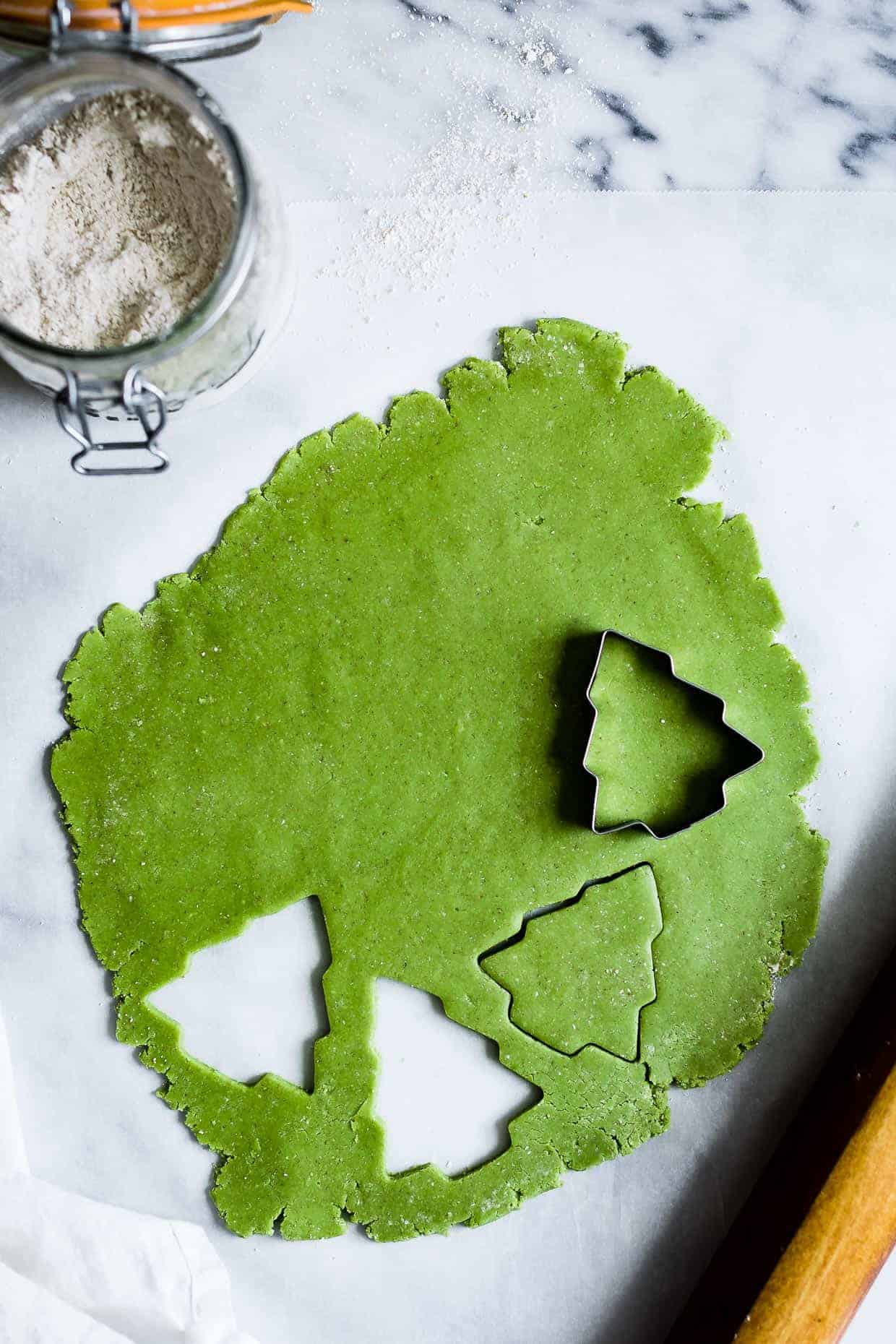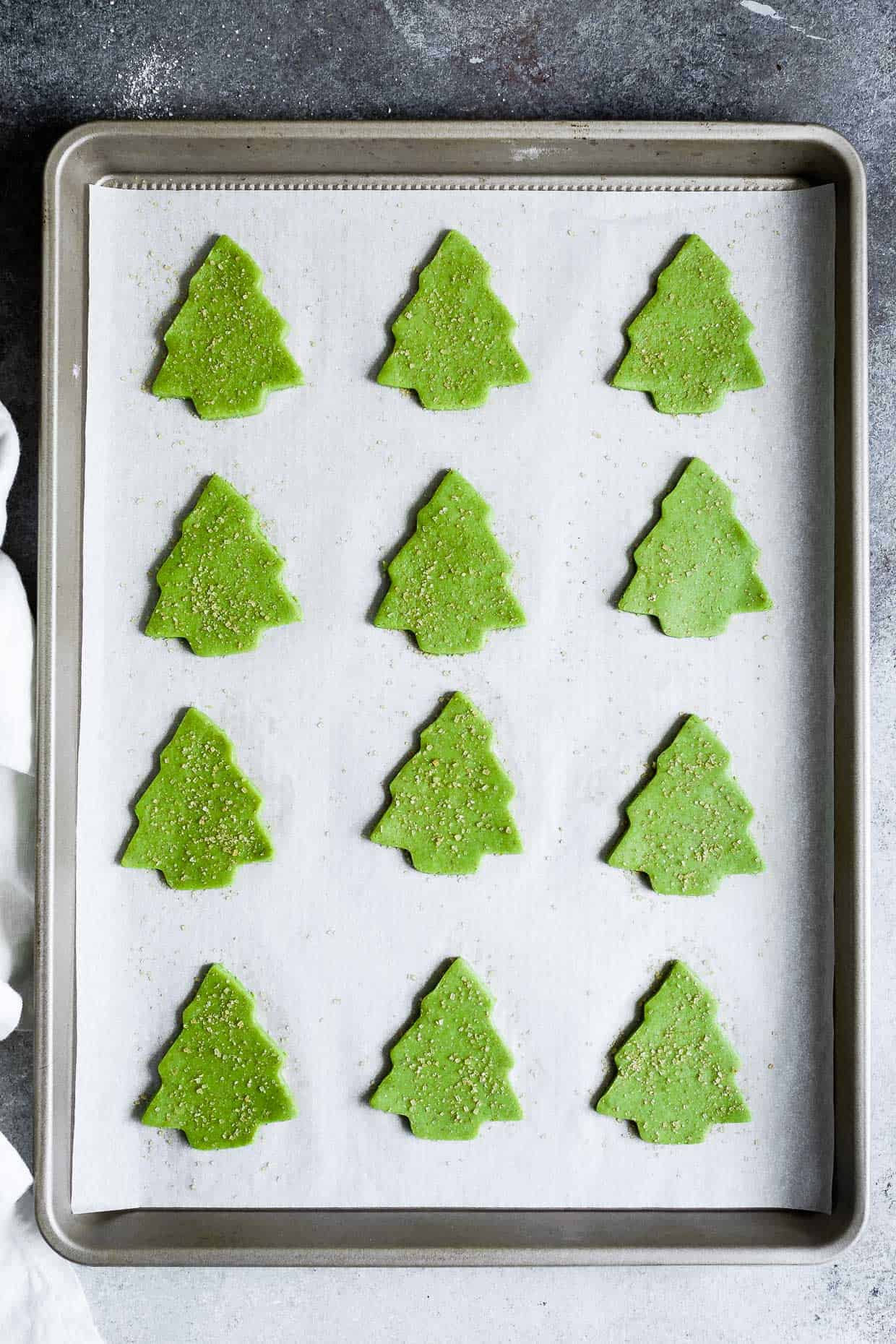 Are you, like me, also wishing you could eat a few plates of cookies and settle in for a long winter's nap? Hang in there, I'm right there with you.
My toddler is having a serious case of the mama-onlys. She loves her daddy, but lately it's been "No Daddy, MAMA!" at every turn. We park the car and before we even open the door, she yells "No Daddy, MAMA!" And every time she yells it, he's crushed. While at the same time, a part of me can't help but wonder if she's wanting me more because I'm less present than him or somehow not as good of a parent so she's asking for more. I know I should feel happy she wants me and treasuring this phase, and I am, but working mom guilt is persuasive. Especially when it's dark by the time you pick your kid up from daycare.
So I've been working on carving out meaningful memories with her - decorating cookies, making popsicle stick ornaments, and playing dress up. I've also been spending my time diapering 5 children, 4 of whom are stuffed cats who really seem to need their diapers changed frequently. Don't worry, they're in cloth and, fortunately, daddy is allowed to share in this new responsibility and he's a pro at buttoning a penguin into a onesie.
While I might not get things right all the time, one of my proudest accomplishments as a mom is that I taught my almost 2 year old that her mama does not drink coffee, she drinks matcha. Just wait - soon I'll teach her how to make it and bring it to me in bed.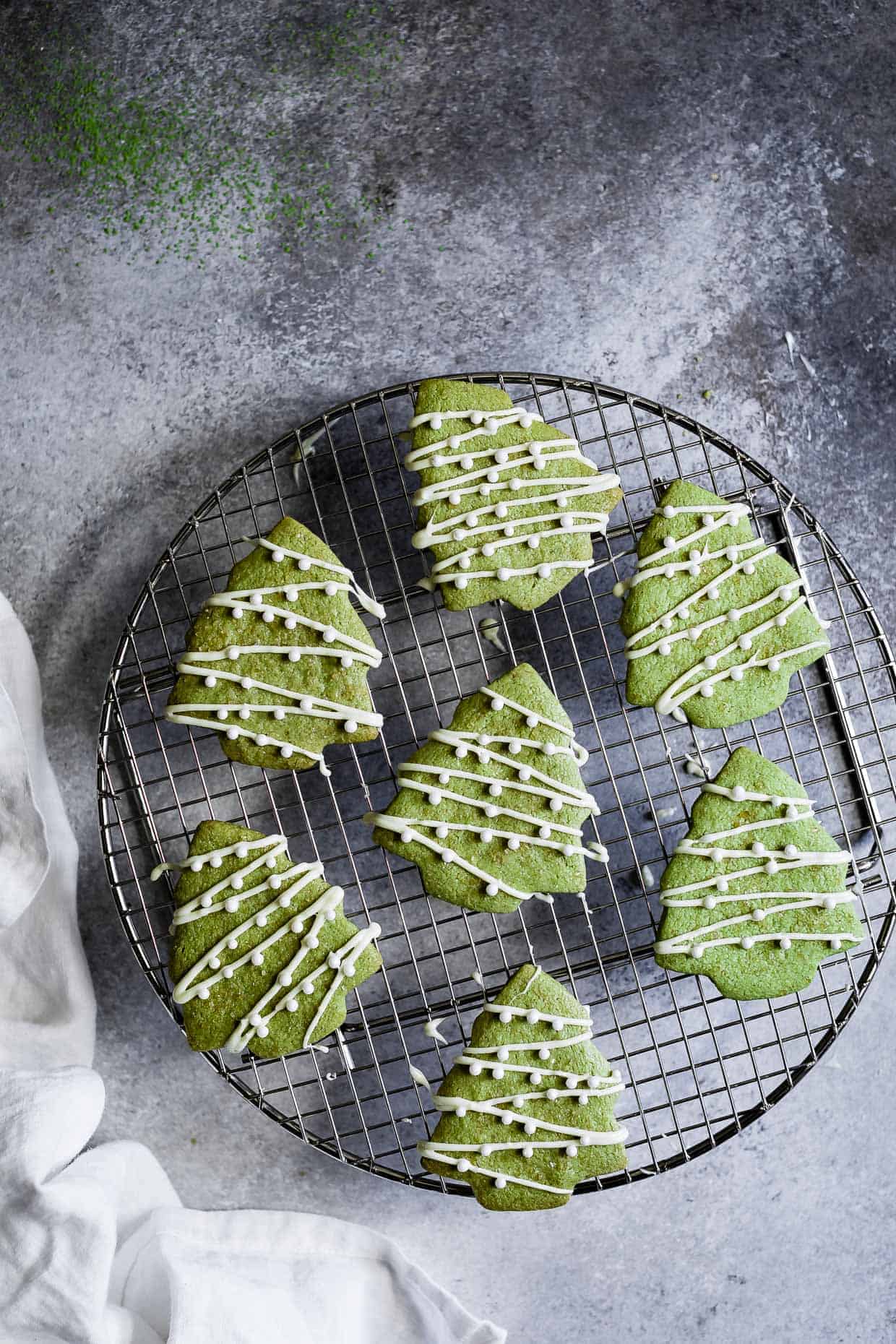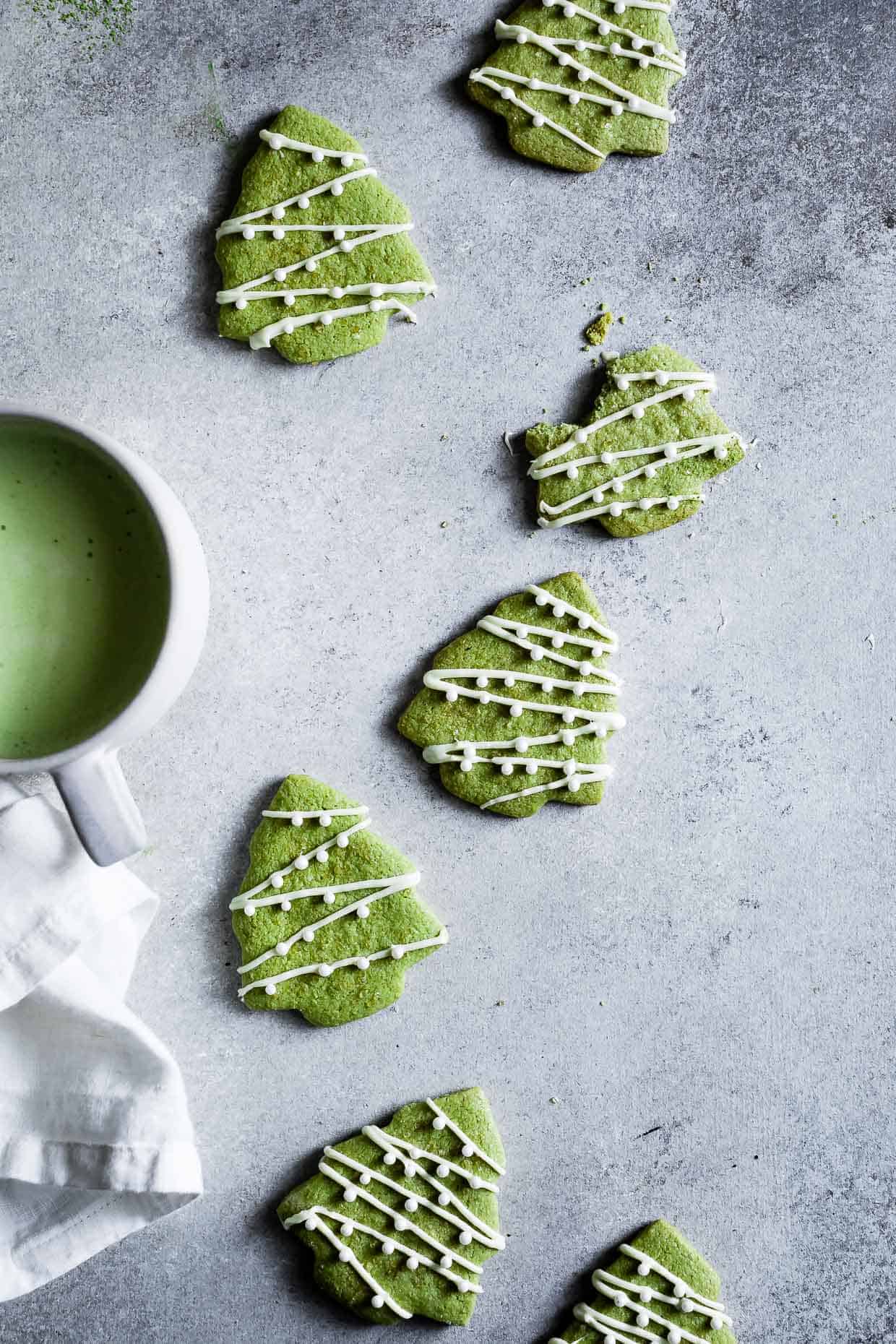 Speaking of matcha, I've been dreaming about these matcha shortbread Christmas tree cookies since I first tested a batch last year. The holiday flew by without time to share it and it's been burning a hole in my pocket all year - a variation on my pumpkin seed matcha shortbread from a few years back. After about a dozen batches of matcha shortbread Christmas trees had rotated through my oven to perfect the recipe the past few weeks, I stumbled upon my friend Bella's matcha shortbread men with white chocolate icing from last holiday season (with major heart emoji eyes).
While our final recipes are invariably different, I basically just recreated her exact same combo, probably subconsciously inspired by her creativity. Whoops! So consider my gluten-free matcha shortbread Christmas trees with white chocolate lights a riff on her white-chocolate scarved matcha shortbread men. If you don't follow Bella already, she's also a matcha fanatic like me and, if you are too, you need her in your life.
She's also similarly an Encha enthusiast. We've had long late night calls about all the different matcha varieties we've taste-tested and both agree that nothing compares.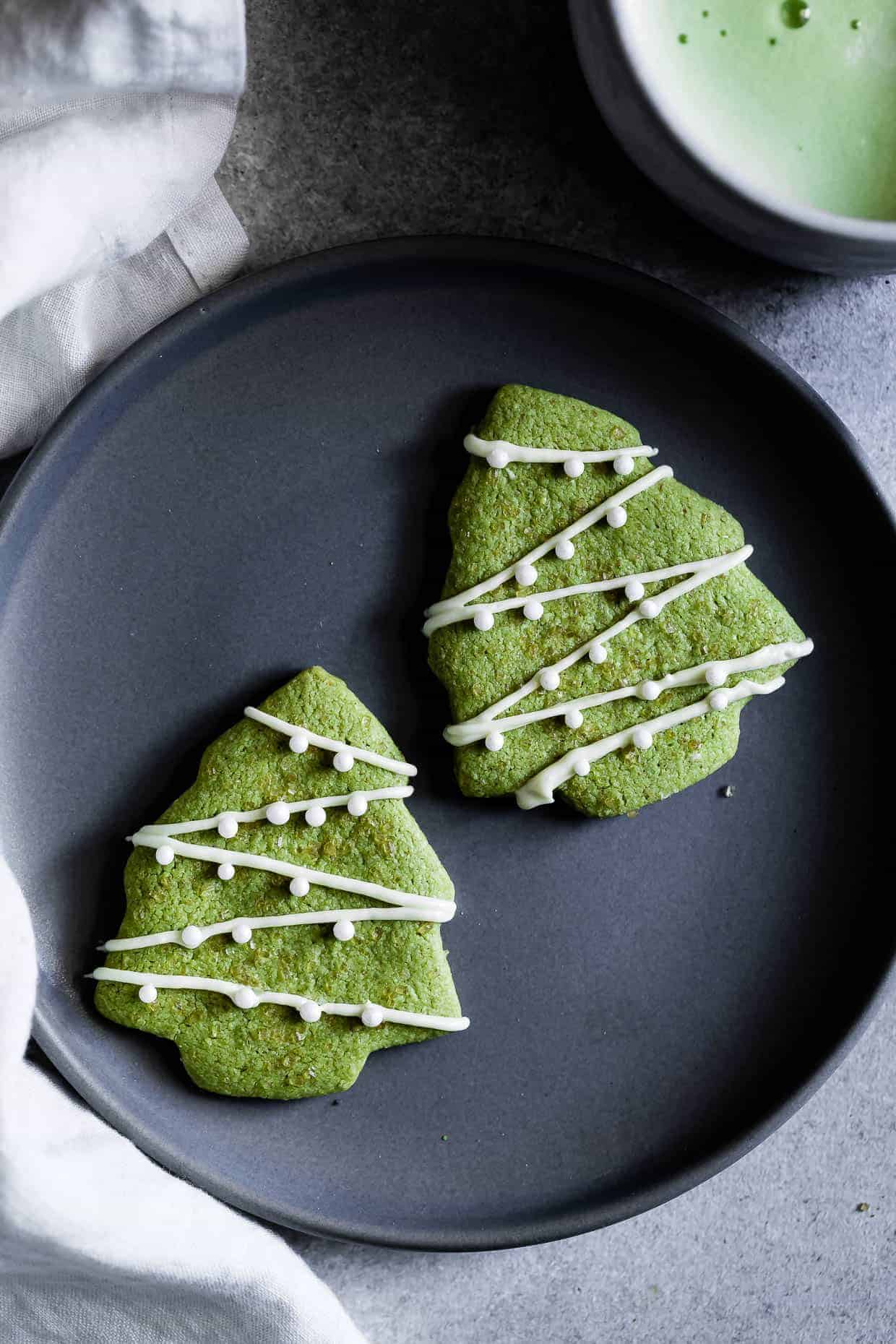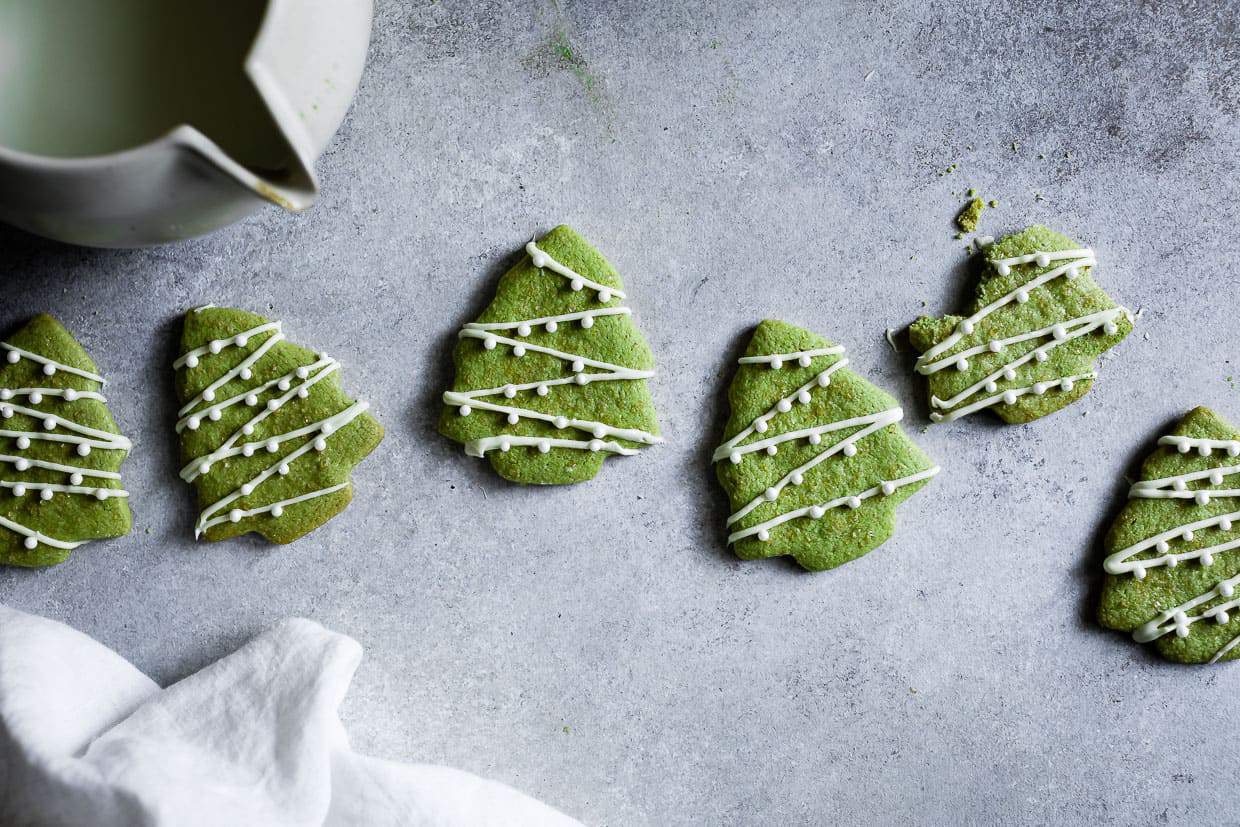 In these cookies, Encha's organic latte grade matcha adds a vibrantly green hue and a smooth nutty flavor profile that pairs well with the almond flour base.
What are you waiting for? Get to work on these matcha shortbread cookies (and my other matcha recipes too!).
Gluten-Free White Chocolate Matcha Shortbread Cookies
Ingredients
¾ cup + 1 tablespoons (102g) finely ground blanched almond flour
½ cup + 1 tablespoon (70g) gluten-free oat flour
¼ cup + 2 tablespoons (48g) corn starch
¼ teaspoon kosher salt
½ cup unsalted butter, room temperature
¼ cup + 2 tablespoons (56 grams) powdered sugar
Optional: 2 tablespoons sanding sugar or other coarse sugar such as demerara or turbinado.
4 ounces white chocolate, chopped
Instructions
Whisk together the almond flour, oat flour, corn starch, matcha, and salt in a medium bowl. Set aside.
In the bowl of a stand mixer fitted with a paddle attachment or a medium bowl with a hand mixer, beat the butter on high until light and fluffy.
Slowly add the powdered sugar and beat until incorporated.
Add the vanilla and mix until smooth.
With the mixer on low, slowly add the dry ingredients to the butter and beat until completely smooth, scraping down the sides as necessary.
Roll the dough into a ball and flatten into a disc. Wrap in plastic and chill for 1-3 hours.
When ready, roll the chilled dough out into a ¼-inch thick oval onto a piece of parchment paper dusted with oat flour. Use a cookie cutter to cut out trees (or your other favorite shape). Using a knife or bench scraper as needed to lift the cookies, transfer cookies to a parchment lined baking sheet, 1-2 inches apart. Repeat until you've filled your baking sheets.
If desired, sprinkle sanding or coarse sugar over the cookies.
Freeze the baking sheet with the cut-out cookies for at least 10 minutes while you preheat the oven to 350°F.
Bake cookies, one tray at a time, on the middle rack for 11-12 minutes, until the bottom edges just begin to turn golden. Let cool completely on the baking sheet. Repeat.
Meanwhile, fill a small saucepan with a few inches of water and set a heat-proof bowl over the top. Being careful not to get any water in your bowl, add about 3 ounces of the chopped white chocolate. Cook, undisturbed until a little more than half is melted, then stir until the rest melts. Cook for a few minutes longer until the chocolate stings a little when touched on your wrist or just below your lower lip. Remove the bowl from the heat (again being careful not to get any water in it) and add the reserved 1 ounce of chocolate. Stir until the chocolate melts. Let sit, stirring occasionally, for 2-3 minutes. Transfer the melted chocolate to a small piping bag fitted with a small round tip.
When the cookies are cool, drizzle the white chocolate over the trees like a garland of lights.
Add pearl sprinkles lights, if desired, or dot the lights on with white chocolate.