Gluten-Free strawberry shortcake with sweet buttery almond flour buttermilk biscuits. Layered up with juicy macerated strawberries and pillows of whipped cream. Summertime bliss made gluten-free.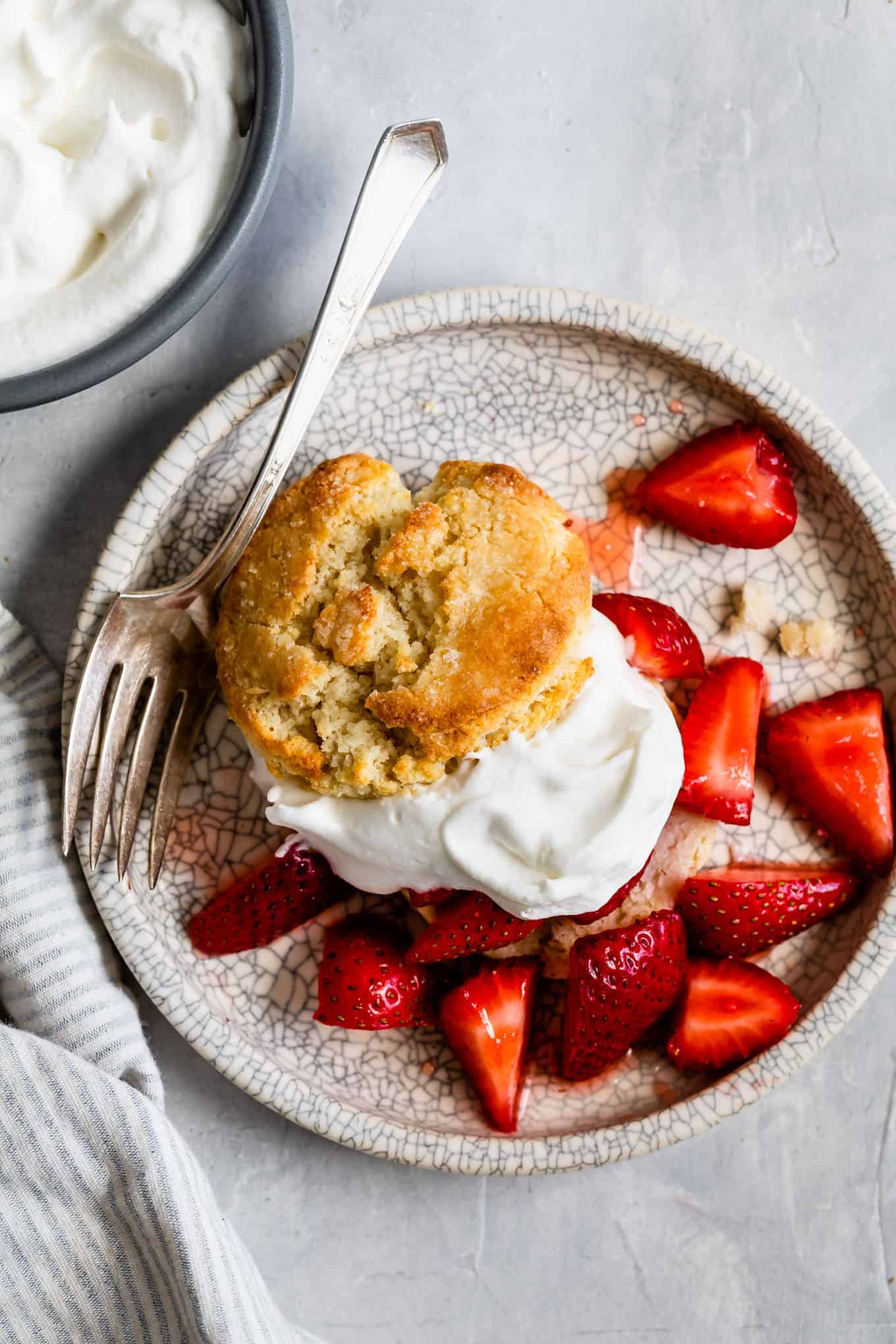 Super sweet and juicy strawberries are still prominently at the market. While the warm weather is still here, we're making the most of these late summer strawberries by keeping everything on hand for gluten-free strawberry shortcake with homemade sweet biscuits. And serving them up on the patio any chance we get.
Gluten-Free Strawberry Shortcake
I'm in the mood for something nostalgic that says carefree days of sunshine and barbecues. Even if that's not actually what the days look like right now with two working parents and two small kids indefinitely out of childcare. Our summer celebrations may have been thwarted by social distancing, but our summer treats don't have to be!
If there's one dessert that tastes like summertime bliss, it's strawberry shortcake. Raise your hand if you also grew up eating strawberry shortcake every single summer. Well, now you can have your strawberry shortcake recipe gluten-free.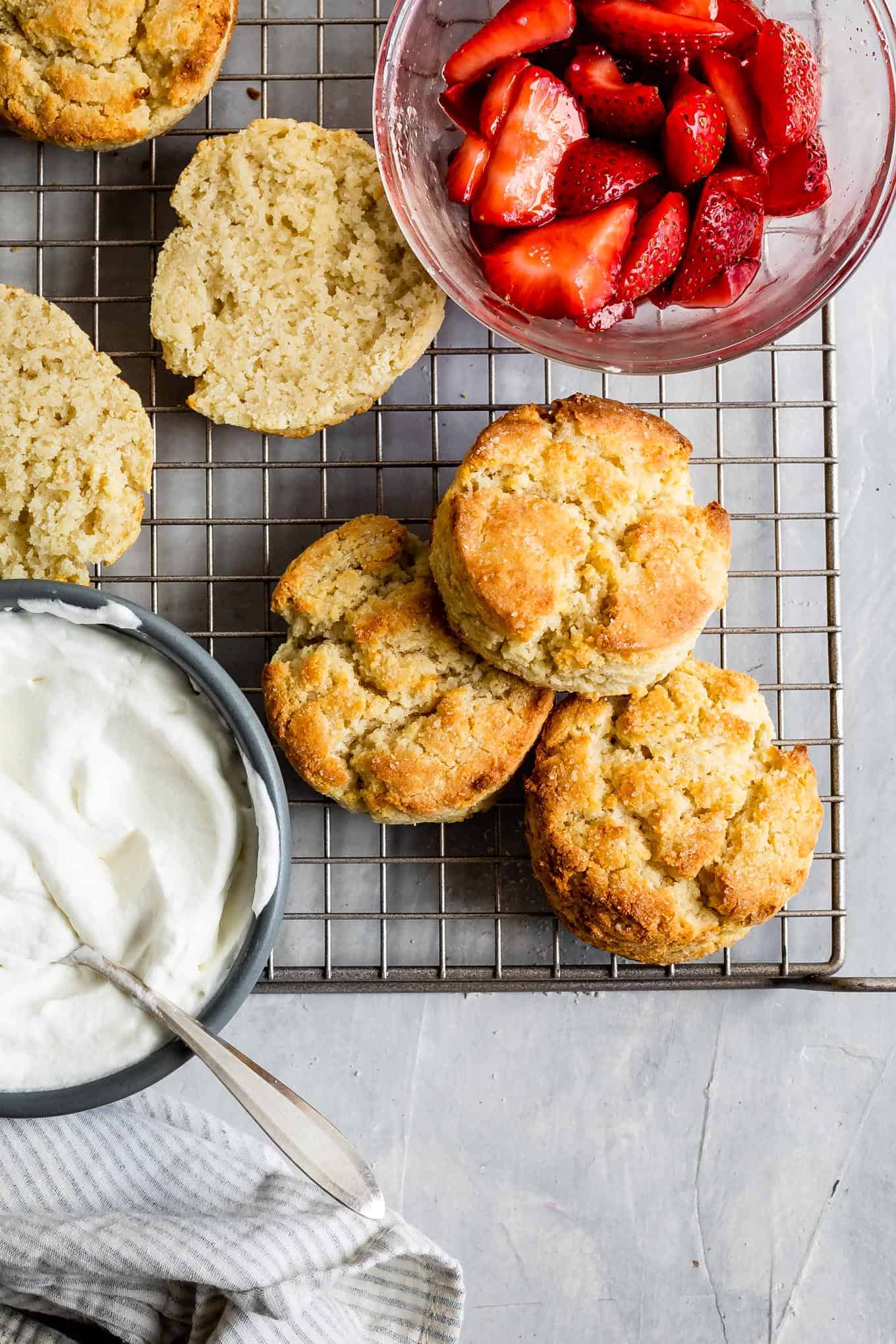 Gluten-Free Biscuits for Strawberry Shortcake
Some people serve their strawberry shortcake with sponge cake, often storebought. This is what many of us probably grew up with - straight from the supermarket with aerosolized whipped cream. But have you eaten it with a sweet buttery biscuit? It's got that buttery comfort of a homemade cobbler but with juicy fresh berries and pillows of homemade whipped cream.
More delicious and much easier than making another trip to the market.
Gluten-Free Shortcake with Almond Flour
I've got just the gluten-free biscuit recipe for strawberry shortcake. These biscuits can be eaten for breakfast with butter and jam. Serve them for brunch with sausage gravy spooned over top. Melt butter over the top for the fluffiest dinner biscuits. And bake half the batch with a sprinkle of sugar for exceptional gluten-free strawberry shortcake. Biscuits for every meal of the day! (My new Sunday motto).
Made with almond flour, these crumbly buttermilk biscuits are super flavorful. For strawberry shortcake, add two tablespoons of sugar to the dough and sprinkle more on top for a sweet biscuit.
How to store shortcake biscuits
Store leftover biscuits in an airtight container for up to 2 days. I tested these gluten-free biscuits more times than I can count to get them just right and was more than happy to layer up leftovers with berries and whipped cream night after night.
Alternatively, you could freeze the baked biscuits to have instant access to homemade strawberry shortcake. Just defrost them at room temperature or in a microwave or oven before serving!
Be sure to read my fluffy gluten-free biscuit post for all the tricks to gluten-free biscuit success.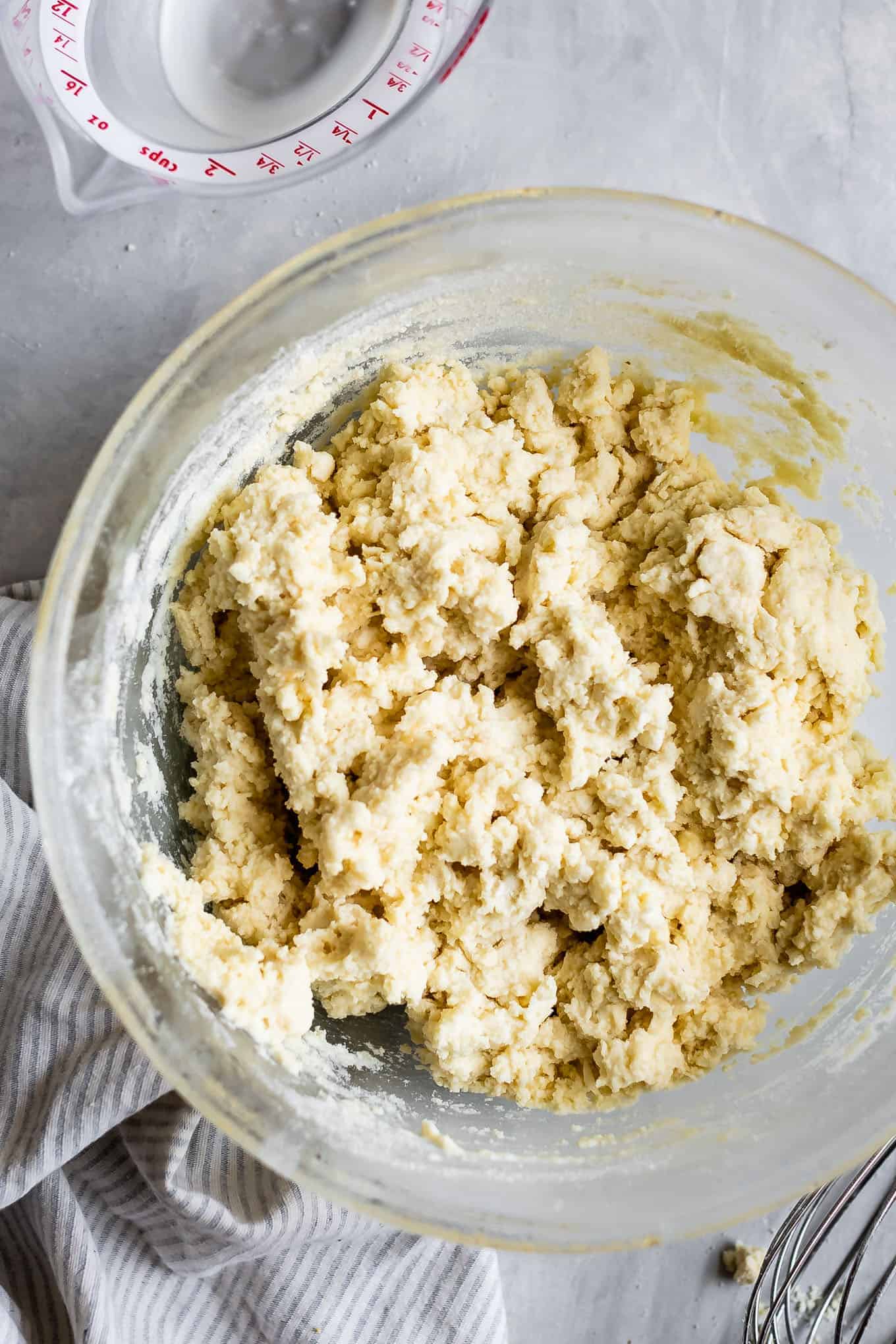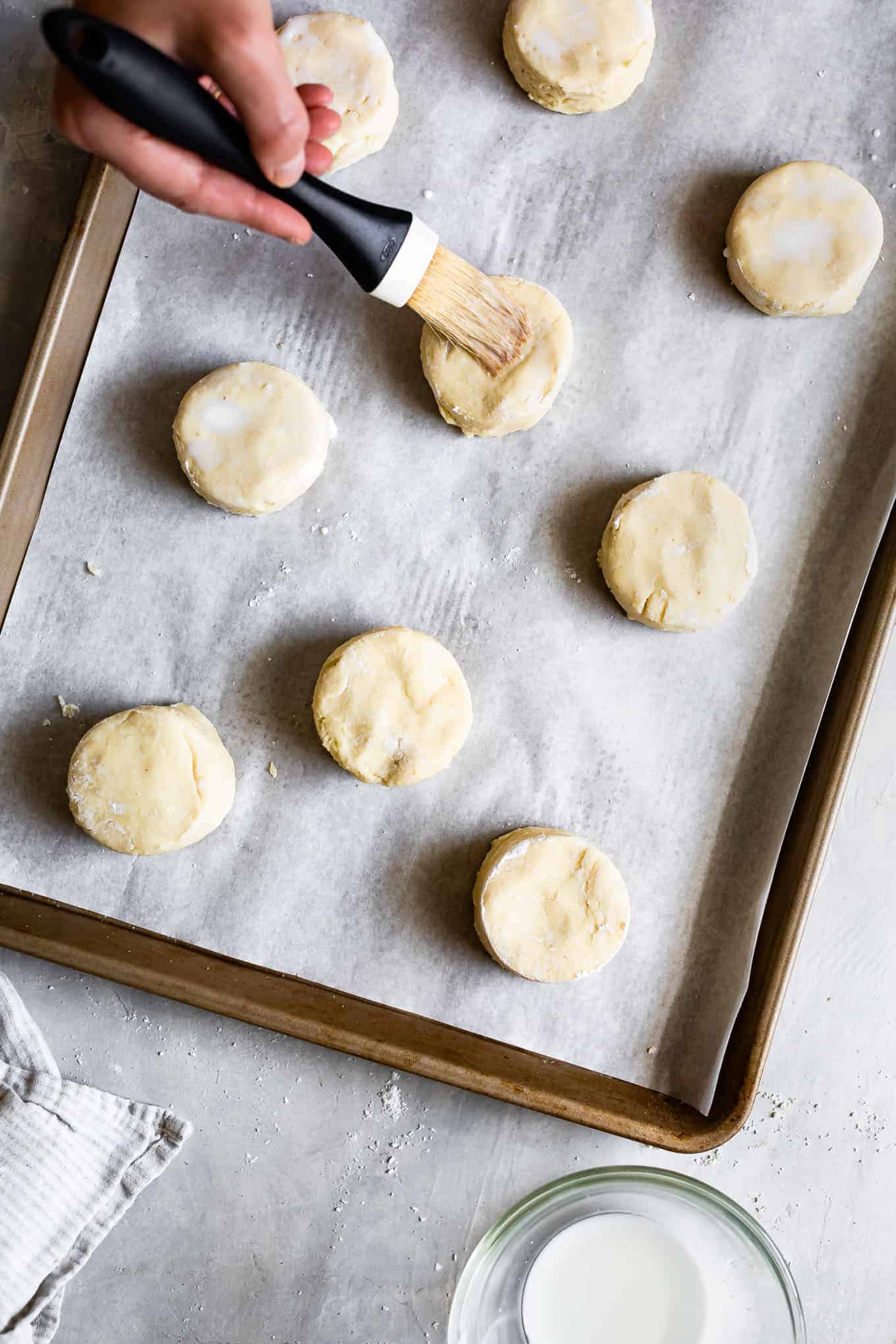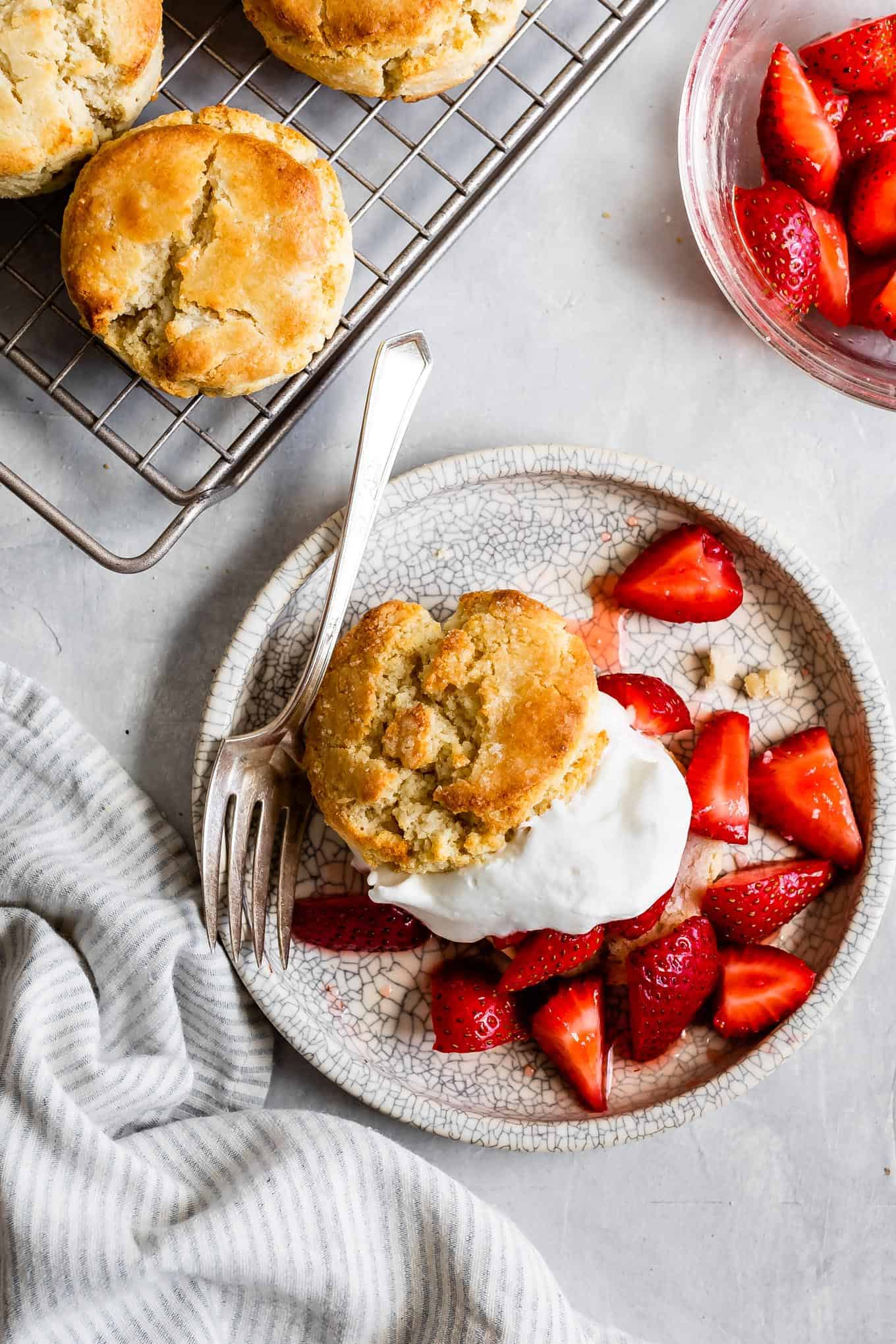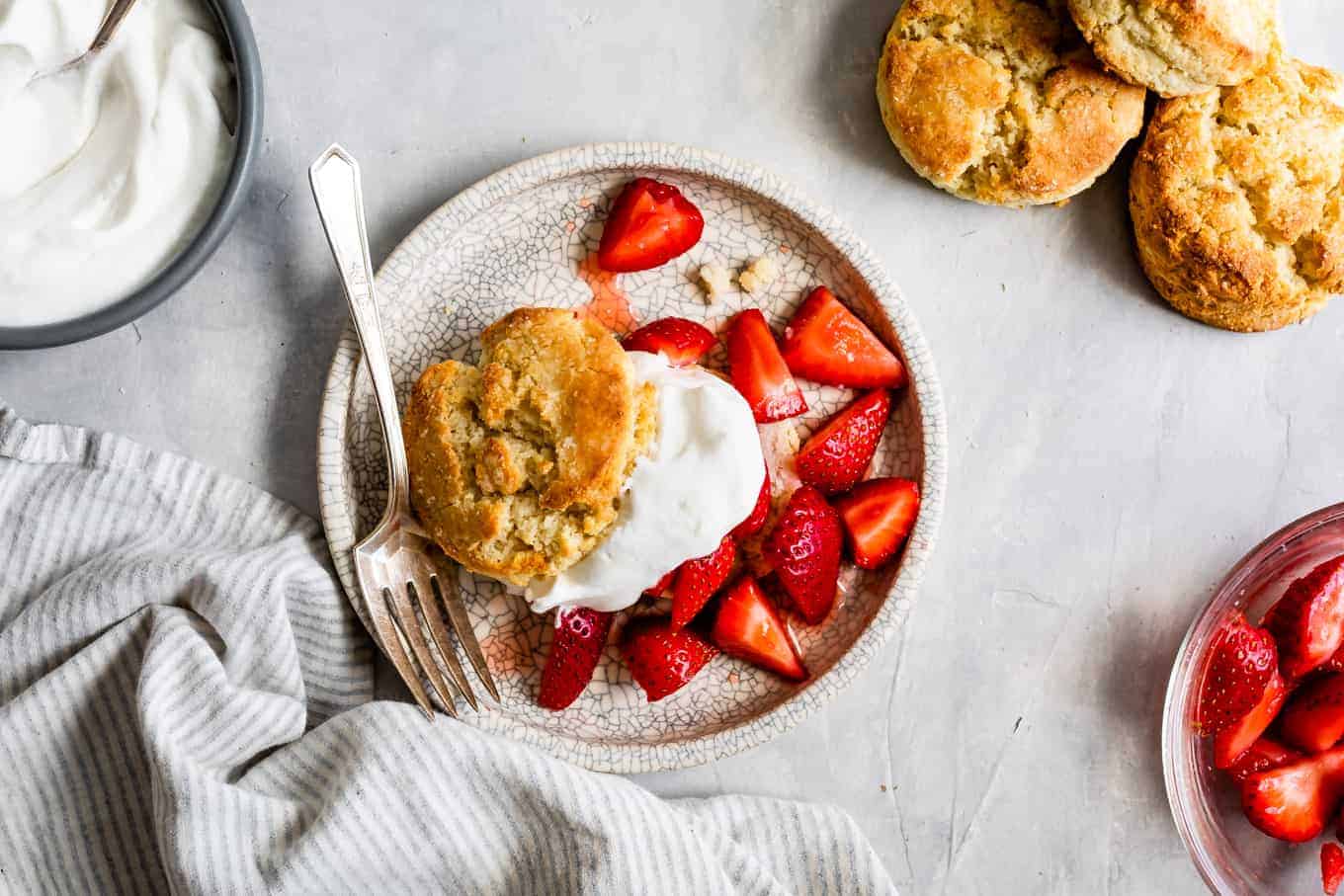 Gluten-free Shortcake Recipe
My tip to the best strawberry layer? Before you start making biscuits, stir the strawberries and sugar together and set them aside to macerate. The strawberries will release their juices, leaving a pool of sweet strawberry syrup to drizzle over the biscuits.
Use leftover biscuits or serve them warm from the oven - either way is bliss! These tall gluten-free biscuits get split and layered up with strawberries and their juices, and pillows of sweet vanilla whipped cream. You could even add another layer of whipped cream and berries on top - go wild. After all, it's summer.
Refined Sugar-Free Strawberry Shortcake
If you're trying to avoid added refined sugar, you can still have delicious strawberry shortcake.
Sugar-Free Biscuits for Shortcake
The tiny bit of sugar in the dough and sprinkled on top makes the biscuits taste a bit more like dessert, but I've made gluten-free strawberry shortcake with my regular gluten-free buttermilk biscuit recipe. The buttery biscuits are so delicious and with the sweetness from the almond flour, you won't feel like you're missing out.
Sugar-free Strawberries
Start with very good ripe strawberries. Many people actually add the sugar to bring out the flavor of the strawberries, but if your strawberries are already flavorful, that's unnecessary! Macerate the strawberries with a tablespoon of lemon juice instead.
Sugar-free whipped cream
Add a teaspoon or two of honey or maple syrup to the whipped cream to give it just a tiny bit of sweetness. With vanilla driving the flavor, you'll still be licking the spoon!

Shortcake Fruit Substitutions
Did you know strawberry shortcake tastes delicious with all different kinds of fruit? If you don't have strawberries on hand, try these fruit substitutions shortcake toppings:
Fresh blackberries or raspberries mashed and macerated with sugar
Macerated pluots, plums, or cherries
Peeled macerated peaches or nectarines
Blueberries or cranberries heated on the stove until they begin to release their juices and burst
Gluten-Free Dairy-Free Strawberry Shortcake
This recipe has also been tested with a dairy-free substitution. Use full-fat canned coconut milk in place of the milk, making a coconut buttermilk with vinegar just as you would with whole milk. Replace the butter with a stick plant-butter (I tested with Country Crock's plant butter) and continue as the recipe instructs.
For the whipped cream, use whipped coconut cream, following the recipe in my dairy-free gluten-free pumpkin pie post.
More Gluten-Free Strawberry Recipes
Gluten-Free Strawberry Galettes with Thyme
Vegan Strawberry Coconut Chocolate Chip Ice Cream
Hibiscus Strawberry Curd Tarts
Gluten-Free Pop Tarts with Strawberry Jam
Stovetop Gluten-Free Berry Crisps
Strawberry Walnut Caprese Salad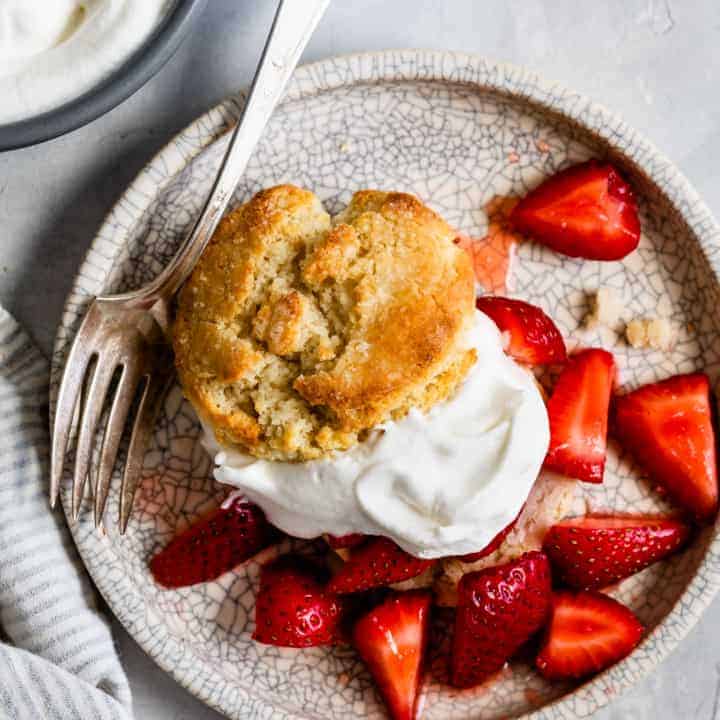 Gluten-Free Strawberry Shortcake
Yield:
4 strawberry shortcakes
Total Time:
1 hour
10 minutes
Gluten-free strawberry shortcake with tender and fluffy gluten-free biscuits made with almond flour. Use a half-batch of biscuits to make just 4-5 shortcakes.
Ingredients
Strawberry shortcake
1lb strawberries, hulled and quartered
¼ cup granulated sugar, divided
Zest of half a lemon
1 cup heavy whipping cream
1 teaspoon pure vanilla extract
Half batch homemade sweet gluten-free biscuits (4 biscuits)
Scant ½ cup whole milk (½ cup milk minus ½ tablespoon), plus more for brushing
½ tablespoon white vinegar (alternatively, skip the milk and vinegar and use ½ cup buttermilk)
76g (¼ cup + 3½ tablespoons) sweet rice flour (Also called mochiko. Different from "white rice flour" or "brown rice flour")
64g (½ cup + 1 tablespoon) Bob's Red Mill superfine blanched almond flour
35g (¼ cup) Bob's Red Mill millet flour
18g (2½ tablespoons) Bob's Red Mill tapioca flour
1 tablespoon sugar
1¾ teaspoons baking powder
¼ teaspoon baking soda
¼ teaspoon kosher salt
3 tablespoons (42g) unsalted butter, frozen for at least 30 minutes
Optional: ½ tablespoon melted unsalted butter, for brushing
Instructions
Before making the biscuits, toss the strawberries, 2 tablespoons of sugar, and lemon zest in a medium bowl and chill.
Prepare a half batch of gluten-free biscuits according to the directions in this post, using the measurements above and the sweet option.
While the biscuits cool slightly, make the whipped cream. In the bowl of a stand mixer with the whisk attachment or a mixing bowl with a hand mixer, whisk the cream until it begins to thicken, but peaks have not formed yet. With the mixer running on medium-low, add remaining 2 tablespoons sugar in a slow stream. Add the vanilla and continue whisking until pillowy soft peaks form.
Assemble your strawberry shortcakes. Use a sharp knife to split each biscuit in half. Spoon macerated berries and their juices over the bottom half, top with a large spoonful of whipped cream, then top with the other half of the biscuit.
Nutrition Information:
Yield:

4
Serving Size:

1
Amount Per Serving:
Calories:

293
Total Fat:

22g
Saturated Fat:

14g
Trans Fat:

1g
Unsaturated Fat:

7g
Cholesterol:

67mg
Sodium:

18mg
Carbohydrates:

24g
Fiber:

3g
Sugar:

20g
Protein:

3g