Last updated on August 14th, 2019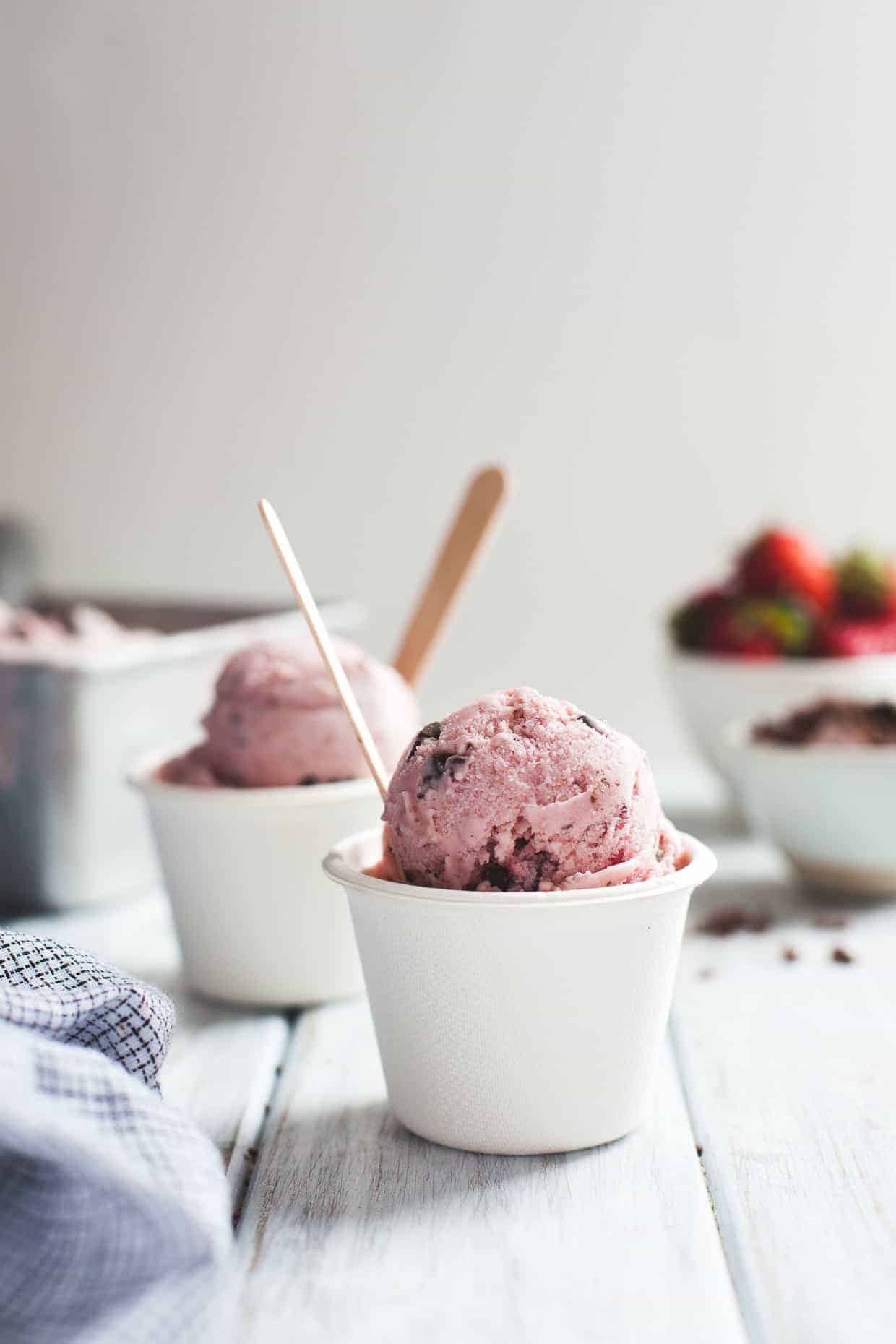 When I opened the freezer for what was about to be my second "reward" bowl of this vegan strawberry coconut chocolate chip ice cream the other night, I thought about how much I loved my mom. Every day since making this ice cream, I've "rewarded myself" with a scoop two to three times a day for writing even just one new word. Procrastination, meet Gluttony. On Monday, though, I hesitated finishing off the last of the ice cream – to leave a couple of bites for my mom.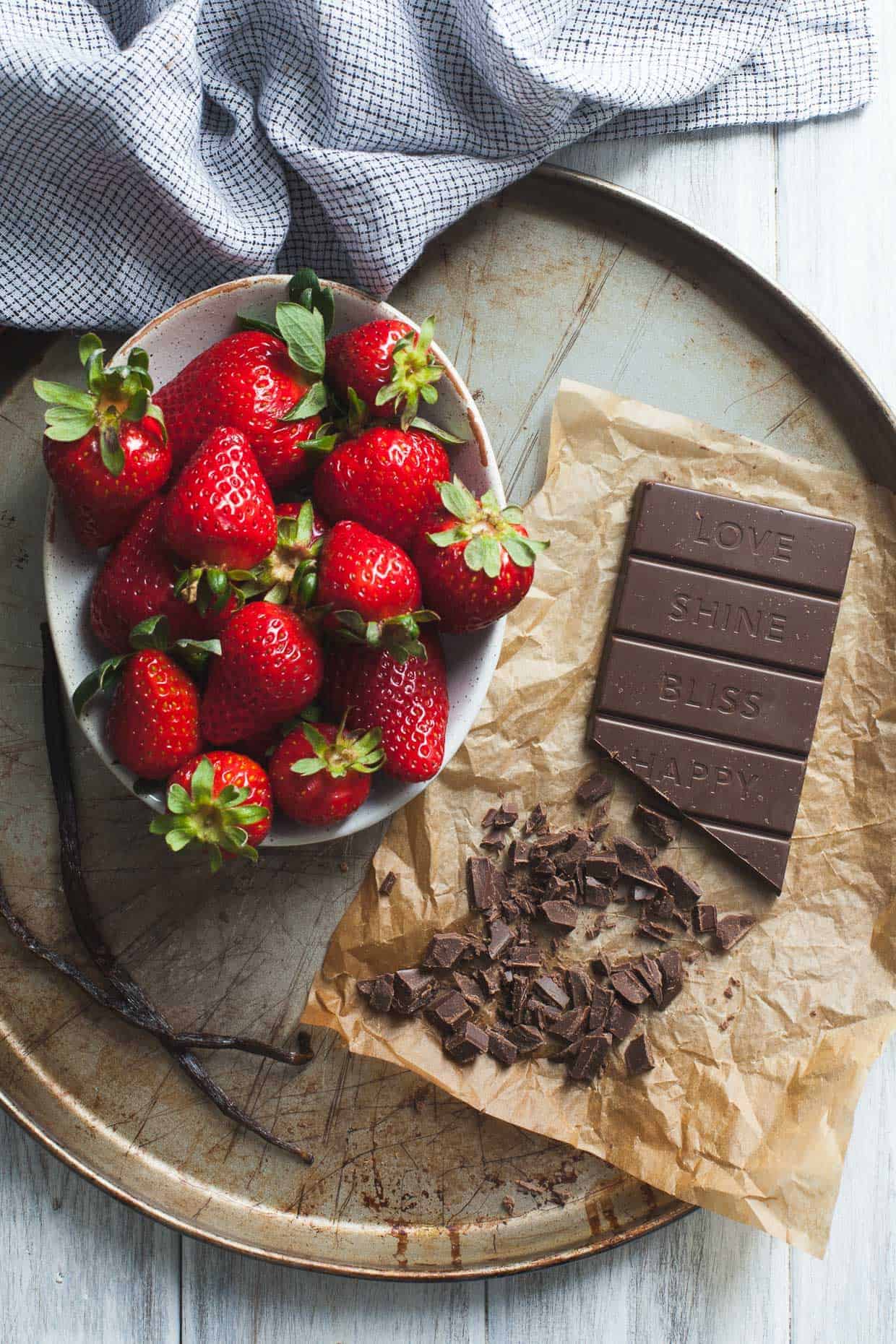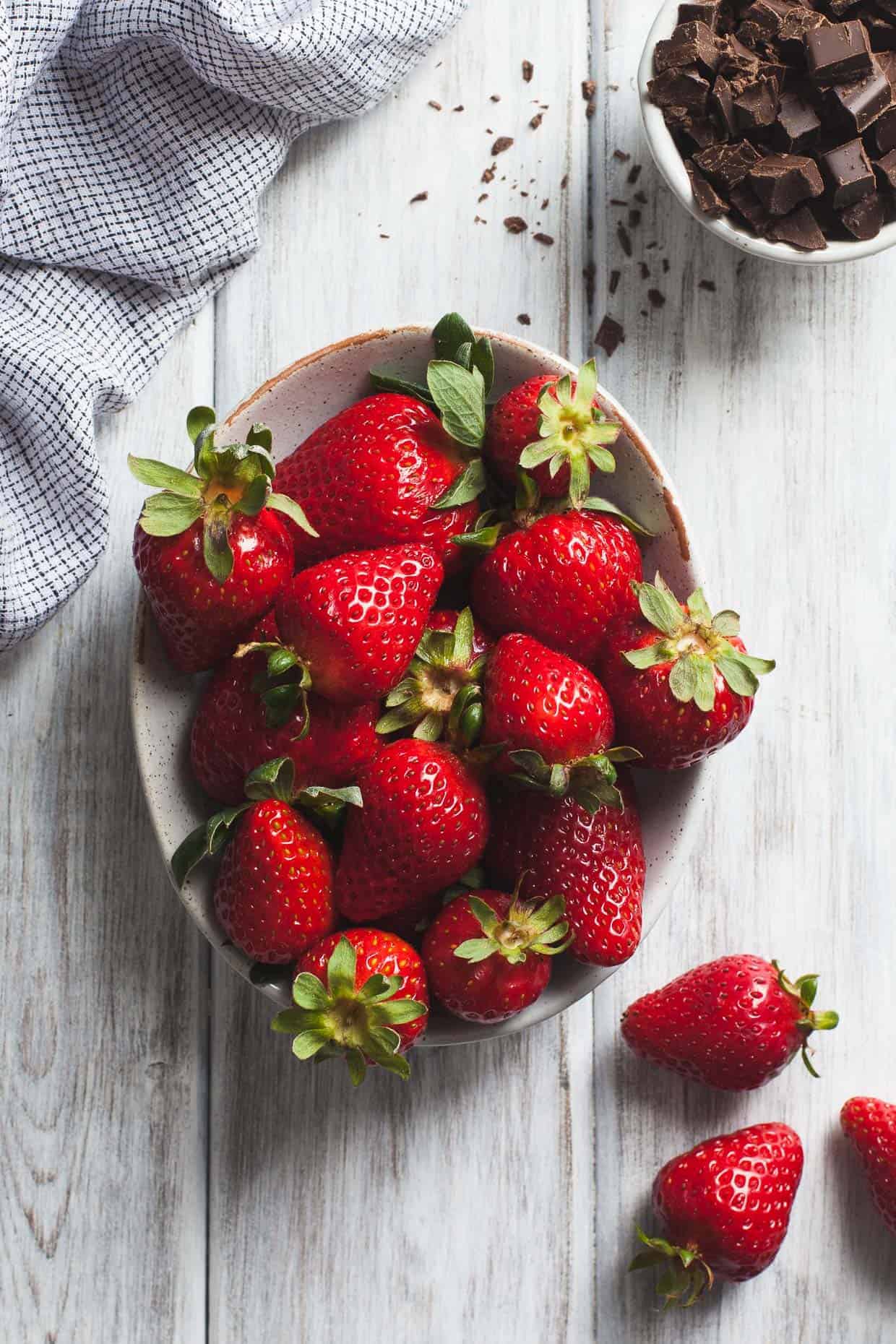 My mom interpreted the status of my chores in my last post as a cry for help and drove three hours to show up just when I was barely remembering how to feed myself. Thank goodness for moms, right? You know that stage when you've just had your first baby and you're trying to get all settled in, but the baby's up crying all night and you haven't slept in weeks? And probably your spouse has to work long hours and – when was the last time you showered anyway?
I don't, but I've heard about it.
Then, in a grand hero-like gesture, your mom shows up at just the right moment to help with life. Because sometimes life is just hard.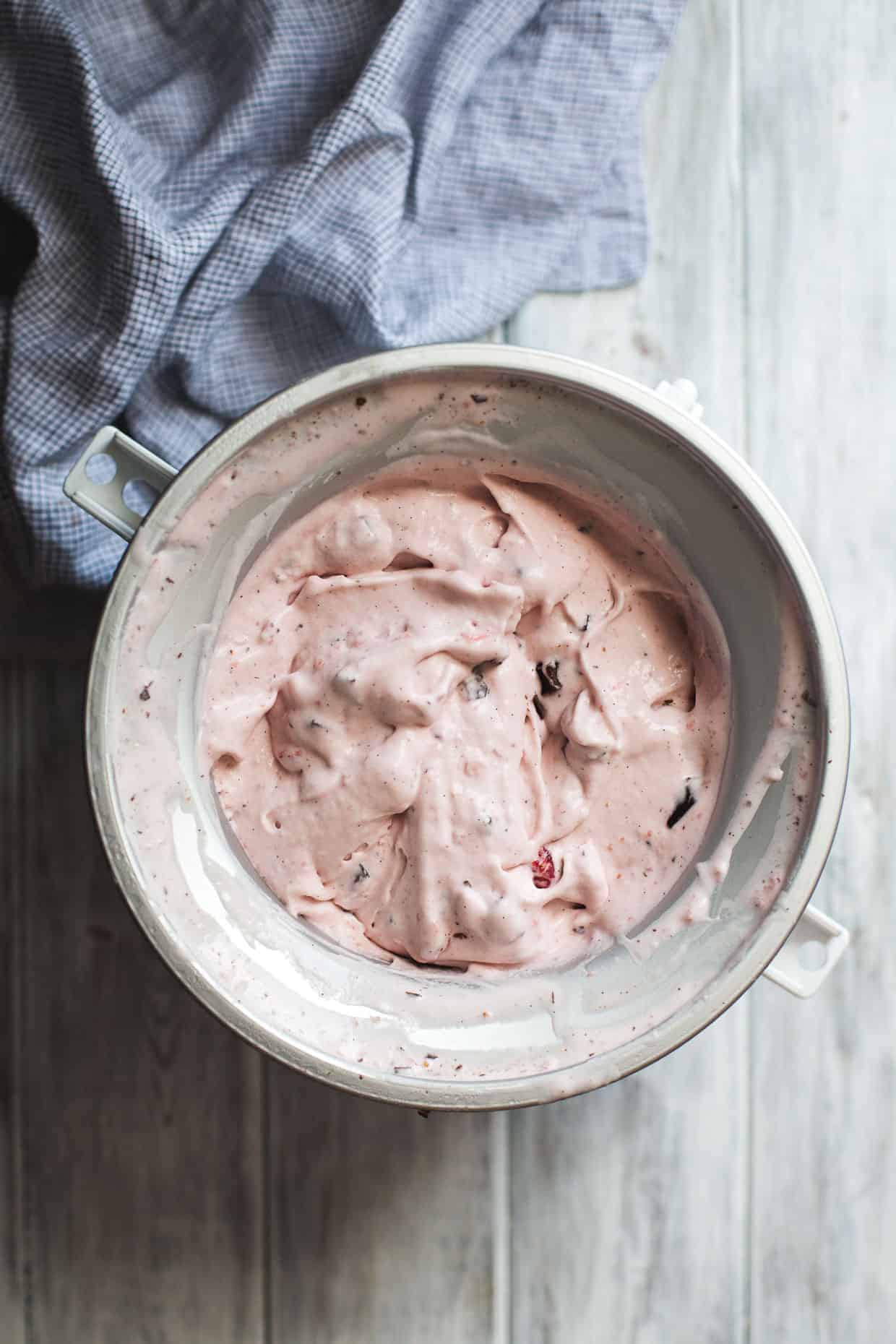 We're at that stage with my dissertation-baby. It's keeping me up all night crying (only I'm the one crying). Maybe I'm the one keeping it up all night crying. Lucas is in China (in unison: again?!) and even with the bare minimum of showers, life piled up. In an act that made me reflect on just how lucky I am, my mom swooped in with a big bowl of chili, promising to take care of my sauce-splattered floors, stack of dishes, and Mount Everest laundry installation.
So while I contemplated just how big of a reward scoop I needed, I thought about how much I love my mom.
One small scoop of this vegan strawberry coconut chocolate chip ice cream – that's how much I love my mom. Just a couple bites though because this ice cream is that freakin' good.
I didn't save any for my husband though, so what's that say?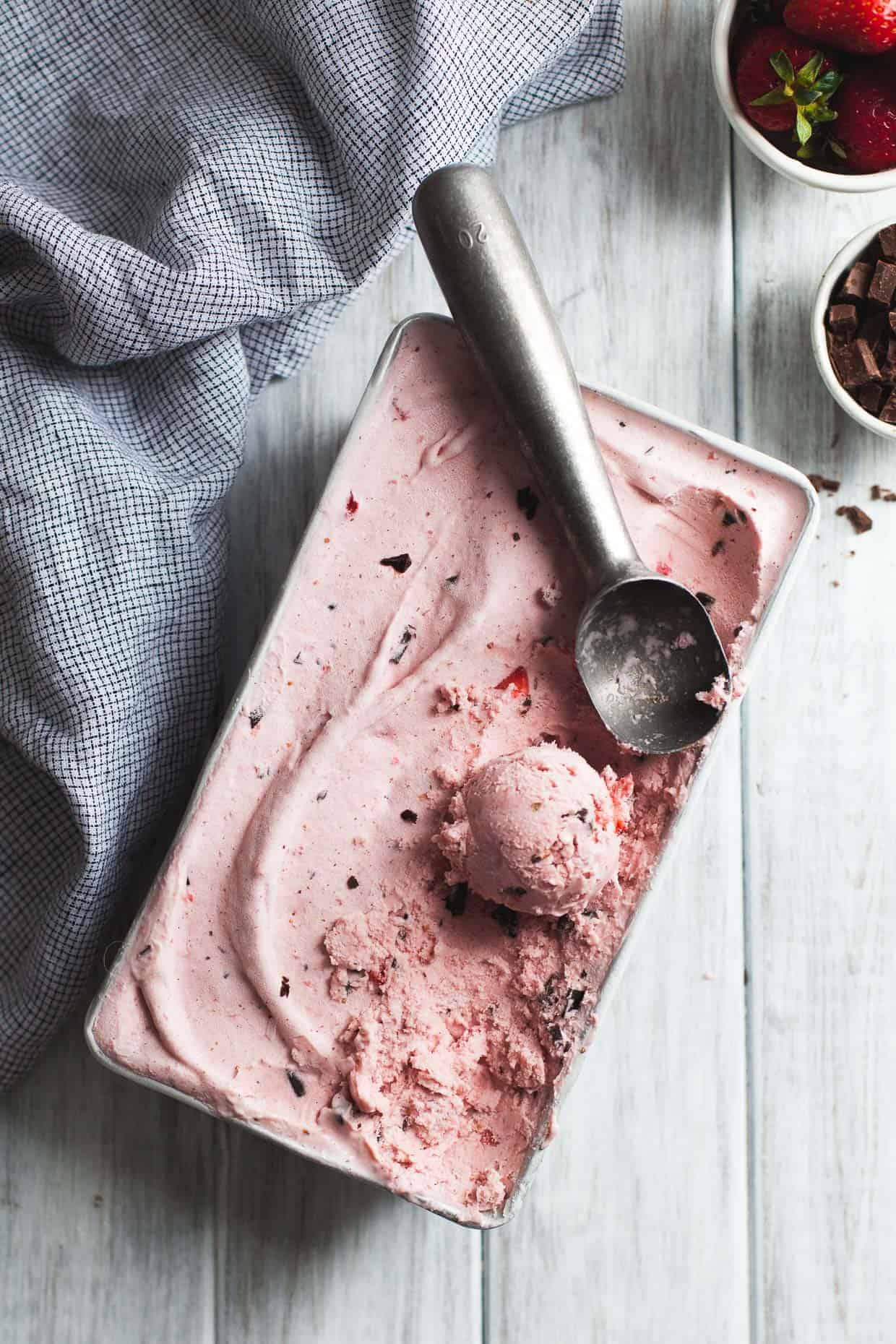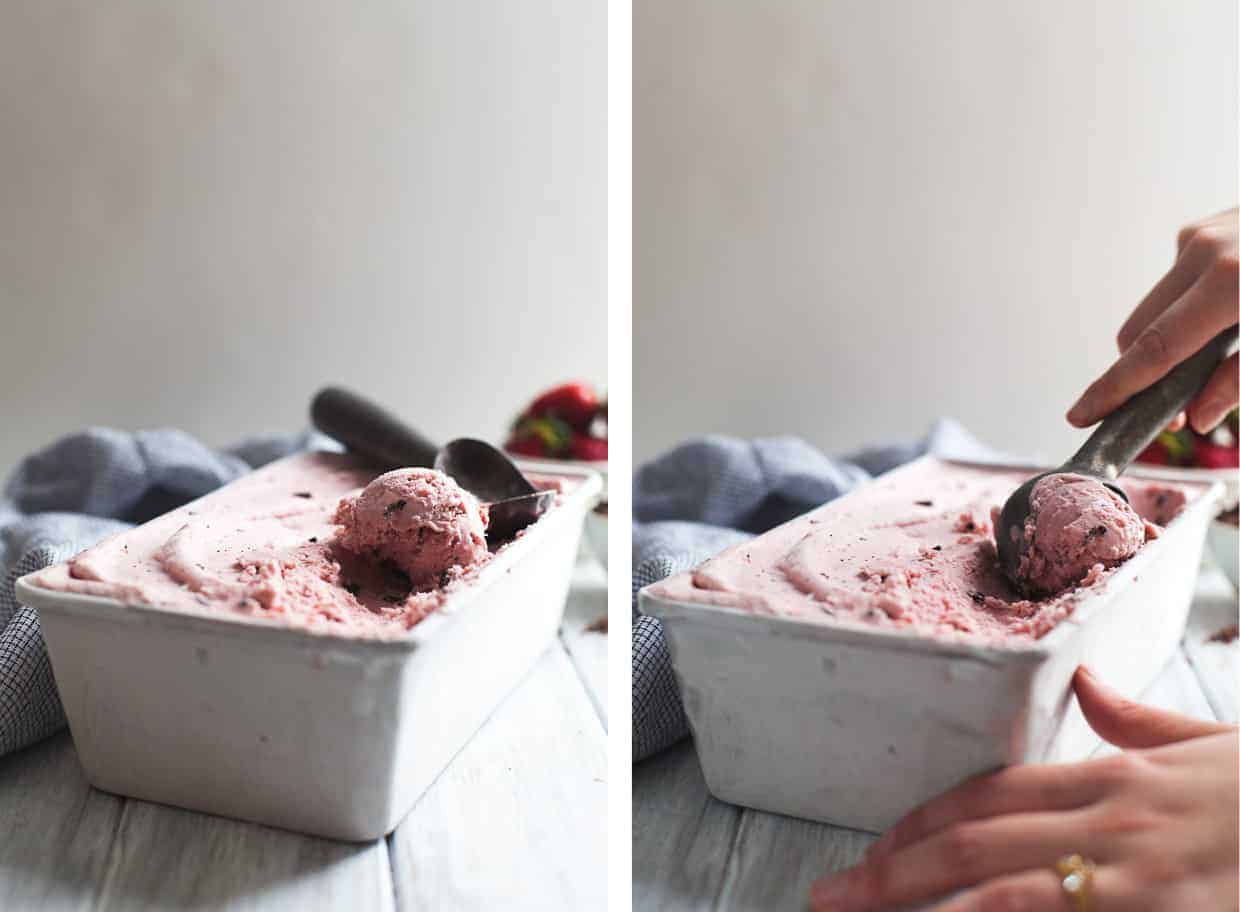 If you're skeptical about the coconut in this recipe, don't be. For how much of a starring role coconut plays as the base of this ice cream, it takes a backseat to the sweetest juiciest strawberries swirled throughout, adding just a hint of tropical coconut flavor. When I gave Lucas a bite of the pre-frozen soft-serve ice cream just before he left, he had no idea there was coconut in it or that it was vegan. The coconut cream adds just enough fat to make this the smoothest, creamiest, dreamiest vegan ice cream ever.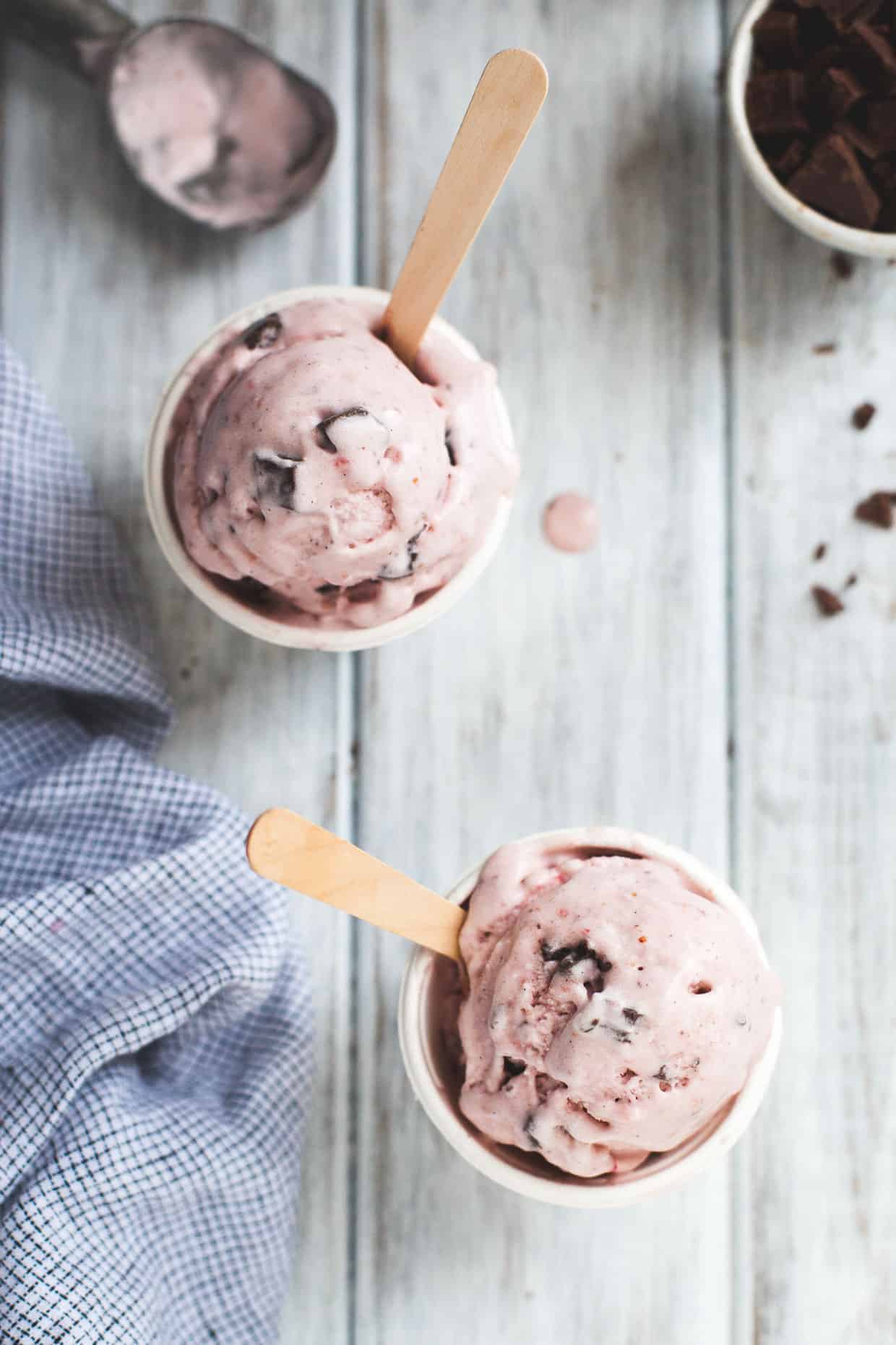 And studded with Aloha's vegan superfood chocolate, this ice cream adds a bit of healthy to your dessert routine, while still tasting just as decadent.
When the travel stars aligned, Alanna and I got to join Mimi – one of the creatives behind Aloha's superfood chocolate – over dinner at a vegan Mexican eatery when she was passing through SF, where were got to see the booming passion behind the Aloha products firsthand. Made with fair-trade organic ingredients, Aloha chocolate is free of gluten, soy, dairy, and artificial flavors. This chocolate is the real deal.
Sweetened with coconut sugar and made with raw coconut flakes, this chocolate flavor profile is made for a vegan coconut ice cream. Plus it's loaded with superfood greens … so two to three scoops a day basically counts toward your vegetables, right?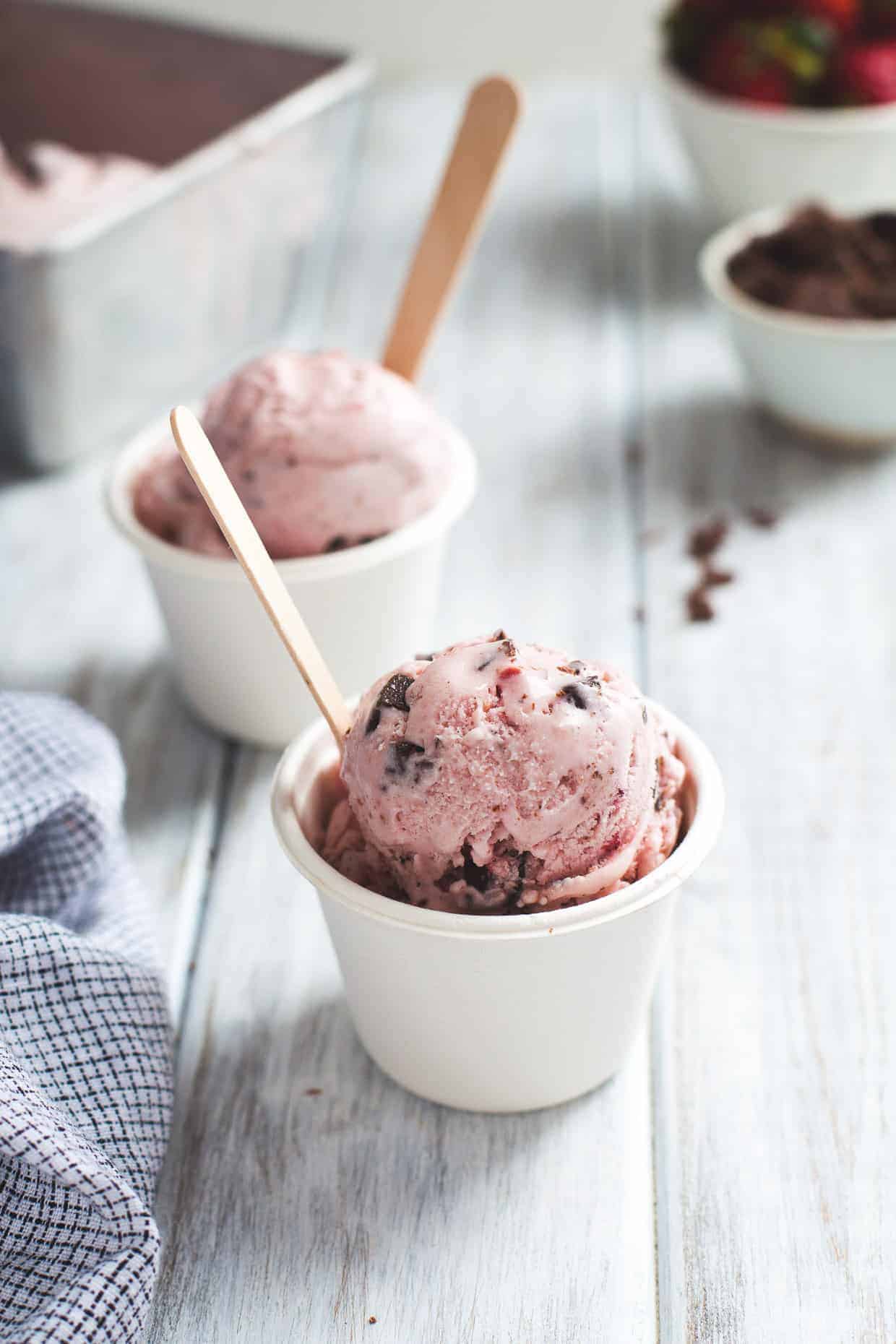 Thanks for reading Snixy Kitchen! To stay up on what's coming out of my kitchen, follow me on Facebook, Instagram, Twitter, Bloglovin', or Pinterest, or subscribe via e-mail to get new recipes right to your inbox.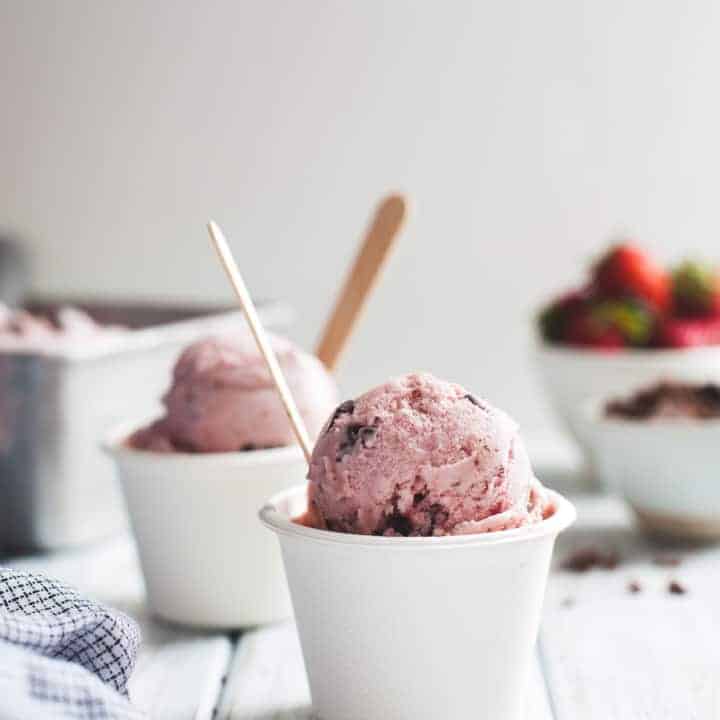 Vegan Strawberry Coconut Chocolate Chip Ice Cream
Instructions
Stir the chopped strawberries, lemon juice, and 3 tablespoons of turbinado sugar together in a medium bowl. Use a fork for a potato masher to mash the strawberries together just a bit. Cover and set the bowl in the fridge to let the strawberries macerate while you prepare the rest of the ingredients.
Warm coconut cream, coconut milk, remaining 1/2 cup of sugar, corn syrup, coconut oil, and vanilla bean seeds and pod in a medium pot over medium heat, stirring occasionally. When the cream begins to simmer, remove the pot from heat. Cover and let the mixture steep for 20 minutes. Remove the bean pod and reserve it to make vanilla extract.
Meanwhile, prepare an ice bath by filling a large bowl with ice cubes and water.
Pour the cream and all but 1/4 cup of the macerated strawberries into a blender or food processor and purée until smooth. Strain and reserve the remaining 1/4 cup of strawberries.
Pour the puréed mixture into a large 1-gallon Ziploc bag. Seal it and submerge the mixture in the ice bath until cold, about 30 minutes.
Pour the strawberry ice cream base into the bowl of your pre-frozen ice cream maker. Follow the directions on your ice cream maker to churn the base into ice cream, until it is the consistency of soft-serve, about 15 minutes. Add the chopped chocolate and remaining 1/4 cup of drained chopped strawberries and churn just until evenly incorporated throughout, 3 more minutes.
Pack the ice cream into an air-tight storage container or a metal loaf pan, pressing a sheet of parchment paper directly against the ice cream.
Freeze until firm, at least 4 hours, but preferably overnight.
Notes
*I do not recommend using the coconut cream from Trader Joe's as they seem to have updated their supplier and the new consistency is a bit oily.
Disclosure: Thanks to Aloha for sponsoring this post! Please rest-assured that all opinions expressed here are 100% my own. Thank you for supporting the brands that keep Snixy Kitchen cooking.