Strawberries sub in for tomatoes in this classic summery salad. The sweetness of strawberries shines when paired with mozzarella, basil, and balsamic. Make this strawberry walnut salad filling enough for a main dish with wild rice, arugula, and toasted walnuts, or sub in your favorite grain, green, and nut!

This post is sponsored by California Strawberries, a long-term partner of Snixy Kitchen.
It's entirely possible for a family of four to go through 8lbs of strawberries in less than a week, in case you're wondering. Especially when they're sun-kissed and warm straight from the farm. We've been eating this strawberry walnut salad all week and it couldn't feel more like summer. This strawberry caprese salad is so simple to make, but with wild rice, arugula, and toasted walnuts, it's exciting enough to be a centerpiece and filling and nutritious enough to be served as a main course.
I didn't cut those berries to look like hearts intentionally, but c'mon...the strawberries are really showing off in this salad.

Farming Strawberries
Last week I went down to Watsonville - just me and the team from California Strawberries to meet strawberry farmer Peter Navarro on his farm, learn about his story, and capture video to show the farming side before making this strawberry walnut salad for my family. I've been before - 6 years ago, and, even still, I learn new things and am inspired by the heart and care that goes into growing and harvesting strawberries in California.
(It's no coincidence that when hulled and sliced, strawberries look like hearts, right?)




The Heart of California Strawberries
Most of US-grown strawberries are farmed along the California coast. And many are grown on multi-generational immigrant family farms, cultivated by generations of immigrant farmworkers. Navarro Farms shares this history. Peter's family immigrated to California from Mexico in the 50s and started farming strawberries. Born and raised in Watsonville, he grew up helping his father and uncle on the family strawberry farm, knowing he'd always go into agriculture. When his father passed away, he took over the strawberry farm, and together with his brother John, still grows acres of berries along the California coast.
His love of strawberries and the land is thread together with generations of his family's hard work. He and his brother describe their strawberry farm as a way to keep his father's memory alive and a way they can pass that same work ethic down to the next generation.
California Family Farms
So often we think about buying the freshest healthiest produce for our families. But on the other side of that is knowing how your food choices are tied to the livelihoods of multigenerational family farms. Knowing these stories and making connections between the food we're consuming and the actual farmers and harvesters of that food is important. These farms are integral to our food system. And the love and care of the farmers is especially evident in the case of California Strawberries, in particular. Head over to California Strawberries to meet even more farmers and hear their personal stories.
Here's the video I captured to show the connection from the heart of California Strawberry farmers to creating and serving up fresh strawberries in a dish to my family. Note: I filmed the farmers picking and packaging strawberries specifically for the camera. All the farmworkers picking berries for consumers were wearing masks and gloves and were socially distanced far apart from one another among the rows.
What makes California Strawberries Unique?
The growing conditions in California are uniquely suited for strawberries, allowing for a long harvesting season. In Watsonville, this season lasts from early spring all the way to fall as late as October or November, weather permitting, with peak season April through August. As Peter describes it, "we grow by the ocean, where it's cool in the evenings, warm during the day, and it provides the perfect growing conditions for strawberries."
What is the best way to store strawberries?
Extend the freshness of your strawberries by keeping them refrigerated and waiting to wash them until you're ready to eat them. Peter also teased, "eat as many as you can..." I'm on board for that storage method. He says by keeping them chilled and waiting to wash, strawberries will stay fresh for a week to ten days.
One new fun strawberry fact I learned on this trip: strawberries taste the sweetest when eaten at room temperature. If you store them in the fridge, let them sit for a bit before eating them and they'll taste even more magical.



Summer Strawberry Caprese Salad
Strawberries sub in for tomatoes in this take on a classic caprese salad. Their natural sweetness shines against the balsamic vinaigrette, bright creamy mozzarella, and subtle peppery notes of basil. I'm certainly not the first person to make this strawberry pairing (take this pesto strawberry caprese salad from Heartbeet Kitchen), but it's such a good one. If you've never tried strawberries in a caprese salad, now's the time to find out what you've been missing. Leave the basil whole, torn, or thinly sliced, depending on your preference.
To dress the salad up from a traditional caprese into a main course salad, I've added wild rice, arugula, and toasted walnuts. It's simple, which is exactly what I'm looking for this summer, but still keeps things exciting and refreshing - all the criteria I'm looking for this summer.
Strawberry Walnut Salad Options
Personally, I'm drawn to the strawberry walnut salad combination. When making filling salads, I aim to add grains, greens and nuts or seed on top of all the other ingredients. Here I've added three of my most-used and loved, but get creative based on what you have and love!
Grain: I used wild rice, but you can sub in brown rice, quinoa, millet, or buckwheat.
Green: I used arugula, but you can sub in baby kale, romaine, or mixed greens.
Nut: I used toasted walnuts, but you can sub in almonds, candied nuts, or pepitas.


Arugula and Strawbery Salad Dressing
Top the salad in a simple balsamic vinaigrette. To let the flavors of the berries and basil shine, I made a very quick basic balsamic vinaigrette with balsamic vinegar, olive oil, garlic, salt and pepper. Each balsamic vinegar has different flavor profiles and mine was a bit on the sweet side. Taste and adjust the dressing to your liking. You may find you prefer a bit more vinegar, salt, or pepper. Feel free to add ½ teaspoon honey if your balsamic isn't as sweet.
More Strawberry Recipes
Gluten-Free Strawberry Balsamic Thyme Galettes
Strawberry Rhubarb Pie A la Mode Popsicles
Gluten-Free Breakfast Oatmeal Jam Bars
Vegan Coconut Black Sesame Ice Cream with Strawbery Swirl
Teriyaki Tofu Spring Rolls with Strawberries from Healthy Nibbles
Hibiscus Mint Strawberry Sorbet from Kale & Caramel
Gluten-Free Strawberry Crisp from All The Healthy Things
Balsamic Roasted Strawberry Coconut Mousse from The Pig & Quill
Head over to California Strawberries to get more strawberry recipes and follow them on instagram for even more inspiration!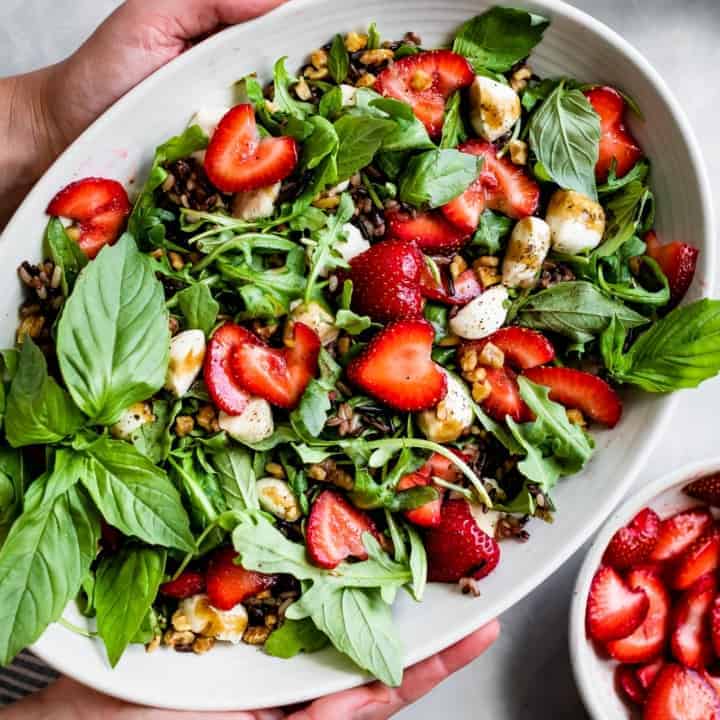 Strawberry Walnut Caprese Salad
Strawberries sub in for tomatoes in this classic summery salad. Paired with mozzarella, basil, and balsamic, a strawberry's sweetness shines. Make the salad filling enough for a main with wild rice, arugula, and toasted walnuts, or sub in your favorite grain, green, and nut!
Ingredients
1½ cups cooked wild rice, chilled
3 tablespoons extra virgin olive oil, plus more for tossing
½ small garlic clove, pressed or minced
1 tablespoon good-quality balsamic vinegar
Pinch each kosher salt and pepper
3 ounces baby arugula
¼ cup fresh basil leaves, torn or sliced thin
4 ounces fresh ciliegine mozzarella (small balls), halved or quartered
8 ounces California Strawberries, hulled and sliced
¼ cup toasted walnuts, chopped
Instructions
Prepare the wild rice according to the package directions in advance, chilling or letting it cool to room temperature.
In a small bowl, whisk together olive oil, balsamic, garlic, salt, and pepper until smooth and homogenous. Taste and adjust to your liking (see note).
In a large salad bowl, toss arugula with a teaspoon olive oil. Toss in fresh basil and top with mozzarella, sliced strawberries, and toasted walnuts.
Drizzle with balsamic to taste and finish with another pinch of salt and pepper. Toss before serving.
Notes
This is a super simple balsamic vinaigrette, but each balsamic vinegar is a bit different, so taste and adjust to your liking. You may find you prefer a bit more vinegar, salt, or pepper. Feel free to add ½ teaspoon honey if you prefer it sweeter.