Last updated on April 8th, 2019
These strawberry rhubarb pie à la mode popsicles have strawberry rhubarb compote layered up with luscious vanilla bean cream and crumbles of pie crust on top. In honor of popsicle week and in collaboration with Rodelle Vanilla, these popsicles will take you to popsicle paradise all summer long.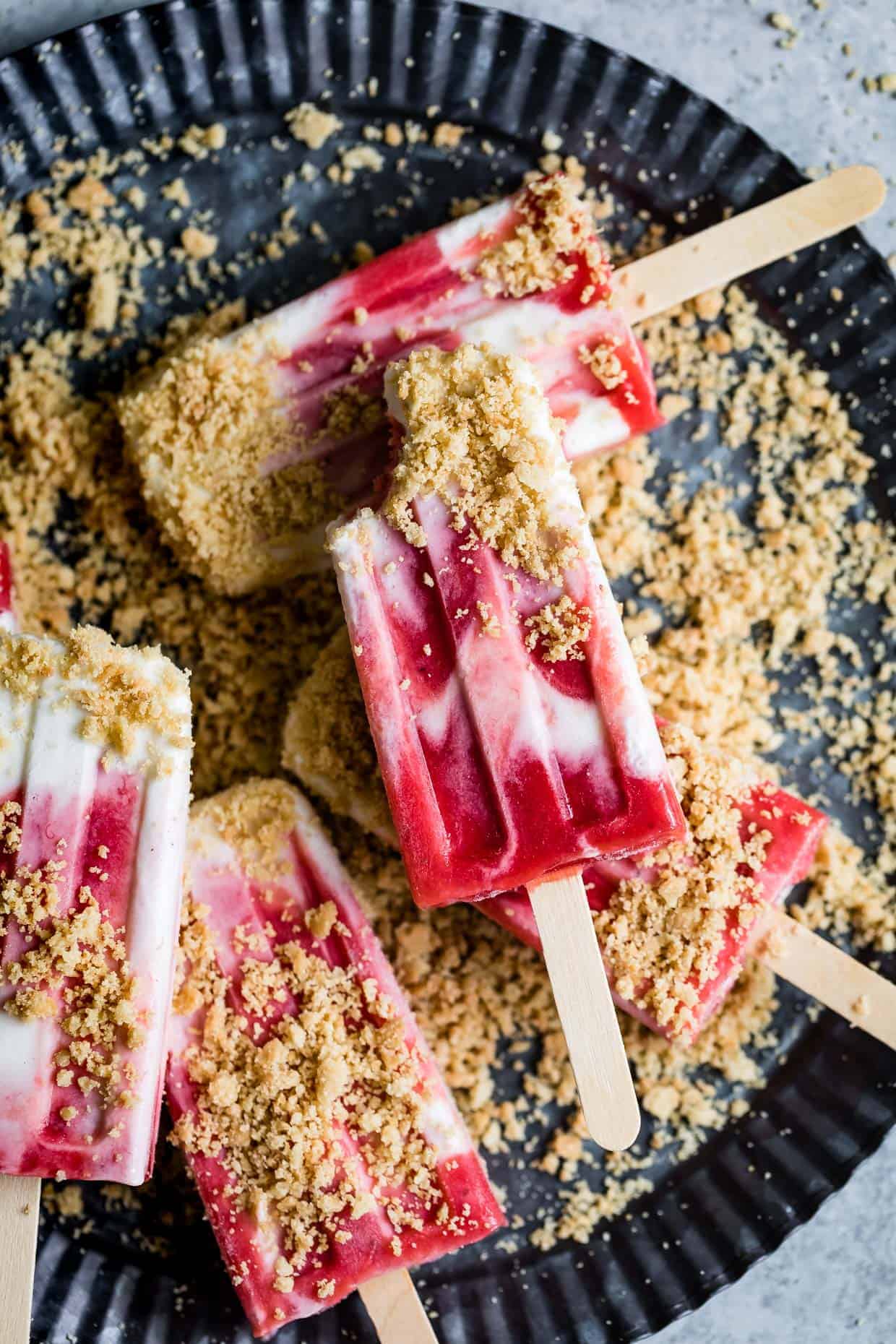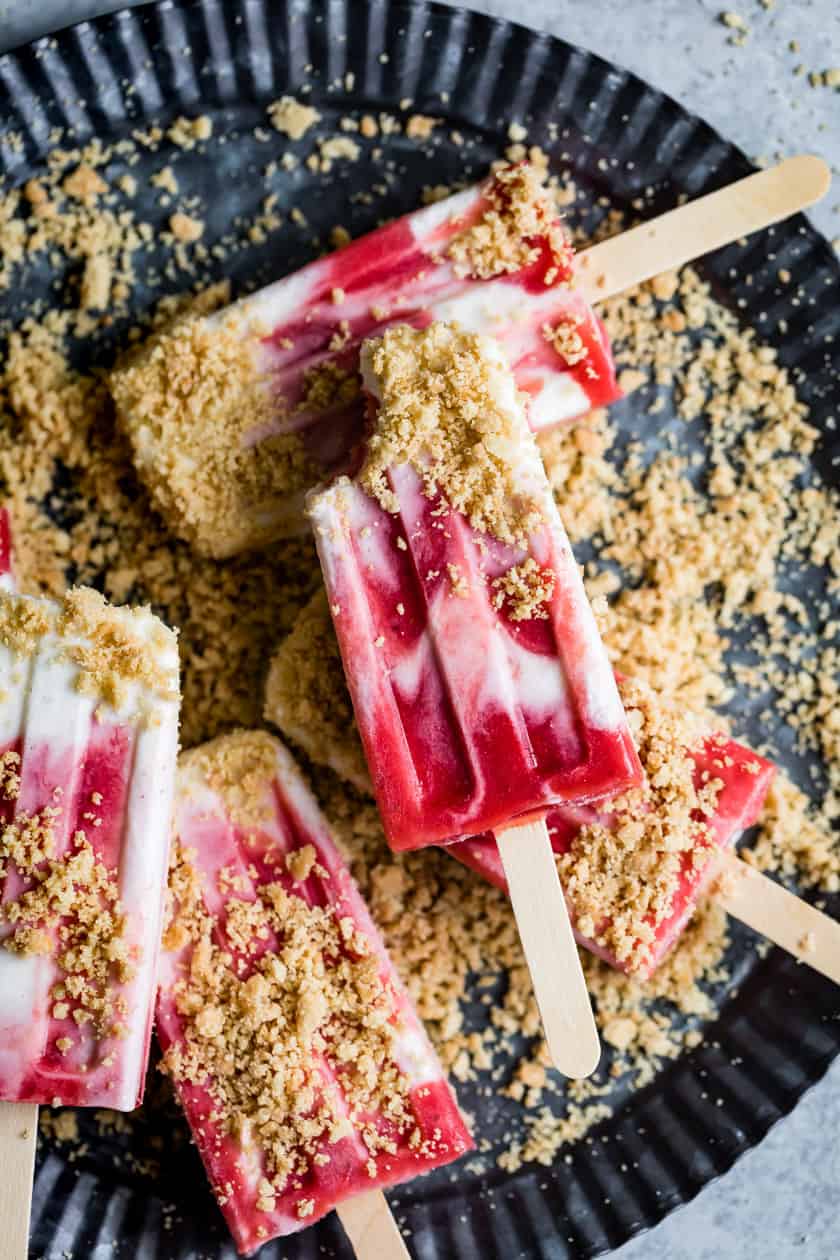 I've been obsessed with popsicles for a long time – I mean, who hasn't right? This is no revelation. But my love of popsicles transcends normal dessert fandom. It goes back to the days of the ice cream truck rolling down my street, which in my opinion is a completely misnamed entity that should be called the popsicle truck for that's primarily what it peddles. My pipe dream is to drive a popsicle truck that blasts showtunes and hawks things like these strawberry rhubarb pie à la mode popsicles or maybe these chocolate banana tahini popsicles.
We'll come back to my popsicle mania in a second, but first, let's zoom in on these popsicles:
These strawberry rhubarb pie à la mode popsicles are the second of a year-long recipe and video partnership Alanna and I are working on with Rodelle. A few of the recipes that I developed for Snixy Kitchen in collaboration with Rodelle will live here – like these popsicles – but be sure to follow Rodelle's social channels to catch a new recipe video once a month.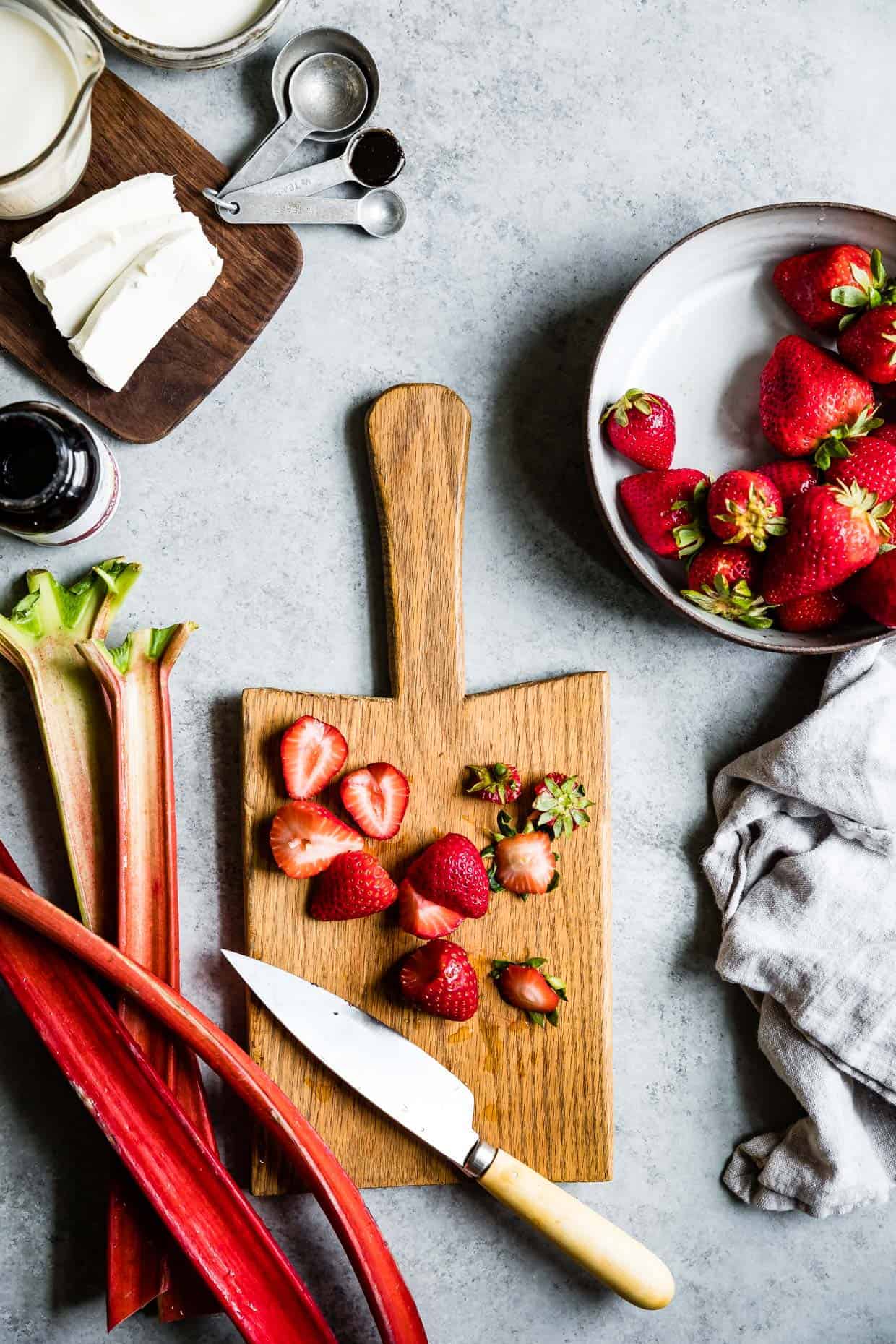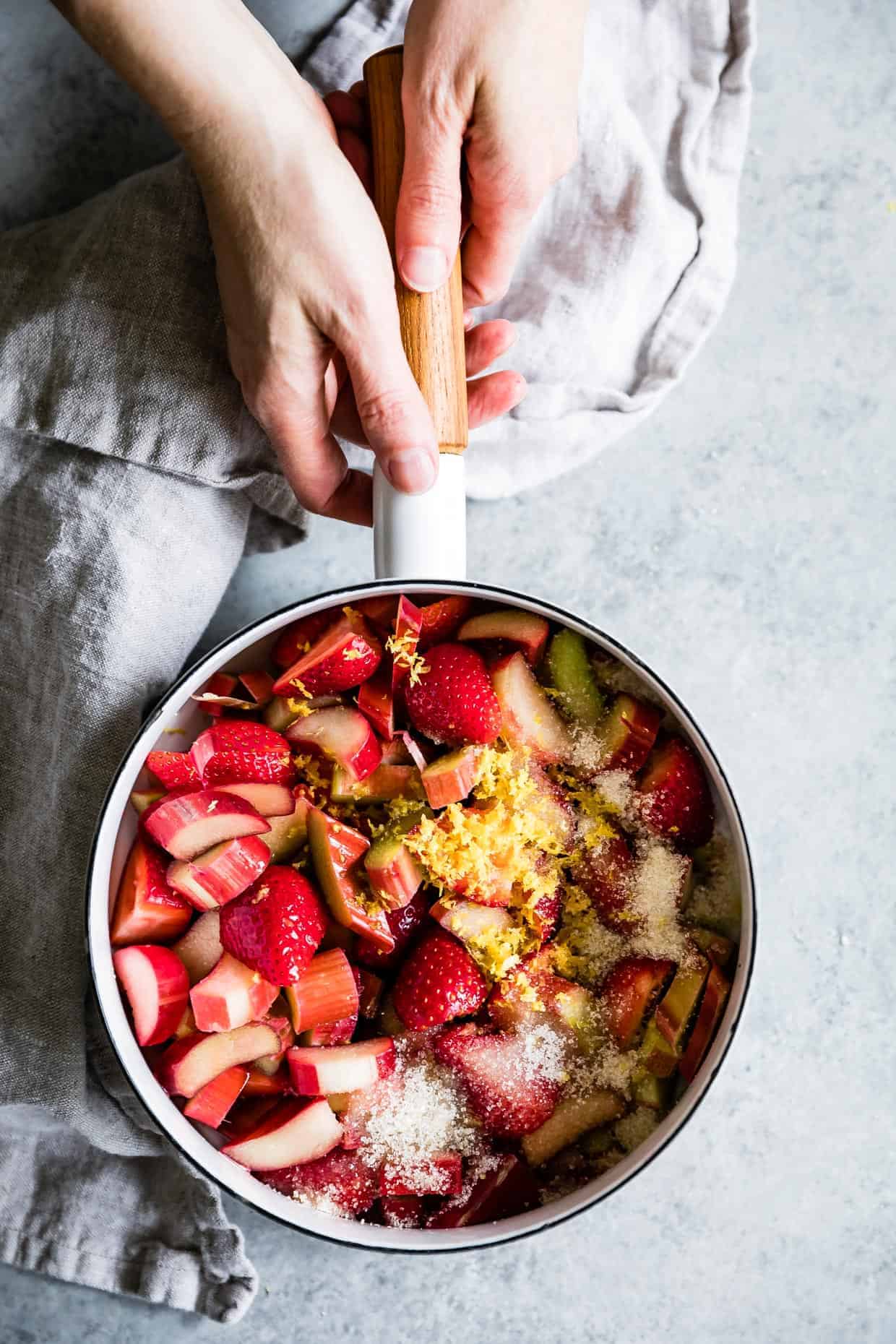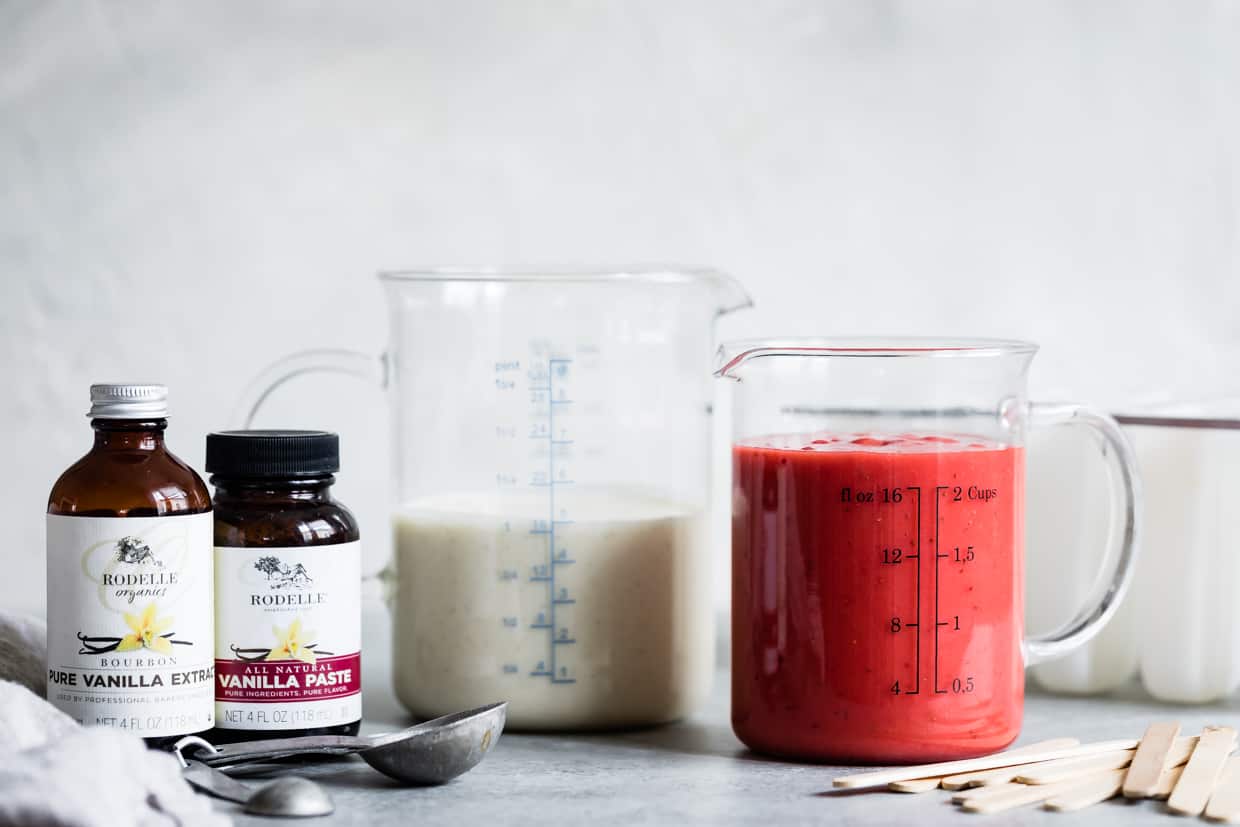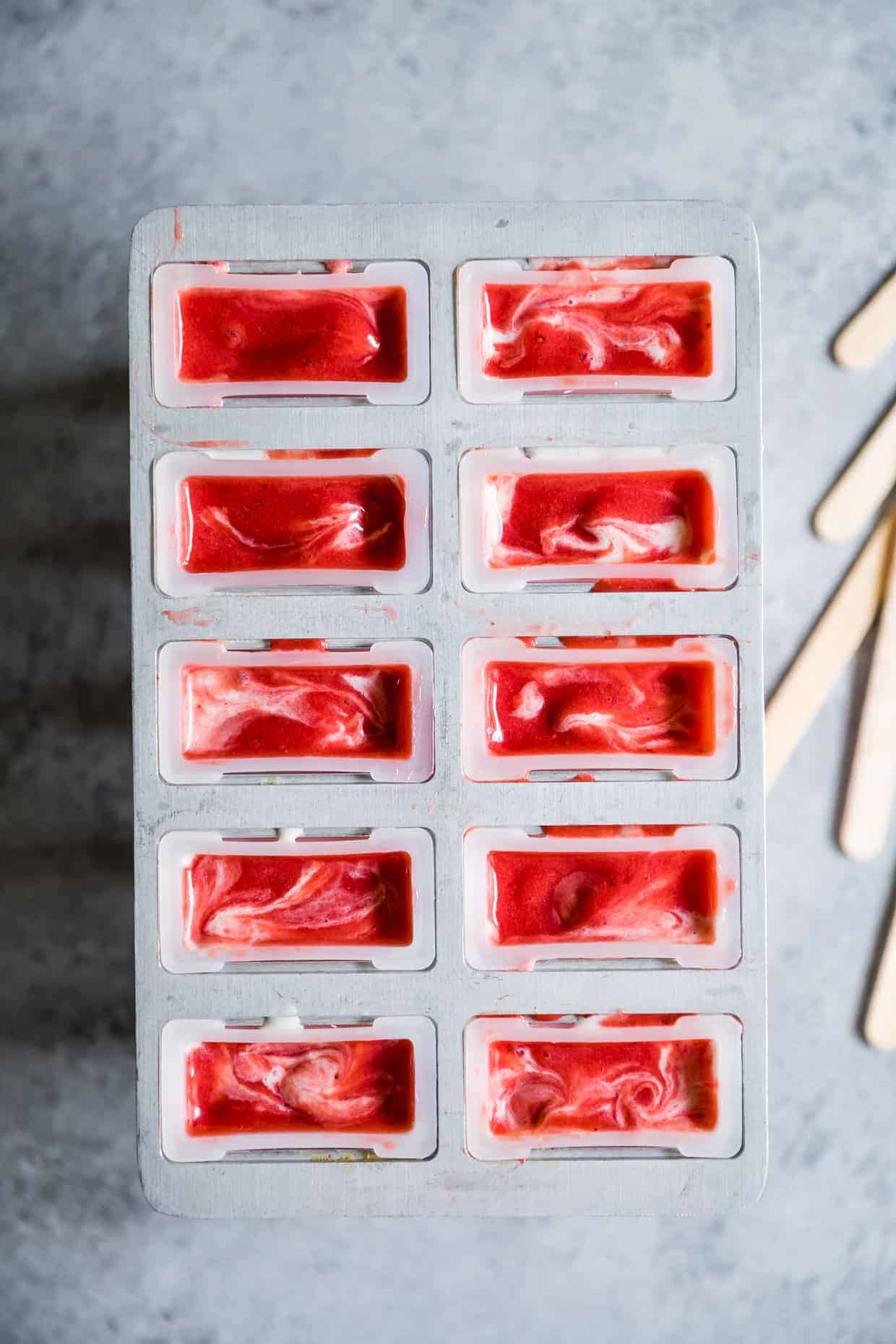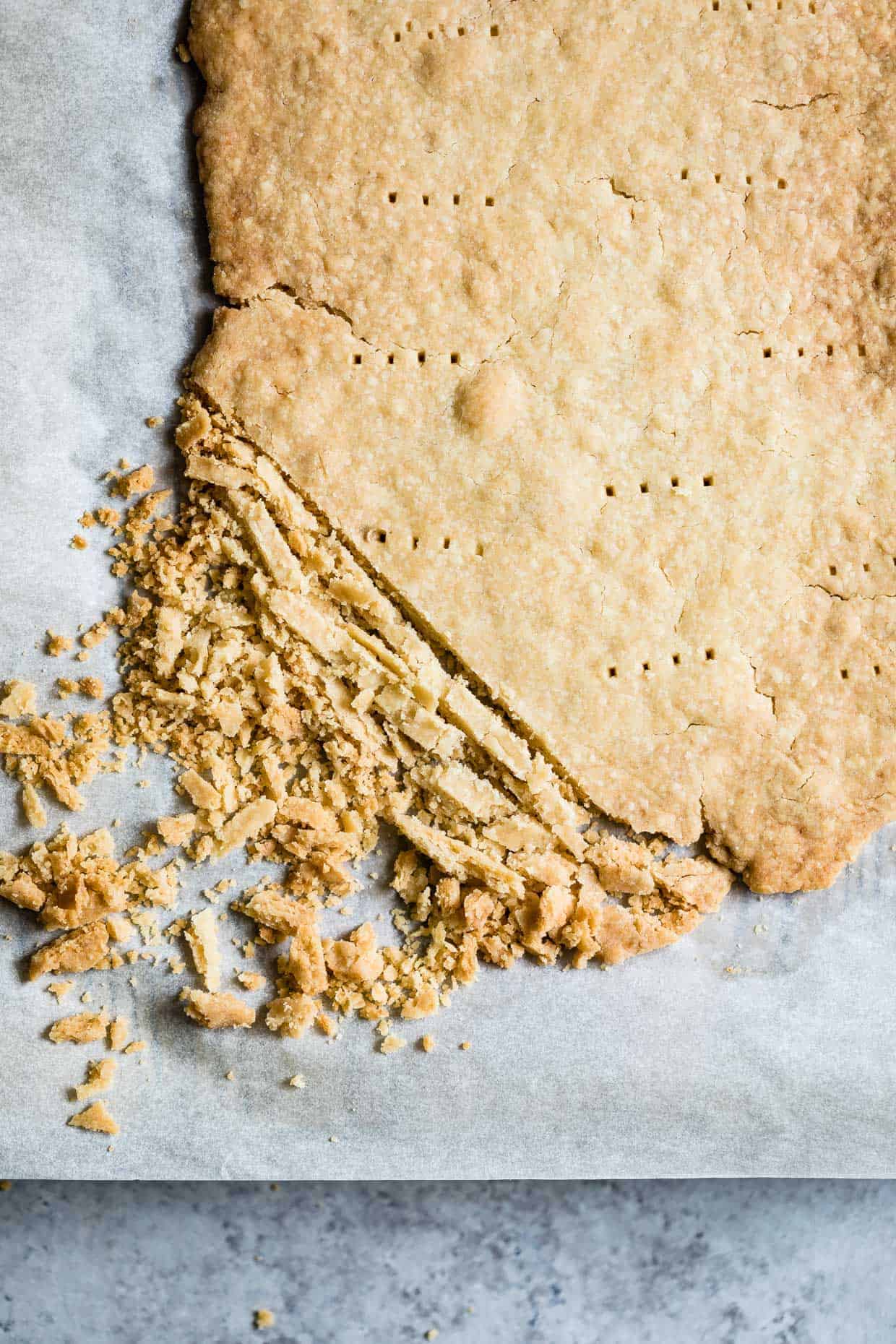 So back to the ice cream truck (*cough* popsicle truck) obsession. I grew up outside the city lines in an area without street lights or often proper street signs. This meant it was rare and very special when the ice cream truck paid us a visit. In middle school though, the ice cream truck parked in front of the school. This guy had a knack for the hustle.
I learned two important lessons in middle school: 1. If you ask sweetly, the ice cream man will give you "broken" popsicles for free, and 2. If you make friends with the ice cream man, he'll save the broken ones for you. That or he'll just accidentally break them, which seems more likely now that I think back on it. The ice cream man shared my birthday and I brought him a balloon to tie on his truck to celebrate each year.
I had the hustle down too.
As a 30-something adult, this sounds much creepier in retrospect, but also, I got free popsicles for two years, so I'm not complaining.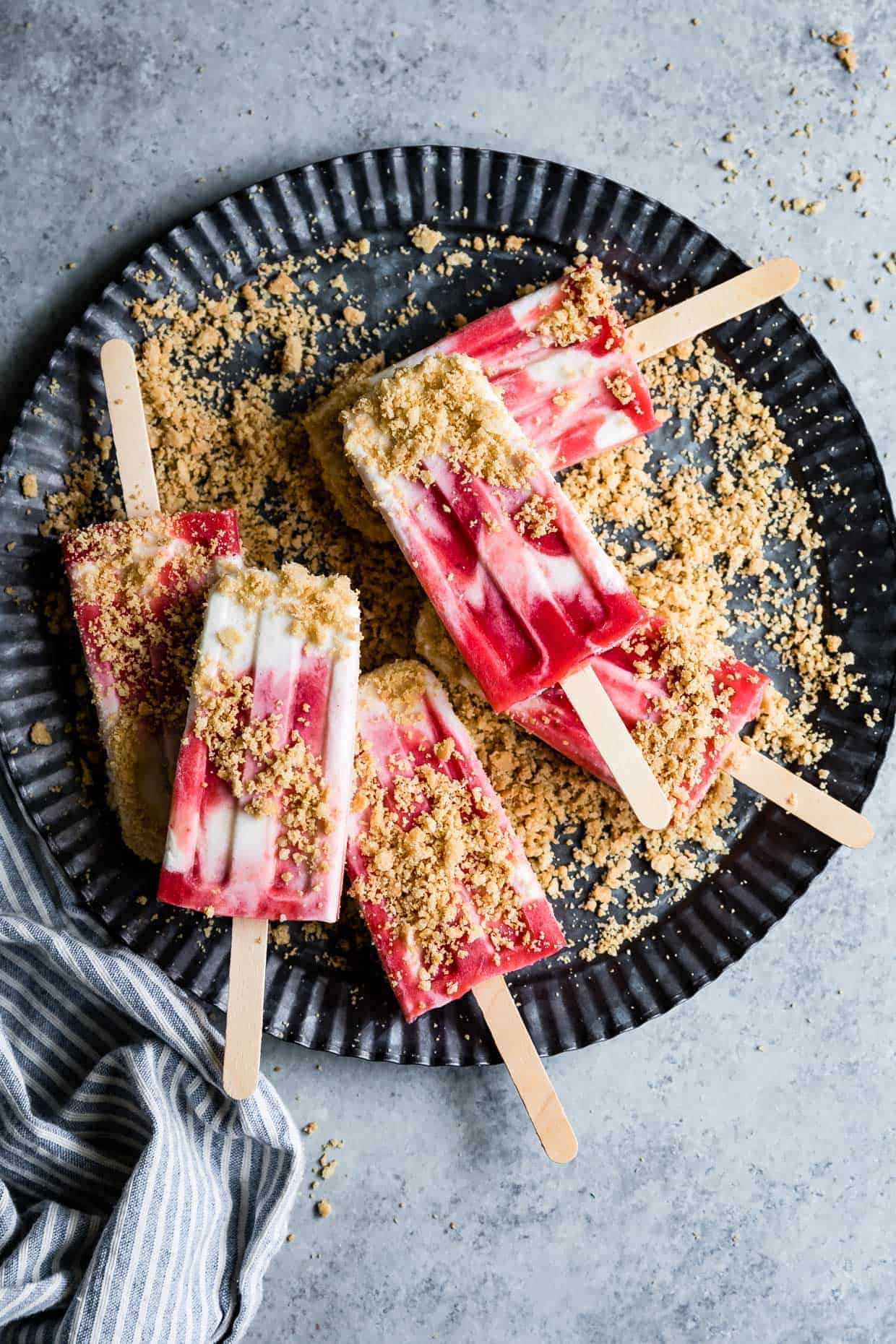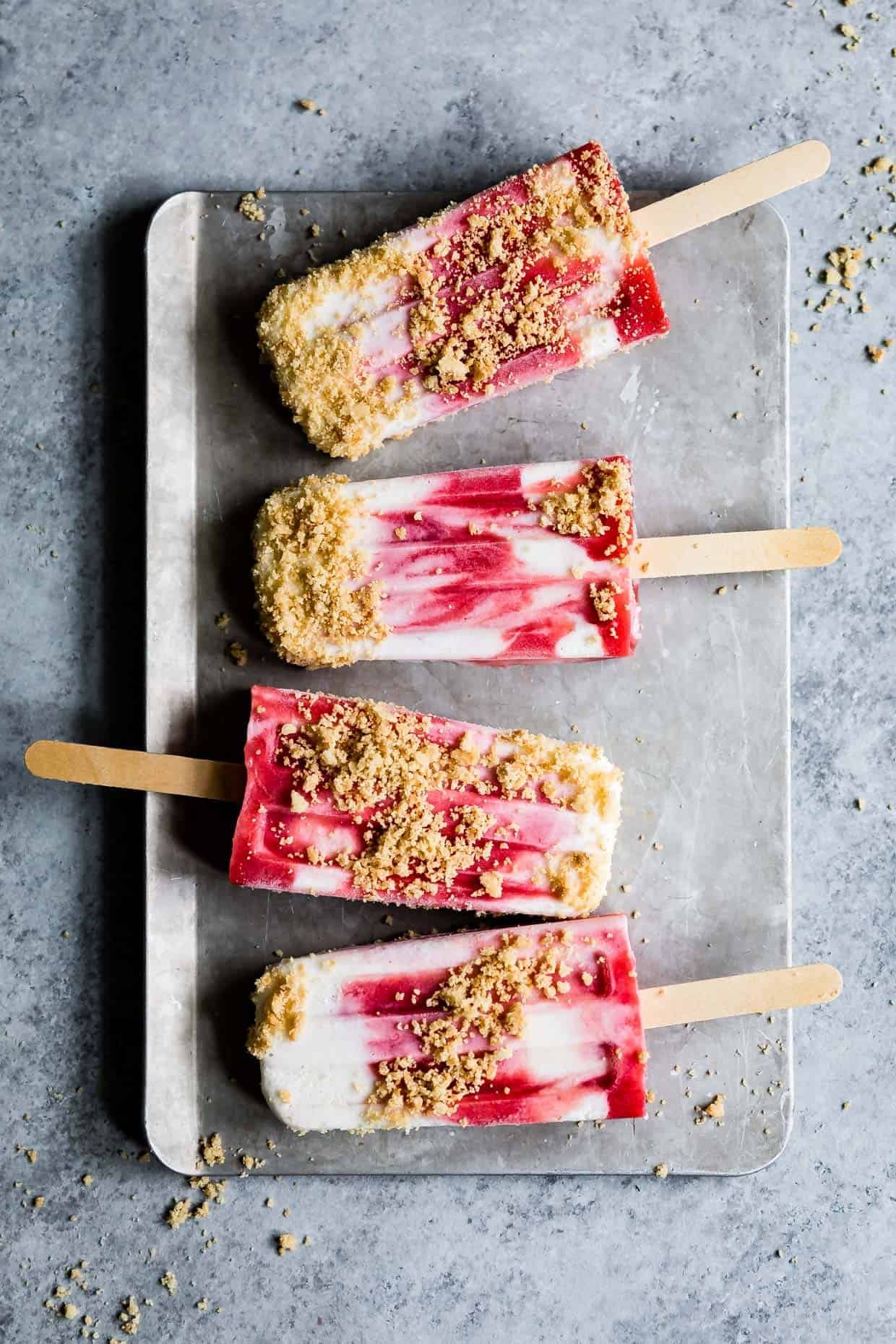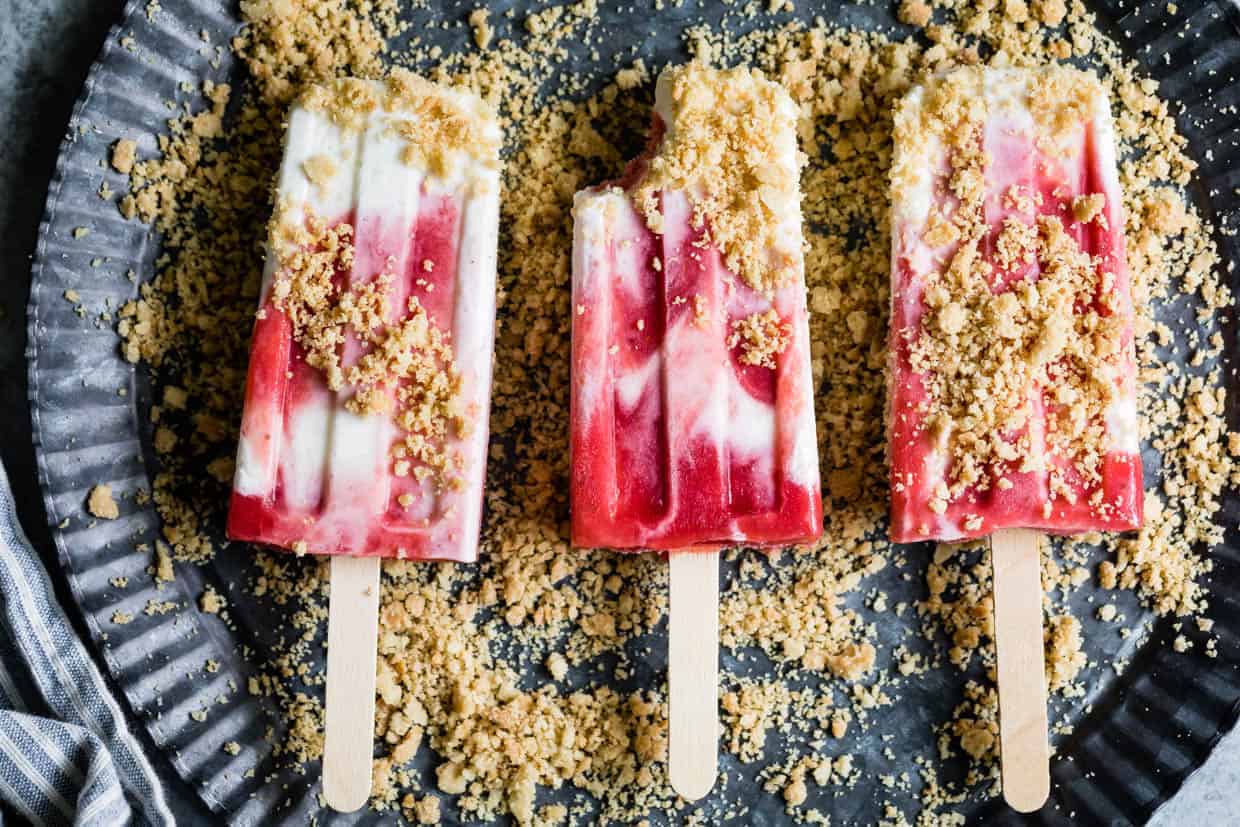 These strawberry rhubarb pie à la mode popsicles combine the best of three worlds: pie, ice cream, and popsicles into one deliciously melty treat. There's layers of tart vanilla-laced strawberry rhubarb compote poured between layers of vanilla bean cream, and the whole thing gets crumbled with vanilla pie crust. Flecks of bean from Rodelle's vanilla paste are a quick way to give the cream layer an ice cream-like flavor without having to steep the cream in vanilla beans, getting you to popsicle paradise even quicker.
The crumbled pie crust technique was inspired by the shortbread crumbles on Honestly YUM's lemon bar popsicles and it adds so much in flavor and texture to the popsicles! You can make your own gluten-free pie crust crumbles pretty easily using the recipe below, or you can bake a pre-made pie crust to make it even quicker – your choice.
I'll just be over here eating all the popsicles while this baby responds with enthusiastic kicks to my ribs.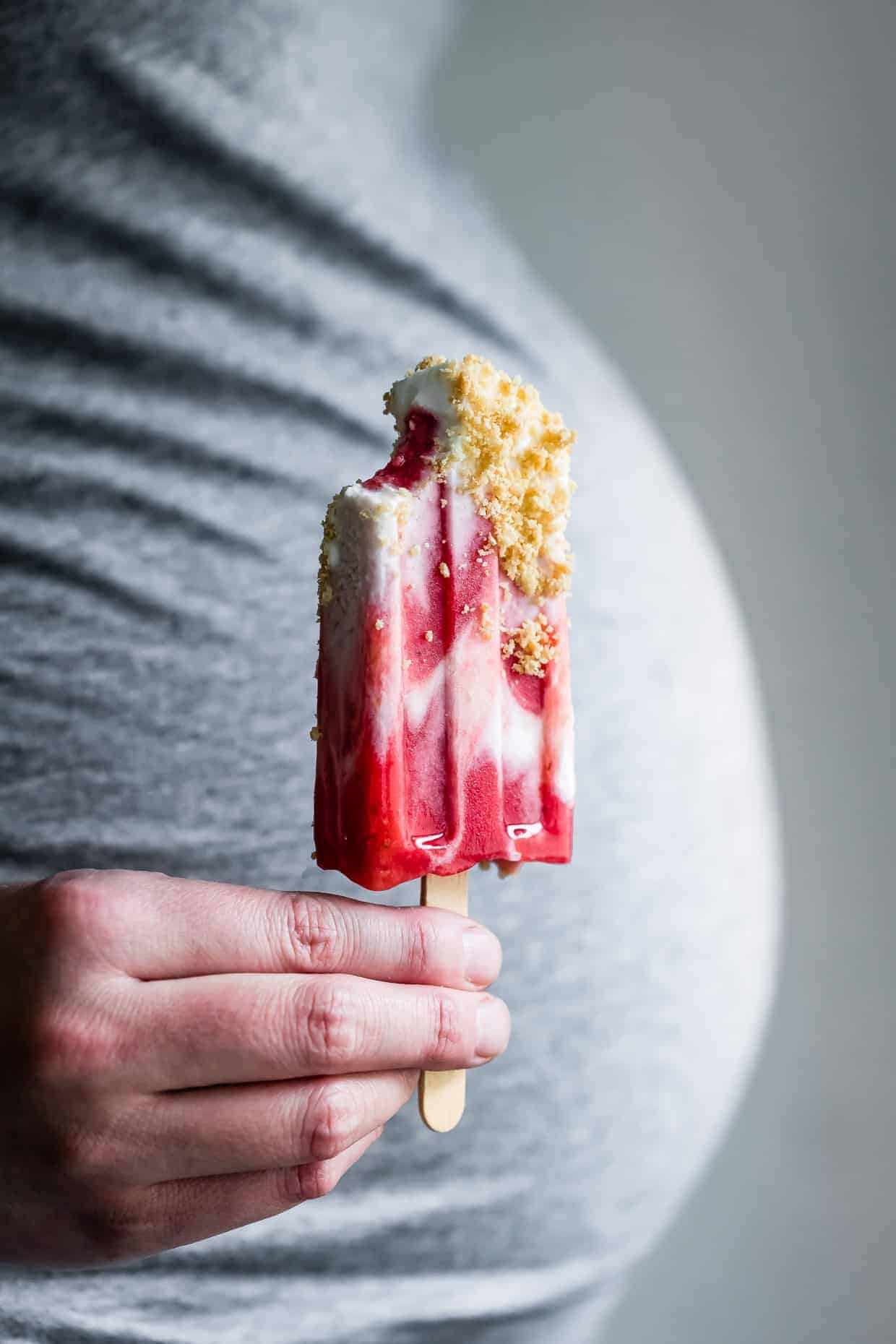 What popsicles are on your list this week for #POPSICLEWEEK? Head over to Wit & Vinegar for more popsicle week inspiration!
Disclosure: Special thanks to Rodelle for sponsoring this post! Find more Rodelle inspiration on Facebook, Instagram, or Pinterest. And thanks to you for supporting the brands that keep Snixy Kitchen cooking!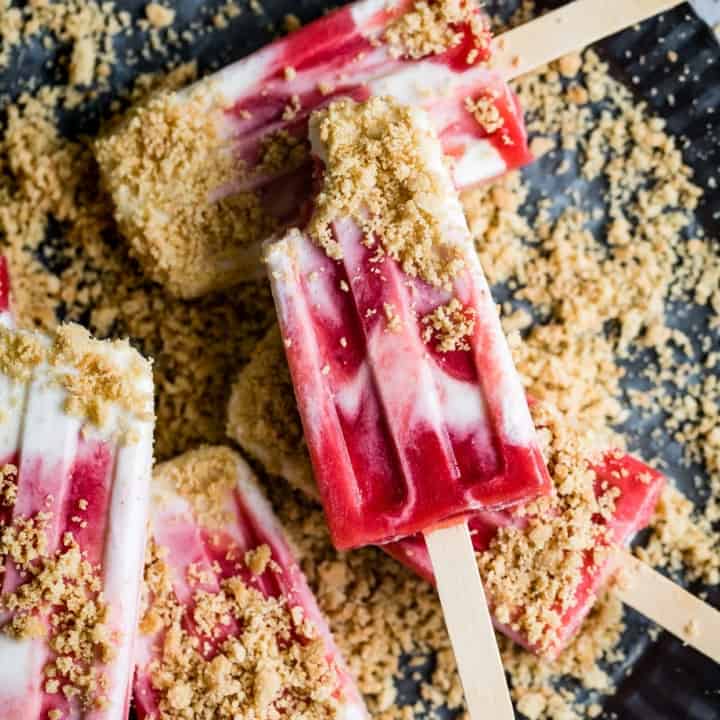 Strawberry Rhubarb Pie à la Mode Popsicles
Ingredients
Strawberry Rhubarb Compote
12oz strawberries, chopped (about 3 cups)
12oz rhubarb, sliced into ¼-inch pieces (about 3 cups)
1 tablespoon lemon juice
Zest of a small lemon
¼ cup + 2 tablespoons sugar
Vanilla Cream Layer
¾ cup plain whole milk or non-fat yogurt
½ cup sugar
2 oz cream cheese
¾ cup heavy cream
Gluten-Free Pie Crust**
1/4 cup (30g) gluten-free oat flour
3 tablespoons (25g) millet flour, plus more for dusting
2 tablespoons (20g) sweet rice flour (different from "white rice flour" or "brown rice flour")
2 tablespoons (15g) tapioca starch/flour
½ tablespoon sugar
4 tablespoons cold unsalted butter, cut into tablespoons
Pinch salt
2-3 tablespoons ice water
Instructions
Add all the strawberry rhubarb compote ingredients to a medium pot and bring it to a simmer over medium heat. Reduce to medium-low and cook 5-7 minutes, until the rhubarb breaks down. Let cool while you prepare the vanilla cream layer (I placed my compote in a bowl in the freezer to speed up the cooling).
Make the vanilla cream layer: add the yogurt, sugar, vanilla paste, and cream cheese to a blender and blend until smooth, scraping down the sides as needed. Pour in the heavy cream and stir to combine. Transfer to a liquid measuring cup or something with a spout for easy pouring, scraping the insides of the blender.
Without washing the blender, add the strawberry rhubarb compote to the blender and blend until smooth. Transfer to a liquid measuring cup or something with a spout for easy pouring, scraping the insides of the blender.
Pour the fillings into the popsicle mold, layering vanilla cream, strawberry rhubarb compote, vanilla cream, and more strawberry rhubarb compote. Freeze until firm, 12 hours or overnight.
Meanwhile, prepare the pie crust. Whisk together the oat flour, millet flour, sweet rice flour, tapioca starch, sugar, and salt in a small bowl.
Add the cold butter and mix with your hands, breaking up the butter until the largest pieces are about the size of a almond. Drizzle in the vanilla.
One tablespoon at a time, dribble in the ice water, combining each time, until the dough holds together when pinched with your fingers (add water until it just holds together, but is not sticky. Form the dough into a ball and flatten into a disk. Wrap the dough in plastic and chill for 30 minutes.
Meanwhile preheat the oven to 425°F.
Dust a piece of parchment paper lightly with millet flour. Roughly roll the dough into a circle, oval, or rectangle on the floured parchment paper, dusting with millet flour and flipping to keep it from sticking, until it is between 1/8 and ¼ inch thick. Prick the bottom all over with a fork.
Lift the parchment paper with the dough onto a baking sheet and bake on the middle rack for 20-30 minutes, until it turns light golden brown, rotating halfway through. Check your pie crust after 15 minutes to make sure it isn't getting too dark, as the baking time will depend on the thickness you roll it out!
Let cool completely. Once cool, finely chop and crumble the pie crust onto a plate.
Running the popsicle mold under warm water, remove the frozen popsicles from the mold onto a baking sheet. This should make the outsides just a little melty, which will help the pie crust crumbles stick! Press, dip, or sprinkle both sides of each popsicle with pie crust crumbles. If not eating right away, place baking sheet in freezer and once firm, you can store the popsicles in a large freezer bag until you want to eat them!
Notes
**If you don't feel like making the gluten-free crust from scratch, you can either make your favorite non-gluten-free pie crust, or use frozen pie dough to make it simpler!
Thanks for reading Snixy Kitchen! To stay up on what's coming out of my kitchen, follow me on Facebook, Instagram, Twitter, Bloglovin', Pinterest, or subscribe via e-mail to get new recipes right to your inbox!