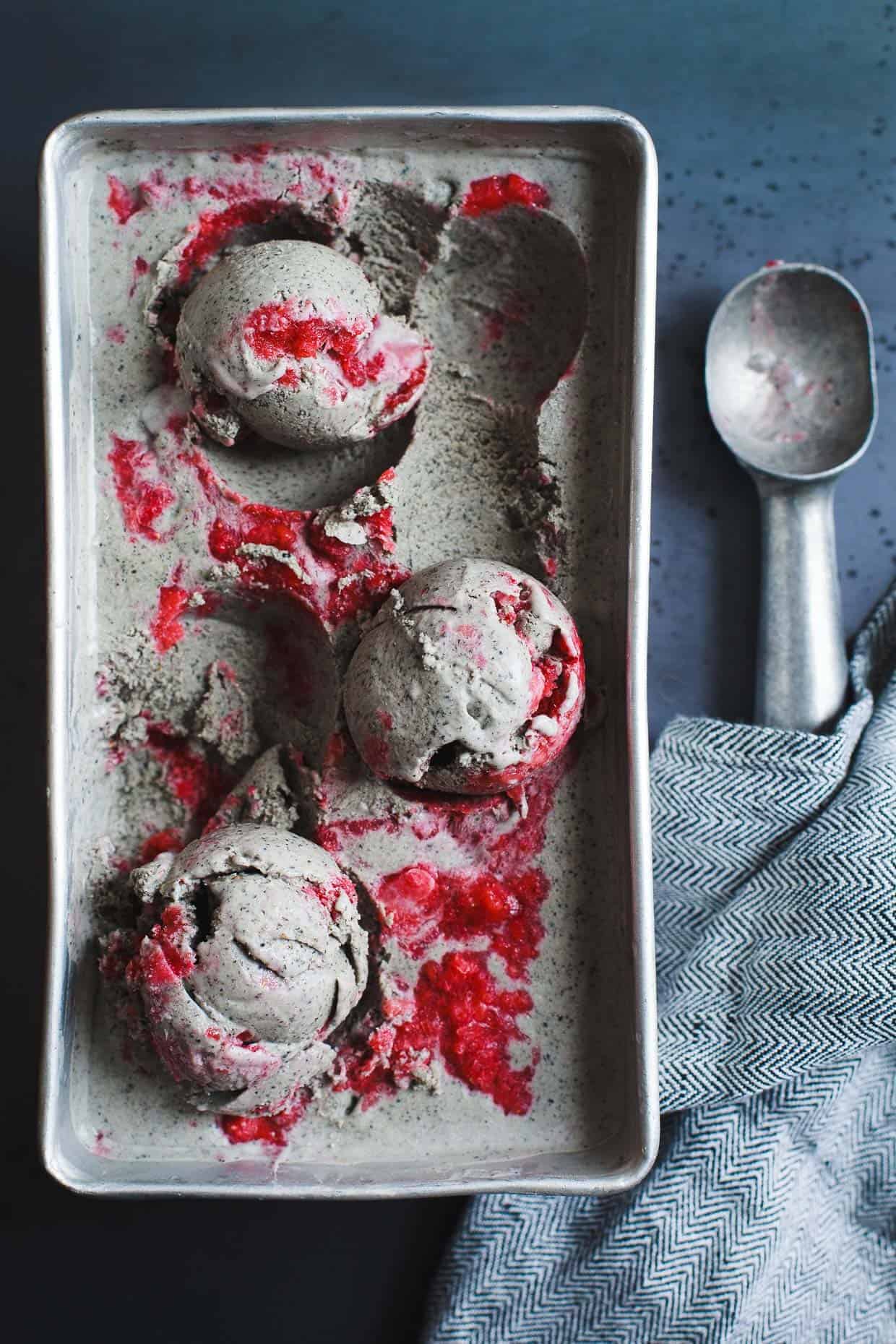 Last night I did something dangerous. After I finished off the last of this vegan coconut black sesame ice cream with strawberry swirl as a night-cap. Long after we put Zoella down in her crib - where she instantly rolled onto her belly to drift off to sleep. After we too had snuggled in for the night with the cats.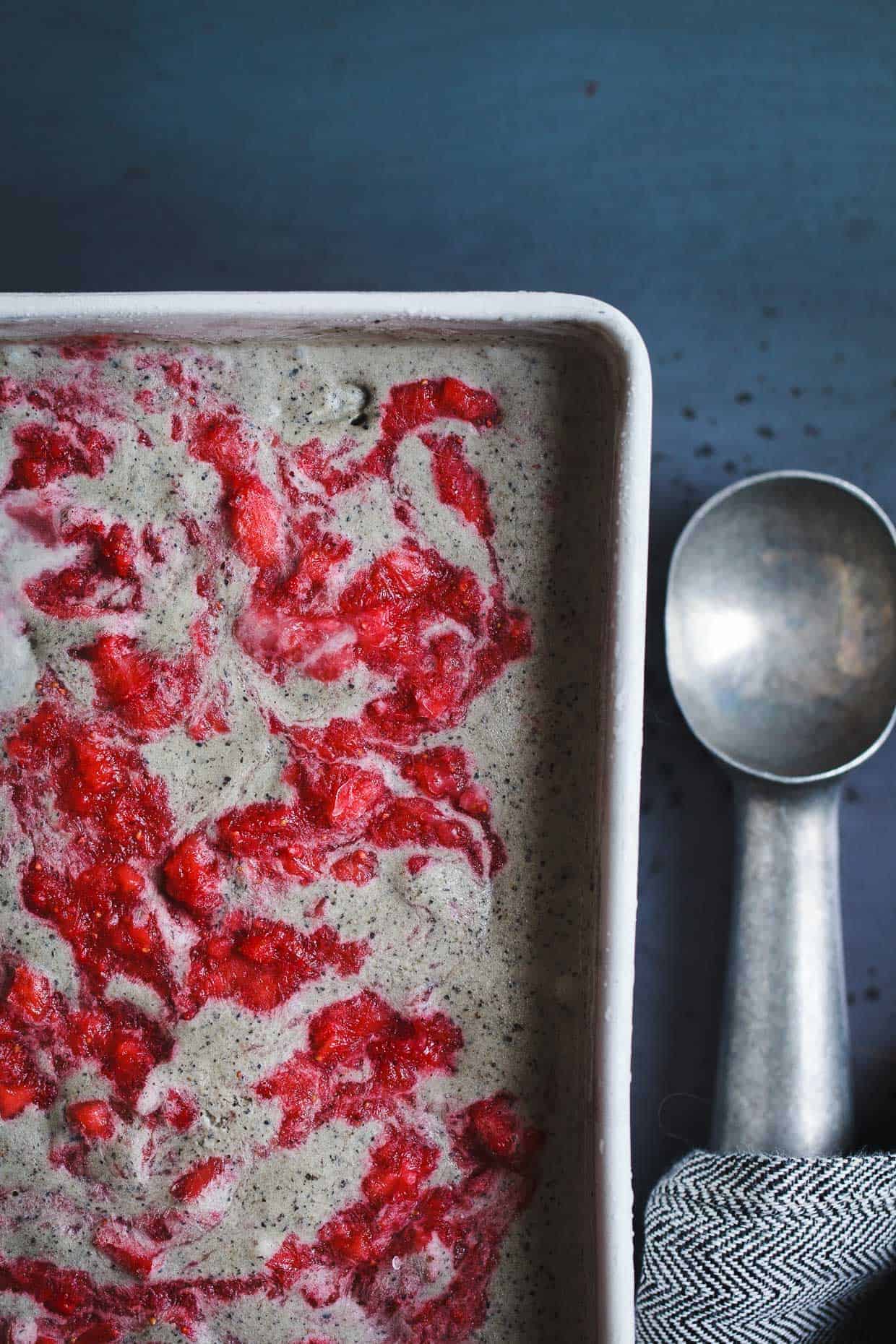 I got up to go to the bathroom at 4am, leaving the baby in my place where she'd dozed off during a middle of the night feeding. I knew it was dangerous to leave a rolly-polly baby so close to the edge of a 3ft high bed over-looking hard wood floor, but my groggy mom brain reasoned that I could be quick about it. And anyway, she was asleep. I rushed. And when I darted back to bed, I found Lucas had rolled over onto my side and I couldn't see Zoella.
Cue panic.
"WHERE IS THE BABY?! OMG, YOU CRUSHED HER! ROLL OVER!!! WAKE UP!!!" Like serious major heart-racing panic, as I shoved Lucas awake and flipped on all the lights. Which, of course, is a super rad way to be woken up.
Also in panic but not knowing why, Lucas responded, "What?! Sarah, she's in her crib," as he hands me the monitor. Sure enough, there she was, all cozy and asleep where I'd left her at bedtime. She hasn't nursed in our bed in over a month.
I'm now having sleepwalking mom nightmares. So sleep's been pretty awesome lately.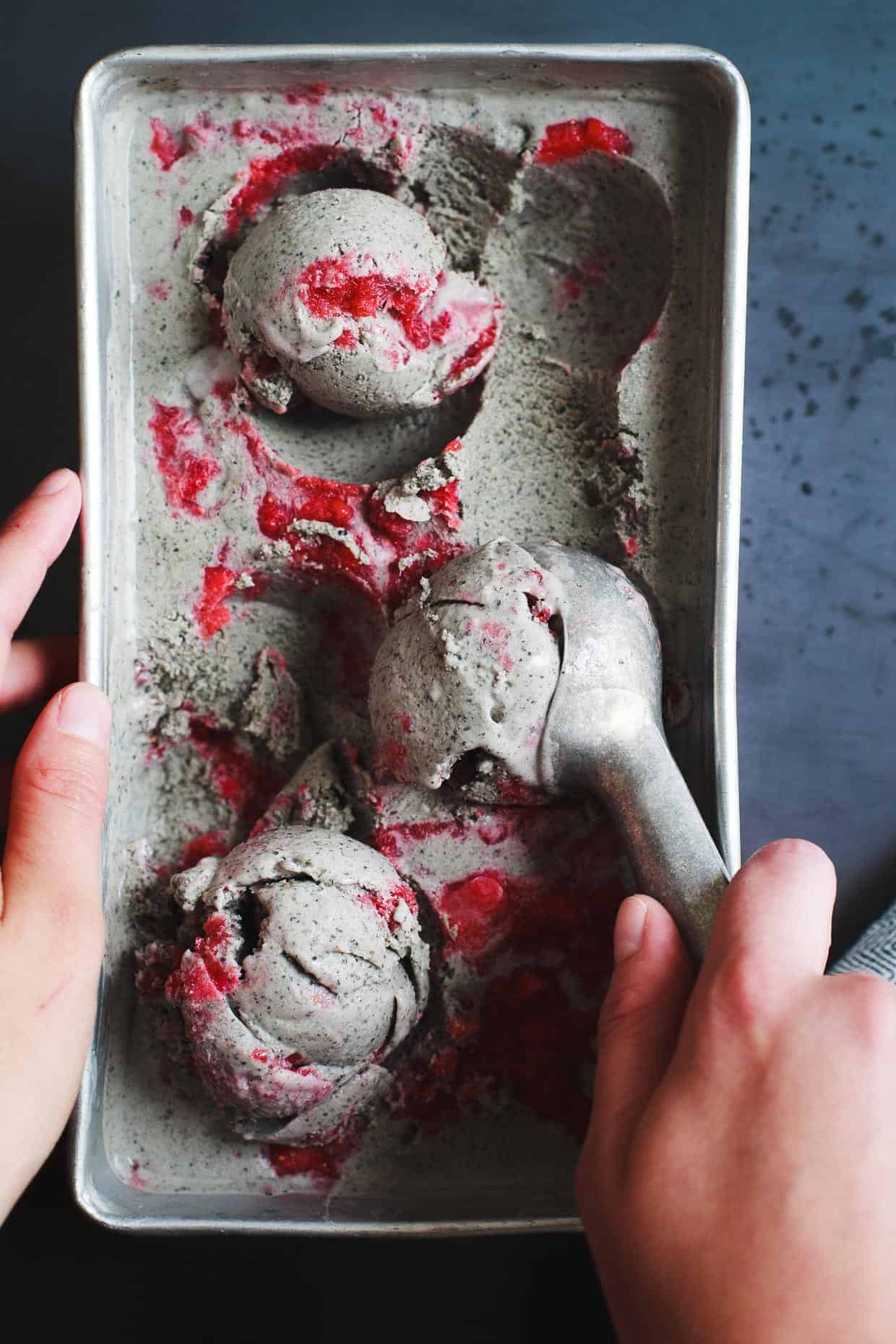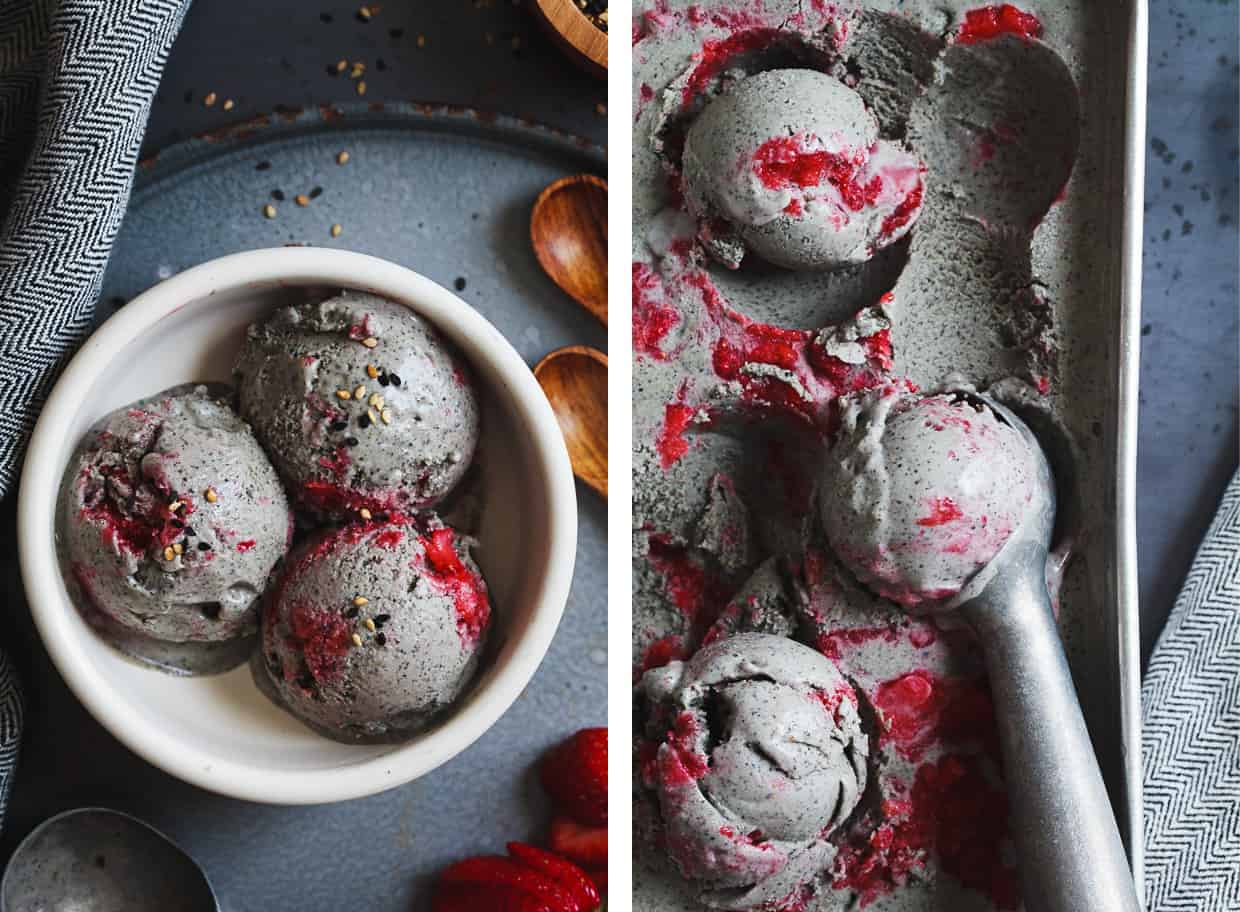 You know what the best cure for sleep deprivation is? Nightly scoops (plural) of this coconut black sesame ice cream with strawberry swirl. The black sesame / strawberry mash-up was inspired by the side-by-side scoops I ordered at Humphry Slocombe last month, when I was too indecisive to settle on one.
I could eat this every day forever. Deep smoky black sesame nuttiness blended with vanilla bean flecks in a subtle tropical coconut base with pops of fresh ripe strawberries swirled throughout. To keep things extra creamy, I added a splash of vodka to the base at the advice of my friend Amanda of Heartbeet Kitchen who suggested that tip when she adapted my vegan vanilla bean ice cream. It's so creamy and rich no one will ever know it's vegan.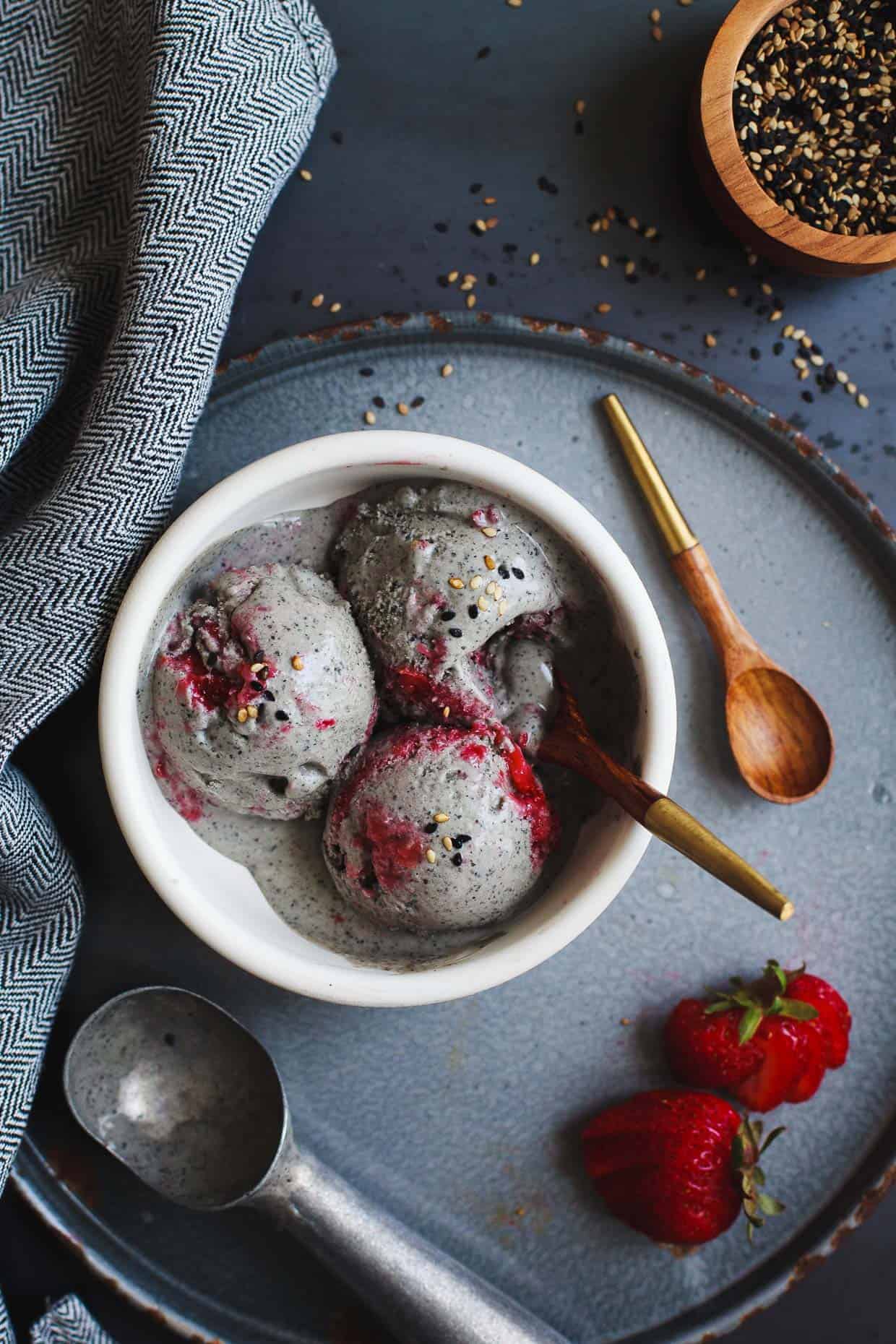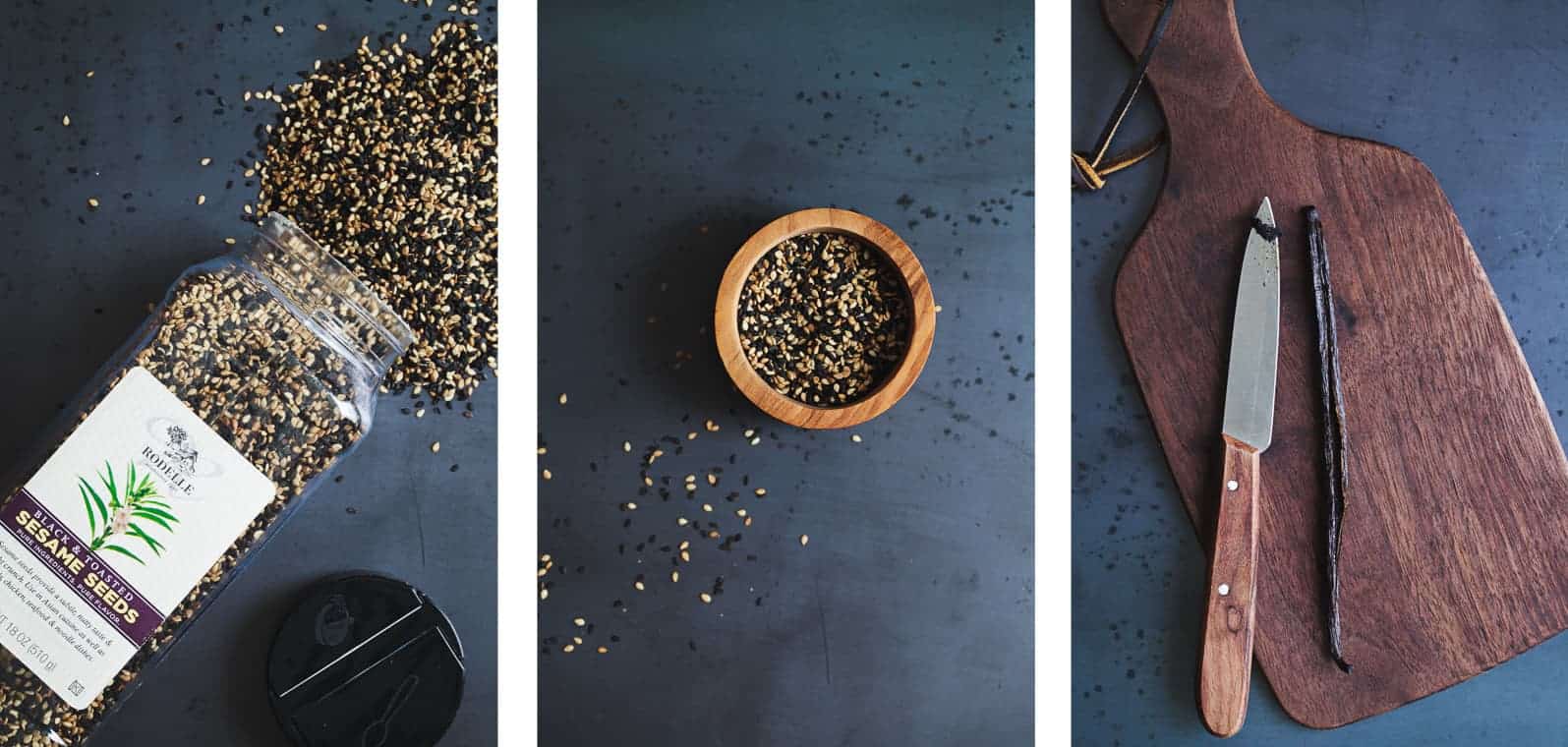 For my black sesame base, I used Rodelle's toasted and black sesame seeds. Black sesame seeds are intensely rich and nutty with smoky slightly bitter coffee/chocolate-y notes, while toasted white sesame seeds are a tad sweeter, almost like roasted peanuts and vanilla. Rodelle combines them both into one jar that tosses your tastebuds around all of those flavors at once. If you can't get your hands on this mixture, you could substitute in toasted sesame seeds for a sweeter tahini-like version or use all black sesame seeds (be sure to toast them before making the paste if they aren't already!).
I wanted to use uncooked strawberries to infuse their fresh juicy flavor, but experience tells me if you just go throwing fresh fruit into ice cream, you end up with fruit rocks. Serious Eats suggests soaking the fruit in vodka and sugar to draw out excess water, then draining the fruit before adding it to your ice cream. Removing excess water and adding sugar & vodka all contribute to lowering the freezing temperature, thus softening up your berries! Don't worry, the vodka gets drained out, so all you taste is candy-like sweet sweet strawberries.
Black sesame and strawberries are an unlikely pair that JUST WORK in magical ways.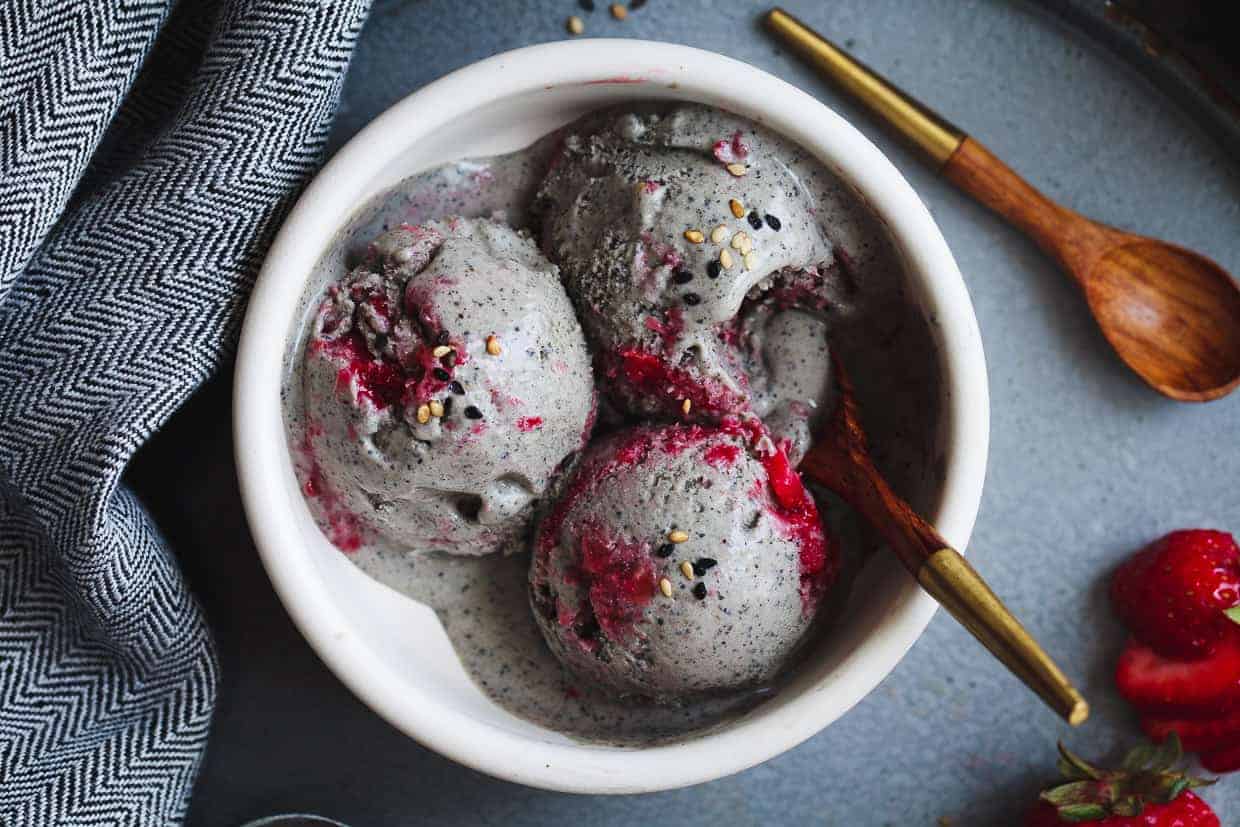 If you're a vanilla bean newbie, check out the video Alanna and I made for Rodelle last year.
Disclosure: Special thanks to Rodelle for sponsoring this post! Find more Rodelle inspiration on Facebook, Instagram, or Pinterest. And thanks to you for supporting the brands that keep Snixy Kitchen cooking!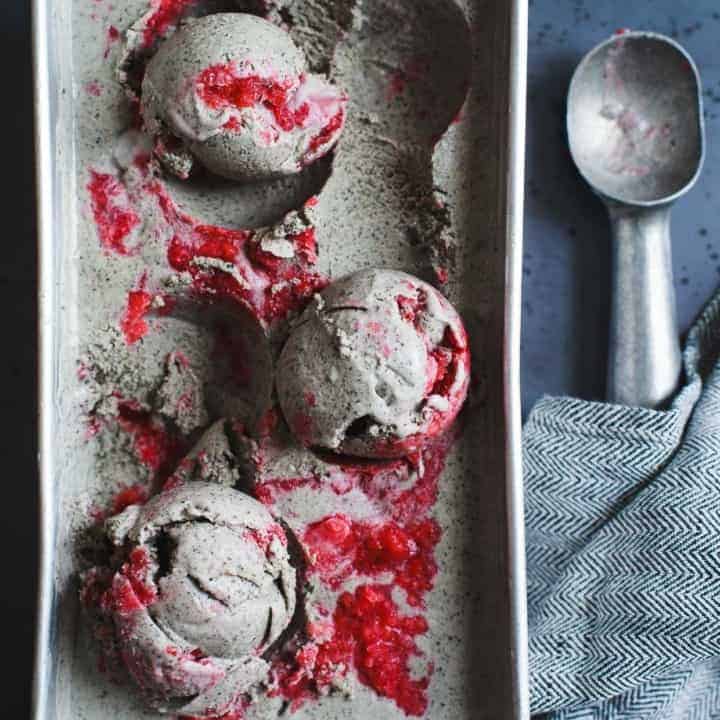 Vegan Coconut Black Sesame Ice Cream with Strawberry Swirl
Ingredients
Strawberry Swirl
2 cups minced strawberries
1 cup turbinado sugar
½ cup vodka
Coconut Black Sesame Ice Cream Base
Instructions
Strawberry Swirl
Toss the strawberries, sugar, and vodka in a small bowl.
Refrigerate for at least 2 hours and up to 2 days. Strain the liquid from the berries and transfer half of the berries to a food processor, whizzing until smooth. Add the remaining berries and pulse 3-4 times. Set aside.
Coconut Black Sesame Ice Cream Base
Whizz the sesame seeds in a food processor until they turn into a thick paste. At first it will seem as though they won't change, but after 6-8 minutes, their oils will seep out, helping transform them into a paste. Scrape down the sides every few minutes.
In a medium pot, whisk the black sesame paste with 3 tablespoons of the coconut cream until smooth.
Add the remaining coconut cream, coconut milk, sugar, maple syrup, coconut oil, vanilla bean seeds and pod, and salt to the pot and warm over medium heat, stirring occasionally. When the cream begins to simmer, remove the pot from heat. Cover and let the mixture steep for 20 minutes. Remove the bean pod, scraping out the insides of the pods for all that vanilla goodness.
Meanwhile, prepare an ice bath by filling a large bowl with ice cubes and water.
Pour the base into a large 1-gallon Ziploc bag. Seal it and submerge the mixture in the ice bath until cold, about 30 minutes. (You can also skip this step by refrigerating until the mixture is cold, about 4 hours).
Pour the ice cream base into the bowl of your pre-frozen ice cream maker. Follow the directions on your ice cream maker to churn the base into ice cream, until it is the consistency of soft-serve, about 15-18 minutes.
Spread ¼ of the ice cream mixture into a loaf pan. Dollop ¼ of the strawberry mixture in 4-5 places on top of the ice cream. Use the back of a spoon or a chopstick to gently swirl the strawberries into the ice cream. Repeat 3 times until you've used up all of the ice cream and strawberry mixture.
Cover the ice cream and freeze until firm, at least 4 hours, but preferably overnight.
Notes
*I do not recommend using the coconut cream from Trader Joe's as they seem to have updated their supplier and the new consistency is a bit oily.
**If you can't get your hands on this mixture, you could substitute in toasted sesame seeds for a sweeter tahini-like version or use all black sesame seeds (be sure to toast them before making the paste if they aren't already!).