Sweet strawberry balsamic and thyme galettes wrapped up in a flakey buttery gluten-free crust. Spring's juiciest fruit gets a tangy bump from a toss of balsamic paired with a herbal notes from fresh thyme. Best served with a scoop of vanilla ice cream for a spring dessert.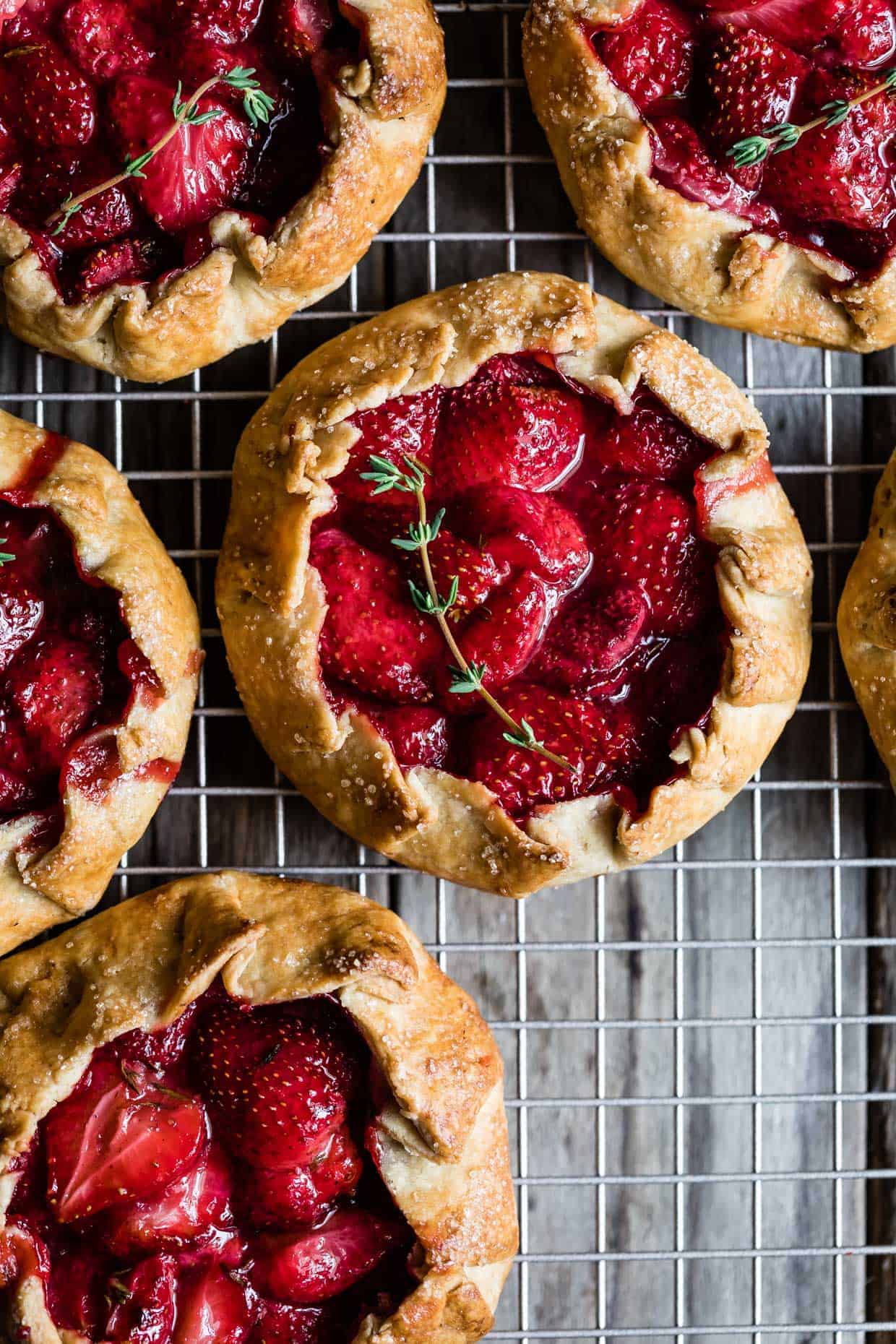 Seeing spring's first ripe red strawberries at the market puts me in a dramatically happy mood. I'm currently racking my brain to think of a dessert strawberries don't belong in - can you? I can't think of a single dessert where strawberries wouldn't be welcome to the party (maybe something coffee flavored? But that's a questionable dessert, in my opinion).
For me, "put strawberries in it" is my dessert equivalent to "put a bird on it" - spruce it up, make it delicious! First up for strawberry season, I've made these mini strawberry balsamic and thyme galettes in partnership with OXO. These galettes are the first in a three-part series that will show off how I use OXO's kitchen tools every. single. day. in my baking and cooking. I'll also show off a few extra special new-to-me tools that will soon join the ranks of go-to favorites, such as the silicone dough rolling bag used to make perfect 6-inch pie rounds.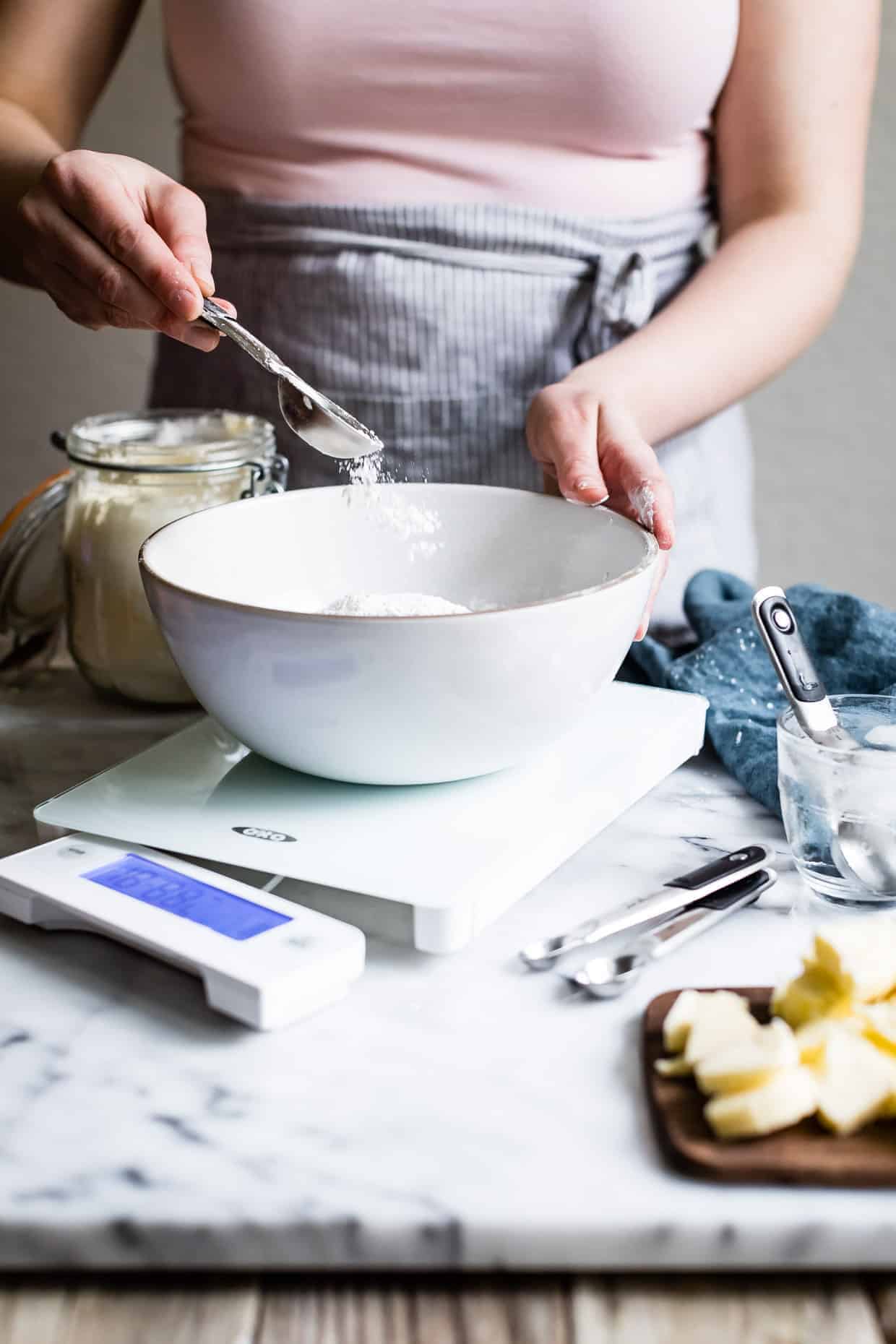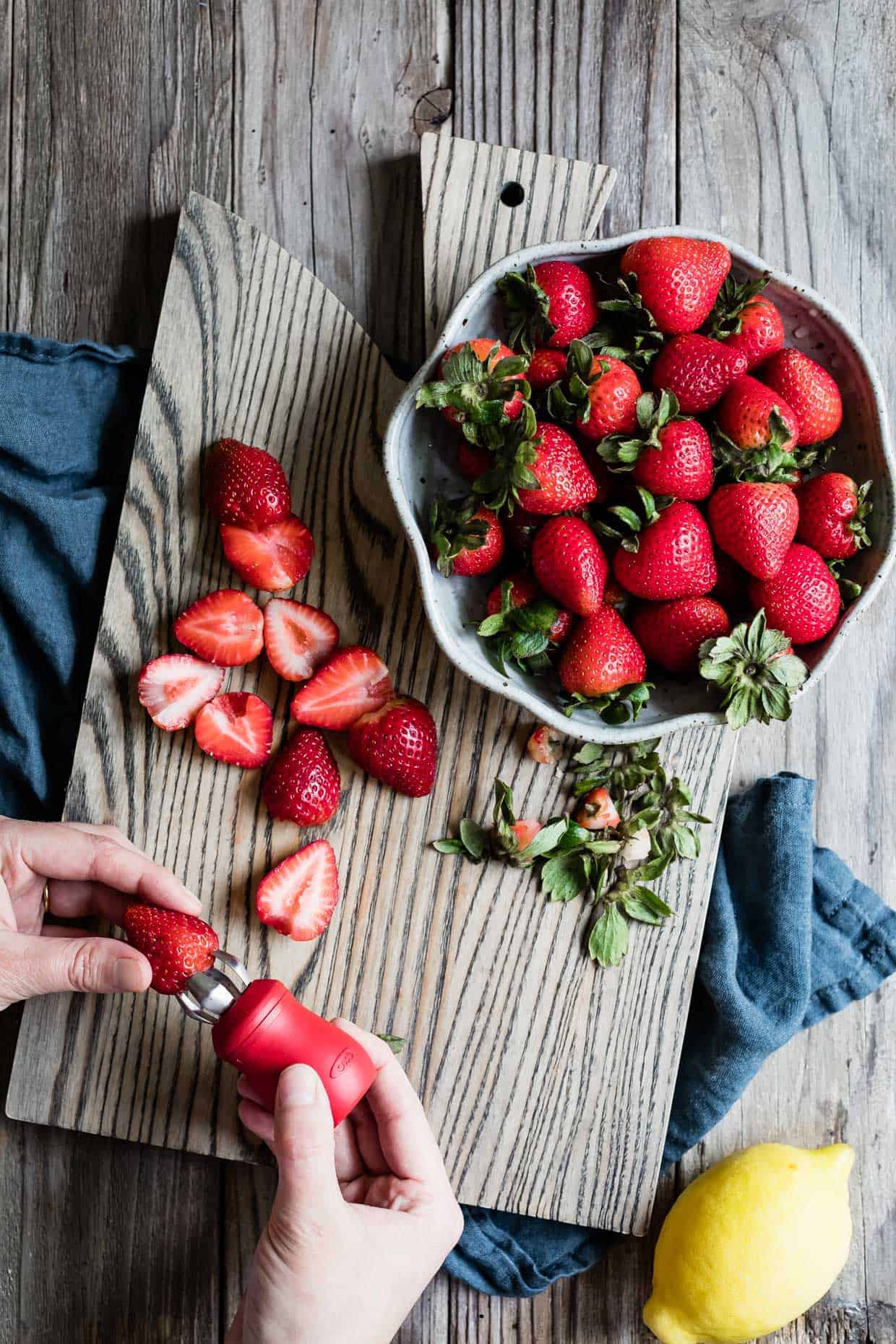 These individual galettes feel like just the right spring transition into strawberries: It's cool enough outside that you still crave a warm roasted dessert and you don't even mind turning on the oven. I considered adding chocolate to these strawberry balsamic galettes in place of the thyme, but decided to keep it brighter and lighter for the time of year. Instead, fresh thyme adds herbal notes and the berries get a zingy tang from balsamic - the additions are subtle to let the strawberries pop.
This recipe calls for 1.5lbs of strawberries, which leaves half a clamshell for snacking while you prep. You're welcome. Like pitting cherries, hulling this many strawberries can seem daunting. Let me first preface this by saying: I'm very particular about single-use kitchen gadgets - my drawers are already cluttered enough as it is - but this tiny strawberry huller saves me so much time. Even if I was being lazy and just cutting the ends off with a paring knife, the huller still wins.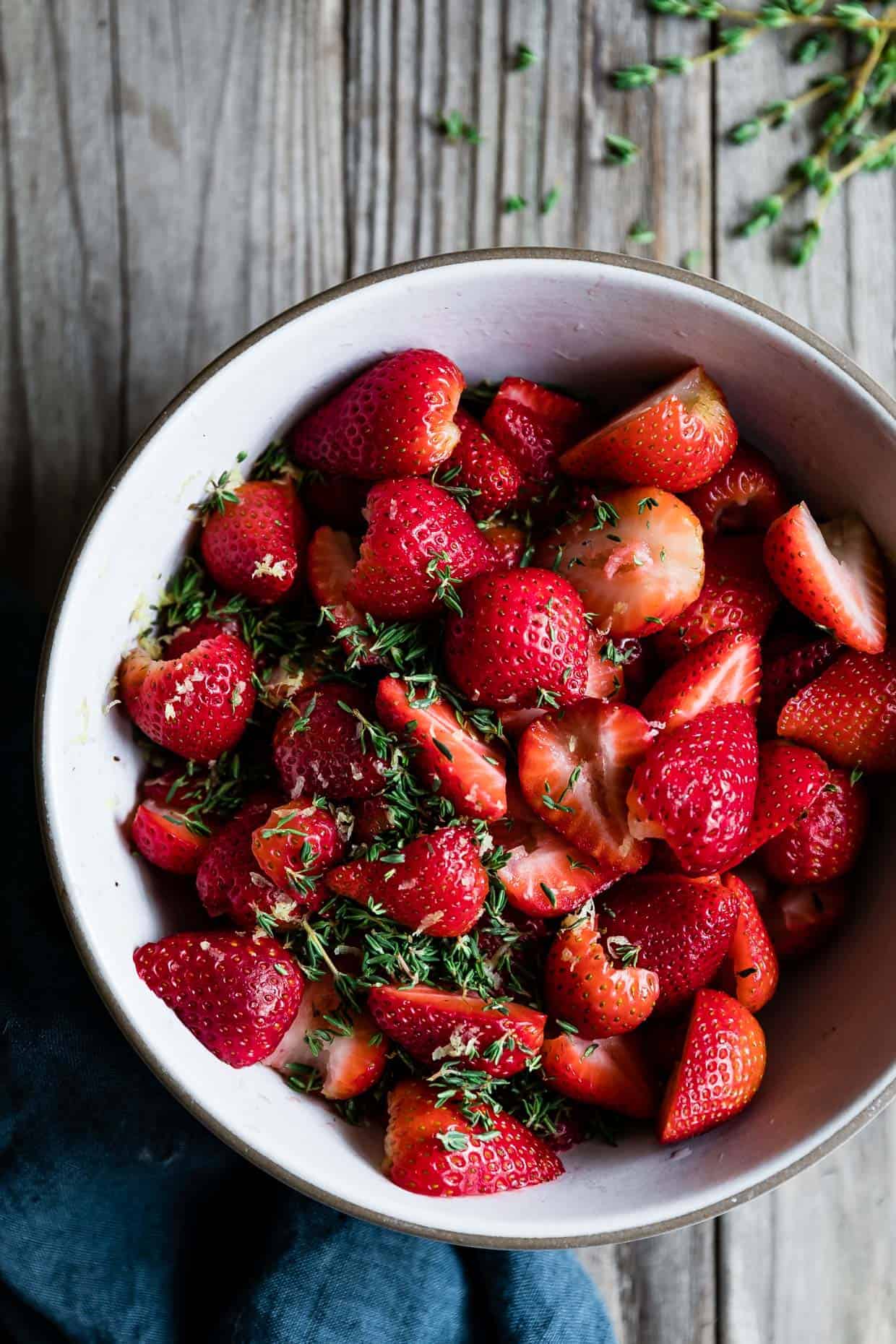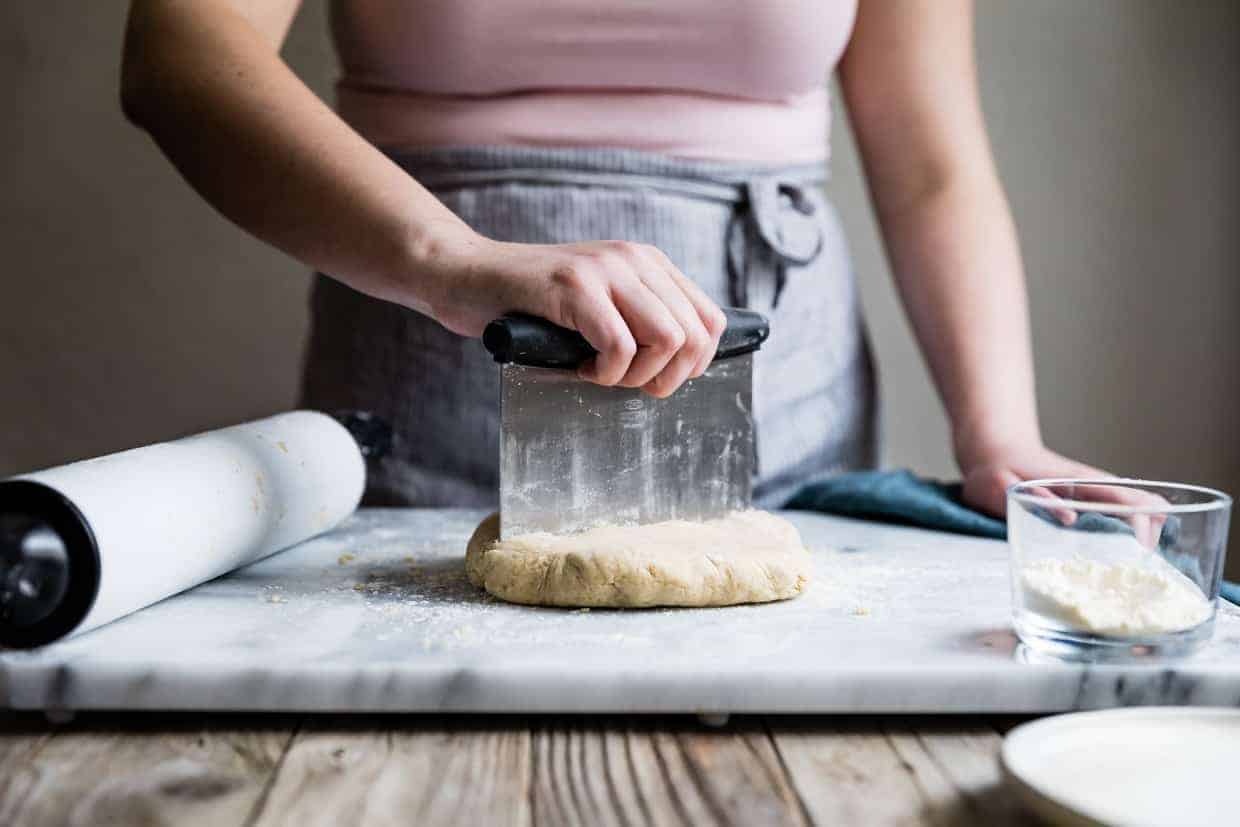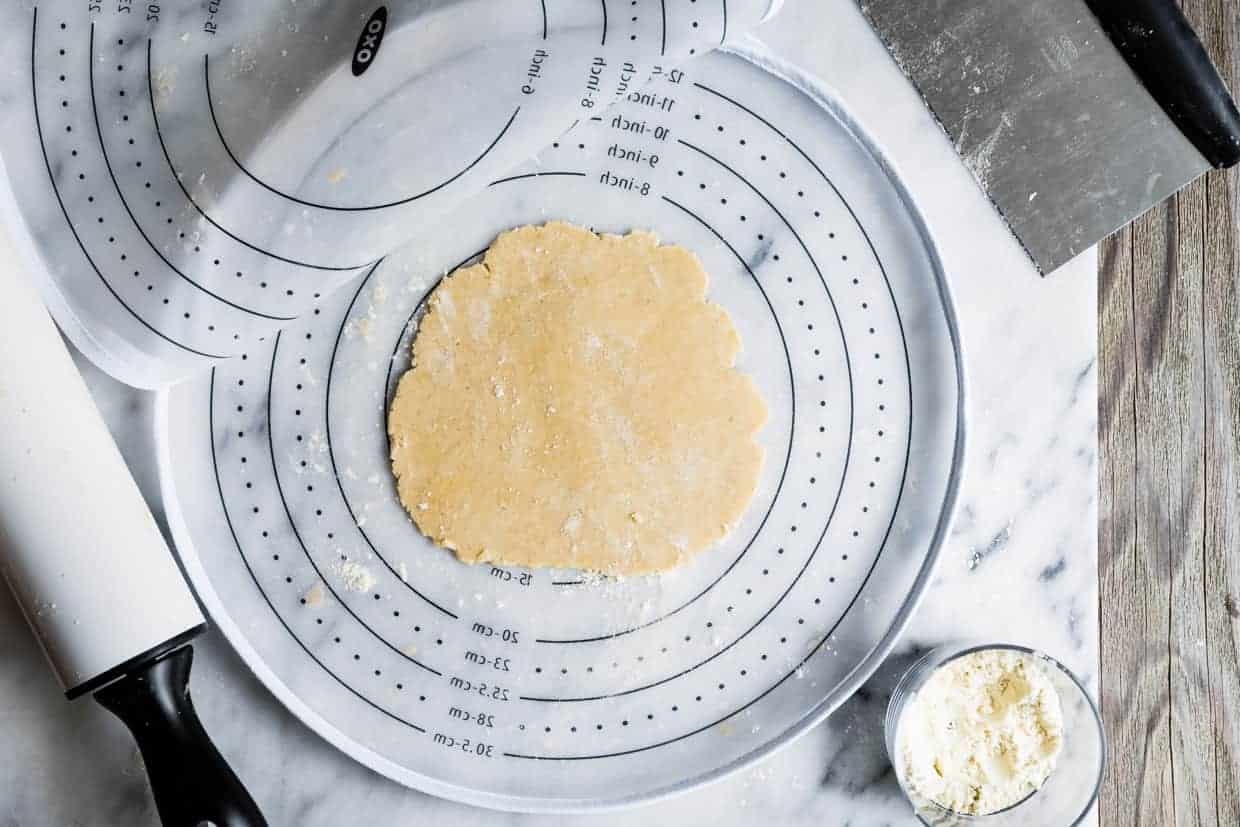 A flakey flavorful gluten-free crust pleats around these jammy roasted strawberries. I used to be super intimidated by gluten-free baking, until I discovered the power of a good kitchen scale. With so many different flours going into one pastry, there's a lot of moving parts for how you measure and using a scale helps you consistently create delicious baked goods. And truth be told, I'm a little lazy and using a scale let's me measure things out so much quicker while thinking less about what I'm doing. Have you ever started thinking about that one friend from high school and whatever happened to them mid-measure only to snap back to reality, having forgotten how much sugar you'd already added? Yeaaahhh...that's me.
This silicone dough rolling bag is a new-to-me baking tool that I was very skeptical of and now am completely sold on using. Basically, you plop your dough into the center of the bag with a little bit of flour for good measure and roll it out while the bag guides you to creating a perfectly round dough with the dimensions you want. This is especially great if your recipe calls for quickly rolling out eight rounds of pie crust for galettes. Plus you save on wasted parchment paper you may have used to roll out the dough - the dough rolling bag acts as a non sticking surface much like parchment paper. Alanna and I were also thinking you could chill your dough right in the bag to minimize plastic wrap too. When you're done, just rinse and repeat.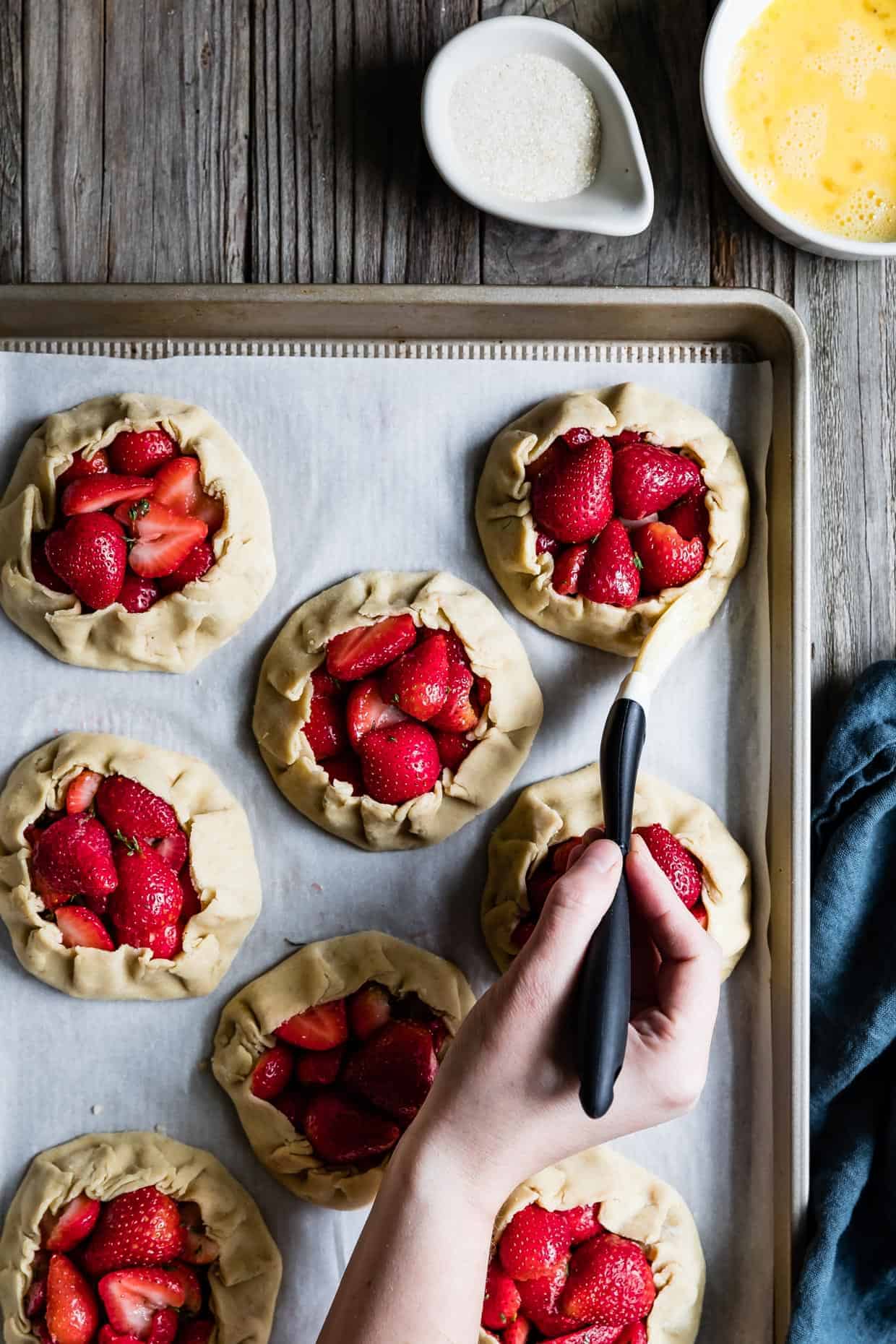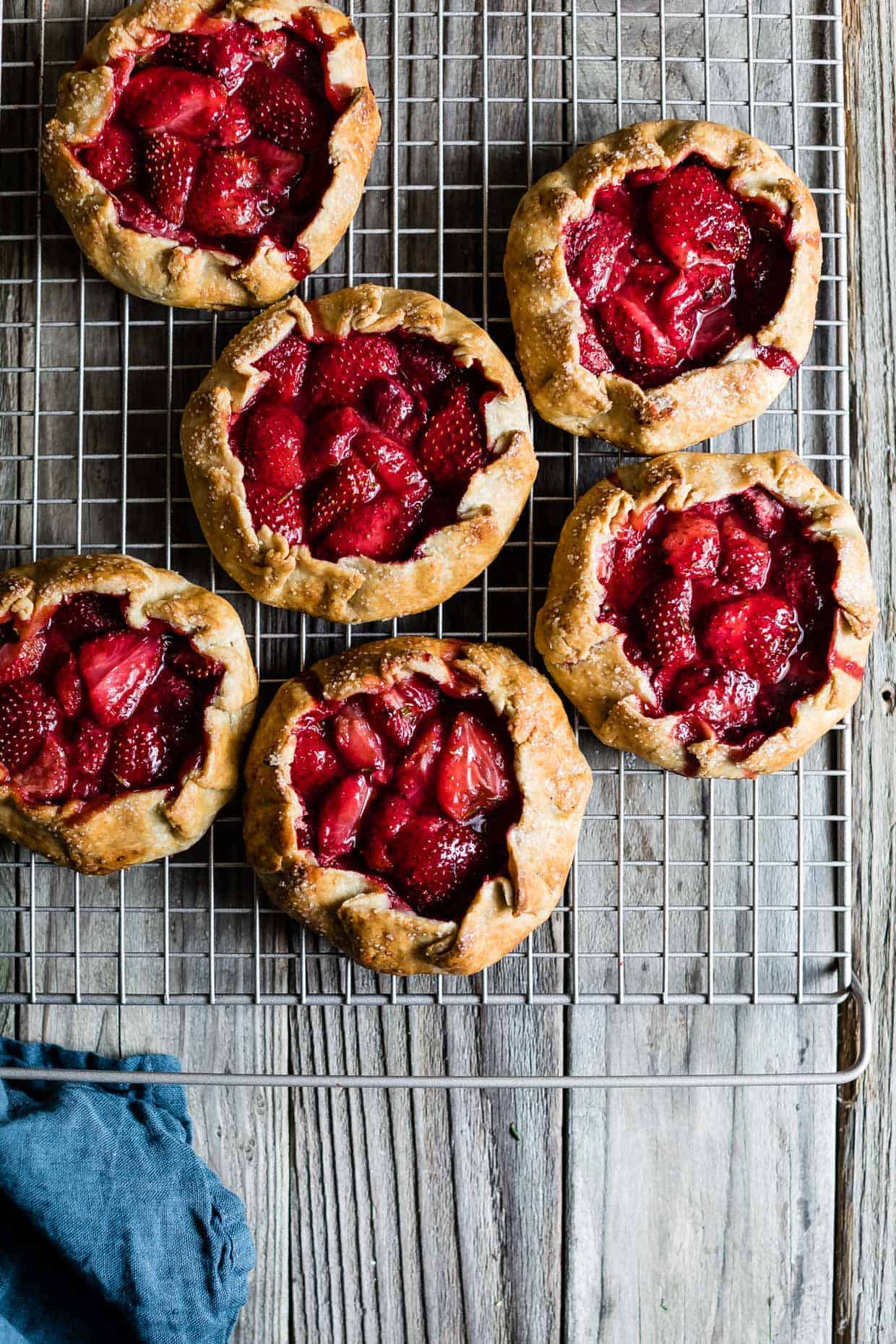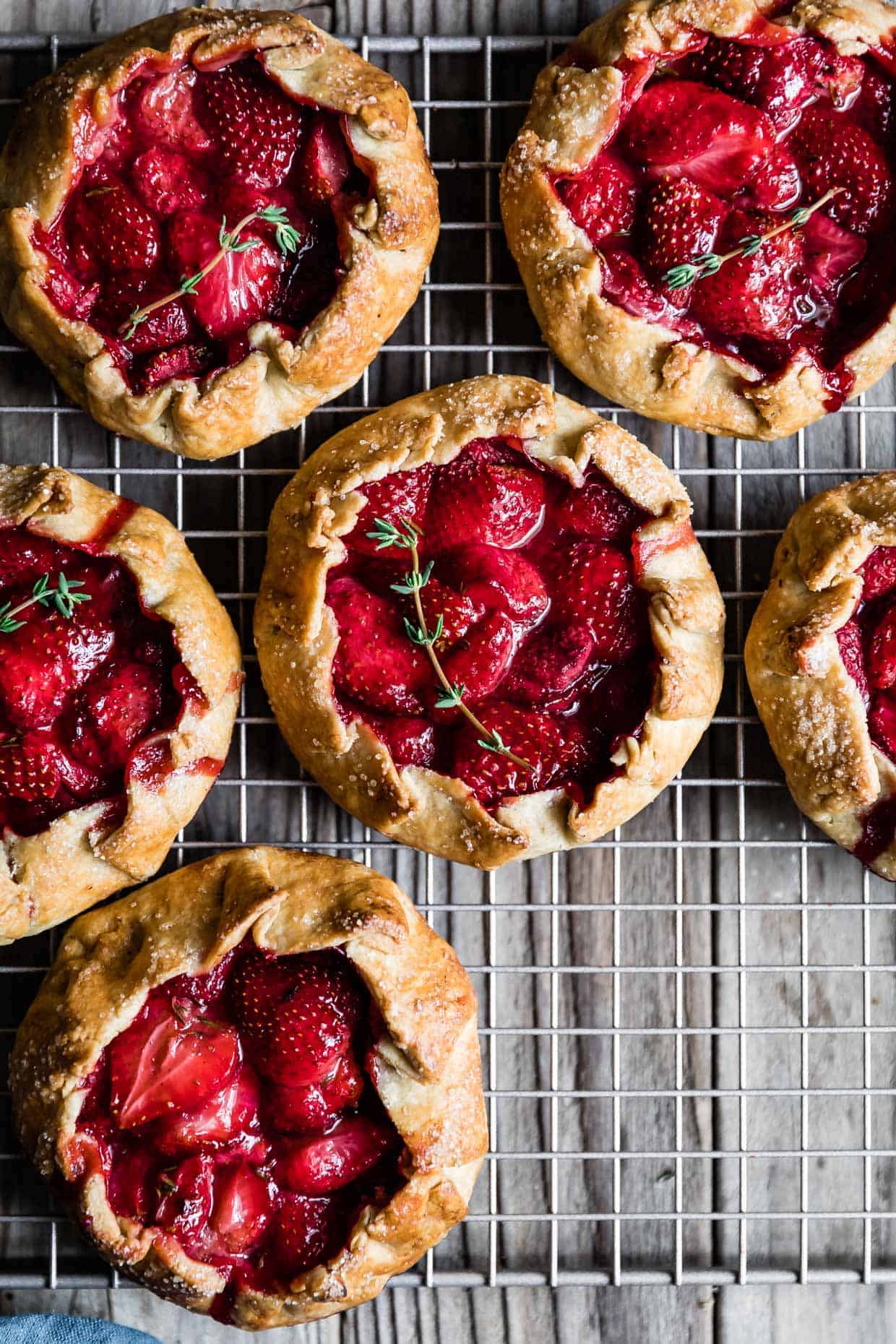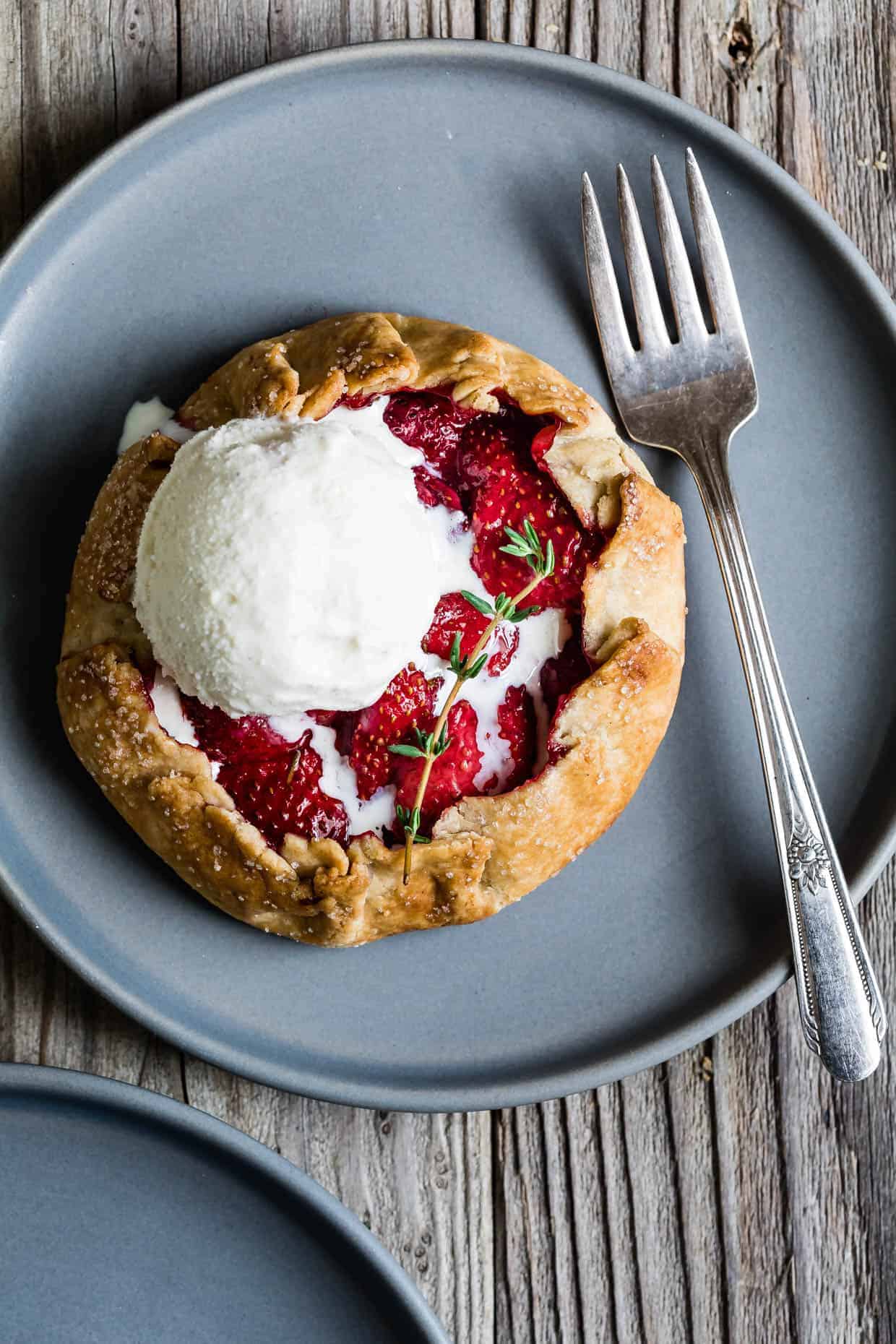 The day I first made these galettes, Zoella spotted the bright red pastry from across the room as soon as she got home, "I want to eat that!" How do kids know dessert is delicious just by sight? What is it in our brains that tells us what dessert is? She's not seen very many desserts, yet somehow she knew these bright red galettes were something delicious. In stark contrast, I spend a good chunk of dinner every night convincing her to take a bite literally any vegetable.
So I did what any self-respecting parent would do, I bribed her with it, which she consequently earned.
Then she took one nibble and requested I take off all the cooked strawberries. She ate crust for dessert, which is fine by me, because the jokes on her: the sugar was in the filling. Also, in case you're wondering, this pie crust is apparently delicious enough on its own.
I, on the other hand, highly recommend the strawberries balsamic & thyme filling.
More Strawberry Desserts
Gluten-Free Strawberry Shortcake
Vegan Strawberry Coconut Chocolate Chip Ice Cream
Hibiscus Strawberry Curd Tarts
Gluten-Free Pop Tarts with Strawberry Jam
Stovetop Gluten-Free Berry Crisps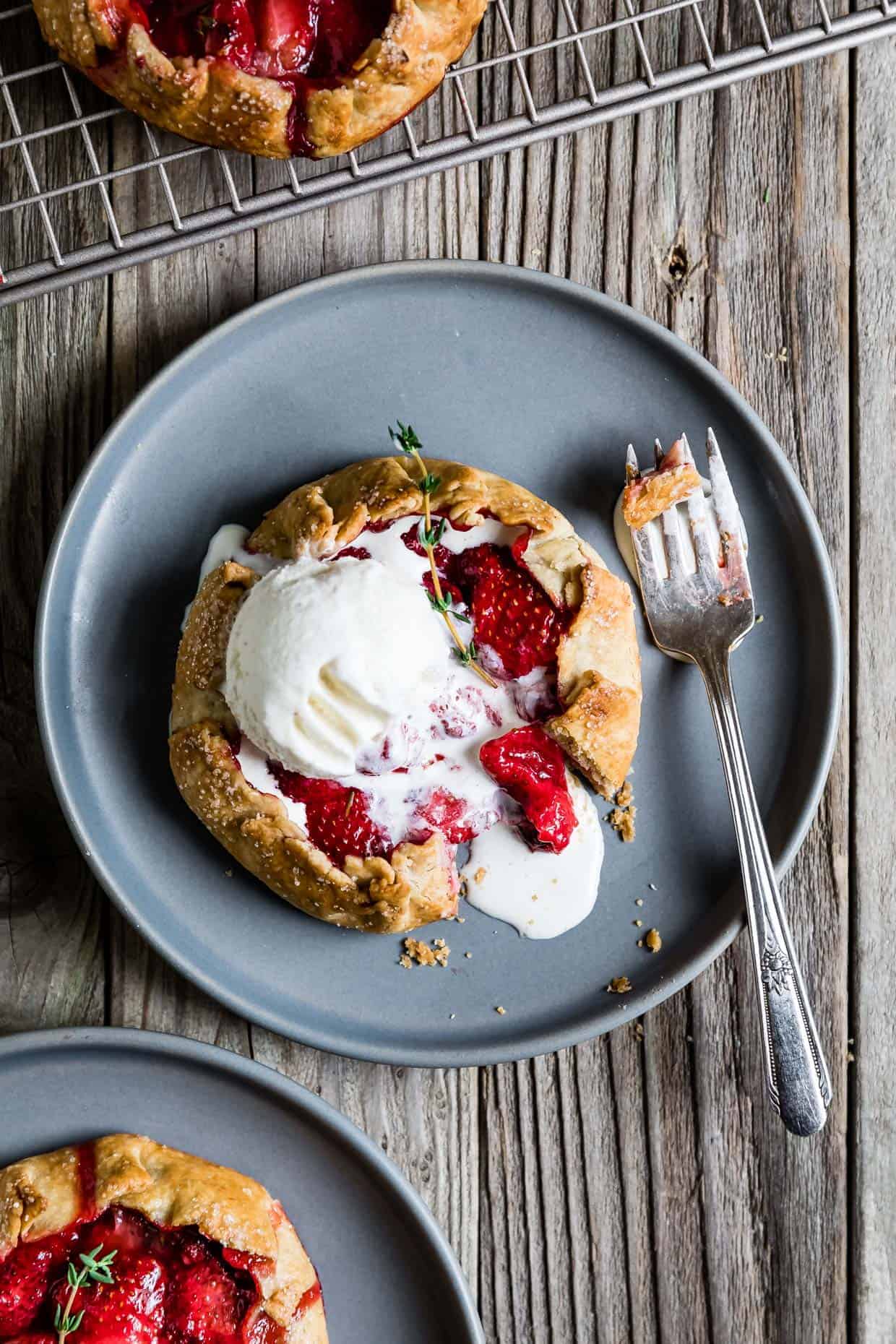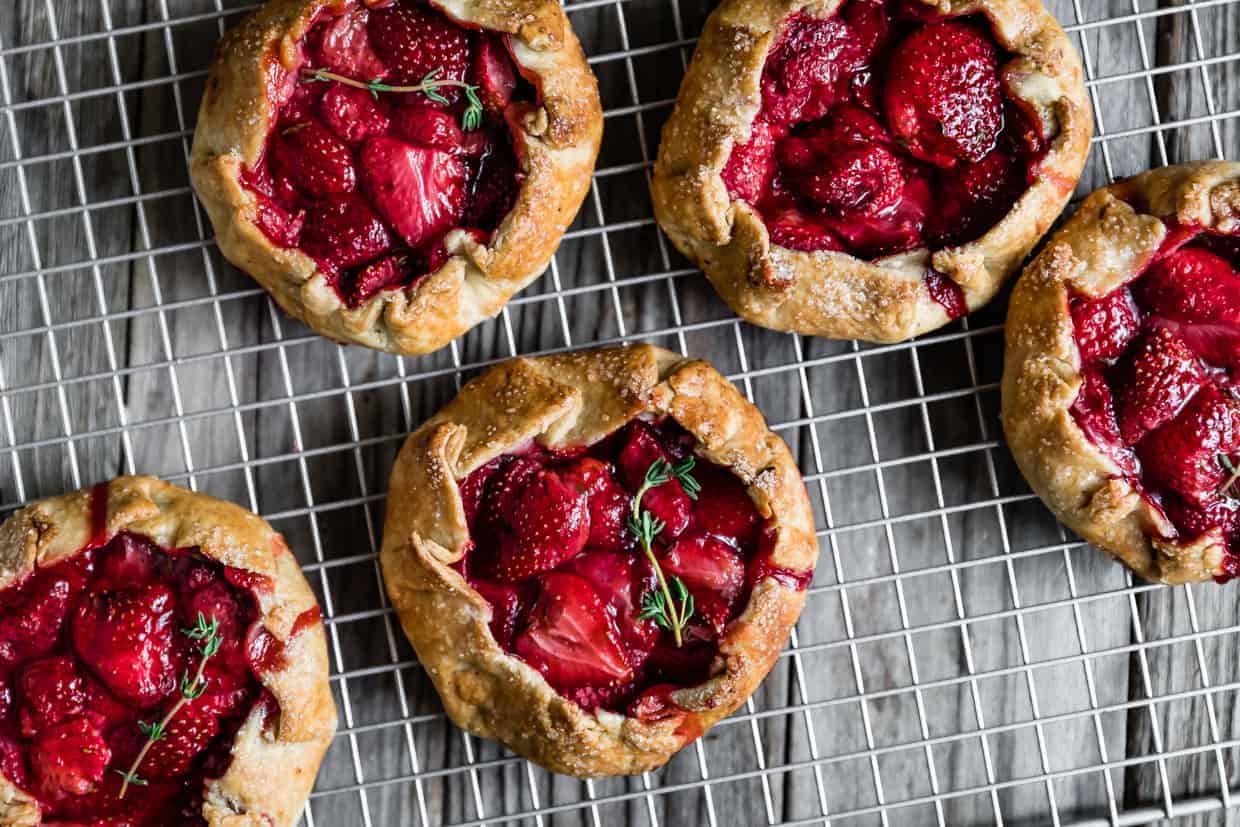 Disclosure: Special thanks to OXO for providing the tools shown above and sponsoring this post! And thanks to you for supporting the companies that keep Snixy Kitchen cooking!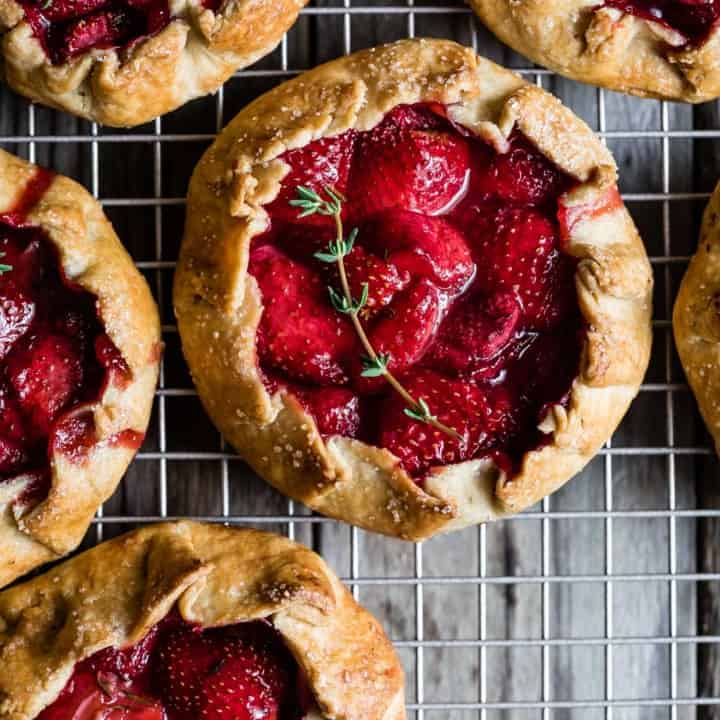 Gluten-Free Strawberry Balsamic & Thyme Galettes
Yield:
8 individual galettes
Ingredients
Gluten-Free Pie Dough
¾ cup (90g) sifted gluten-free oat flour
½ cup + 1.5 tablespoon (76g) millet flour (plus more for rolling)
¼ cup + 2 tablespoons (66g) sweet rice flour or mochiko (different from "white rice flour" or "brown rice flour")
¼ cup + 2 tablespoon (48g) tapioca starch/flour
2 tablespoons granulated sugar
¾ teaspoon xanthan gum
½ teaspoon kosher salt
¾ cup cold unsalted butter, sliced into 12 tablespoons
6-8 tablespoons ice water
Strawberry, Balsamic & Thyme Filling
24 oz strawberries, hulled and halved (about 6-7 cups)
2 tablespoons corn starch
1 tablespoon lemon juice
1 tablespoon fresh thyme leaves
2 teaspoons balsamic vinegar
Zest of 1 lemon
¾ teaspoon vanilla bean paste or vanilla extract
¼ teaspoon salt
¼ cup sugar, plus more for sprinkling
1 egg, well-beaten
Optional: 1 teaspoon honey + 1 teaspoon water, whisked
Instructions
Gluten-Free Pie Dough
Whisk together the oat flour, millet flour, sweet rice flour, tapioca starch, sugar, xanthan gum, and salt in a large bowl.
Add the butter and mix with your hands, breaking up the butter until the largest pieces are about the size of an almond.
One tablespoon at a time, dribble in the ice water, combining after each addition, until the dough holds together when pinched with your fingers.
Knead the dough to bring it together. Dust your surface with millet flour and roll out the dough until it is about ½-inch thick, using a pastry scraper to help lift and turn it, dusting with more millet flour to keep it from sticking. Fold the dough into thirds, as you would a letter, then fold it in thirds again the other way. Gently press to the dough into a ball and flatten it. Wrap it in plastic and refrigerate for 30-60 minutes.
Optional: Repeat the above folding step once more and chill again for 30-60 minutes. This will improve the flakiness of the crust.
Preheat the oven to 400ºF.
Cut the dough into eight equal pieces. If using OXO's silicone dough bag, dust the bag or your work surface with millet flour and roll each portion into a 6-inch round circle, until it is just about ⅛-inch thick. Trim the edges to make them round, and stack them on a plate dusting with flour to keep them from sticking. Chill while you prepare the filling.
Line a large baking sheet with parchment paper.
Toss the strawberries with corn starch, lemon juice, thyme, balsamic vinegar, lemon zest, vanilla bean paste or extract, and salt until evenly combined. Add ¼ cup sugar and toss.
Working quickly, lay a round of dough on the baking sheet and top with approximately a heaping ¼ cup of the filling, leaving a 1-inch border around the outside.
Fold the excess dough on top of the ingredients, creasing and pleating as you go. If it cracks, just press it back together. Repeat with remaining dough, Shuffle the galettes to fit evenly on the prepared baking sheet. Pour any remaining juices from the mixing bowl into the center of each galette.
Brush the edges of the folded dough with the beaten egg and sprinkle dough with a little bit of sugar.
Bake the galettes on the middle rack until the dough is golden, 35-40 minutes, rotating the pan after 20 minutes
Use a spatula to transfer to a wire rack to cool for at least 15 minutes. Brush the tops with whisked honey to glisten up the strawberries. Serve warm or at room temperature with a scoop of vanilla ice cream.