Ultra chewy gluten-free blondies with rich toffee notes. Made with browned butter, these almond flour blondies are infinitely customizable with your favorite add-ins!

This post is sponsored by Bob's Red Mill, a long-term partner of Snixy Kitchen
Oftentimes my kids ask to bake cookies, but I simply don't have the energy to deal with scooping cookie dough balls onto a baking sheet and baking them in multiple batches while also managing a toddler who very likely is dumping the entire container of baking powder into the mixing bowl or crushing eggs in his hands like the hulk or, shockingly, both simultaneously.
Enter blondies. You get the satisfaction of cookie flavor, but without all the extra fuss. I get to feel like a supermom, baking with my kids with a much more manageable timeframe in the kitchen with them.
Note: That's not to say he didn't toss an extra tablespoon of baking powder into our first test batch of blondies when I turned my back. He definitely did that and we definitely still baked them up after attempting to fish out as much as we could. Though they tasted delicious, they were deformed and weirdly sunken and still, no one cried about it. So, win.

What are blondies?
Blondies are more than just cookies baked in a pan. A cross between a cookie bar and a brownie, blondies have the best of both worlds. A vanilla cookie-dough with rich toffee notes from browned butter and dark brown sugar. A crackly top with classic brownie crispy edges and a chewy center.
Imagine the chewy fudgy texture of brownies but without the cocoa powder. Brownies for vanilla-lovers.
I wanted my gluten-free blondies to have all of these characteristics, without being cakey, crumbly, or too soft to pick up in bar form. My bar for perfect blondies is high!
Gluten-free chocolate chip blondies
This final batch here is exactly all of those things. Baked up into bars that are ultra chewy with crisp edges, deep rich toffee notes, and a subtle nuttiness that further enhances the browned butter notes.
For these gluten-free blondie bars, I use super-fine blanched almond flour as the base flour. Almond flour adds fat and moisture to the recipe, requiring more flour than a traditional blondie recipe. This allows the bars to be thick enough to sustain both a chewy interior and crisp edges, and to hold their form when picked up off the plate.
I've baked these blondies as my fourth recipe in a year-long partnership with Bob's Red Mill. Here's a list of all the recipes I've made in partnership with Bob's Red Mill over the years.



How to make gluten-free blondies?
Unlike with chocolate chip cookies, spread is not an issue with blondie dough since these cookie bars are contained to a baking pan. That means you can start by browning your butter to bring out all the toasty nuttiness and still bake the blondies immediately without chilling.
Blondies are incredibly easy to make with very little hands-on time. Here are the basic steps:
Brown your butter and pour the butter over the sugars in the bowl of a stand mixer or a large mixing bowl. Let cool 10 minutes.
Mix in eggs and vanilla very well.
Slowly mix in dry ingredients until just combined.
Mix in chocolate chips and other add-ins until just mixed.
Press into parchment-lined metal baking pan and bake.
Gluten-Free Almond Flour Blondies
In all my cookie testing, I've found the subtle sweet nuttiness of Bob's Red Mill's super-fine almond flour to be the most neutral flour to capture the classic cookie flavor and texture. Depending on the flours it is paired with, it can bake up soft and tender or crisp and snappy.
I tested these blondies with multiple leading flours and, in a blind taste-test of four different batches with 10 of my neighbors, every single one chose this version, describing it as "classic."
Just like with my gluten-free coffee cake, almond flour adds moisture and subtle warm and cozy flavor notes, but the resulting blondies do not taste at all like almonds.




Gluten-free blondie recipe substitutions
If you can't eat or don't have one of the flours in this recipe, below are my substitution recommendations. Note: I use all Bob's Red Mill flours in this recipe and all of my measurements have been tested accounting for the specific grind of their flours. For the best blondies, I recommend using Bob's Red Mill flours. Their quality is consistent and they're easily accessible.
Grain-Free Version
You can substitute the sweet rice flour with additional tapioca flour or arrowroot starch by weight, but your results will be a bit less chewy.
Nut-Free Version
For a nut-free version, replace all three of the flour measurements in the recipe with the following sorghum flour blend and reduce the baking time to 26-28 minutes:
This nut-free version is a bit softer and gooier in a very good way! See the picture below of the sorghum blondies in the pan: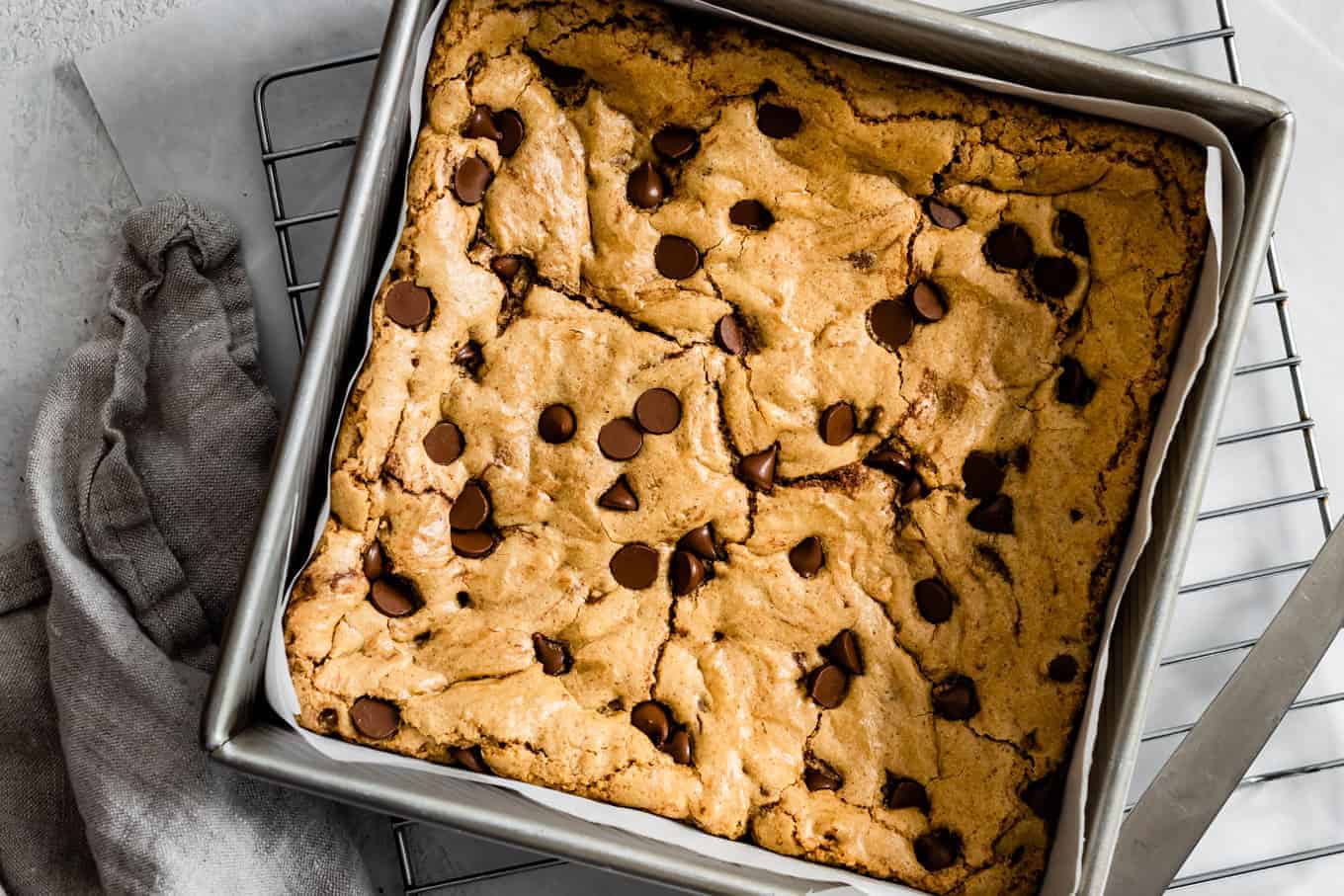 Tips for Perfect Gluten-Free Blondies
How to make crinkly top blondies
The pinnacle of perfection for both brownies and blondies alike is that paper-thin crisp crackly topping. Here are three tips for achieving that crackly shiny top.
Let the butter cool: Pour the brown butter over the sugar and give it a good mix, but then let it rest at least 10 minutes before adding the egg.
Mix eggs well: When you add the egg, mix it very well. This will put some air into the batter that will help with that crackly top.
Don't overmix dry ingredients: Slowly add the dry ingredients and mix just until combined and not a moment longer. My initial instinct was to mix for another couple of minutes longer like I do with other gluten-free recipes, but I found that this actually releases some of the oils from the almond flour, preventing the crackly topping and producing blondies that are greasy on the bottom.
How to keep blondies chewy and not cakey
Dry ingredients: Weigh your dry ingredients and, as mentioned above, use the specific brand of flour listed in the recipe, Bob's Red Mill. Different brands have different grind texture and will produce different outcomes.
Organic dark brown sugar: Organic dark brown sugar is more moist with a more assertive molasses flavor than conventional. For the chewiest blondies, I recommend using organic dark brown sugar. Conventional will also work, but then I recommend then adding in ½-1 teaspoon of molasses if you've got it and reducing the bake time by 1-2 minutes.
Why are my blondies dry?
For baking blondies, you should err on the side of underbaking or you risk crunchy or dry blondies that are gritty in texture. They're ready when the edges are golden brown and set and the center is set but still feels a bit underdone when gently touched.
If you prefer extra gooey blondies, take them out at exactly 27 minutes, but be prepared that your center may sink. If you prefer blondies that are a bit more sturdy, but still ultra chewy, bake just 1-3 minutes longer.
Why do my blondies sink?
The blondies will sink if they are underbaked. If the center doesn't bake long enough to support the amount it has puffed up in the oven, it will sink down in the center. There's a sweet spot in bake-time in which blondies are set enough to not sink in the middle, but still not overbaked and dry.
There seem to be mixed feelings across the web on whether or not blondies should sink the center. Personally, I think blondies that sink a bit, like the sorghum version pictured below, are equally as delicious, as long as the edges are properly baked to be crispy and able to hold their form when picked up. So if your blondies sink, that's okay!
Why are my blondies greasy?
Blondies will bake up greasy if they're overmixed, separating more of the fat from the dough. If you find they're a bit greasy on the bottom, let them cool for about an hour off the parchment paper on a wire rack and you'll find the outside less greasy to the touch.

Endlessly customizable blondies
For my blondies, I used semisweet chocolate chips. If you've been here awhile, you'll notice I usually recommend chopped bittersweet chocolate, but I found for these blondies, the chopped chocolate melted and spread throughout the blondies instead of leaving pockets of melted chocolate surrounded by vanilla cookie. I wanted a more classic chocolate chip blondie flavor so I opted for semisweet chips, but if that's how you like it, by all means.
The best part about keeping an excellent blondie recipe in your back pocket is the endless possibilities for adaptation. Add up to 1½ cup add-ins of your choice to the base recipe. Get creative!
Nuts: roasted almonds or toasted pecans, walnuts, macadamia nuts, or pistachios
Chocolate: white chocolate, m&ms, chopped chocolate
Candies: chopped candy bars, sprinkles
Spices: cinnamon, cardamom, ginger, or nutmeg
Dried fruit: Raisins, dried cranberries
Note: I recommend no more than ¾ cup of a single add-in or it will overpower the blondies. With more add-ins you may need to adjust your baking time down, so start checking for doneness around 25 minutes.
You could also easily customize the pan into four parts for a fun holiday gift. Divide the dough into four, carefully kneading in different add-ins to each, then press each part into one quadrant of your baking pan.
Holiday cookie tray done all in one fell swoop!
More Gluten-Free Bar Recipes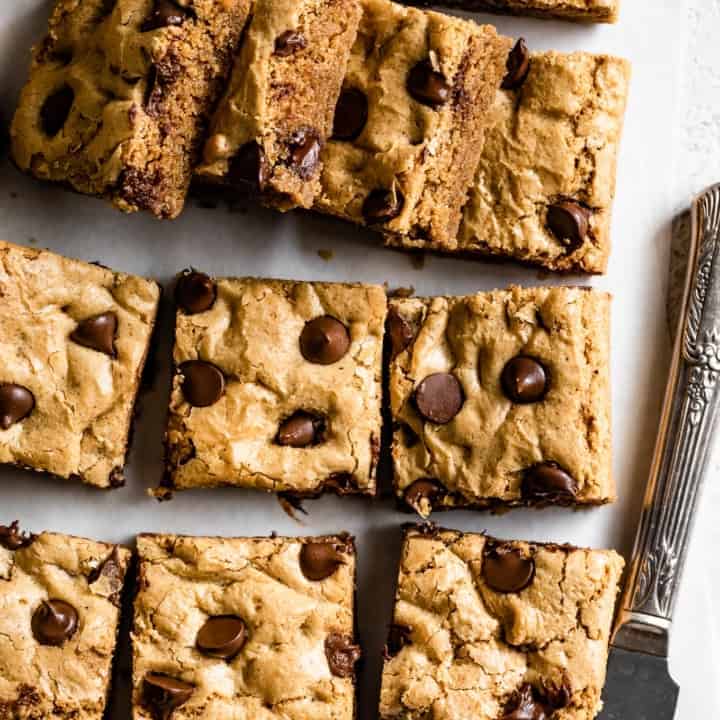 Gluten-Free Blondies
Ultra chewy gluten-free blondies that taste caramelized from browned butter and dark brown sugar. Infinitely customizable with your favorite add-ins!
Ingredients
½ cup + 2 tablespoons (125g) dark brown sugar (I recommend organic for the best texture, see note)
¼ cup (50g) granulated sugar
½ cup (113g) unsalted butter
½ cup (80g) Bob's Red Mill sweet rice flour (different from "white rice flour" or "brown rice flour")
½ teaspoon baking powder
⅛ teaspoon baking soda
½ teaspoon kosher salt
1 large egg, room temperature
2 teaspoons vanilla extract
½ cup + 2 tablespoons semisweet or bittersweet chocolate chips, divided
Alternative: Add up to 1½ cups total add-ins of your choice: chocolate chips, toasted nuts, white chocolate, m&ms, chopped chocolate, sprinkles, candy bar chunks
Instructions
Preheat oven to 350°F and line an 8x8 metal baking pan with parchment paper.
Measure the sugars into the bowl of a stand mixer fitted with the paddle attachment or a large mixing bowl with a hand mixer.
In a small saucepan, melt and brown the butter, taking care not to burn it. It should melt, then foam up, and when the foam begins to subside, it will be light brown and nutty. Pour the browned butter over the sugars and mix to combine. Let cool for at least 10 minutes.
Meanwhile, sift together the almond flour, tapioca flour, sweet rice flour, baking powder, baking soda, and salt in a medium bowl.
When the butter has cooled for at least 10 minutes, add the egg and vanilla extract and mix until combined, scraping down the sides as needed. Continue mixing for another minute.
With the mixer on low, slowly add the dry ingredients, scraping down the sides, and mixing until just combined.
Add ½ cup chocolate chips and any mix-ins and mix until just evenly distributed.
Evenly press the dough into the lined baking pan. Sprinkle the remaining 2 tablespoons of chocolate chips over the top.
Bake for 28-30 minutes, until the edges are golden brown and crisp and the top is just set, but still soft. Remove from oven and let cool in the pan for at least 10 minutes before carefully using the parchment paper to lift the blondies out of the pan. Cut into 16 squares and serve.
Notes
Dark Brown Sugar: I recommend organic dark brown sugar because it has a higher molasses content, which will make the bars more moist and gooey in the center. Conventional dark brown sugar will also work and you could also add ½ teaspoon of molasses if you have it.
Grain-Free Version: You can substitute the sweet rice flour with additional tapioca flour by weight, but your results will be a bit less chewy.
Nut-Free Version: For a nut-free version, replace all three of the flour measurements in the recipe with the following sorghum blend and reduce the baking time to 25-27 minutes:
½ cup + 2 tablespoons (80g) sorghum flour
¼ cup + 3 tablespoons (70g) sweet rice flour
½ cup + 1 tablespoon (63g) tapioca flour/starch
Nutrition Information:
Yield:

16
Serving Size:

1
Amount Per Serving:
Calories:

207
Total Fat:

12g
Saturated Fat:

3g
Trans Fat:

0g
Unsaturated Fat:

8g
Cholesterol:

14mg
Sodium:

138mg
Carbohydrates:

20g
Fiber:

2g
Sugar:

7g
Protein:

5g