Gooey vanilla cranberry jam layered between a rich cocoa cookie crust and pecan cocoa crumbles. These gluten-free cocoa cranberry crumble bars are the perfect wintry treat to serve up at holiday parties or deliver on platters to your neighbors - made in collaboration with Rodelle.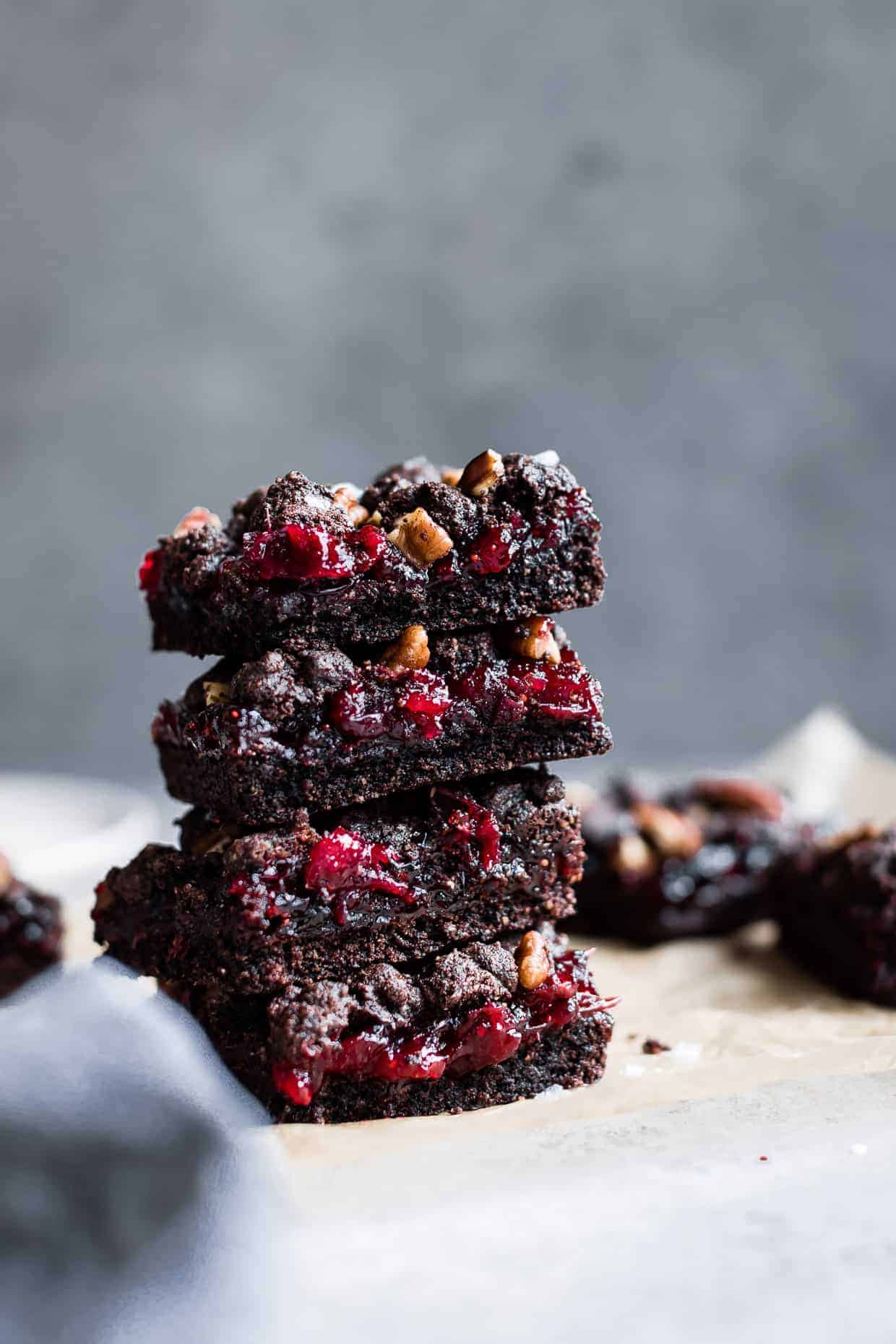 These cocoa cranberry crumble bars officially marked the start of full-time holiday baking mode in our house. I delivered plates of these bars around the neighborhood last week. The holiday dessert platter is one of my fondest memories as a child - getting to taste all the treats our friends and neighbors were baking up was very exciting. It's like ordering a cookie appetizer sampler! Now that it's December, I'm basically baking all day, so my neighbors can expect a revolving door of treats from now until the New Year, starting with these cocoa cranberry crumble bars.
Except for that one neighbor who made the fatal mistake of turning down my cookie platter two years ago. They don't get to try a single bar. (Who turns down a plate of holiday cookies?!)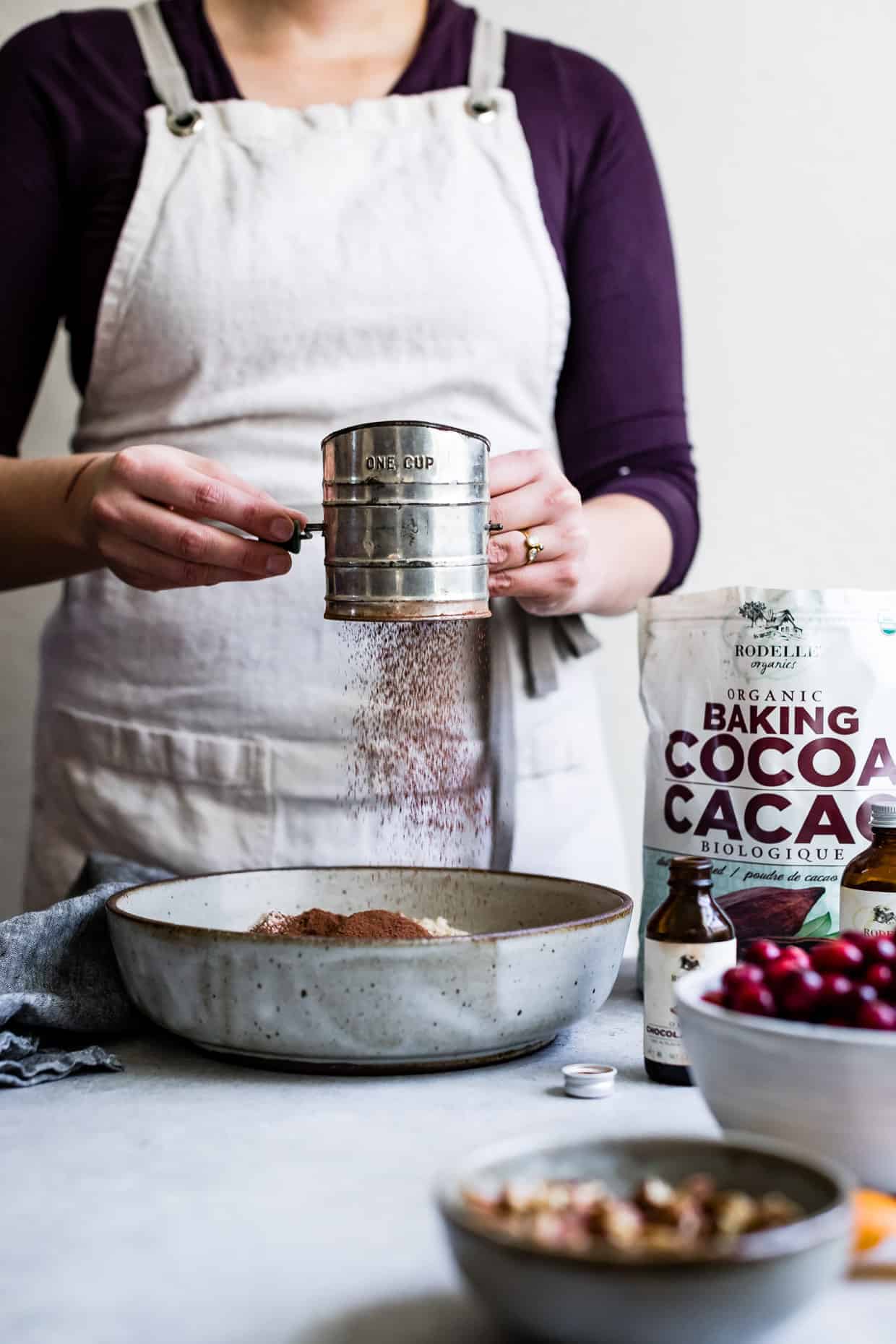 Here's the scene: I'd just come off a full day of baking cookies for NYT with Alanna. We were up to our ears in cookies, so I arranged cookie platters for neighborhood deliveries. We'd just moved in about a month and a half earlier, so it was the perfect introduction - "Hi I just moved in and I baked you all these holiday cookies!"
Her response: "Oh, that's very nice, but no thank you, we just had muffins this morning."
I'm terrible at hiding what I'm thinking - I don't think you need me to describe the look on my face (I was also 7.5 months pregnant).
First of all, you had muffins this morning so you can't have cookies now or even...tomorrow? These are two entirely separate meals and food experiences. Take my cookies.
Second, even if you really do have rock solid stamina at upholding your "only one muffin a week" holiday dessert rules, TAKE MY COOKIES, say thank you, and bring them to work, or heck, compost them! But now you've permanently crossed your name off my "pawn off delicious leftovers" list. Which was a big mistake because our other neighbor just scored a casserole of lasagna and half-pan of these cocoa cranberry crumble bars.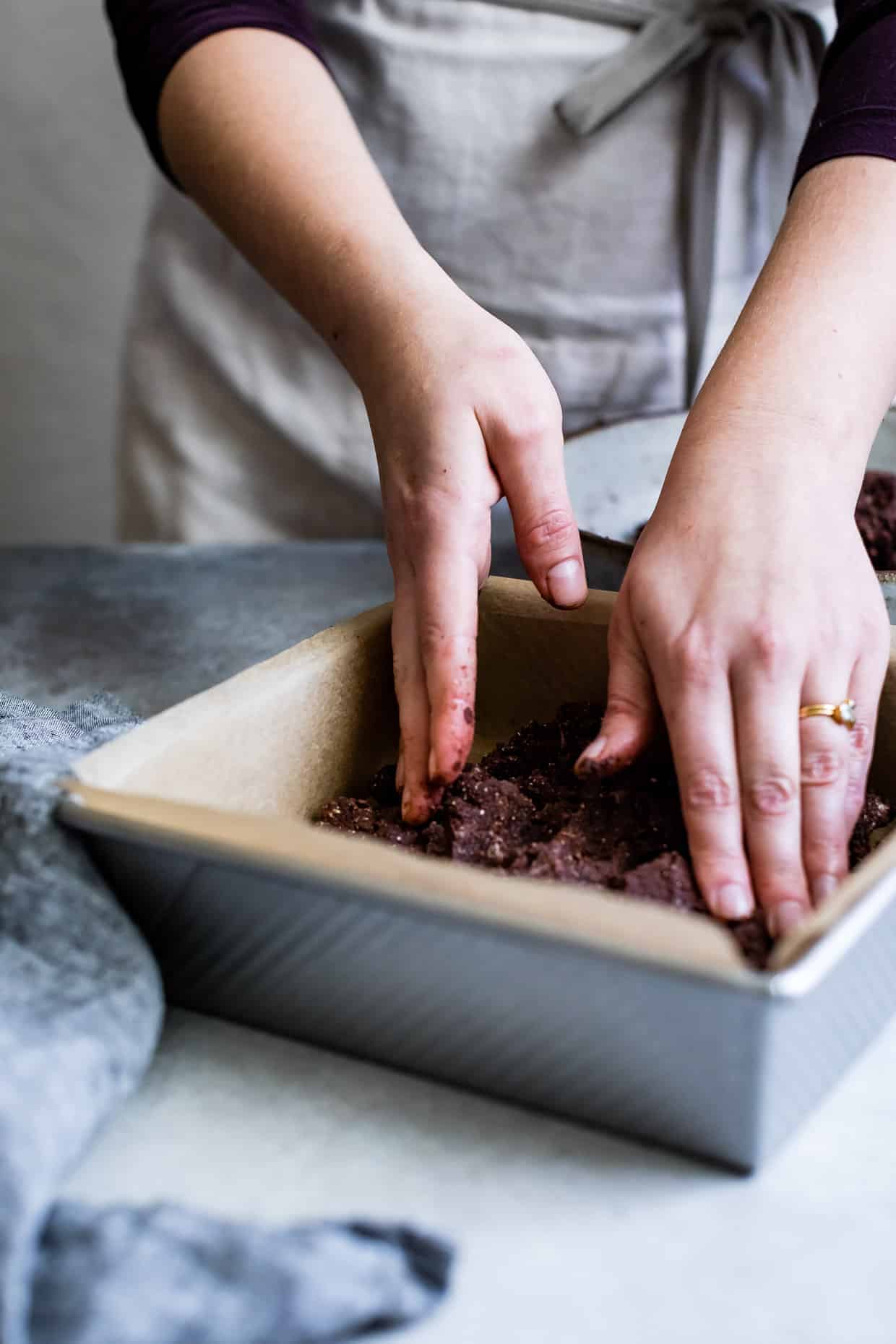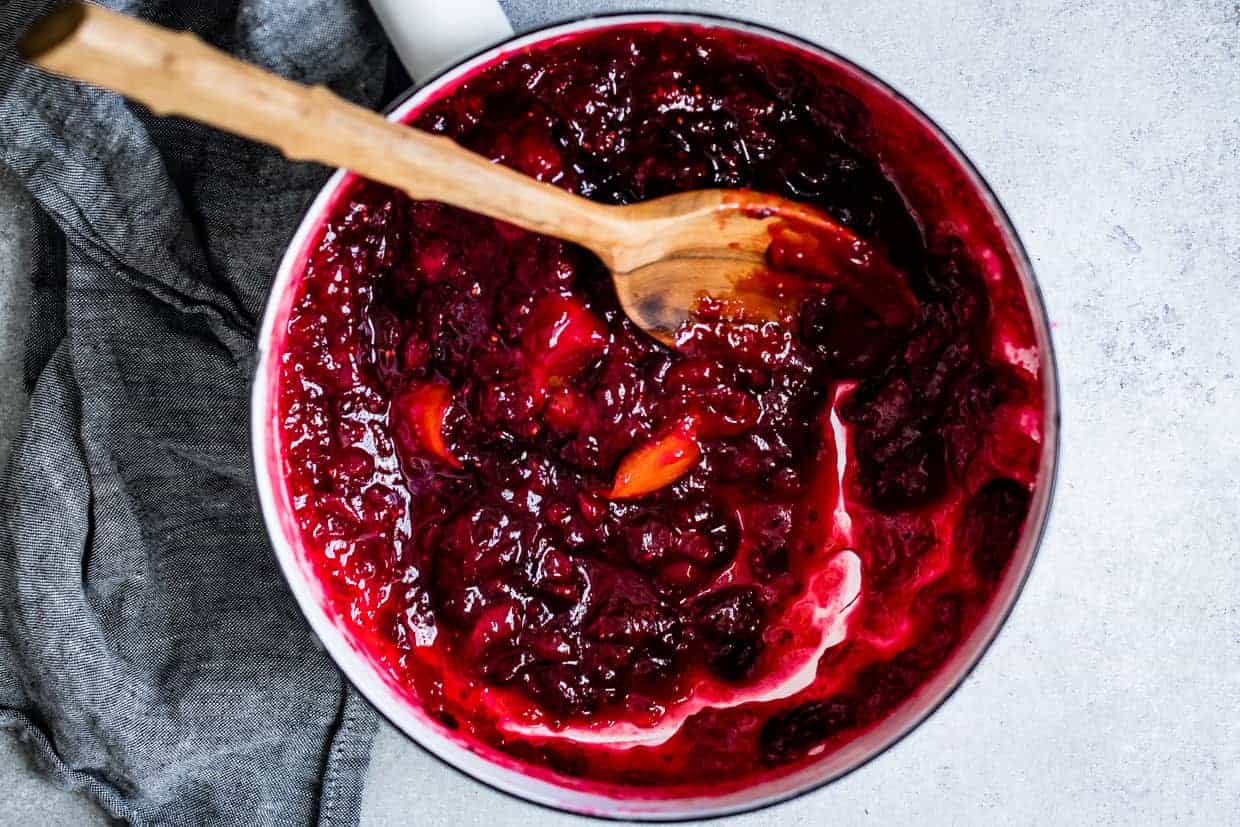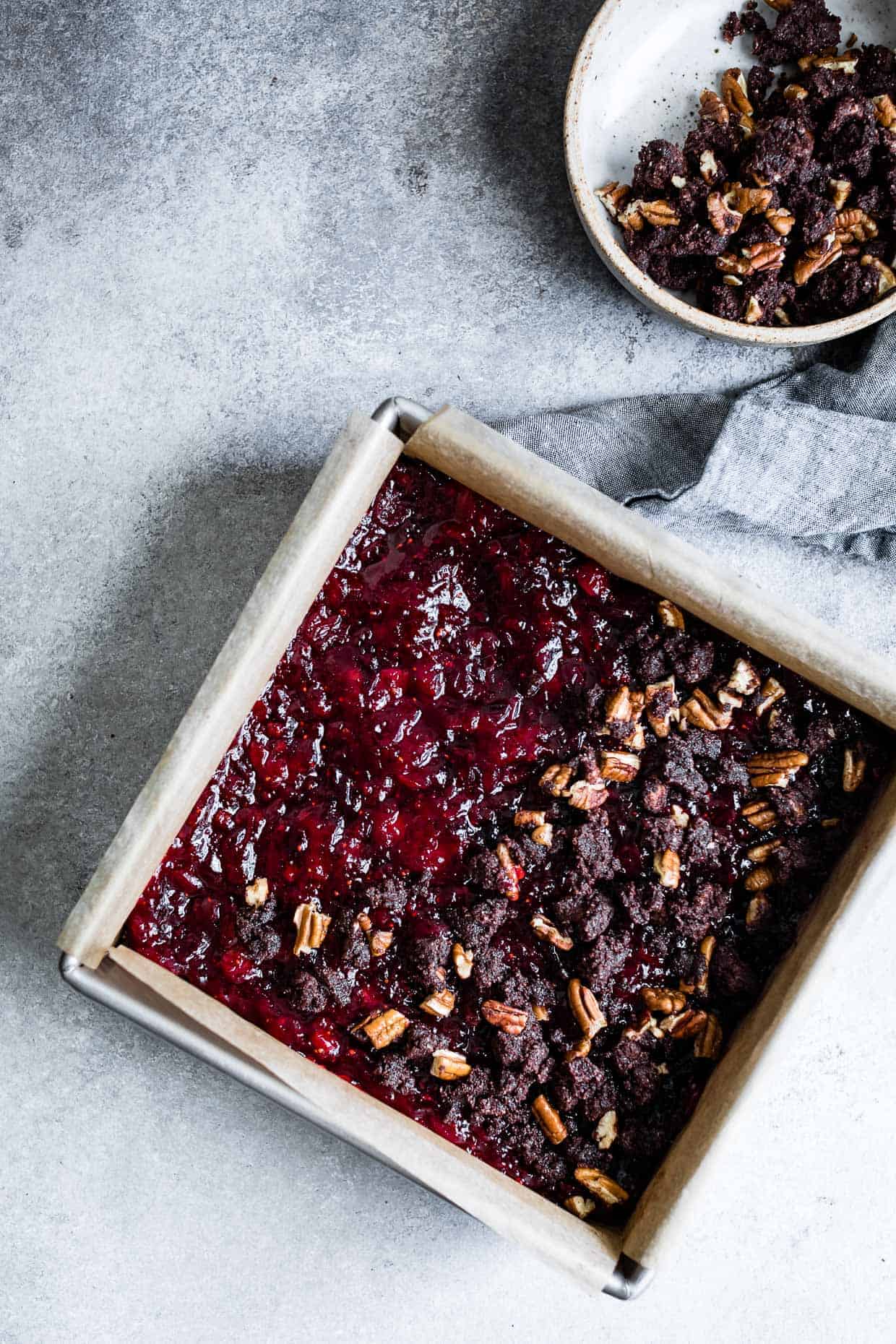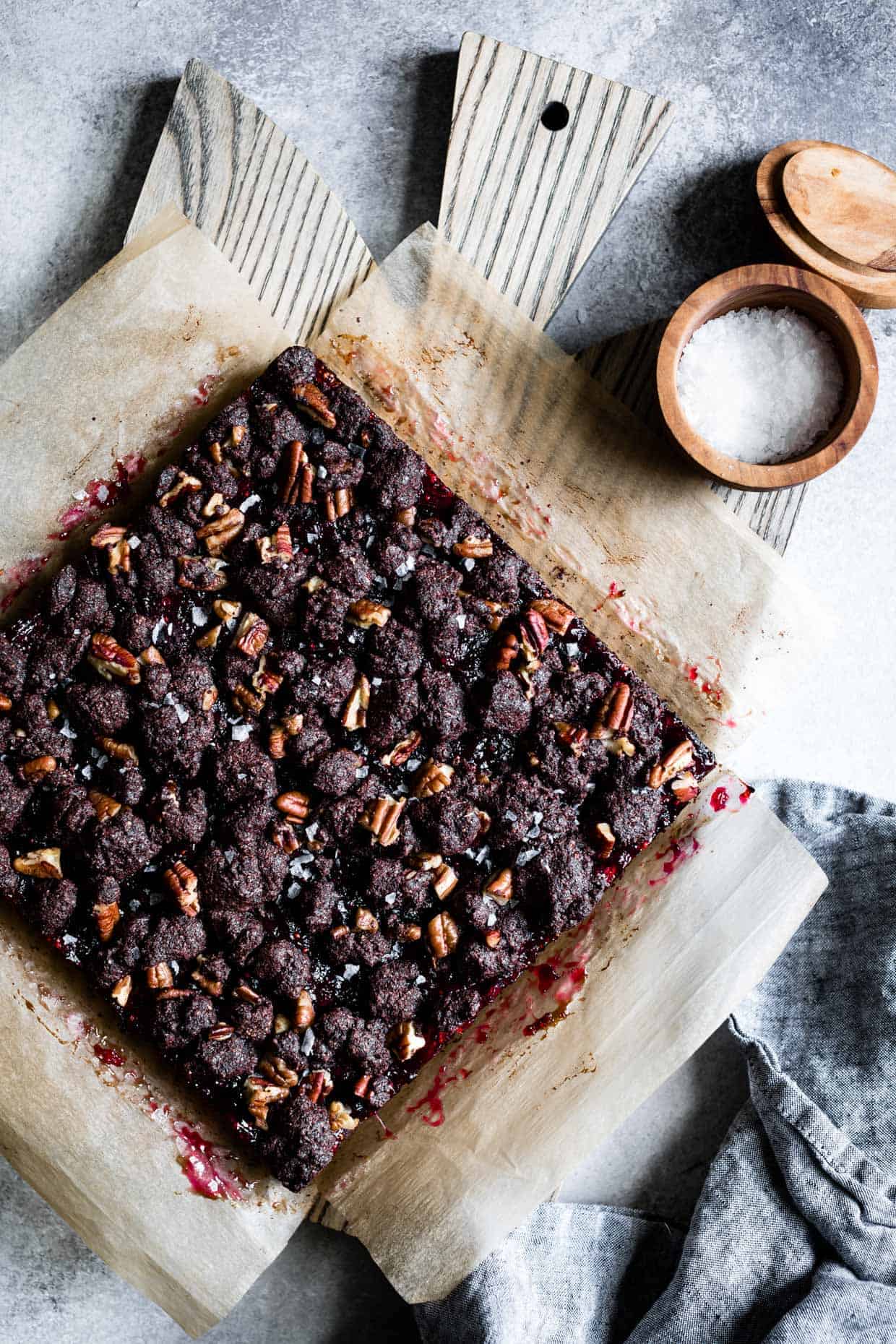 If you haven't turned up your holiday mode to 100 yet, I recommend starting with delivering platters of these cocoa cranberry crumble bars to your neighbors. (Except skip that one neighbor).
Made with my favorite Rodelle organic dutch-processed baking cocoa, the cookie crust on these bars bakes up extra deep dark and chocolatey - read about my loyalty to this baking cocoa here. A splash of Rodelle organic chocolate extract, while not imperative, is the secret ingredient that gives my chocolate desserts that extra something something. If you've never tried chocolate extract, I highly recommend doing a side-by-side brownie comparison with/without. A small jar will last you awhile, but will pay off big time in chocolate baking.
While it seems unlikely, sweetened warmed cranberries pair beautifully with chocolate in a way that rival's the time old relationship between strawberries and chocolate. These bars celebrate that pairing with a sweet gooey vanilla cranberry filling layered between a crispy cocoa cookie crust and crumble.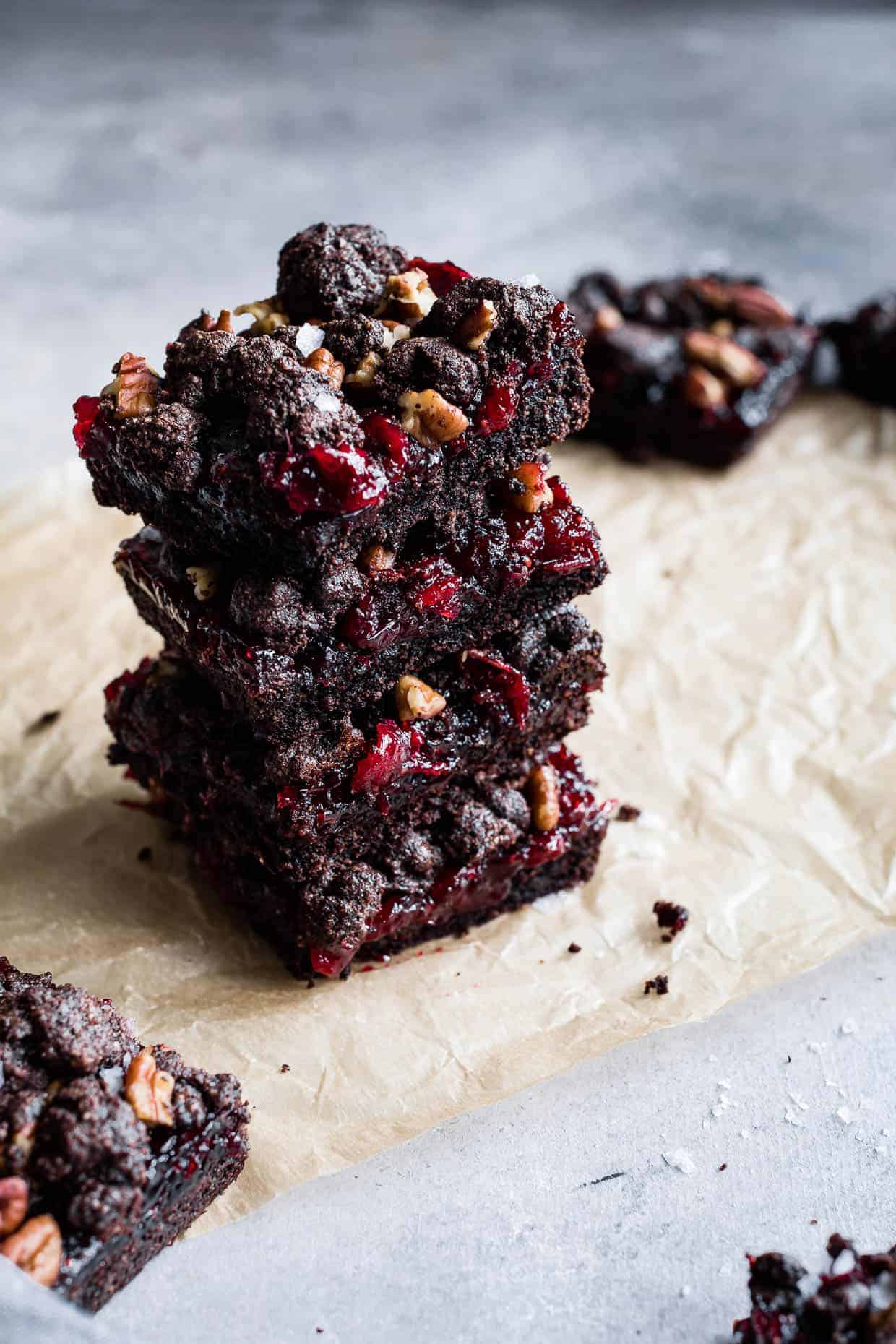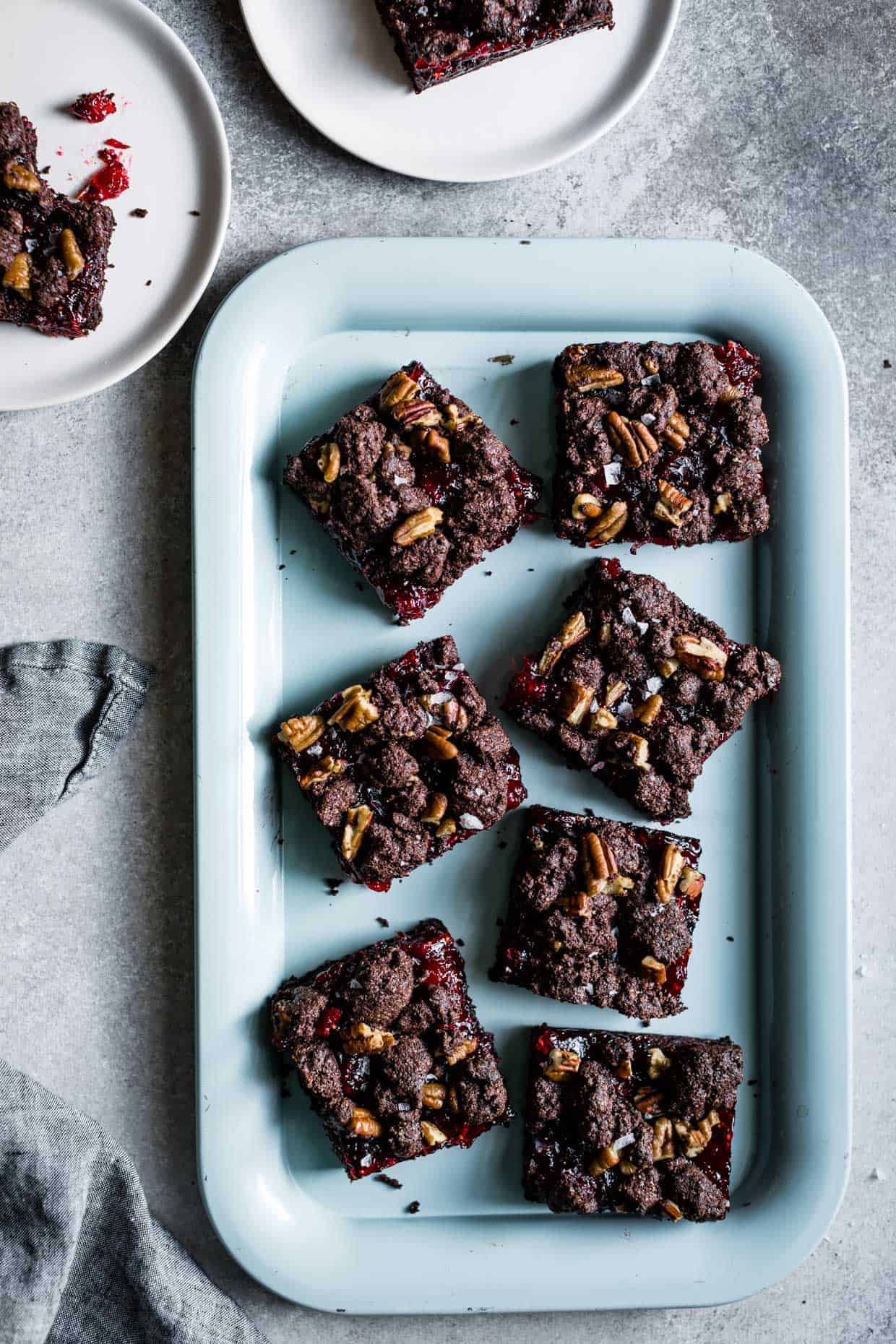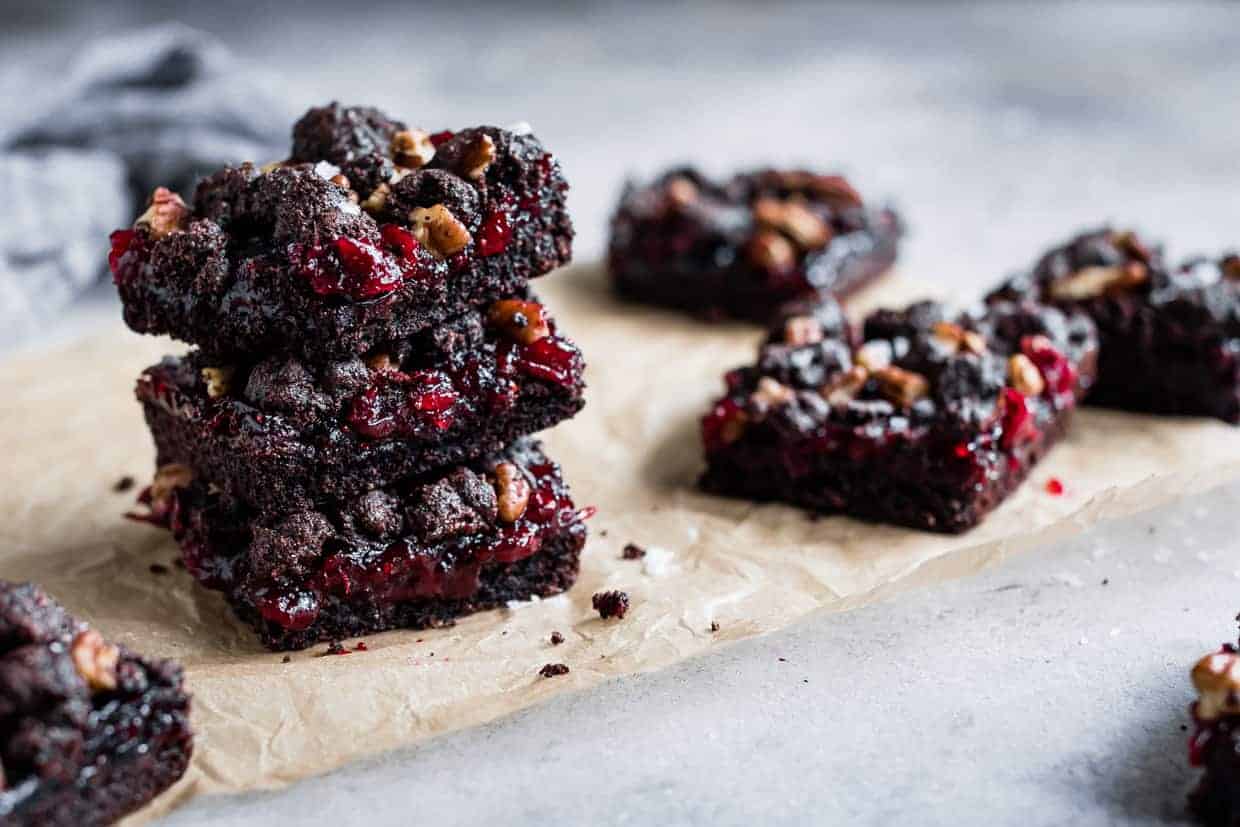 Disclosure: Special thanks to Rodelle for sponsoring this post! Find more Rodelle inspiration on Facebook, Instagram, or Pinterest. And thanks to you for supporting the brands that keep Snixy Kitchen cooking!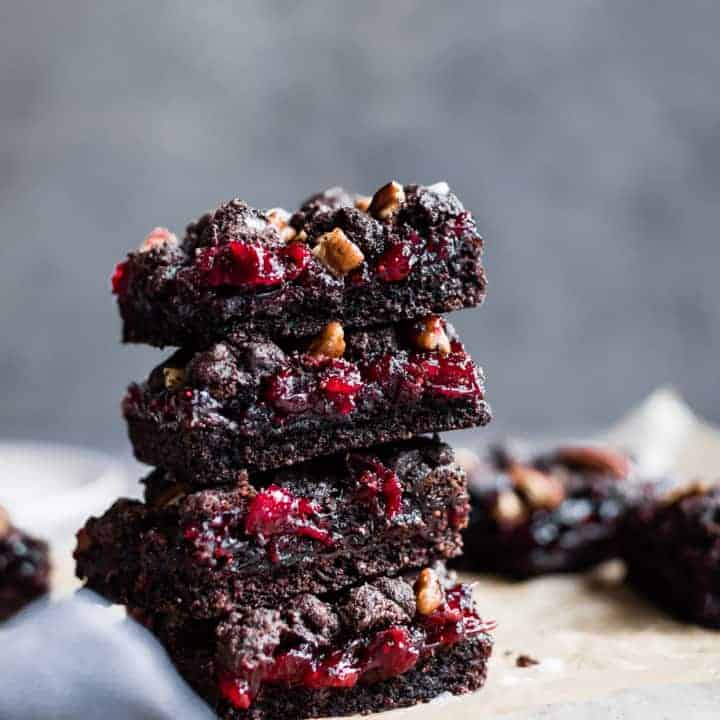 Gluten-Free Cocoa Cranberry Crumble Bars
Ingredients
Crust & crumbs:
2 tablespoons (16g) corn starch
½ cup (104g) granulated sugar
½ teaspoon baking powder
¼ teaspoon kosher salt
½ cup cold unsalted butter, cut into tablespoons
1 large egg, lightly whisked with a fork
¼ cup pecans, broken into small pieces
Optional: ¼ teaspoon flaky salt such as maldon
Cranberry Filling
2½ cups fresh or frozen cranberries
¾ cup cane sugar
¼ cup water
1 tablespoon corn starch
3 2-to-3-inch strips orange peel
Pinch salt
Instructions
Crust & Crumbs
Line an 8x8 baking pan with parchment paper and set aside. Preheat oven to 375°F.
In a large bowl, sift together the almond flour, oat flour, sweet rice flour, corn starch, sugar, baking cocoa, baking powder, and salt.
Cut in butter with a pastry cutter or your hands, blending until the pieces of cold butter are no larger than a pea.
Add the egg and chocolate extract and mix with a fork or your hands to bring the dough together. It should be a little shaggy, but will hold together when pinched.
Remove ⅓ of the cocoa dough and set it aside. Press the remaining ⅔ into prepared baking pan, using the edge of a glass to roll it smooth, as needed.
Bake the crust in the middle of the oven for 10 minutes. When finished, remove it from oven and let cool while you prepare the filling. Keep the oven heated.
To prepare the filling, combine all of the cranberry filling ingredients in a small saucepan over medium-high heat, and cook, stirring occasionally, until it begins to bubble. Reduce heat to medium low, and cook, breaking up the cranberries on the side of the pan with your wooden spoon as you stir. Cook for an additional 5-8 minutes until it's thickened quite a bit - to the consistency of jam.
Pour the filling over the cooling cocoa crust.
Sprinkle remaining cocoa topping over the top of the cranberries into clumps. Sprinkle with pecan pieces.
Bake 25-30 more minutes until the topping is completely cooked through and the filling is bubbling.
Remove from heat and let cool completely, about an hour, before transferring to a cutting board to slide into 9 squares.
Before serving, sprinkle with flaky salt, if desired.
Thanks for reading Snixy Kitchen! To stay up on what's coming out of my kitchen, follow me on Facebook, Instagram, Twitter, Bloglovin', Pinterest, or subscribe via e-mail to get new recipes right to your inbox.