White chocolate cardamom blondies flecked with brown butter and slathered with tart grapefruit cream cheese frosting. And sprinkles, of course.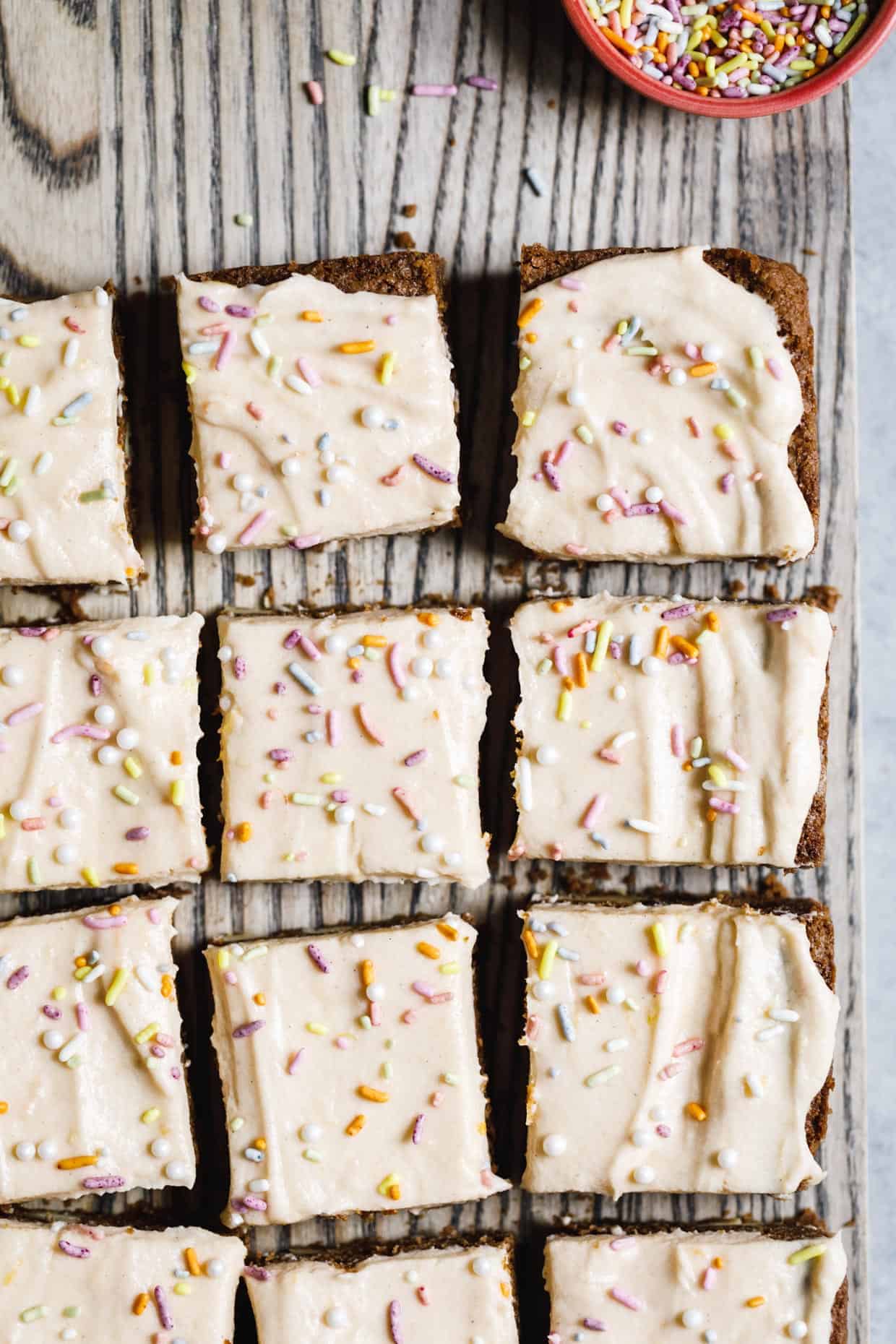 Back when I detested all things chocolate (I know), I used to tell people that my favorite cookie was "my mom's chocolate chip cookies, but without the chocolate chips." What is that then? A cookie? My favorite cookie is just cookies. Crispy-edged, ultra chewy, slightly under-baked cookies made up of about 99.9% with brown sugar and allofthebutter (exaggeration) that smack of butterscotch.
These white chocolate cardamom blondies remind me of my mom's just cookies in flavor and texture except spiked with cardamom and studded with blissful pockets of pure buttery sweet vanilla bean white chocolate. Then I slathered the whole thing with citrusy grapefruit cream cheese frosting because: citrus season! And sprinkles!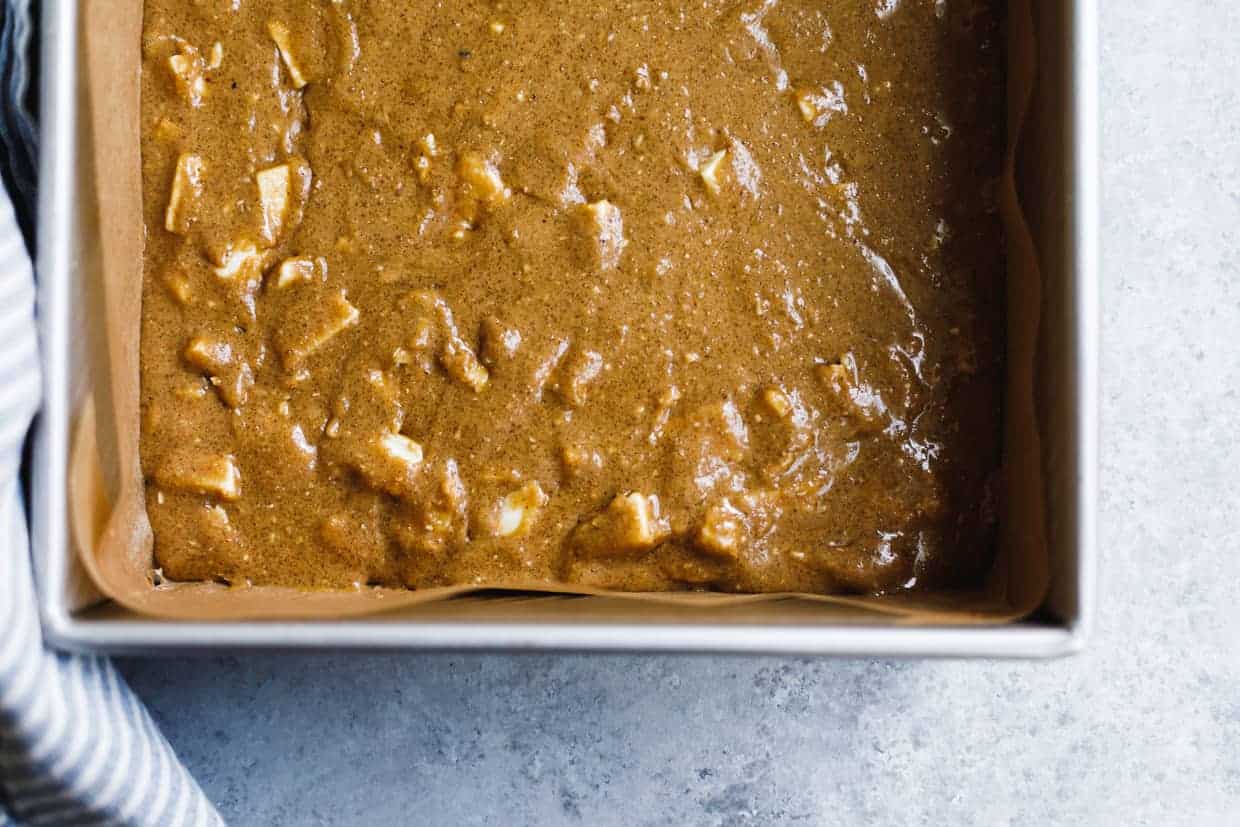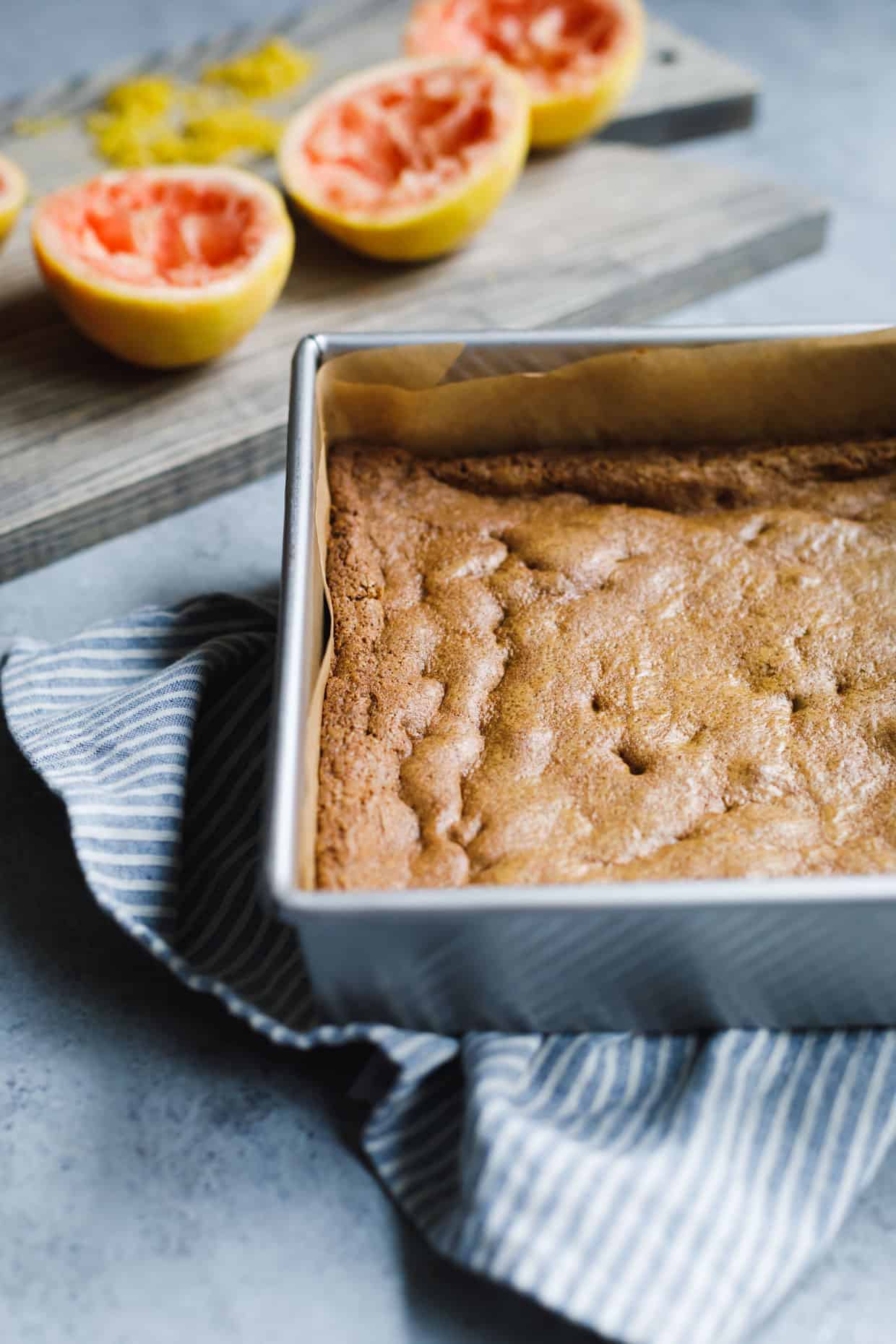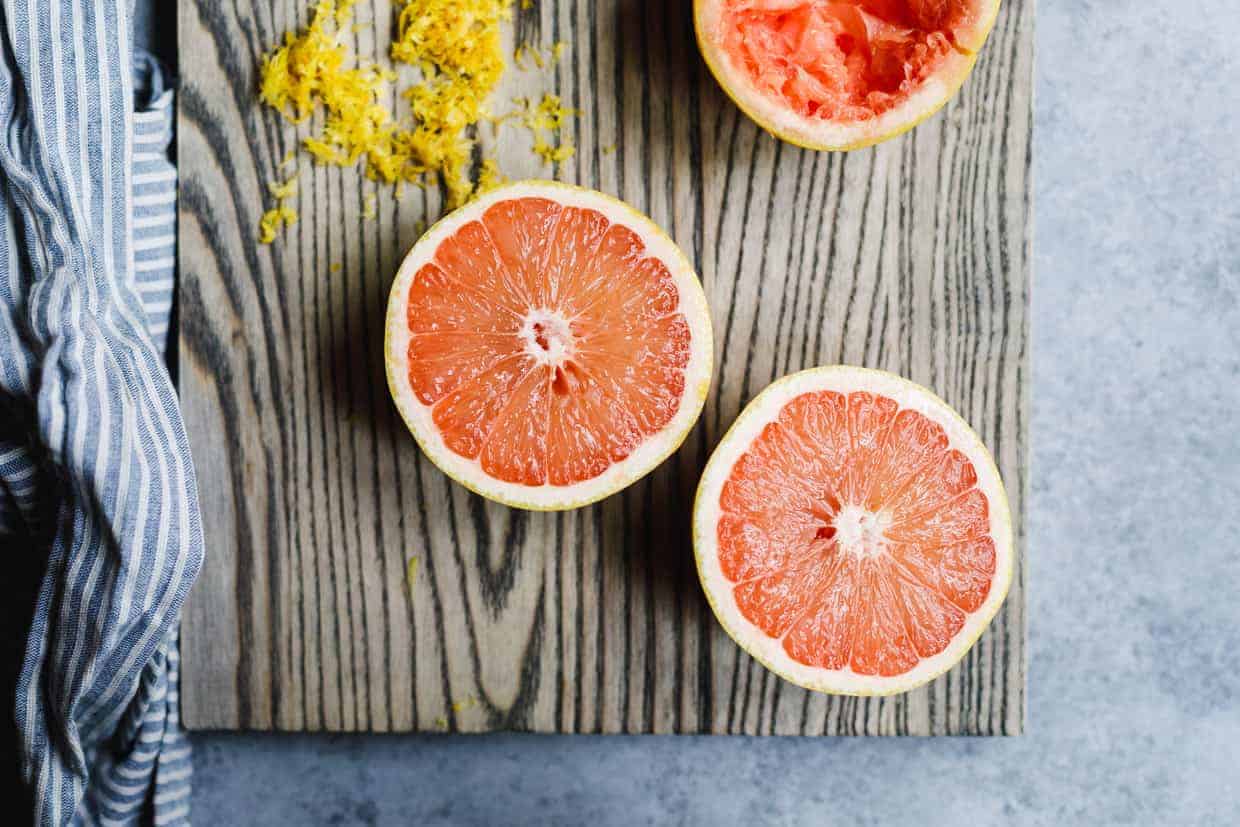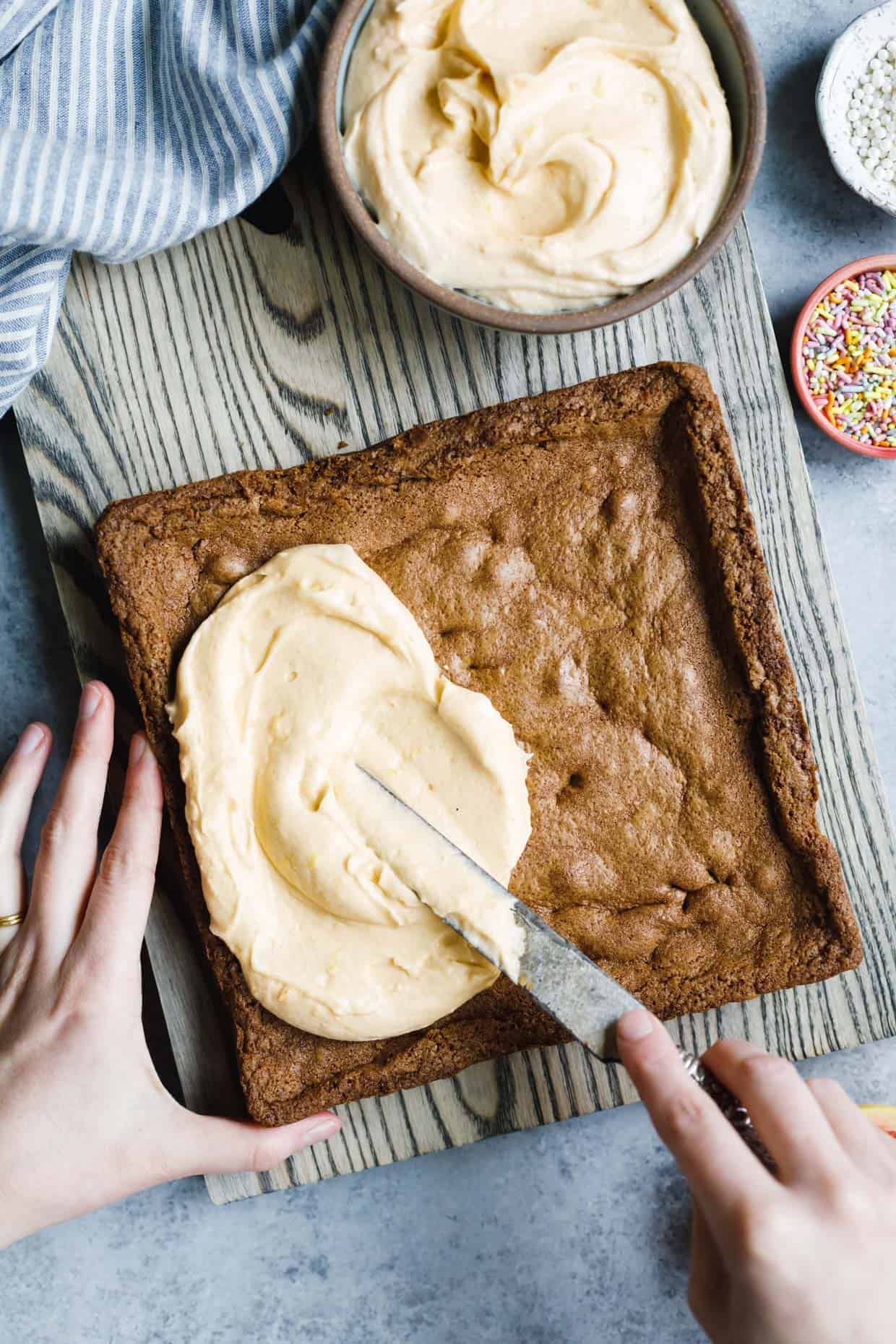 Cardamom is an assertive aromatic spice that's a bit citrusy and can often overpower a dish. It's met its match in tart grapefruit cream cheese frosting and the two dance a love song.
Speaking of love song...you know who would love these naturally pale-peach frosted blondies? Your Valentine. And your taste buds. (Don't hate me for mentioning the V word in January).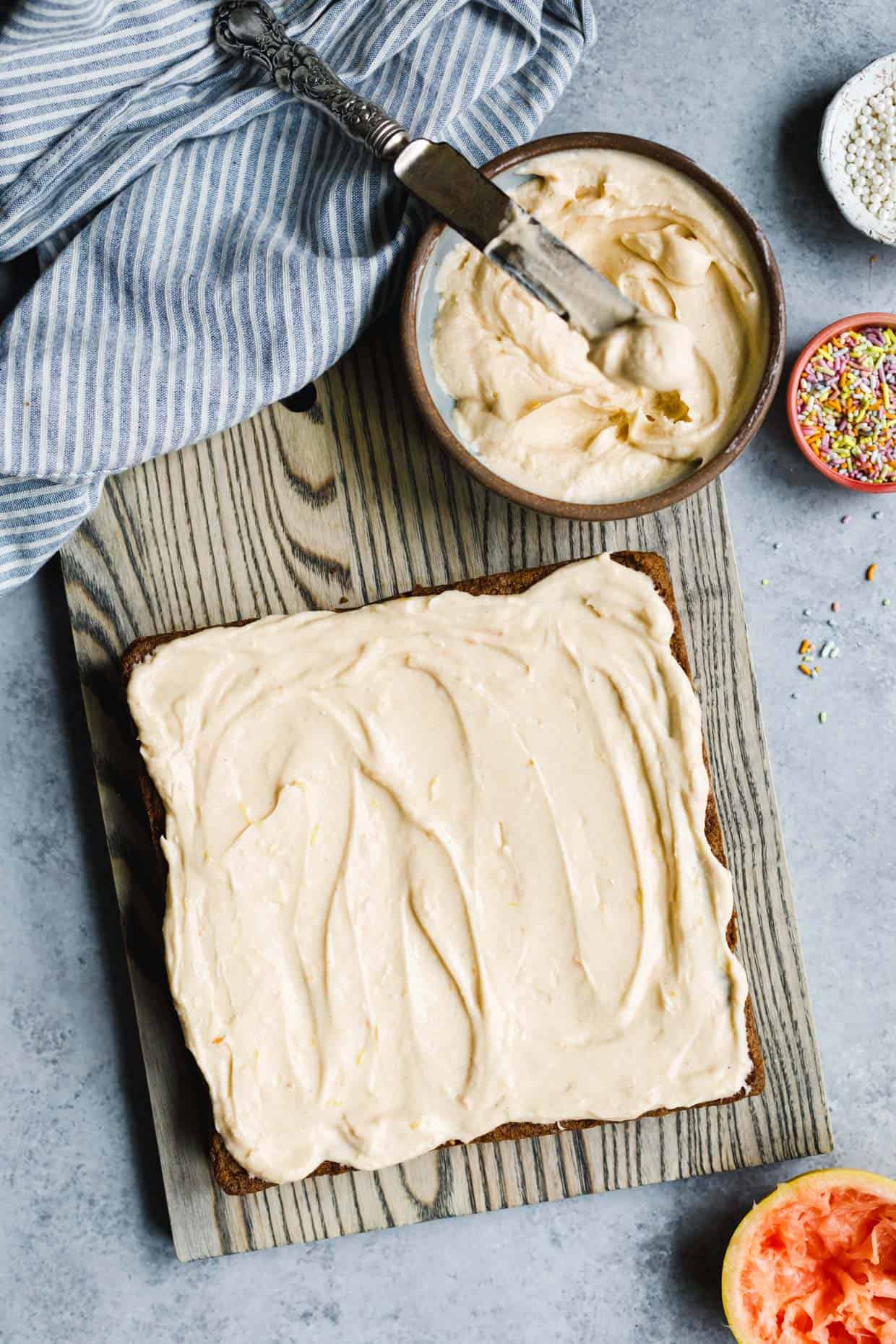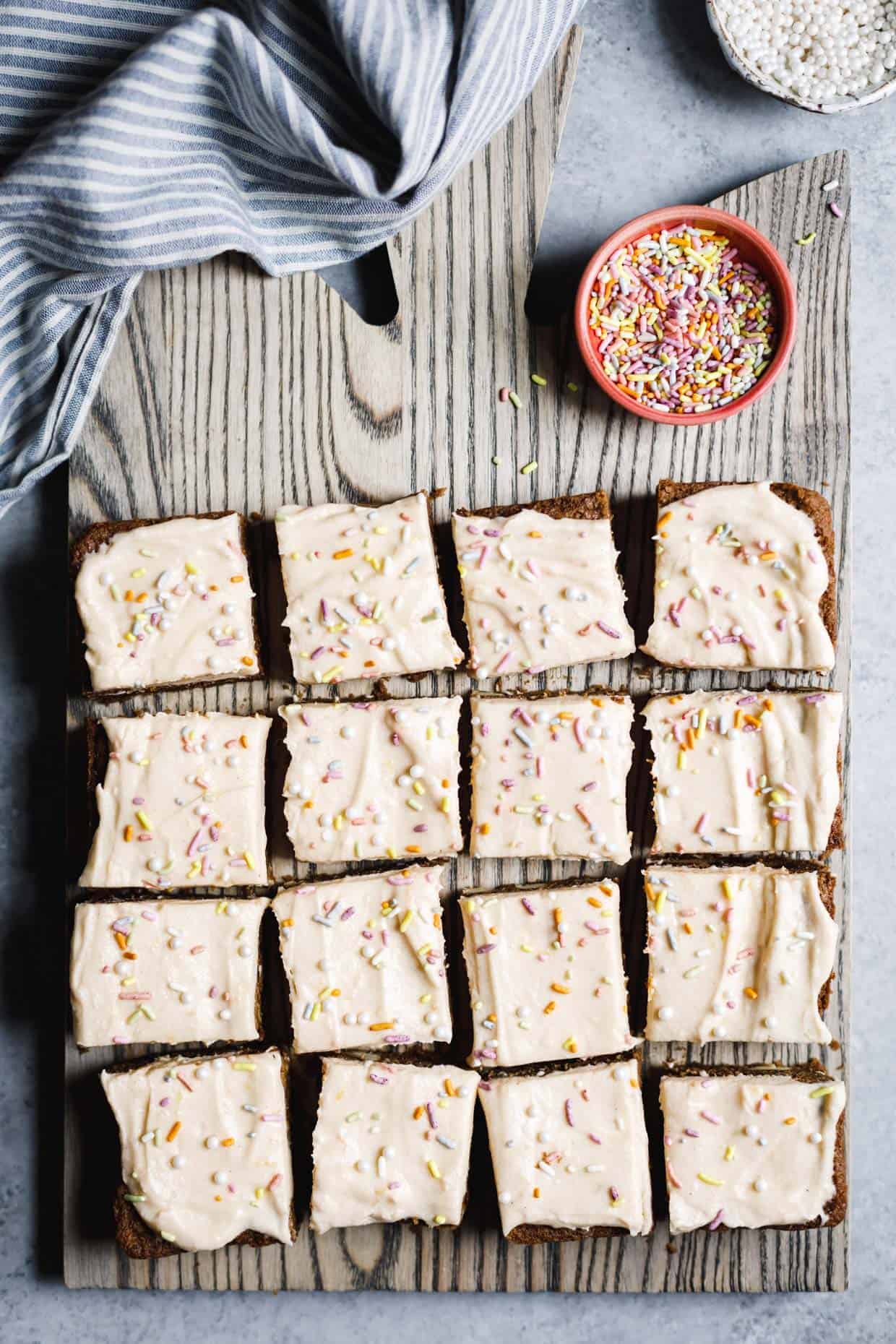 I'll quickly distract you with a baby. This week she learned to stand up and has been fervently practicing her new skill. The only problem? She doesn't know how to sit down from standing yet. So she stands.
And stands.
And stands.
Until she whines enough that I help her or the cat knocks her on her bum. I admire her endurance.
That will serve her well as she's got a long time to wait before she gets to taste these frosted blondies (stay tuned for her refined sugar-free smash cake in the interim).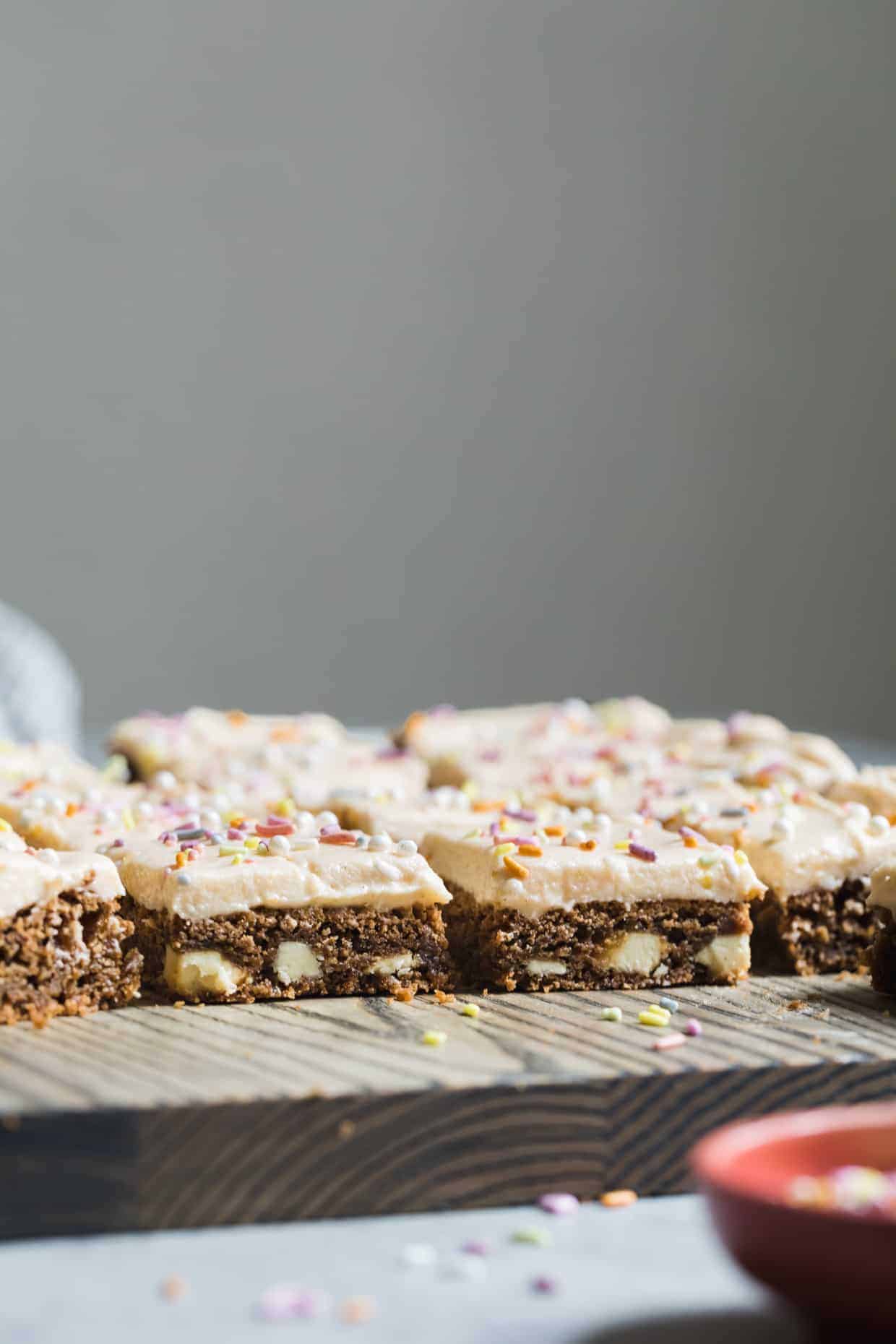 Let's chat about these white chocolate cardamom blondies again though. Brown butter adds deep nutty notes, dark brown sugar works its chewy magic, and a bit of granulated cane sugar ensures the surface gets nice and crispy, ready to crack when sliced. Cream cheese frosting with a hefty puff of powdered sugar knocks down grapefruit's bitter overtones, making a sweet citrus frosting with a floral note that balances the aromatic cardamom blondies just so.
Depending on your cravings, I've also got recipes for more classic gluten-free blondies, and gluten-free white chocolate matcha brownies!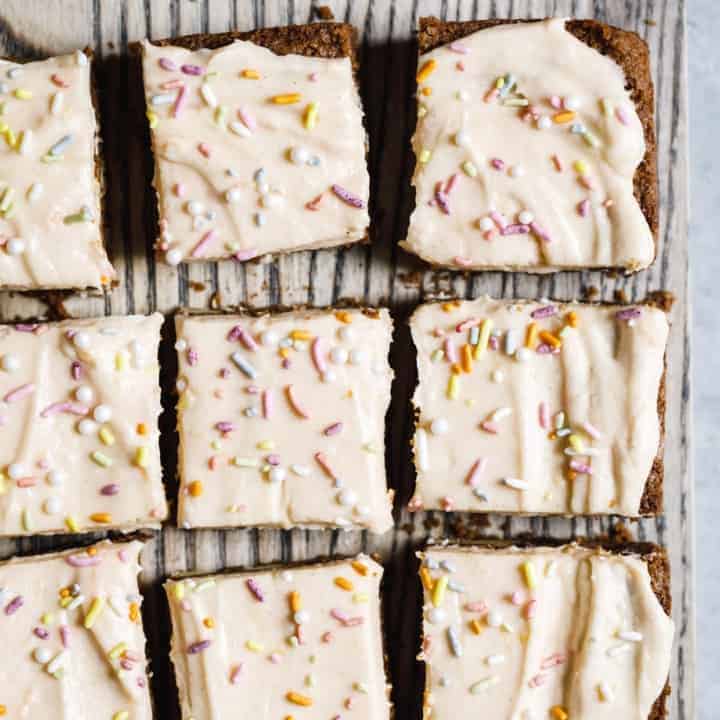 White Chocolate Cardamom Blondies with Grapefruit Frosting (Gluten-Free)
Ingredients
Cardamom Blondies
½ cup (122g) packed dark brown sugar
¼ cup + 2 teaspoons (60g) granulated sugar
½ cup (1 stick) unsalted butter
¾ teaspoon ground cardamom
½ teaspoon baking soda
½ teaspoon kosher salt
1 large egg
4 ounces good-quality white chocolate, coarsely chopped
Grapefruit Cream Cheese Frosting
½ cup freshly squeezed grapefruit juice (1-2 large grapefruits)
4-ounces cream cheese, room temperature
4 tablespoons unsalted butter, room temperature
¾ cup powdered sugar, sifted
½ teaspoon vanilla extract
½ teaspoon grapefruit zest
Pinch of salt
Optional: 1 tablespoon sprinkles!
Instructions
Preheat the oven to 350°F and line a the bottom and sides of an 8x8 square baking pan with parchment paper.
Add the sugars and vanilla extract to the bowl of a stand mixer or, if mixing by hand, a large bowl.
In a small saucepan or skillet, melt the butter over medium heat. Keep cooking, stirring occasionally until the butter browns. First it will foam up and then smell toasty with little brown flecks. Pour the browned butter over the sugar and stir a couple of times. Let sit for 10 minutes to cool a bit.
Meanwhile, whisk together the sweet rice flour, millet flour, oat flour, cardamom, baking soda, and salt. Set aside.
Add the egg to the butter/sugar and mix until just combined. With the mixer on low speed, slowly add the dry ingredients to the butter/sugar and beat until just combined. Fold in the white chocolate and mix until evenly distributed.
Dump the dough into the prepared baking pan and use a spatula to spread into an even layer. Bake for 22-24 minutes, until the edges are golden brown and the top is just set, but still soft. Remove from oven and let cool in the pan for a minute or two before carefully using the parchment paper to transfer to a wire rack to cool completely before frosting.
Meanwhile, prepare the frosting. Heat the grapefruit juice in a small saucepan over medium heat. Continue cooking until reduced to 2 tablespoons. Let cool.
In the bowl of a stand mixer, cream the butter by beating over medium speed until light and fluffy.
Add the cream cheese and beat until combined. Add about half of the powdered sugar mixing on low speed until combined. Add the vanilla and reduced grapefruit syrup, and beat on medium speed until smooth. (It will seem very wet like it won't incorporate, but it will!). Add the remaining powdered sugar and beat until combined. Fold in the grapefruit zest and salt.
When the blondies are completely cool, spread the frosting over the top and use an offset spatula to create an even surface of frosting. Add sprinkles to your heart's desire. Slice into 16 bars and serve!