Last updated on April 21st, 2020
This creamy cheesy gluten-free pasta bake is like grown-up mac and cheese that even the kids will like. A brown butter roux with minced shallots and two cheeses gets tossed with caramelized cauliflower, kale, and sage. The vegetable pasta bake gets more cheese for a crispy topping then served with a sprinkling sage breadcrumbs.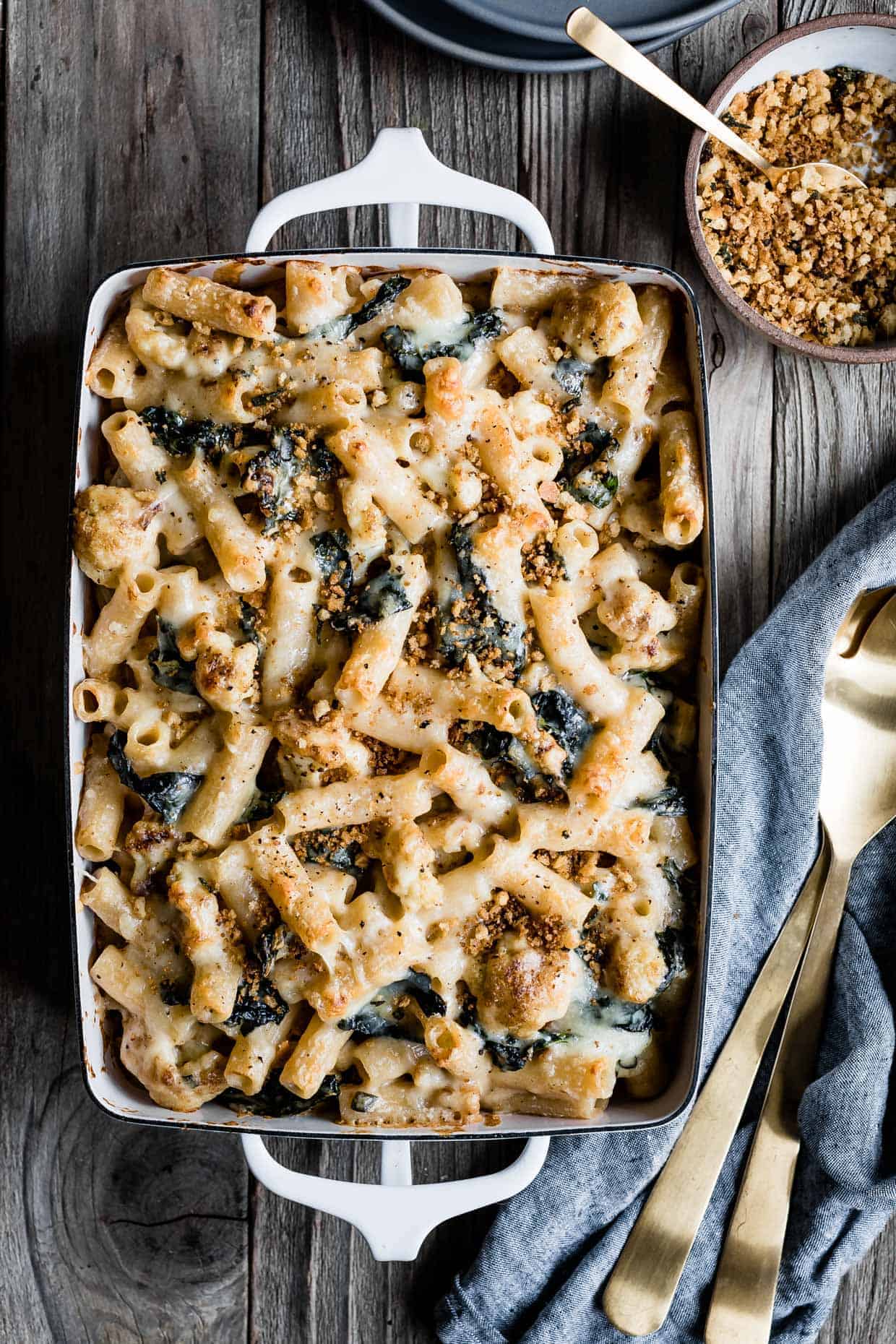 Dinners have been sore spot for us lately. Between an increasingly picky toddler and my own pregnancy aversions, nausea, and exhaustion, it's been a struggle to cook balanced meals that are filling and still nutritious. Coming up with main course dishes we all like, that incorporate vegetables and make killer leftovers is a lifesaver right now. I'll be honest, making meals with leftovers is not one of my strengths. So, today I'm partnering with Roth Cheese to challenge myself to share a dish that is just that: cheesy vegetable baked pasta with cauliflower & kale.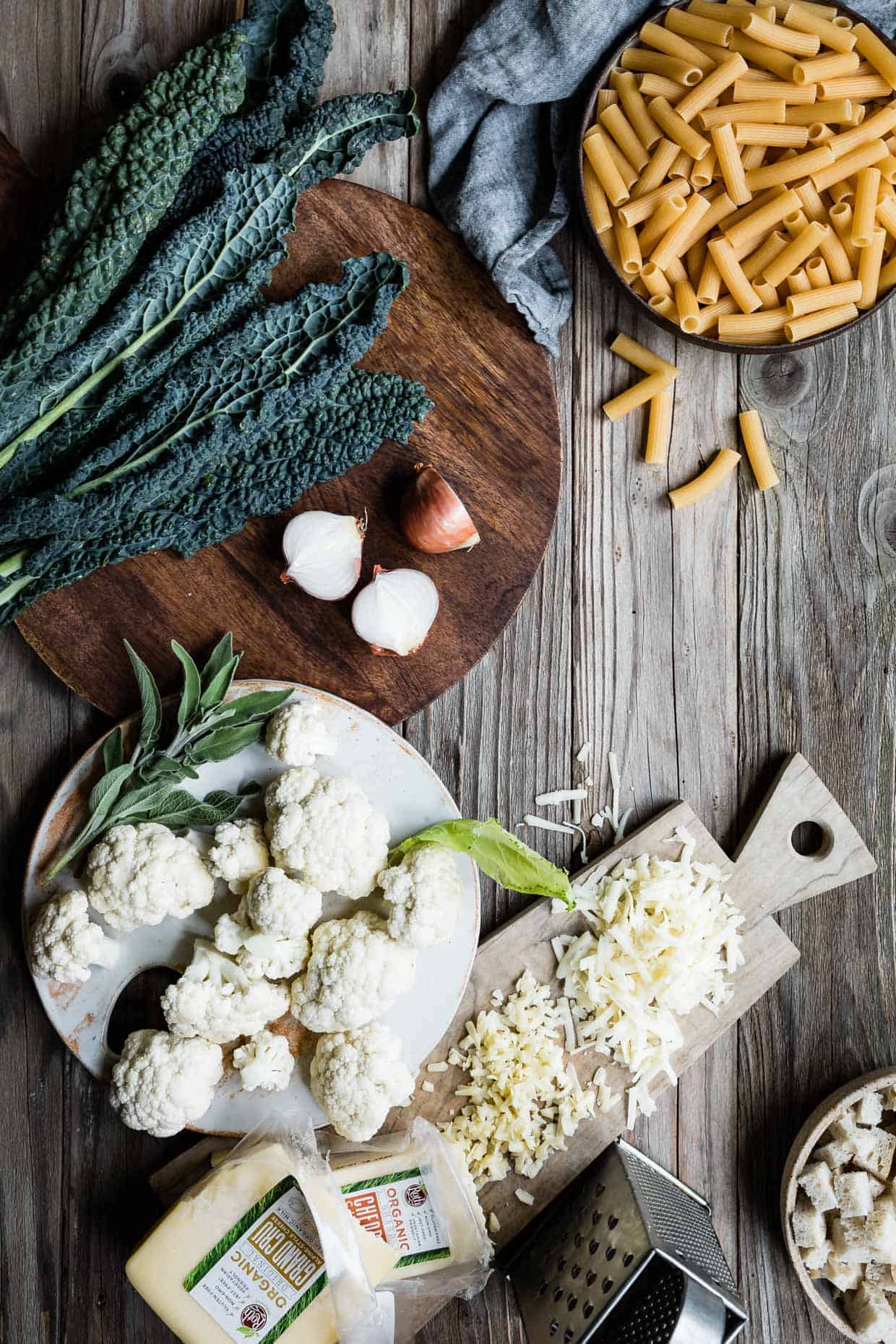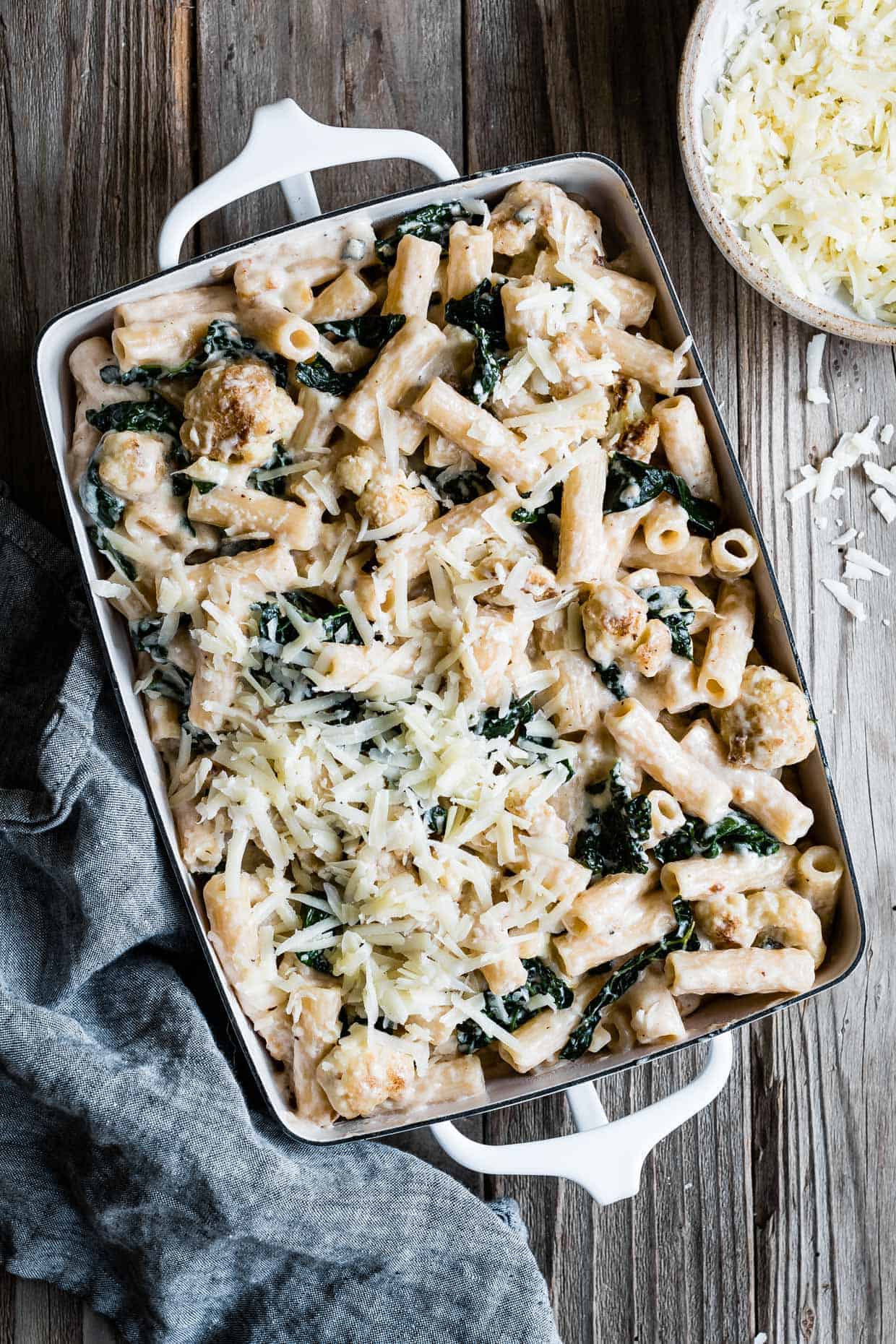 Pasta Bake Leftovers
When I was pregnant with Zoella, Lucas fended for himself whenever I wanted to eat crackers, cheese, and apples for dinner (pregnancy gives me a toddler-style appetite) . This time around, we aim to have a family dinner on the table together every night within 15 minutes of Lucas getting home from work. This puts me in charge and, with very little energy, I'm stoked when a dish can feed us 2-3 nights in a row. If leftovers aren't your thing (I hear you), this dish also makes a great crowd pleaser if you're entertaining guests.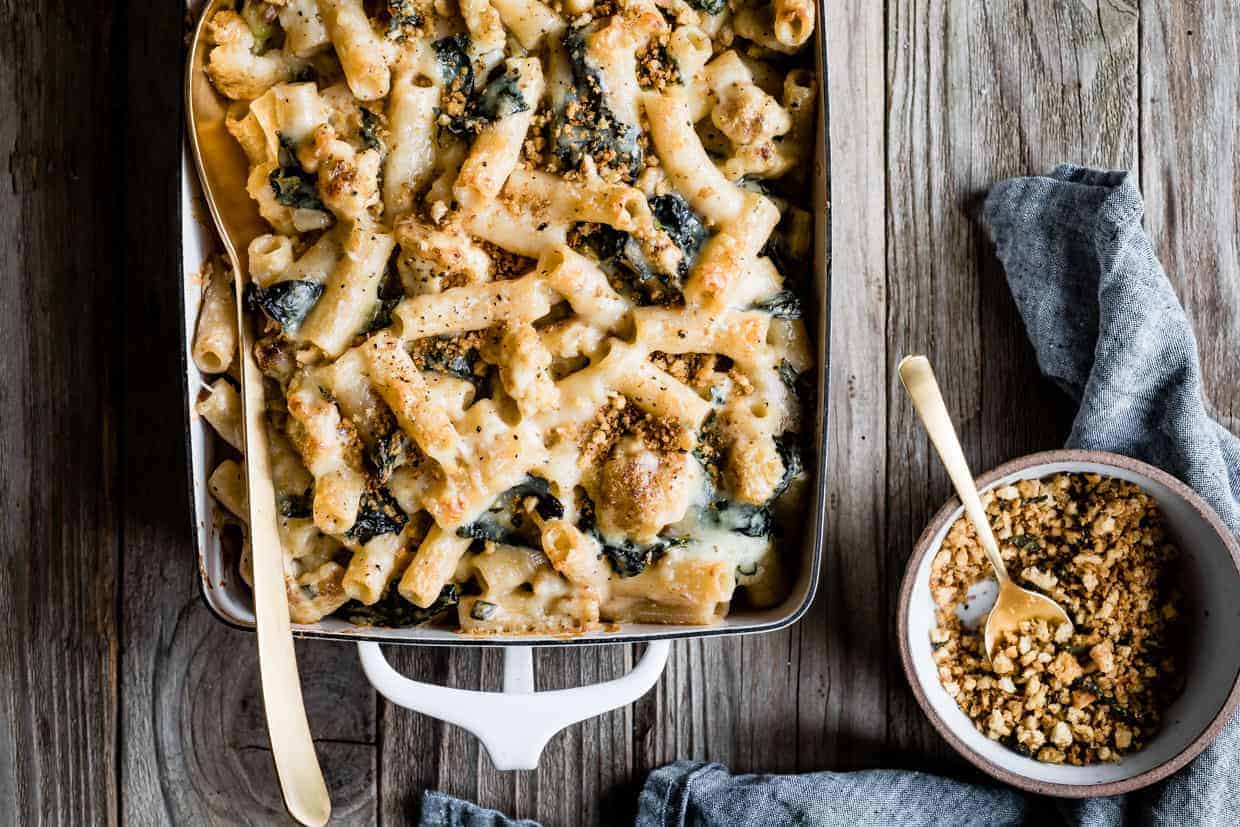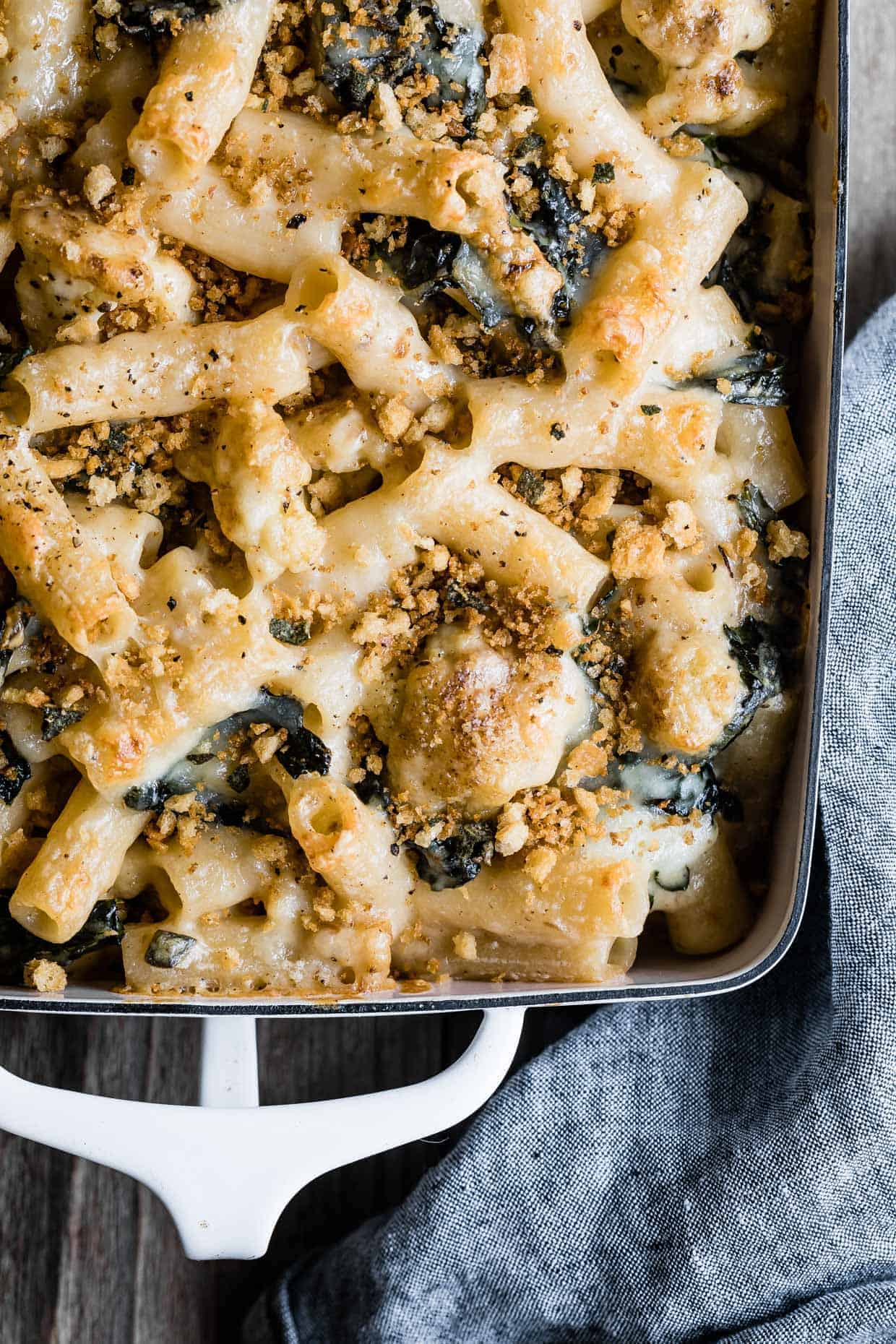 Gluten-Free Pasta Bake
This creamy baked rigatoni is basically a grown up mac and cheese that'll please adults and kids alike. The base is a brown butter roux with minced shallots and Roth's organic sharp white cheddar and organic grand cru melted in. Last night, Lucas and I polished off a half a block of grand cru after dinner and agreed it's our favorite snacking everyday cheese. It's similar to a gruyere, but even better. It's nutty and sweet with a robust flavor that's not too strong that you ever tire of it. Paired with a creamy and tangy white cheddar, the combination is magic cheese sauce.
How to make Vegetable Pasta Bake
In the next pan over, cauliflower caramelizes while kale wilts in a bit more butter with sage. Then it all gets tossed together – veggies, magic cheese sauce, and rigatoni – and baked with another sprinkling of grand cru for that classic crispy top (the best part!).
We don't stop there though. Oh no – we're going take it up a notch. Fresh crispy breadcrumbs and sage get a toasty on the stove in a little butter to pass at the table while serving. In sum: I put all my favorite elements into this one baked pasta dish.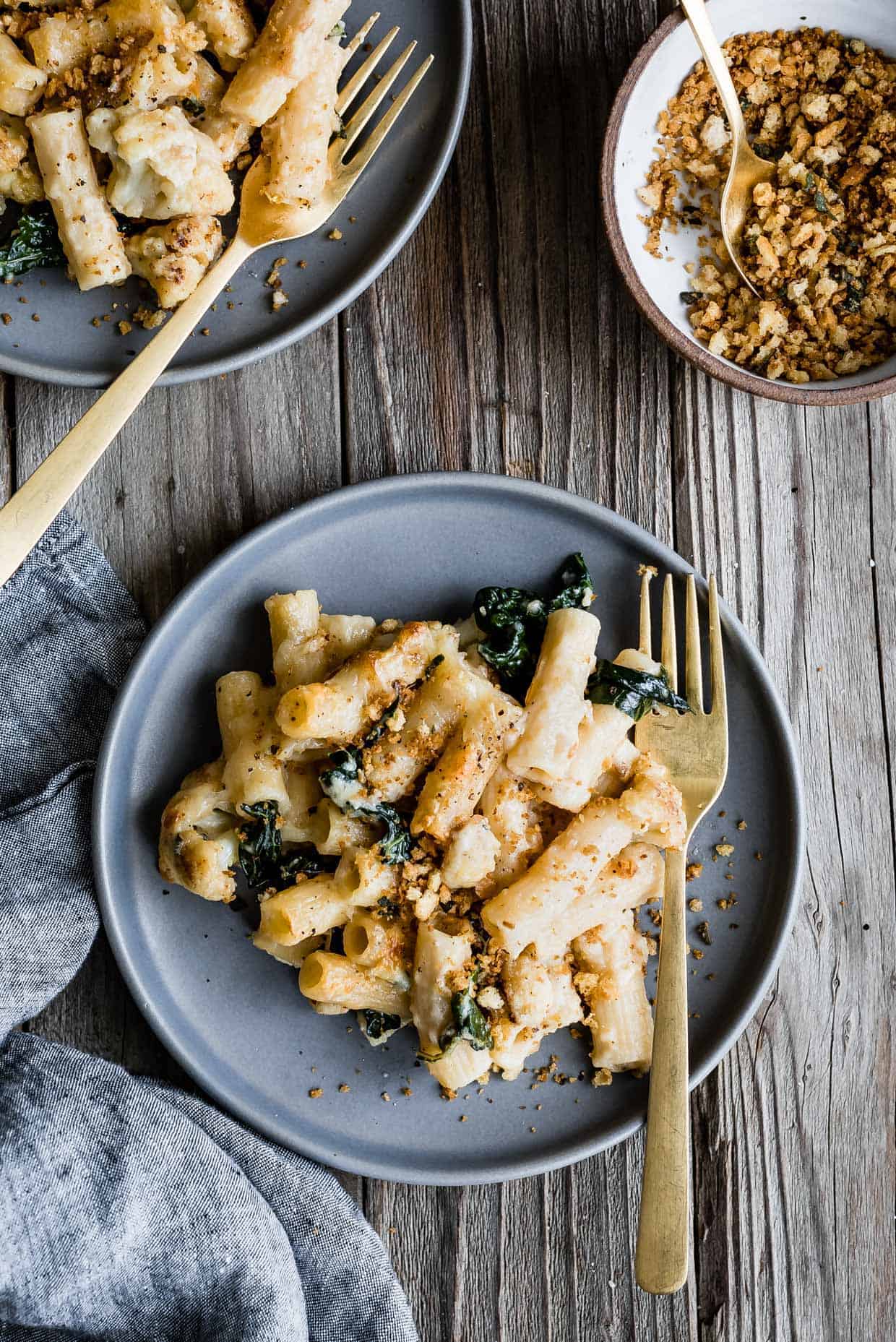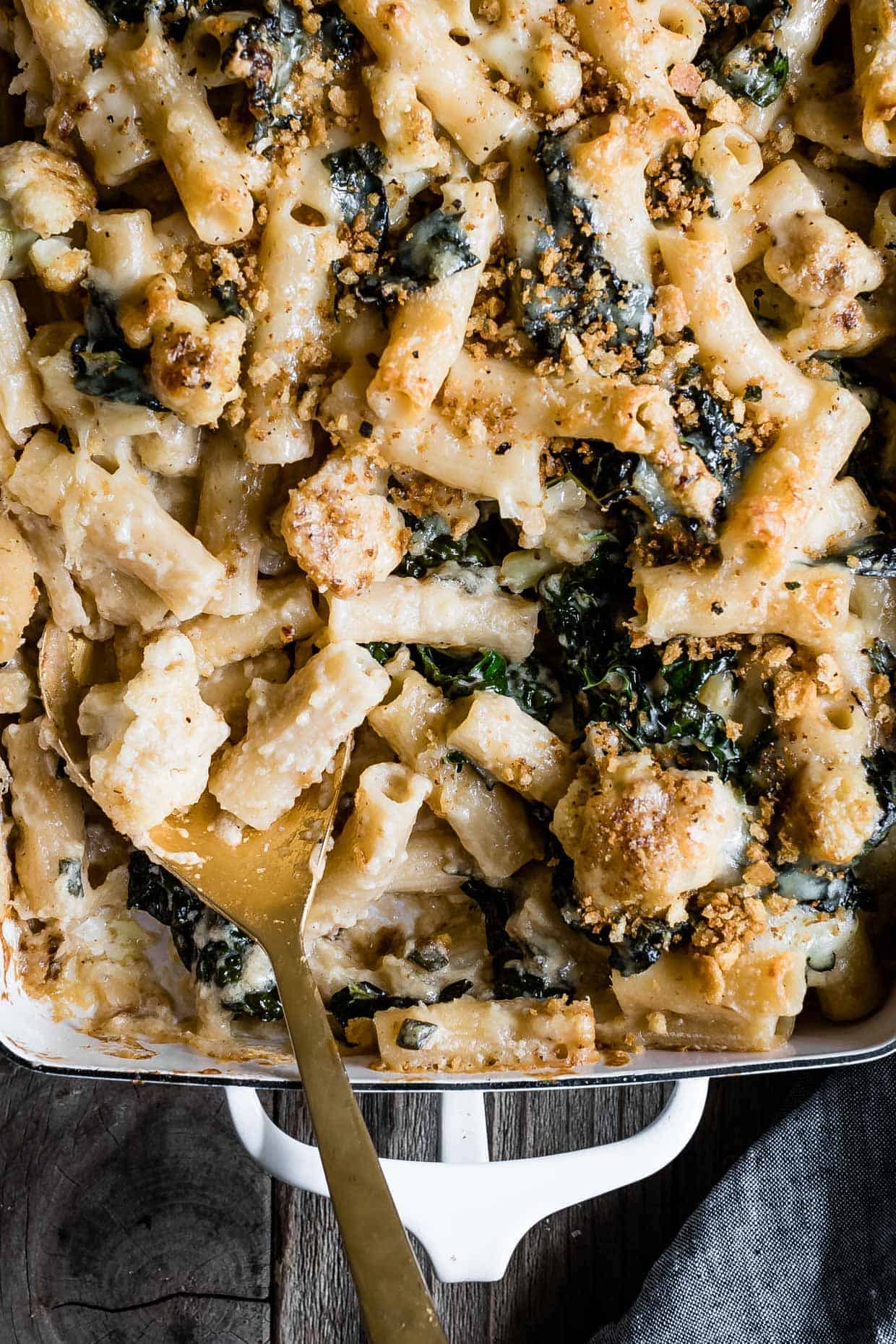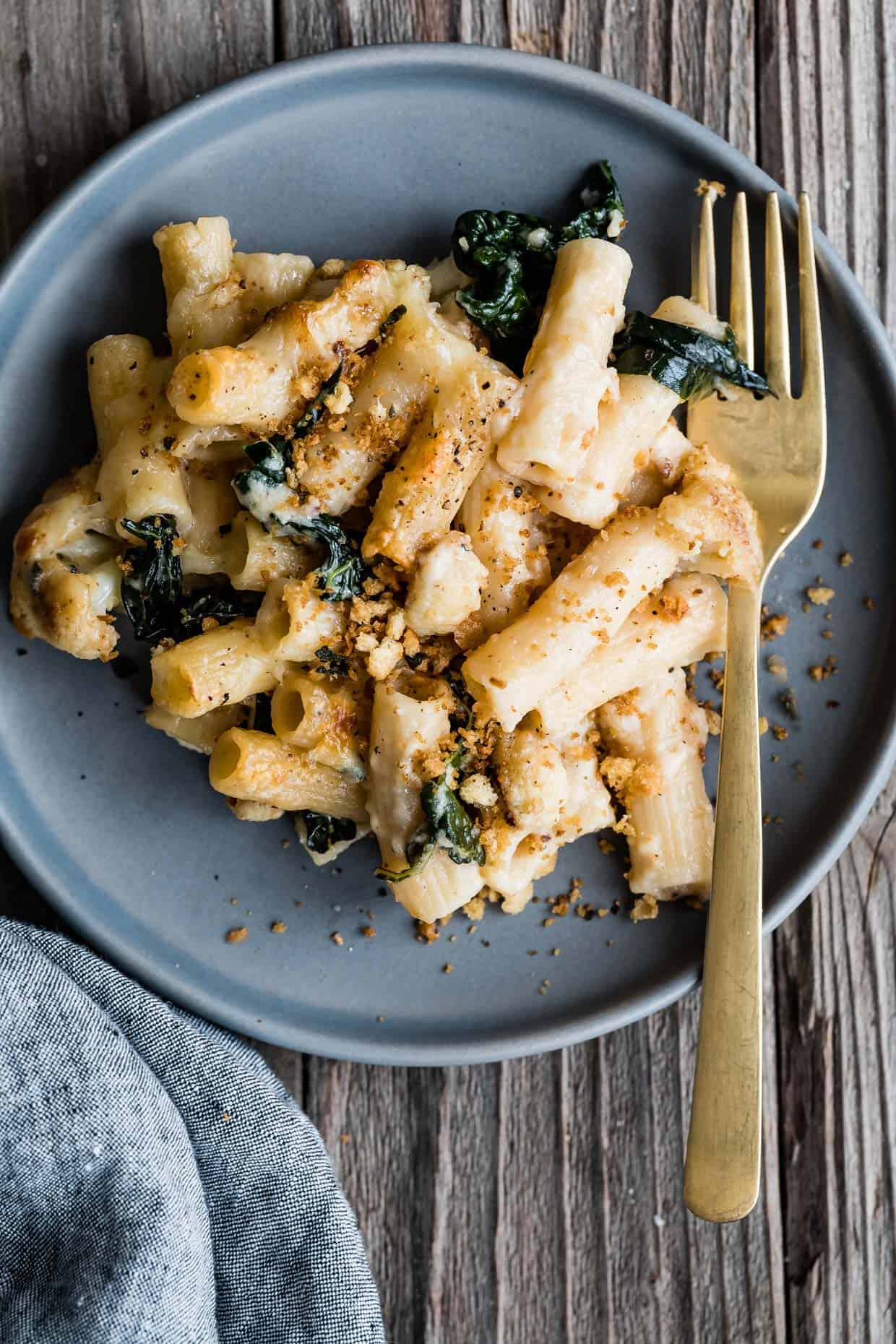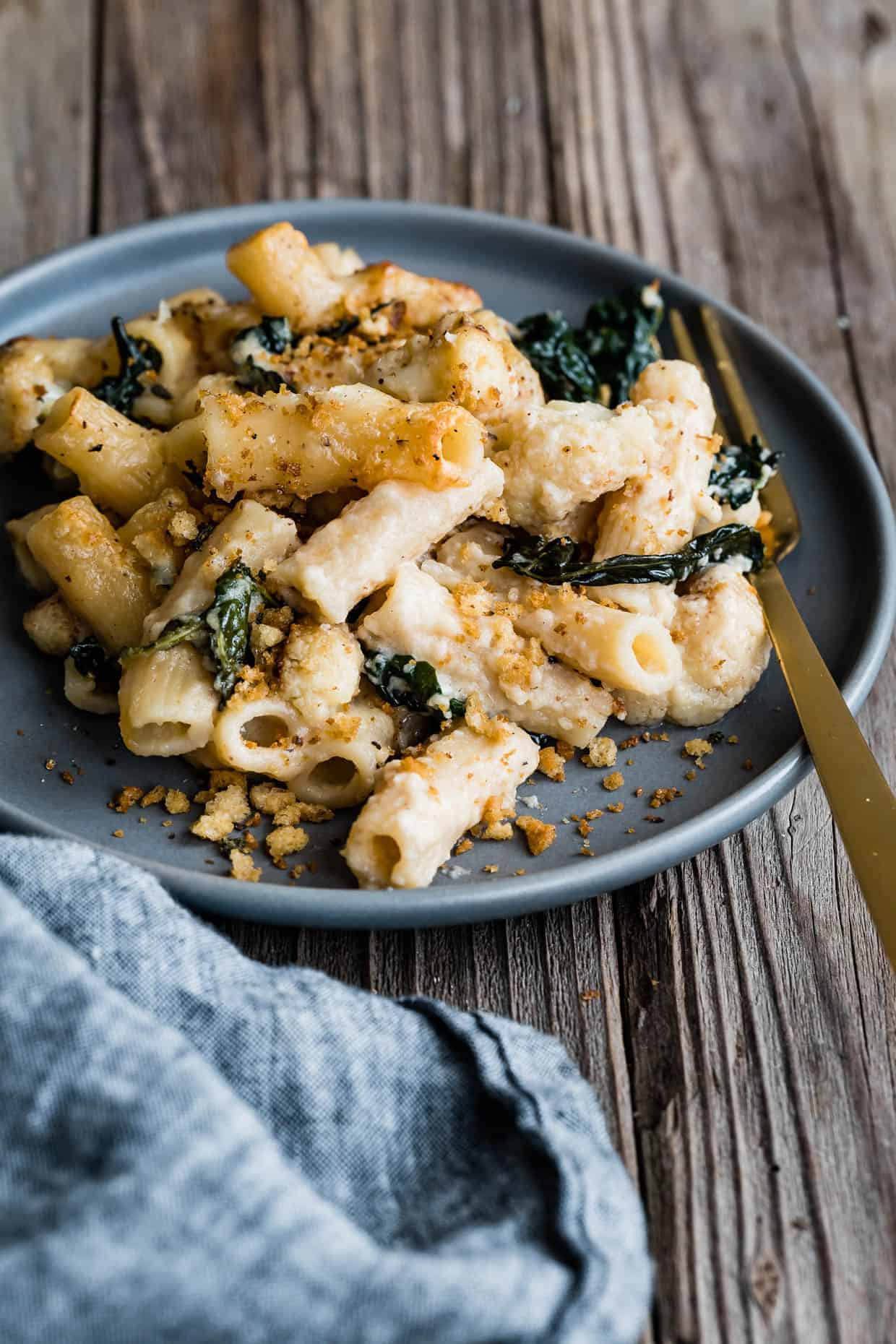 My namesake has a pasta dish she makes that she named after her daughter – Sofia's pasta – because it's her favorite. For now, we'll just call this one Sarah's pasta. Though, Zoella and I might end up fighting over that moniker. The first night we ate this, she picked out and ate only the cauliflower before looking up from her plate and saying, "I want more cauliflower, please."
This is the same two-year old whose only approved vegetable is still-frozen peas. She ate cauliflower like it was candy and then the next night slurped up the cheesy kale like it was noodles.
This baked rigatoni may be grown up mac and cheese, but it's a toddler miracle pasta too. And a pregnant mama lifesaver.
I wrote this recipe in a way to help you use as few bowls and pots as possible. Here's my pro mom-tip about making this dish as a weeknight dinner in one hour. To maximize efficiency, I recommend first getting the bread for breadcrumbs toasting while preparing all your veggies and measuring the rest of your ingredients before you start cooking. Then, while things are cooking, wash as many dishes as you can in between stirs. While the pasta bakes, finish the dishes and when dinner is over, the kitchen is almost already clean! (Husband, are you listening to this multitasking tip?)
Disclosure: Special thanks to Roth Cheese for sponsoring this post! And thanks to you for supporting the companies that keep Snixy Kitchen cooking!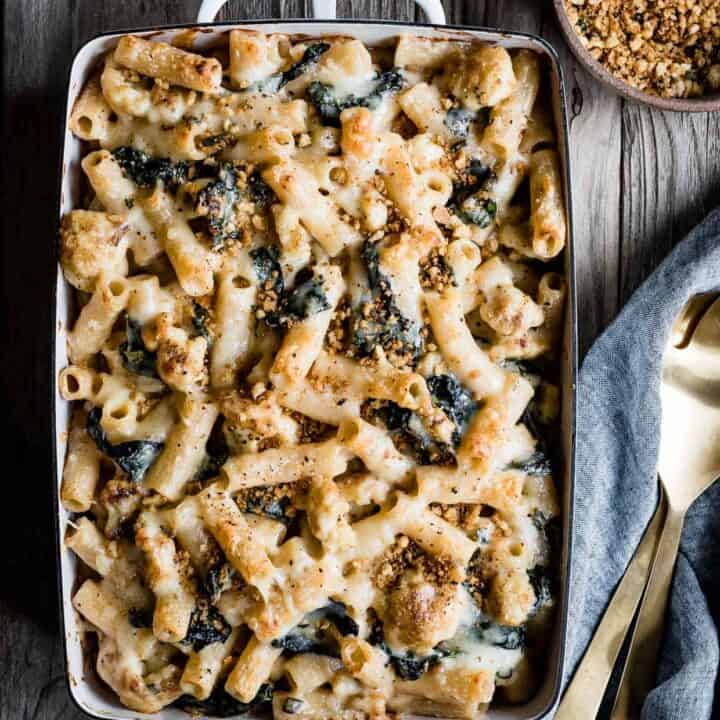 Cheesy Gluten-Free Pasta Bake with Sage Breadcrumbs
Total Time:
1 hour
5 minutes
This creamy cheesy gluten-free pasta bake is like grown up mac and cheese that even the kids will like. A brown butter roux with minced shallots and two cheeses gets tossed with caramelized cauliflower, kale, and sage. The vegetable pasta bake gets more cheese for a crispy topping then served with a sprinkling sage breadcrumbs.
Ingredients
Sage Breadcrumbs
3/4 cup (3oz) gluten-free sourdough or other bread, cut into 1/2-inch cubes (for non gluten-free, use regular sourdough or store-bought breadcrumbs)
1 teaspoon finely chopped sage leaves
1 tablespoon butter, divided
Cheesy Gluten-Free Pasta Bake
6 tablespoons unsalted butter, divided
1 head cauliflower, broken into 1-inch florets
2 cups (3oz) packed kale, ripped off the core into 2-3 inch pieces
1 tablespoon finely chopped sage leaves
½ cup water
¼ cup minced shallots, about 1 medium shallot
3 tablespoons sweet white rice flour (for not gluten-free, use regular flour)
3½ cups whole milk
½ teaspoon kosher salt
¼ teaspoon freshly ground black pepper
Instructions
First, prepare the breadcrumbs, if making your own. I recommend getting the breadcrumbs toasting while I prep and measure all my other ingredients. Preheat oven to 400°F. Spread the bread cubes on a large baking sheet and bake, tossing occasionally, until completely dry and just beginning to turn golden, 15-25 minutes. Pulse the toasted bread until ground in a food processor and set aside. If you don't have a food processor, you can improvise by finely mincing the toasted breadcrumbs.
Increase head to 450°F.
Bring a large pot of salted water to boil and cook the pasta according to instructions, until al dente. Drain well, toss lightly with olive oil to keep it from sticking, and transfer to a large mixing bowl. Return the same pot, unwashed, the stove to make the roux.
In a large skillet, melt 2 tablespoons butter over medium heat. Add the cauliflower florets cook, stirring occasionally, for 8 minutes, until cauliflower turns golden brown. Add kale, sage, and water, and cook 7 minutes longer, stirring occasionally, until cauliflower is soft when pierced with a fork. Toss with the pasta in the large mixing bowl. Return the same unwashed skillet to the stove to make the sage breadcrumbs.
Meanwhile, while the cauliflower cooks, melt the remaining 4 tablespoons butter over medium heat in the same pot you used to cook the pasta. Add the minced shallots and cook, stirring, until the butter begins to turn brown and smell nutty.
Whisk in the sweet rice flour and cook, whisking, for 1 minute. Slowly add the milk, whisking until smooth. Cook, whisking occasionally, until it begins to boil. Continue cooking for 1½ more minutes. Remove from heat. All at once, add 6 ounces of the grated grand cru (reserving 2 ounces for topping), the grated sharp cheddar, salt, and pepper. Whisk until melted and completely smooth. Pour over the veggies and pasta and toss thoroughly to combine.
Transfer the creamy pasta out in a 9x12 casserole dish or baking pan. Sprinkle with remaining 2 ounces of grand cru and bake on the middle rack until the top begins to turn golden brown and crispy, about 15 minutes.
Meanwhile, in the same pan you cooked the cauliflower in, melt 1/2 tablespoon butter over medium heat. Add the sage leaves and cook, stirring, for 2 minutes. Add the breadcrumbs and remaining 1/2 tablespoon butter and cook until the breadcrumbs turn golden brown, 2-3 minutes. Transfer to a small bowl for serving.
Serve the pasta warm with sage breadcrumbs on the side for topping.
Leftovers keep covered in the fridge for up to a 5 days. To reheat, put in individual bowls with a splash of whole milk, and microwave. The milk will help it remain creamy.