Creamy Moroccan carrot soup with white beans is seasoned with za'atar and topped with cinnamon hazelnuts and a lemon yogurt swirl. This bright comforting soup is filling and flavorful.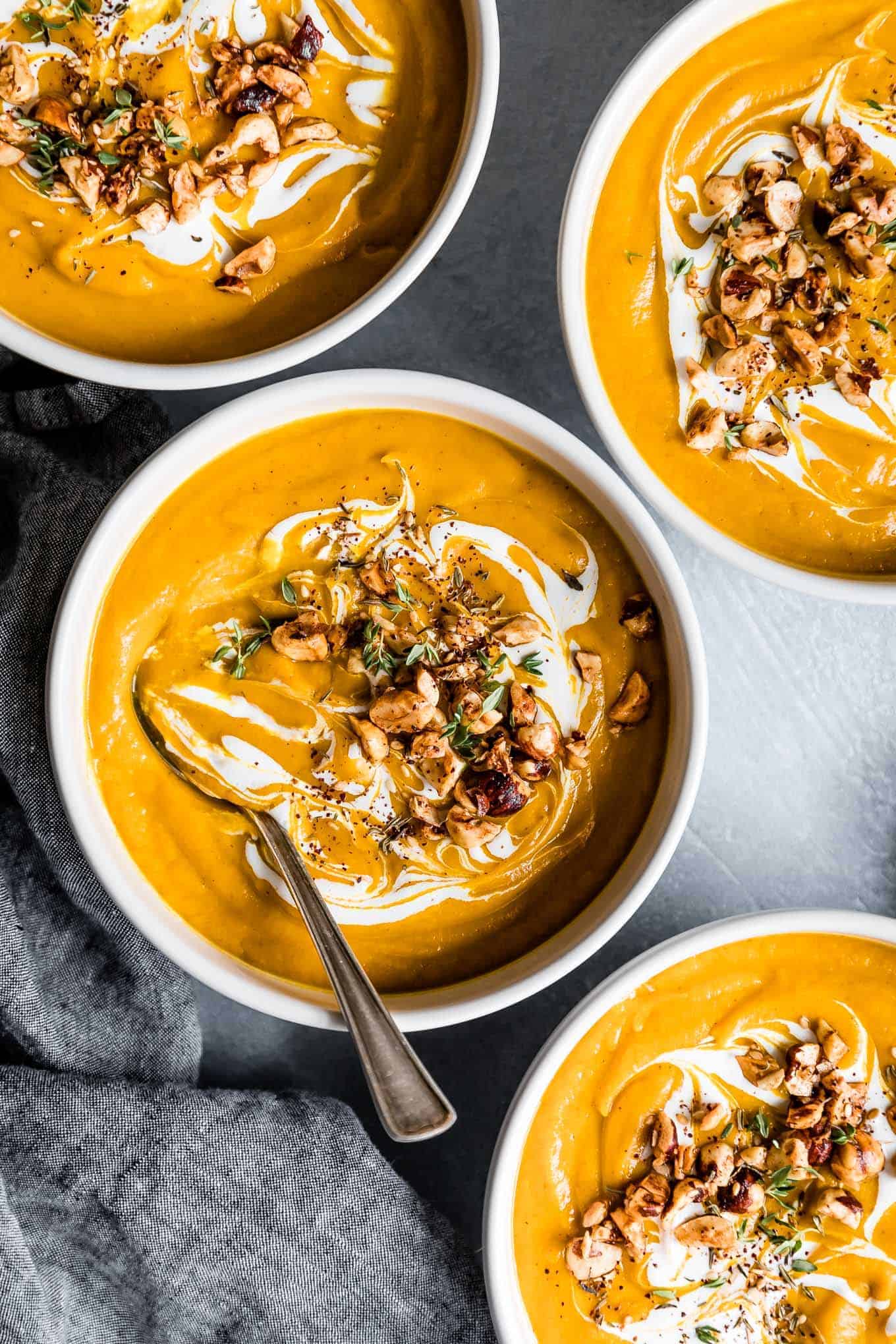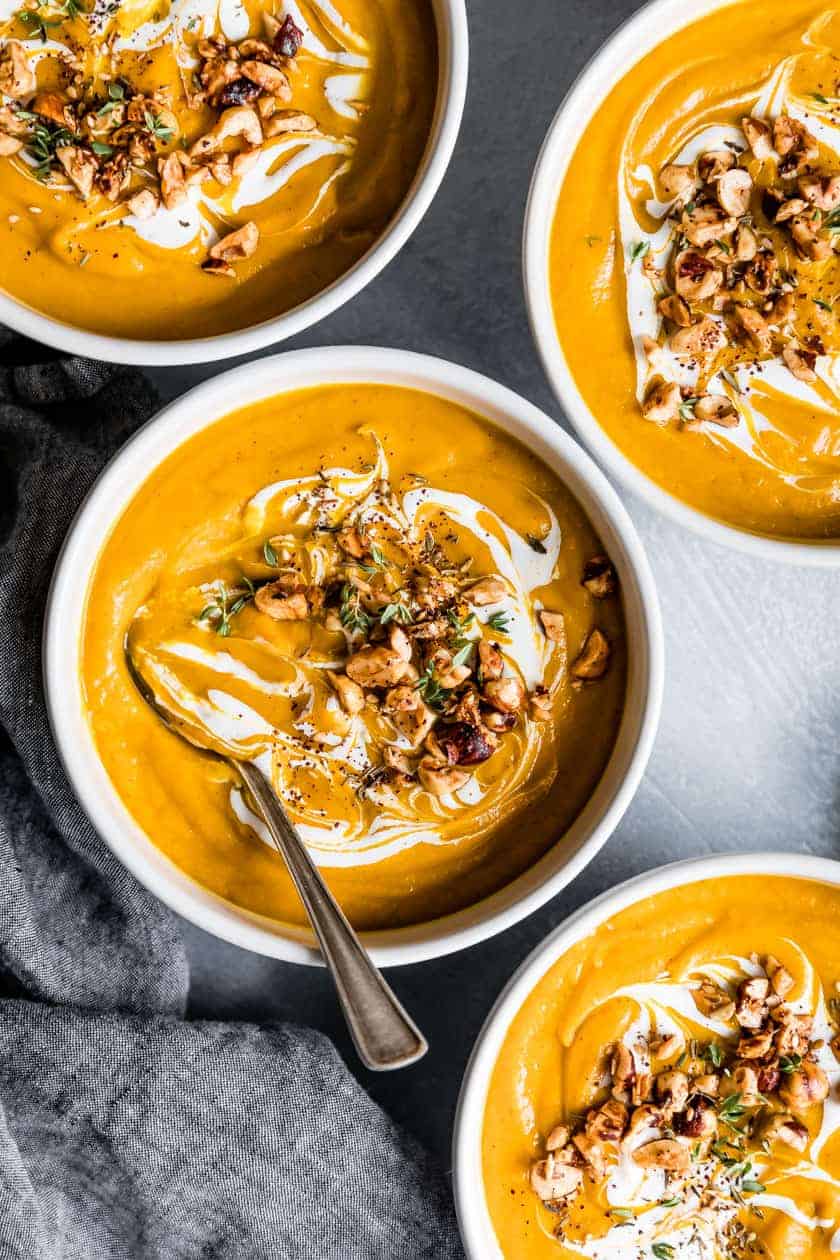 One morning before school, I warned Zoella we'd be having carrot soup for dinner. When Zo was first starting to eat as a baby, my friend Emily gave me the suggestion that I prepare her throughout the day for what we'd be eating for dinner. This way she wouldn't be caught by surprise and perhaps she'd be more willing to try new foods. I also always make sure there's at least one thing on the table she recognizes and loves, giving her way into any meal. Then I spend all day preparing her for whatever else we're serving.
Some days my efforts are met with a hangry whiny, "But I don't like XYZ!!" Even if XYZ is her favorite spaghetti. When I told her we were having carrot soup with za'atar and cinnamon hazelnuts for dinner, that's precisely what I expected.
Instead, she got visibly excited, "Yay!! That's my favorite soup in the whole world, Mama!!" I reveled in the compliment even though I knew it was 100% a lie. I knew this because the first time I served it, she only choked down one bite before declaring soup was SOOO GRRR-OSS. To be fair, she hates almost anything puréed and smooth (especially mashed potatoes and fresh ricotta). Also, have you ever seen a toddler eat soup? Their lack of purée-on-spoon dexterity will make you extremely sympathetic to their hatred of soup. Eating soup while nursing a baby is a similar struggle.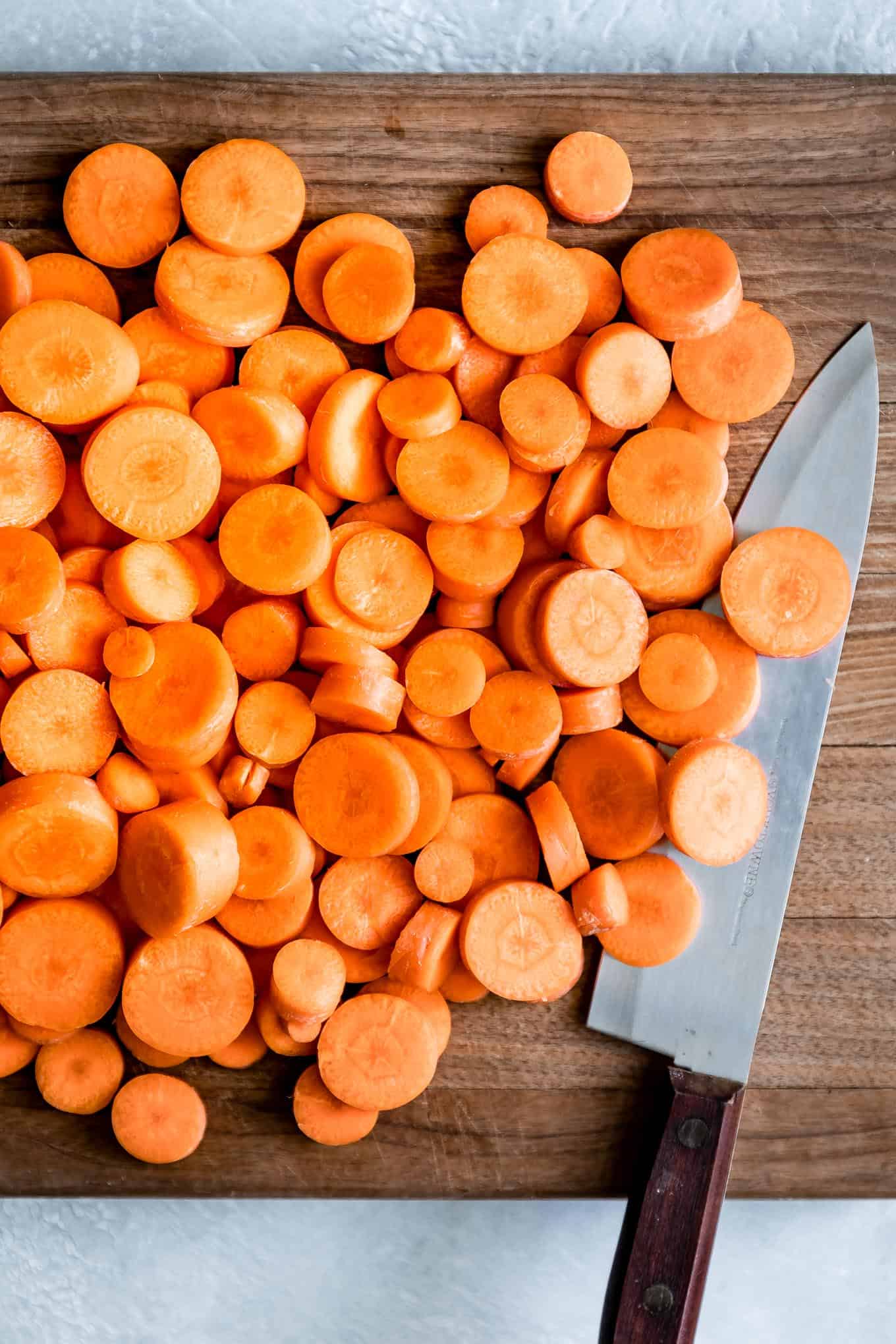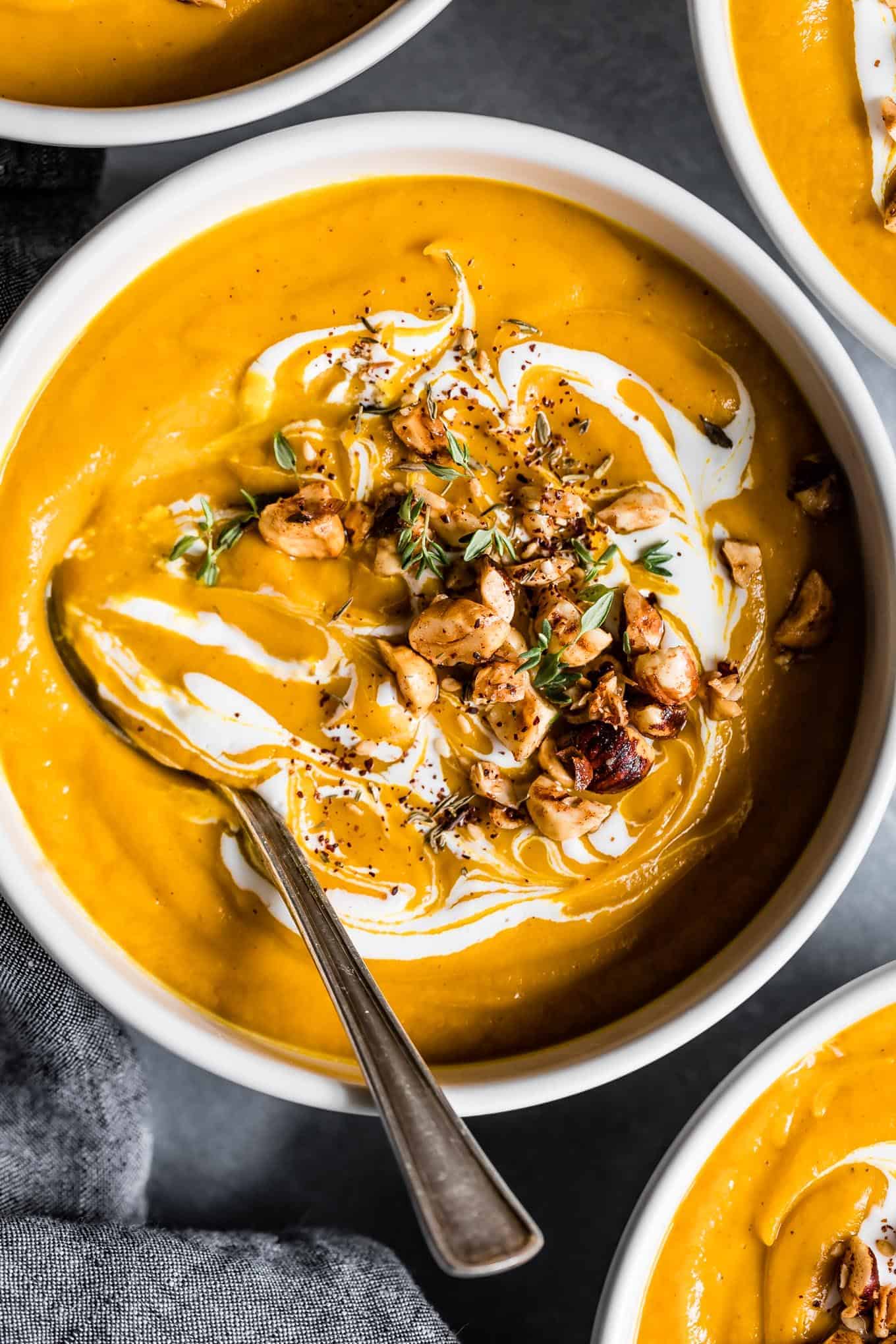 The second time around, I served this Moroccan carrot soup over a scoop of short grain brown rice - the one familiar thing on the table that night, with hers on the side. Shockingly, Zoella didn't just eat brown rice for dinner. She's a woman of her word. This was her favorite soup in the whole world now...even if she insisted that I feed it to her.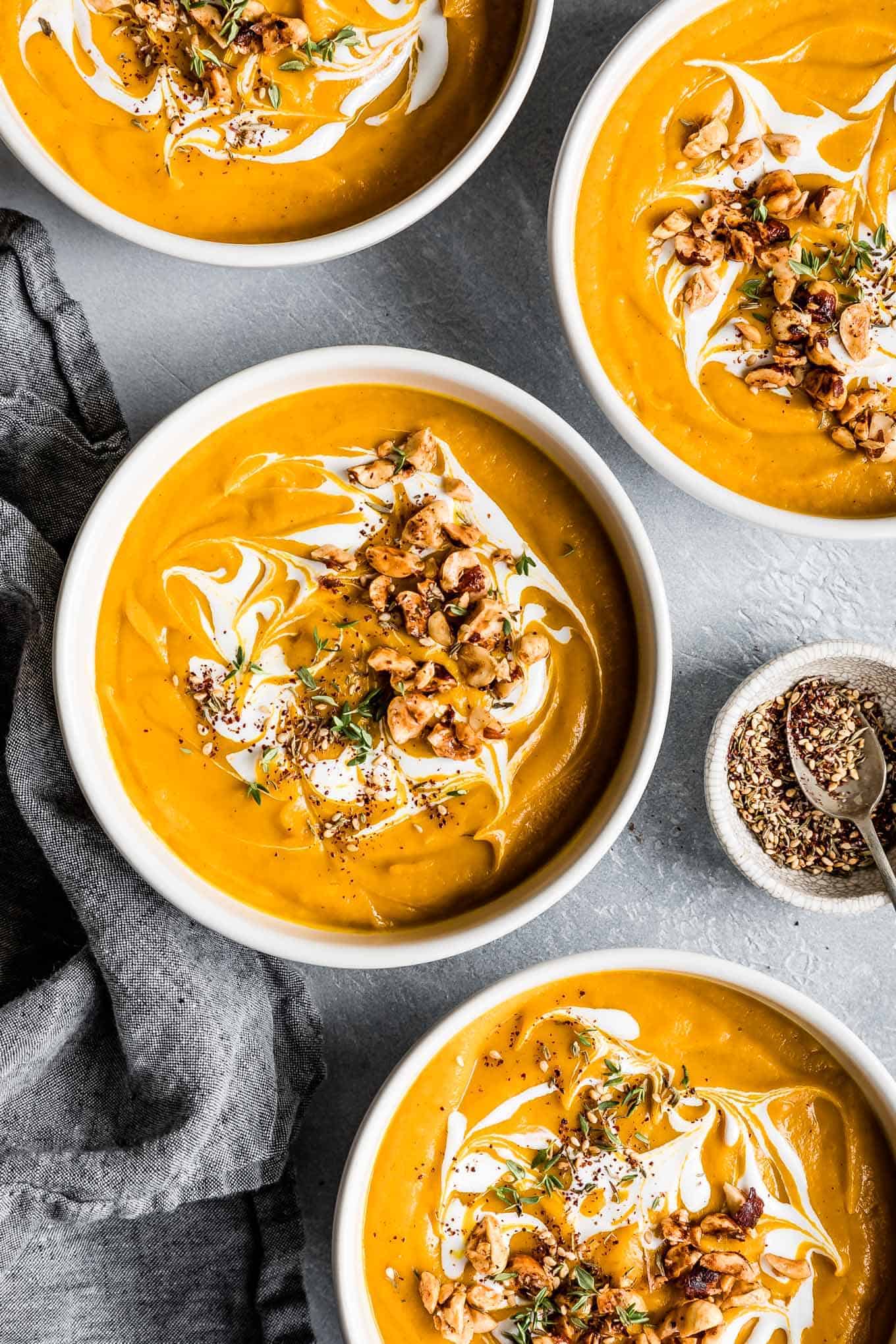 Creamy Carrot Soup Recipe
I'll be the first to admit that I'm not typically big on soups. I often find them one note and tire of eating a whole bowl just a few bites in. This soup is a different story though. Rather than the ginger profile typical to carrot soup recipes, I seasoned this Moroccan carrot soup with za'atar. Then served it up with a swirl of tart lemon yogurt and warm cinnamon toasted hazelnuts.
Cannellini beans give the soup its thick creamy texture while also making it hearty and filling enough as a main course. Fresh lemon juice adds acidity and brightness and a spoonful of ghee give it a richness that layers the soup in flavor. This Moroccan carrot soup is simultaneously warm, comforting, and complex, while also bright and refreshing.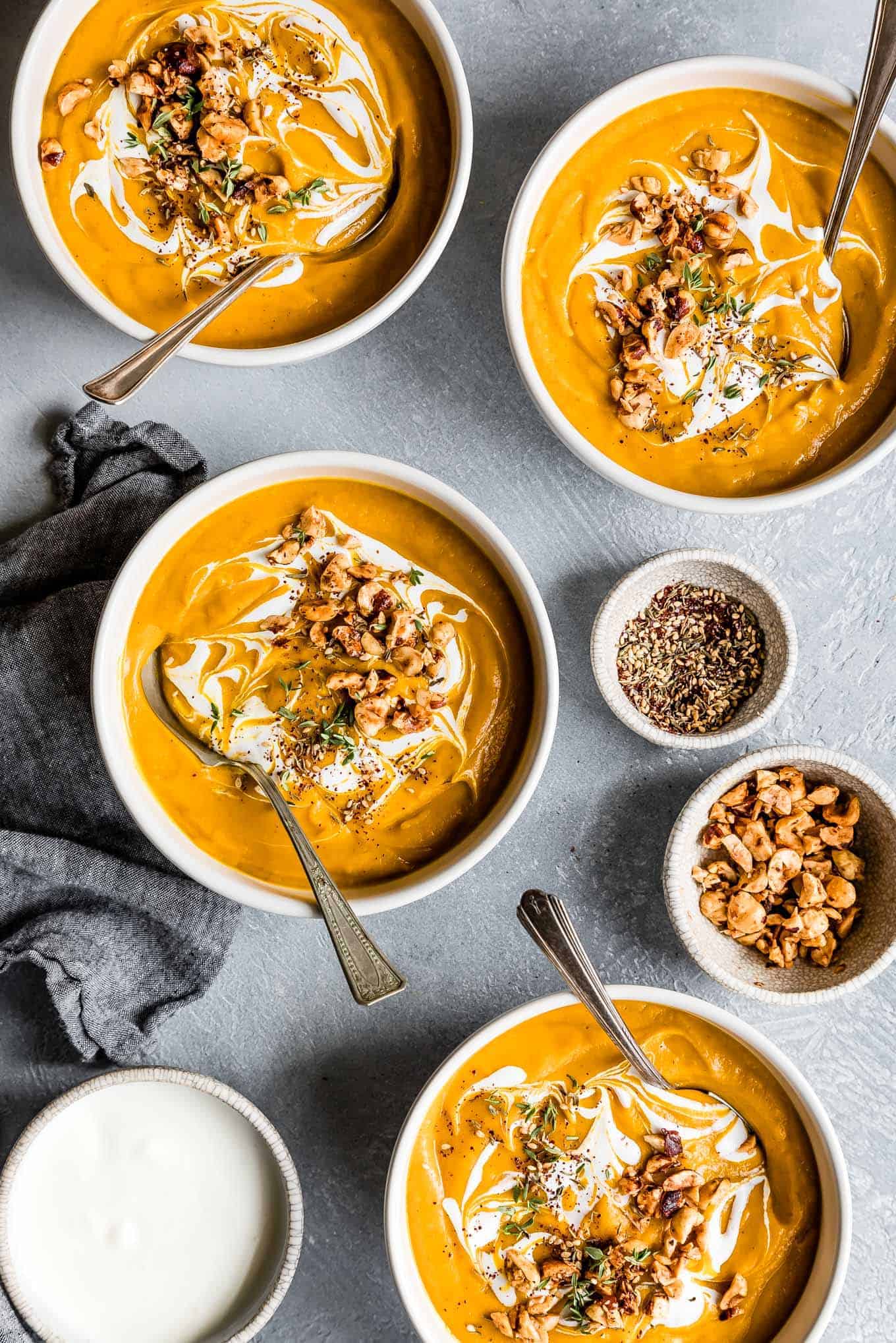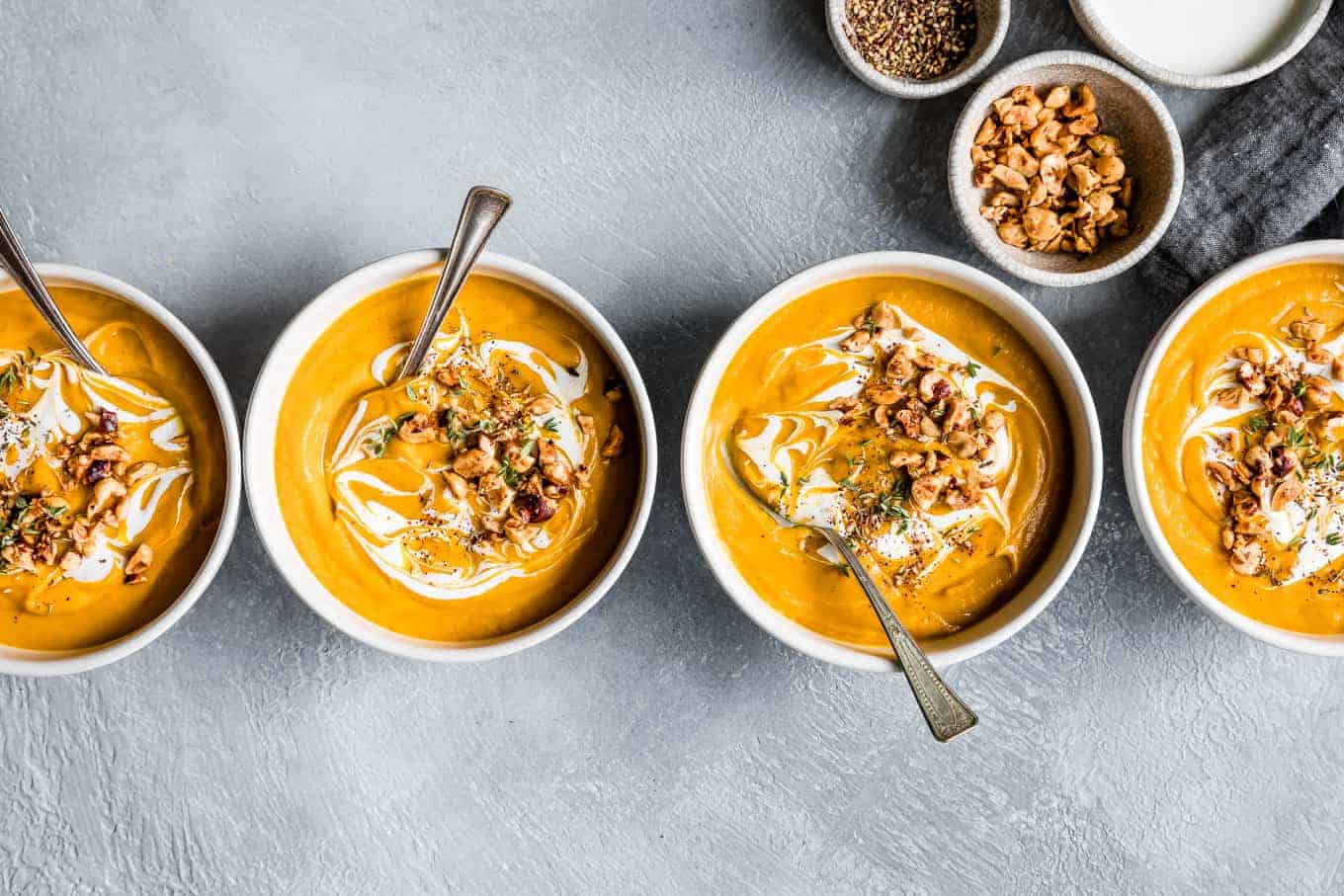 What is Za'atar?
This Moroccan carrot purée soup gets its seasoning from a homemade za'atar spice blend, which is a Middle Eastern spice mixture. The ingredients vary across Middle Eastern countries, but typically za'atar includes sesame seeds, sumac, and dried thyme.
This earthy and herby aromatic spice blend can be served on anything from roasted veggies, to a bowl of hummus, or even mixed with harissa. Za'atar is one of my favorite versatile spice blends.
What is Sumac Spice?
If you're still wondering - what is sumac? - you're not alone. I texted two of my neighbors to see if they had a teaspoon of sumac I could borrow halfway into making this soup. One neighbor replied, "what is that?" and the other said she'd never used it before. That's when I realized it's not as common a household spice in the US . But it should be!
Sumac is a popular Middle Eastern spice made by grinding the dried fruit berries of the sumac bush. It's a dark red powder that is tart, bright, and citrusy, adding a pop of flavor to your dishes. Sumac is also rich in antioxidants, more than any other spice. If you have trouble finding it at your grocery store, you can find it at Whole Foods or other natural or specialty markets or on Amazon.
Sumac is one of the top 5 most used spices in my kitchen for everyday cooking - as a rub for chicken skin, a spice for sautéeing veggies, or a sprinkling for roasted cauliflower. I also love pairing it with smoked paprika for a tart smokiness that's super flavorful.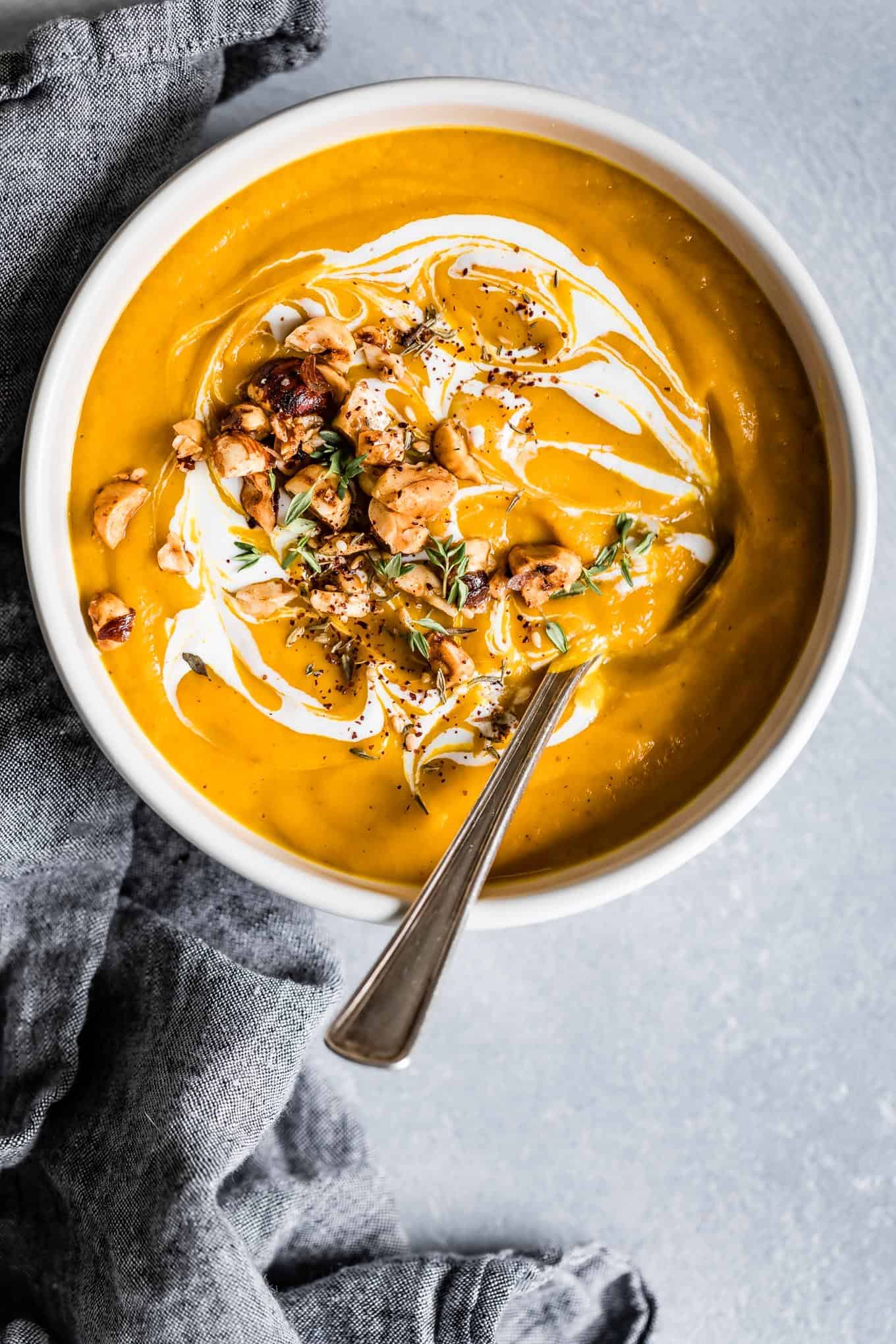 Gluten-Free Carrot Recipes
If you're looking for a new way to use up a forgotten bundle of carrots in the back of your crisper, this soup is a keeper. Here are five other recipes to use up those carrots!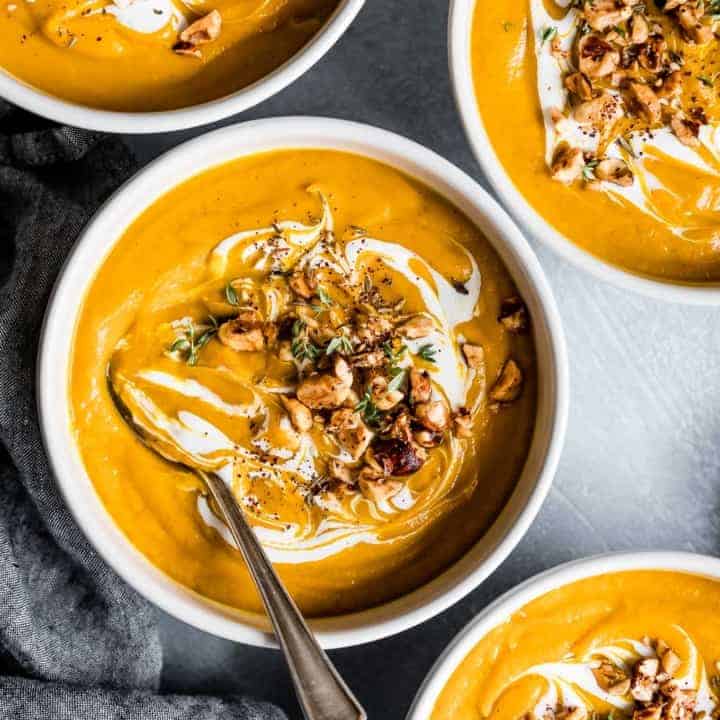 Moroccan Carrot Soup with Cinnamon Hazelnuts
Additional Time:
5 minutes
Creamy Moroccan carrot soup seasoned with za'atar and topped with cinnamon hazelnuts and a lemon yogurt swirl. With white beans blended in, this bright comforting soup is filling and flavorful.
Ingredients
Moroccan Carrot Soup
2½ teaspoons ground sumac
2½ teaspoons sesame seeds
2½ teaspoon dried thyme
½ teaspoon kosher salt
3 tablespoons extra virgin olive oil, divided
½ medium yellow onion, chopped
1 large garlic clove, minced
2lbs carrots, sliced into ¼-inch thick rounds
2 tablespoons maple syrup
4 cup vegetable broth (I use veggie bouillon)
2 cups water
1 15.5-ounce can cannellini beans, drained and rinsed
½ teaspoon kosher salt
2 tablespoons fresh lemon juice
1 tablespoon ghee
Fresh thyme, for garnish (optional)
Lemon Yogurt
½ cup Greek or Icelandic yogurt (or vegan yogurt of choice)
1½ tablespoons fresh lemon juice
Pinch kosher salt
Cinnamon Toasted Hazelnuts
¼ cup chopped toasted hazelnuts
1 teaspoon melted ghee
Pinch ground cinnamon
Instructions
In a small bowl, mix together the sumac, sesame seeds, thyme, and salt. You'll use 1½ tablespoons of this za'atar in the soup and reserve the rest for garnish. Set aside.
In a large sauce pan, heat 1 tablespoon olive oil over medium heat until it begins to shimmer. Add the onion and garlic and cook, stirring until it begins to soften, but does not yet brown, about 5 minutes.
Add the remaining 2 tablespoons olive oil, carrots, and 1½ tablespoon of the mixed za'atar seasoning. Cook, stirring, for 6-8 minutes, until the carrots begin to soften.
Stir in the maple syrup then add the broth, water, cannellini beans, and salt. Bring to a boil over medium-high heat then reduce heat until the soup simmers. Simmer until the carrots tender when pierced with a fork, 25-30 minutes.
Puree the soup until completely smooth either with an immersion blender or working in batches with a blender or food processor. Return the soup to the pot and stir in the lemon juice and ghee. Taste and adjust seasoning to your liking.
Serve warm topped a swirl of lemon yogurt, cinnamon toasted hazelnuts, a sprinkling of the remaining za'atar, and fresh thyme.