Hazelnut romesco sauce is one of the easiest ways to punch flavor into a dish and it's as versatile as it is quick. Spread on toast with roasted cauliflower, the mildly sweet creaminess of fresh ricotta balances the smokiness of the romesco sauce for a flavorful easy lunch!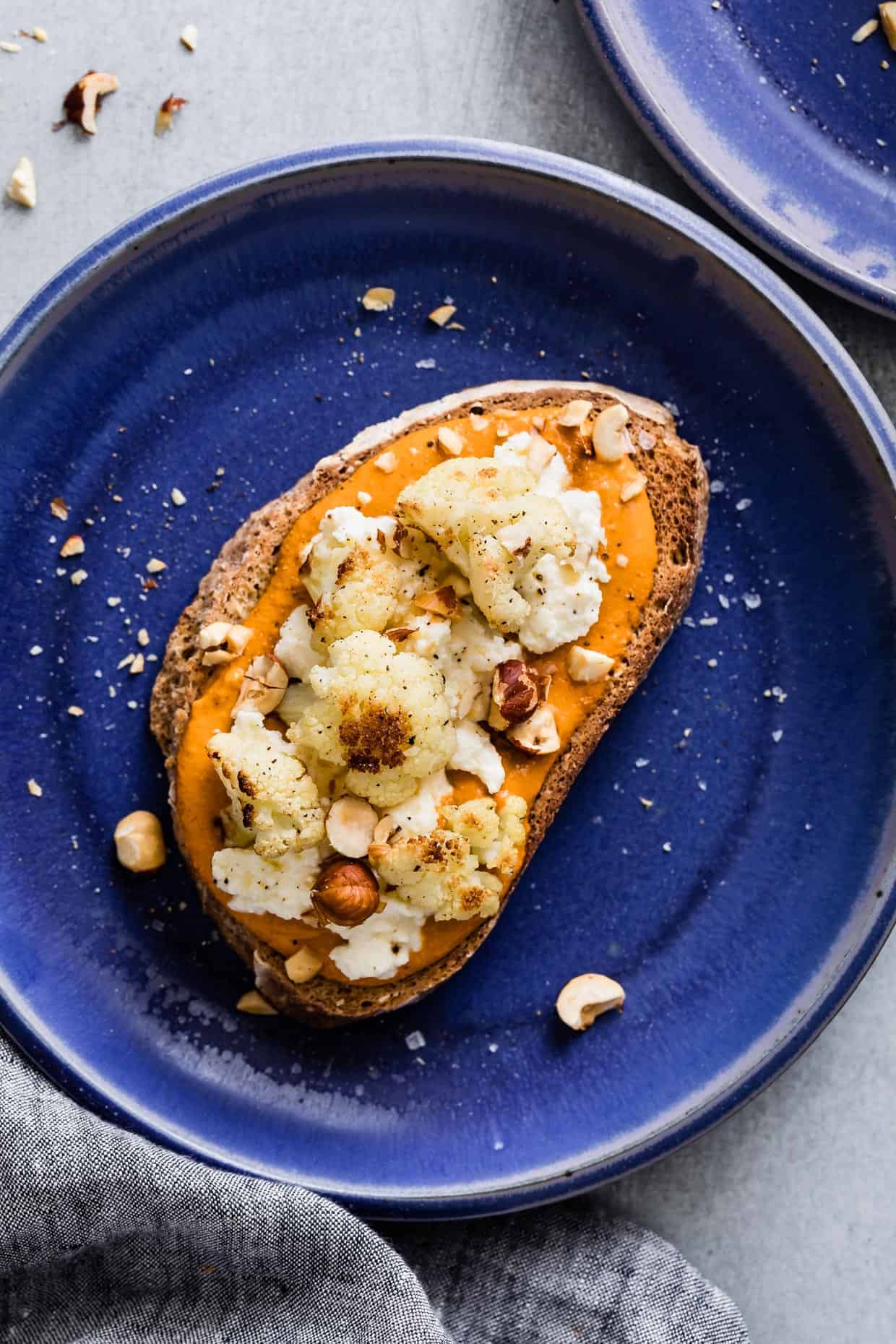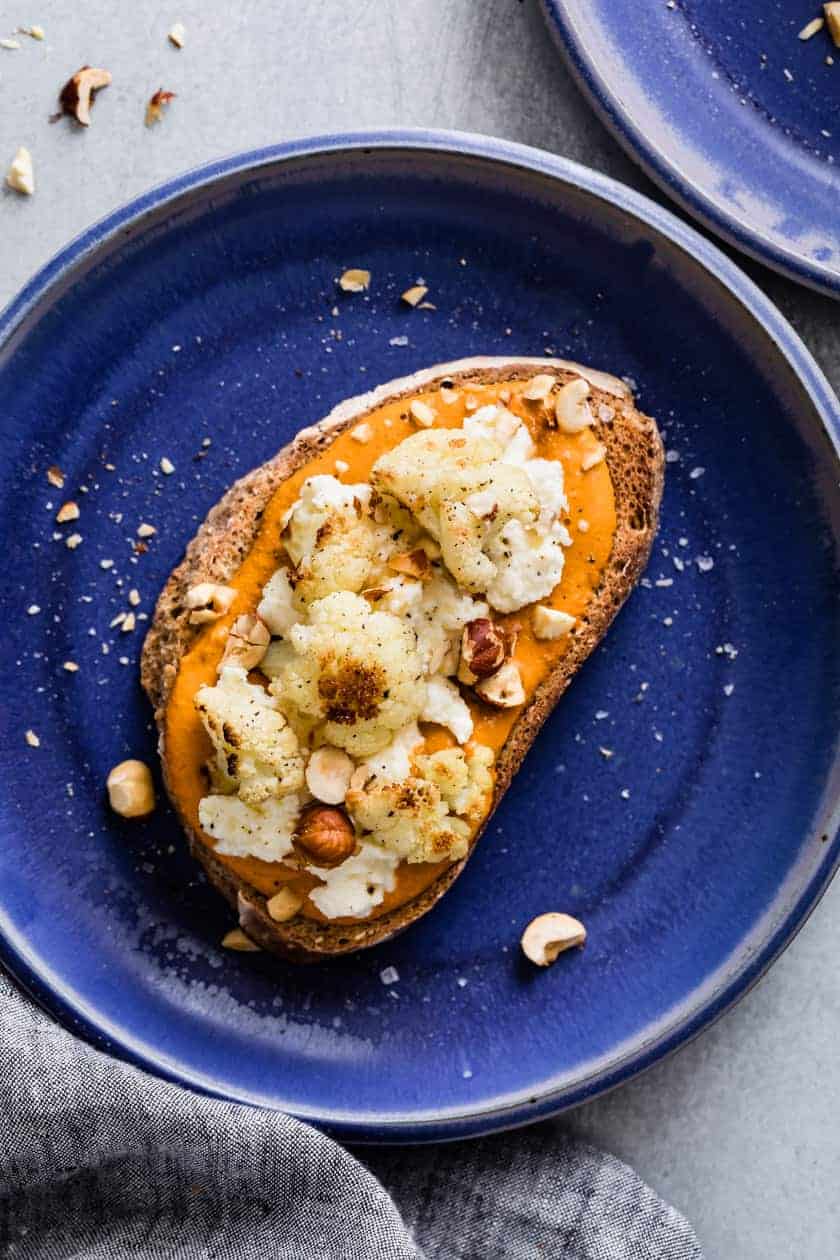 This hazelnut romesco sauce toast topped with ricotta and cauliflower is giving me so much life right now as I figure out this new world as a mom of two and where sleep fits in. Sometimes we're hard on ourselves as parents. As moms. Our kid won't share or throws a tantrum in public and it's a reflection on us, which is magnified because we're EXHAUSTED and how could we possibly do anything more? But then, sometimes, that same kid eats cauliflower. Nay, asks for cauliflower and at least you've done something right.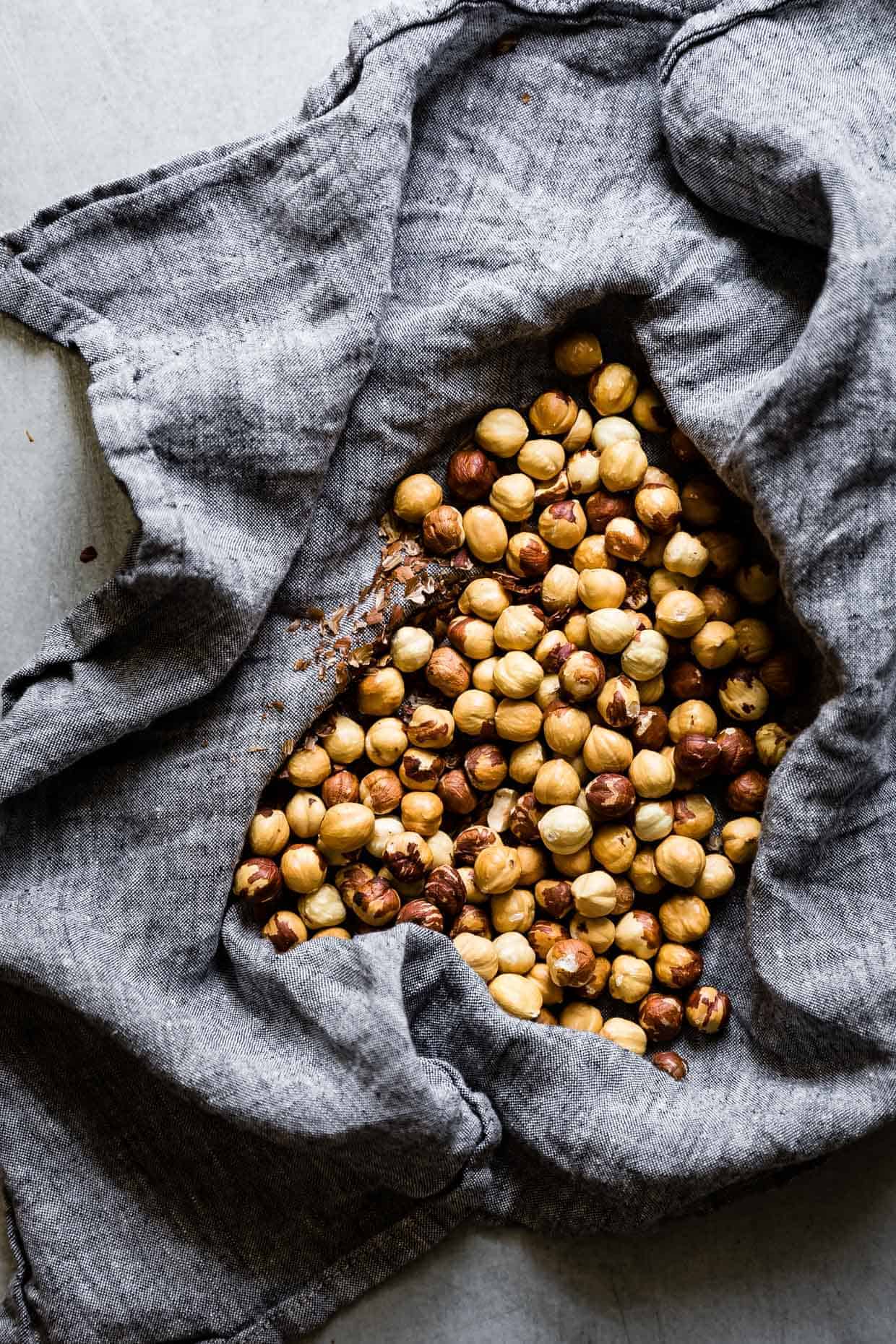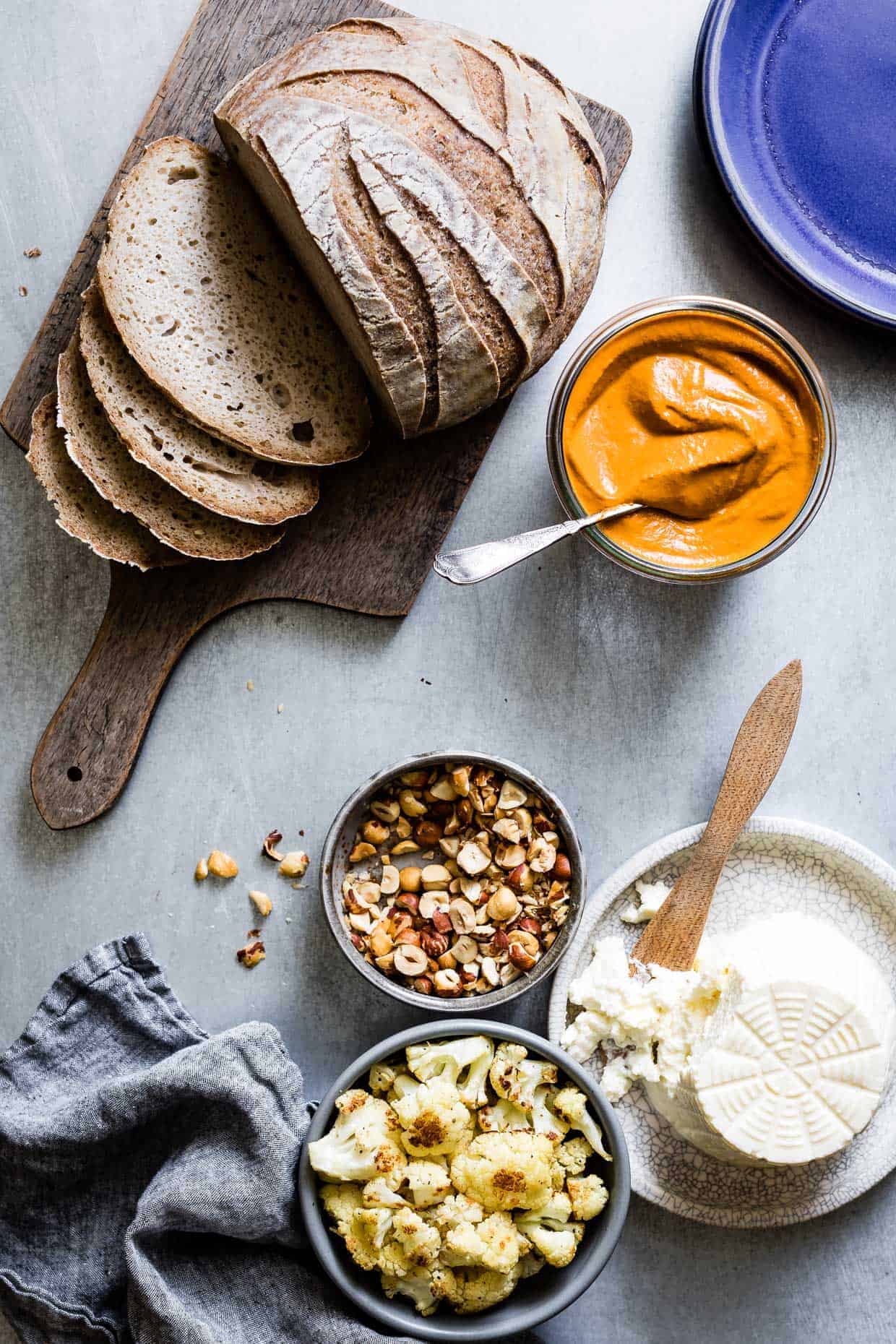 Ever since we added a new baby to the mix, Zoella has been pulling out all the stops to avoid going to bed. It's to be expected. I completely understand the jealousy of hearing baby brother up fussing later than she's allowed. Consequently, she's resorted to calling us back into the her room to tell us something random or make an inventive request after she's gone to bed.
…
Zo: "Daddy!! Help help!! Ahh!!"
Daddy walks in to find her arm up in the air with her hand wiggling about: "What do you need help with?"
Zo: "It's not me, it's the hand!" Then, while animating her hand, "Help help!! Ahhh – it's eating me, it's eating me!!!"
…
During one such post-bedtime interaction last week, Lucas told Zo he couldn't come back in because he need to go to the grocery store. He jokingly asked if she needed anything. She thought about it and settled on, "Raisins – No! Jelly beans!!" To our knowledge, her experience with jelly beans comes only from an Easter book, so he laughed and replied "you can't have jelly beans!"
With pure joy pulsing from head to toe, she got giddy and giggly and said, "When I'm a woman I can have jelly beans! When I'm grown up I can have jelly beans!" (Truth, kid, you can). She then continued to call daddy back into her room several more times to complete her shopping list: white rice, coconut milk, butter with the cow on it, black beans, the orange packet with the bunny on it, and…CAULIFLOWER.
This is one of my proudest mama moments. My 2.5 year old formerly picky eater voluntarily included cauliflower on her grocery store wishlist.
She still won't touch fresh ricotta or romesco, but progress, baby! While Zo ate a modified version of this toast for dinner, Lucas and I have been relieved to have this hazelnut romesco sauce on hand for quick lunches and dinners.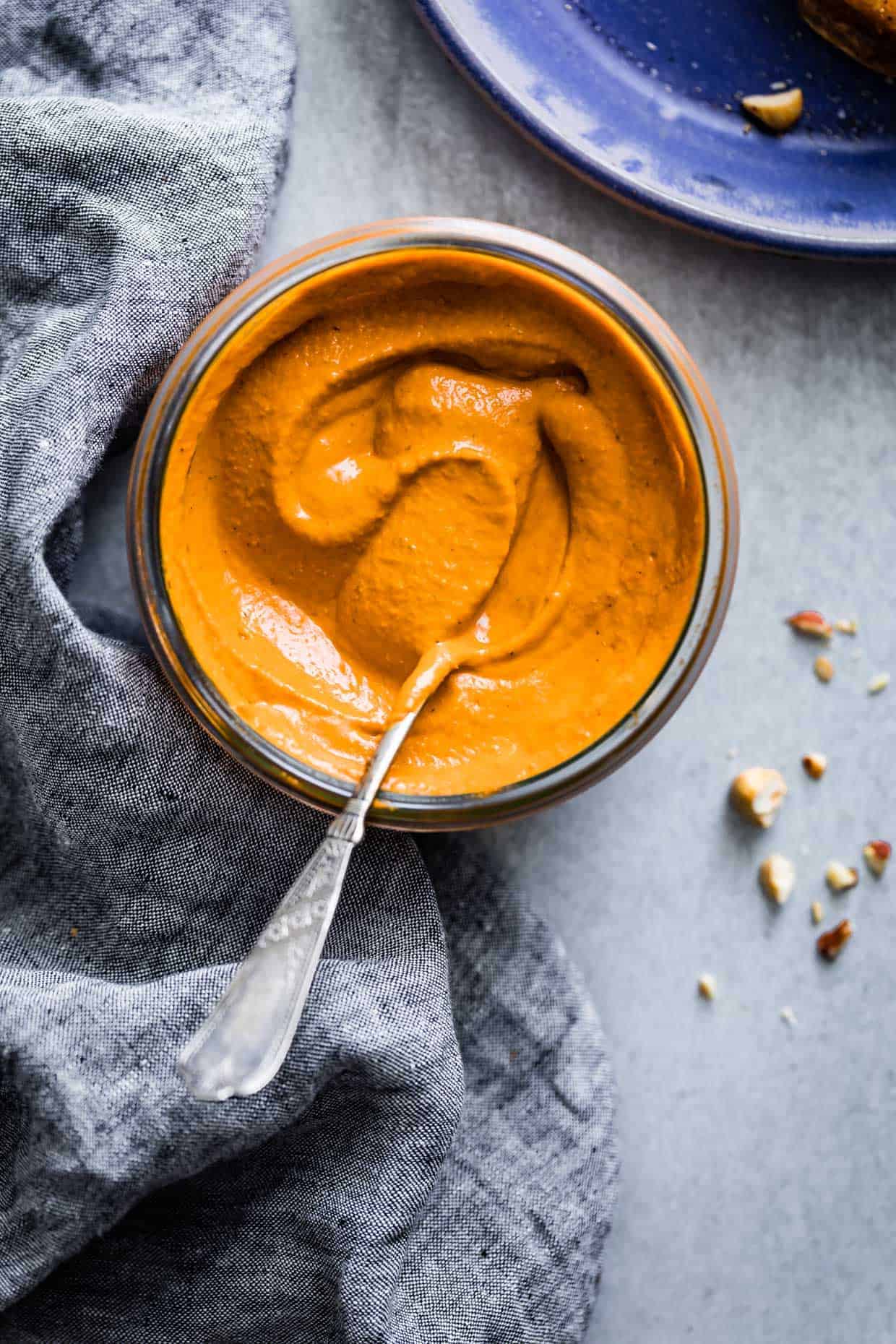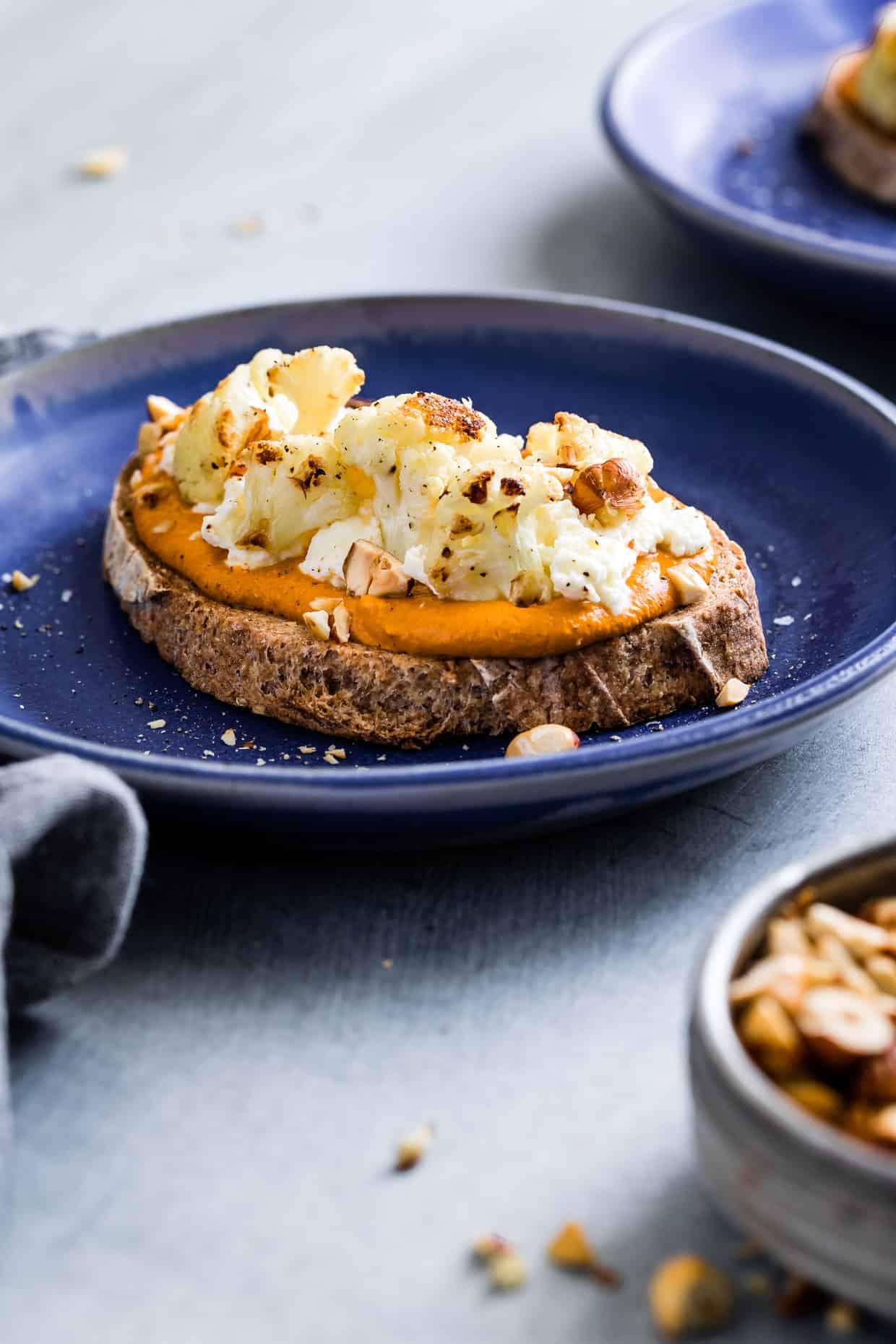 What is romesco sauce?
Romesco sauce is possibly one of the easiest ways to punch flavor into a dish without much investment. At its most basic, toss roasted red peppers with nuts, olive oil, parsley, red wine vinegar, and smoked paprika in a blender and whirl. If you want to get fancy, you can add the oil last to emulsify it with the rest of the ingredients, but it really is a low-fuss sauce that doesn't even require heating.
My love of romesco sauce blossomed after making the first batch of Shelly's creamy romesco with white beans from Vegetarian Heartland. Since then, I've been making different variations of romesco sauce on repeat, keeping it on hand for quick flavor-packed lunch or dinner.
I've added hazelnuts because I prefer their buttery toastiness that's just a little more assertive than almonds, letting them stand out against a roasted red pepper backdrops. With hazelnuts for protein, this romesco sauce al makes a substantial starting point for a hearty meal.
How to serve romesco sauce?
Don't let its ease fool you into thinking romesco sauce isn't something special. It's as versatile as it is easy to make. A swiss army knife of sauces that serves as the showstopper of any dish, bursting with bright flavor. We often eat it over a grain and roasted veggies, but this hazelnut romesco sauce toast with ricotta and cauliflower is our latest obsession.
Ricotta with romesco is a pairing I crave again and again. The mildly sweet creaminess of fresh ricotta balances the smokiness of the romesco sauce just so. And if you don't feel like toast, we just as often throw the roasted cauliflower in a taco with ricotta, romesco, arugula, and toasted pepitas. Use any leftovers (ha!) to make romesco pasta salad, romesco potato pizza, or romesco gnocchi.
The options really are endless when you start with a great sauce.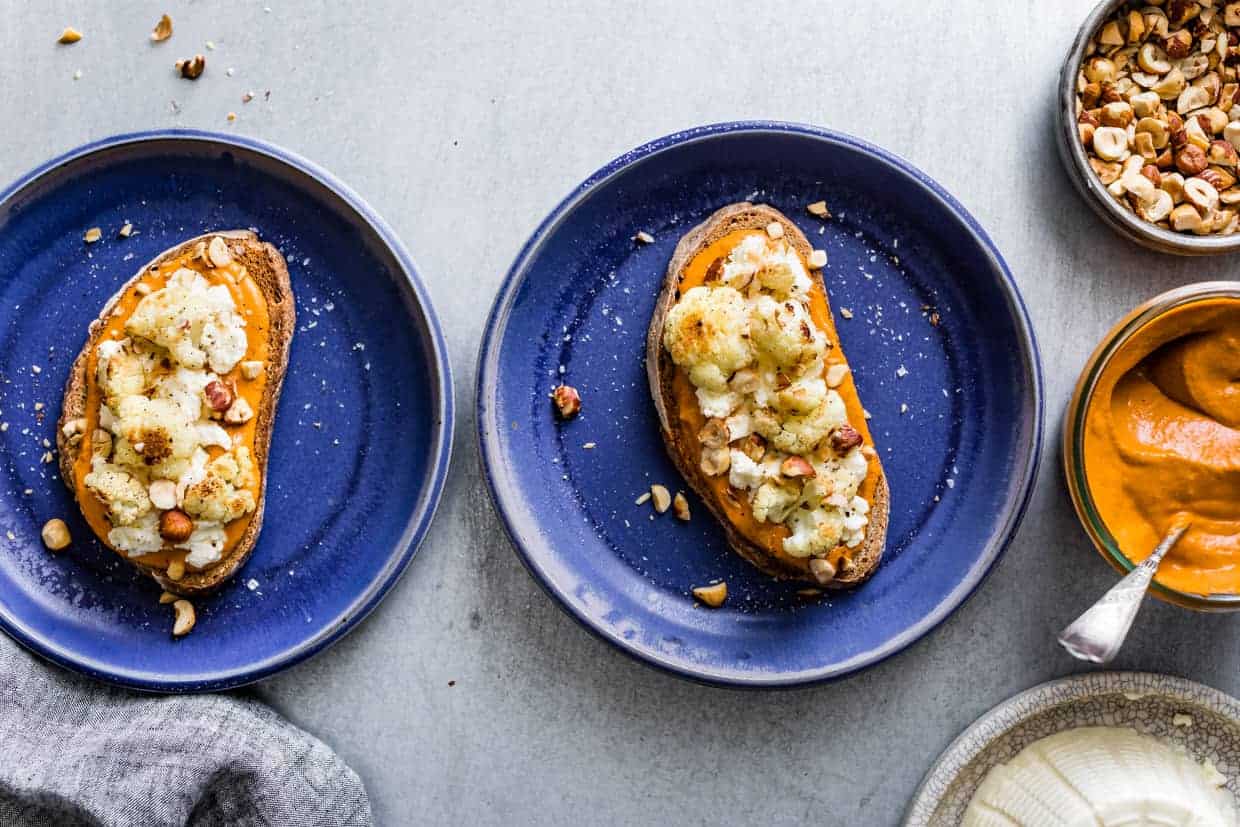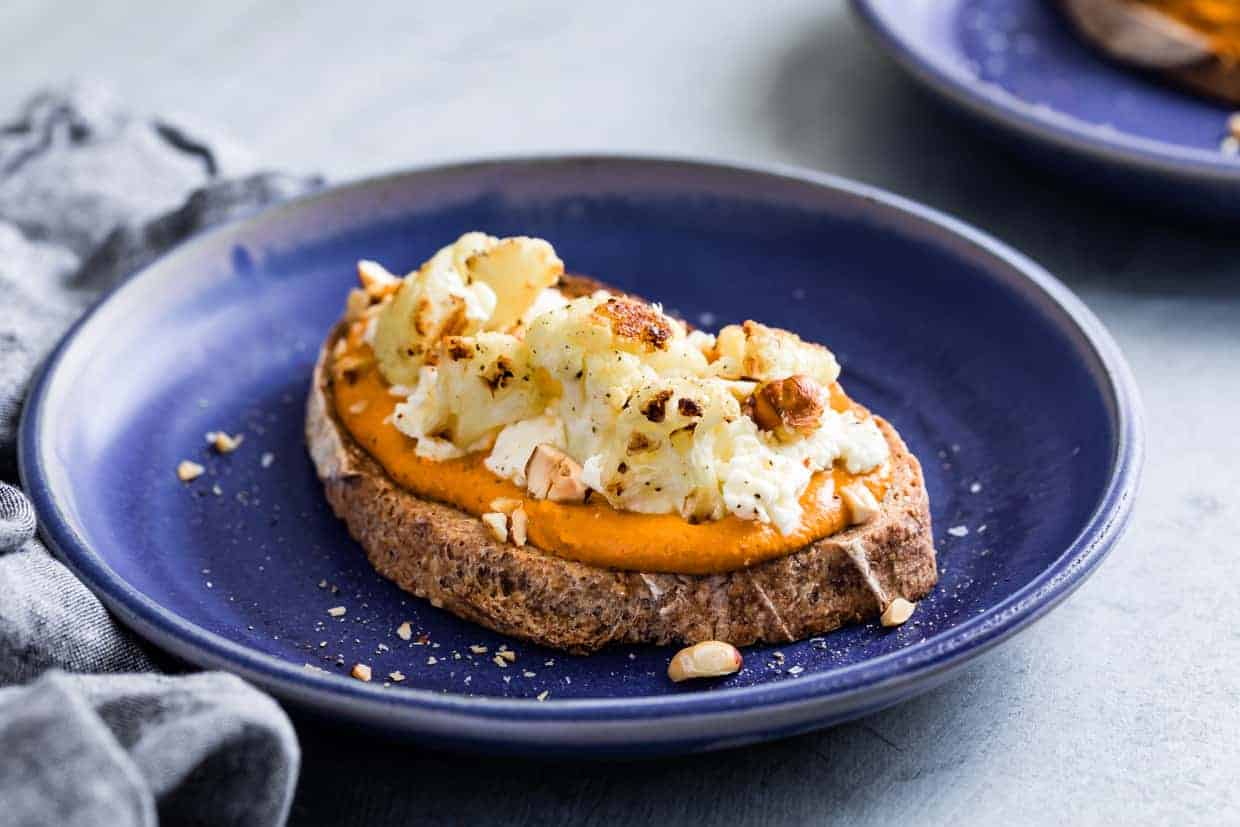 Thanks for reading Snixy Kitchen! To stay up on what's coming out of my kitchen, follow me on Facebook, Instagram, Twitter, Bloglovin', or Pinterest, or subscribe via e-mail to get new recipes right to your inbox!
Hazelnut Romesco Sauce Toast with Ricotta & Cauliflower
Yields:
About 1.5 cups romesco
Ingredients
Hazelnut Romesco Sauce
8oz roasted red peppers from a oil-packed jar, drained
½ cup roasted hazelnuts
⅓ cup canned tomato puree
¼ cup flat-leaf parsley leaves, chopped and packed
2 large garlic cloves, peeled
1½ tablespoons red wine vinegar or sherry vinegar
1 teaspoon smoked paprika
¼ teaspoon salt
Pinch pepper
Pinch cayenne peper
¼ cup extra virgin olive oil
Toast with Cauliflower and Ricotta
Instructions
Prepare the hazelnut romesco sauce. First, rub all the toasted hazelnuts in a cloth to remove as many of their skins as possible. Add all of the ingredients except for the olive oil to a blender or food processor and puree til smooth. With the blender running, slowly drizzle in the olive oil. Taste and adjust salt, pepper, and cayenne to your preference. Chill until ready to serve. Keep leftovers in a jar in the fridge for a week or freeze for up to two months.
Preheat oven to 400°F. On a parchment-lined baking sheet, toss the cauliflower with a tablespoon of olive oil and the salt and pepper, massaging the oil into the florets. Add more oil as needed.
Bake on the bottom rack until tender and beginning to turn golden brown tossing halfway through, about 25 minutes.
To serve, spread a thick layer of romesco on a slice of toast. Top with about a tablespoon of fresh ricotta. Top with roasted cauliflower, chopped hazelnuts, and a few pinches of flake salt.