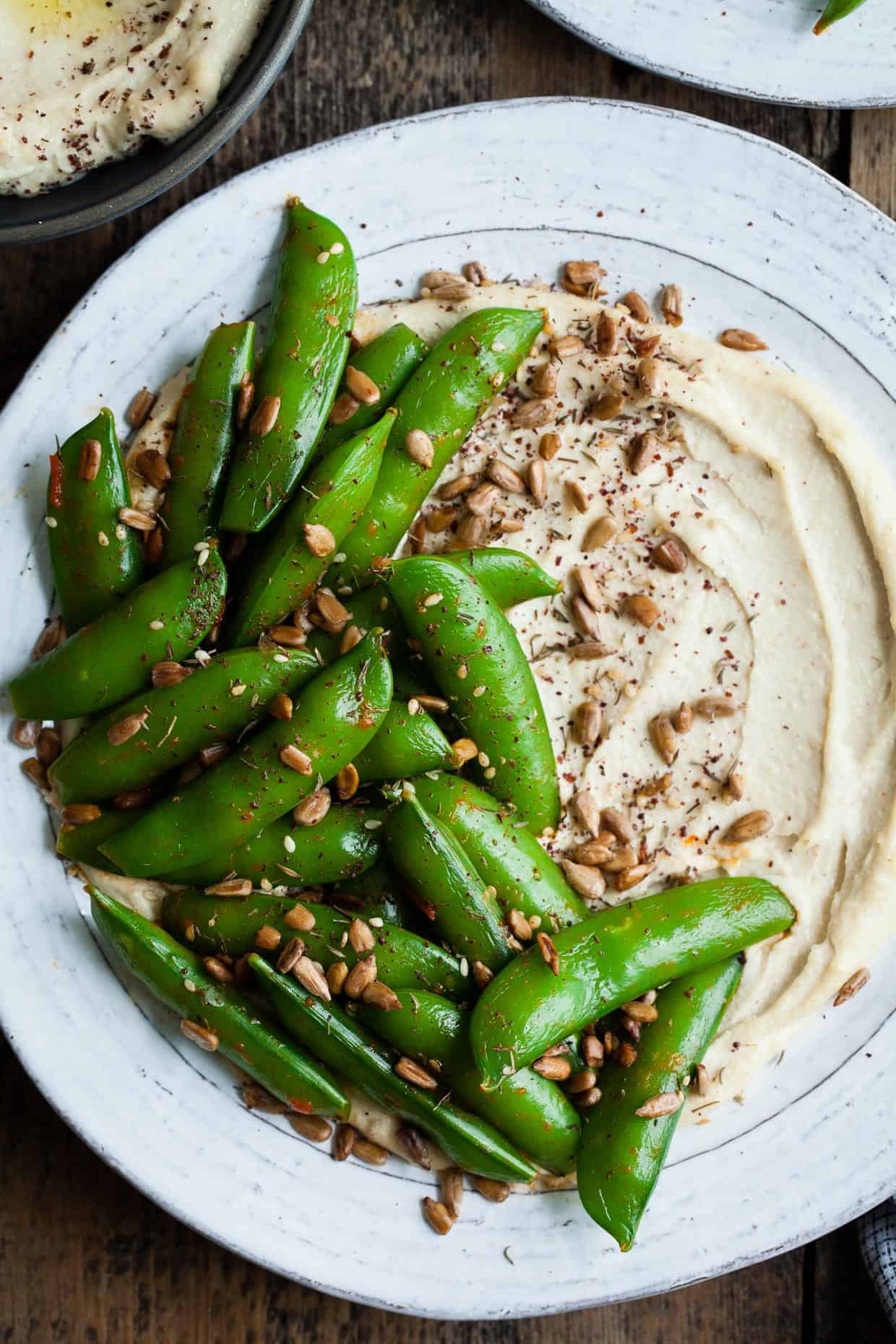 On our first evening away from our new babe, we snuck off to Gather to celebrate my birthday just the two of us and ordered way too much food - as though it'd been over a month since we'd eaten dinner at the same time (it had). We spoke a love song to the platter of cashew hummus topped with harissa snap peas and sunflower seed za'atar we ordered. For at least 10 seconds before transitioning to talking about how much we love Zoella for the rest of the meal and rushing home to our love bug lickety-split.
On our first night home from the hospital though (the second time) a month earlier, when we were finally beginning to figure out what it means to be a family of three, I worried that I didn't love her enough. Spoiler alert: We're about to dive into the emotional junk that came with becoming a new mom, but if you're like "woah woah woah, I just came for a recipe! x out! x out!" feel free to just skip ahead to the snap peas. They're killer.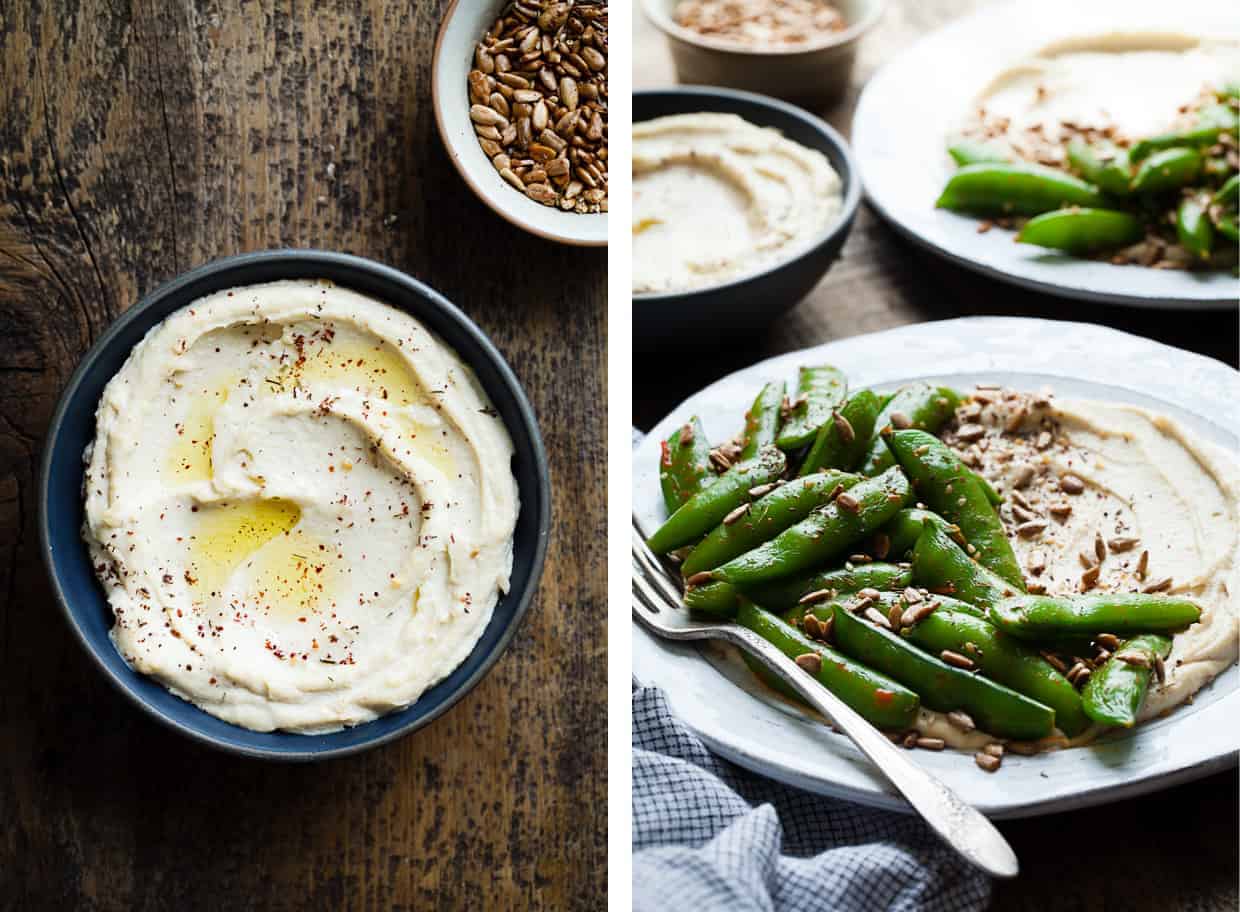 I now know that I love this little lady with a love so deep and so unique that I've never felt before - I understand how a mom could have trouble recognizing it at first. I expected an instant connection - to feel blissfully ecstatic every time I held her in my arms, but instead I felt frustrated and disconnected. Holding her felt weird and unfamiliar. She cried and I couldn't do anything. Part of me didn't want to do anything. I was tired and my body ached.
And that part broke my heart. Did it mean I didn't love her enough? Every time Lucas could console her when nothing I did helped, I felt my heart ache more. And breastfeeding, though it was going well for Zoella, inexplicably gave me panic attacks that made me cry. Maybe I wasn't cut out for this motherhood thing and Zoella knew it. I so clearly remember sobbing while she sobbed and telling Lucas that I was certain she wanted a different mom. If I didn't have the energy to do whatever it'd take to make her tears stop, it must mean I don't love her enough.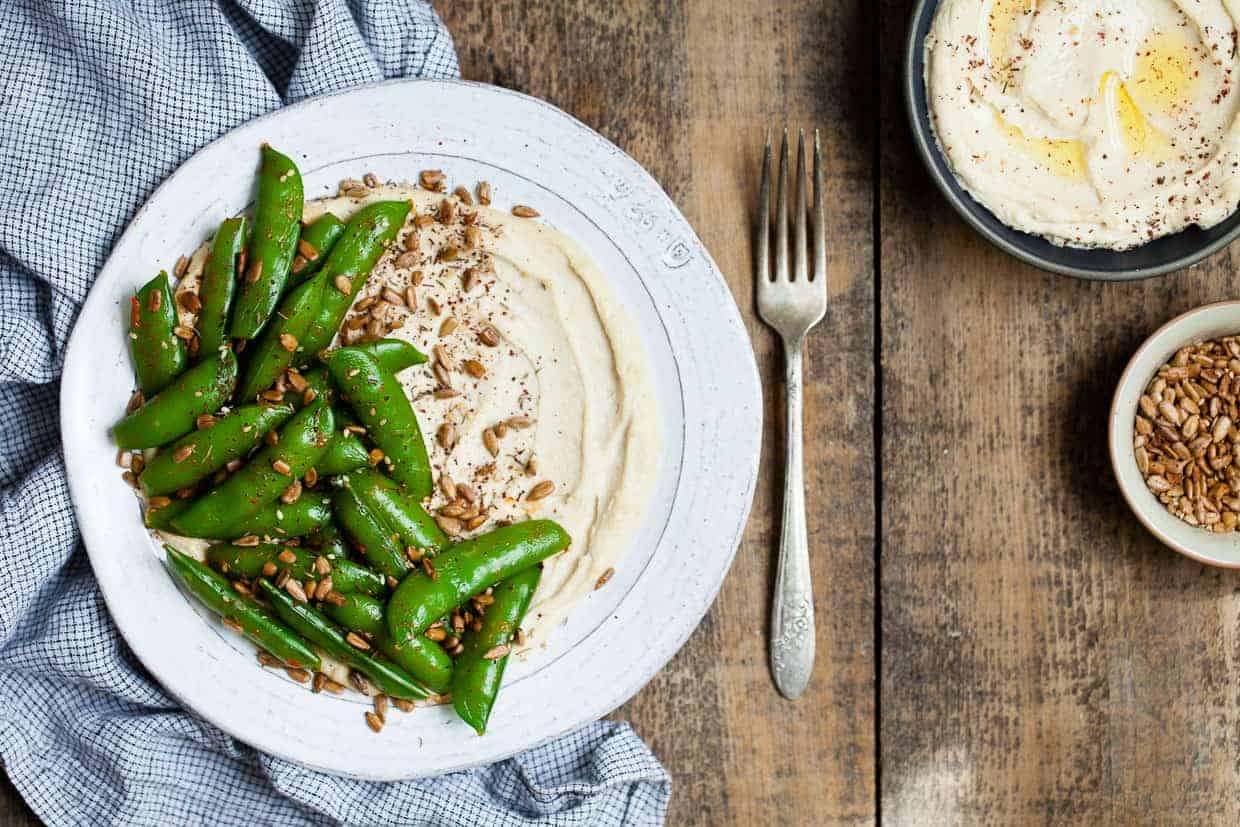 Early on, my friend's husband went out of town for business when their baby was a few weeks old and she managed just fine. What did it say about me that I had to call on my mom out of desperation to come help me get through the day? Or that I had a mile-long list of things I wanted to do - make & photograph rice krispie treats, web design, style food for the NYT. Surely it meant that I wasn't a good mom or that my love was insufficient.
And also the shame and guilt with all of this self-doubt: GOOD GOD! I was convinced everyone else could see what I was feeling and was just too afraid to tell me I was a terrible mom who didn't love her baby enough. No lie: I asked my mom point-blank if she thought I wasn't a good mom.
People talk about postpartum depression as a very normal phenomenon, but I expected it in the form of sadness that I could distinguish. You know, depression. I didn't expect it in the form of self-doubt - of myself as a mother and of my love for my baby. Shortly after our first week alone with Lucas back at work, that self-doubt began to shed away. This also coincided with her first smile. A smile to melt your heart and make you feel the love. Connection.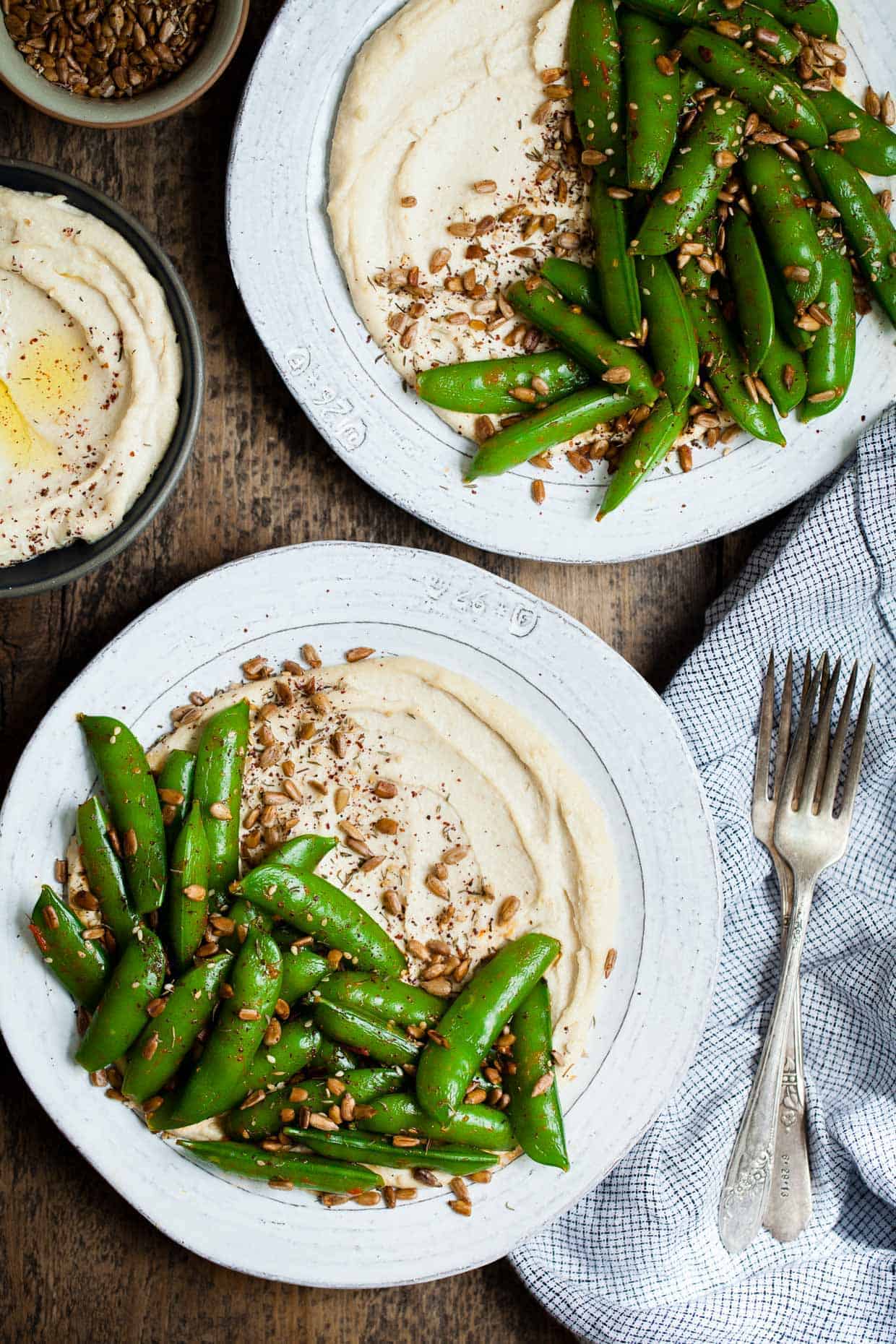 But what replaced that self-doubt was a mourning period. Mourning my sense of self as I'd come to know it before baby. My friend Em just wrote of her experience of becoming a mom, "I should be the happiest I've ever been but I don't feel like me. I just want to feel like me again." THAT - a million times that. I felt ill-prepared for the ways having a baby would change me - my normal. Normal used to be making and shooting a recipe in the middle of the day (and immediately doing the dishes), going to dinner with Alanna on a weeknight, or grocery shopping every day of the week. This first Mother's Day came just as Zoella reached the three-month mark - the end of the extra-needy "4th trimester" - a point that feels pivotal as we hit a manageable groove as mom & daughter and that mourning period is receding as my identity as a mom grows. A mom who makes every decision with another being in mind and who loves her babe oh so much.
Thank goodness for baby smiles.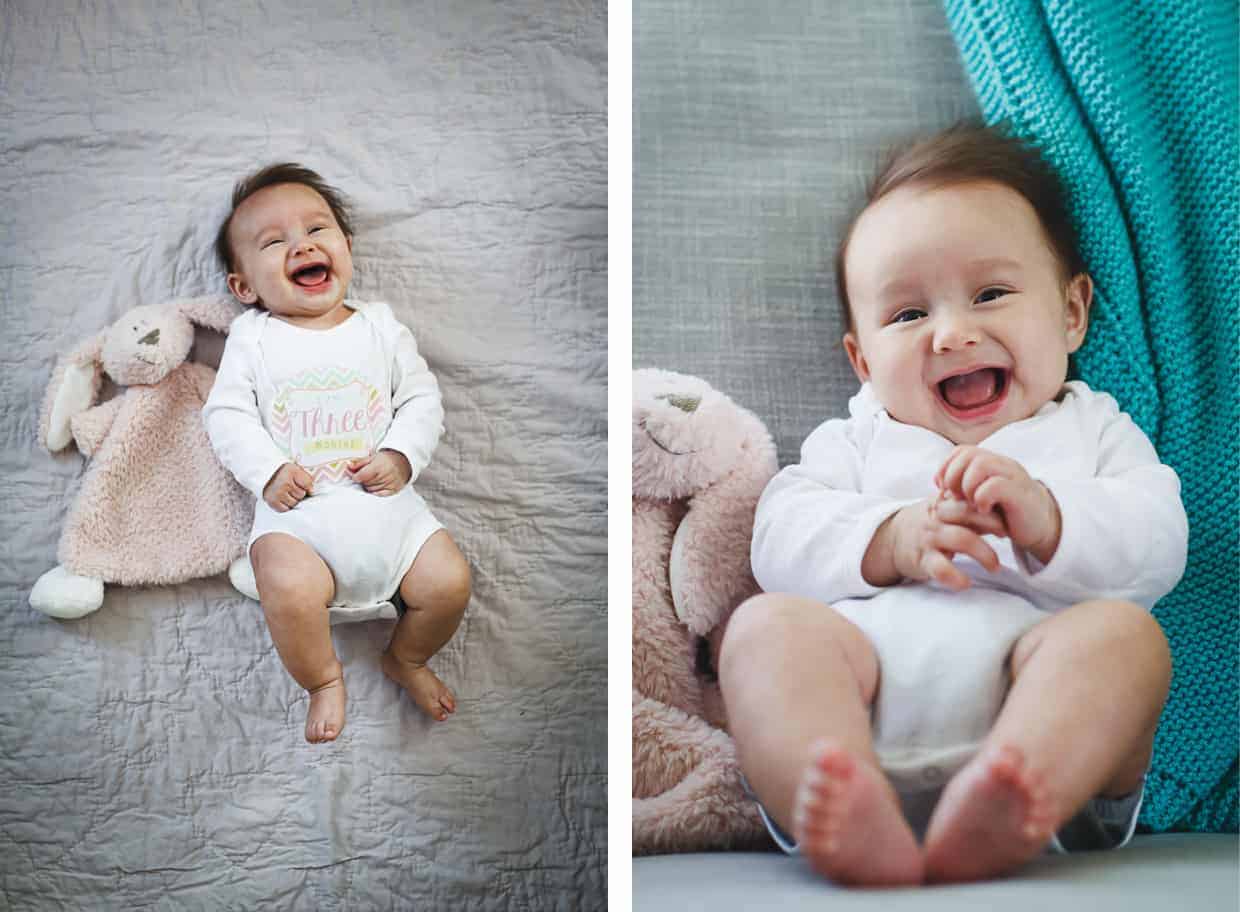 This recipe is my interpretation of the platter of snap peas we ate on our first date night as parents. Navigating our identity as a married couple with a baby over food, as one does. It's multi-layered, but simply prepared just the same. Throw all of the hummus ingredients into a blender, pop the sunflower seeds in the oven, and blanch the snap peas. Voila! So this hummus - it's bean-free, but the cashews make it creamy & extra nutty (hehe). Sweet snap peas draped with spicy harissa add a refreshing spring crunch and it's all topped with a sprinkling of za'atar roasted sunflower seeds for a salted toasty element.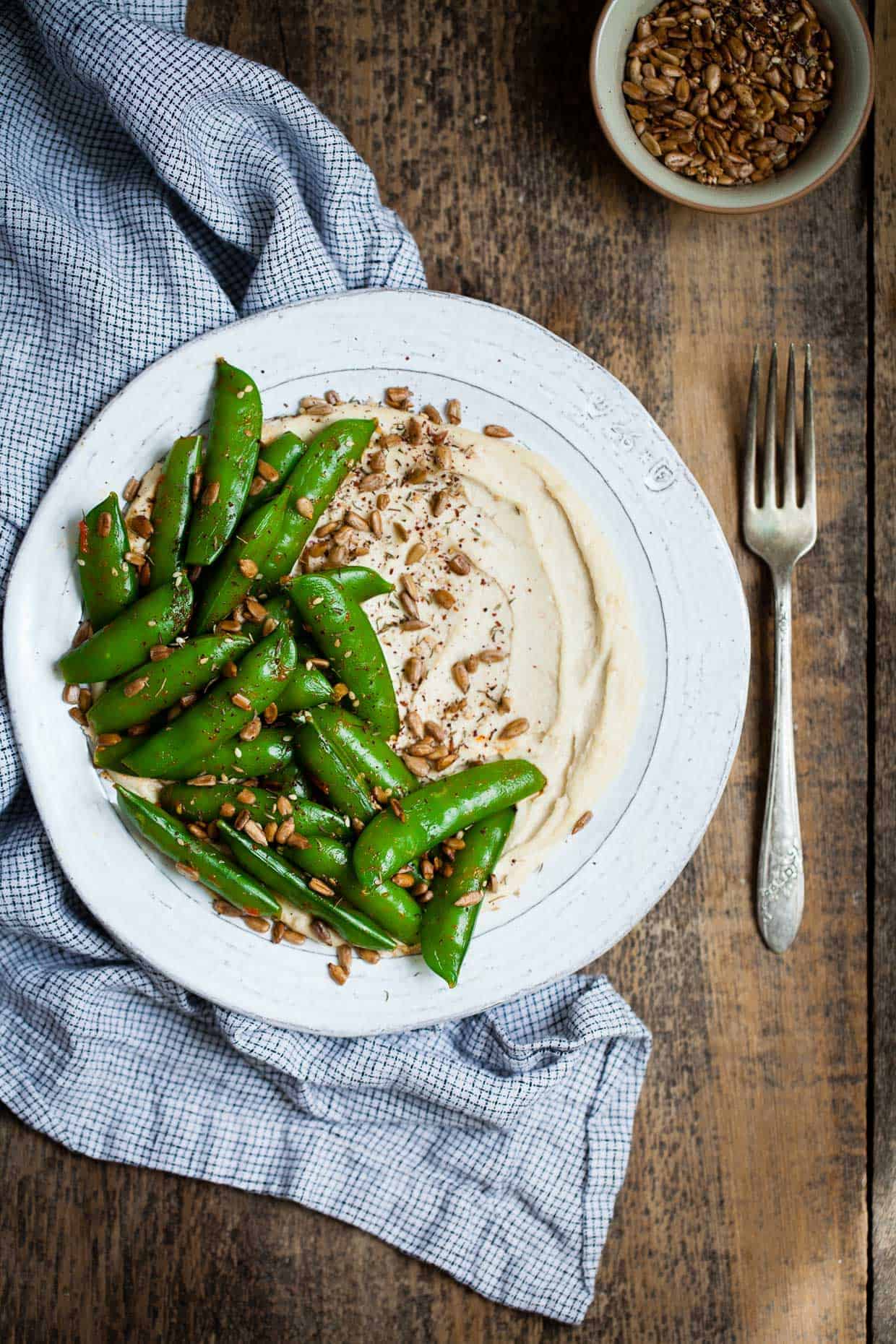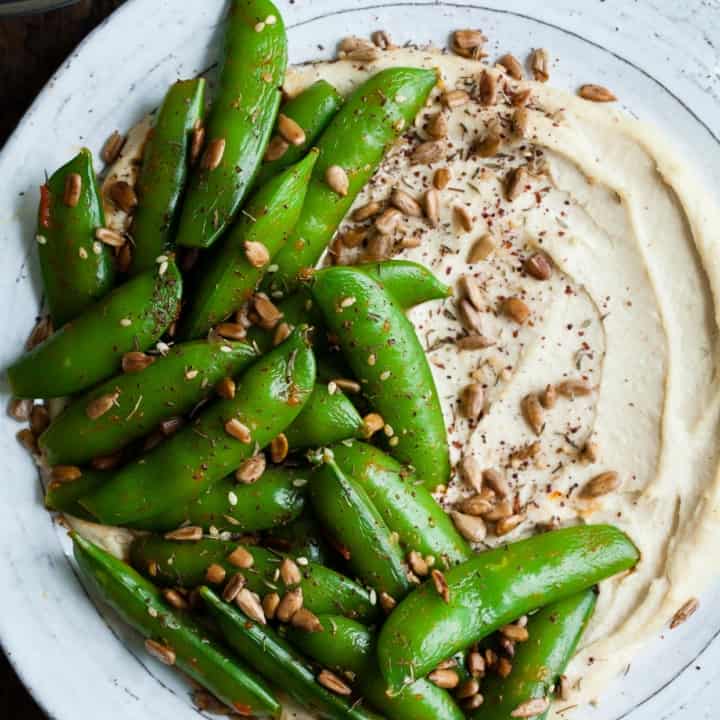 Harissa Snap Peas with Cashew Hummus & Sunflower Seed Za'atar
Ingredients
Cashew Hummus
1¼ cup raw cashews
¼ cup fresh lemon juice (from 2-3 lemons)
3 tablespoons tahini
3 tablespoons extra virgin olive oil
1 tablespoon water
2 cloves garlic, chopped
½ teaspoon salt
¼ teaspoon cumin
⅛ teaspoon cayenne
Sunflower Seed Za'atar
¼ cup sunflower seeds
1 teaspoon sesame seeds
¼ teaspoon salt
¼ teaspoon extra virgin olive oil
1 teaspoon dried thyme
Harissa Snap Peas
Instructions
Prepare the cashew hummus. Rinse the cashews and place them in a bowl covered in cold water. Cover the bowl with a clean cloth and soak for at least 2 hours.
Meanwhile prepare the sunflower seed za'atar. Preheat the oven to 350°F. Toss sunflower seeds, sesame seeds, salt, and olive oil together and spread out on a baking sheet. Toast for 10 minutes, tossing halfway through, until light golden brown. Transfer to a bowl and toss with sumac and thyme. Set aside.
When the cashews are done soaking, put them in a blender with the lemon juice, tahini, olive oil, water, garlic, salt, cumin, and cayenne. Puree until completely smooth. If too thick, add another tablespoon of water or olive oil until desired creamy consistency.
Bring a large pot of salted water to boil over medium-high heat. Blanch the snap peas for 2 minutes. Drain and toss with harissa.
Divide the hummus among four plates, spreading into a round. Top with harissa snap peas and sunflower seed za'atar. Serve warm or cold.
Thanks for reading Snixy Kitchen! To stay up on what's coming out of my kitchen, follow me on Facebook, Instagram, Twitter, Bloglovin', Pinterest, or subscribe via e-mail to get new recipes right to your inbox.