Extra juicy crispy-skinned garlic white wine skillet chicken with olives and artichokes. Served over a bed of pasta, this low-prep one-skillet chicken is simple enough for a weeknight, but fancy enough for a dinner party.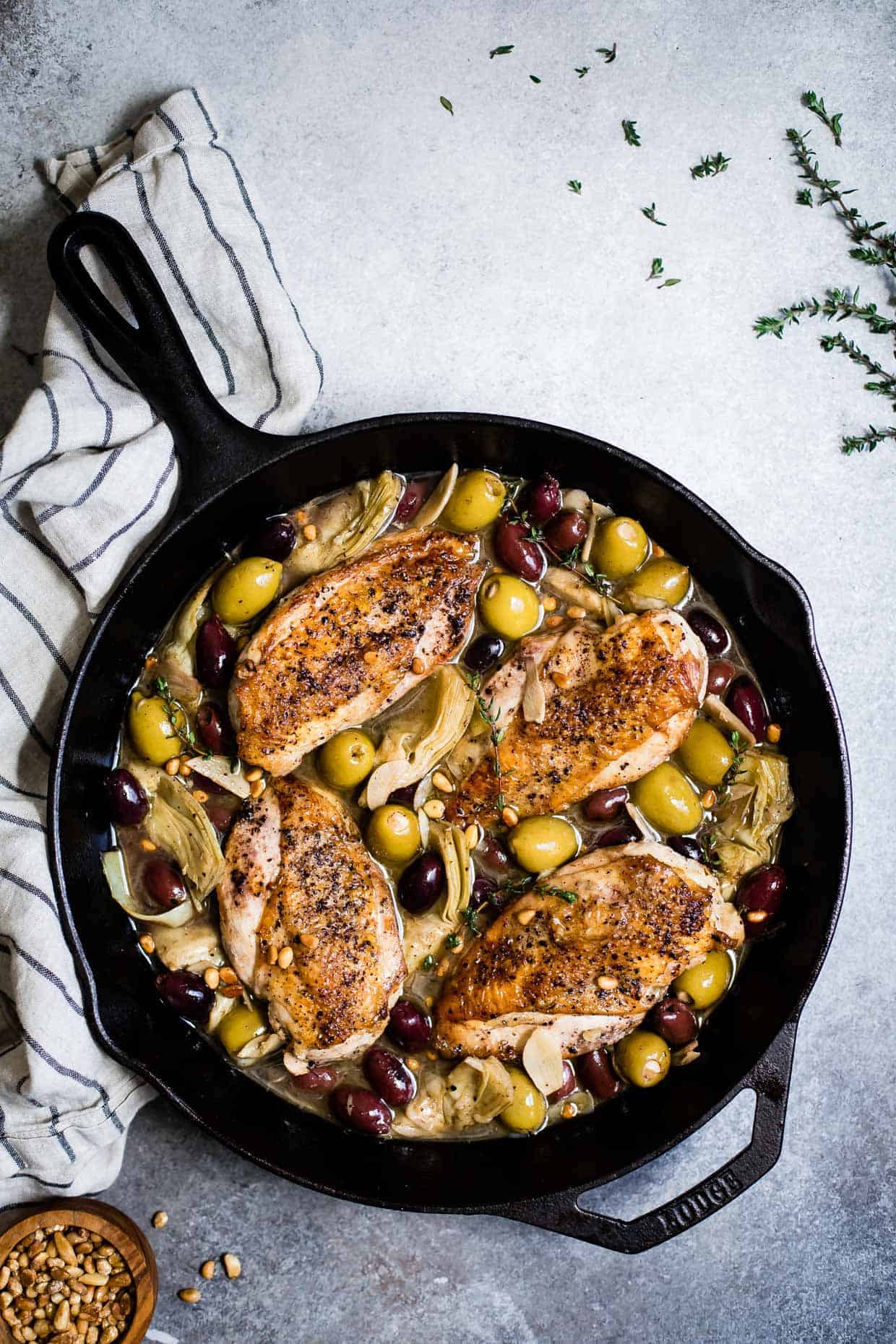 I'm finally home after spending three nights in Boston at a middle-school style slumber party bachelorette party (except with wine, good food, and R-rated movies). While some were in charge of the scrapbook station and others the mani/pedi situation, the menu was my domain. Here's the thing though: I was traveling with only a carry-on across the country to a weekend rental (booked by someone else) with unknown kitchen tools. I'm sure you can guess where this is going...
Pictures showed a full kitchen and our host's note said, "Feel free to use whatever you find in the apartment (kitchen, coffee machine, microwave, toaster...etc)." So we planned on the basics and I chose recipes that required no special tools, with this garlic white wine skillet chicken on the menu for Saturday night.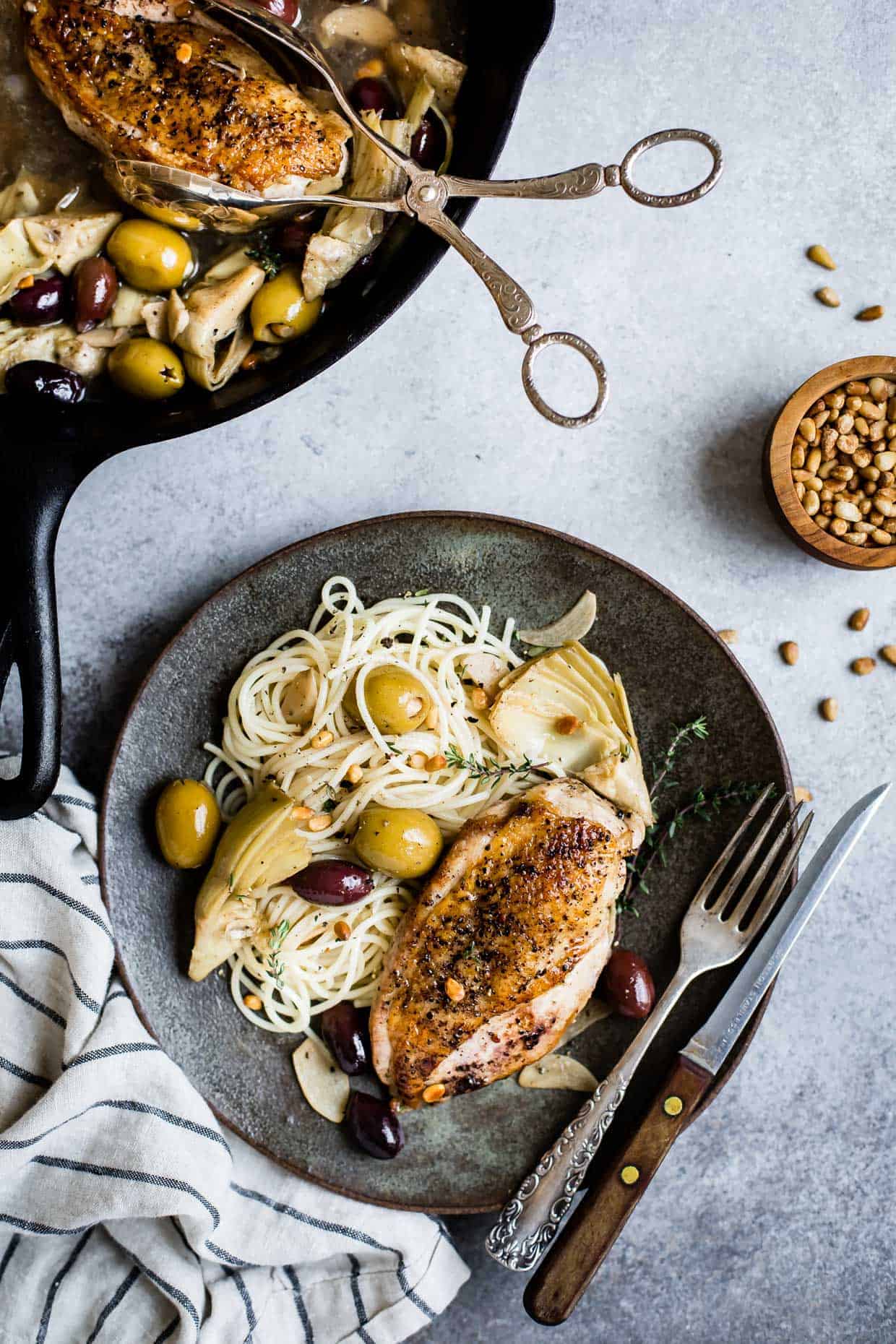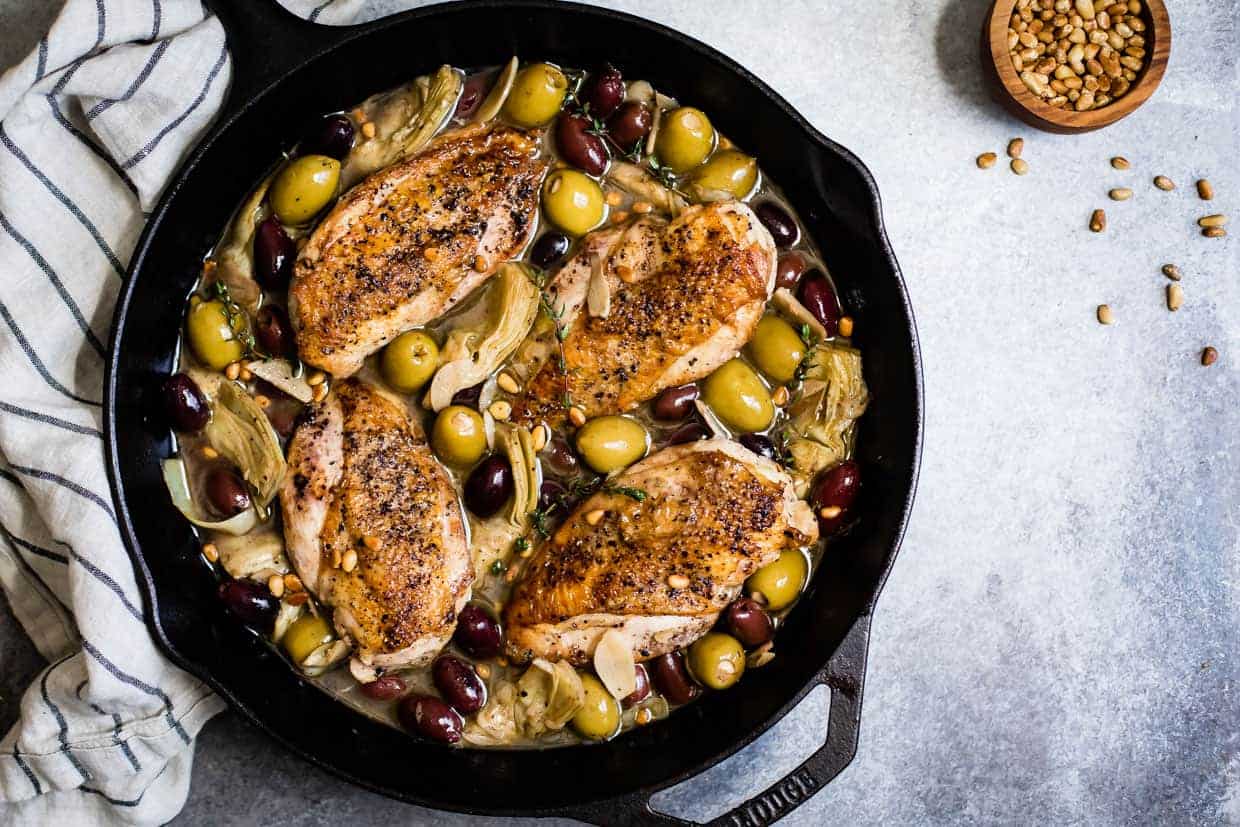 Less than half of my suitcase was clothing. I packed homemade spice blends and gluten-free flour mixes in my carry-on and borrowed a few essentials like a cast iron skillet, a waffle iron, and a 9x12 baking pan from the bride-to-be's kitchen just in case.
We walked in to find a coffee maker without a pot and a kitchen without any drawers. To say that the place was NOT set up for cooking is an understatement. Inventory included: one thin medium pot, a plastic spatula, one enormous wooden spoon, a can opener, two dull knives, and one kitchen towel. No potholders, no measuring devices of any kind, and not even enough glasses for the number of ladies in our group.
CHALLENGE ACCEPTED.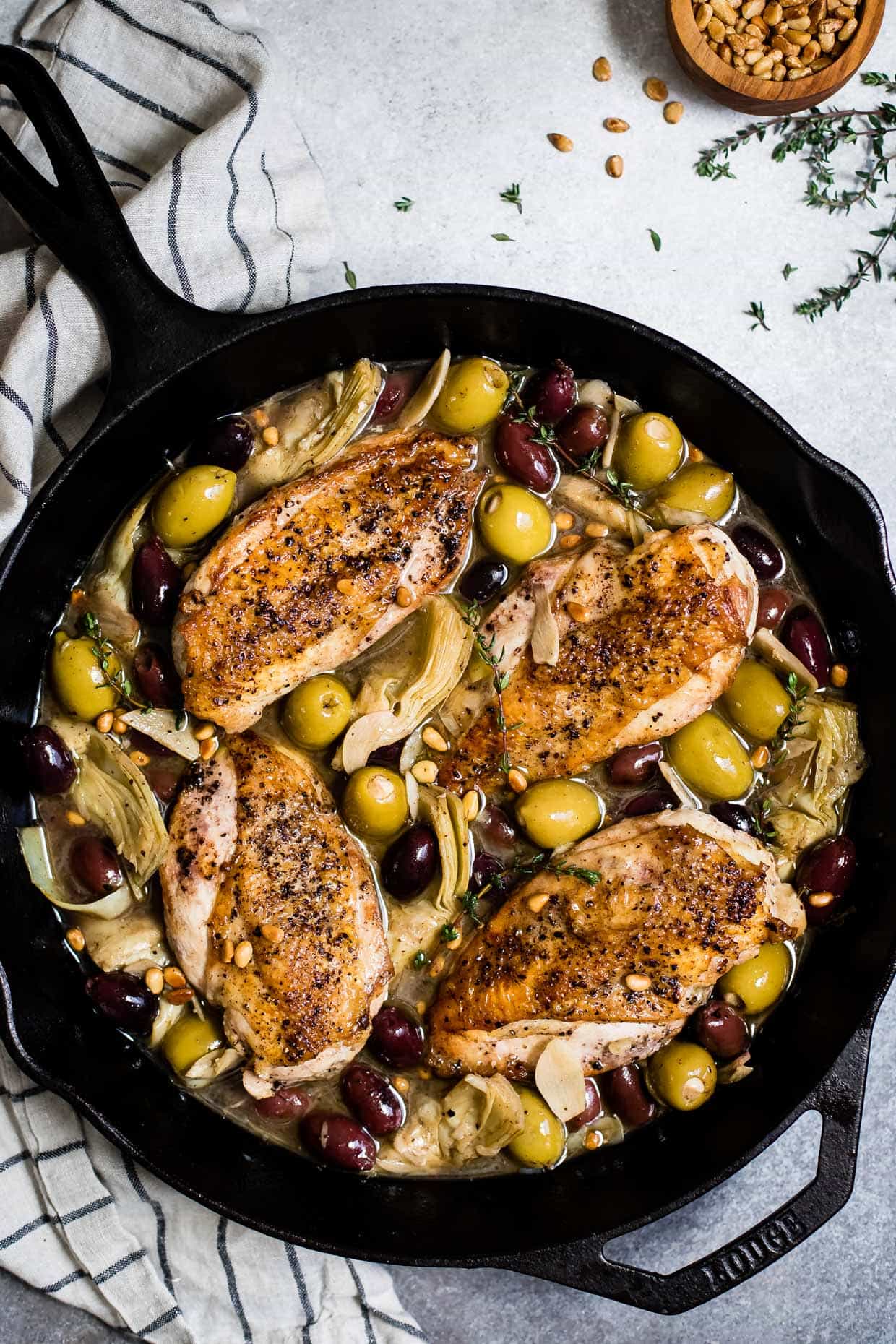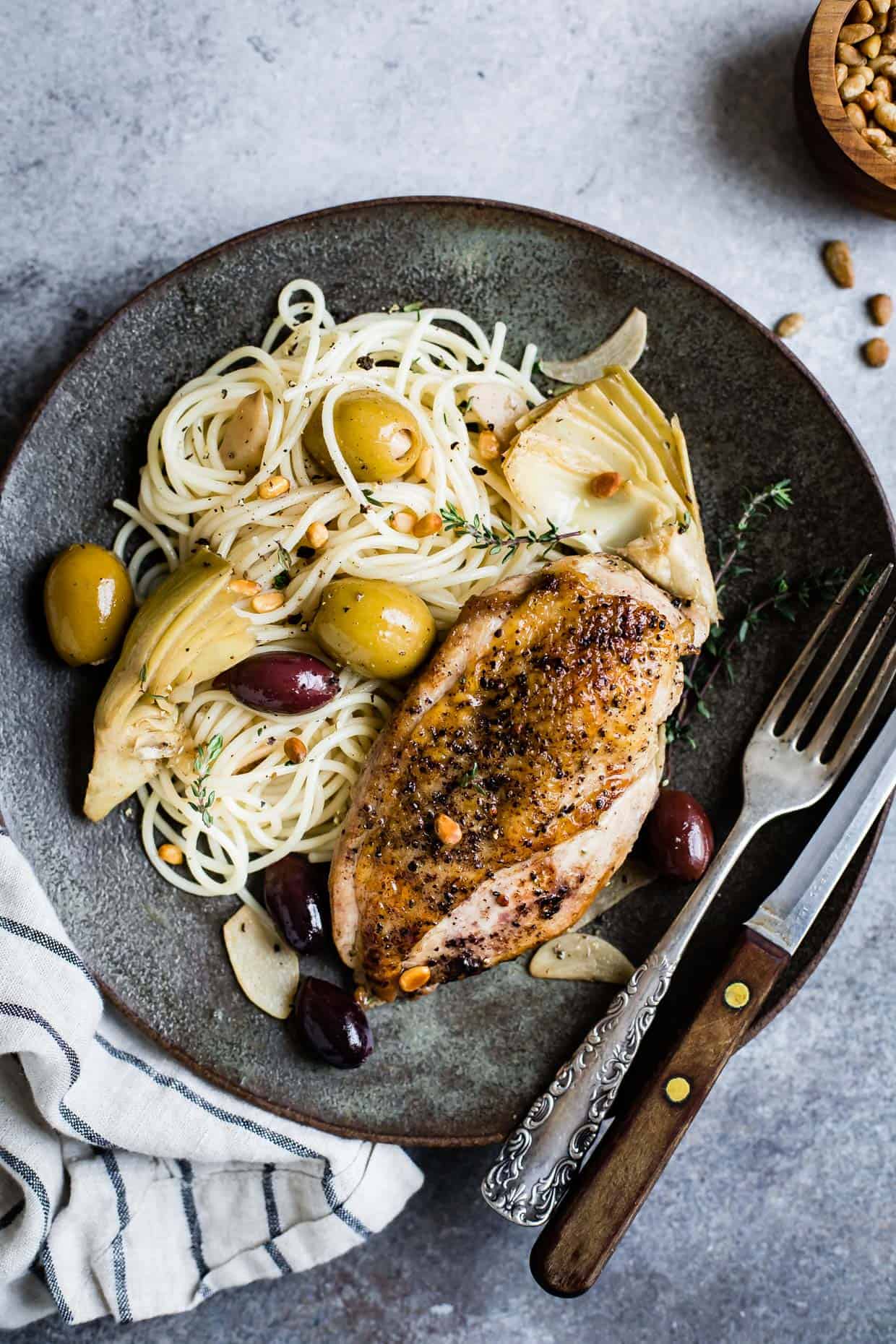 I borrowed a potholder and we broke in that patchwork kitchen with hazelnut dark chocolate brownies, mole-spiced chickpea & zucchini tacos, savory amaranth waffles (with bacon!), this garlic white wine skillet chicken, brown butter rice krispie treats, and savory oatmeal. Plus Lily's coconut mint salt scrub from the Kale & Caramel Cookbook, and Alanna's tarragon gin & tonics. All in two days.
This crispy-skinned skillet chicken was a clear favorite. When dinner was over, someone said, "I'll just let you tell me what to put in my mouth, Sarah." The word choice may have been influenced by Channing Tatum's dance moves playing in the background while we ate. Even still, folks were enamored with the olives and gushed about the surprise artichokes. But most of all, it was the crispy skin that sealed the deal. (And probably a little bit of Magic Mike's abs)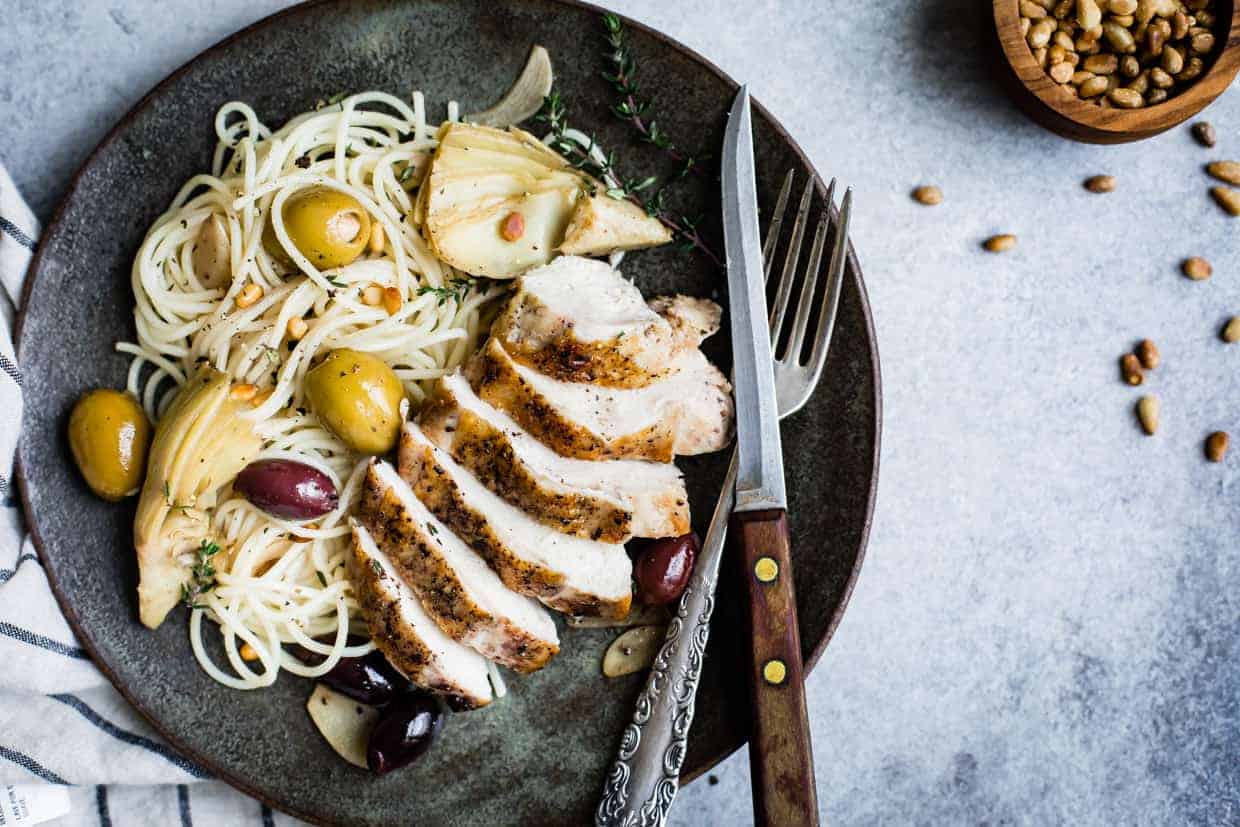 Alanna and I made a variation of this chicken with capers for Pearls Olives earlier this year. I can't stop swapping out the spices and veggies to change up the flavor combo, which is what got me hooked on this sumac-topped crispy skillet chicken with olives and artichoke hearts over a bed of pasta. Time for another dinner party.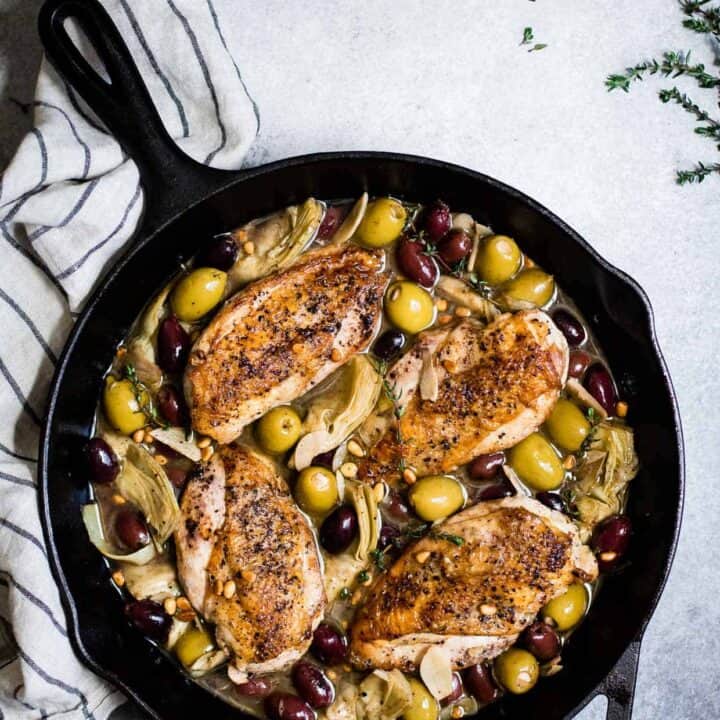 Garlic White Wine Skillet Chicken with Olives & Artichokes
Ingredients
3 tablespoons extra virgin olive oil, plus more for serving
4 skin on, boneless chicken breasts (cutlets removed and reserved for another use)
½ teaspoon sumac
¼ teaspoon salt and pepper, plus more to taste
4 large cloves garlic, thinly sliced
1 cup artichoke heart quarters (1 can)
1 cup dry white wine (like pinot grigio)
3 tablespoons lemon juice
¾ cup whole kalamata olives, pitted
5 sprigs fresh thyme, plus more for garnish
¼ cup toasted pine nuts
12 ounces gluten-free spaghetti (or other pasta of choice), for serving
Instructions
Preheat the oven to 425°F.
Heat the oil in a medium cast-iron or heavy-bottomed skillet over medium heat.
Sprinkle both sides of the chicken with sumac, salt, and pepper.
Cook the chicken, skin side down until it turns golden brown and gets crispy, 5-6 minutes. Transfer the chicken to a plate, skin side up and set aside.
Add the garlic to the same skillet and cook until it begins to brown, about 1-2 minutes. Add the artichoke hearts and cook for 1 minute.
Add the white wine, lemon juice, fresh thyme, and olives, stir to combine.
Nestle the chicken back into the pan, skin side up and transfer the skillet to the oven. Bake for 15-20 minutes until the chicken is cooked through.
Meanwhile, bring a large pot of salted water to boil. Cook the pasta according to the package instructions and drain well. Toss the pasta with about a tablespoon of olive oil.
To serve, divide the pasta among 4 plates. Top with a chicken breast and spoon sauce over the pasta. Sprinkle with toasted pine nuts and salt and pepper, to taste.