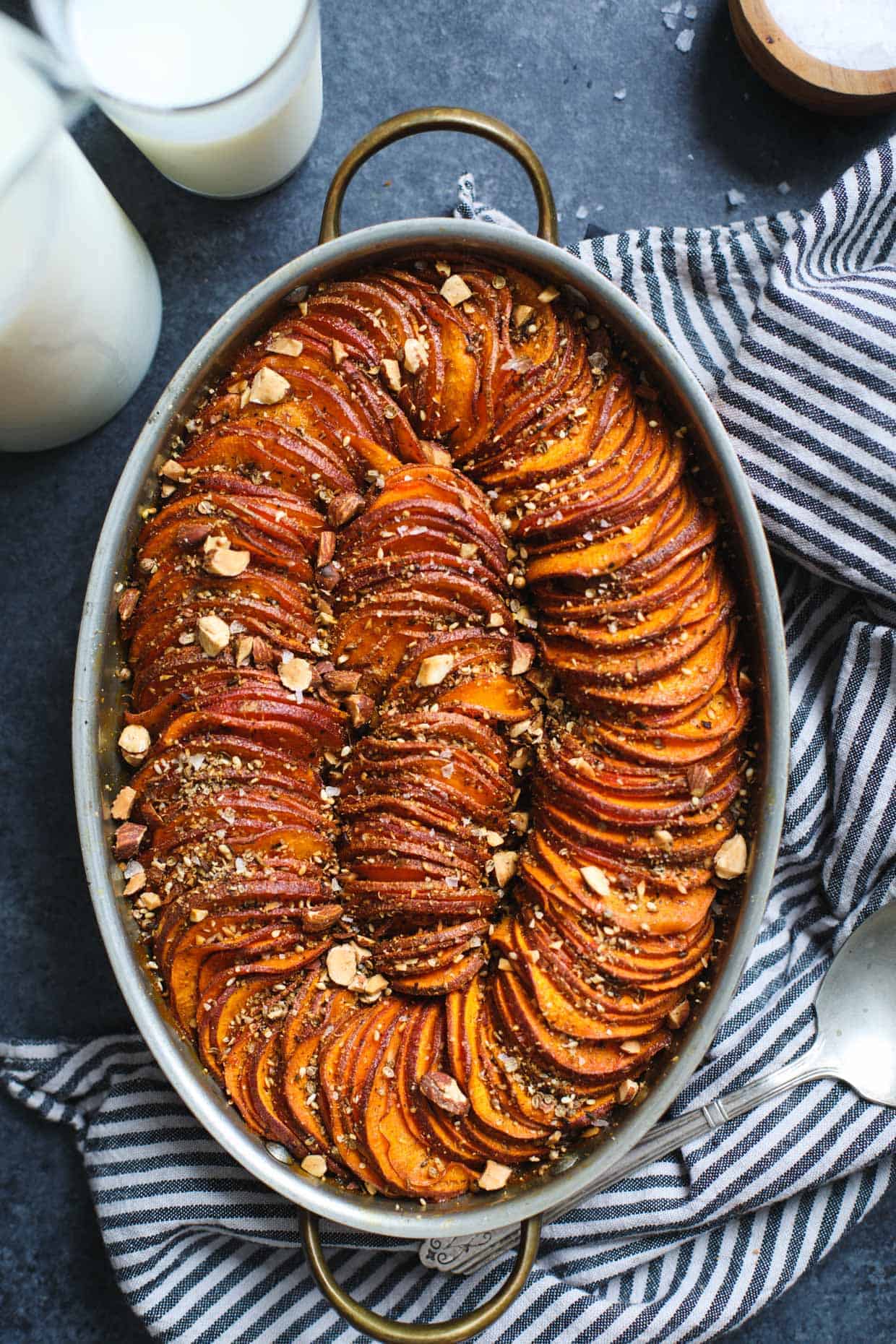 I keep meeting people who insist they don't really like sweet potatoes. And by people, I mean my husband. This maple harissa sweet potato gratin topped with almond dukkah is for all those bah humbug naysayers. Here, the sweetness from red garnet "yams" is subdued with hot chili pepper paste (harissa) and topped with savory roasted almonds and spice seeds (dukkah). I've teamed up with got milk? to change up your traditional sweet potato casserole with a whole host of new flavors and a bit of heat. Heat that's perfectly tamed with a glass of milk.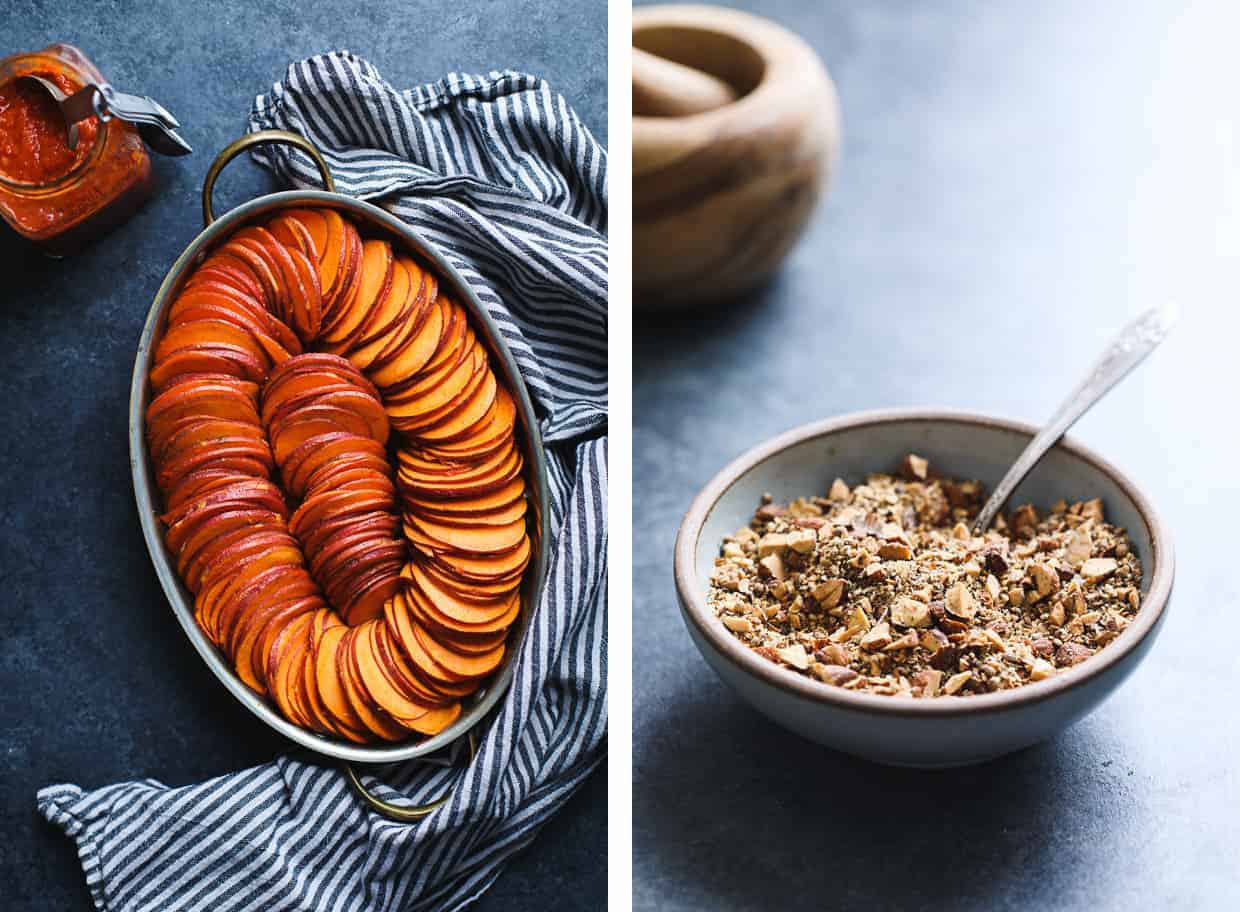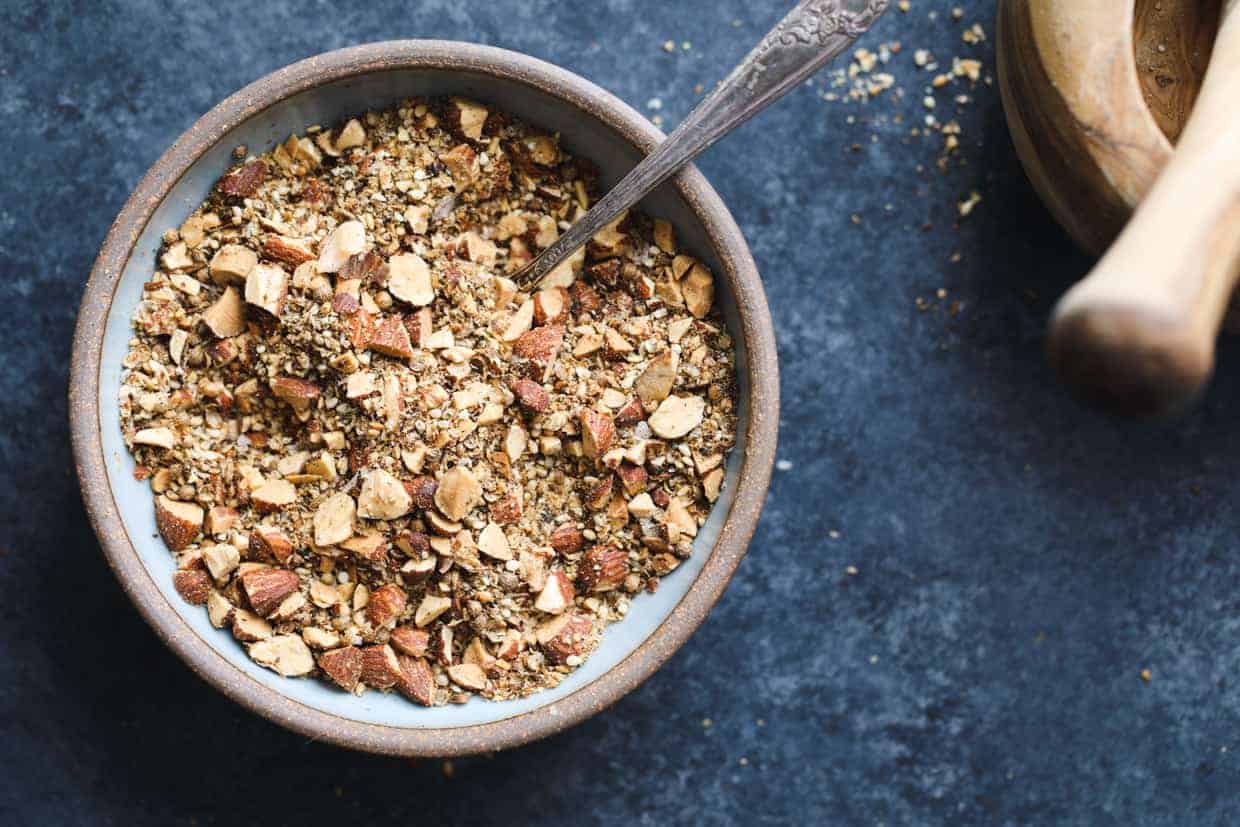 Even our little cheese baby agrees milk is the only cure for a little heat. Just this afternoon, Zoella showed us just how not baby-proof our house is when she crawled right onto our original 1950s floor furnace and got a grate-patterned burn across her delicate fingers (I got a matching one when I proceeded to test how hot it was with my own hand...). She has many cries, even many stages of crying, but that cry is distinct. That shrill pained cry that makes me feel so awful will only letup with one thing...
...got milk? (Or as Lucas refers to it: "mama's magic powers.") More and milk conveniently happen to be the two signs Zo knows...and uses often. And, don't worry, she's gonna be ok! She was back to cat chasing on her hands and knees in no time.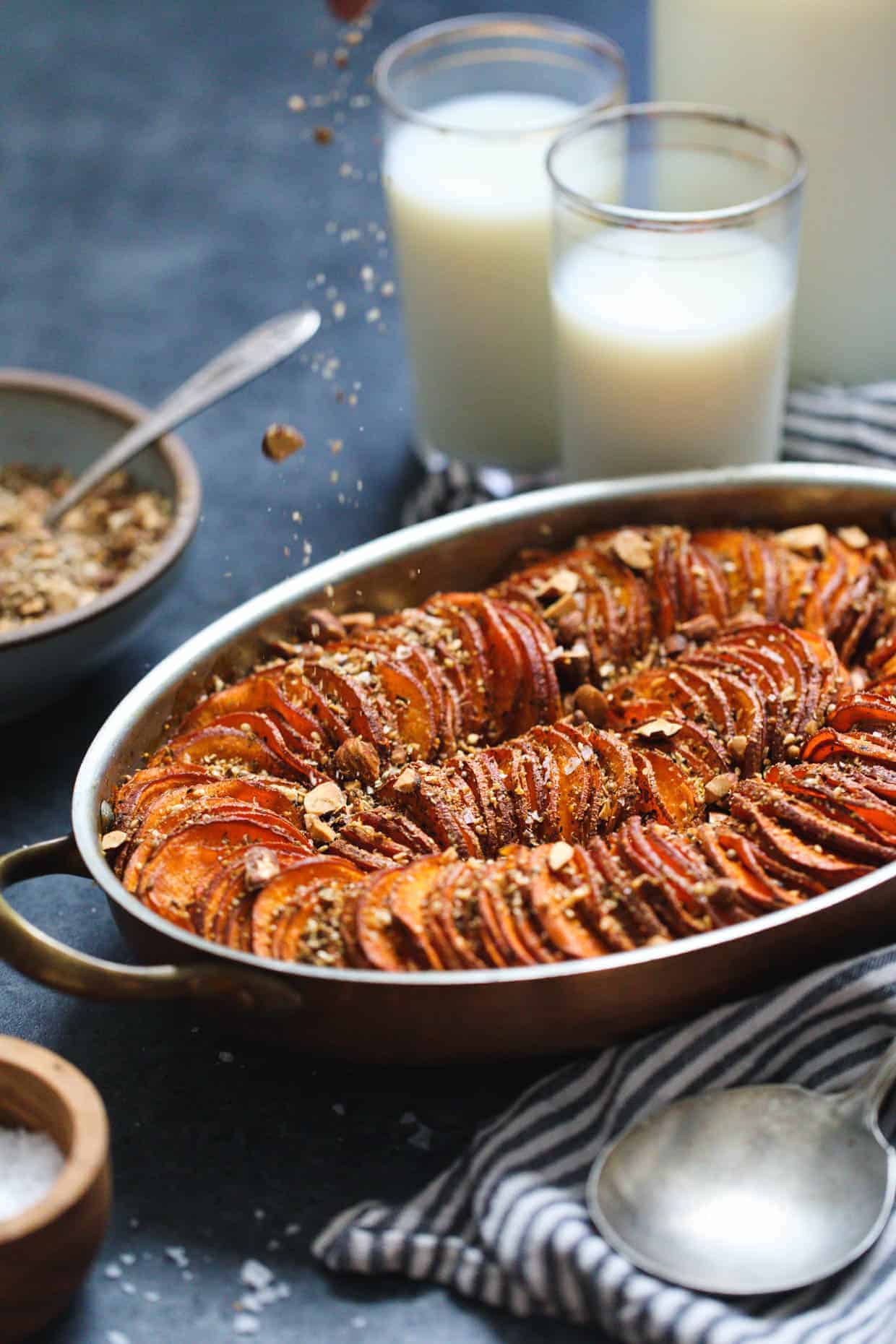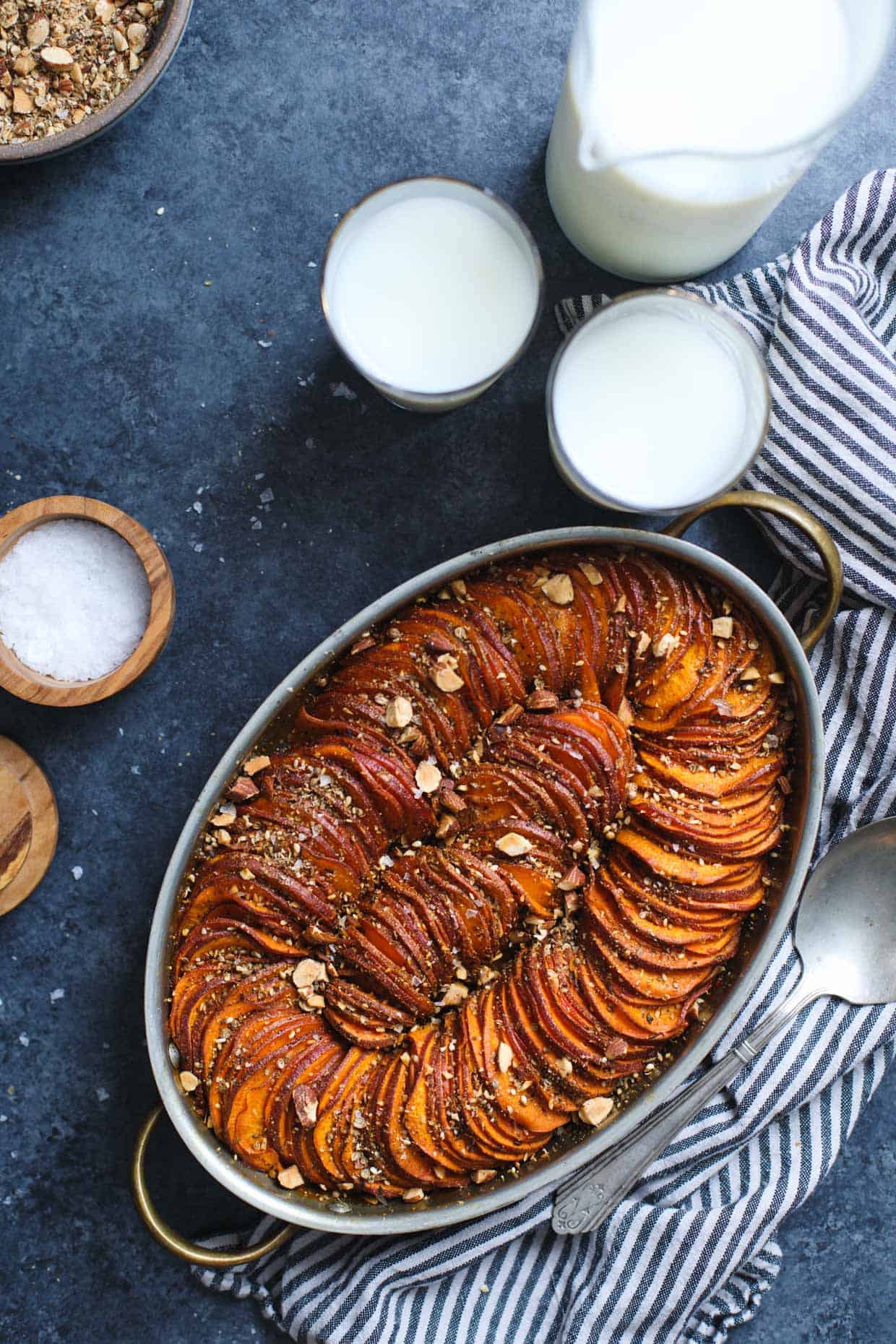 Now that we're well into introducing solid foods to Zoella, I'm doing everything I can to prevent her from becoming a picky eater - her list of approved cuisines so far includes vegan Tibetan food, Ethiopian lentils and injera, and now this maple harissa sweet potato gratin with almond dukkah.
Basically what I'm saying is, if you invite us to your fancy holiday dinner party, Zoella's ready. She will pull all the books off your bookcase and requires a 2 foot DO-NOT-PUT-ANY-DISHES-HERE radius around her at the dinner table, but as long as she can practice putting food in her mouth on repeat, she's a happy camper. (Warning: she can also chipmunk sweet potatoes like a boss.)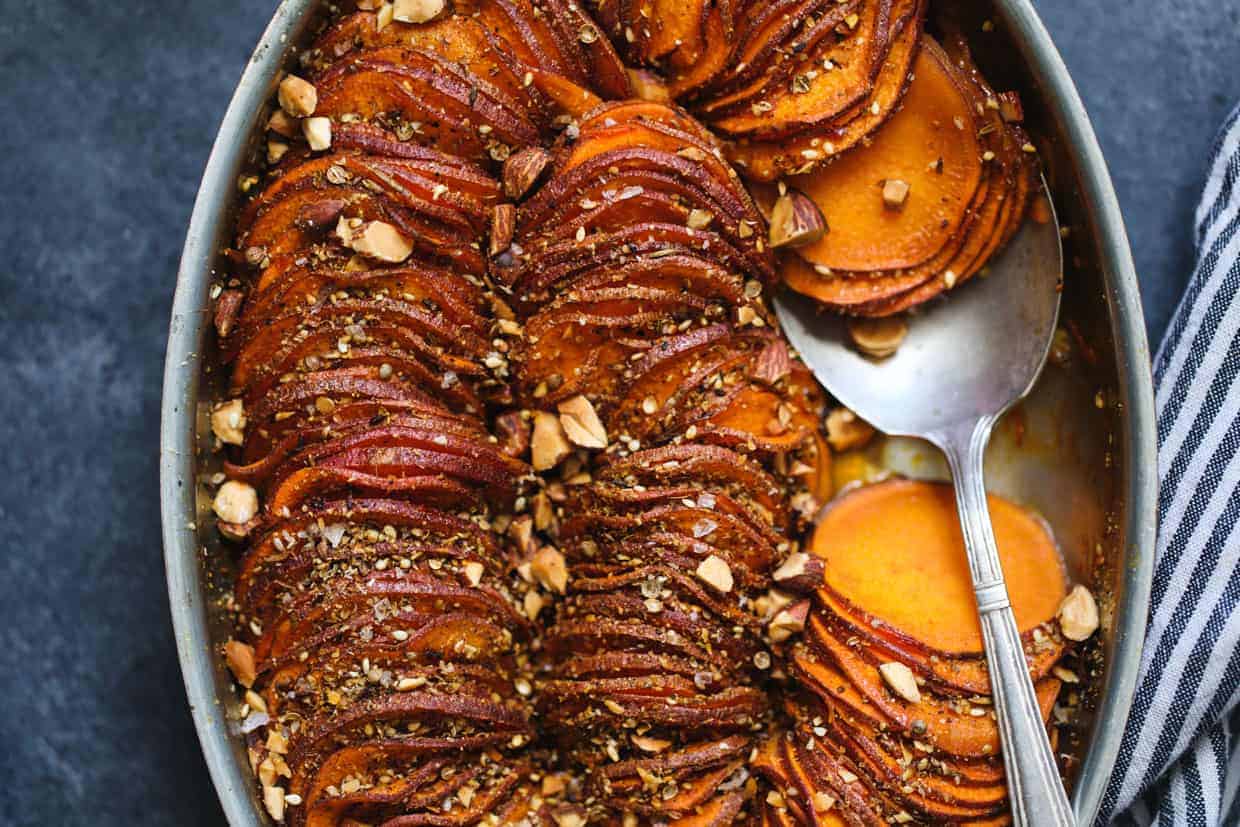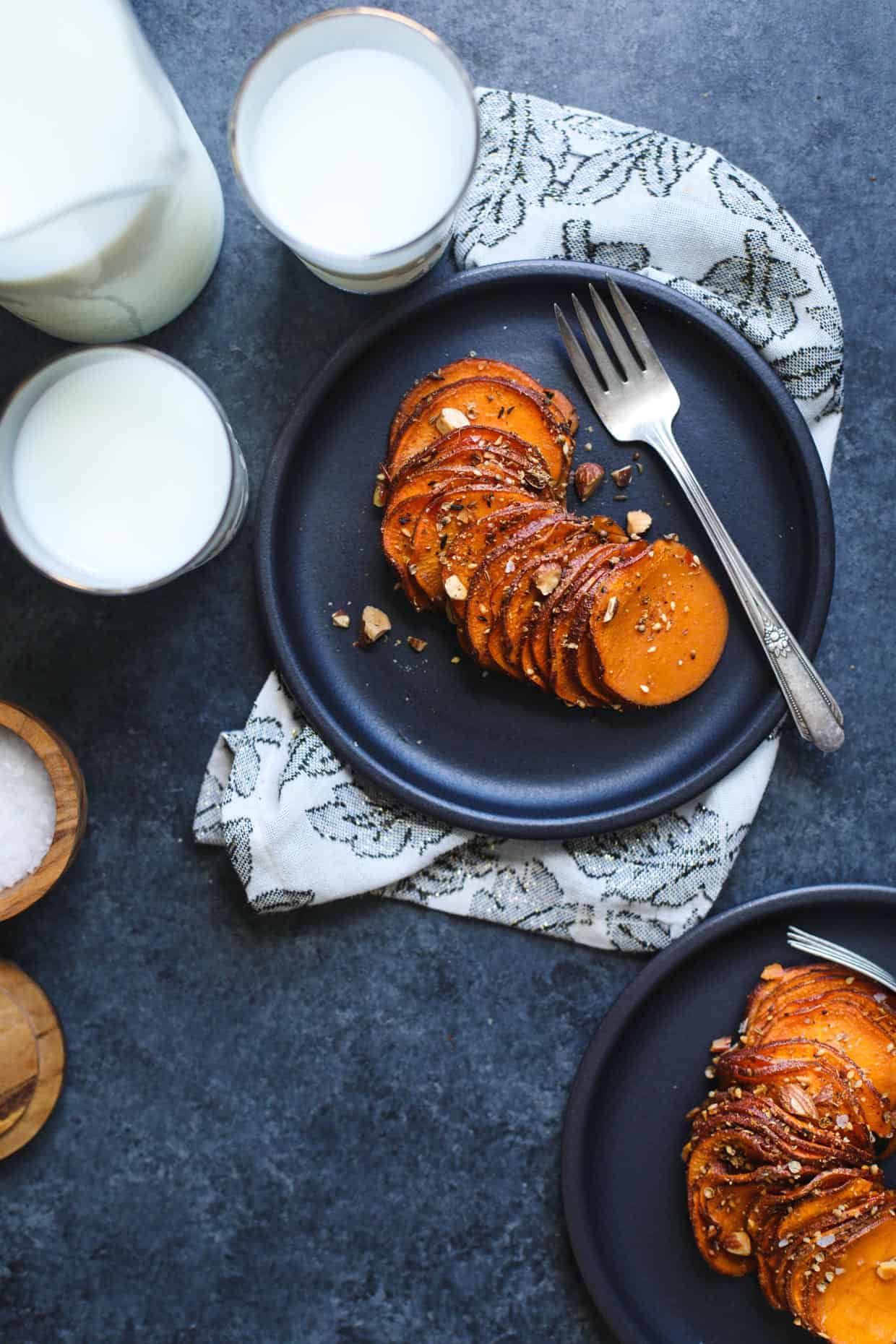 This maple harissa sweet potato gratin with almond dukkah is both baby and husband approved. For the topping, dry roasted almonds are tossed with toasted sesame seeds, coriander seeds, cumin seeds, black pepper and flaky salt for a spin on dukkah - a spice mix traditionally made with toasted hazelnuts. While the harissa adds a little heat, the sweet potatoes calm the spice and the dukkah adds nutty spice aromatics, creating just the right savory balance to serve up at your fancy holiday dinner party. Throw a caraffe of milk on the table and it's a feast!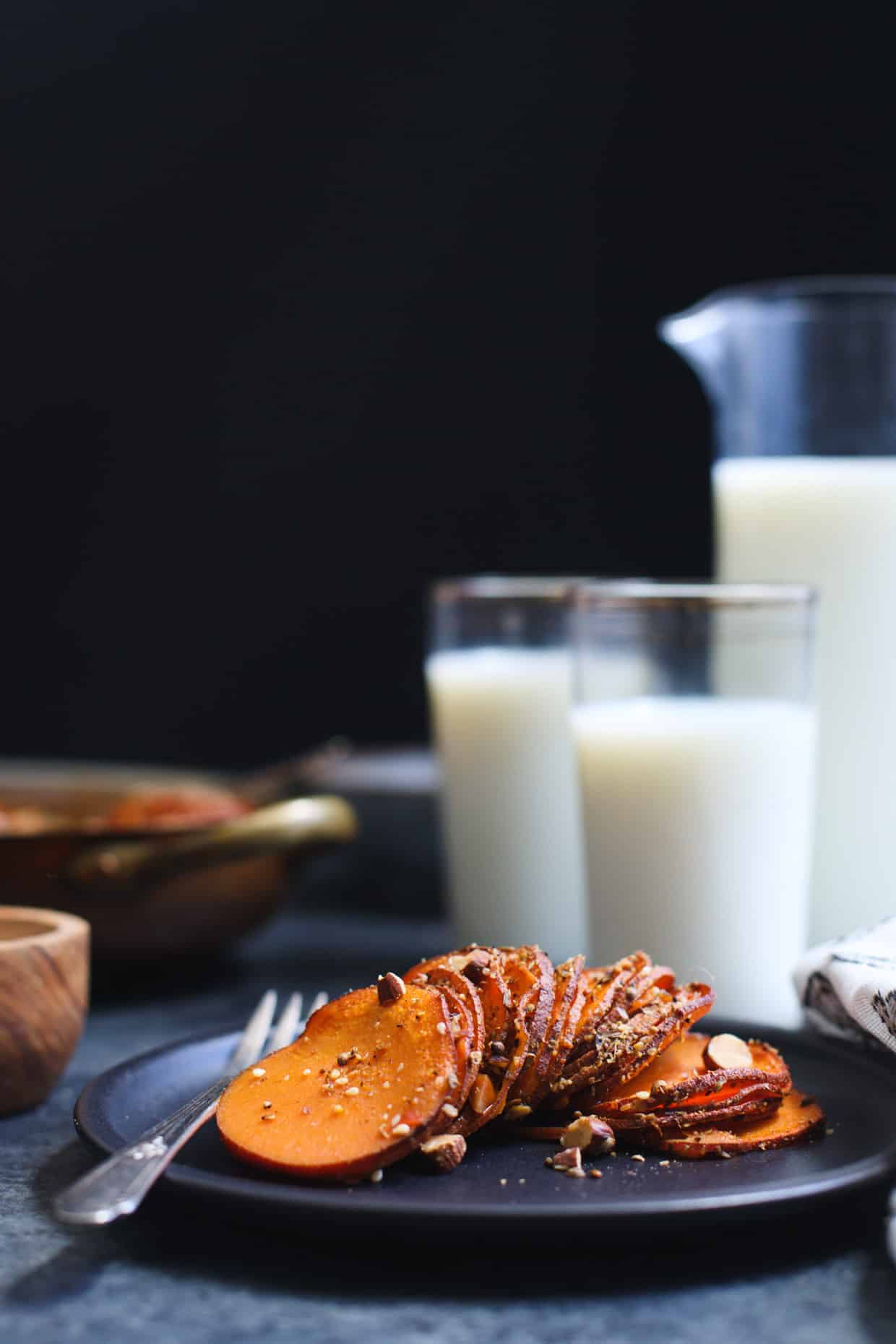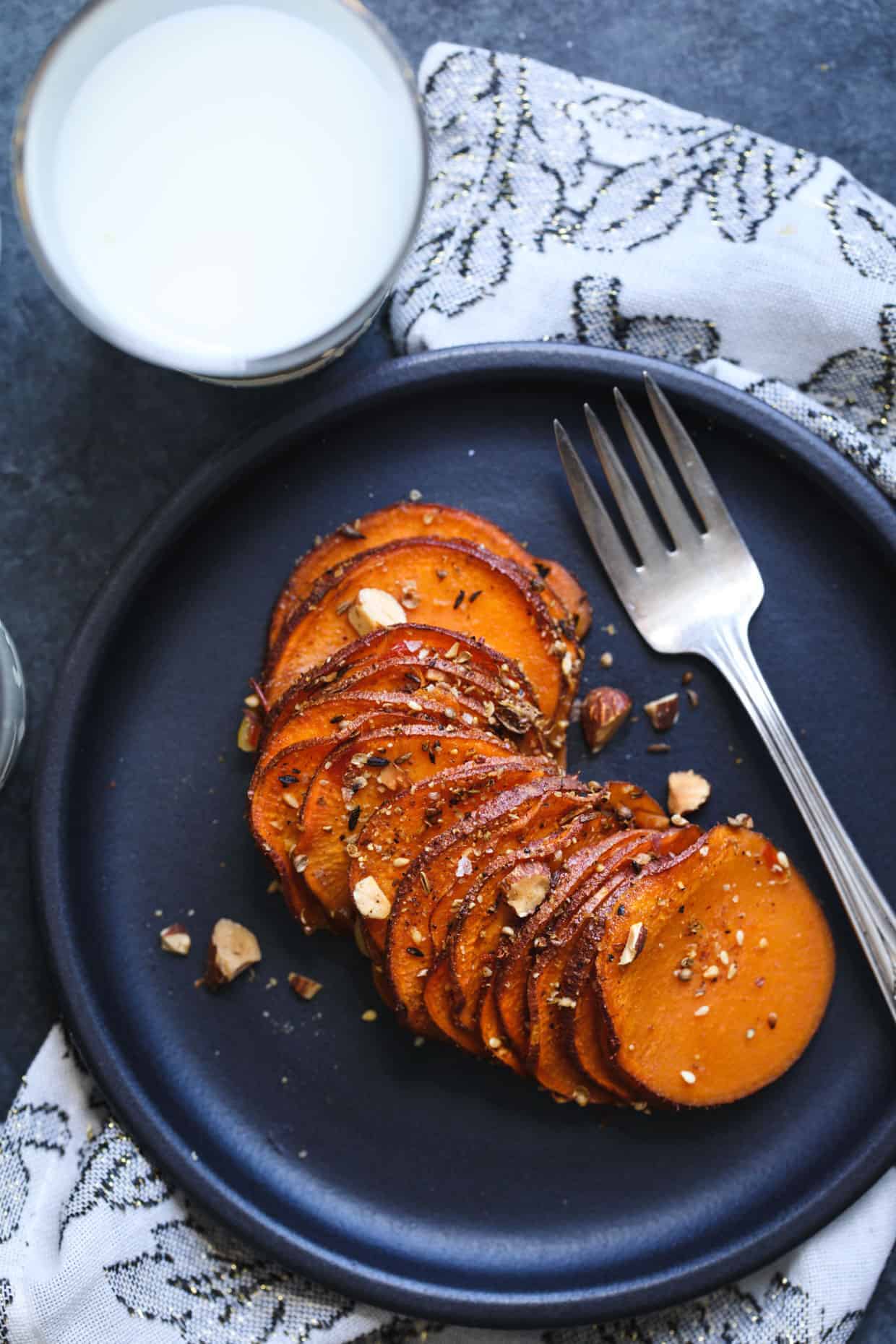 Thanks for reading Snixy Kitchen! To stay up on what's coming out of my kitchen, follow me on Facebook, Instagram, Twitter, Bloglovin', or Pinterest, or subscribe via e-mail to get new recipes right to your inbox.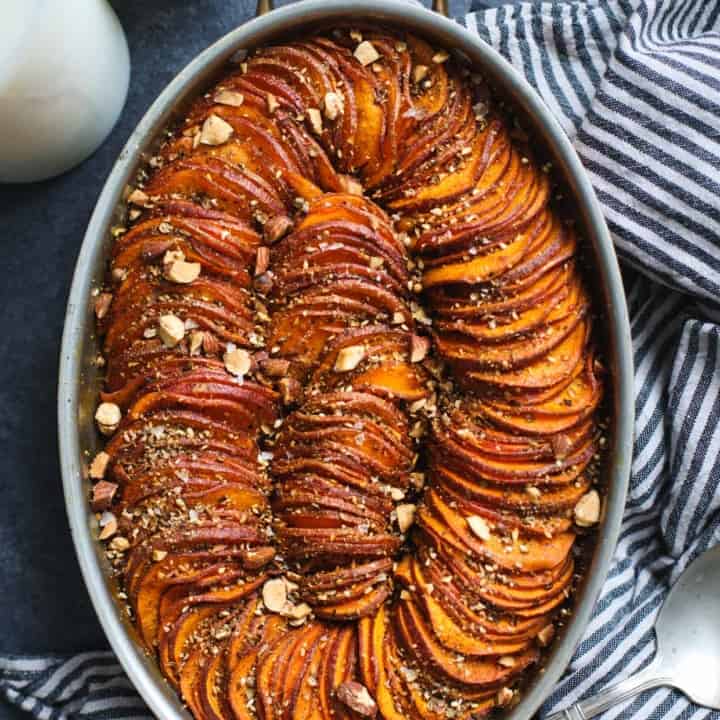 Maple Harissa Sweet Potato Gratin with Almond Dukkah
Ingredients
Maple Harissa Sweet Potatoes
3 medium sweet potatoes (2½-3lbs), thinly sliced 1/16th to ⅛th inch thick (preferably with a mandoline or food processor)
3 tablespoon extra virgin olive oil
2 tablespoons mild harissa
2 tablespoons pure maple syrup
1½ teaspoons salt
2 large cloves garlic, thinly sliced
3 tablespoons dukkah (recipe below or store-bought)
Almond Dukkah Topping
⅓ cup dry roasted almonds coarsely chopped
2 tablespoons sesame seeds
1 tablespoon coriander seeds
2 teaspoons cumin seeds
1 teaspoon black peppercorns
½ teaspoon flaky salt
Instructions
Preheat oven to 400°F.
In a large bowl, toss the sliced sweet potatoes in olive oil, harissa, maple syrup, and salt.
Arrange sliced sweet potatoes vertically in concentric circles in a 10-inch casserole or gratin dish (round, oval or even square will work!). Tuck garlic slices in between potatoes.
Cover gratin dish in foil and roast for 40 minutes.
Remove foil and bake for another 15-20 minutes until potatoes are tender and beginning to turn brown on top.
Meanwhile, prepare the dukkah. In a dry skillet, toast the sesame seeds, coriander seeds, and cumin seeds over low heat, stirring constantly, until they smell fragrant and sesame seeds begin to turn golden, 2-3 minutes.
Either in a coffee grinder or with a mortar and pestle, finely grind black peppercorns. Add the toasted seeds and lightly grind with a few pulses. Toss the ground seeds with chopped almonds and salt.
Top potatoes with 3 tablespoons dukkah (reserve remaining dukkah for later use) and serve warm.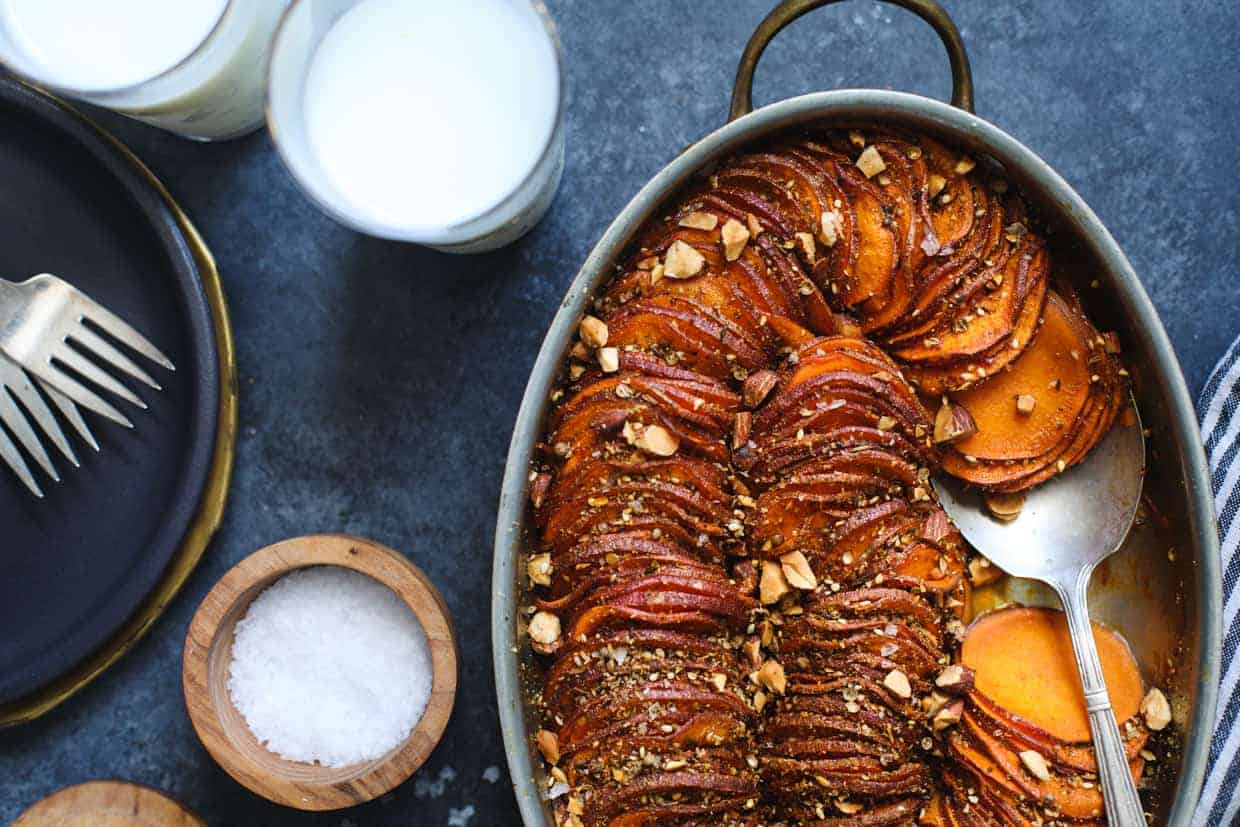 Disclosure: Special thanks to got milk? for sponsoring this post! Food Loves Milk. And thanks to you for supporting the companies that keep Snixy Kitchen cooking!