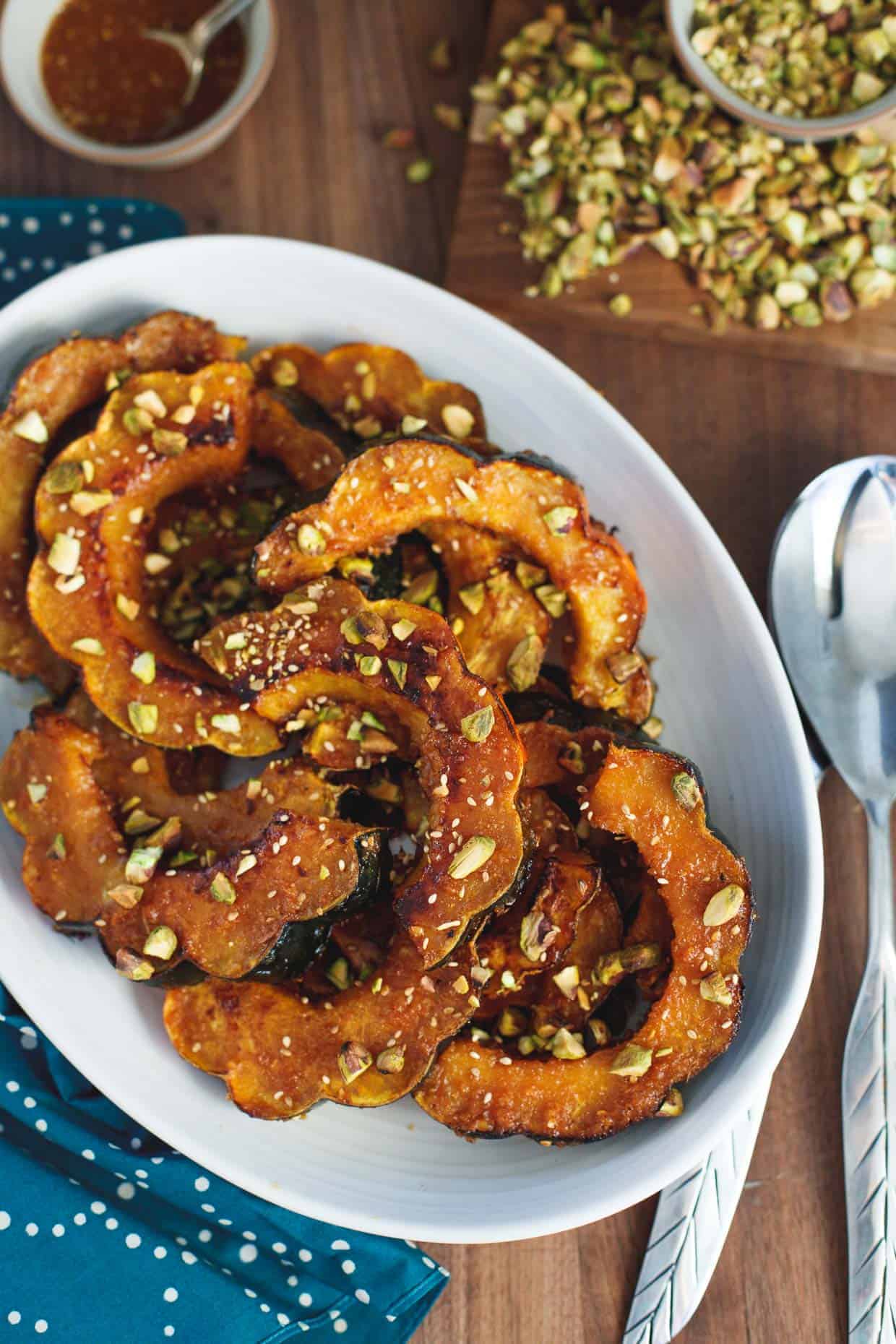 My mom's here for the week hanging out with me (and doing dishes) while Lucas is in China. I've been spending my days jumping between meetings and stretches of dissertation writing, so when I popped over here to tell you about this Ginger Miso Acorn Squash dish, I was stumped. I turned to my mom for inspiration, "tell me a story mom." And that's when I realized, that was my story.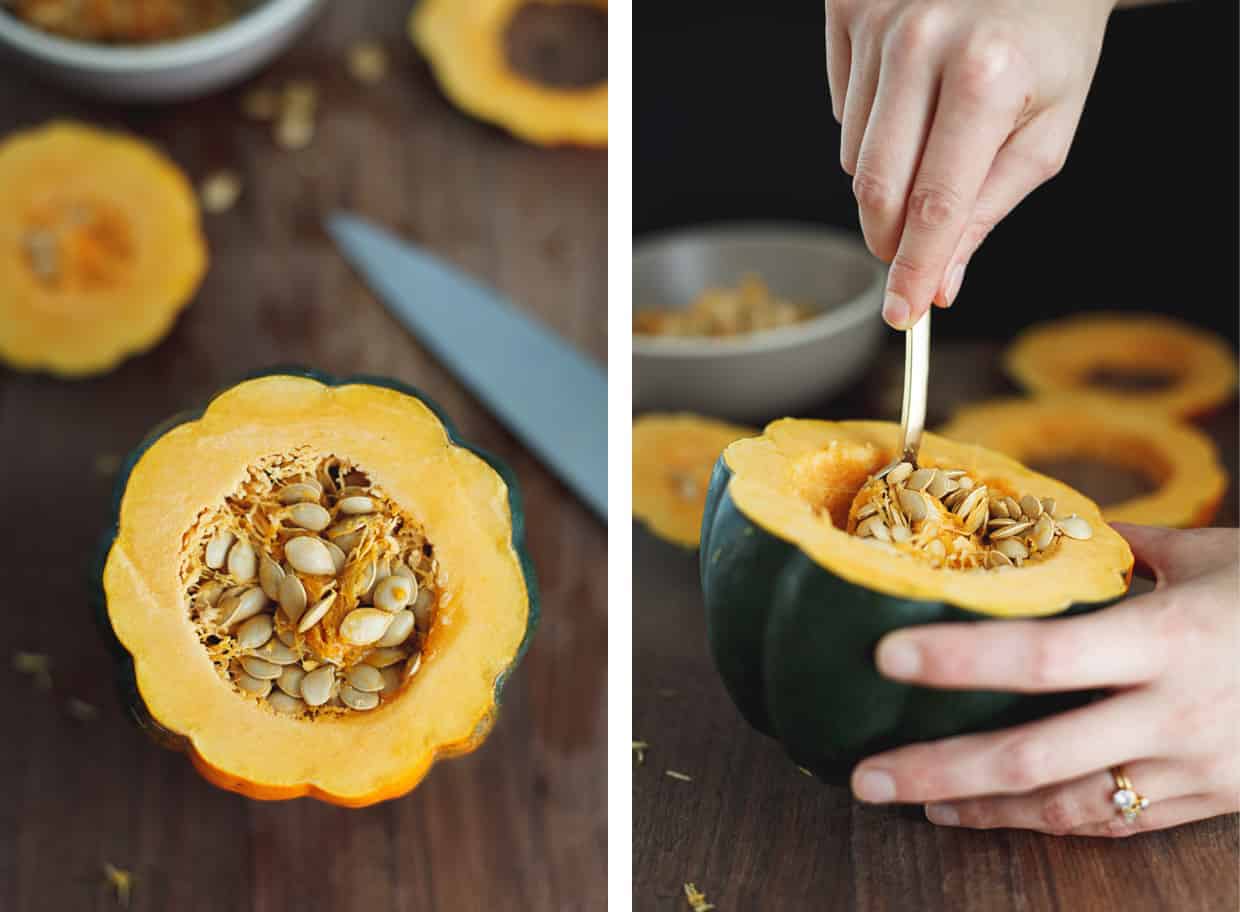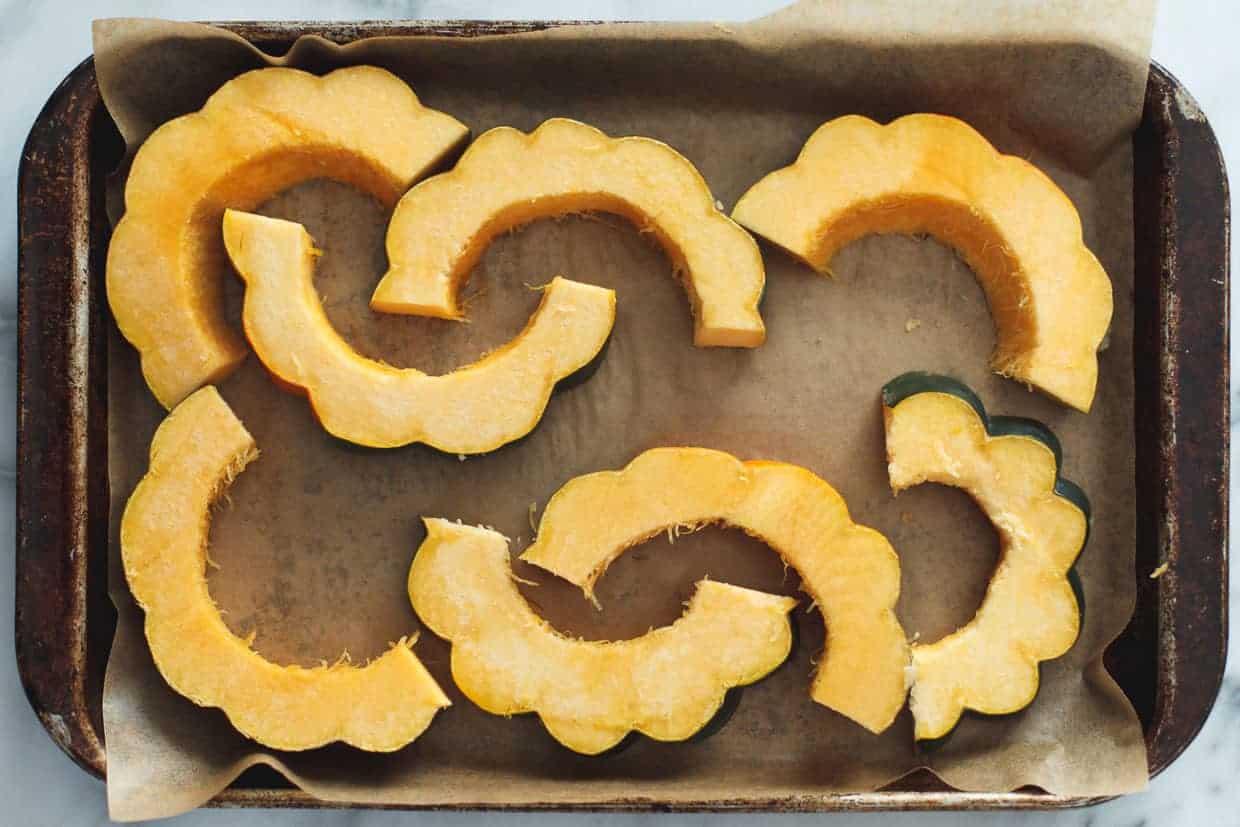 Whenever I had trouble falling asleep as a kid (which was basically every night because I've always been a night owl), my mom would come lay next to me. And every single night, I'd request, "tell me a story about when you were a little girl." Not, "read this book to me." No, I was an exhausting child and I demanded that she come up with an original story about some time in her life over 30 years ago and then recount it in vivid detail when I'm sure all she really wanted to do was go to sleep herself.
And she'd do it, telling me stories about walking up and down the street with a wagon full of cans pretending to sell paint, her sassooon boy hair cut, and how she got that scar on her knee while playing in a well...until I fell asleep. She has an impressive memory (except when it comes to what movies she's already seen - in which case, she'll accidentally rent the same movie twice on accident).
If my future kids ever ask for stories about when I was a little girl, I'm just going to pull up my blog and read posts as though they're picture books. Straight through to the recipe. They'll know how to sight-read "teaspoon" first.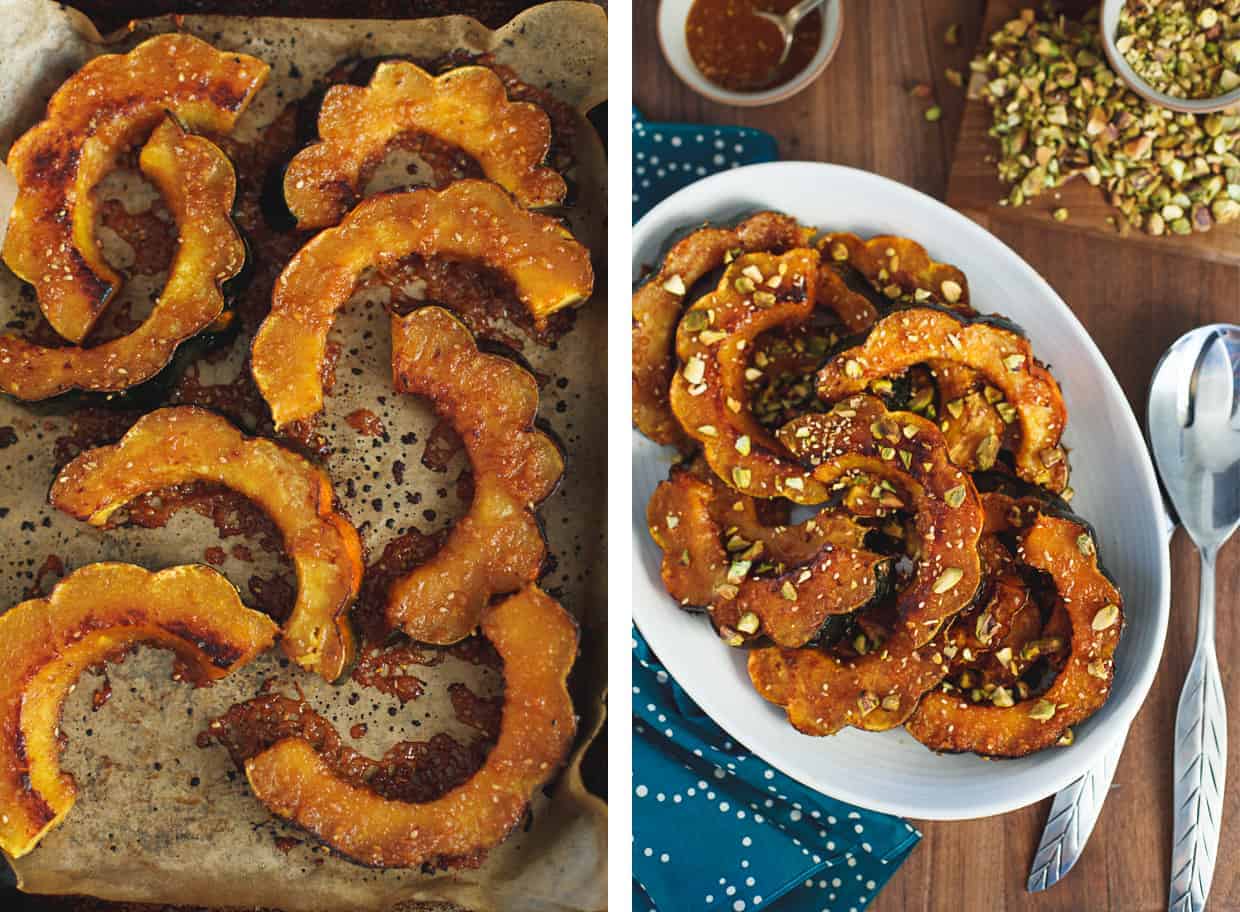 Growing up, we didn't eat a whole lot of winter squash in our house. Things were mostly restricted to pumpkin purée and the occasional butternut or spaghetti squash. Which is a shame, because it's simple to roast into a buttery soft side dish that's both sweet and nutty.
Plus, the acorn squash looks so frilly and dainty with its scalloped edges that I'm pretty sure it's the most charming vegetable side dish at the party.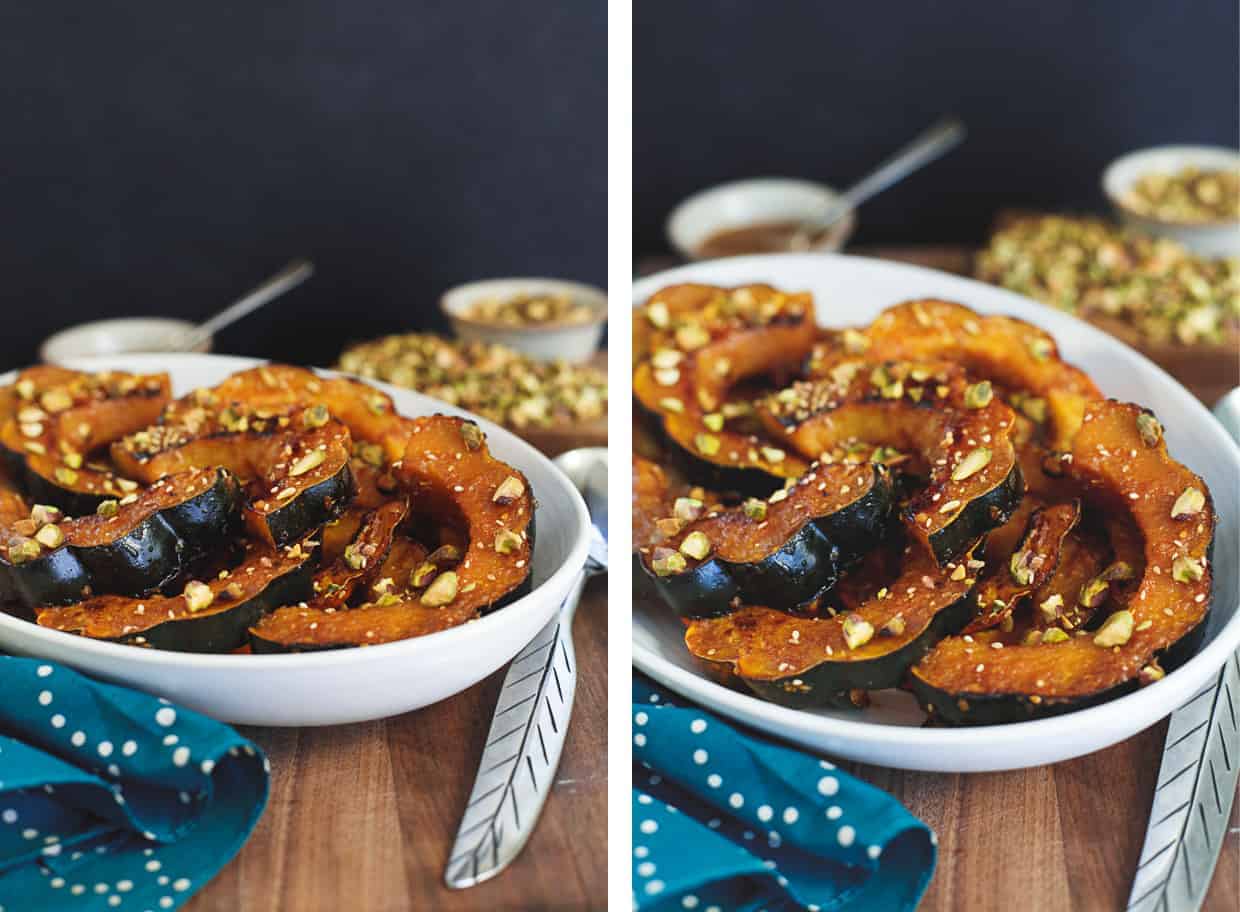 With my brother eating vegan for health reasons for many years, my family has always been heavy-handed on the soy for Thanksgiving. We made our spinach artichoke dip with soy cream cheese, the bean dip with soy sour cream, and a plump tofurky sat next to our giant golden bird.
This year, I'm adding soy to the menu in a slightly non-traditional way by mixing miso with fresh ginger and brushing it over crisped oven-roasted acorn squash. This silky smooth squash has a robust savory flavor infused from roasting until it begins to brown. Ginger miso glaze brings out the sweetness while adding a bit of spice, and the toasted pistachios complement the salty and sweet elements to round out the dish.
This is a Thanksgiving side that stands on its own - it definitely won't get forgotten among all the traditional staples.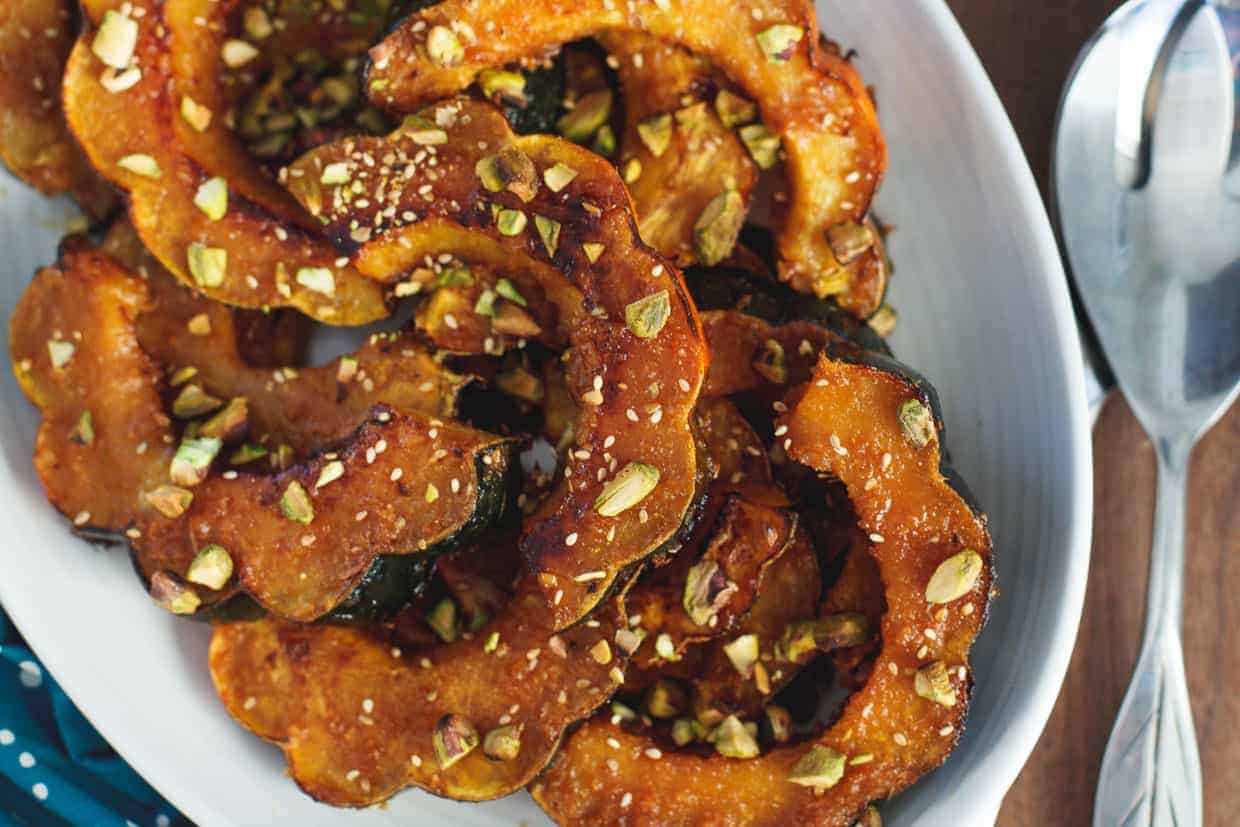 Are you sticking with the classics or mixing things up for your Thanksgiving feast this year?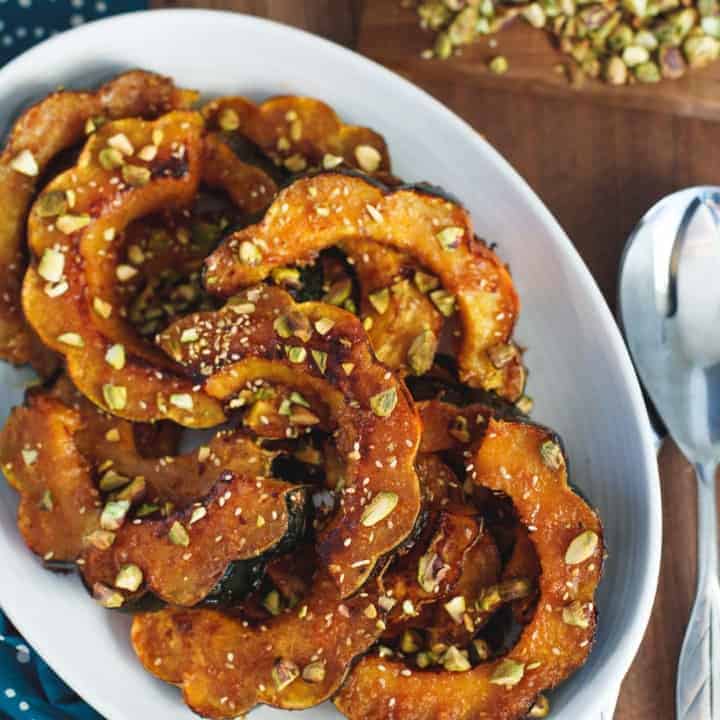 Ginger Miso Acorn Squash with Pistachios
Ingredients
2 acorn squash, seeds removed and sliced into half moons (as shown in the picture above)
2 tablespoons olive oil
2 tablespoons mirin
1 tablespoon brown sugar
1 tablespoon freshly grated ginger
1 teaspoons sesame oil
3 tablespoons tamari sauce
½ tablespoon rice vinegar
3 tablespoons white miso
1 tablespoon water
¼ cup toasted pistachios, chopped
Optional: 1 tablespoon toasted sesame seeds
Instructions
Preheat the oven to 425°F.
Arrange the cut acorn squash on two baking sheets lined with parchment paper or a silpat mat. Brush both sides of the cut squash with olive oil. Roast for 20-25 minutes, flipping the squash every 10 minutes, until nearly soft when pierced with a fork.
Meanwhile, whisk together the mirin, brown sugar, grated ginger, sesame oil, tamari sauce, and rice vinegar in a small saucepan. Bring to boil over medium-low heat.
Whisk the water and miso together in a small bowl and add it to the saucepan. Cook for 1 minute longer, whisking until smooth. Remove from heat and set aside.
When the squash is nearly cooked through, brush the sauce over the top of each cut squash.
Place the squash under the broiler for 3-4 minutes, until it just begins to brown.
Transfer to a serving platter and sprinkle the toasted pistachios and sesame seeds over the top.
Notes
Eating the skin is optional - some find it adds the right crunch to contrast the smooth center while others think it's too tough. Either way, I like to keep it on while roasting to help hold its shape, and it's really easy to only eat the soft orange flesh by just scraping it from the skin with a fork.