A comforting fall pear and concord grape galette sprinkled with rosemary sugar and filled with nature's sweetest grapes all wrapped up in a flaky gluten-free crust.
I've been neglecting grapes on my blog for far too long. And it's not because I don't like them. Quite the opposite, in fact - they've got a permanent place in my refrigerator from late summer through fall. Usually it's red grapes, but for desserts, concord grapes provide the quintessential grape flavor that's worth seeking out this time of year. These are the gems grape jelly is made from and they burst of that classic grape candy brightness (without the artificial flavor notes). This fall galette balances punchy sweet concord grapes with fall pears, a hint of rosemary, and toasted pecans - all wrapped up in a flaky gluten-free crust.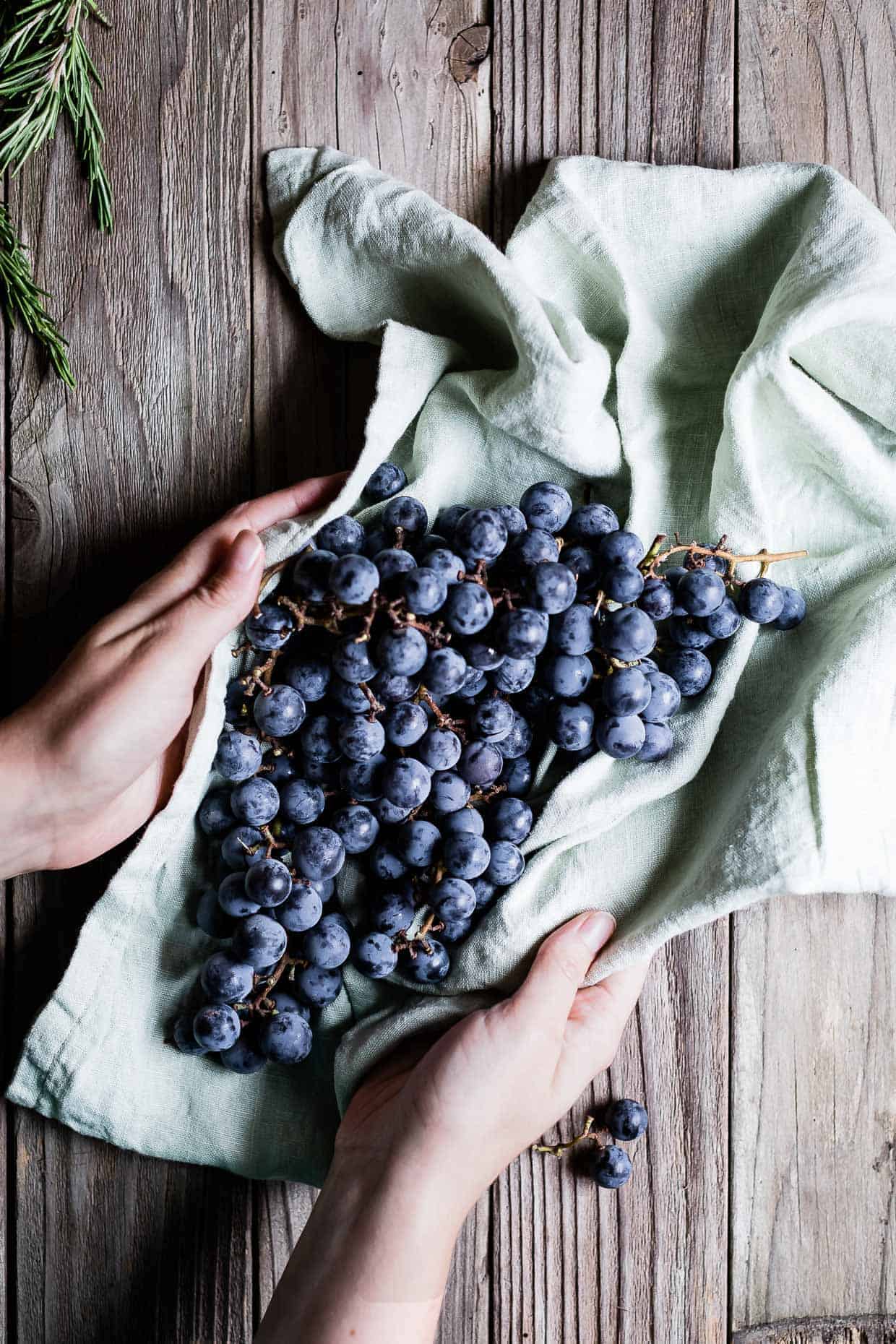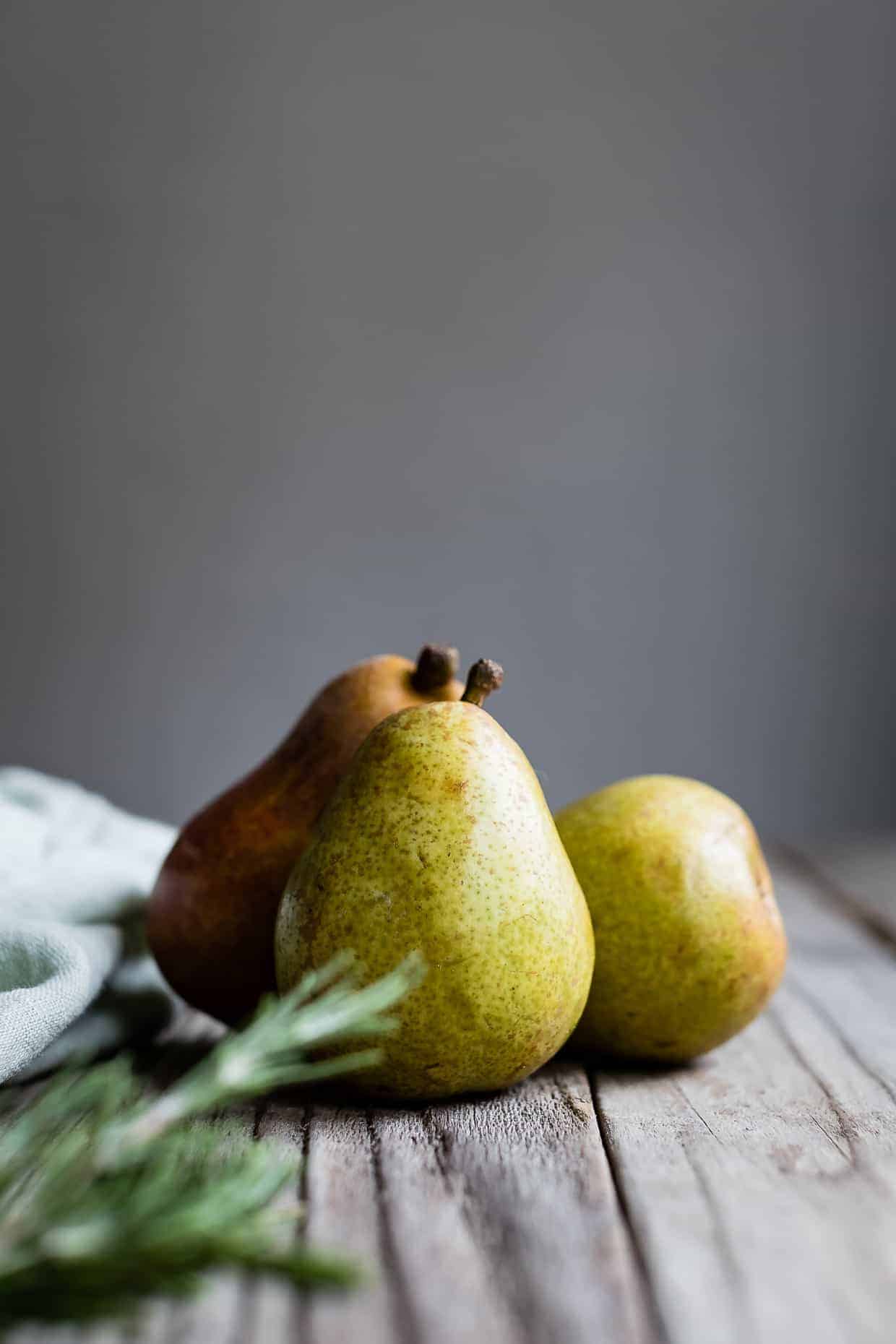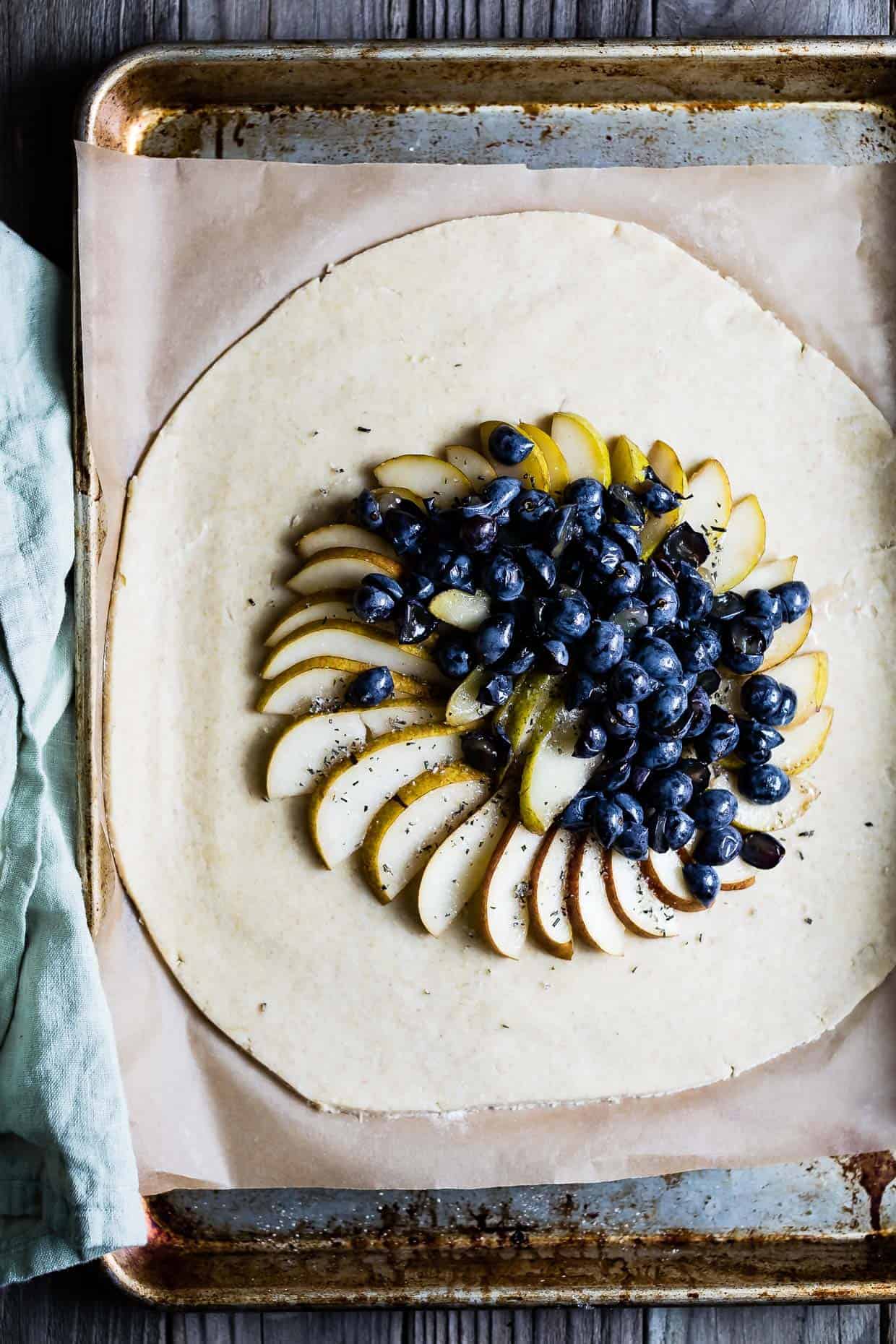 While grapes are poisonous to cats, my teeny 7lb kitty is obsessed with grape stems. She plays with them like yarn, but doesn't eat them. Lately I've kept a snack bowl of grapes next to me on the couch while I work and whenever I'm finished, Aioli (the cat) tries to steal the stem from the bunch. Last week, she sneakily leaned in to grab the stem with her mouth. Only it was still full of grapes. Good luck, cat.
I just let it happen because wouldn't it be funny when my itty-bitty kitty realized she couldn't lift the grape cluster nearly half her size? Except that's not what happened at all because she's a cat and cats are headstrong. She committed to her crime and jumped off the couch, running away with an 8-inch long cluster full of grapes in her mouth trailing behind her. Obviously I recovered the contraband before she got a taste.
Have you seen that video of the cat who burglarized the neighbors at night? My cat is an indoor cat or else I'm certain that would be her. She'd probably steal all the neighbor's produce, bringing me grapes and kale. But for now, I'll just blame her anytime something goes missing in my house.
Oh, that darn cat stole my keys...again.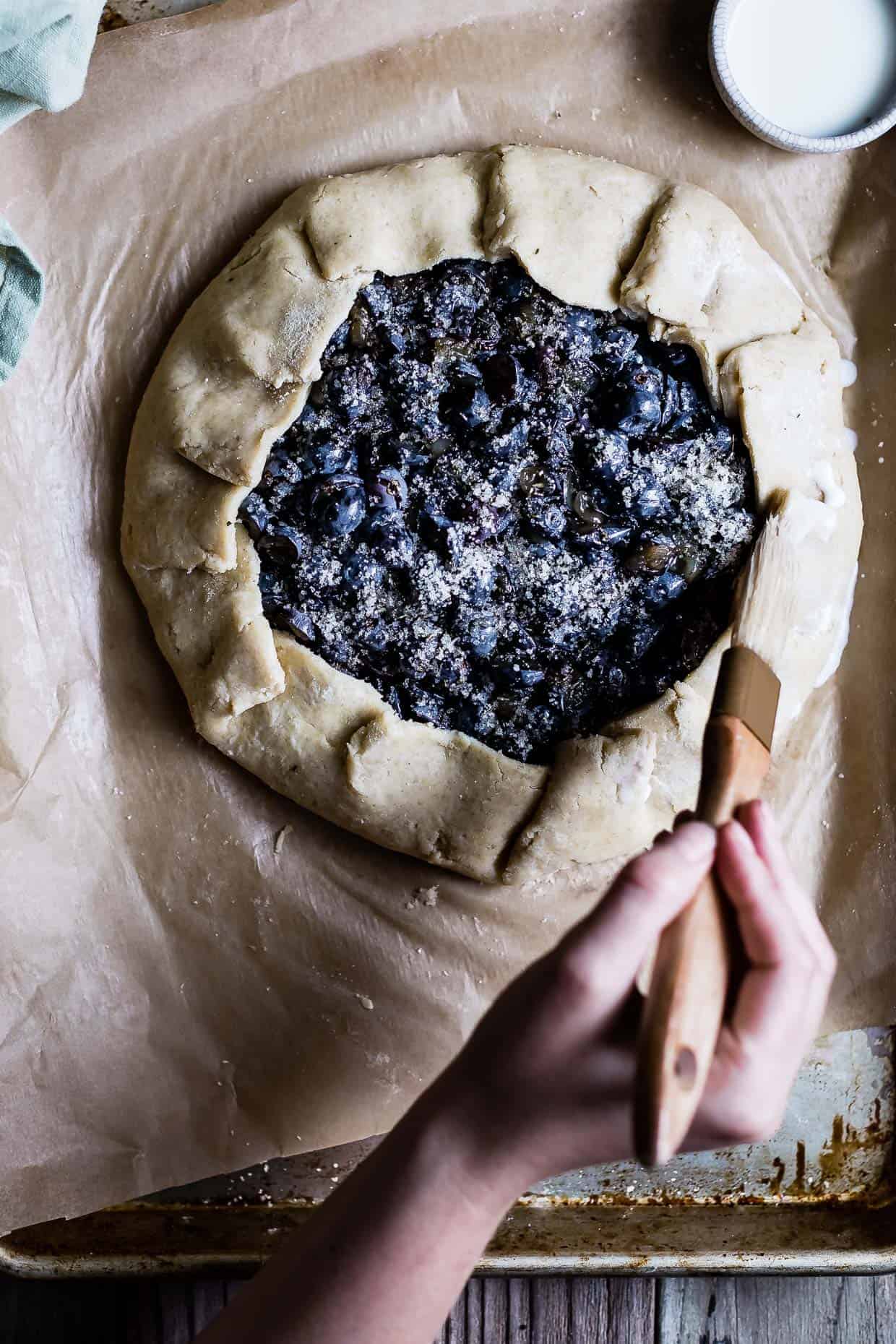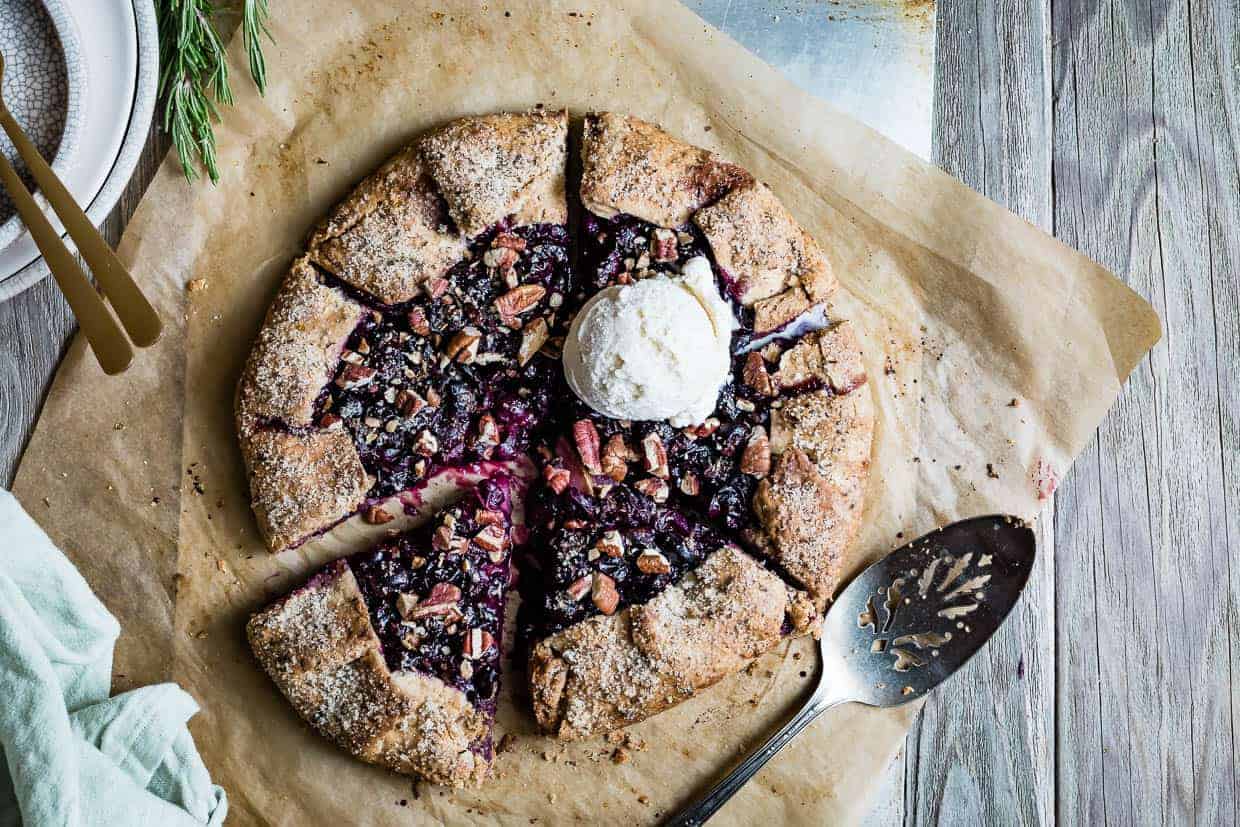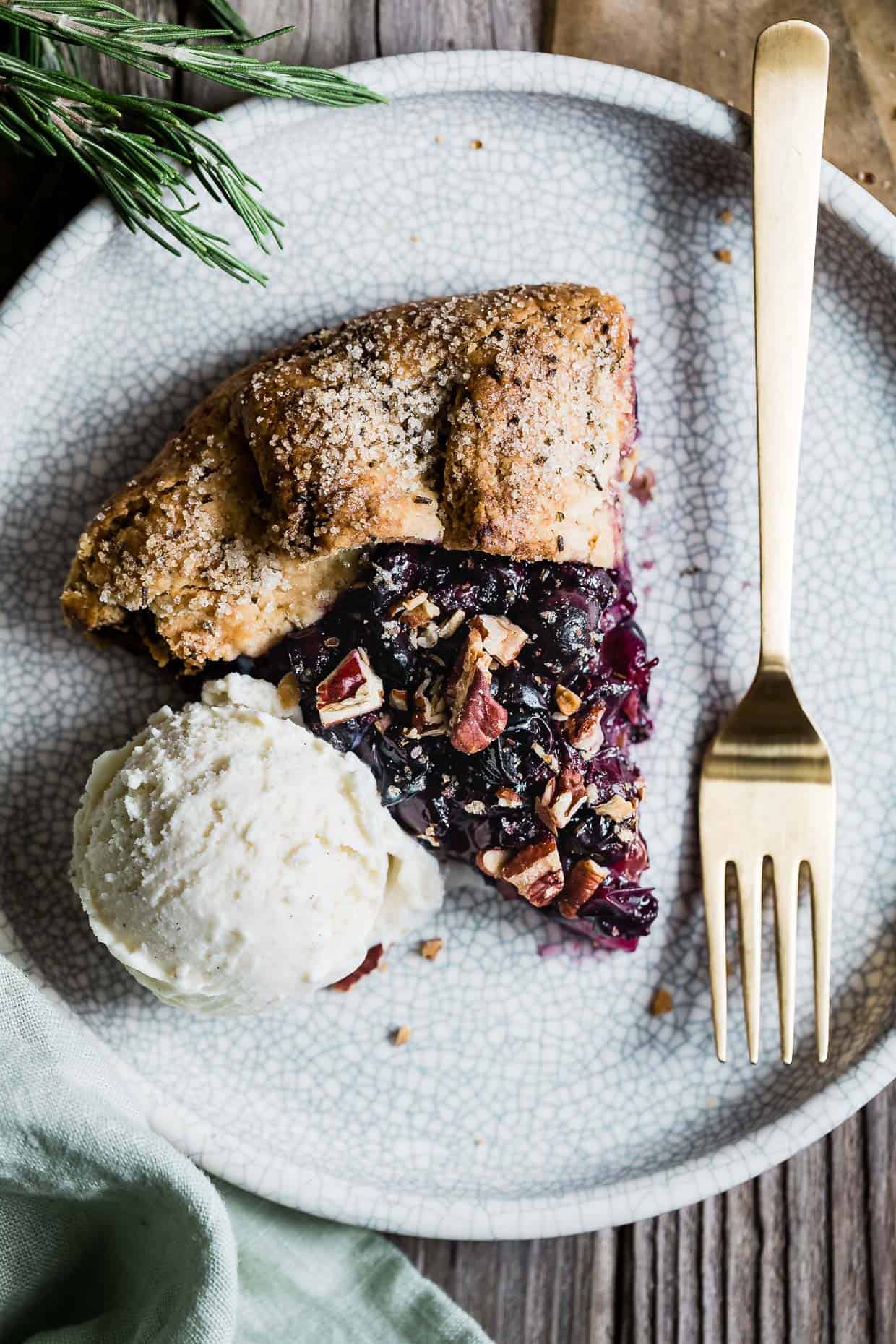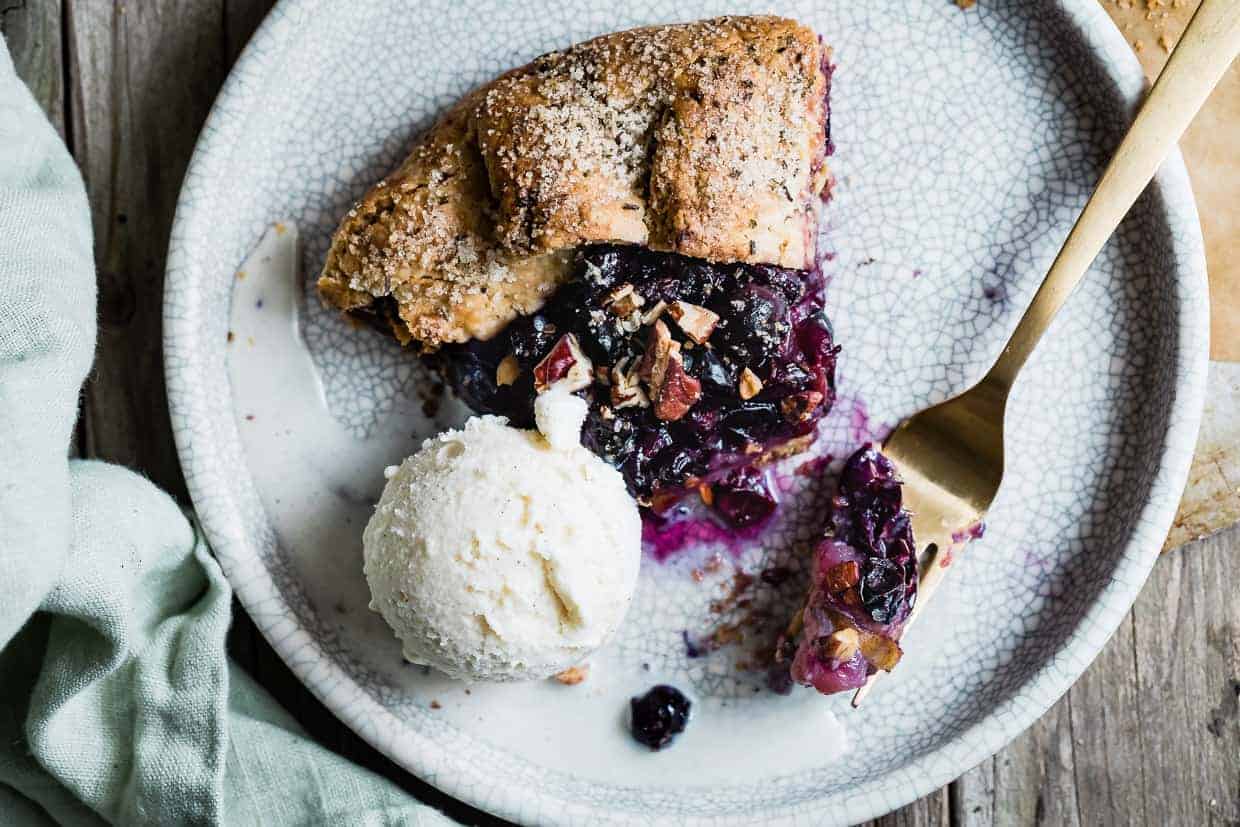 I kept these prized clusters of concord grapes out of sight before the cat could make away with them. While the bright classic  grape flavor of concord grapes makes them the most delicious snacking grape, they're also pretty stellar baked up into a pastry crust. Popping  out the seeds while preserving the skin and juicy centers is a labor of love that's completely worth it (and honestly, takes no more than 10 minutes). I've paired them with more subtle fall pears and savory rosemary to balance out the sweetness and toasted pecans and a scoop of creamy vanilla ice cream provide the perfect break from tartness, bite after bite. Happy Fall!
Thanks for reading Snixy Kitchen! To stay up on what's coming out of my kitchen, follow me on Facebook, Instagram, Twitter, Bloglovin', or Pinterest, or subscribe via e-mail to get new recipes right to your inbox.
This post was scheduled to go up as normal earlier today, but in the wake of the mass shooting in Las Vegas, my heart feels heavy and galette seems trivial. Sending heartfelt love and condolences to those in Las Vegas and their friends and families. I wish there was something that I could say that would alleviate even an ounce of pain. This galette is here today because food is my way of healing, but I'm also working on actions that can contribute to a healthier, safer country.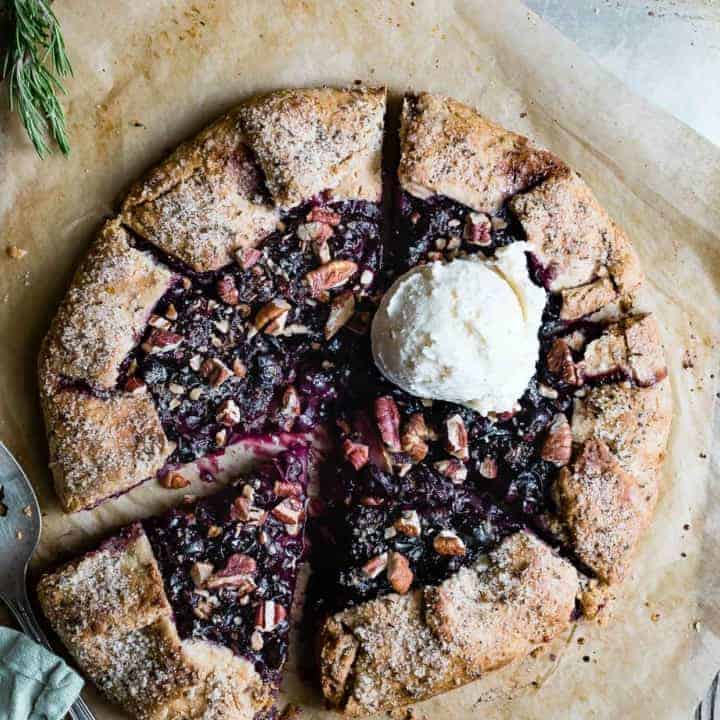 Rosemary Pear & Concord Grape Galette
Ingredients
Gluten-free Crust
Rosemary Pear & Concord Grape Filling
3 tablespoons cane sugar
1 teaspoon chopped fresh rosemary
3 pears (¾lb) , such as Bosc or Anjou, cored and sliced thin
1lb concord grapes, halved and seeds removed (alternatively, use halved purple seedless grapes, but the flavor won't be as strong)
3 tablespoons toasted pecans, chopped, for serving (optional)
Instructions
Gluten-Free Pie Crust
Whisk together the oat flour, millet flour, sweet rice flour, tapioca starch, sugar, xanthan gum, and salt in a large bowl.
Add the butter and mix with your hands, breaking up the butter until the largest pieces are about the size of an almond.
One tablespoon at a time, dribble in the ice water, combining each time, until the dough holds together when pinched with your fingers.
Roll the dough in a ball and flatten into a disc. Wrap with plastic and refrigerate for 30 minutes.
Preheat the oven to 400ºF.
Sprinkle some millet flour over wax or parchment paper, and roll out the dough over the paper until it's about 12-14 inches in diameter. Optional: cut any jagged edges off for a smoother look.
Place the rolled-out disc of dough on a parchment-lined baking sheet.
Rosemary Pear & Concord Grape Filling
Begin by making rosemary sugar. Pulse the sugar and rosemary in a food processor until the lavender is finely ground. Alternatively mince the rosemary as fine as you can and blend it with the sugar by hand.
Arrange the pear slices fanned out in a single overlapping layer on top of the rolled-out crust, leaving a 2-inch border around the outside. Cover the top with the halved concord grapes.
Sprinkle half of the rosemary sugar over the fruit.
Gently fold the dough on the edges back over the fruit, pleating the edges as you go, leaving the center exposed. Use any dough you cut off to patch any holes.
Brush the edges lightly with milk and sprinkle the remaining sugar over the crust. Make sure you don't have any sugar on the pan surrounding the galette or it'll end up burning up (a little burnt sugar is totally normal, you'll be able to break it off and it won't impact your final flavor).
Bake until the the crust is golden brown and the fruit is bubbling, about 45 minutes.
Top with toasted pecans and serve with a slice of vanilla ice cream
Notes
*I grind my own oat flour by pulsing gluten-free rolled oats in a high-powered blender until completely fine.