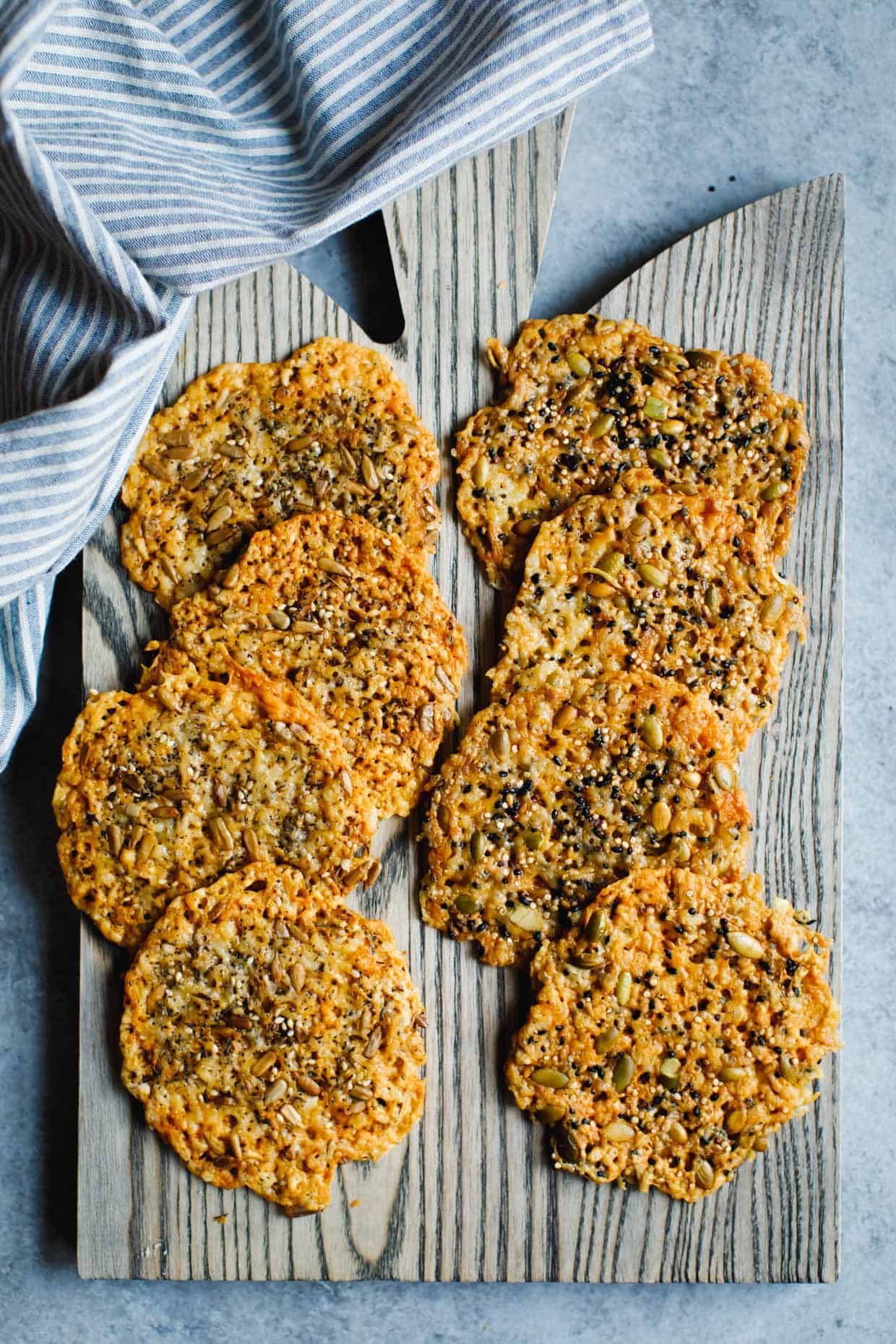 My girl Carla and I have fallen into a standing weekly boba & pupusas lunch date. We didn't set out to turn it into a habit, but last month, the waiter at the pupuseria came up to our table and grinned, "the regular?" That's when we realized what we'd become. In all fairness, we also bring along (in my very biased opinion) the cutest baby ever who doles out smiles like she's made of them, so we're probably not that hard to forget. Also, you should see this cheese baby take down a pupusa.
If you've never had a pupusa before, it's basically a thick handmade corn tortilla dough filled with cheese, beans, meat, or veggies, and cooked on a griddle. The more cheese that has seeped out of the pupusa to get extra crispy on the edges, the better. We can all agree that there's not much better than burnt crispy cheese, right?
Occasionally (like once in a blue moon), we veer from our weekly routine in favor of a new adventure, but somehow it still leads us back to burnt cheese. On our latest detour, we discovered The Pasta Shop's seeds + cheese crisps and immediately knew we needed to make a riff on them. Imagine thin lacy parmesan crisps, but then taken to a whole new level of insanity. I'm a candy fiend and I could certainly win an ice cream eating contest, but there's not much more addicting that these crispy bits of burnt cheese tangled up with toasted seeds.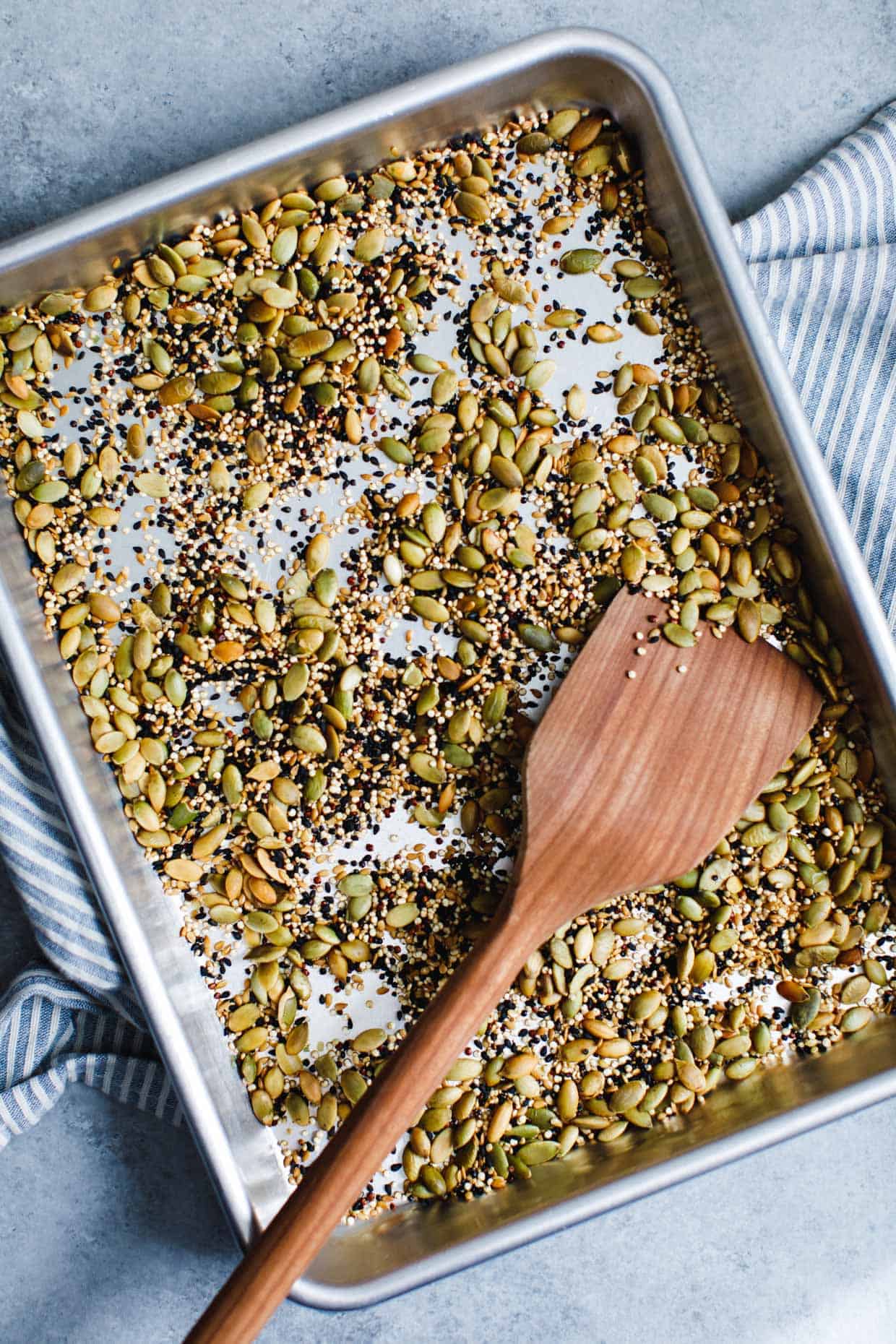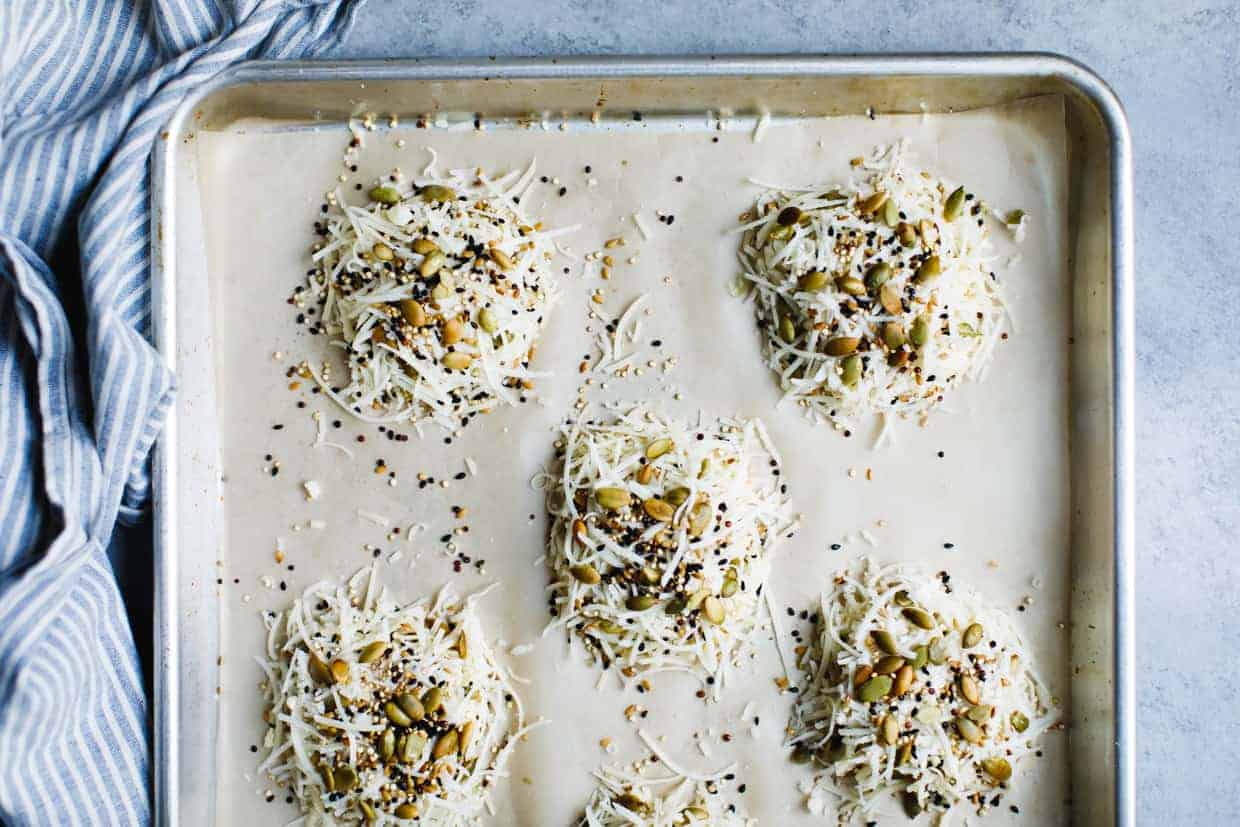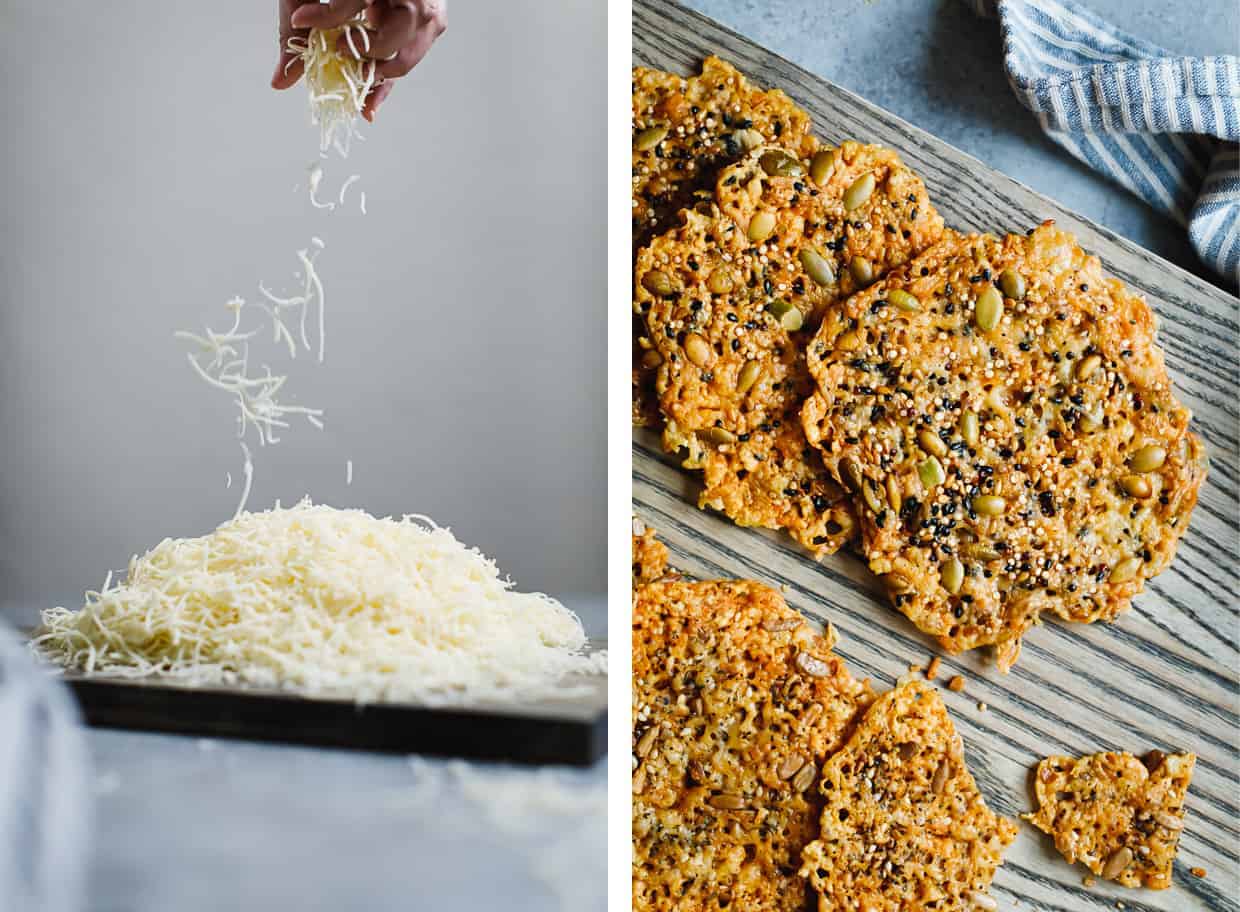 Carla and I made two different versions here to serve up as the most tempting snack on your New Year's Eve table - my seed and cheese crisps layer up asiago and gruyère with toasted quinoa, pepitas, flax seeds, and black sesame seeds. It's nutty, it's crunchy, it's crispy, it's BURNT CHEESE YOU GUYS. It's the best part of a pupusa in one cheesy cracker.
Carla's za'atar crisps recipe isn't up yet (previewed on the left in the first and last photos in this post), but I'll let you know where to find it when it is!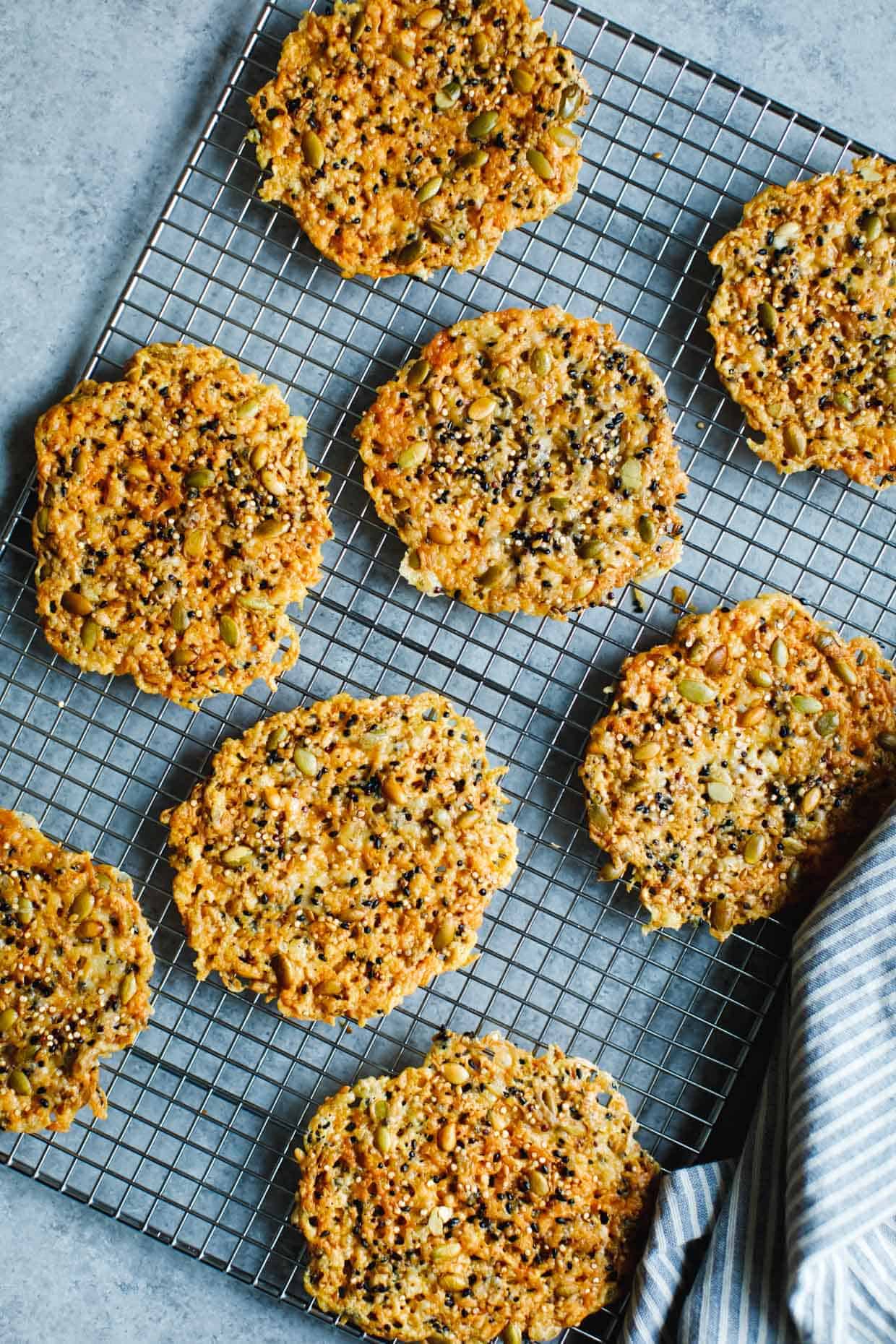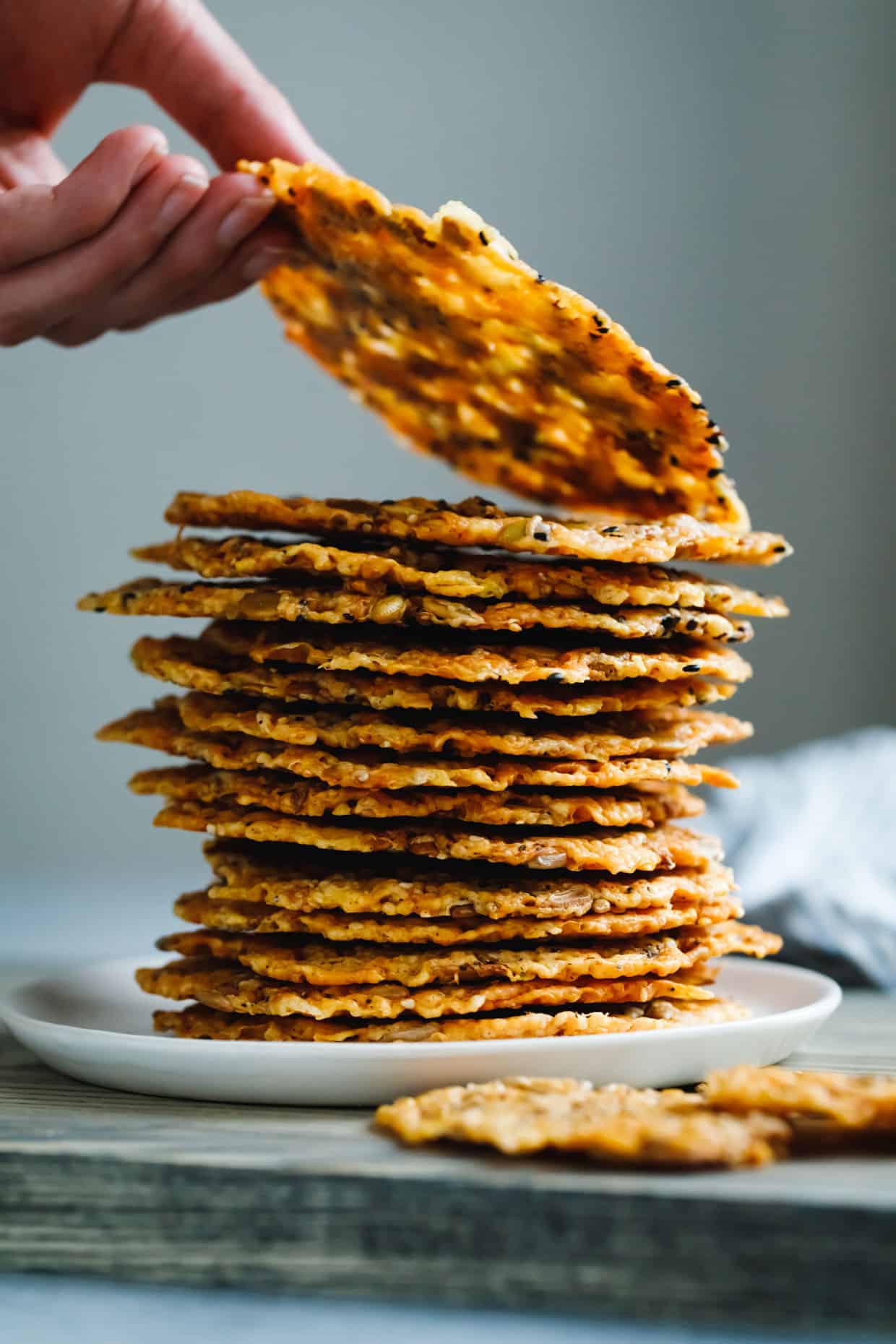 Also, since these asiago seed and cheese crisps are filled with superfood seeds and since you bake the oil off, it's basically health food, OBVS. If you're not convinced of my health food argument, I recommend breaking the crisps into smaller pieces to enjoy in moderation while turning any salad into an addicting crunchy affair. Boom - health food.
Just when you thought cheese couldn't get any better.
Happy New Year!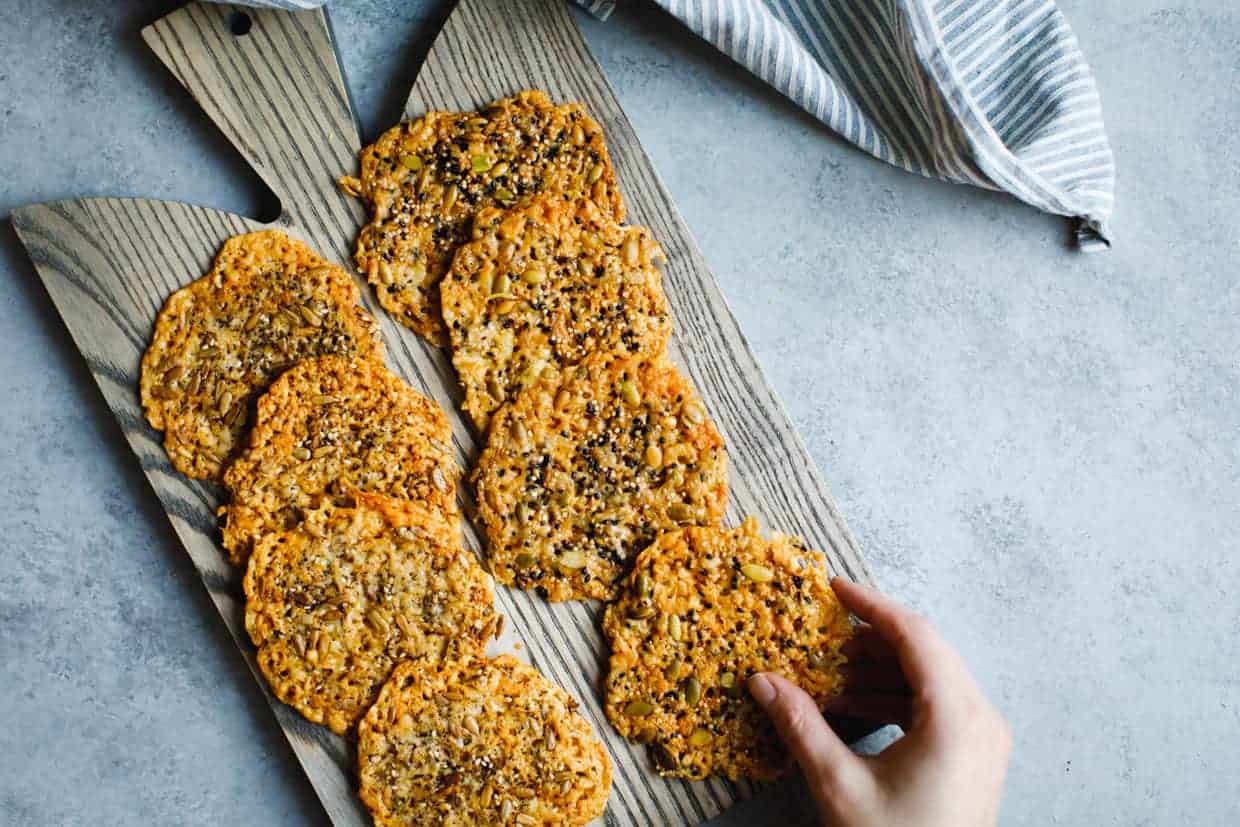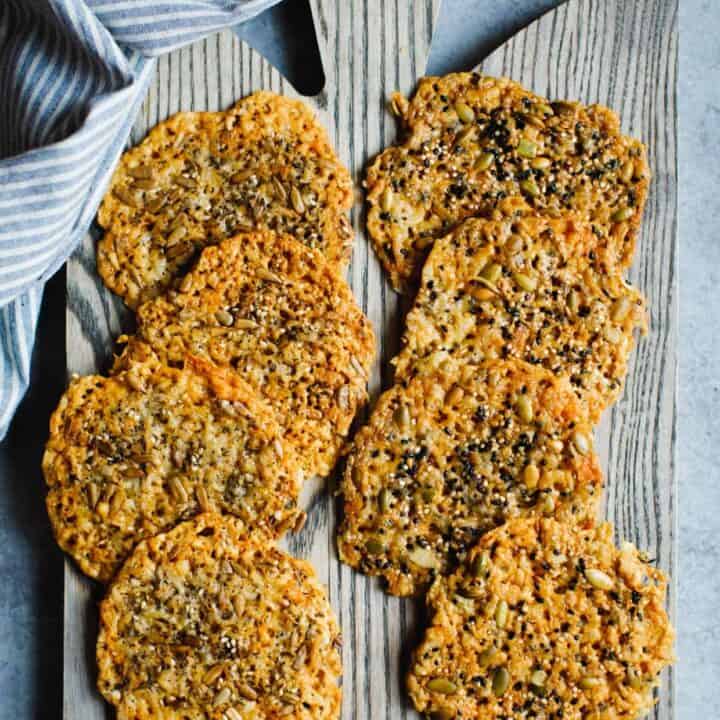 Asiago Seed and Cheese Crisps
Ingredients
½ cup pepitas (pumpkin seeds)
¼ cup + 1 tablespoon uncooked quinoa (I used tri-color quinoa because it's pretty)
1½ tablespoon black sesame seeds
1½ tablespoon flax seeds
¼ teaspoon olive oil
12 ounces shredded asiago cheese (1½ cups, packed)
4 ounces packed gruyere cheese (½ cup, packed)
Instructions
Preheat oven to 350°F.
Toss pepitas, quinoa, black sesame seeds, and flax seeds with olive oil and spread out on a baking sheet. Roast for about 15 minutes, tossing every 5 minutes, until seeds a lightly toasted. Remove from heat and set aside.
Increase oven to 400°F. Line a large baking sheet with parchment paper.
Prepare your cheese nests. Drop 1 packed tablespoon asiago cheese on parchment paper and slightly shape and flatten into a 2-inch round. Repeat until you've created 8 rounds on a baking sheet, placing them 2 inches apart. Top with 1 teaspoon toasted seeds, 1½ packed teaspoons gruyere, 1 more teaspoon toasted seeds, 1½ packed teaspoons asiago and 1 final teaspoon toasted seeds. shape and pack into a 2-inch round.
Bake for 15-20 minutes, until the rounds are almost all the way golden with only a few light spots (ie. you don't want them to be dark brown or they'll taste burnt), flipping halfway through with a metal spatula.
Remove from heat and let cool on a wire rack while you prepare and bake the second half of the crisps. The rounds will crisp up as they cool.
Return the cooled cheese crisps to the oven for 3-5 minutes until they look uniformly cooked through but not dark brown - this step will ensure that your crisps get crispy without burning. Remove from heat and let cool completely on a wire rack. Repeat with second batch of crisps.
Serve once completely cooled as a snack or crushed up on top of a salad.
Thanks for reading Snixy Kitchen! To stay up on what's coming out of my kitchen,  follow me on Facebook, Instagram, Twitter, Bloglovin', or Pinterest, or subscribe via e-mail to get new recipes right to your inbox.