With puddles of chocolate on top, these deep dark gluten-free chocolate cookies are crispy on the outside with chewy gooey centers that melt in your mouth. With flakes of salt on top, these will satisfy all your chocolatey dreams!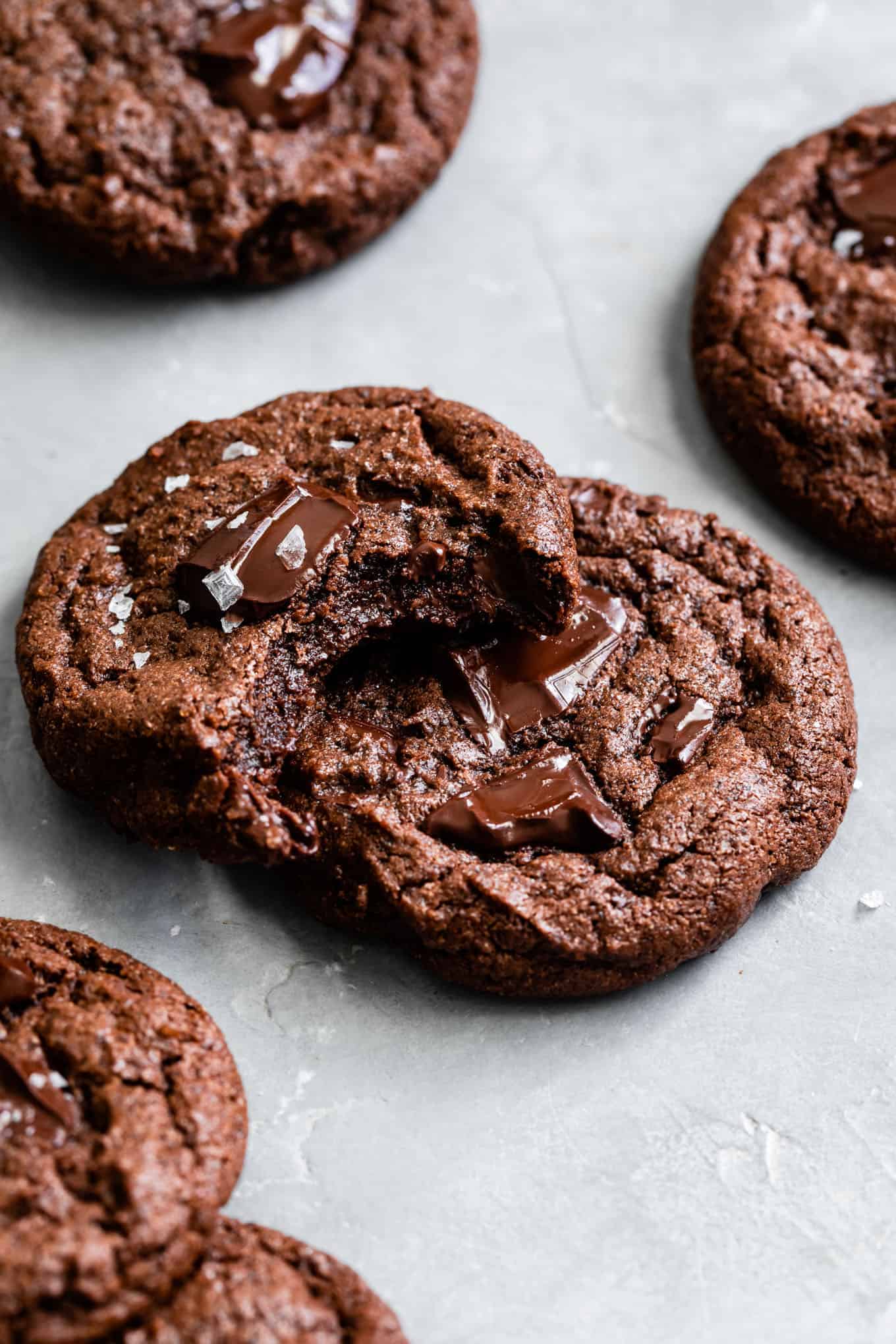 This post is sponsored by Bob's Red Mill, a long-term partner of Snixy Kitchen
Earlier this week I ate four gluten-free chocolate cookies for dinner. Earlier this week my daughter also very matter-of-factly told me, "my favorite in the whole world of all my parents is daddy." These two events might correlate. When I told her I had two favorite kids, she amended her statement, "I have two favorite parents, you and daddy." But I know where I really stand.
It's fine though, really. I've got 3 dozen gluten-free chocolate cookies and a bottle of wine. Which coincidentally is all you really need to get you through Valentine's Day (or any holiday, really). Whether you're baking for someone special or treating yourself with chocolate, these gluten-free chocolate cookies have your back. And the only thing between you and a warm freshly baked gooey chocolate cookie? 20 minutes.
These chewy gluten-free chocolate cookies are the first recipe in a year-long partnership with Bob's Red Mill. Head over to find a list of all the recipes I've made in partnership with Bob's Red Mill over the years!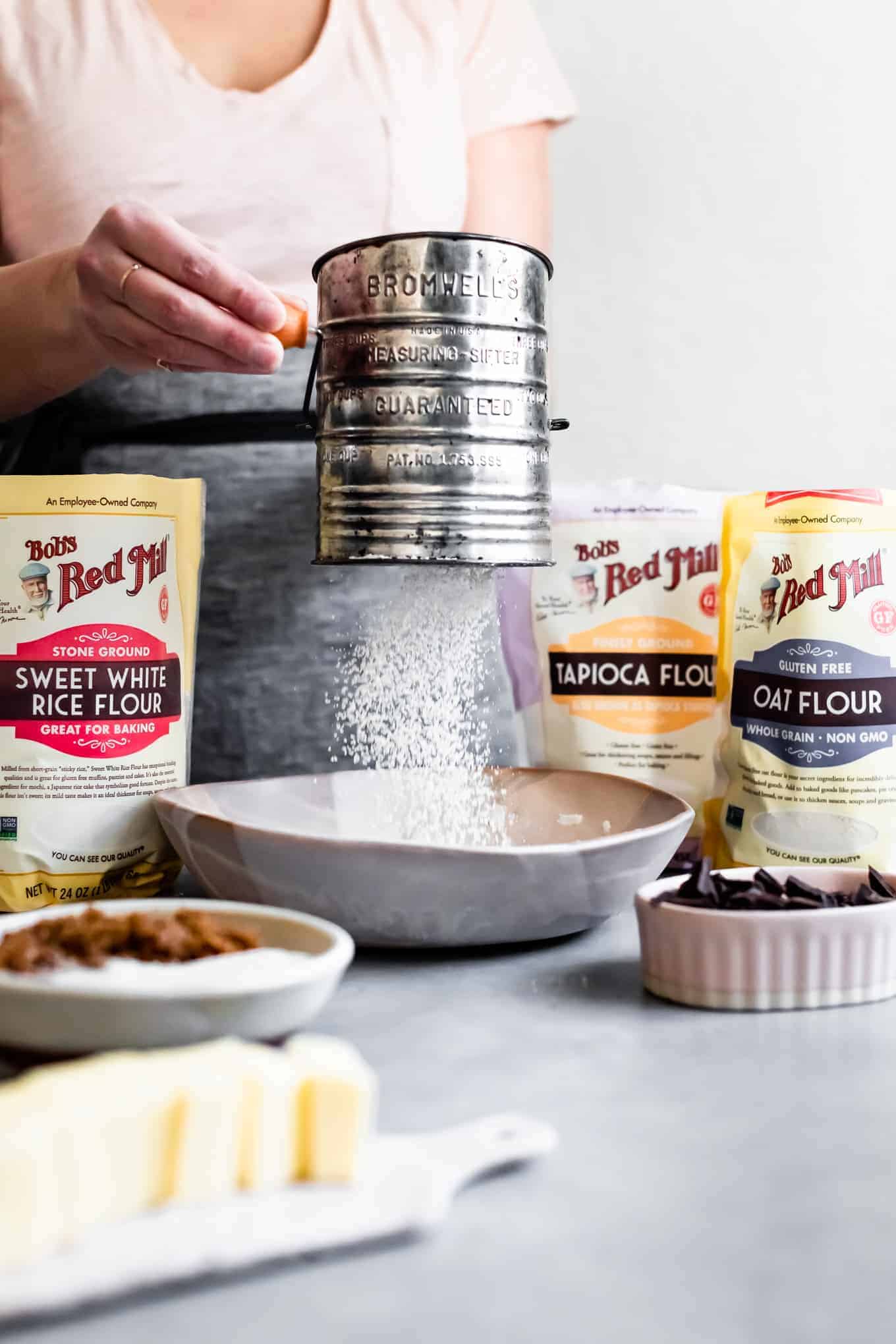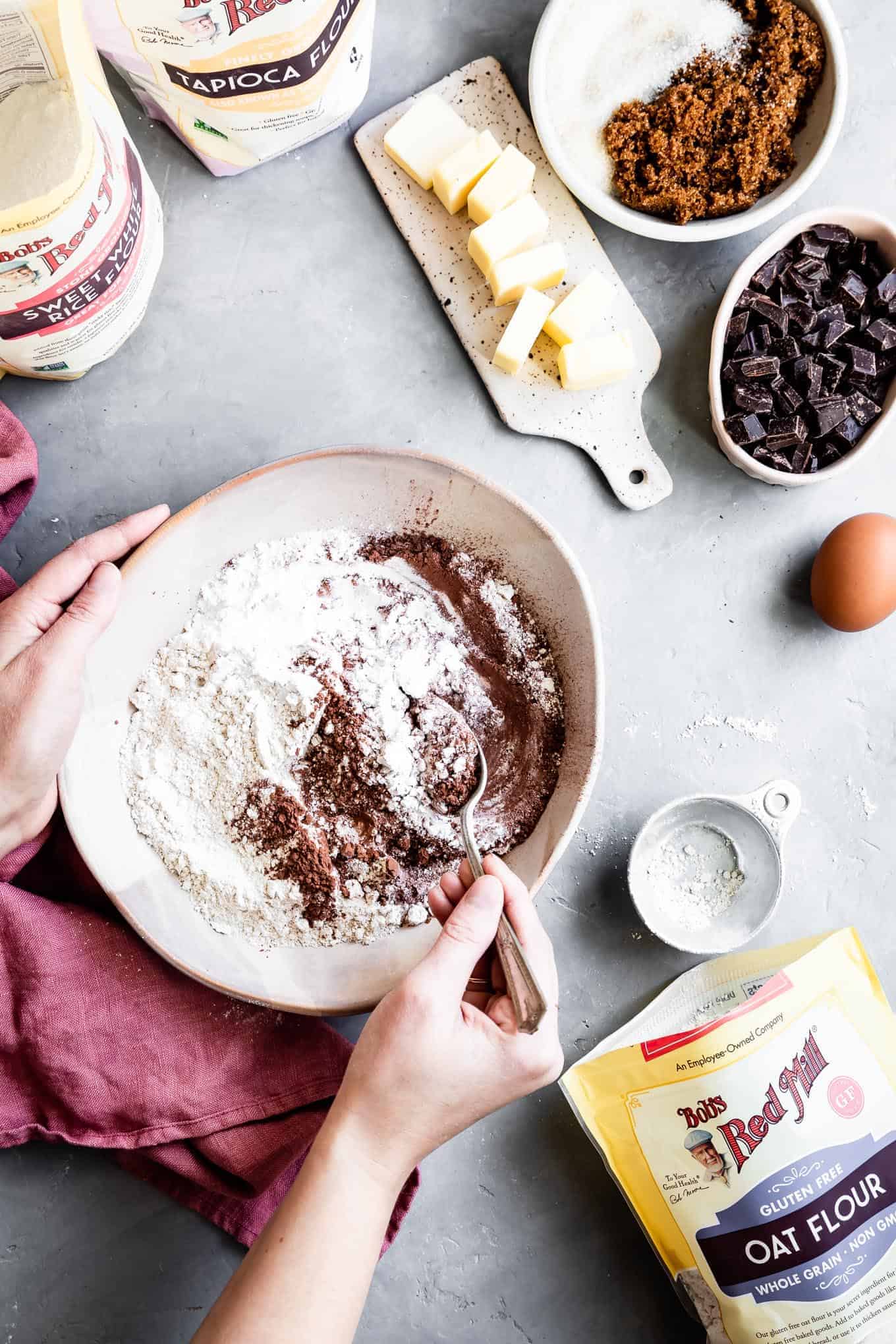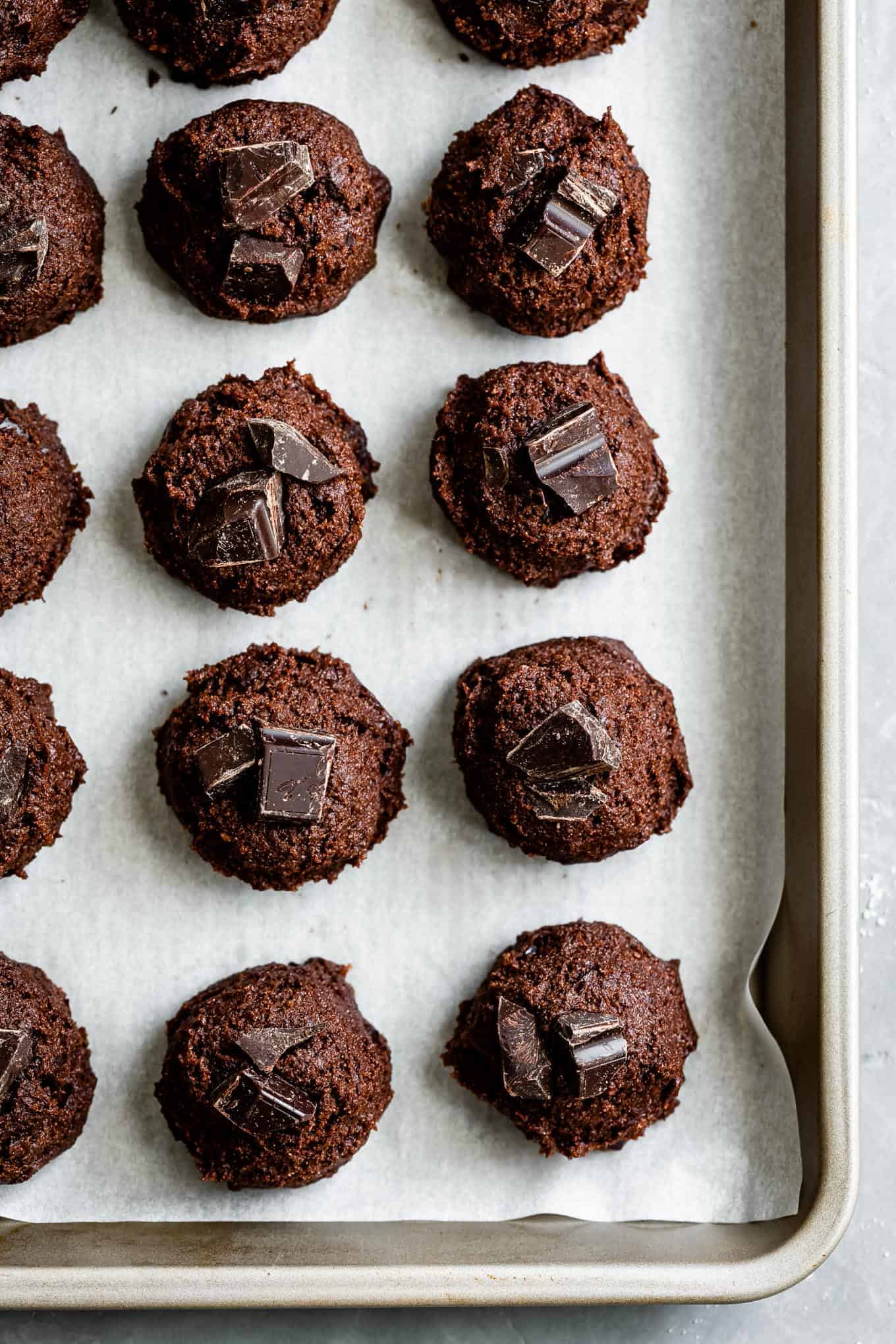 Gluten-Free Chocolate Cookie Recipe
When developing this gluten-free chocolate cookie recipe, I had a very specific list of requirements. It had to be super deep dark chocolatey. It needed to be gooey and fudgy on the inside - almost like melted chocolate. More than that though, it also must be chewy like a very good brownie. Then I wanted crisp edges to balance those soft centers. While normally I like my cookies thin, I wanted these to have some lift, so you really get to sink your teeth into the deep dark chocolatey middle.
I had a craving and I baked at least 10 dozen cookies in service of that craving. These gluten-free chocolate cookies are exactly perfect.
Arguably the real MVP of this cookie's attributes though is that the dough doesn't require any chilling! So you're only 20 minutes away from freshly baked gluten-free gooey chocolate cookies.
What is the best gluten-free flour for cookies?
Gluten-free cookies require a blend of gluten-free flours, depending on the type of cookie and texture desired.
Chewy centers and crisp edges
For cookies with soft chewy centers and crisp edges, a soft flour such as Bob's Red Mill's gluten-free oat flour or teff flour will give cookies the slight soft lift, combined with a bit of tapioca flour to create the classic chewy centers and crisp edges. Adding a small amount of sweet rice flour will further enhance the chewiness. For grain-free cookies, you can substitute almond flour for the main soft flour, but you'll have to compensate for its oiliness by adding more flour. See the next section for flour substitutions you can use to make this gluten-free chocolate cookie recipe.
These Gluten-Free Chocolate Cookies
Soft and pillowy
For soft and pillowy cookies, use similar amounts of Bob's Red Mill's superfine blanced almond flour, a soft cakey flour such as oat flour or millet flour, and tapioca flour or sweet rice flour to help bind it together. This blend will give it height and a pillowy texture with an ever-so-slight chew like a classic gluten-full cookie. Using tapioca starch will create a cookie that's more cakey and pillowy, like in the soft lofthouse-style gluten-free sugar cookies, whereas using sweet rice flour will create a pillowy cookie with a much chewier center, such as in the ginger molasses cookies.
Crisp and snappy
For crisp and snappy cookies like shortbread, graham crackers, or oreos, use similar flours as with the soft and pillowy cookies, but with very different ratios and one important addition: corn starch. Corn starch gives the cookies a crisp snappy texture. Increase the almond flour, reducing the soft cakey flour and reducing or even eliminating the tapioca flour or sweet rice flour, if your cookie is able to bind together without.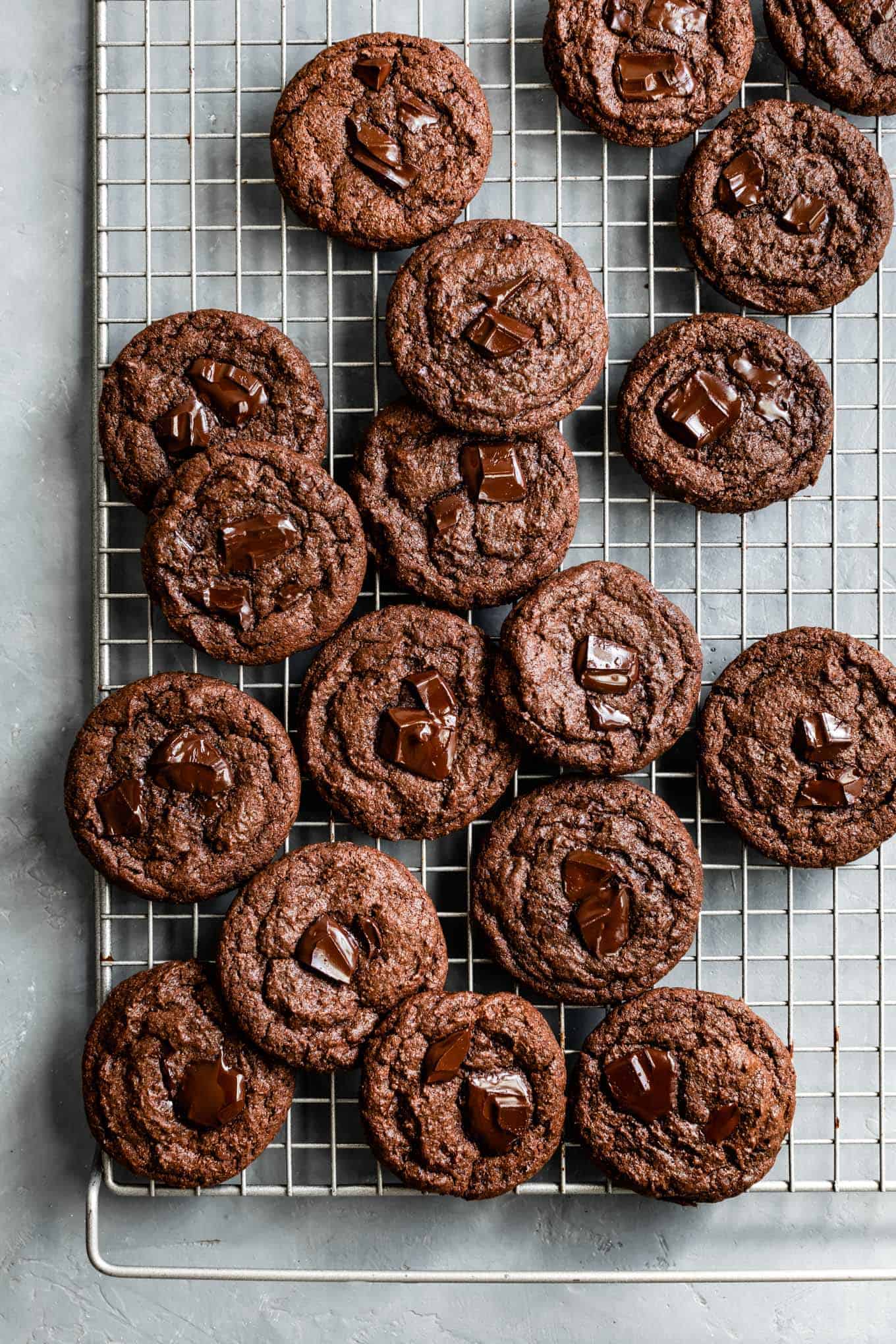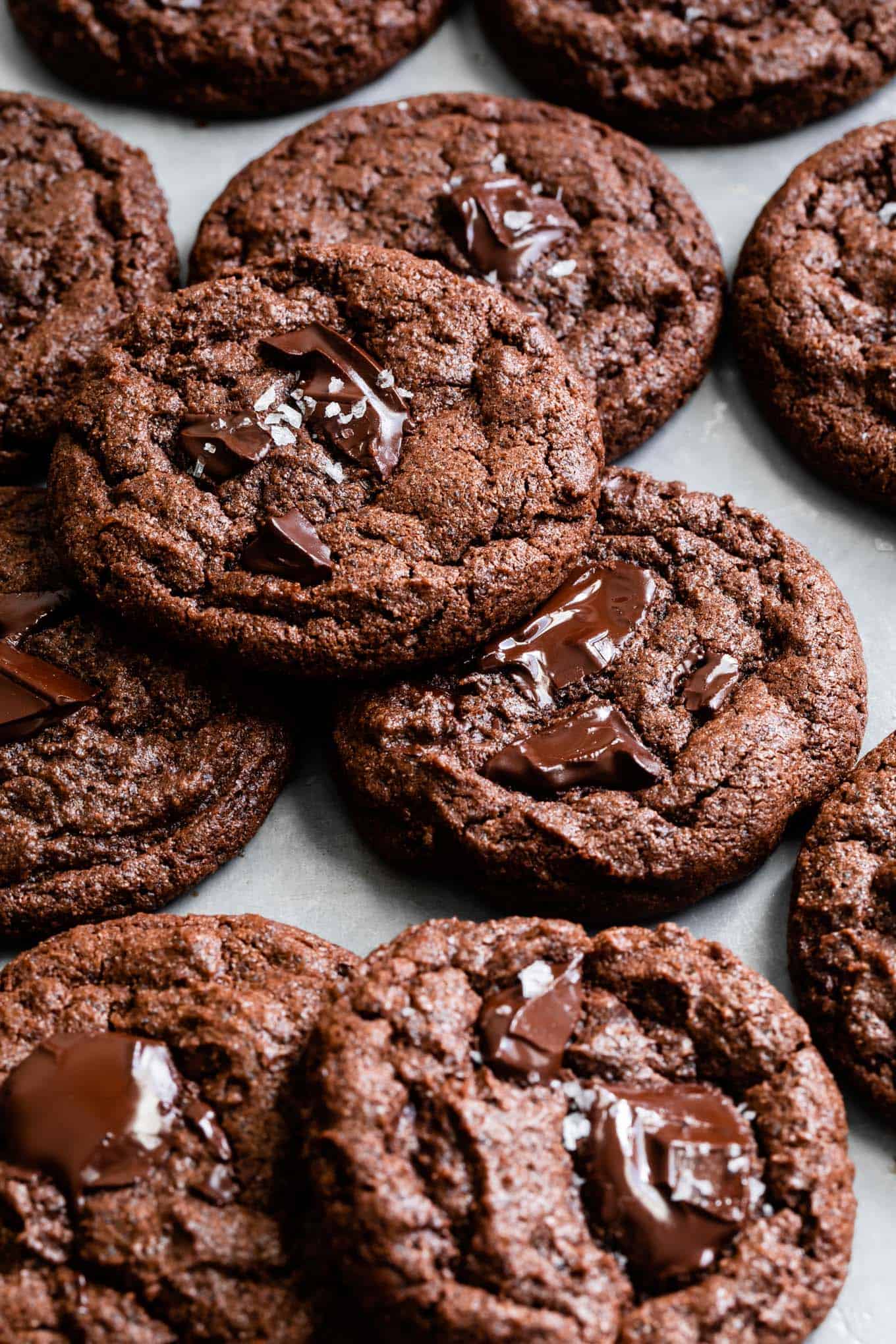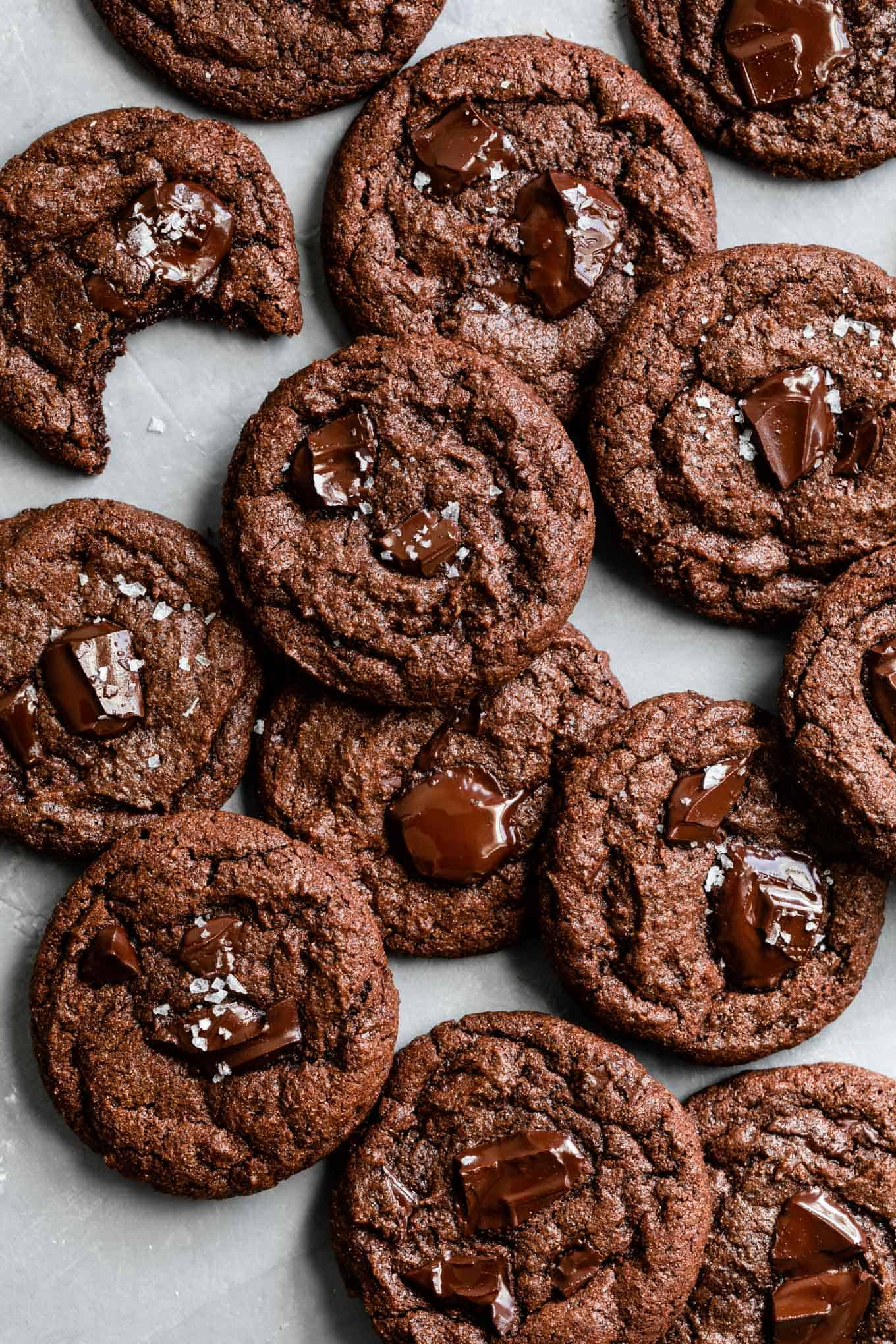 Gluten-Free Chocolate Cookies with Different Flours
In my many tests, I found these gluten-free chocolate cookies to be very versatile. The recipe I've provided below is hands-down the best variation with the perfect balance of crisp edges, gooey fudgy centers, and chewy bite. Still, I get lots of questions about flour substitutions, so I'm providing some variations below.
Oat flour, Sweet Rice Flour, & Tapioca Flour: 112g oat flour, 36g sweet rice flour, 33g tapioca flour. This is the best variation of this gluten-free chocolate cookie. Crisp edges, gooey fudgy centers, and chewy bite.
Oat Flour & Tapioca Flour: 112g oat flour and 70g tapioca flour. This variation bakes up very very similar to the cookie above and is quite delicious, but with a noticeably less chewy center. As the cookie sits overnight, it gets softer and the centers less chewy and gooey. If you can't tolerate sweet rice flour or just don't have it, you can still bake this recipe!
Teff Flour, Sweet Rice Flour, & Tapioca Flour: 87g teff flour, 42g sweet rice flour, 40g tapioca flour. This is the first version I tested and it was nearly perfect. Similar to the final recipe, it's got crisp edges, gooey fudgy centers, and a chewy bite. Teff flour adds rich toffee notes and is my preferred flour for all my classic chocolate chip cookies, enhancing the butter and brown sugar. In these gluten-free chocolate cookies, however, it competes a bit with the classic chocolate cookie flavor I was craving, so I slightly preferred the oat version. Still, it's a very delicious cookie in its own right!
Almond Flour & Tapioca Flour: 115g almond flour 88g tapioca flour. For those of you looking for a grain-free version, you can certainly use almond flour & tapioca flour. The result is a nuttier cookie that spreads a bit more, but is still yummy!
All of these variations have been tested using Bob's Red Mill flours, which I recommend because of their quality and how finely ground they are. Much to my delight, their packaging has recently been updated with a resealable velcro strip, which is ideal for pantry storage!
Freezing Gluten-Free Cookie Dough
Don't need more than a few cookies? Gluten-free cookie dough can easily be frozen! Roll the dough into balls and place on a small baking sheet in the freezer for 15 minutes. Remove from the baking sheet and toss the hardened cookie dough balls in a freezer-safe bag or container. Keep up to a year in the freezer.
To bake frozen cookie dough, bake the dough balls still frozen, adding 1-2 minutes to the bake time. I usually start with a minute longer and gently tap the edges of the cookie. It should feel a bit firm while the centers look completely underbaked. If the edge is still very delicately soft where a gentle tap leaves an indent, I bake for an additional minute.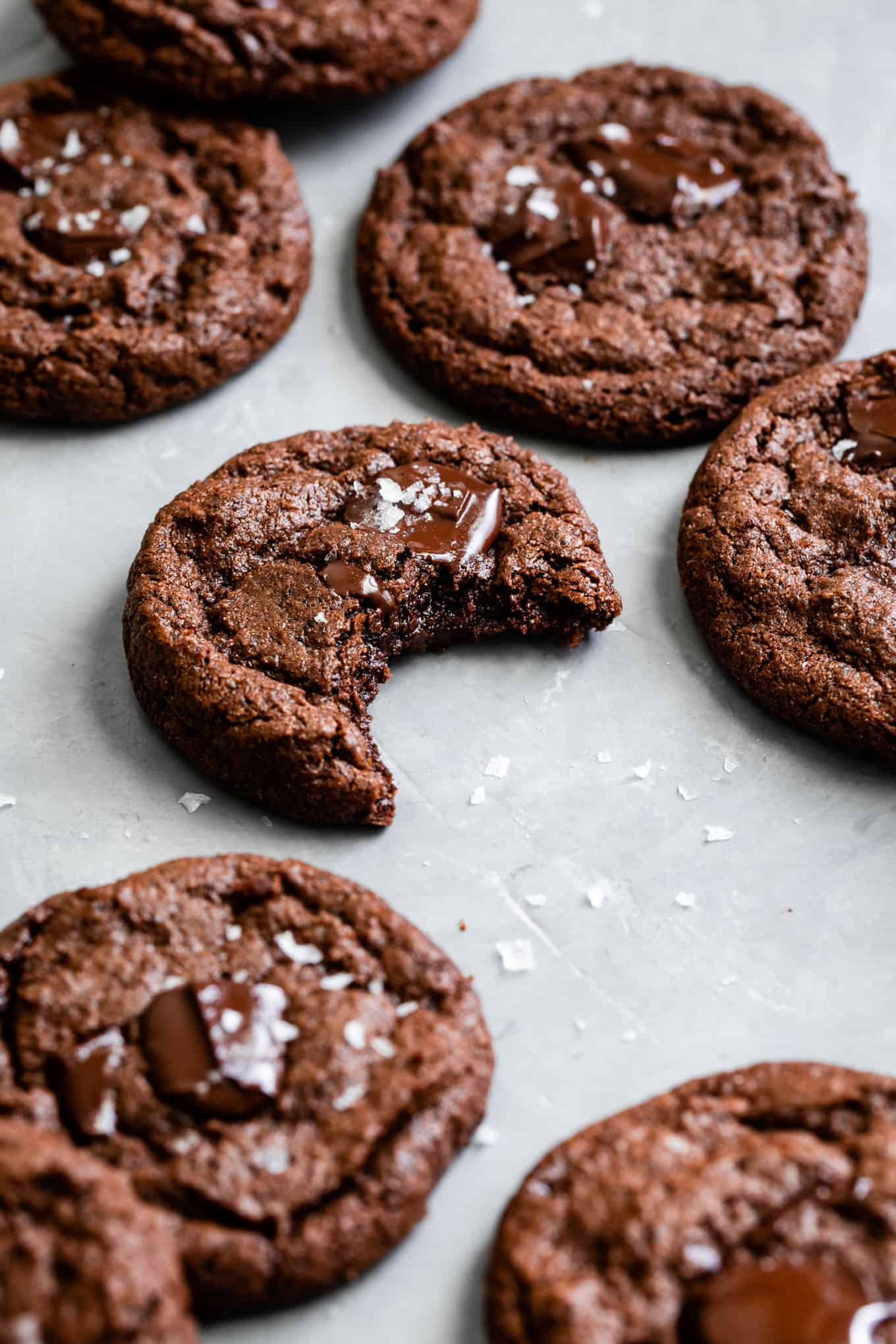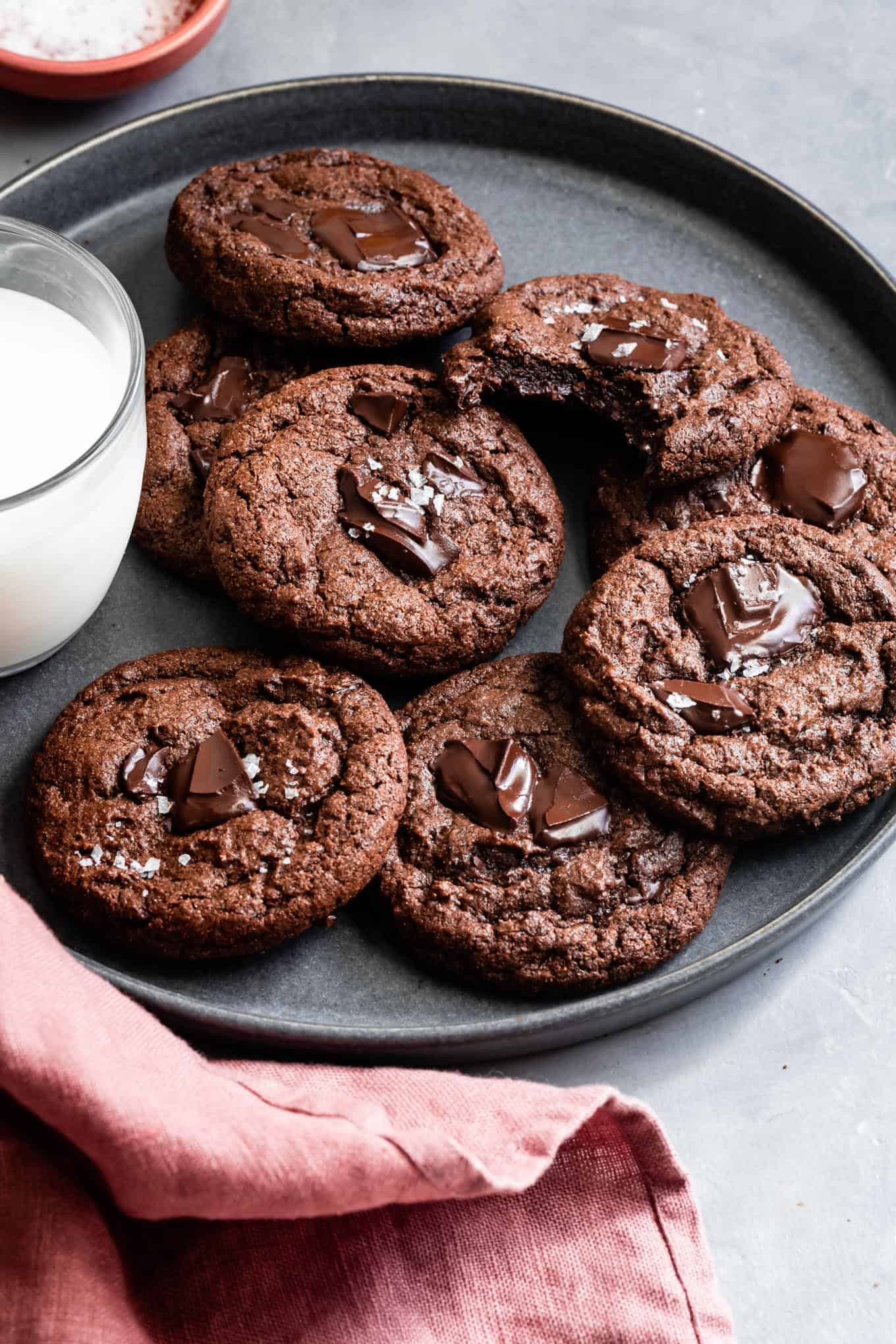 Favorite Gluten-Free Chocolate Recipes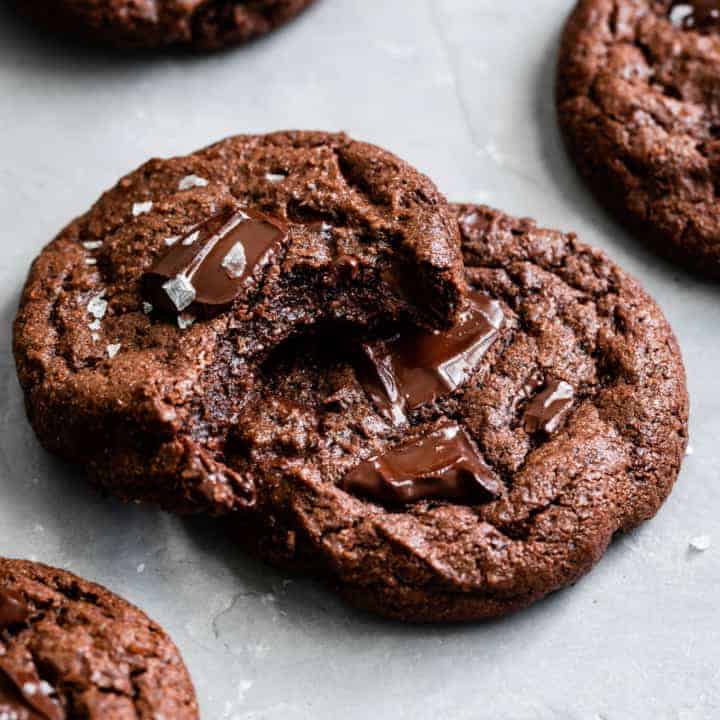 Chewy Gluten-Free Chocolate Cookies
Deep dark gluten-free chocolate cookies have crisp edges and gooey chewy centers. Made with either chopped chocolate chunks or chocolate chips, these cookies will satisfy your chocolate cravings.
Ingredients
½ teaspoon baking soda
½ teaspoon kosher salt
½ cup unsalted butter, room temperature
½ cup (104g) granulated sugar
½ cup (100g) dark brown sugar
1 large egg, room temperature
1 teaspoon vanilla extract
½ teaspoon chocolate extract (or sub in more vanilla extract)
Optional: Flaky salt
Instructions
Preheat oven to 350°F and line a large baking sheet with parchment paper.
In a medium mixing bowl, sift together the oat flour, tapioca flour, sweet rice flour, cocoa powder, baking soda, and salt. Set aside.
In the bowl of a stand mixer fitted with the paddle attachment, cream the butter and sugars together starting on low speed and increasing to medium high speed, until light and fluffy, 3-5 minutes. Scrape down the sides and add the egg and vanilla and chocolate extracts and beat until just combined.
With the mixer on low speed, slowly add the dry ingredients until just combined. Add about ⅔ of the chopped chocolate or chocolate chips and beat for a few seconds until evenly distributed.
Scoop 1½ tablespoon-sized balls and place them 2½ inches apart on the parchment-lined baking sheet (I use the OXO medium cookie scoop and it makes exactly 19 cookies). Press 1-2 chocolate chunks onto the top of each cookie dough ball.
Bake in batches, if needed, for 10 minutes. Let cool for two minutes on the baking sheet before transferring to a cooling rack with a thin metal spatula to cool completely. Sprinkle with flaky salt, if desired.
Notes
Even 5g difference in flour measurement can affect the texture of your final cookies from thin to thick, so I strongly recommend using the weight measurements when measuring gluten-free flours.