These crispy gluten-free slice and bake cookies are loaded with toasted hazelnuts and melted chocolate chunks. Make the dough in advance and slice off cookies to bake up for your holiday cookie plates or midnight cravings.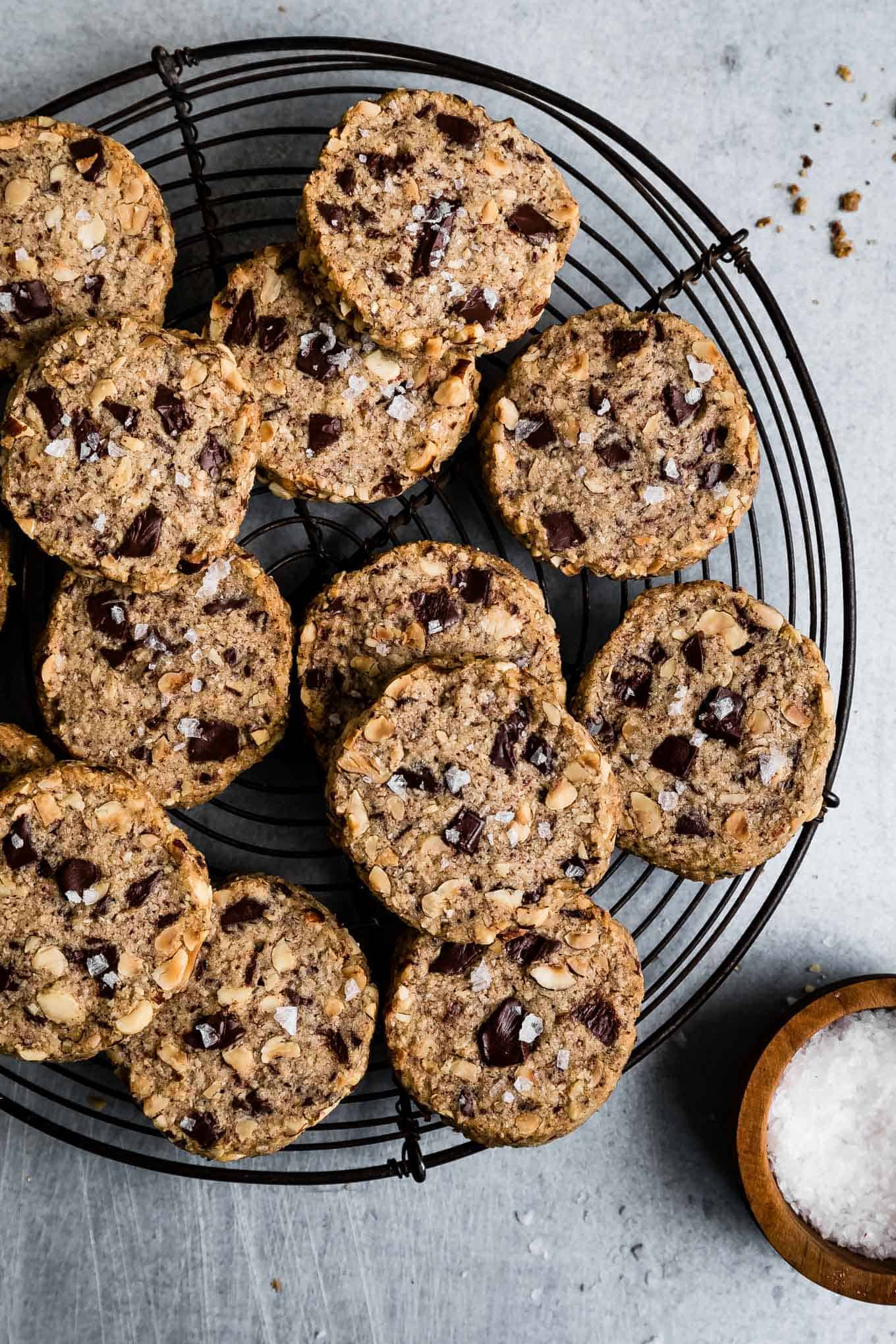 For the first time in history, our house is ready for the holidays more than two weeks before Christmas. Normally we're away Thanksgiving weekend and we spend the next weekend playing catch-up, then time gets away from us until we reach the point of, "is it even worth it to put up a tree this year?" With kids, that answer will be a definite yes from here on out, but sometimes it's a struggle.
Not this year though. This year, you can call me Mrs. Clause. With apple cider mulling on the stove and a holiday music playlist, we decorated the Christmas Tree, hung homemade snowflake garlands, and tacked (felt) mistletoe in the doorway this weekend. And I've been baking gluten-free holiday cookies for weeks to get them just right. Like these chocolate hazelnut slice and bake cookies. Crisp shortbread-like rounds studded with melted chocolate pockets and crunchy toasted hazelnuts.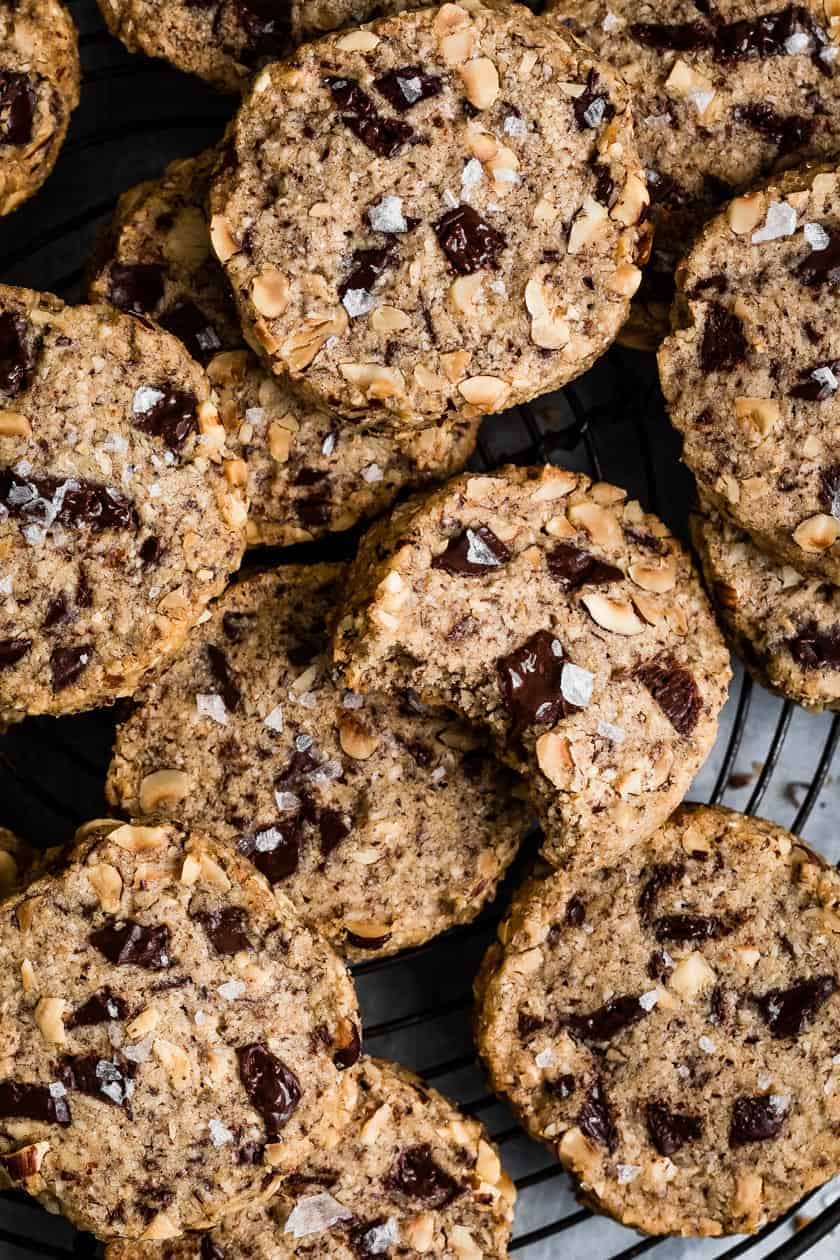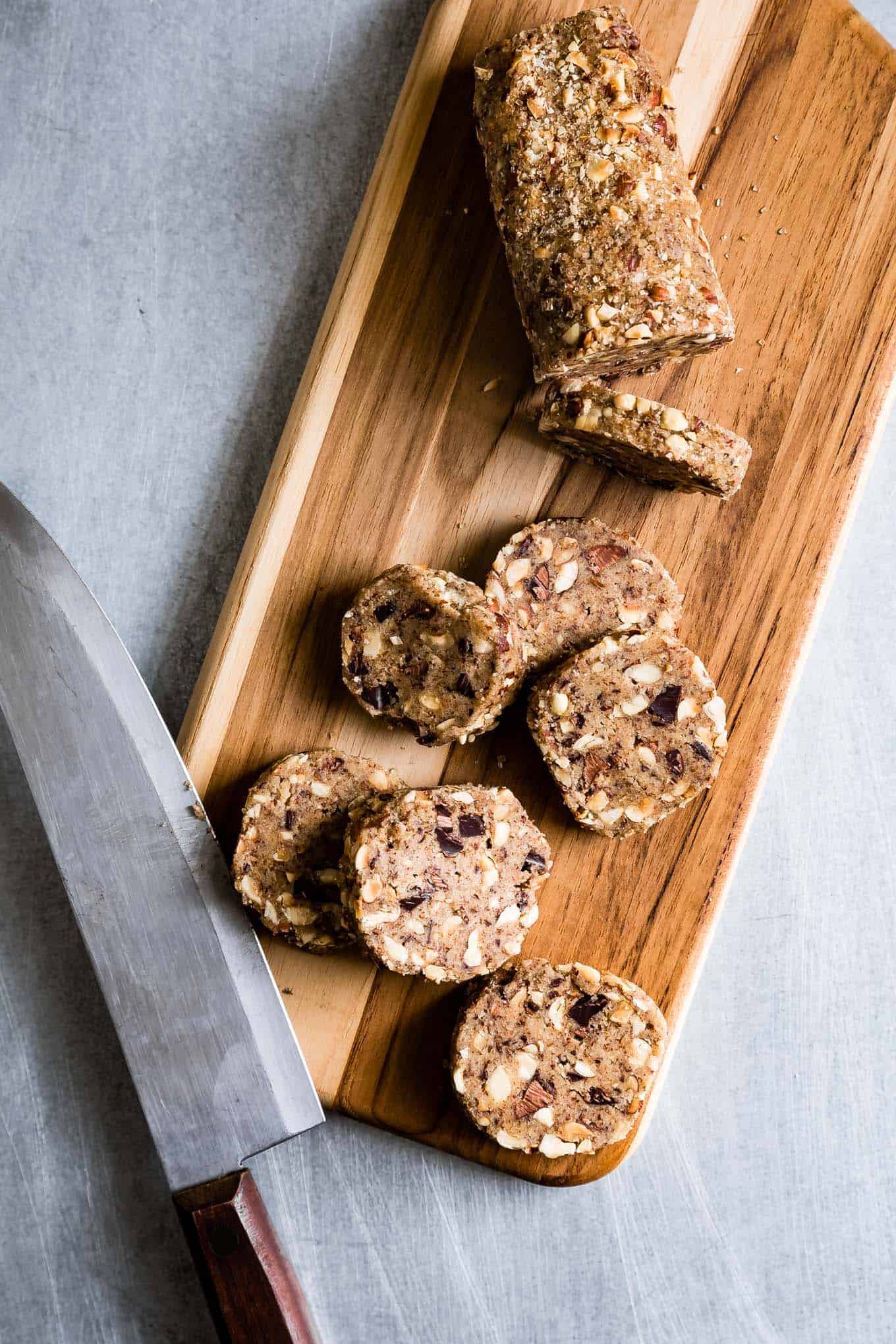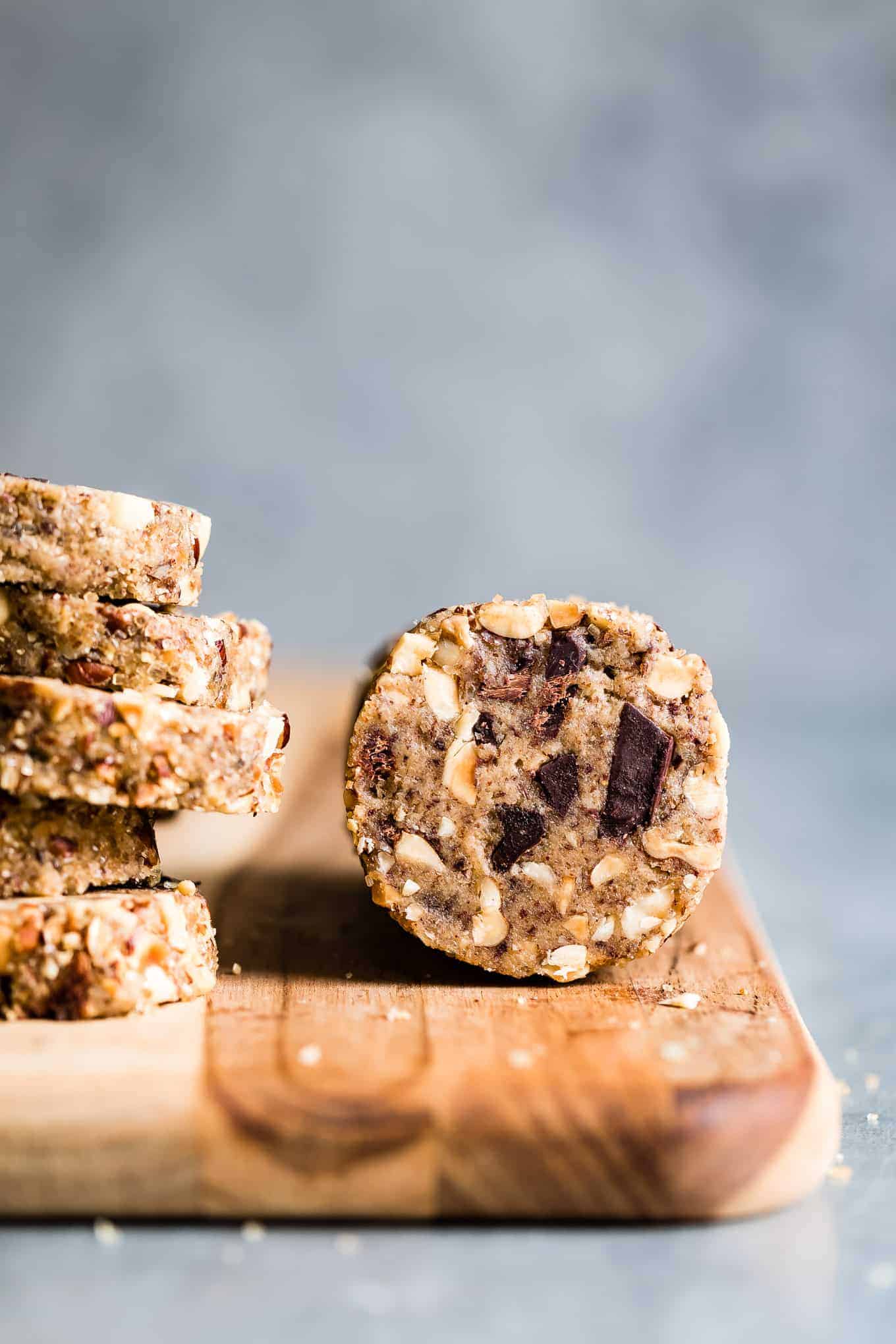 Coincidentally, this is also the first year ever we didn't spend Thanksgiving away at my parents' house - save for the single fluke year I convinced my whole family to come to our house in the Bay Area. With the air quality in Chico at hazardous levels from Camp Fire the Sunday before Thanksgiving, we made a game-time decision to keep the kids home (where the air quality was only moderately better). Instead, we had a feast in the company of great friends. A bittersweet friendsgiving tinged with a little sadness that I couldn't be with my family helping them sort through the Camp Fire devastation back home.
While I couldn't be there physically, I sent homemade gluten-free holiday cookies via my brother and sister-in-law who stopped by on their way home from traveling. Except they got home in the middle of the night and left the container on my parents' counter without instructions.
When I asked my mom if she got the cookies a few days later, she replied with confusion and surprise, "Ohhhh those were from you? They're delicious!"
Me: "Let me get this straight, Mom. You had no idea where this plastic container of cookies came from, but you've just been eating them for the past few days?!"
Her: "I thought maybe Alexis had extra cookies she got on their trip and brought them home in a tupperware - seemed very inventive!"
So there you have it, cookies so irresistible, people will eat them without regard for where they came from or even who they belong to.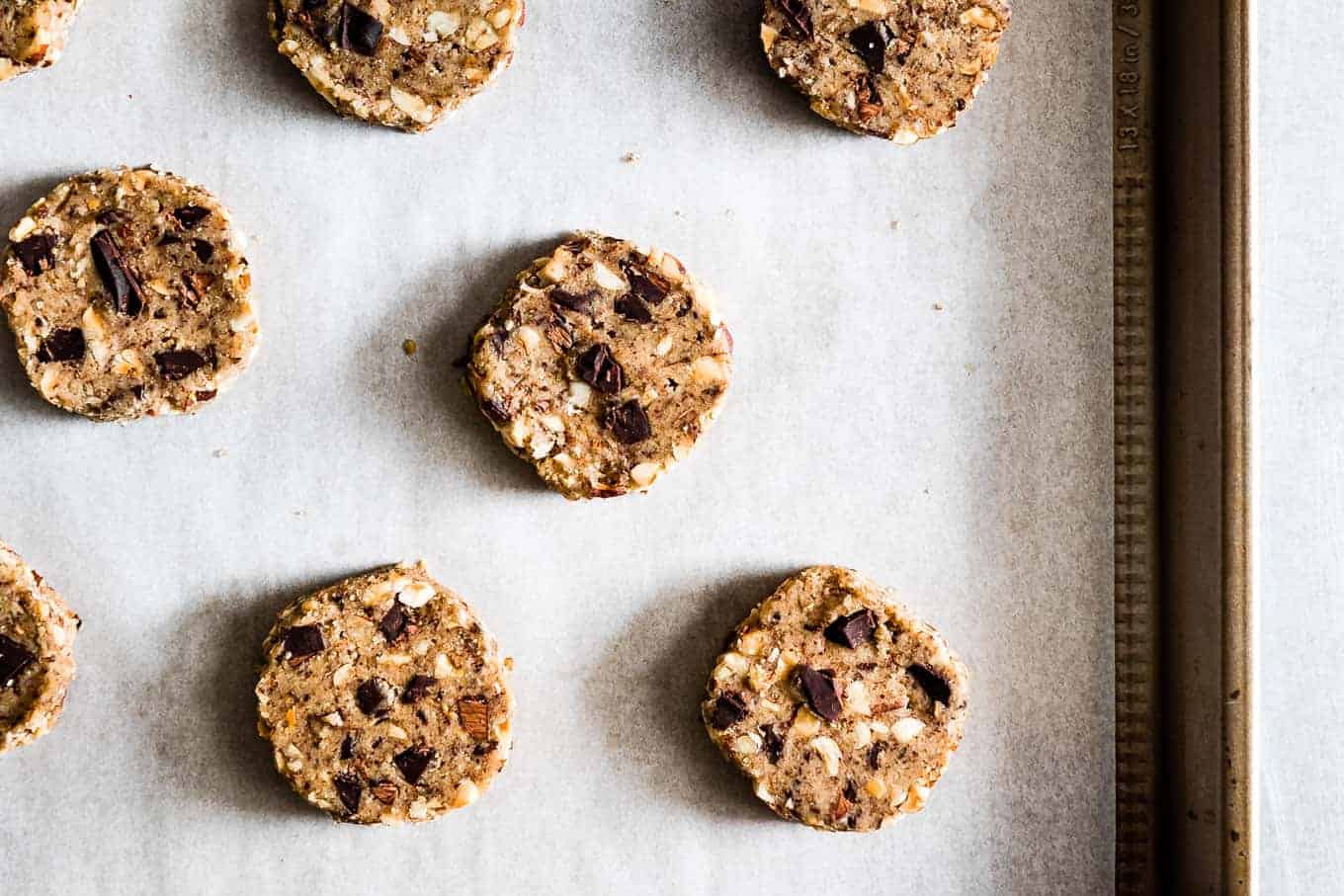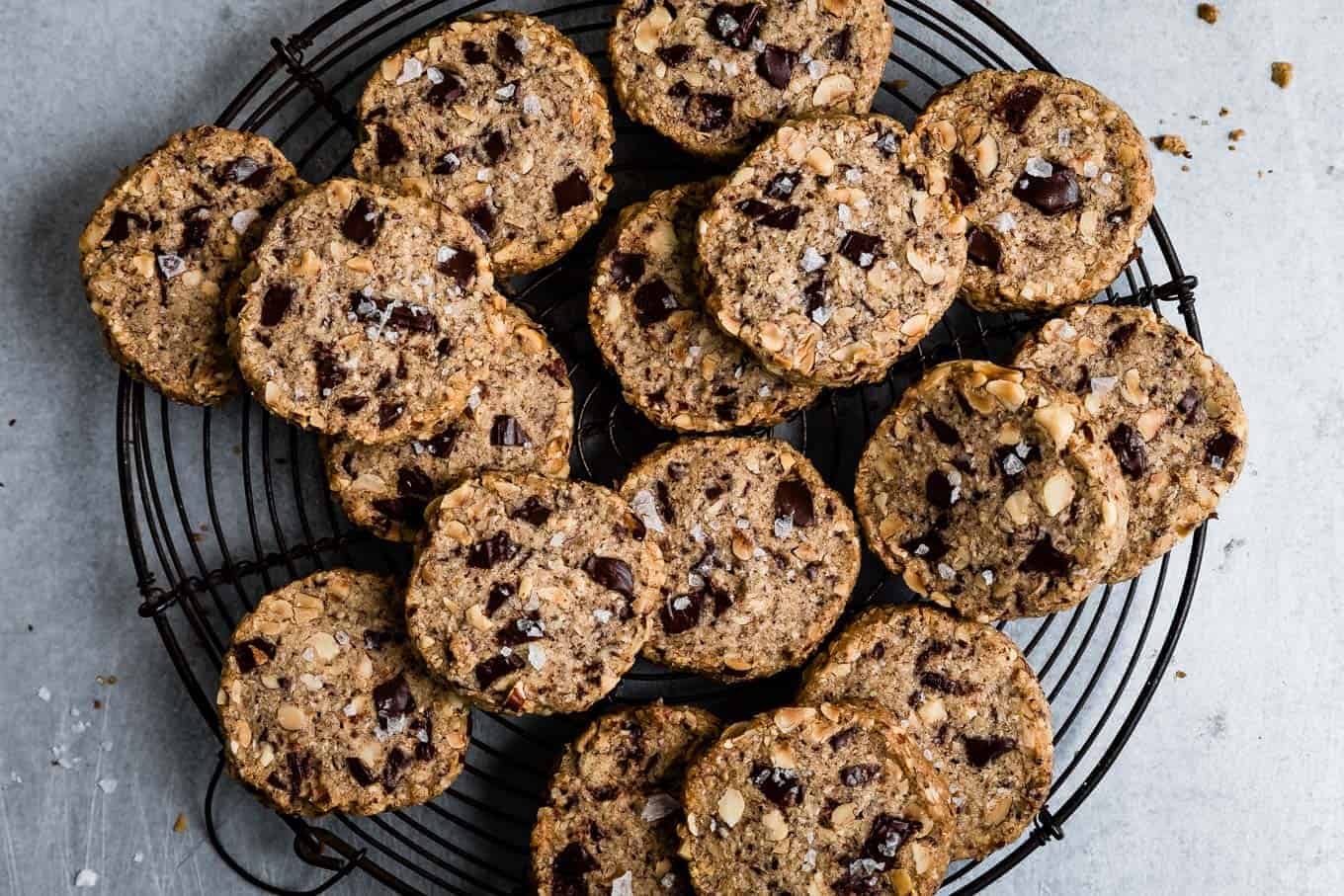 What are slice and bake cookies?
Do you remember getting a log of pre-made cookie dough at the grocery store, slicing it into rounds to bake and calling the cookies homemade? In high school I just skipped the baking step and sliced off cookie dough rounds to snack on. Well that's the basic gist of these actual homemade chocolate hazelnut gluten-free slice and bake cookies.
Mix up the dough, roll it into rounds, and chill for up to a week. When you're ready for cookies, slice off rounds and bake! They're easier than cut-out cookies or drop cookies - just roll, chill, slice, bake.
What is the texture of these gluten-free chocolate chip cookies?
This slice and bake cookie version uses gluten-free flours, chopped toasted hazelnuts, and melted chocolate pieces for a snappy cookie that bakes up with extra crispy edges. You can bake the cookies on the shorter end for a cookie that's crispy on the outside with soft centers. Alternatively, bake them a couple of minutes longer for a cookie that's crisp all the way through with pockets of melty chocolate. That's how I like them - extra crispy, almost to the point of shortbread, with less crumble and more crunch.
I rolled the cookie dough logs in more chopped hazelnuts and a bit of coarse sugar which adds to the crunch and appearance. You can do one, both, or neither and the cookies will be delicious.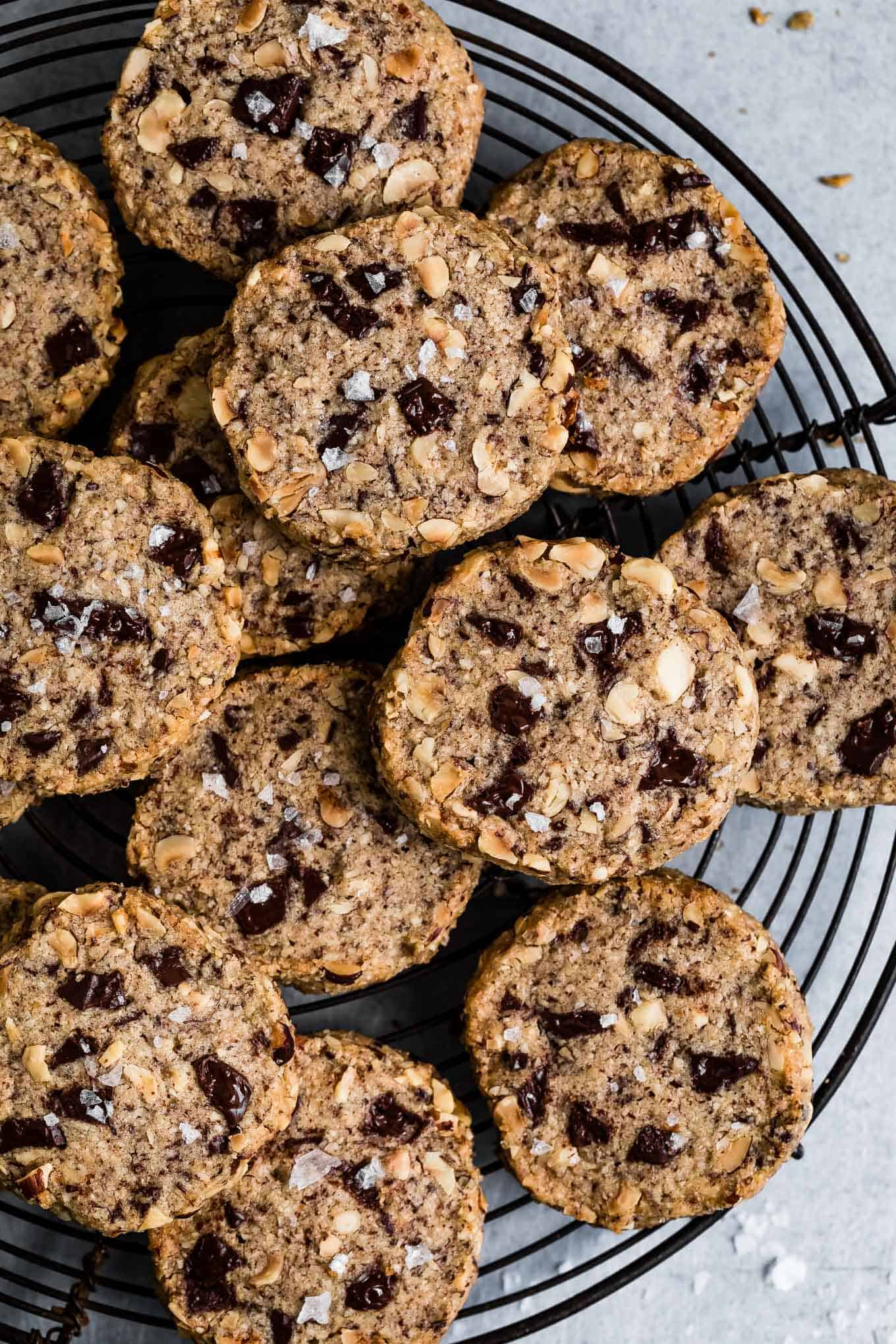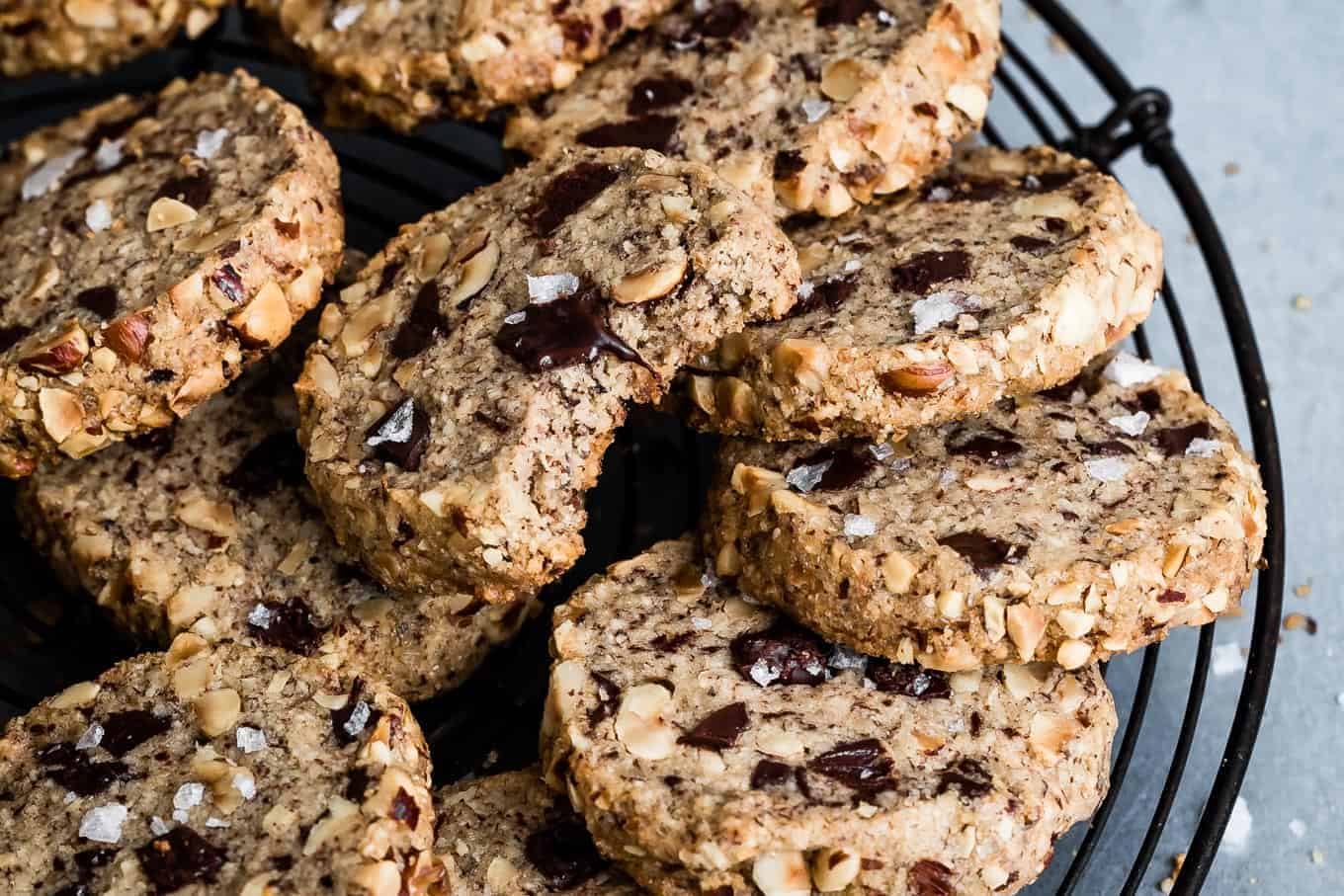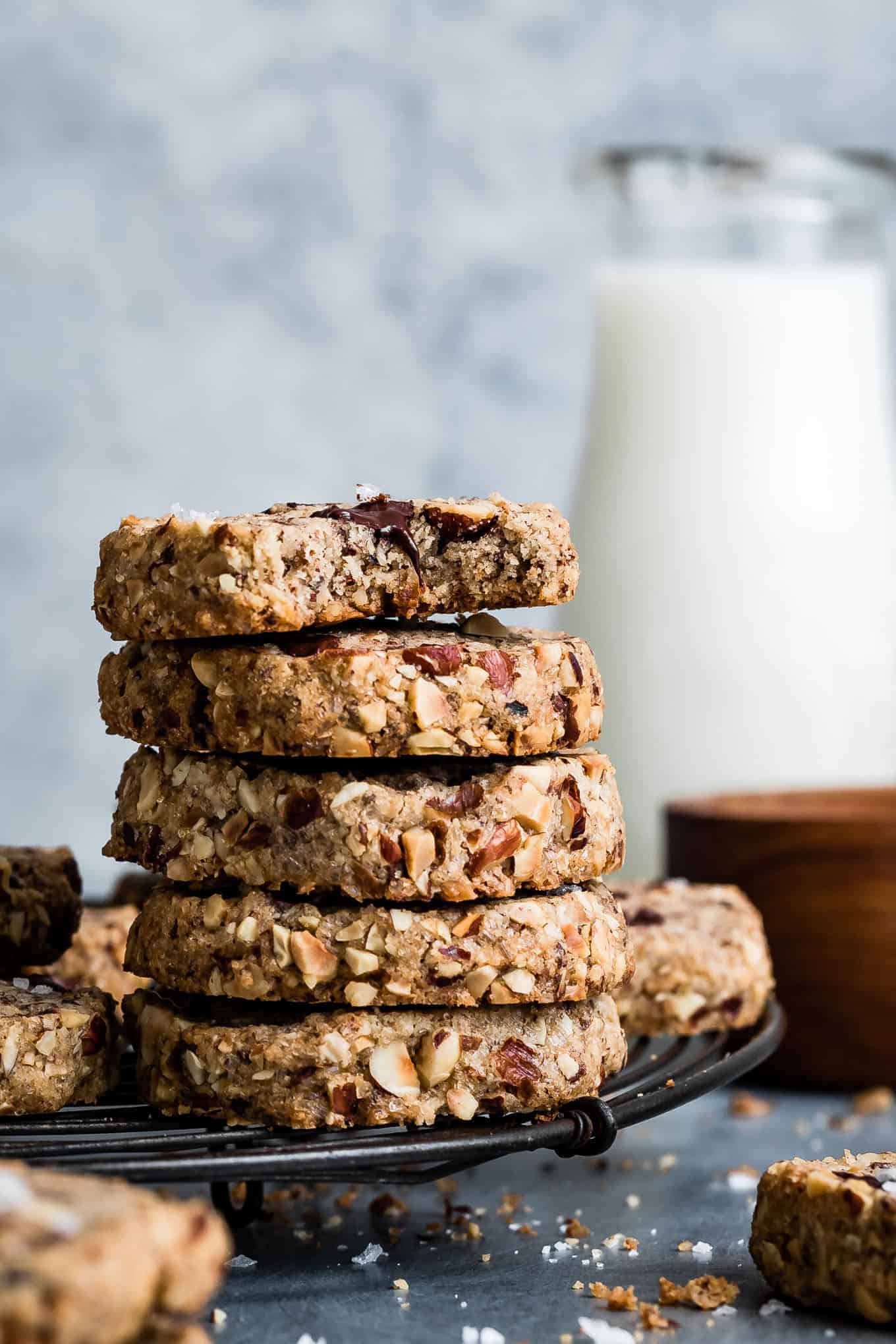 Substitute hazelnut flour with almond flour
For any recipe on my site where I use hazelnut flour, you can use almond flour with equal success. I've made these cookies both ways and loved them both! I opted to feature the hazelnut flour in the final recipe to enhance the flavor from the toasted chopped nuts.
To substitute, just swap almond flour in by weight.
More uses for your gluten-free flours
Snixy Kitchen has a new recipe filter feature where you can sort by gluten-free flours. While a lot of gluten-free recipes use universal flour blends, I find that different types of recipes work better with different combinations of flours. If you're new to gluten-free baking though, it can seem daunting to buy three gluten-free flours for one recipe. I've created a filter tool where you can find other recipes that use the same flours. This way you can feel confident you'll use up the flours you buy! Head over to find other ways to use up these flours.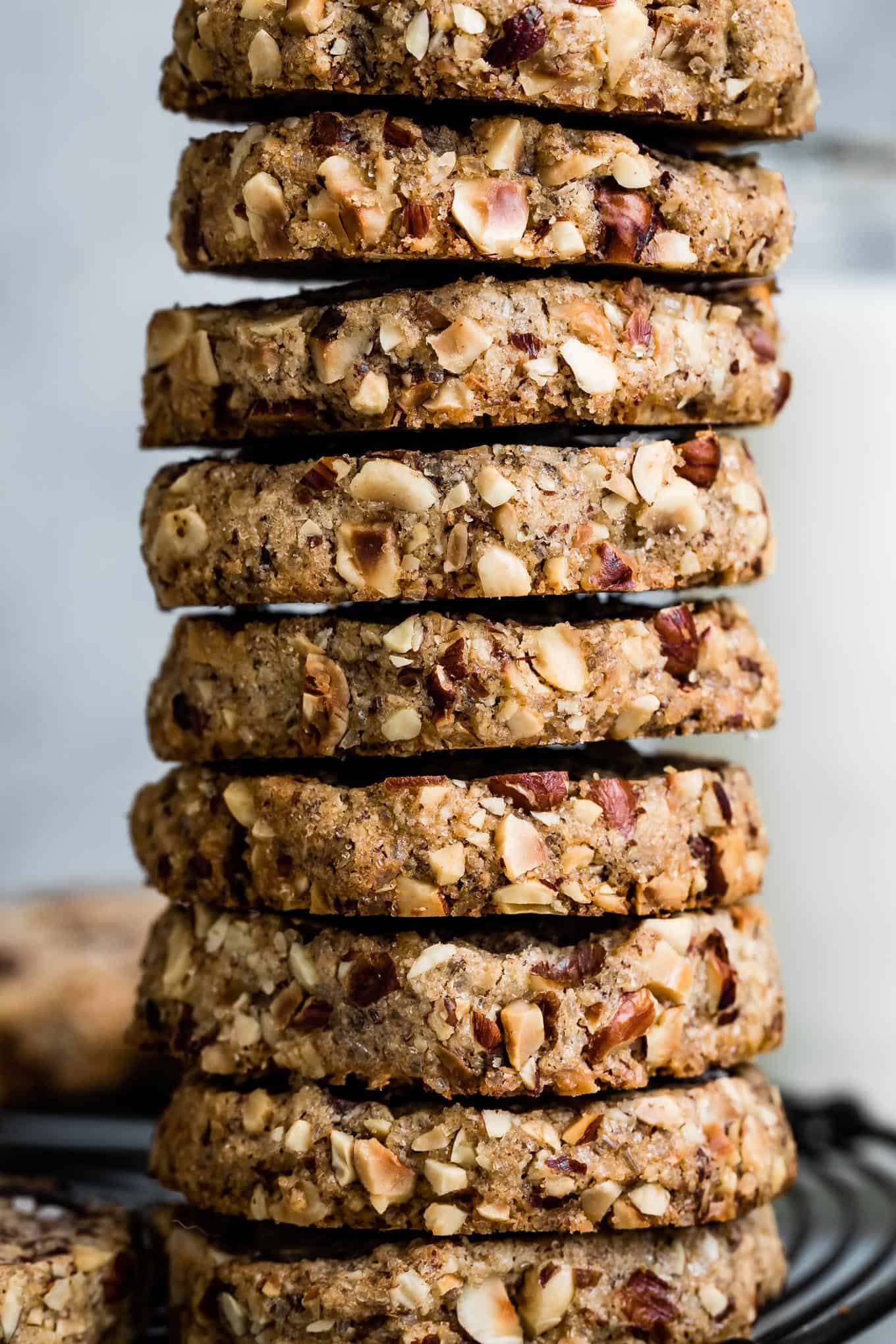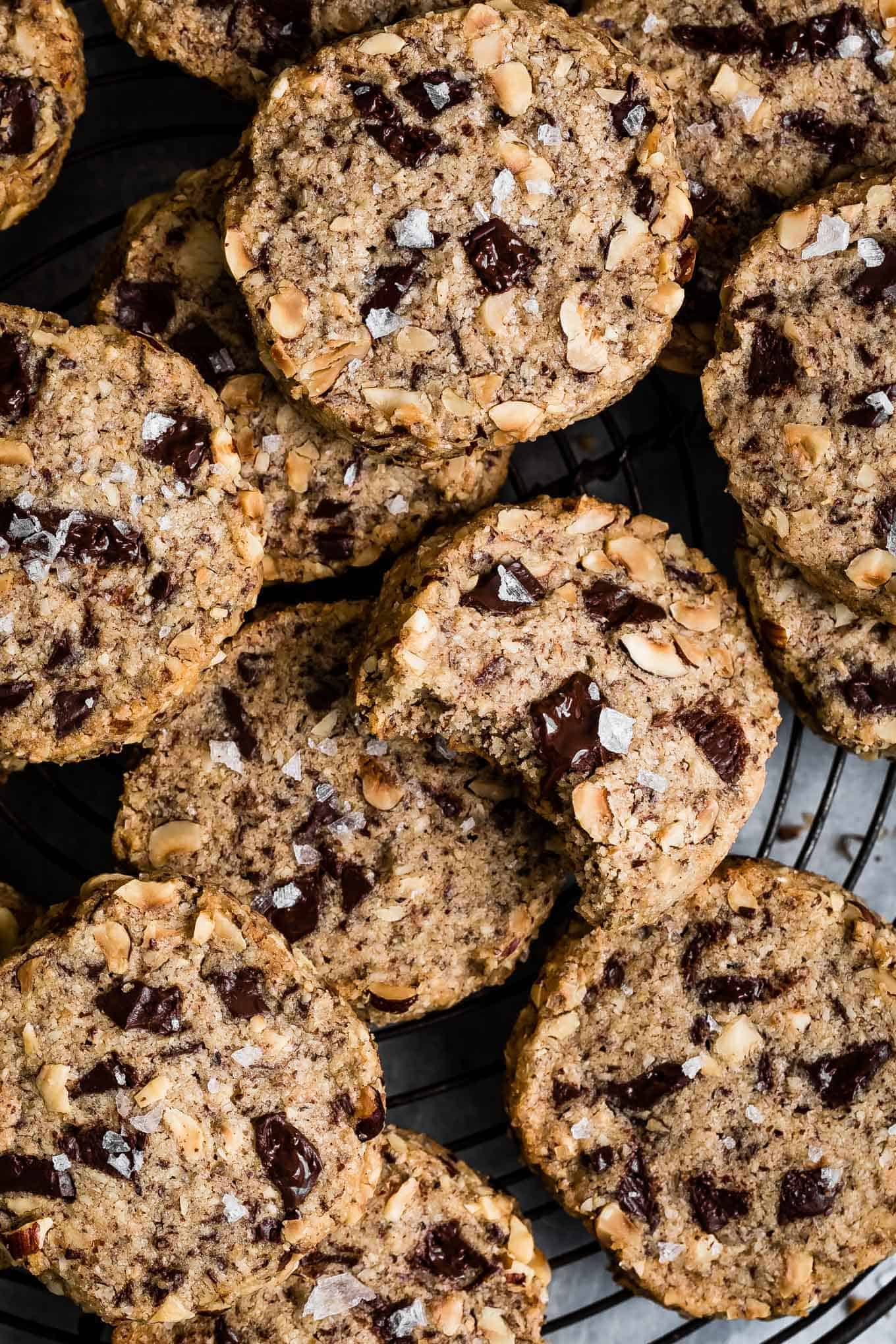 Gluten-free cookies for your holiday plate
Head over to the recipe filter to see more gluten-free cookies!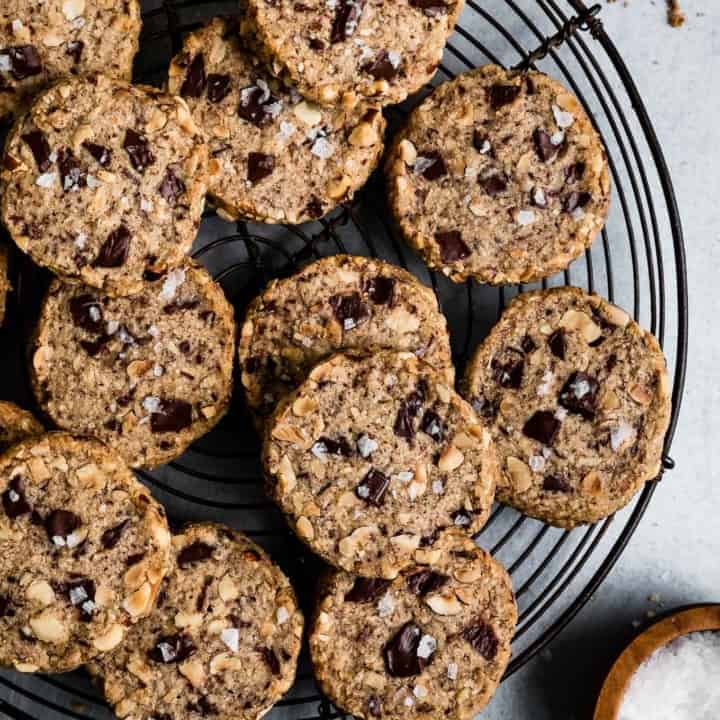 Chocolate Hazelnut Gluten-Free Slice & Bake Cookies
These crispy gluten-free slice and bake cookies are loaded with toasted hazelnuts and melted chocolate chunks then topped with flaky salt. Make the dough in advance and slice off cookies to bake up for your holiday cookie plates or midnight cravings.
Ingredients
½ teaspoon kosher salt
¾ cup unsalted butter, softened to room temperature
½ cup (100g) lightly packed light brown sugar
1 large egg, at room temperature
1½ teaspoons vanilla extract
4 ounces bittersweet chocolate, coarsely chopped (I use 74% dark chocolate)
¾ cup (75g) finely chopped hazelnuts, toasted (chopped somewhere between powder and coarsely chopped, about the size of oatmeal)
Optional:
½ cup finely chopped hazelnuts, toasted, for rolling
3 tablespoons coarse sugar, such as demerara, for rolling
Flaky salt, for sprinkling
Instructions
If your hazelnuts are not toasted, pop them on a baking sheet in the oven at 350°F for 8-10 minutes until they smell fragrant and begin to look golden brown.
In a medium bowl, whisk together the almond, oat, tapioca flours, and salt. Set aside.
In the bowl of a stand mixer fitted with the paddle attachment or a large mixing bowl with a hand mixer, beat the butter and brown sugar together on medium-high speed until smooth and creamy, scraping down the sides as needed, about 2 minutes.
Beat in the egg and vanilla on high speed until completely combined.
With the mixer on low, slowly add the dry ingredients and mix until completely combined.
Add the chocolate and ¾ cup finely chopped hazelnuts and mix until combined.
Divide into two equal pieces onto a surface dusted with oat flour. With oat-floured hands shape each dough into an 8-inch log about 2-inches in diameter. It's okay if it's not a completely smooth cylinder at this point. Wrap the dough in plastic and chill for 30 minutes. Repeat.
When the dough as firmed up a little, remove it from the fridge and roll to smooth out the edges. If desired, roll the dough in coarse sugar and remaining ½ cup finely chopped hazelnuts. Wrap the dough plastic again and chill for 4 hours or up to 5 days.
Preheat oven to 350°F. Line a baking sheet with parchment paper.
Working with one log at a time, slice the log into 14 equally thick cookies and place them on the baking sheet, about 2-inches apart.
Bake for 12-14 minutes or until turning golden brown around the edges. For cookies that are soft in the center, pull them out at 11-12 minutes, for cookies that are crisp all the way through, pull them out at 14-15 minutes. Remove from oven and let cookies cool on the baking sheet for 5 minutes. While the cookie cool, sprinkle with flaky salt if you desire.
Use a thin metal spatula to carefully transfer to a wire rack to cool completely, at least 15 minutes.