These gluten-free pumpkin chocolate chip cookies have crisp edges and moist chewy centers. Studded the hazelnuts for crunch, they're the perfect fall cookie!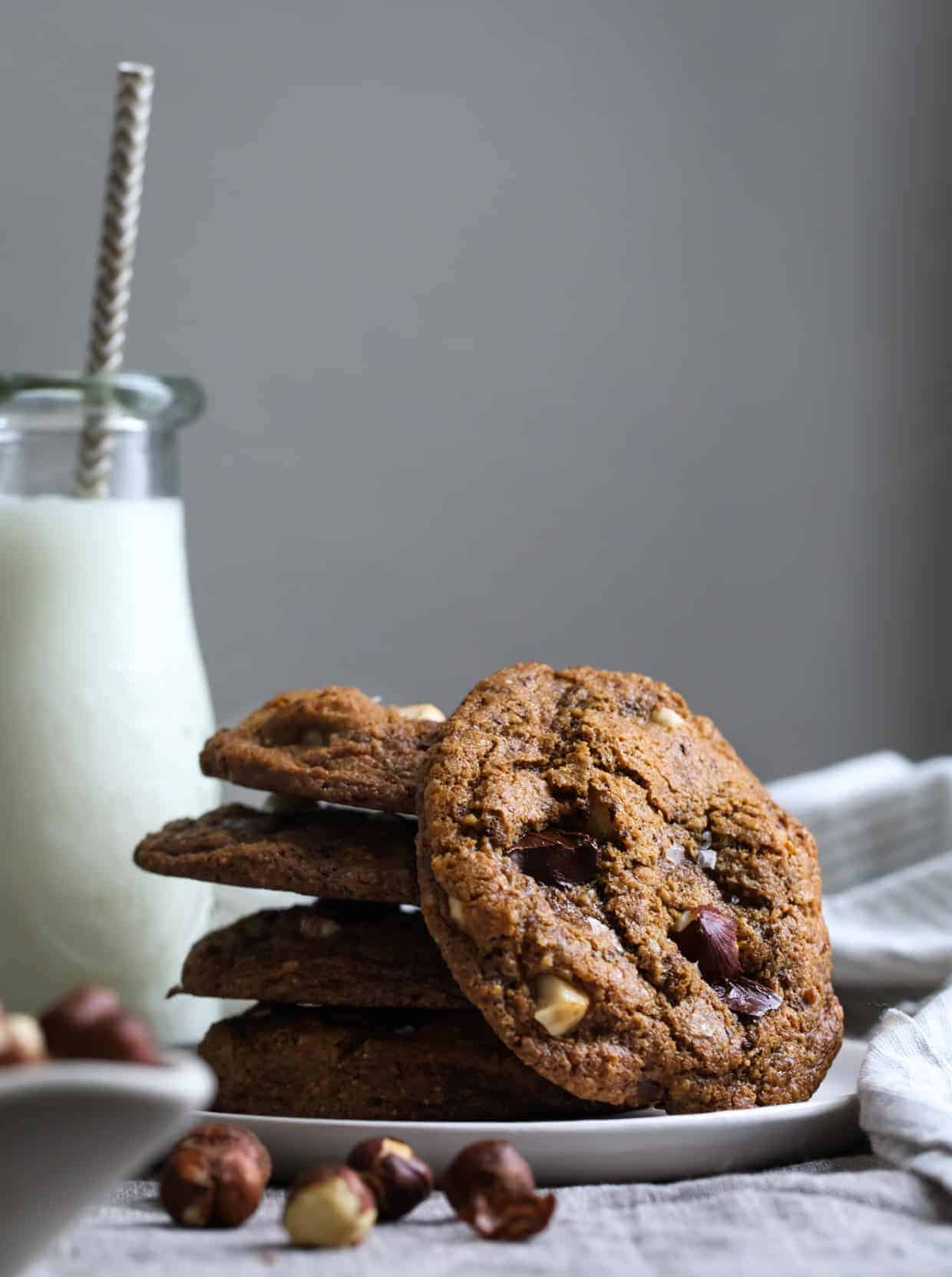 I can multitask at a lot of things. Stirring the soup with a baby on the hip while pausing to wash a few dishes with one hand and responding to no fewer than five chats in three different places with 10+ active browser tabs open. This is me most of the time. I might even have a cookie in hand (Yup, I do). Conversations with me are similarly paced and multi-directional - cookies included.
It turns out, though, there are some things I'm really terrible at doing simultaneously. Telling a story while doing anything else at the same time - forget it, I'll never get to the point. Testing a new baking recipe while feeding the baby dinner (and probably about one hundred other side tasks) currently tops the list though. Remember the gluten-free mexican chocolate buckwheat muffins that I had to re-test 7 times because I didn't write down my perfect recipe? Well, that wasn't a one-time deal. These pumpkin chocolate chip cookies went the same way.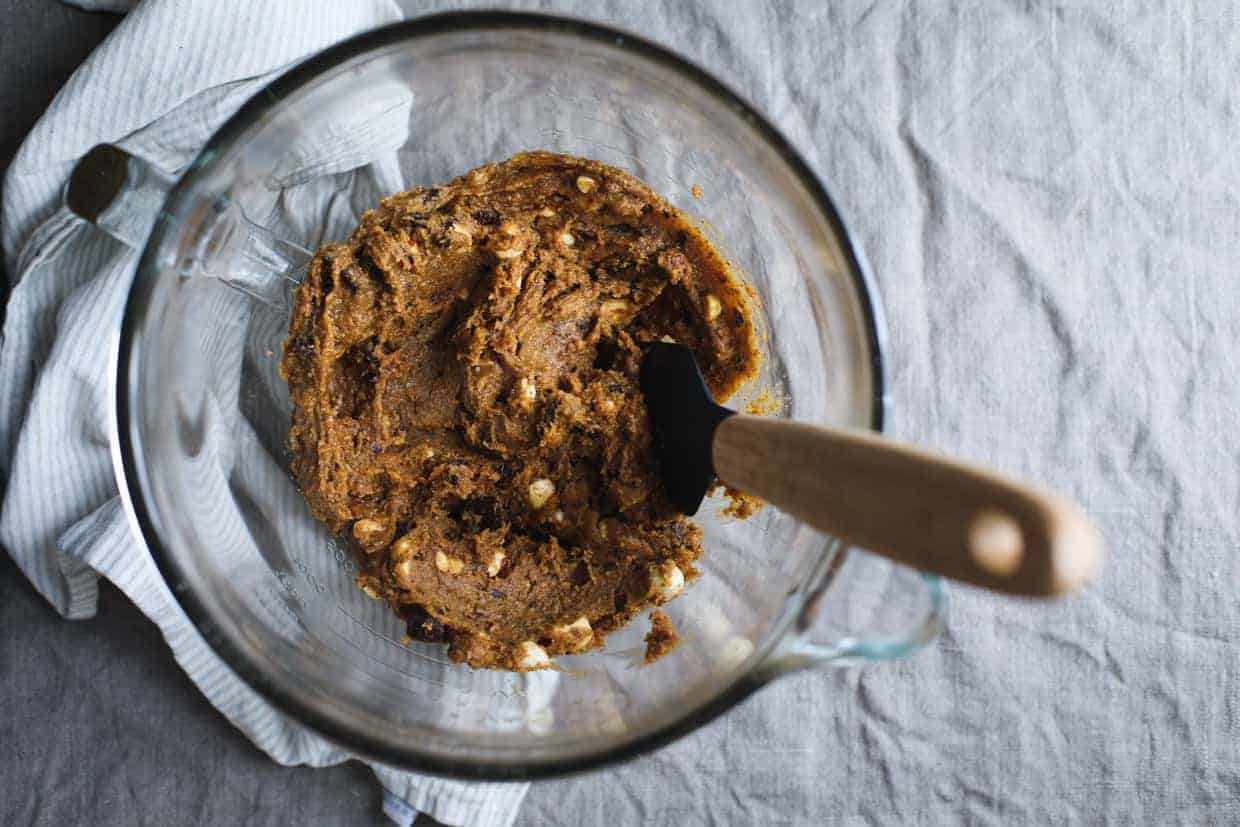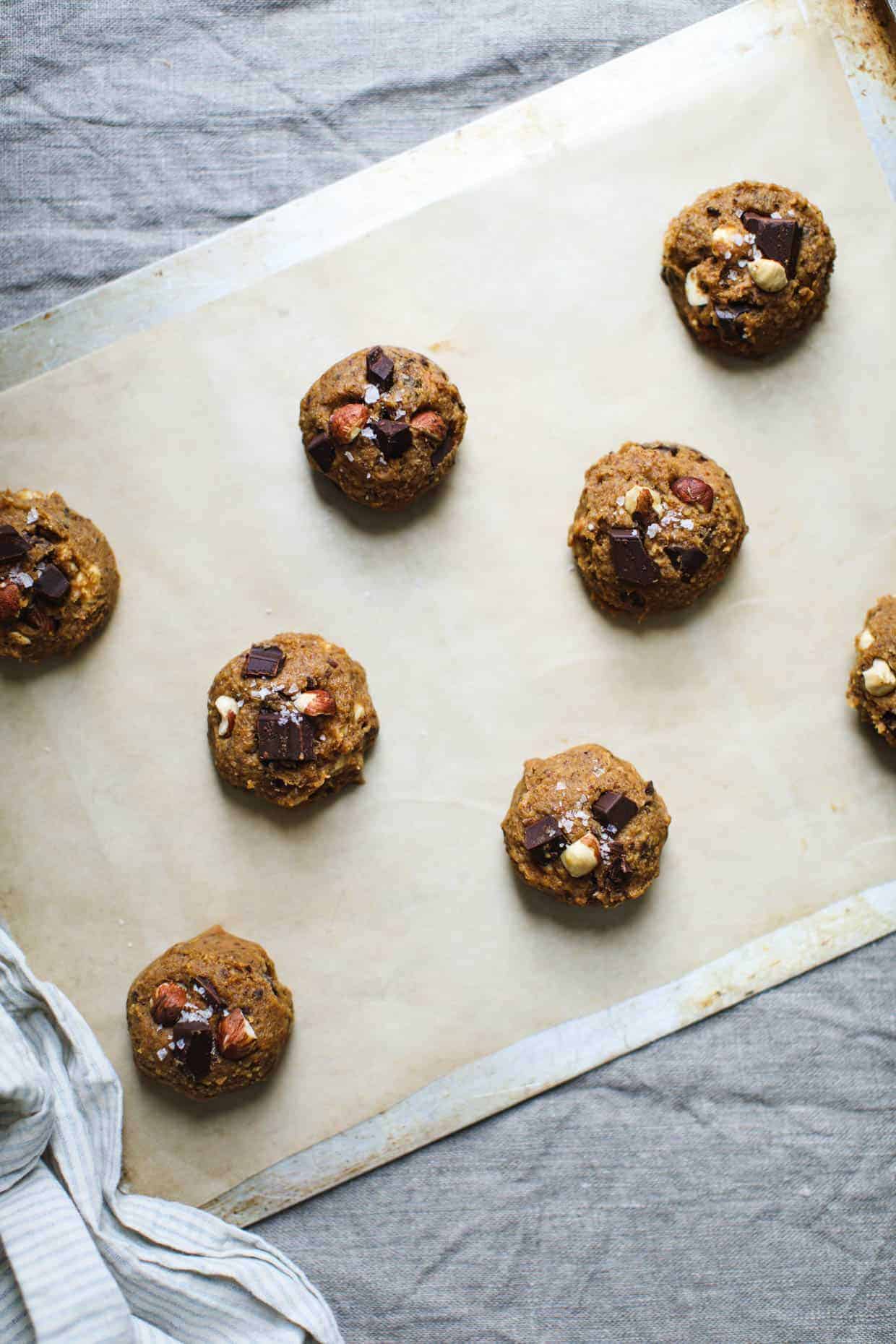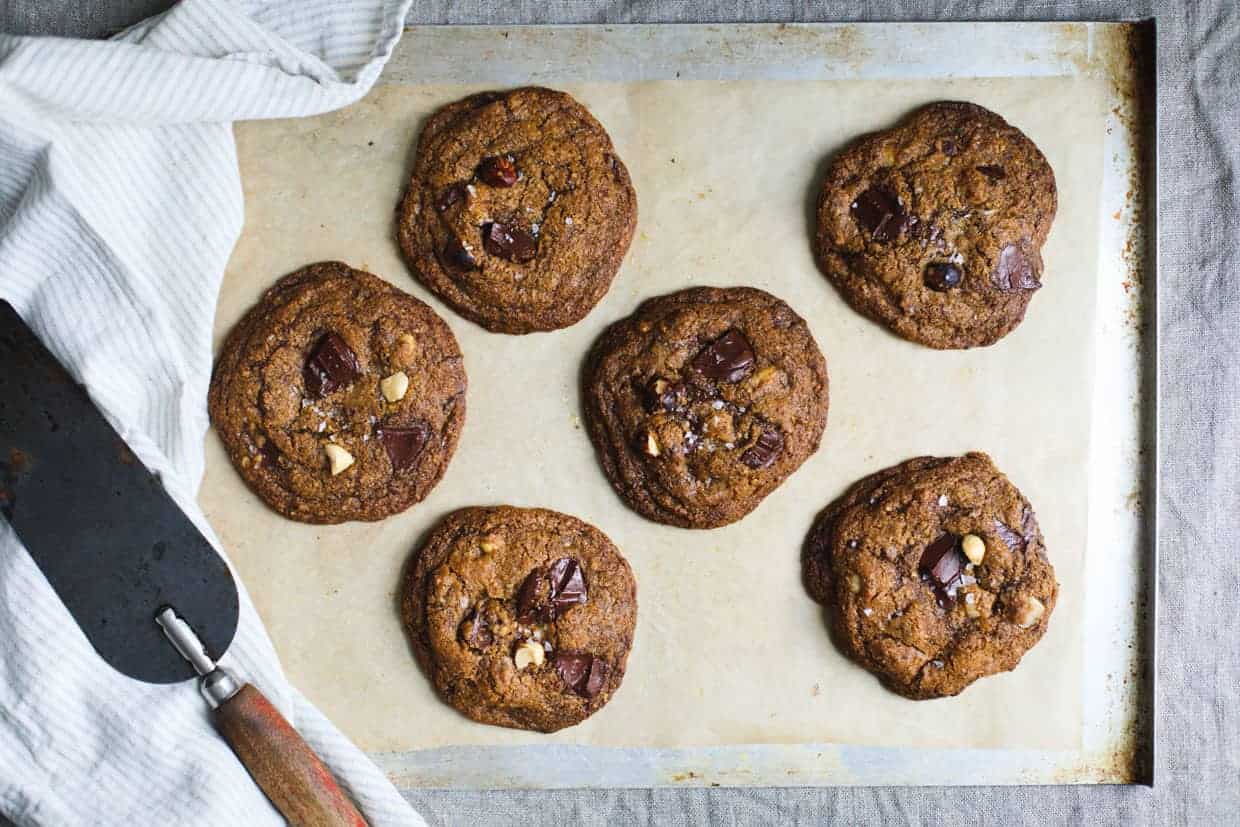 Gluten-Free Pumpkin Chocolate Chip Cookies
I used to be able to tell you exactly how much cumin I put in the veggie chili I made on the fly last week or how I adjusted the flour ratios in the cupcakes I made three months ago without writing a single thing down. Then I had a baby and my working memory reached max capacity and started deleting things like baking/cooking right out of my brain. A hard lesson in pausing long enough to jot down notes.
Okay, "hard lesson" is a stretch. A too-flat cookie IS STILL A COOKIE. A deliciously buttery chocolate-y chewy and crispy cookie. Really, what hard lesson ever ended in freshly baked cookies? Exactly.
So, boo-hoo poor me, I had to re-test the recipe for Thanksgiving just to nail it down. Our dessert table featured three homemade pies, berry cobbler, bread pudding, and 4 dozen (mini) pumpkin chocolate chip cookies. The cookies disappeared first.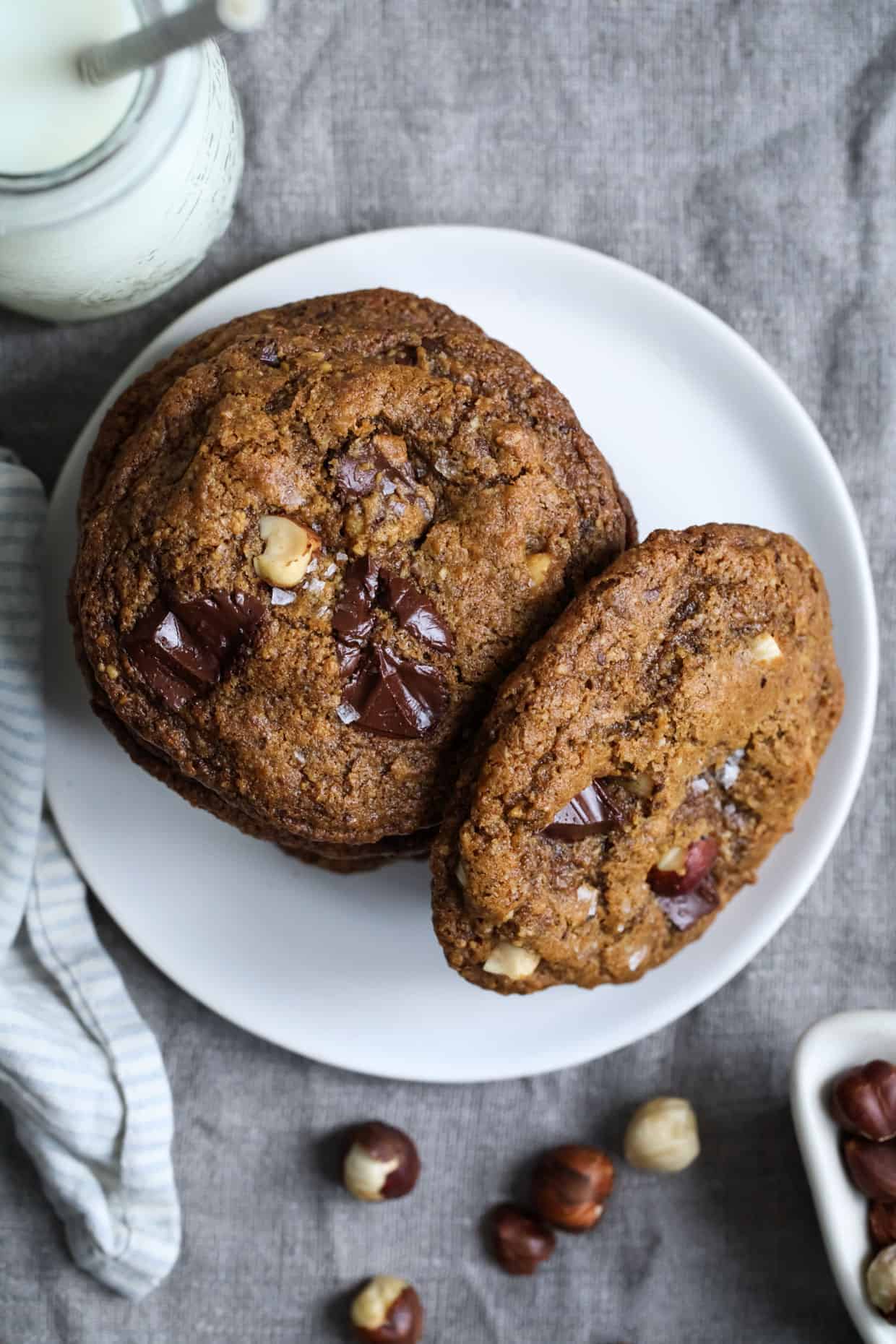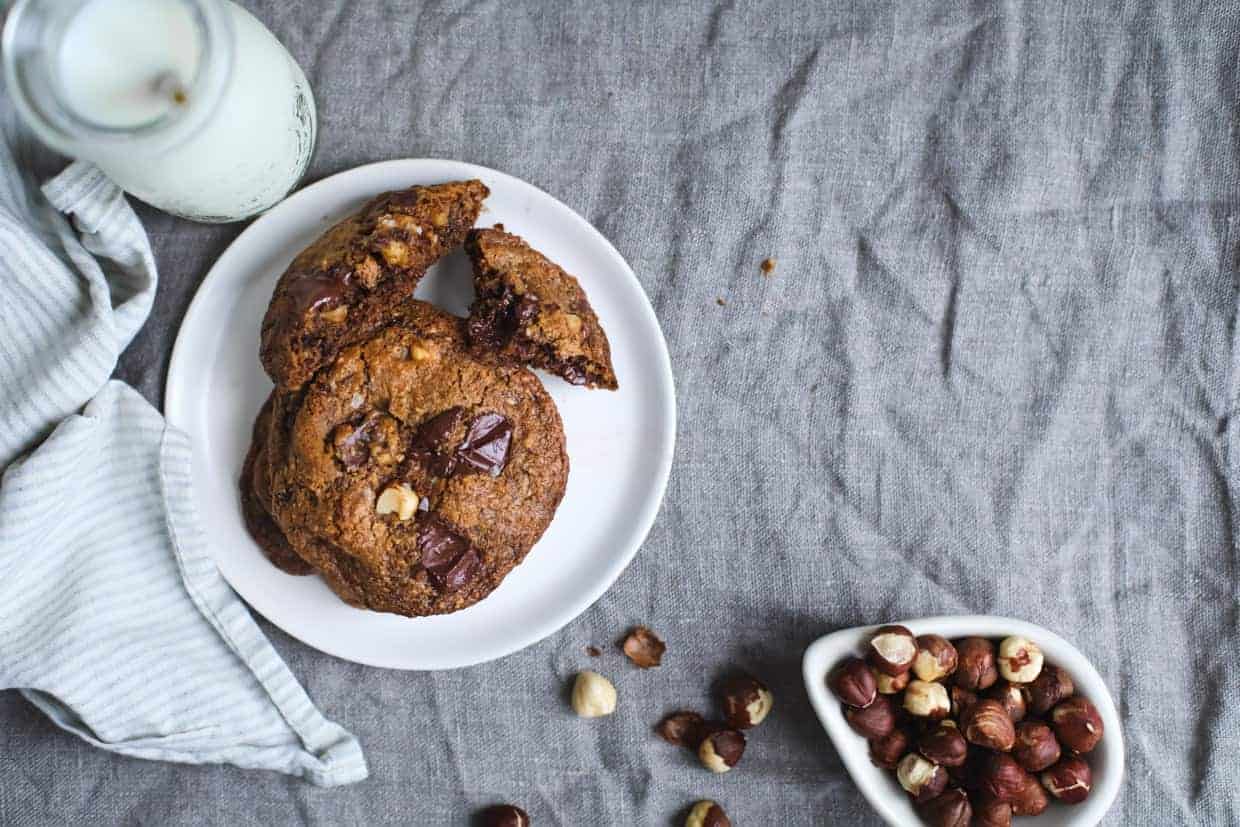 The best Gluten-Free Chocolate Chip Cookies
Their chewy gooey chocolate-y center and crispy buttery edges flirt with you every time you walk by the plate. Their warm pumpkin spices lure you in. You can't resist grabbing one. Then another. Then another. You make special "errands" to the kitchen just to happen upon the plate of cookies. And before you know it, your sister-in-law is frowning when she finds out the cookies are ALL GONE.
Also, who invited Cookie Monster to Thanksgiving?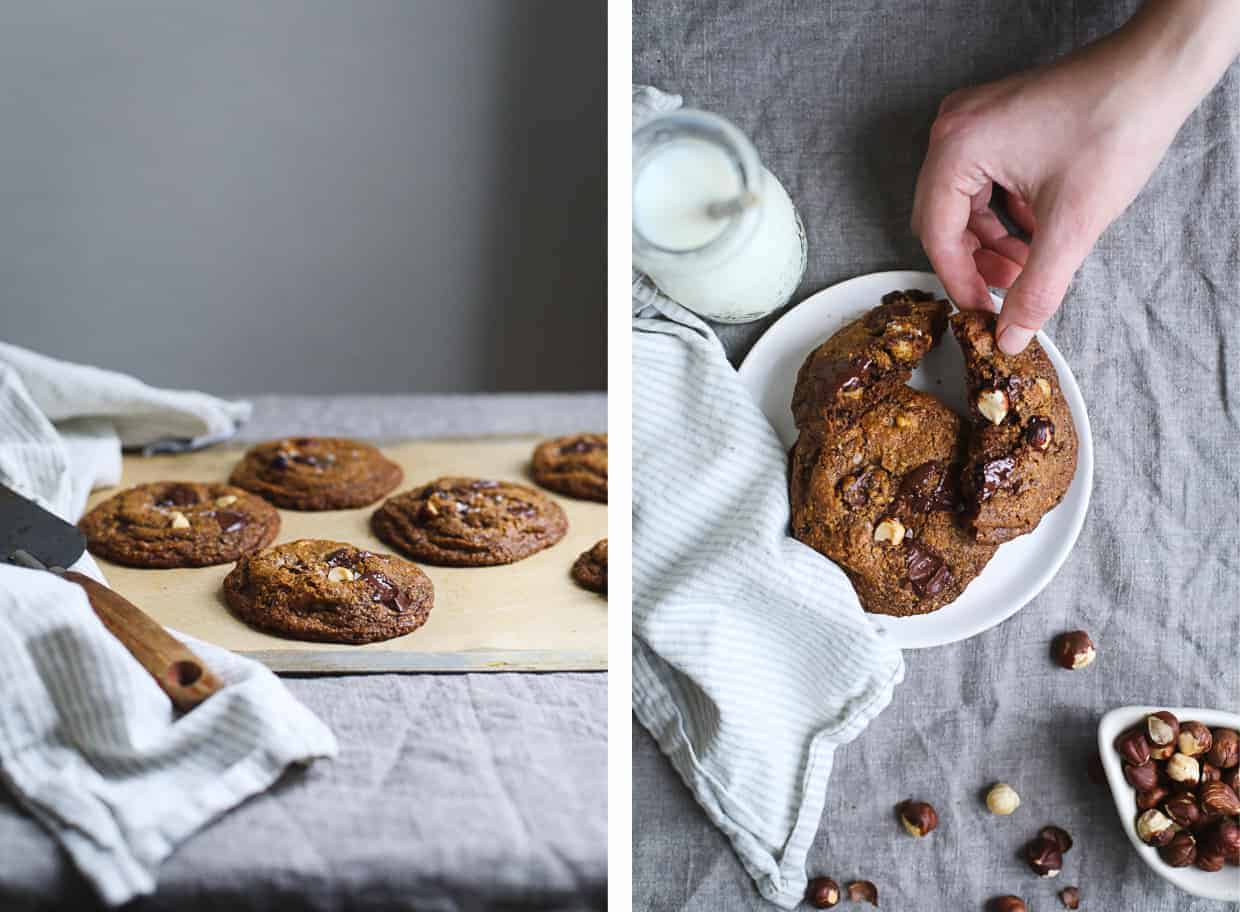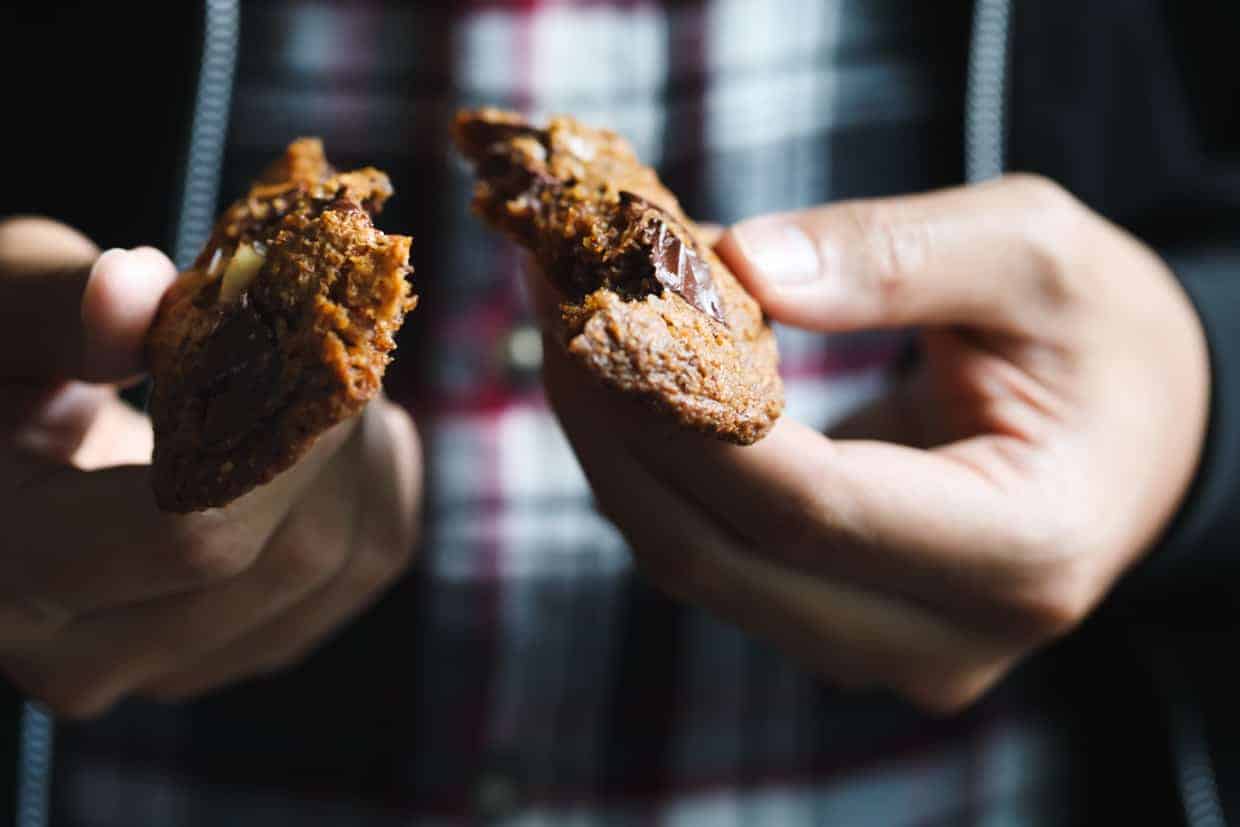 Baking with Hazelnuts
I'm on a hazelnut binge right now (here and here) and I don't plan to stop - their roasted deep nutty flavor reminds me of fall, but if hazelnut/hazelnut flour isn't your thing, almond flour and toasted pecans work just as well! This recipe is written to make 12 big cookies (ahem, normal-sized for folks like me), but it can also be baked up as two dozen smaller cookies, shortening the baking time to 11 minutes.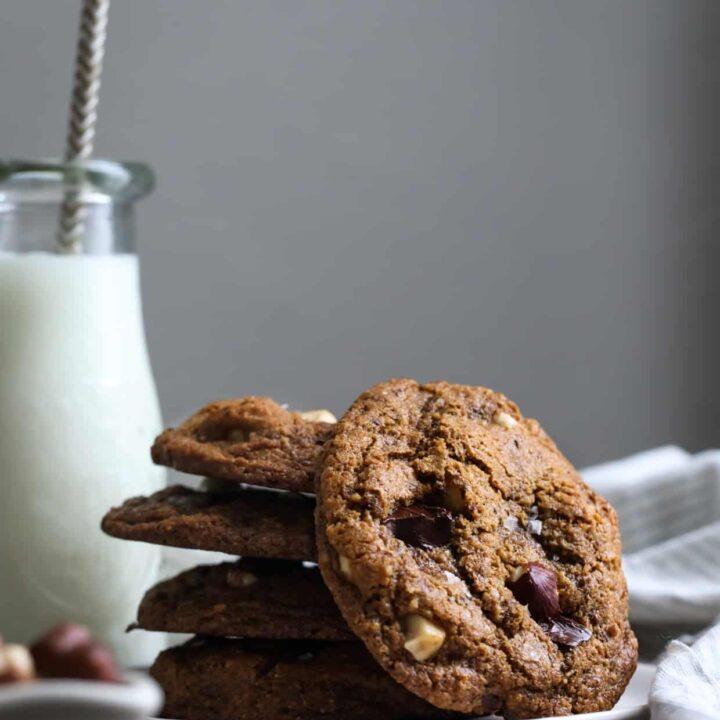 Gluten-Free Pumpkin Chocolate Chip Cookies
Chill Time:
1 hour
10 minutes
Total Time:
1 hour
41 minutes
These gluten-free pumpkin chocolate chip cookies have crisp edges and moist chewy centers. Studded the hazelnuts for crunch, they're the perfect fall cookie!
Ingredients
¾ cup + 2 tablespoons (106g) hazelnut flour*
½ cup + 3 tablespoons (90g) tapioca flour
¼ cup (33g) sweet rice flour (different from "white rice flour" or "brown rice flour")
¾ teaspoon baking soda
½ teaspoon kosher salt
1½ teaspoons ground cinnamon
½ teaspoon ground nutmeg
¼ teaspoon ground ginger
⅛ teaspoon ground cloves
½ cup unsalted butter
½ cup (115g) light brown sugar, packed
¼ cup + 2 teaspoons (60g) granulated sugar
1 large egg yolk, room temperature
1 teaspoon pure vanilla extract
⅓ cup canned pumpkin purée
½ cup hazelnuts, toasted, loose peels rubbed off & discarded, and chopped**
4 ounces (½ cup) chopped chocolate chunks
Optional: Flaky salt, for garnish
Instructions
In a medium bowl, whisk together the hazelnut flour, tapioca flour, baking soda, salt, and spices. Set aside.
Add the sugar to the bowl of a stand mixer or, if mixing by hand, a large bowl.
In a small saucepan or skillet, melt the butter over medium heat. Keep cooking, stirring occasionally until the butter browns. First it will foam up and then smell toasty with little brown flecks. Pour the browned butter over the sugar and stir a couple of times.
Add about a teaspoon of the butter/sugar mixture to the egg yolk to temper it and mix. Pour the tempered egg yolk into the butter/sugar mix and stir to combine.
Add the pumpkin and vanilla extract and mix until combined.
Slowly add the dry ingredients, mixing until combined.
Add the chopped hazelnuts and chocolate and mix until evenly distributed.
Cover the dough with plastic and chill for at least 1 hour.
Preheat the oven to 375°F and line a large baking sheet with parchment paper.
Drop large scoops (3 tablespoons) of dough onto the lined baking sheet, about 3 inches apart (you might need to bake in batches). Sprinkle the tops of the cookies with a few flakes of salt. If the dough has softened up, chill the dough on the baking sheet for another 10 minutes.
Bake for 16-18 minutes, until the edges are golden brown and the top is set, but still soft, rotating the pan halfway through.
Remove from oven and let cool on the baking sheet for a minute or two before carefully transferring with a thin spatula to a wire rack to cool for 10 minutes before serving.
Notes
*You can also sub in 106g almond flour instead of the hazelnut flour
**You can swap out the toasted hazelnuts for chopped toasted pecans
Also: Artichoke is ready for his close-up.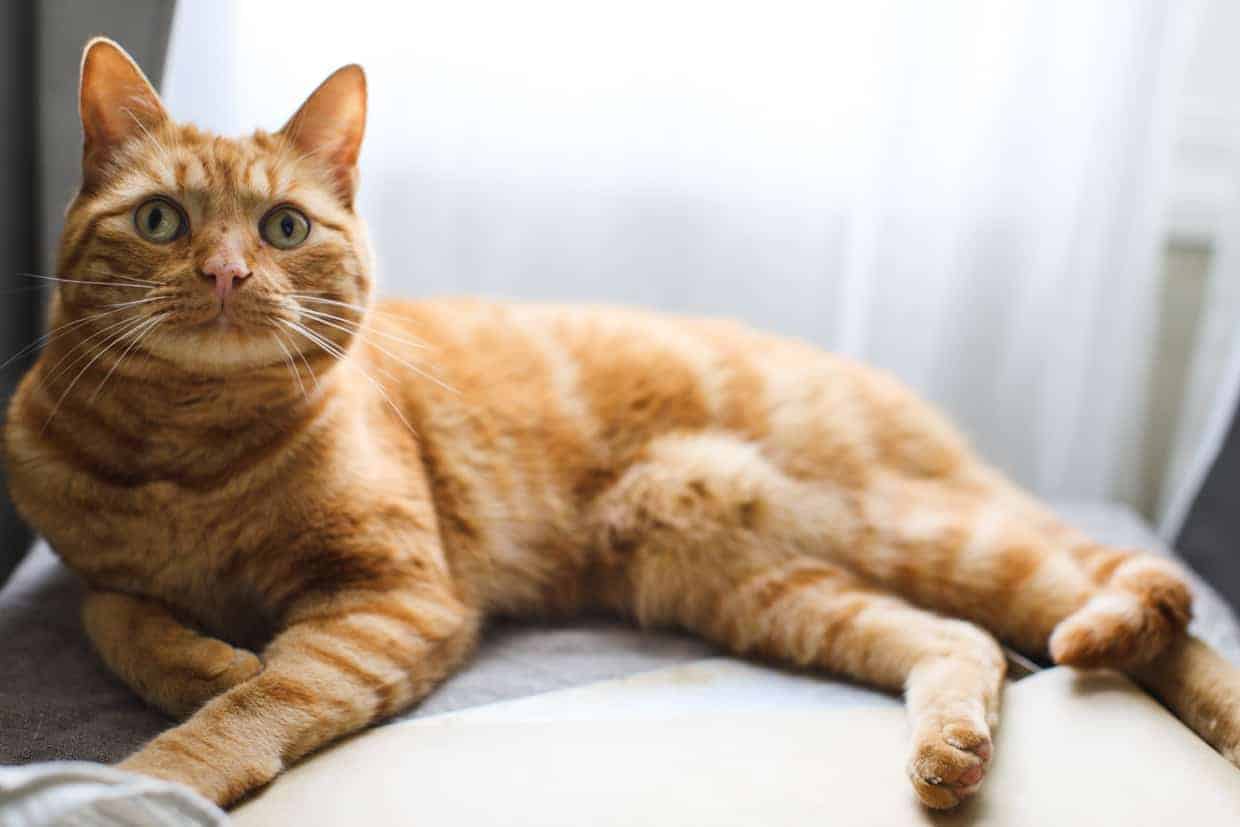 Thanks for reading Snixy Kitchen! To stay up on what's coming out of my kitchen, follow me on Facebook, Instagram, Twitter, Bloglovin', or Pinterest, or subscribe via e-mail to get new recipes right to your inbox.