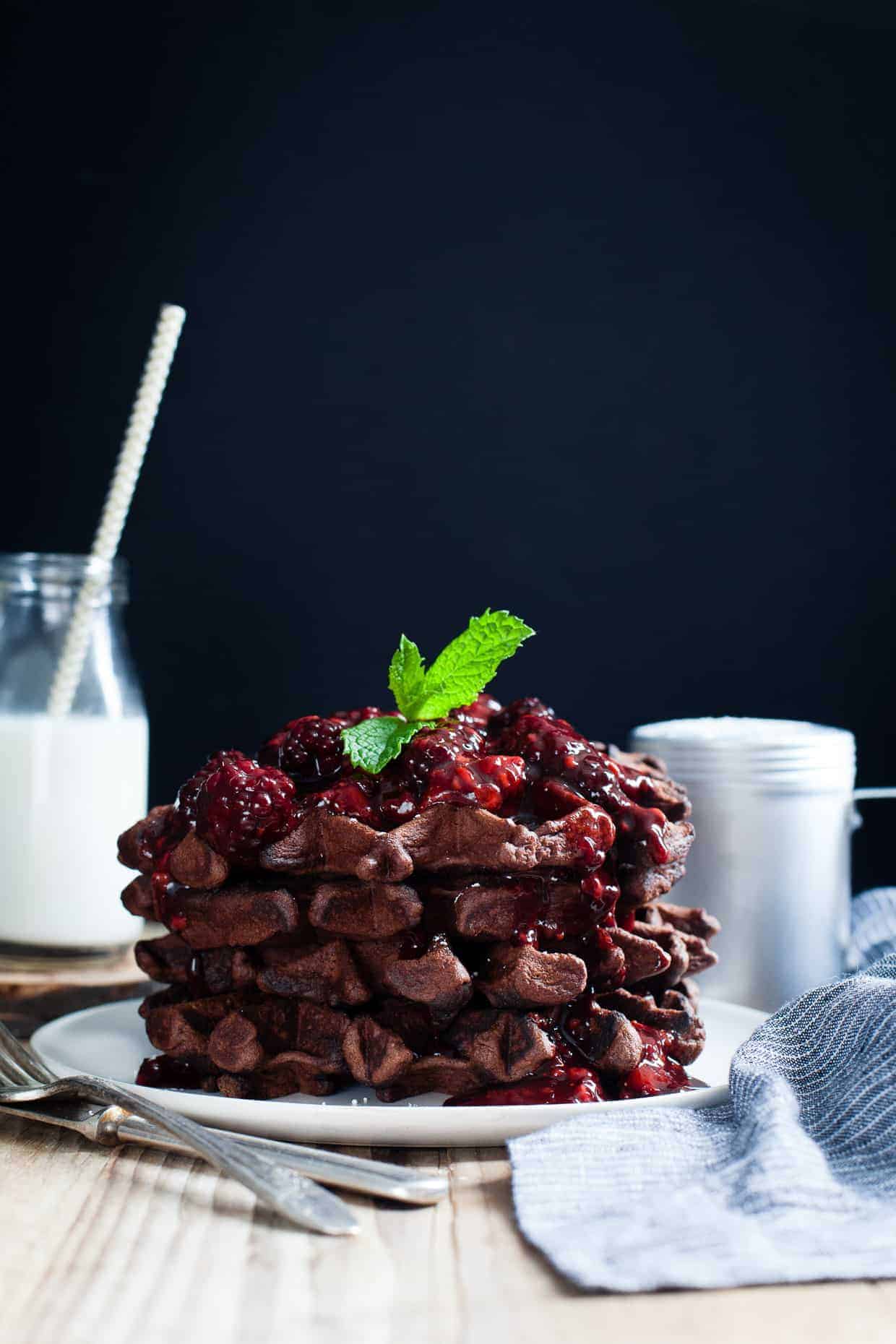 It's a short week - celebrate with chocolate chestnut waffles! Then make them again for Waffle Wednesday (totally a thing). And then Thursday because it's almost the weekend. Whatever the day, I'm sure you can find a reason for chocolate waffles.
Before we go any further, important things first: I got my lollipop! The Grad division office had a sign up that read, "Don't worry, we'll NEVER discontinue the lollipops!" It seems I wasn't the only one who asked with a quivering lip. This time my mom got to come with, so it felt much more eventful - only then I faced the dilemma about whether to eat the lollipop or save it as a keepsake (hoarder, much?). My mom apparently read my inner struggle and detoured us to See's to pick up a box of lollipops - "for eating," she said.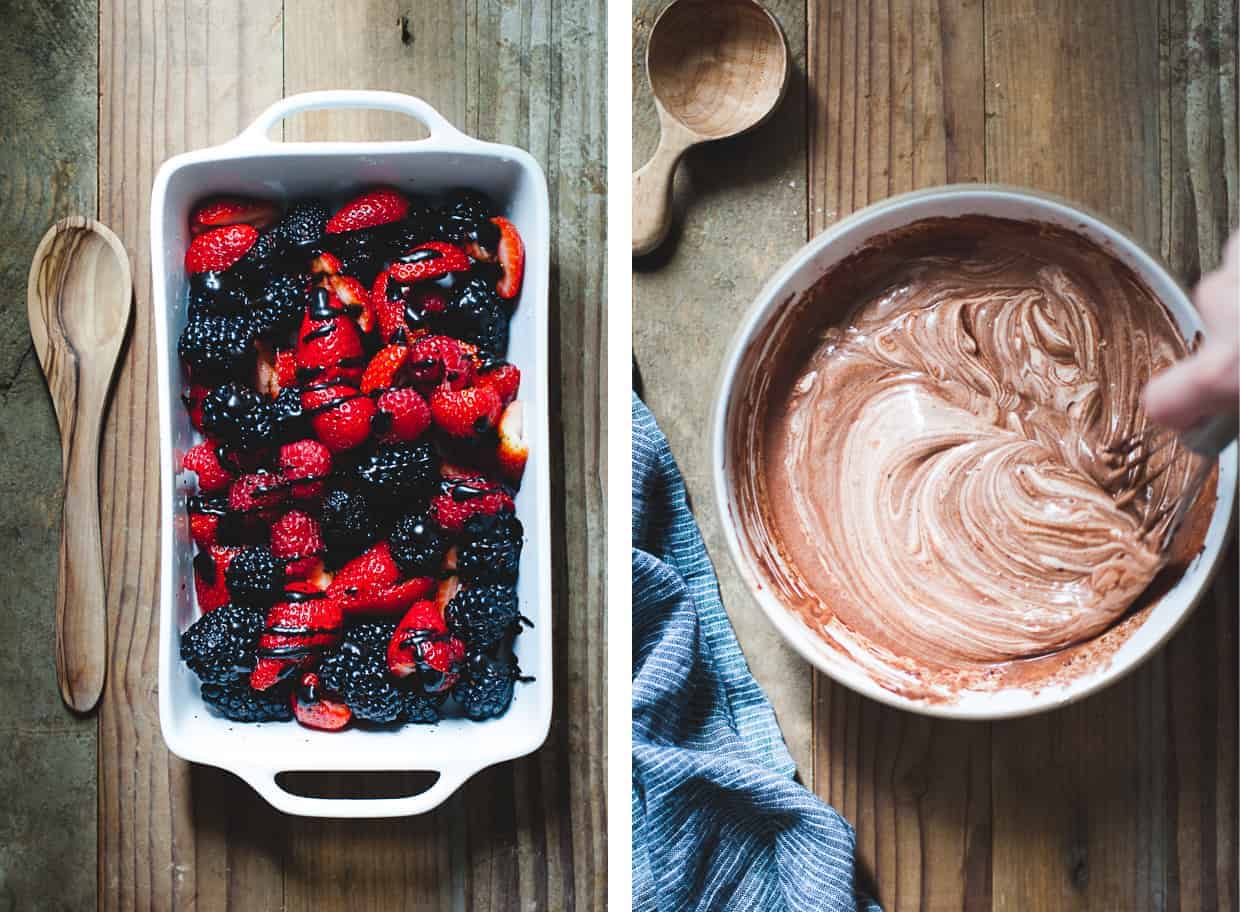 Besides getting a lollipop, since you last heard from me I've taken a quick trip to Denver to tour Rodelle's Vanilla Factory, hosted both sides of the family for a long weekend, prepped a billion pounds (actual measurement) of potato salad, mac & cheese, and chocolate cupcakes for a blowout celebration, and finally, sniffled my way through the graduation ceremony. My body rebelled with a cold that took me out all of last week. This weekend I definitely needed some R&R.
The definition of which I'm pretty sure includes Sunday brunch. With waffles. And chocolate - because: I graduated so we can celebrate with waffles topped with ice cream and berries any time of day for at least another month.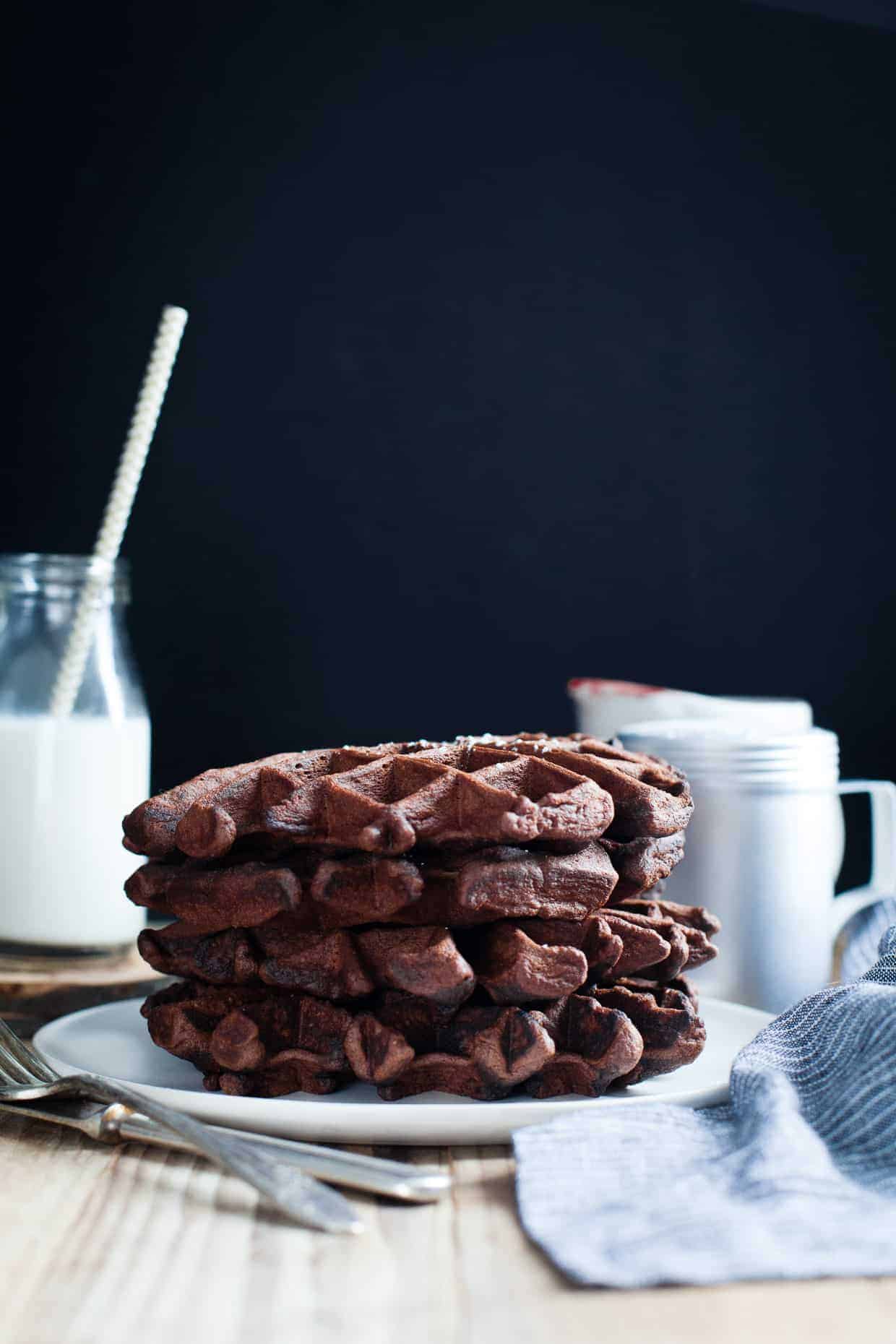 The dean might be in need of some R&R too - I blew my runny nose all through the ceremony, then had to shake her hand to accept my fake diploma. (Sorry, Dean!) Between sniffles and nose wipes, I spent the whole ceremony trying to figure out how I could politely refuse to shake the dean's hand on stage in front of a full auditorium. (You can't, that's how.)
Word to the wise: if you feel a cold coming on, bring tissues and hand sanitizer.
Then when you're in recovery, make a huge batch of these waffles and don't even share. Don't skimp on this balsamic roasted berry sauce either - double the recipe and eat it warm over everything for a whole week. These waffles are ultra chocolatey but not overly sweet, making them perfect for brunch.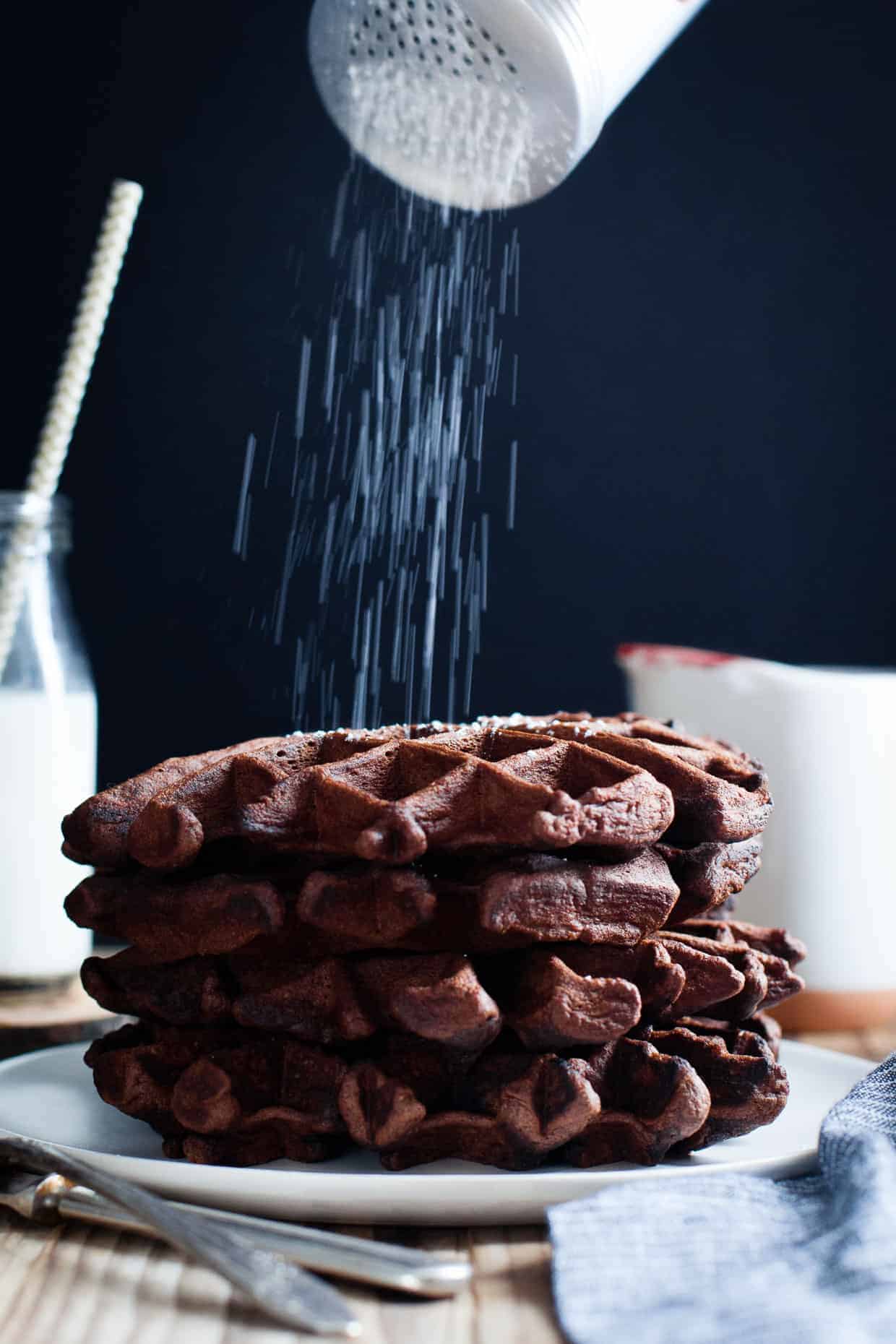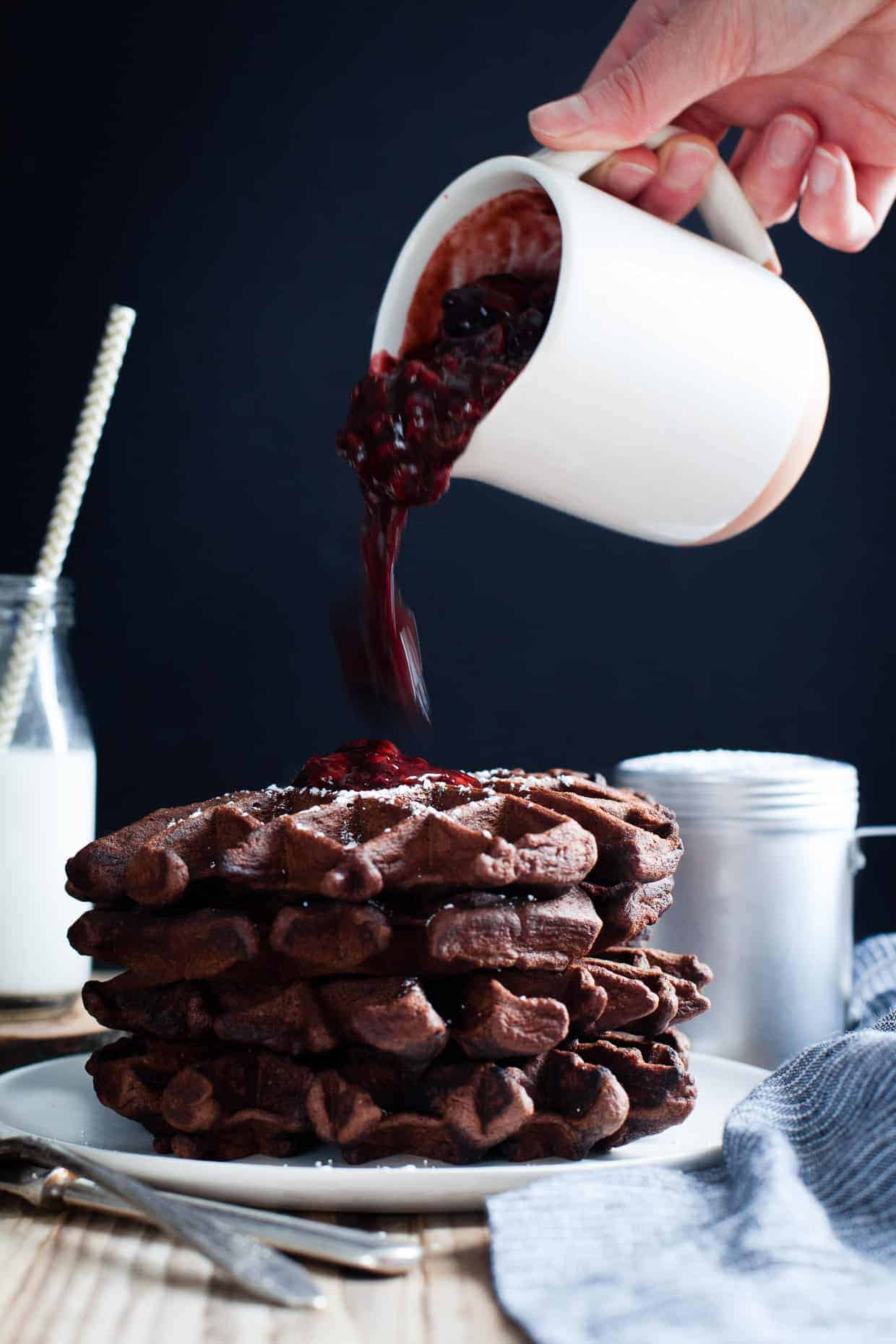 They also go well topped with roasted berries and ice cream, which dresses them up as dessert (or breakfast still, if you're into that kind of thing *coughDADcough*). As waffles should be, they're crispy on the outside and light and chewy on the inside.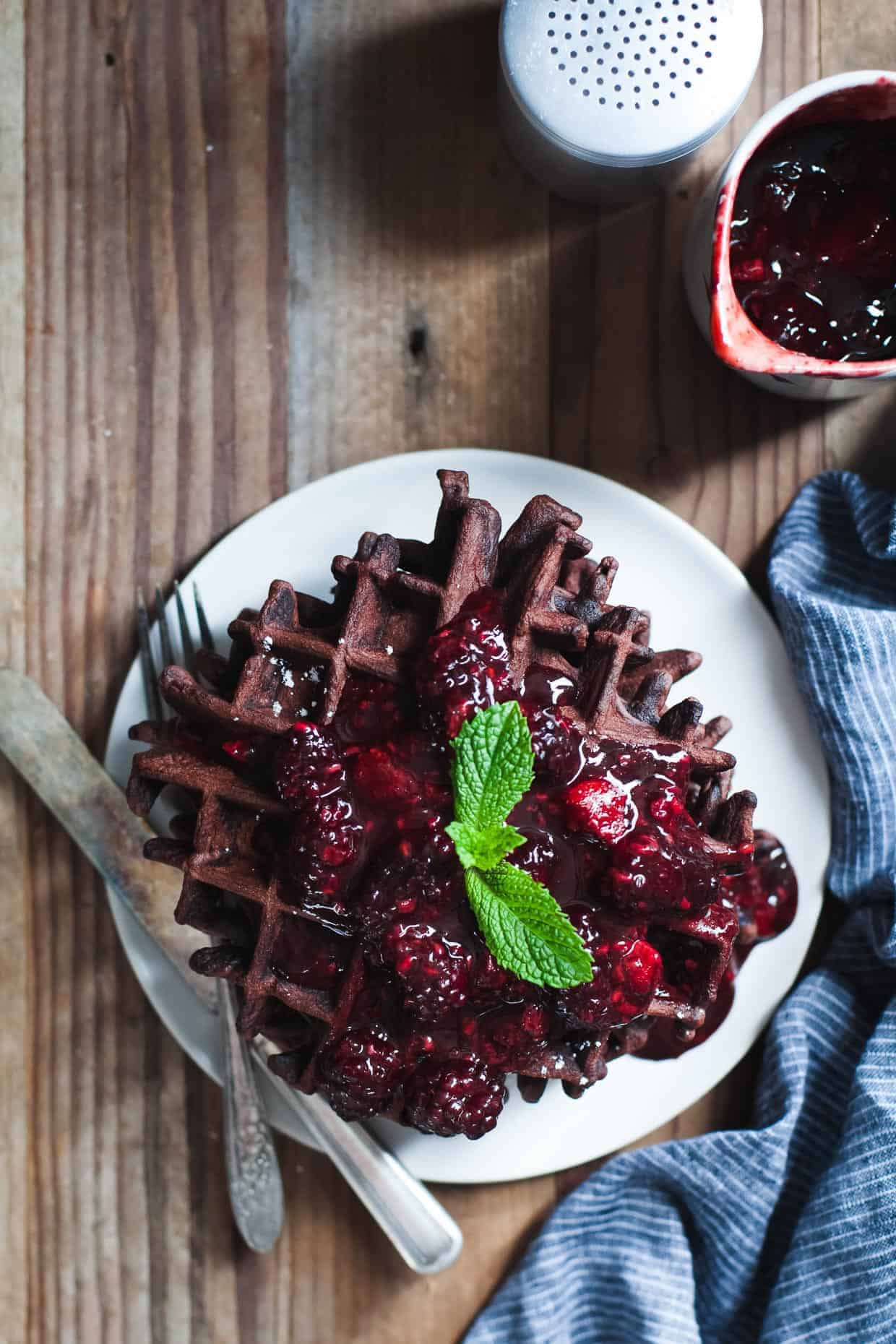 I planned to have these ready to go before I went down sniffling, but it turns out perfecting the art of the stovetop waffle iron is a delicate process that takes a few batches. When I saw these all-too-handsome waffles (and these) from Soymilk + Honey, I stalked her on Facebook to find out where she got her waffle iron (Thanks Sarah!).
She was right, this stovetop iron is the shit, but it comes with very little in the way of instructions. Here's what you need to know: medium heat, spray with oil, 90 seconds, flip, 90 seconds, peek in, heat more for crispiness if needed. Devour.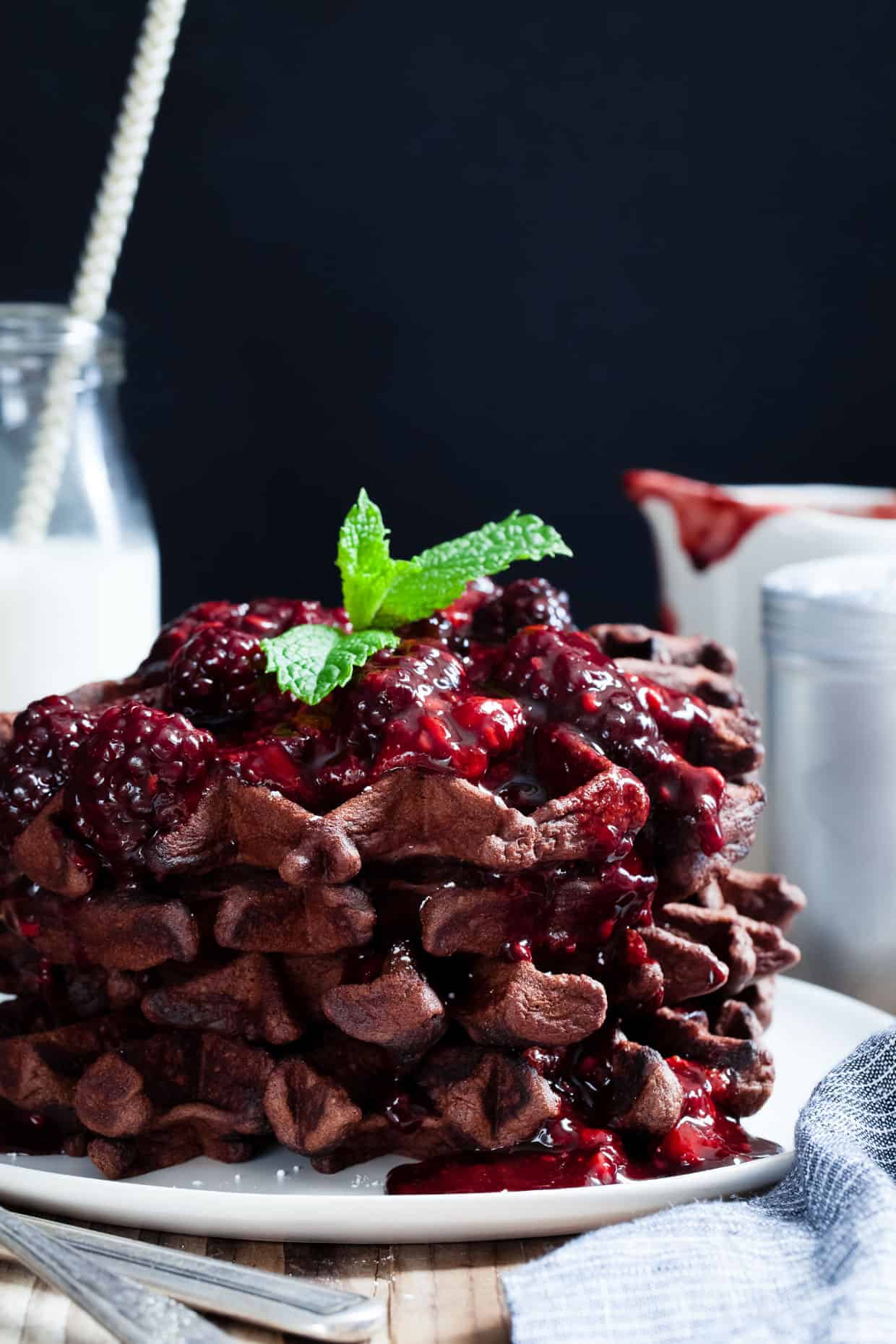 Thanks for reading Snixy Kitchen! To stay up on what's coming out of my kitchen,  follow me on Facebook, Instagram, Twitter, Bloglovin', or Pinterest, or subscribe via e-mail to get new recipes right to your inbox.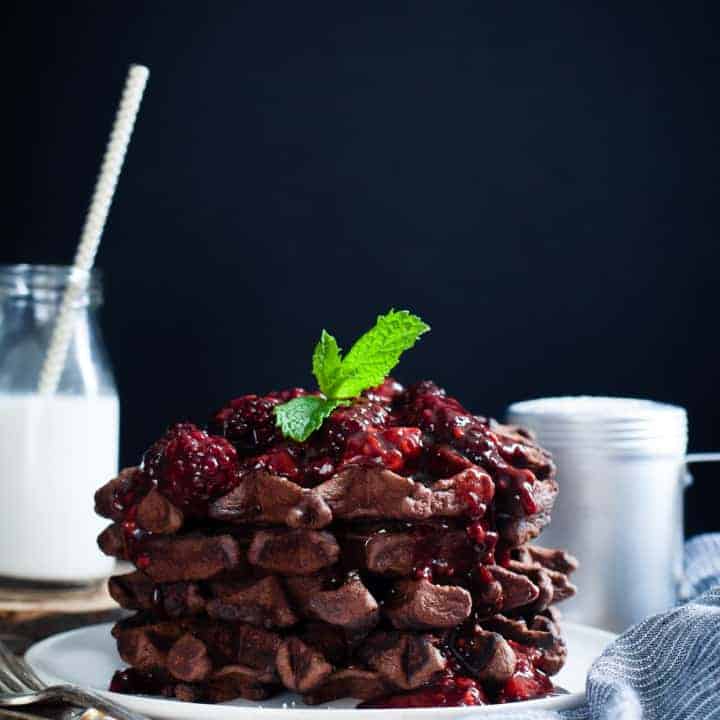 Gluten-Free Chocolate Chestnut Waffles with Balsamic Roasted Berries
Ingredients
Balsamic Roasted Berries
2 cups strawberries, stems removed and halved
1 cup blackberries
1 cup raspberries
1-2 tablespoons tapioca starch (corn starch will also work to thicken the sauce)
Gluten-Free Chocolate Chestnut Waffles
¼ cup oat flour*
¼ cup dutch-processed cocoa powder (I used Rodelle)
1 teaspoon baking powder
¼ teaspoon fine sea salt
3 tablespoons sugar
½ cup and 2 tablespoons whole milk, room temperature
2 eggs, whites and yolks separated
3 tablespoons unsalted butter, melted and cooled
Optional: 2-3 tablespoon powdered sugar, for serving
Instructions
Preheat the oven to 400°F.
Toss the berries, balsamic, and tapioca starch together in a small oven-safe glass baking dish and roast for 20-25 minutes, until the berries have softened and the sauce begins to thicken, stirring occasionally.
Meanwhile, heat your waffle iron.
In a medium bowl, sift the chestnut flour, oat flour, sweet rice flour, tapioca starch, cocoa powder, baking powder, and salt. Set aside.
Whisk together the milk, egg yolks, vanilla extract, and melted butter in a small bowl. Set aside.
Using a stand mixer or an electric mixer, beat the egg whites until they become thick and foamy, about 2 minutes. With the mixer still running, slowly pour in the sugar, one tablespoon at a time, and beat until stiff shiny peaks form.
Add the milk mixture to the dry ingredients and whisk until thoroughly combined.
Gently fold the whipped egg whites into the batter until just combined - do not over mix.
If using an electric waffle iron, cook waffles according to manufacturer directions, lightly spraying the iron with canola oil.
If using a stovetop waffle iron, be sure to heat up both sides for at least 3 minutes on medium heat. Lightly spray the top and the bottom of the waffle iron with canola oil. Pour ¾-1 cup of batter into the middle of the waffle iron and cook for 90 seconds. Flip the waffle iron and cook for another 60-90 seconds. Gently open the waffle iron to check the waffle and, if needed, continue cooking until both sides are crispy. (Every stove is slightly different, but mine is ready after 90 seconds on both sides). Transfer to a plate and repeat with remaining batter.
Serve topped with powdered sugar and a spoonful of balsamic roasted berries.
Notes
*I grind my own oat flour by pulsing gluten-free oats in the blender or food processor until fine, then sifting out any large pieces.