These gluten-free pumpkin cookies are soft and pillowy and studded with toasted walnuts. Rolled in cinnamon sugar, these soft pumpkin cookies are like gluten-free snickerdoodles with fall flavors!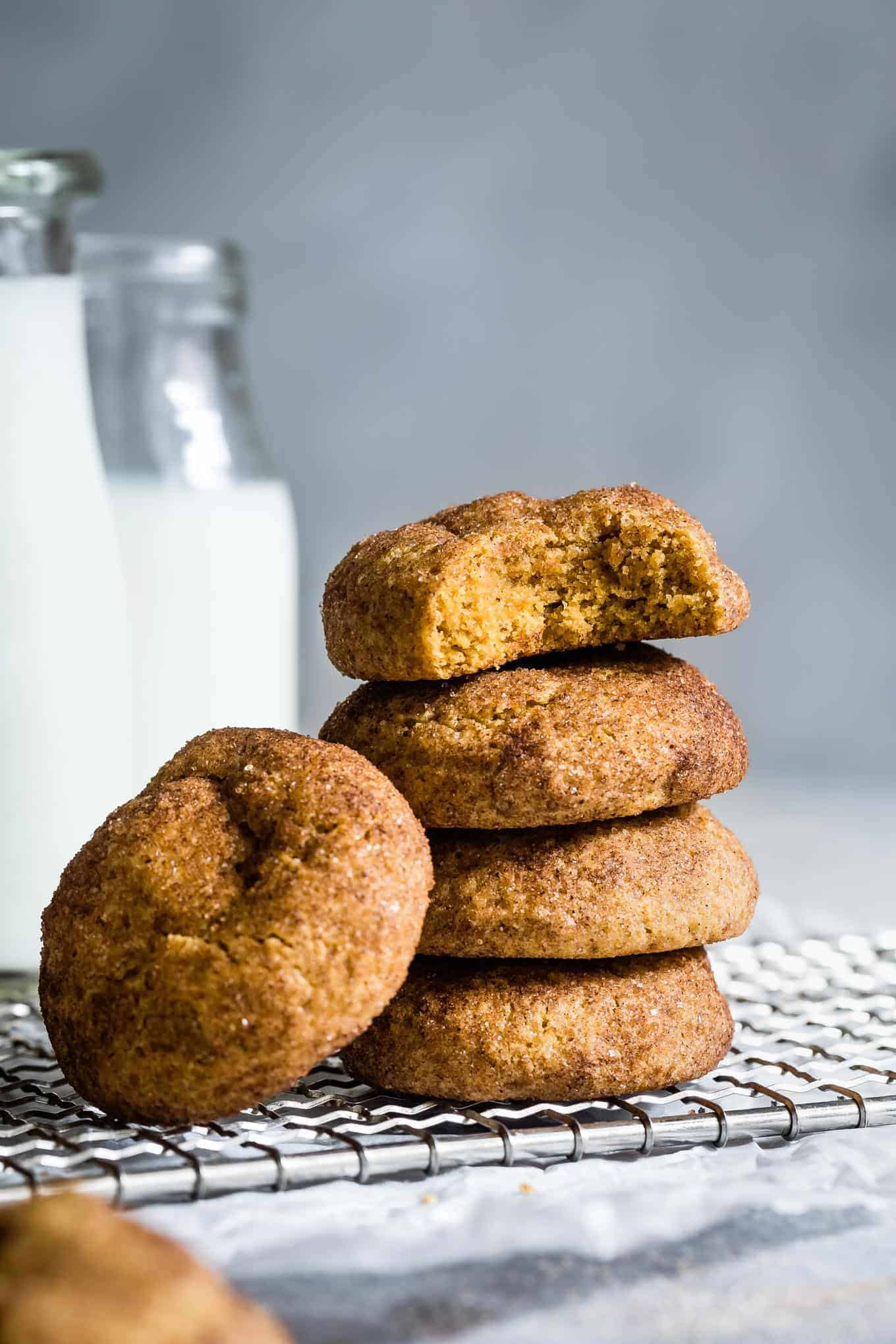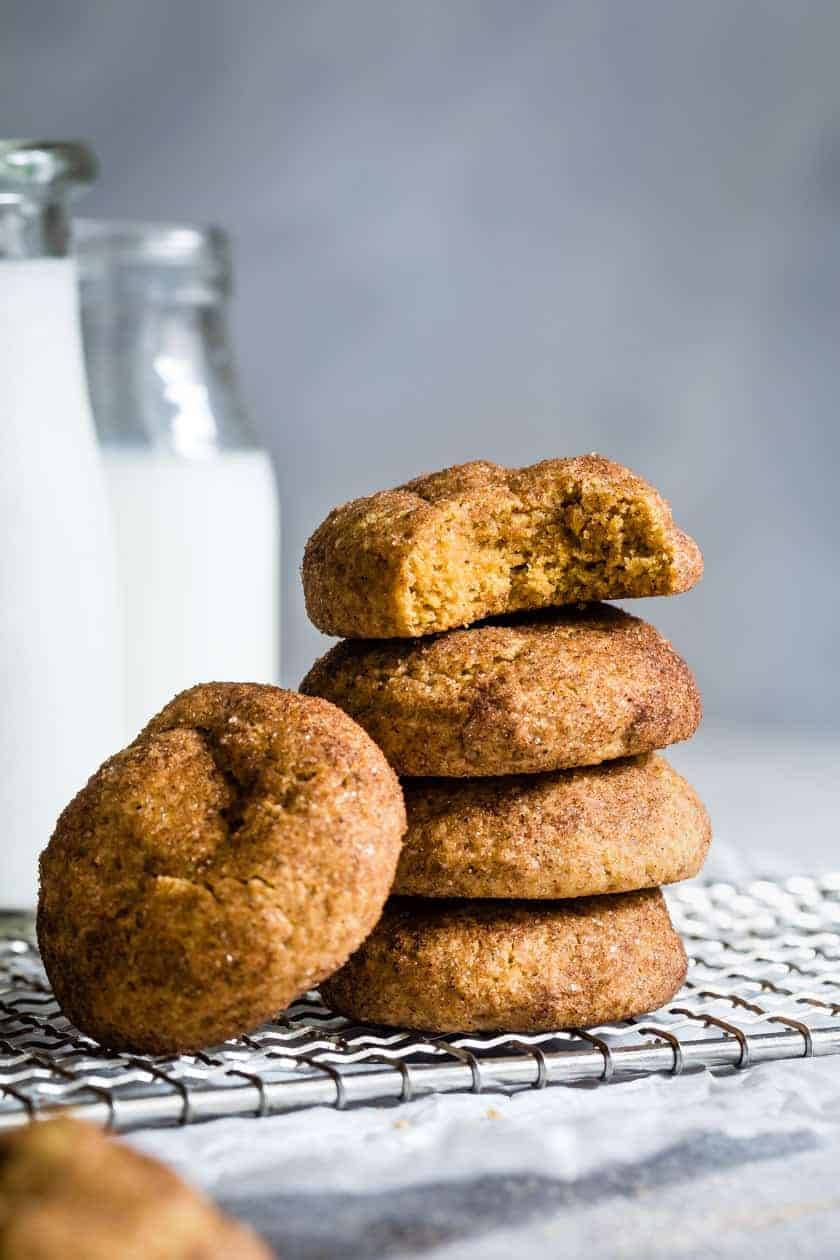 On the first test batch of these gluten-free pumpkin cookies with walnuts, I started a small kitchen fire. It all went downhill when the first batch didn't spread, it had too much flour. And I didn't feel like baking off a whole pan of sub par cookies, so I haphazardly shoved them all into a parchment-lined baking pan and baked it as cookie bars. Fluffy cakey crumbly pumpkin spice cookie bars. Then I set about making dinner.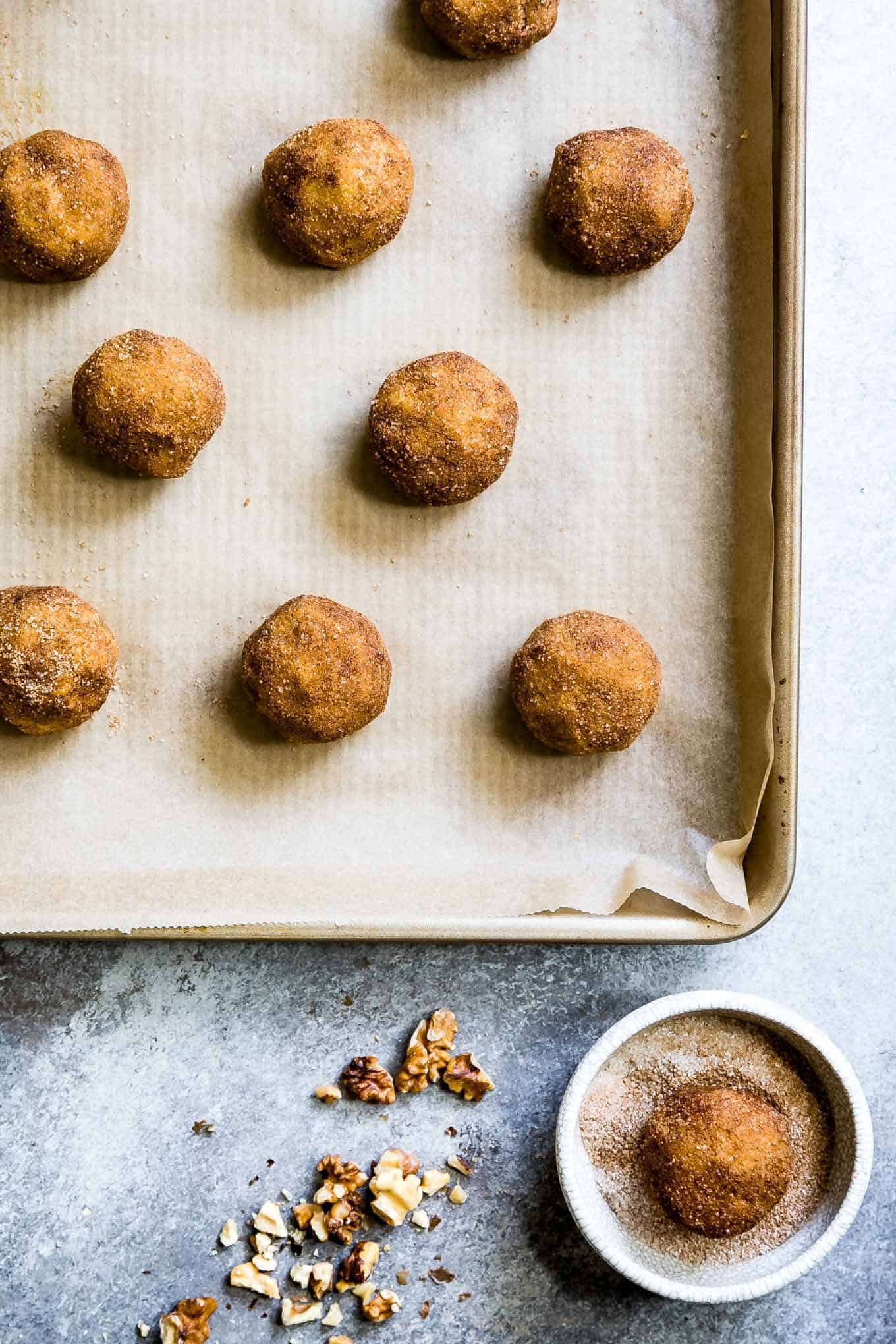 Gluten-Free Pumpkin Cookie Recipe
When I pulled the pan out of the oven, I set it on the stove top, just a little too close to the burner I was cooking on and lit the parchment paper on FIRE. In retrospect, throwing a kitchen towel over the top probably would have been the smart choice.
Instead I tossed the flaming pan immediately back into the oven and shut the door. (Is this a metaphor for my life?). In the split second it took for the flames to die down, I debated whether the oven really was airtight enough to smother the flame or if instead the whole thing would blow up.
So, now I'm looking into compact home fire extinguishers.
Also, this oven flame smothering method totally rescued the pumpkin cookie bars from becoming an ashy mess had I gone the kitchen towel route. Sometimes sealing your problems behind a door will actually fix them.
Gluten-Free Pumpkin Drop Cookies
Four batches later, these simple gluten-free pumpkin cookies with walnuts are finally the perfect blend of soft, pillowy, and chewy, with little crisp edges. The toasted walnuts add extra crunch and nuttiness that makes them taste like little morsels of fall.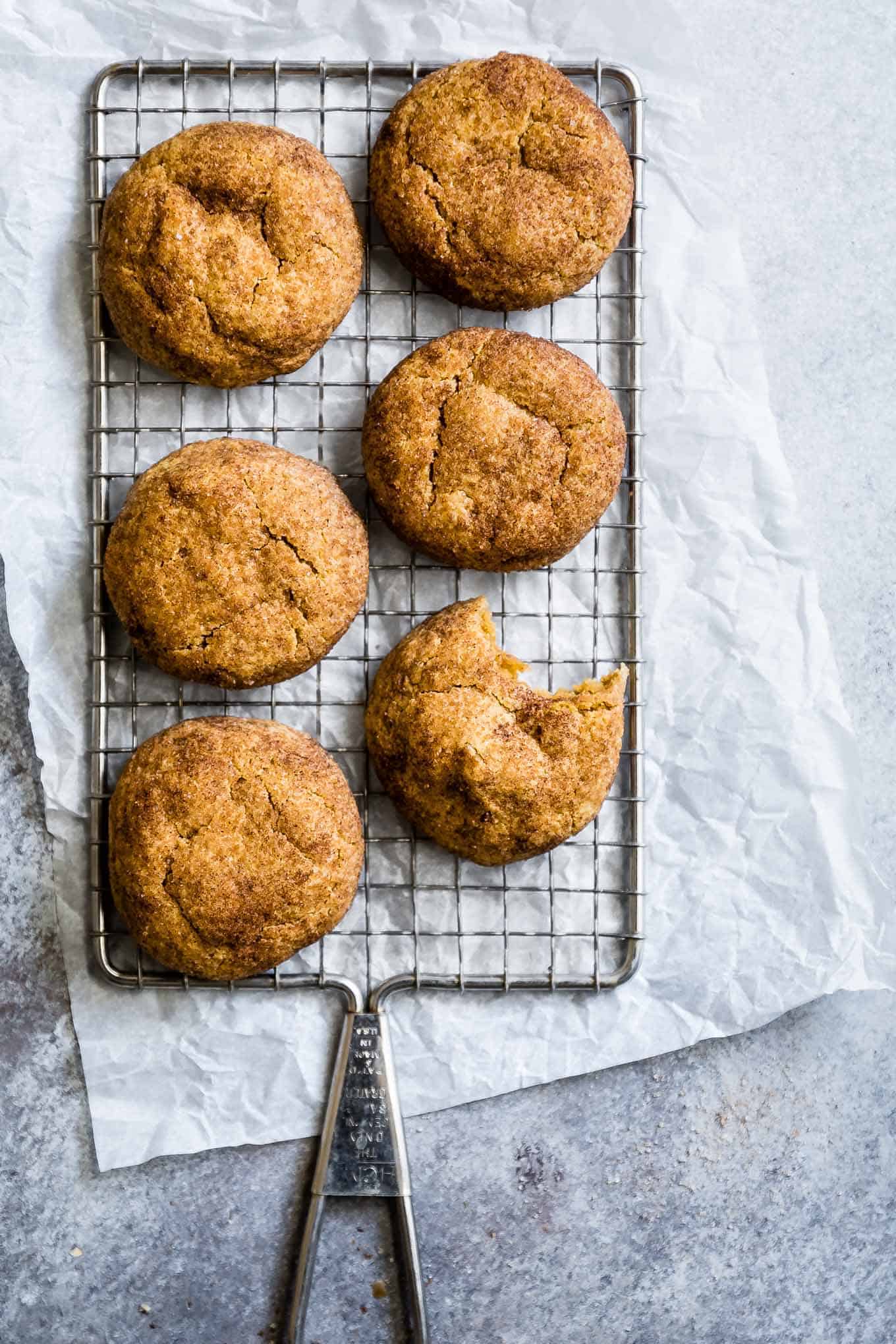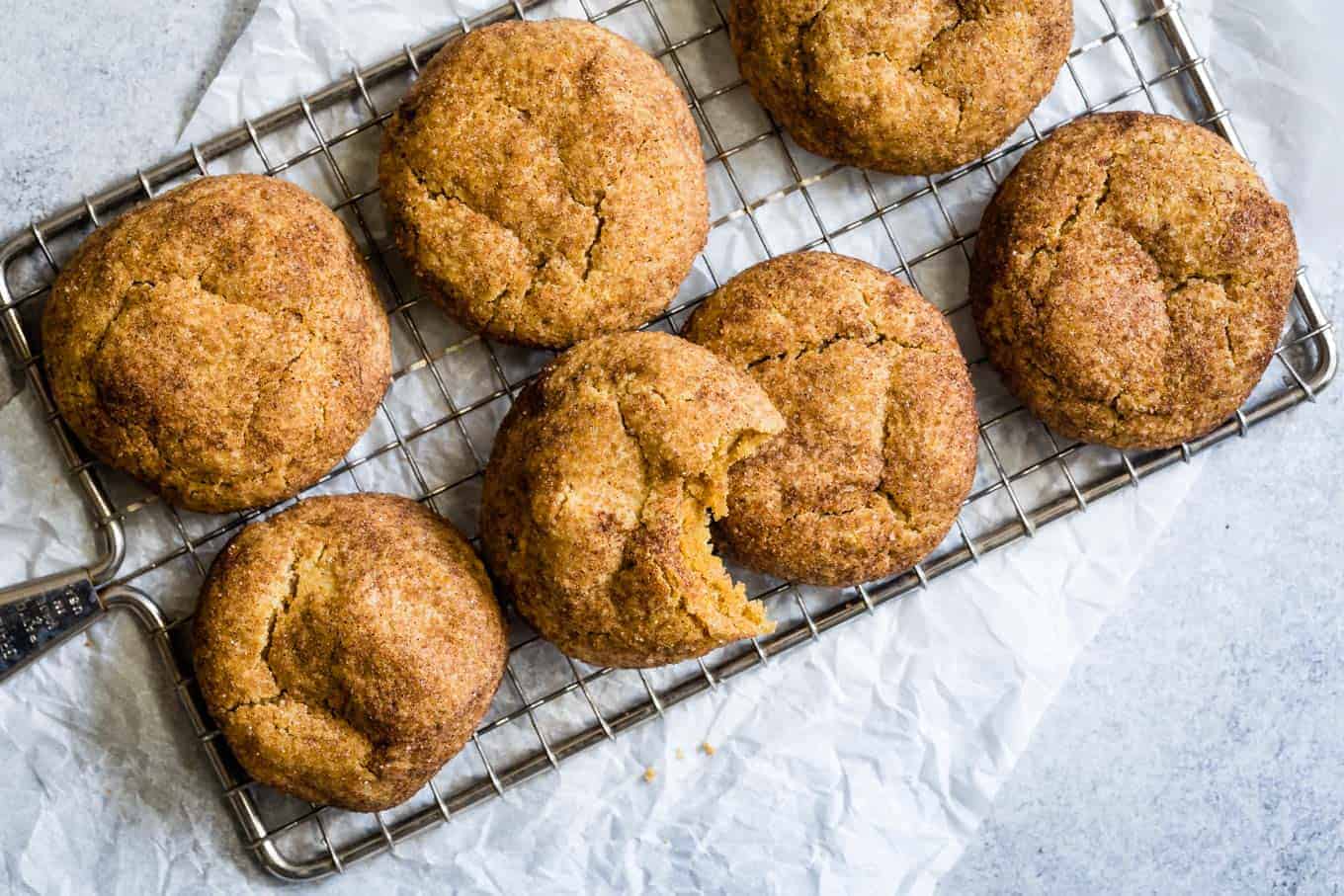 How to Make Simple Gluten-Free Pumpkin Cookies
These soft pumpkin cookies are a riff off my gluten-free snickerdoodles. If you've got the ingredients to make one, you've what need to make the other, save for a can of pumpkin and some spices.
I make these in a stand mixer for brevity, but I've also made them in just a metal mixing bowl with just a wooden spoon. Either way, they turn out just as delicious. This is a no-fuss dough - beat the butter or paddle it against a mixing bowl with a wooden spoon. Add pumpkin, vanilla, and egg, followed by the dry ingredients. Fold in the toasted walnuts.
Soft Gluten-Free Pumpkin Cookies
These gluten-free drop cookies are pillowy and soft with a crisp shell, akin to snickerdoodles or sugar cookies. They've got comforting flavors and textures.
If a chewy gluten-free pumpkin cookie is what you're after, I recommend these chewy gluten-free pumpkin chocolate chip cookies.
Gluten-Free Pumpkin Drop Cookies
Rolling the cookies in cinnamon sugar adds a crispy shell to the soft and pillowy cookie clouds. The best part is that unlike most gluten-free cookie dough recipes, this dough doesn't need any chilling. The cookies won't flatten out into thin wafers without chill time. You're that much closer to putting gluten-free pumpkin cookies in your mouth.
The nuts in this recipe are optional, so if you're not a big fan of walnuts in your cookies, skip them and you'll have soft pillowy clouds of pumpkin goodness.
Tips for adding nuts to cookies
Toast nuts
When adding nuts to these gluten-free pumpkin pie cookies, toast them first! Since cookies don't bake very long, adding raw nuts to your cookies will turn out soft almost crunchy nuts. Quite frankly, raw nuts taste a little stale in cookies in my opinion.
The key to getting the best texture and flavor out of nuts is to give them a little toast time before adding them to the dough. This ensures that they're extra crunchy to contrast your soft pillowy or chewy cookies and adds nice roasted notes that bring out the nuttiness.
Break nuts instead of chopping
Instead of chopping nuts like walnuts and pecans with a knife, break them into pieces with my fingers. This keeps the nut pieces all relatively the same size. It also reduces the tiny dust of chopped nuts that will get lost in the dough and burn before the rest of the nuts are toasted. You can also buy pre "chopped" nuts which also don't have those tiny flecks of walnut dust in the package.
Once you've broken the nuts into pieces, just toss them on a baking sheet in the oven until fragrant and toasty, about 5-10 minutes at whatever temperature your cookies need.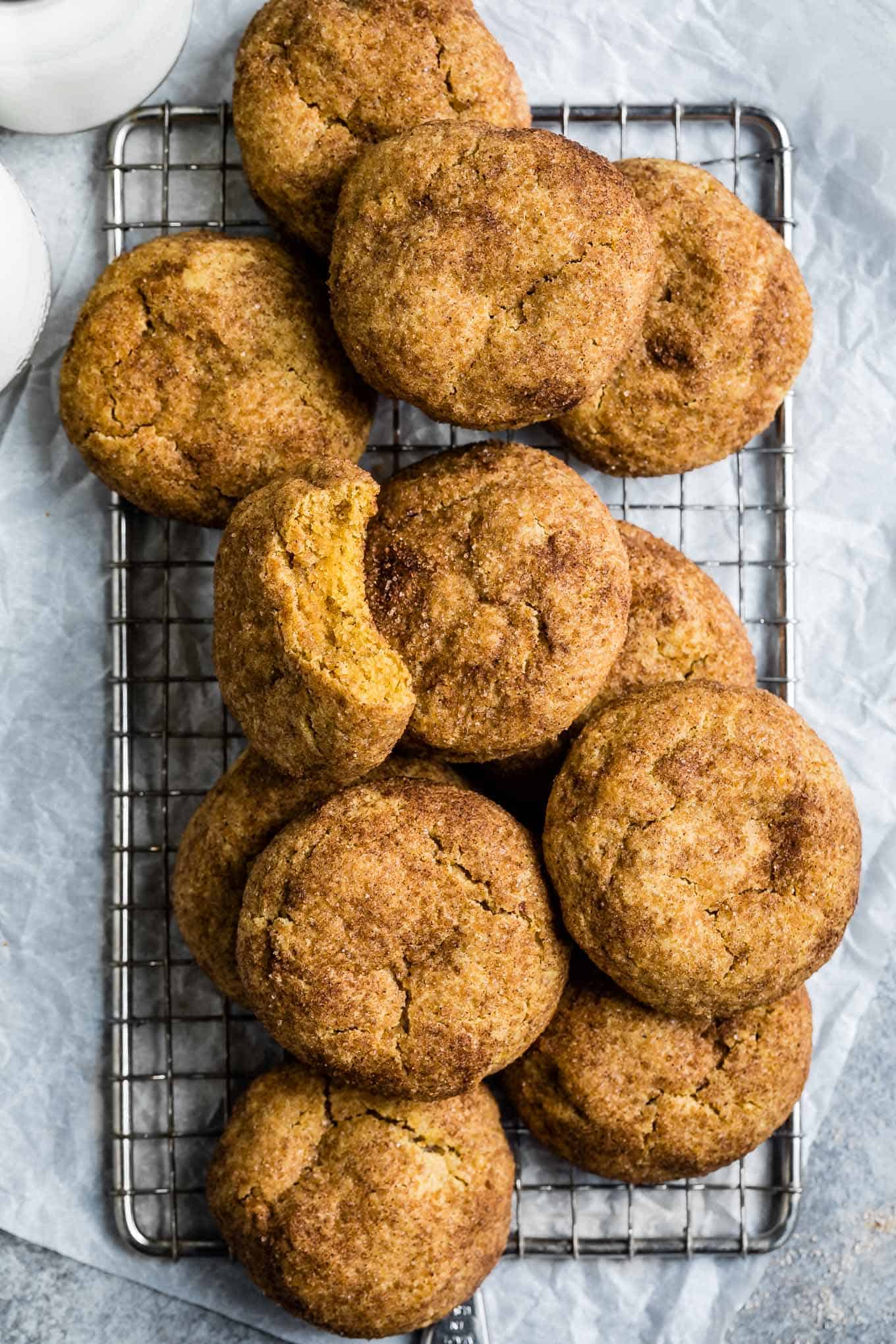 More Gluten-free Holiday Cookie Recipes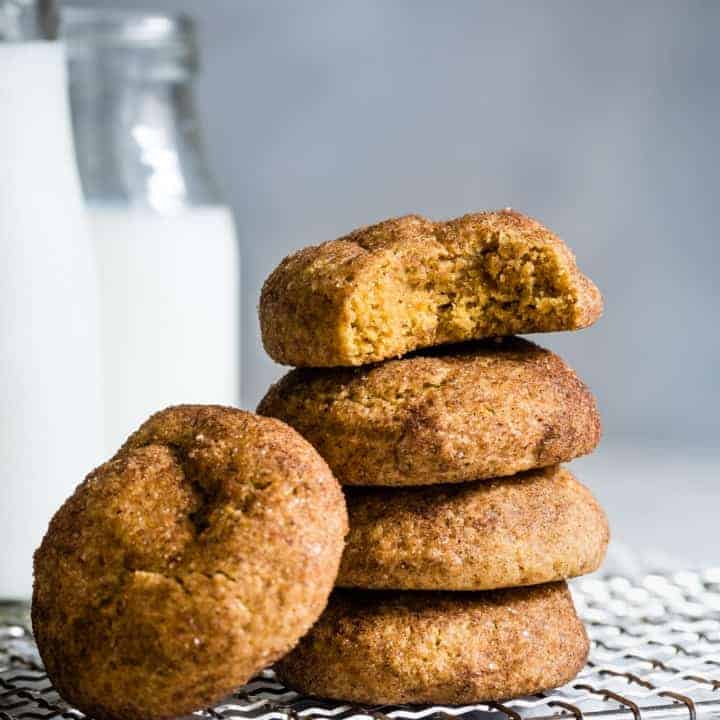 Gluten-Free Pumpkin Cookies with Walnuts
These gluten-free pumpkin cookies are soft and pillowy and studded with toasted walnuts. Rolled in cinnamon sugar, these soft pumpkin cookies are like gluten-free snickerdoodles with fall flavors!
Ingredients
Cookies
½ teaspoon baking soda
½ teaspoon kosher salt
¾ teaspoon cinnamon
½ teaspoon ground nutmeg
¼ teaspoon ground ginger
Pinch ground cloves
6 tablespoons unsalted butter, softened
½ cup granulated sugar (I use organic cane sugar)
3 tablespoons pumpkin puree
¾ teaspoon pure vanilla extract
1 large egg, room temperature
½ cup coarsely chopped toasted walnuts
Cinnamon Sugar Coating:
¼ cup cane sugar (I use organic cane sugar which is coarser)
2 teaspoons ground cinnamon
Instructions
Preheat the oven to 350°F and line a baking sheet with parchment paper.
In a medium bowl, whisk together the almond flour, millet flour, tapioca starch, baking soda, salt, and spices. Set aside.
In the bowl of a stand mixer fitted with the paddle attachment or a medium mixing bowl with a hand mixer, beat the butter and sugar over medium-high speed until light and fluffy, scraping down the sides as needed, 3-5 minutes.
Add the pumpkin puree and vanilla extract and beat on medium speed until smooth. Add the egg and beat just to combine.
With the mixer on low, slowly add the dry ingredients, mixing until just incorporated, scraping down the sides as needed. Add the chopped nuts and mix just until evenly distributed.
In a small bowl, mix the sugar and cinnamon coating together.
Roll 1-2 tablespoon-sized balls of dough into a ball, roll each cookie ball in the cinnamon sugar, and place on a parchment-lined baking sheet. Repeat until you've used all the cookie dough.
Bake the cookies 2-inches apart on a baking sheet for 11-12 minutes, until set, but still very soft (They will look slightly under-baked when they first come out of the oven, but they'll finish baking as they cool). Optional: When you pull the baking pan out of the oven, lift the baking sheet up a couple inches and gently drop it against the stovetop or counter so the center of the cookies falls a bit.
Let cool for 3 minutes on the baking sheet before using a thin spatula to carefully transfer to a wire rack to cool completely.