Make one last batch of summer s'mores with these gluten-free chestnut chocolate graham crackers. Crisp chocolate cookies with roasted chestnut notes that are perfect for snacking, s'mores, or cheesecake crusts!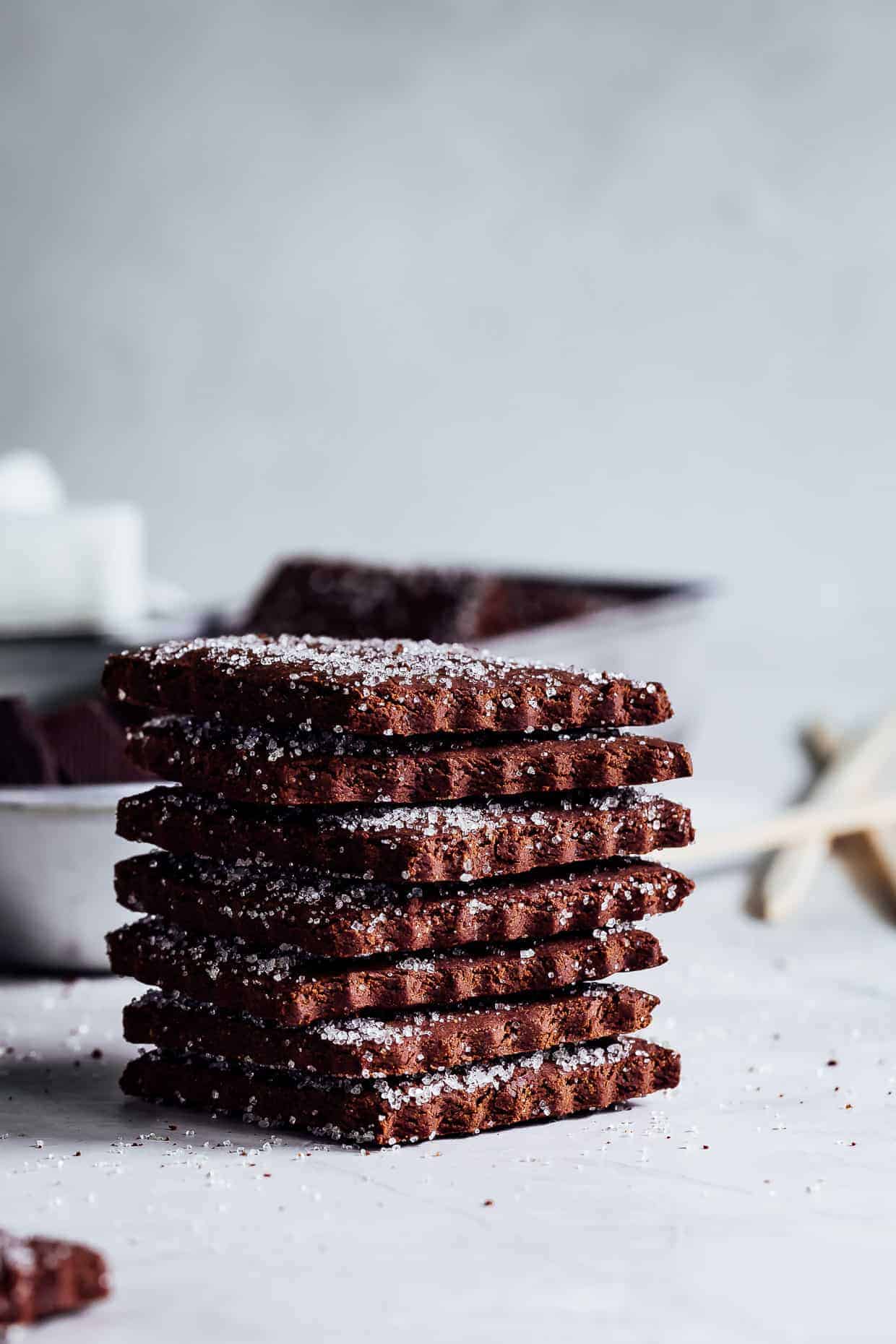 I made these gluten-free chestnut chocolate graham crackers 6 times before I got the recipe just right. In two comparison batches I absentmindedly forgot to make the changes I had already settled on from the round before. I burnt another batch. All batches were made around midnight when chaos had gone to bed. Burnt batch aside, all of the other test batches were edible, except not quiet delicate enough, as a graham cracker should be. This final batch is the winner.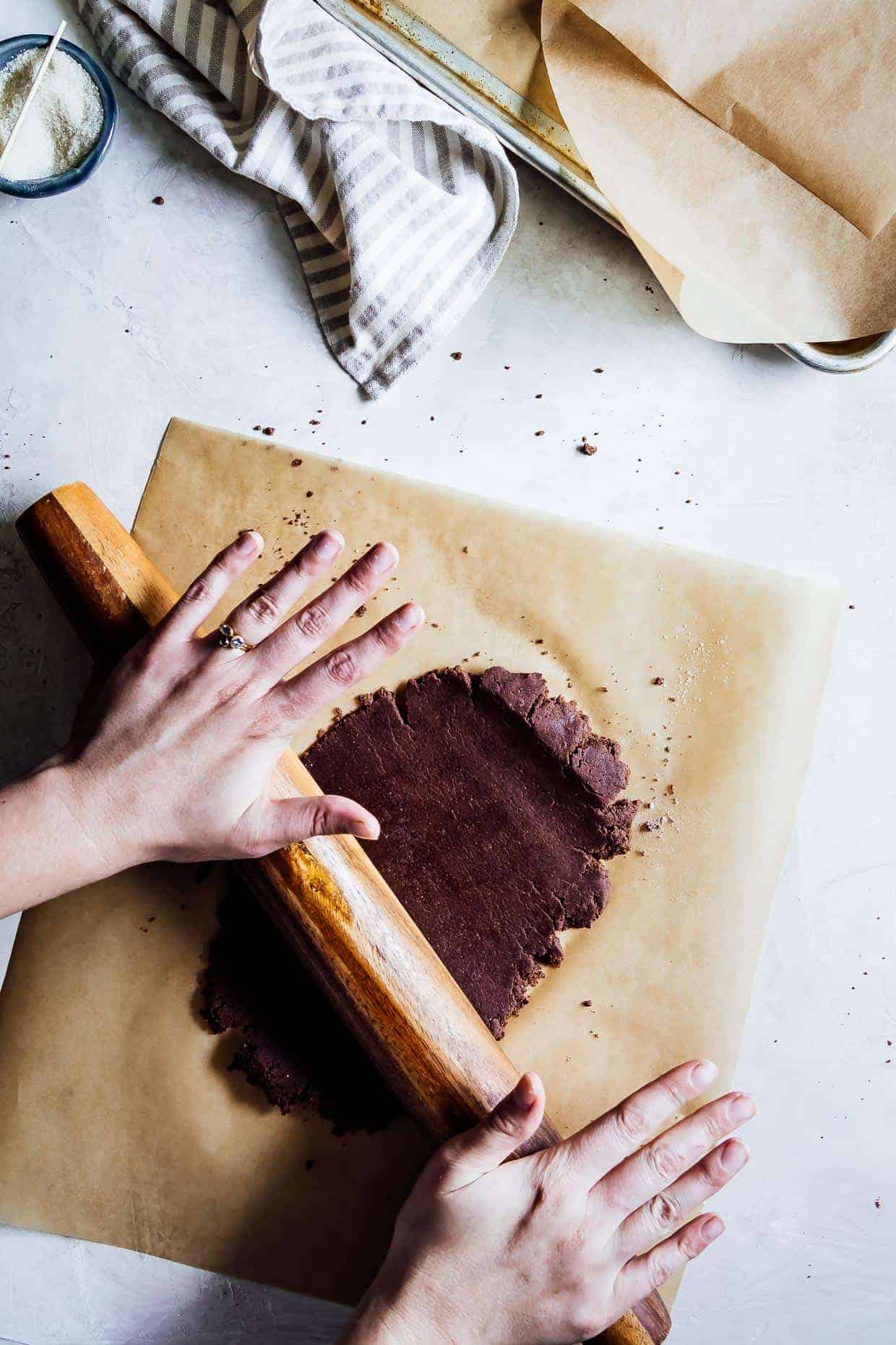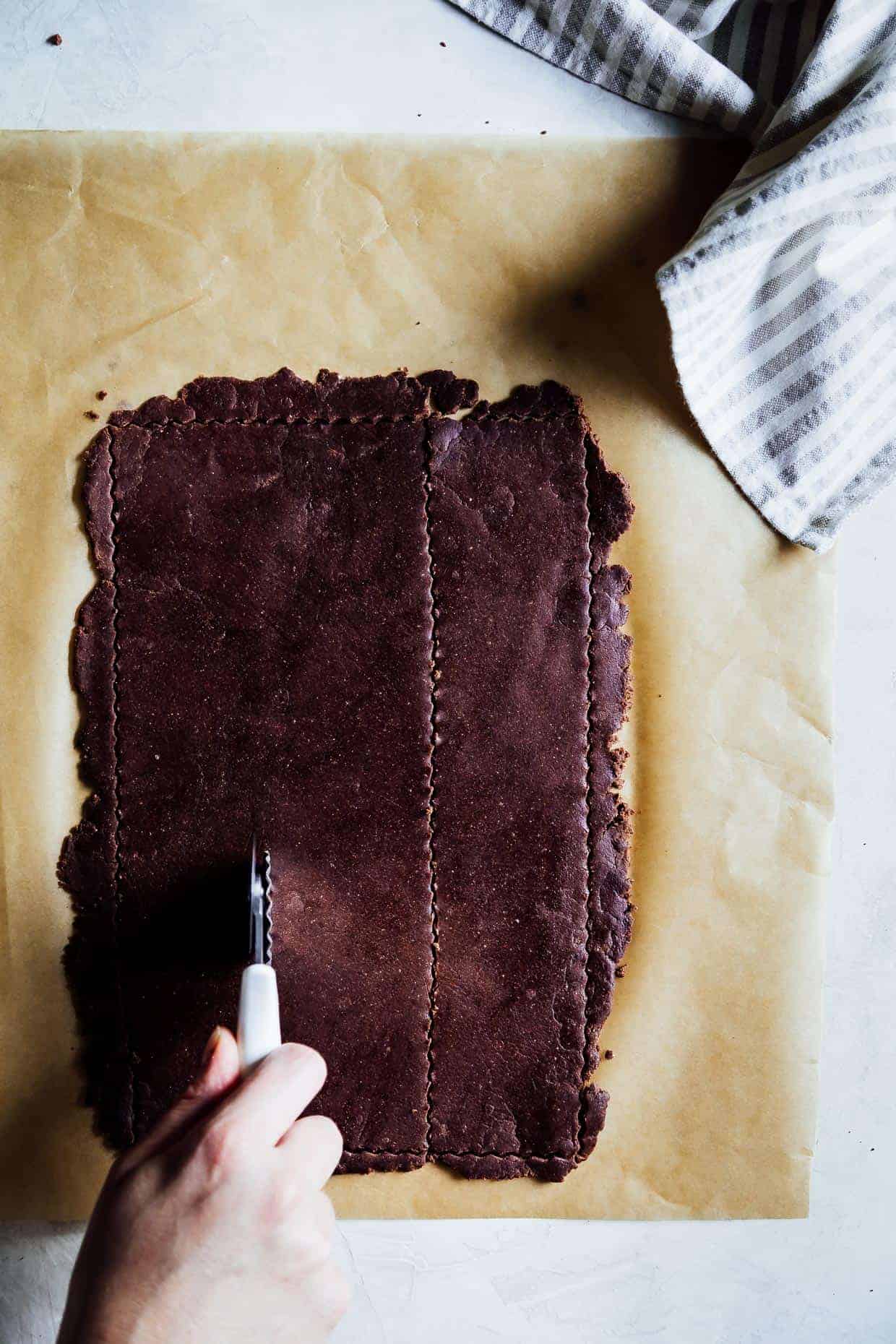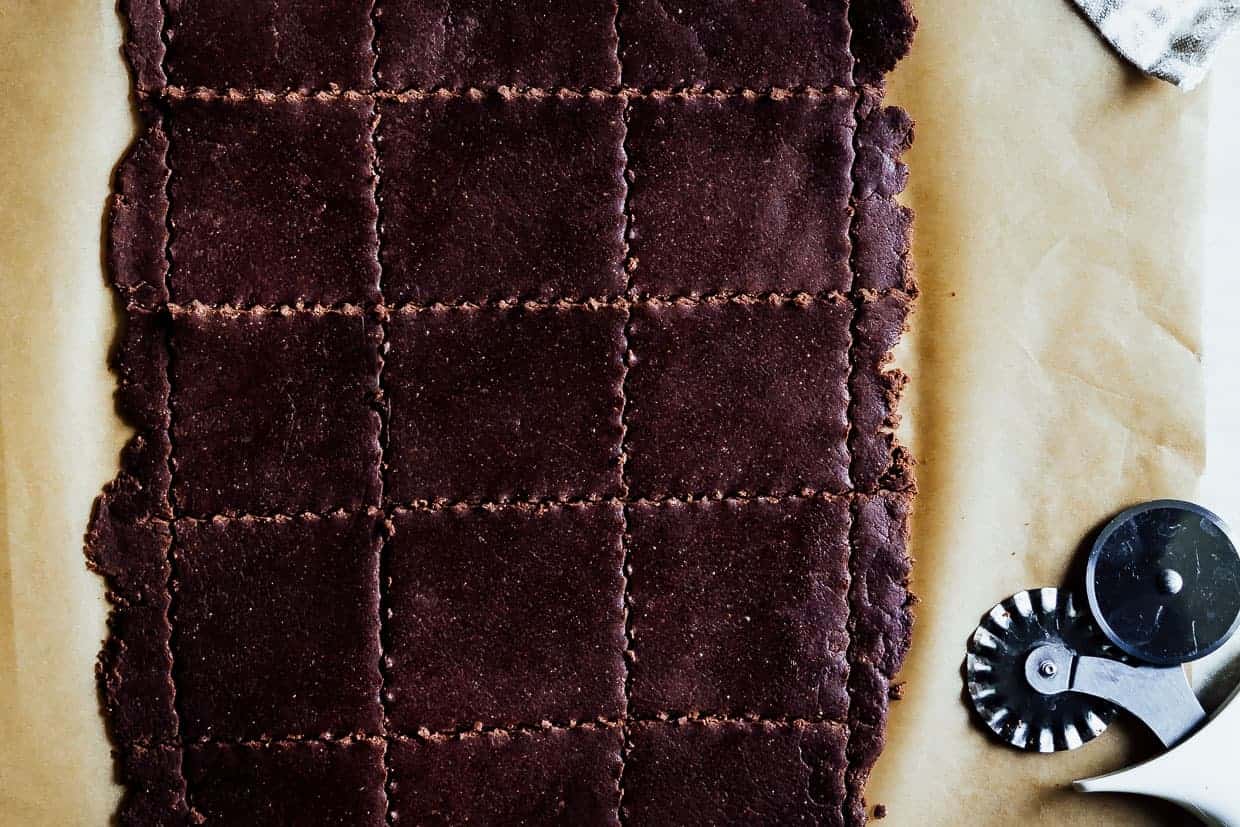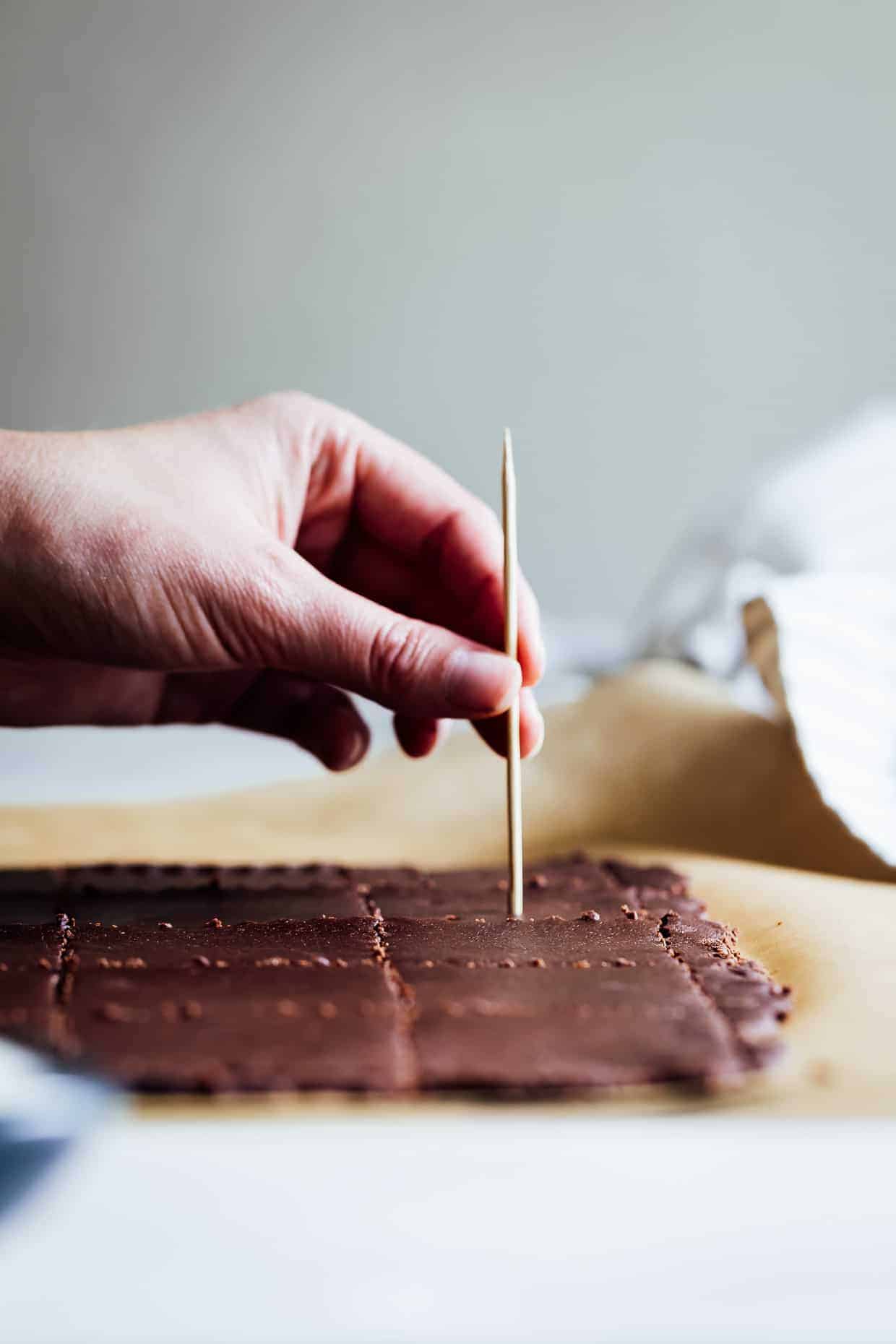 So now I've got a very large bag of pretty OK chestnut chocolate graham crackers that I'm planning to crush up and turn into a pretty stellar cheesecake crust. I've also got a batch of super-fly chestnut chocolate graham crackers that I've been turning into stovetop s'mores with a spoonful of late-summer blackberry compote.
Lucas is traveling this week, so I also plan to eat said cheesecake straight out of the pan by myself. I may hardly sleep at all while he's out of town, but at least I eat well.
Speaking of not sleeping, it's wearing on me. It's the haze of parenthood, but it's making me a miserable person nonetheless. If you'd rather just eat feelings with me and not talk about them, feel free to skip ahead to the recipe - there's chocolate and the option for toasted marshmallows. But, as this is a personal blog, I'm going to get personal and talk about where I'm at.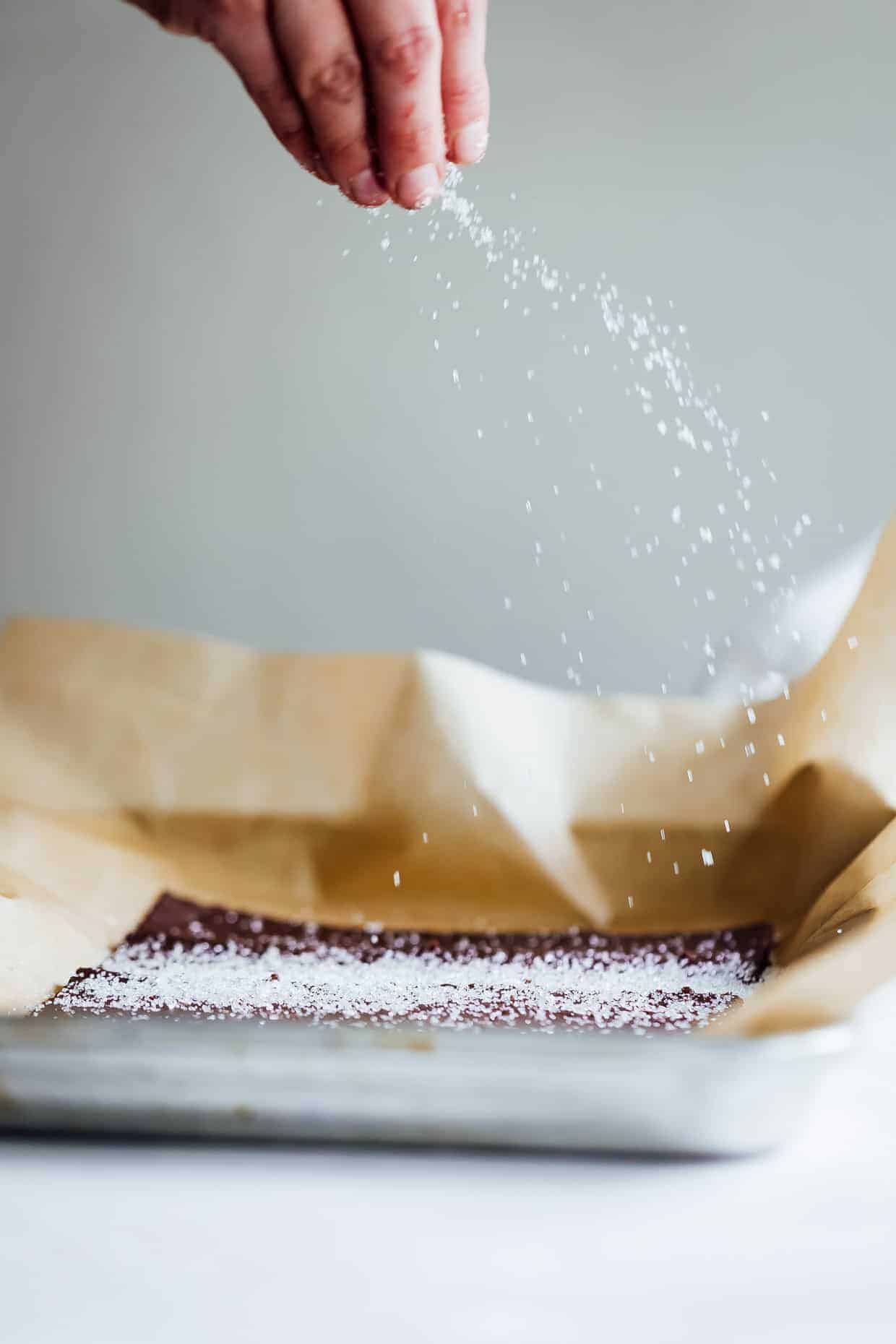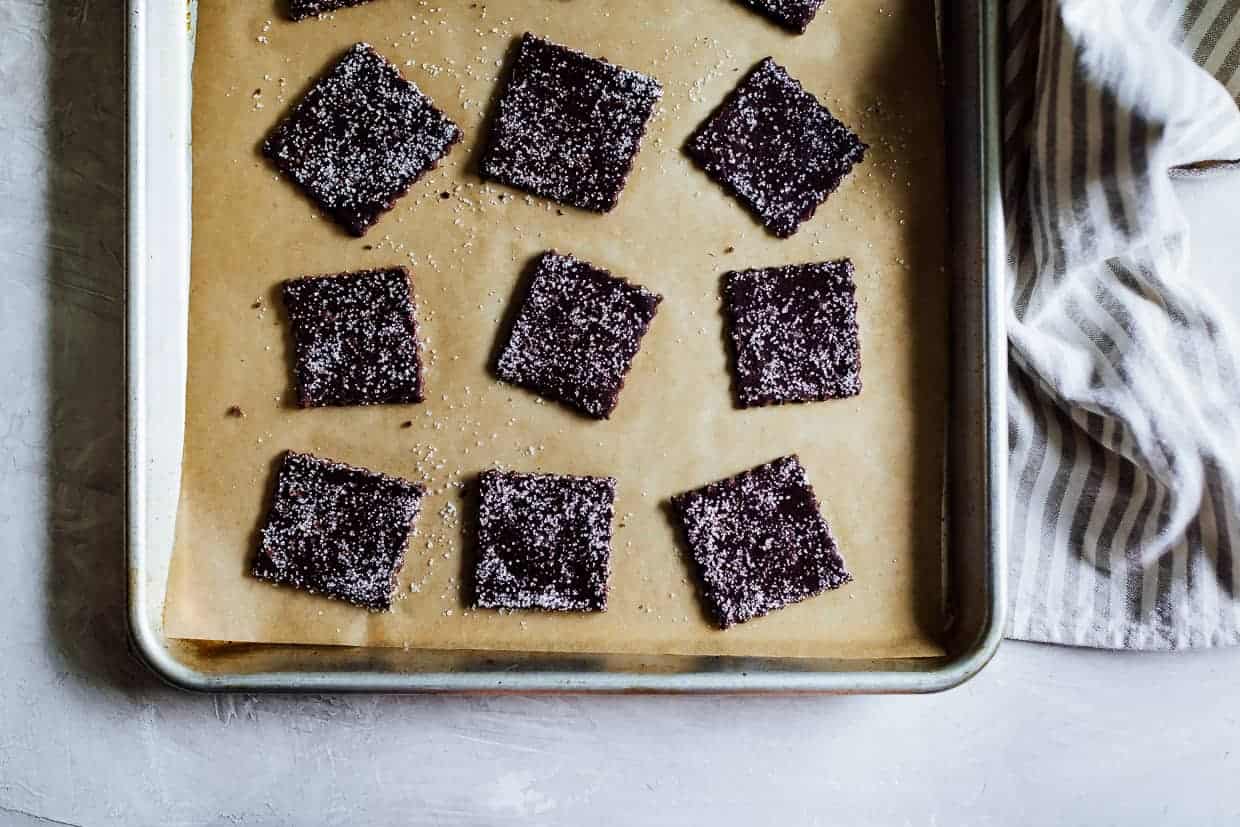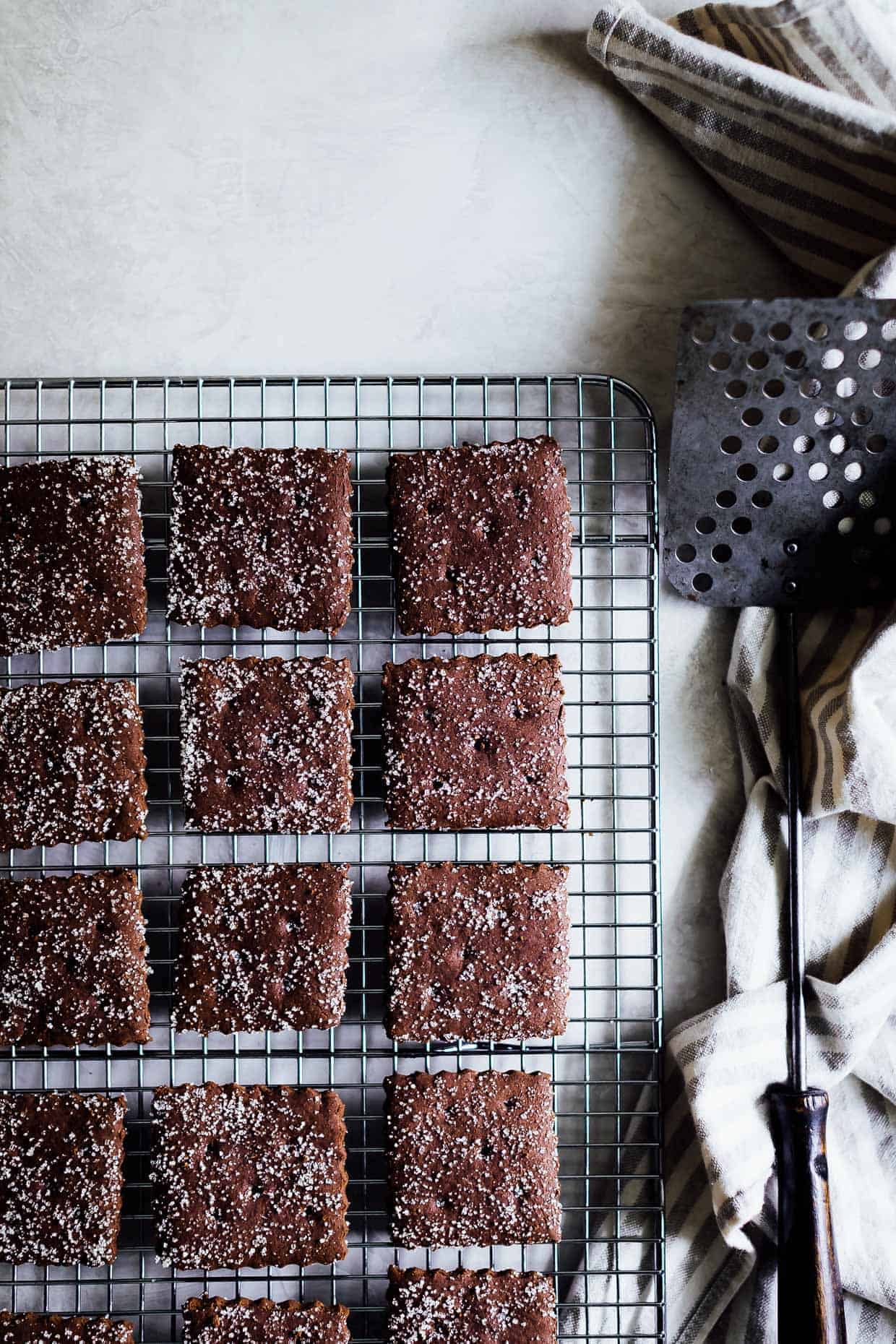 There was a time - back when Zoella was still a squishy baby - that we felt lucky she was such a good sleeper. She had the sleep thing down pat. Now, 19 months into parenthood, I take that back. She has not mastered sleep. We've had teething and sickness and even honest-to-goodness sleep regressions, but right now is the worst and it feels like a cruel joke.
As a baby, Zo woke up around 9am - the good ole days. When nighttime nursing stopped, that shifted to 7:30am. This is early for me - a freelancer, former grad student, and general night owl - but do-able with a little caffeine. We'd gotten into a mutually agreeable groove.
Until now. This past few weeks, she's been shifting mornings up by 15 minutes each day, until she woke up at 5:15am on Monday - FIVE F-IN FIFTEEN AM - and refused to go back to sleep. That's an hour and a half before sunrise and about 3 hours before I'm a functional human.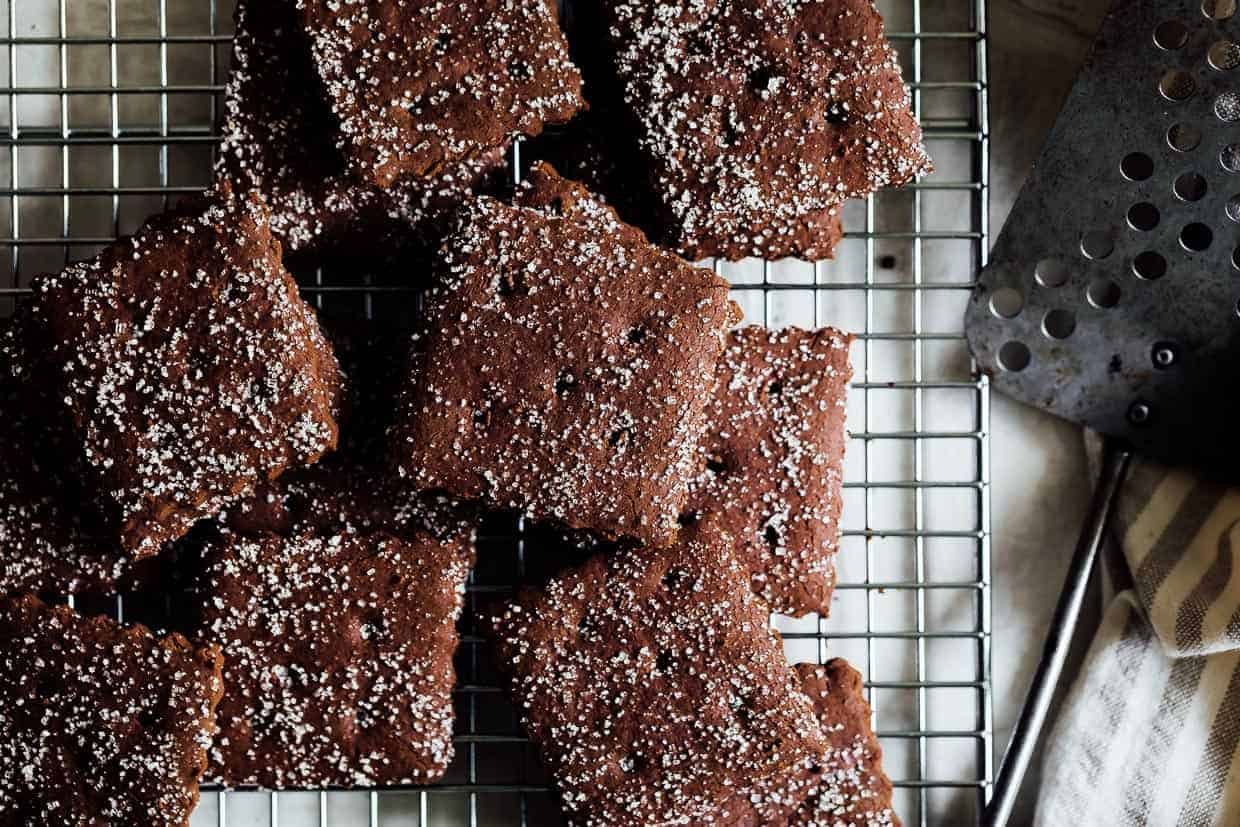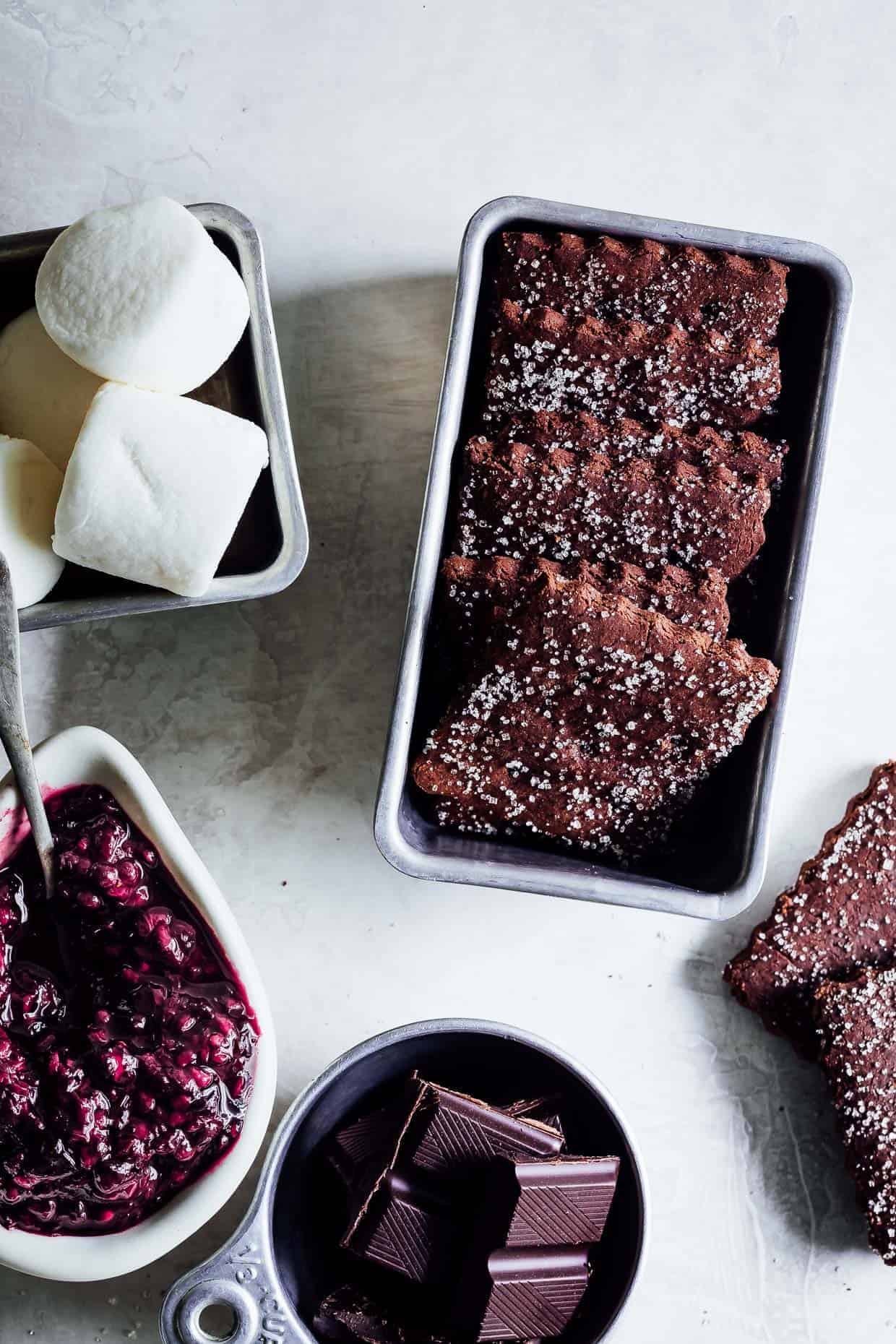 So I'm losing it. With Lucas gone during the week for the next month, I am absolutely losing it. I do not do well without sleep. Last week, I wrote on Facebook, "Being a parent to a toddler is like doing all the things you'd normally do, but with someone actively trying to block your every move. Relatedly: I just discovered my underwear is on inside out."
Add too-little sleep to that observation and I've completely lost my patience. It's too early, I'm tired, and I'm just trying to pack your lunch, but you just splattered your milk across the floor, you're screaming mama on repeat, and now you're splashing your hands in the cat food like it's a teeny tiny ball pit made just for your fists. All of these things are minor, but together and all at once, they create the perfect storm until I wind up taking a shower just to hide my exhausted meltdowns from my toddler.
She's so much more whiny, defiant, and clingy with me than she is with daddy. We've been calling it the mama syndrome. Can any of you who are moms relate? What gives? Maybe we are just so much alike that our strong wills make us butt heads.
I'm proof that it's possible to 100% love your child with your whole heart and at the same time feel completely trapped by motherhood. I told my friend yesterday that I'm upset because I feel like I'm a bad mom, but that's not really it. I cry because I'm overwhelmed and I'm just having a hard time finding happy right now. And that's okay. I trust I'll find it again soon and being honest about it helps. (Are you even still here? Probably you're already making graham crackers...).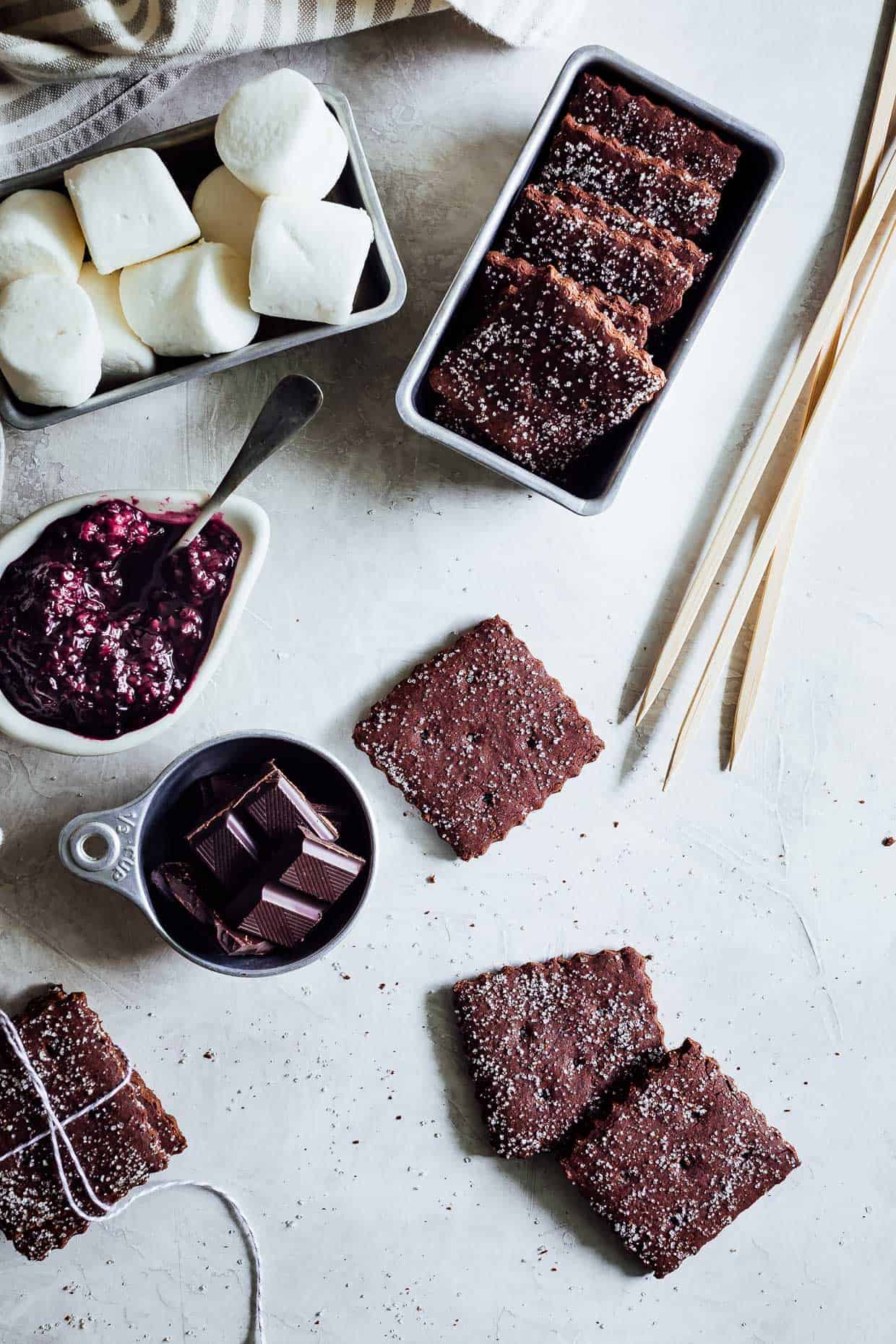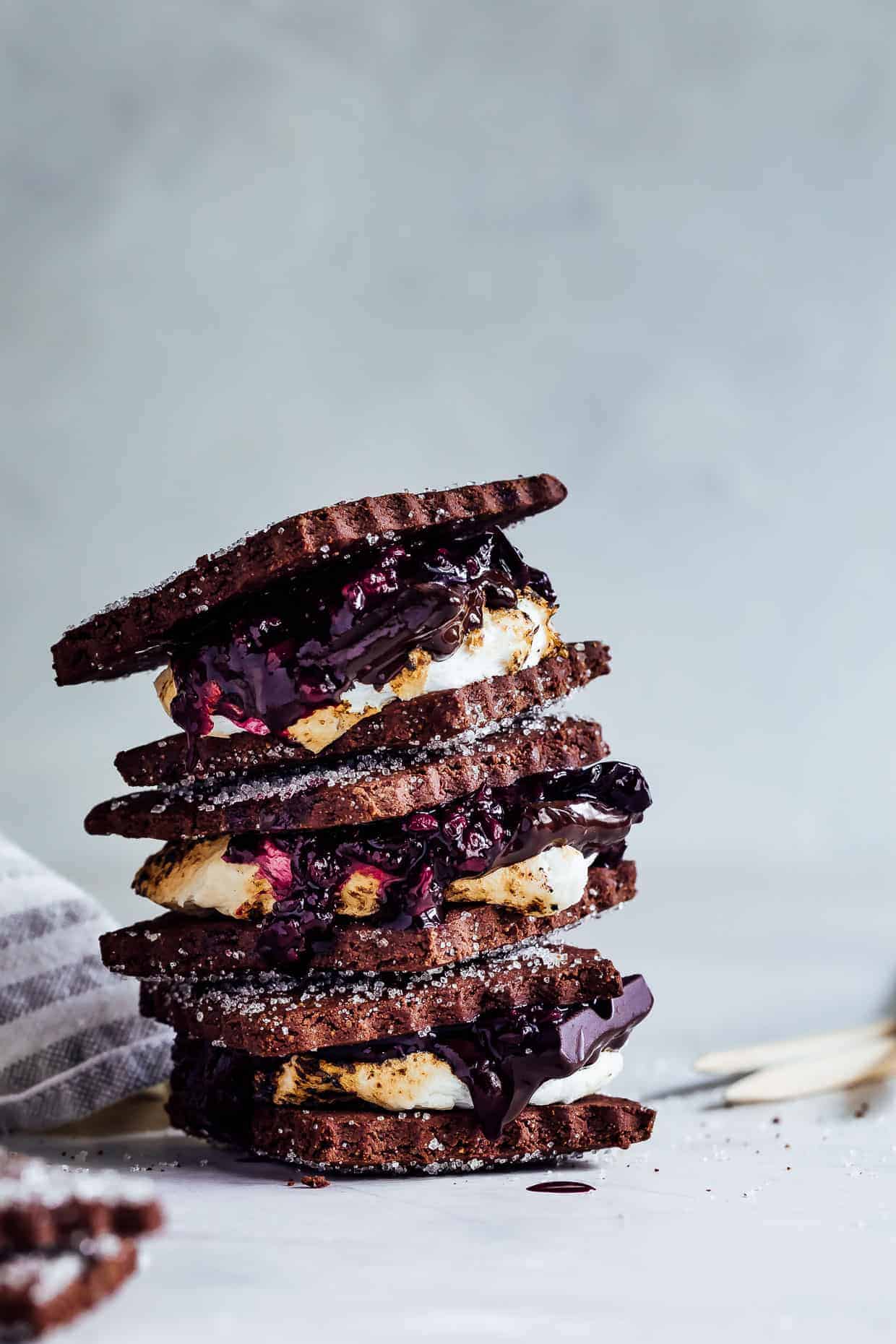 So late at night, I bake away my frustration by making chestnut chocolate graham crackers. It might not be the best idea where sleep is involved, but at least I've got these little snappy cookies to wake up to! Chestnut flour makes them sweet and roasty in a way brings out the deep richness of the cocoa powder. In my opinion, the best way to eat them is with a melty chocolate square, toasted marshmallow, and blackberry compote smashed between two. Squeeze in one more s'mores recipe before summer ends tomorrow!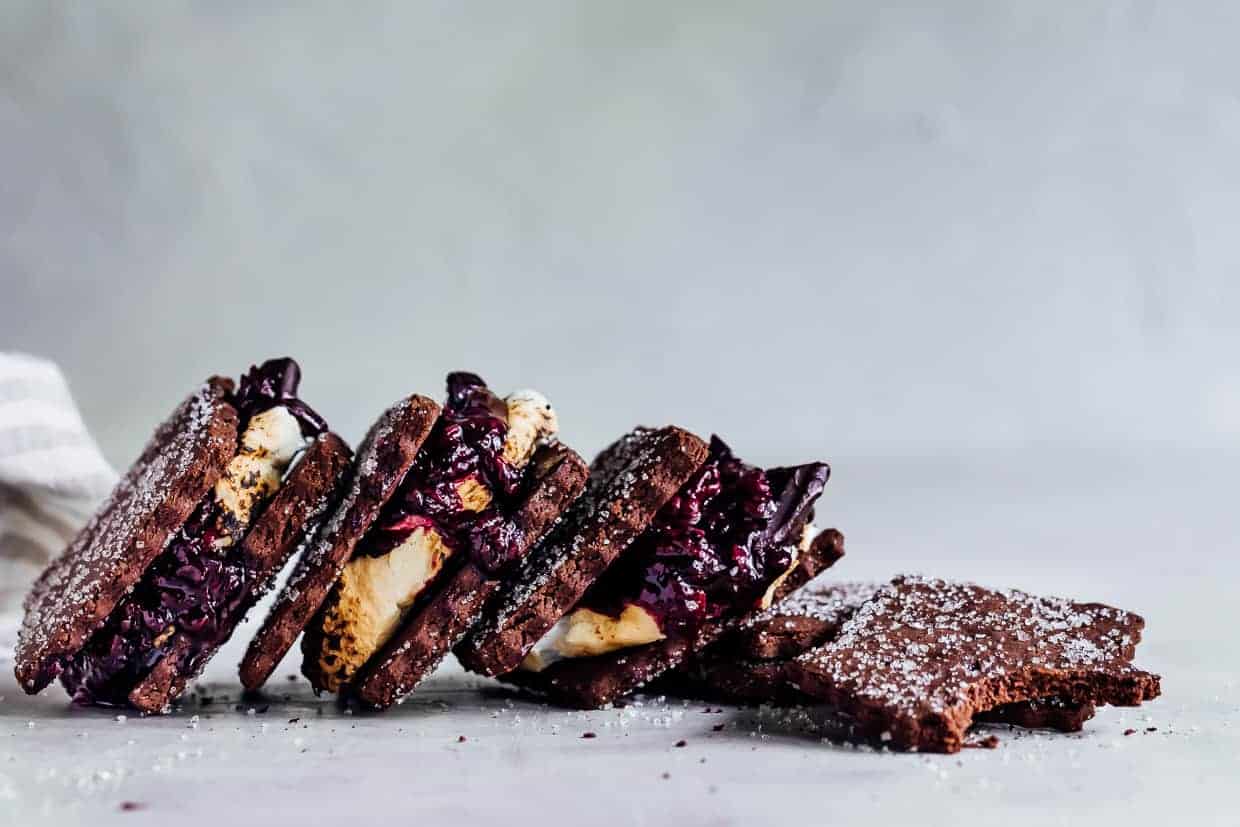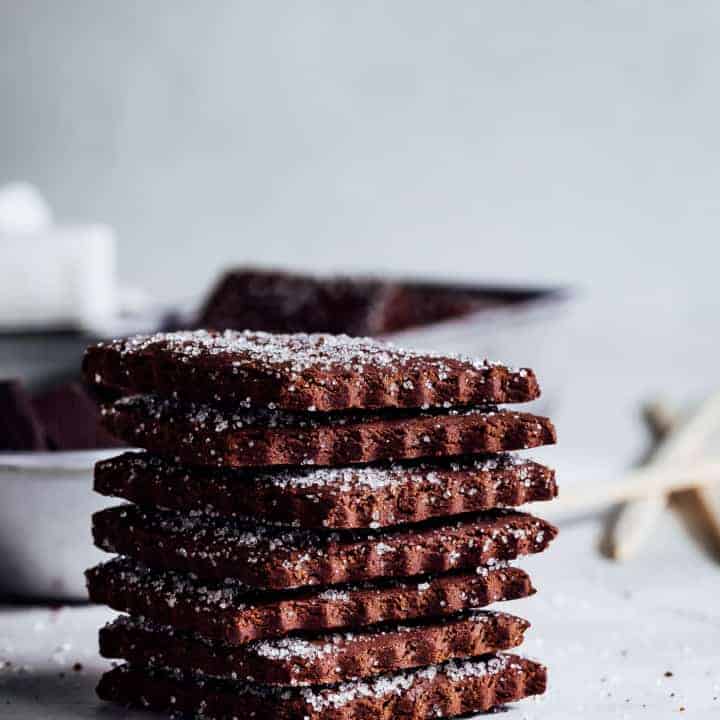 Gluten-Free Chestnut Chocolate Graham Crackers
Yield:
15 2-inch square graham crackers
Instructions
Combine the chestnut flour, brown rice flour, corn starch, cocoa powder, brown sugar, baking soda, and salt in the bowl of a food processor (or in a large mixing bowl if making by hand).
Sprinkle the butter over the top and pulse 5 times. If mixing by hand, work the butter into the dry ingredients with your fingers or a pastry cutter, until the pieces are about the size of peas and almonds.
Add the honey, milk, and vanilla and pulse just until it comes together as a dough.
Place the dough in a mound on a large piece of parchment paper and flatten it into an even rectangle with your hands. Place another piece of parchment paper over the top and roll it out to a 10-inch by 6-inch rectangle until it is just under ¼-inch thick. Patch it up as needed to make sure the whole slab is even thickness. Use a pastry cutter to cut it into 15 2-inch squares, use the back of a skewer to poke five holes in the top of each square, and sprinkle coarse sugar over the top.
Slide the parchment paper onto a large baking sheet and freeze while you preheat the oven.
Preheat the oven to 350°F.
Remove the pan from the freezer and separate the graham crackers so there is at least 1-inch of space between them. Bake for 13-15 minutes, until the edges just begin to darken, being careful not to let them burn! Remove from oven and use a thin metal spatula to transfer the crackers to a wire rack to cool completely (they'll crisp up as they cool).