Soft and chewy gluten-free teff chocolate chip date cookies with chopped dates, melty chocolate chunks, roasted almonds, and a lightly crisp edge. Here for all your midnight chocolate chip cookie cravings.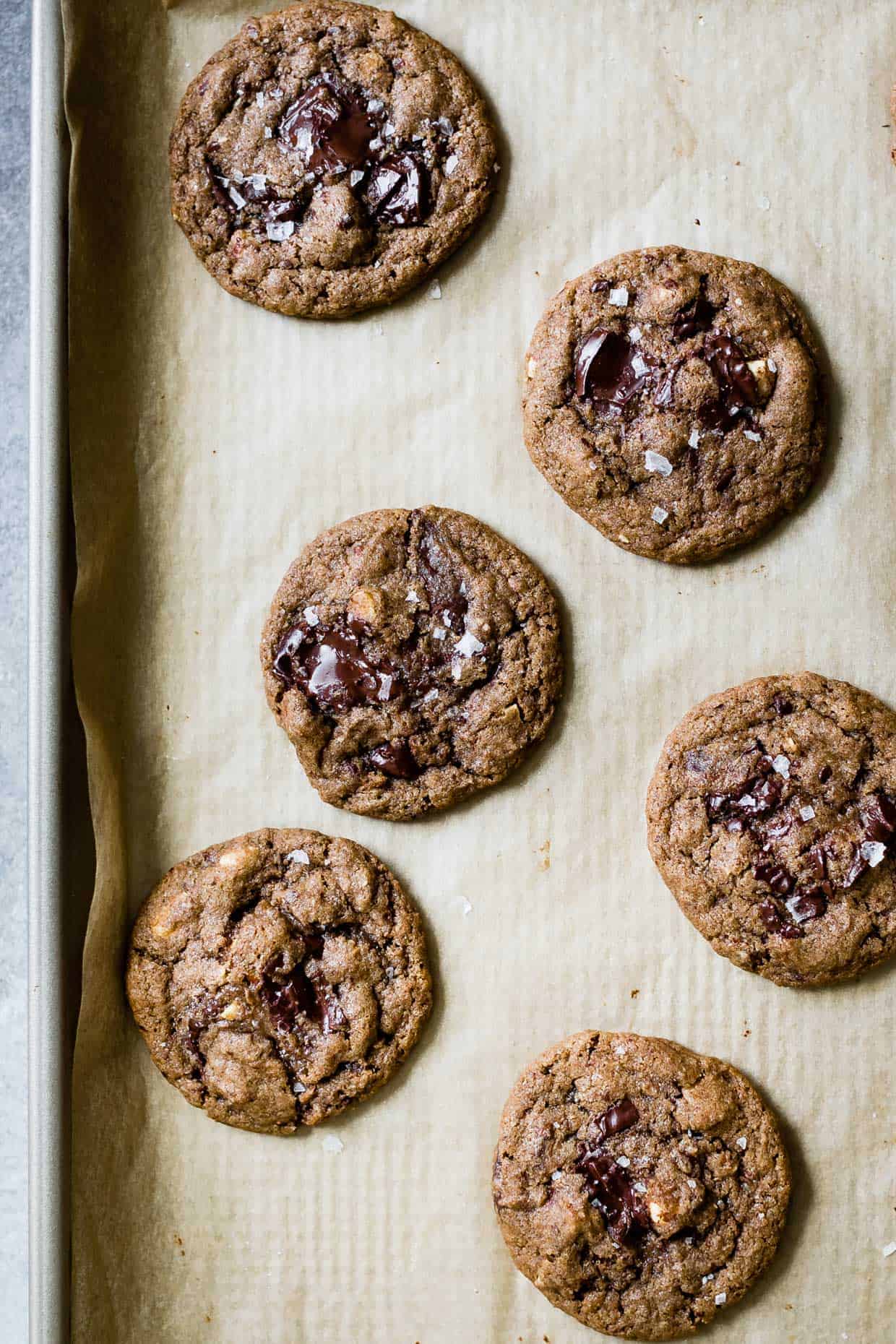 These were meant to be a bonus Valentine's Day recipe - "date cookies," get it? But I was hit with back to back sinus infections that wiped me out. I'm on the mend now and my oven is bursting with cookies. There's no time limit on cookies for me though. I'm always down for a freshly baked cookie, especially these gluten-free teff chocolate chip date cookies with just the right balance of roasted almonds and chocolate chunks.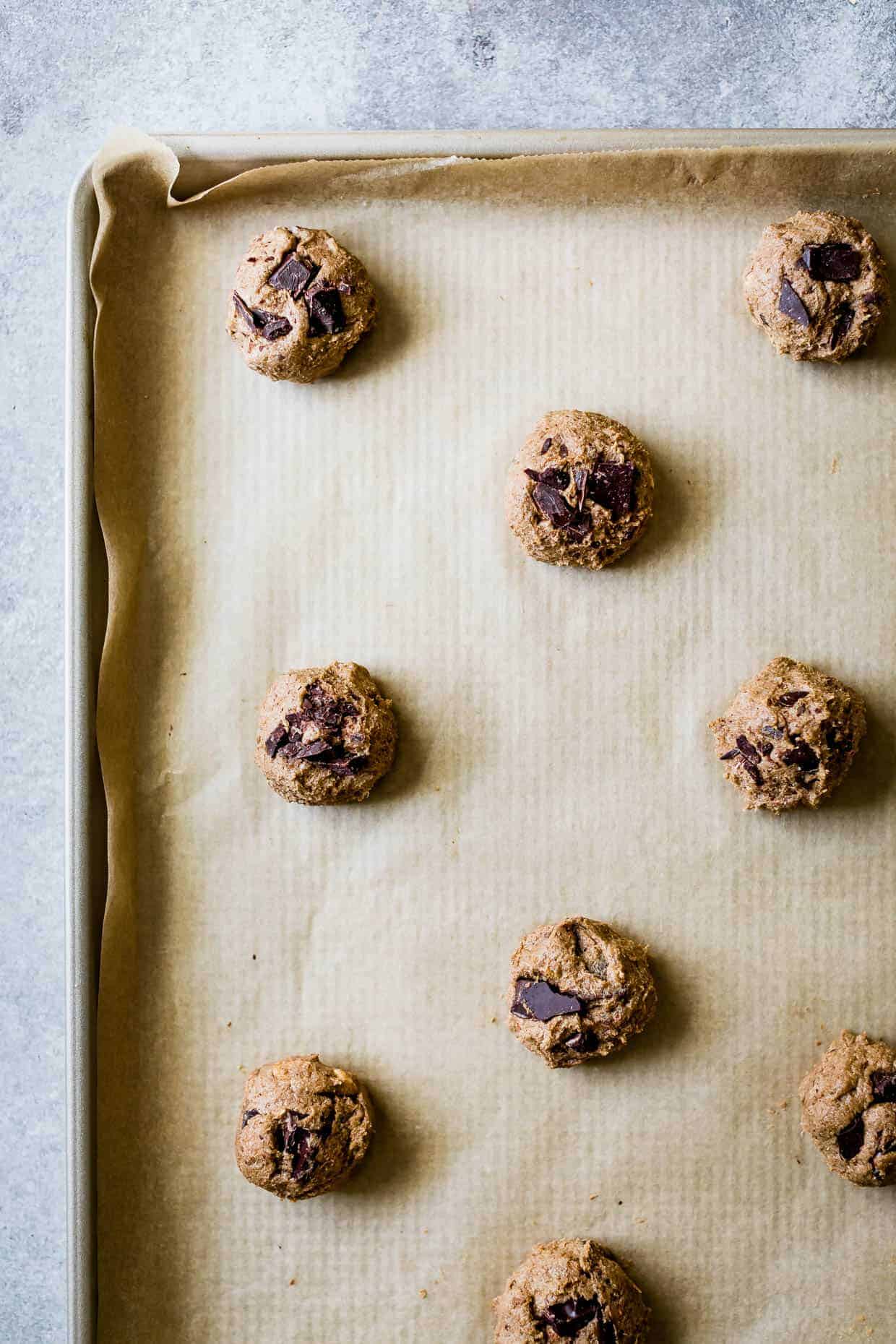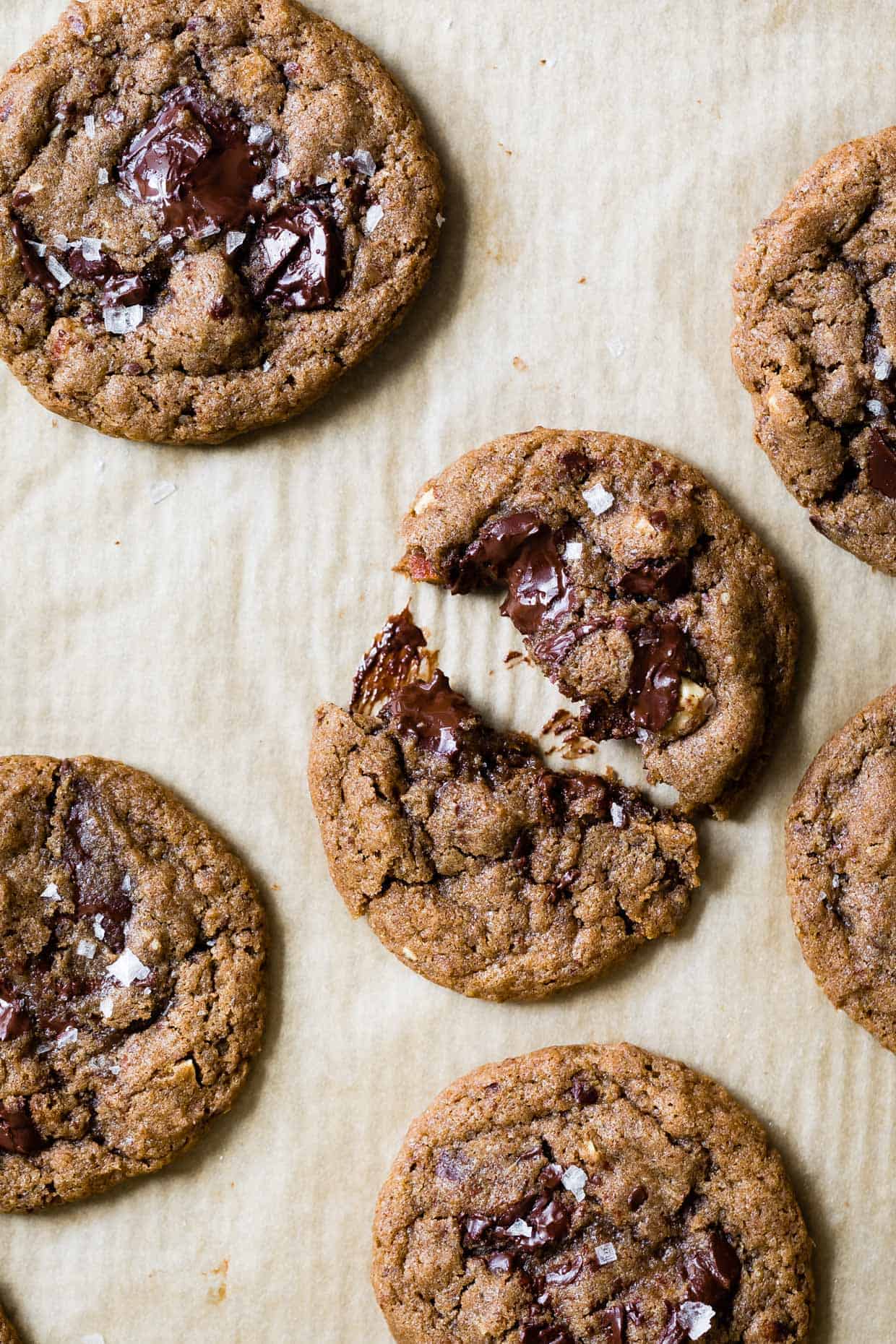 The other night Zoella was video chatting with my mom (aka her "Nonny"). When my mom bit into a cracker snack, Zo pointed at her and shouted, "Nonny a cookie monster! Om nom nom nom!" I guess my mom eats cookies in front of my toddler often enough that she's taken note of it (note: my mom doesn't even live in the same town!). Now, if asked what Nonny's favorite food is, Zo quickly answers cookies. She doesn't even know what her own favorite food is, but she's certain Nonny loves cookies (and possibly that my mom and cookie monster are one and the same).
While my mom wasn't actually eating a cookie that time, Zo was not wrong. My mom is a cookie monster. She'd probably eat a whole batch of these cookies in one sitting.
Like mother like daughter like granddaughter.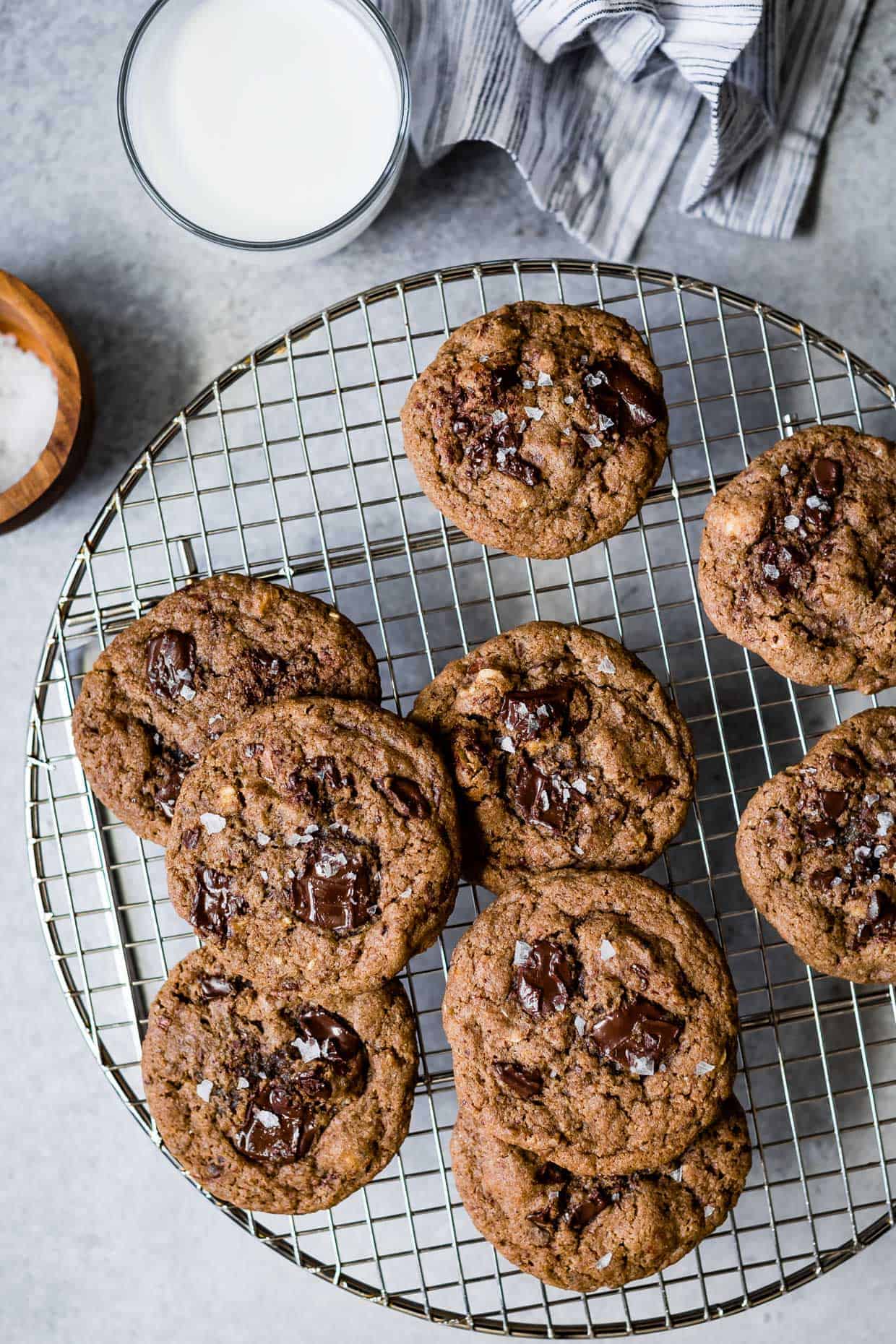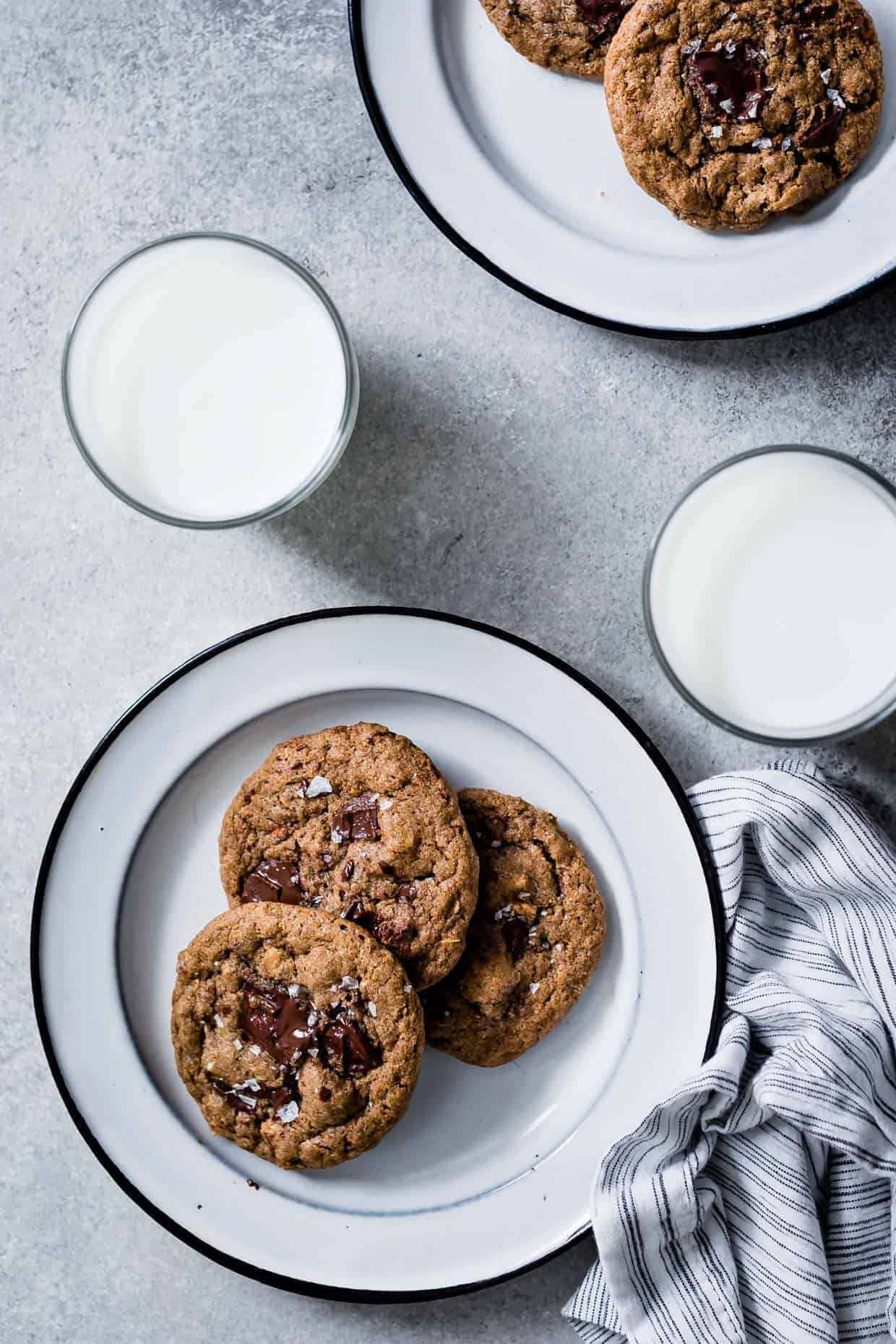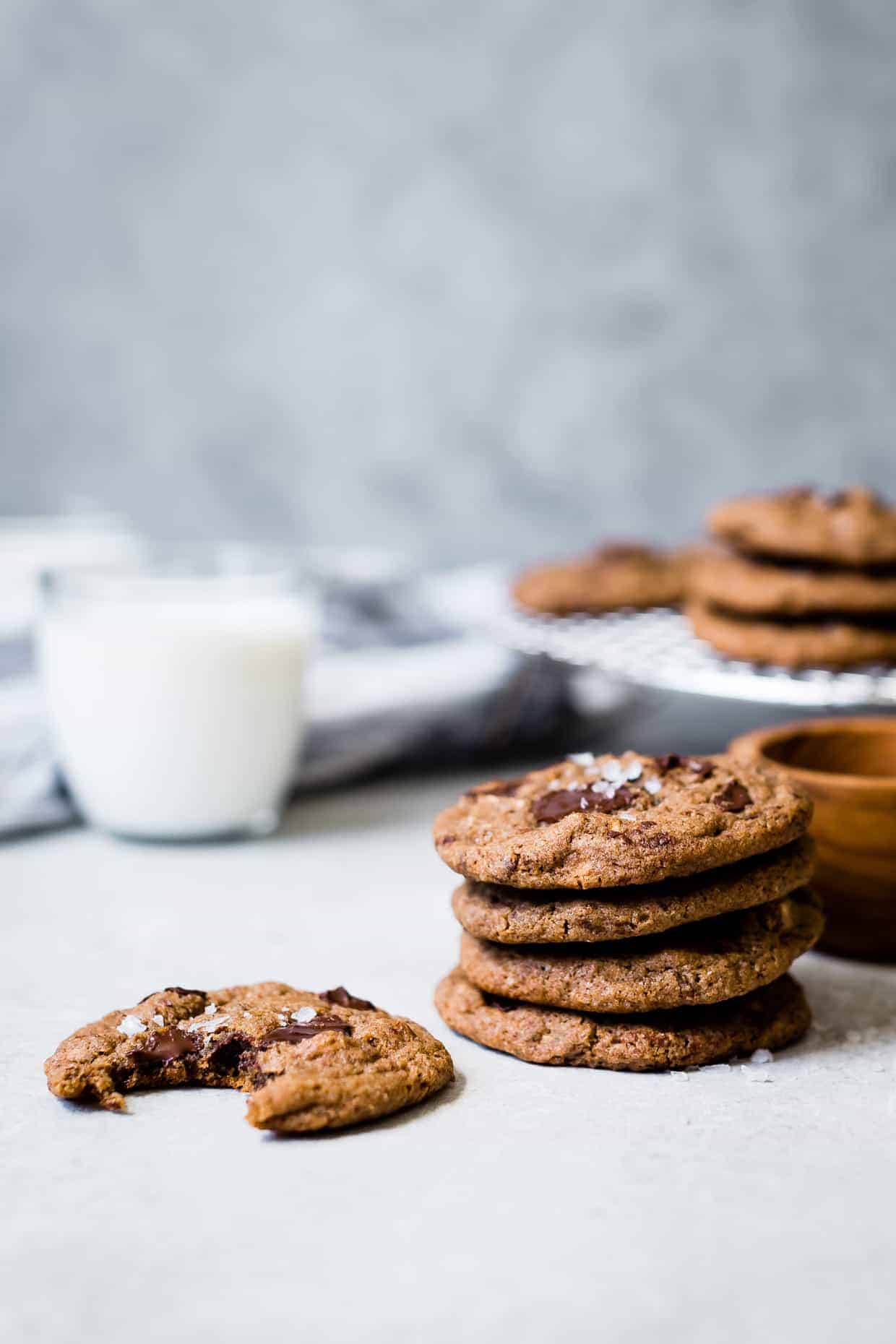 Does anyone else keep homemade cookie dough balls in their freezer at all times for freshly baked cookies on demand? I've currently got three flavors ready and waiting. Maybe for Mother's Day I'll leave a bag of these teff chocolate chip date cookies with extra chocolate chunks in cookie monster's freezer.
I've been working on these cookies since I had a similar one at the cat cafe two years ago. The sweet caramelized toffee taste that the chopped dates impart on the cookies is crave-worthy. That, combined with some super melty chocolate, crunchy deep roasted almonds, and a few flakes of sea salt and you can't keep me away. The crispy edges give way to soft and chewy centers and, that, in my book, is cookie euphoria.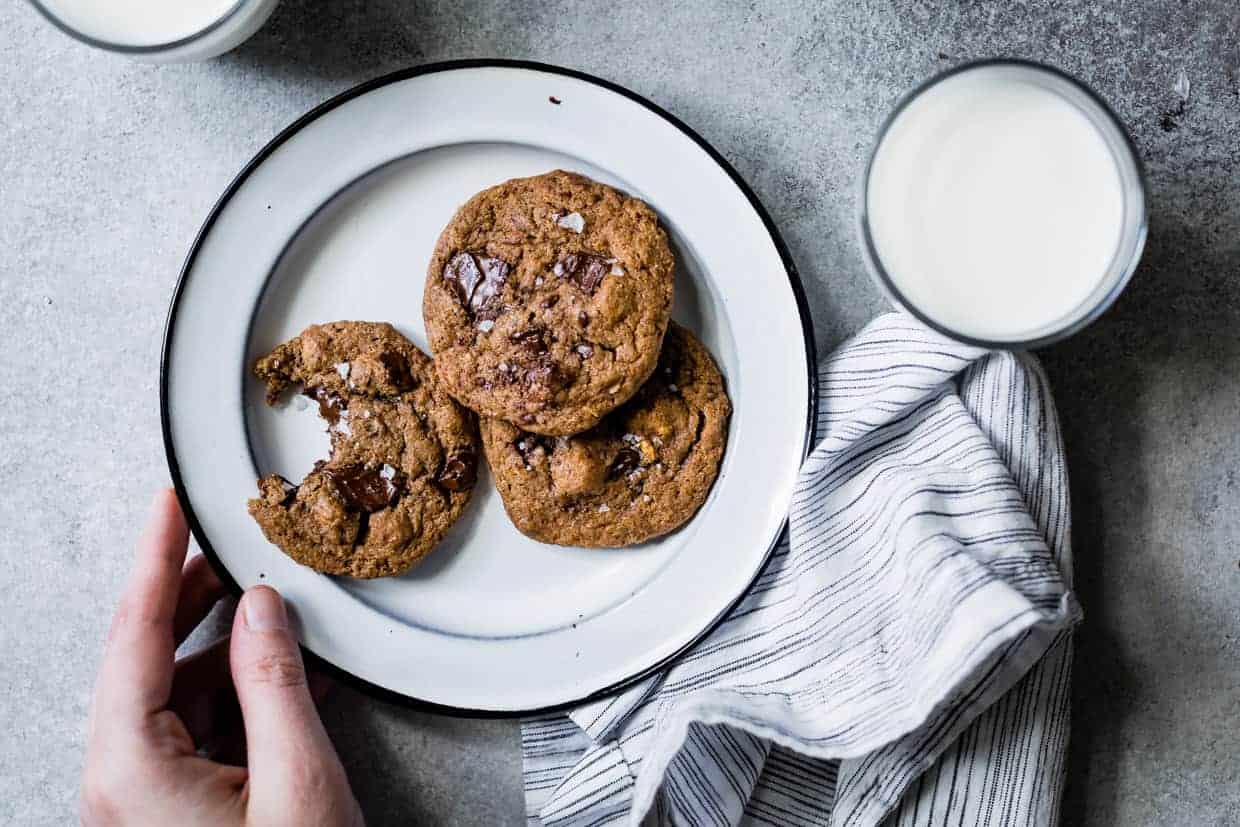 And in emergency when you just need some small-batch chocolate chip cookies, my friend Christina has you covered. To make them gluten-free, I'd sub out the all-purpose flour for 60g teff or oat flour and 25g tapioca starch.
Thanks for reading Snixy Kitchen! To stay up on what's coming out of my kitchen, follow me on Facebook, Instagram, Twitter, Bloglovin', or Pinterest, or subscribe via e-mail to get new recipes right to your inbox.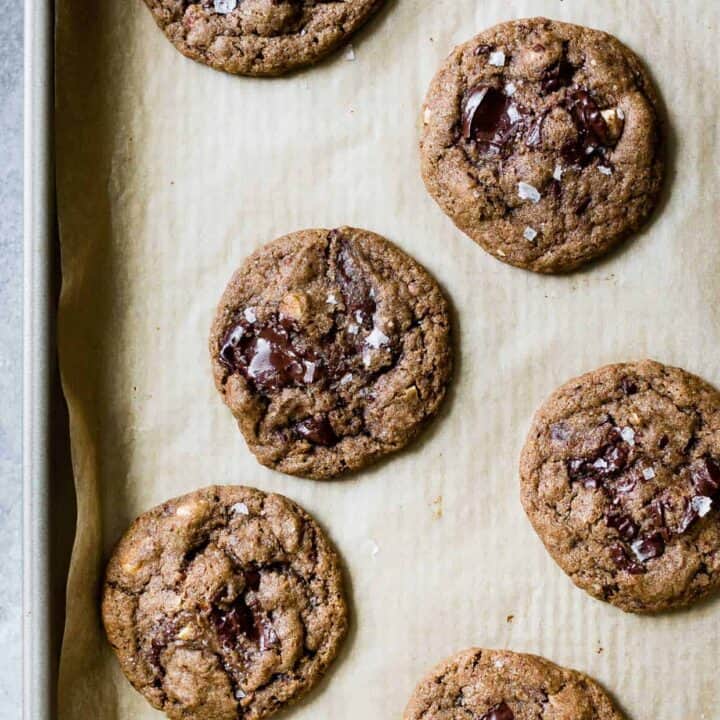 Gluten-Free Chocolate Chunk Date Cookies
Soft and chewy gluten-free teff chocolate chip date cookies with chopped dates, melty chocolate chunks, roasted almonds, and a lightly crisp edge. Here for all your midnight chocolate chip cookie cravings.
Ingredients
100g pitted medjool dates
½ teaspoon kosher salt
½ teaspoon baking soda
9 tablespoons unsalted butter, room temperature
½ cup (115g) packed light brown sugar
¼ cup + 3 tablespoon (90g) granulated sugar
1 large egg
1 teaspoon vanilla extract
½ cup dry roasted almonds, coarsely chopped
2 ounces bittersweet chocolate, chopped into ¼-inch chunks
Flakey salt, for sprinkling
Instructions
Pour boiling water over the dates in a heat-proof bowl just to cover and soak for 5 minutes. Drain well and chop the dates.
In a medium bowl, whisk together the teff flour, tapioca flour, baking soda, and salt. Set aside.
In the bowl of a stand mixer or in a medium bowl with a hand mixer, cream the butter and sugars until light and fluffy, 3-5 minutes.
Add the egg and vanilla extract, mixing until just combined, scraping down the sides as needed.
Slowly add the dry ingredients, mixing until combined.
Add the chopped almonds, dates, and chocolate and mix until evenly distributed.
Drop large scoops (heaping tablespoons) of dough onto a parchment-lined lined baking sheet, about 3 inches apart (you might need to bake in batches). Chill the dough on the baking sheet for 45 minutes (or freeze for 20 minutes).
Preheat the oven to 350°F.
Bake for 14-15 minutes, until the edges are golden brown and the top is set, but still soft.
Remove from oven and bang the pan once to flatten the cookies a bit. Sprinkle with flakey salt. Let cool on the baking sheet for a 5 minutes before carefully transferring with a thin spatula to a wire rack to cool for 10 minutes before serving.