This chocolate peanut butter pie is made with an easy creamy mousse filling and a homemade gluten-free cocoa cookie crust. The filling requires no baking and the whole thing tastes like a peanut butter cup pie!

This post is sponsored by Rodelle, an ongoing partner of Snixy Kitchen.
This pie was a happy accident. This pie was almost a wasn't. This creamy chocolate peanut butter pie was first whipped up in under an hour using only ingredients I had on hand. So, rest assured, if you're hosting a gathering, you can throw a delicious pie together in under an hour, save for chilling. So delicious, that upon first bite, I immediately jotted down approximate measurements from memory.
Now I've recreated it in partnership with Rodelle, using three of the ingredients I always have on hand: Rodelle organic baking cocoa and vanilla & chocolate extracts.



Peanut Butter Cup Pie for Pi Day
Back on March 14th, we used Pi Day to teach Zoella (3) about the meaning of Pi. When I told her that many people celebrate Pi Day with pie, she (naturally) begged me to bake a celebratory pie with her. We were an hour out from dinner - I tried to deflect.
She sat at the counter, placing the diameter-length string around the circle - seeing that it fit just over 3x (3.14 to be exact...). As a recovering math teacher turned baker, I was easily persuaded. For that, she earned a pie baking date (even if she's definitely since forgotten). So we opened the pantry, fridge, and freezer to make a plan. One of those let's throw this all together and see what happens kind of plans that's not really a plan at all.
That's not normally how I bake. Normally I mull over ideas for weeks, months, or years. I write at least 4 recipe variations I want to test, and then stew on those even longer, weighing the merits of each before picking a starting point or two. My behind the scenes indecision is palpable.
But that day, there was no time for mulling. No time for much thinking at all. And it was exactly that fancy-free baking that led to this super creamy rice chocolate peanut butter pie with a gluten-free chocolate cocoa cookie crust!
I should do that more often. Noted.



Cocoa Chocolate Mousse Pie
One of the upgrades on the second iteration of this pie was adding a cocoa chocolate mousse layer under the peanut butter cream. Together, these layers taste exactly like a dark chocolate peanut butter cup in creamy pie form.
Traditional chocolate mousse recipes use egg yolks heated with sugar and whipped egg whites mixed with melted chocolate - a more time-consuming (and dish-consuming) process. Here I've simplified the dark chocolate mousse layer using cocoa powder and melted chocolate mixed with mascarpone and heavy whipping cream until creamy. Mascarpone adds richness so you don't miss the eggs.
No-Bake Chocolate Peanut Butter Cheesecake Filling
Mascarpone also subtly takes the pie into cheesecake territory. The chocolate peanut butter pie filling is a cross between a mousse, cheesecake, and a cream pie. Whatever you call it, it'll quickly become a go-to dessert for summer or holiday entertaining.
If you need an easy make-ahead dessert to wow a crowd at the end of a summer backyard gathering or holiday celebration, this is it. To quickly create two distinct layers, split the filling base and fold cocoa powder and chocolate into one part, and peanut butter into the other.



Gluten-Free Cheesecake Crust
This peanut butter cheesecake pie uses a gluten-free cocoa shortbread-like crust that tastes like ground chocolate cookies. The same cocoa crust I use for gluten-free chocolate tarts, it's strong enough to hold the filling and slice beautifully, yet delicately crumbles under the fork.
Here I've baked it in a springform pan to make removing from the pan and slicing into wedges a cinch! If you don't have a springform, a pie dish also works.
How to make the best chocolate desserts
First and foremost, use quality cocoa ingredients - from the chocolate to the baking cocoa. I always use Rodelle organic baking cocoa for its deep rich chocolate flavor without any underlying bitterness thanks to the high level of cocoa butter.
But here's my other major baking secret: add chocolate extract.
Until Rodelle sent me a bottle many years ago, I'd never heard of or used chocolate extract. Now, I swear by it. A splash of chocolate extract enhances the chocolate top notes. I realize most people don't keep this on hand, so it's optional, but recommended here. A little bottle lasts a long time, so I highly urge you try it out for your next chocolate baking adventure. (Find it online or near you here).


I'm planning to make this pie again and again all summer long. Whether you're having company over for dinner or entertaining for the 4th of July, a chilled pie is the perfect refreshing way to end a warm weather summer gathering.
More gluten-free chocolate recipes with cocoa powder
Disclosure: Special thanks to Rodelle for sponsoring this post! Find more Rodelle inspiration on Facebook, Instagram, or Pinterest. And thanks to you for supporting the brands that keep Snixy Kitchen cooking!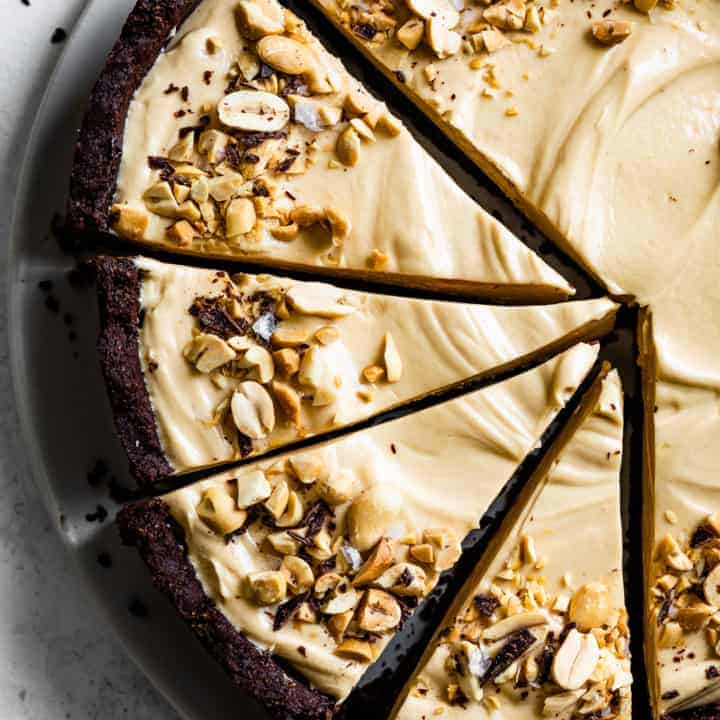 Gluten-Free Chocolate Peanut Butter Pie
Yield:
1 9 or 10-inch deep dish pie
Total Time:
4 hours
55 minutes
This chocolate peanut butter pie is made with a creamy mousse filling and a homemade gluten-free cocoa cookie crust. The filling requires no baking and the whole thing tastes like a peanut butter cup pie!
Ingredients
Gluten-Free Cocoa Pie Crust
1¼ cups (130g) finely ground almond flour
½ cup + 2 teaspoons (60g) gluten-free oat flour
2 tablespoons (15g) tapioca flour
¼ cup (52g) cane sugar
¼ teaspoon kosher salt
8 tablespoons cold, unsalted butter, cut into ¼-inch cubes
1 teaspoon Rodelle Organics Pure Vanilla Extract
2½ ounces bittersweet chocolate (60-70%), finely chopped, plus more for garnish, if desired
Peanut Butter & Chocolate Filling
8oz mascarpone
1¾ cups powdered sugar, sifted and divided
¾ teaspoon kosher salt
1¼ cup heavy cream, divided (¾ cup for chocolate layer, ½ cup for peanut butter layer)
2oz bittersweet chocolate (60-70%), melted and cooled
½ cup + 1 tablespoon creamy peanut butter
Optional, for garnish:
¼ cup toasted unsalted peanuts, coarsely chopped
¼ ounce bittersweet chocolate, shaved
¼ teaspoon flaky salt
Instructions
Prepare pie crust. In the bowl of a stand mixer fitted with the paddle attachment, sift together the almond flour, baking cocoa, oat flour, tapioca flour, sugar, and salt. (Alternatively use a food processor or hand mixer).
Add butter cubes and drizzle with vanilla and chocolate extracts. Beat on medium-low until dough begins to clump when pinched with your fingers and the butter is completely combined, about 3-5 minutes. If using the food processor, pulse until the dough begins to clump together.
Dump the dough into a 9-inch springform pan, a 10-inch deep-dish pie pan, or a 9-inch pie pan (If using a 9-inch pie pan, you may use a little less dough). Press the dough evenly into the pan, starting up the sides 1½-inches and then moving to the bottom. Your crust should be between ⅛ and ¼-inch thick with the top edges squared off. Prick the bottom all over with a fork, place on a baking sheet, and chill in the fridge or freezer until firm, 15-30 minutes for the fridge, 10 minutes in the freezer.
Meanwhile, preheat the oven to 375°F.
When the crust is firm, bake on the middle rack for 16-18 minutes, or until it looks firm, but does not yet smell burnt or look too dark. Remove from oven and while the crust is still hot, use the back of a spoon to gently press down on the sides and bottom to help hold it together as it cools. While the crust is still hot, dump the finely chopped chocolate inside the shell. Let it sit for 2-3 minutes, then use a spoon to swirl the chocolate into the bottom and up the sides of of the shell. Chill in the fridge or freezer while you prepare the filling.
In the bowl of a stand mixer with the whisk attachment or a mixing bowl with a hand mixer, whip the mascarpone, 1½ cups powdered sugar, salt, and vanilla until smooth and soft peaks form, about 2-3 minutes.
Remove ⅔ of the filling and set aside in a separate bowl. Prepare the chocolate layer: To the mixing bowl with ⅓ of the filling, add the cocoa powder, ¾ cup heavy cream, and chocolate extract. Whisk on medium high speed until smooth and soft peaks form, 1-2 minutes.
With the mixer running on low, slowly pour in the melted cooled chocolate and mix until completely smooth and firm (but not too stiff) peaks form, adding another 1-2 tablespoon heavy cream, if needed. Pour into chilled baking crust, scraping out the mixing bowl as much as possible, and use a rubber spatula or off-set spatula to create an even smooth layer. Chill while you prepare the peanut butter layer.
In the same mixing bowl (no need to clean it), add the remaining ⅔ of the filling, peanut butter, remaining ½ cup heavy cream, and remaining ¼ cup powdered sugar. Whisk on medium-high speed until smooth and firm (but not too stiff) peaks form. Pour over chilled chocolate later and smooth into an even layer, adding decorative swirl if you like.
Garnish with chopped peanut, shaved chocolate, and flaky salt. Chill until firm, at least 4 hours or overnight. This pie keeps for 3-4 days in the refrigerator, so it's perfect to make in advance!