Thin and chewy gluten-free oatmeal chocolate chip cookies that taste like butterscotch. Adapted from my mom's recipe, these gluten-free cookies are crisp on the edges and moist and chewy on the inside with puddles of gooey melted chocolate.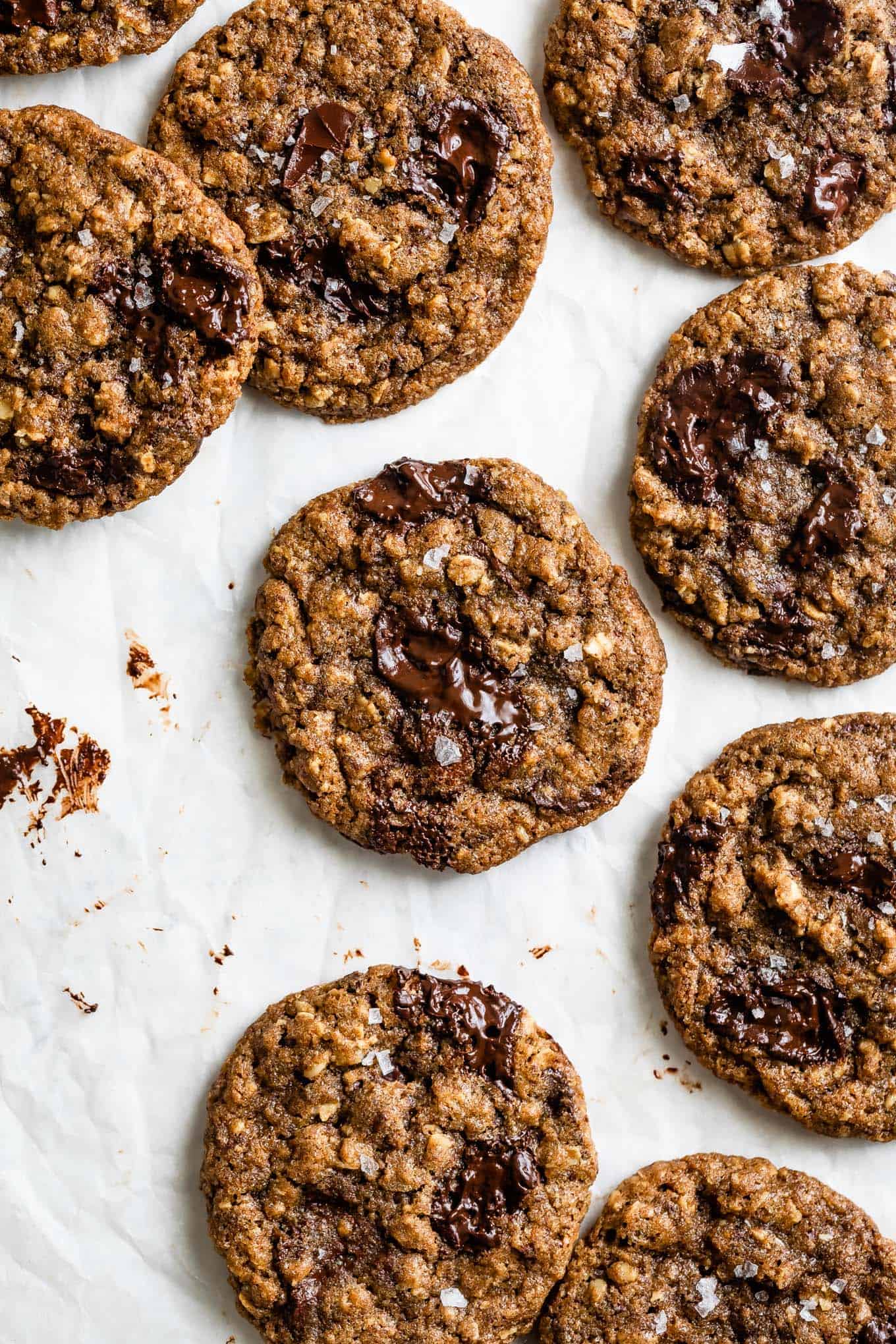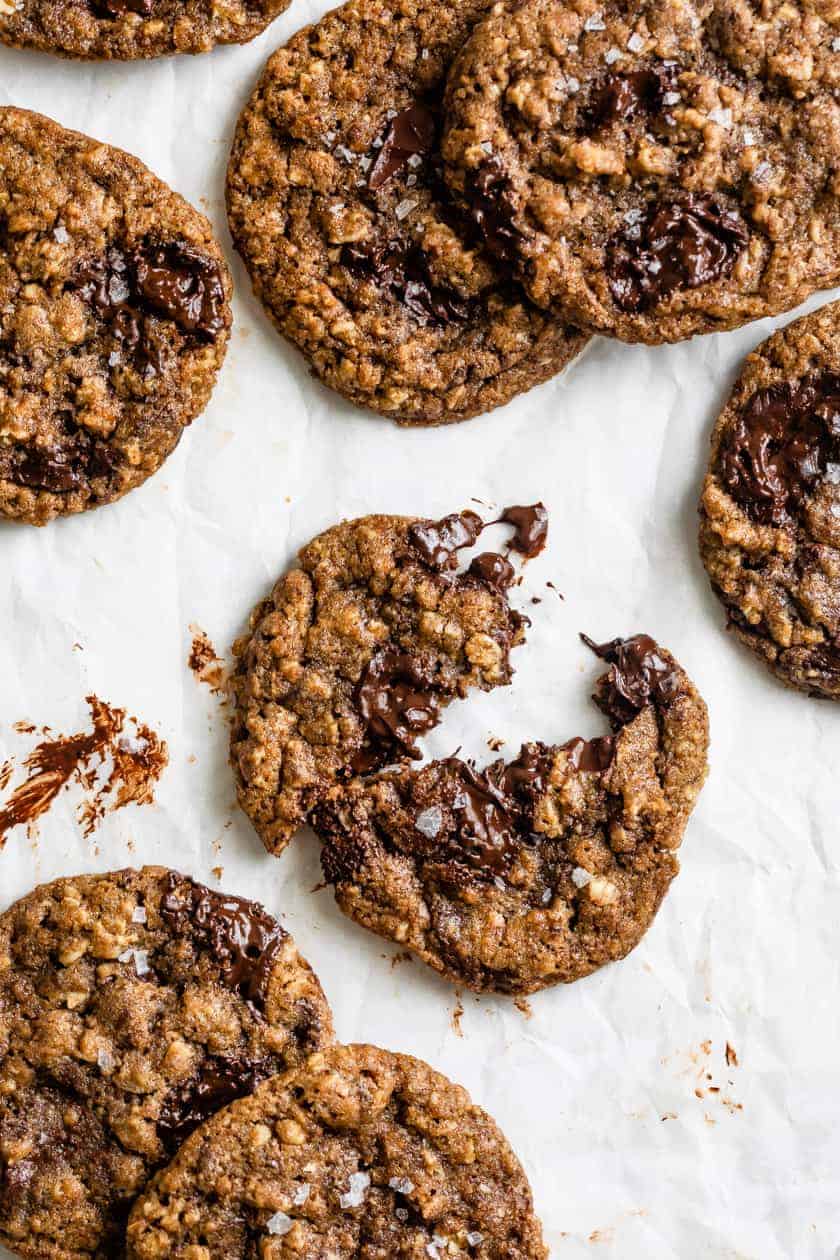 My mom makes the BEST oatmeal cookies. If you're over there shaking your head like, "not true - my mom does," you're wrong. Fine, you're also probably right. I'm convinced that cookie-style preference is learned in childhood.
For me, my mom's oatmeal cookies are the quintessential cookies that set the standard for all other drop cookies. Crispy on the edges, soft and chewy on the inside, bursting with notes of butterscotch. If that's your jam too, then this is the best gluten-free chewy oatmeal cookie recipe.
Chewy Oatmeal Cookies Recipe
I've been tinkering and tweaking my mom's oatmeal cookie recipe over the years, trying to create a gluten-free version that held a candle to hers. These chewy gluten-free chocolate chip cookies are finally there - crispy-edged, butterscotch-tasting, chewy morsels. The puddles of dark chocolate are my contribution.
I first posted my mom's gluten-filled chewy oatmeal cookie recipe on my blog seven (!!) years ago (and I put raisins in them for some ridiculous reason - bleh). It also took me nine years before that to even get the recipe from her because I kept asking her for the toffee cookie recipe she made my first year of college. Turns out, even though it definitely tastes like it, there are no actual toffee pieces in these cookies, so she had no idea what cookies I wanted.
Then, one afternoon, she e-mailed me the recipe by pure fate when she remembered, "you really liked these when I made them for you in college." Those cookies, mom!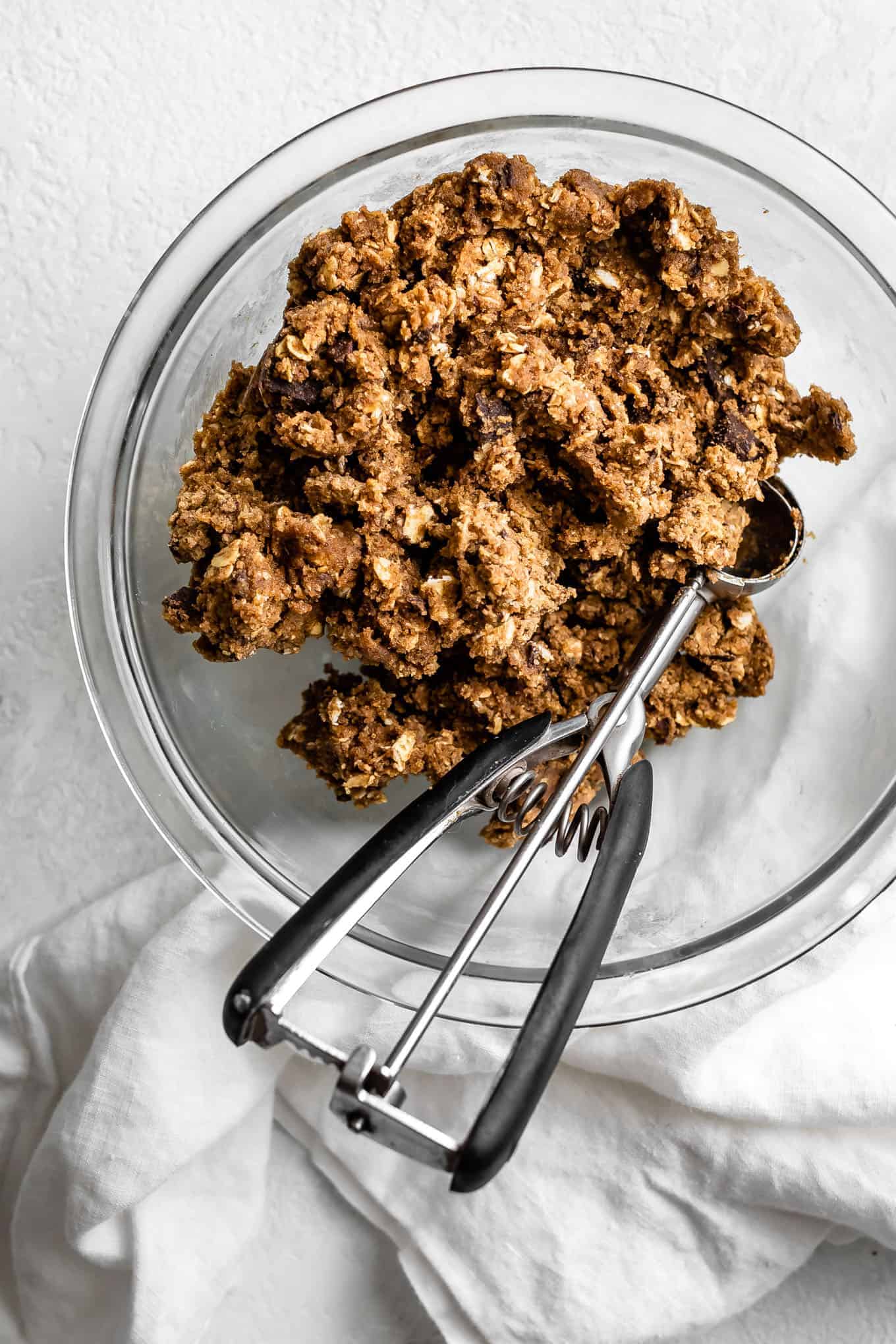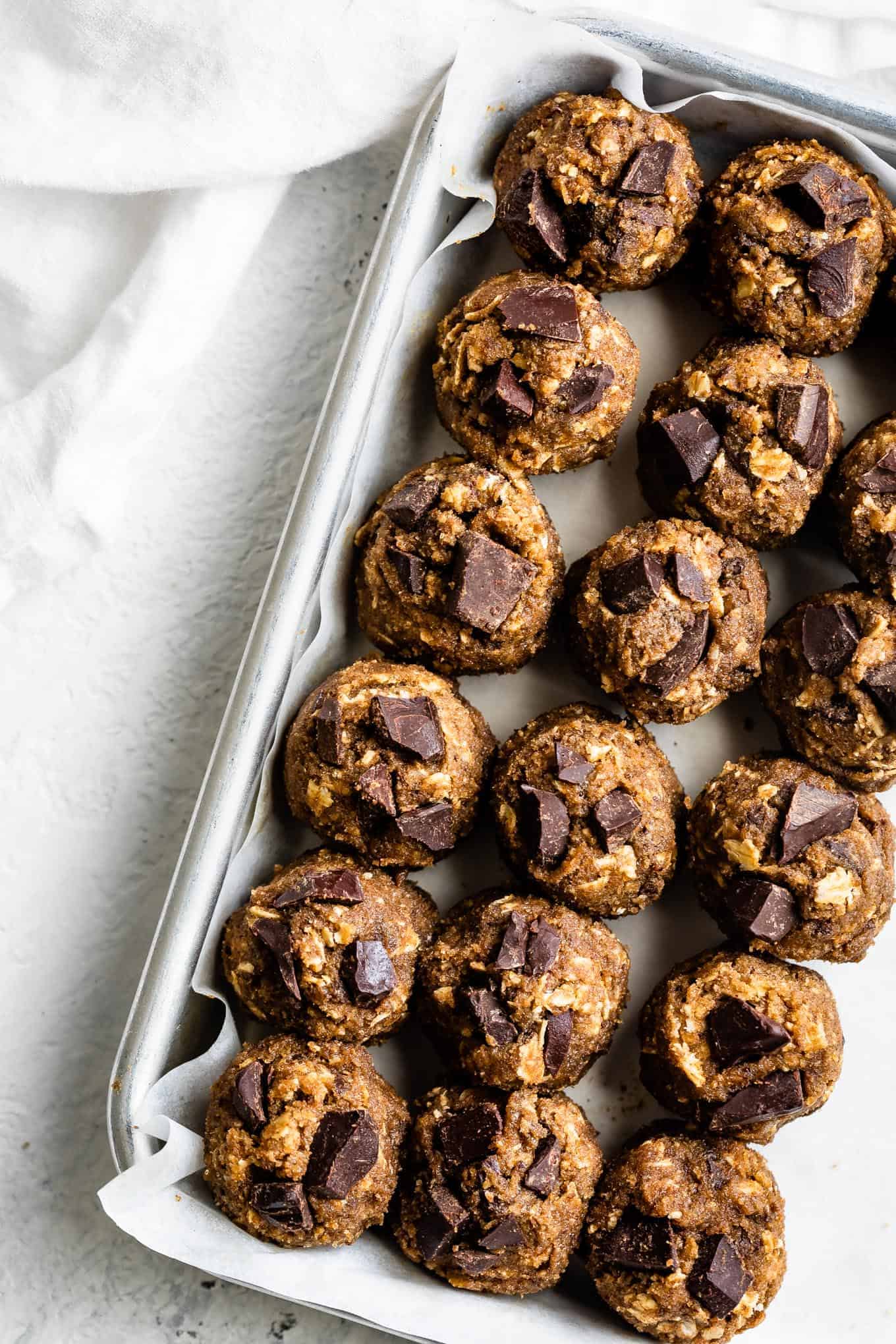 How to Make Gluten-Free Chocolate Chip Cookie Dough
Turns out my mom's chewy oatmeal cookies get their butterscotch notes from dark brown sugar and plenty of butter. And I've used her same formula for this gluten-free cookie dough. Unlike other chunky oatmeal cookies, these are thin, with crispy edges and ultra-chewy centers.
This gluten-free cookie dough recipe uses a combination of baking soda and baking powder, which together create the perfect combination of spread and chew. Tested with just baking powder alone, the cookies didn't spread as much and, as a result, weren't nearly as chewy.
The Best Chocolate for Chocolate Chip Cookies
There are a few types of chocolate you can use for chocolate chip cookies and it all depends on the type of cookie you prefer:
Chocolate Chips: Chocolate chips have stabilizers in them to help them keep their shape when heated. They also are specifically formulated with less cocoa butter to help them stand up to the extreme temperatures. The chips will also solidify more quickly as the cookies cool. If you want clear distinctions between your oatmeal cookie and your chooclate chips, go this route.
Baking Chocolate Bars / Wafers: Using chopped chocolate from a baking bar or a baking wafers will result in gooey melted puddles of chocolate spread throughout your cookie. Baking bars can be trusted to melt down uniformly because they have few added ingredients. As a result, your chocolate will be more evenly distributed throughout your cookie. If you prefer melted chocolate in every bite, go this route. For this reason: I highly recommend baking bars or wafers. Also melted chocolate is great for food styling;)
Regular eating chocolate bars: In my experience, using other chocolate bars not intended for baking can be disastrous for chocolate chip cookies. Chocolate bars can have varying added ingredients all of which can influence the melt of the chocolate. If you choose to bake with a chocolate bar for eating, it could work great, but it could also melt too quickly, turning your entire dough into ultra-thin puddles (I know from experience...). Unless you have a brand you've used and trust for baking, I don't recommend this route.
Whatever you choose, reserve about ¼ of your chocolate to press into the top of the cookie dough before it goes into the oven!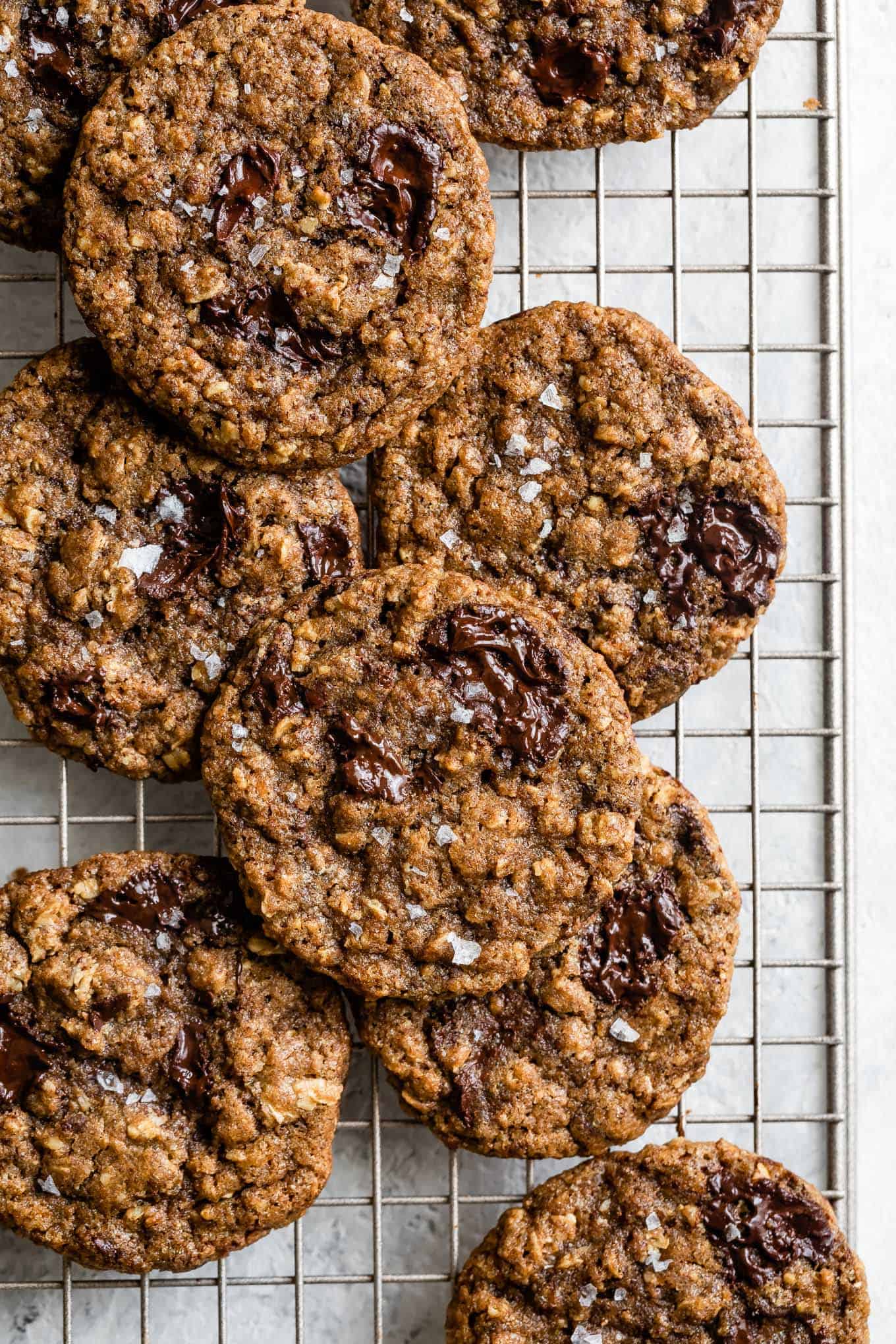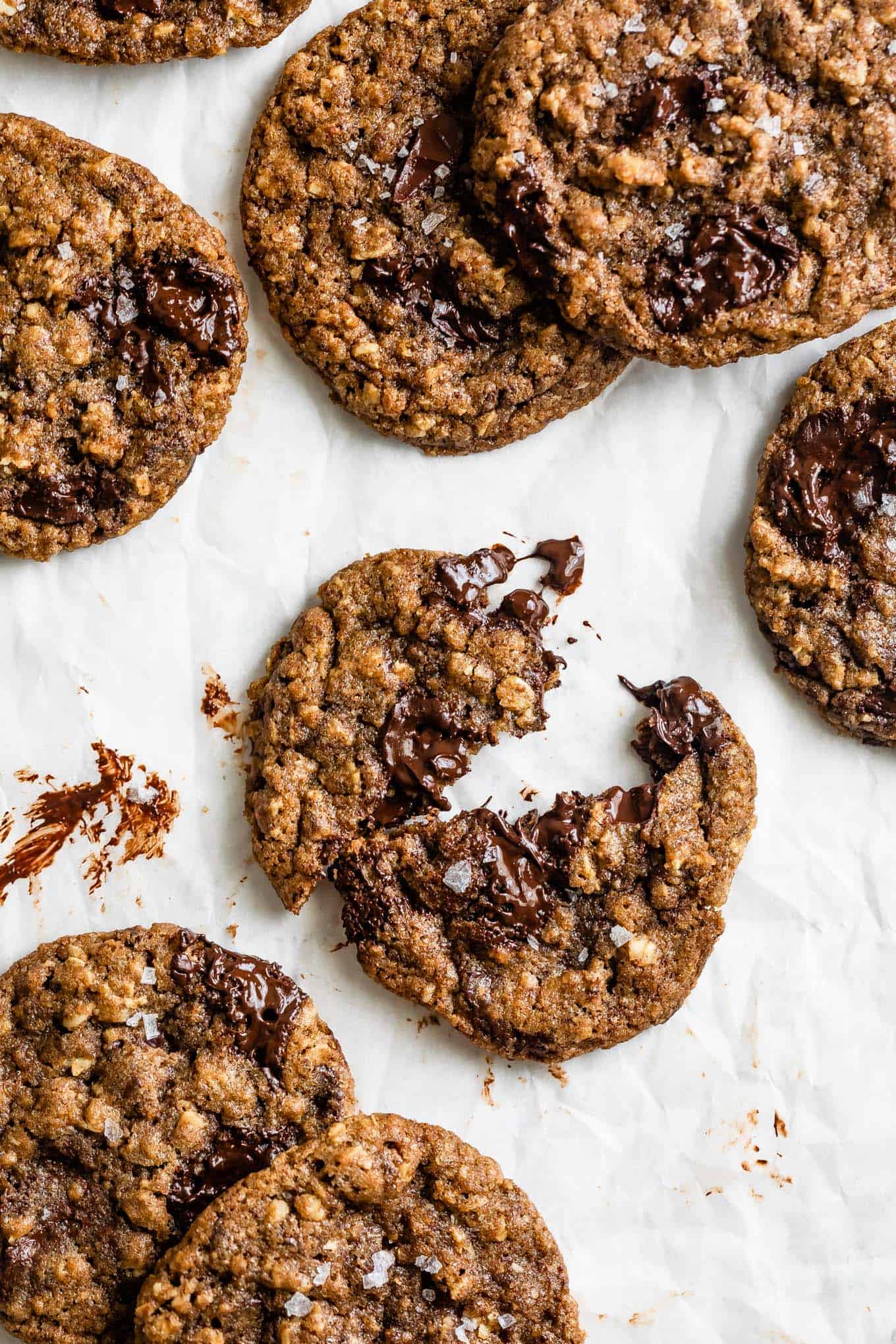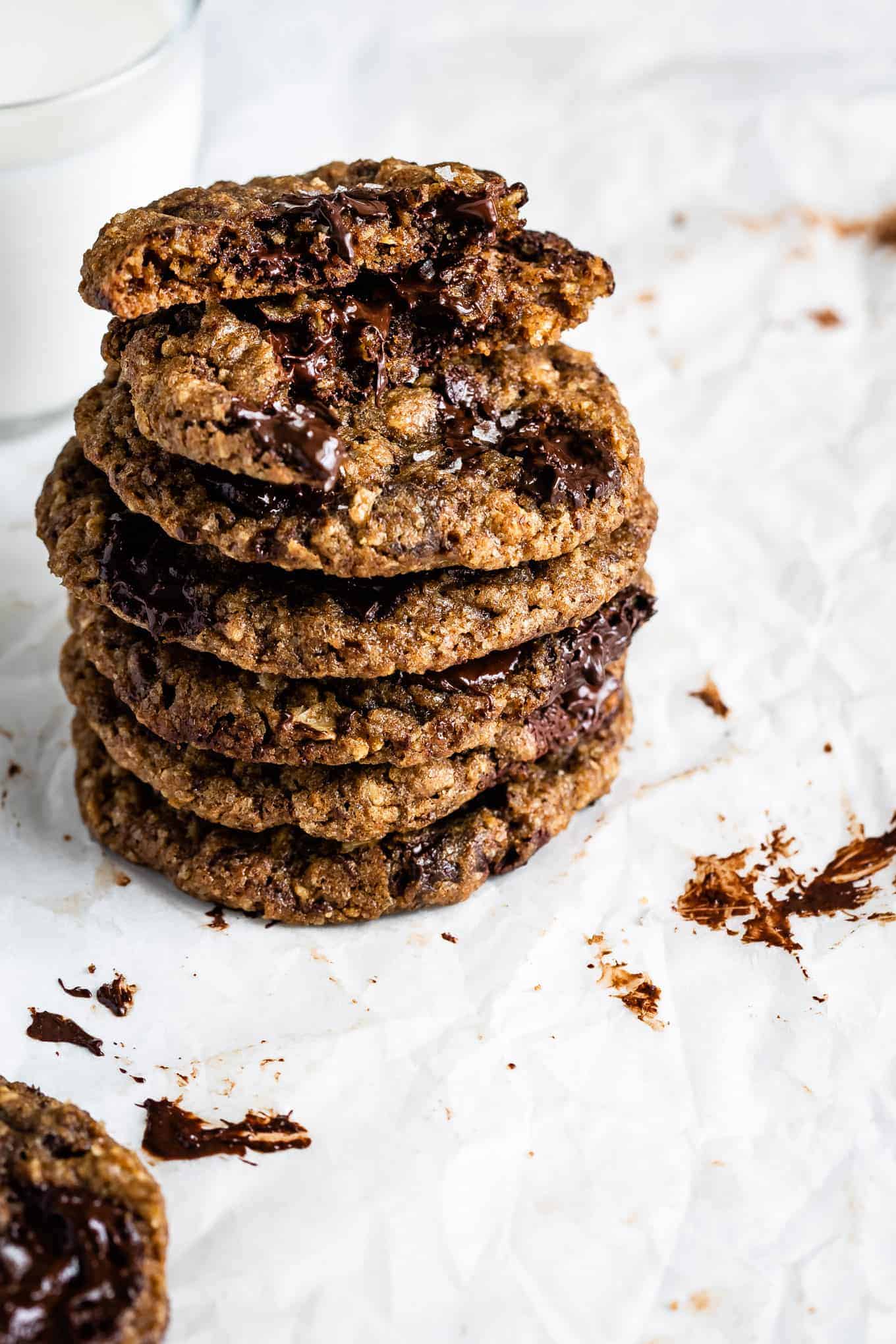 What is the best gluten-free flour for cookies?
The best gluten-free flour for cookies depends on the type of cookie you're making. For soft and chewy cookies, I recommend a combination of a heartier whole grain flour (almond, buckwheat, hazelnut oat, or teff) with tapioca starch.
This gluten-free cookie recipe uses a combination of teff flour and tapioca starch for their structure. When looking for a flour that would mimic my mom's butterscotch-like cookies, I immediately turned to teff flour. Teff flour is so soft that it seems to melt into the chewy cookie leaving rich toffee notes that accentuate the dark brown sugar.
If you can't get your hands on teff flour, sub in oat flour by weight, which makes a very delicious cookie in its own right. However, if you want those butterscotch notes from my mom's recipe, seek out teff flour.
Teff flour alone won't make a great gluten-free cookie dough. Tapioca starch helps bind the dough together to eliminate the need for xanthan gum and it also helps create the perfect crispy brown cookie edge. This is the same flour combo Alanna uses in her chunky oatmeal chocolate chip cookies adapted from her book Alternative Baker - it's a power duo.
How do you make gluten-free cookies moist?
The same things that make gluten-free cookies chewy also help with moisture. Namely: butter and sugar. This gluten-free oatmeal chocolate chip cookie doesn't skimp on either.
The other important factor in keeping gluten-free cookies moist is baking time. Overbaked gluten-free oatmeal cookies can quickly dry out. Pull your cookies out of the oven before they look done. The centers should look underbaked while a gentle tap on the edge should meet a little resistance. Your cookies will continue to cook on the baking sheet and the edges will crisp up as they cool.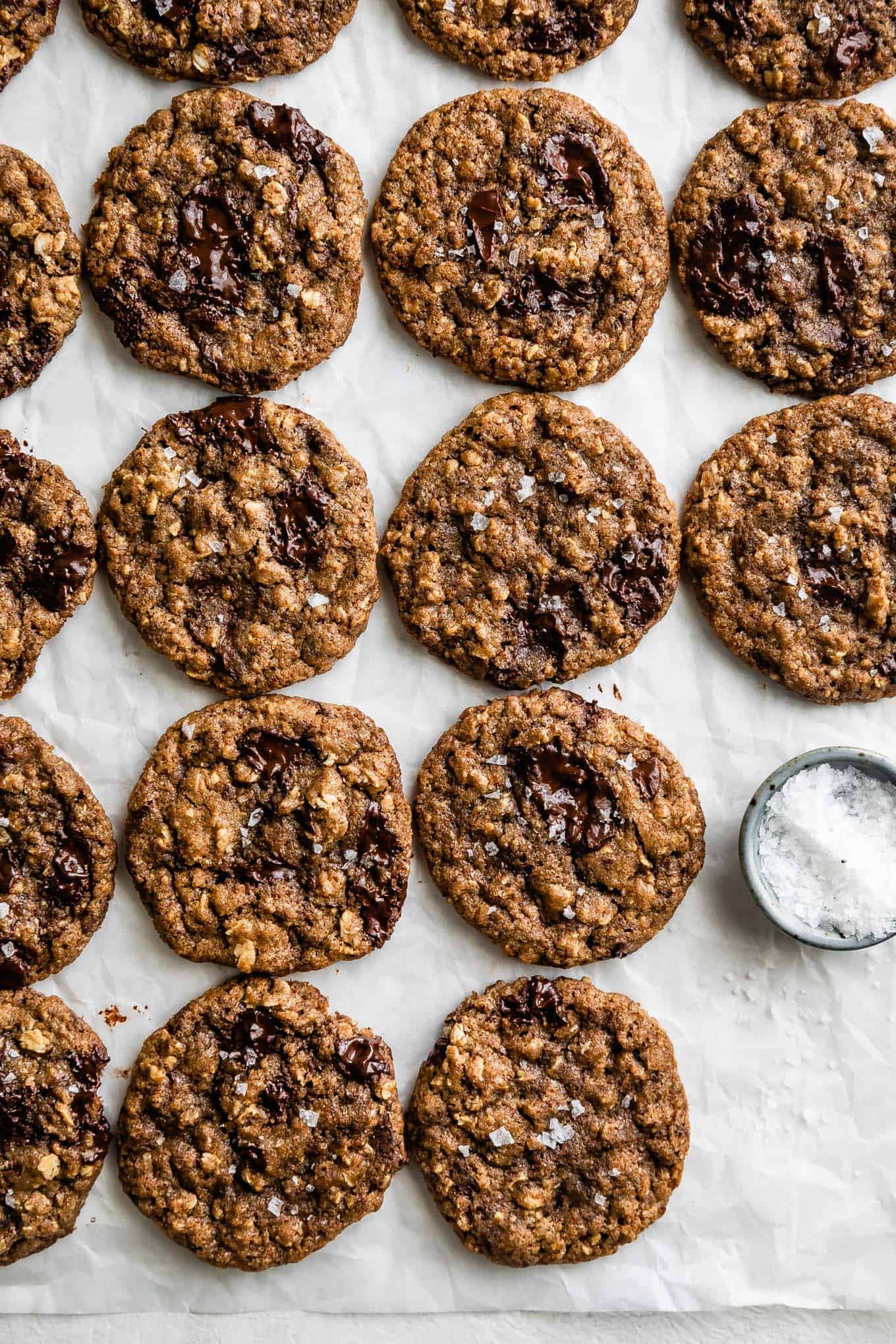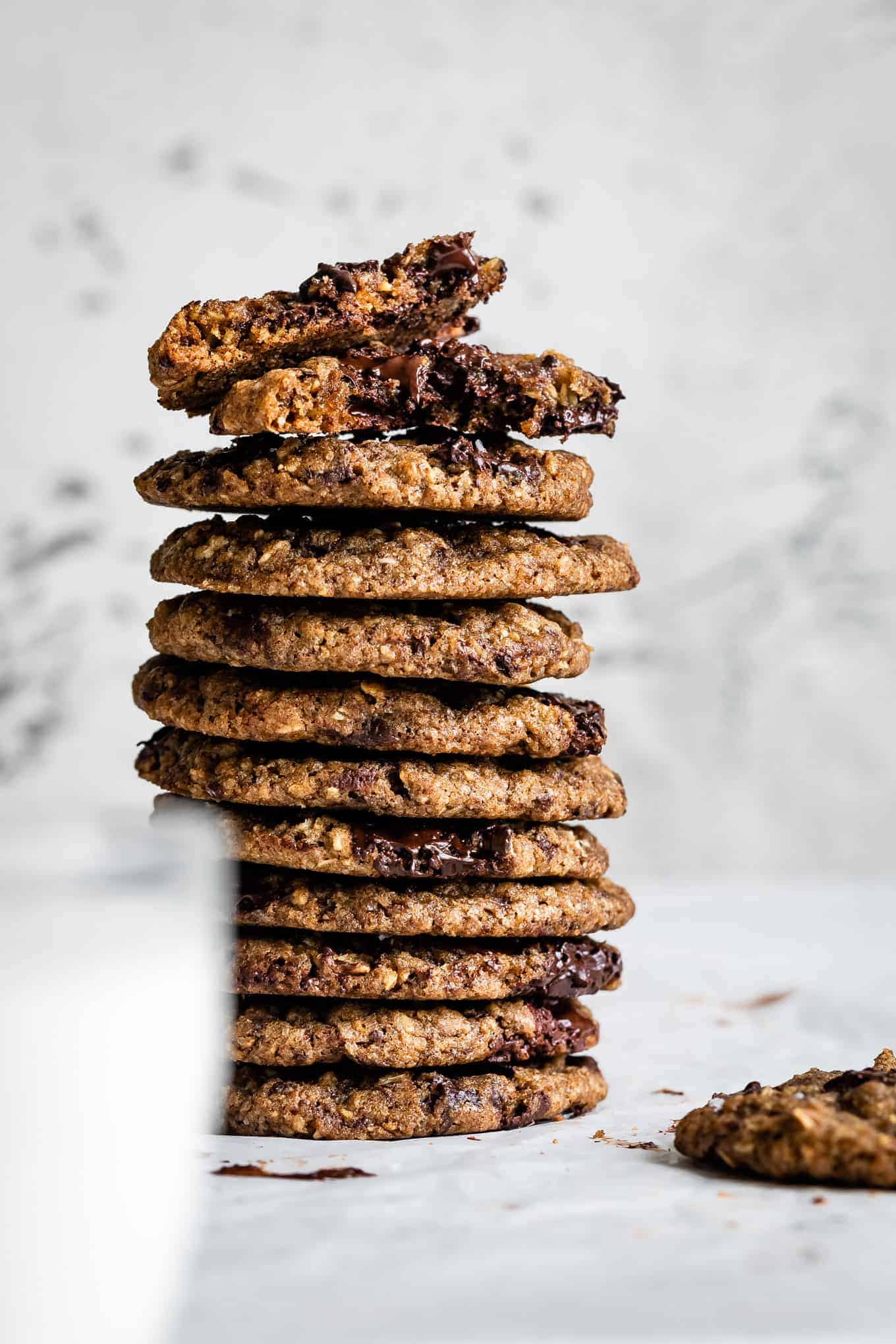 Best Gluten-Free Cookie Recipes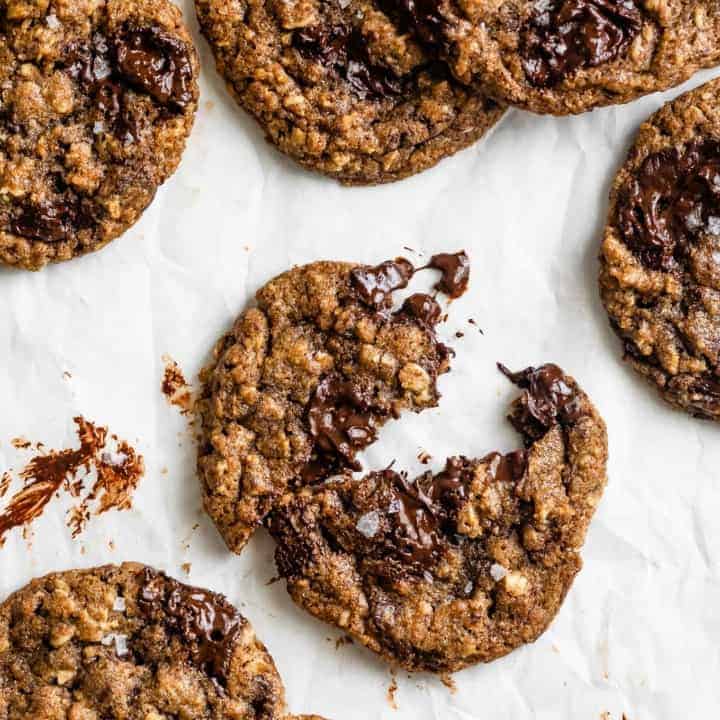 Gluten-Free Oatmeal Chocolate Chip Cookies
Thin and chewy gluten-free oatmeal chocolate chip cookies that taste like butterscotch. Adapted from my mom's recipe, these gluten-free cookies are crisp on the edges and moist and chewy on the inside with puddles of gooey melted chocolate. 
Ingredients
½ teaspoon baking soda
½ teaspoon baking powder
¼ teaspoon kosher salt
½ cup (4 ounces) unsalted butter, slightly cooler than room temperature
½ cup (115g) packed dark brown sugar
½ cup (104g) granulated sugar
1 large egg, room temperature
1 teaspoon pure vanilla extract
4oz chopped bittersweet baking chocolate (65-75%), coarsely chopped *See note
Instructions
Preheat the oven to 350°F and line a large baking sheet with parchment paper.
In a medium bowl, whisk together the oats, teff flour, tapioca flour, baking soda, baking powder, and salt. Set aside.
In the bowl of a stand mixer or in a medium bowl with a hand mixer, cream the butter and sugars until light and fluffy, 3-5 minutes.
Add the egg and vanilla extract, mixing until just combined, scraping down the sides as needed.
Slowly add the dry ingredients, mixing until combined.
Add the chopped chocolate and mix until evenly distributed. Note: for gooey puddles of chocolate on top, reserve some of the chopped chocolate and press it on top of the balls of cookie dough before baking.
Drop heaping tablespoons tablespoons) of dough onto the lined baking sheet, about 3 inches apart (you might need to bake in batches).
Bake for 12-14 minutes, until the edges are golden brown and the top is set, but still soft. When lightly tapped the edges should not stick or squish, but the center of the cookies will look under-baked and very soft/delicate.
Remove from oven, and, if desired, sprinkle with flaky salt. Let cool on the baking sheet for a 5 minutes before carefully transferring with a thin spatula to a wire rack to cool for 10 minutes before serving.
Notes
*I recommend a baking chocolate like Guittard or chocolate chips. If you use a non baking bar, the chocolate may melt too much in the oven and your cookies will spread a crazy amount
**This dough does not need to be chilled before baking, but if you don't want to bake all of the cookies at once, you can chill the dough for up to 2 days or freeze the dough for up to 2 months. Either bring the dough to room temperature for 15 minutes before baking or add an additional 1-2 minutes to your baking time.